Cheeky Bee Hoon has unique noodle dishes by ex-fine dining chef
Maybe it goes without saying, but bee hoon is a highly versatile type of noodle. You see it stir-fried in households across the country, doused in peanut gravy to create old-school satay bee hoon, and even prepared with crab to create the luxurious dish that is crab bee hoon. But rarely have I seen it utilised as cleverly—and as deliciously—as at Cheeky Bee Hoon.
Cheeky Bee Hoon is a new restaurant in Katong by Darwin Wong, the chef who was previously behind the French-Japanese eatery JIDAI Restaurant. I've had the chance to try JIDAI's omakase twice, and both times I came away impressed with Darwin's inventive dishes and attention to detail. Now, he has decided to put fine dining aside for a while to focus on the forward-thinking noodle dishes at Cheeky Bee Hoon.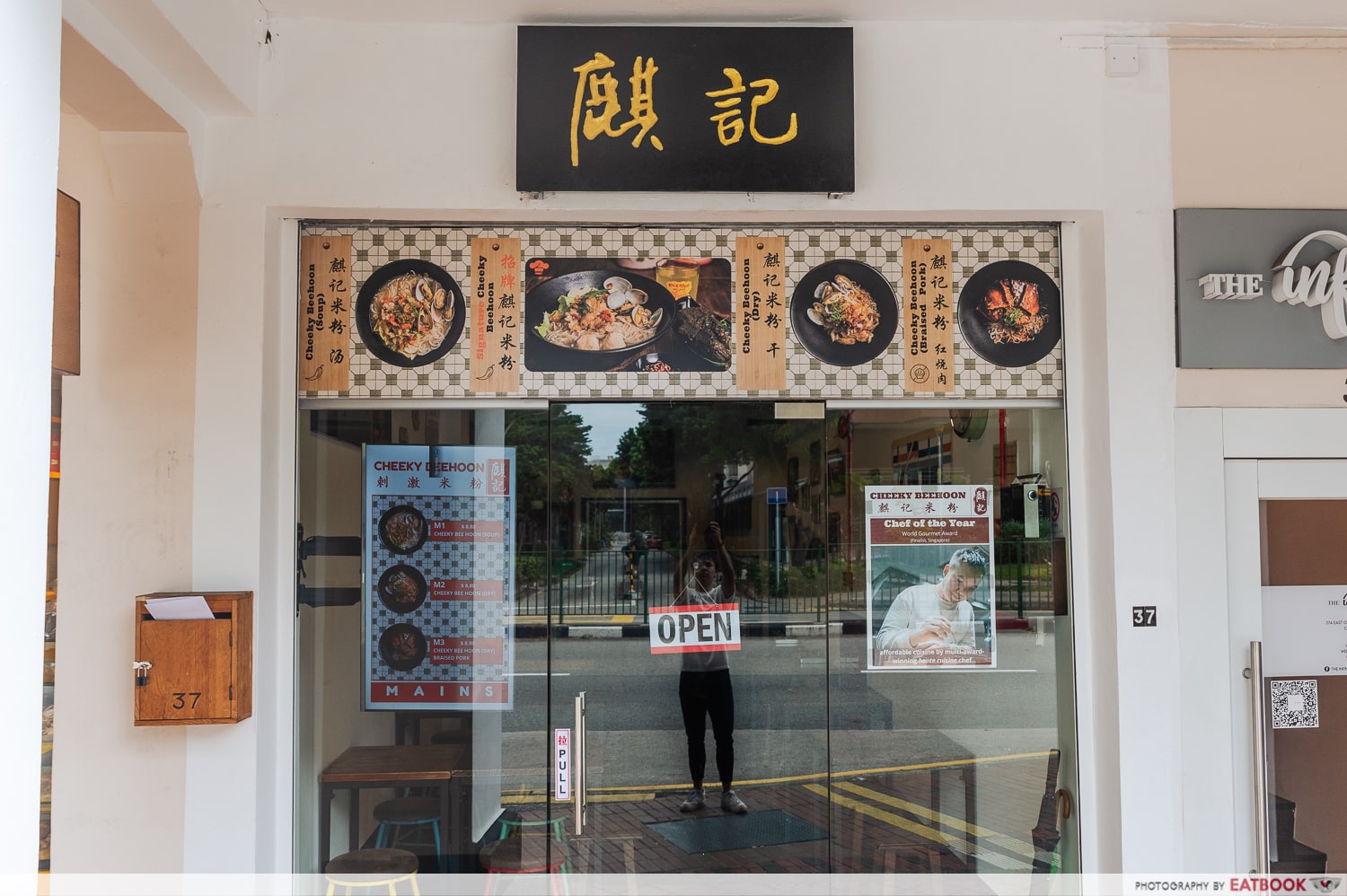 Since I was interested to see the next chapter in Darwin's evolution as a chef, I decided to drop by his retro-looking restaurant to try the fare.
This French-Japanese Restaurant Has An 8-Course Omakase Menu for $78++, With Oyster and King Hokkaido Scallop
Food at Cheeky Bee Hoon
As of the time of writing, there are only four main dishes on the menu, with the rest of it consisting of sides—these were scrumptious, but I'll get into that later. True to the restaurant's name, all four mains are bee hoon dishes.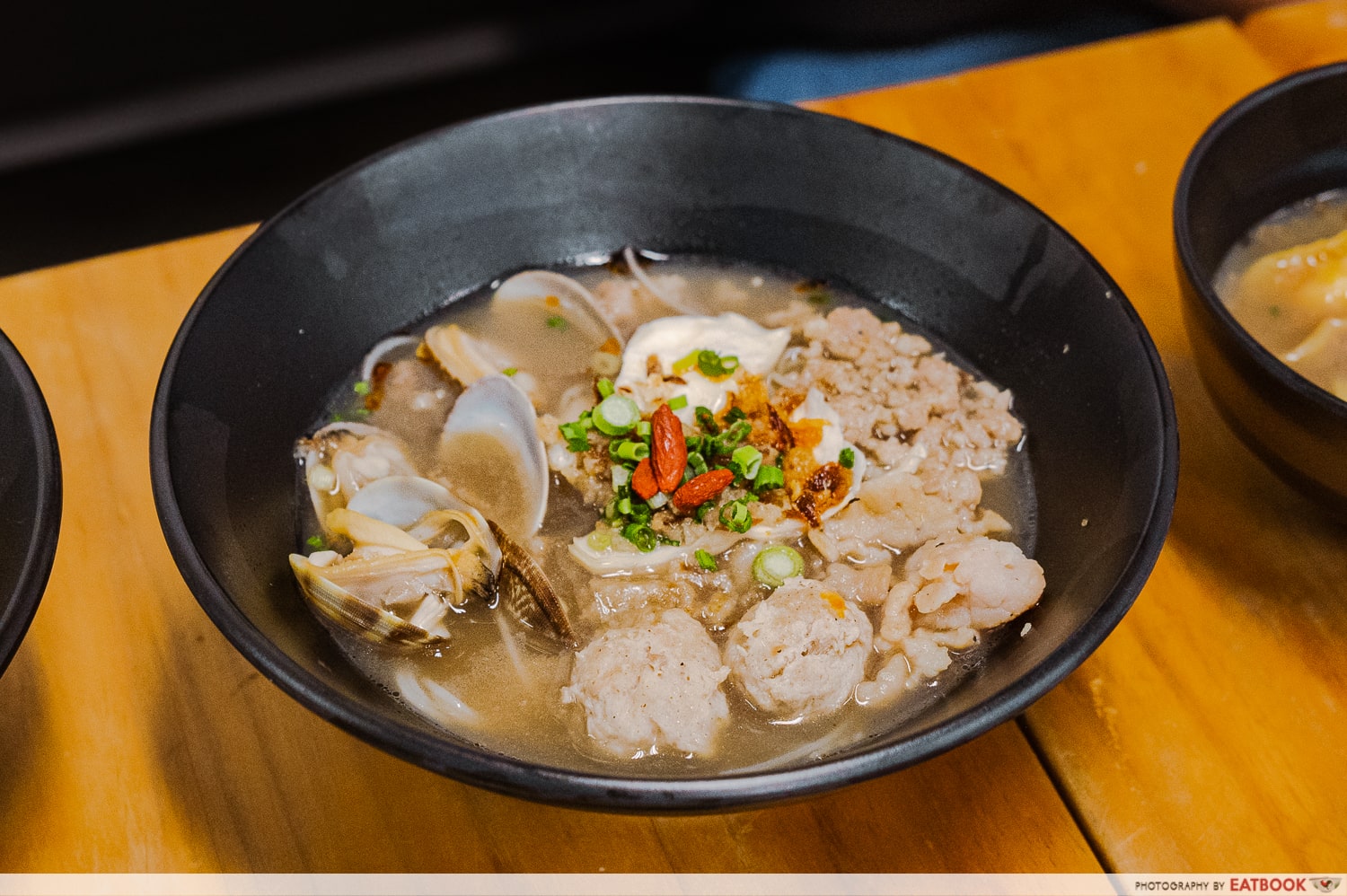 We started with the Signature Cheeky Bee Hoon Set ($13.80), which arrived as a sizable bowl of soupy noodles with plenty of ingredients, such as meatballs, minced meat, cabbage, and lala. It also came with a drink and charcoal you tiao, which is meant to be dipped into the broth bak kut teh-style.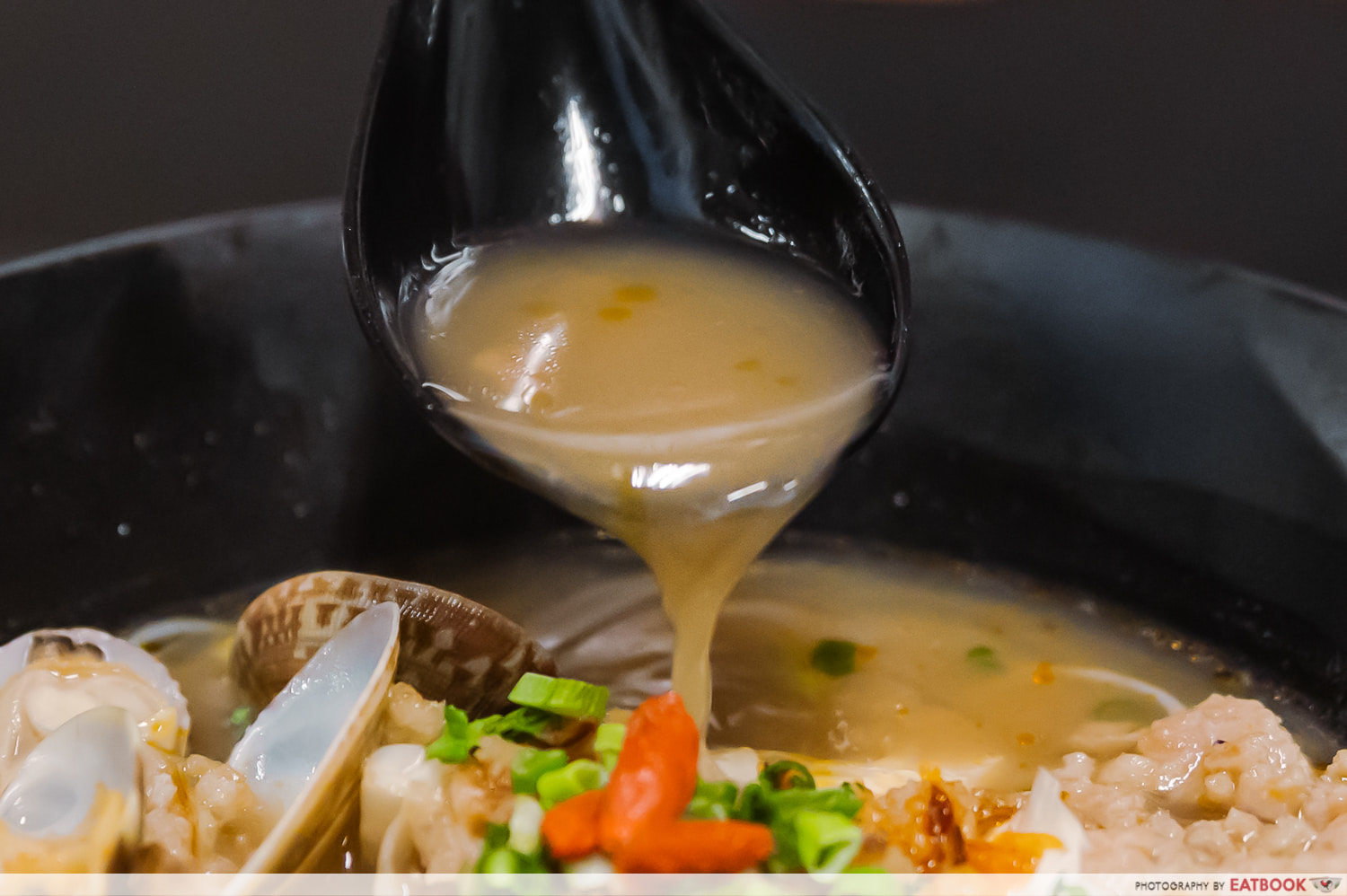 The broth here was absolutely stellar. There was a strong wok hei aroma and flavour permeating the soup, punctuated by peppery notes and umami. If you thought a bee hoon soup dish like this would be bland, know that this was the complete opposite of that—it was strikingly flavorful.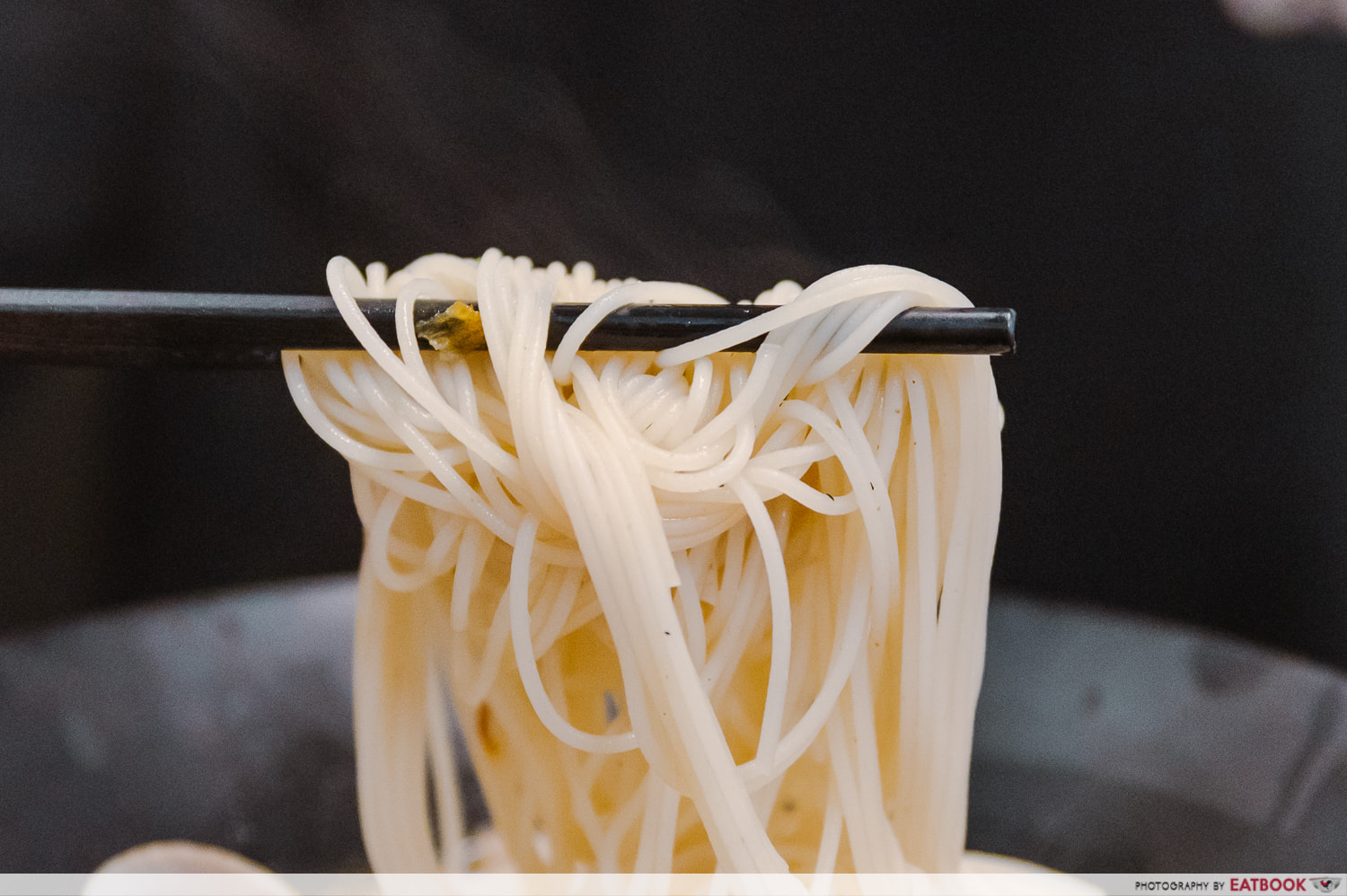 Made by hand in Sarawak, the bee hoon absorbed all these delightful tastes, and were themselves soft and silky. According to Darwin, he infuses wok hei into the broth itself, which means he doesn't have to first fry the noodles in a wok to create that smoky flavour. This ensures that the rice vermicelli retains its original qualities in the soup, while also possessing that wok-kissed aroma.
The other ingredients in this bowl served the dish well, but special mention has to go to the fresh lala and meatballs, which were stuffed with tee poh to give them extra savouriness.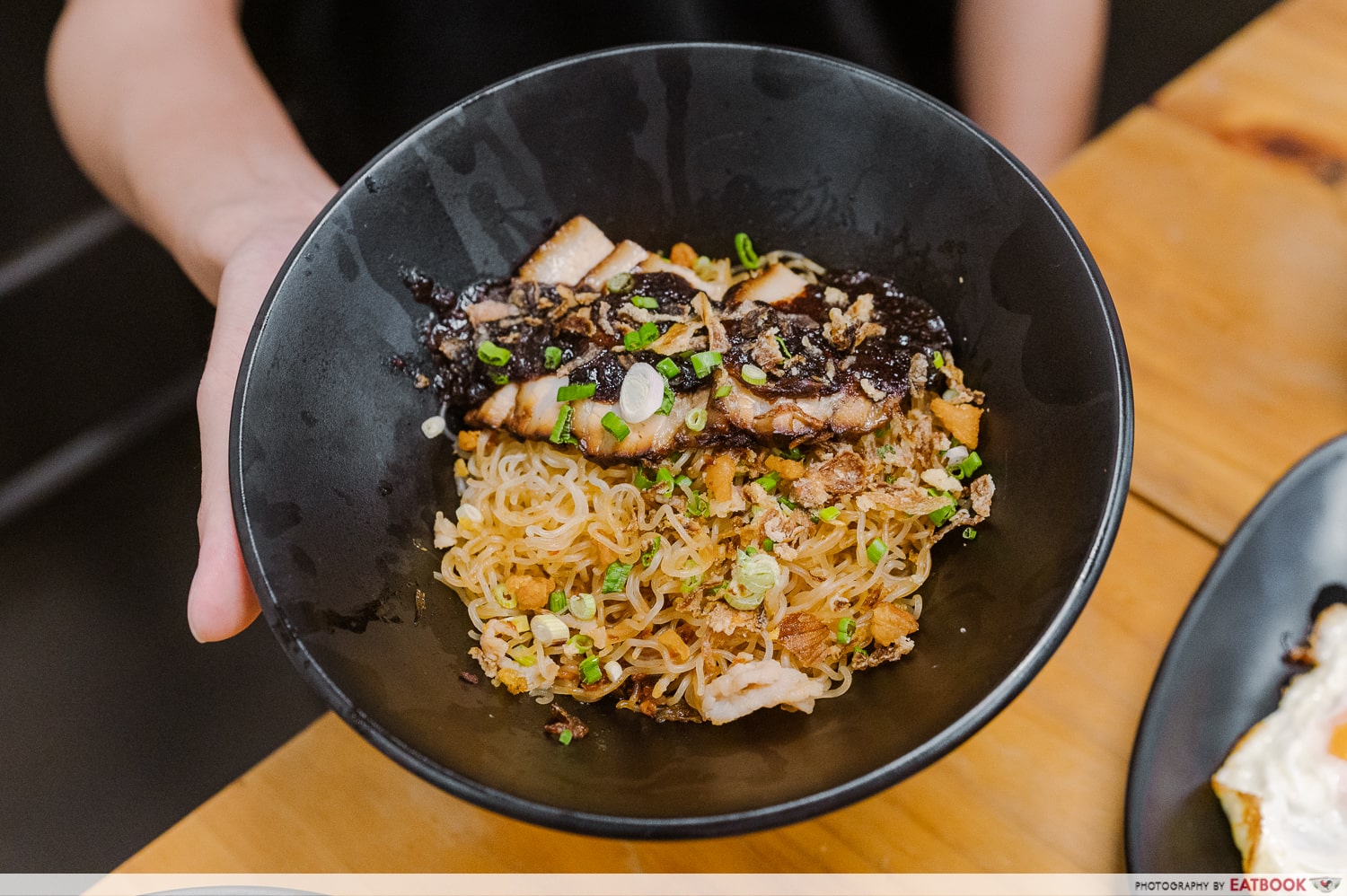 Since the soup was so good, I wanted to see how the dry renditions would turn out. And so our next dish had to be the Dry Cheeky Bee Hoon with Braised Pork ($8.80).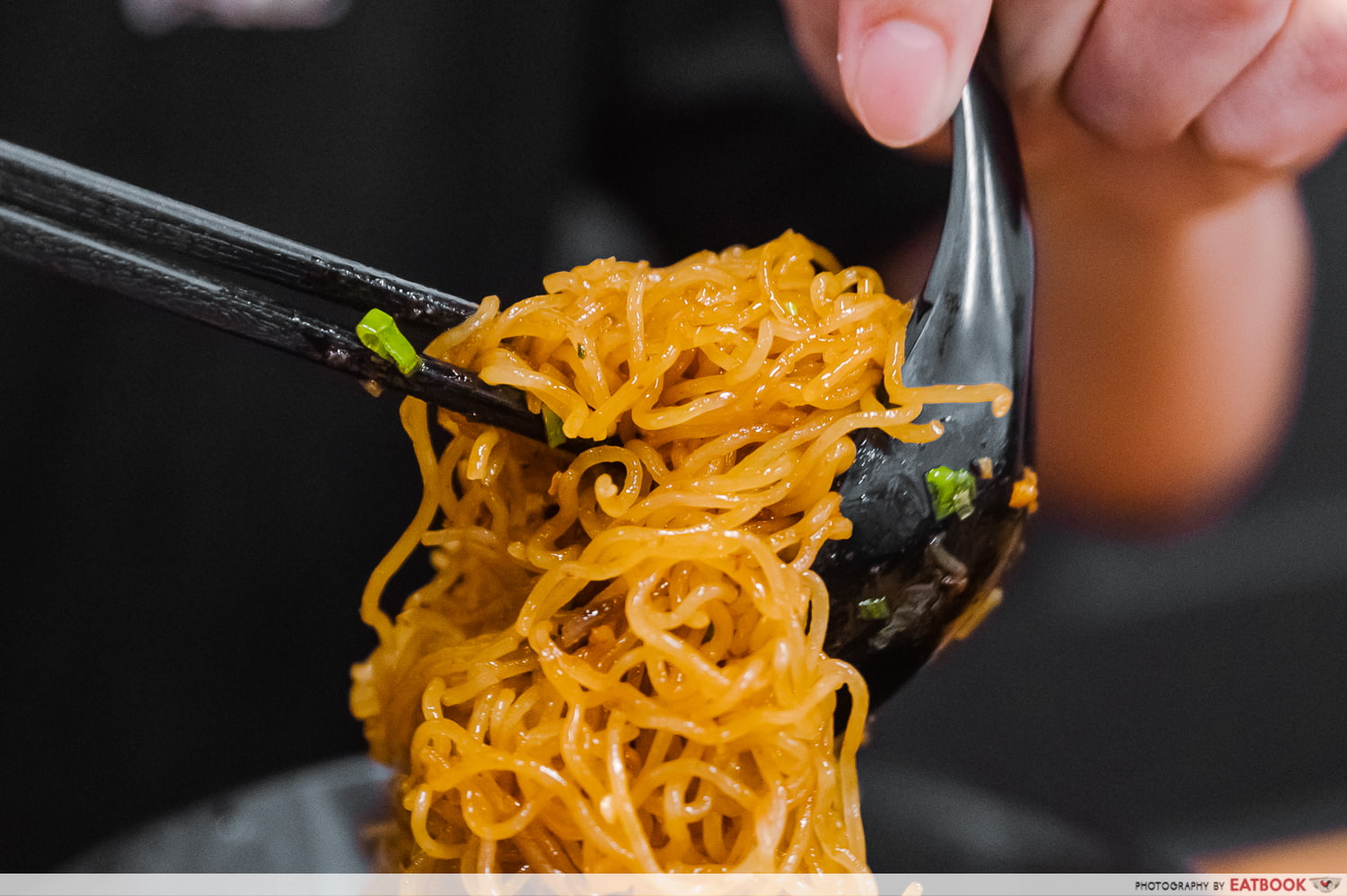 Stir-fried till al dente, the bee hoon here managed to have a similar texture to mee kia, whilst also having the unique brittleness of rice vermicelli. The sambal chilli sauce it was tossed was great, as it had a sharp, piquant flavour that was just irresistible.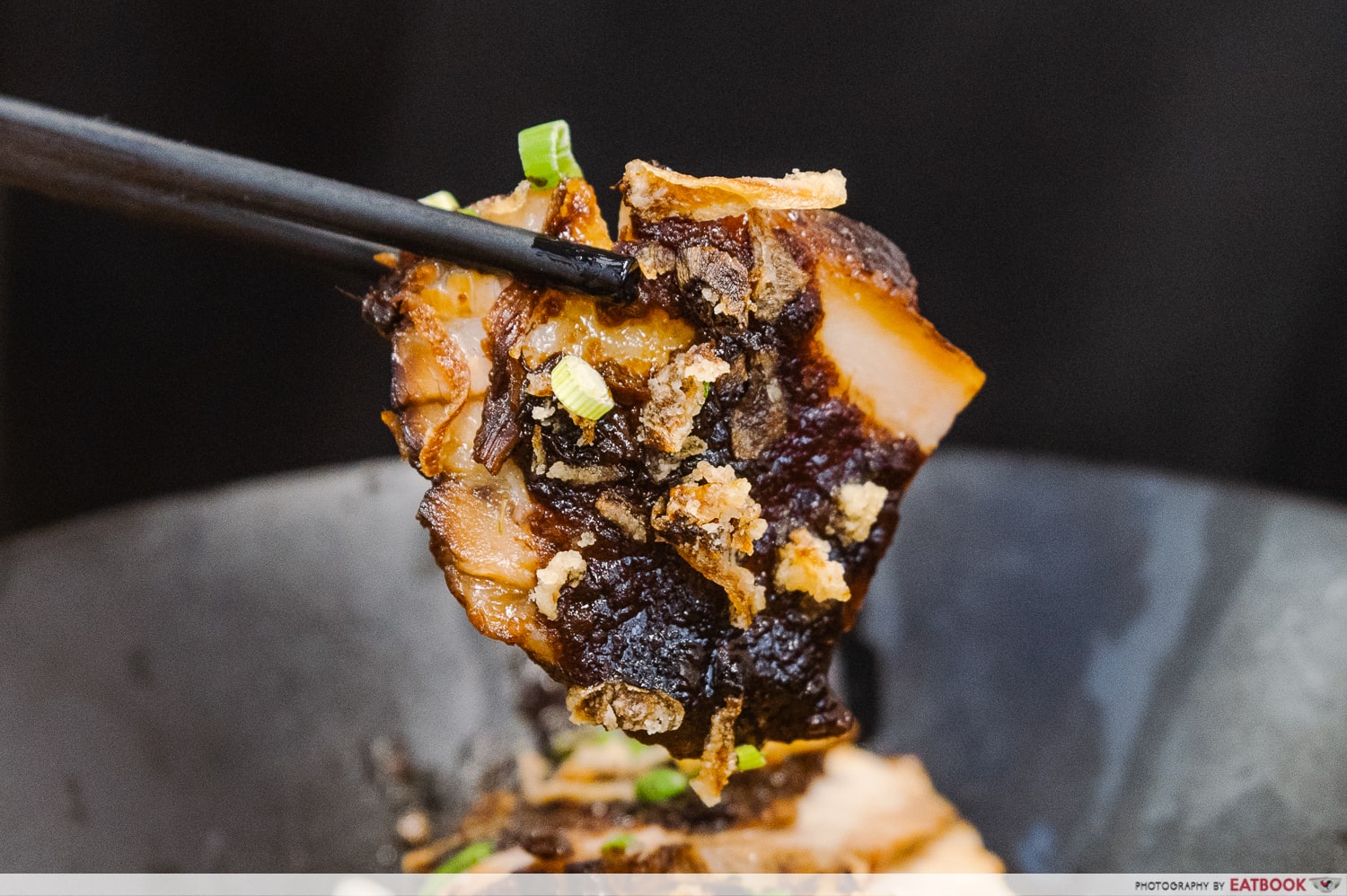 Those pork belly slices laid atop the noodles were as juicy and tender as they looked, and they were slathered in a sweet sauce that worked well with both the pork and the bee hoon's sambal chilli. In short, the whole dish came together really well.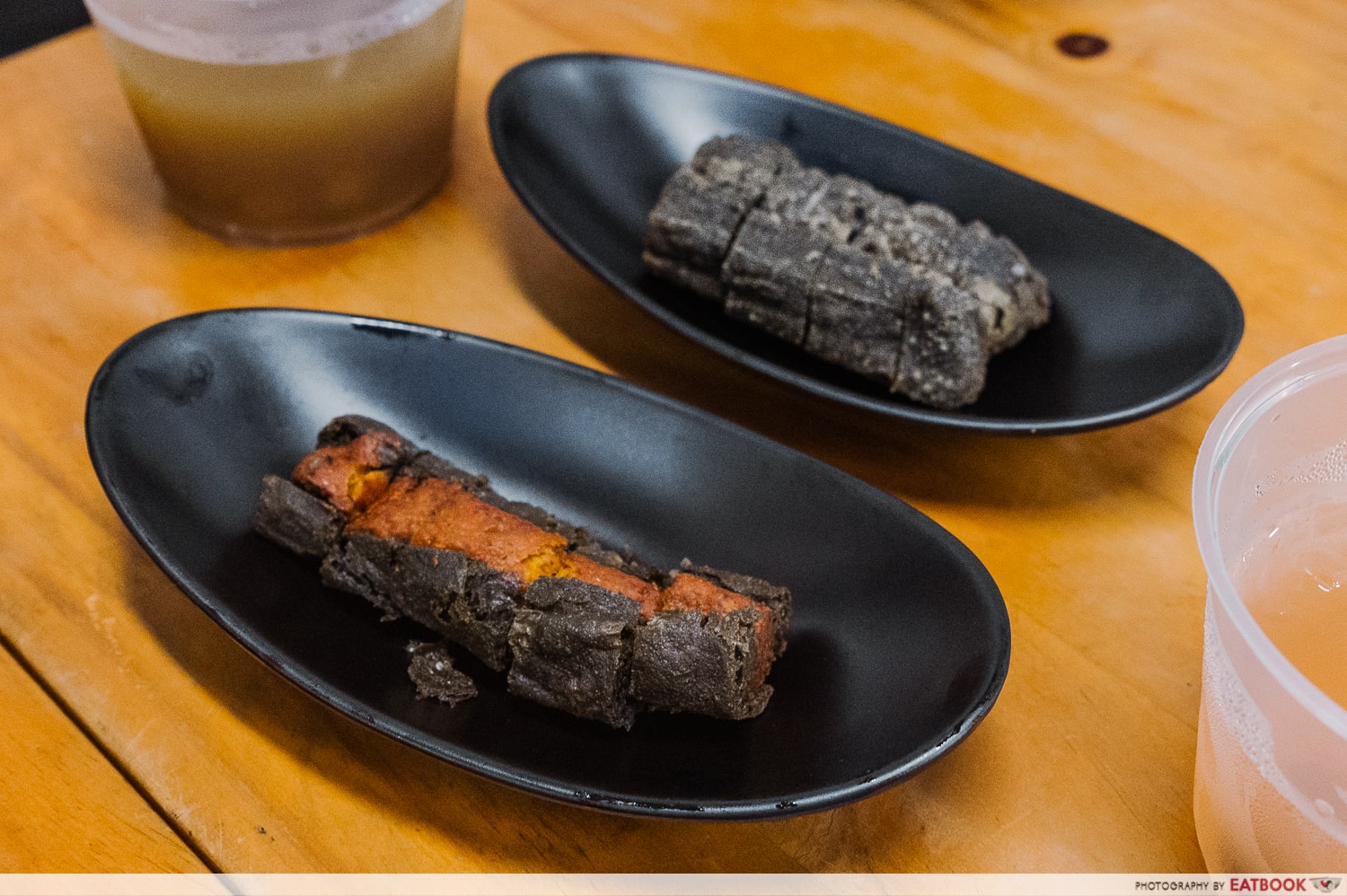 We also tried Cheeky Bee Hoon's side dishes, and most of them were pretty good. I can see a lot of people enjoying the Mala Crispy Pork ($3.80) and the Charcoal You Tiao with Otah ($4.80), but my favourite was easily the Crab Dumpling Soup ($4.80).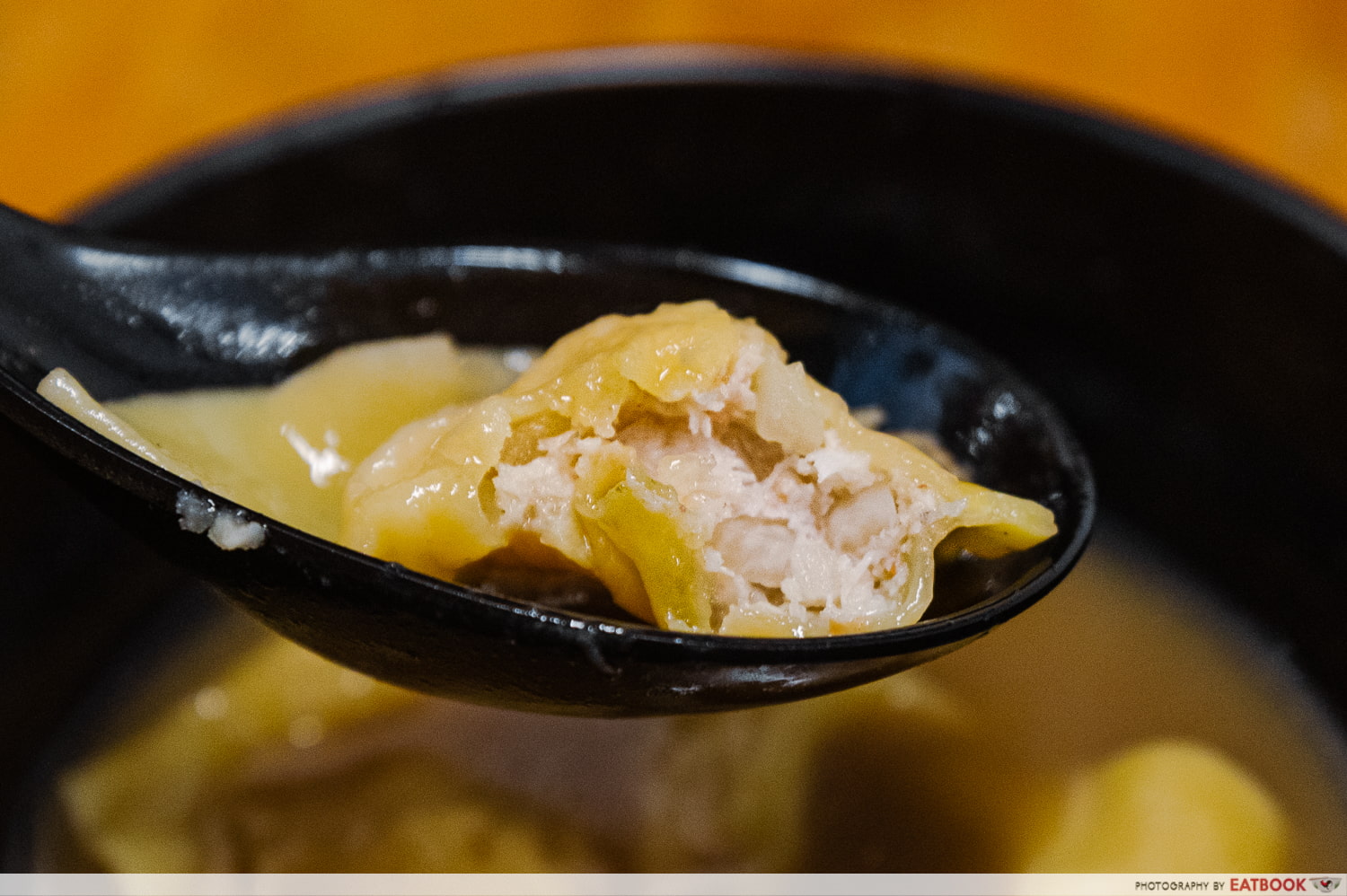 The dumplings here were stuffed with actual crab, and so biting into them yields the juicy sweetness and umami one expects from the crustacean.
Ambience at Cheeky Bee Hoon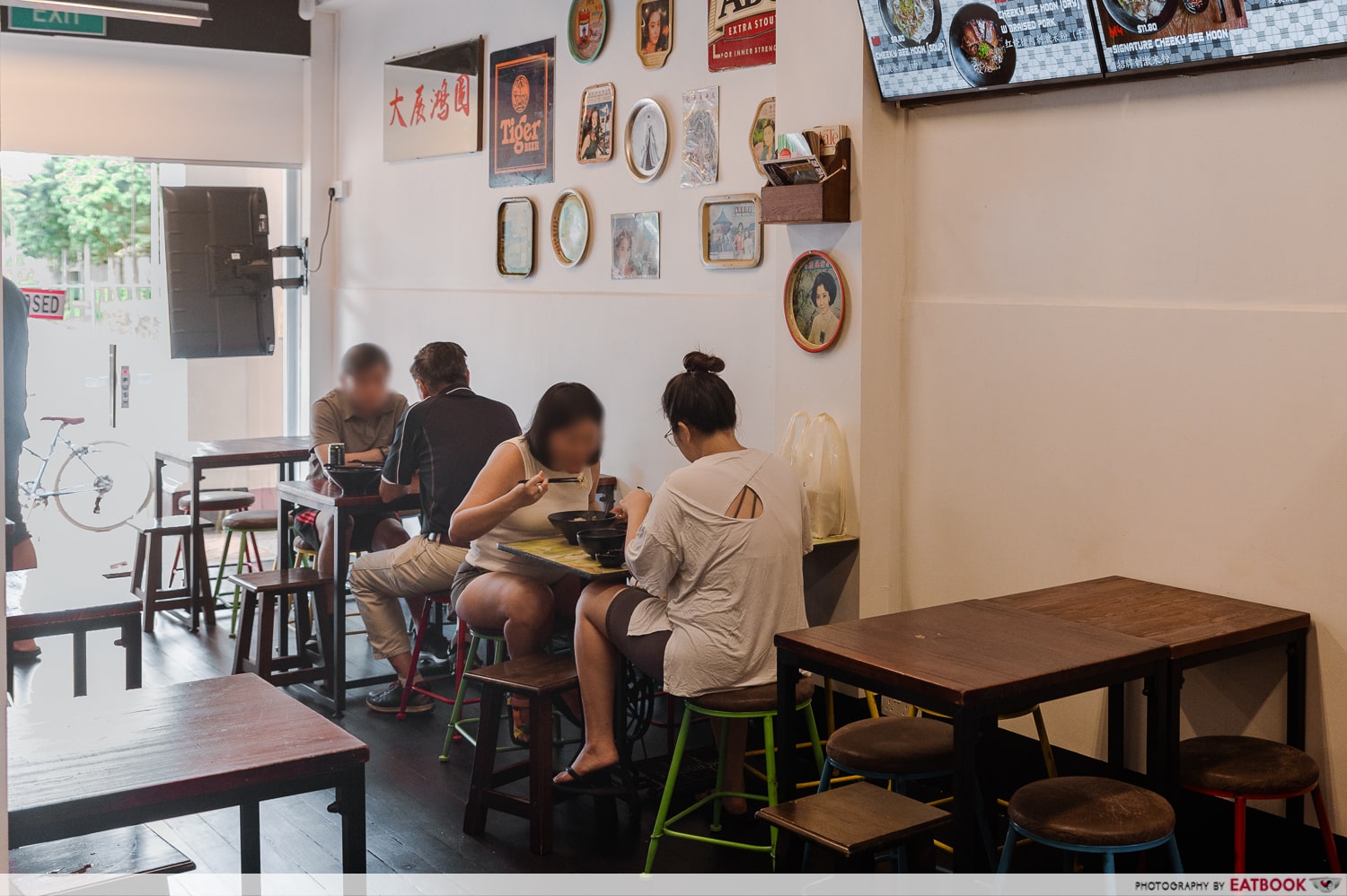 Cheeky Bee Hoon evokes a strong sense of nostalgia. From walls decorated with 80s Chinese memorabilia to the antique furnishing—the wooden flooring was taken from an old badminton court, for instance—the restaurant will take you back to days of yore as you enjoy some fine bee hoon dishes.
It's not the most accessible place, however, as the nearest MRT station is a long walk away. I'd recommend taking a bus from Dakota MRT Station, which is about a nine-minute ride.
The verdict
If you're a fan of bee hoon or noodle dishes in general, I highly recommend you check Cheeky Bee Hoon out. Its unique noodles are clearly made by a skilful and innovative chef, and this is evident in the incredibly tasty bee hoon you'll find here.
For more delicious noods, check out our Geylang Laksa Prawn Noodles review. For a legit Vietnamese banh mi eatery in Orchard, have a look at our Miss Saigon review.
Address: 37 East Coast Road, Singapore 428755
Opening hours: Daily 10am to 9pm
Tel: 8644 2108
Website
Cheeky Bee Hoon is not a halal-certified eatery.
Geylang Laksa Prawn Noodles Review: Famous Prawn Mee Stall Opens New Outlet In Ang Mo Kio
Photos taken by Ke-ian J Leong.
This was a media tasting at Cheeky Bee Hoon.
Cheeky Bee Hoon Review: Braised Pork Belly Bee Hoon, Crab Dumplings And More In Katong
Cheeky Bee Hoon Review: Braised Pork Belly Bee Hoon, Crab Dumplings And More In Katong -

8.5/10
Summary
Pros
– Bee hoon dishes were creative and delicious
– The Signature Cheeky Bee Hoon had a very flavourful broth
– Side dishes were good
Cons
– Not the most accessible location
Recommended dishes: Signature Cheeky Bee Hoon Set ($13.80), Dry Cheeky Bee Hoon with Braised Pork ($8.80), Crab Dumpling Soup ($4.80)
Opening hours: Daily 10am to 9pm
Address: 37 East Coast Road, Singapore 428755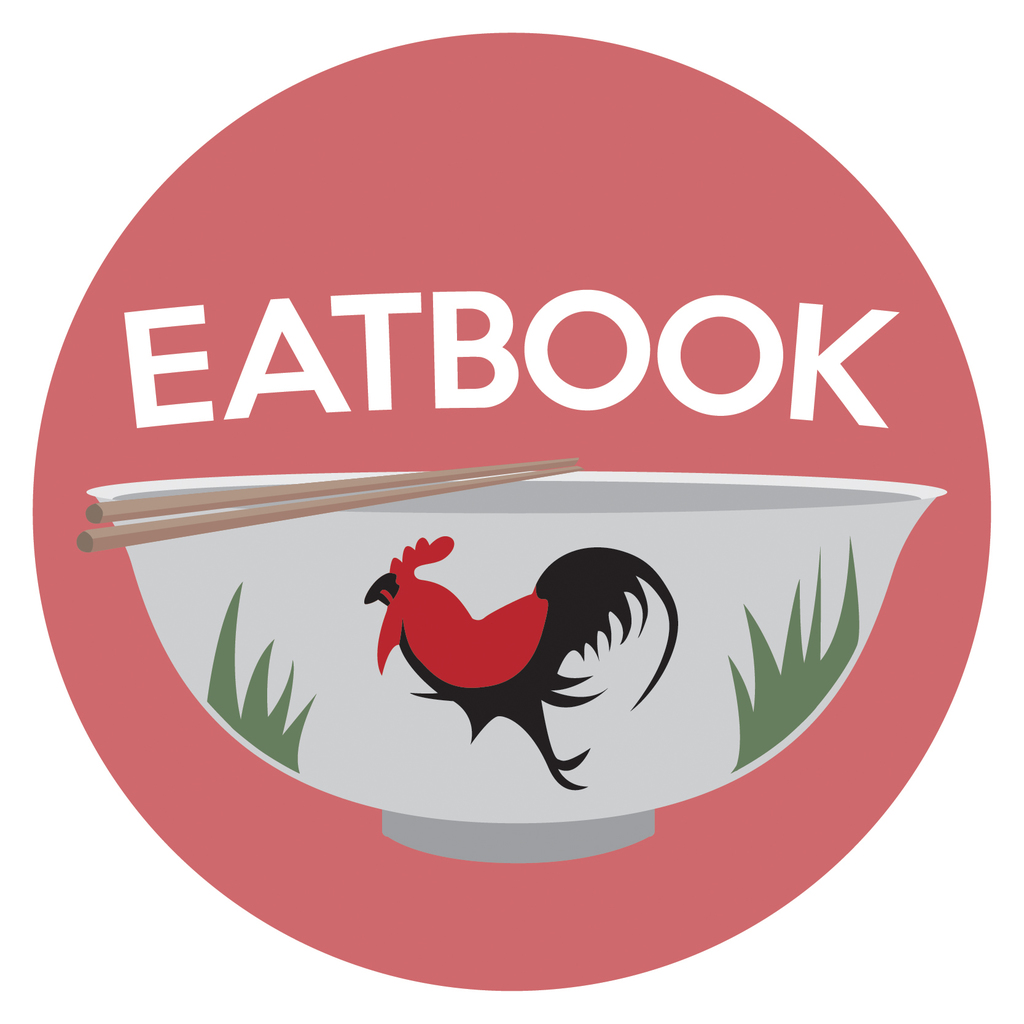 Drop us your email so you won't miss the latest news.