The history of satay bee hoon in Singapore, according to its hawkers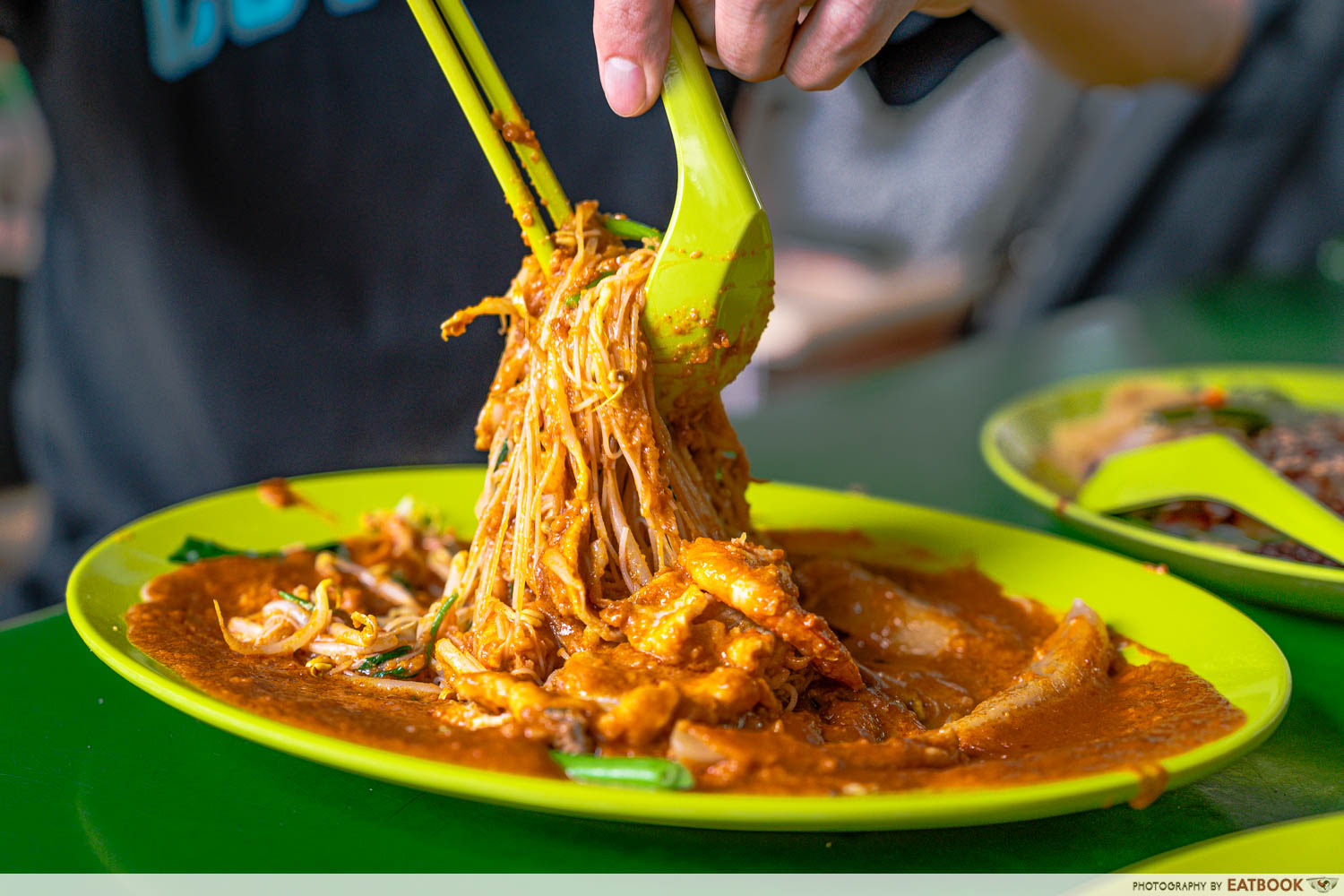 If you're an older person who grew up eating satay bee hoon, try this little experiment: ask the younger folks around you what they think about the dish. You may be surprised to learn that some of them have never heard of it before, let alone tried it. You wonder to yourself, was it all just a dream? Or did I stumble into a parallel universe where the dish never existed?
But it wasn't a dream, and you aren't a verse-jumper from Everything Everywhere All At Once. The truth is that satay bee hoon, a dish many would consider uniquely Singaporean, is dying a slow death. Whether it's because there are fewer and fewer hawker stalls that offer the dish, a sharp decline in its popularity, or both, satay bee hoon is no longer as visible it once was.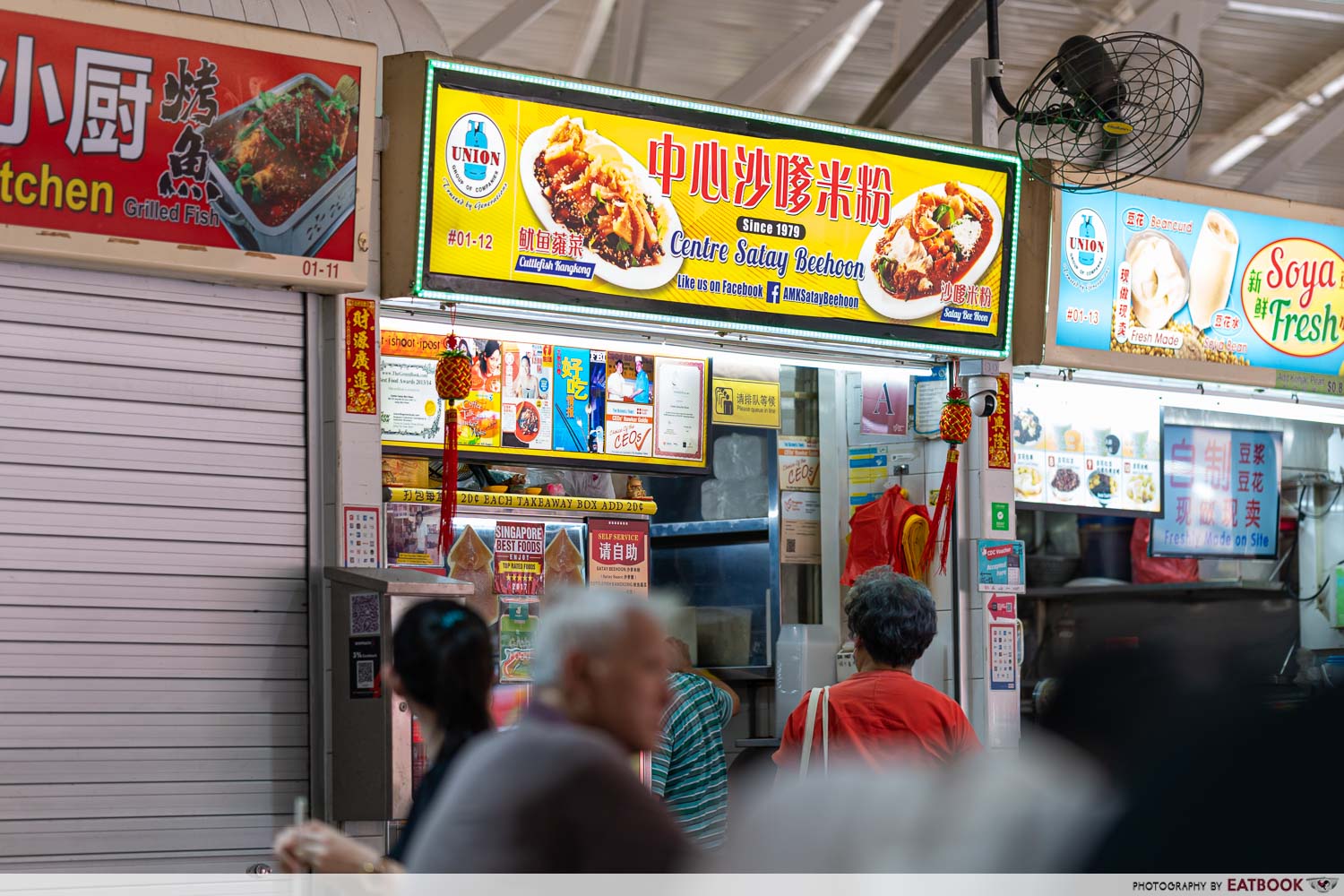 To find out why this is happening, I spoke to three owners behind the most renowned and last-remaining satay bee hoon stalls in Singapore. A fascinating narrative emerged from these conversations, one that began with their Teochew forefathers and continues—for now, at least—with the last bastions of the fading dish.
This is the story of satay bee hoon.
What is satay bee hoon?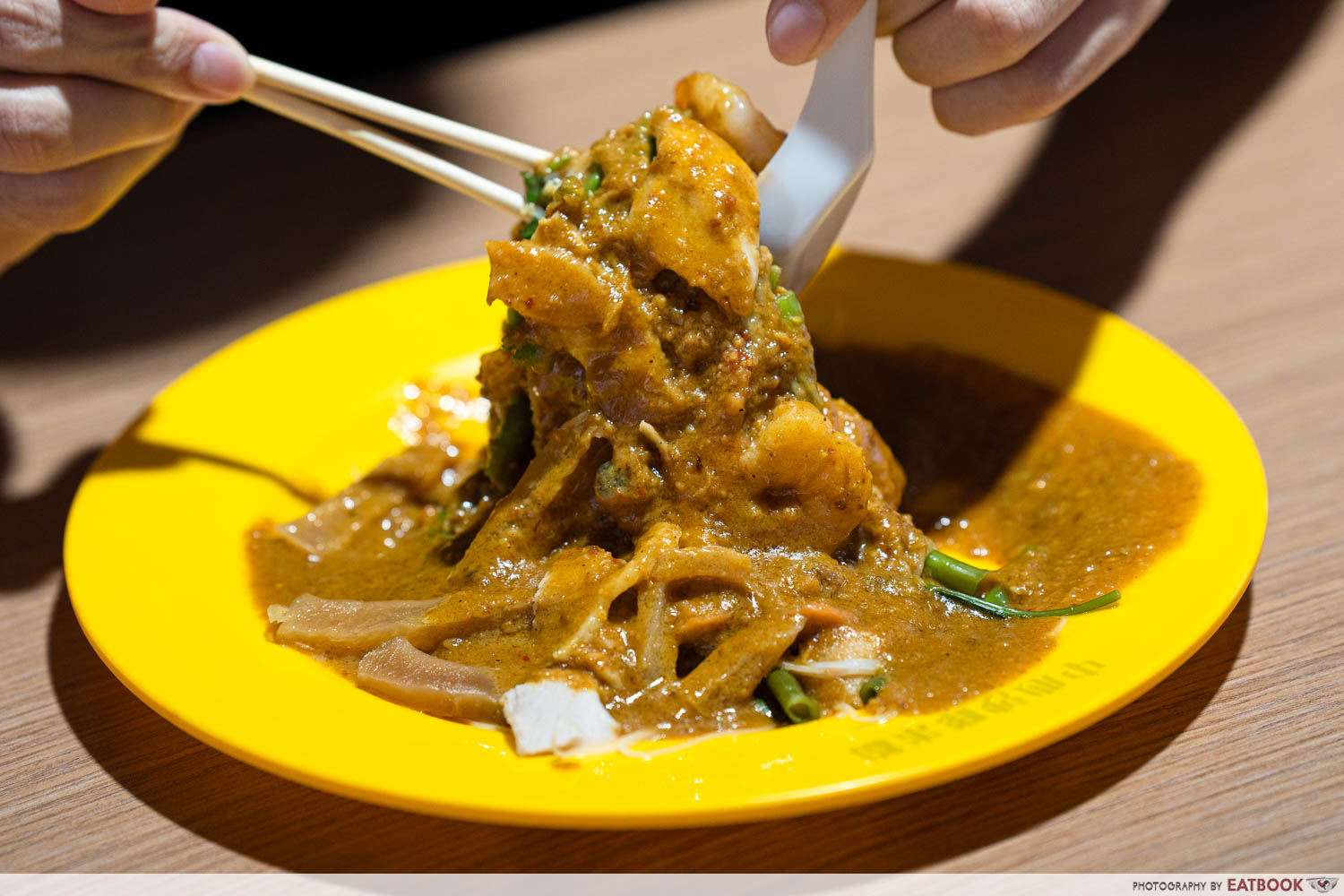 Much like the dish itself, the origins of satay bee hoon are messy, to say the least.
It is said that the core elements of satay bee hoon—peanut sauce poured over rice vermicelli and other ingredients such as kang kong and cuttlefish—were laid out by the early Teochew immigrants in Singapore. That's the accepted narrative in the history books, and it's one the hawkers agree with, too.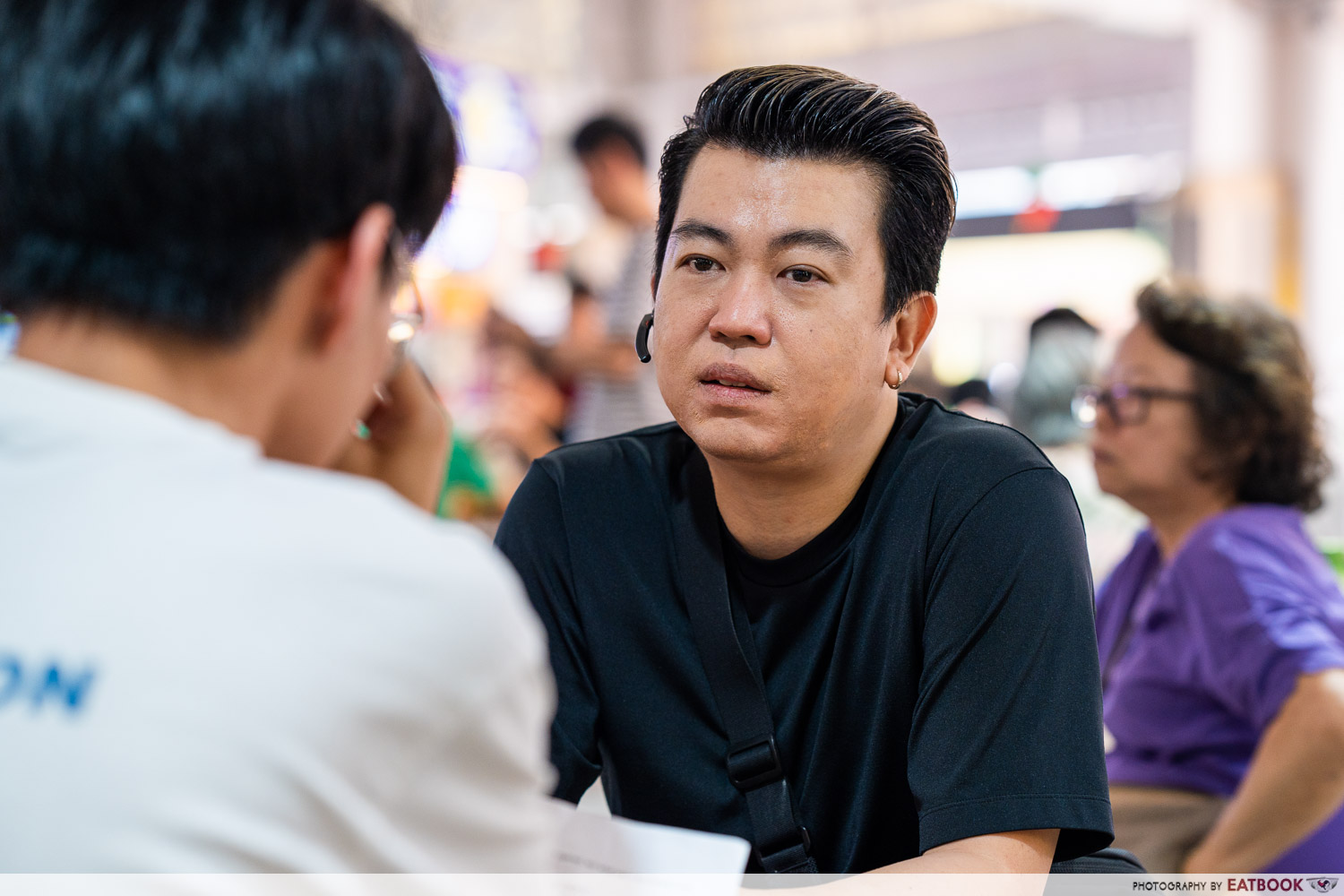 "Satay bee hoon was first made by our Teochew ancestors," said Jome Tan, 46. "As for its true origins, some say it was brought directly from China, some say Malaysia."
"Satay bee hoon was first made by our Teochew ancestors."
Jome is the current owner of Centre Satay Beehoon in Ang Mo Kio. It was opened by Jome's father, who is himself Teochew, in 1979.
Jome's claim was interesting to me, as my research suggested that satay bee hoon has a connection to Javanese cuisine. Given Singapore's history as a thriving, regional port, it seems likely that the dish was a product of Teochew Chinese and Javanese culinary cultures. As I looked for more evidence to support this theory, I came across a dish that could be the missing link.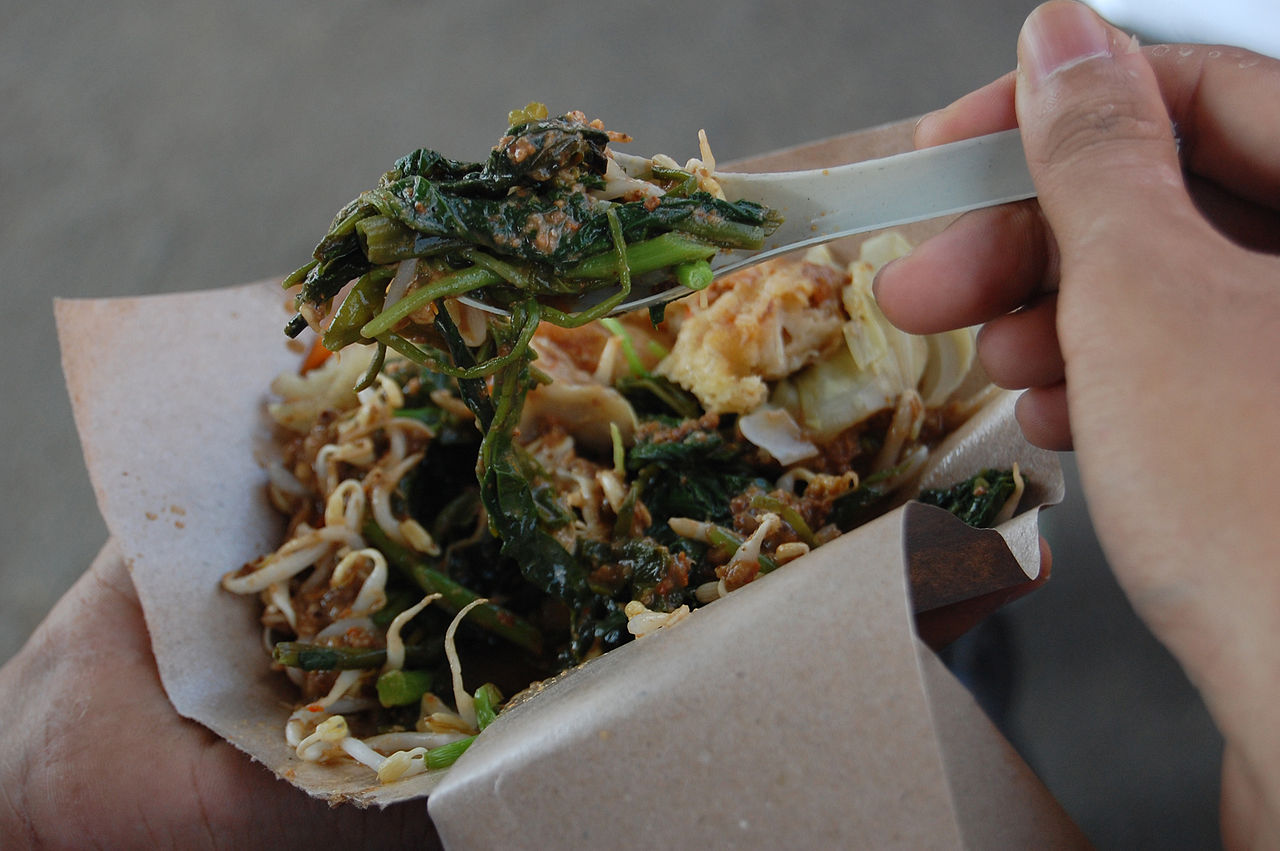 Image credit: Hariadhi
Pecel is the Javanese version of gado-gado—it's essentially a salad dish that is notable for its use of peanut sauce. A vegetable that often features in it is kang kong, which, whether by coincidence or not, appears in most plates of satay bee hoon. With these similar ingredients, could pecel have been a major influence on satay bee hoon?
"Well, it is possible, but to know for sure we have to travel back in time," Jome noted with a laugh. "Some of the ingredients are similar, but satay bee hoon is quite different at this point. No one really knows how it came to be."
There is, however, a stall that claims to have created the dish.
The accidental invention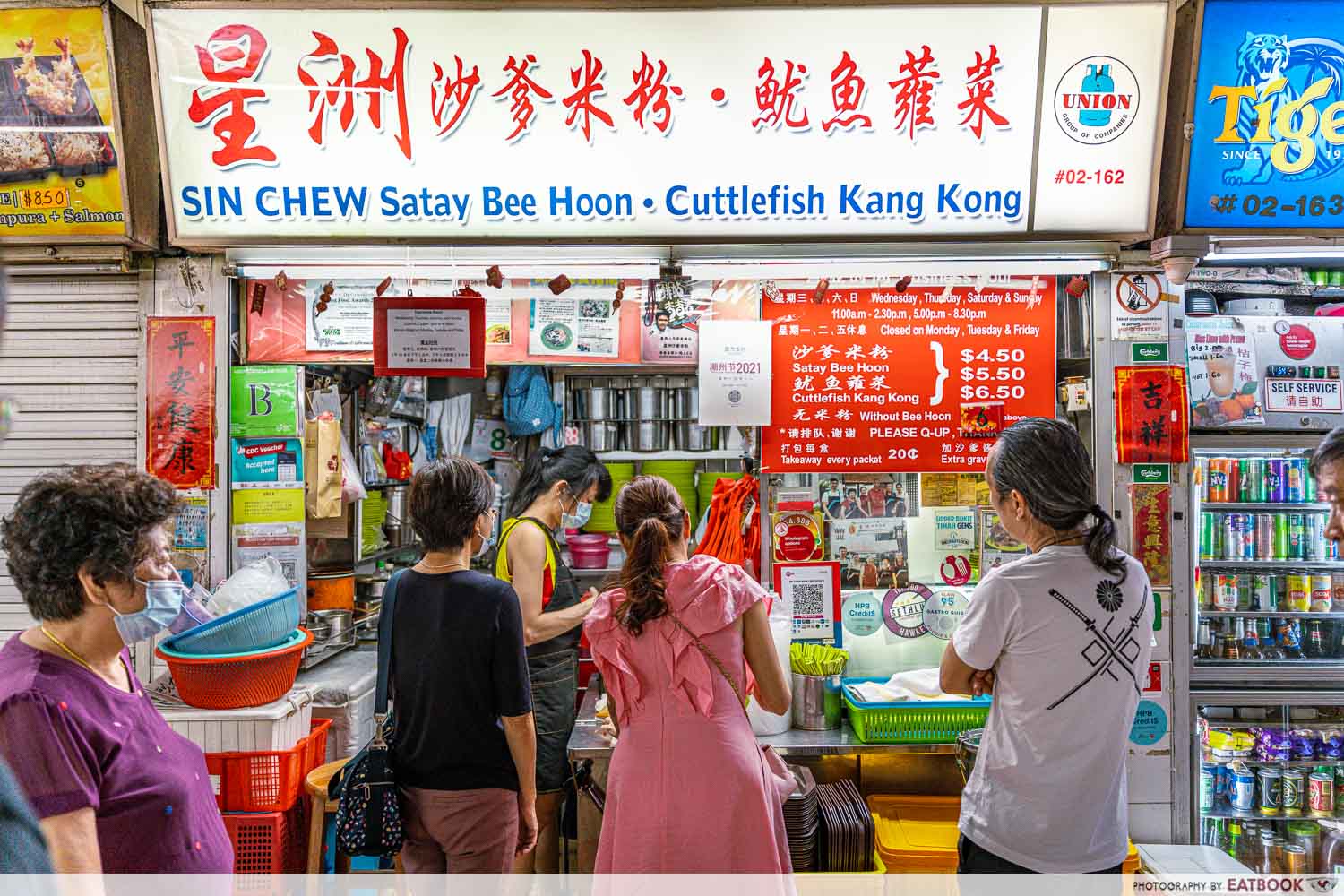 To many, Sin Chew Satay Bee Hoon is the pinnacle of satay bee hoon in Singapore. At the Bukit Timah stall, you'll often see throngs of people queuing up to have a taste of the robust noodle dish.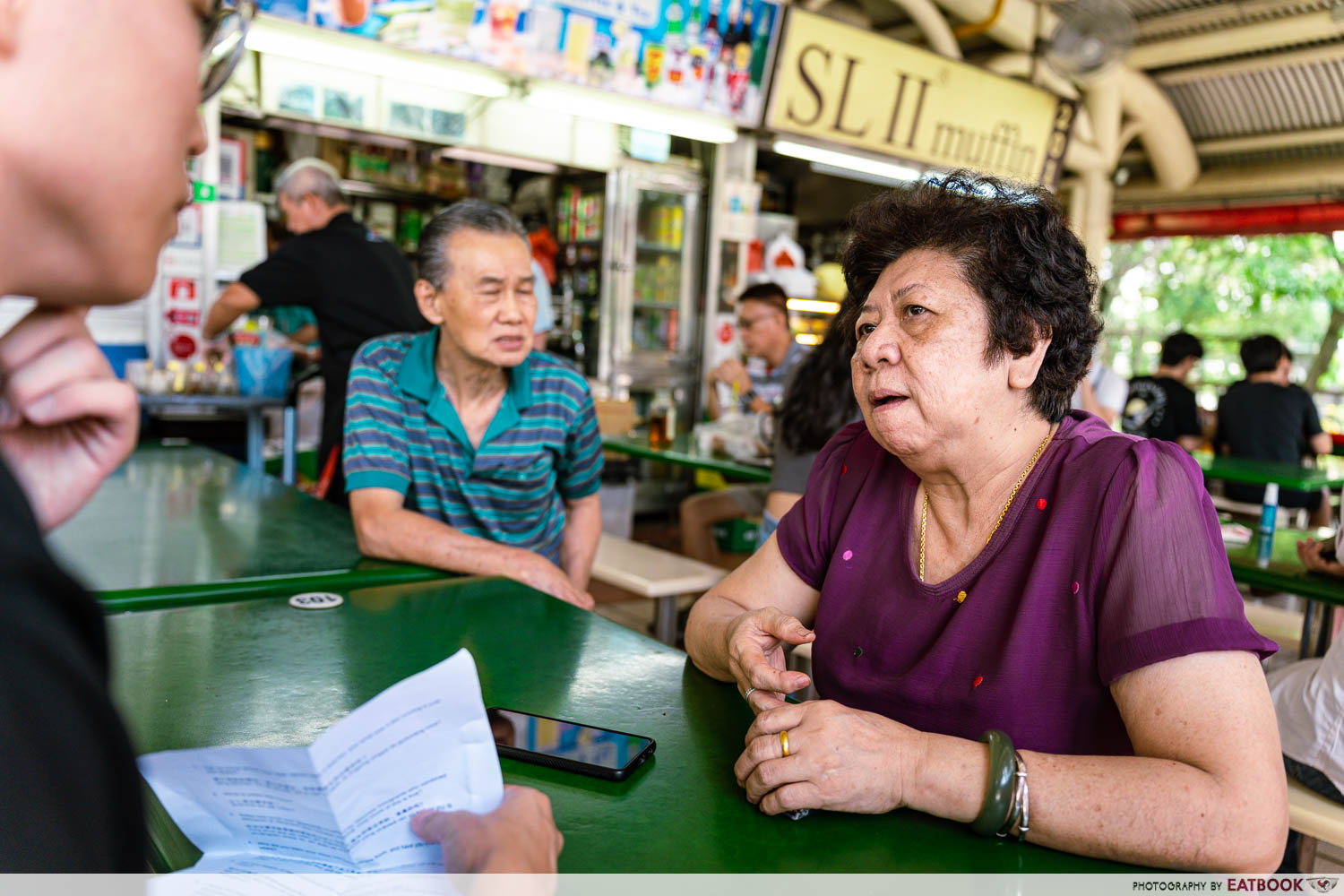 Established in 1956, Sin Chew is now in the hands of its third generation. Its second-generation owner, Madam Koh Git Tia, was happy to share the stall's—and allegedly, the dish's—fateful beginnings with us.
"Last time, we were a fishball noodle stall," explained the 70-year-old. "That changed because one day, my in-laws bought some satay home, and didn't want to waste the leftover satay sauce."
"So they pour the sauce over bee hoon and thought, 'wah, it's good!' They came up with the dish like that."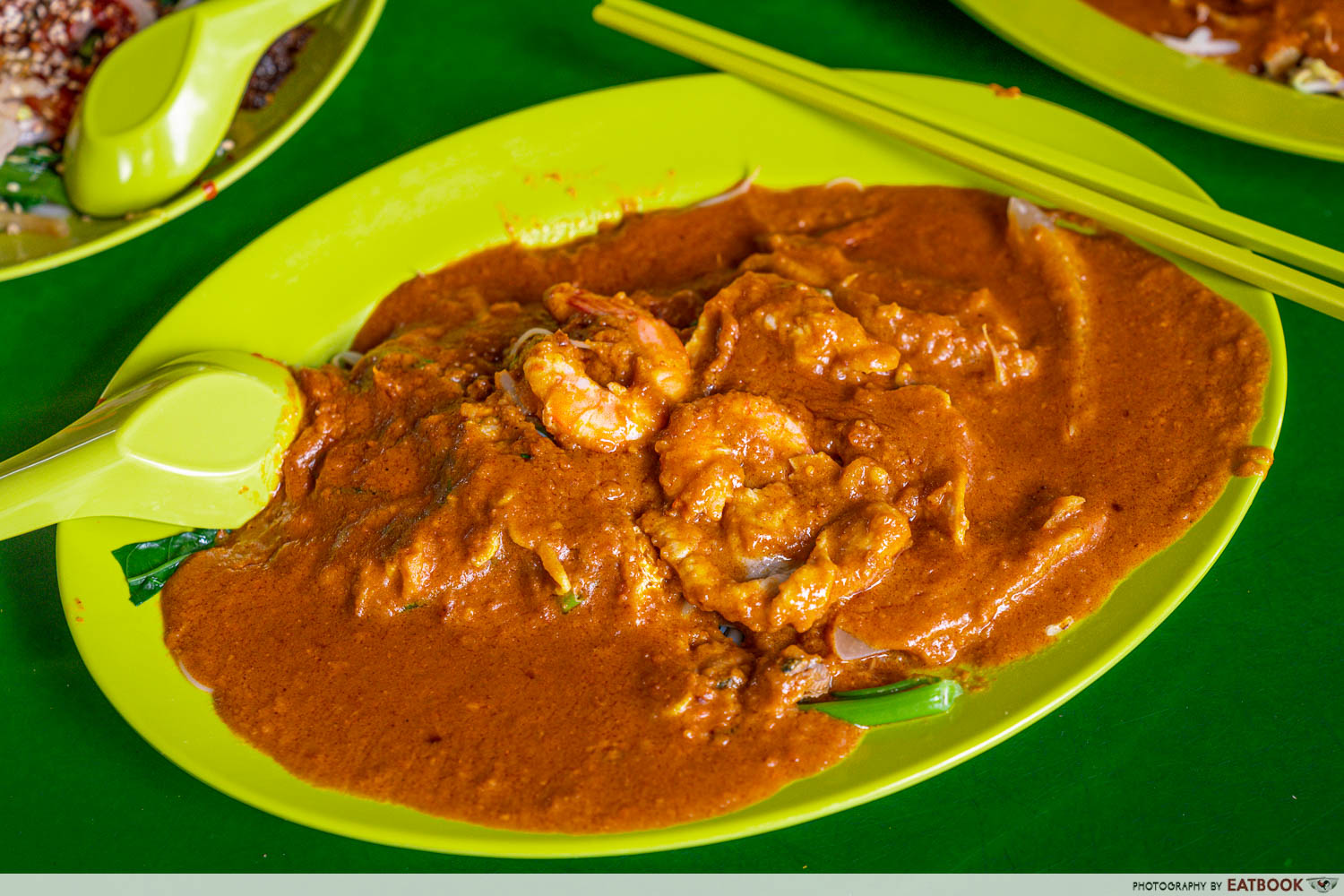 Like most food creation myths, there's no way of verifying whether this story is true. But there's something about the haphazard nature of the dish that does suggest it was more jazz than symphony—in other words, the product of improvised genius.
That isn't to say there weren't any tweaks made to improve the dish. "When we started selling satay bee hoon, Nyonya customers come to us and say, use this herb, that spice," Madam Koh said. "So our sauce become different to satay stall ones. Less sweet and more fragrant!"
This rich and flavourful sauce made satay bee hoon a hit among locals. And yet as time marched on, this idiosyncratic dish began disappearing from our hawker centres.
Why is satay bee hoon disappearing?
When asked the above question, all three hawkers we interviewed gave the same answer: because it's too hard to make.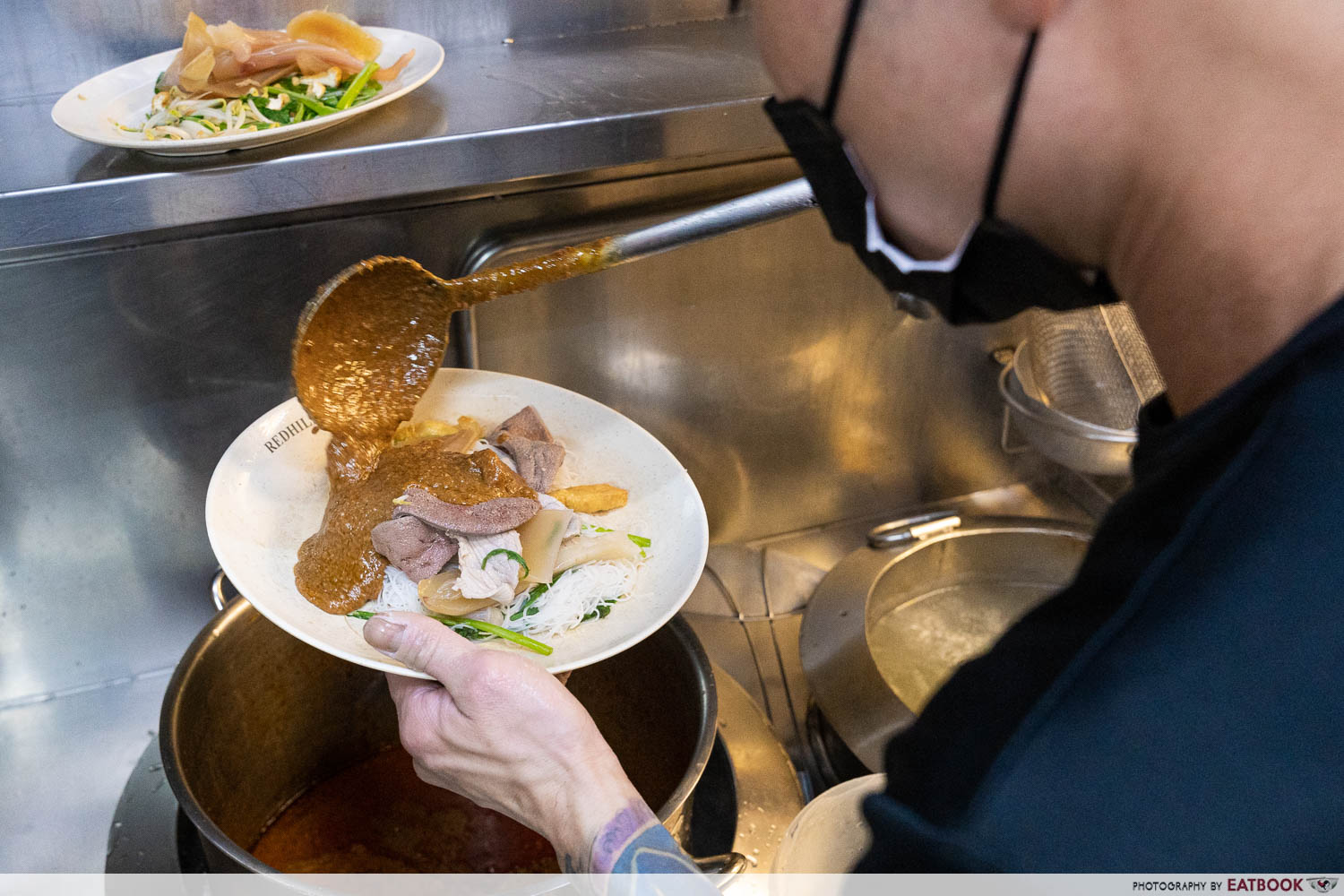 "You need a few hours to cook the sauce leh, and then we still need to peel the prawns, slice the pork," said Madam Koh. "All this is done by hand. Luckily my daughter wants to take over, if not very hard to find people who want to cook satay bee hoon."
"Luckily my daughter wants to take over, if not very hard to find people who want to cook satay bee hoon."
It's also increasingly costly to make the dish. "Nowadays, one kilo of peanuts (used to create the sauce) cost 90 cents—so expensive now! Because of this and other rising costs, we don't profit much."
With fewer people willing to make the dish, and more old hawkers retiring without anyone willing to take over from them, it's only natural that satay bee hoon is drifting into obscurity.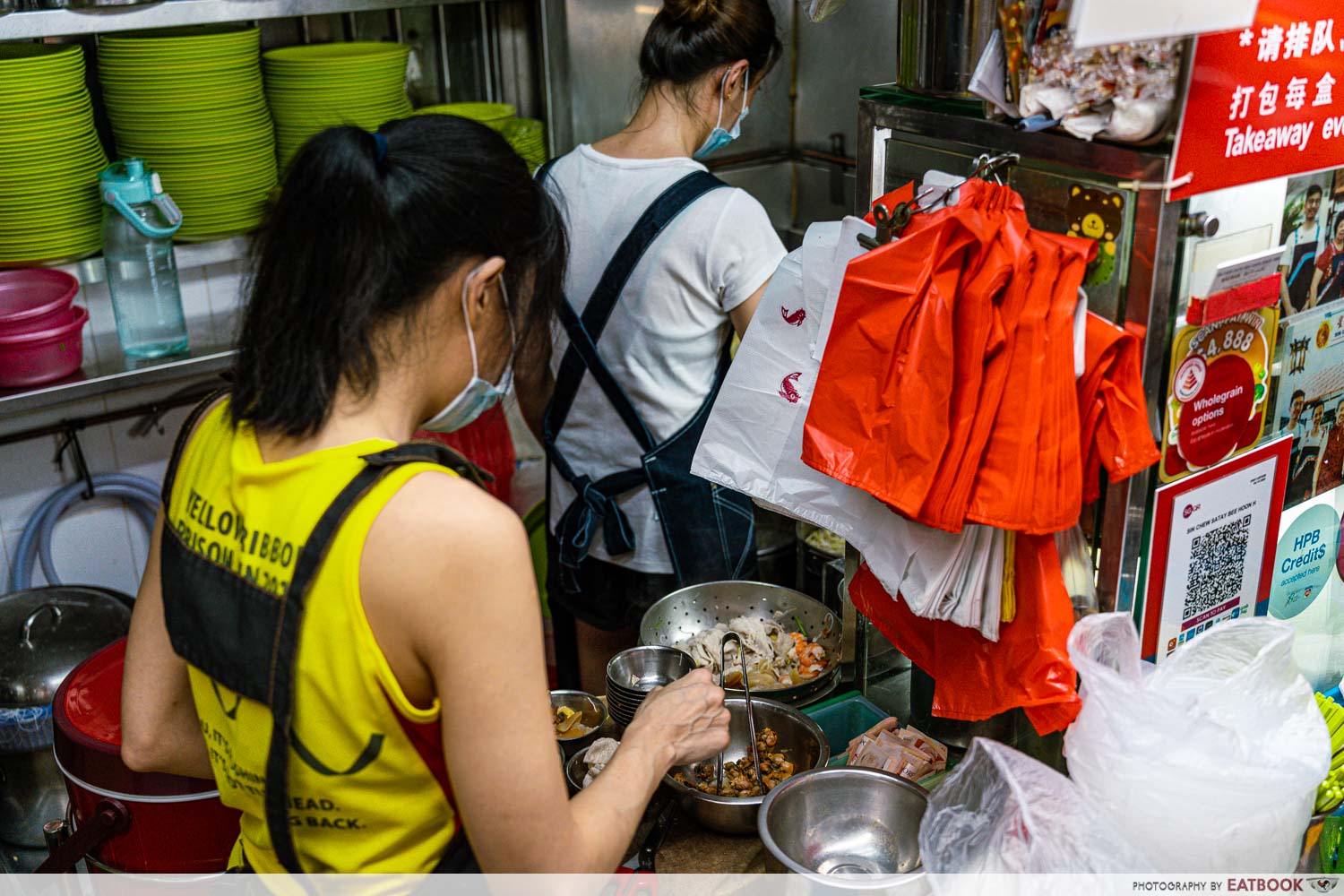 There's an idea that this decline may also be caused by the changing preferences of younger generations.
"It's a dish that doesn't really appeal to youngsters as much," Jome remarked. "But I don't want to change the recipe too much because it won't be right."
"It's a dish that doesn't really appeal to youngsters as much."
"We once did a charity event with TOUCH Community Services. For that, we tried adding other ingredients like mussels and tiger prawns. It's not so nice like that. I think it spoils the original image of satay bee hoon."
Within the satay bee hoon scene, the stalls featured in this piece still draw plenty of customers from all walks of life, so it isn't all doom and gloom just yet. Nevertheless, the dish finds itself in something of an identity crisis: should it continue to be sold in its current form, or should it be revamped, repackaged, in an attempt to reach a new audience?
The future of satay bee hoon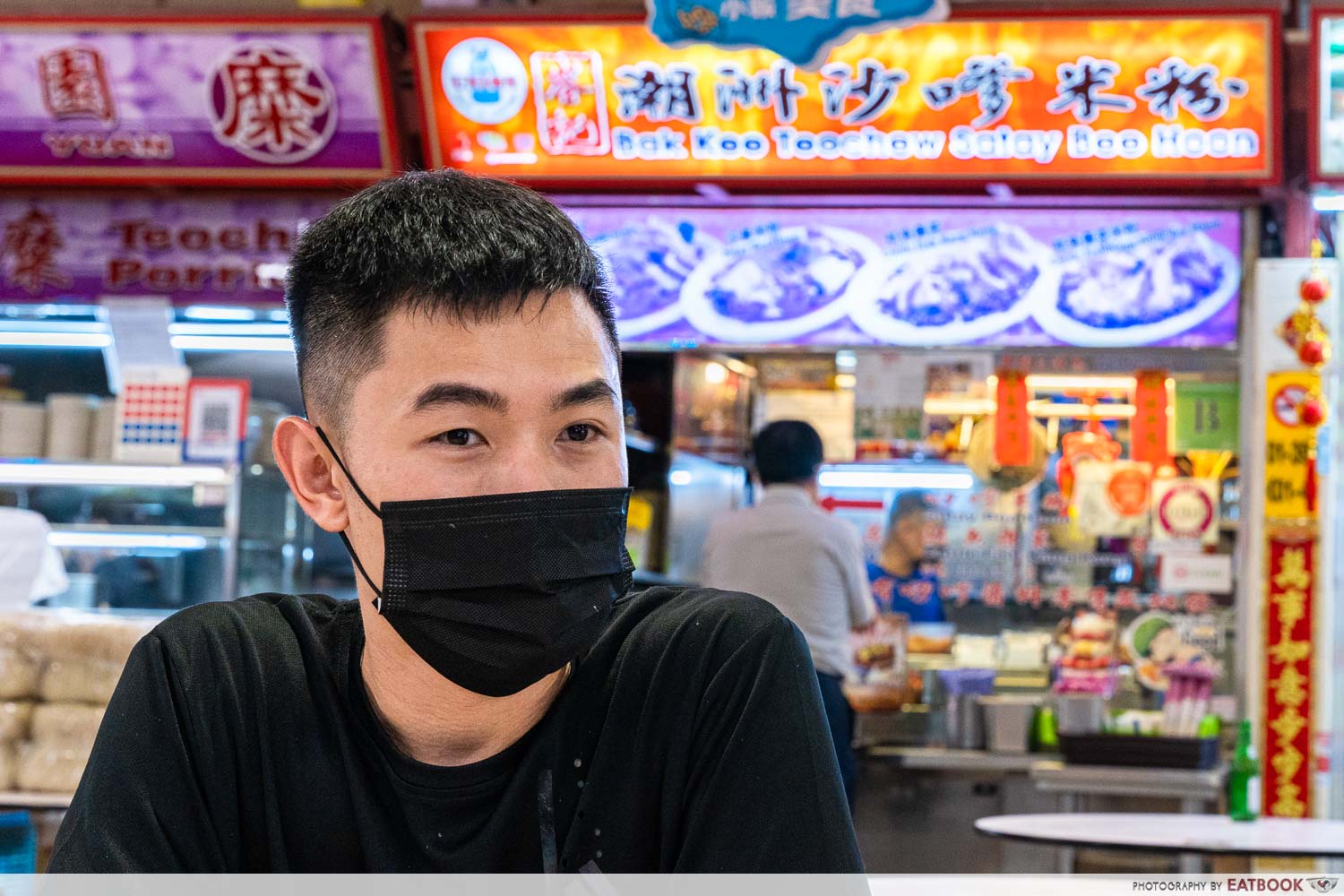 As far as we know, Samuel Lee, 29, is the youngest satay bee hoon hawker in Singapore. He is the current owner of Bak Kee Teochew Satay Bee Hoon, a famous Redhill stall that first opened for business in the 1960s.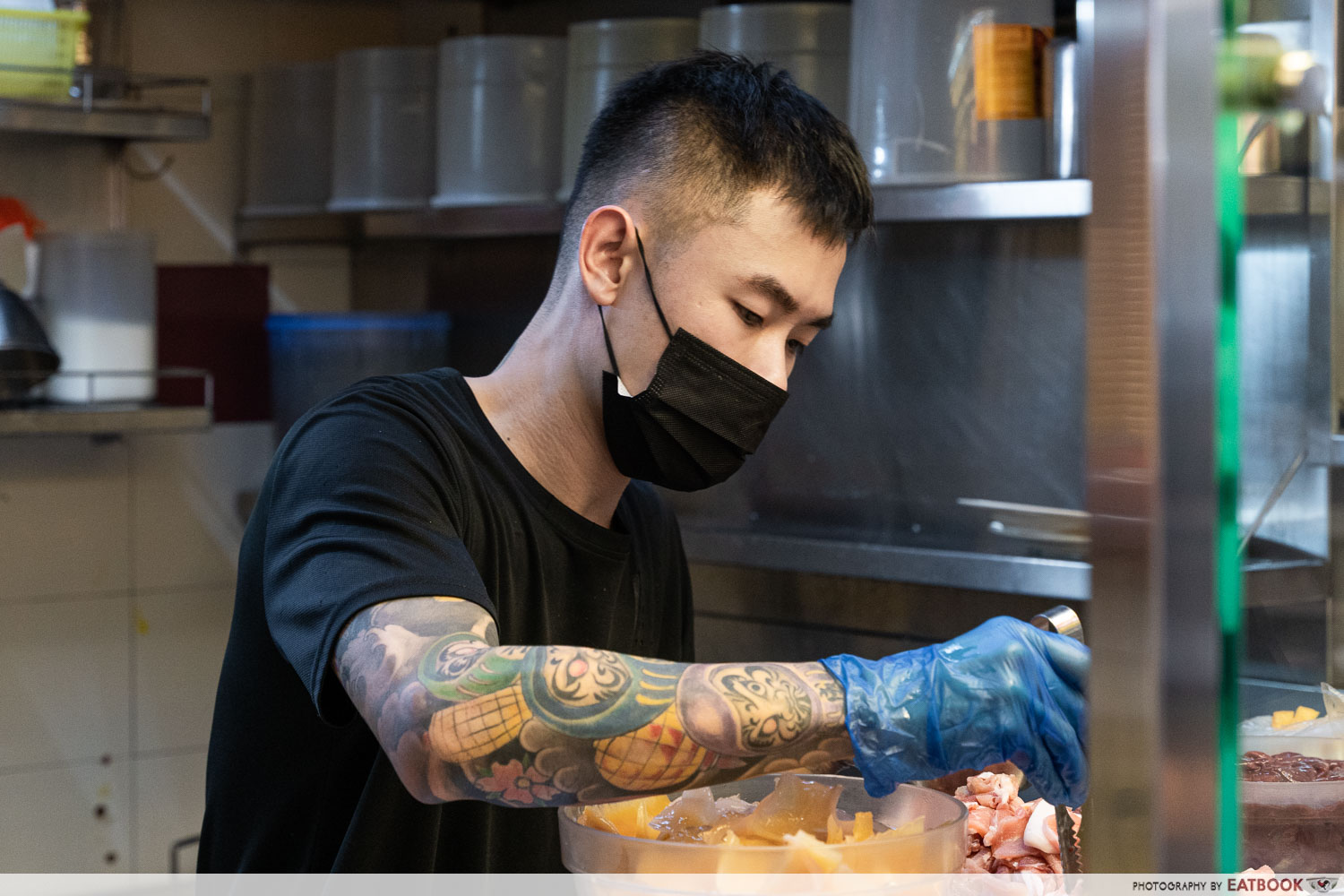 Samuel works at a frightening pace. After I made my order, his nimble arms sprang to life, reaching for one ingredient after another—bee hoon, pork liver, cuttlefish, cockles—before smothering the glorious mess he had whipped up with an avalanche of peanut sauce. Though young in years, Samuel's dedication to his craft was readily apparent.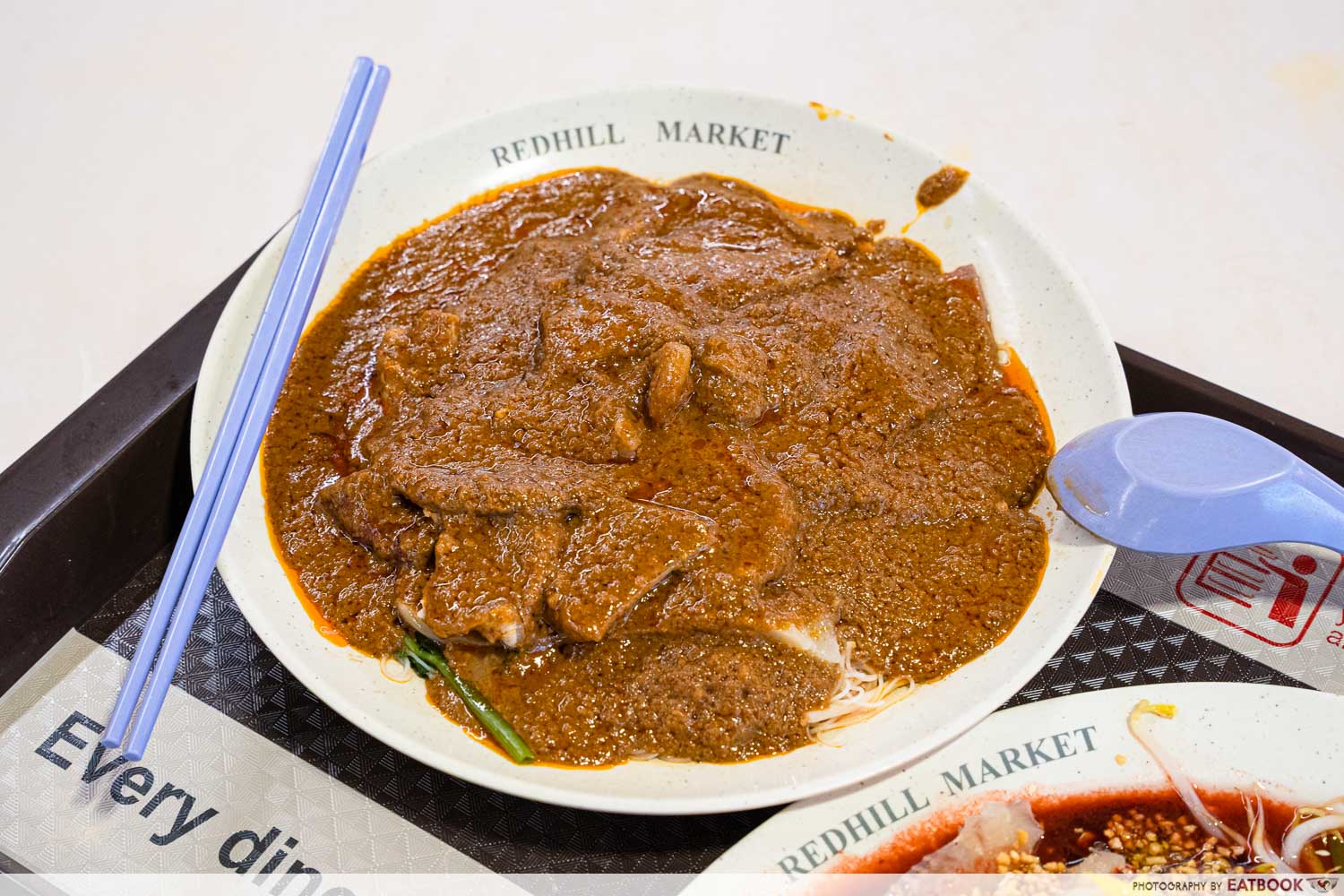 To Samuel, satay bee hoon is everything. "I eat satay bee hoon every day, it is my favourite dish," he said. "Some people ask me, you cook and eat it every day, why aren't you sick of it? I don't know why. When I look at the dish, I feel hungry!"
When asked about the possibility of adapting the dish for a younger audience, Samuel seemed quite open to the suggestion.
"In the future, I may try making something more fun, like a 'seafood satay bee hoon'. But the gravy will be the same for sure."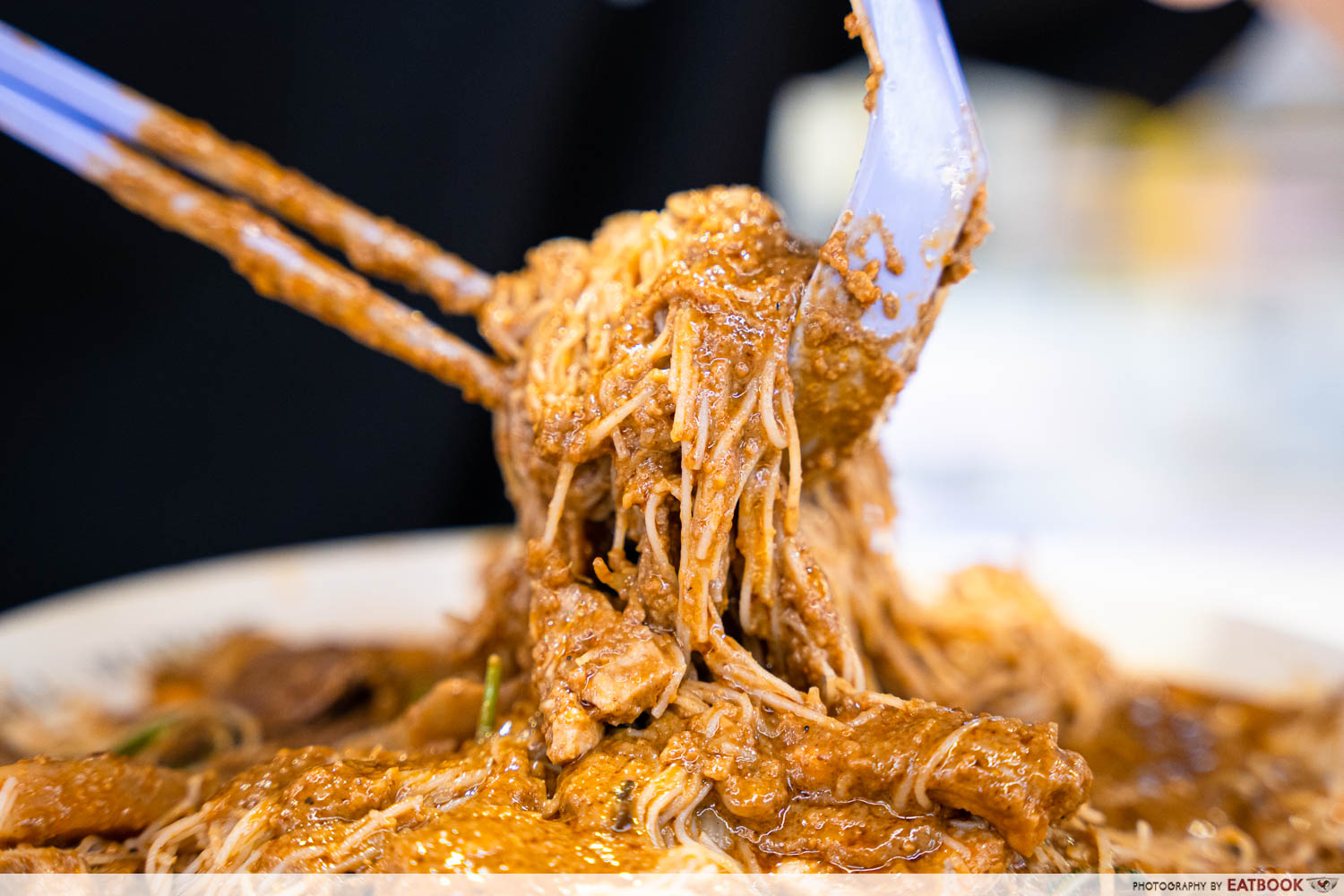 This third-generation heir is determined to preserve his family's recipe. "We use over 60 ingredients for our secret peanut sauce, which is made at our factory," said Samuel. "It is the same recipe our stall used from the beginning. What my grandfather sold before, I am selling today."
"What my grandfather sold before, I am selling today."
For satay bee hoon to remain relevant, it might have to evolve under a new generation of hawkers willing to try new things with the dish, while still retaining the essence of what made it great—a satay bee hoon renaissance, if you will. It's impossible to say whether this will happen, but young hawkers such as Samuel inspire hope for the dish.
In truth, it all starts from a continual demand for satay bee hoon. So if you're young and have never tried the dish, seek it out; if you're older, bring the young to try it.
Let this article not be an elegy, but a call for a renewed interest in satay bee hoon.
For a story about the last surviving member of Singapore's historical satay club, read our Original Alhambra Satay feature. Also, check out our Kim Tee feature, which tells the tale of a popular bak kwa brand that's been around since the 1970s.
Centre Satay Beehoon
Address: 724 Ang Mo Kio Avenue 6, #01-12, Ang Mo Kio Central Market & Food Centre, Singapore 560724
Opening hours: Wed-Mon 10am to 8pm
Tel: 6850 5058
Website
Centre Satay Beehoon is not a halal-certified eatery.
Sin Chew Satay Bee Hoon
Address: 51 Upper Bukit Timah Road, #02-162, Bukit Timah Market & Food Centre, Singapore 588215
Opening hours: Wed-Thurs 11am to 2:30pm, 5pm to 8:30pm, Sat-Sun 11am to 2:30pm, 5pm to 8:30pm
Tel: 9826 0782
Website
Sin Chew Satay Bee Hoon is not a halal-certified eatery.
Bak Kee Teochew Satay Bee Hoon
Address: 85 Redhill Lane, #01-40, Redhill Food Centre, Singapore 150085
Opening hours: Mon-Tue 6am to 4:30pm, Thurs-Fri 6am to 4:30pm, Sat 6am to 5:30pm, Sun 6am to 3pm
Tel: 8380 7745
Website
Bak Kee Teochew Satay Bee Hoon is not a halal-certified eatery.
Original Alhambra Satay: The Last Survivor Of Singapore's Historical Satay Club
Photos taken by Melvin Mak.
This was an independent feature by Eatbook.sg.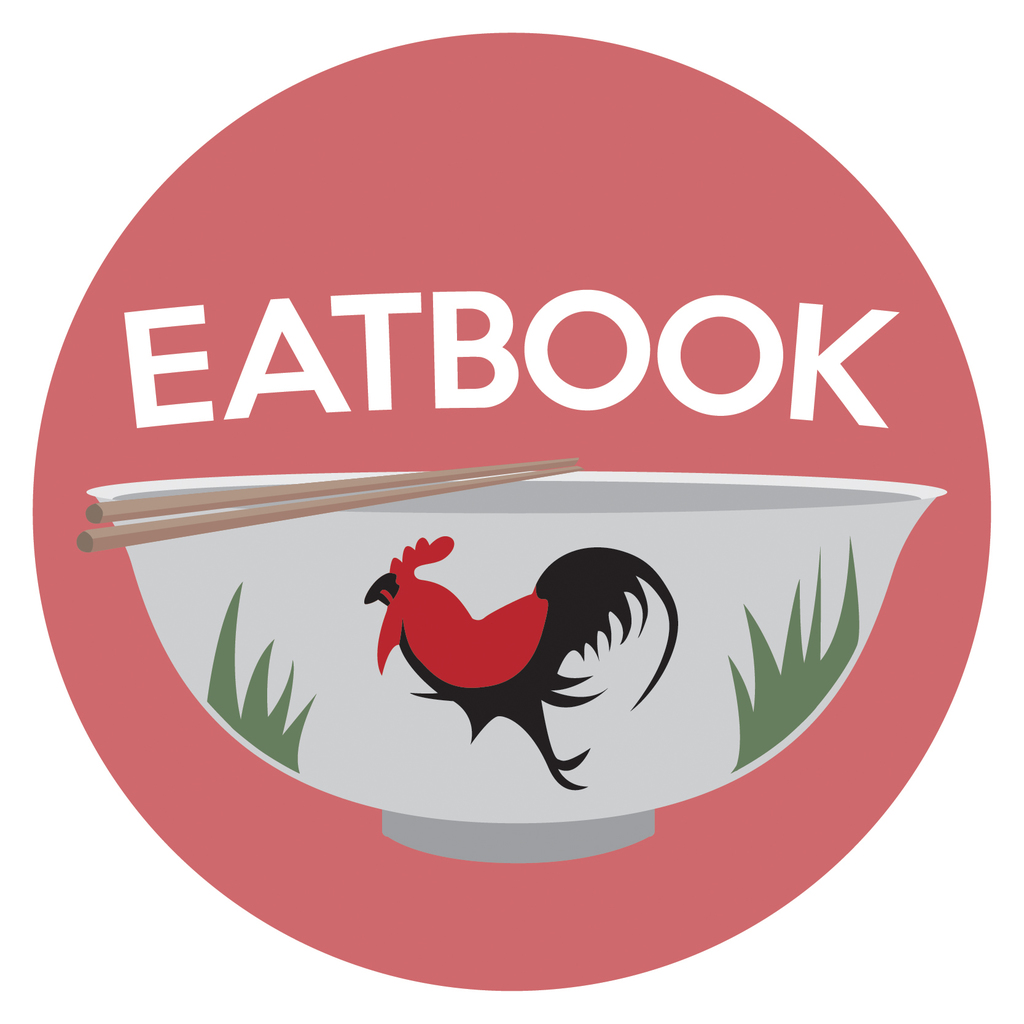 Drop us your email so you won't miss the latest news.