Kim Tee is a popular bak kwa brand since the 1970s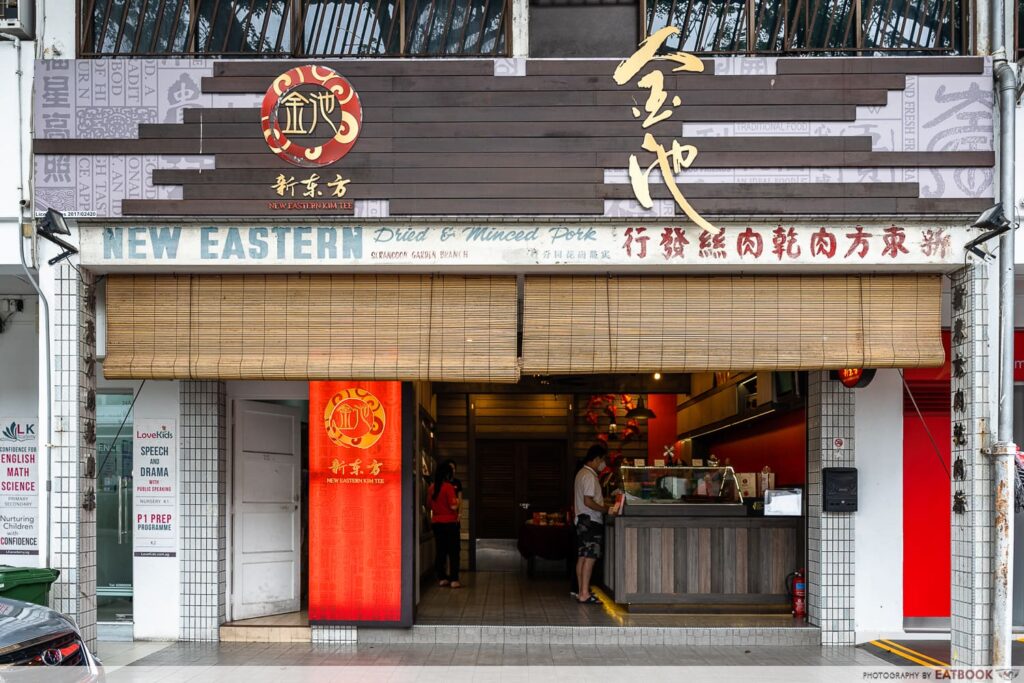 There are many bak kwa shops in Singapore, but few have a history as rich as Kim Tee's. With Chinese New Year (CNY) just around the corner, there's no better time to spotlight the family-run bak kwa brand, which started as a humble kampung stall in 1970. 
Over its 50-odd years of heritage, the homegrown business has seen multiple changes, including new innovations such as bak kwa fries and self-heating bak kwa pot added to its repertoire. Yet, one thing remains unchanged: Kim Tee still uses the same handmade recipe as its founding days, involving an arduous, two-step charcoal cooking process that places it a notch above the rest. Today, the brand boasts four outlets across the island, the baton now passed on to the third generation who are working hard to continue 'Ah Gong's' legacy.
The good ol' days of Kim Tee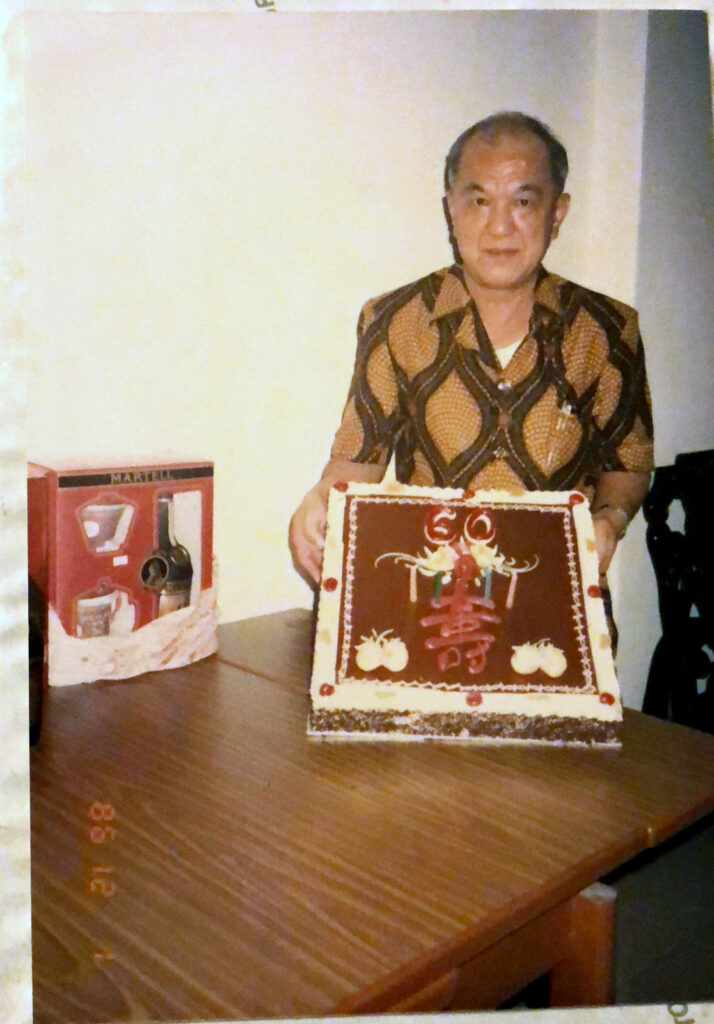 Mr. Teo celebrating his 60th birthday in 1986
It all started with the late founder Mr. Teo Kim Tee, who operated out of a small stall in his kampung along Adam Road circa 1970. Back then, he was known as a wholesaler who supplied his wares to other noteworthy bak kwa brands. Mr. Teo perfected his craft over the years, soon carving a name for himself for his uniquely thin and flavourful bak kwa.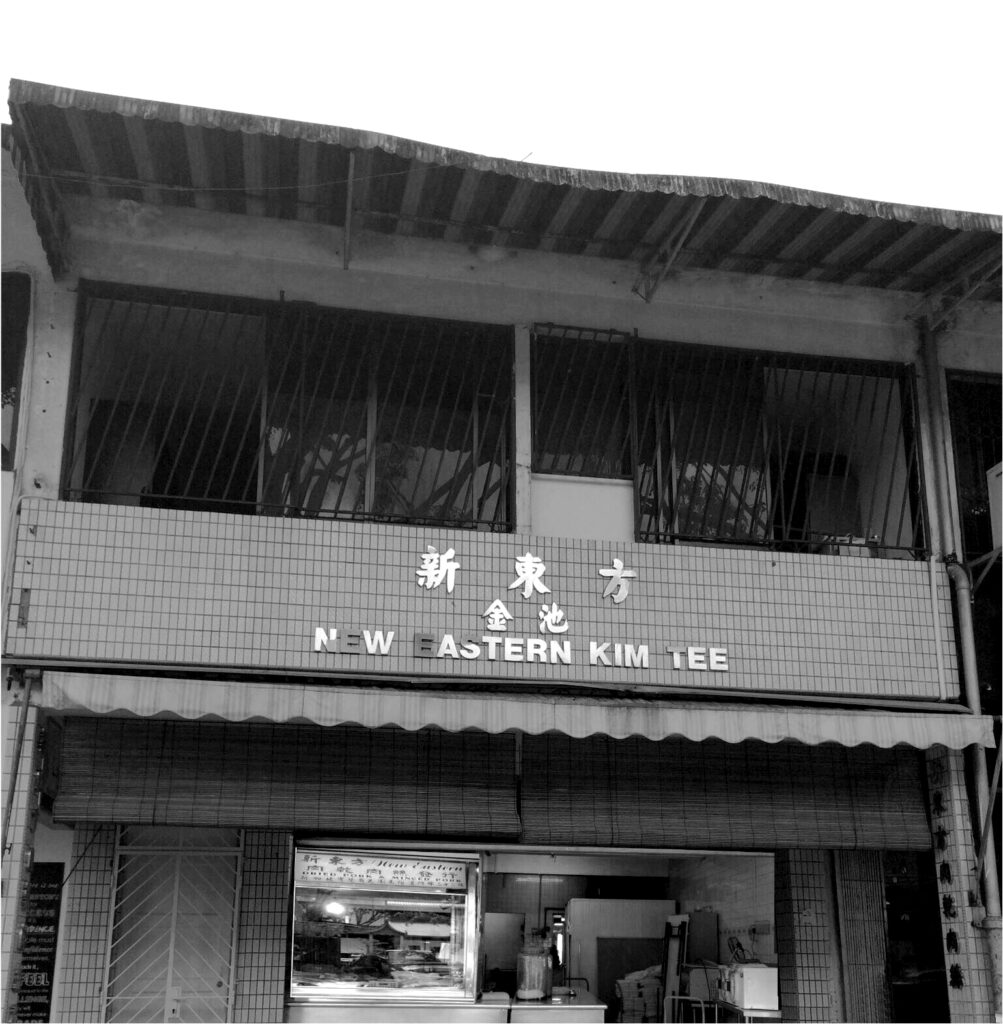 Kim Tee's first proper store in Serangoon Gardens
As more kampungs were cleared to make way for development in the 1970s, Mr. Teo moved his operations out of the Adam Road kampung to a shophouse in Serangoon Gardens and formally set up 'New Eastern (Kim Tee) Dried and Minced Pork'  in 1976. Today, the brand still operates out of the same shophouse, though they've recently rebranded to a more succinct 'Kim Tee' as a homage to the late founder.
All in the family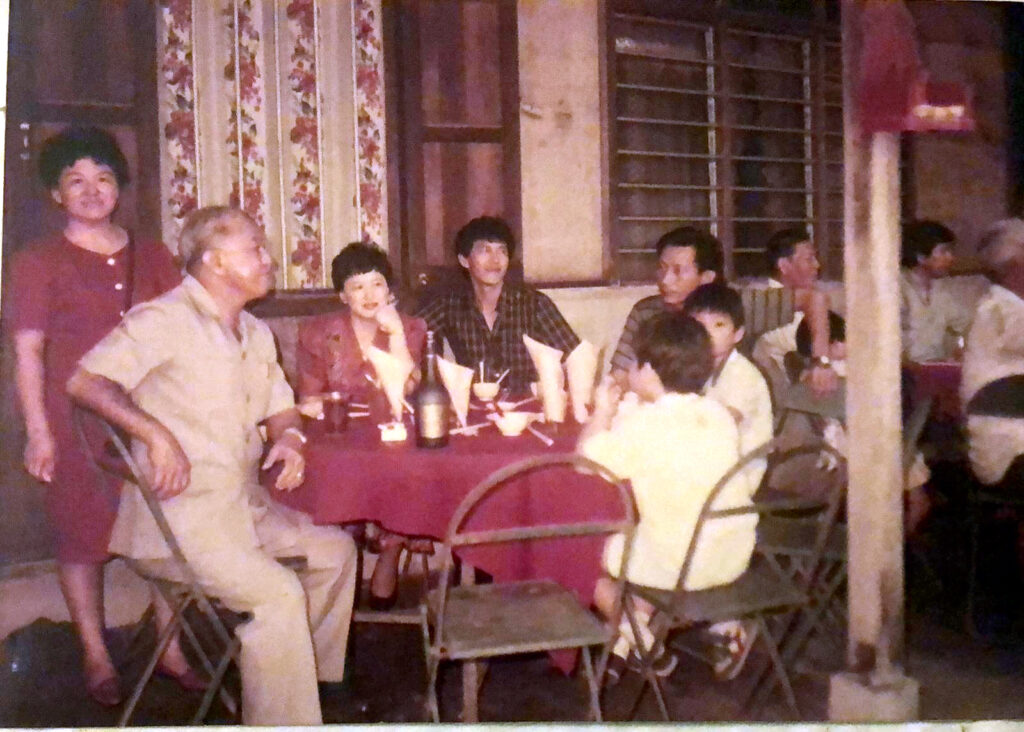 Mr. Teo Kim Tee (second from left) with some of his children, taken in the 1970s
The business has always been a family affair. Since the start, Mr. Teo's children were involved in running the store. His grandchildren were also roped in to help from as early as the age of six. They started with folding bak kwa boxes, before they were 'promoted' to manning the front of house. Thereafter, they would be let in on the highly guarded bak kwa making process.
After Kim Tee became an established name, Mr. Teo's children went on to open three more branches, namely at Old Airport Road, Potong Pasir, and Toa Payoh. The bak kwa is still prepared and roasted in large charcoal-fired ovens at their flagship Serangoon Gardens store, but finished off on the charcoal grill at the various locations so that it gets to each customer as fresh as possible.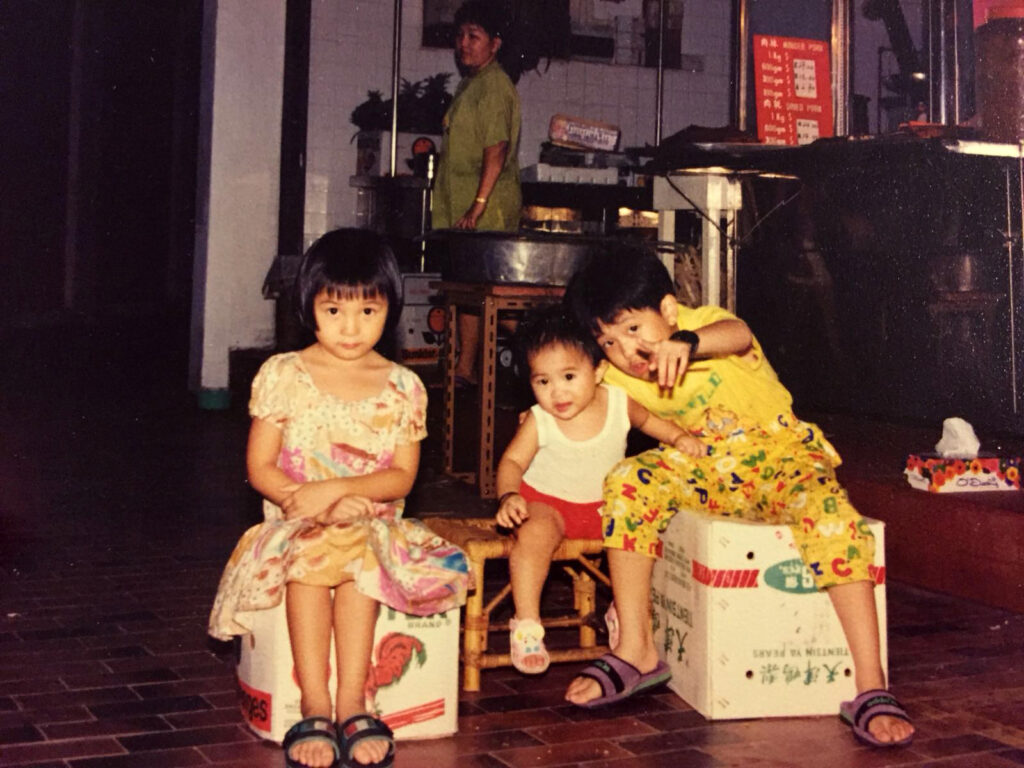 Ling Chee (far right) with her younger sisters in front of the old bak kwa counter, with their mother at the back
These days, the business is largely helmed by the family's third generation, including Ms. Ng Ling Chee, whom we had the chance to speak to. Ling Chee is in charge of business development in Kim Tee, while her parents run the Old Airport Road outlet. 
Ling Chee recalls an occasion when she was only 10 years old and had to help man the family shop while her mother was out to run an errand. "Before we had the convenient resealable bags you see today, the bak kwa used to be packed in paper boxes. My Chinese New Year childhood memories were all about folding copious bak kwa boxes."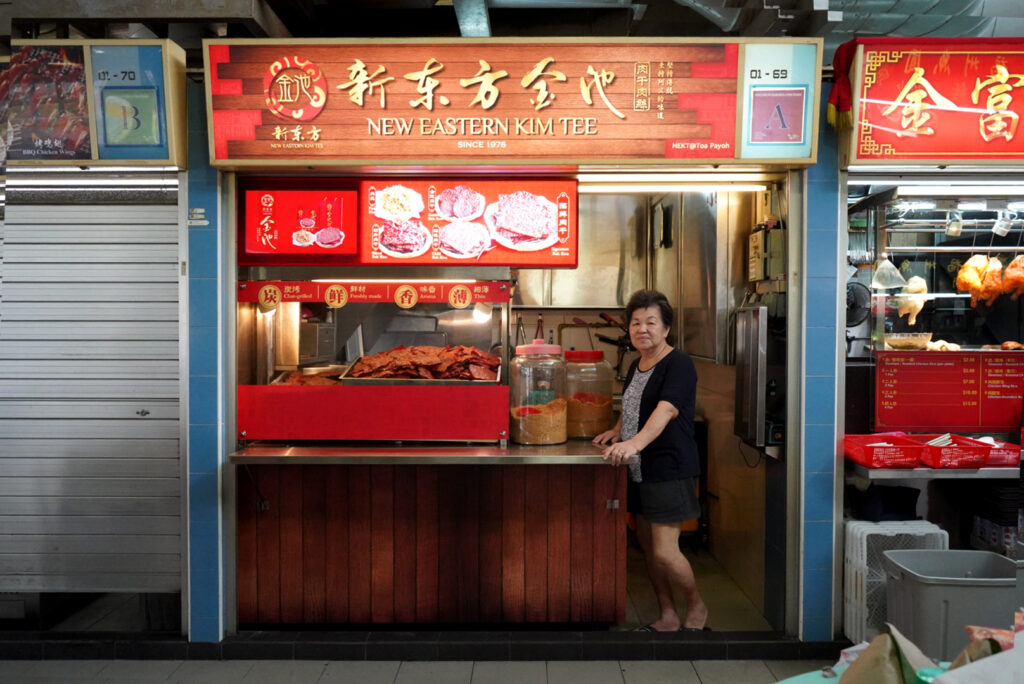 Mdm Teo Sai Koon at Kim Tee's Toa Payoh outlet
Her aunt, Mdm Teo Sai Koon, who runs the Toa Payoh outlet, chimes in. "Our bak kwa is still handmade and every step is manual. It gets challenging trying to meet the high demand during the Chinese New Year season every year." This hectic period can start as early as two months before the Chinese New Year. The charcoal fire doesn't stop during these few months as everyone works in shifts, round the clock, to fulfill the orders. 
The secret formula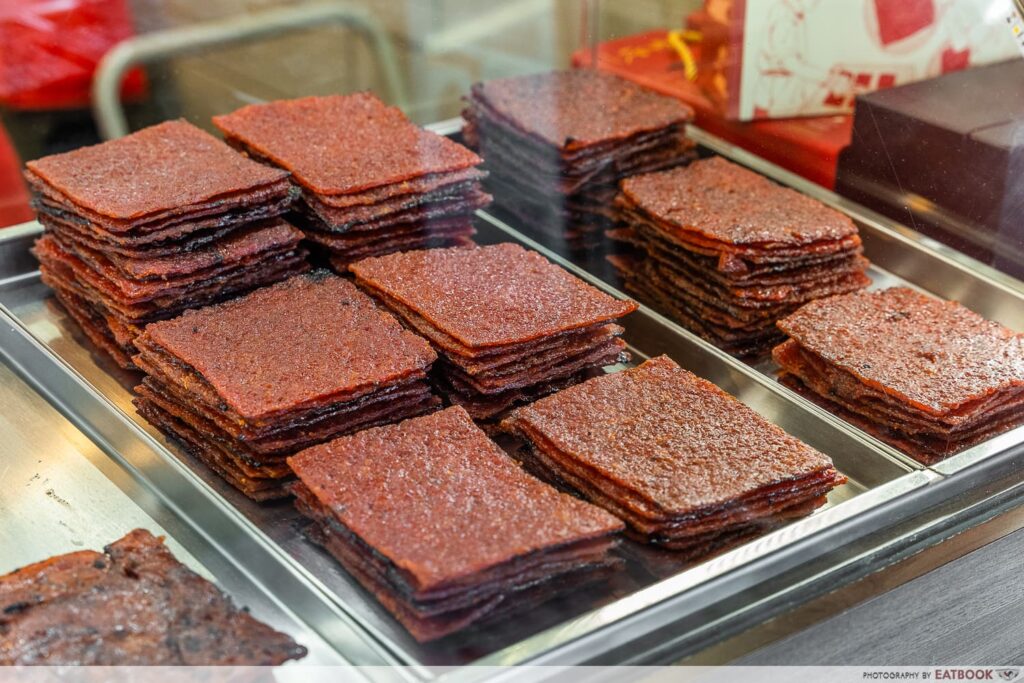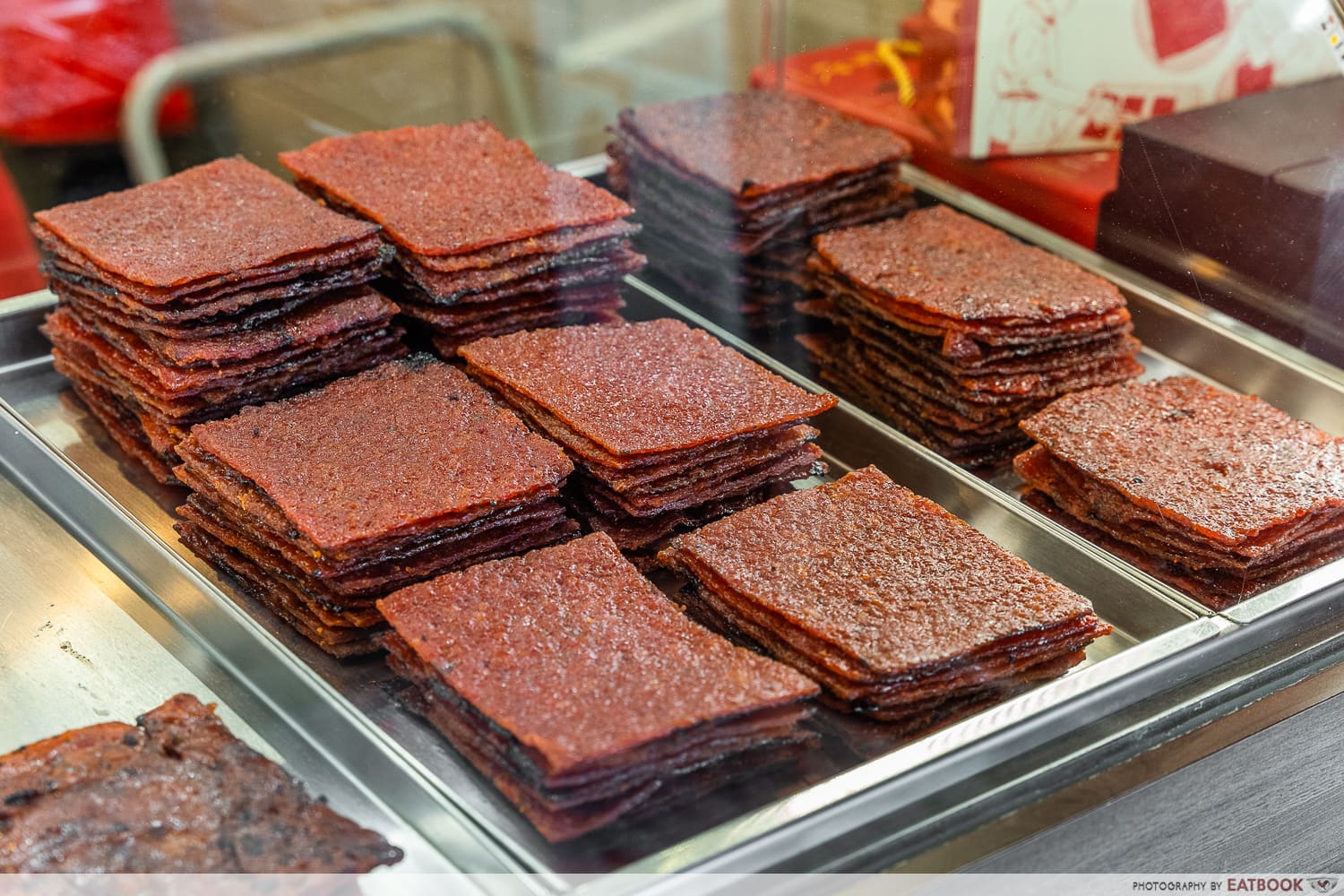 While some bak kwa brands have chosen to update their cooking method to increase efficiency and production, Kim Tee sticks by its time-tested, handmade bak kwa recipe—despite it being a painstakingly long process that can take up to three days. For instance, their bak kwa requires an additional step of trimming the excess fats for a more meaty and tender mouthfeel. 
After the pork is minced, the meat mixture is marinated with a simple blend of spices, fish sauce, and sugar for at least 24 hours. No preservatives, artificial colourings or nasties are used.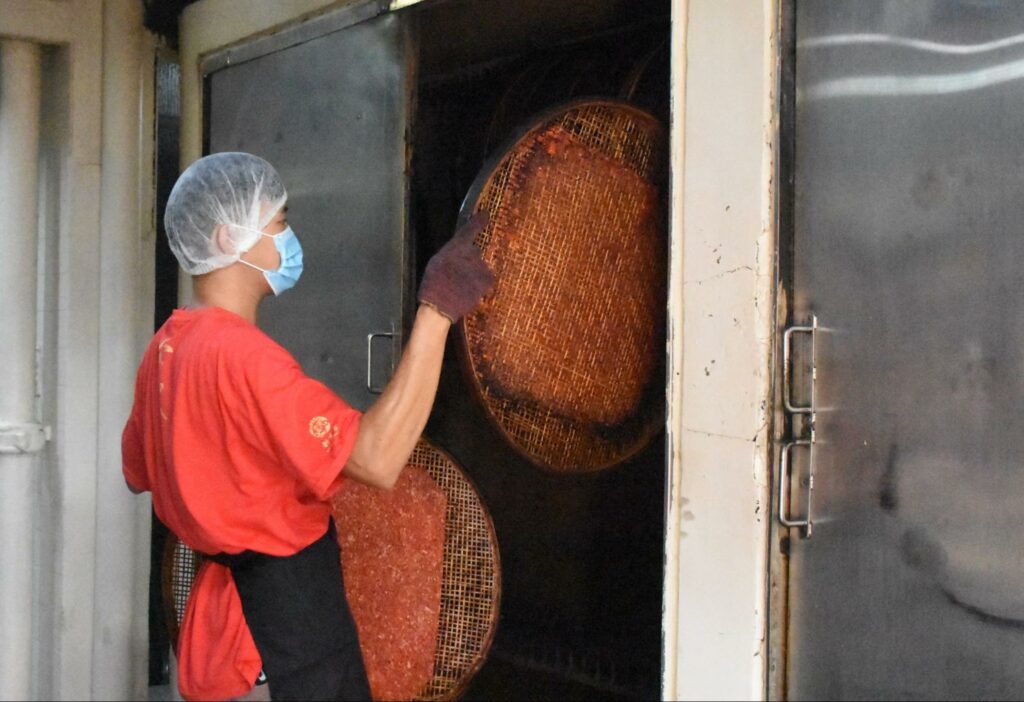 Image credit: Kim Tee
The first stage involves spreading a thin layer of the meat on a large bamboo tray to cook in a charcoal oven. This step is extremely important as Kim Tee's bak kwa is notably thinner than its counterparts, resulting in a superior texture and well-balanced flavour in each bite. 
The natural bamboo also imparts a light and earthy fragrance to the bak kwa, balancing out the rich and heavy char of the meat. Throughout the process, the trays are flipped regularly to cook evenly.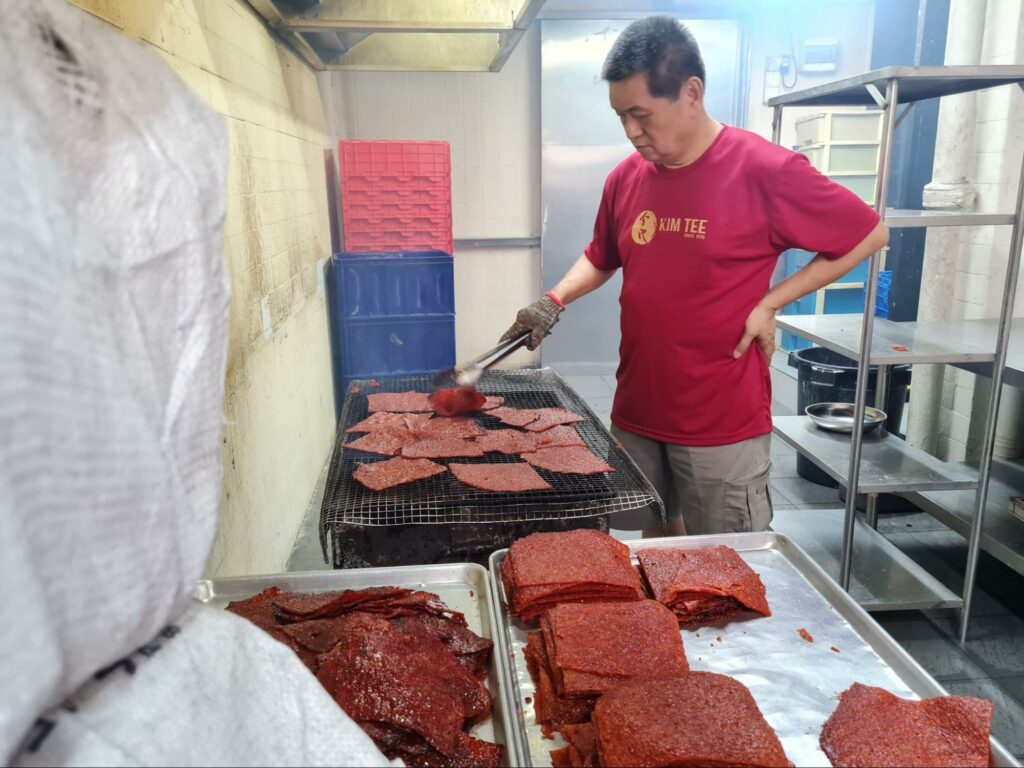 Image credit: Kim Tee
Then, the thin bak kwa slices are carefully removed, hand-sliced into squares, and charcoal-grilled to perfection—think crispy, caremlised edges and a tender middle.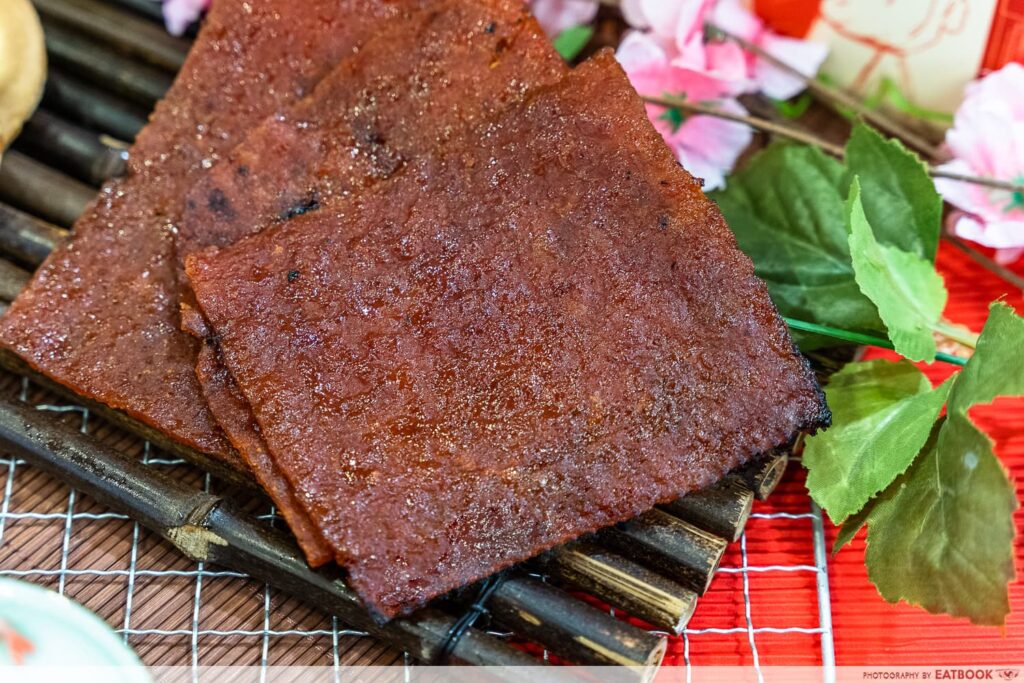 We got a chance to try their best-selling Signature Bak Kwa ($54-64/kg), made with minced pork shoulder for a well-marbled texture. Each slice was deliciously thin, yet with an even char and smokiness throughout—thanks to the tedious process of slow-cooking over charcoal fire. You get a savoury bite with the perfect amount of sweetness, so you won't feel jelak even after indulging in one too many slices. 
Moving forward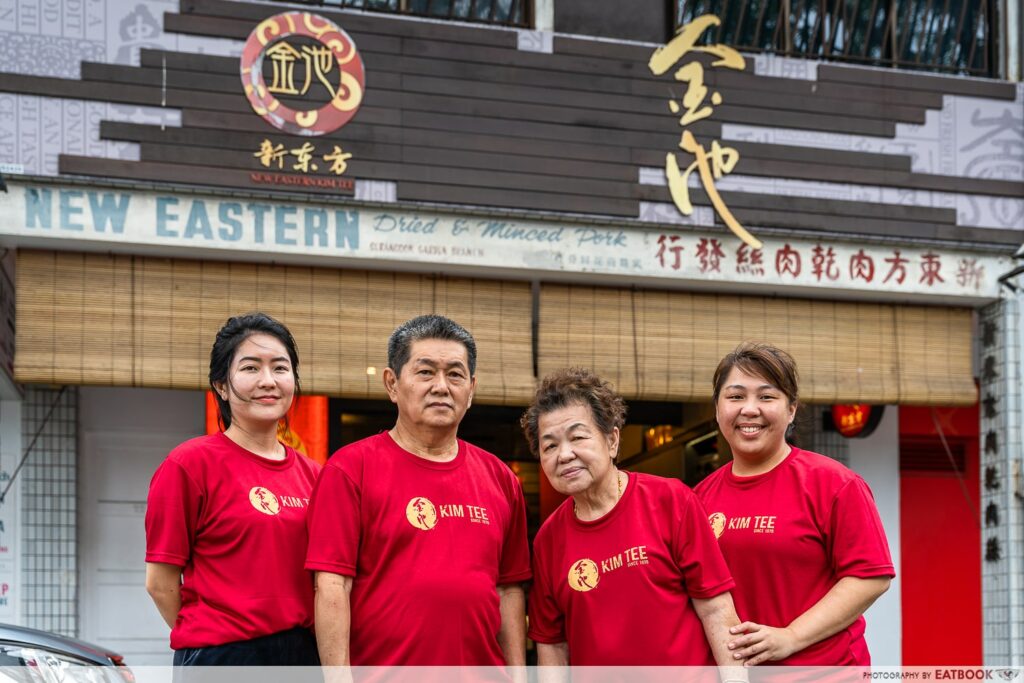 Left to right: Ms. Ng Ling Chee and her father Mr. Jeff Ng who runs the Old Airport Road outlet, Mdm. Teo Sai Koon and her daughter Ms. Lee Leng Yee who is in charge of operations in Kim Tee
Kim Tee is testament to the notion of 'If it ain't broke, don't fix it'. Regulars, both old and new, return for their handmade bak kwa, still made with the same traditional recipe since the brand's founding days. Even till today, the flagship occasionally get customers from their Adam Road kampung days, Mdm Teo says. 
That's not to say that innovation is futile. Kim Tee has been rolling out interesting bak kwa-themed products in recent years. A fun addition to the lineup is their Bak Kwa Fries ($6.50), available only during the off-peak season. According to Ling Chee, this cafe-inspired iteration has been a big hit since its launch.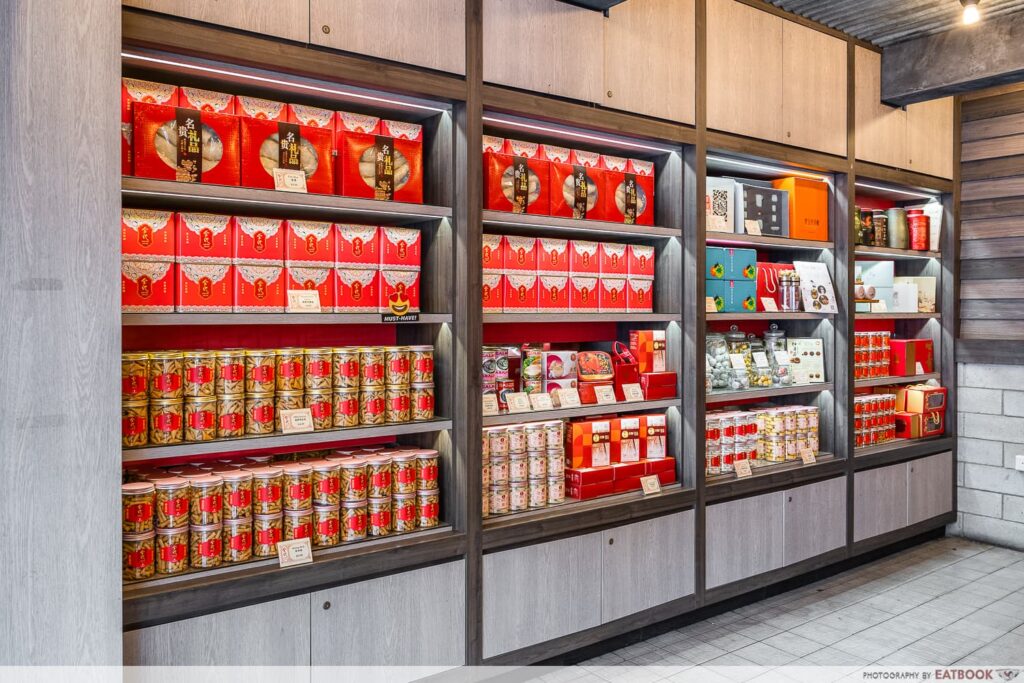 "These days, consumers want fresh products. We have not changed our recipe over the years, but the newer generations want to try different flavours," she adds. Ling Chee shares that the second generation had even attempted to create crocodile bak kwa back in the day!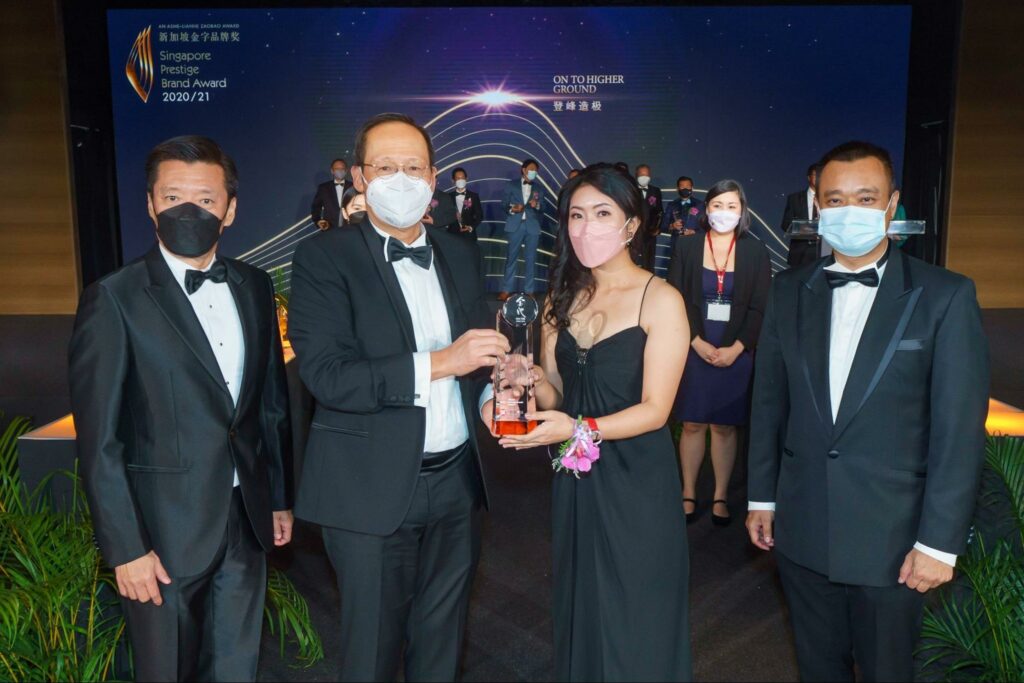 Ling Chee receiving the Singapore Prestige Brand award in 2022 
There's no secret to Kim Tee's success: just pure hard work and learning to adapt across three whole generations. It's this winning combination that scored Kim Tee its Singapore Prestige Brand title last year, under the Heritage Brands category—a prestigious award only given to noteworthy brands with over 25 years of history. 
Despite the recent recognition, the third generation aren't resting on their laurels. According to Ling Chee, the current goal is a 10% to 20% business growth. In the midst of their grand expansion plans, the team is driven by their one priority: to preserve 'Ah Gong's' original bak kwa taste that has lasted through the generations. 
Do note that Kim Tee's CNY pre-order is now full at the time of this article. However, you can still walk in to purchase their bak kwa at their outlets across the island, as well as pop-up booths, while stocks last!
Website | Full list of outlets
Kim Tee is not a halal-certfied eatery.
This post was brought to you by Kim Tee.
Photos taken by Tan Zi Hui and Kim Tee.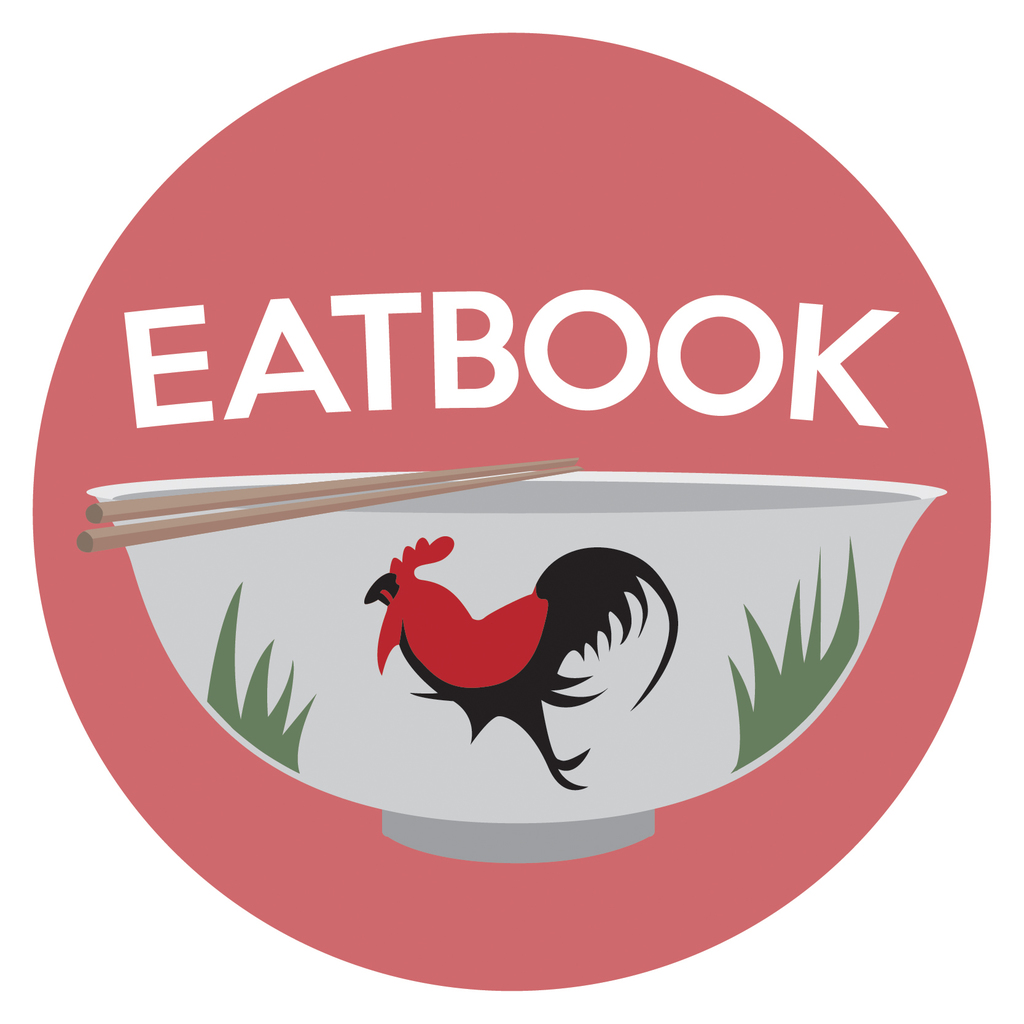 Drop us your email so you won't miss the latest news.