Pizza and pasta at Italian Osteria X 
"I'm a little hesitant to write about your store; it's one of the best finds that I've come across this year," I told the bespectacled gentleman sitting in front of me. 
Sporting a comfortable-looking pair of baggy trousers and a clean buzz cut beneath a well-worn cap, Jesse seemed to value comfort over style.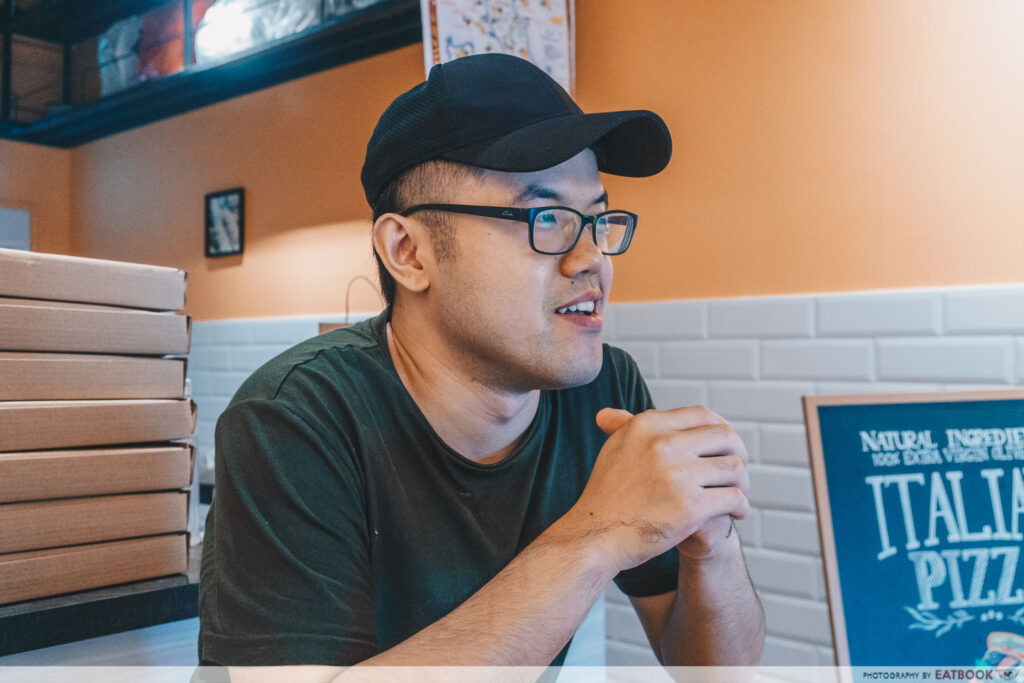 The soft-spoken owner of Italian Osteria X blushed upon hearing what I thought about his restaurant, and gave an embarrassed smile. It only took a brief chat to see the passion the 30-year-old brought to his cosy little restaurant in Crawford Lane. 
After all, the Italian restaurant is entirely run by him. This heroic one-man-show purchases ingredients, takes orders, prepares the food, clears the tables, and washes the dishes. 
His culinary journey started when he was working as a part-timer at Yoshinoya in Secondary Three. While it wasn't glamorous, the job sparked a passion in him to pursue the craft of cooking. 
He later graduated from the Culinary Institute of America and worked in New York City for over three years, including two years at two-Michelin-starred Italian restaurant Marea. 
It's interesting to see how his stint at a fast-food restaurant led to an exciting cooking career filled with illustrious restaurants. But for Jesse, the similarities are the same—working with his hands and doing a good job every day.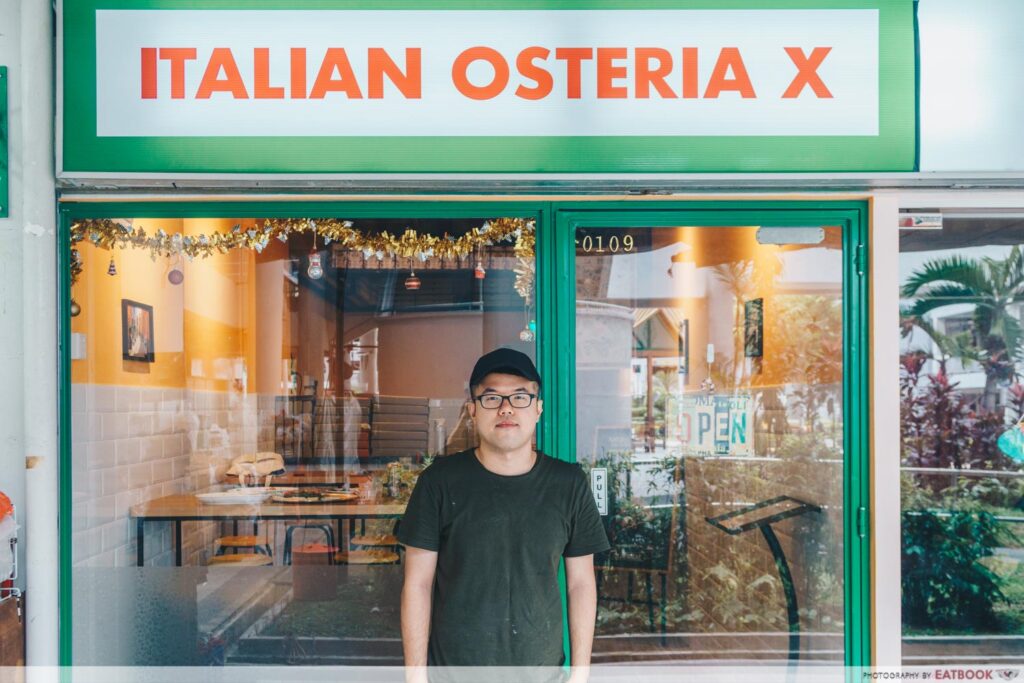 When asked why he chose to run the store entirely by himself, he gave yet another shy smile, "Why not?" While he's open to getting additional manpower, he's affected by labour factors that similarly plague small restaurants and hawkers. 
With 12 seats, it's easy to think that diners will have to pay upwards of $100 per head. Instead, everything is kept incredibly affordable here. 
Their pasta dishes average at $10, while the lowest-priced pizza go for $16.90. For comparison, the pasta at Pastmania hovers at this price range. Amazingly, the 12" Parma Ham Pizza ($19.90) is also priced lower than regular pizza chains, who litter their pizza with cheap slices of cold cuts.
Balancing food costs while maintaining the quality of the food can be a delicate task, and Jesse admits that he's still figuring out the process.
The affordable pricing ties in with Jesse's goal of making Italian Osteria X accessible for everyone.
Food at Italian Osteria X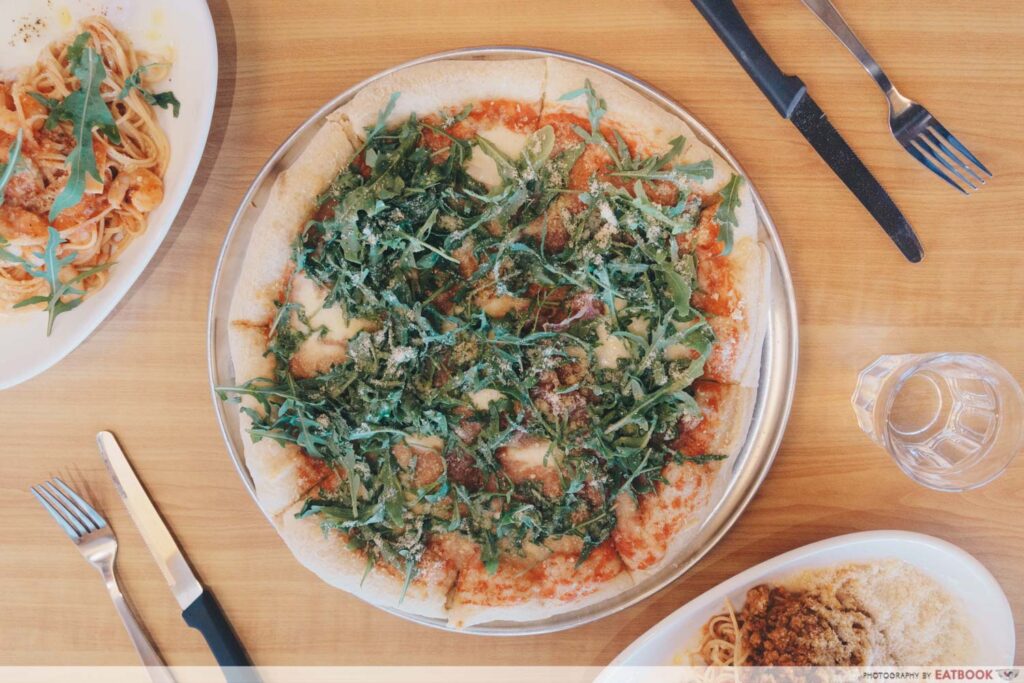 The menu is divided into pizza and pasta, with five pizzas and three pasta dishes to choose from. While the menu may be small, selecting the right item can take longer than expected as they all sound so tasty. 
My favourite pizza from my two visits is the Parma 'Garden' Pizza ($19.90). It comes with generous slices of mozzarella, loads of shaved parma ham, and a forest of arugula.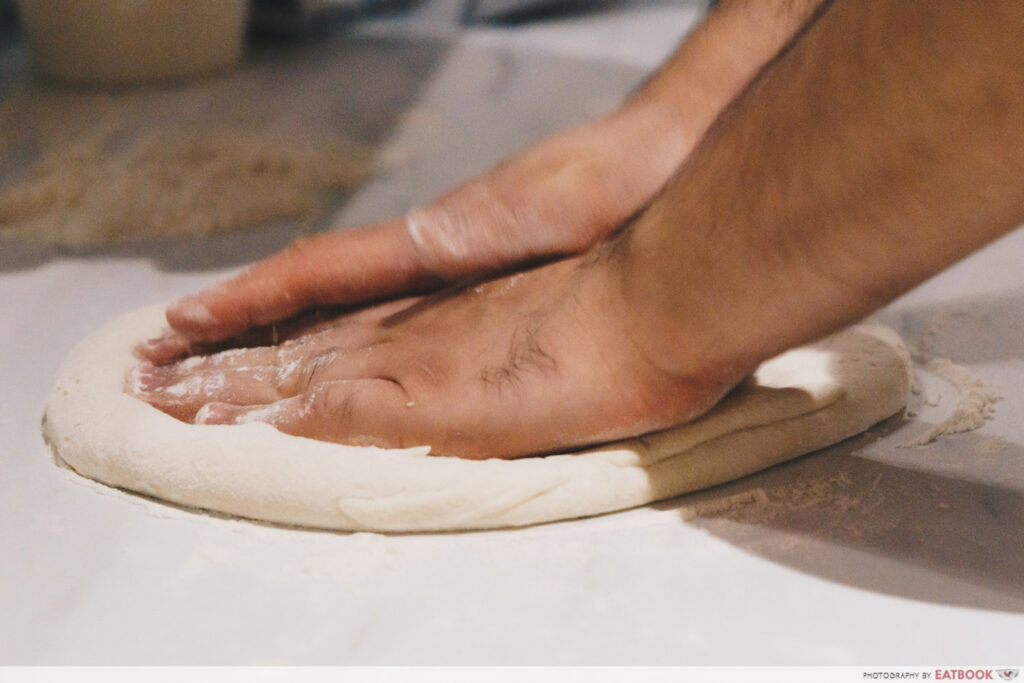 The pizza dough is made with Caputo "00" flour, which is pricier than regular bread flour. This fine powdery premium flour is highly regarded by pizzaiolos, and is renowned for its ability to give a crisp crust and airy structure to the dough.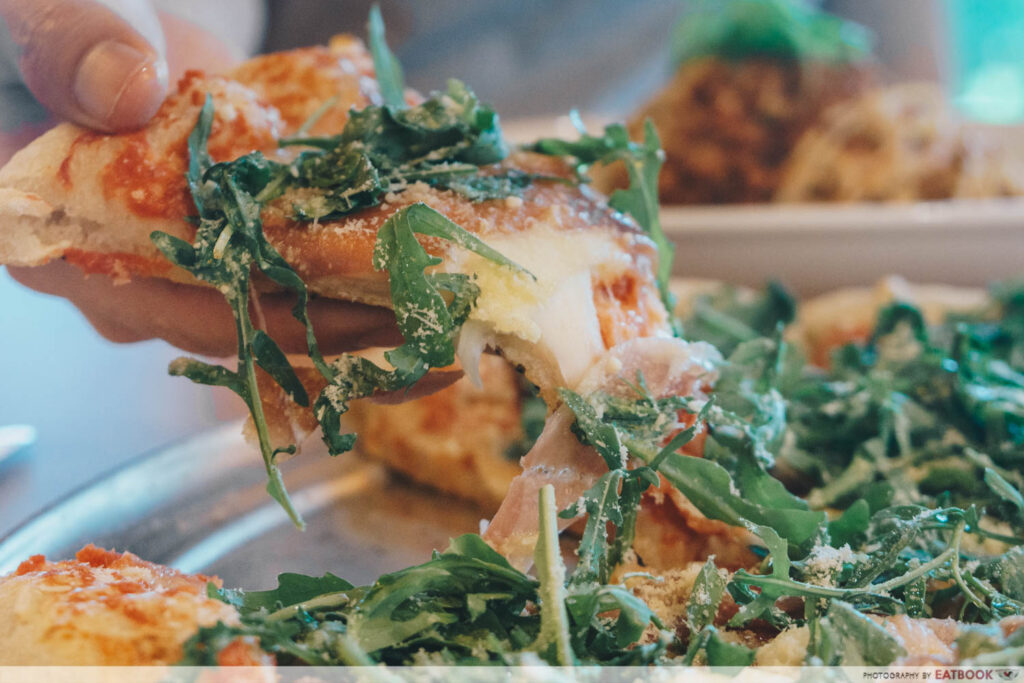 I like how the hill of toppings clings on to the pizza crust without sliding off. It's also fermented overnight, developing a deep and rich flavour that gives an extra dimension to the pizza.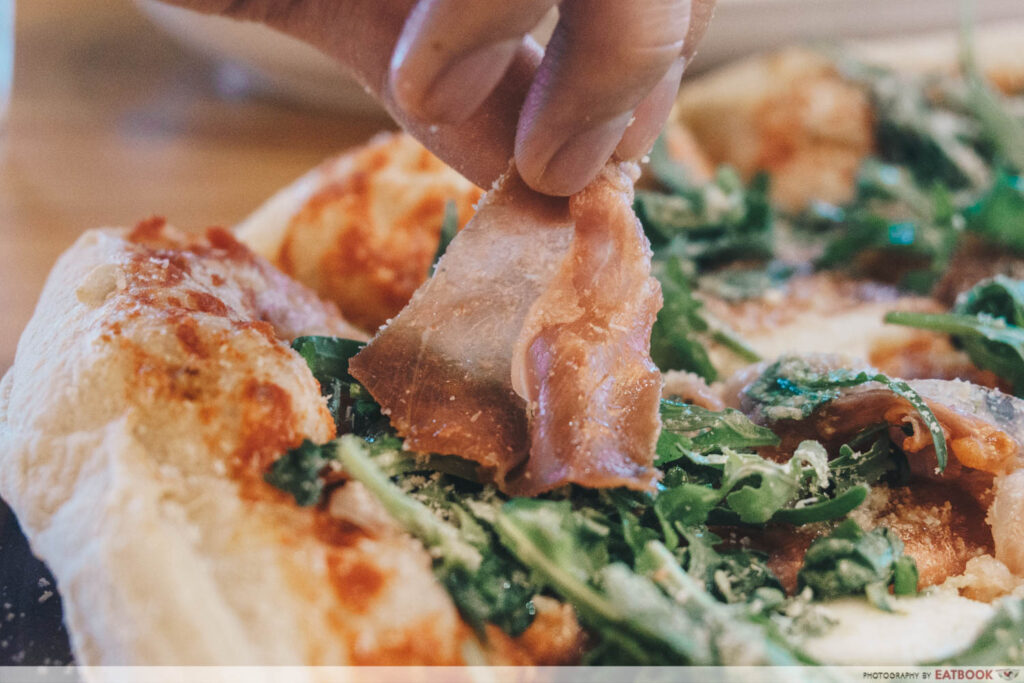 The Parma ham that Jesse uses is affixed with the D.O.P seal, certifying that it's made in Parma. It packs the same nuttiness and lush fatty streaks that Parma ham is known for, boasting a whole lot of rich meaty flavours that syncs up nicely with the cheese. 
This pizza feeds around two to three people, and I would recommend couples to order a pizza and pasta to share. The portions can be quite big.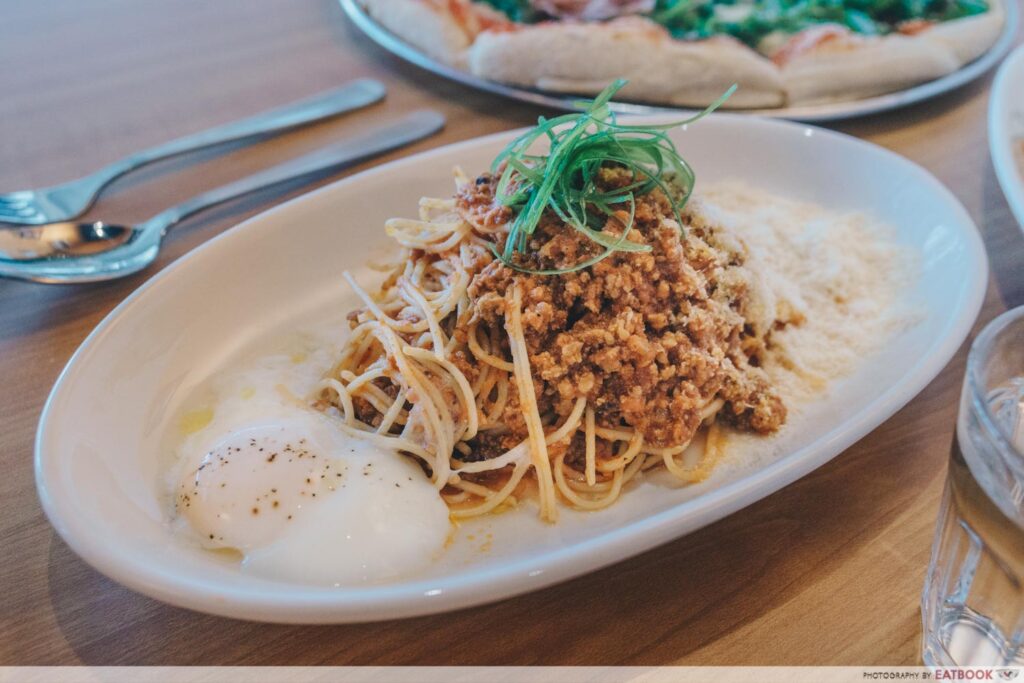 Bologna 'Spaghetti' ($9.90) is served with a bundle of spaghetti noodles, flavourful pork ragu, parmesan shavings, and a whole soft boiled egg.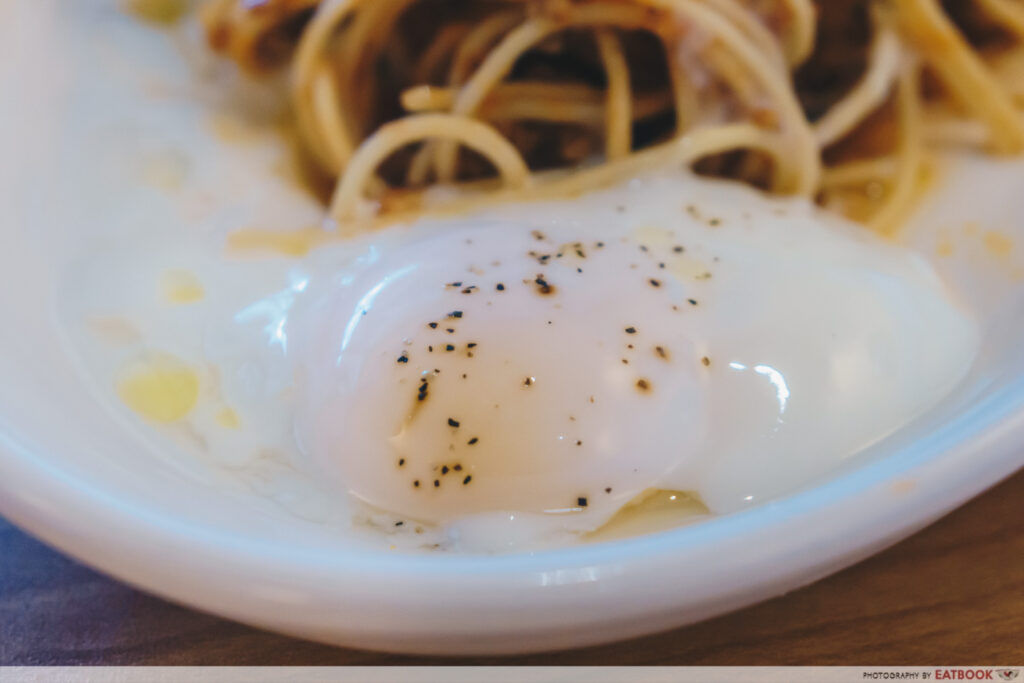 It's best to give everything a thorough mix before eating as it emulsifies the egg and sauce to give an extra touch of creaminess.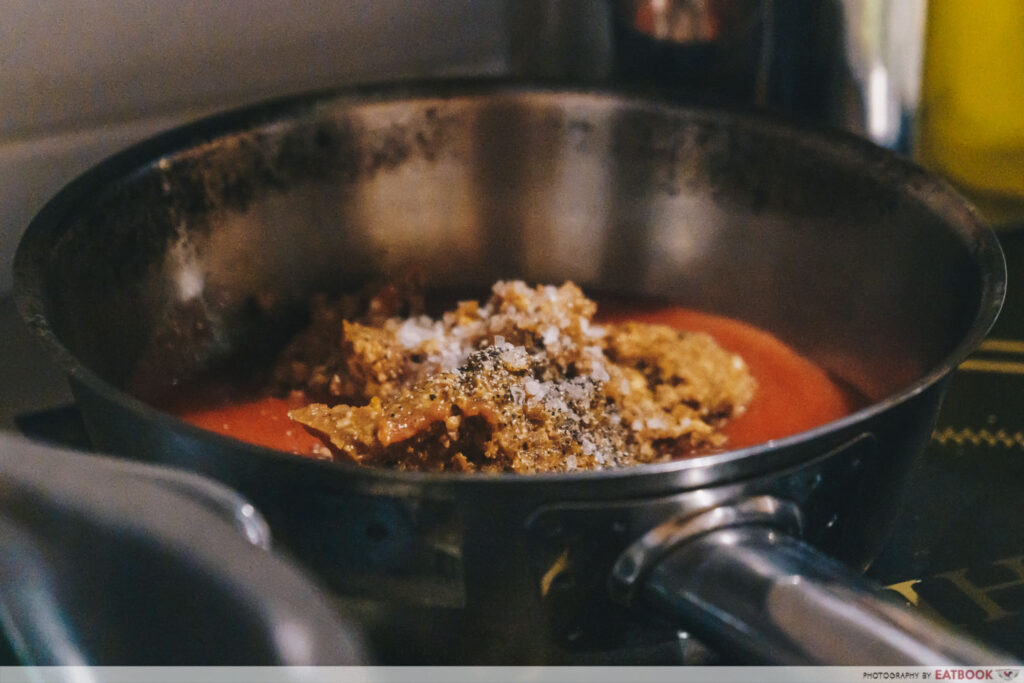 Minced pork is seared, giving it a sweet caramelised flavour, before being mixed with aromatics and tomato paste. Strangely, this pasta doesn't come with many fancy elements. Yet, it still impresses with its comforting flavours. It ties in closely with how Jesse wants to keep things simple and cook honest-tasting food.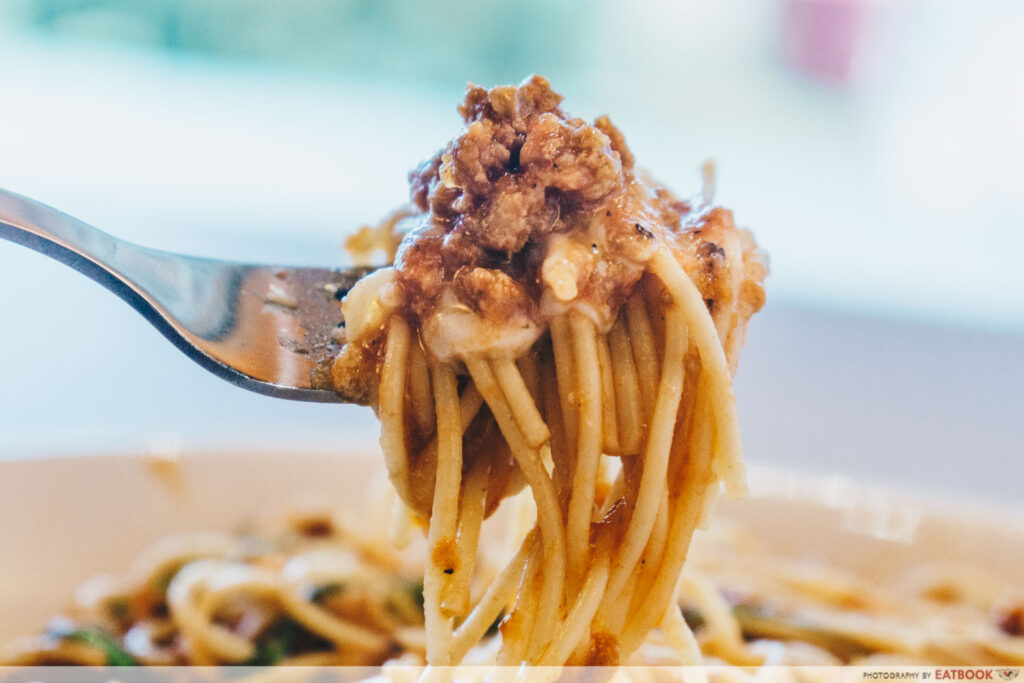 My dining companion felt that the spaghetti was a little too rich for her liking. While the sauce was on the meatier and richer side, I felt that it gave a nice heartiness that proved to be quite addictive.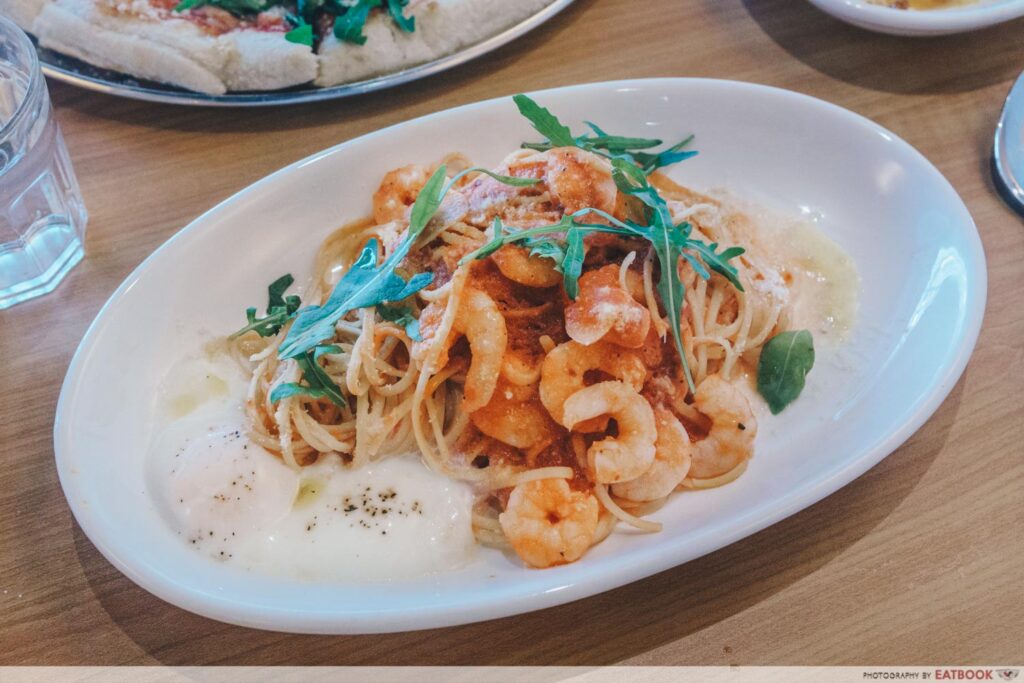 Livorno 'Linguine' ($10.90) is a simple serving of linguine pasta, tomato sauce, garlic prawns, and soft boiled egg. Sofrito is used heavily across all his dishes, and Jesse takes great pride in making them. 
He tells us that there are not many fancy techniques or ingredients involved, only time and patience. These include slowly cooking onions, celery and carrots together to release their sugars, giving a rich and flavourful sauce.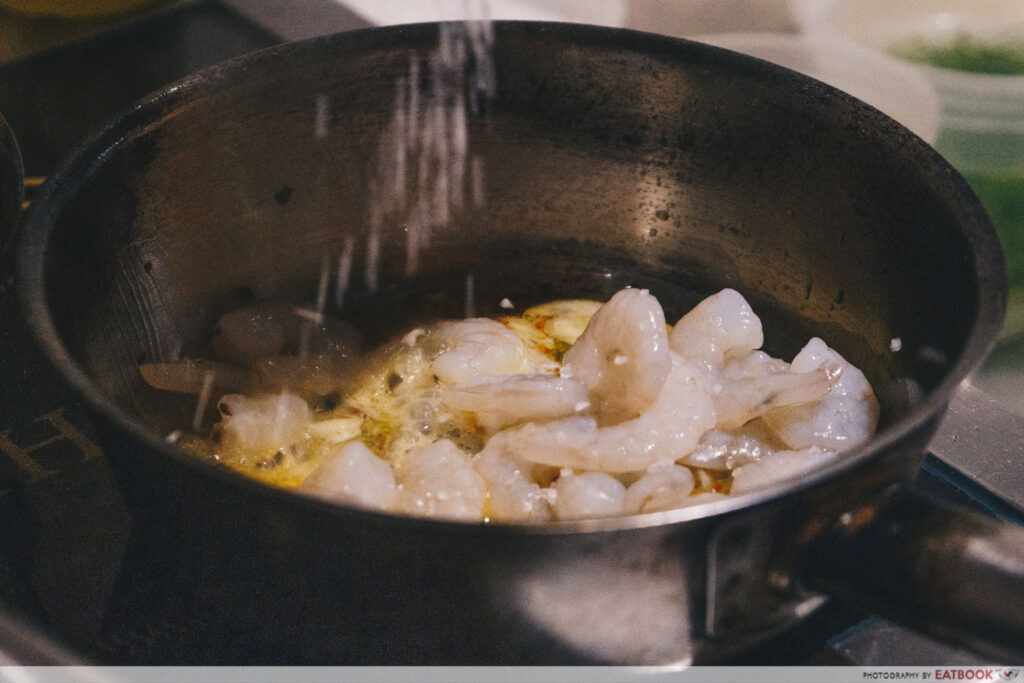 The pasta sauce has a slightly pleasant briny taste, thanks to the garlic prawns. A respectable amount of sliced garlic is also added, which gives a sharp burst of flavours that go nicely with the tangy tomato sauce.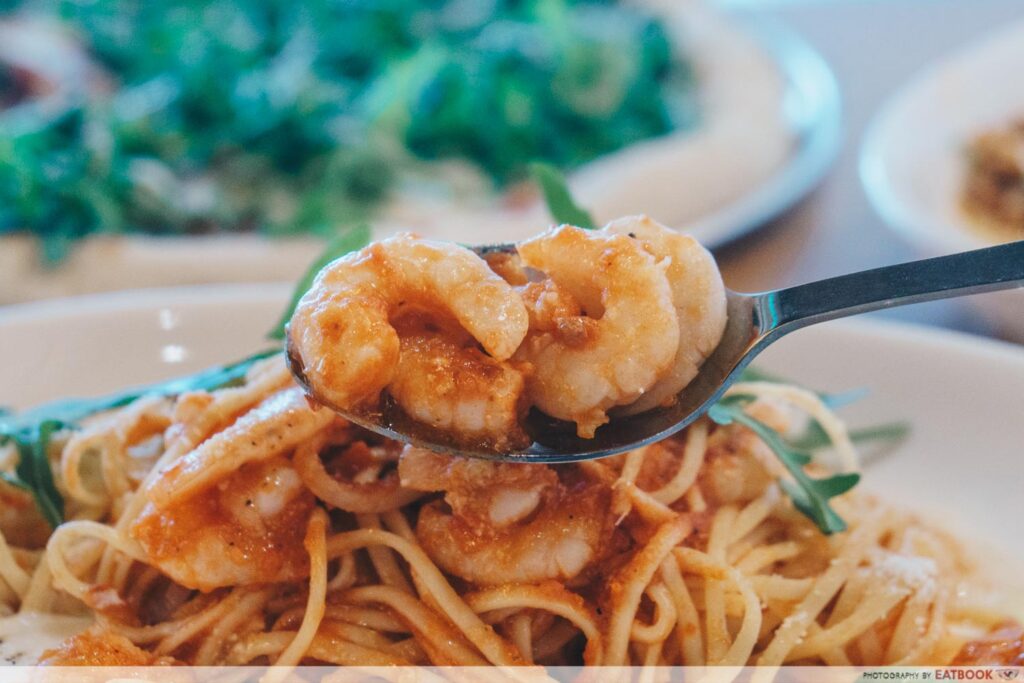 For the price that I was paying, I wasn't expecting any large tiger prawns. Still, I was quite surprised with the generous serving of prawns tossed inside. Some might scoff at the use of frozen prawns, but I would gladly enjoy half a cup of these prawns rather than a single fresh prawn. 
Ambience at Italian Osteria X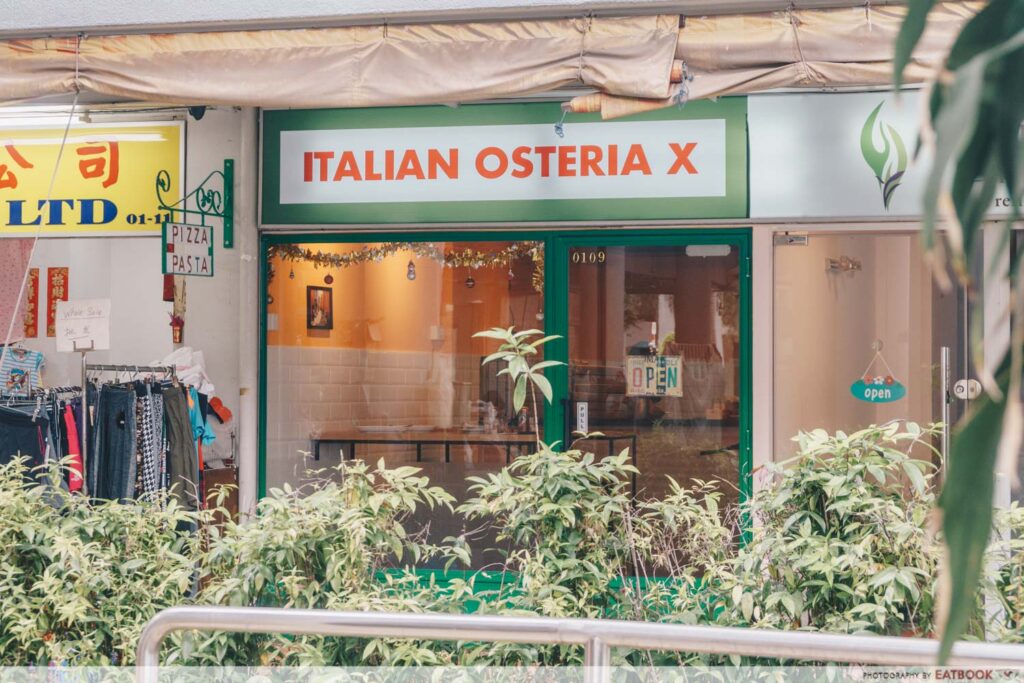 Italian Osteria X is neither obtrusive nor obnoxious, and seems to bless the quaint Crawford Lane neighbourhood with a touch of Italian-esque charm.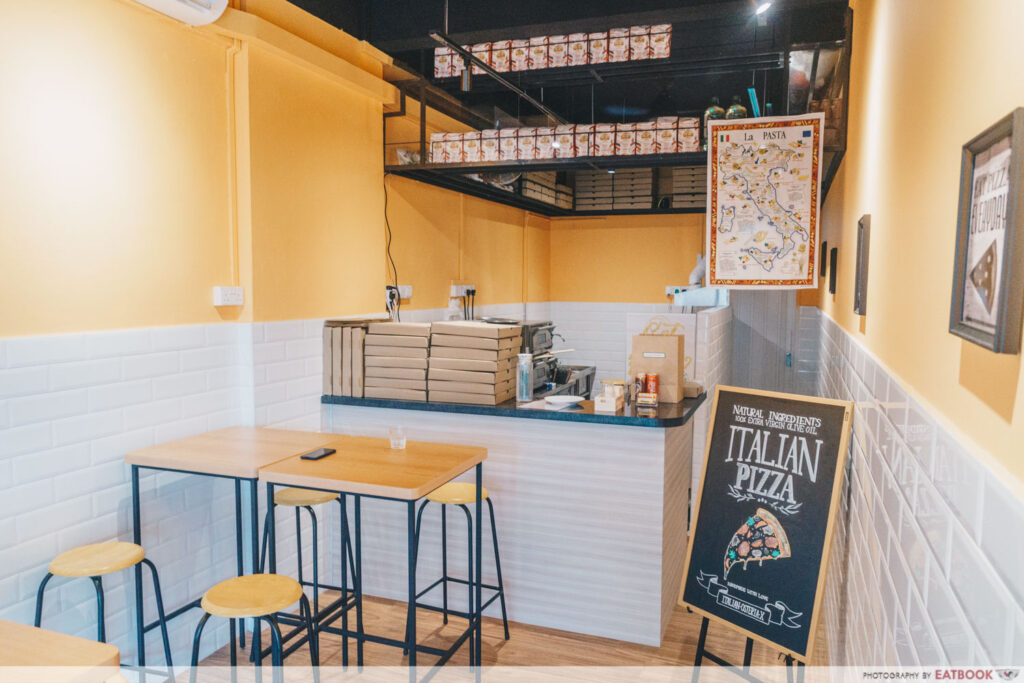 The interior is decked out in a pleasant two-tone Marigold paint and Italian tile design, with two portable speakers playing soft Italian music. It's a humble little joint that's almost like an extension of Jesse himself. 
There are only two tables at the 12-seater restaurant. So you'll have to wait if the tables are full. Jesse is aware of the space limitations, and does his best to work faster when the restaurant is full. 
Considering the limited seats in the restaurant, it's hard to maximise capacity. Luckily, the store is available on food delivery platforms such as GrabFood and Foodpanda, while customers can always take away and enjoy the food at home. 
As Jesse manages everything himself, the food might take some time to come. He might be unavailable to take your order immediately, but will always be up for a chat with his customers when he has the time.

The verdict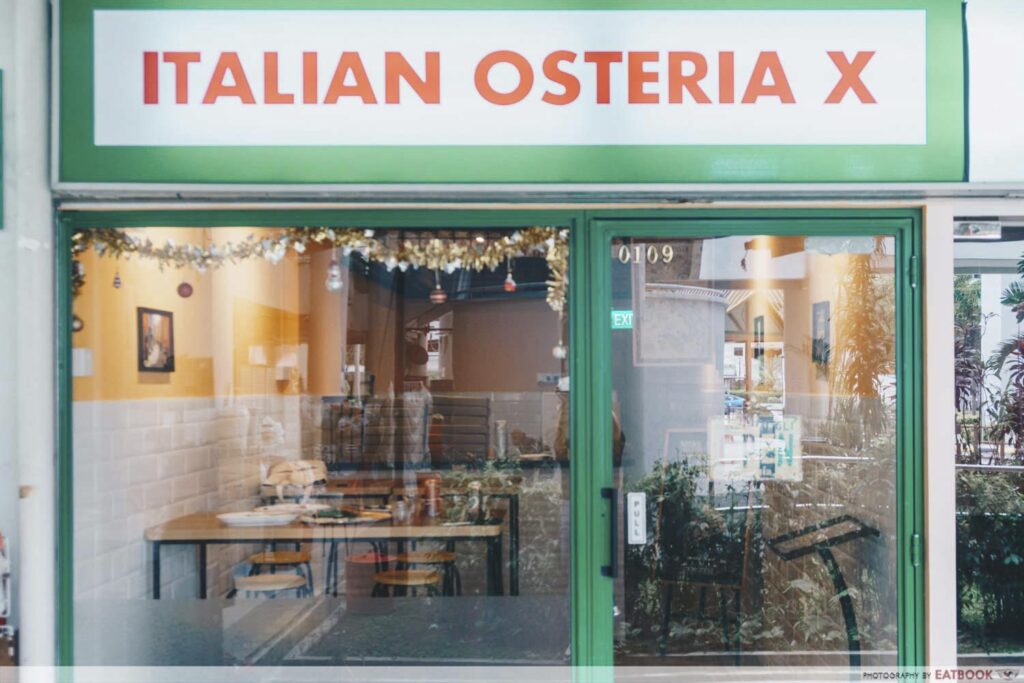 After my first visit to Italian Osteria X, I knew that this humble little eatery would be one of my go-to places for Italian food. However, I was reluctant to write about an amazingly passionate chef-owner. Hesitant to share about tasty food that came at wallet-friendly prices. And worried that I wouldn't be able to visit this two-table restaurant once word starts to get out.
But then I realised I was being selfish. Unlike Jesse who wants to make his food accessible to all, the least I could do is to write about him and his incredible restaurant. 
Check out other affordable pasta restaurants which sell the likes of chilli crab, sio bak and truffle pasta!
6 Pasta Restaurants Under $15 For Italian Food Cravings On Date Nights
Address: Blk 463 Crawford Lane, #01-09, Singapore 190463
Opening hours: Tue-Sun 5:30pm to 9:30pm
Italian Osteria X is not a halal-certified eatery
Photos taken by Huang Xiao.
This is an independent review by Eatbook.sg
Summary
Pros
– Tasty food at great value
– Wallet-friendly prices 
Cons
– Food and service might be slow
Recommended dishes: Parma 'Garden' Pizza ($19.90), Bologna 'Spaghetti' ($9.90)
Opening hours: Tue-Sun 5:30pm to 9:30pm
Address: Blk 463 Crawford Lane, #01-09, Singapore 190463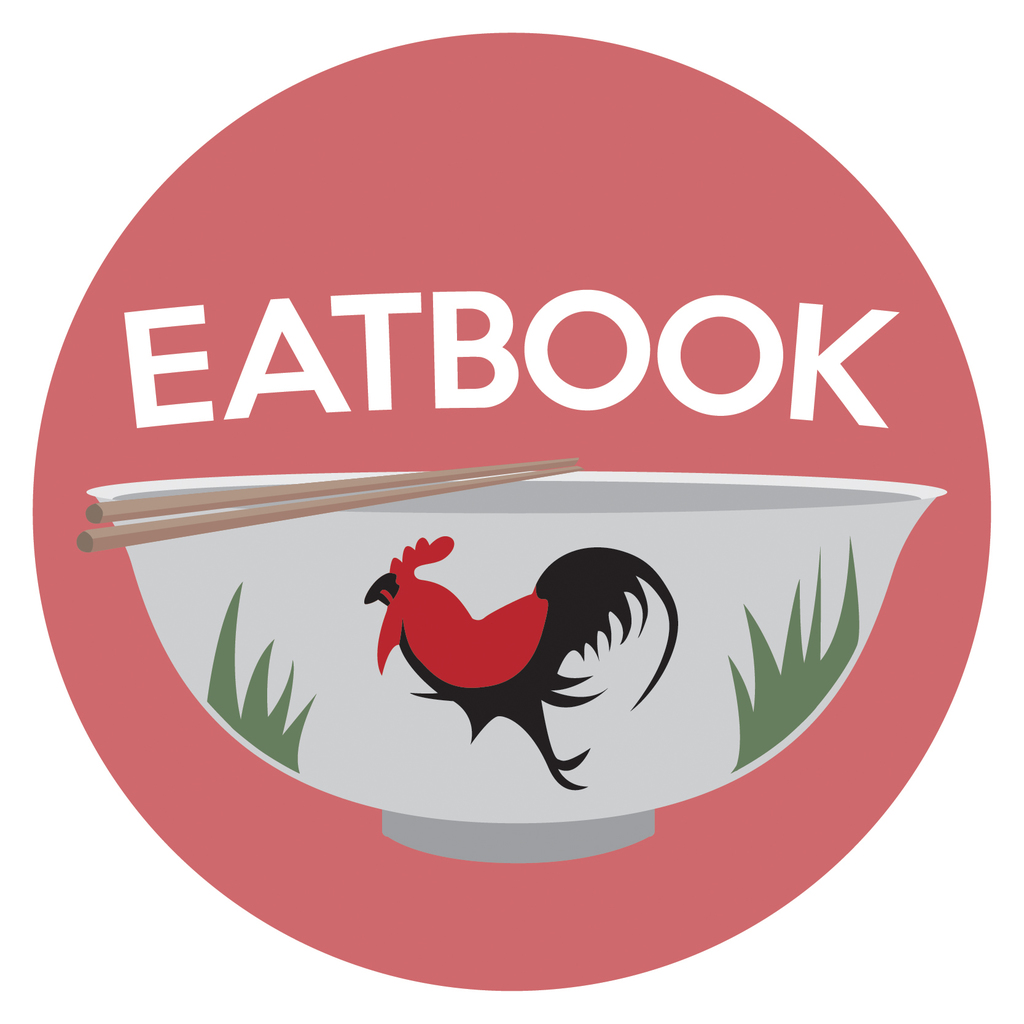 Drop us your email so you won't miss the latest news.