---
Pasta restaurants with affordable, satisfying dishes
---
Marinara, aglio olio, bolognese, lasagne – Singaporeans' love for pasta has never been stronger, with specialist pasta spots springing up around town recently. But quality ang moh noodles are still seen in many circles as an affluent dish, residing only in expensive Italian restaurants.
Do a bit of searching though, and you'll discover a wealth of affordable pasta joints serving up hearty plates of pasta, some of which presents unique riffs on Italian classics. Here are six pasta restaurants under $15 that will get you exclaiming "mamma mia!"
---
1. Pastaria Abate
---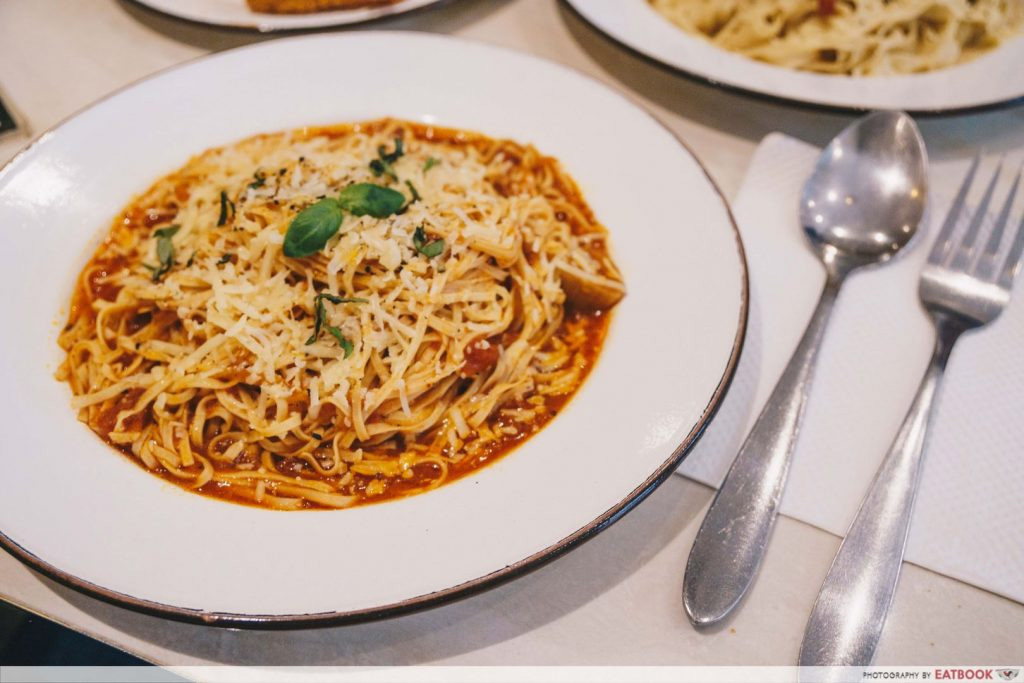 Handmade pasta is hard to find in Singapore. Located just outside the CBD, Pastaria Abate whips up freshly made noodles from $10.80. The cheap prices don't mean they skimp on quality either, as the food is backed with the Italian nous of owner, Mr Gino Abate.
With 16 types of pasta and 18 sauces, you can create the pasta of your dreams here such as the classic Carbonara ($13.80). That said, the basic Marinara ($10.80) is a surefire test of a good pasta joint. With sweet San Marzano tomatoes and al dente egg noodles, this dish passed with flying colours.
Check out our full review of Pastaria Abate!
Pastaria Abate Review: Affordable Handmade Pasta At Tanjong Pagar From $8.80 Nett
Address: 43 Craig Road, Singapore 089681
Opening hours: Daily 10am to 10pm
Tel: 6909 0672
Website
---
2. Tipo Pasta Bar
---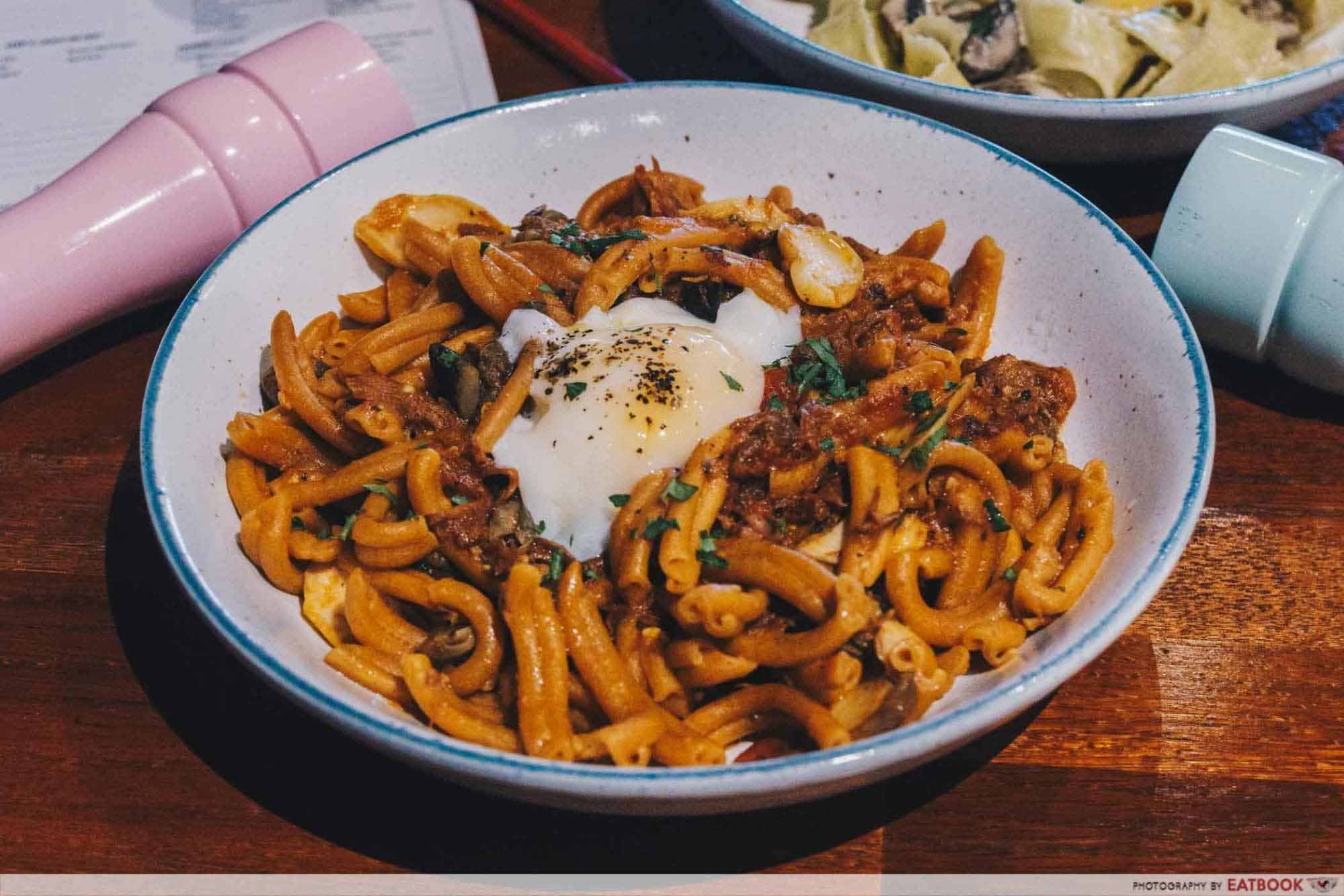 Customisable pasta is increasingly common these days. Muslim-owned Tipo Bar adopts that concept, and gives Muslim pasta fans an option outside of Pastamania. Let your creativity run amok by building your own pasta (from $9.90+), choosing from an array of sauces and pasta, as well as unique toppings like Garlic Escargot ($3+) and Truffle Oil ($2+).
If you're as indecisive as me, there's always the option to choose a fixed item from their set lunch menu including the Carbonara Al Funghi ($11.90+). The viscous sous-vide egg mingled brilliantly with the creamy alfredo sauce for an indulgent pasta experience.
Check out our full review of Tipo Pasta Bar!
Tipo Pasta Bar Review: New Halal Pasta With Premium Toppings Of Escargot And Caviar
Address: 785 North Bridge Road, Singapore 198753
Opening hours: Sun-Thur 12pm to 10pm, Fri-Sat 12pm to 11pm
Tel: 8768 0785
Website
Tipo Pasta Bar is Muslim-owned.
---
3. Spagtacular
---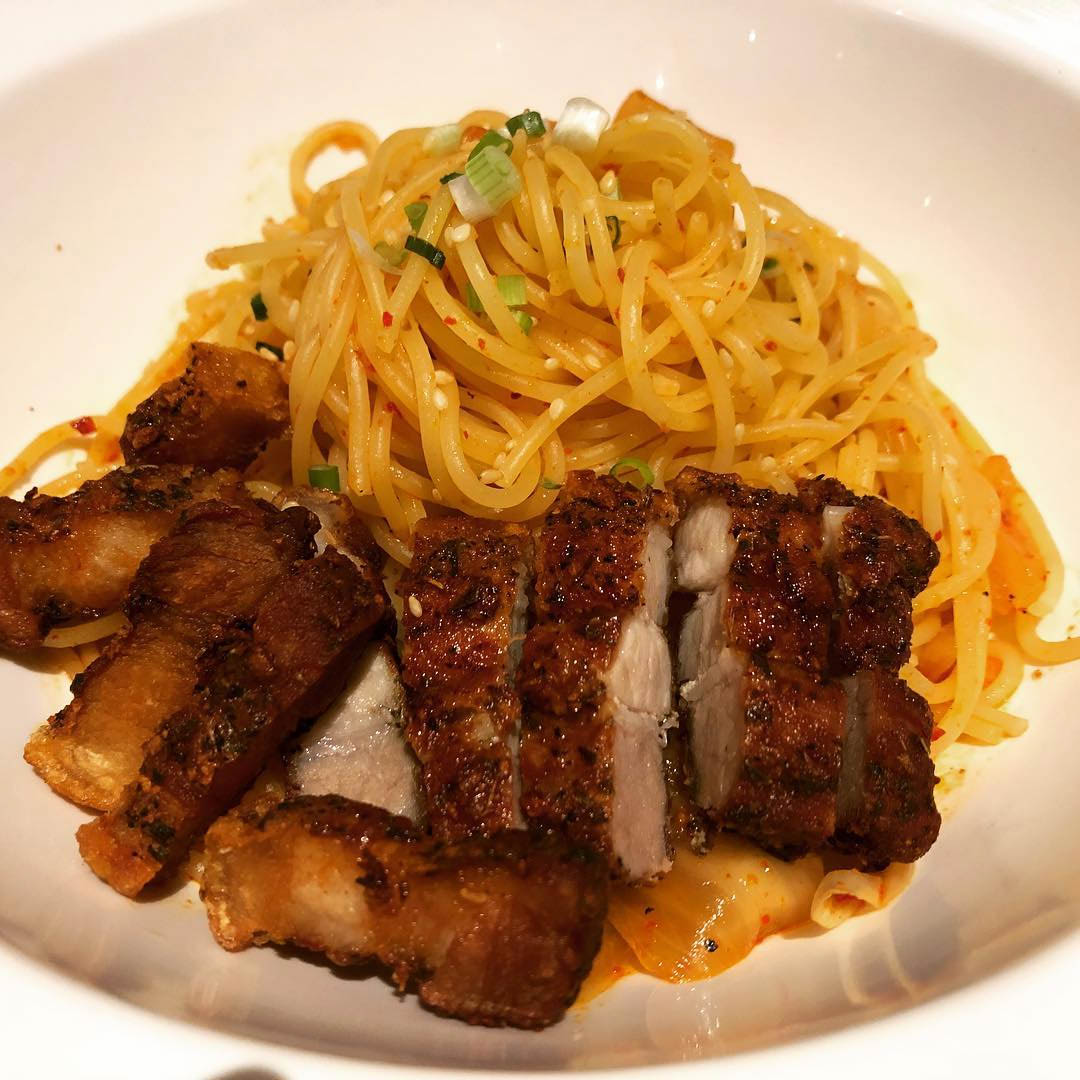 Image credit: @loveatravelicious
Fusion pasta is slowly but surely gaining popularity in Singapore, with variants like chilli crab pasta popping up on menus across the island. Spagtacular has hopped on the hype train with fusion pasta such as Chilli Crab ($15+) and other innovative creations including Mummy's Assam Pasta ($15+) and Geylang Serai ($13+). The former latter features a massive chunk of fried dory fish and a piquant, tangy pasta sauce, while the latter is a curry pasta with grilled chicken cubes. 
Address: 54 South Bridge Road, Singapore 058685
Opening hours: Mon-Fri 11:30am to 9:30pm, Sat-Sun 12pm to 10pm
Tel: 9848 9308
Website
---
4. PocoLoco
---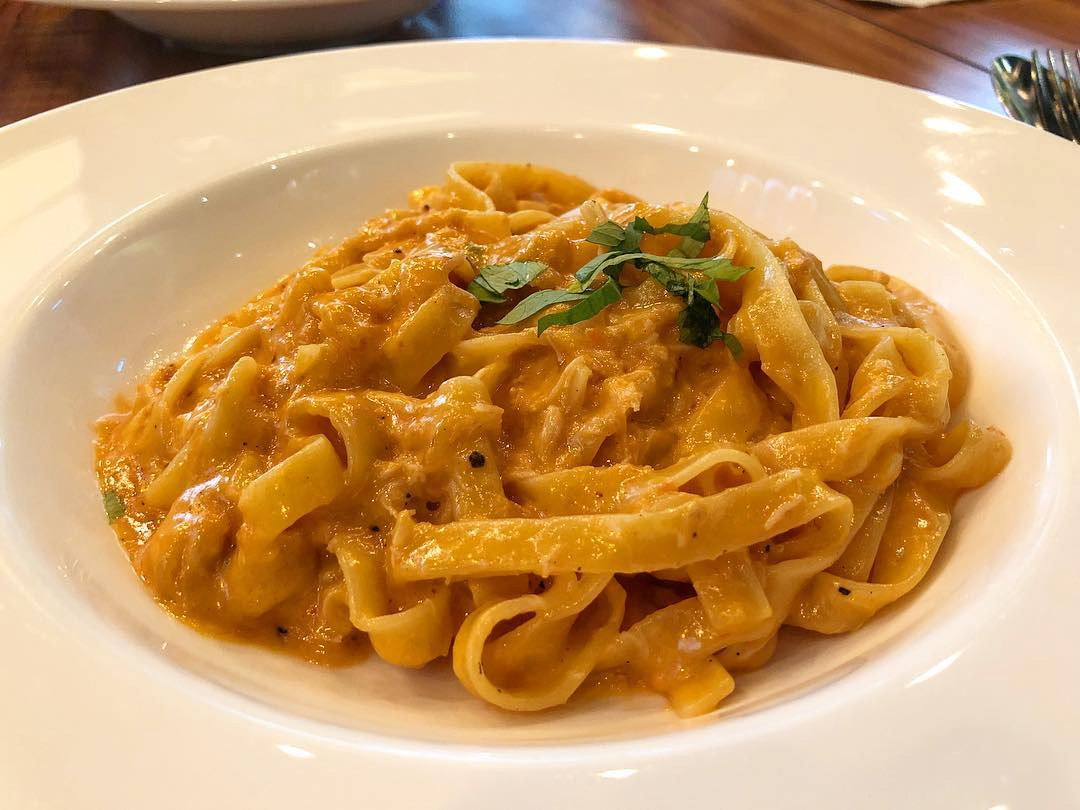 Image credit: @jeremylim_
PocoLoco brings authentic Italian fare to the heartlands at affordable prices. Opened a few years ago, the successful pasta joint now has three outlets across the island. It is a hidden gem that is definitely changing the atas reputation of Italian grub. 
Crab is commonly seen as an expensive item, but Granchio ($14.40) features a creamy tomato sauce bursting with shredded crab meat. If you're on a budget, get the Pesto ($10.60) that's served with house-made pesto sauce.
Address: 598 Yishun Ring Road, #01-37/38, Wisteria Mall, Singapore 768698
Opening hours: Mon-Fri 12pm to 3pm, 6pm to 10pm, Sat-Sun 12pm to 10pm
Tel: 8826 1919
Website | Full list of outlets
---
5. The Wicked Garlic
---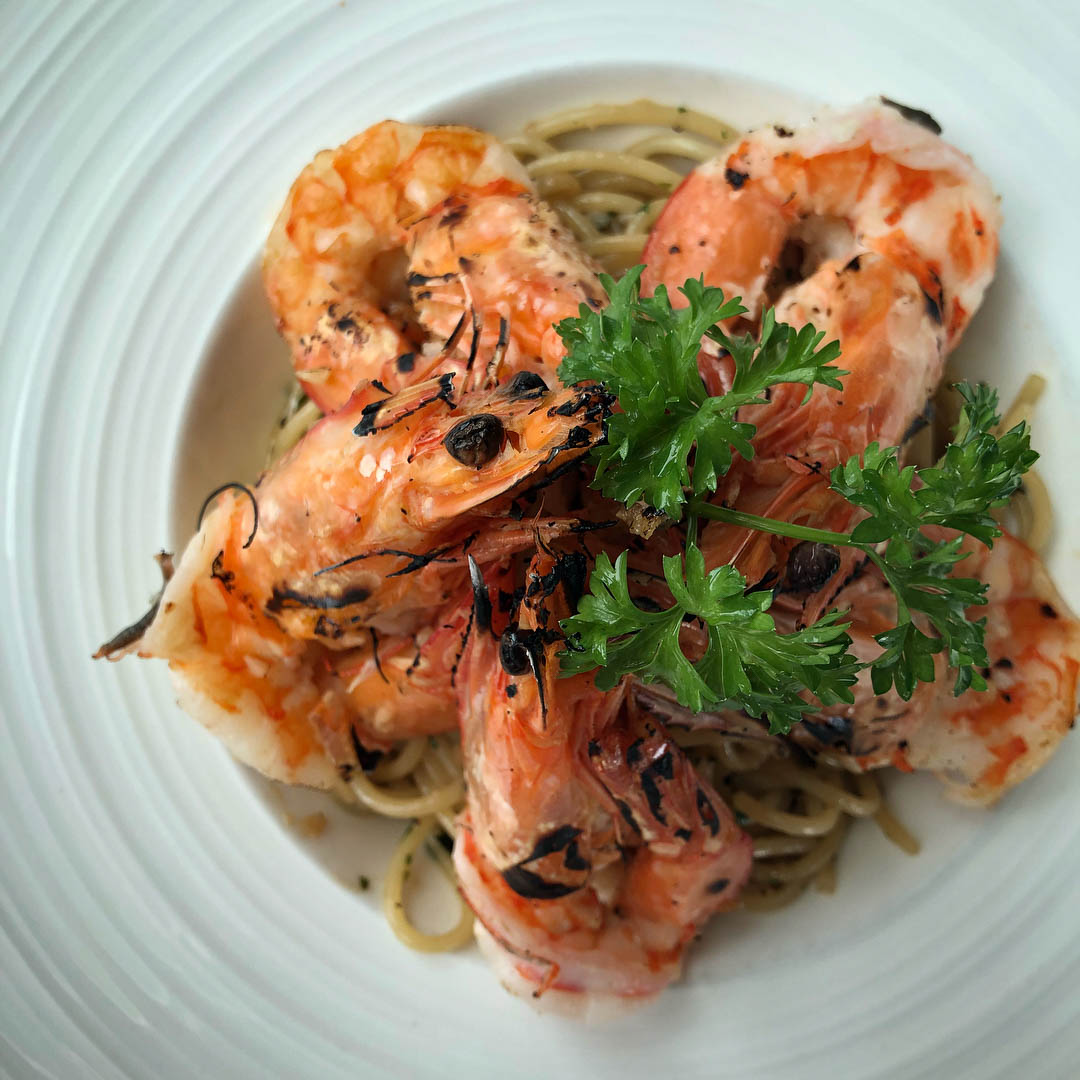 Image credit: @haychoo
A casual local-bred Italian chain, The Wicked Garlic has locations at International Plaza, Orchard Cineleisure and Clifford Centre, and doles out hearty pasta catered to the local palate. The food here is true to its moniker, with liberal amounts of garlic featured in many dishes.
Menu highlights include Linguini Al Nero di Sepia ($12++) – linguine in a squid ink sauce – and Spaghetti Aglio Olio E Acciughe with King Prawns ($14++). The latter provides great value for money. For five succulent large prawns, anything under $20 is an absolute bargain.
Address: 10 Anson Road, #01-37, International Plaza, Singapore 079903
Opening hours: Mon-Fri 11:30am to 9pm, Sat 11:30am to 8pm
Tel: 8509 2942
Website
---
6. Super Dario Lasagne Cafe
---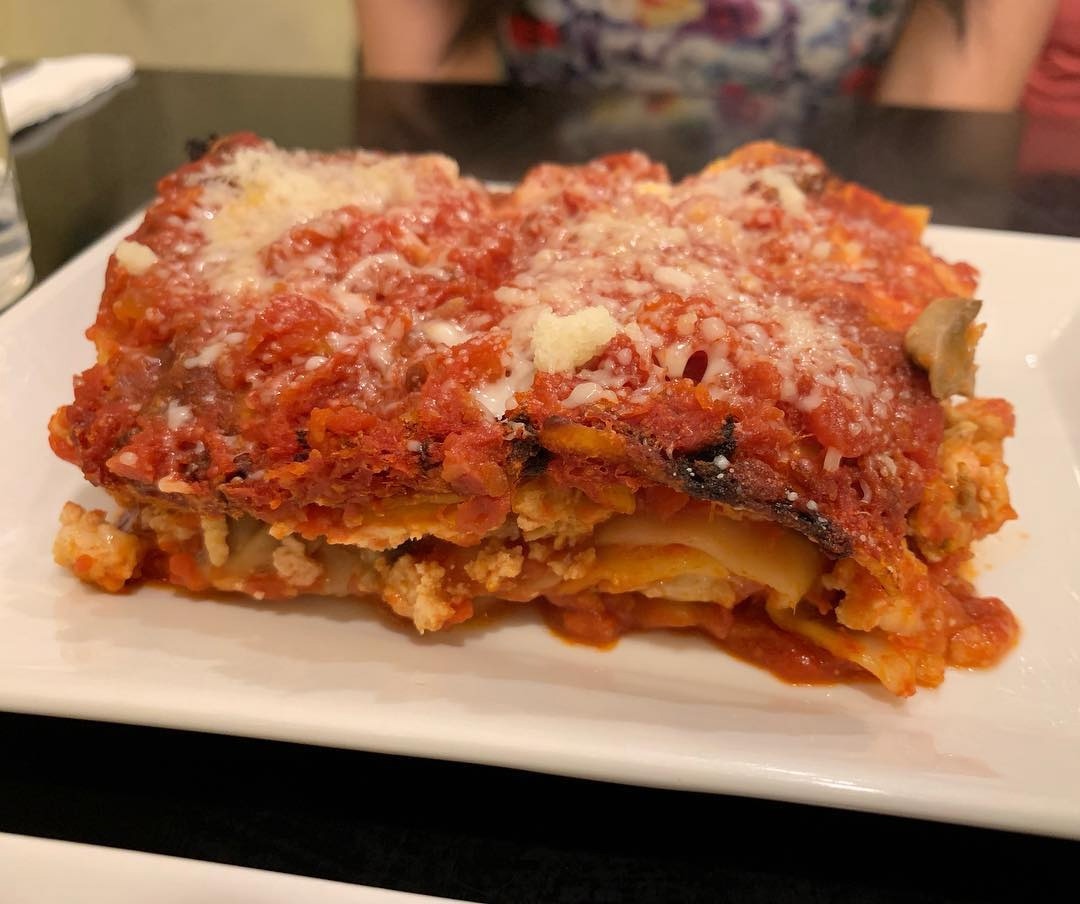 Image credit: @cj_jiakjiakjiak
Opened by Italian native Dario Scimone, Super Dario Lasagne Cafe is the only dedicated lasagne shop in Singapore. Their lasagne is rich in flavour but light on the wallet, with the classic Super Dario setting you back a mere $9.80.
Even premium variants, such as the Super Dario World ($12) comprising spinach and ricotta cheese, remain affordable. Vegetarians aren't left out either, with no less than four vegetarian options appearing on the menu.
Mildly crisp on the outside, while remaining pillowy and moist on the inside, this dish feels like it was prepared by an Italian grandmother. That perhaps explains why it's an absolute fixture in City Square Mall.
10 New Restaurants At City Square Mall For Fluffy Pancakes, Vegetarian Katsu Curry And More
Address: 180 Kitchener Road, #04-17, City Square Mall, Singapore 208539
Opening hours: Daily 11am to 9:45pm
Tel: 3159 0682
Website
---
Bonus: Pasta Supremo
---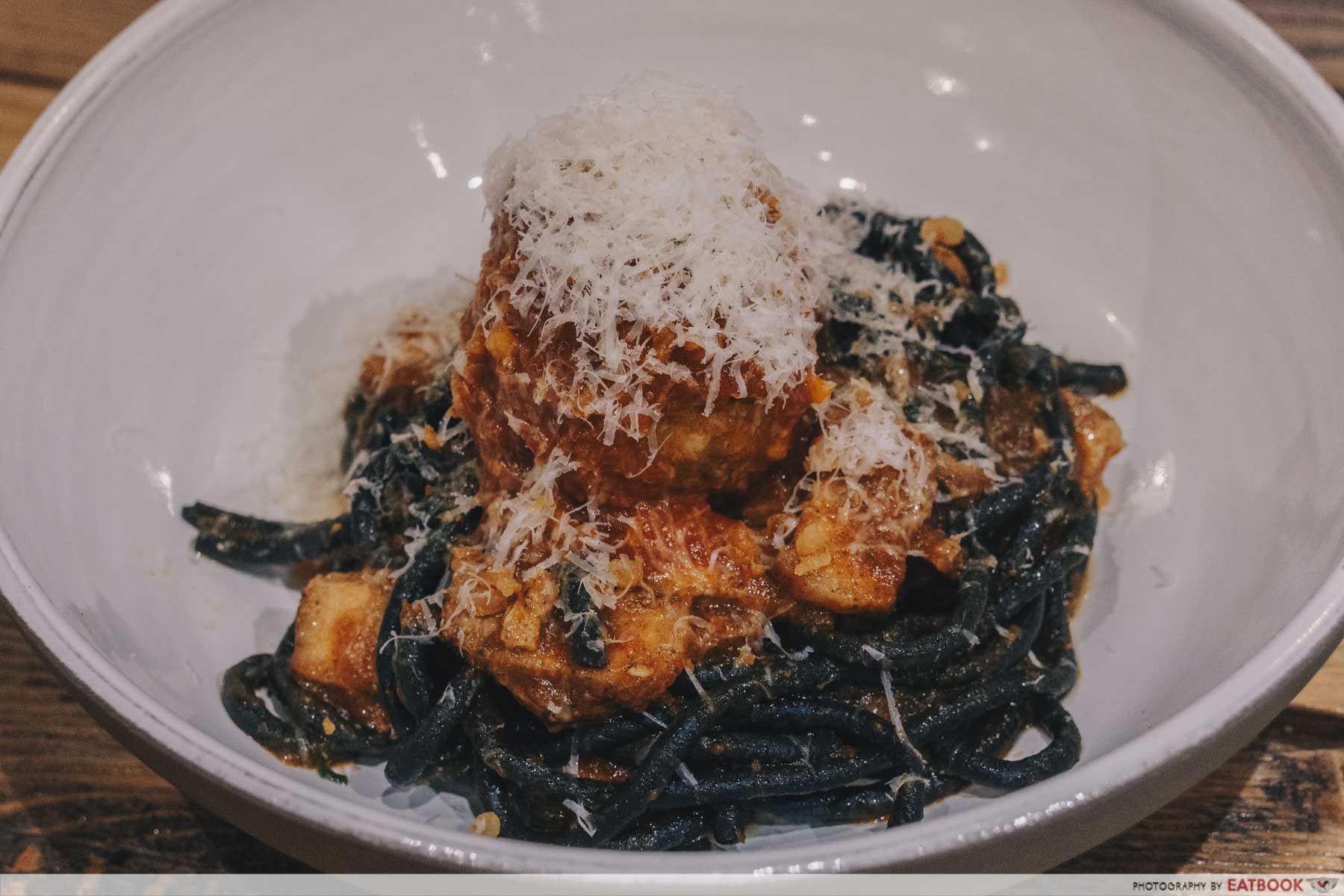 Following the success of Taiwanese tapas joint, The Salted Plum, its owners have unveiled a spanking new pop-up pasta restaurant at Suntec City in the form of Pasta Supremo, which is slated to be open until late 2020. The dishes here are supremely photogenic, starring vibrant handmade pasta naturally coloured by ingredients like blue pea flowers, beetroot and activated charcoal.
There are traditional sauces like Haus Marinara ($8++) available, but if you're feeling bold, the ma la-inspired Sichuan Peppers, Chilli, Garlic and Duck Fat ($8++) is an appropriate choice.
An array of proteins are available for your perusal as well, ranging from Burnt Miso Corn ($3++), Bak Kwa Jam ($5++) and Wagyu Karubi ($10++), so you can tweak your plate to your heart's desire.
Check out our full review of Pasta Supremo!
Pasta Supremo Review: Ma La Pasta And Bak kwa Jam From $5++ At Suntec City
Address: 3 Temasek Boulevard, #01-365/366/373/374, Singapore 038983
Opening hours: Daily 9am to 9pm
Tel: 6909 8138
Website
---
Check out these potent pasta purveyors
---
Noodles are abundant in Singapore, but as much as I love ramen or bak chor mee, there are times when I just crave a sumptuous plate of seafood marinara. When that desire hits you, head to one of these joints for a hearty, yet economical meal. As much as you want to cut those carbs, sometimes you need to treat yourself to a soul-warming mound of pasta.
Italian cuisine is more than just pasta, if you want to experience its full breadth, have a peek at our review of Casa MANINI and our list of 10 Italian restaurants!
Share your favourite pasta with us in the comments below.
---
Featured image adapted from @haychoo.