---
Pasta restaurants in Singapore
---
Having Italian food doesn't always have to break the bank, and you don't have to settle for Saizeriya and Pastamania when you want a fancier spot for a night out. If you're not sure where to go, here are 14 pasta restaurants in Singapore to head to, including affordable options under $20!
---
1. Pastaria Abate
---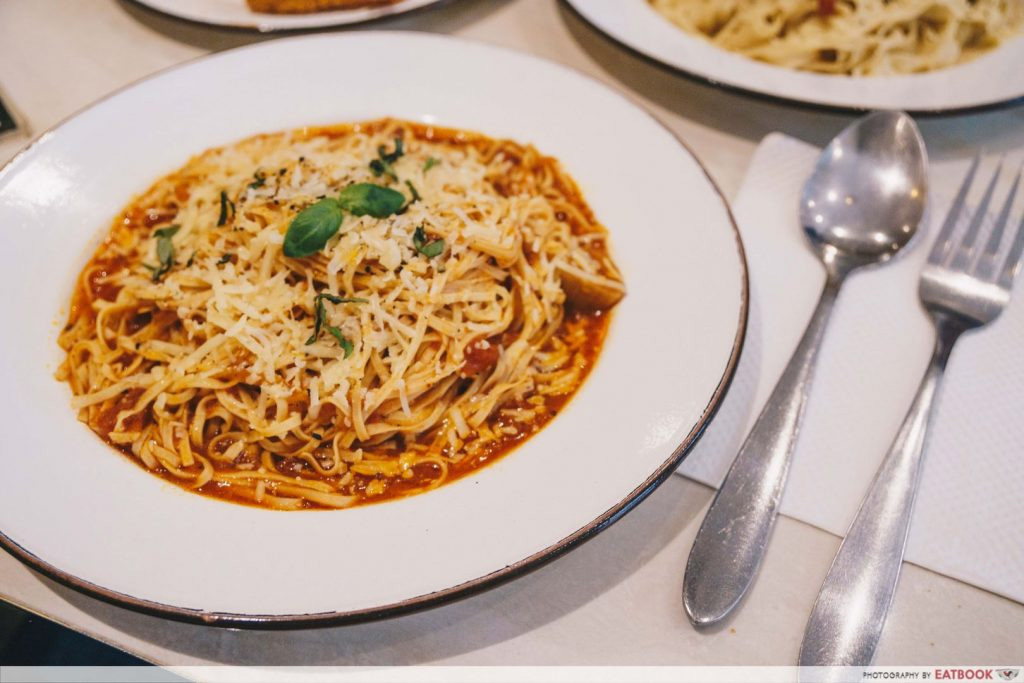 Located near Outram Park, Pastaria Abate is dedicated to fresh, handmade pasta at affordable prices. Run by native Italian Mr Gino Abate, the pasta here starts from $20.80+ for a Classic Aglio Olio, which you can customise with 15 different pasta varieties. It's basic, but no less yummy; the fragrant dish features garlic-infused olive oil, crispy garlic, and Italian parsley.
If you opt for some of their fresh specialty pasta, made in-house daily, there's a top-up of $3+. There are 27 different ways you can customise your pasta here, including Carbonara Roma ($28.80+), Al Ragu ($25.80+), and Capesante ($28.80+), starring jumbo scallops and a lemon butter sauce!
Check out our full review of Pastaria Abate!
Address: 86 Neil Road, Singapore 088846
Opening hours: Sun-Wed 11:30am to 11pm, Thurs-Sat 11:30am to 11:30pm
Tel: 6909 0672
Website
Pastaria Abate is not a halal-certified eatery
Pastaria Abate Review: Affordable Handmade Pasta At Tanjong Pagar From $8.80 Nett
---
2. Trovato
---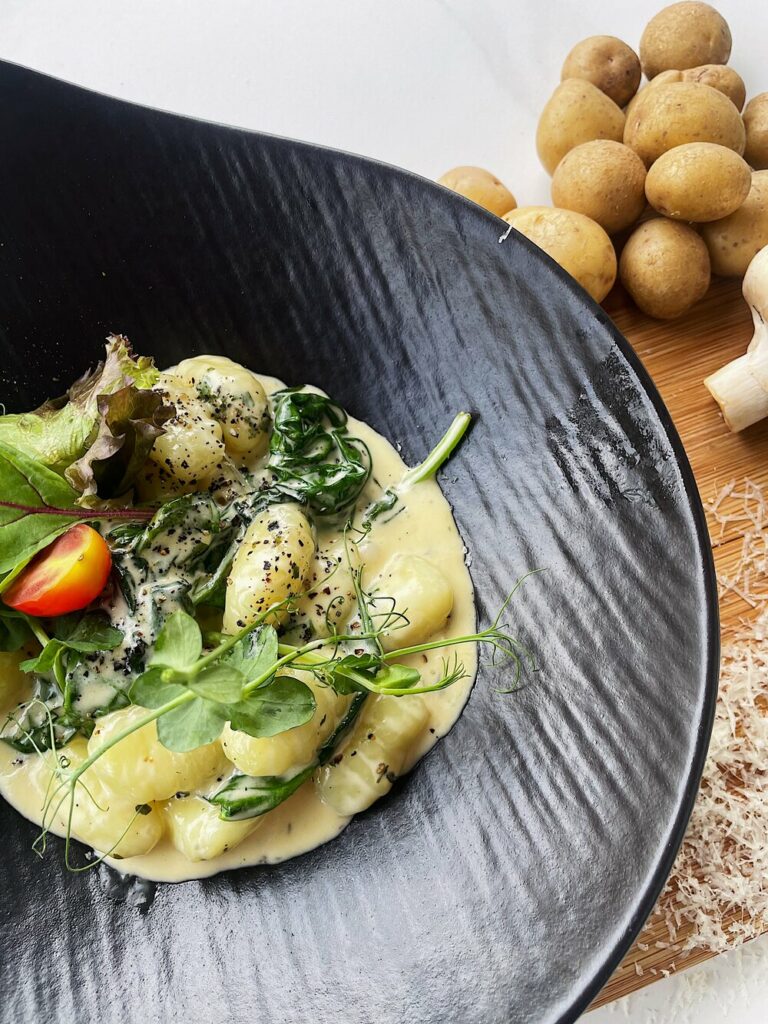 Image credit: @trovatosg
Trovato is a modern Italian restaurant that serves a wide range of pasta dishes, brick-fired pizzas and more, all at prices that don't break the bank. Tucked in the serene Seletar Hills estate, the chic and cosy space is elevated by emerald green furnishings and gold details, making it ideal for all occasions and celebrations.
Tuck into their signature Gorgonzola Gnocchi ($26.90++): bite-sized potato dumplings tossed in a creamy, cheesy sauce, topped with Parmigiano Reggiano. They've also got more classic, kid-friendly options such as Beef Lasagne ($21.90++) and Carbonara Tagliatelle ($21.90++), great for those who are dining with the fam. On the pizza front, order the Trovato's Special ($35.90++) to share. This showstopper features a charcoal pizza base with four flavours—perfect if you enjoy variety. Don't forget to get some sides for the table, too; popular picks are the house-made Italian Spicy Wings ($12.90++) and Ostriche Al Forno ($38.90++)—fresh oysters topped with bacon, onion, spinach, and then baked till golden brown.
Find out more about Trovato's offerings!
Address: 26 Jalan Selaseh, Seletar Hills Estate, Singapore 808445
Opening hours: Tue-Thurs 11am to 10pm, Fri 11am to 11pm, Sat-Sun 8:30am to 11pm
Tel: 8842 9826
Website
Trovato is not a halal-certified eatery.
---
3. Tipo Pasta Bar
---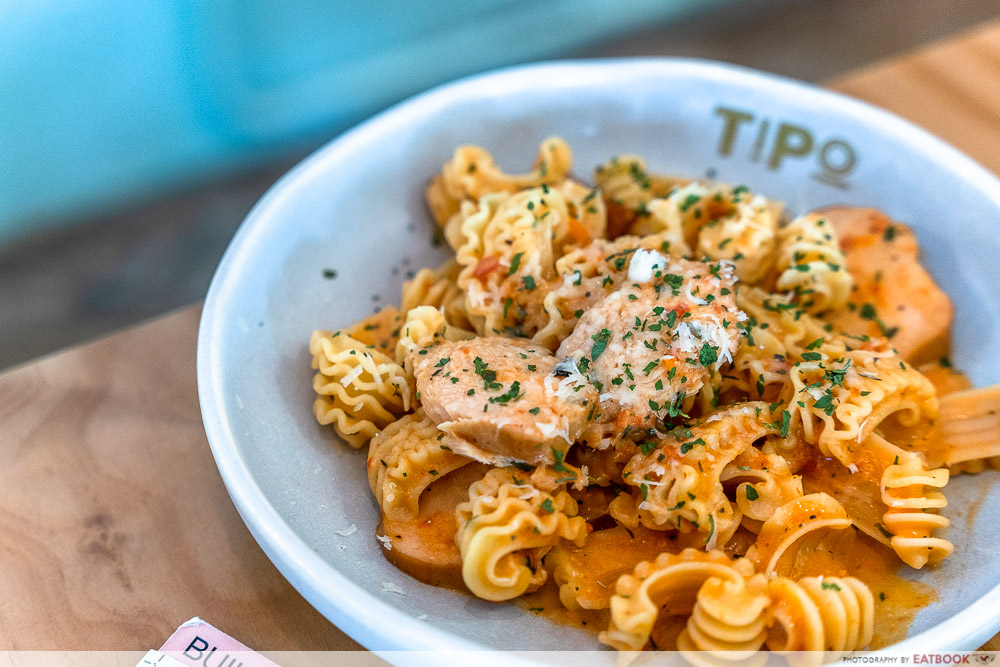 Customisable pasta is increasingly common these days. Muslim-owned Tipo Bar adopts that concept, and gives Muslim pasta fans an option outside of Pastamania. Let your creativity run amok by building your own pasta (from $9.90++), choosing from an array of sauces and pasta, as well as unique toppings including Black Lumpfish Caviar ($3.50++) and Truffle Paste ($5.50++).
If you're at a loss with so many to choose from, there's always the house specials, including Chilly Crab ($23.90++), Classy Carbonara ($18.90++), and a unique Great Gorgonzola ($22.90++), prepared with the blue cheese and caramelised onions.
Check out our full review of Tipo Pasta Bar!
Address: 28 Aliwal Street, #01-07, Singapore 199918
Opening hours: Daily 11am to 10pm
Tel: 8768 0785
Website
Tipo Pasta Bar is a Muslim-owned eatery
Tipo Pasta Bar Review: Halal-Friendly Pasta Bar With DIY Options From $9
---
4. Da Luca Italian Restaurant
---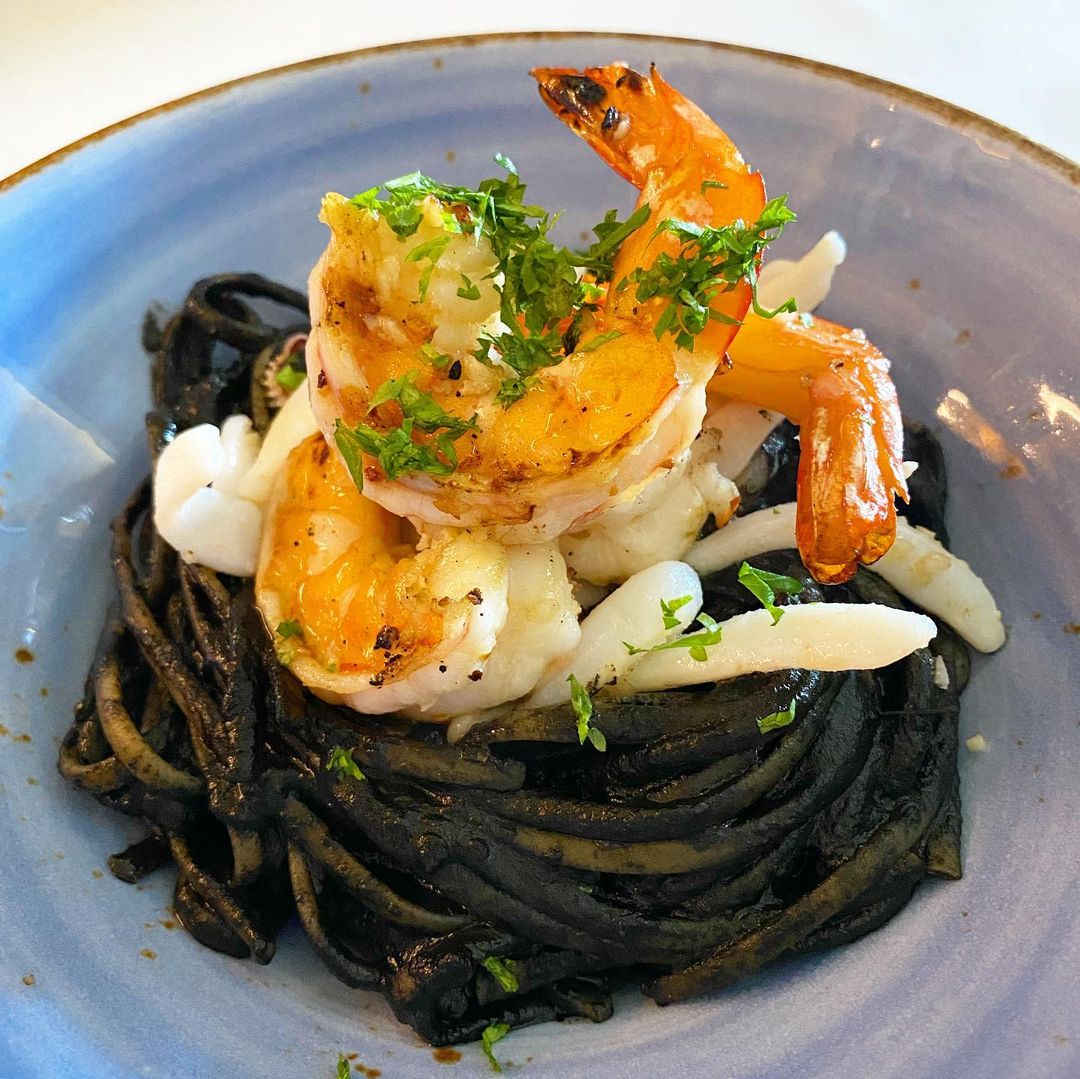 Image credit: @limkohpi
Chef Luca and his wife Hui are the folk behind Da Luca Italian Restaurant, a Novena-area stalwart that is cosy and welcoming, with hearty, legit Italian fare. The dish you're going to see most on IG is their signature starter: Signature Cold Capellini tossed in Truffle Emulsion Topped with Raw Hokkaido Scallop and Hokkaido Sea Urchin ($88++).
But of course, if you're here for a less extravagant pasta dinner, go for their homemade pasta dishes, which include Linguine con Gamberi in Salsa al Nero di Seppia ($28++), AKA linguine with fresh prawns and squid in black ink sauce. Their Lasagne alla Bolognese ($23++) is hearty and comforting, while the Penne al Granchio ($28++) sees the short tubed pasta in a chilli-tomato sauce and lots of peeled crab.
Address: 1 Goldhill Plaza, #0-19/21, Singapore 308899
Opening hours: Tue-Sat 12pm to 3pm, 6pm to 11pm
Tel: 62584846
Da Luca Italian Restaurant is not a halal-certified eatery
---
5. PocoLoco
---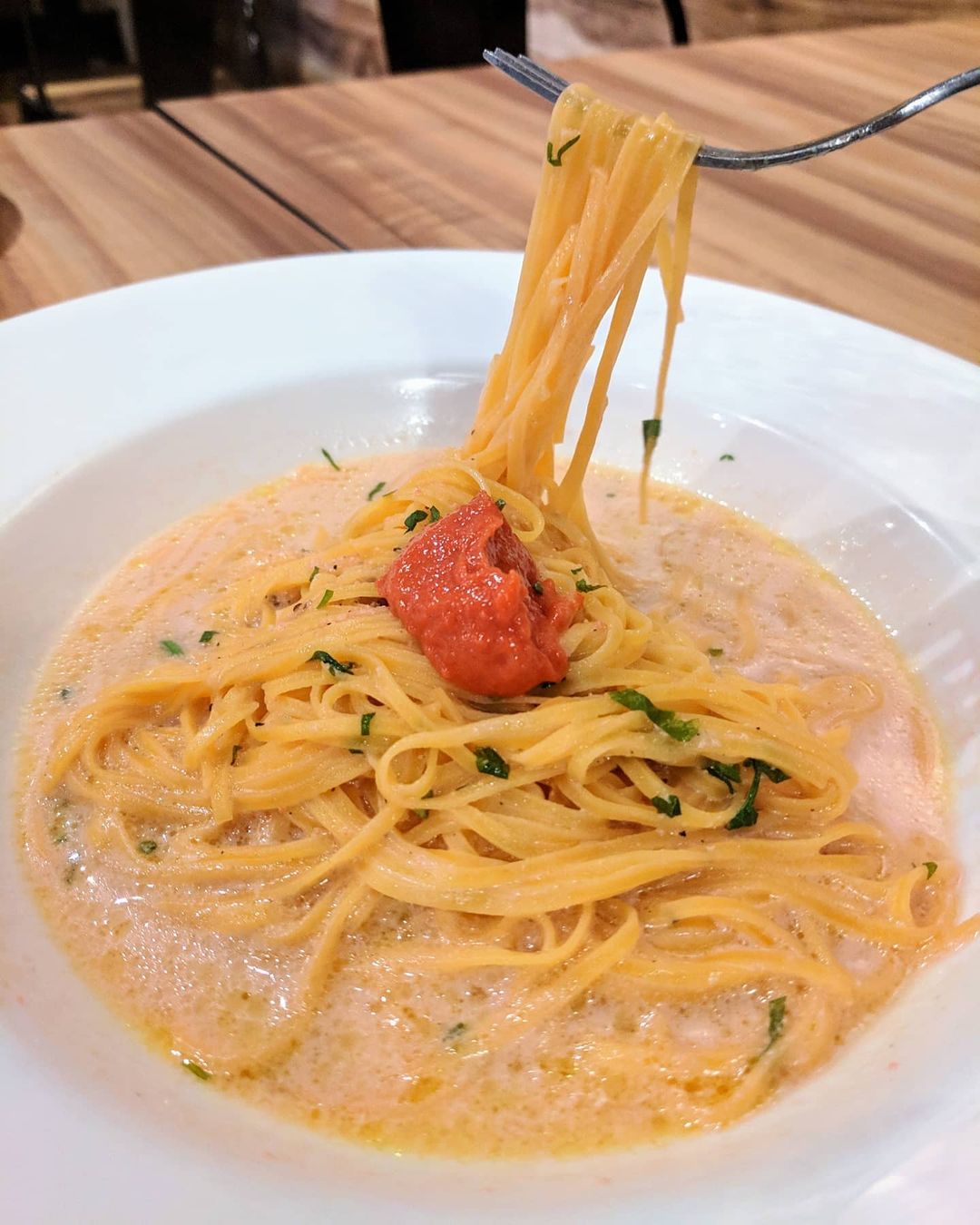 Image credit: @_coleats
PocoLoco is headed by a chef who's got 10 years of experience dishing up Italian fare, and prides themselves on being the first heartland Italian restaurant with what they call "heartland pricing". They definitely live up to that name, with only one item, Uni ($23.90++), priced above $20. This goes up if you opt for more pasta ($2++), or fresh pasta ($4++).
Even the seafood pasta here, Pescatora, will only set you back $16.90++! Mentaiko lovers should go for Mentaiko ($16.90++), or you could order the Tagliatelle al Ragu de Agnello ($18.90++) from their homemade pasta section. If you're on a budget, the Pesto ($11.90++) is the cheapest pasta on the menu!
Address: 215F Upper Thomson Road, Singapore 574349
Opening hours: Mon-Fri 12pm to 3pm, 6pm to 10pm, Sat-Sun 12pm to 10pm
Tel: 8866 4646
Website
PocoLoco is not a halal-certified eatery
---
6. Bella Pasta
---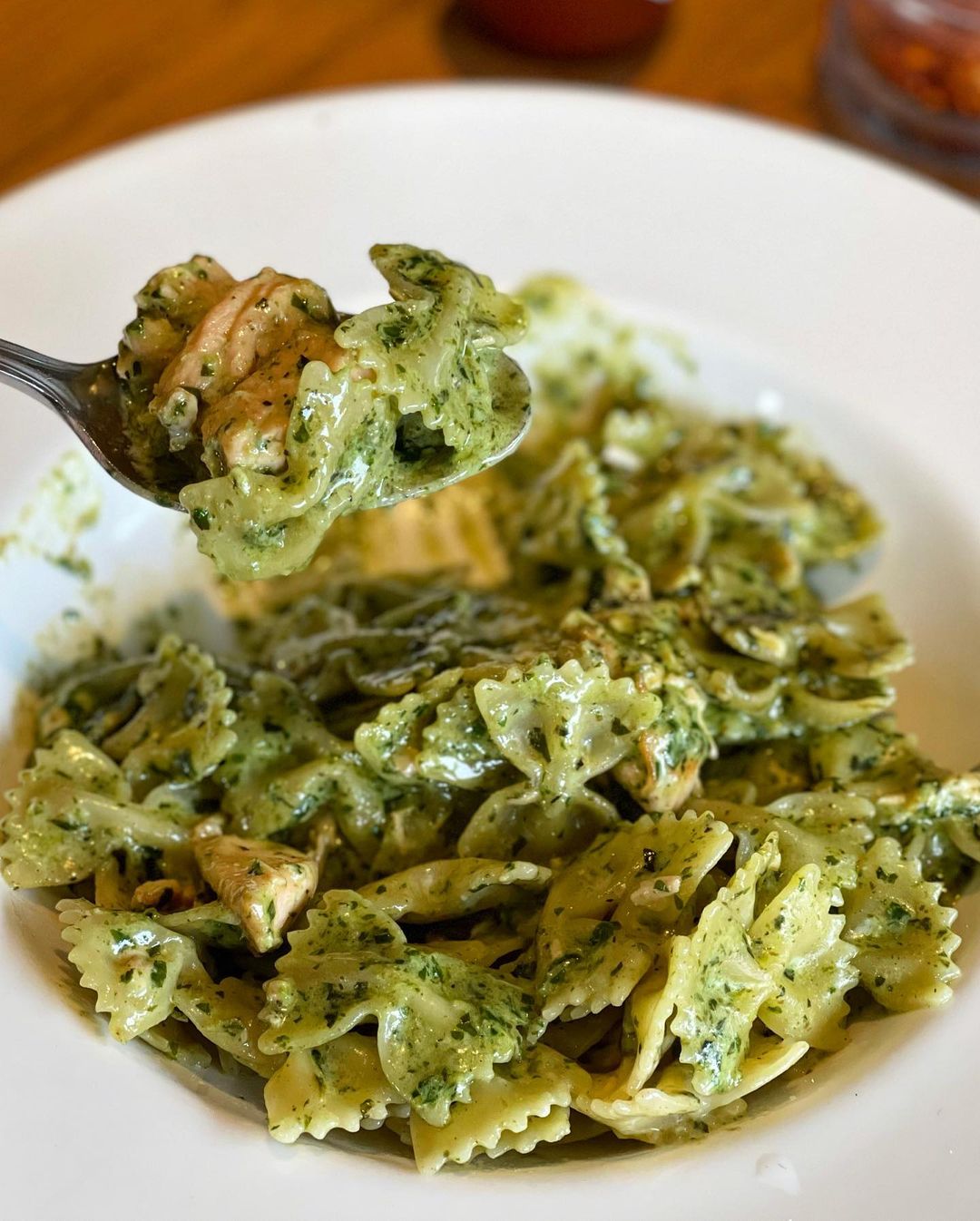 Image credit: @travelfoodsteps
Bella Pasta is a quaint little hideaway in the Robertson Quay enclave, which gets you pasta dishes under $30 with a riverside view to boot. Consider the Cavatelli con Proscuitto e Spinaci ($25++) for house-made shell pasta with spinach and prosciutto in a sage-butter sauce, or go for Pansotti Burrata ($26++), where the house-made egg pasta is stuffed with fresh burrata and served with fresh tomatoes and basil leaves.
Address: 30 Robertson Quay, #01-09, Riverside View, Singapore 238251
Opening hours: Mon, Wed-Fri 12pm to 2:30pm, 6pm to 11pm, Sat 11:30am to 11:30pm, Sun 11:30am to 11pm
Tel: 6836 5692
Website
Bella Pasta is not a halal-certified eatery
---
7. Super Dario Lasagne Cafe
---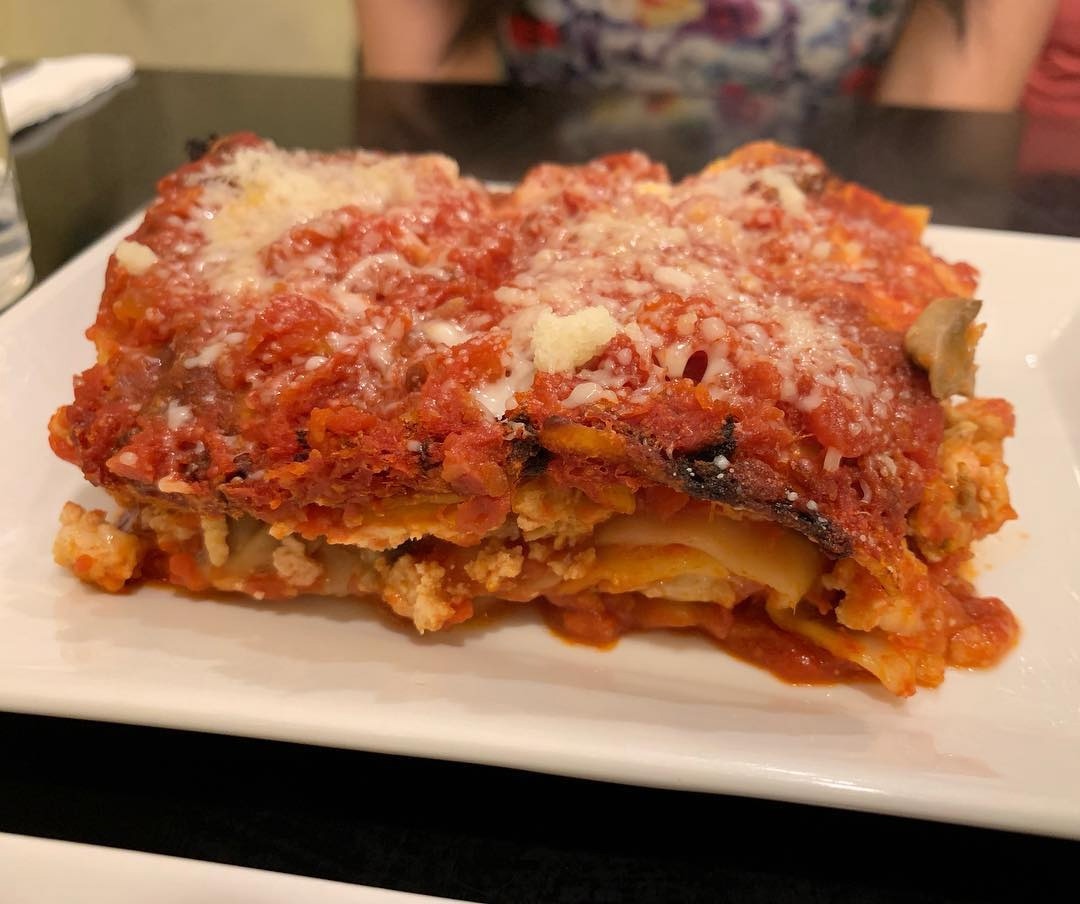 Image credit: @cj_jiakjiakjiak
Opened by Italian native Dario Scimone, Super Dario Lasagne Cafe is the only dedicated lasagne shop in Singapore. Their lasagne is rich in flavour but light on the wallet, with the classic Super Dario setting you back a mere $11.90. What's more, all their prices are nett!
Even premium variants, such as the Super Dario World ($13.90), layered with beef, spinach, and ricotta cheese, remain affordable. Vegetarians are left out either, with no less than four vegetarian options appearing on the menu.
Address: 180 Kitchener Road, #04-17, City Square Mall, Singapore 208539
Opening hours: Daily 11am to 9pm
Tel: 9151 2196
Website
Super Dario Lasagne Cafe is not halal-certified but uses no pork or lard. Their meat is sourced from halal-certified suppliers.
Tangled Review: Freshly Made Pasta From $7.90 In Chinatown, Including Truffle Mushroom And Black Pepper Crab
---
8. iO Italian Osteria
---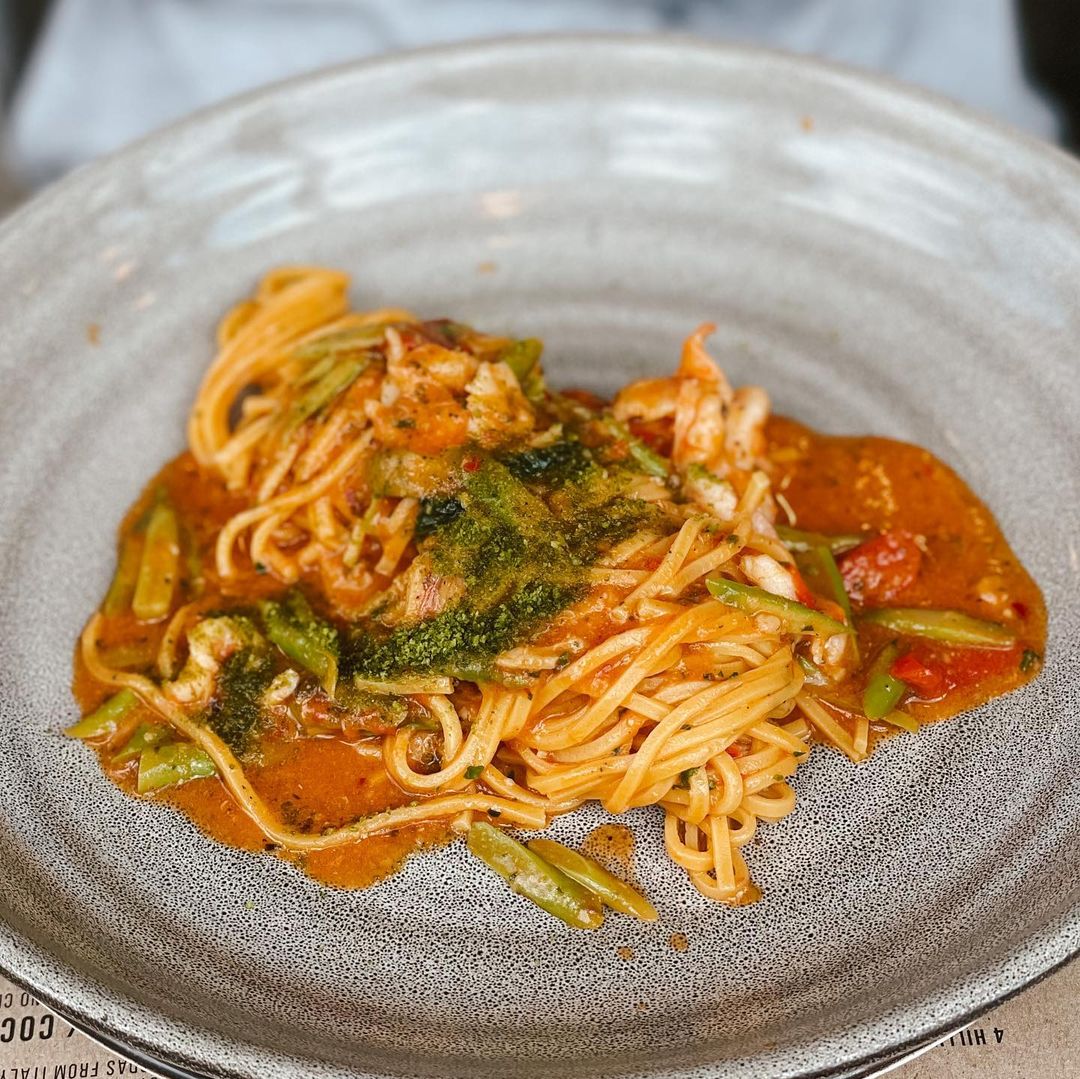 Image credit: @hooyeats
Tucked on the second floor of HillV2 is iO Italian Osteria, a gem of a place that's always crowded. Executive Chef Anna Borrasi's children run the restaurant today, while she continues to manage her portfolio of other restaurants worldwide.
The classic Spaghetti Pomodoro here goes for $18++, as does the Baked Lasagna "Grandma" Style. Then, there's Orecchiette, Pork Sausage, Saffron Sauce ($19++), and Homemade Tagliolini, Prawns, Asparagus, Lemon, Aromatic Breadcrumbs ($22++), the latter of which is tied together with a savoury tomato-based sauce.
Address: 4 Hillview Rise, #02-01, HillV2, Singapore 667979
Opening hours: Mon-Fri 11:30am to 10pm, Sat-Sun 10am to 10pm
Tel: 6710 7150
Website
iO Italian Osteria is not a halal-certified eatery
---
9. Ristorante Pietrasanta
---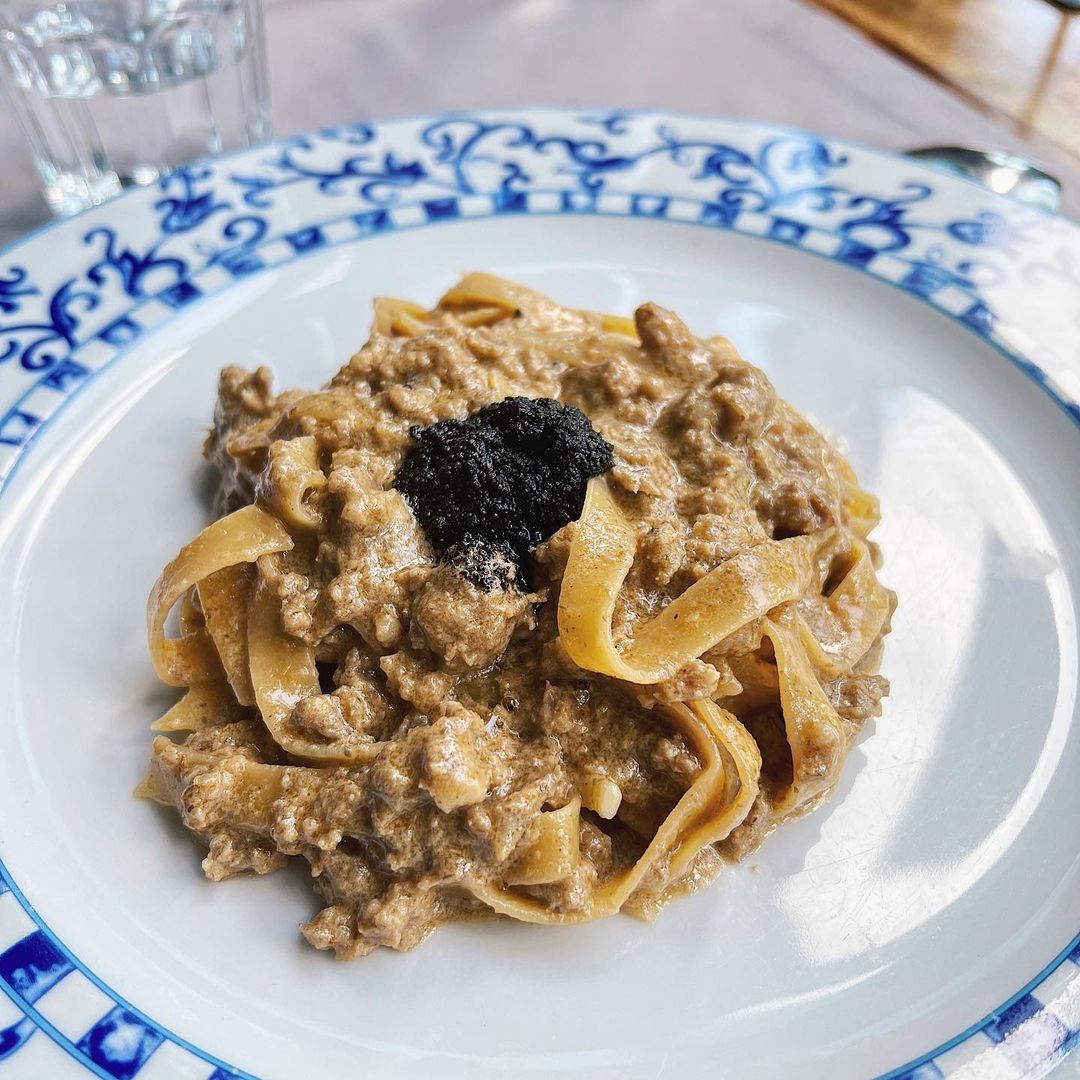 Image credit: @gainfatdiary
Pietrasanta, if you didn't know, is an actual place in the Tuscan region of Northern Italy. It's also the inspiration behind Ristorante Pietrasanta, which first opened back in 2008 at Portsdown Road. The trio of Italian founders is committed to their cuisine, using only the finest organic flour and other ingredients air-flown from their homeland.
There's the popular Pici Cacio E Pepe ($25.90++), which showcases fresh, handmade Tuscan spaghetti with pecorino cheese and black pepper. You could also try Fettuccine con Salsiccia e Tartufo ($29.90++), where handmade fettuccine is dressed with pork sausage and black truffle.
Address: 1 Fusionopolis Way, #01-08, Fusionopolis, Singapore 138632
Opening hours: Daily 11:30am to 2:30pm, 5:30pm to 10pm
Tel: 9863 9253
Website
Ristorante Pietrasanta is not a halal-certified eatery
Pastago Review: Fresh Handmade Pasta From $3.90 In JCube, Has Lemon Butter Tobiko Sauce And More
---
10. Bar Cicheti
---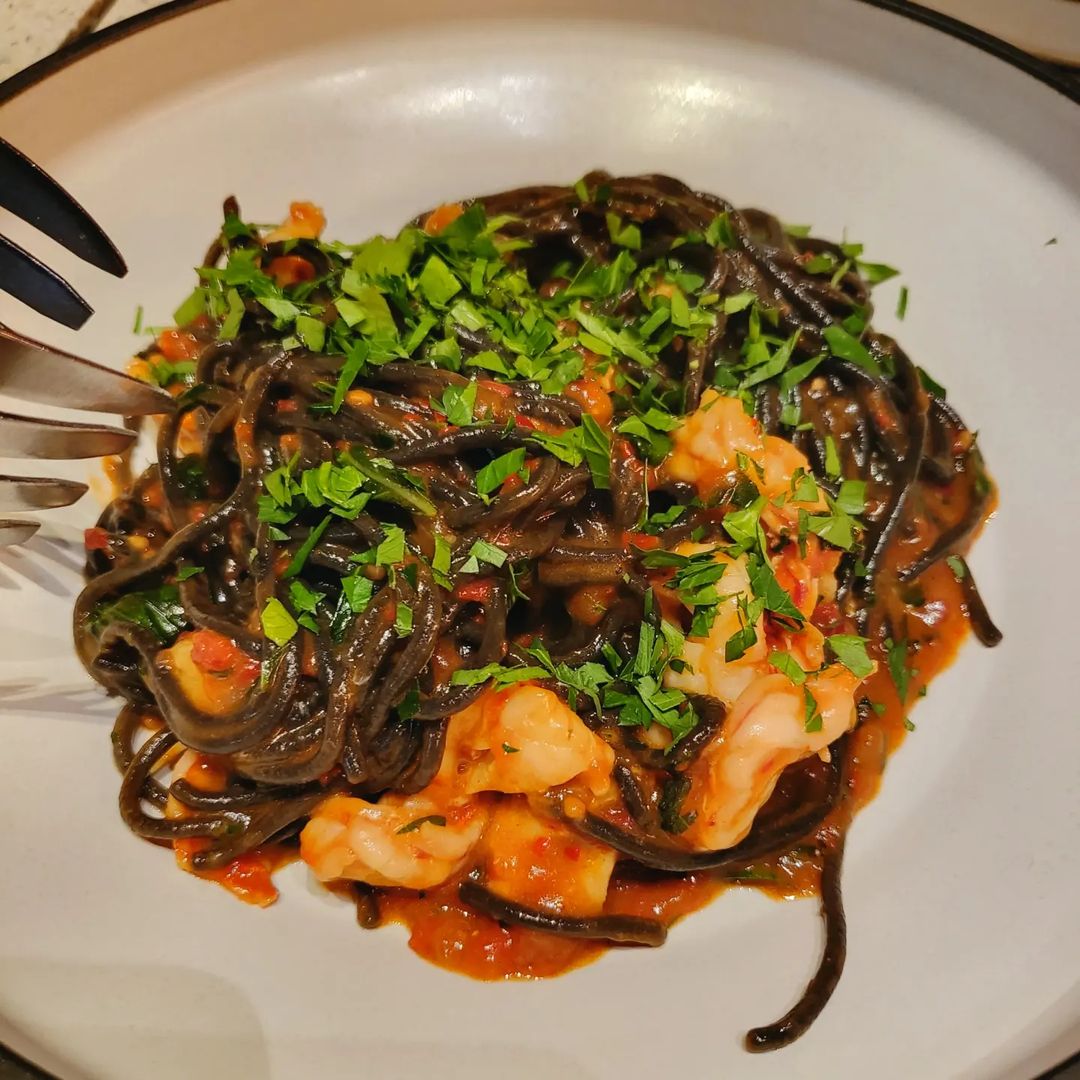 Image credit: @mmm.hhmmm
Bar Cicheti is The Cicheti Group's very own pasta bar, specialising in handmade pastas made with artisanal and seasonal Italian produce. Take a look at the menu, and you'll find two prices next to each pasta: for a tasting portion, and full serve.
It's hard to go wrong with the Spaghettini ($24++/$36++), an umami-packed dish comprising Argentinian red prawns, Manila clams, olives, capers, and bisque.  Another shellfish option is Tagliolini ($23++/$35++), loaded with blue swimmer crab, lemon juice, confit garlic, butter, bisque and more.
Address: 10 Jiak Chuan Road, Singapore 089264
Opening hours: Daily 12pm to 2:30pm, 6pm to 10:30pm
Tel: 6789 9801
Website
Bar Cicheti is not a halal-certified eatery
---
11. LINO
---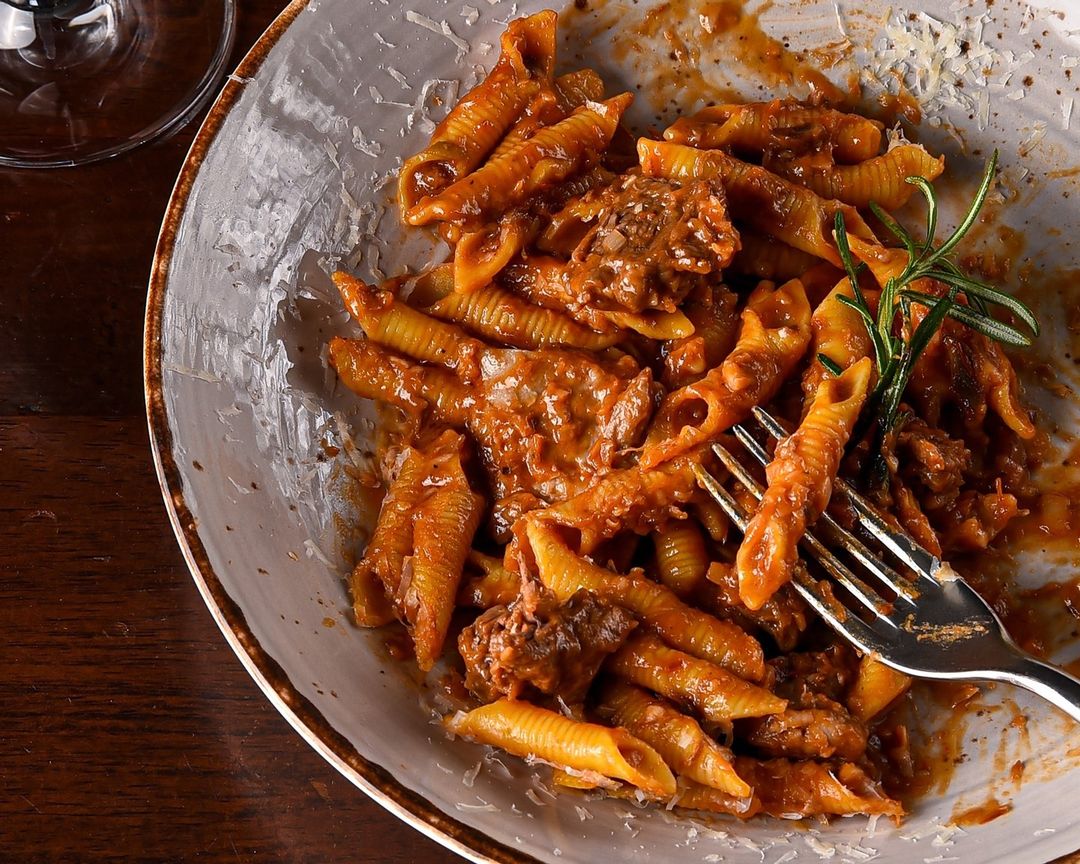 Image credit: @linorestaurant
Another spot that does pretty great pasta is LINO, an Italian concept by the Les Amis Group—so you know the food will definitely be up to scratch. There are two locations: at Binjai Park along Dunearn Road, and in Forum the Shopping Mall, with indoor and alfresco dining options.
The menus and prices are slightly different, depending on which outlet you visit, but you'll find Carbonara Chitarra ($26++), Beef Short Rib Fettuccine ($29++), and Pork Bolognese Gnocchi ($28++) at both. They've even got Lamb Ragu Garganelli ($29++), where Australian lamb shoulder is cooked to tender ends, perfectly caught up in the ribbed, cylindrical pasta.
Website | Full list of locations
LINO is not a halal-certified eatery
---
12. Pasta Bar
---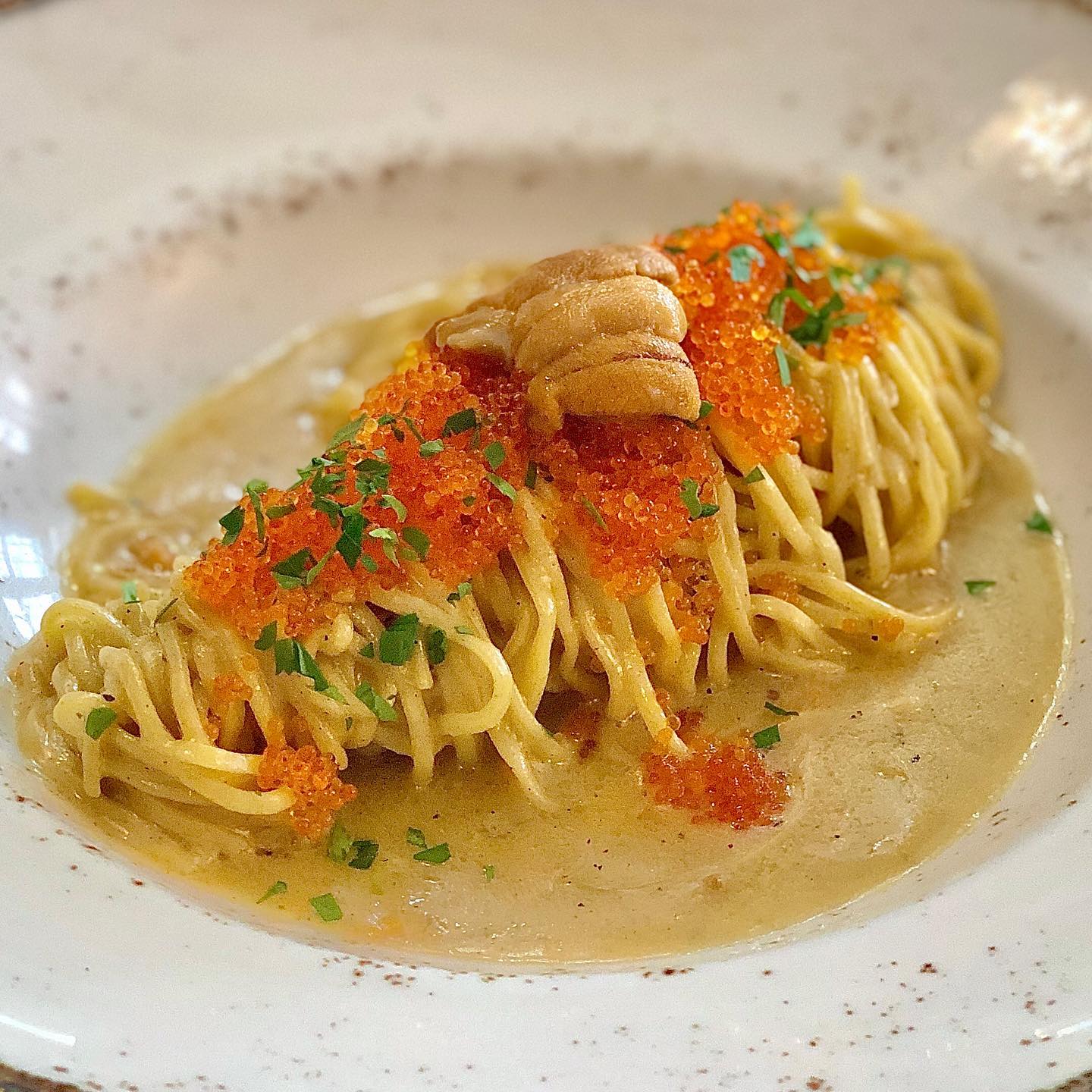 Image credit: @samlivestoeat
With just 18 seats at the bar counter, getting a seat at Pasta Bar can be difficult at times. There are almost as many—14 to be precise—types of pasta dough handmade fresh daily on the premises, as there are seats. These all serve different functions in each of the 17 pasta dishes on the menu, split into three categories: Carne, or meat, Mare, sea, and Terra, land.
Go for Duck Agnolotti ($42++), comprising confit duck with porcini mushrooms and freshly shaved black truffle, or the Lobster Ravioli ($36++), accompanied with mentaiko butter and tobiko. The Sea Urchin Tagliolini ($42++) is a popular choice here, whereas Tagliolini Paglia e fieno ($32++) sees the evergreen combination of San Marzano tomatoes, ricotta, and basil.
Address: 55 Keong Saik Road, #01-05, KēSa House, The Unlimited Collection by Oakwood, Singapore 089158
Opening hours: Mon-Wed 6pm to 11pm, Thurs-Sun 12pm to 3pm, 6pm to 11pm
Website
Pasta Bar is not a halal-certified eatery
---
13. Forma
---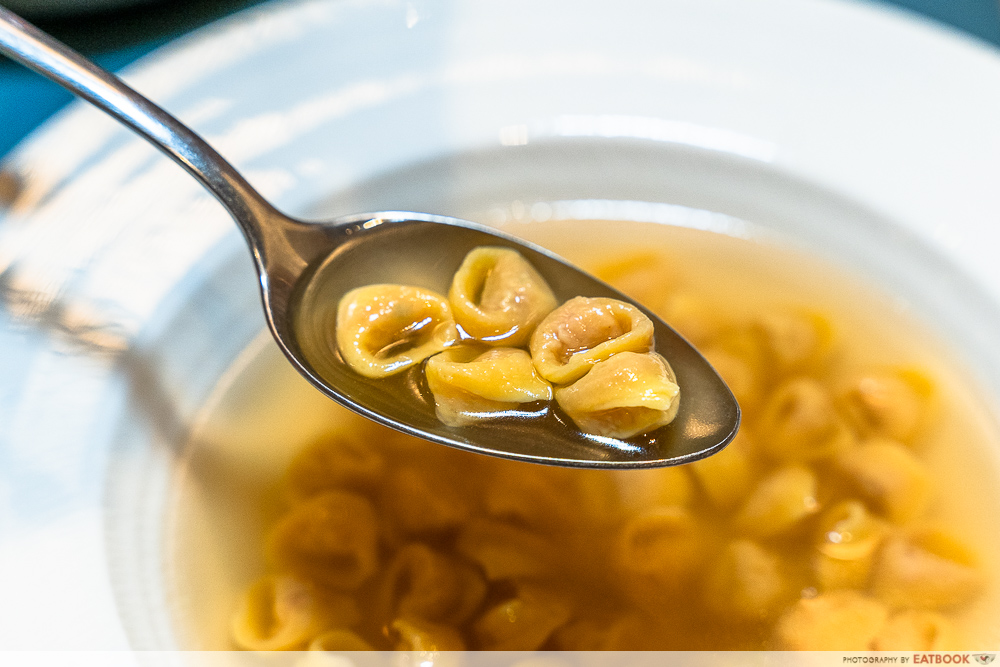 You've possibly seen these Tortellini in Brodo ($34++) and read about the two-month waitlist for a table at Forma everywhere, so give them a shot if you do manage to get a table. This little restaurant in the Joo Chiat 'hood is backed by The Cicheti Group, and led by Sfoglino Lee Yum Hwa, a self-taught pasta chef who's obsessed with making perfect pasta.
Back to the Tortellini in Brodo—they're a specialty of the Emilio-Romagna region in Italy, and are filled with Mortadella di Bologna, Prosciutto Crudo, and Parmigiano Reggiano DOP. There's also Linguine al Limone, which is priced at $29++, and Orecchiette al Sugo d'Agnello ($36++), which comes with a super tasty meat sauce made with lamb. The pasta selections here are updated seasonally, so do take note!
Read our Forma review here!
Address: 128 Tembeling Road, Singapore 423638
Opening hours: Tue-Fri 6pm to 10:30pm, Fri-Sat 12pm to 2:30pm, 6pm to 10:30pm, Sun 12pm to 3:30pm
Tel: 6513 2286
Website
Forma is not a halal-certified eatery
Forma Review: Popular Private Diner Ben Fatto 95 And Cicheti Group Open Joo Chiat Restaurant
---
14. Osteria Mozza
---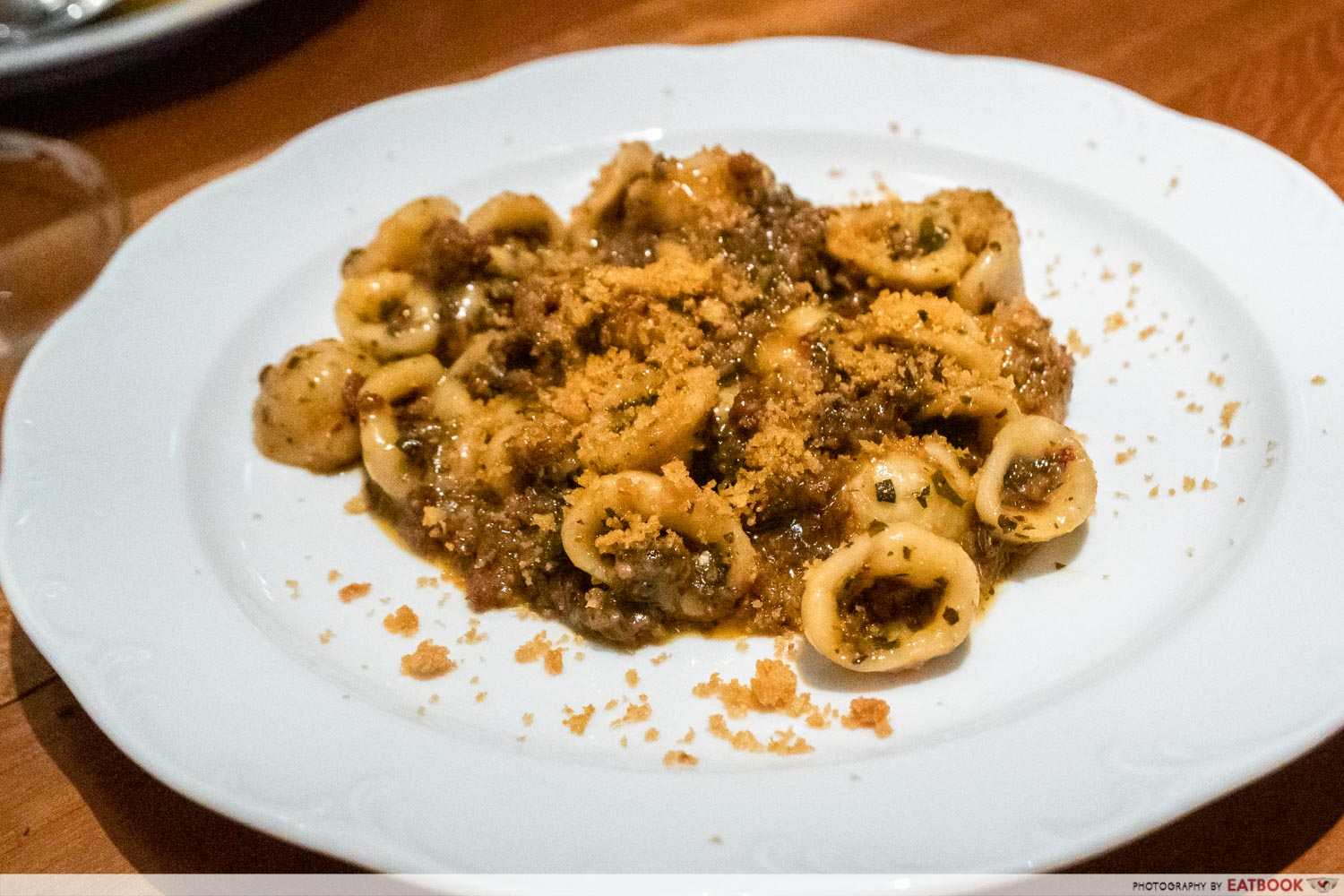 Nancy Silverton may not be Italian, but Osteria Mozza, the Italian restaurant in Los Angeles that she founded together with Italian chef Mario Batali, has held a Michelin star since the year after it opened in 2007.
If you missed the restaurant when it was at Marina Bay Sands, catch it now at the more-accessible Hilton Singapore Orchard. The Garganelli ($32++) with ragu Bolognese is superb, but we also enjoyed the Orecchiette ($33++) with sausage and Swiss chard.
Read our Osteria Mozza review here!
Address: 333 Orchard Road, Level 5, Hilton Singapore Orchard, Singapore 238867
Opening hours: Daily 12pm to 2:30pm, 5pm to 10:30pm
Website
Osteria Mozza is not a halal-certified eatery
Osteria Mozza Review: Award-Winning Italian Restaurant Reopens At Hilton Singapore Orchard
---
Have pasta at these Italian restaurants in Singapore
---
If you're a carb lover like I am, it's time to start checking all these pasta restaurants off the list. Italian food, however, is so much more than simply pasta; so if you're looking for options that go beyond these noodles, check out our list of Italian restaurants in Singapore.
This list has only covered pasta restaurants, but if you're looking for quick and easy pasta meals, give Pastago or Tangled a try!
15 Best Italian Restaurants In Singapore For All Budgets—$5 Pasta, Truffle Pizza And More
Featured image adapted from @linorestaurant and @samlivestoeat
This post was brought to you by Trovato.
This post was originally written on 25 February 2019.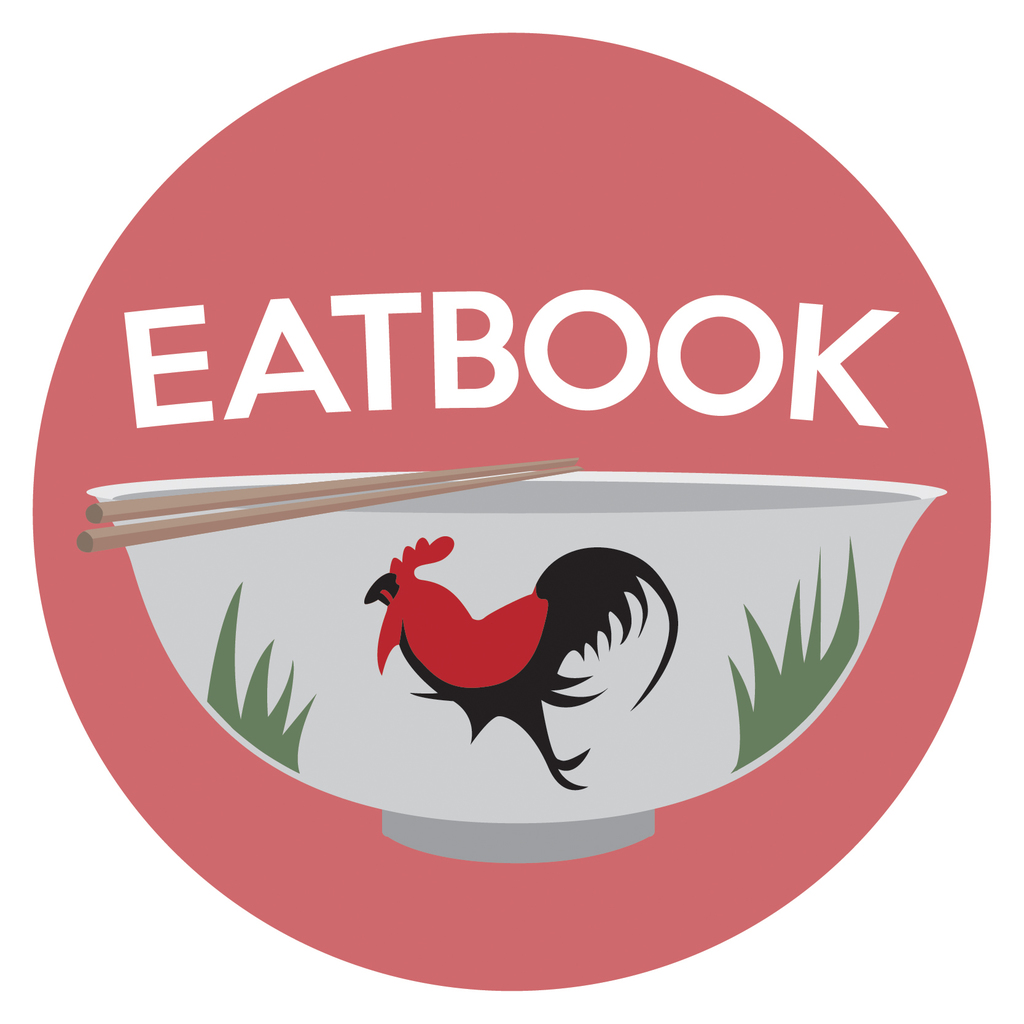 Drop us your email so you won't miss the latest news.