Pastago for affordable handmade pasta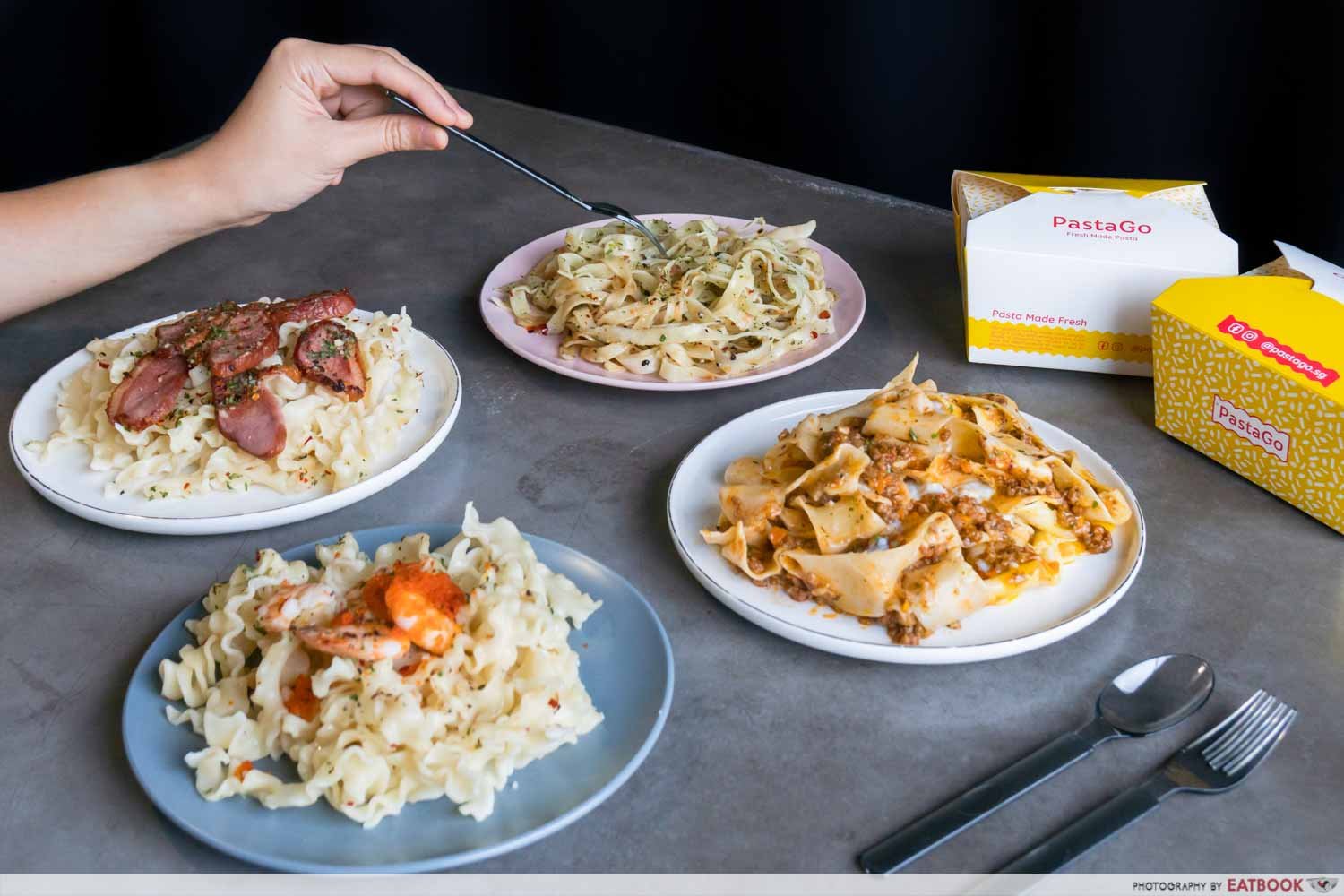 With takeaway kiosks including pasta chain Tangled popping up one after another, we're now spoiled with plenty of dabao options. Pastago is yet another fresh addition to the scene. Located in the basement of JCube, the Jurong kiosk offers fresh, customisable pasta in an assortment of shapes, served with your choice of sauce and toppings.
Tangled Review: Freshly Made Pasta From $7.90 In Chinatown, Including Truffle Mushroom And Black Pepper Crab
Food at Pastago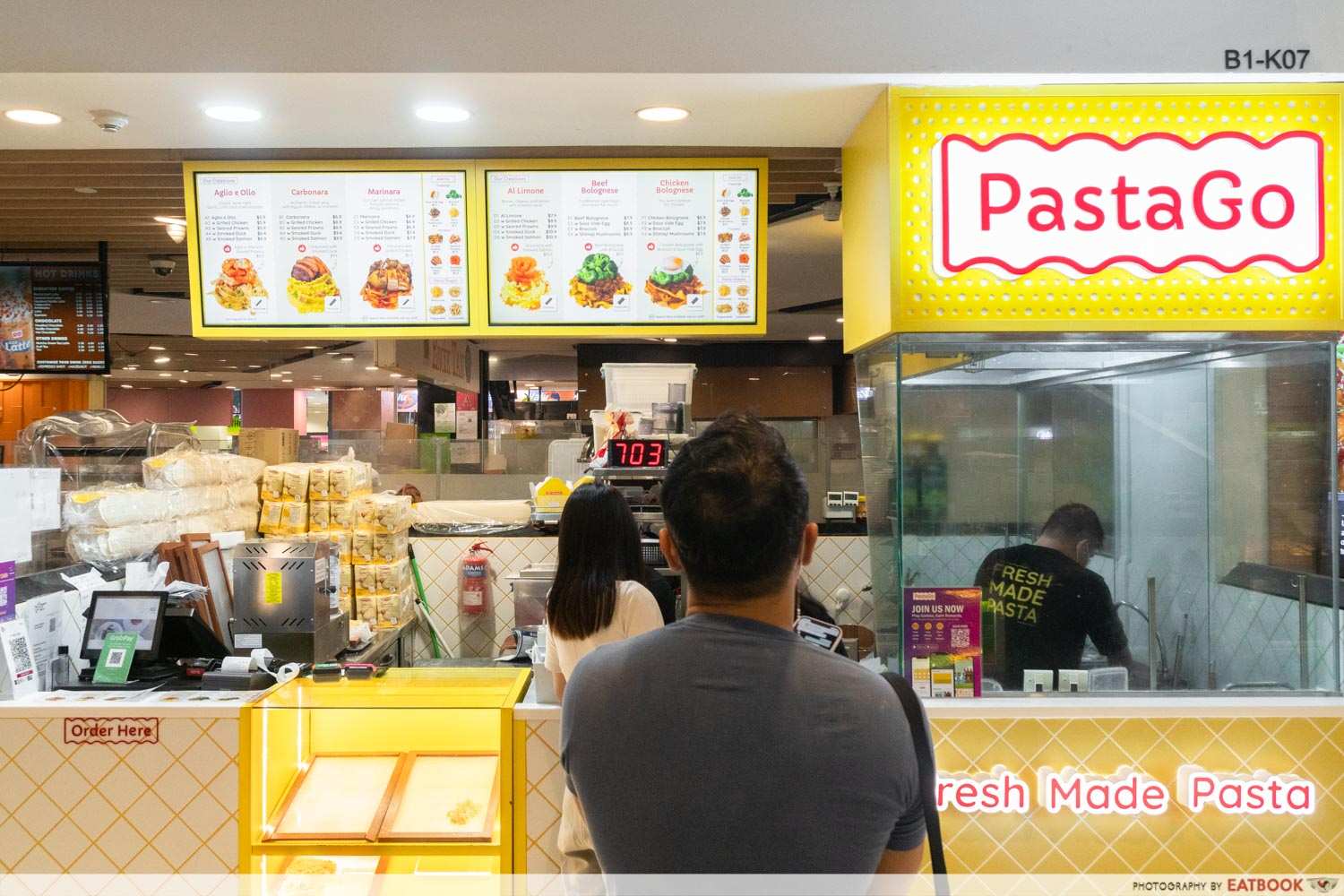 Ordering at Pastago is simple and straightforward. You first choose from six flavours: Aglio e Olio, Carbonara, Marinara, Al Limone, Beef Bolognese, Chicken Bolognese. You can have them as is, or top up for add-ons including shimeiji mushrooms, smoked salmon, and seared prawns.
Nudedles Review: Ex-Joel Robuchon Chef Opens Hawker Stall With $8 Lobster Bisque Pasta And More
Then, select from four pasta shapes: Fettuccine, Pappardelle, and the lesser-seen Mafalde and Campanelle. Pastago makes their own pasta from scratch, both by hand and with a small pasta rolling machine tucked to the side of the kiosk. We actually saw them making a fresh batch for our order! As everything is made in small quantities, you can expect the freshest noods—but that also means longer waiting times.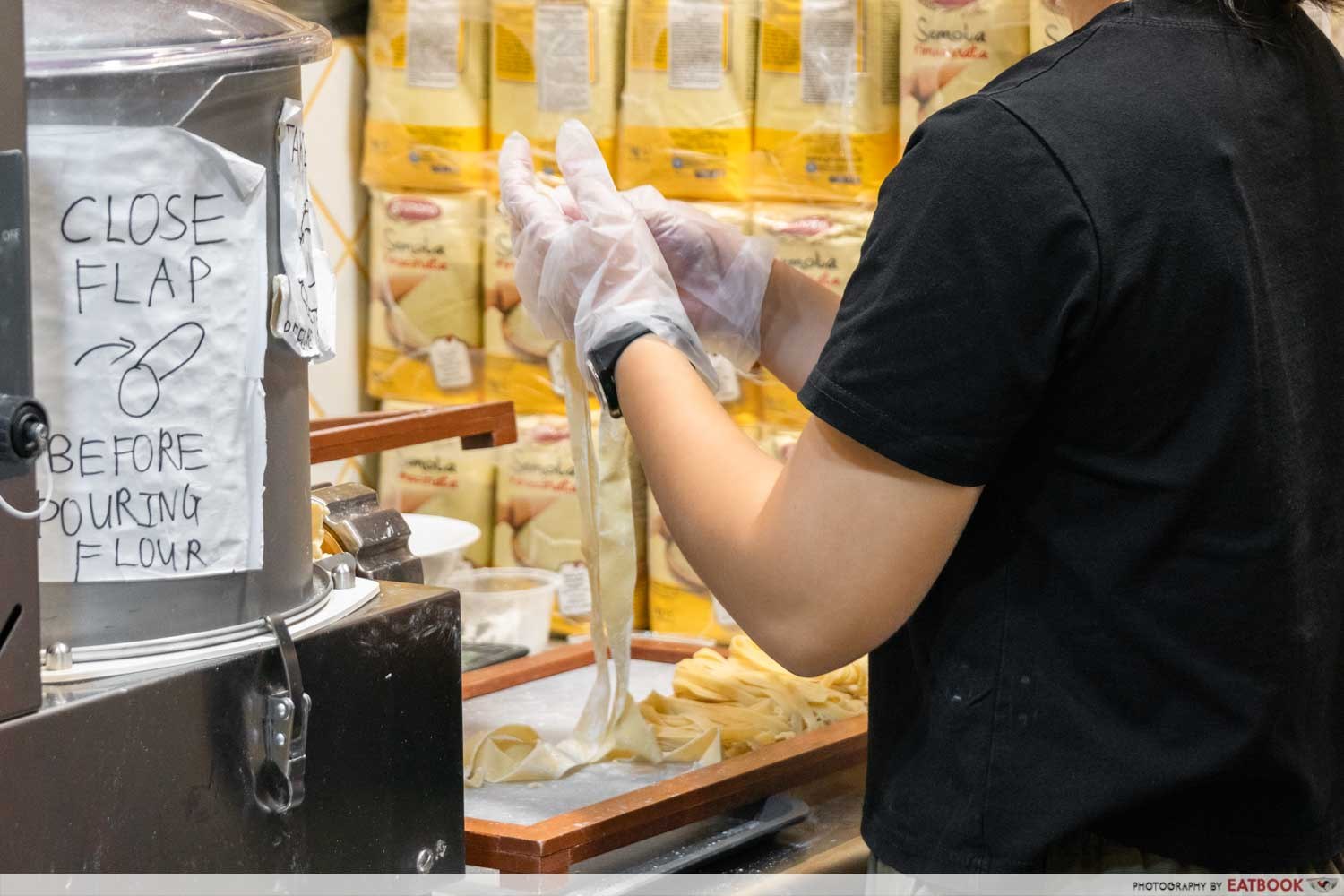 We started with their cheapest item: the Aglio e Olio ($3.90). You can add on $2 for grilled chicken or seared prawns if you want a more filling meal, but we decided to try it plain.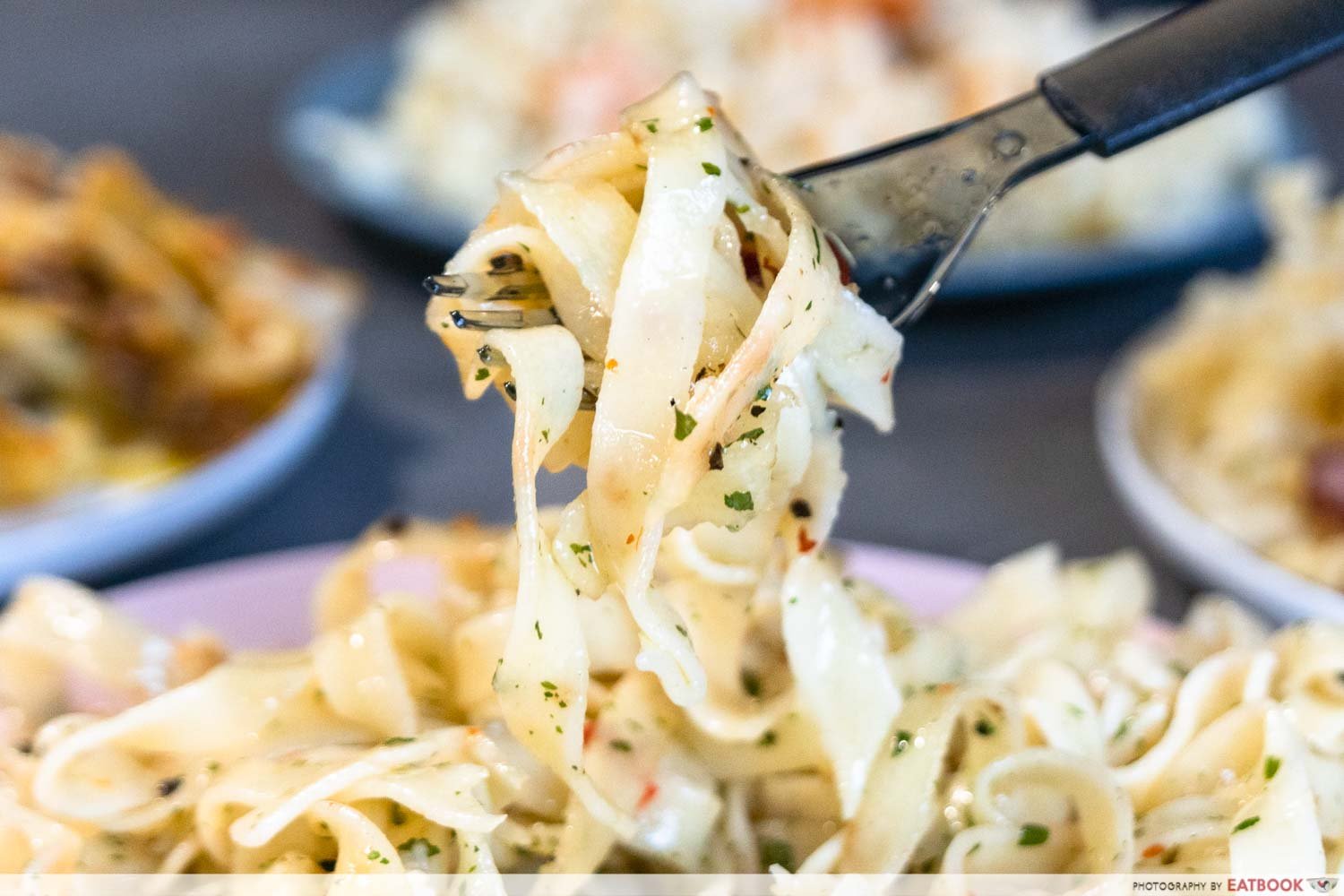 Fettucine was the recommended carb for this, so we went with it. The long strands of pasta were the right amount of thickness and cooked to al dente so there was still a pleasant bite even after sitting out for a while.
Coated in a generous amount of olive oil, garlic, and chilli flakes, this classic dish was simple, yet flavourful. My only gripe was that it leaned greasy, but you can also opt for less oil if you prefer something lighter.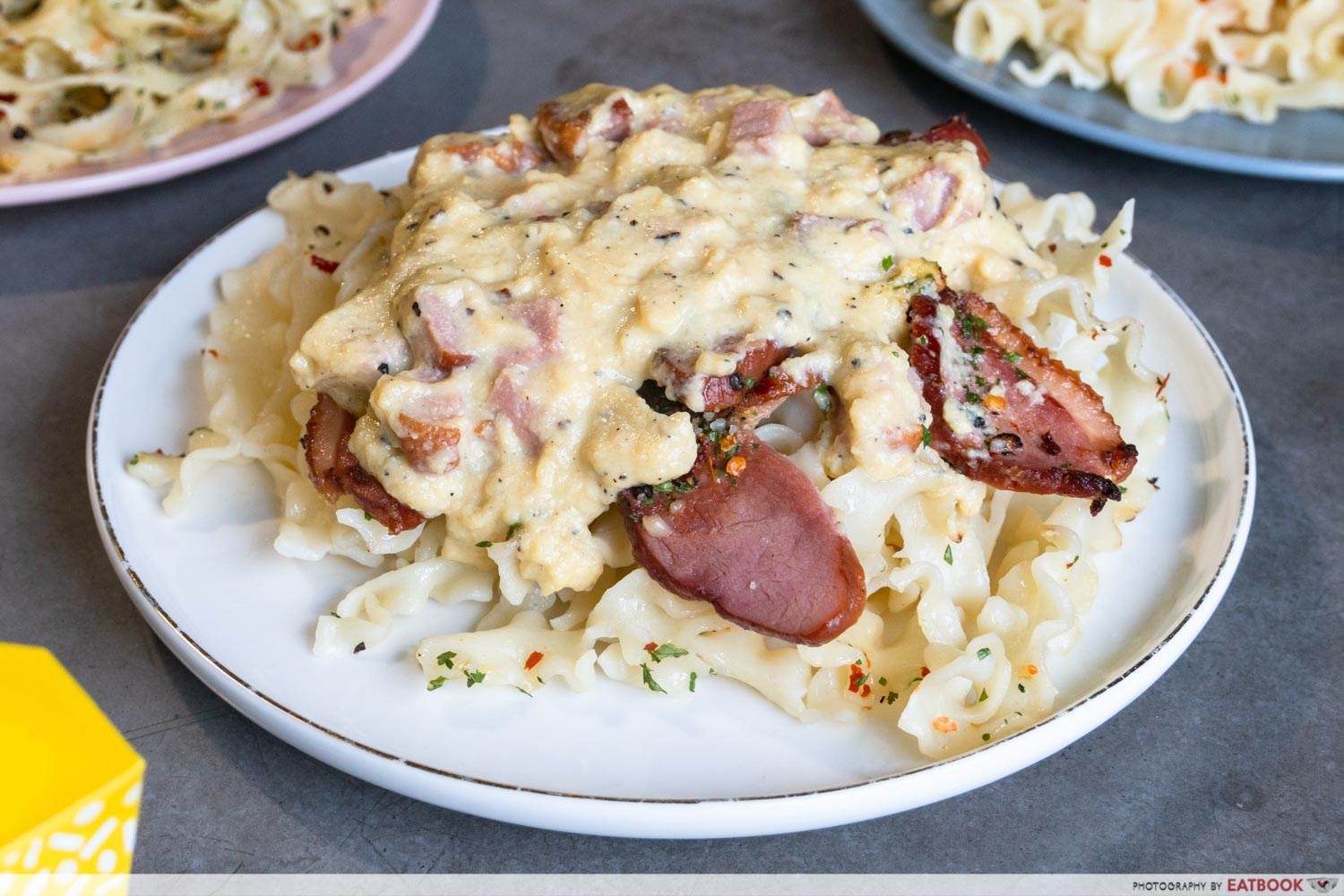 Carbonara purists will be pleased with Pastago's version, which uses egg and cheese to thicken the sauce, instead of cream. No, you don't get guanciale here for the price you're paying, but bacon bits do the trick to add savouriness. Prices start at $6.90 for the plain version and go up to $9.90 for a serving with smoked salmon topping.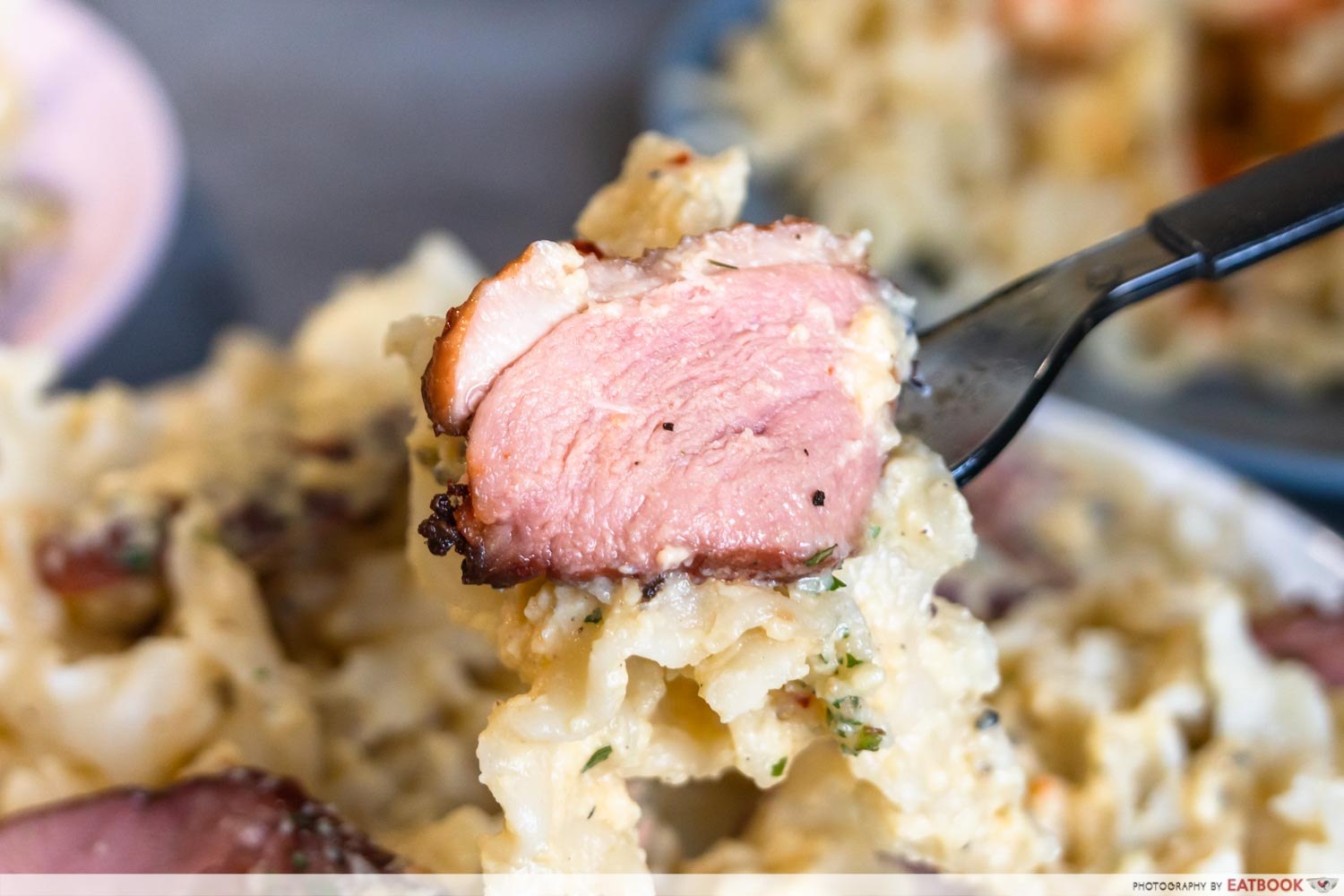 Our Smoked Duck Carbonara ($9.40) turned out to be a delicious choice, thanks to the juicy and salty duck, which went well with the cheesy sauce. The Maflade pasta's wriggly edges helped the sauce cling onto each strand, so every slurp was a delightful burst of flavours.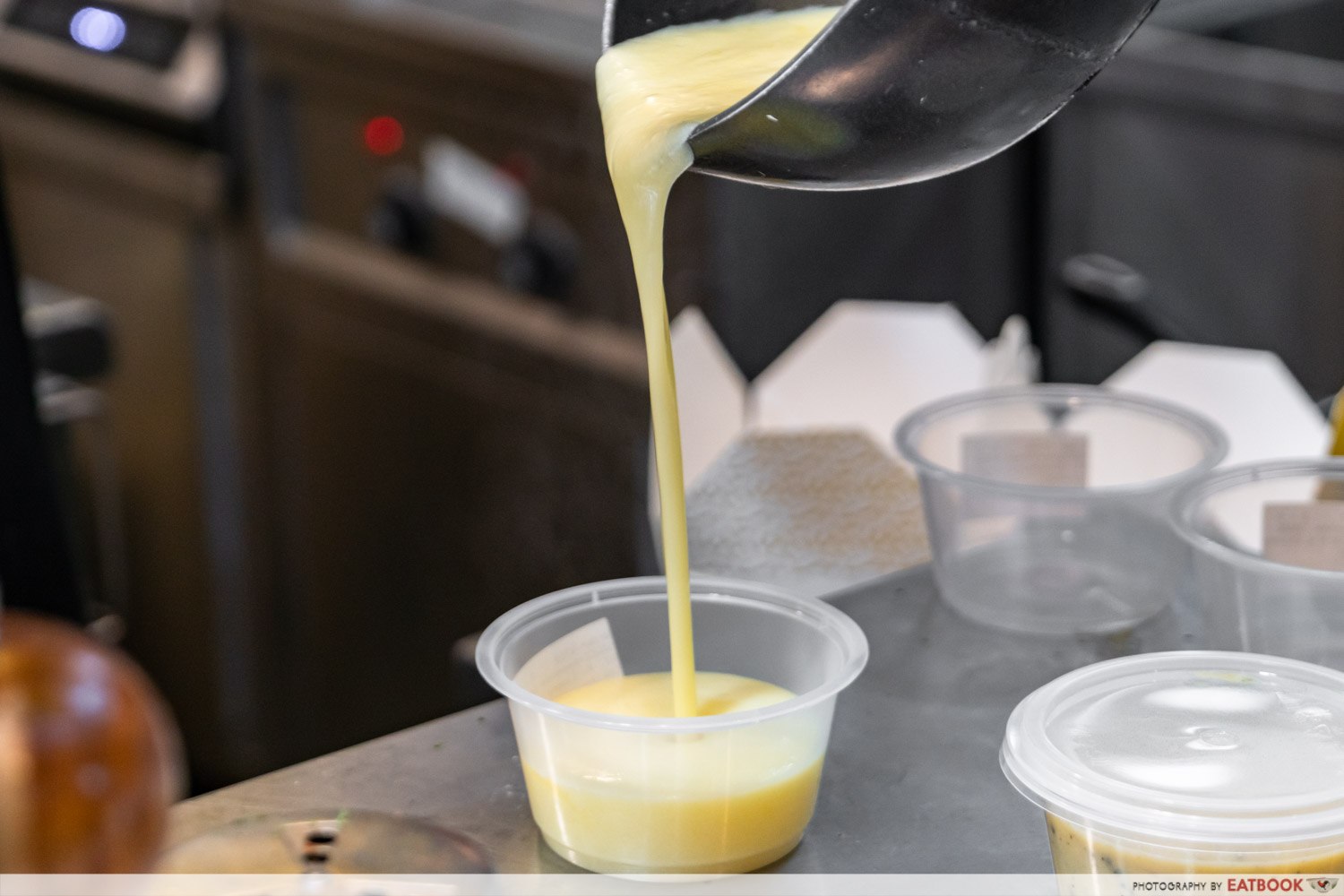 One thing to note is that Pastago packs their sauces separate from the noodles—a wise move to prevent the pasta from getting soggy.
Unfortunately, by the time we started eating, the carbonara sauce started to separate. Popping it in the microwave did help a little to smoothen out those clumps, though.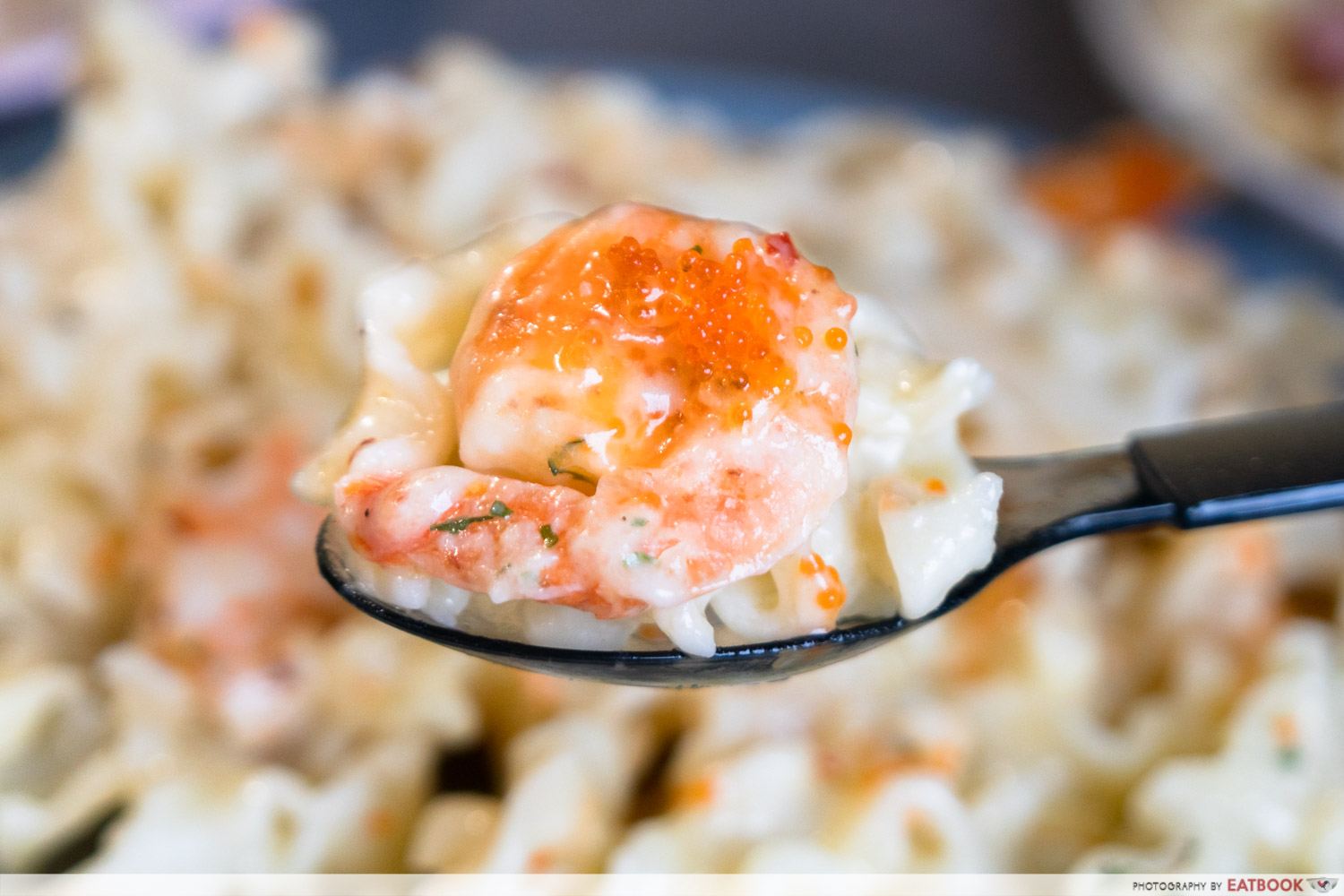 Another creamy dish we tried was the Al Limone with Seared Prawns ($9.90), also served with Maflade pasta.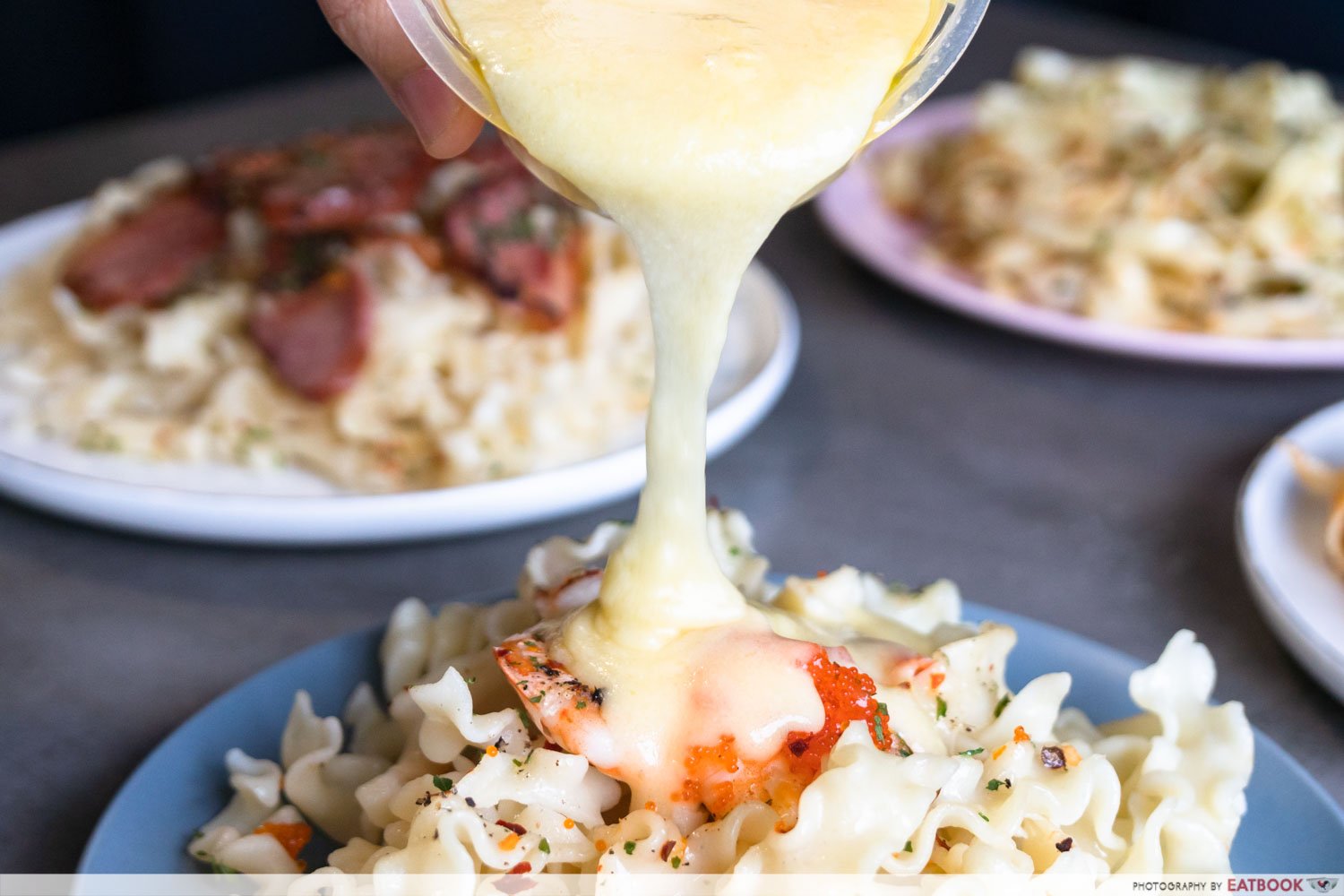 Featuring tobiko mixed with lemon, butter, and cheese, this tangy and savoury sauce was delectable. The umami notes from the popping tobiko added a different dimension to the dish, while the lemon helped to cut through the richness. Again, the creamy sauce separated after sitting out for a while, so we had to reheat it slightly before mixing everything together.
The few pieces of prawns tasted fresh and springy, but if you're on a budget, I'd suggest getting the plain option ($7.90) instead.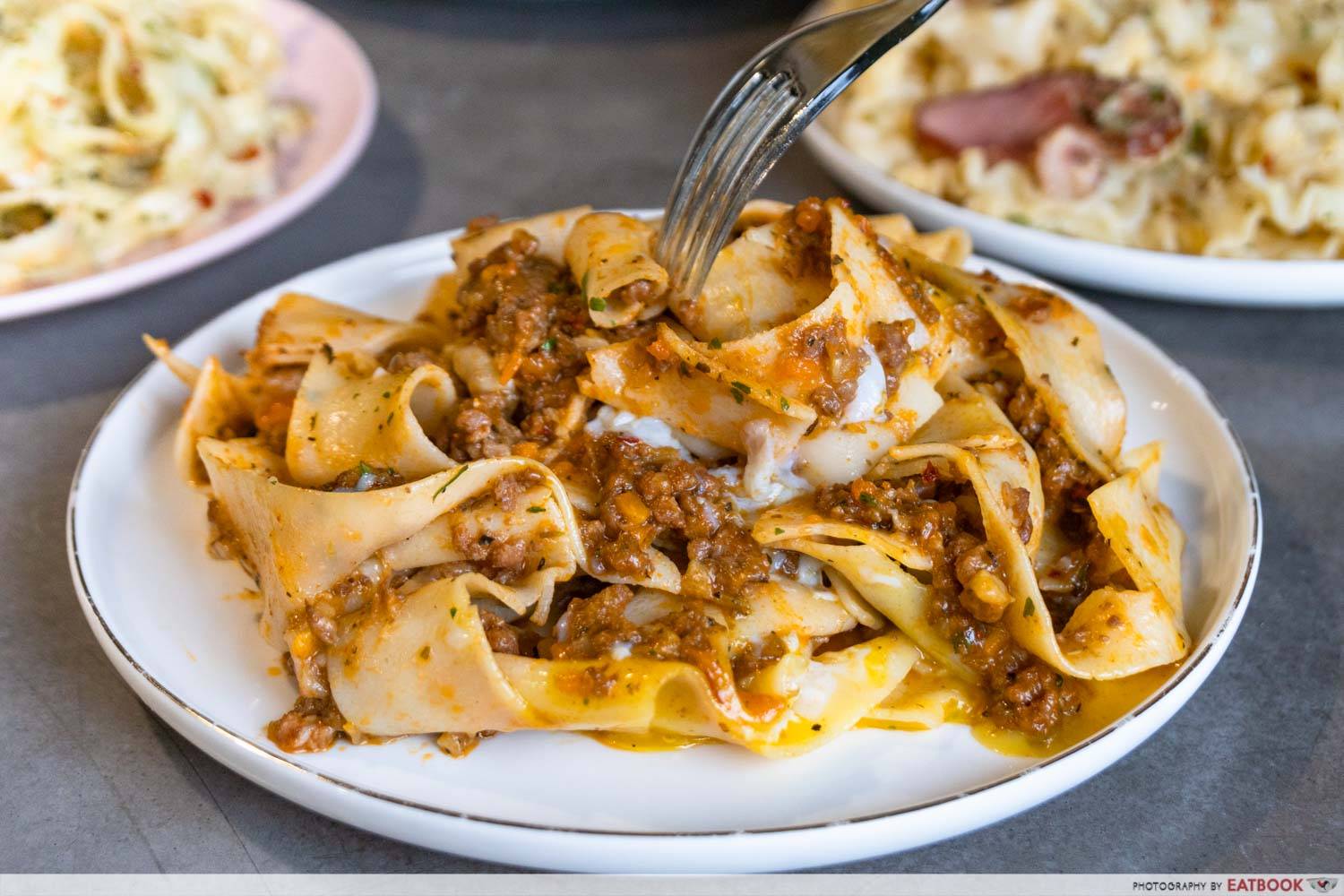 If you're on Team Tomato, the Beef Bolognese with Sous Vide Egg ($8.90) is a must-try. Long, thick Pappardelle sheets were the star of the show here, as they formed a delicious base for the comforting house-made ragu. The beef sauce was simmered for hours, so there was an intense beefy, meaty flavour that I enjoyed.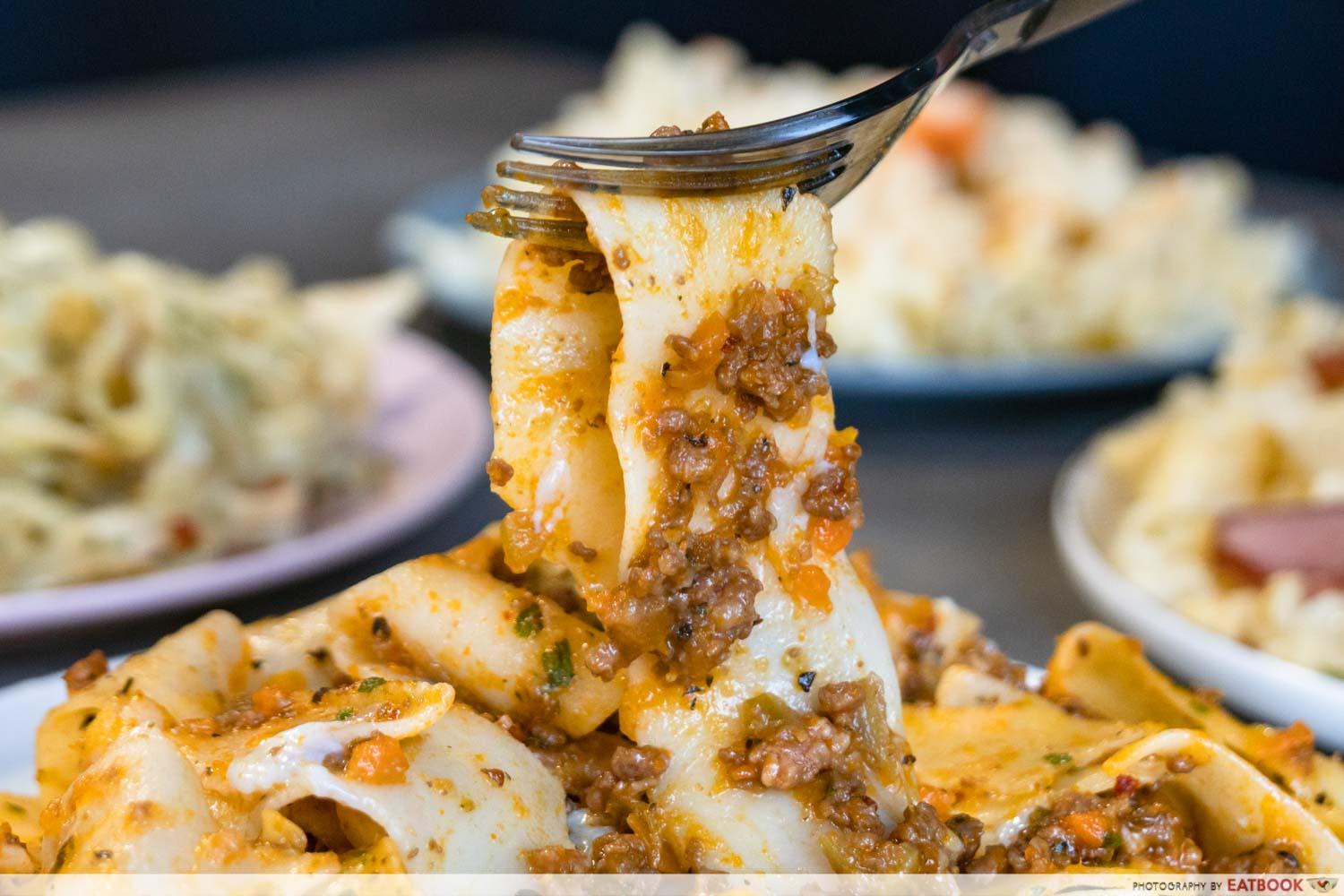 Unfortunately, by the time we tucked in, some of the pasta sheets had stuck together and become slightly clumpy. You definitely have to consume this dish ASAP!
Ambience at Pastago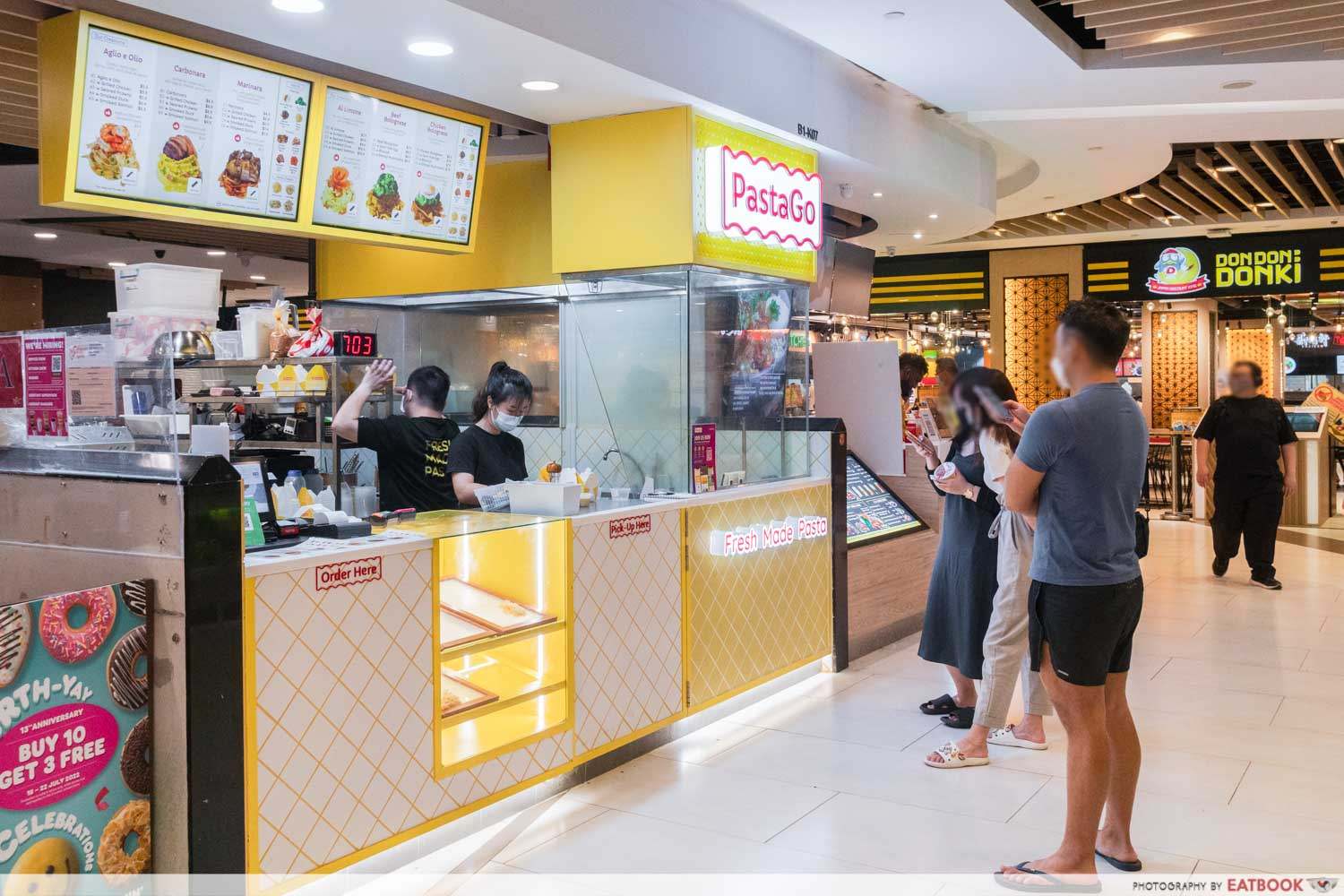 Pastago is on Basement 1 of JCube, alongside a few other takeaway kiosks. The mall is a short three-minute walk from Jurong East MRT Station, which has high footfall, especially during peak hours.
The pasta kiosk had a short line during lunchtime when we were there, so we had to wait around 30 minutes for our order to be ready.
The verdict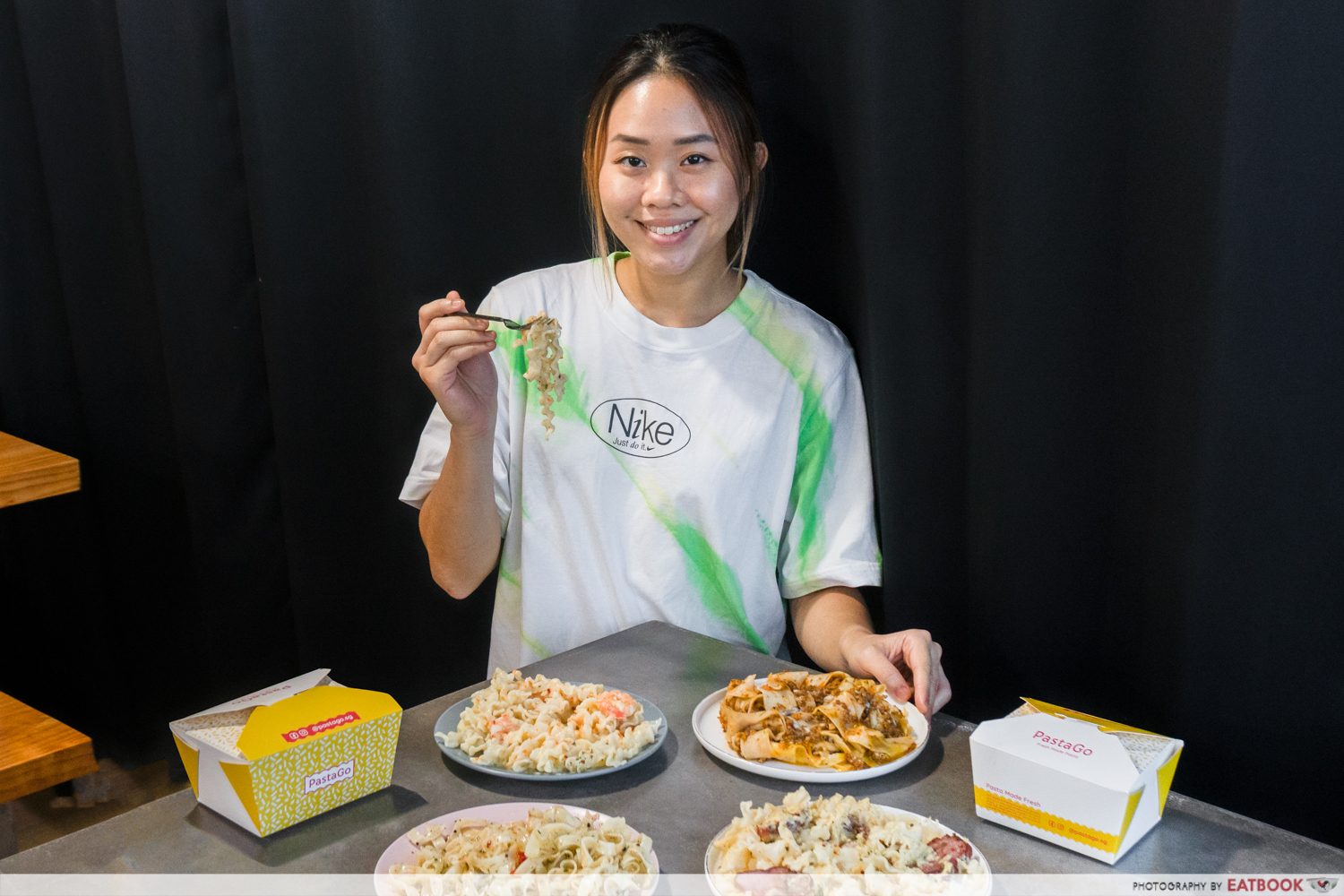 It's undeniable that $3.90 is a steal for any pasta dish, let alone one that features freshly made pasta. With such competitive prices—the most expensive item on the menu is $10.90—I wasn't expecting much initially. So I was pleasantly surprised by how flavourful the sauces were when paired with their springy, al dente handmade noodles.
Pastago's affordable take on fresh pasta is worth a try—just make sure you consume it stat for maximum enjoyment.
If you love pasta, read our Nudedles review for Lobster Bisque Linguine and more by an ex-Joel Robuchon chef in Chinatown Complex! Otherwise, check out our Jurong East food guide for more eats in the area.
Address: 2 Jurong East Central 1, B1-K07 JCube, Singapore 609731
Opening hours: Sun-Thurs 11:30am to 8:30pm, Fri-Sat 11:30am to 9:30pm
Tel: 8827 5340
Website
Pastago is not a halal-certified eatery.
19 Jurong East Food Gems Including Michelin-Approved Bak Kut Teh And $0.90 Handmade Teochew Kueh
Photos by Lau Hui Hui 
This is an independent review by Eatbook.sg.
Pastago Review: Fresh Handmade Pasta From $3.90 In JCube, Has Lemon Butter Tobiko Sauce And More
Pastago Review: Fresh Handmade Pasta From $3.90, With Lemon Butter Tobiko Sauce And More In JCube -

8/10
Summary
Pros
– Affordable prices
– Handmade pastas were al dente
– Accessible location
Cons
– Takeaway only
– Long waiting time
Recommended dishes: Smoked Duck Carbonara ($9.40), Beef Bolognese with Sous Vide Egg ($8.90)
Opening hours: Sun-Thurs 11:30am to 8:30pm, Fri-Sat 11:30am to 9:30pm
Address: 2 Jurong East Central 1, B1-K07 JCube, Singapore 609731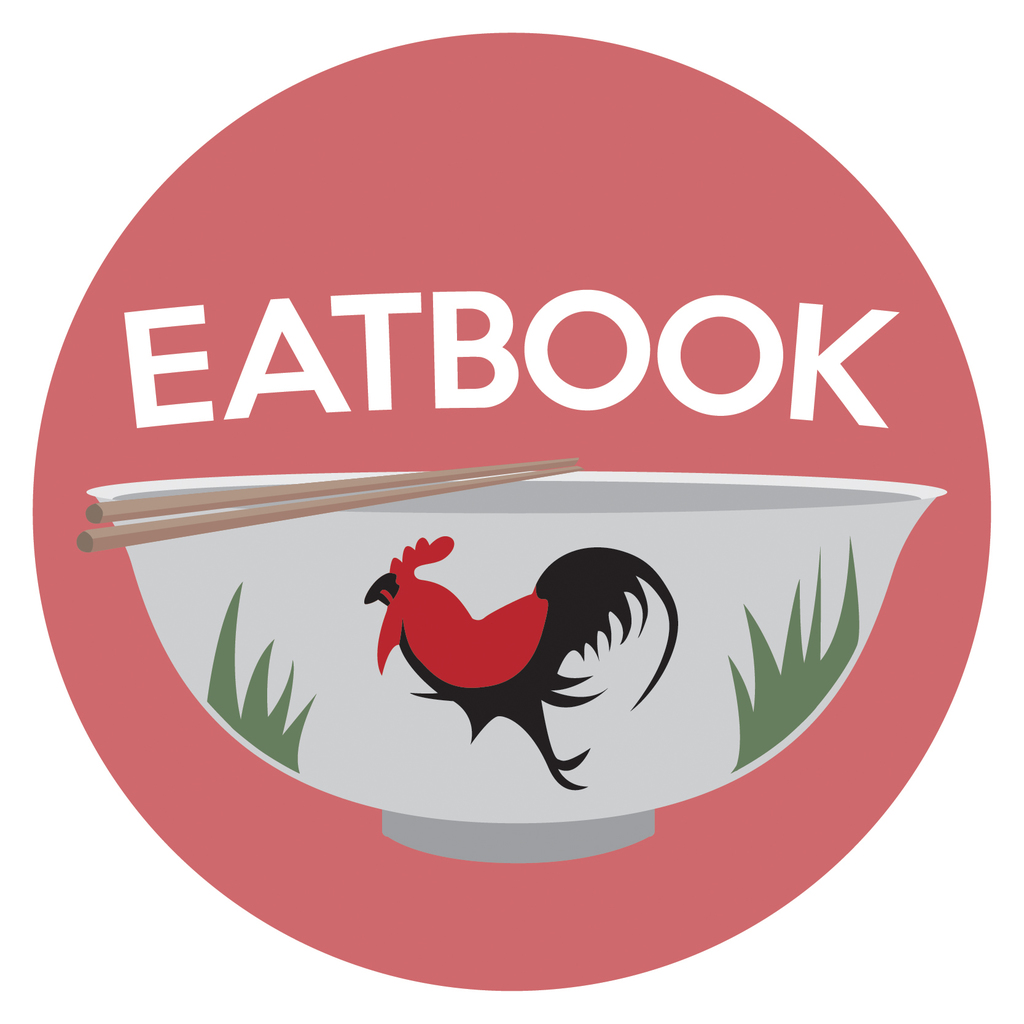 Drop us your email so you won't miss the latest news.