Nudedles in Chinatown Complex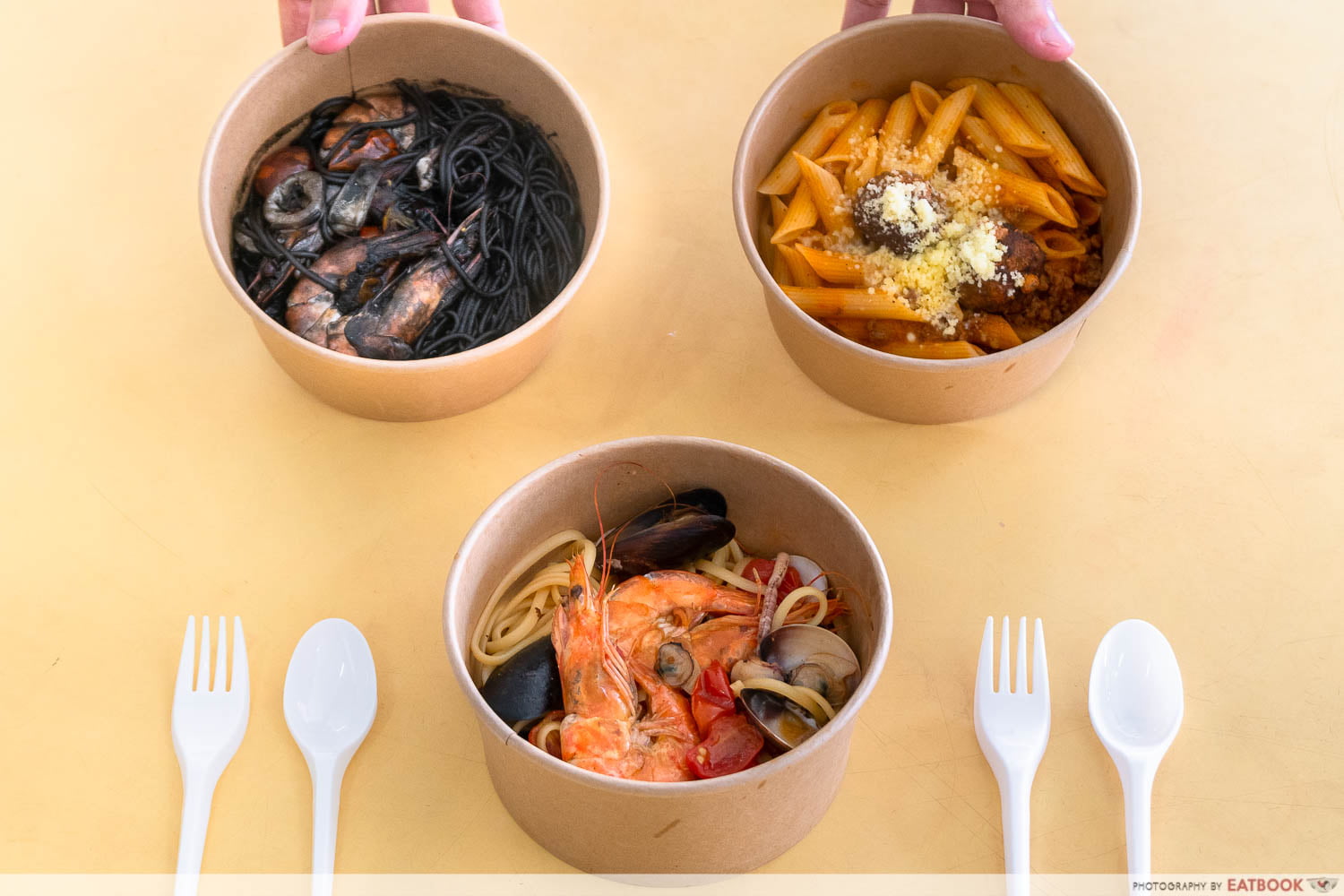 Chinatown Complex is my favourite hawker centre in Singapore. The place is home to many great eats—xiao long bao, claypot rice, chee cheong fun—and constantly attracts newcomers who wish to leave their legacy in this hall of fame. Nudedles is one such newcomer.
I first came across Nudedles some time after Christmas last year. Back then, the stall had just barely opened and I had the opportunity to try their pesto fusilli. Although I enjoyed the pasta, I didn't have the opportunity to return until this latest visit. 
Nom Nom Monster Review: Western Food Stall Has Fried Chicken Brunch, Collagen Broth Pasta And More In Chai Chee
Food at Nudedles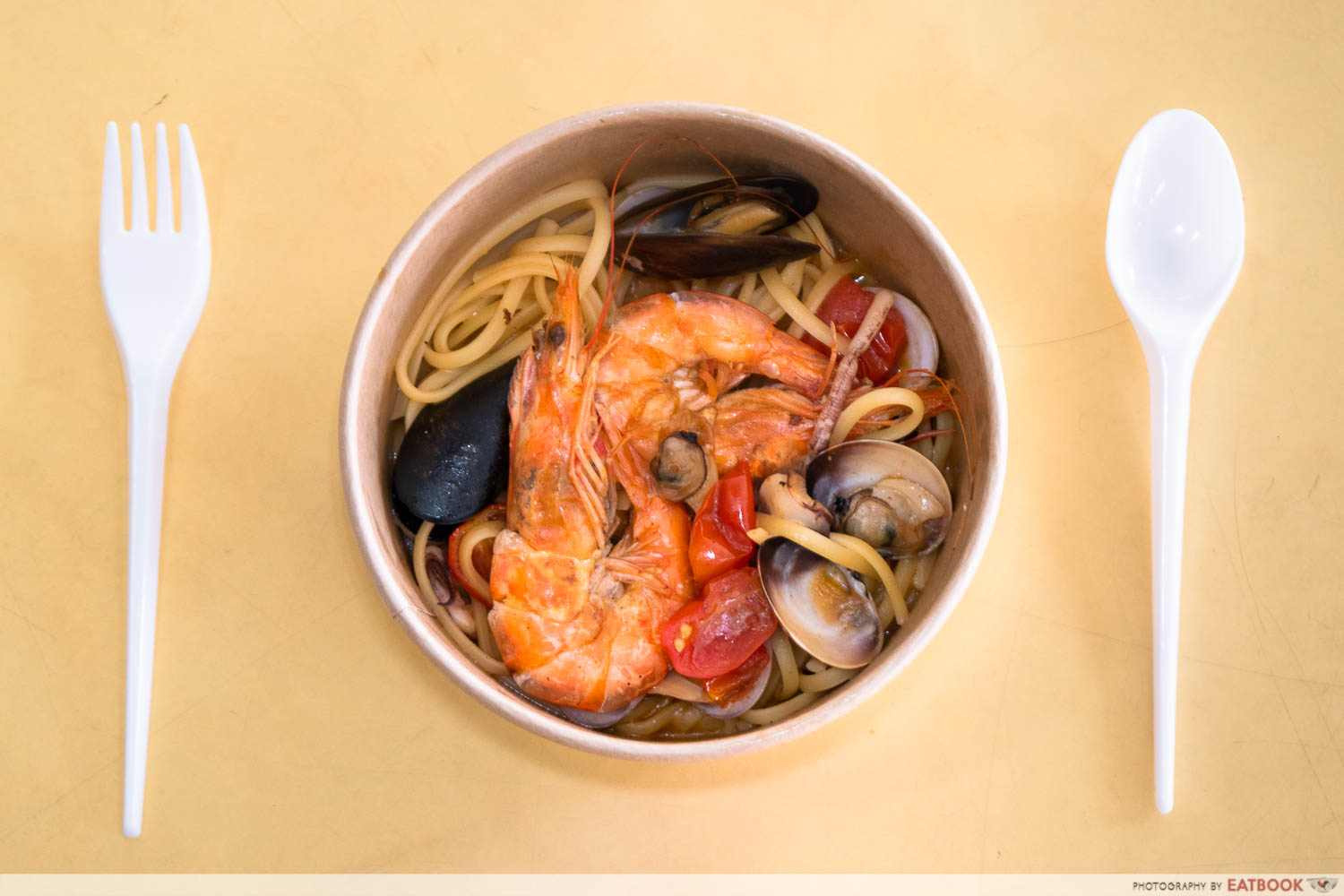 As fate would have it, the pesto fusilli was sold out when we visited at 1pm. We decided to try the Lobster Bisque Linguine ($8), which is Nudedles' bestseller. Simmered on the stove for two hours, the lobster bisque had a natural sweetness that superseded any prawn mee broth I'd ever tasted. The linguine was less al dente than I had hoped for, but it was sufficiently salted. 
The bowl of pasta came with a generous amount of seafood—a pair each of prawns, mussels, and clams, as well as some slices of squid, and blistered cherry tomatoes. 
27 year-old owner-chef Clarence Chooi shared that he does his marketing daily at the wet market downstairs. The reason for this is two-fold: to get the freshest ingredients, and also to support the business of the elderly stall owners. 
His dedication paid off, as the seafood was indeed quite fresh. The prawns were firm and juicy, while the squid carried a slight sweetness. I did find the mussels and clams to taste a little earthier than I would have liked, but that's just me nitpicking.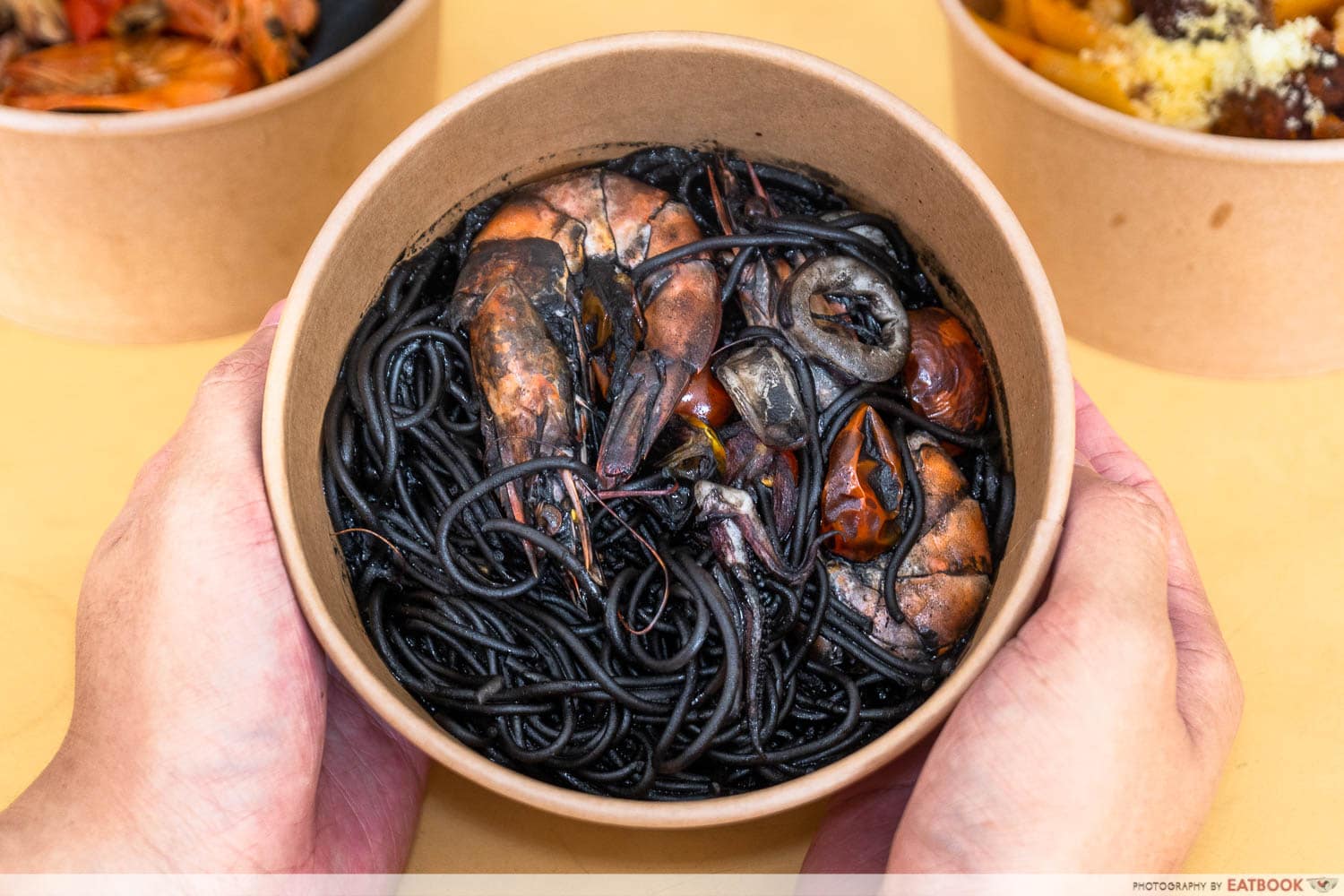 We also ordered the Squid Ink Pasta ($8) and opted for the Nero ($1) spaghetti for the complete package. The jet black mess might not be the most photogenic pasta on the menu, but I'm a strong advocate for taste over visuals. The thick noodles had a chewy mouthfeel, with a slight umami aftertaste.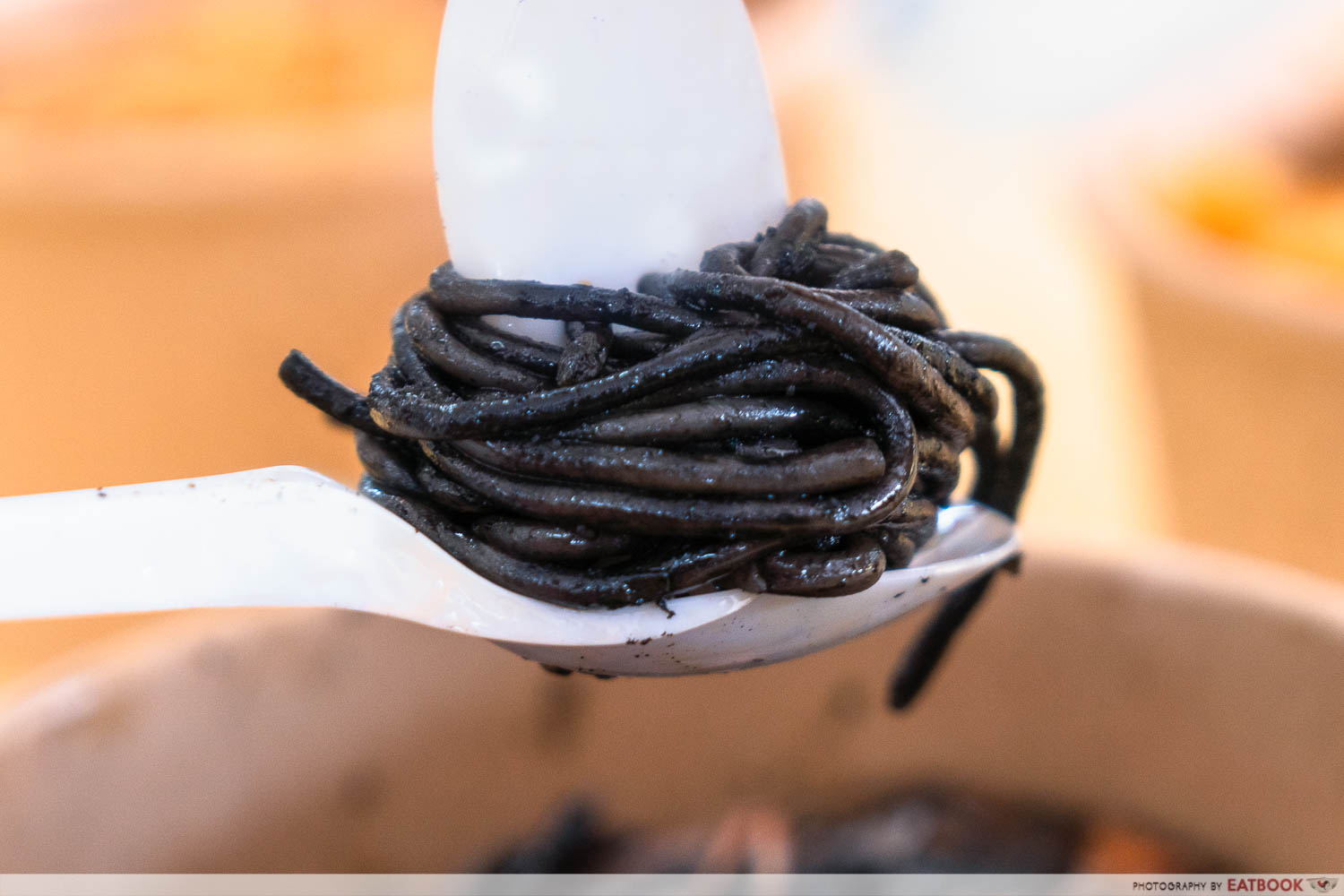 Alongside the same prawns and squid, you also get sauteed cherry tomatoes. This introduced some acidity, which I appreciated, as it cut through the richness of the dish. Although the Nero pasta was too savoury for my liking, I relished its presence on the menu, because I daresay quality squid ink pasta priced under $10 is almost impossible to find in Singapore.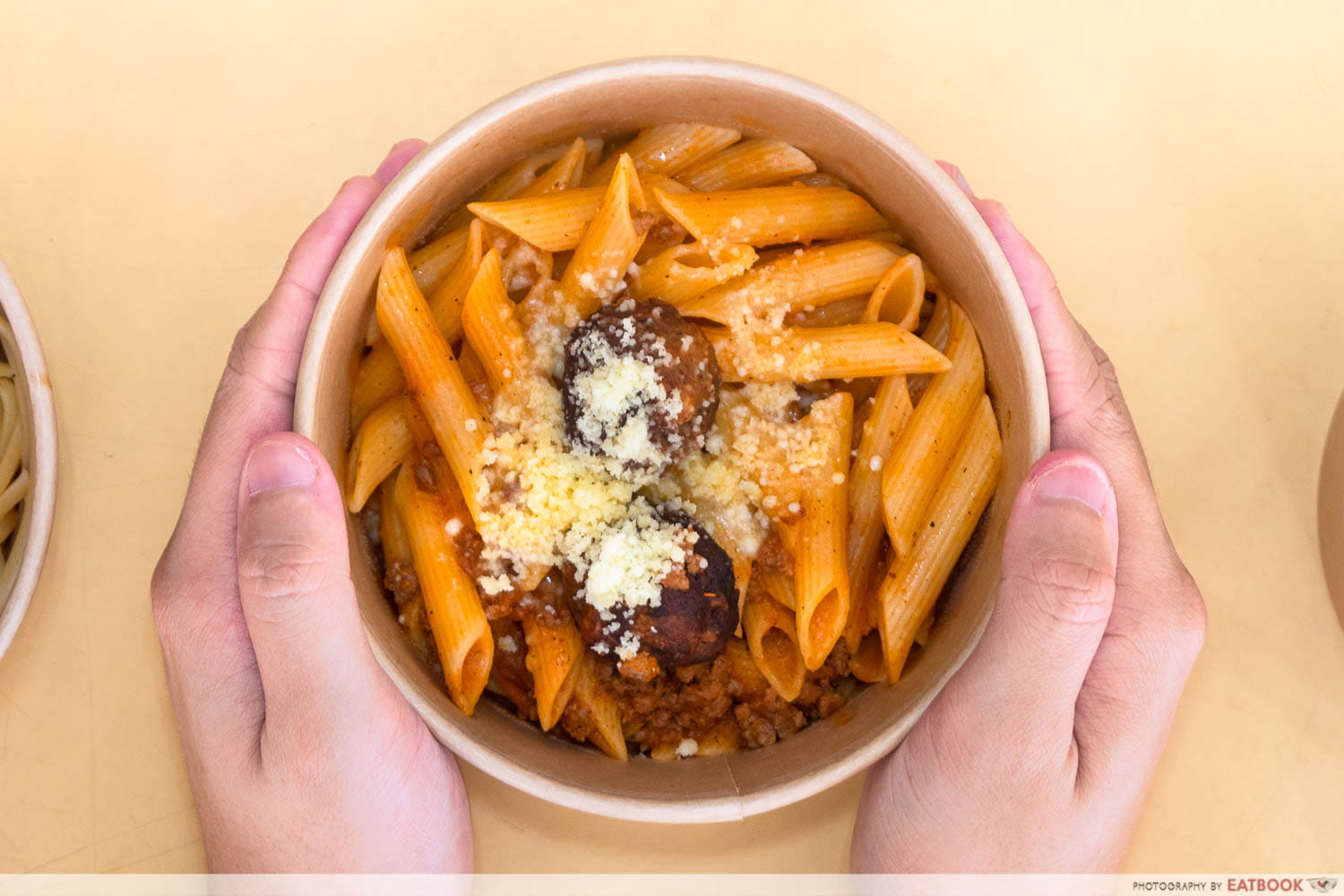 We initially wanted to taste the Carbonara ($6), which Clarence proudly proclaimed to be made in classic Italian fashion, with egg yolk instead of cream. However, this was sold out for the day, so we chose to have the Beef Bolognese ($6.50) with Penne instead.
Beef Bolognese is a dish that he has been preparing since his days in Nitec, so Clarence knew that it had to feature on his menu. With this in mind, he decided to take a leap of faith and serve Italian cuisine at Nudedles, after a full year of research and preparation. 
This was a complete 180 from his prior experience in French, British-European, and Spanish restaurants, including the now-defunct Joel Robuchon Restaurant, Jaan by Kirk Westaway, as well as a Olivia Restaurant & Lounge.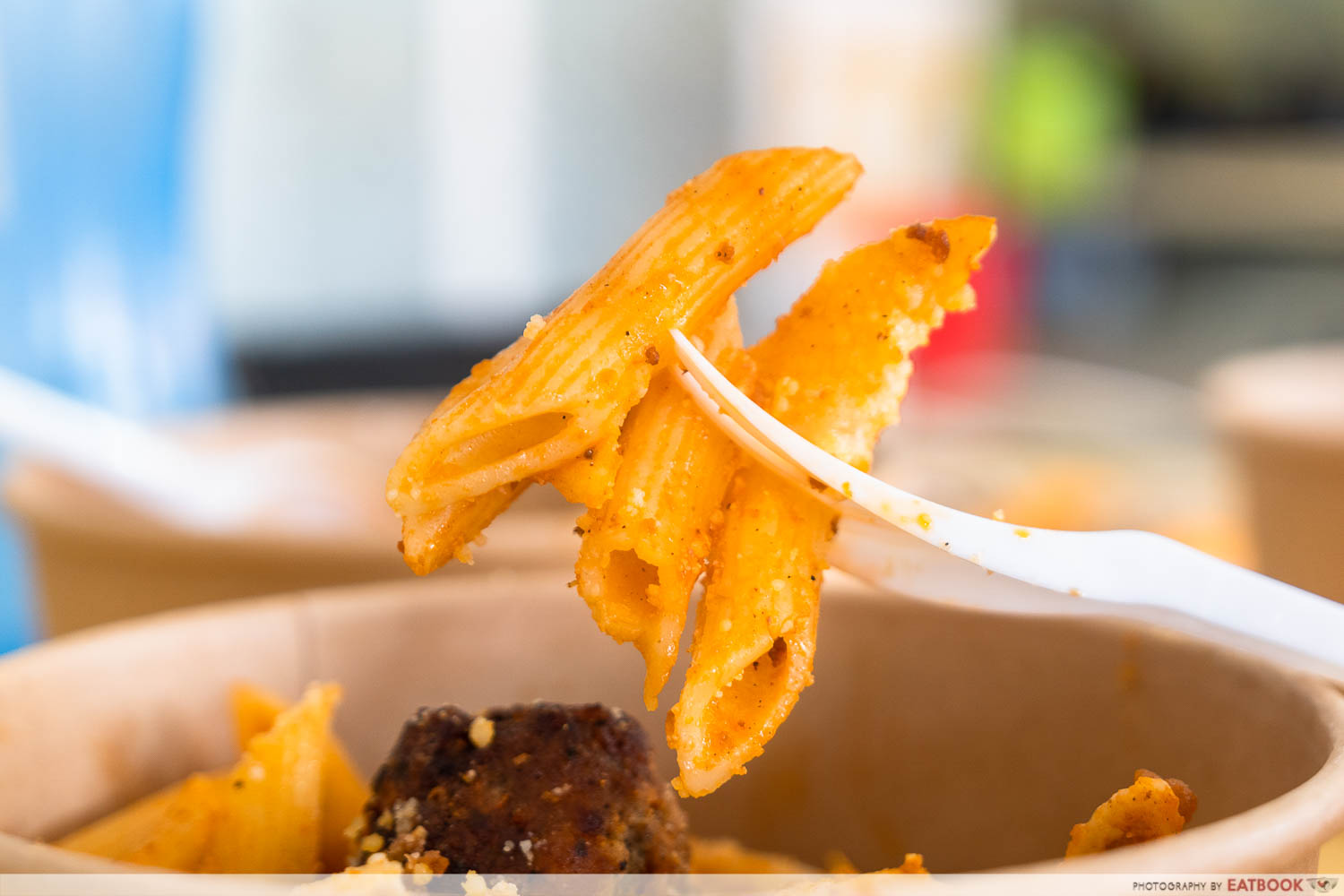 We were advised to choose the penne for our bolognese, as the cylindrical, ridged shape of the noodles would catch more of the meat sauce. The tangy and savoury tomato-based sauce was finished with a sprinkle of parmesan, which lent richness and complexity to the al dente pasta. All his years of experience have certainly culminated in this well-executed dish. I imagine it would be quite popular with both children and adults alike.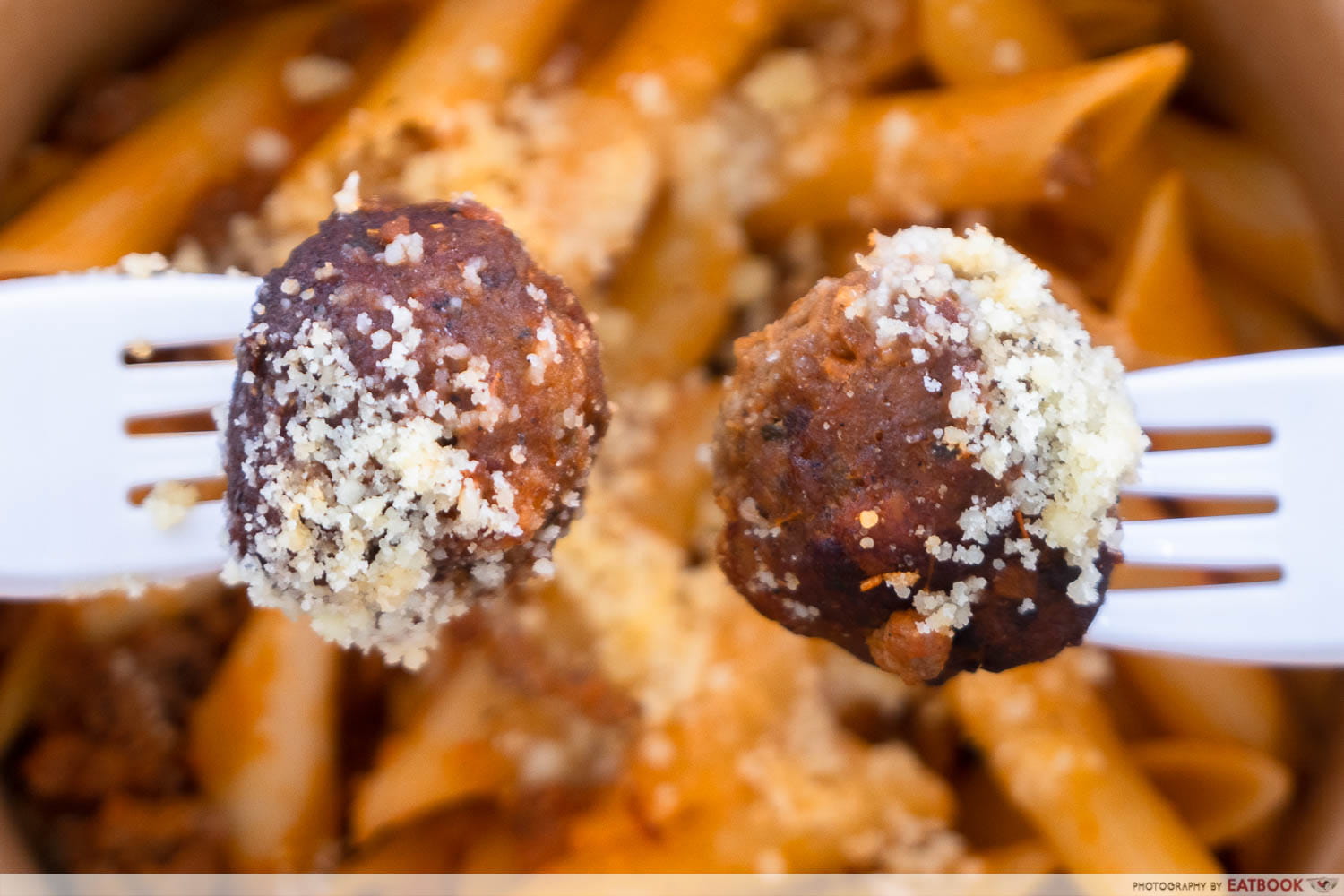 On top of the meat sauce, the Bolognese pasta also comes with a pair of meatballs. Clarence also shared that the meatballs are made with both minced pork and beef—the pork is meant to add some fat to the meatball while the beef helps bind everything together. 
I personally found the meatballs to be a tad dry, but I liked the peppery and herby fragrance they had. This was my colleague's favourite pasta, though we both wished that there was more of the delicious sauce.
Tangled Review: Freshly Made Pasta From $7.90 In Chinatown, Including Truffle Mushroom And Black Pepper Crab
Ambience at Nudedles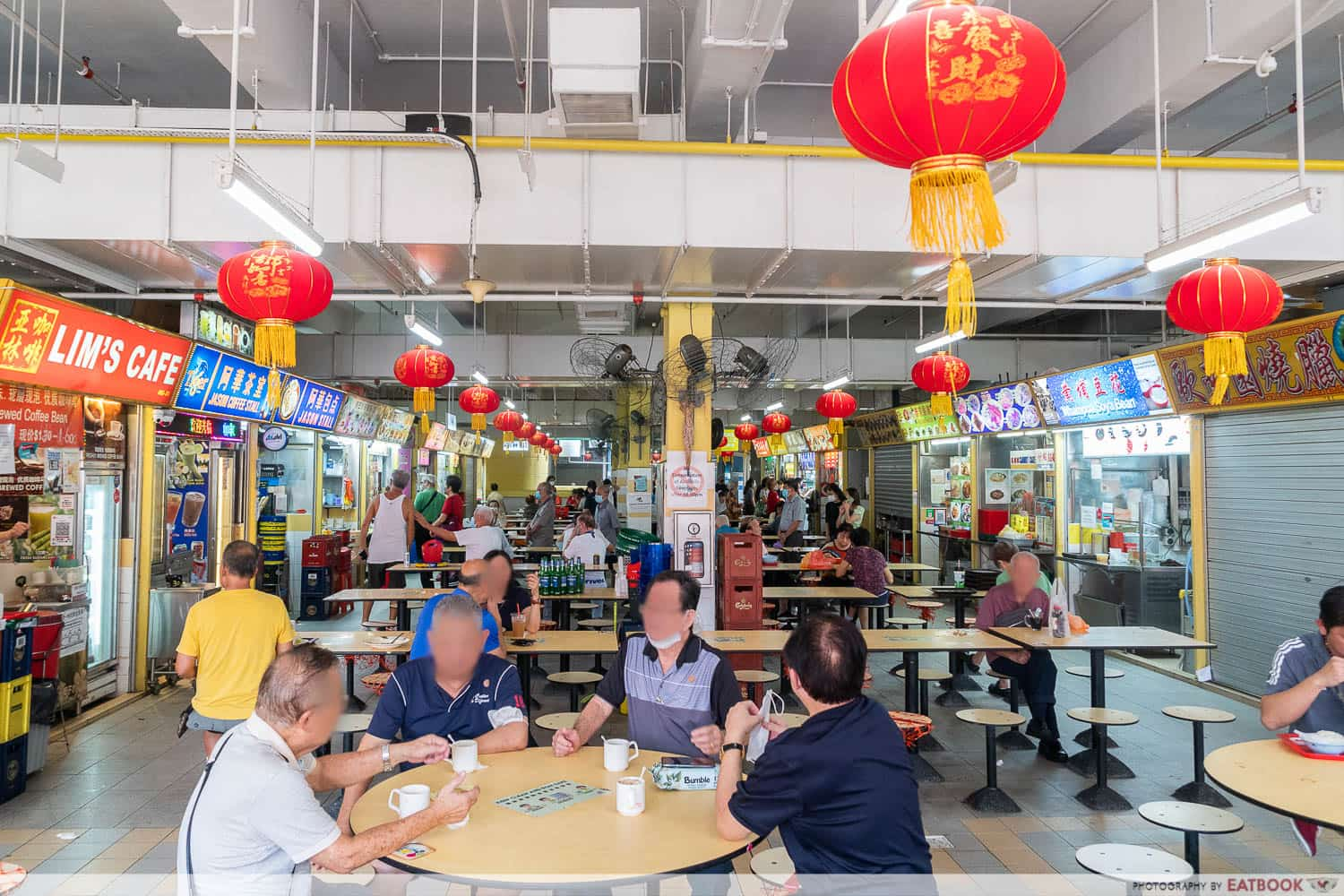 Chinatown Complex is extremely accessible, located just five minutes away from both Chinatown MRT Station and Outram Park MRT Station on foot. Despite being the largest hawker centre in Singapore, it is guaranteed to be crowded at noon.
When the lunch crowd rolls by, the burners at Nudedles are never switched off. Anyone watching Clarence in the kitchen can see his experience shine through, as he deftly manoeuvres his way through the small unit. 
It's probably best to visit Nudedles as soon as it opens to avoid the lunch crowd, and to have your pick of pasta before it sells out.
The verdict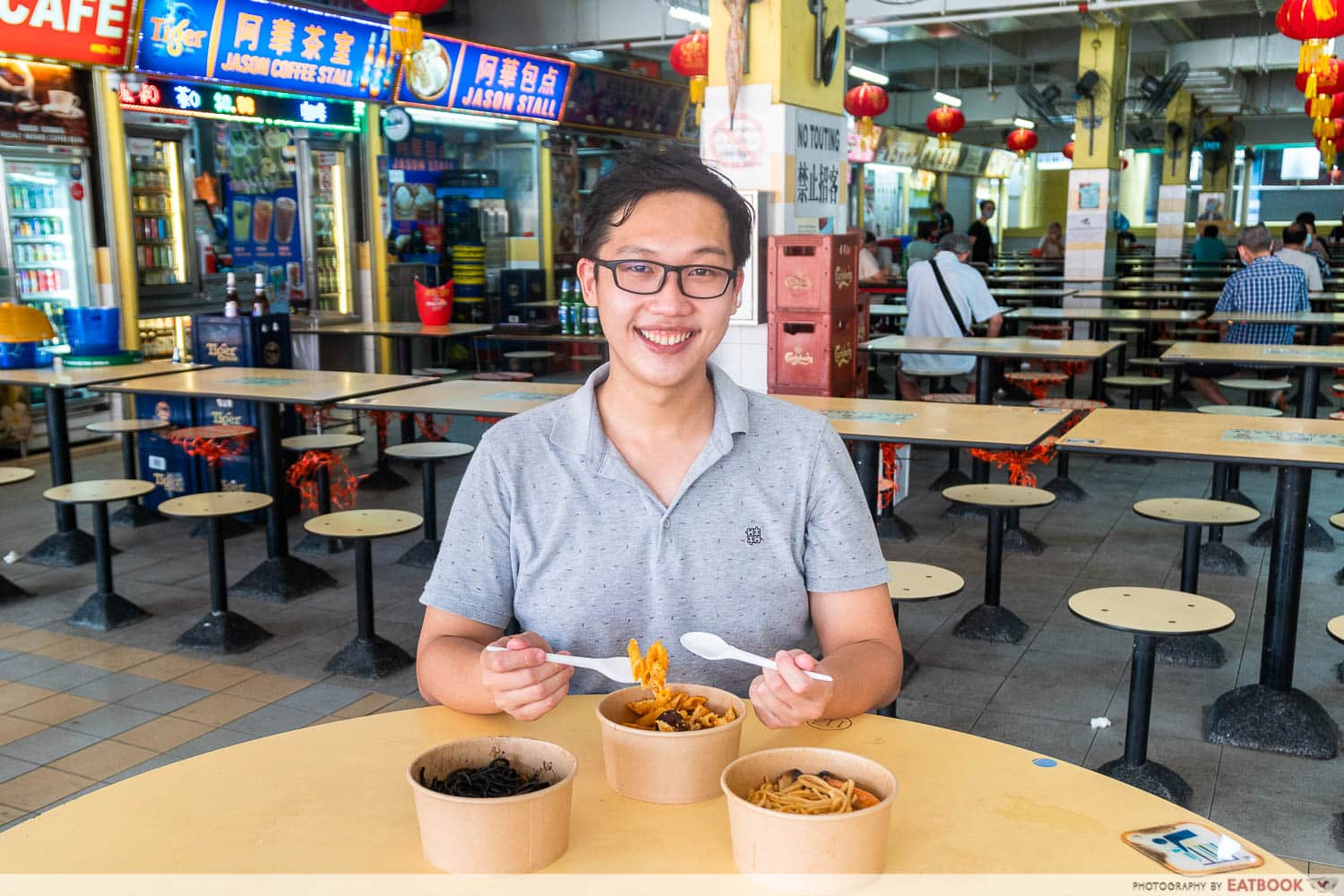 Of the three dishes that I tried, the Lobster Bisque Linguine was the most memorable. With everything on the menu priced under $10, I feel that Nudedles provides a value-for-money pasta experience. I would certainly consider this as one of the better stalls that Chinatown Complex has to offer.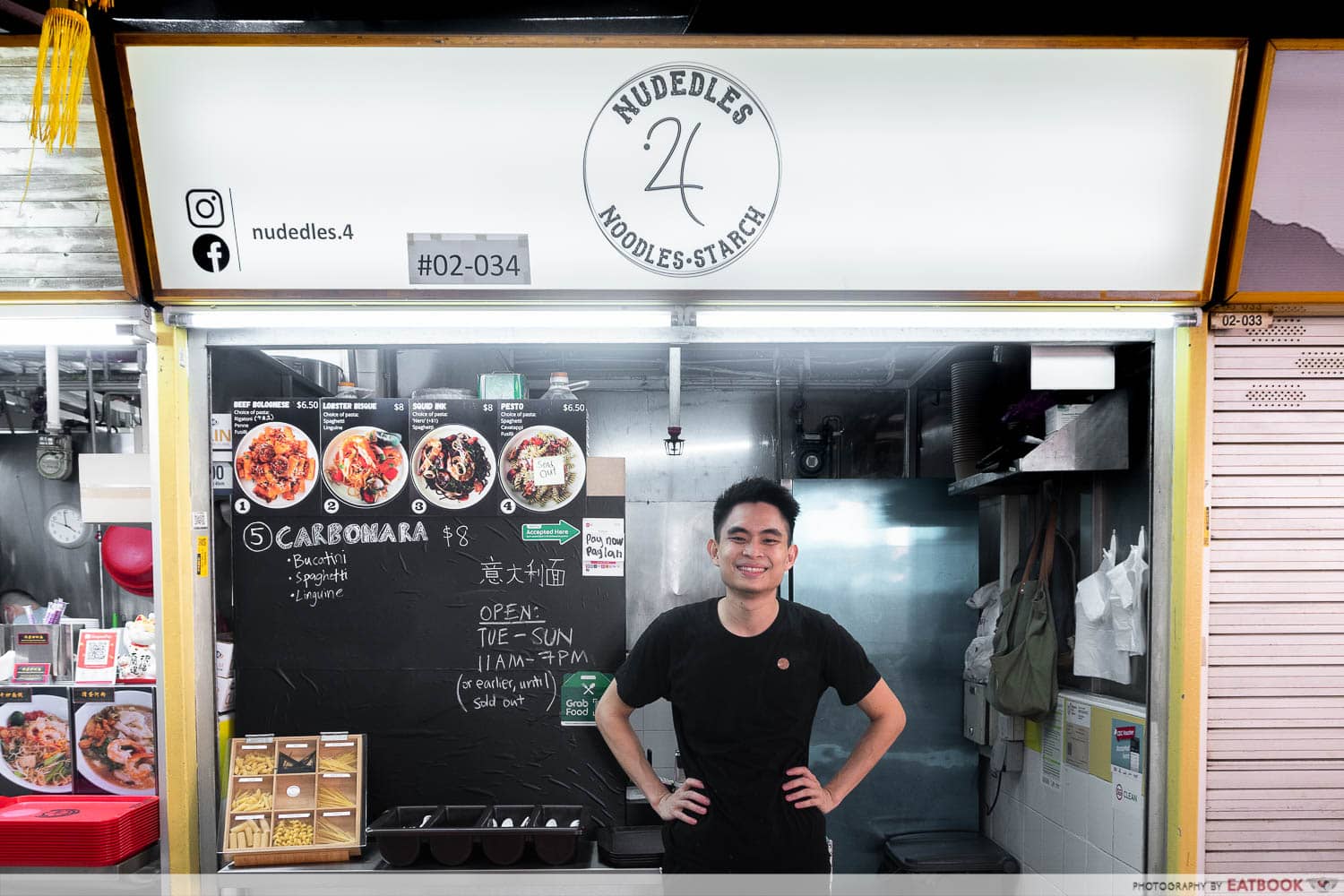 As a young hawker and chef, the future ahead for Clarence is bright as he continues to hone his craft. Operating both the stove and the cash register on his own during service is no easy feat. I can only envision how much better his pastas will be, when he has the opportunity to focus his efforts solely on cooking. 
For more recommendations on what to eat at Chinatown Complex, check out Number One Hundred for Chicken Cutlet Egg Fried Rice, as well as Whampoa Soya Bean for orh nee beancurd!
Address: 335 Smith Street, #02-34, Chinatown Complex Food Centre, Singapore 050335
Opening hours: Tue-Sun 11am to 7pm
Website
Nudedles is not a halal-certified eatery.
Number One Hundred: Hawker Stall With Din Tai Fung-Style Pork Chop Fried Rice And Oyster Mee Sua From $4
Photos taken by Zadelin Wong.
This was an independent review by Eatbook.sg
Nudedles Review: Ex-Joel Robuchon Chef Opens Hawker Stall With $8 Lobster Bisque Pasta And More
Nudedles Review: Lobster Bisque Pasta From $8 By Ex-Joel Robuchon Chef -

7.5/10
Summary
Pros
– Value-for-money
– Most elements are made in-house
Cons
– Long waiting times during peak hours
Recommended dishes: Lobster Bisque Linguine ($8), Beef Bolognese Penne ($6.50)
Opening hours: Tue-Sun 11am to 7pm
Address: 335 Smith Street, #02-34, Chinatown Complex Food Centre, Singapore 050335