This hawker XLB stall is Din Tai Fung's worthy rival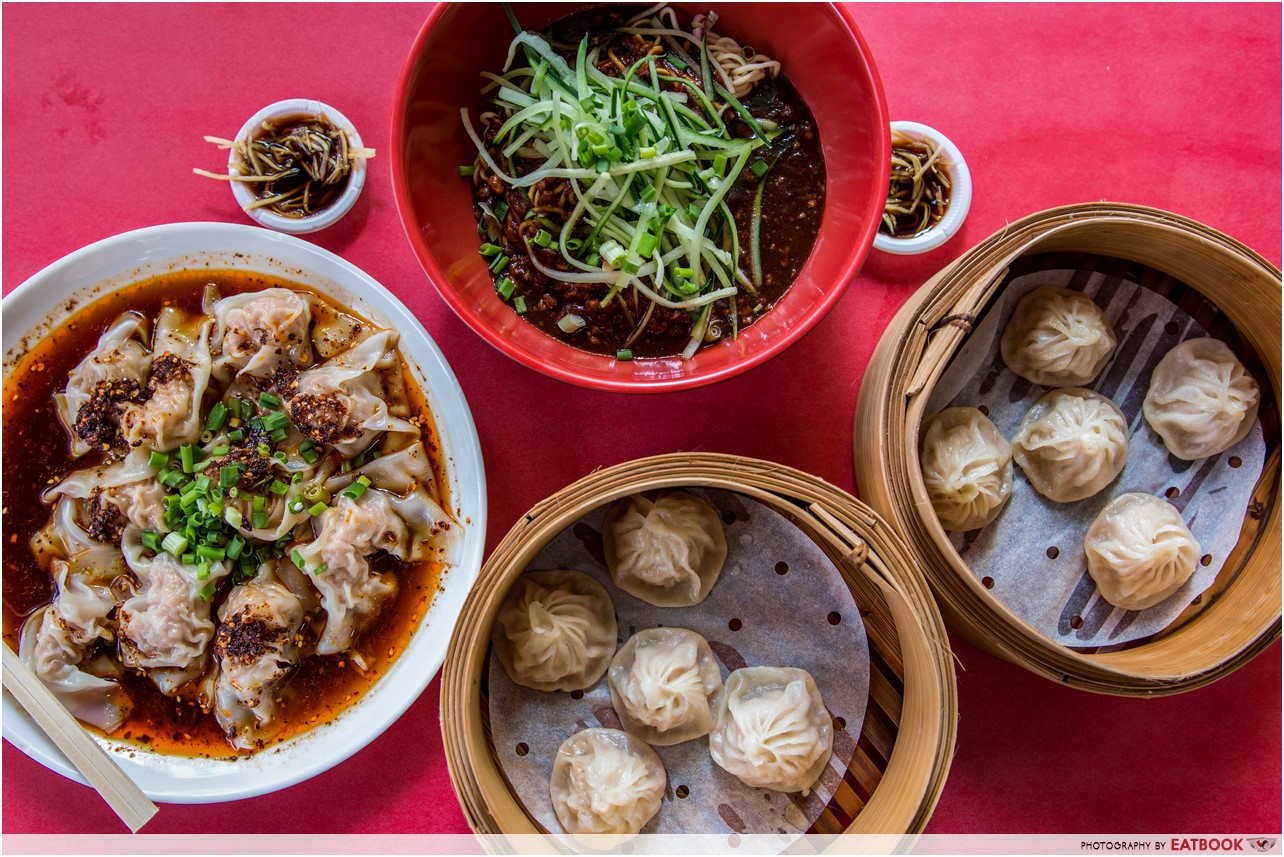 When I was 12 and knew nothing about good food, my momma hauled me over to Din Tai Fung for a celebration after I collected my PSLE results. Our treasures arrived in bamboo steamers that released clouds of hot steam and if I dared to lay so much as a finger on them, my mother would slap my hand away.
So I sat there in my starched white blouse and pinafore as she delicately placed a pleated dimsum-like thing in front of me. I mimicked her actions and splashed it around in vinegar before adding a mini mountain of sliced ginger and stuffing it into my mouth. The skin broke upon contact, I scalded my tongue within seconds, and I was changed. From then on, there would not be a year I would go without xiao long bao.
Food at Zhong Guo La Mian Xiao Long Bao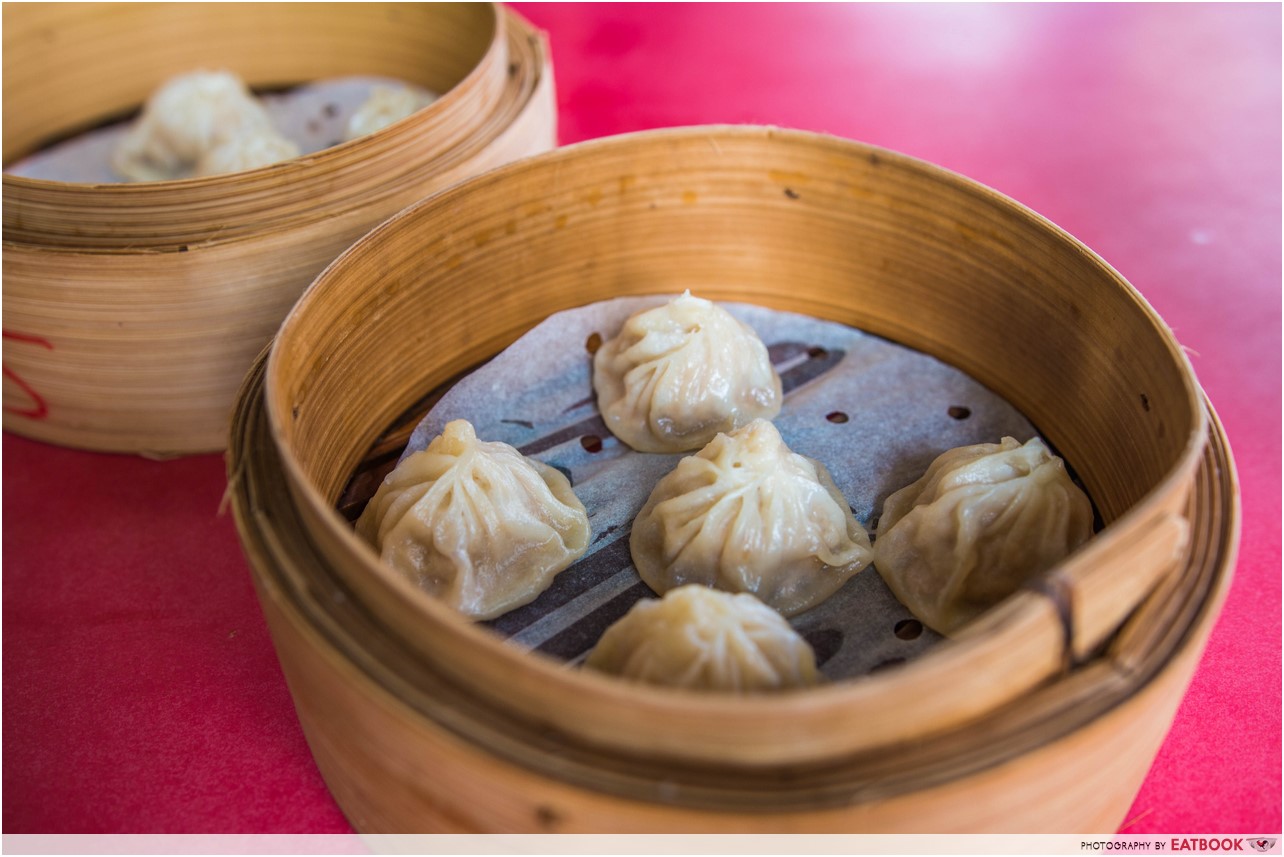 What spurred me to give Zhong Guo La Mian Xiao Long Bao a visit was their XLBs. At $6, you get 10 minced meat chunks and a splash of liquid fat encased in dough, then sealed with pleats. I'll do the math for you: it's $0.60 per XLB and if that doesn't get you excited enough to head over, I don't know what will.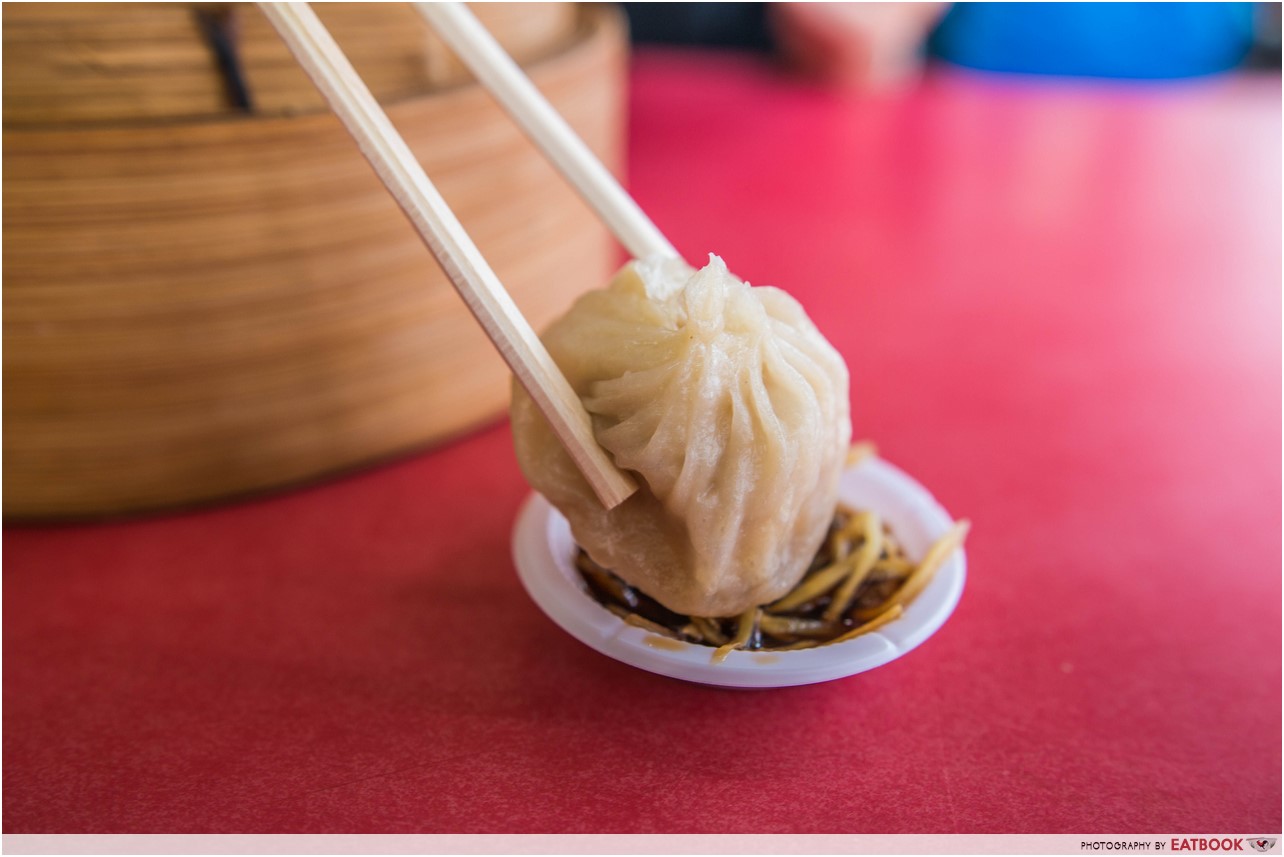 Biting into the XLB, you'll notice immediately that the skin is beautifully soft, yet strong enough to hold its contents together until you pierce it with your teeth. Perhaps the warm environment of the hawker centre helped to keep the skin soft, or perhaps the dough used was just that good.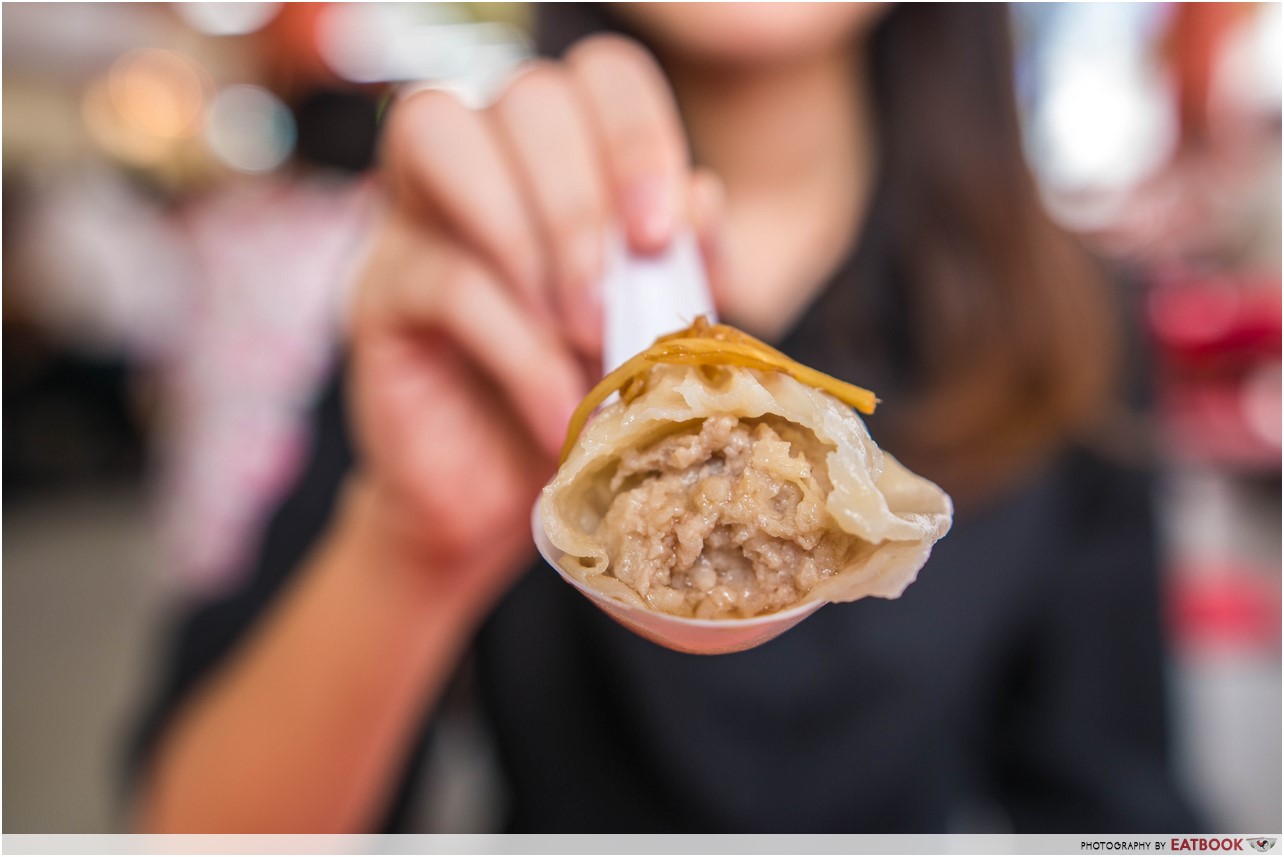 Here's how you make a XLB super shiok: stuff it with a truckload of meat. This makes the dumpling plump and juicy, which is everything you can ask for in a XLB. The filling had a tinge of sweetness that cushioned the slight sourness and spice from the vinegar and ginger.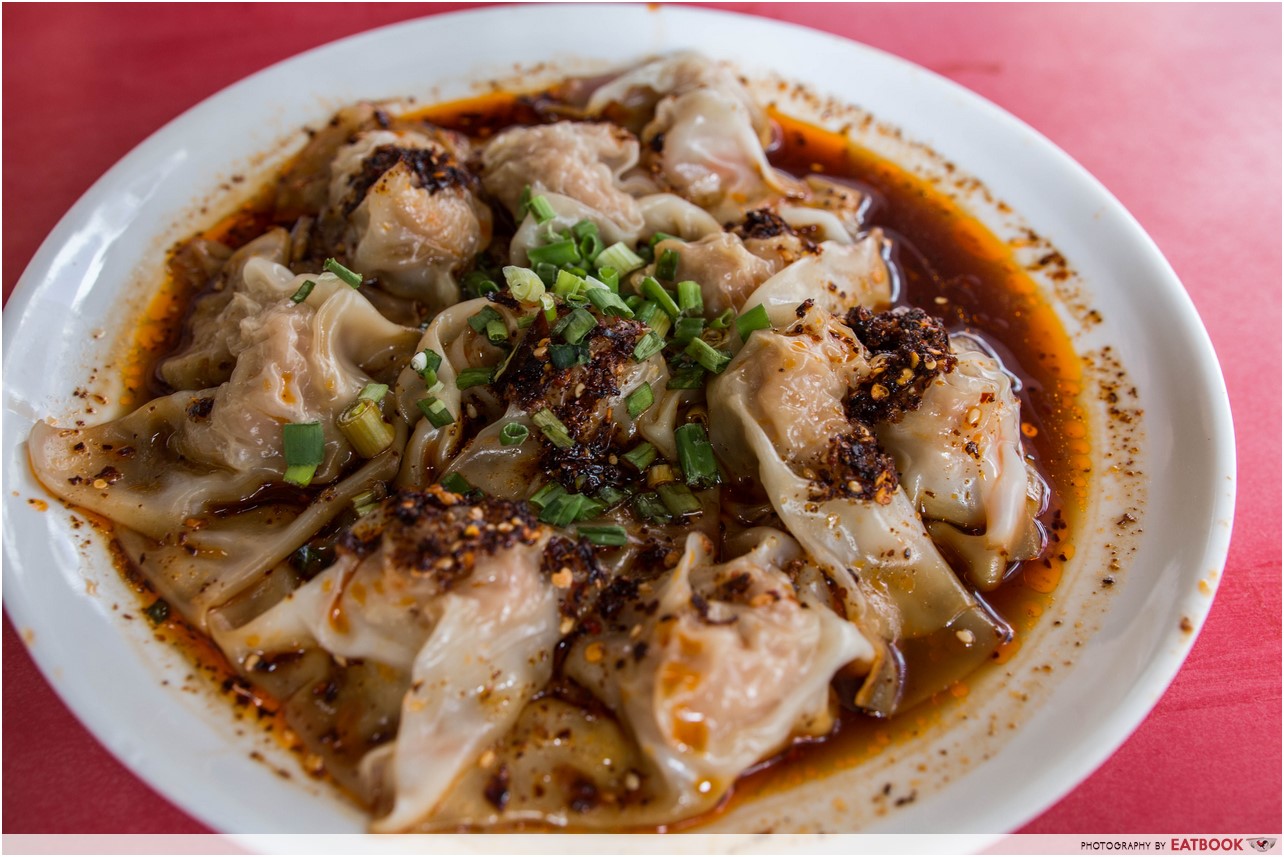 I'm no stranger to spicy wantons. Having chowed down a good amount of these from the market near my office, these potent looking Szechuan Spicy Wantons ($4.50) didn't scare me. Don't be put off by how red the sauce is – it tasted way more vinegar-y than spicy!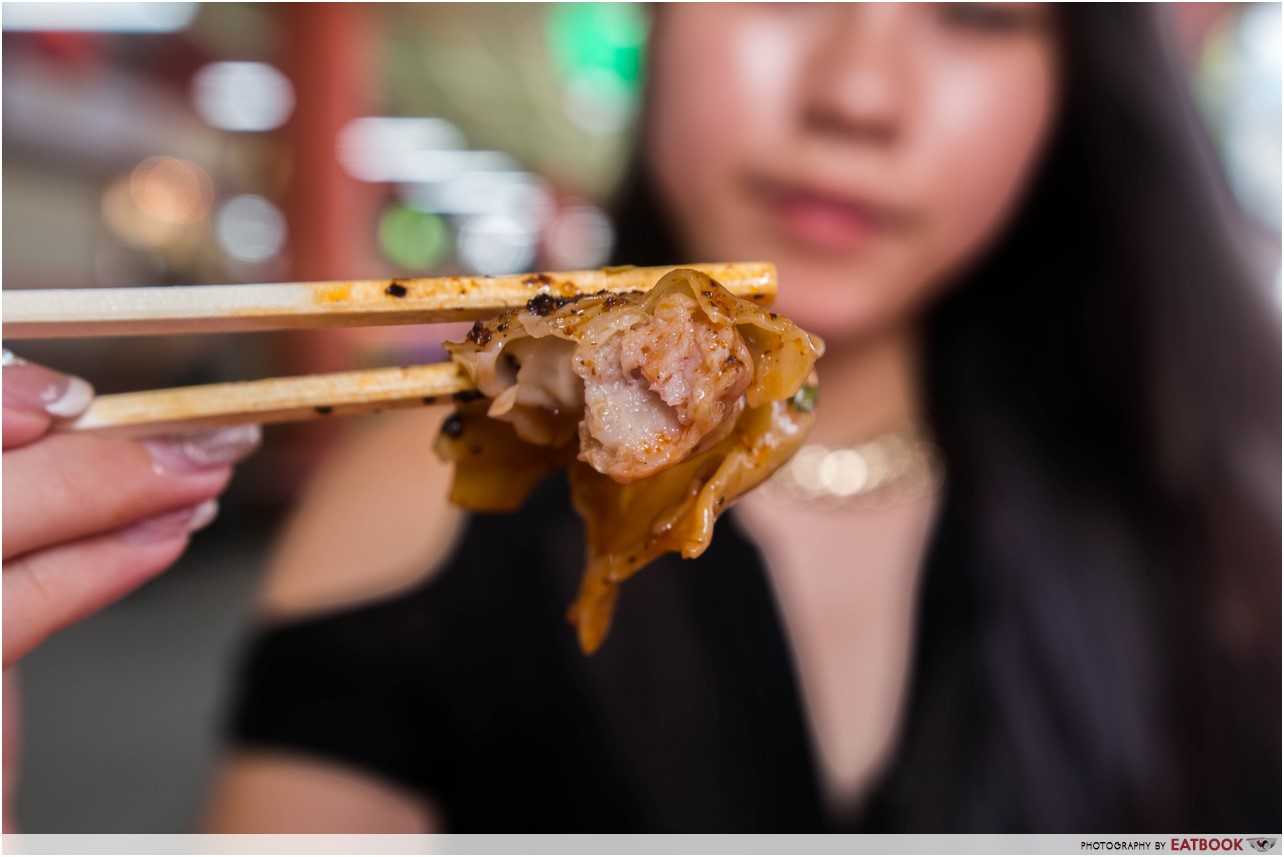 With flowy tails that resembled unrolled chee cheong fun paired with a chewy center, I slurped the wantons down faster than you could say "Szechuan Spicy Wanton". The skin on these were silky smooth, the snap from the prawns in the filling was welcoming, and the sauce made the dish incredibly addictive.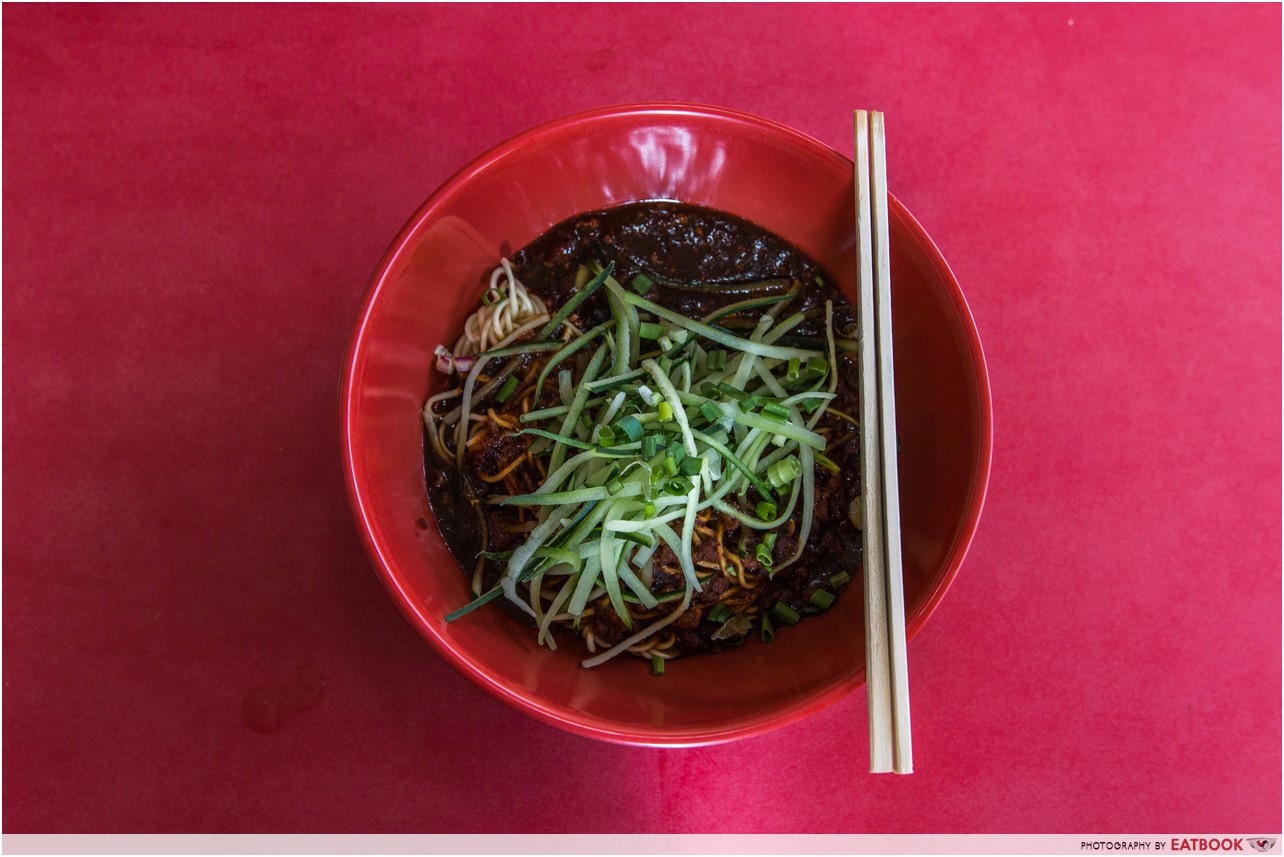 To round off our meal, we had La Mian with Black Bean Sauce ($3.50). Also known as zha jiang mian, this bowl is made with a handful of QQ noodles, crunchy shredded cucumber, and black goopy sauce with bits of minced meat that blanketed the dish.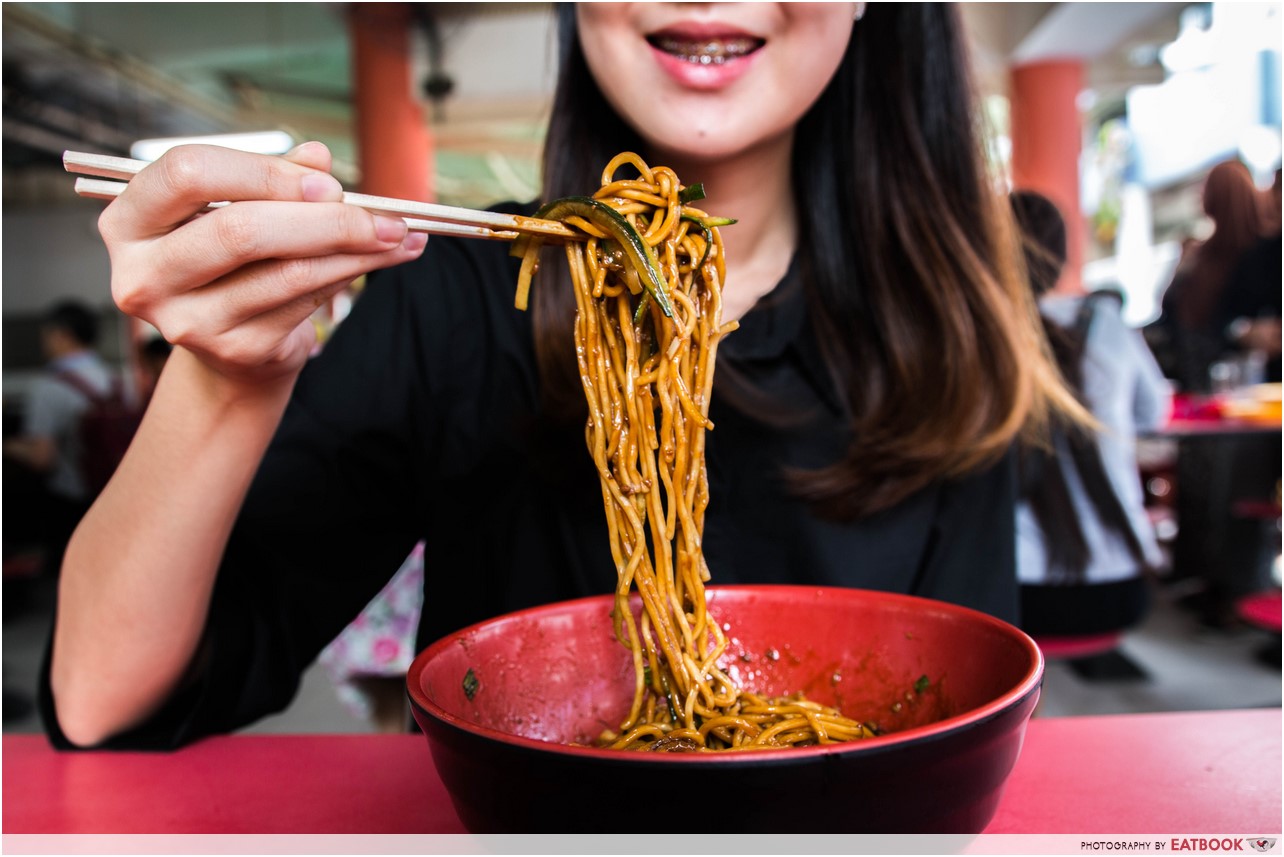 I used to think I would only have the Korean version of this dish, but it didn't take me long to be won over. The cucumber really helped to cut through the savoury black bean sauce and doughy noodles, so you won't struggle to finish this dish on your own.
Ambience at Zhong Guo La Mian Xiao Long Bao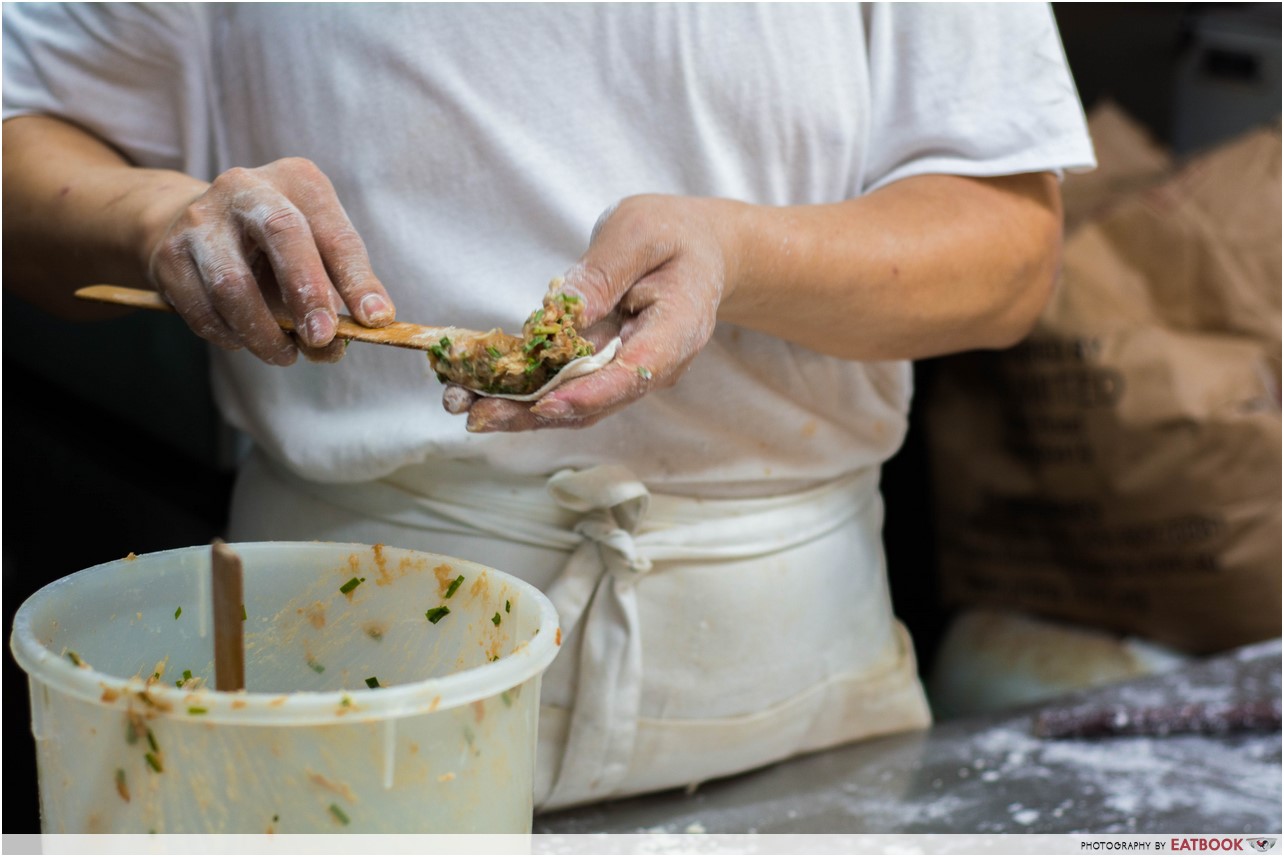 Situated at the ever popular Chinatown Complex Food Centre, this stall is a couple of hawkers down the Michelin-starred Hong Kong Soya Sauce Chicken Rice And Noodle. It's hard to miss the tower of bamboo steamers and the chef who works tirelessly, churning out dozens of the little baos.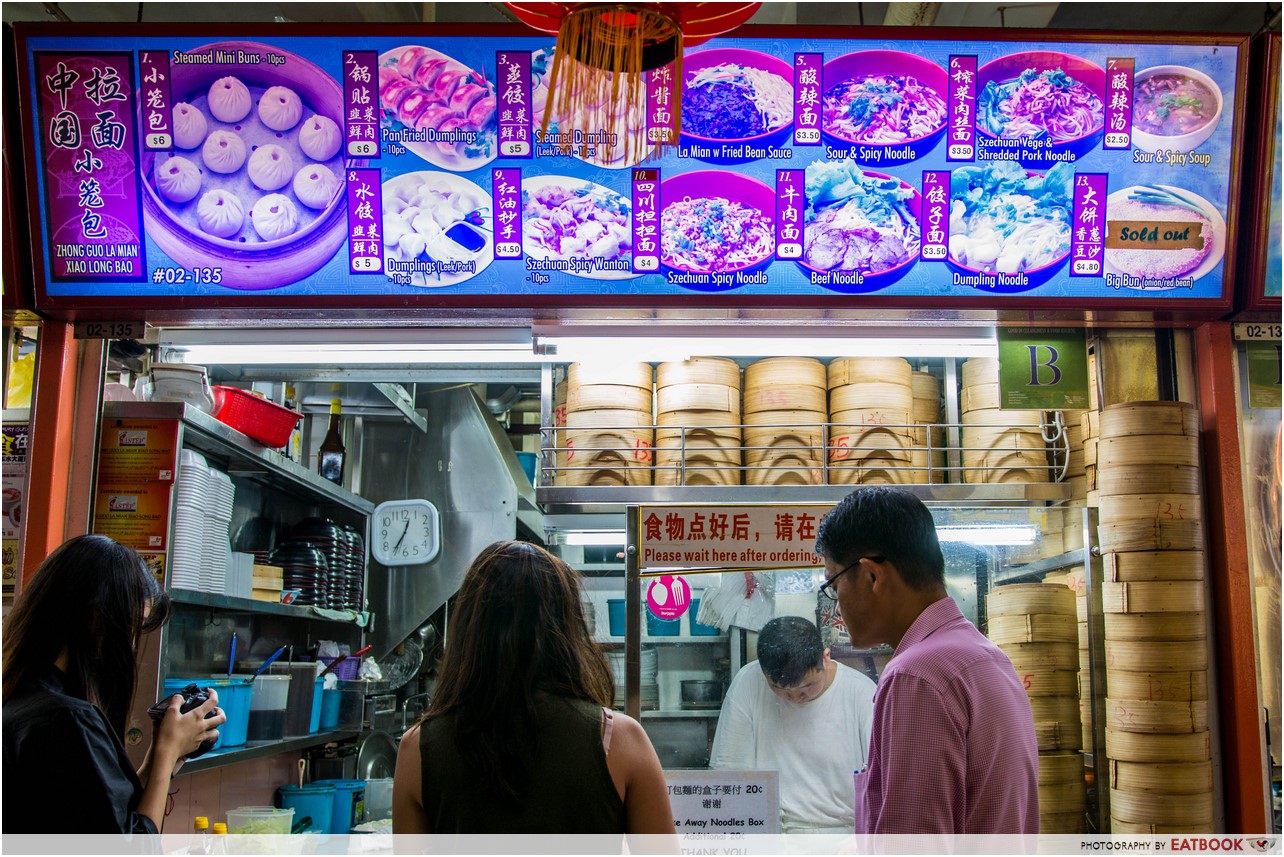 Of course it's bound to be a little warm, but that's expected of sunny Singapore. Grab a seat at the back of the coffeeshop where there's more open air and you should be fine.
The verdict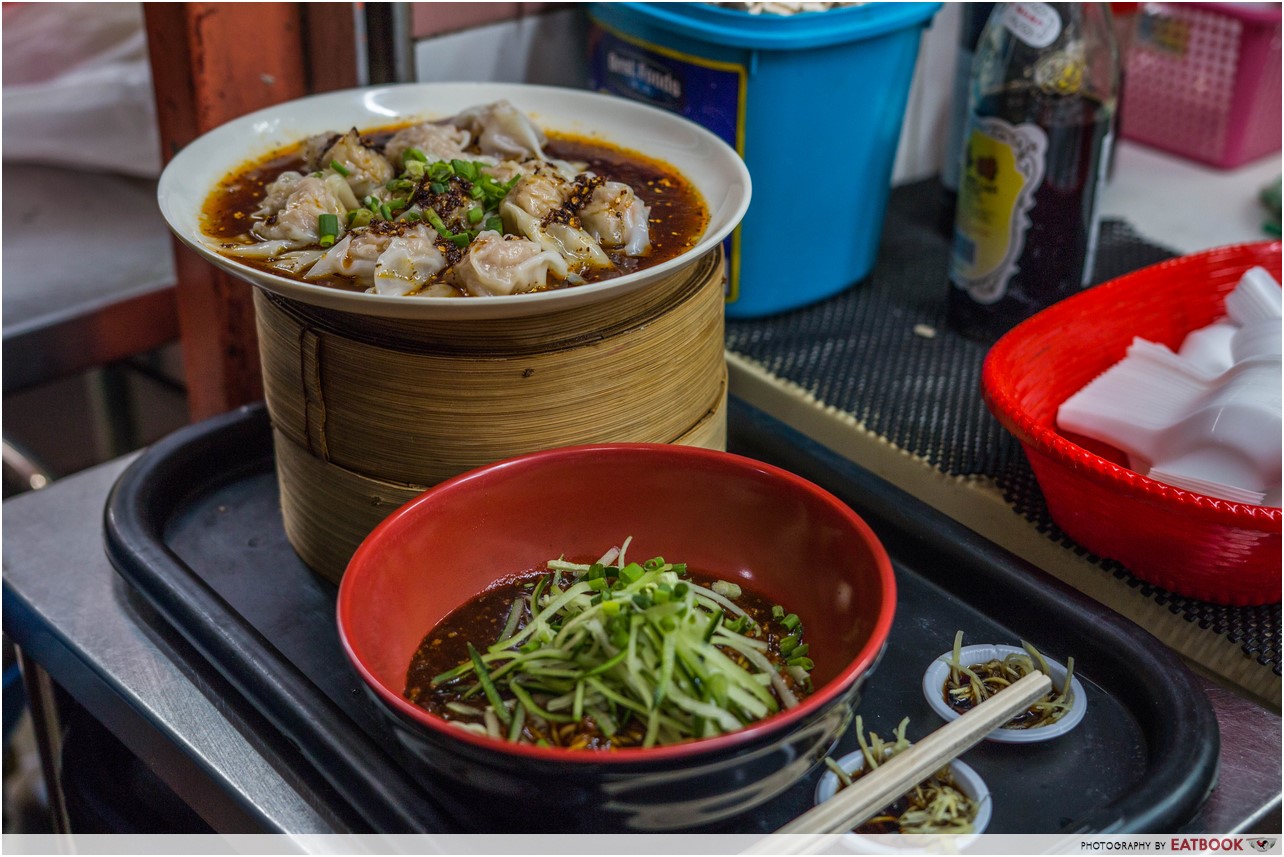 Affordable, tasty food will never go out of style. I'd always  make a trip down for these babies seeing how a meal there would go easy on my wallet. Plus it's near Chinatown MRT Station and I didn't have to wait a really long time for my order, which is always a plus.
This is an independent review by Eatbook.sg.
Summary
Pros
– Affordable
– Convenient location
– Fast service
Cons
– Crowded environment
Recommended Dishes: Xiao Long Bao ($6), Sze Chuan Spicy Wantons ($4.50), La Mian with Black Bean Sauce ($3.50)
Operating Hours:
Wednesday – Sunday 11:30am to 9pm
Tel:
9743 5287
Address: 335 Smith Street, #02-135, Chinatown Complex Market & Food Centre, Singapore 089152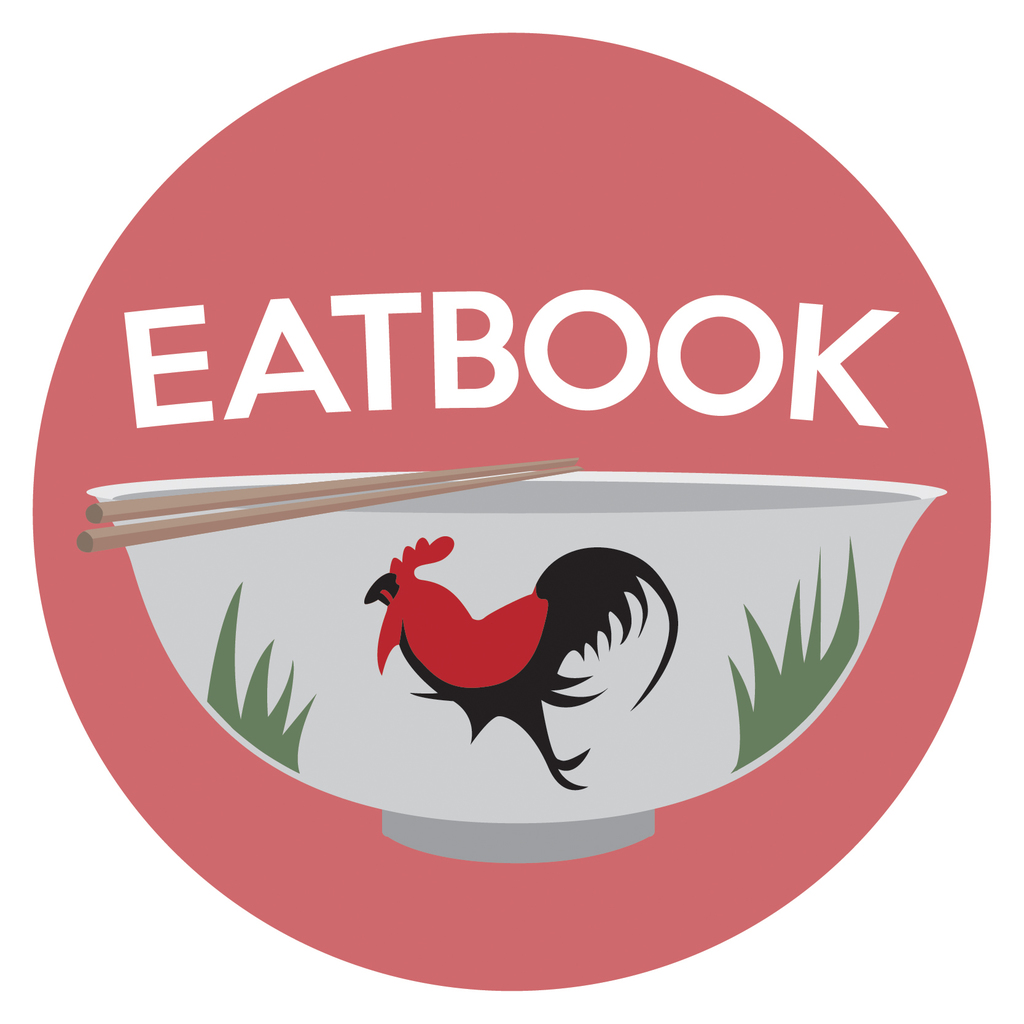 Drop us your email so you won't miss the latest news.