Chef Leung's Authentic Hand-milled Rice Noodle Rolls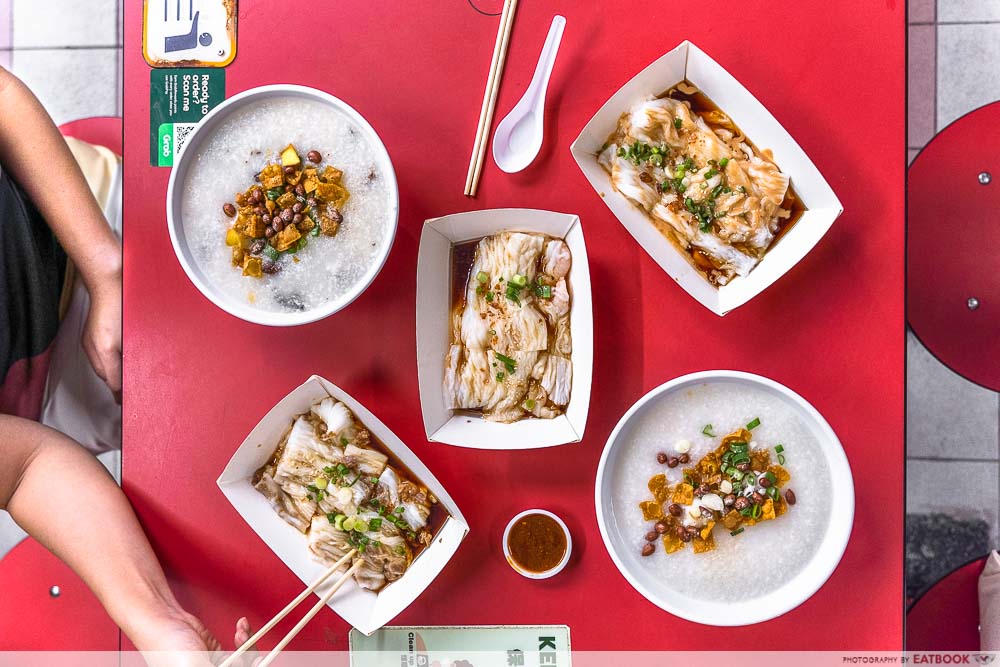 Up until a few years ago, my one true chee cheong fun love was the HK-style sort, doused in copious amounts of umami-savoury soya sauce. I went so far as to wake up extra early, and jostle with the morning crowds of Flower Market Street in Hong Kong, because the auntie at the congee shop only made cheong fun till 9am. When I first saw mention of Chef Leung's Authentic Hand-milled Rice Noodle Rolls, I was intrigued by the rippled finish of his cheong fun that might rival the HK chee cheong fun of my memories.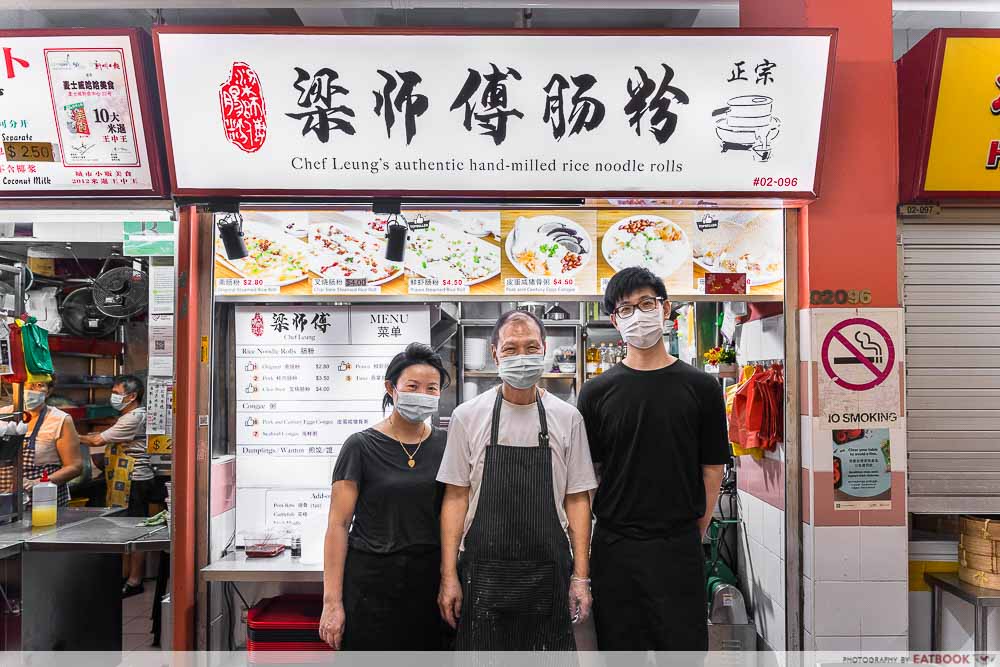 Chef Leung is a native Hong Konger, but he's cheffed in Singapore for a good few decades, including 18 years at Raffles Hotel, setting up the Chinese restaurant there. Today, Chef Leung's Authentic Hand-milled Rice Noodle Rolls is a family effort, with his children and wife working alongside.
Food at Chef Leung's Authentic Hand-milled Rice Noodle Rolls
The menu at Chef Leung's is basic: there are five rice noodle roll options, and two congee ones. There was also a chef's special congee the morning we were there, although this is seasonal, subject to availability of dried oysters, AKA hou see.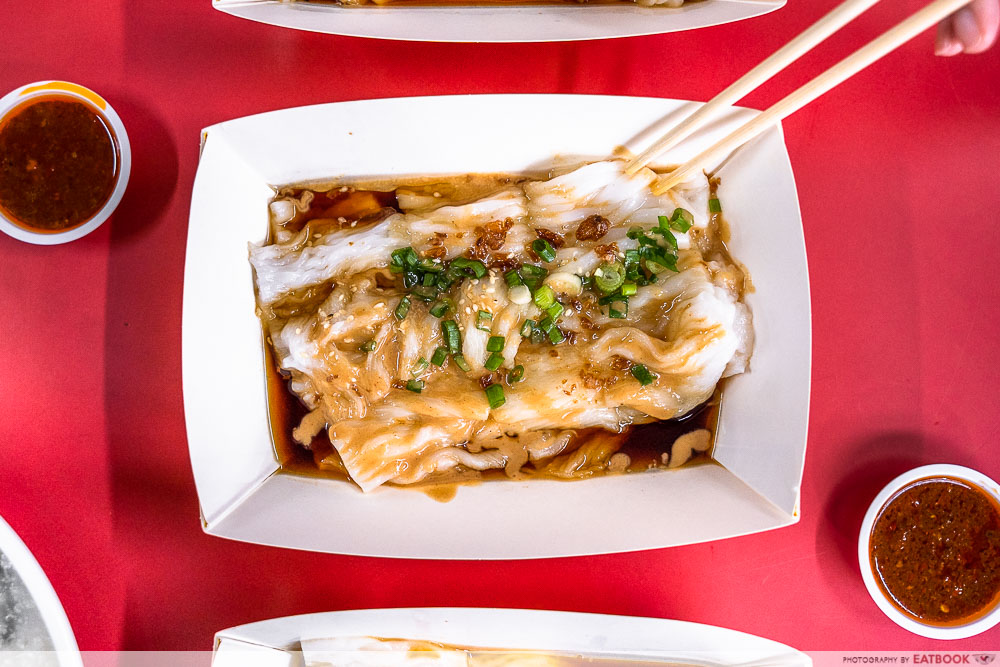 To get an idea of how these cheong fun are different, we started with the Original ($2.80). This is where you'll best be able to taste the rice in these rice noodles—it's just a little more distinct, and comes from the tedious process of Chef Leung and his wife milling rice by hand each afternoon, after the raw grains have been soaked for at least 10 hours.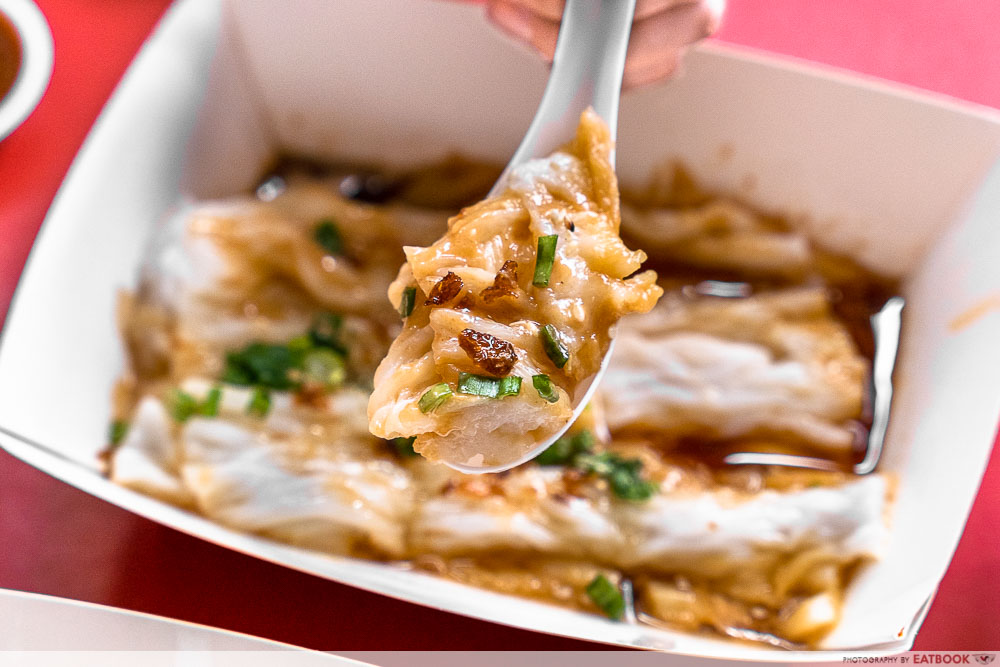 It's basic, but every component of the dish is prepared in-house, with the soya sauce base specially prepared to complement the rice noodles, without being overwhelmingly salty, zhnged-up with toasted white sesame seeds, crisp shallots, and a drizzle of shallot oil.
The Original rice noodle rolls are the only ones that come with Chef Leung's house-made, peanut-sesame sauce—a classic HK-style cheong fun dip that lends a creamy nuttiness. I appreciated the consistency of this allowed just the right amount to cling to the cheong fun, without being too thick and sticky.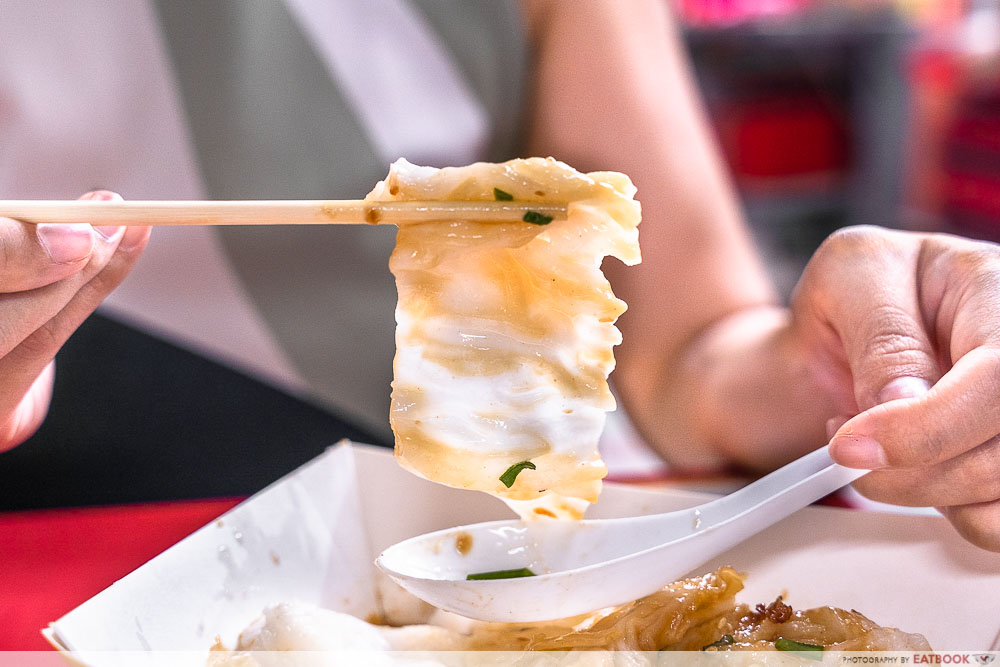 If like me you've always had an issue with cheong fun not catching enough of the sauce, the rippled noodles here do a fab job of it. Put your chopstick skills to the test and try lifting up a piece, to see how fine it is.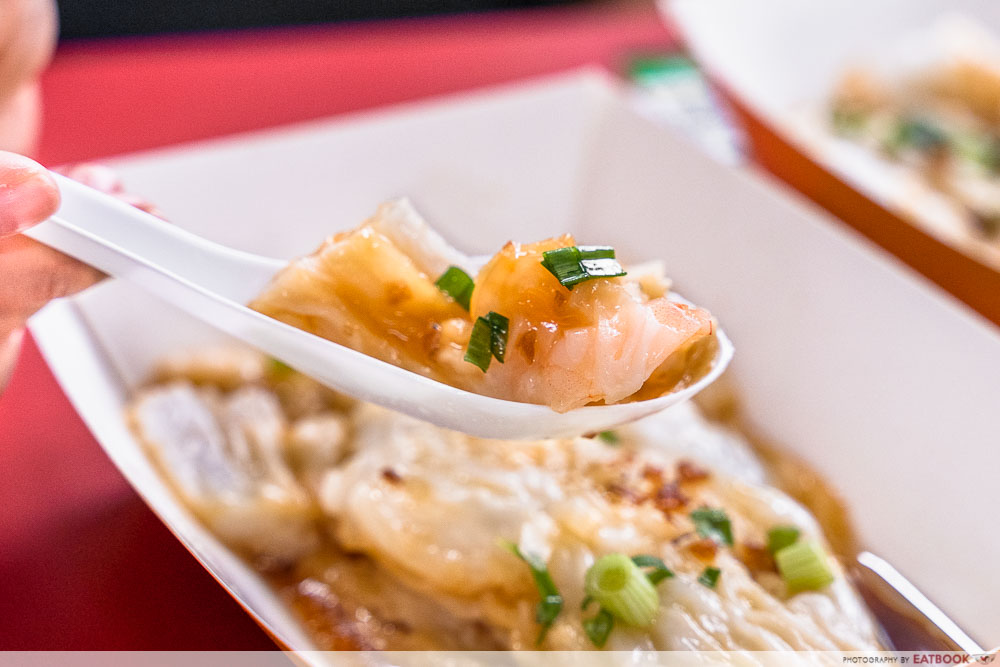 They were out of their Tuna with Onion Rice Noodle Roll ($4.50) when we visited, so we settled for the Char Siew Rice Noodle Roll ($4), and Prawn Rice Noodle Roll ($4.50). The same delicate rice noodles hug succulent frozen prawns, which we can't complain about for the price.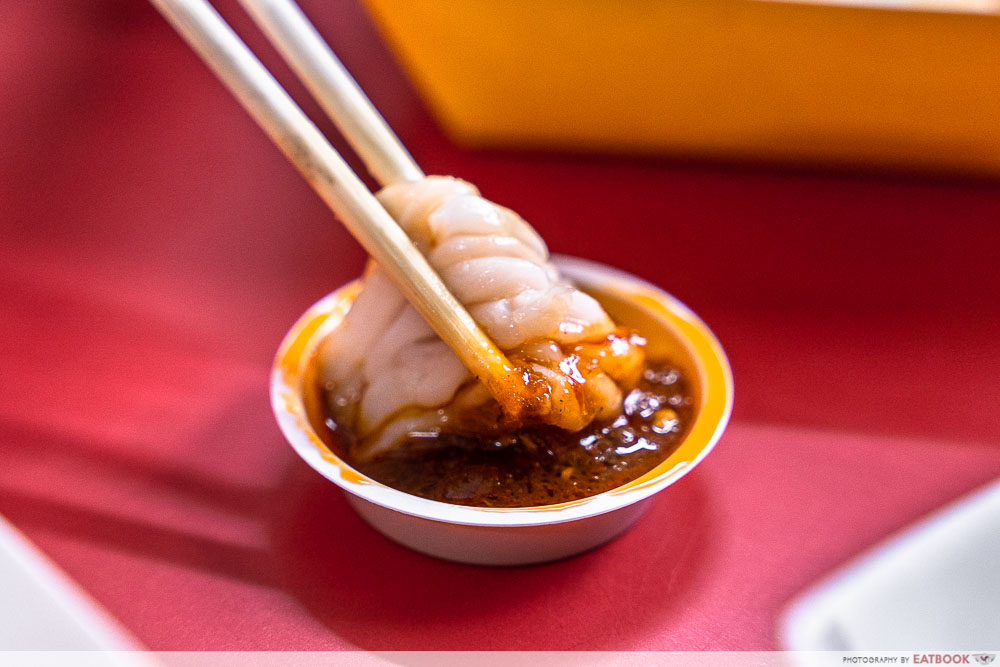 Have them with Chef Leung's house-made chilli, which is blended fresh each day. It adds a punch and is bodied without detracting from the star of the show here.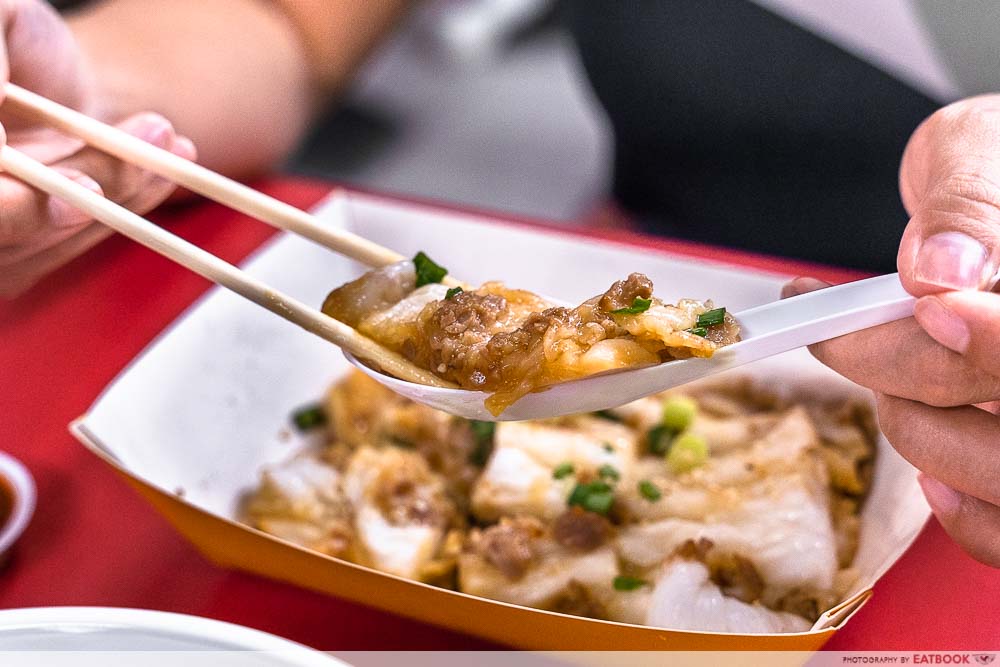 I quite liked that the char siew was chopped into minced little bits, evenly distributed throughout the folds of the cheong fun. I found this a more palatable mouthful than having slabs of roast meat within, although some might disagree.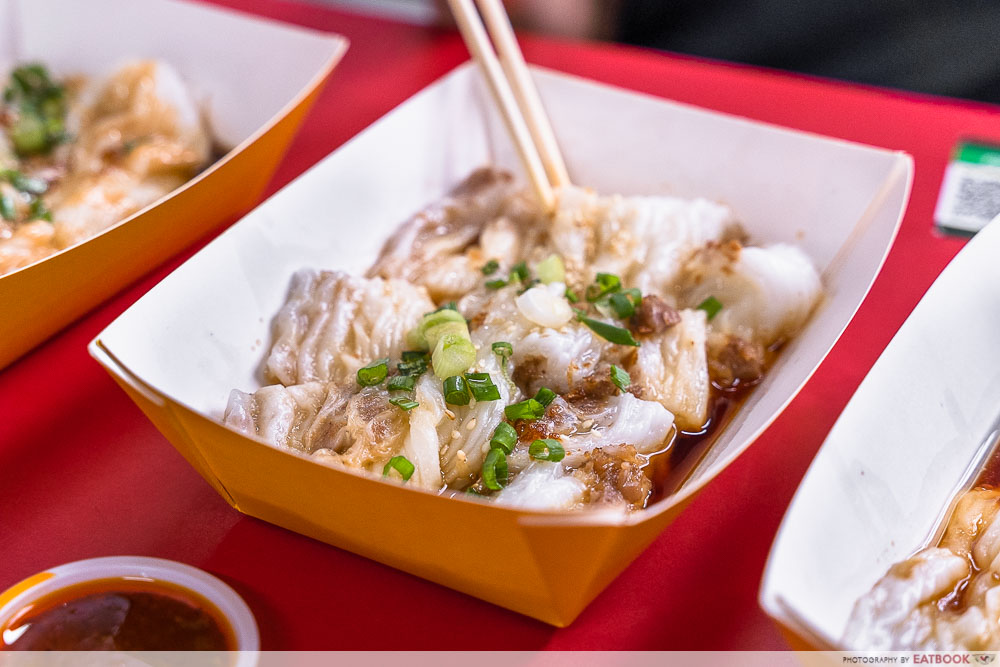 Unlike having these at a dim sum restaurant, each serving here is proper hearty, and is a rather filling portion if you're not sharing it. I'd recommend eating them right away though, because it does get a little clumpy.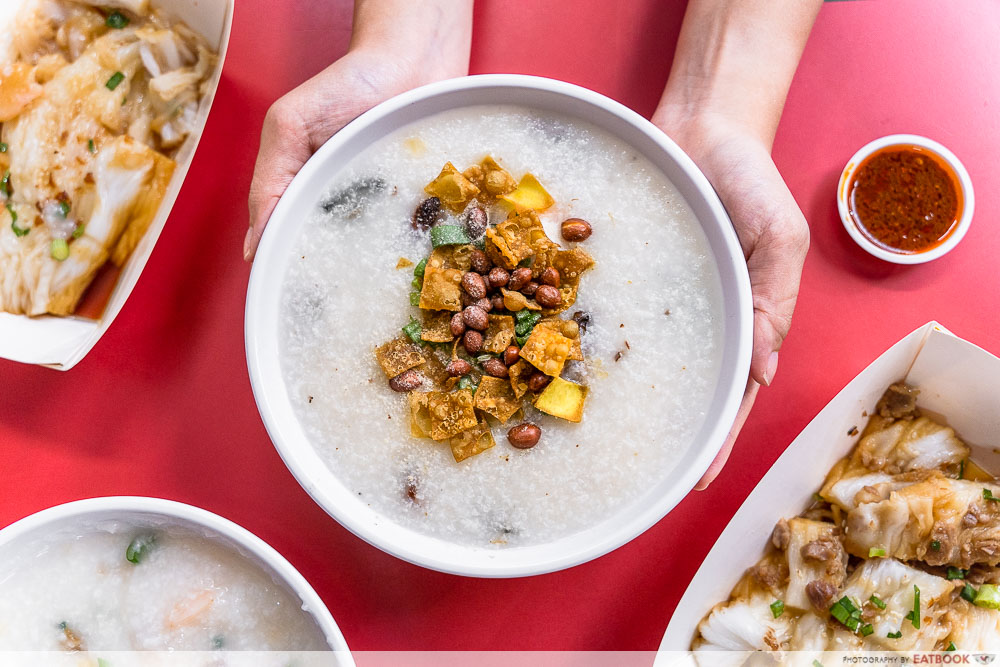 On our visit to Chef Leung, we ordered a Seafood Congee ($5), and Salted Pork Ribs With Century Egg Congee ($4.50), opting for a seasonal dried oyster addition to the latter. Otherwise, sample the oysters in the Dried Oyster, Pork & Century Egg Congee ($5), which comes with non-brined pork.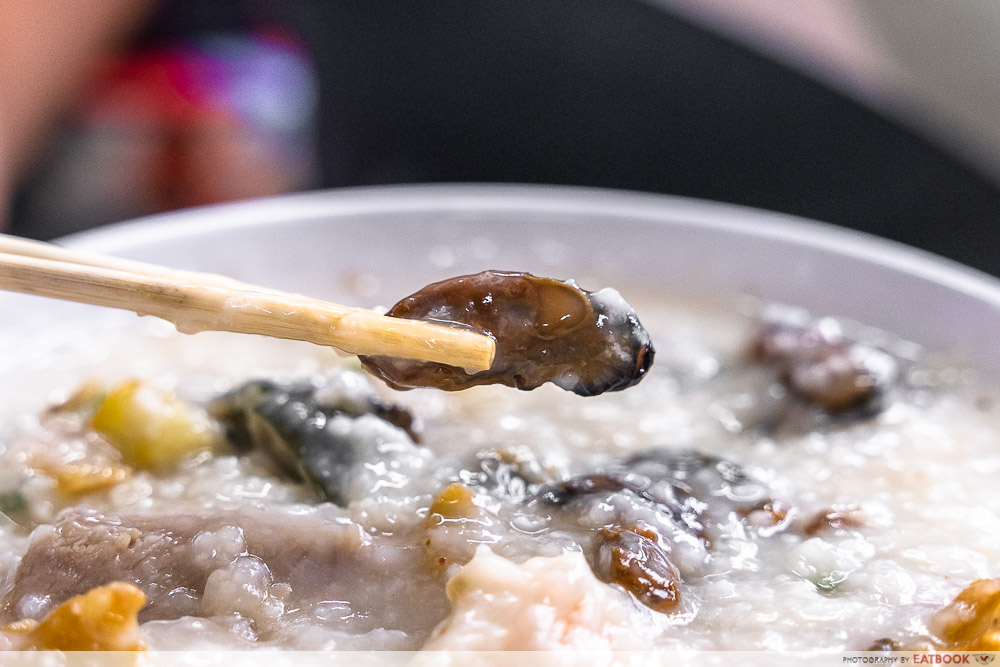 These little morsels are concentrated flavour bombs with a characteristic flavour that tends more towards oyster sauce than fresh oysters. Like the fresh ones, however, it is a polarising taste.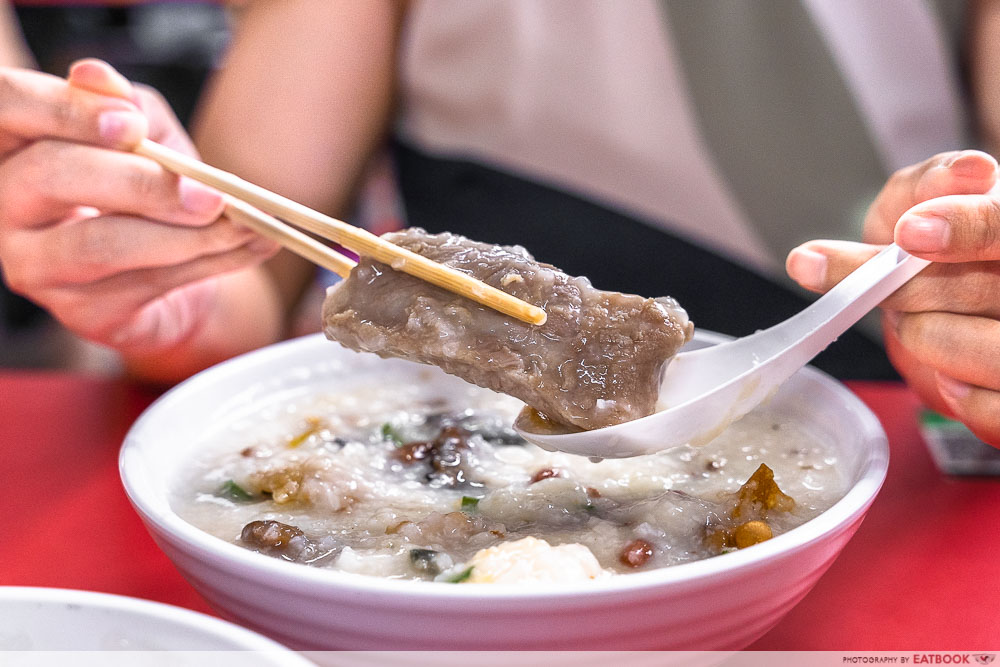 I was most excited to see salted pork ribs, because it's a classic HK congee ingredient that I don't find very often here. When my mother makes it, it takes dry brining the pork in salt for at least a day or two, before it is washed and cooked into the congee. The use of ribs here adds extra flavour, thanks to the bones on the meat.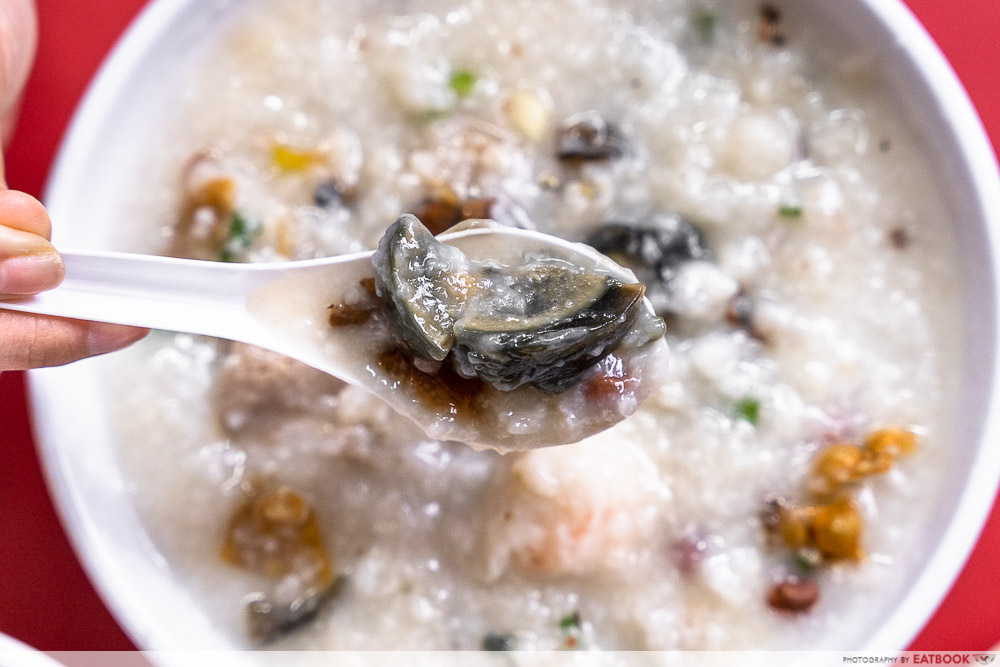 Century egg fans will be happy to note that the preserved eggs come in very hefty chunks here. There's even a bonus house-made prawn ball in here!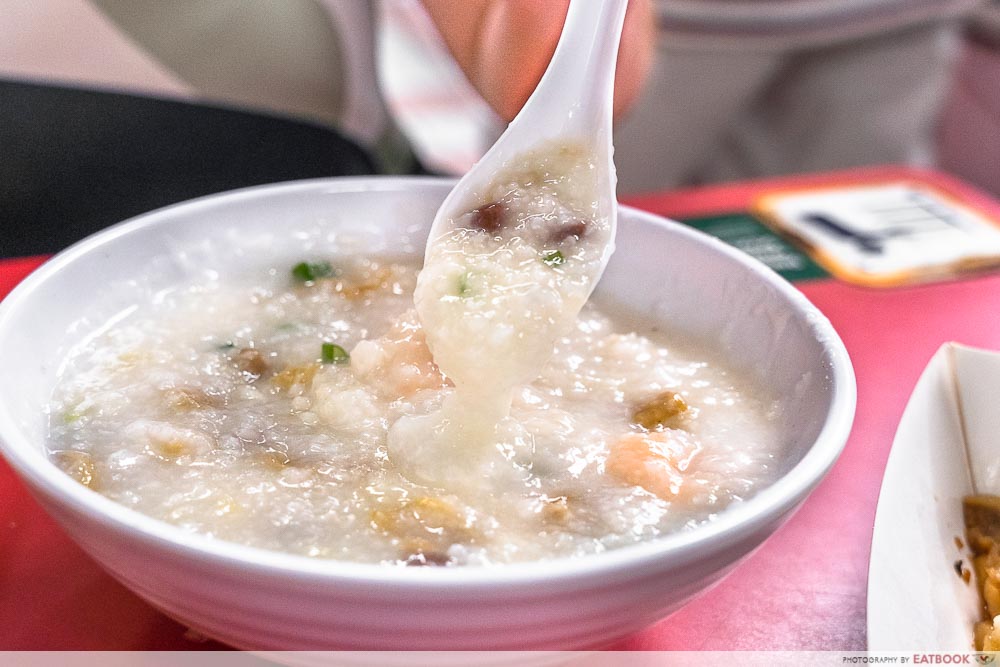 My dining companion's preferred choice was the Seafood Congee, which sports a cleaner flavour profile, but the same lusciously smooth rice gruel. This comes with prawns, the same prawn balls as in the Century Egg Congee, fresh squid, peanuts, fresh-cut spring onions, and crisp crackers.
Ambience at Chef Leung's Authentic Hand-milled Rice Noodle Rolls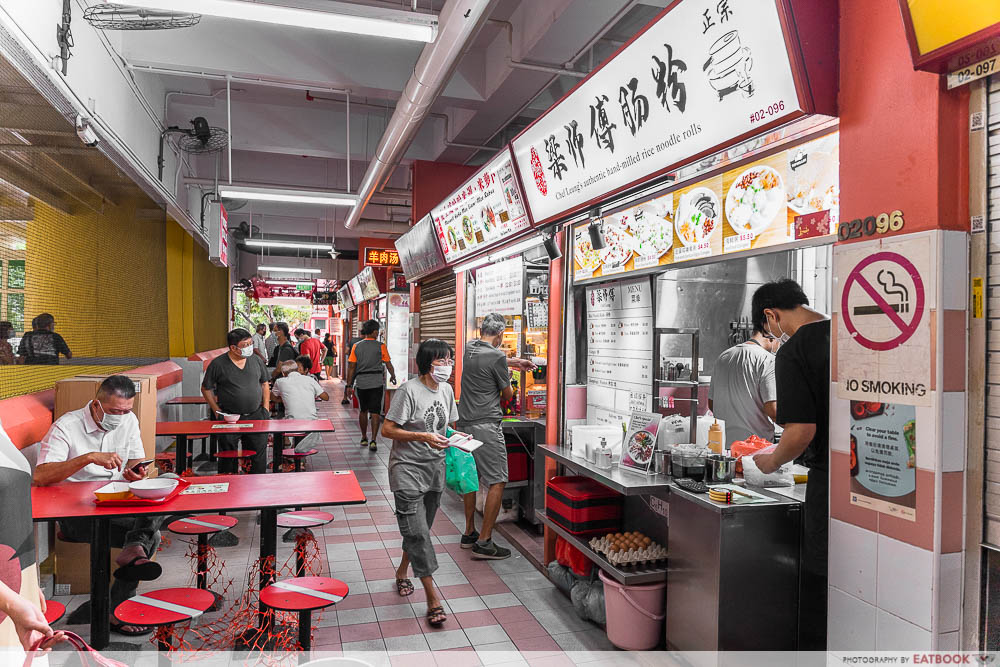 Situated in the Red Zone of Chinatown Complex Food Centre, a five-minute walk from Chinatown MRT Station, and nine minutes from Outram Park MRT Station, there's more than ample enough seating spread throughout the entire floor. The building is almost 40 years old, so it is a little worn at the edges—but that's all part of the charm. There have been refurbishments made in recent years, so there are newer, modern touches.
The offerings at Chef Leung are sold out as early as 10am some mornings, so it's best to head down as early as possible to get your hands on the cheong fun here. When we were there, the waiting time stretched up to an hour, although buzzers are provided so you don't have to loiter around the stall in wait.
The verdict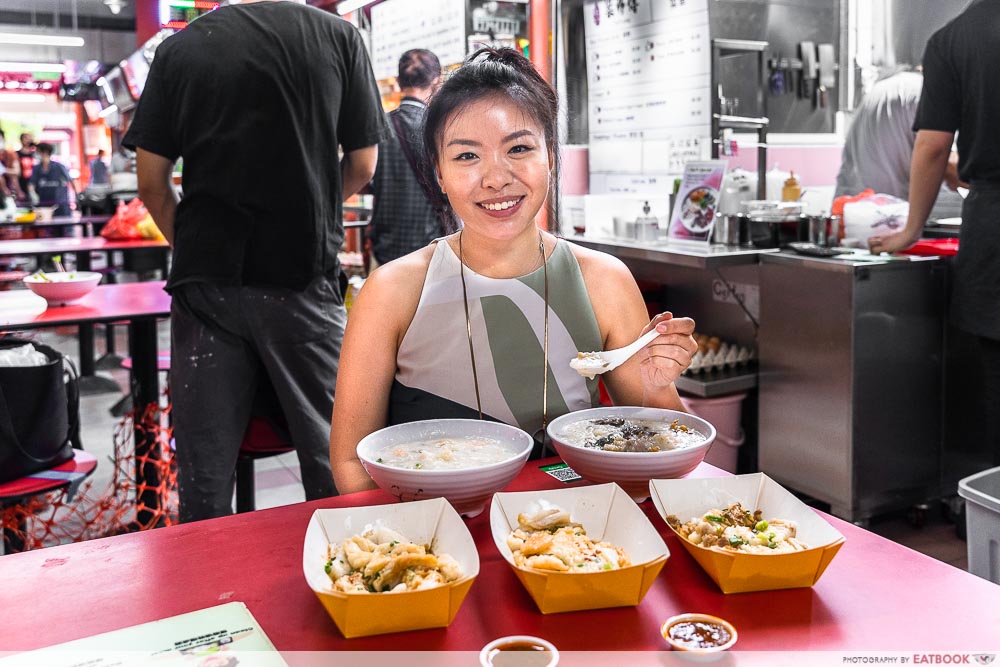 The affordably priced, restaurant-quality rice noodles here are definitely a draw, and I understand why they're sold out so quickly each day. Therein lies my complaint—long waits, and having to get up incredibly early to make it in time. The early bird does catch the worm though, so I'll grin and bear it. Rice noodle rolls and congee are comforting indeed, and although the cheong fun should ideally be eaten on the spot, you'll be seeing me dapao the congee if I drop by again.
Chinatown Food Complex houses more than 700 stalls, including the market stalls. One of these is Pan Ji Cooked Food, who might be the last hawker in Singapore still making traditional sachima!
Address: 335 Smith Street, #02-096, Chinatown Complex, Singapore 050335
Opening hours: Tue-Sun 7am to 2pm (or sold out)
Website
Chef Leung's Authentic Hand-milled Rice Noodle Rolls is not a halal-certifed eatery
8 Chinatown Complex Food Stalls To Visit Including $2 Laksa And Beef Rice Bowls
Photos taken by Chew Yi En.
This was an independent review by Eatbook.sg
Chef Leung's Authentic Hand-milled Rice Noodle Rolls Review: Silky, Ribboned Chee Cheong Fun And Salted Pork Congee In Chinatown
Chef Leung's Authentic Hand-milled Rice Noodle Rolls Review: Silky, Ribboned Chee Cheong Fun And Salted Pork Congee In Chinatown -

7.5/10
Summary
Pros
– Tasty congee
– Silky smooth chee cheong fun
– Wallet-friendly prices
Cons
– Sold out early
– Long queue
– Seafood Congee can have more ingredients
Recommended dishes: Salted Pork Ribs and Century Eggs Congee ($4.50), Original Steamed Rice Roll ($2.80), Char Siew Steamed Rice Roll ($4)
Opening hours: Tue-Sun 7am to 2pm (or sold out) 
Address: 335 Smith Street, #02-096, Chinatown Complex, Singapore 050335