Lian He Ben Ji Claypot Rice is worth the wait
The aroma of charcoal fires and sizzling rice hit me as soon as I reached the furthest wing of Chinatown Complex. Immediately, I could see how Lian He Ben Ji Claypot Rice had claimed the surrounding area as their turf. Bottles of sauce marked the tables in front of their stall, and a loyal queue swelled by the minute. I could see right into the heart of the kitchen, where dozens of blazing fires kept pots of rice cooking ceaselessly.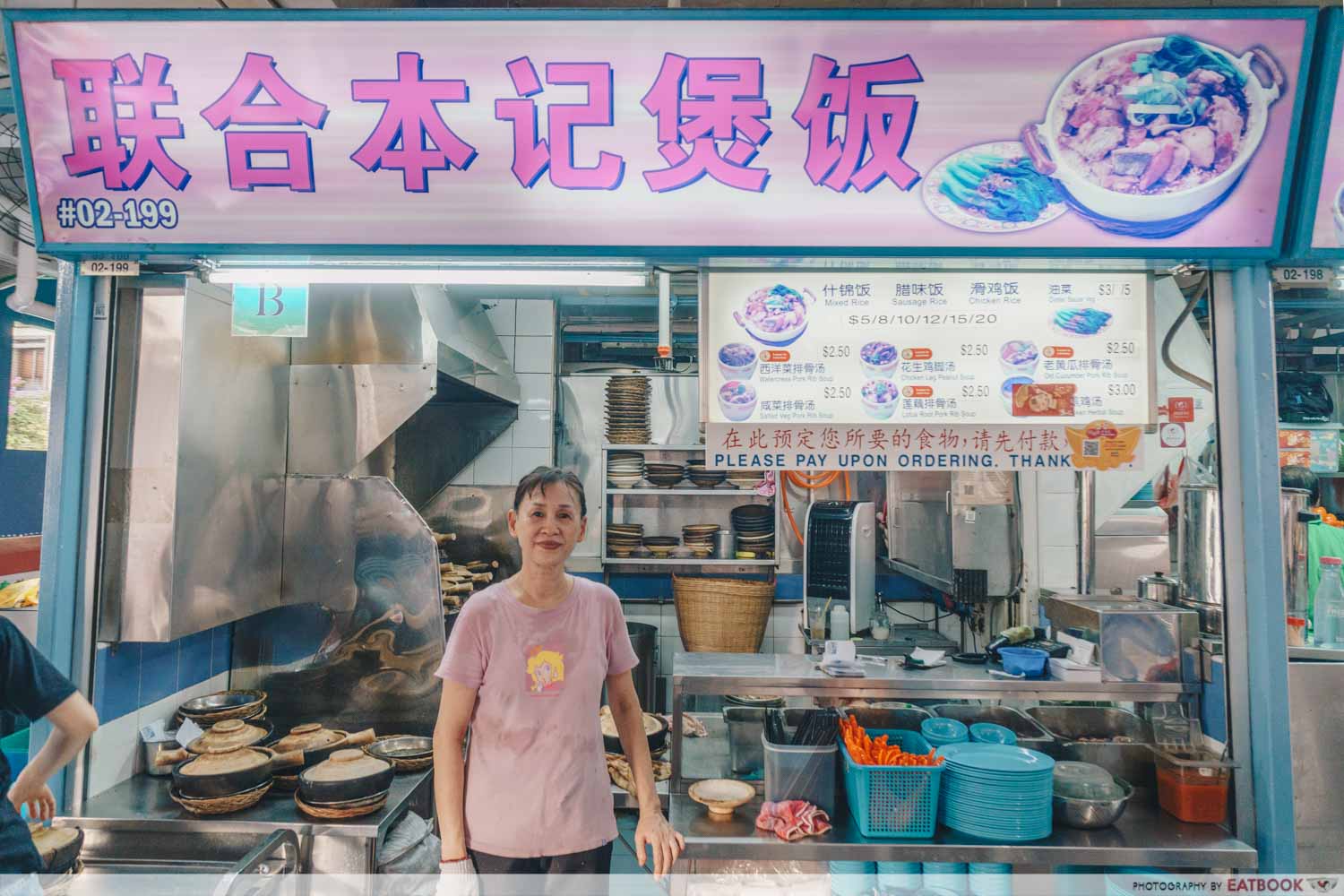 This year, the stall turns 41 years old. Lian He Ben Ji has spent most of those years in their current location, gradually building up a base of regular customers. Mdm Lim Siew Lee, the head chef here, started tending the flames back when she was 16 years old. 
She picked up the job to help out her father-in-law, and eventually took over the reins of the stall. Now, the claypot rice stall is run by Mdm Lim, her sisters, and her cousins. It's fondly known by an alternate name to some: 'Three Sisters' Claypot Rice'. The stall also holds a Michelin Bib Gourmand, joining the likes of Fatty Ox HK Kitchen and Ann Chin Handmade Popiah in Chinatown Complex.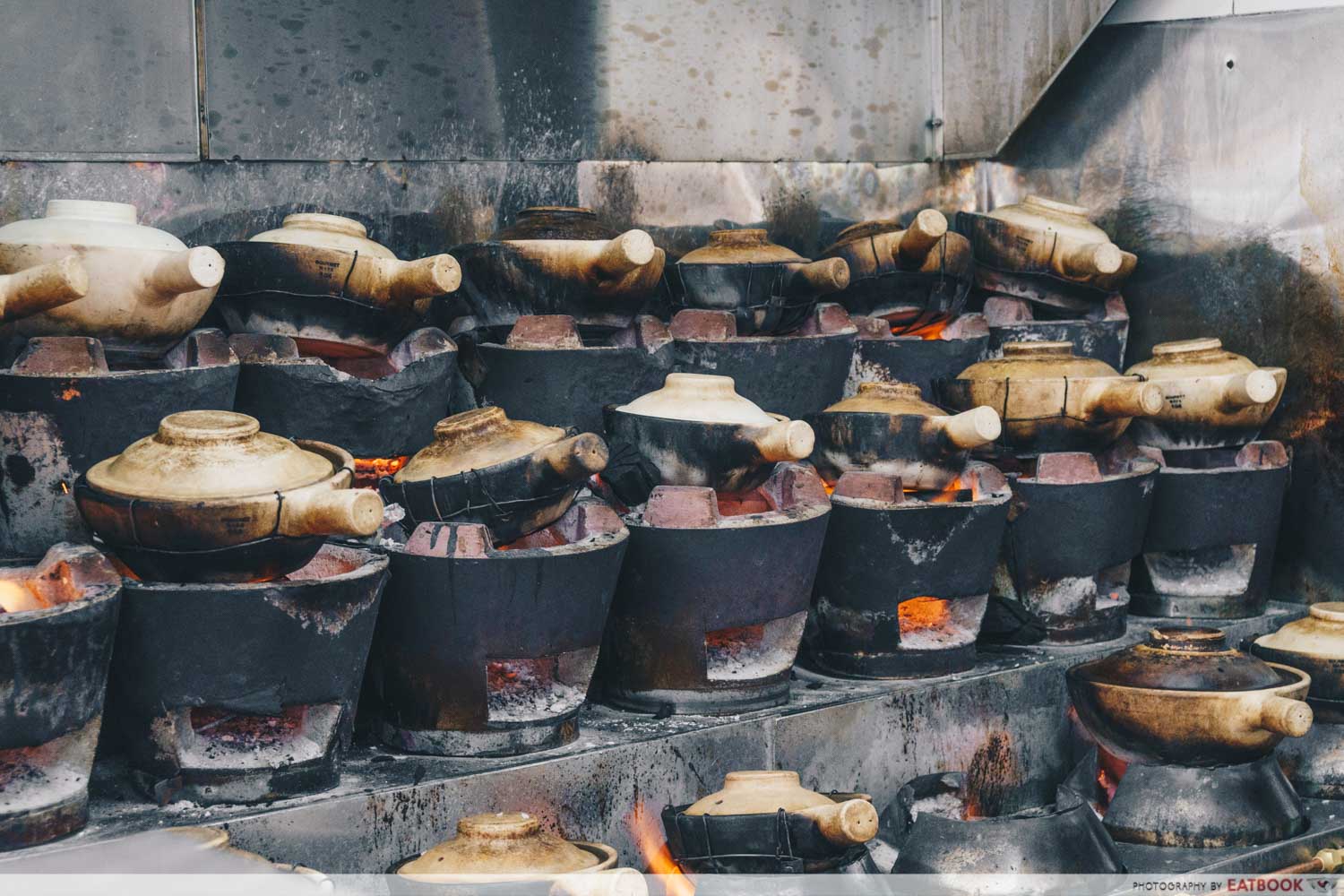 Mdm Lim doesn't believe in shortcuts for the claypot rice. Each and every order is made from scratch, which unfortunately also results in longer waiting times. The rice is prepared with charcoal fire rather than being pre-steamed, and the ingredients are ladled on top to sizzle and cook once the rice is done. Mdm Lim expertly handles each pot, pulling them off the fire when ready and swiftly replacing it with a brand new order.
It can take up to an hour for your order to arrive, so we recommend coming with a friend to pass the time with.
Food at Lian He Ben Ji Claypot Rice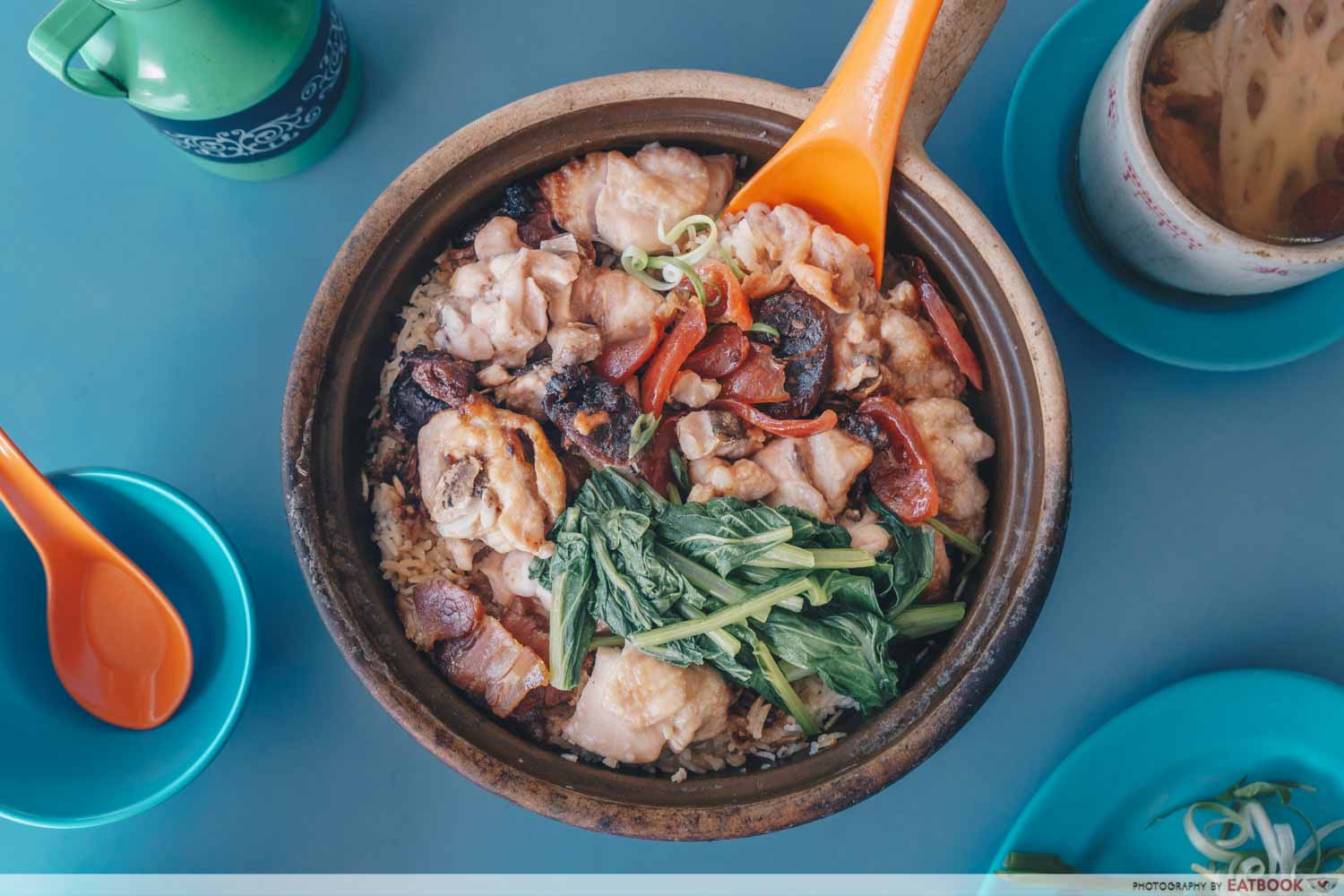 We were recommended to try out the Mixed Rice ($12), which feeds two people. A bowl of rice ranges from $5 to $20, with varying portion sizes. 
Claypot rice tends to be a bit messy after you mix all the ingredients. But at the start, when everything was still freshly set up, the bowl looked beautiful. Stripes of green and slabs of red lit up the  rice, and huge chicken chunks sat right beneath them.
It was a gigantic portion, allegedly meant for two. I consider myself a pretty big eater, but I wasn't confident that my colleague and I could even come close to finishing this bowl.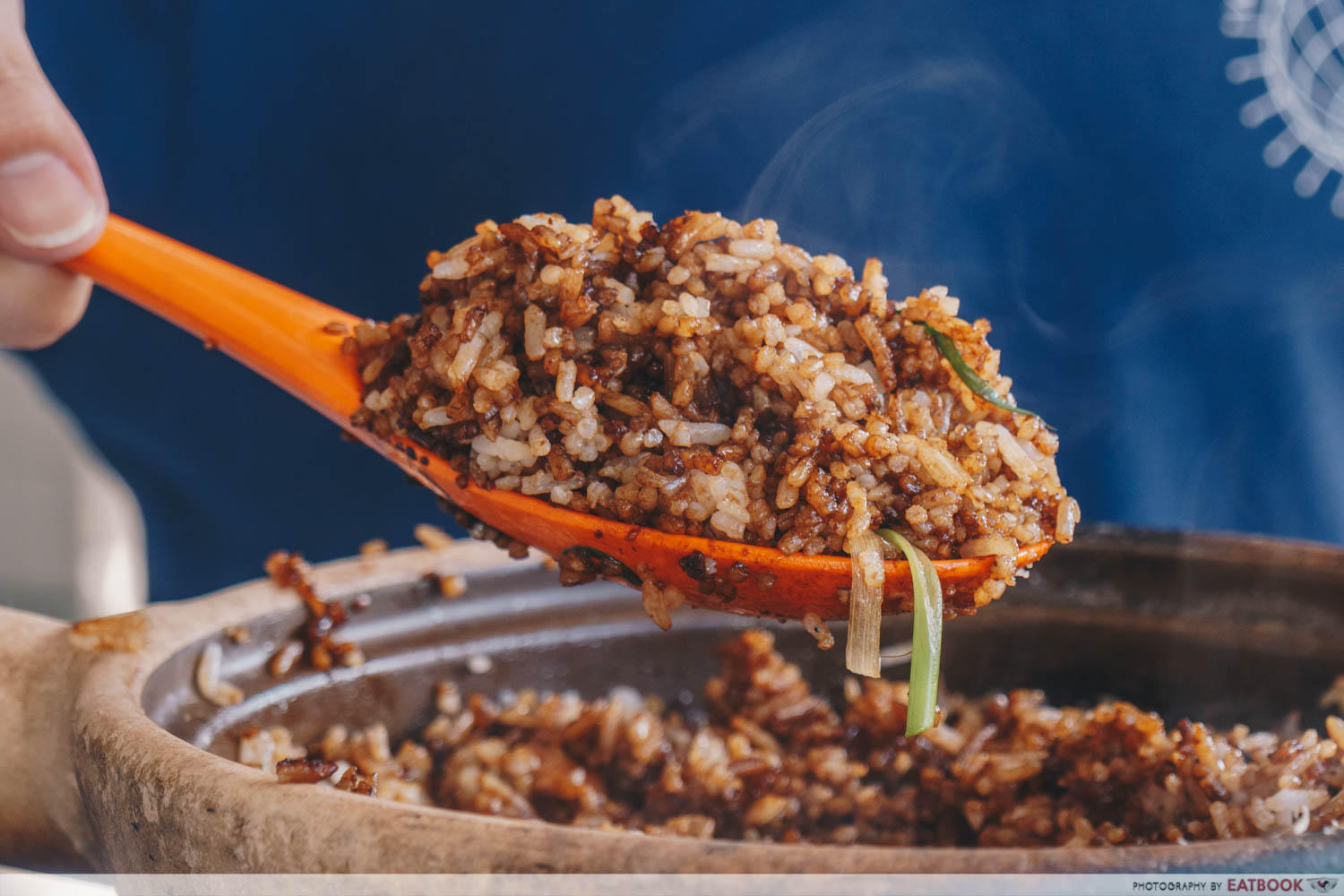 An elderly gentleman working at the store, who I assumed to be Mdm Lim's father-in-law, offered to show us his recommended way to enjoy the dish. Rather than mixing it all together, he first scooped out all the ingredients before pouring a mix of soya sauce and shallot oil into the bowl. It sizzled against the piping-hot edges as he stirred it up, sending up clouds of billowing steam. Once he was done, he told us to add the meat back portion by portion, rather than leave it inside the claypot to keep cooking. This way, the meat isn't overcooked and stays nice and juicy.  
The rice along the edges was charred and crisp by the time we got around to eating. I liked my food to be a little saltier, so I added some of the soya sauce that's found at the store.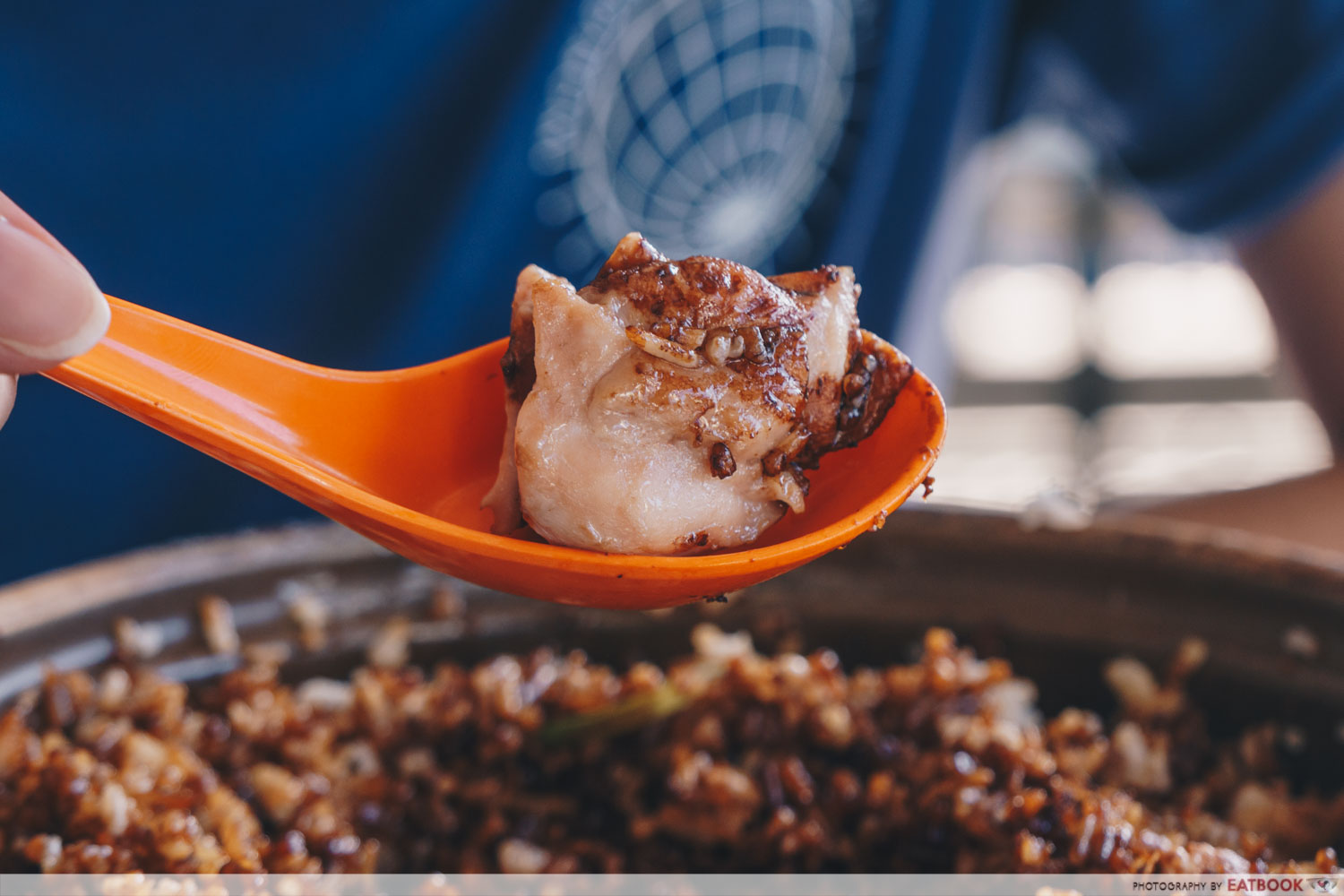 Generous chunks of tender chicken were present throughout the bowl. They were lightly seasoned and soft, with charred edges. I really liked the meat, and the huge pieces went great with the smoky rice.
But one thing that bugged me was the bones. The chicken bones tend to shatter into fragments, and more than a few made their way into the rice. More than once, I accidentally crunched down on a sharp, solid shard of bone among mouthfuls of charred rice.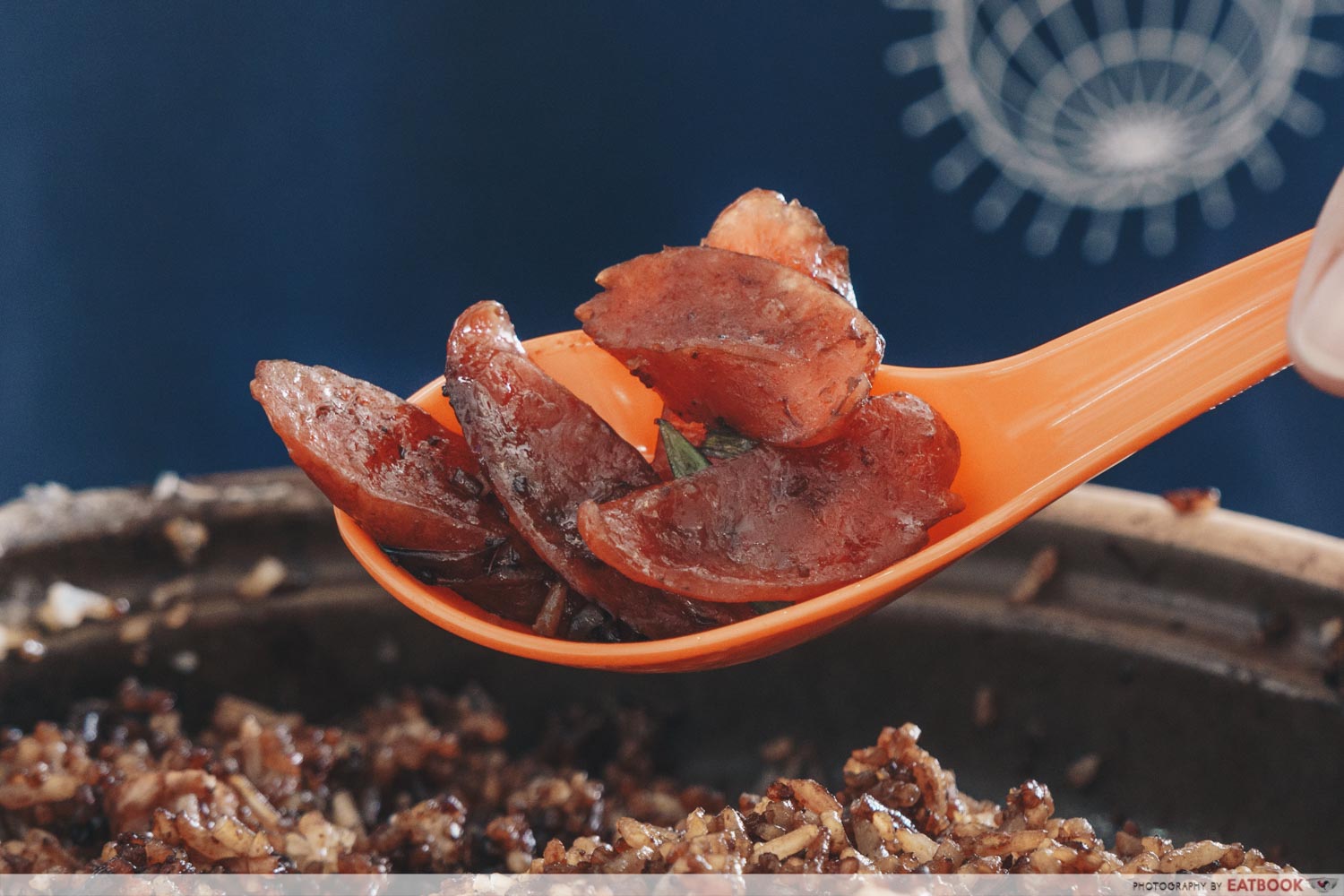 There was a generous portion of lap cheong scattered throughout the dish, both in the regular variety and the grittier kind made with liver. The slices of preserved sausage were tough and chewy, but had a savoury-sweet flavour that blended harmoniously with the scoops of lightly charred rice. On the other hand, the liver sausage had an intense saltiness to it.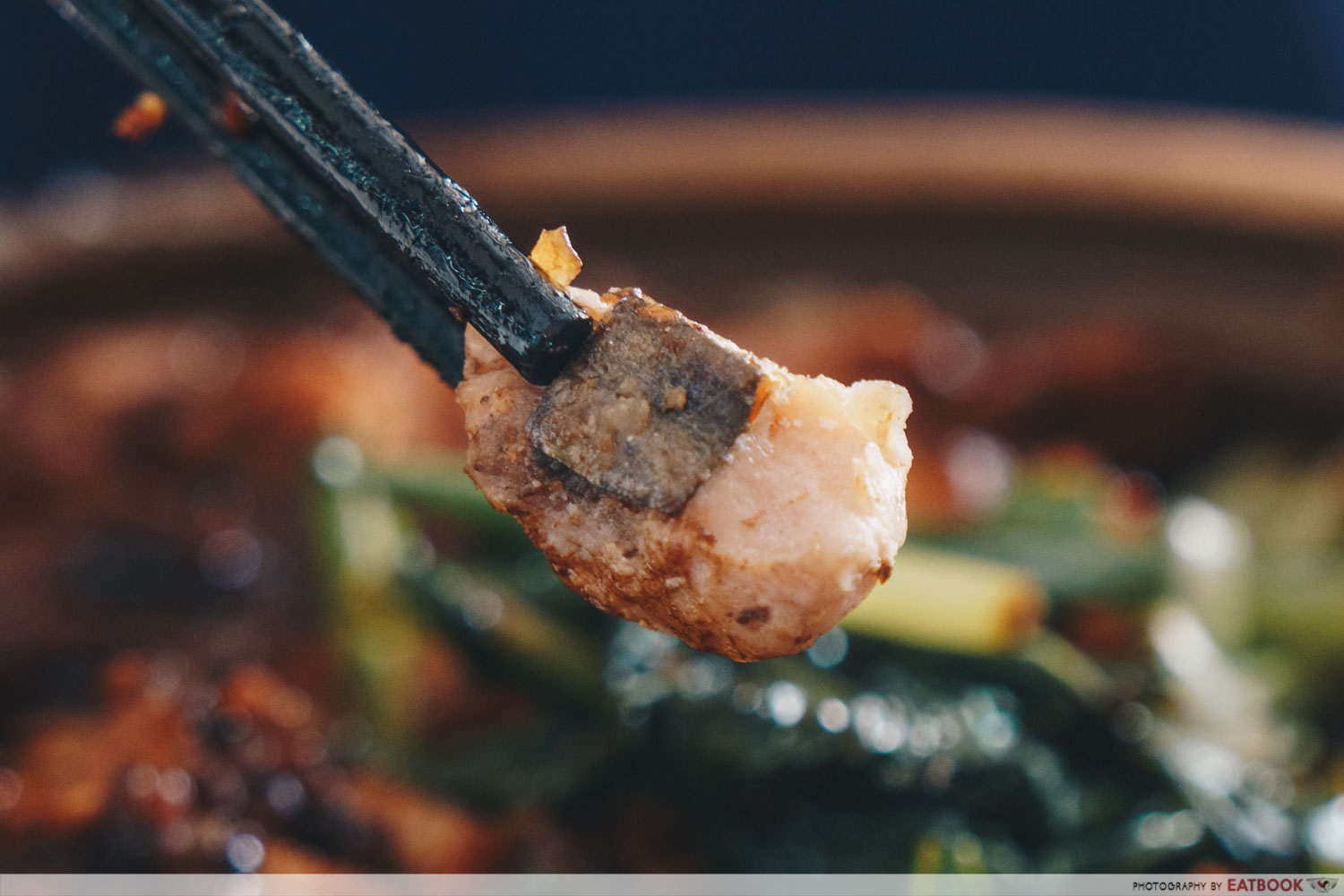 A few pieces of salted fish were scattered in the bowl. The fish took the form of small chunks, and I loved that it was the meaty sort instead of the dried, golden-brown cubes. I was warned by the elderly gentleman to not eat too much of it in one bite, as they could overpower my palate, so I gingerly bit off a corner. 
Indeed, that tiny, tiny speck that I took was already incredibly salty. The pieces of salted fish were meant to be spaced out between large mouthfuls of rice, as additional bombshells of flavour. 
"Careful, it's really salty," I said to my colleague, who I realised had just stuffed an entire piece into her mouth at once. Perhaps I should have told her earlier, but then I would've missed out on the look of horror on her face as she desperately grasped for a drink.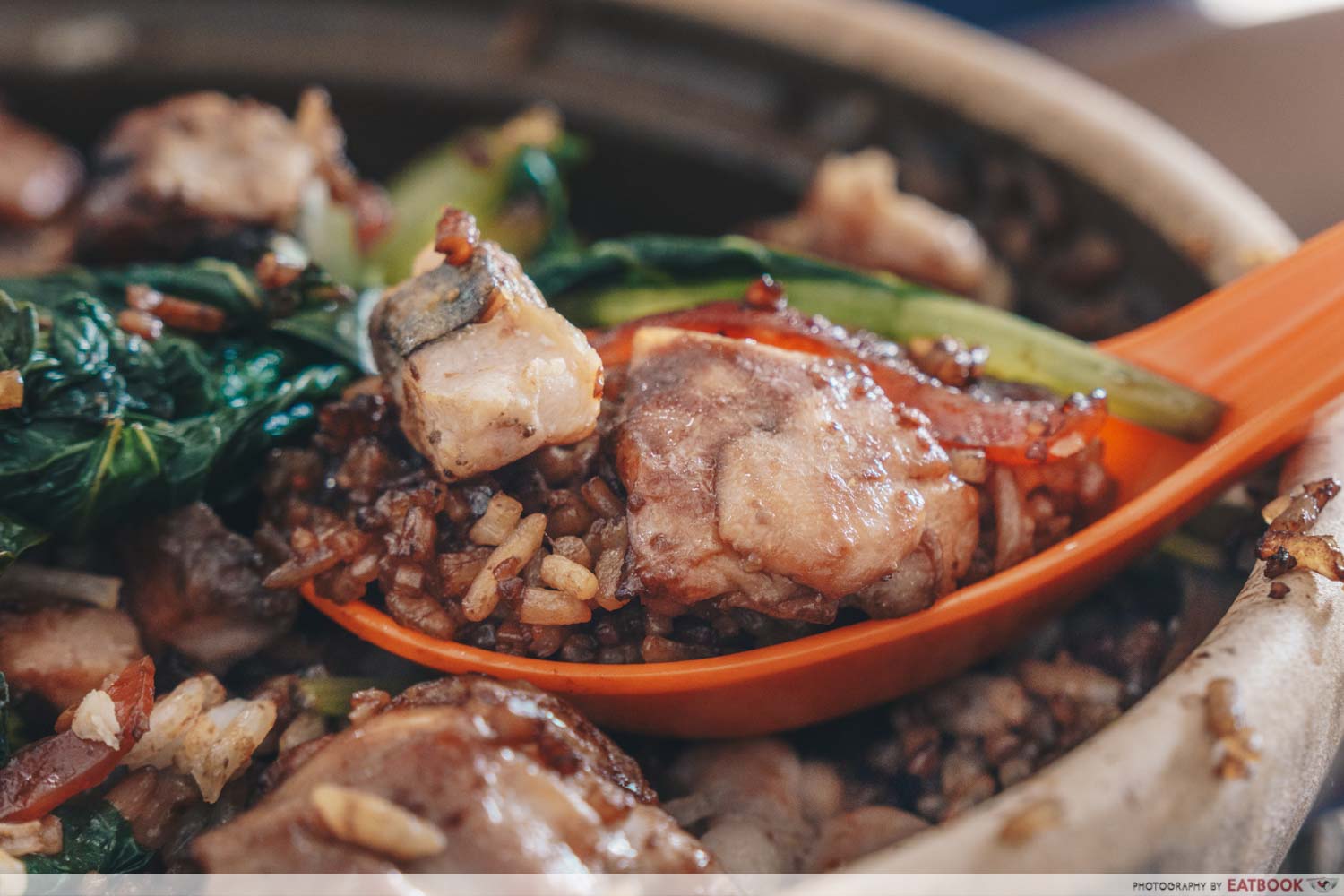 Overall, this is a great bowl of claypot rice. The authenticity shines through; the portions are great for their price, and the individual ingredients pair well with the smoky rice. The chicken is meaty, juicy and flavourful, the lap cheong is sweet and savoury, and the salted fish gives the rice a burst of sharp flavour.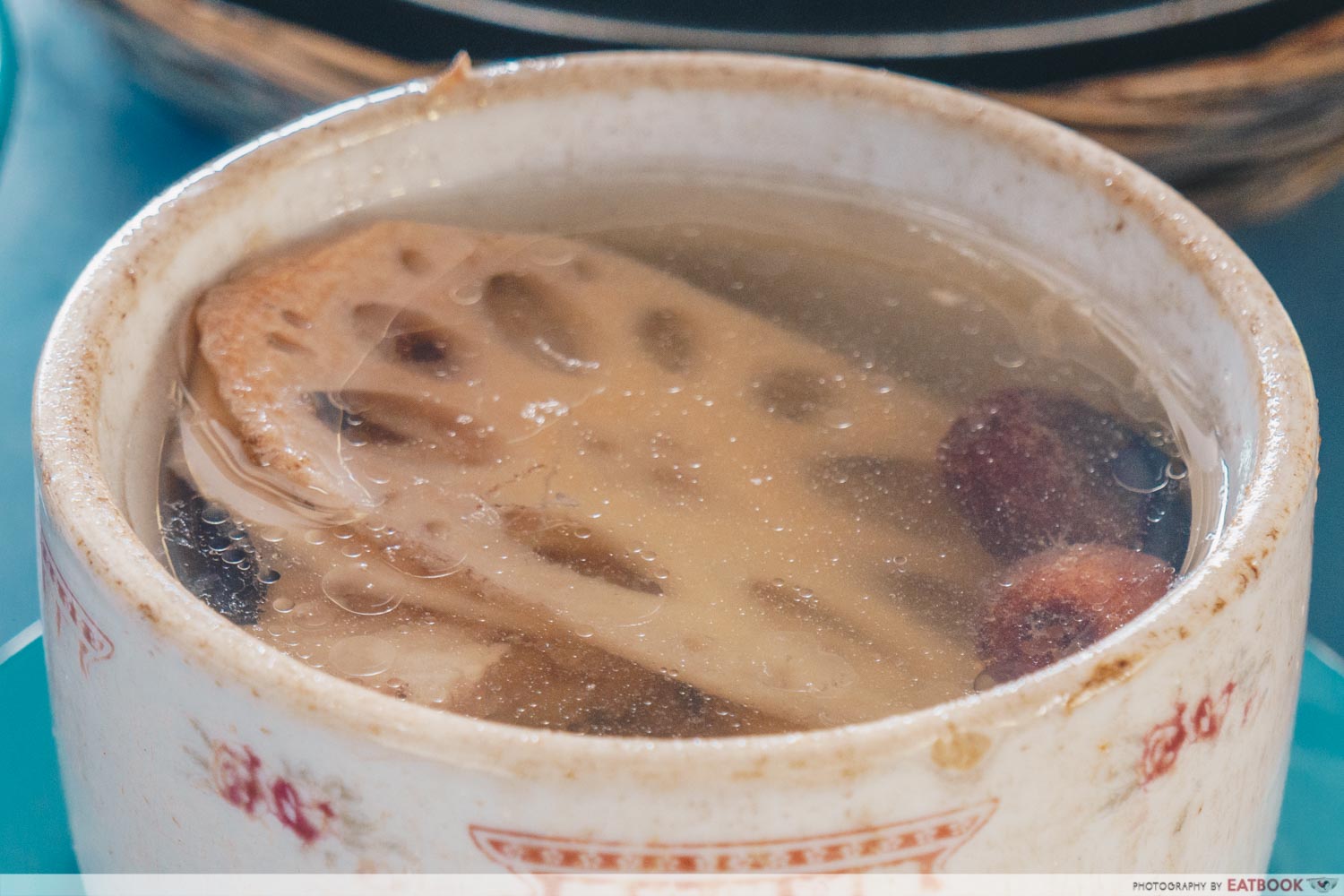 I'm a huge fan of Chinese style soup. Whether it's bak kut teh or a simple home-cooked ABC soup, there's always a soothing and homely quality to it. The Lotus Root Pork Rib Soup ($2.50) caught my attention on the signboard, and I decided to give it a shot.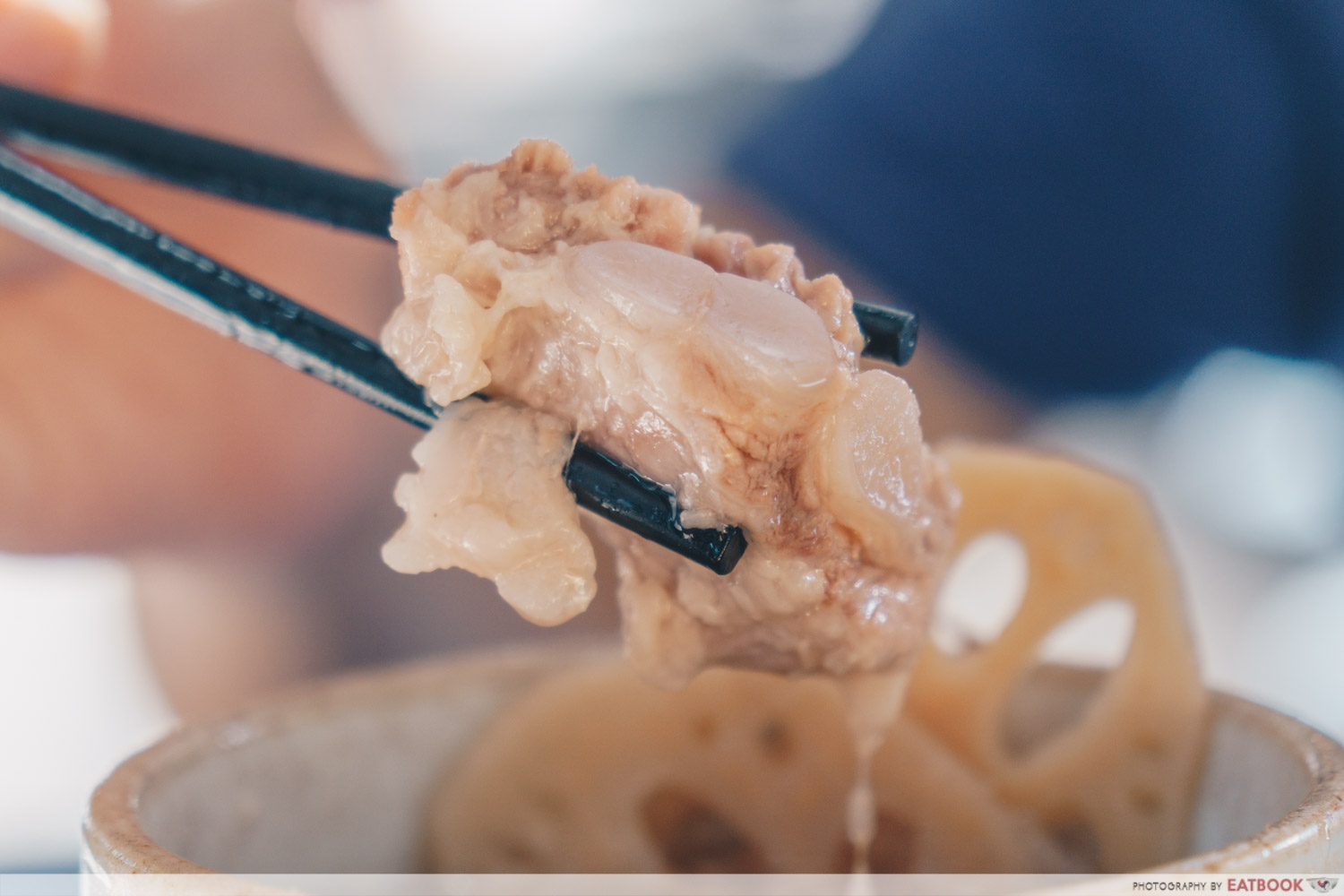 It's not a huge bowl, but at $2.50 it was a decent portion. Big pieces of lotus and three chunks of fork-tender pork ribs sat inside.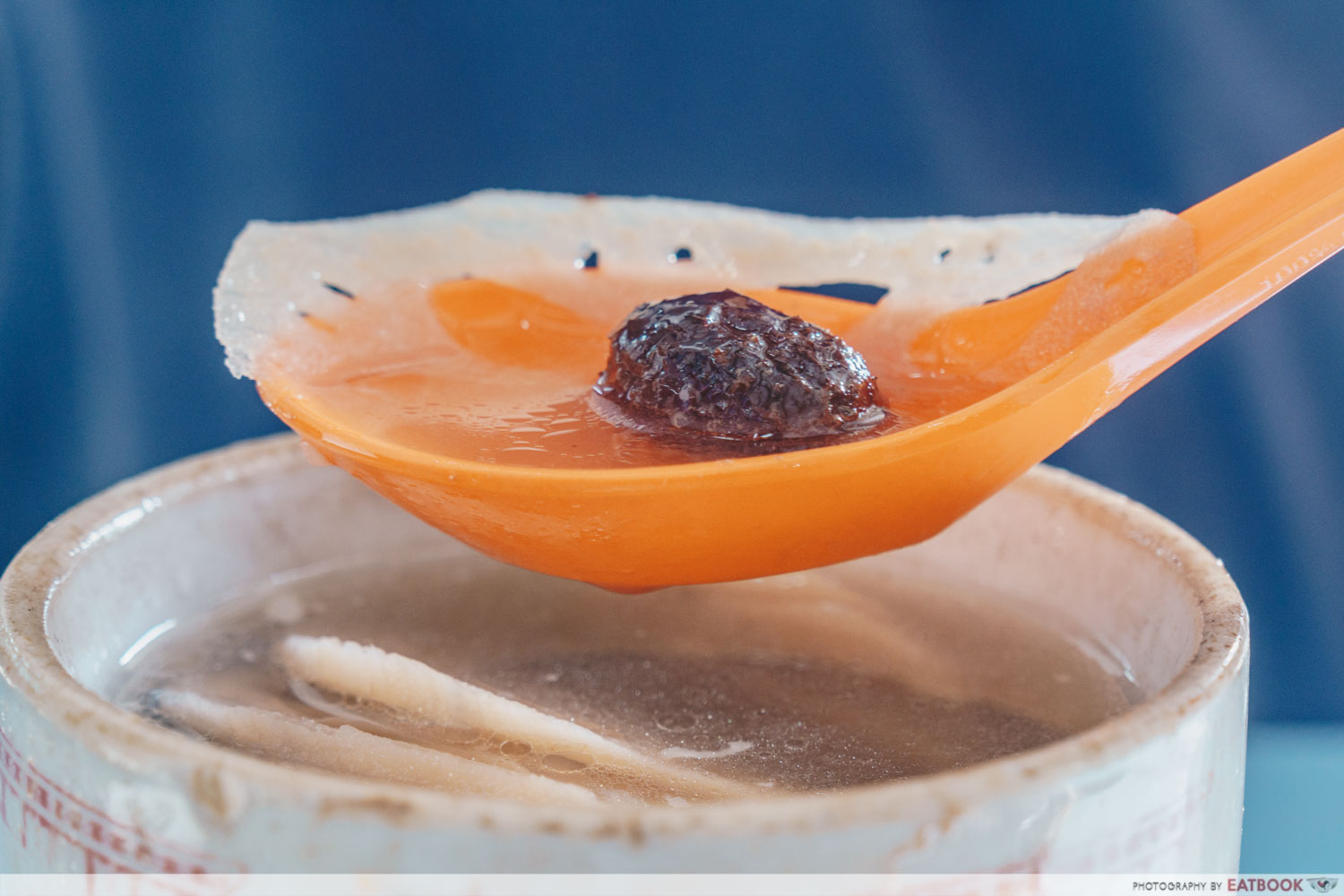 The double-boiled soup was light, clean-tasting, and refreshing. It had the savoury meatiness of the pork, but was balanced out by the mild herbal notes of the lotus. Taking sips of the warm soup helped to wash down the smoky rice, and refreshed my palate after mouthfuls of salty fish and cured sausage. 
If it weren't for the wait time, I'd have ordered a second bowl after I was done. Definitely get this if you're dining here for it's nice to have something to accompany the rice. 
Ambience at Lian He Ben Ji Claypot Rice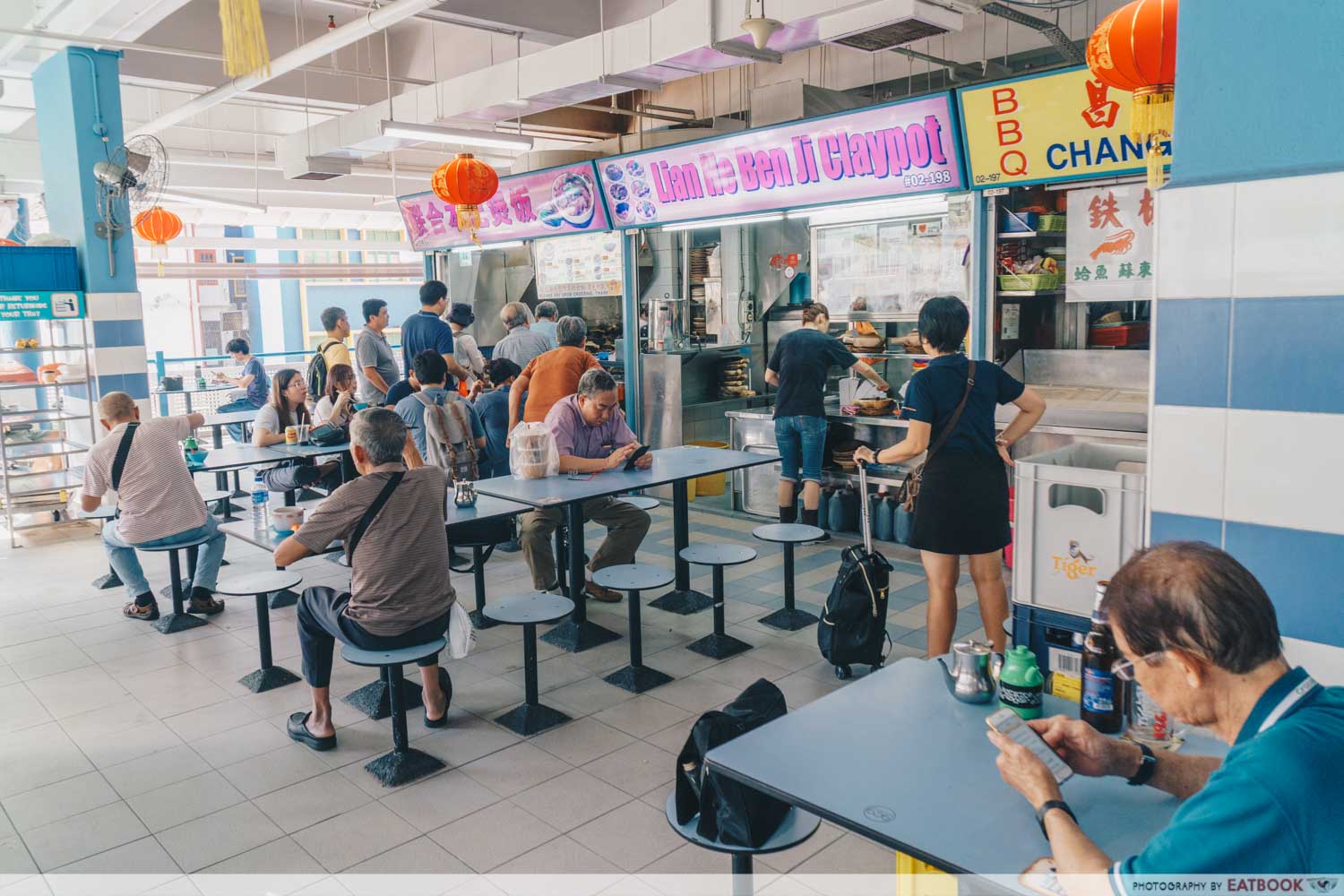 Lian He Ben Ji is all the way in the farthest corner of Chinatown Complex, which is already legendary for the huge variety of high-quality food. The hawker centre is massive and has plenty of seats. Nets prevent birds from fluttering in and invading your dinner. 
8 Chinatown Complex Food Stalls To Visit Including $2 Laksa And Beef Rice Bowls
Chinatown Complex is a five-minute walk from Chinatown MRT Station. It can be a bit hard to reach the far end of the sprawling food centre, but do keep an eye out for Lian He Ben Ji's unit number that's neatly found at the bottom left corner of the store's pink signboard. 
The verdict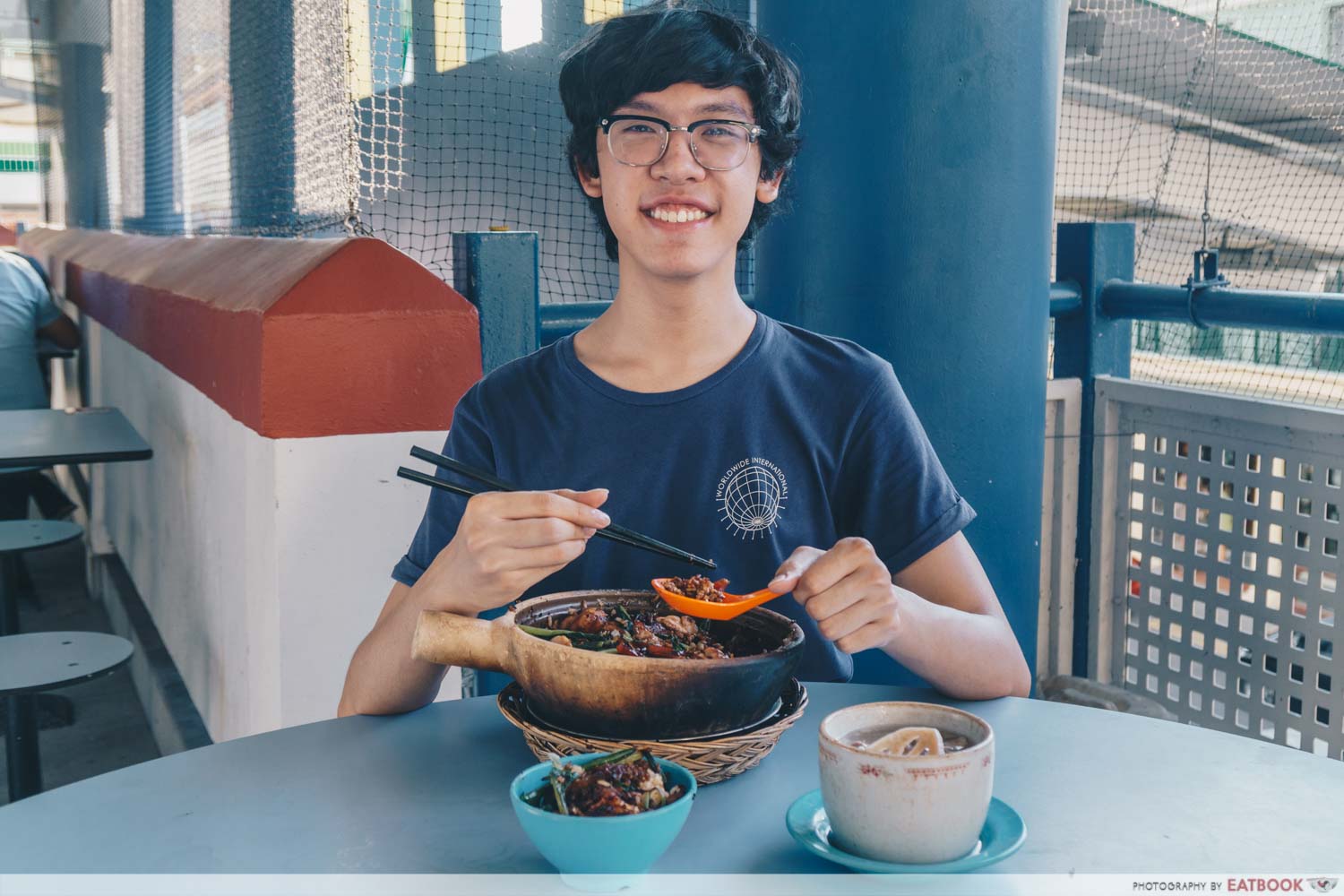 For its taste and quality, Lian He Ben Ji is well worth the price. Plenty of diners might not agree with the waiting times, but that doesn't stop the regular customers from forming huge queues every day.
 Even though we came at 4pm, before the official opening hours, the sisters were already hard at work, and the queue was getting longer and longer by the minute. By the time our food came, the tables in front of the stall were packed to the brim with customers, eagerly awaiting their orders to be done.
Lian He Ben Ji only opens at dinnertime. If you're somehow still hungry after eating one of these huge claypot bowls, check out our list of 10 late-night supper places in the East! Be sure to also check out our top 10 restaurants of 2019!
10 Best Restaurants In Singapore Serving Unagi Bowls, A5 Wagyu Fried Rice And More – Eatbook Top 50 Awards 2019
Address: 335 Smith Street, #02-197/198, Chinatown Complex, Singapore 050335
Opening hours: Daily 4:30pm to 10pm
Tel: 6227 2470
Photos taken by Huang Xiao.
This is an independent review by Eatbook.sg.
Lian He Ben Ji Claypot Rice Review: Legit Claypot Rice At Chinatown With 40-Minute Queues
Summary
Pros
– Tender and flavourful meat
– Large portion size

Cons
– Very long queues and waiting times
– Lots of sharp chicken bones in the rice
Recommended dishes: Mixed Rice ($12), Lotus Root Pork Rib Soup ($2.50)
Opening hours: Daily 4:30pm to 10pm
Address: 335 Smith Street, #02-197/198, Chinatown Complex, Singapore 050335