Visit Kazu Kazu for donburi at Paya Lebar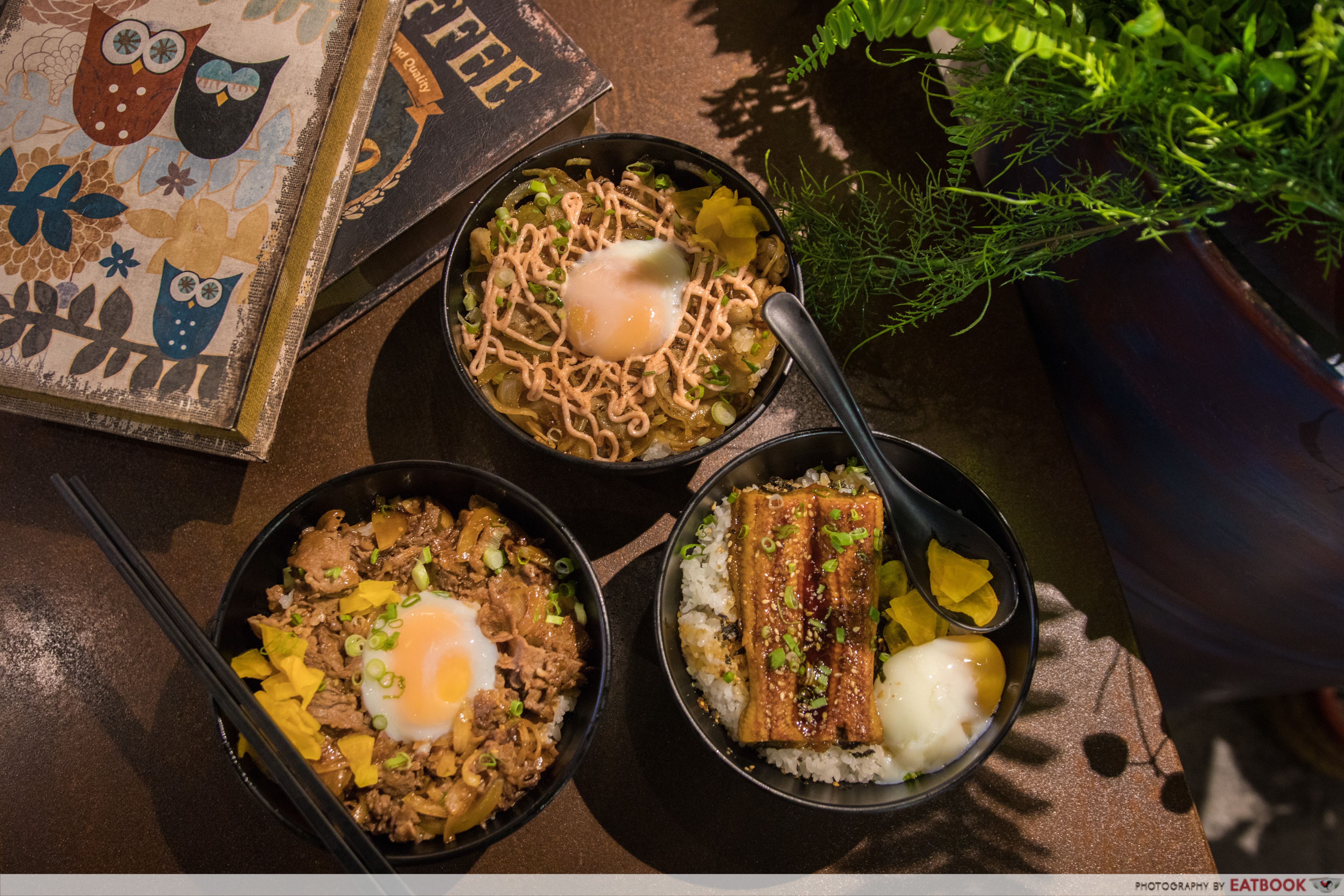 Hipster food courts have been popping up everywhere to help up your Instagram game. Nosh at these trendy places usually ask a bit more of your wallet than typical food courts do, but less than what restaurants would. Platform M at Paya Lebar is one such food court, and it houses 10 stalls. One of them is Kazu Kazu, which doles out about 20 choices of katsudon and oyakodon. Expect classic choices such as katsu curry, teriyaki, and toji (egg), but it's no surprise that their most popular is something mentaiko-related.
Food at Kazu Kazu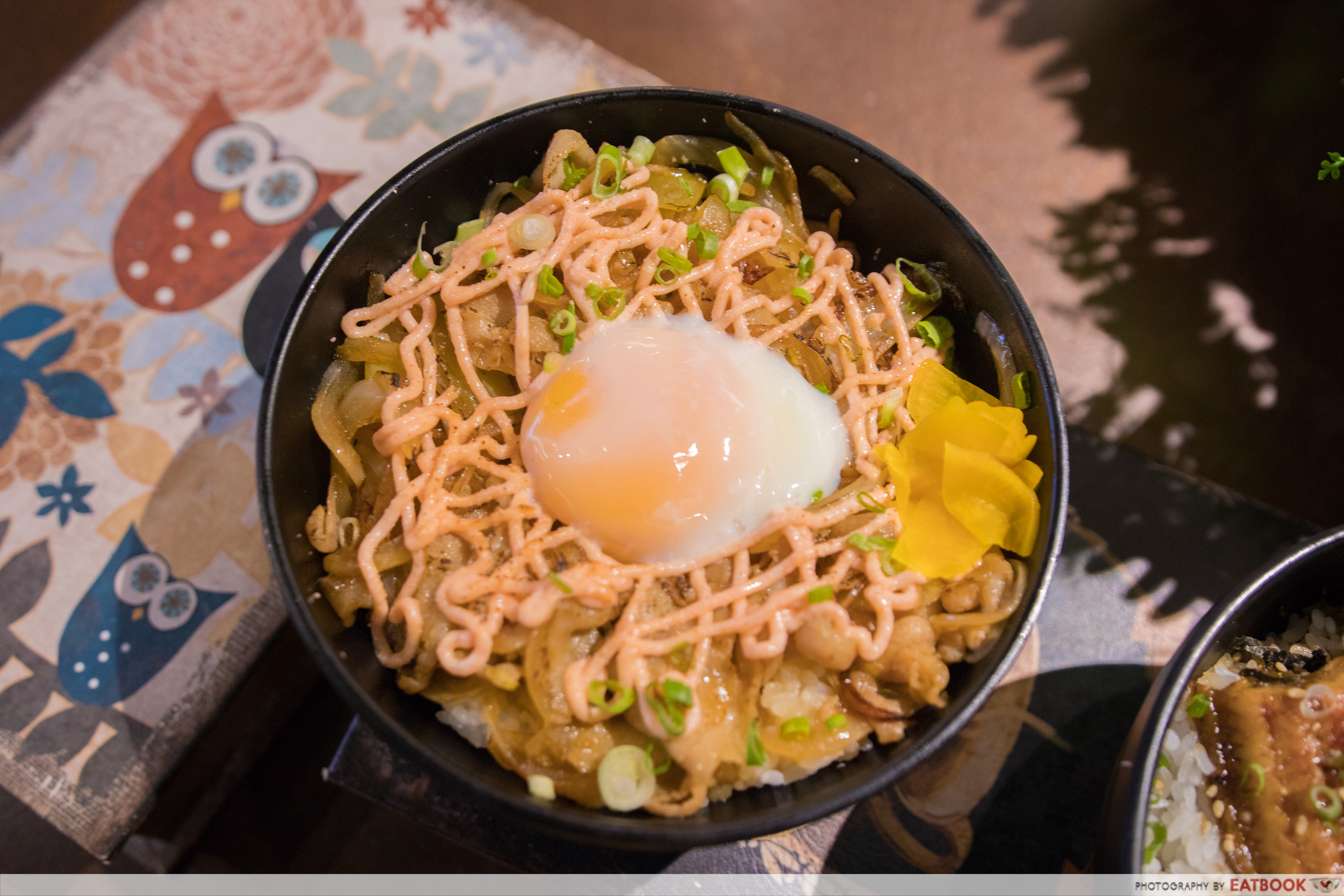 Food took about 15 minutes to arrive so thankfully, their most popular dish didn't disappoint. Their Pork Belly Mentai Mayo Don ($9.80+) came with sauteed pork belly slices and onions on a bed of Japanese short-grain rice. It was drizzled with mentaiko mayo that was lightly torched before the dish was garnished with spring onions, pickles, and an onsen egg.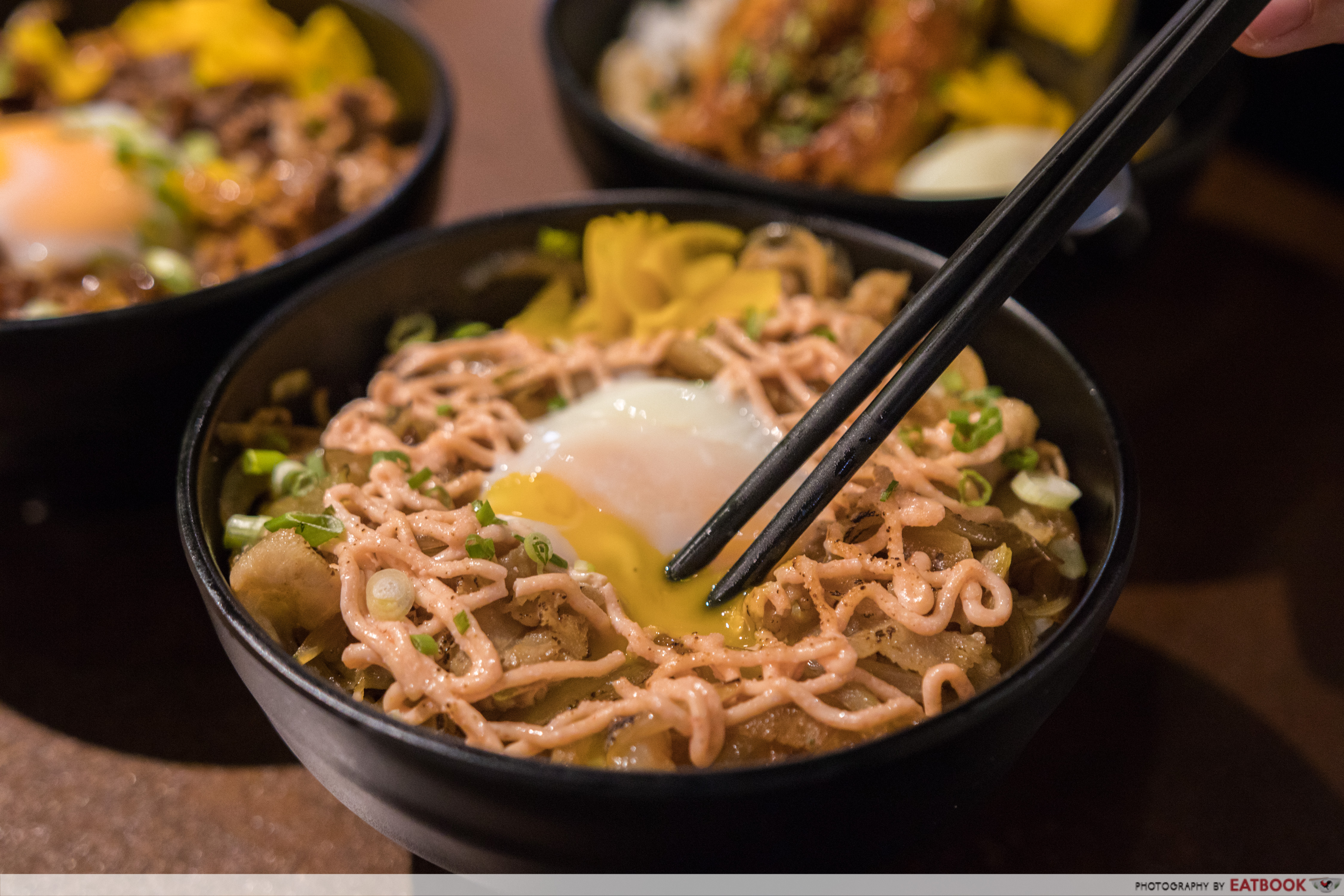 My chopsticks dived first for the jiggly yolk which was cooked to the right degree with bright yellow gooeyness flowing out.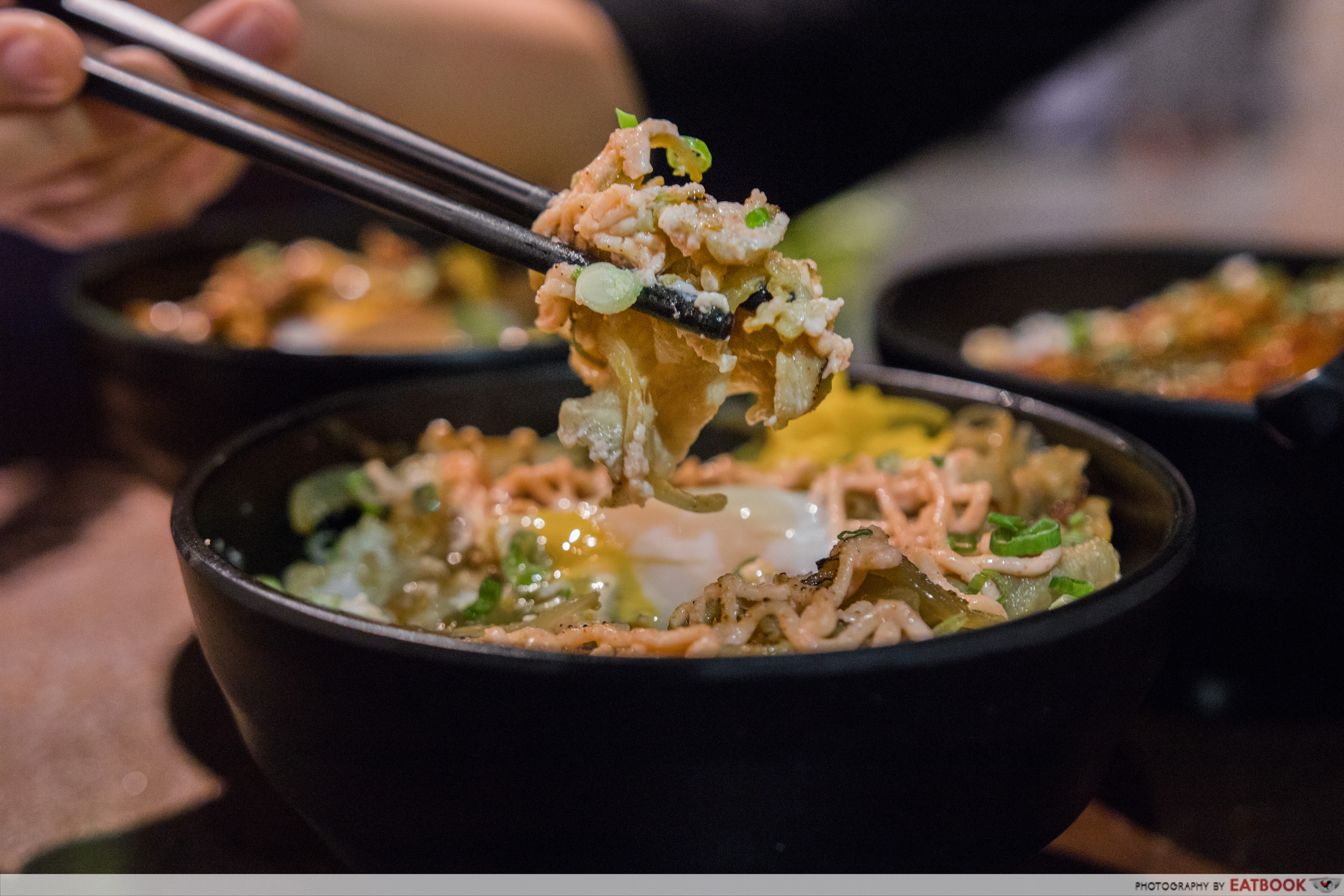 The pork slices were thin, tender, easy to chew, and covered with slightly smoky mentaiko sauce. Perhaps firing it longer would have made it even better, but with a thorough mix, the pink sauce was enough to give the plain rice underneath much flavour. The egg added thick creaminess which gave every mouthful a satisfyingly moist texture.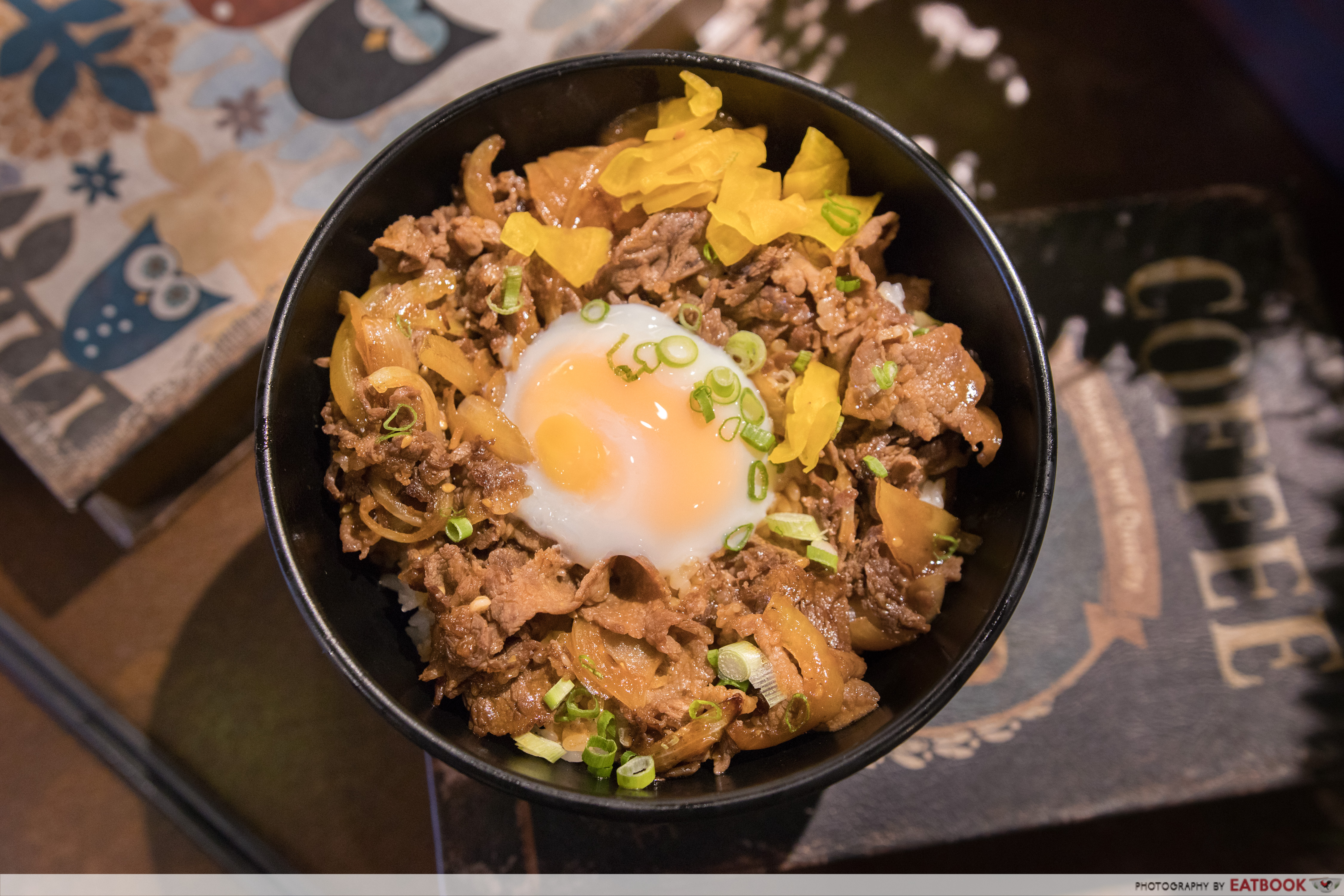 Their Yakiniku Don ($8.80+) came with a blanket of beef slices and the same toppings sans mentai sauce.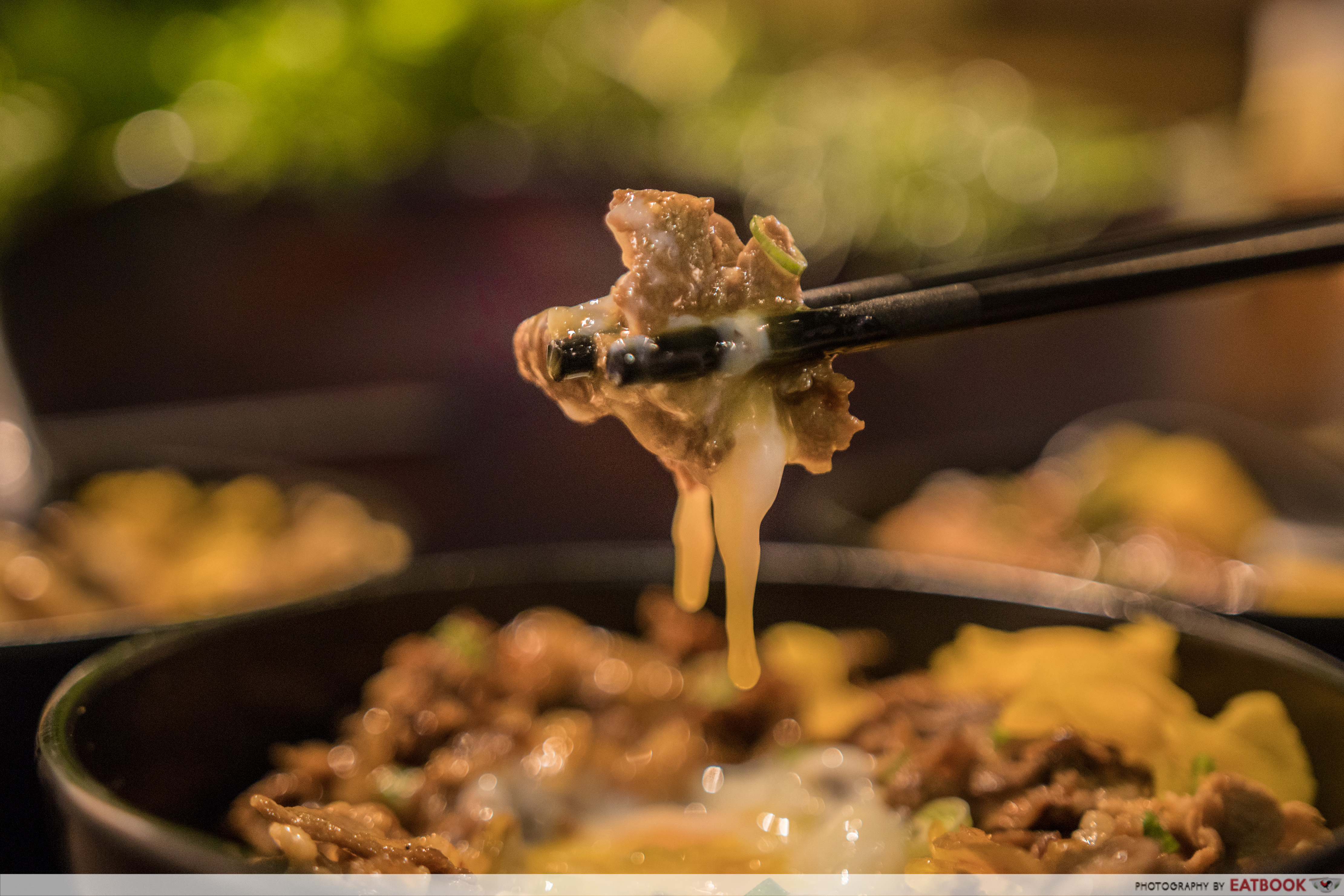 The beef was slightly dry and tough, and it was thicker than the pork in the previous dish. It was also too chewy for my liking. The yolk helped moisten it, but it couldn't outshine the pork. There was enough meat to pair with the rice, but the dish in general could have been doused with more sauce.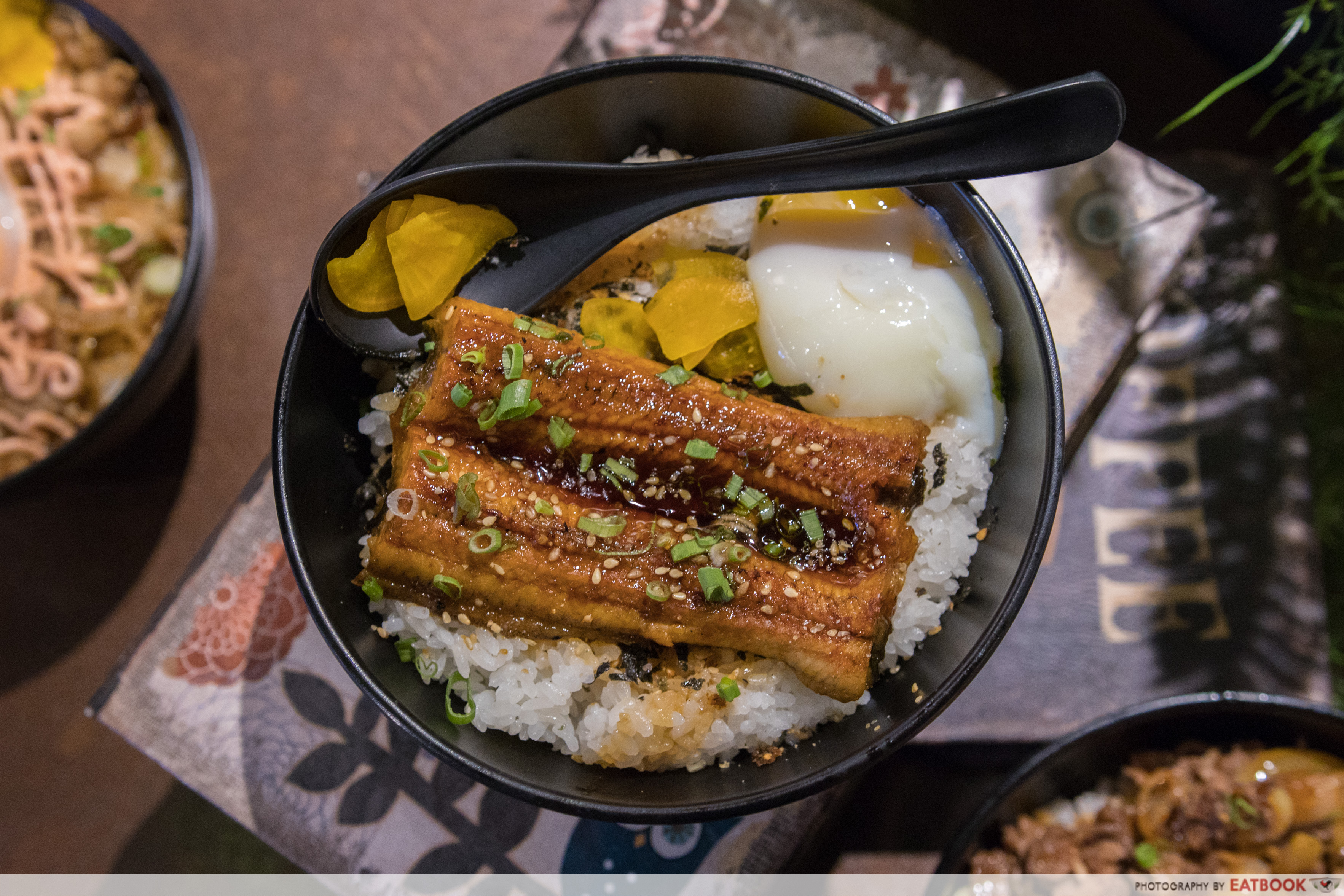 Unagi Don ($13.80+) was the most simple-looking, with a slab of eel as wide as the bowl presented on plain rice with an onsen egg, pickles, sesame seeds, and spring onions. Picking it up created a small river from the teriyaki sauce that pooled in its middle.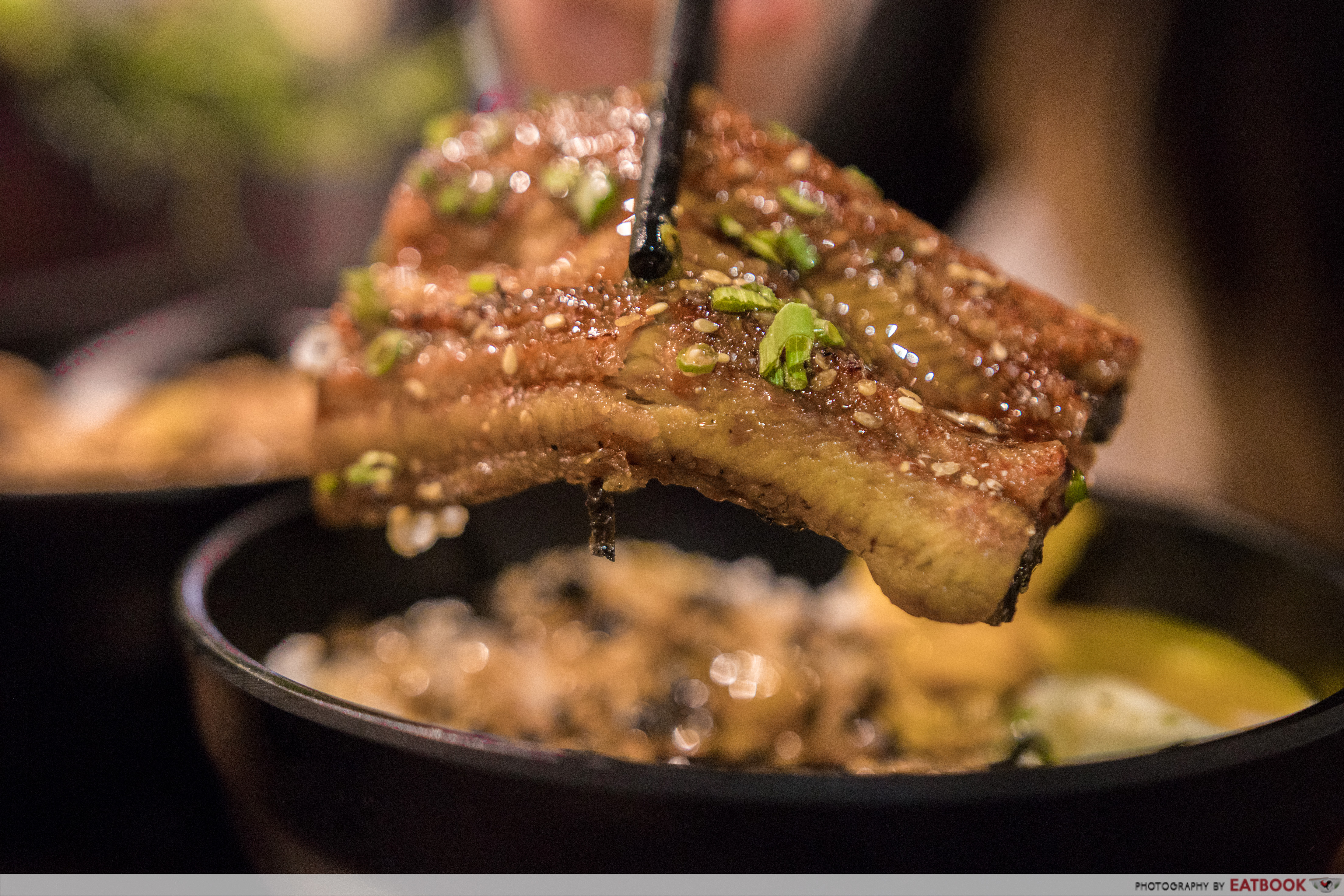 Biting into its flesh disappointed me slightly as it wasn't richly marinated enough for the eel's flavour to shine. It could've been grilled longer to give its uniformly soft texture a crusty surface too. The rice could've easily fared better with more sauce as it was plain and rather unpalatable.
Ambience at Kazu Kazu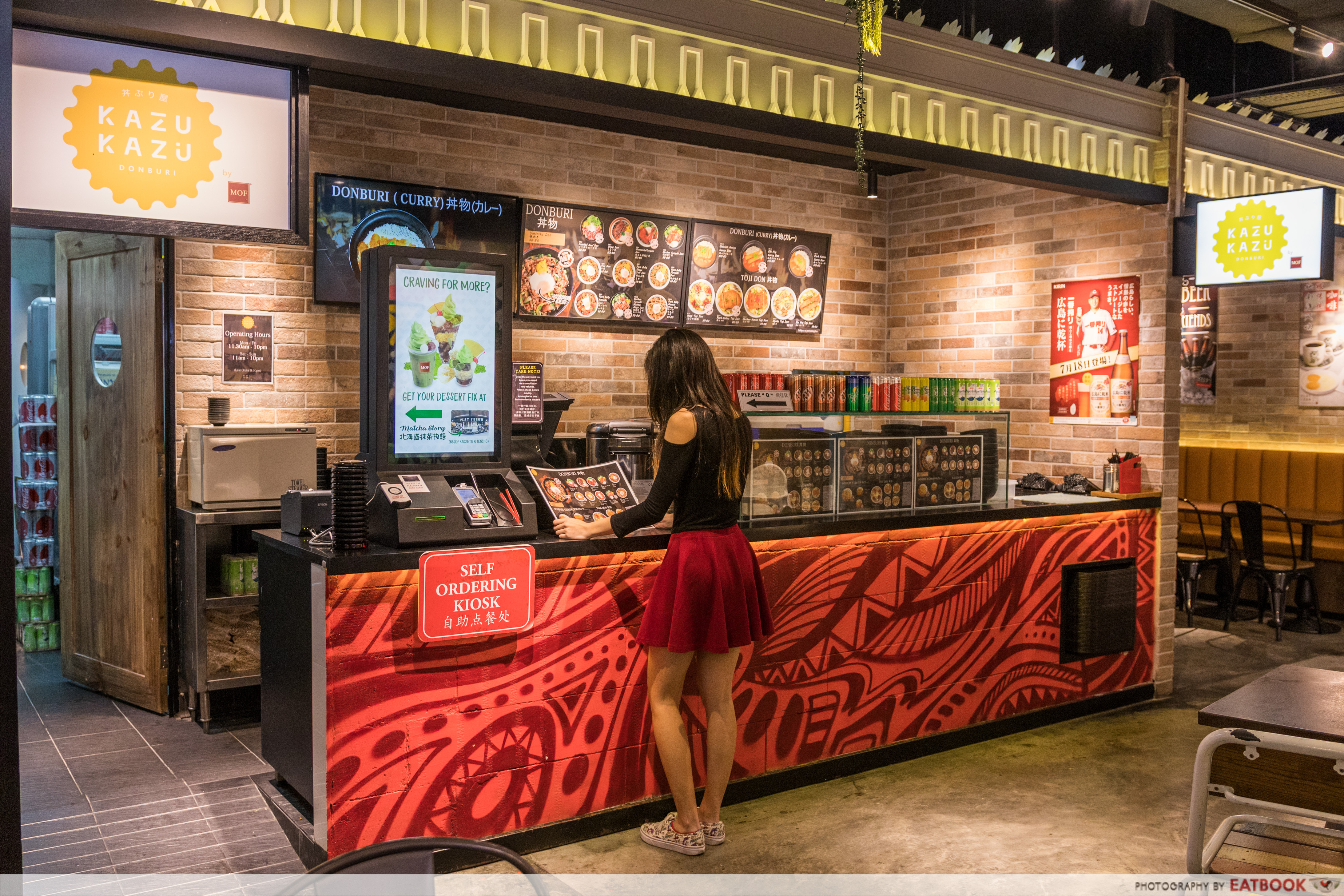 Kazu Kazu is convenient to get to from Paya Lebar MRT Station, and it's situated on the second floor of SingPost Centre. Lunch wasn't as frenetic as we thought it would be when we were there on a Monday at noon, with plenty of empty seats available. Orders are made exclusively via self-ordering machines, and payment can only be made by card.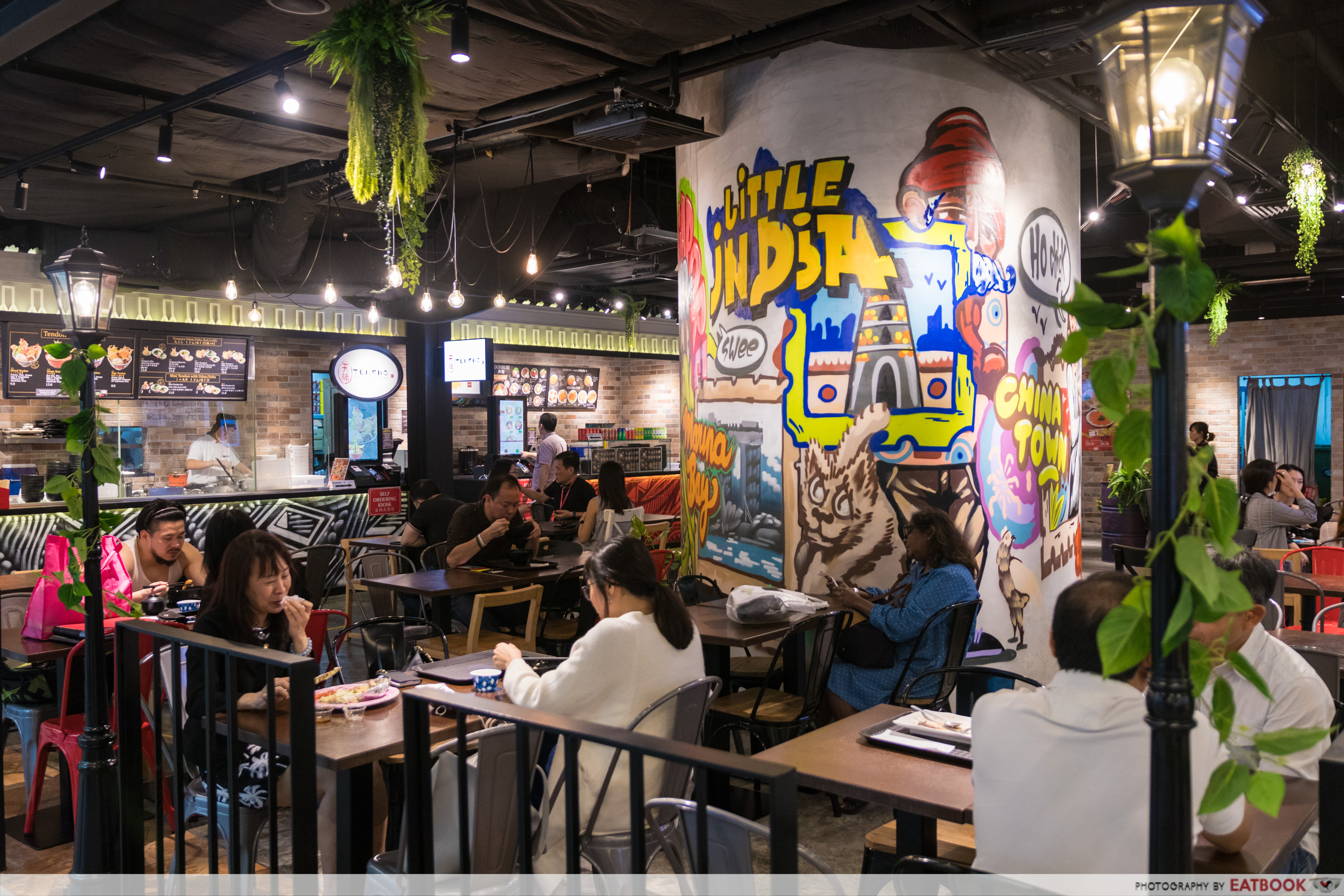 It didn't take long for people to get wind of Platform M since its launch in October 2017 and the food court was inviting with cosy vibes from the dim lighting, plus decor that mixed loud and funky art with greenery. The slightly hushed atmosphere removed me from the commercial space of the shopping mall and I quickly settled into my lunch.
The verdict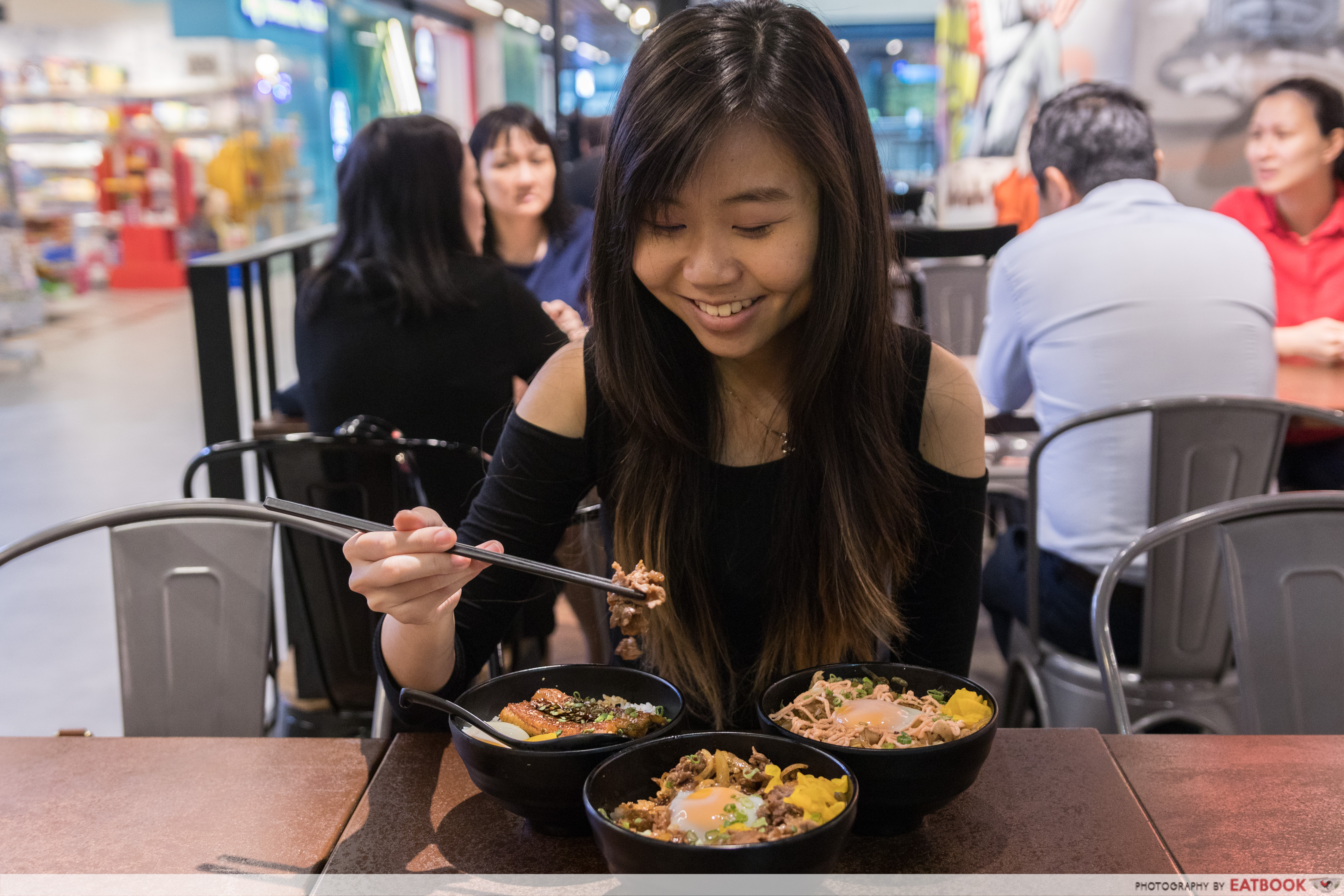 With donburi still trending, I've had my share of this dish at both hawker stalls and restaurants. The two bowls we tried here that missed the mark need some work to draw a return crowd but, at the moment, sticking to their Pork Belly Mentai Mayo Don is enough for me to have a satisfying meal with a cosy ambience to boot. For more delicious donburi, check out these affordable donburi places or these hawker beef donburi stalls!
Address: 10 Eunos Road 8, #02-138/139/140/141/142, Platform M by MOF, SingPost Centre, Singapore 408600
Opening hours: Daily 11am to 10pm
Tel: 6747 3585
This is an independent review by Eatbook.sg
Summary
Pros
– Convenient location
– Cosy ambience
Cons
– Dishes need more donburi sauce
– Long waiting time after ordering
– Only card payment accepted
Recommended Dishes: Pork belly mentai mayo don ($9.80+)
Operating Hours:
Daily 11am to 10pm
Address: 10 Eunos Road 8, #02-138/139/140/141/142, Platform M by MOF, SingPost Centre, Singapore 408600