Fatty Ox HK Kitchen in Chinatown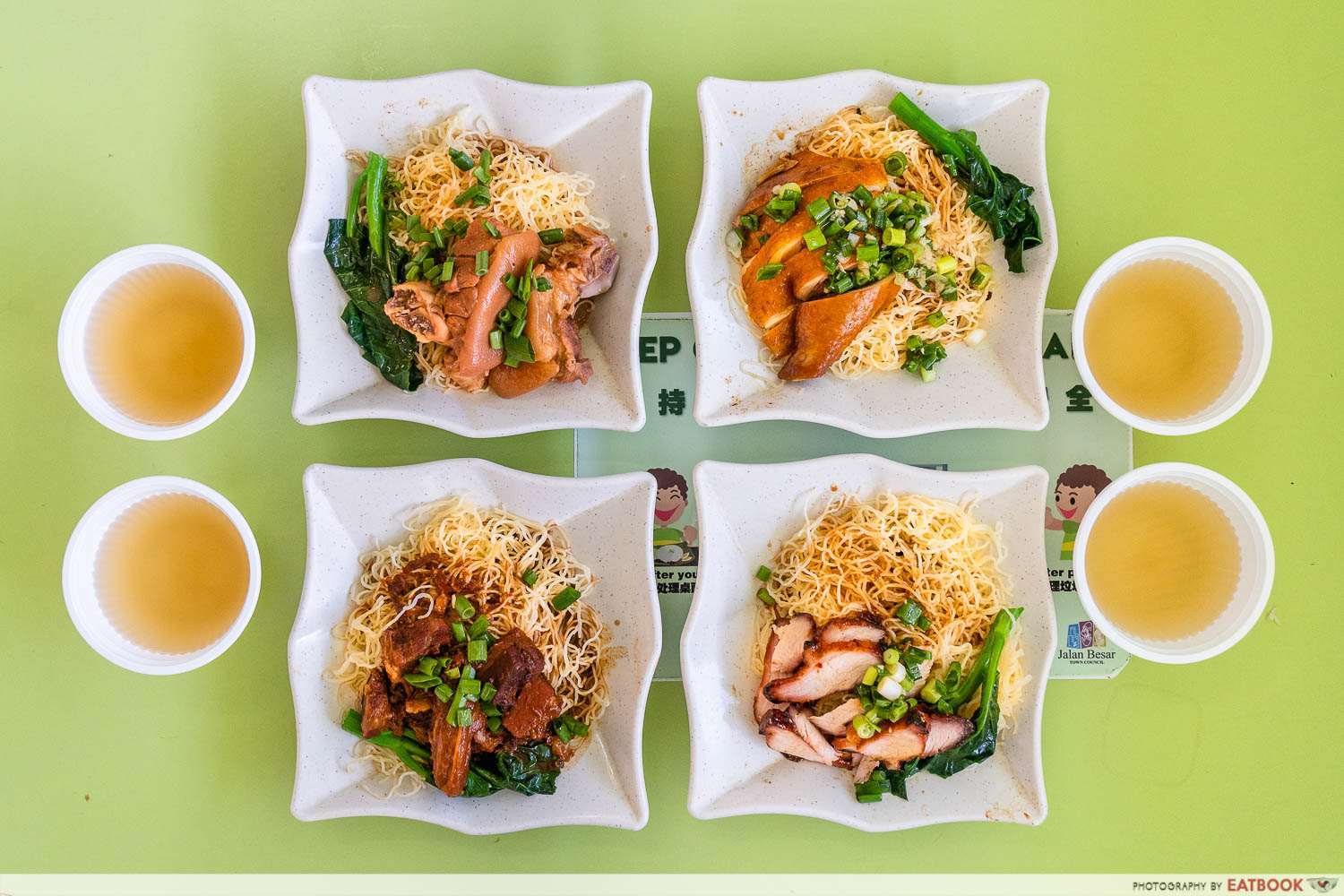 After I tried Chef Kin HK Wanton Noodle in Yishun, my colleague and I stumbled upon another eatery offering beef brisket noodles. Fatty Ox HK Kitchen is a hawker stall that was recently recommended by the Michelin Guide. Intrigued, we headed down to Chinatown Food Complex to try the dishes for ourselves and see if it's worth the hype!
Food at Fatty Ox HK Kitchen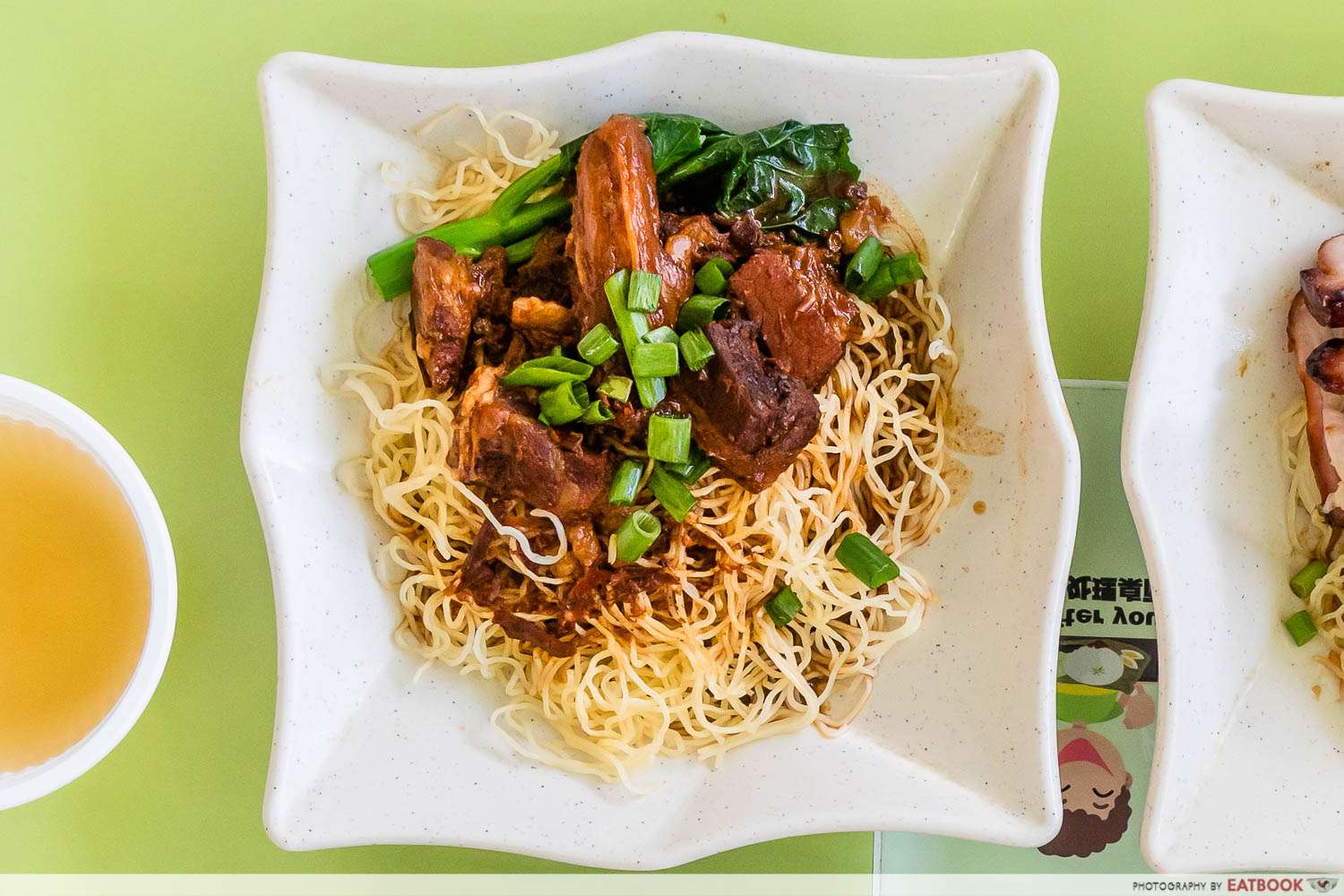 Upon reaching the stall, we were greeted with an array of traditional shophouses. The stall is situated near an obscure corner of the hawker centre with little crowd, which made the space breezy. We ordered the highly recommended Beef Brisket Noodle ($4). The dish may look underwhelming due to its simple plating, but as you mix the noodles, a moreish sauce reveals itself to coat the entire dish.
Chef Kin HK Wanton Noodle Review: Ex-Crystal Jade Chef Sells Noodles Made From Duck Eggs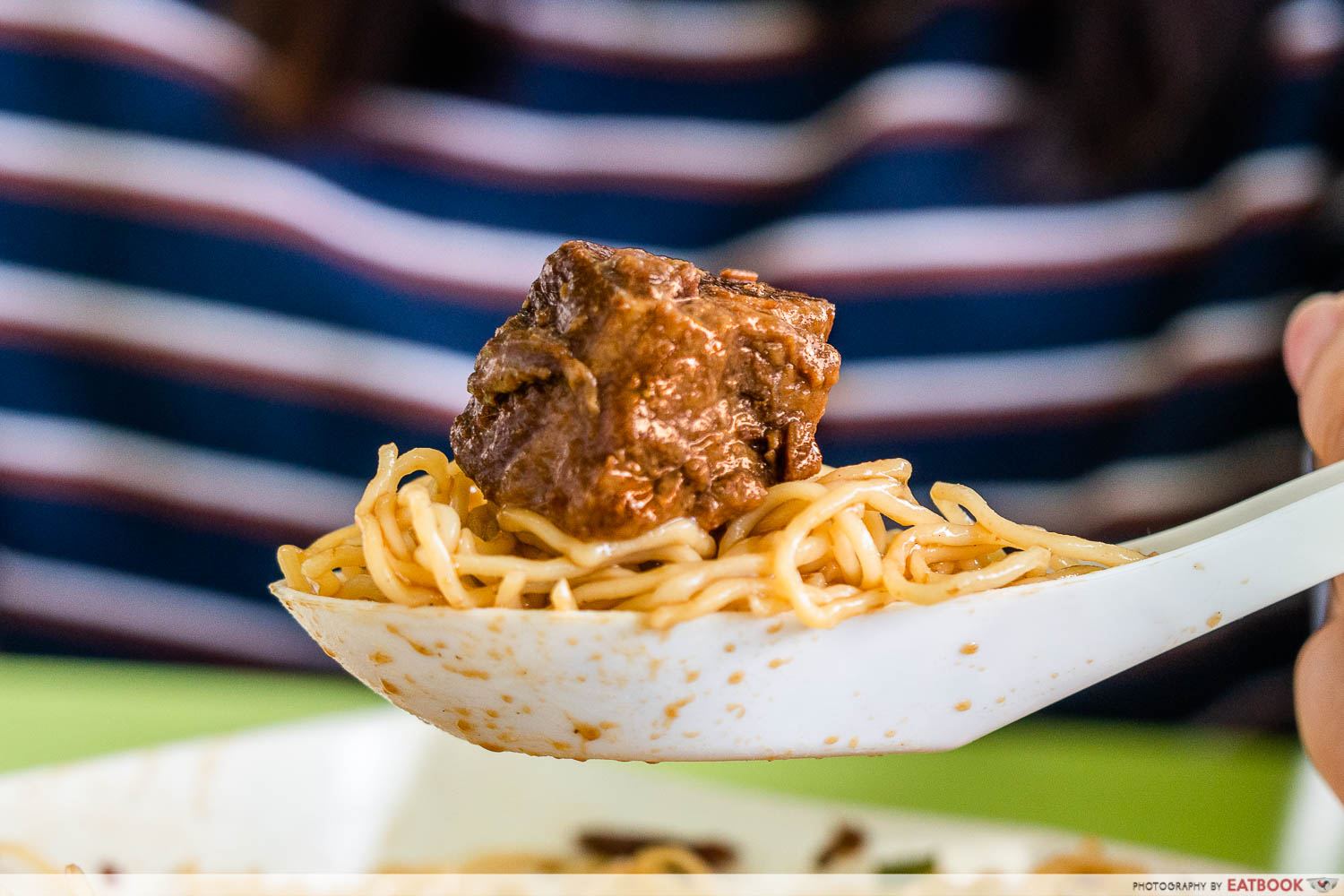 The springy egg noodles did not have a strong alkaline taste, and every bite was well-coated with the sauce. The dish came with generous chunks of beef brisket, which were a little more tender than I expected. Do note that the dish overall has a strong herbal taste, so it may not be for everyone. I would suggest adding a good amount of green chilli to give a punch of acidity!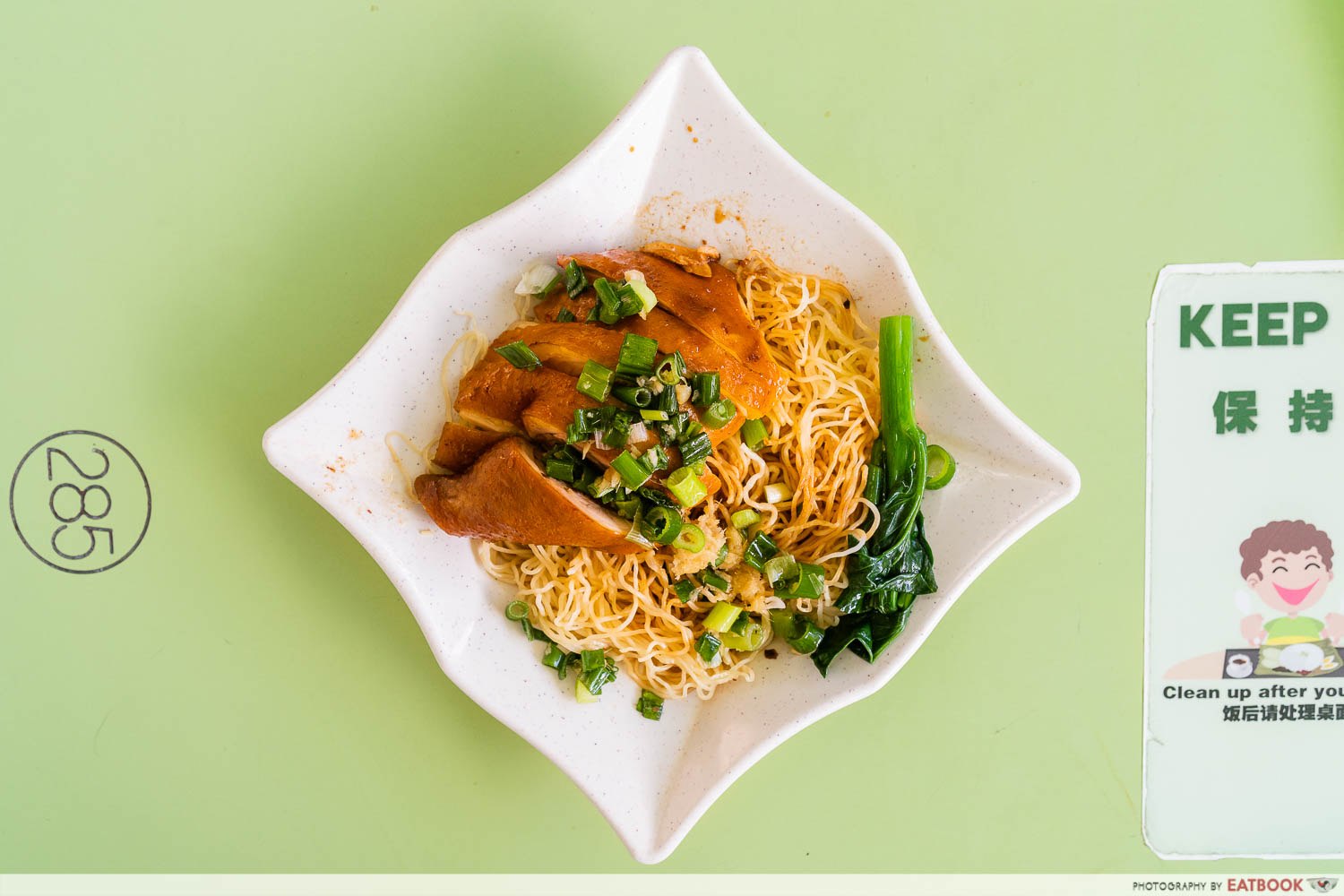 We also ordered another popular dish, the Soy Sauce Chicken Noodle ($4). The chicken was tender and succulent, and I could taste the oyster sauce and soy sauce marinade. The downside is that the meat had a slightly gamey taste, which I'm not a fan of.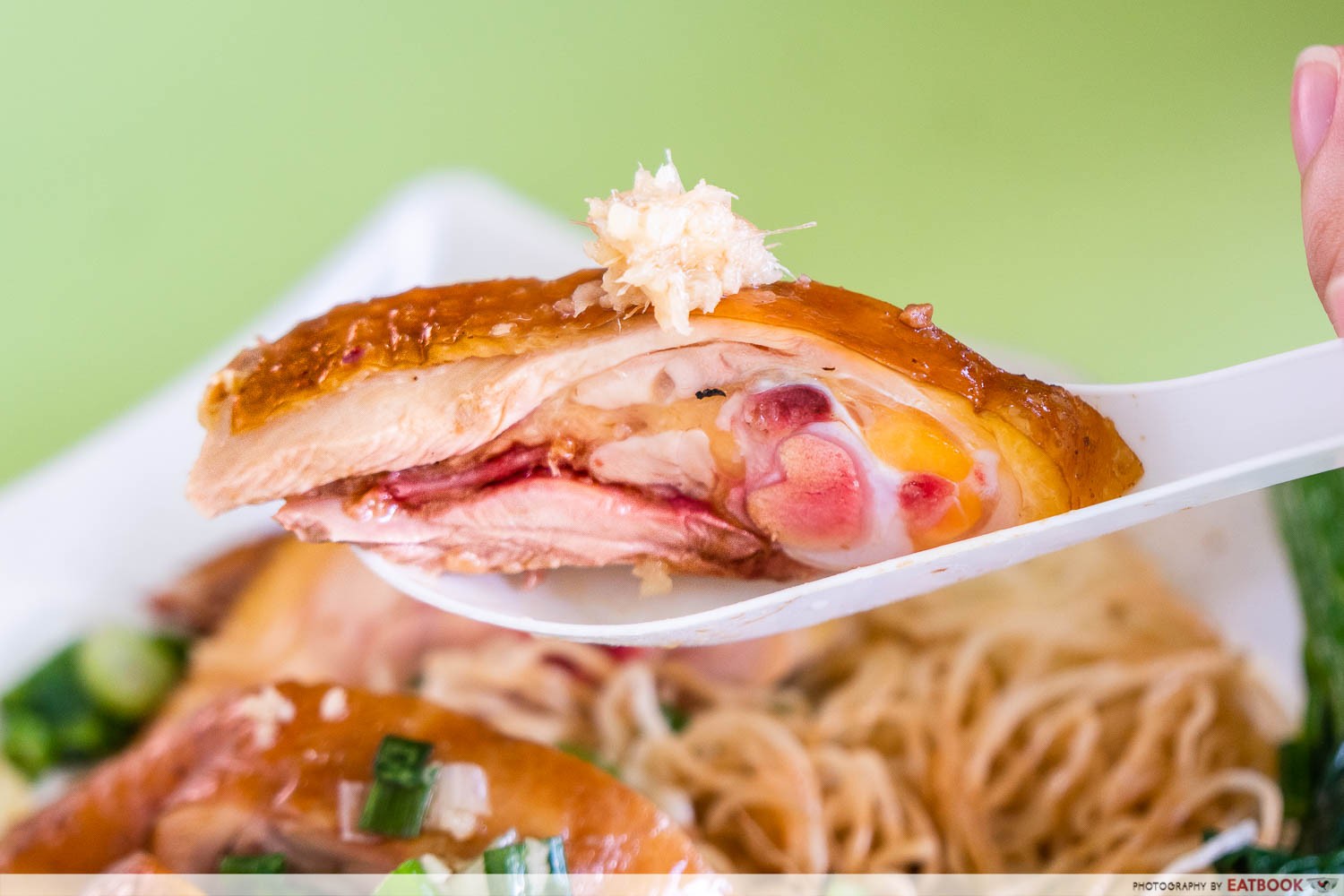 I would say that as compared to Liao Fan Hawker Chan's version of the soy sauce chicken, this dish seems to pale in comparison. Nonetheless, it's a great option if you're in the mood for this classic hawker dish.
13 Soya Sauce Chicken Rice Stalls For When Hawker Chan's Queue Is Too Long
I also ordered the Pork Knuckles Noodle ($4). It was something I'd never tried before, and so I thought it was worth a try.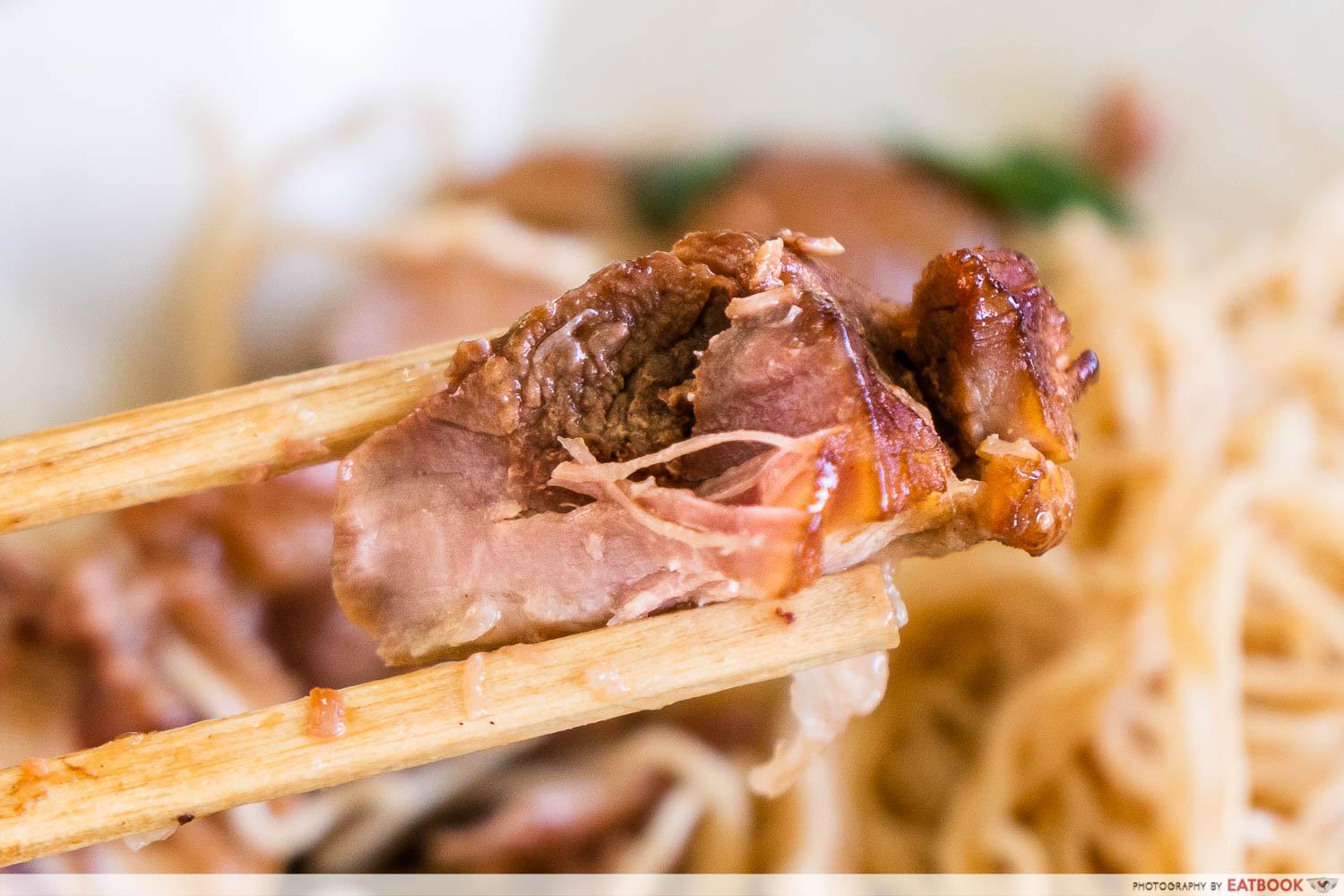 The pork knuckle had a melt-in-the-mouth texture, and the skin was plesantly chewy. The braising sauce on the pork knuckle paired perfectly with the egg noodles. It had a good fat-to-meat ratio; the fat layer seeped into the marinade, making it rich and flavourful.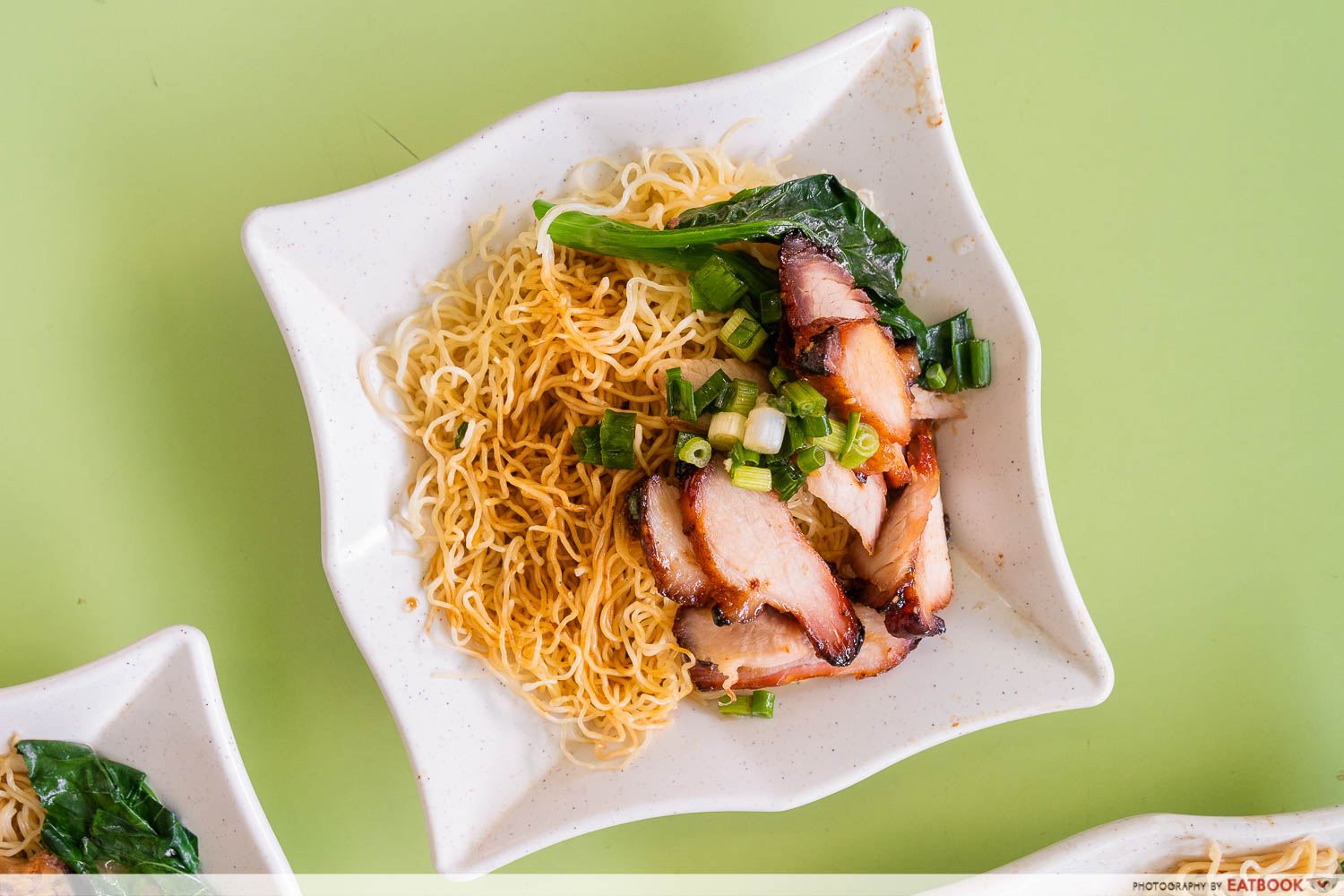 My bar for char siew noodles is now extra high thanks to my experience at Incredible Roast Meat, so I wanted to see how their version stacked up. The Char Siew Noodles ($4) came with generous servings of char siew, alongside the egg noodles and vegetables.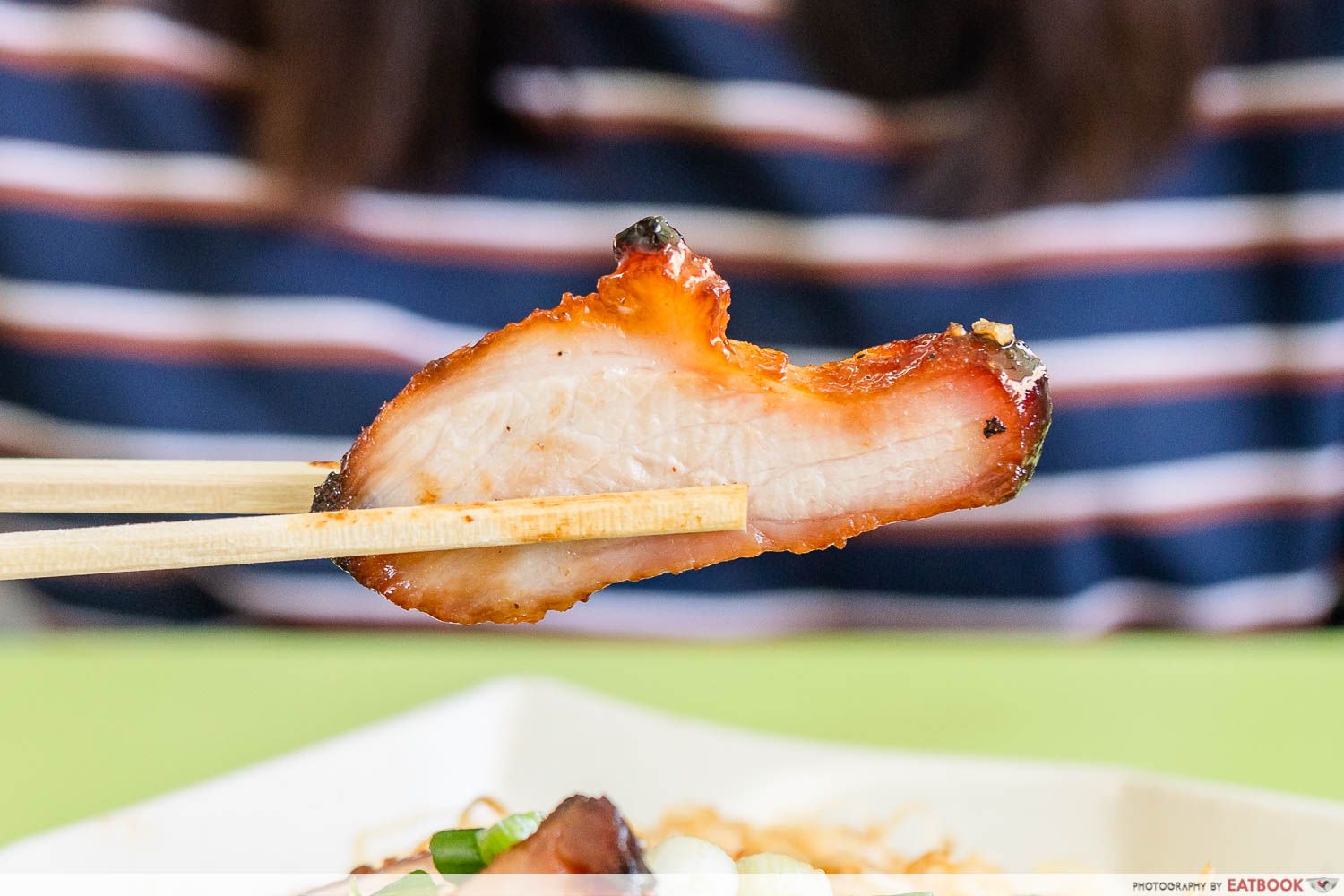 I was pleasantly surprised with the char siew as it was not overly sweet and had the right amount of fattiness without being too greasy. The skin was crisp, contrasting the juicy, sweet pork meat, meshing well with the QQ noodles.
Meng Meng Roasted Duck From Johor Bahru To Open In Singapore
Ambience at Fatty Ox HK Kitchen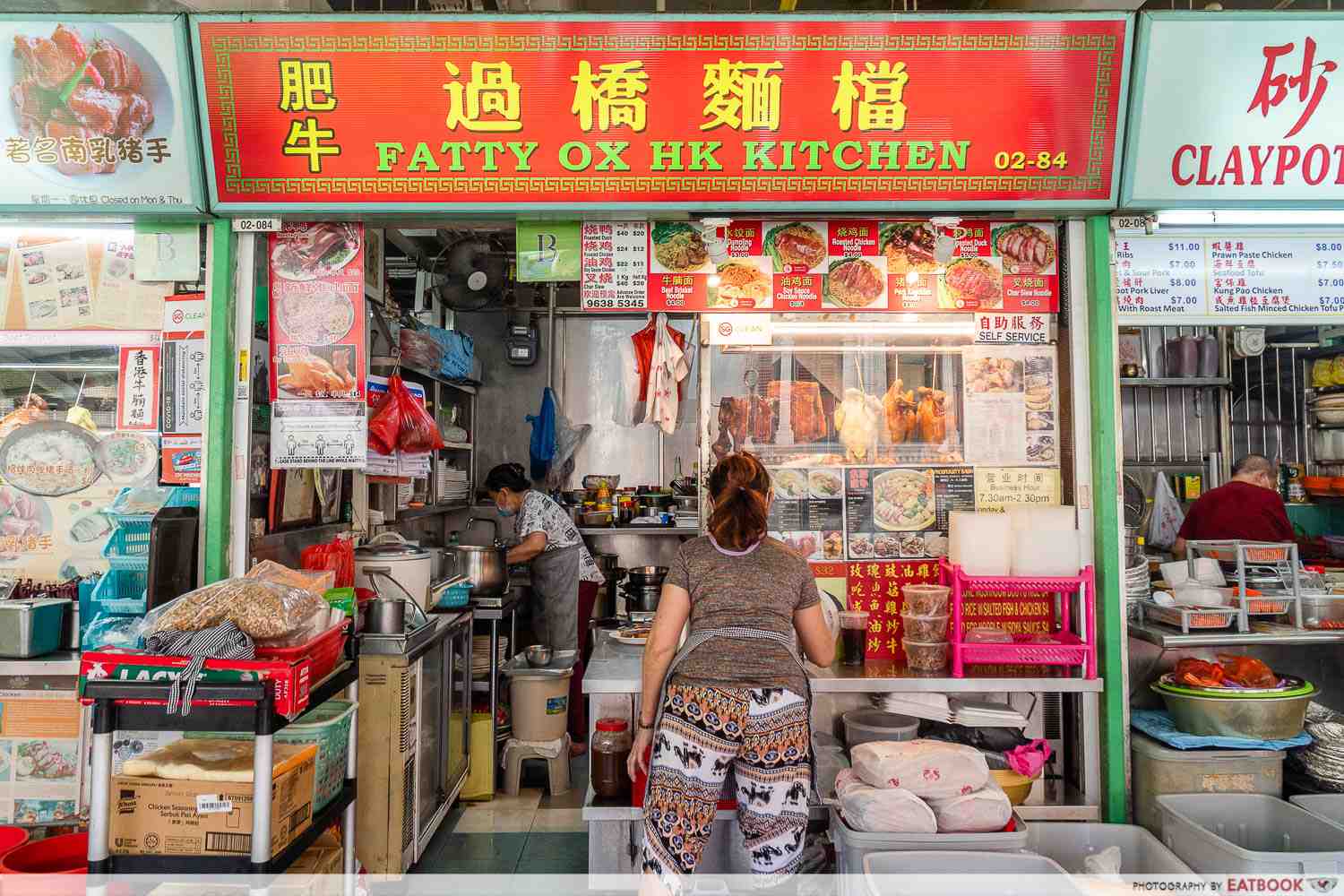 From Chinatown MRT Station, it takes about three to five minutes by foot to reach Chinatown Food Complex. Fatty Ox HK Kitchen is located on the second level of the complex. Luckily for us, the stall was in a discreet location, so there were plenty of seats available.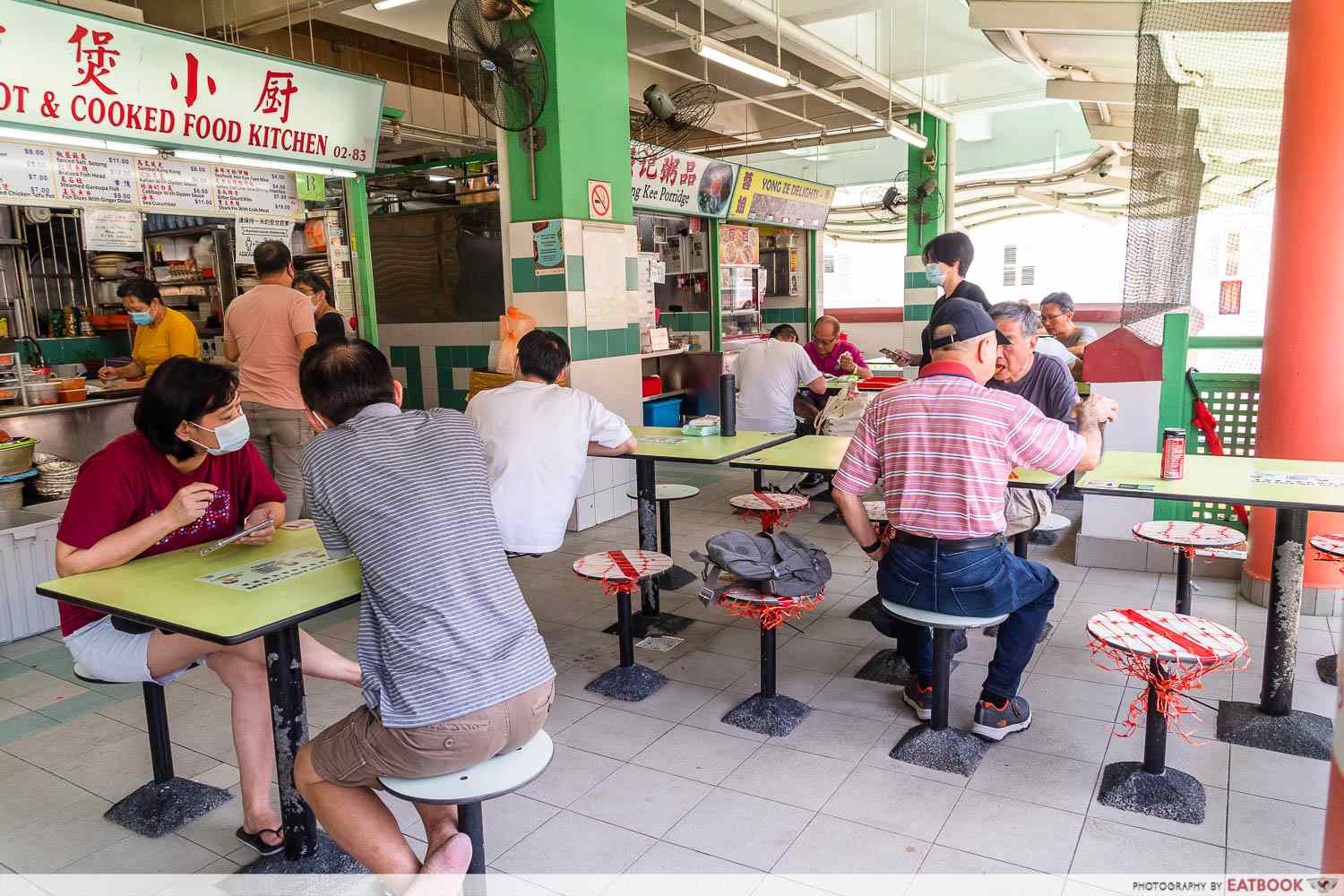 There wasn't much of a crowd when we arrived, but to be fair, we were there pretty early. It's also said that they sell out by noon. So, my suggestion is to come before the peak hour to avoid the lunch crowd.
The verdict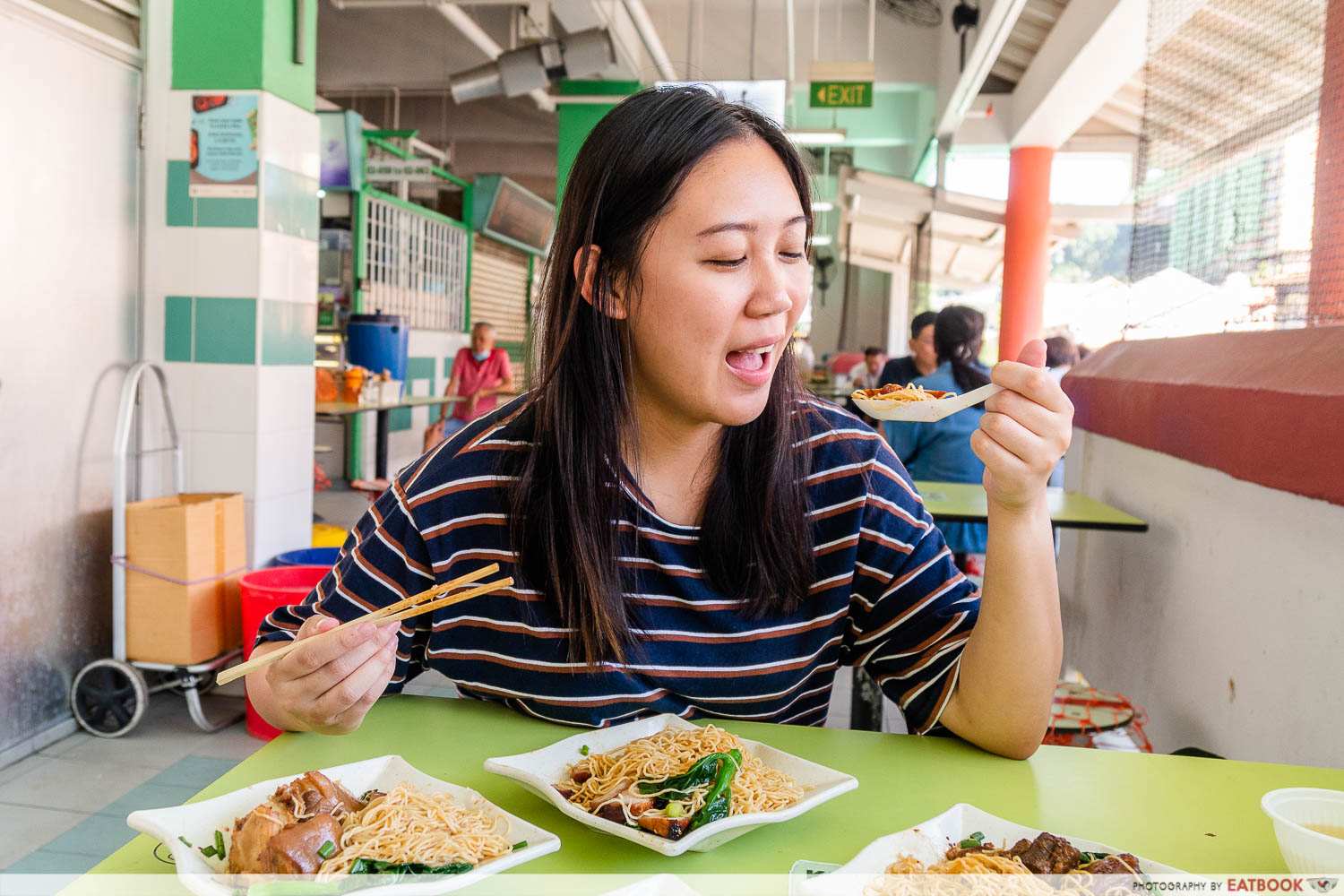 As much as I'd enjoyed most of the dishes, I wouldn't go as far as to say that I would take the time to travel down to Chinatown just for their roasted meat. However, if I'm around the area and craving some good ol' beef brisket noodles, I would definitely drop by again. 
For recommendations around Chinatown, check out our Heng Ji Chicken Rice review for chicken rice with over 40 years of history. Alternatively, read our Lian He Ben Ji Claypot Rice review for another Michelin-approved recommendation.
Address: 335 Smith Street, #02-84, Chinatown Food Complex, Singapore 050335
Opening hours: Wed-Sun 7:30am to 2:30pm
Tel: 9638 5345
Website
Heng Ji Chicken Rice Review: Underrated Chicken Rice Stall With Over 40 Years Of History At Chinatown
Photos taken by Tan Zi Hui
This is an independent review by Eatbook.sg
Fatty Ox HK Kitchen Review: Michelin-Approved HK-Style Beef Brisket Noodles In Chinatown
Fatty Ox HK Kitchen Review: Michelin-Approved HK-Style Beef Brisket Noodles In Chinatown -

7/10
Summary
Pros
– Affordable
– Tender meat with addictive braising sauce
Cons
– Difficult to locate the stall
– Soy sauce chicken paled in comparison to other roasted meat stalls
Recommended dishes: Beef Brisket Noodles ($4), Char Siew Noodles ($4)
Opening hours: Wed-Sun 7:30am to 2:30pm
Address: 335 Smith Street, #02-84, Chinatown Food Complex, Singapore 050335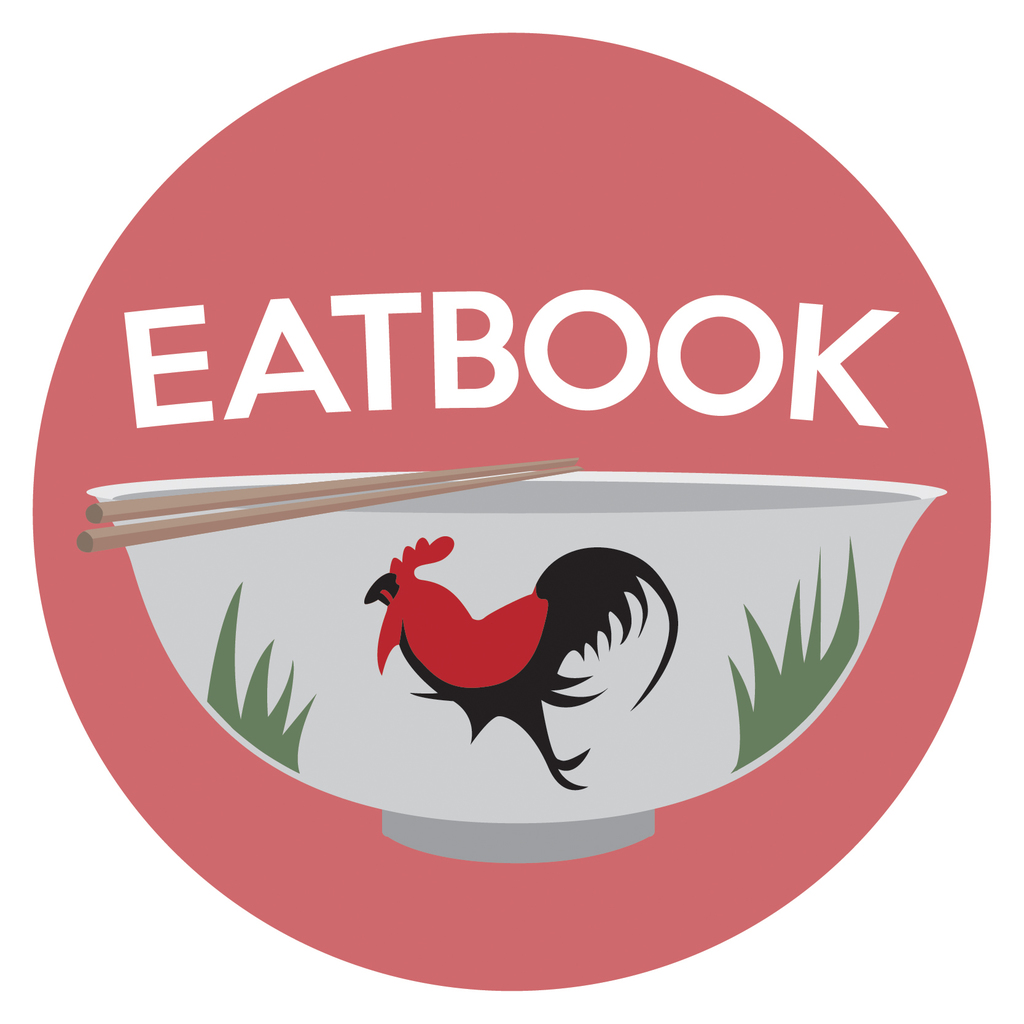 Drop us your email so you won't miss the latest news.