Incredible Roasted Meat at Lavender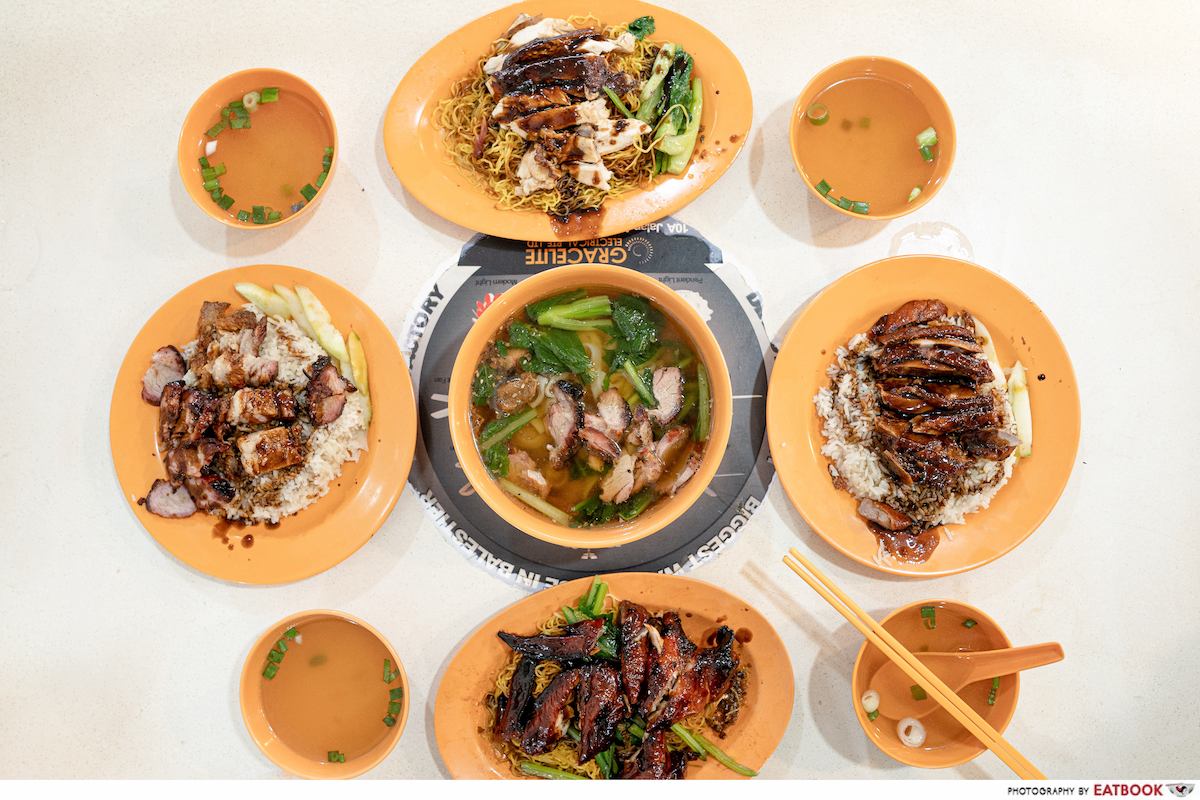 Tucked in a coffeeshop along North Bridge Road, Incredible Roasted Meat is known for their well-roasted meat, caramelised with their signature sweet char siew sauce. I'm usually not a big fan of char siew, but their roasted chicken wings piqued my interest, so I knew I had to give it a try!
Food at Incredible Roasted Meat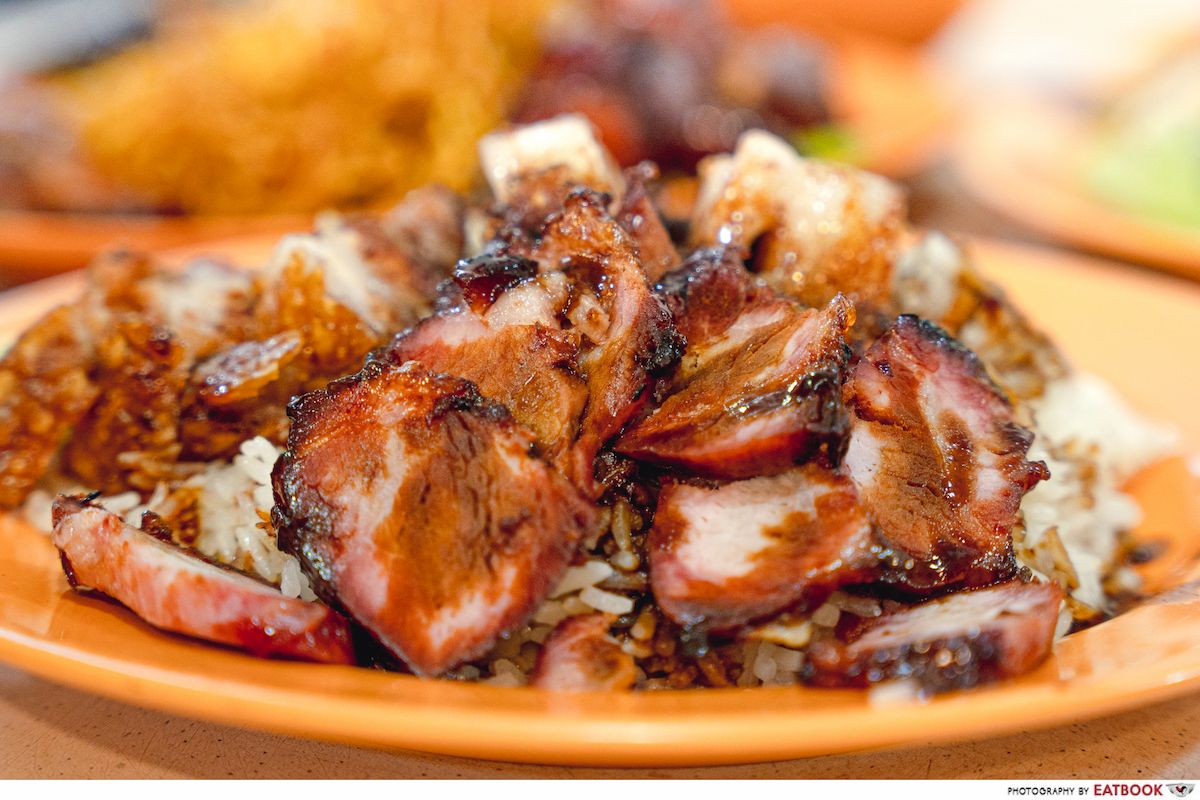 I love roasted pork belly so I knew my first dish would have to be the Char Siew Roasted Pork Rice ($4). The pork belly had a good meat-to-fat ratio, which went well with the crispy skin.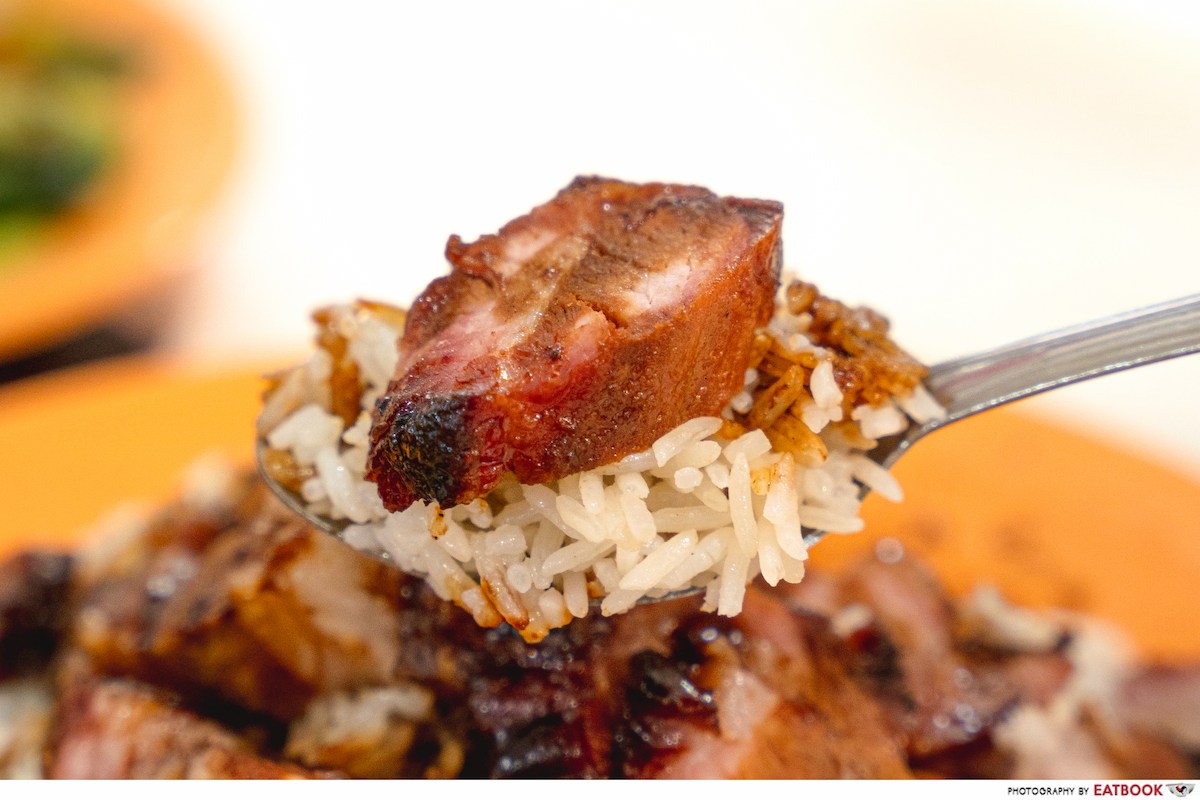 The highlight of this dish, however, was their char siew. I was a little hesitant to try it at first because of my bad experience with char siew, which tend to be too sweet for me. Thankfully, that wasn't the case with the version at this stall. The charred flavour of the char siew went well with the sweet sauce, making the overall taste more palatable and less one-dimensional.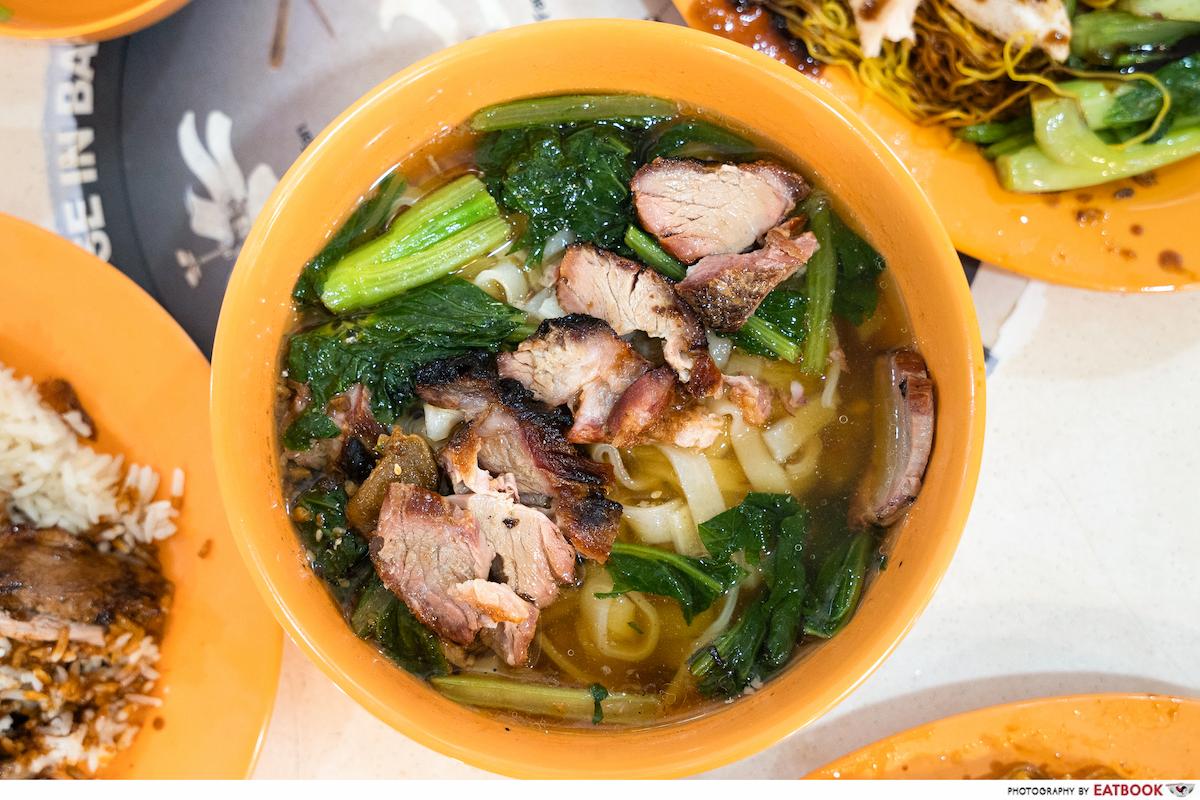 Since I was impressed with their char siew, I decided to go for the Char Siew Kway Teow Soup ($3/$4) next. Upon tasting the broth, I could detect a slight smokiness from the char siew.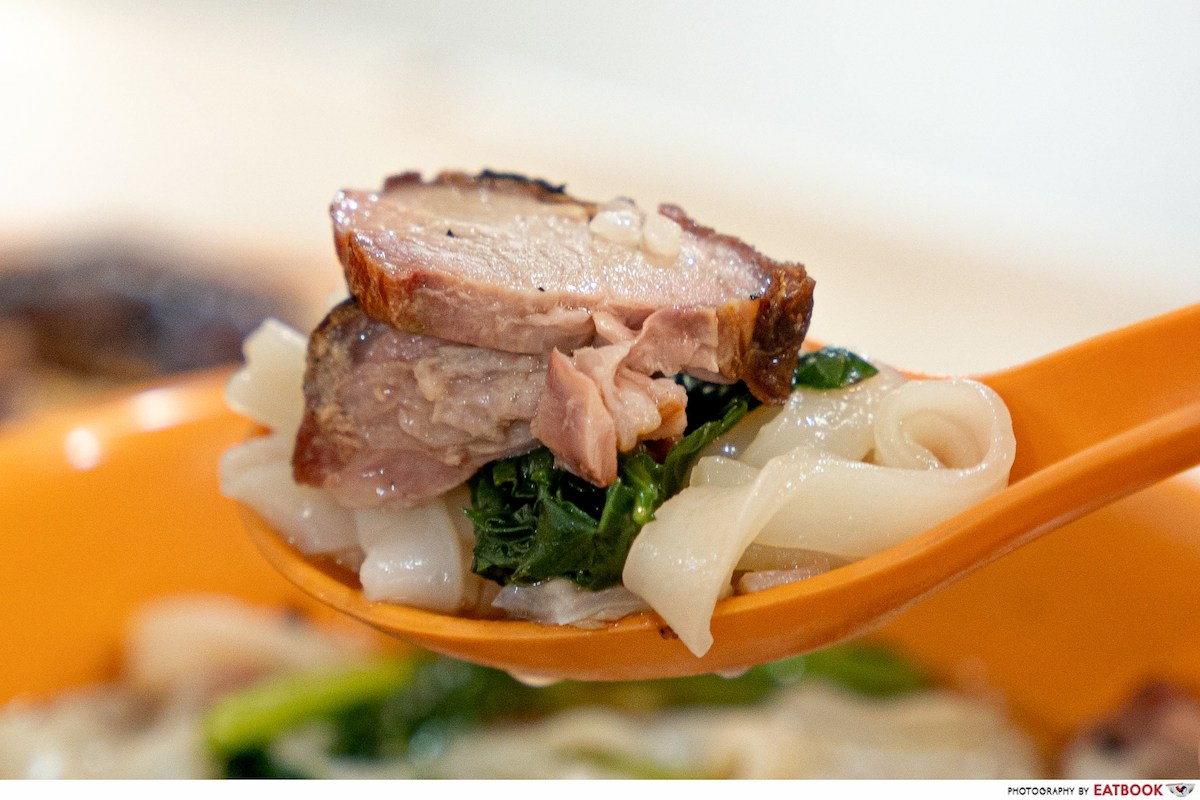 Another plus point is you get a huge portion for the price you pay. The noodles, however, weren't up to my liking as I felt that they tasted quite bland.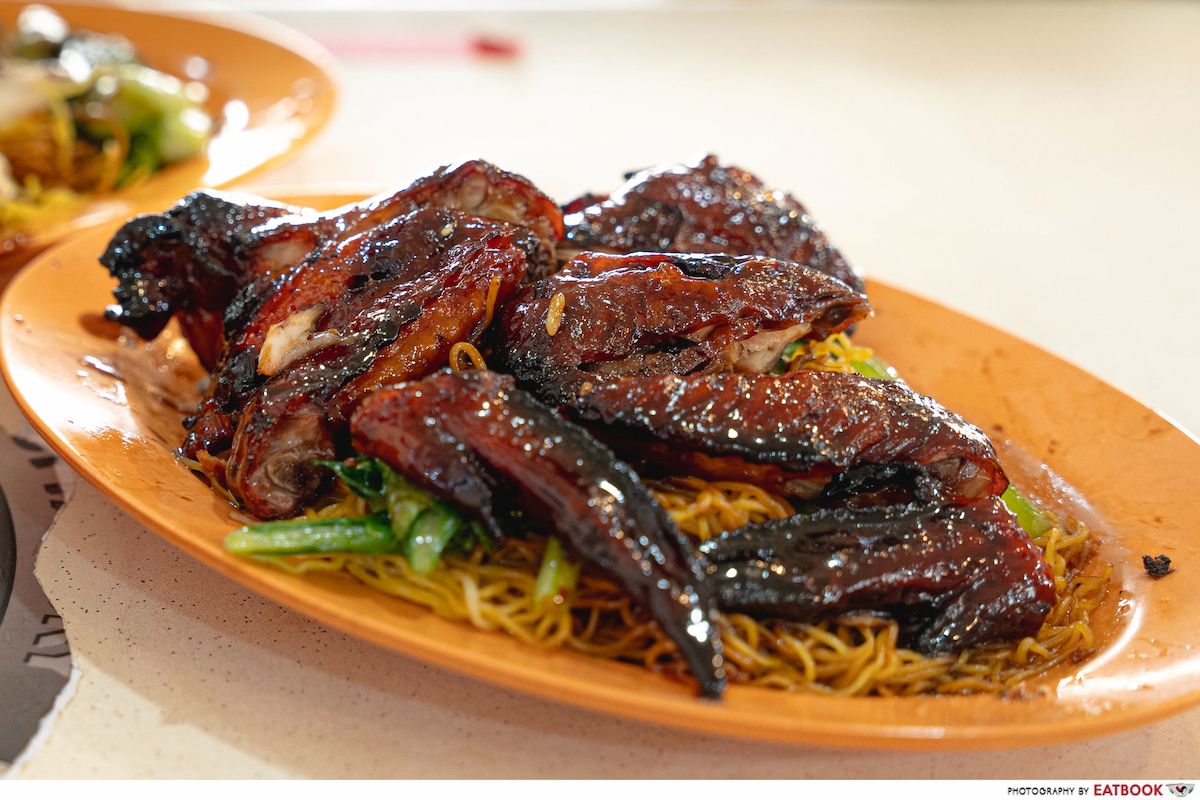 For me, the star of the show was the Chicken Wing Noodle ($4). The tender wings were braised in the stall's signature char siew sauce, giving them a lovely glistening sheen. The sticky sweet glaze gave the skin a good char and colour, too.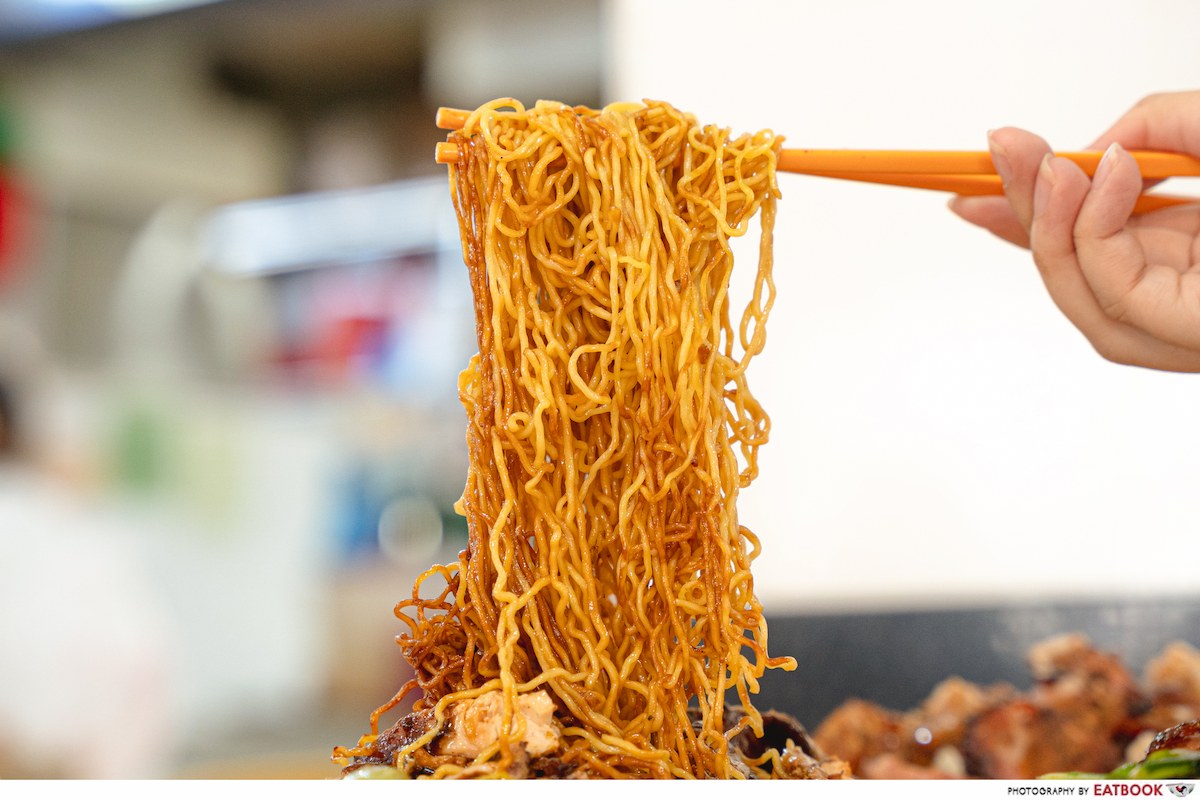 The egg noodles, also known as mee kia, were QQ and fragrant, as they were tossed in lard, AKA pork oil. The sweetness of the wings was the perfect match for the savoury noodles.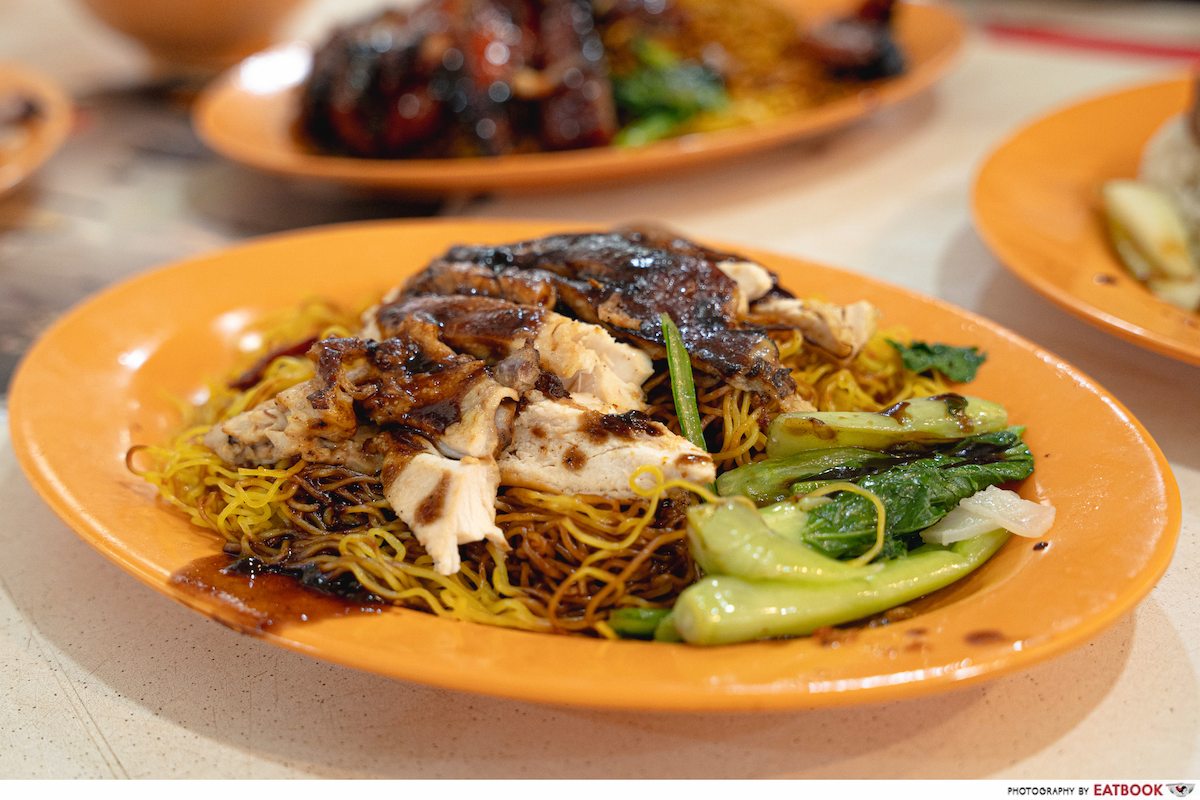 I also ordered the Oyster Sauce Chicken Noodle ($3/$4), which uses the same egg noodles as the Chicken Wing Noodle. The oyster sauce flavour wasn't significant here, as I think the noodles overpowered the taste in this dish.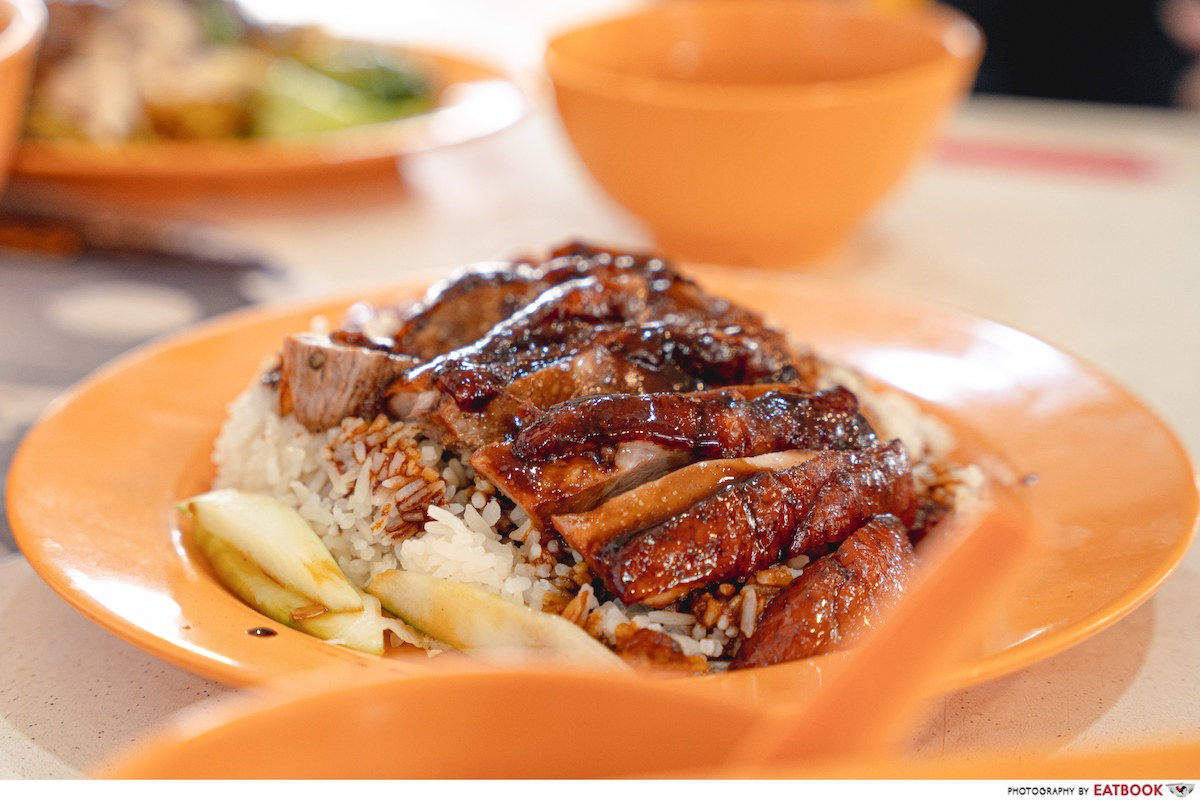 Another popular item on their menu is the Roasted Duck Rice ($4). It wasn't anything special, but thankfully their duck meat wasn't gamey or dry.
Fu Shi Traditional Roasted Review: KL-Style Char Siew And Roasted Meats With Long Queues At Marsiling
Ambience at Incredible Roasted Meat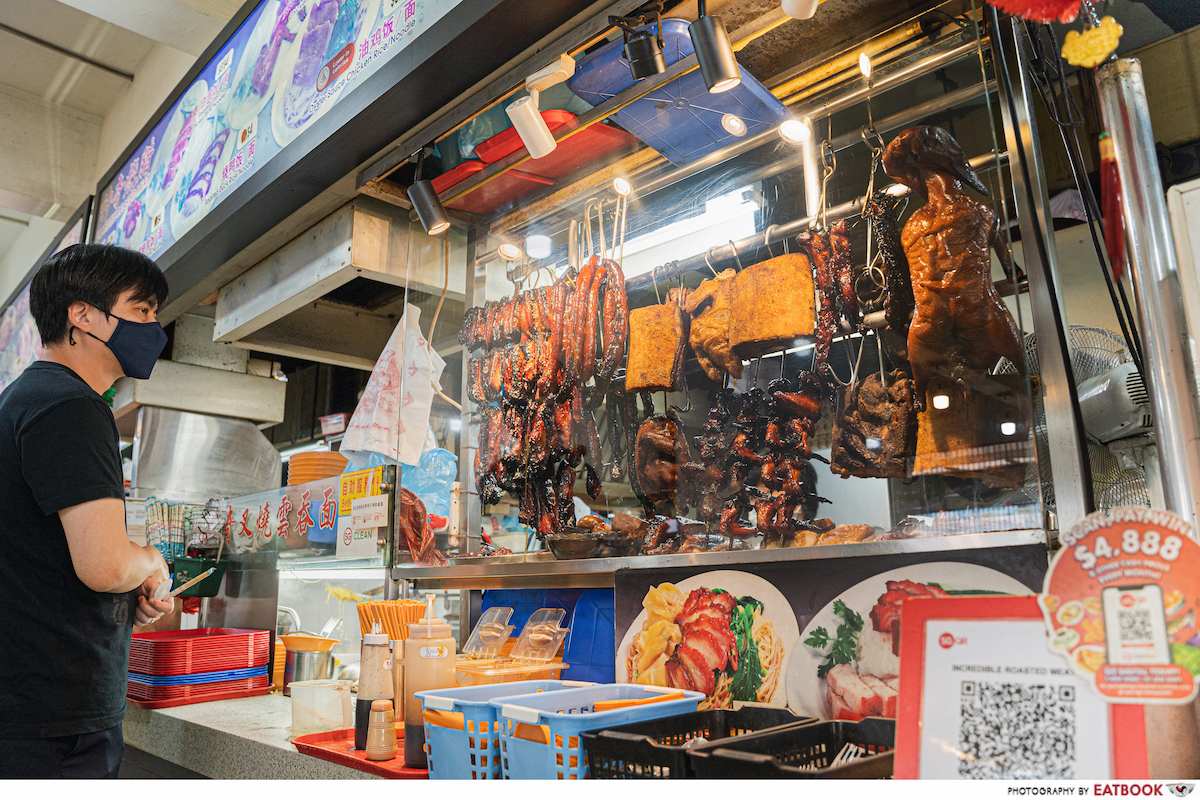 Incredible Roasted Meat is a five-minute walk from Lavender MRT Station. The coffeeshop is hidden among the HDB blocks, so it might be quite ulu for those who aren't familiar with the area.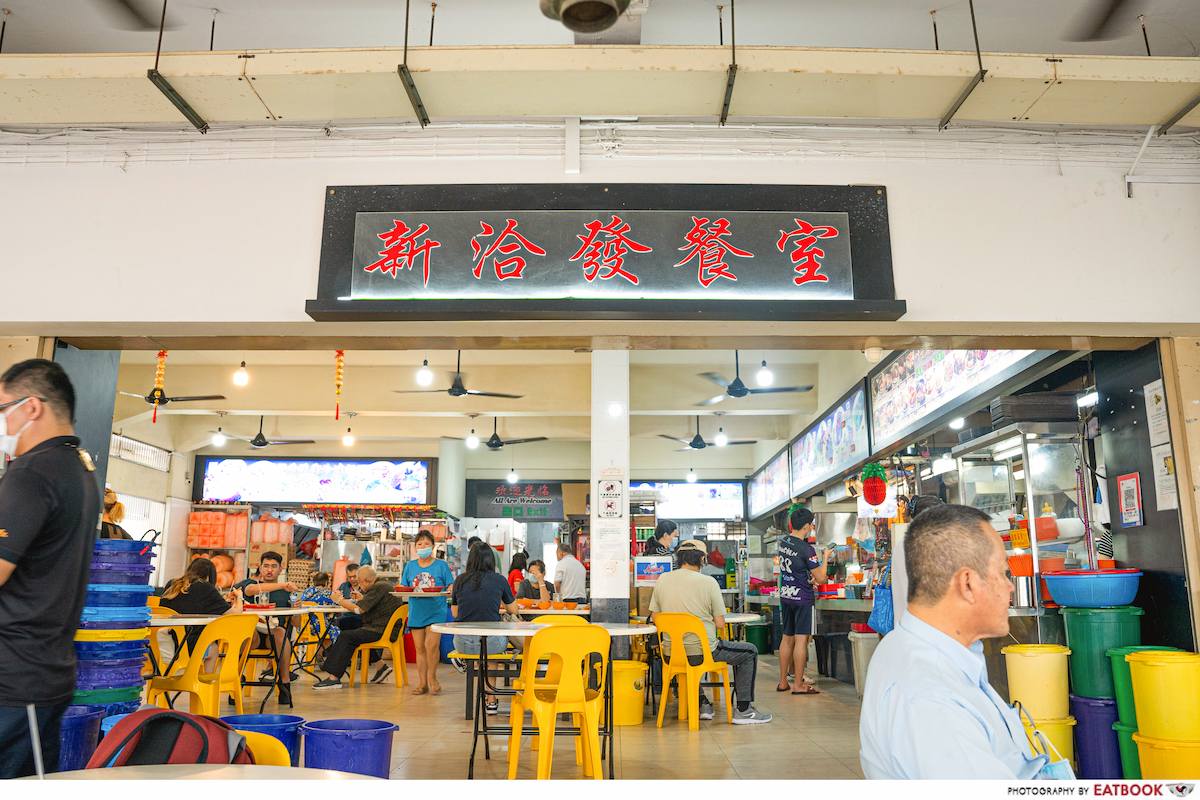 The space is rather small, so there are limited seats available. I noticed that at around 11:30am, there was already a crowd streaming in for lunch. I would suggest coming earlier to grab a seat especially if you're dining in.
13 Char Siew Rice In Singapore As "Hou Sek" As Hong Kong Char Siu Fan
The verdict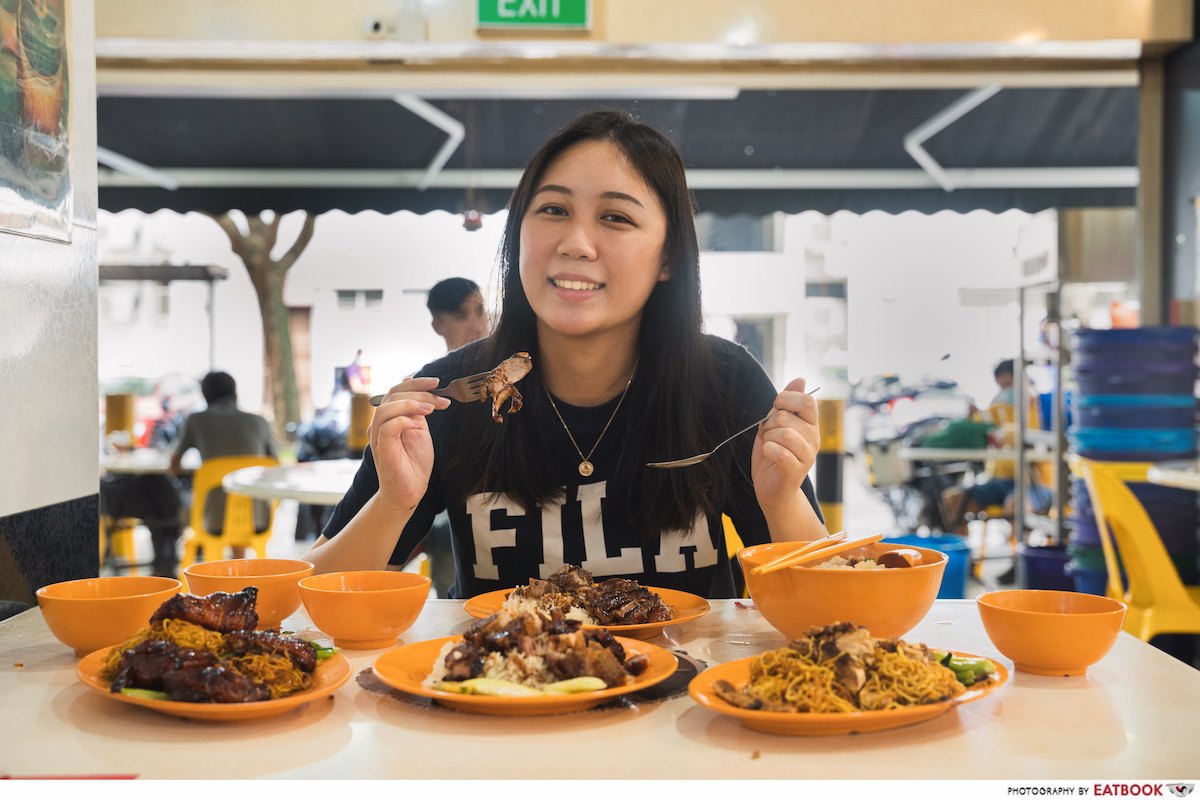 Out of all the dishes I'd tried, I was most pleasantly surprised with the char siew and the roasted chicken wings. Speaking as someone who's not a huge fan of char siew, Incredible Roasted Meat's rendition was pretty impressive.
As for the other dishes, they weren't that much different from your typical roast meat stalls. The price for each dish is pretty decent, and the portion size is quite big as well, but I wouldn't take the time to travel down unless I'm craving their char siew rice.
If you're looking for alternative roast meat stalls in Singapore, check out our Roast Meat Stalls guide. There's also our Eat 3 Bowls review for braised pork rice located at Lavender as well.
Address: 10 North Bridge Road, Singapore 190010
Opening hours: Mon-Sat 7:30am to 6:30pm
Incredible Roasted Meat is not a halal-certified eatery
17 Roast Meat Stalls In Singapore For Char Siew Shao Rou Fan
Photos taken by Darryl Teng
This is an independent review by Eatbook.sg
Incredible Roasted Meat Review: Roasted Chicken Wings In Char Siew Sauce And Lard-Coated Noodles From $3
Incredible Roasted Meat Review: Roasted Chicken Wings In Char Siew Sauce And Lard-Coated Noodles From $3 -

7/10
Summary
Pros
– Generous portion
– Affordable prices
– Good balance of sweet and savoury notes
Cons
– May be hard to locate
– Most dishes were quite similar to any other roasted meat stalls
Recommended dishes: Char Siew Roasted Pork Rice ($4), Chicken Wing Noodle ($4)
Opening hours:  Mon-Sat 7:30am to 6:30pm
Address: 10 North Bridge Road, Singapore 190010