Eat 3 Bowls is an You Are the Apple of My Eye classroom-themed cafe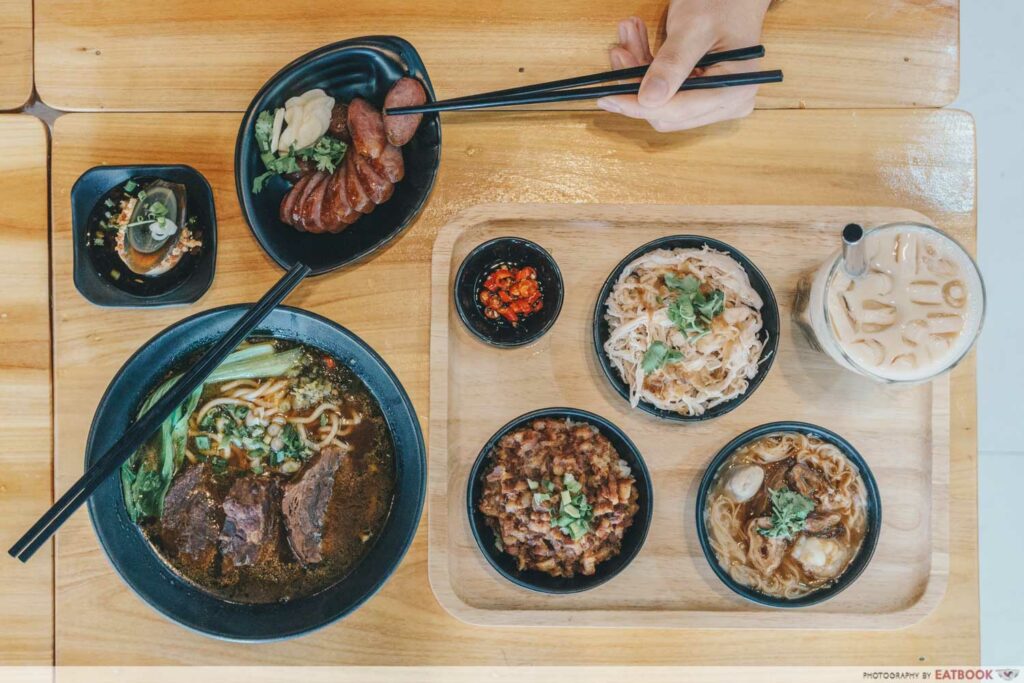 Taiwanese cuisine always has its quaint little charm that captures the hearts and bellies of everyone. I like to see it as a more demure cousin to mainland Chinese cuisine, with lesser usage of sauces and spice, and more attention paid to natural flavours.
Previously serving up hearty and affordable Taiwanese fare at Seah Im Food Centre, the owners behind Eat 3 Bowls have upgraded from a hawker store to a beautiful Taiwanese classroom themed cafe at Crawford Lane near Lavender MRT.
Opened by a Singaporean with his Taiwanese wife, the ethos of this store has remained consistent throughout – offering value-for-money and authentic Taiwanese fare.
Food at Eat 3 Bowls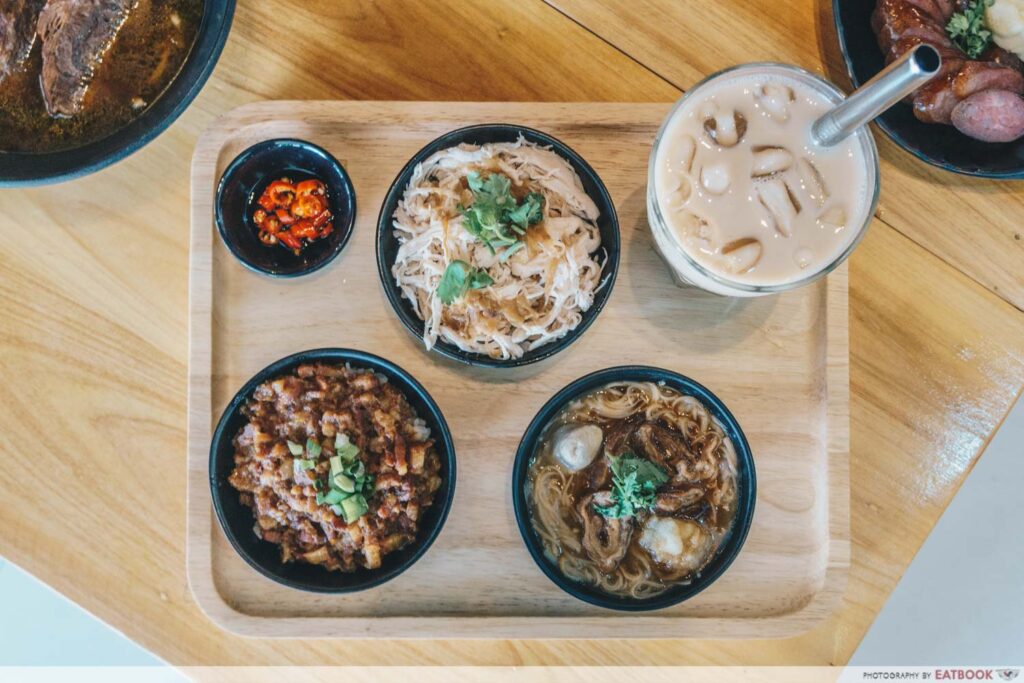 We started off with their Signature 3 Bowls with Drink ($15) set. This quartet of three petit-sized bowls and house-made drink comes served in a pretty tray, which ought to be enough for two medium-sized eaters.  
A carb lover's dream, the three bowls consist of lu rou, or braised pork rice, intestine mee sua, and chicken rice. You can also take your pick from their wide range of drinks, with options such as Taiwan Bubble Tea Latte, Grass Jelly Milk Tea, and Brown Sugar Bubble Tea Latte available.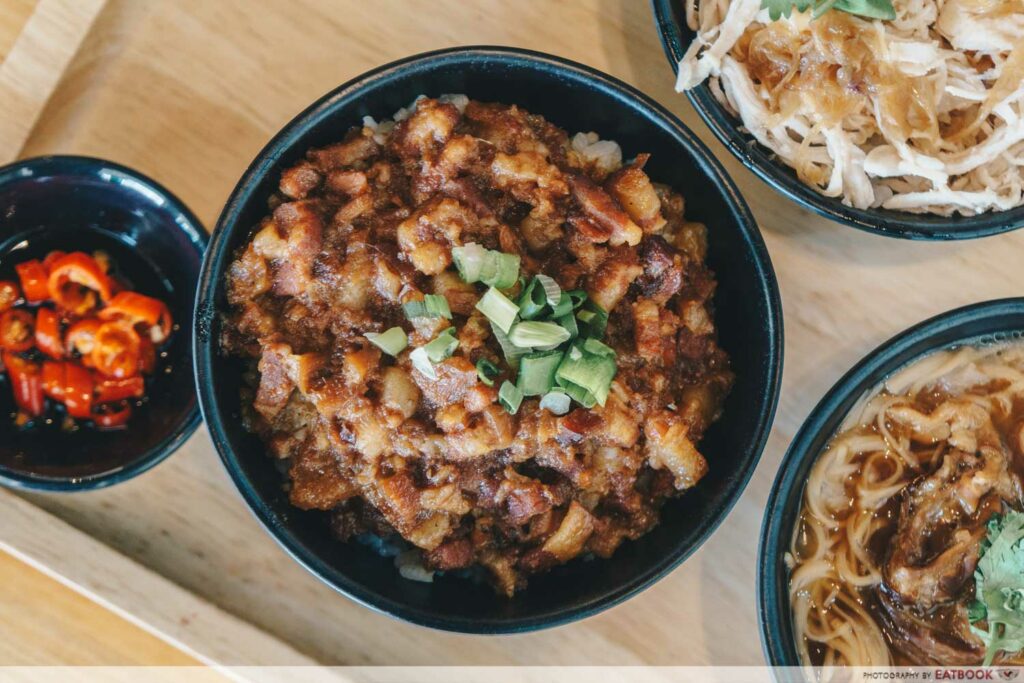 It's hard to leave Taiwan without tasting a portion of their popular lu rou fan. This classic dish combines fatty bits of sliced pork belly that are slowly braised in a rich and savoury sauce.
The one that we tried here tasted very similar to the ones I had in Taiwan, with melt-in-the-mouth pork belly and a sauce that is punctuated with hints of cinnamon and cloves.
Just like how it's done in Taiwan, I like how they use short grain rice. This gives a slightly sticky consistency that goes well with the gooey braised pork.
For those who want just the lu rou fan, they also offer a regular-sized portion at $4.50 and a set meal that comes with braised cabbage and egg for $8.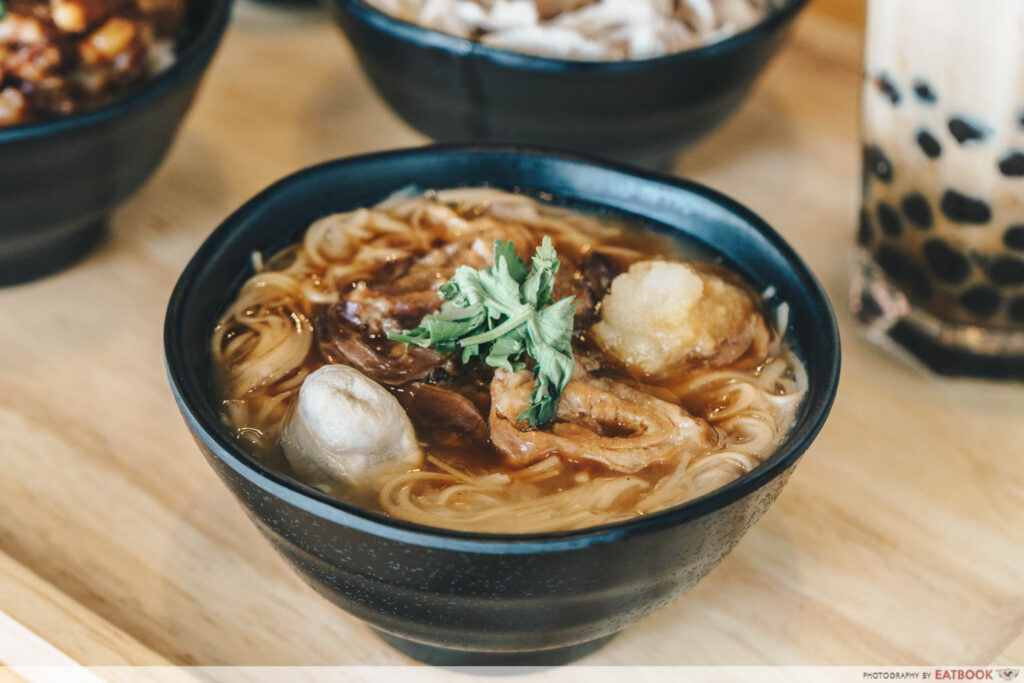 The intestine mee sua was my favourite out of the three bowls. This comforting bowl of noodles features a strong bonito-flavoured broth that is accompanied by velvety smooth mee sua. It's then decorated with a dollop of minced garlic, plump oysters, and sprigs of fresh parsley.
I found the intestines to be impressive, giving off a nice chew without being too rubbery. The heavy and rich bonito broth is also brightened up by a firm punch of minced garlic, which is something I really like.
Although the portions are referred to as "mini-size" on the menu, I find it to be just right for one person. If you're a huge fan of this Taiwanese street food favourite, be sure to check out the regular-sized portion at $6.50.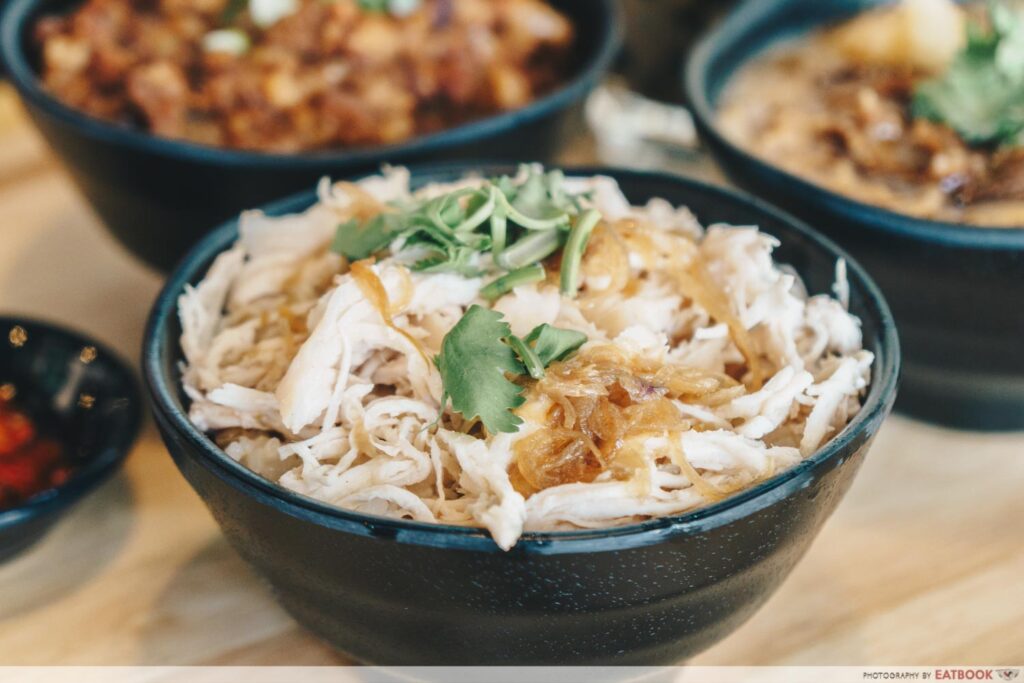 The last bowl was Taiwanese-style chicken rice. This dish comes with hand-shredded poached chicken along with a slightly sweet sauce and slivers of shallots.
I found this dish to be a little lacklustre, with the chicken tasting too bland. The meat was also slightly overcooked and a little dry. While I appreciated how the chicken was painstakingly shredded to give a varied texture, this dish was my least favourite out of the three bowls.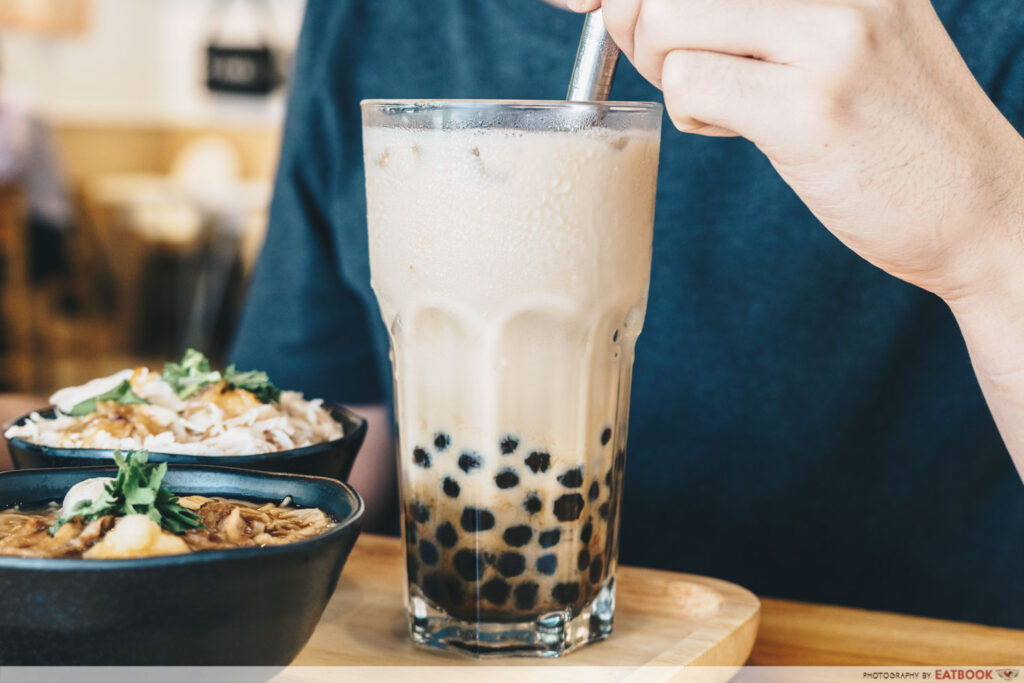 As mentioned previously, the combo meal also lets you pick any drink from their expansive drinks menu. Being huge fans of bubble tea, we went for the Taiwan Bubble Tea Latte. This classic favourite lets you choose from black tea, green tea and oolong tea.
I went for the oolong tea which had a nice rounded and toasty aroma to it. The pearls also came with a nice "QQ" bite, which goes great with everything else. The drink proved to be quite popular, with several customers popping by to take away a cuppa during the sweltering afternoon heat.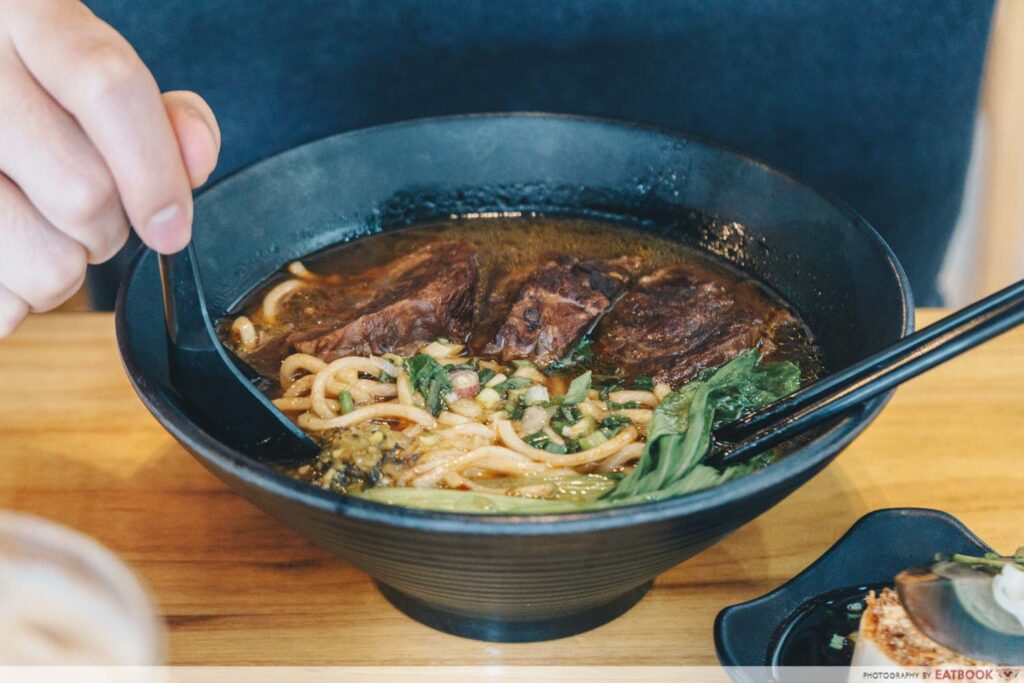 While not as popular as lu rou fan or intestine mee sua in Singapore, beef noodles are still well-loved by Taiwanese folks for its comforting and nourishing properties. The Beef Noodle Set ($13++) gets you a large steaming bowl of noodles, and a side of tofu appetiser.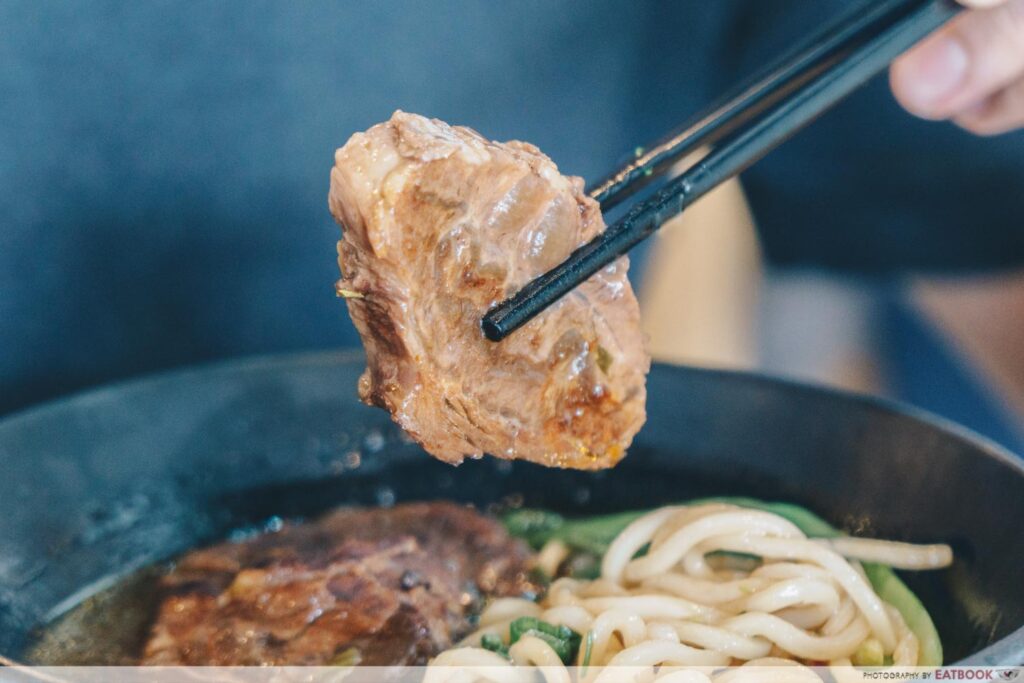 They use beef shank here, which has loads of nice fatty bits and gelatinous tendon sewn inside. I like how it's cut to a thick consistency, allowing us to fully appreciate the beef's tender texture.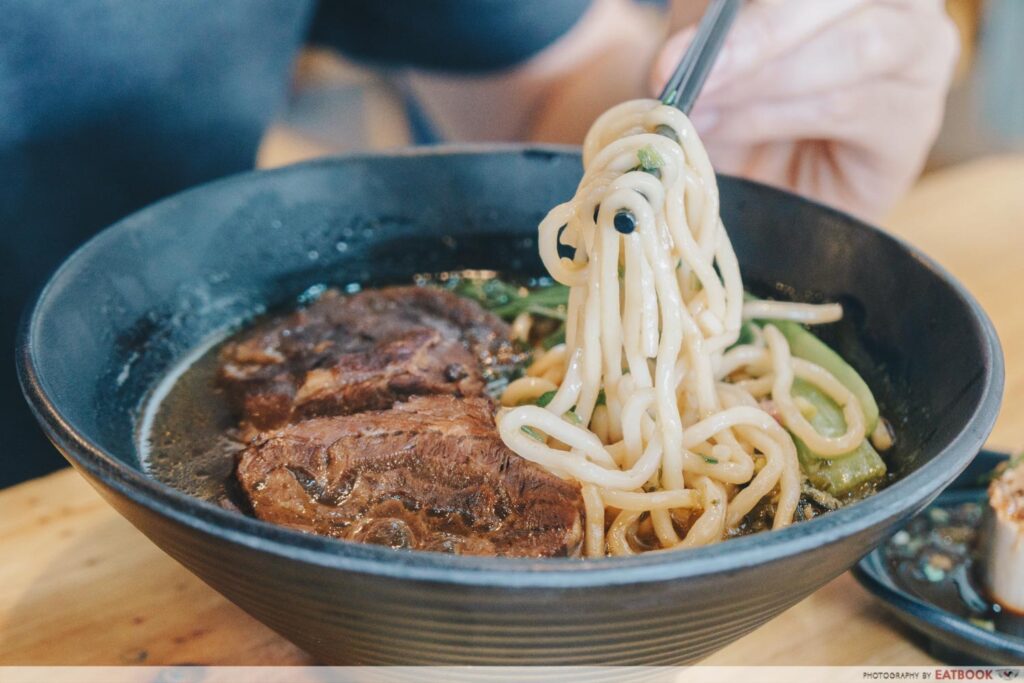 I felt a little let down by the noodles, which did not have much of a springiness nor flavour to them. The soup was also a little thin for my liking.
I didn't see many people order this dish during both of my visits to the restaurant. It seems that the regulars are quick to learn and opt for their more popular rice bowl options.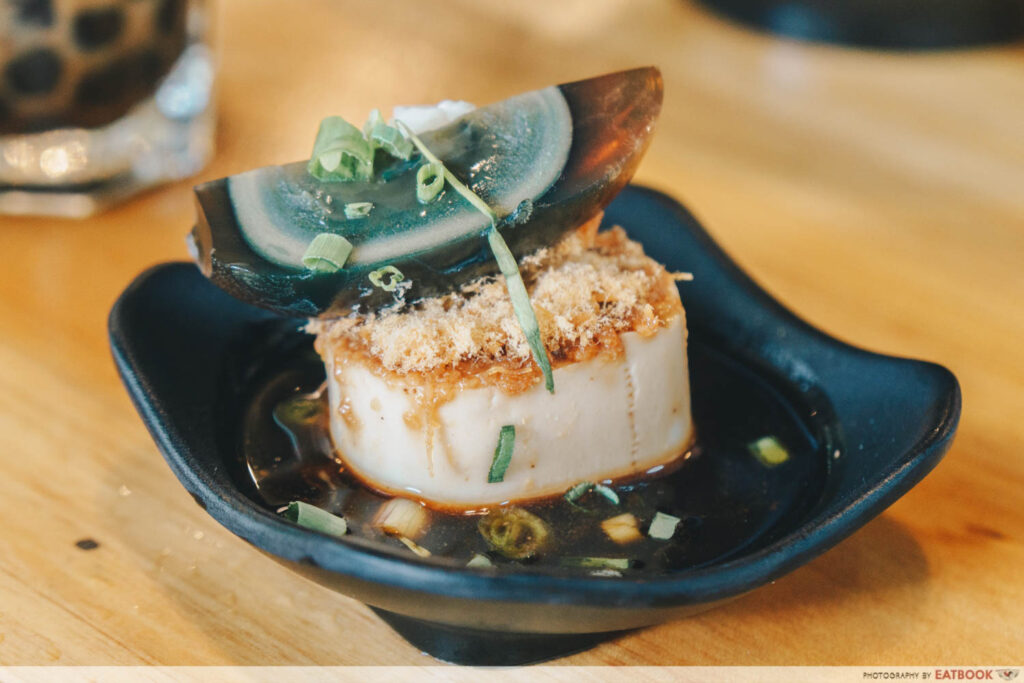 The tofu appetiser fared much better, coming in a simple combination of sweet soy sauce, century egg and pork floss. It proved to be a good mix of both flavours and texture. This looks like something that anyone can prepare at home, but I really like the simplicity of ingredients here.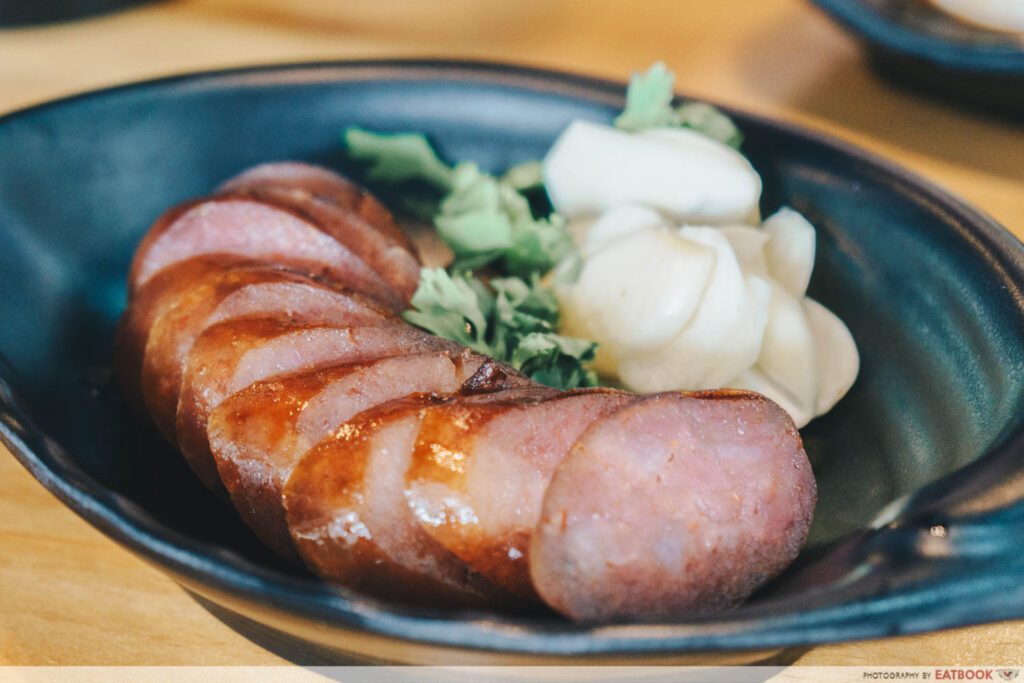 A street market favourite, one can never say that they've been to Taiwan without trying out their sausages. The Taiwanese Sausage ($3.80++) here are comparable to the ones I had in Taiwan, appearing plump and juicy.
While it's a little pricey, I would recommend ordering a portion to share. Most of the dishes come with only a single type of meat, which can get quite boring after awhile. Slices of garlic are also given on the side to give a nice robust kick to everything.
Ambience at
Eat 3 Bowls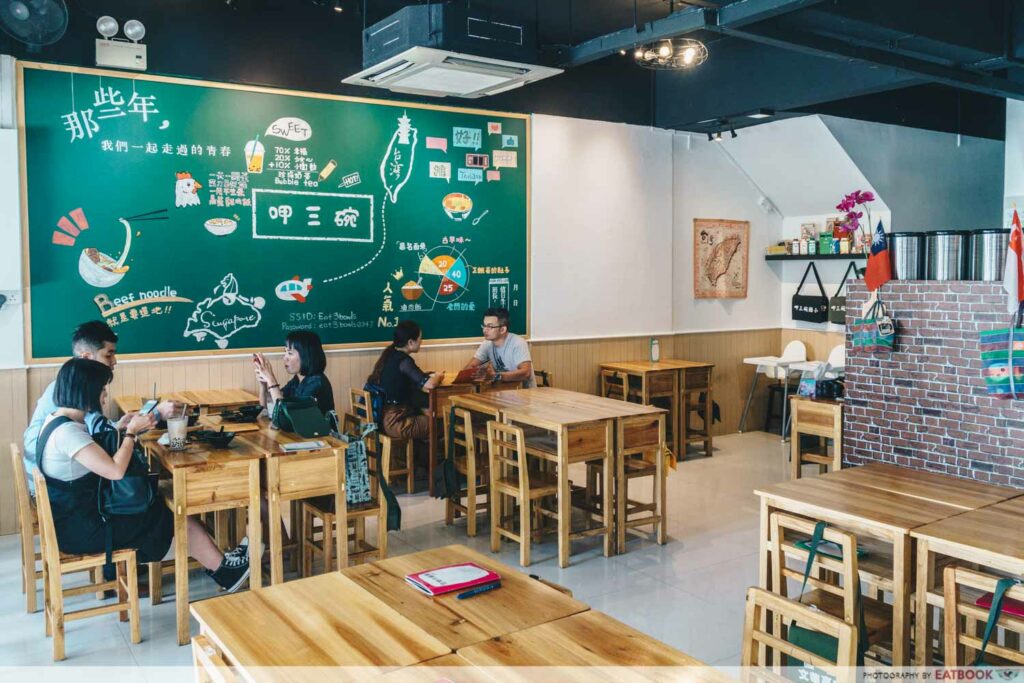 My dining companion kept mentioning that she felt like she's in Taiwan throughout our entire dining experience. And it's easy to see why. As soon as we stepped inside, Taiwanese pop music including familiar Jay Chou melodies greeted our ears. Blessed with loads of natural lighting, the entire space has a slow and chill vibe that makes you feel like you're in a Taiwanese classroom.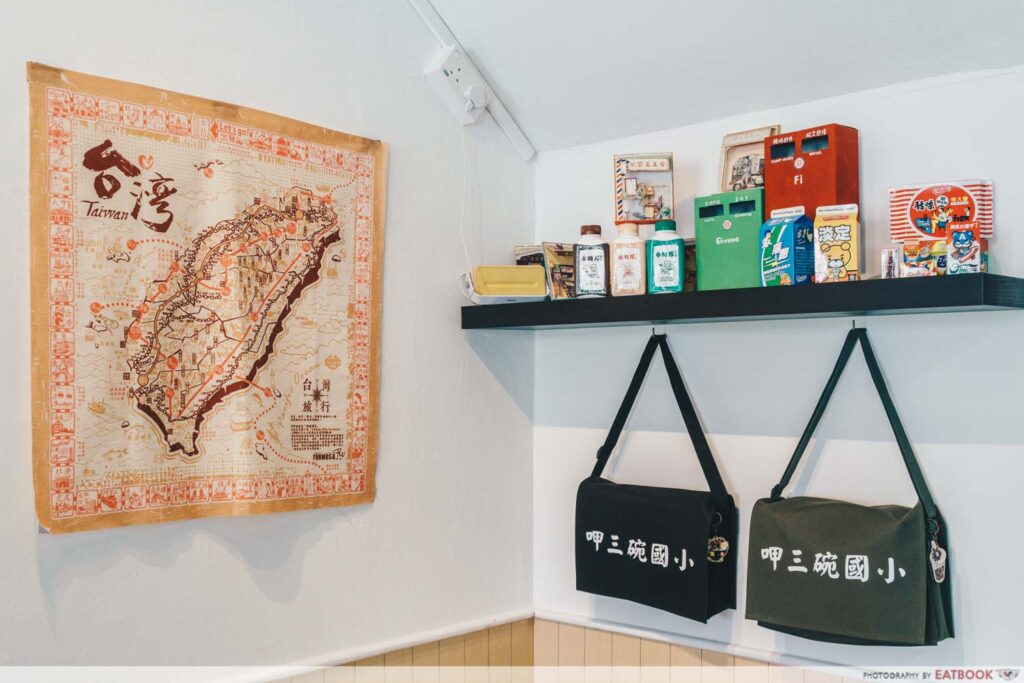 Peppered with Taiwanese memorabilia, you might feel like you're on a set of You Are the Apple of My Eye, the popular coming of age Taiwanese movie.
Instead of plushy restaurant chairs, wooden chairs are used here. While they might look quite uncomfortable, they are actually quite comfy and add on to the entire classroom experience.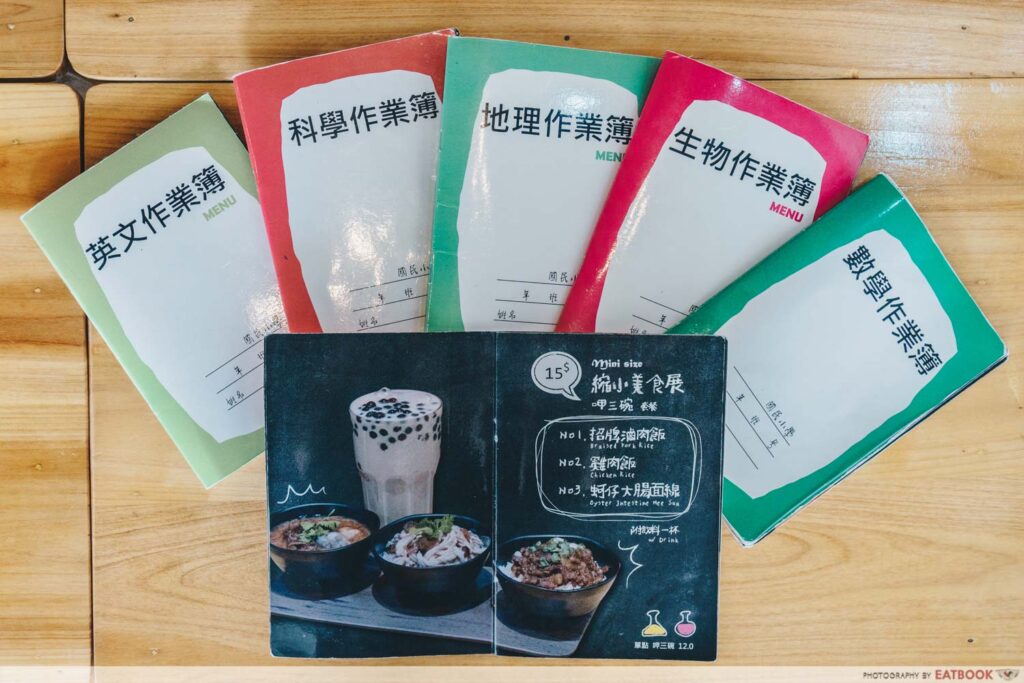 Even the menus look just like textbooks. Relax, these are definitely books that are easy to digest.
The verdict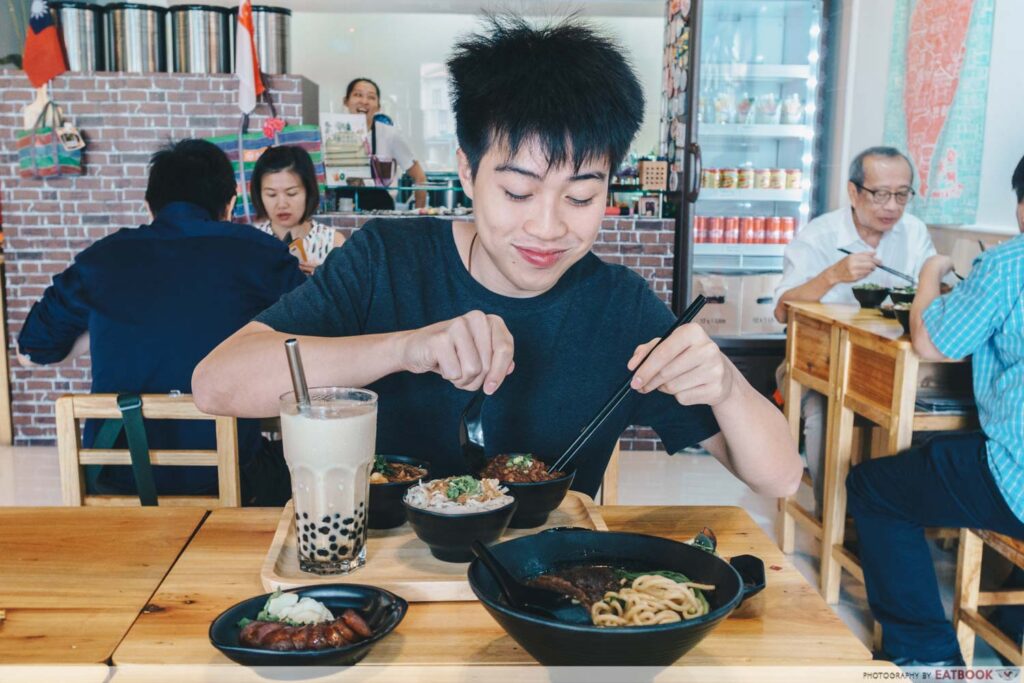 This store has certainly come a long way since its opening at Seah Im Food Centre. While the prices have gone up, I would encourage anyone who's craving a slice of Taiwanese food and culture to pay this lovely cafe a visit.
7 Seah Im Food Centre Dishes Under $4.50 That Prove This Is HarbourFront's Hidden Food Gem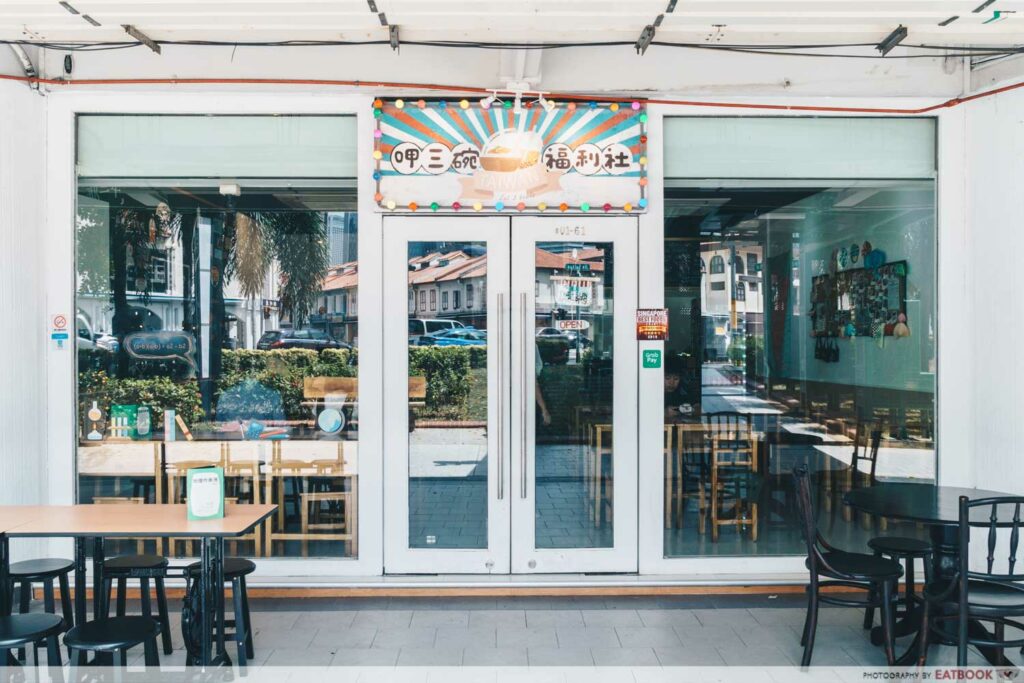 While there were a few hits and misses, the mee sua and lu rou fan are solid options that ought to make you return for more. It's no wonder that this place is a favourite for Taiwanese, which seems to make up most of their clientele.
If you're heading to Eat 3 Bowls from Lavender MRT, be sure to pick up some light and delicious Thai bread from Thai Baang! This humble store is the first Thai bread bakery in Singapore and makes everything from scratch.
Address: 462 Crawford Lane, #01-61, Singapore 190462
Opening hours: Tue-Sun 10am to 9pm
Tel: 9022 7469
Website
Photos taken by Lim An.
This is an independent review by Eatbook.sg.
Eat 3 Bowls Review: Taiwanese Classroom-Themed Cafe And $4.50 Braised Pork Rice At Lavender
Summary
Pros
– Value-for-money
– Novel ambience
Cons
– Beef noodles needed to pack more flavour
– Chicken rice can be improved
Recommended dishes: Oyster Intestine Mee Sua ($6.50), Braised Pork Rice ($4.50)
Opening hours: Tue-Sun 10am to 9pm
Address: 462 Crawford Lane, #01-61, Singapore 190462