Fu Shi Traditional Roasted in Marsiling Mall

A decent plate of roasted meat really isn't that difficult to find around Singapore, but a really memorable roast meat stall is hard to come by. Those who stay in the North are blessed with the existence of Fu Shi Traditional Roasted, which already has its share of loyal customers despite only being in Marsiling for three years.
However, with close to 15 years of experience dishing out their signature roast char siew, sio bak, and duck, their name might ring a bell for frequenters of Shunfu Mart, where they originally set up shop for the first 10 years before relocating to Marsiling Mall. A self-proclaimed simp for fatty, gelatinous slices of char siew myself, I immediately leapt at the opportunity to visit this hawker gem.
13 Char Siew Rice In Singapore As "Hou Sek" As Hong Kong Char Siu Fan
Food at Fu Shi Traditional Roasted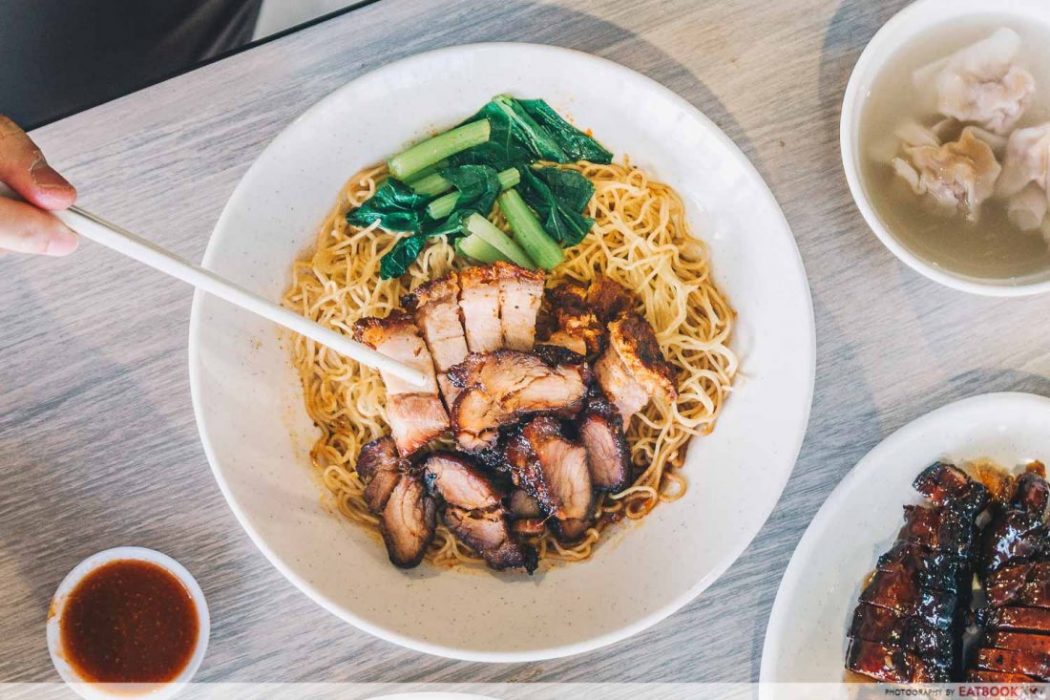 In all honesty, my first impression of the Char Siew Wanton Mee With Roast Pork ($6) wasn't all that great, as it looked pretty normal with no stand-out ingredient. Their QQ yellow egg noodles were served with choy sum vegetables, dark char siew, and roasted pork belly, with a side of their milder chilli. Unlike more zhnged-up versions as seen in Bei-ing Wanton Mee for example, this stall focuses more on fundamentals and simplicity.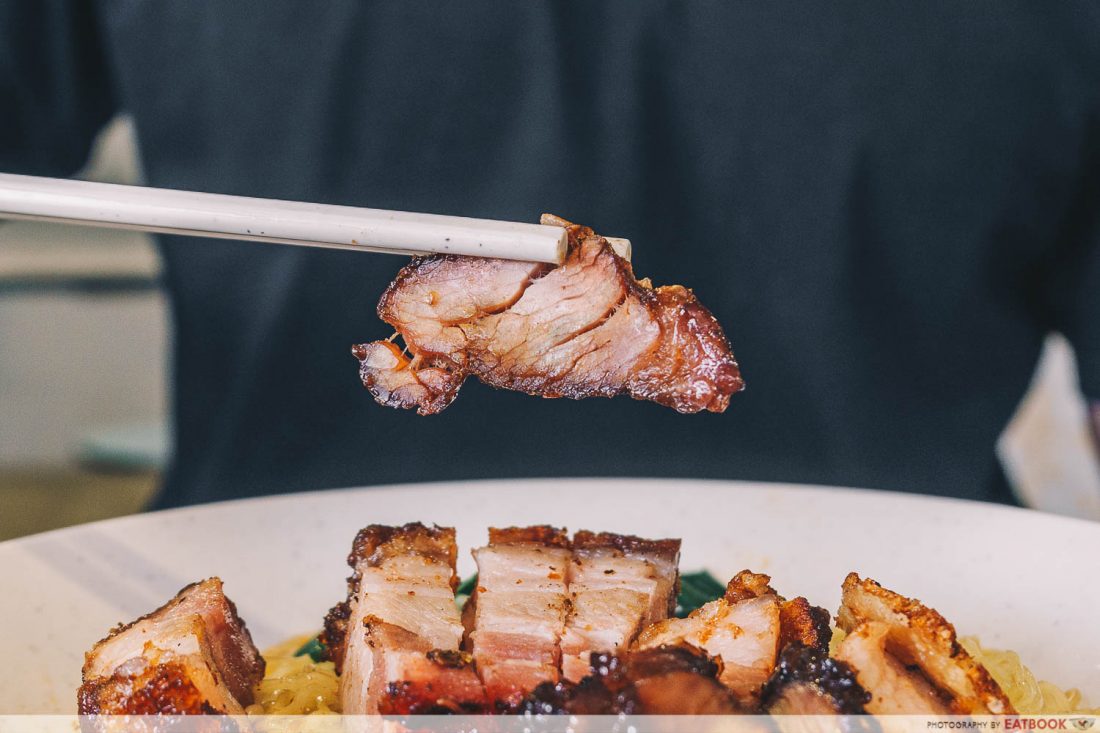 What really gives the dish its oomph would be the crackling sio bak. The key to a phenomenal piece of roasted meat is not just its exterior, but also its interior and Fu Shi has got both of that covered well. 
The skin had a noticeable crunch when bitten into yet remained very light. Best thing is they don't compromise on their skin-to-meat ratio, with a generous crackling accompanying their pork belly chunks.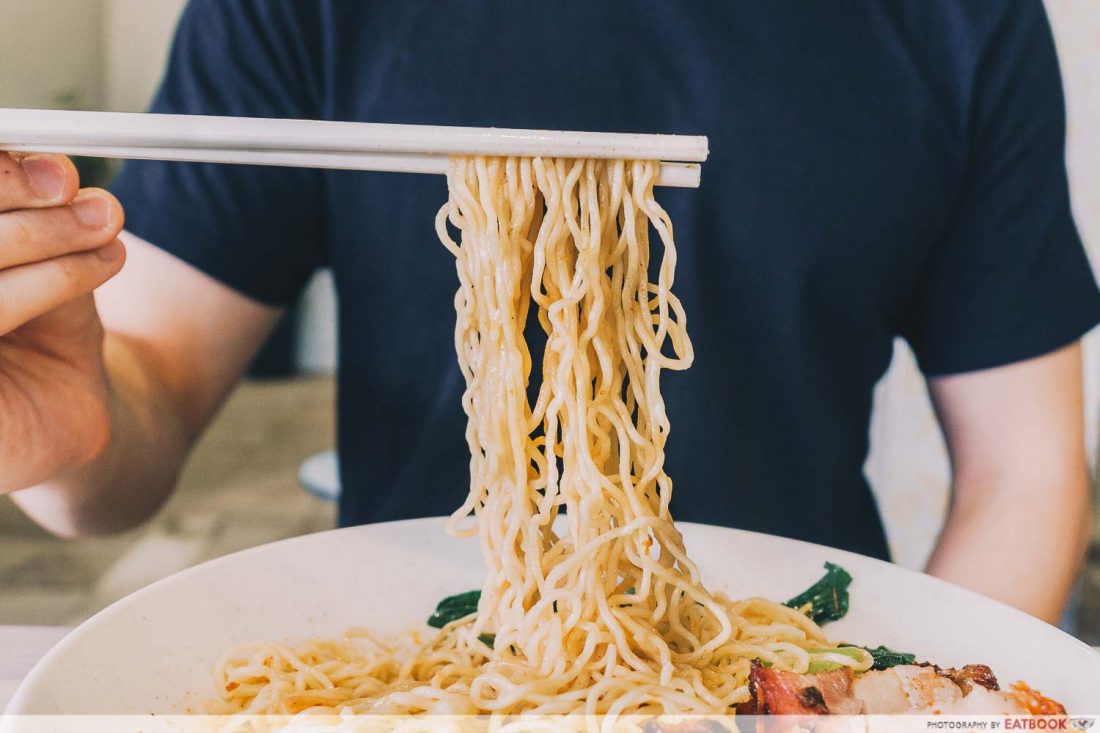 The char siew was a little too lean for my liking, but overall, it made for a decent plate of noodles tossed in a savoury sauce.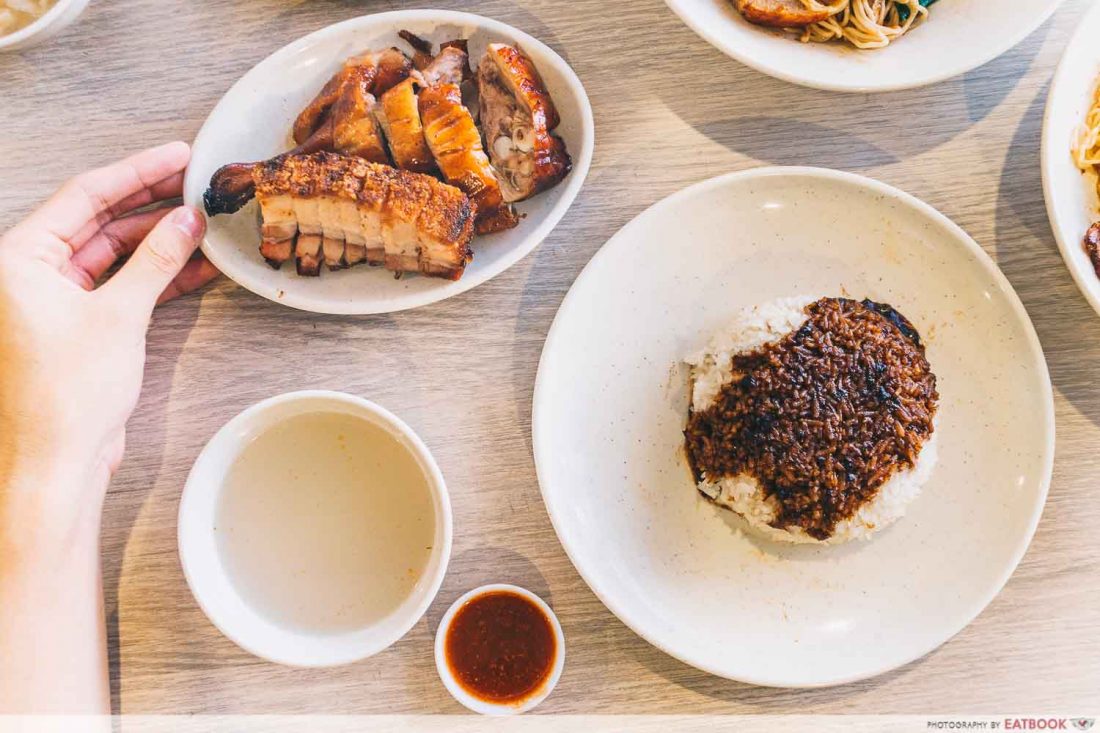 Since I couldn't get enough of their sio bak, my next dish had to be their Roast Pork Rice With Duck Drumstick ($9). The glistening roast duck skin was the most eye-catching, paired with juicy pork belly. It is served with a plate of fluffy white rice with their house-made sweet and rich dark sauce drizzled over it.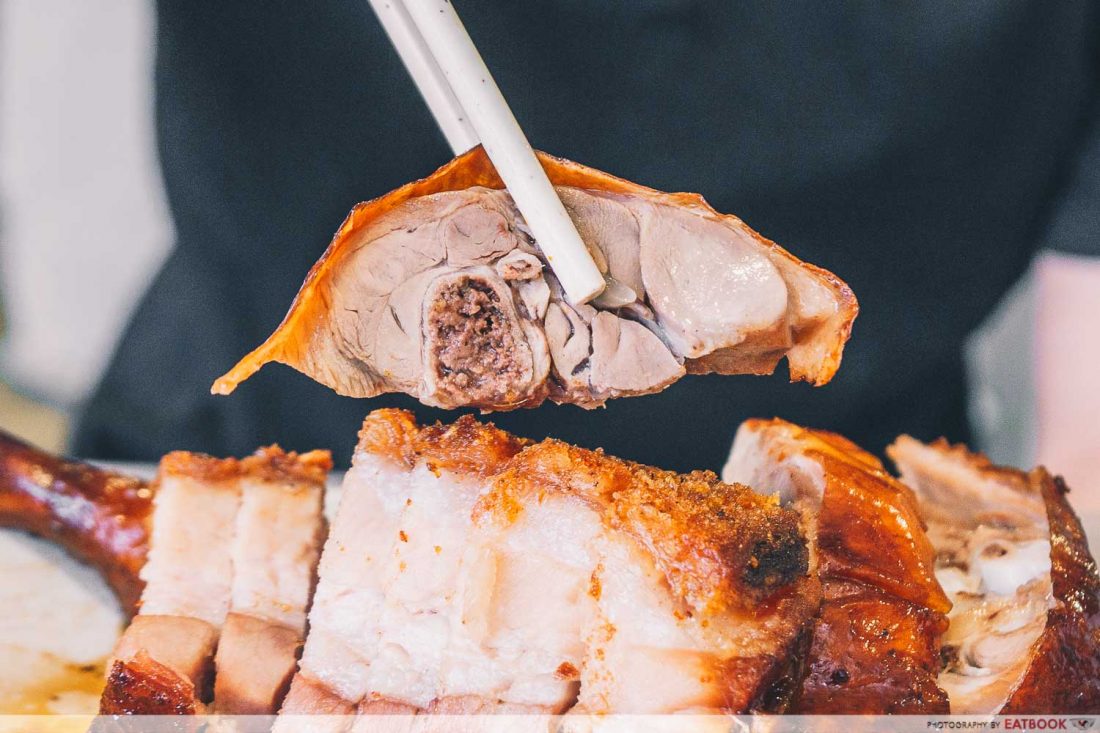 Their tender roast duck meat is certainly the real deal. I was pleased with the meat-to-bone ratio, with some pieces almost boneless, allowing me to savour the robust flavour of the meat. The duck skin was crisp enough too.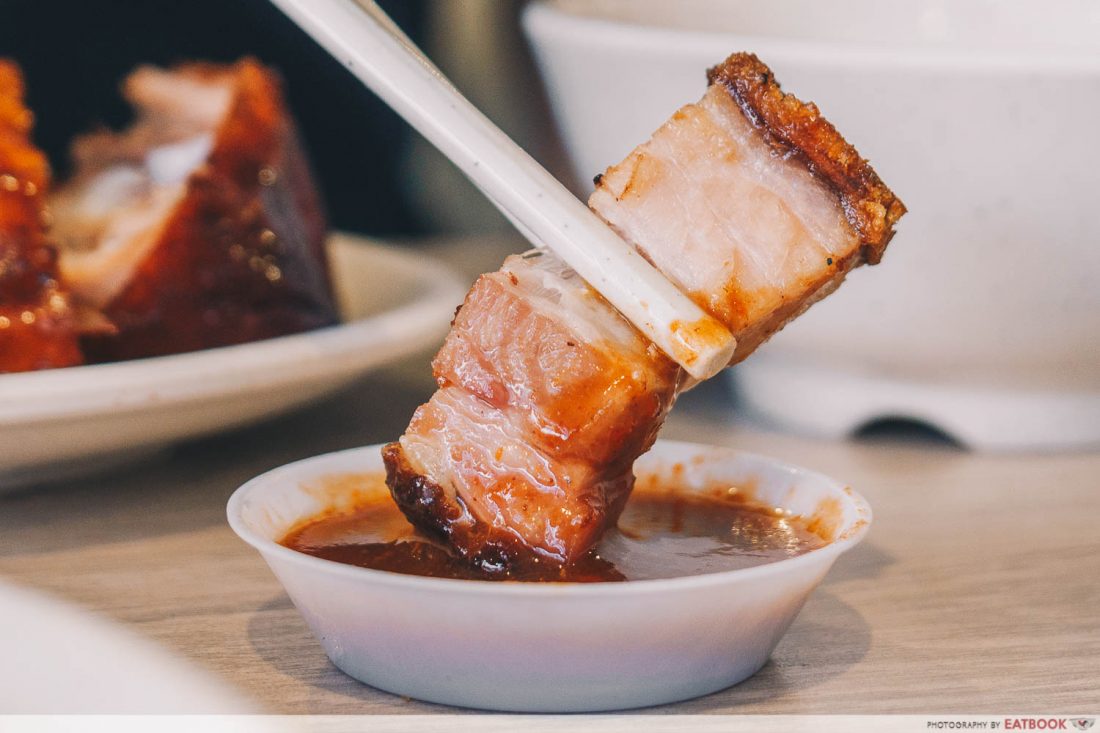 The sweetness of the dark sauce wasn't cloying and went well with white rice, elevating the flavour profile of the roasted meats. My biggest gripe would be the absence of a sweet plum sauce, my preferred sidekick to Cantonese-style roast duck.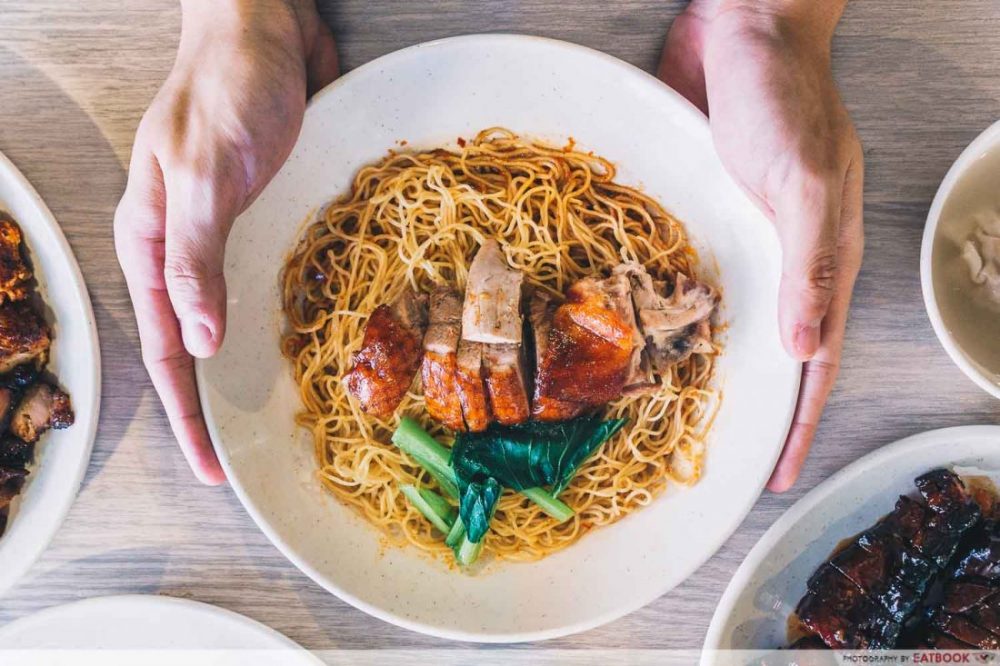 Having indulged in the most decadent part of the duck beforehand, I had to give their duck breast at least a try in the Roasted Duck Noodles ($4). Save the stingier portion of duck given, the dish justified its price tag by not compromising on the meat quality.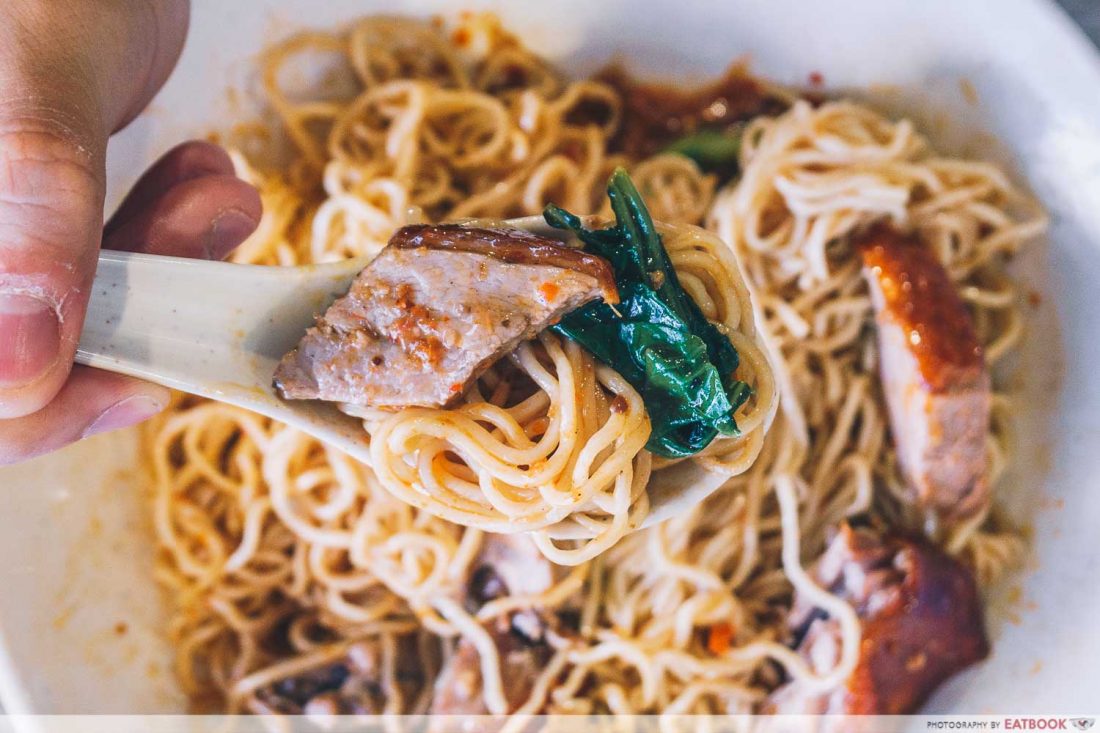 The duck breast wasn't gamey and dry, but packed with savoury flavour. Identical with the one used for their wanton mee, the chilli adds a slight kick, with a sweet aftertaste that's pleasant.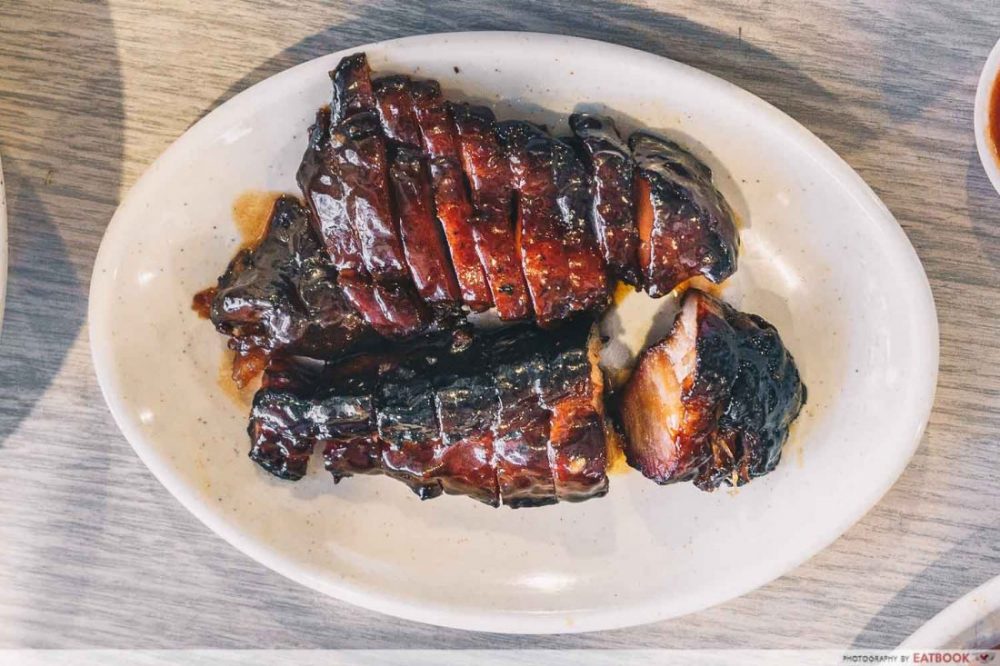 One of my proudest decisions this year would definitely be ordering an extra portion of their mouth-watering Char Siew ($6) to appease my greedier side. I'd personally recommend ordering it "pun fei sao", or asking for half your portion to be a fatter cut and the other half lean to get the best of both worlds. The shiny, caramelised outer of the char siew surely can cause one to start subconsciously salivating.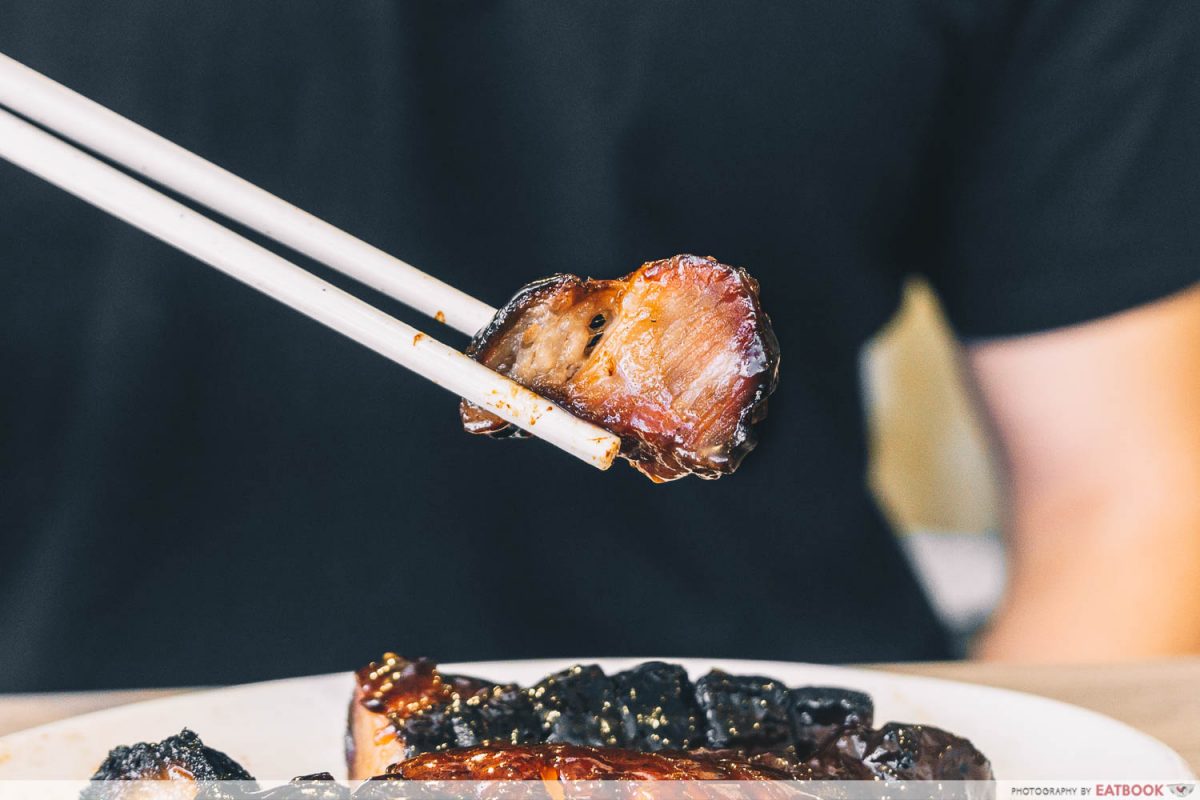 Their char siew is modelled very much after the KL-style one, with a recognisable darker char and fattiness that makes me miss being able to hop over the Causeway whenever I wanted. Still, I was content enough with their rendition, with an almost melt-in-your-mouth texture, and missing the excessive sweetness that could render it too jelak.
13 Braised Duck Rice Stalls In Singapore That Your Teochew Or Hokkien Mother Will Love
Ambience at Fu Shi Traditional Roasted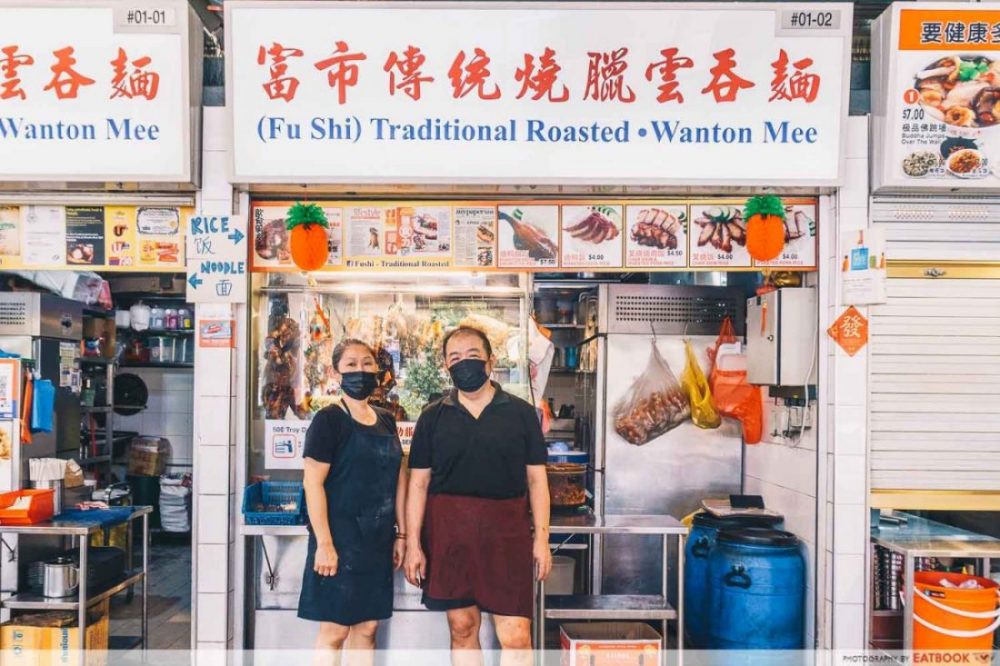 Located about a ten-minute walk from Marsiling MRT Station, Fu Shi Traditional Roasted is tucked away neatly in Marsiling Mall hawker centre, an enclave full of hidden gems including Kuroshiro White Curry Rice and Yan Ji Seafood Soup among others. That's why it's not a surprise the owners decided to move here from Shunfu Mart.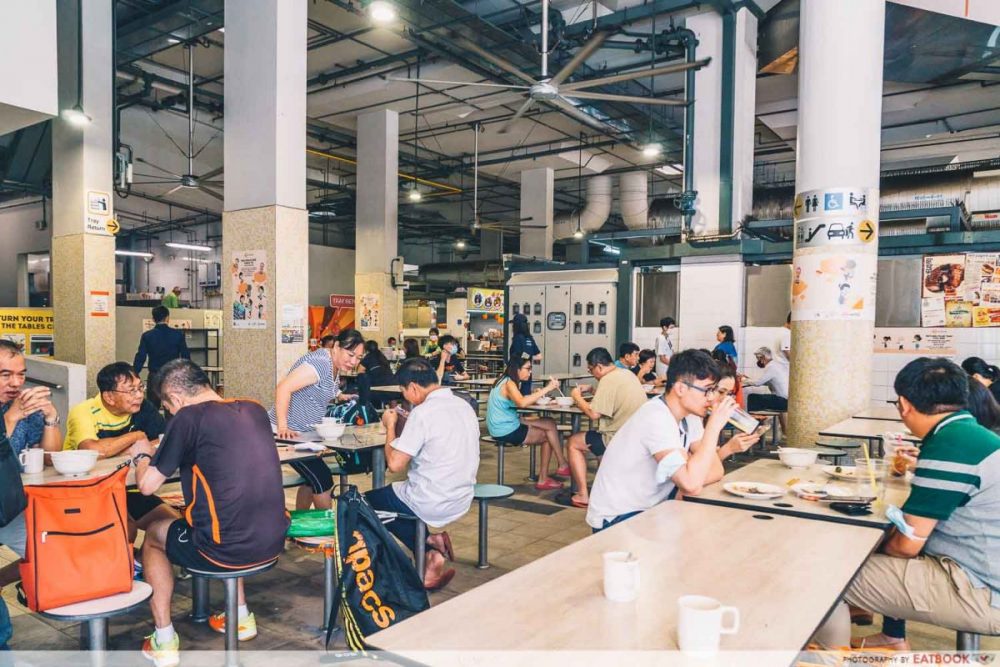 The stall does get pretty busy during weekday lunchtime periods, with a noticeably longer queue for their rice dishes than the separate queue for noodles. At about 12pm, there were already about six to eight people waiting in line, though service is swift and efficient. Finding seats shouldn't be an issue as well as the hawker centre is very spacious and well-ventilated. 
The verdict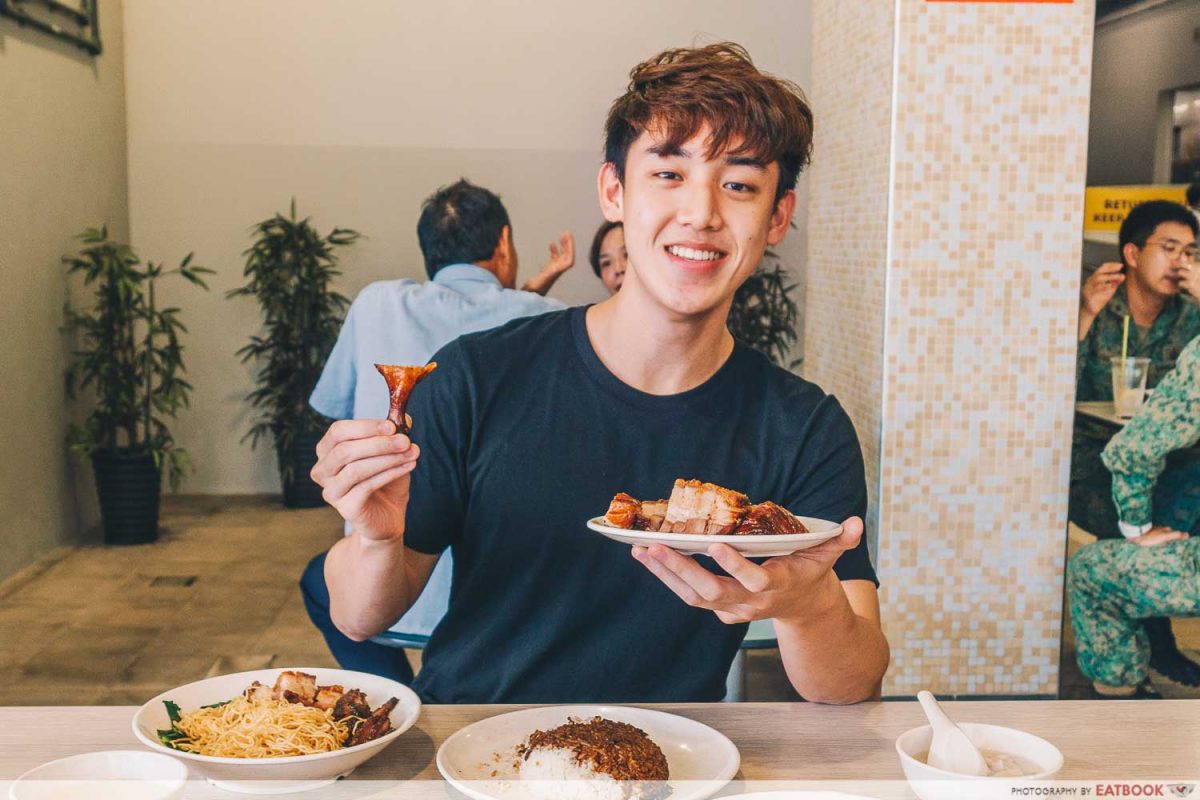 As an aspiring carnivore myself, Fu Shi Traditional Roasted hits the sweet spot for quality roasted meats that I'd definitely return for. Unlike most of their competitors that usually specialise in just one type of roast meat, Fu Shi's owners proudly proclaim that all three of their roasted delights are worth the calories. 
One thing I've always respected about a hawker's craft is their "never satisfied" mindset, where they constantly refine their recipes based on customer feedback. Fu Shi is a living embodiment of that, with its owners adopting influences from Hong Kong and Malaysia over the years to fine-tune their char siew recipe despite being in the industry for quite some time. 
Save the snaking lines, Fu Shi's delights are indeed worth the queue and sinfulness.
For other alternative roasted meat places in Singapore, read our Roast Paradise review for similar KL-style char siew in Old Airport Road Food Centre. Check out our Mei Mei Roast review for roasted meats from the sister of the owner of Kay Lee Roast Meat in Ubi.
Address: 4 Woodlands Street 12, #01-01/02, Marsiling Mall Hawker Centre, Singapore 738623
Opening hours: Wed-Sun 11am to 7pm
Tel: 9237 8157
Website
Fu Shi Traditional Roasted is not a halal-certified eatery.
Roast Paradise Review: Beautifully Charred KL-Style Char Siew At Old Airport Road
Photos taken by Nur Syamira.
This is an independent review by Eatbook.sg.
Fu Shi Traditional Roasted Review: KL-Style Char Siew And Roasted Meats With Long Queues At Marsiling
Summary
Pros
– Char siew is fatty and succulent
– Sio bak is crispy yet soft on the inside
Cons
– Long waiting times during peak hours
– Their noodles can become clumpy after a while
Recommended dishes: Char Siew ($6), Roast Pork Rice With Roast Duck Drumstick ($9)
Opening hours: Wed-Sun 11am to 7pm
Address: 4 Woodlands Street 12, #01-01/02, Marsiling Mall Hawker Centre, Singapore 738623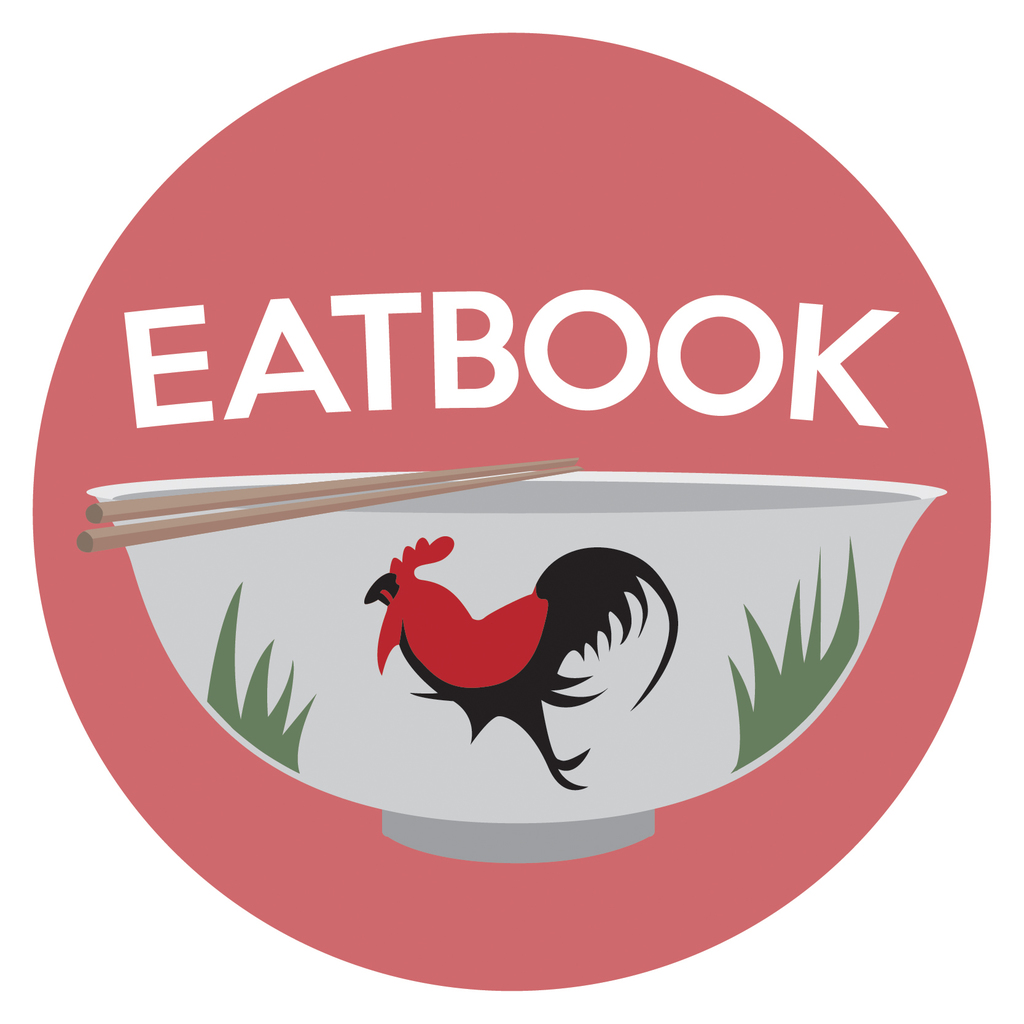 Drop us your email so you won't miss the latest news.