Yan Ji Seafood Soup serves fresh seafood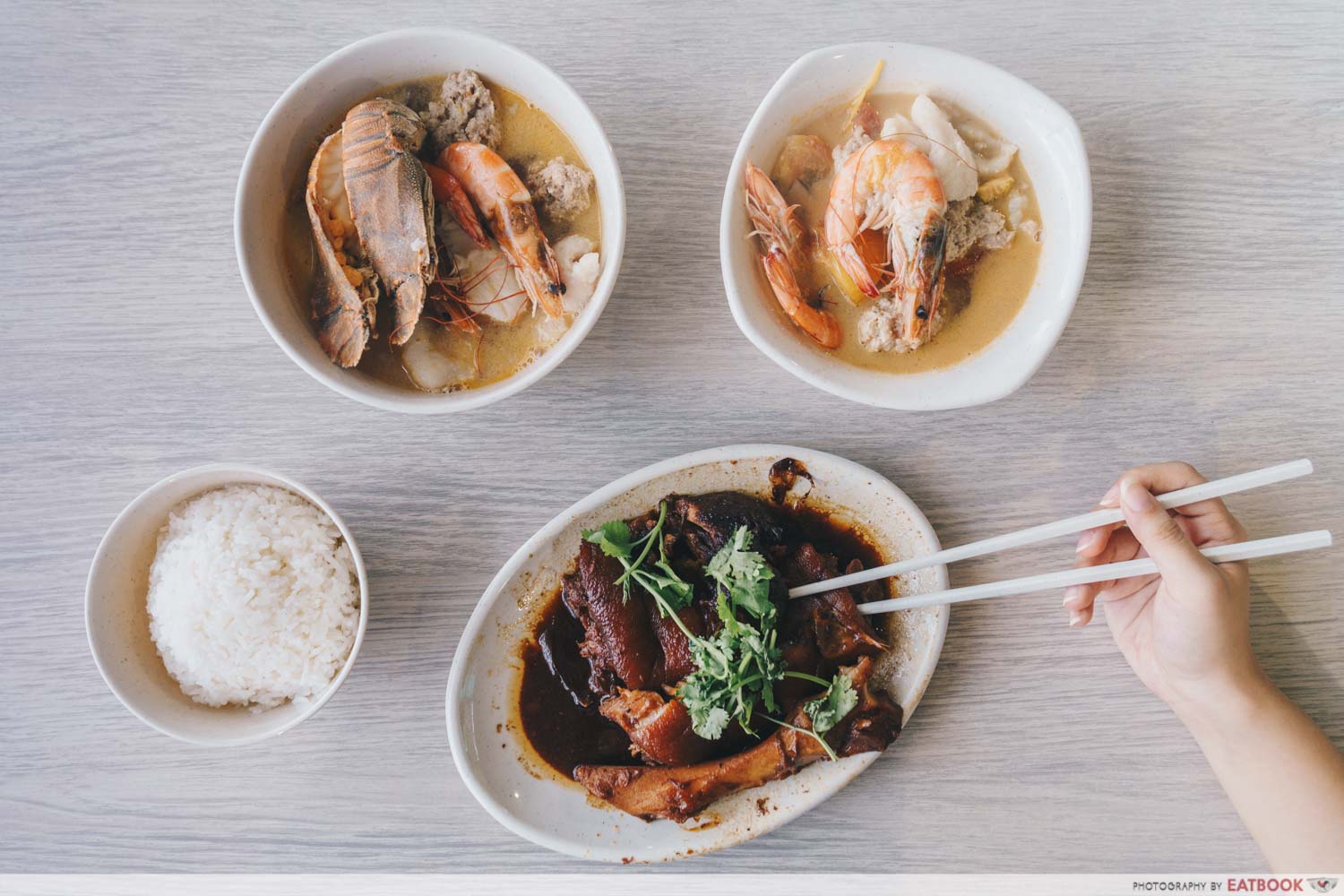 There's nothing better than a warm bowl of umami-filled seafood soup to weather you through a cold evening—or so I've been told. Come at me with pitchforks if you want, but I've never been a big fan of seafood, and potent fishy flavours have always put me off. Despite that, I was excited to see if Yan Ji Seafood Soup was able to change my opinion.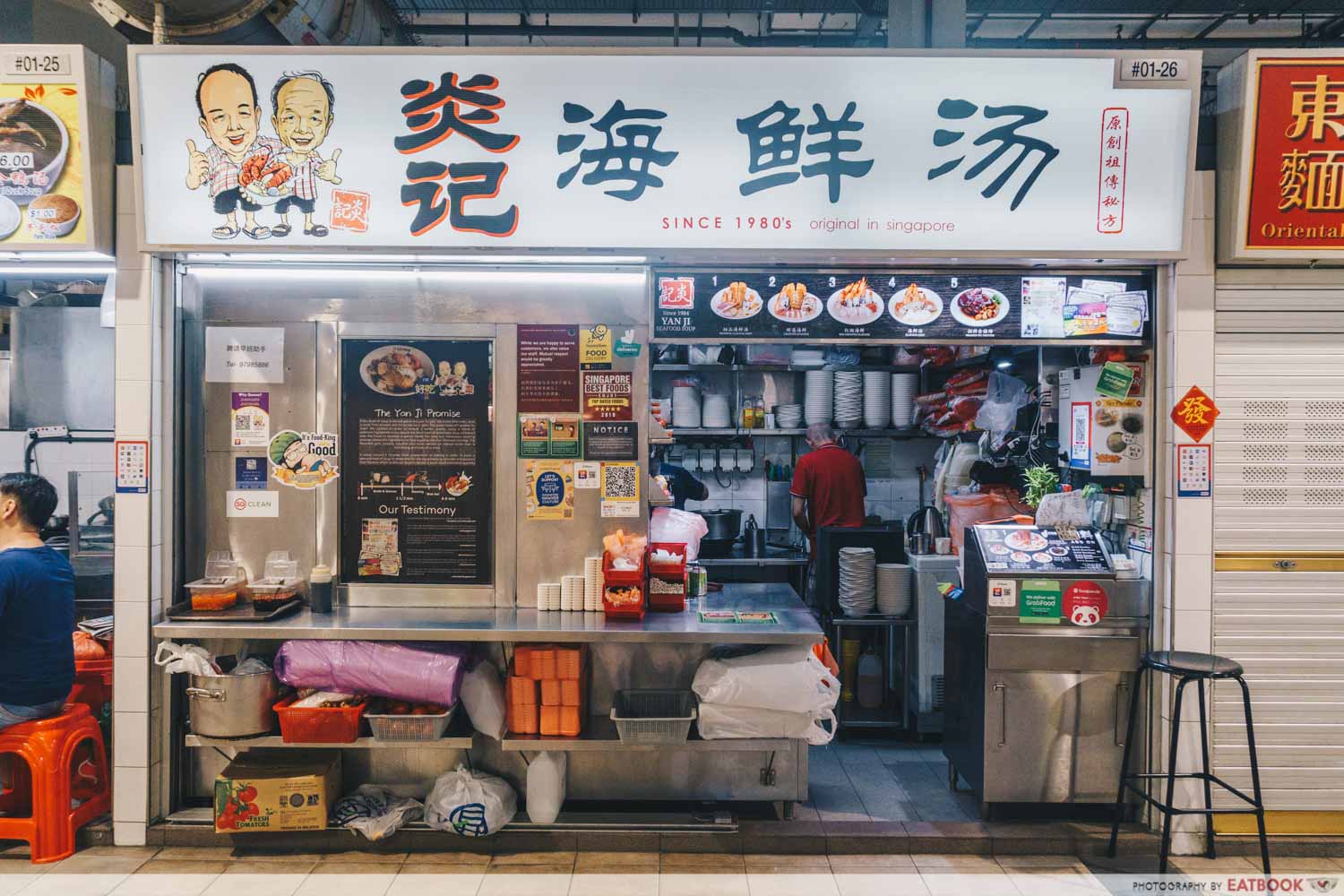 They've been touted as one of the best seafood soup stalls in Singapore with over three decades of history. Their secret, according to the write-ups plastered across their storefront, is a slow and meticulous cooking process that infuses their soup base with the rich flavours of seafood. From there, the dishing up of each order only takes up to five minutes.
Food at Yan Ji Seafood Soup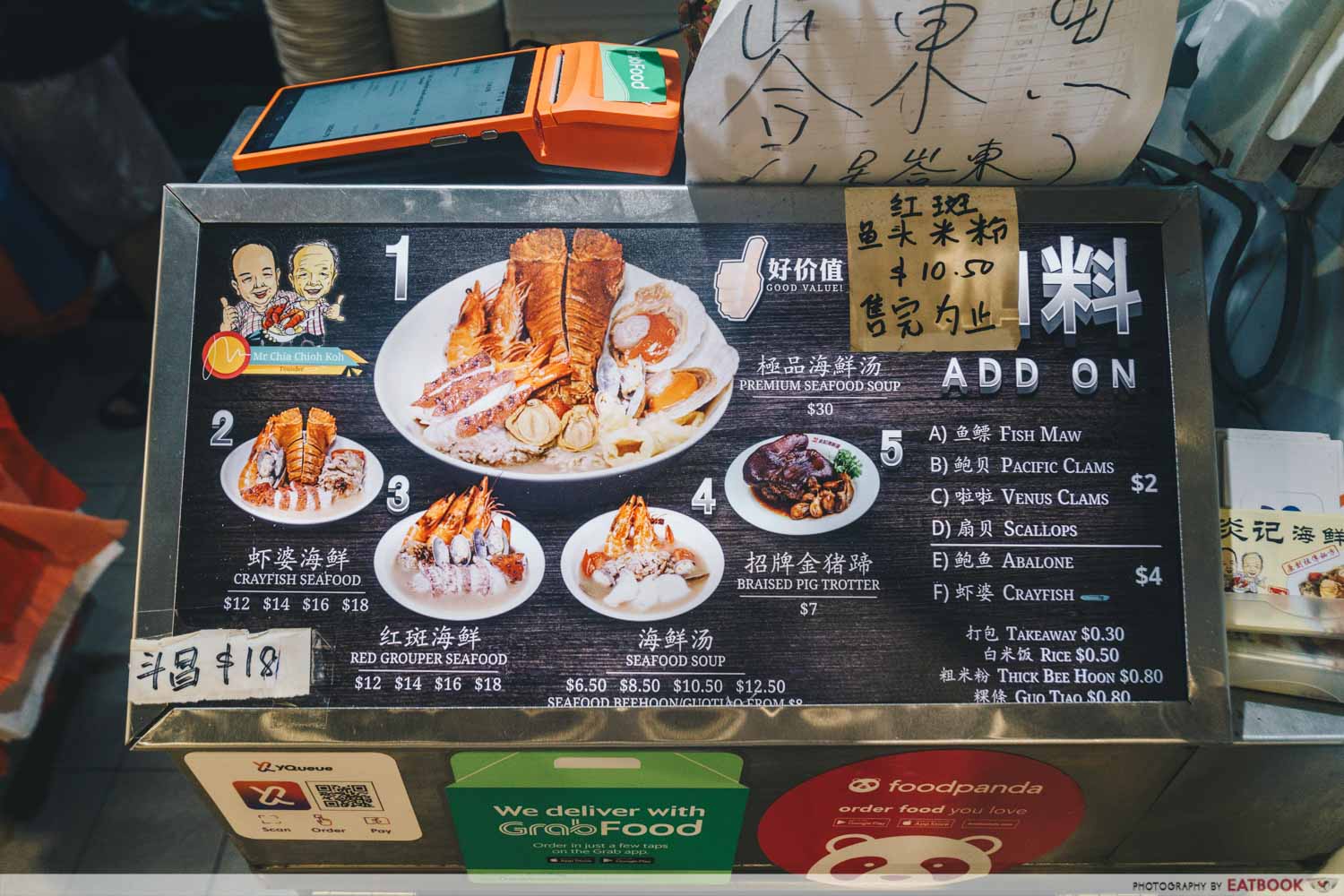 Their menu is rather straightforward. If you love customising your meals, you can order their basic Seafood Soup ($6.50/$8.50/$10.50/$12.50), and add ingredients such as scallops, clams, and abalone as desired. Alternatively, just get the family-sized Premium Seafood Soup ($30) for a mix of all their seafood items.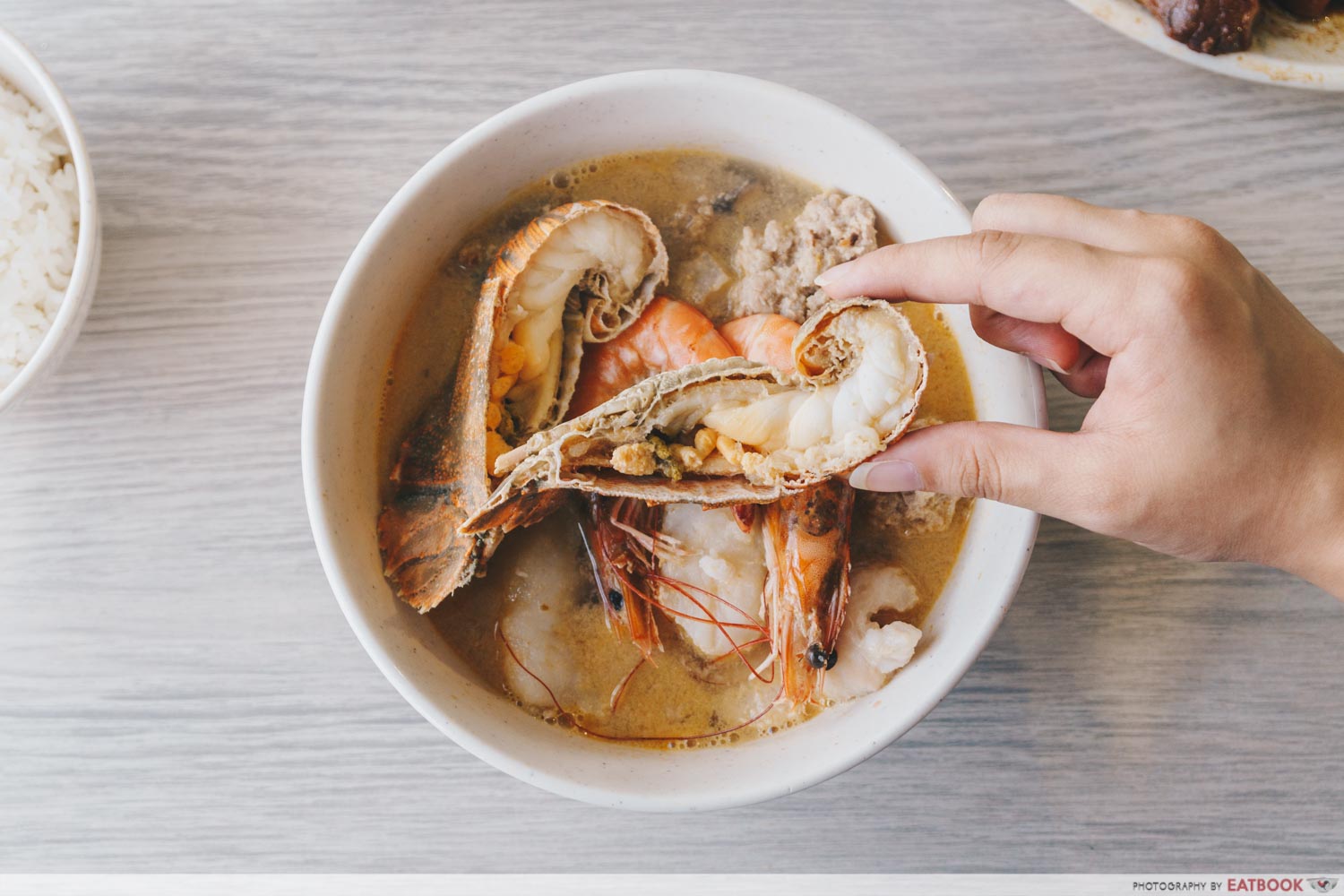 Starting my meal with a bowl of Crayfish Soup ($12/$14/$16/$18), I was surprised by the copious amount of ingredients that I spotted just in one glance. Though the price was on the higher side, their smallest portion came packed with a mound of ingredients such as crayfish tails, prawns, fish maw, minced pork, clams, and chunks of tomato.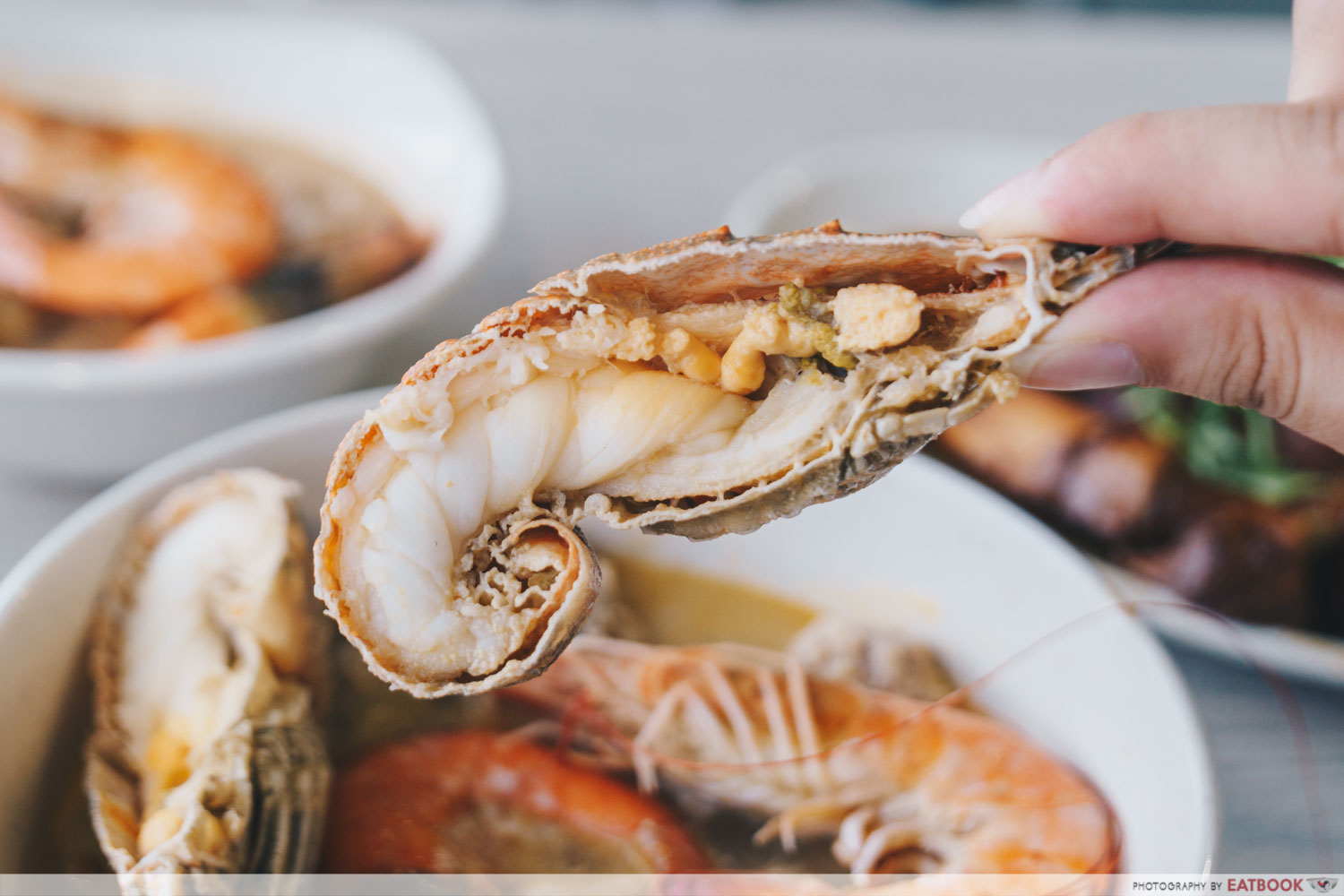 As I picked up the meaty crayfish, I took a few seconds to admire the crustacean's juicy white flesh, tightly woven into a neat spiral within its shell. The meat detached from the shell with ease, and was extremely succulent. This particular tail we scored housed a couple of orange crayfish eggs that popped in my mouth, releasing a delicate briny flavour.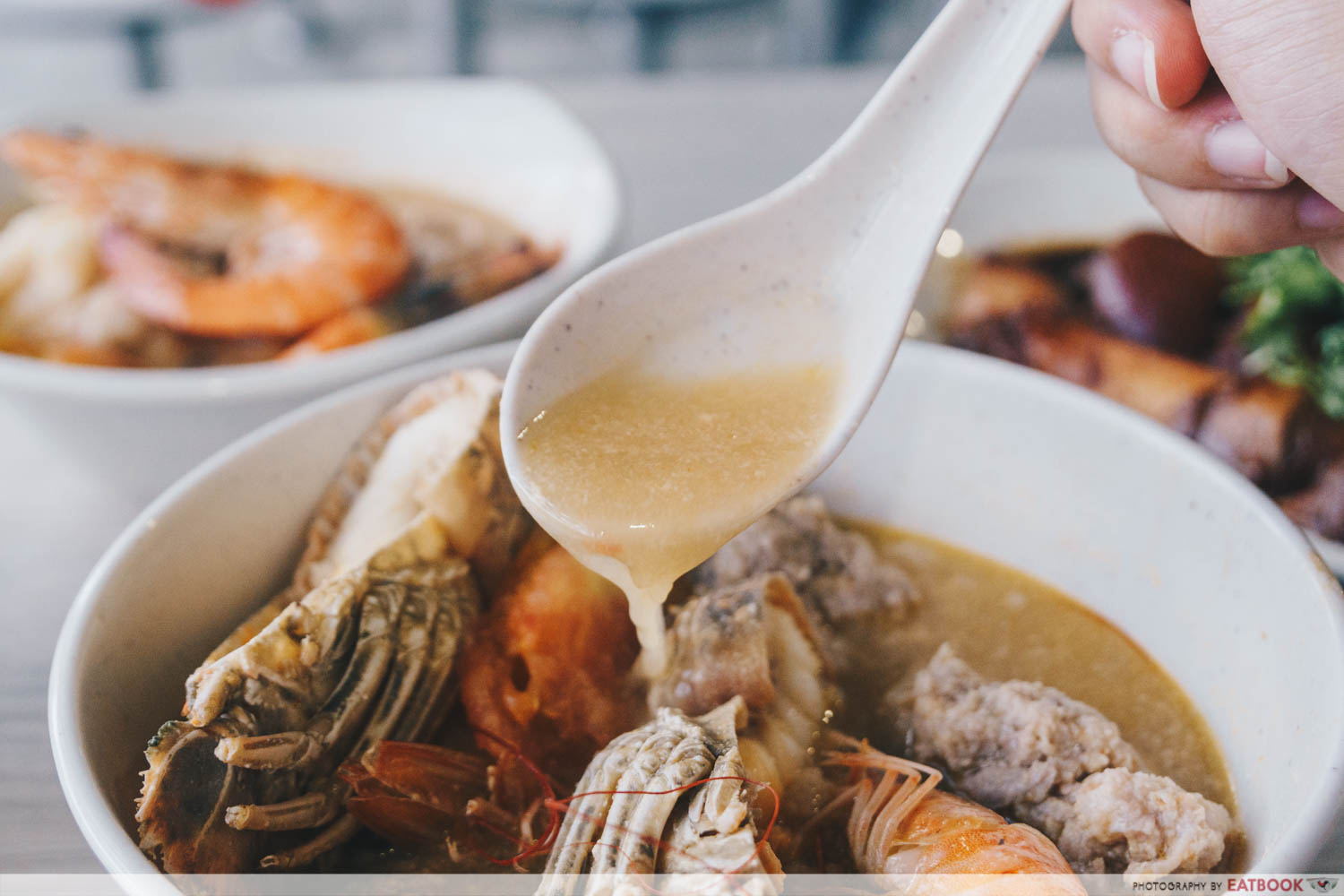 Having braced myself for a concentrated seafood stock, the mild flavour of the soup came as a surprise. It was lightly savoury, and carried a very subtle and natural seafood sweetness. It came as a surprise to me as testimonies of their soup often lauded it for being rich and umami-filled. Perhaps Yan Ji's broth recipe had changed over the years.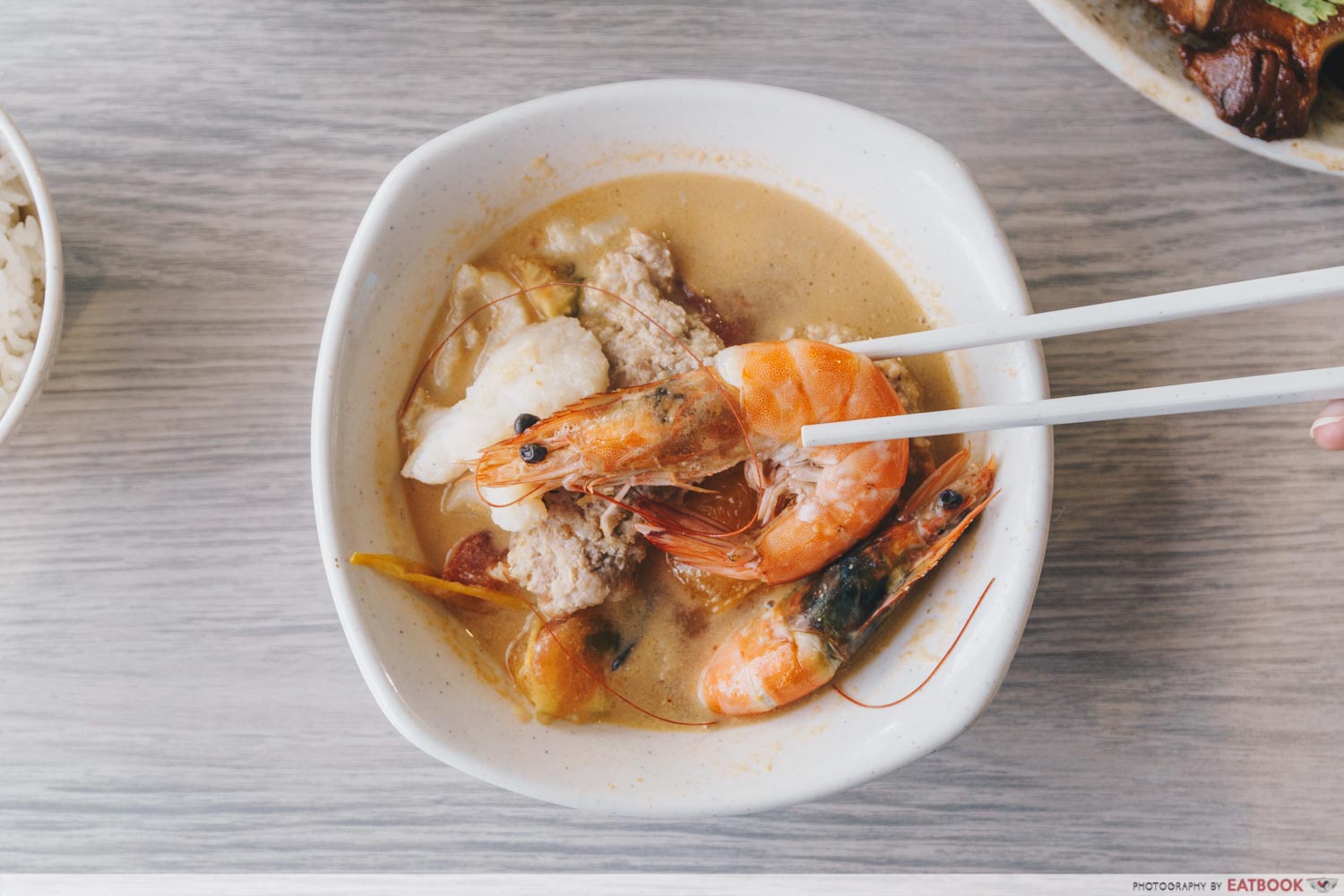 At nearly half the price of the crayfish soup, a bowl of their classic Seafood Soup ($6.50/$8.50/$10.50/$12.50) came with all the same ingredients, save the meaty crayfish tail. The amount of soup in the bowl of the smallest order barely covered the mound of ingredients. The soup was drained before I had even finished my accompanying bowl of rice.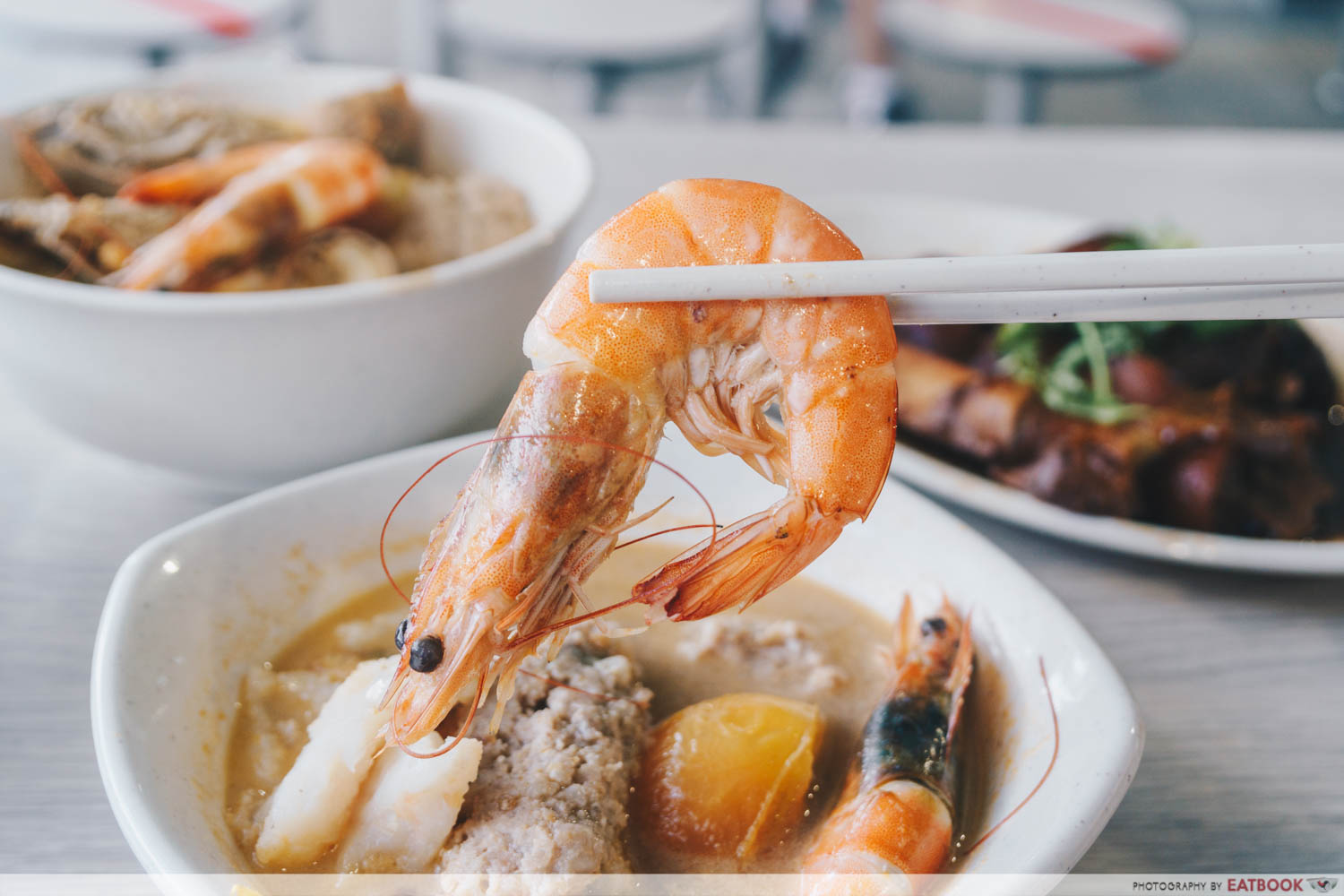 I fished out a large tiger prawn from the bowl. The juicy prawn meat was cooked just right, giving it that satisfying snap when bitten into. Compared to the crayfish, this crustacean was much more flavourful and sweet.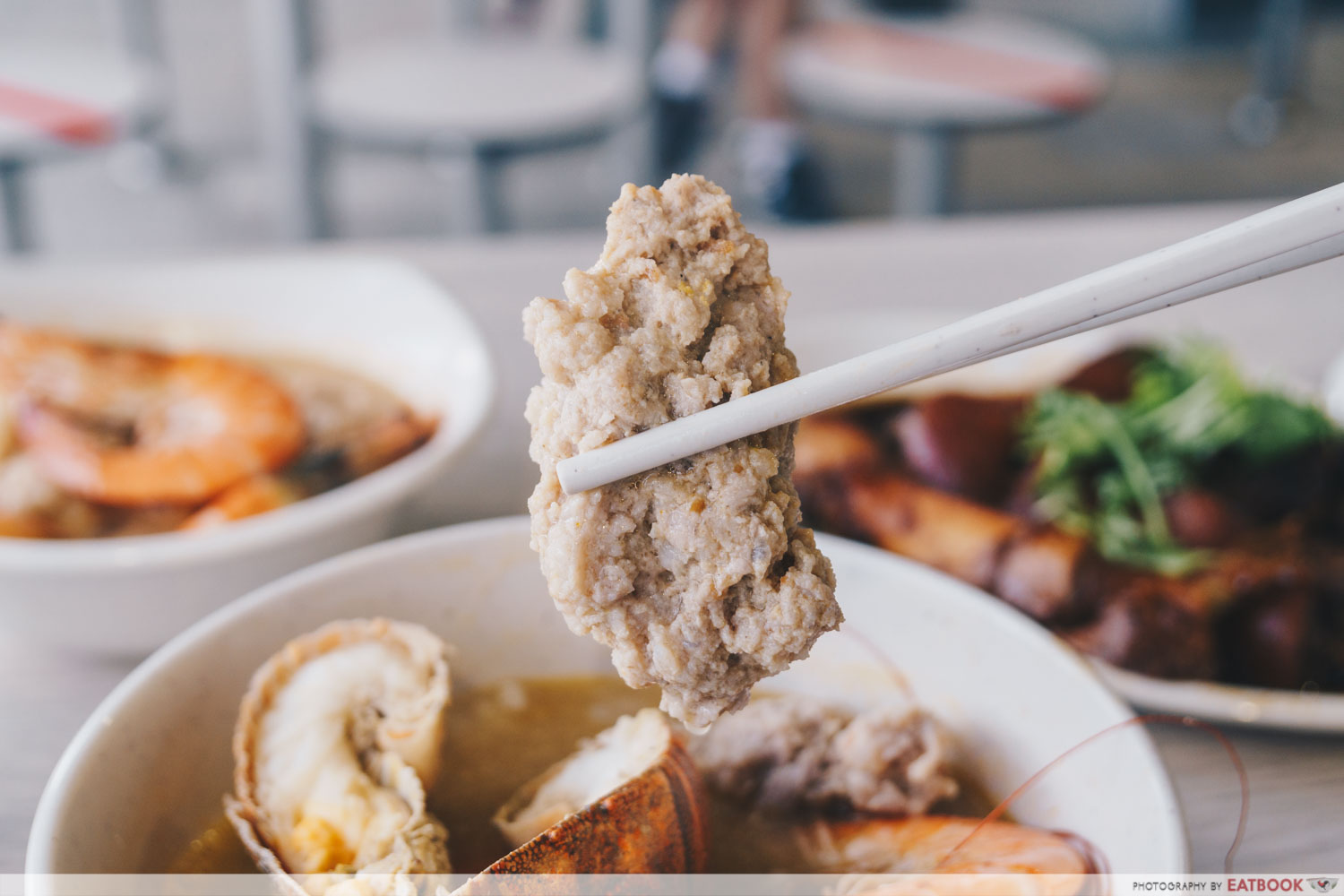 There were three to four chunks of minced pork mixed amongst the ingredients. The hefty piece of minced pork was meaty and delicious. Taking a closer look, I spotted minuscule pieces of mushroom moulded into the chunk of meat, giving it a juicier mouthfeel as well as an enhanced flavour.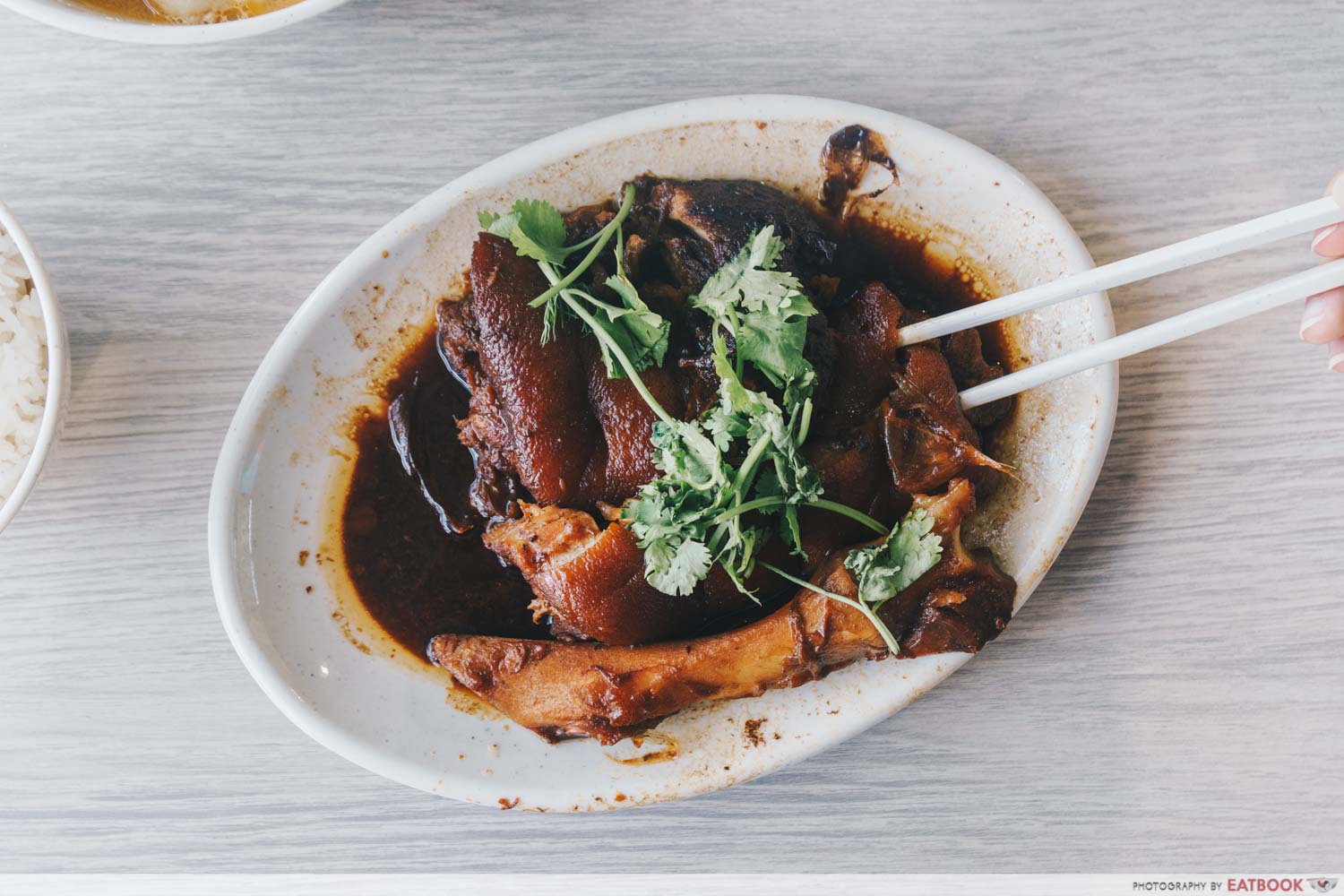 To see if their non-seafood items matched up to the standard, we threw in an order of their Braised Pig Trotters ($7). It was served up in a small pool of lor bak sauce, and topped with stalks of parsley. Unlike seafood soup, tender braised meat is no stranger to me. And from the looks of it, they were not stingy with the collagen-rich pig skin.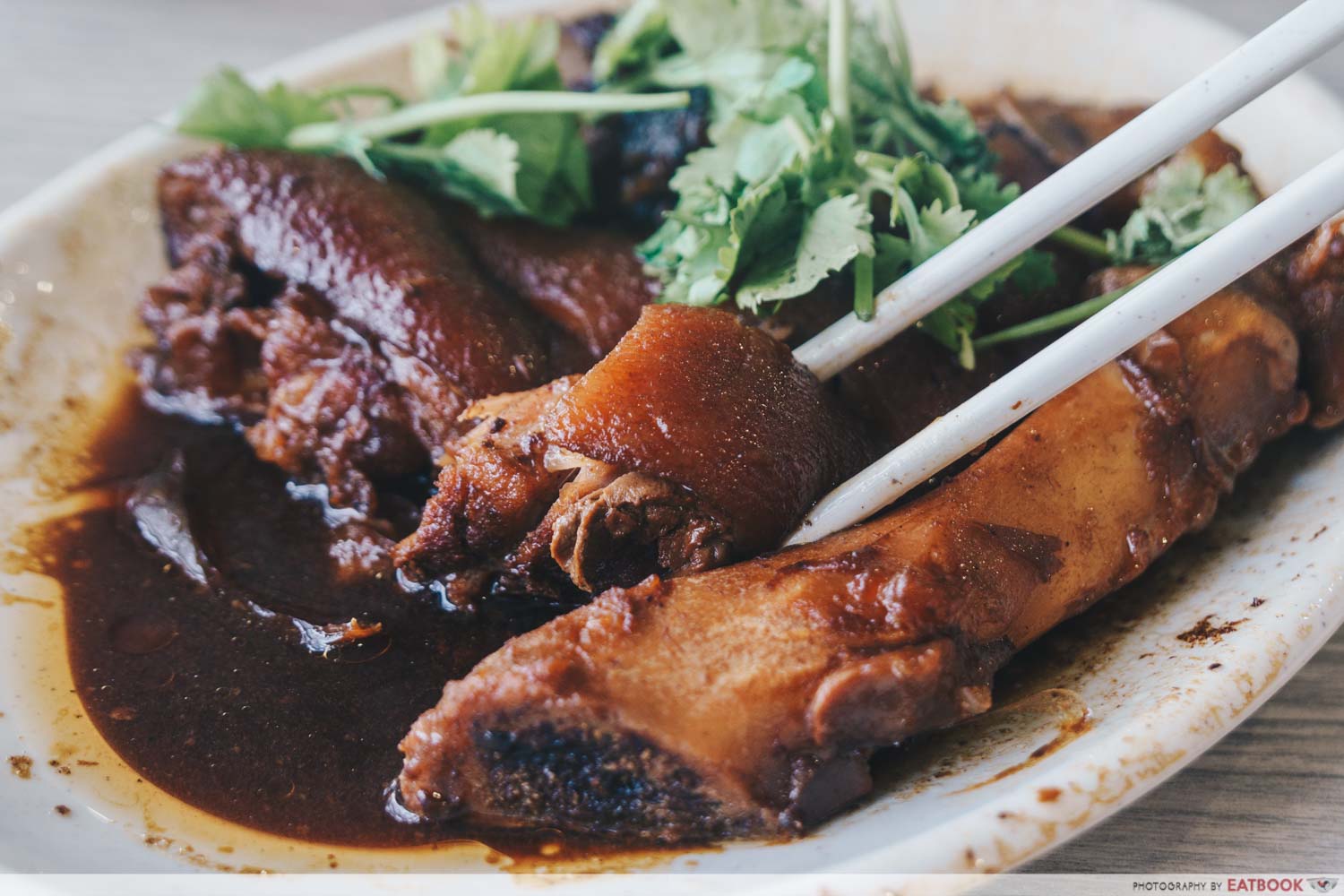 An unsung hero of this dish was the dark braising sauce. On its own, the sauce looked rather oily and thinned out, but once it soaked into the soft pork, I could taste the whole catalogue of flavours. 
The leading flavour was the subtly sweet dark sauce, followed by the fragrant garlic. Lingering on at the end was a touch of pepper and an aromatic blend of five-spice powder.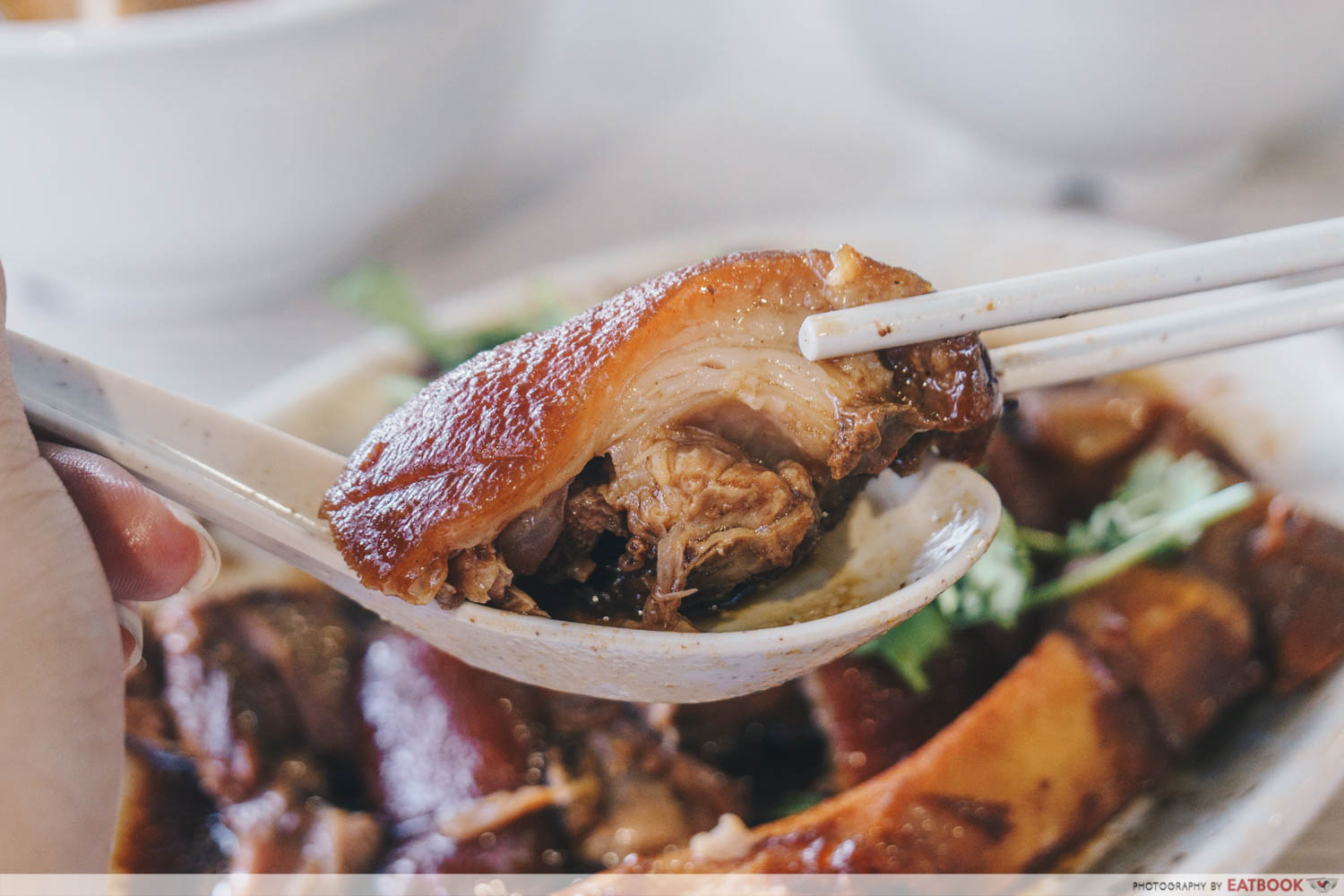 Most of the pork pieces I picked up had more skin and subcutaneous fat than actual meat or tendon. They were so thoroughly broken down that the tender trotter meat would dissolve in the first few seconds of chewing, allowing the juicy, gelatinous fats to take centre stage. As fatty as this dish was, I could hardly restrain myself from taking many more pieces of the melty pork, especially when it was paired with the sauce-soaked white rice.
Ambience at Yan Ji Seafood Soup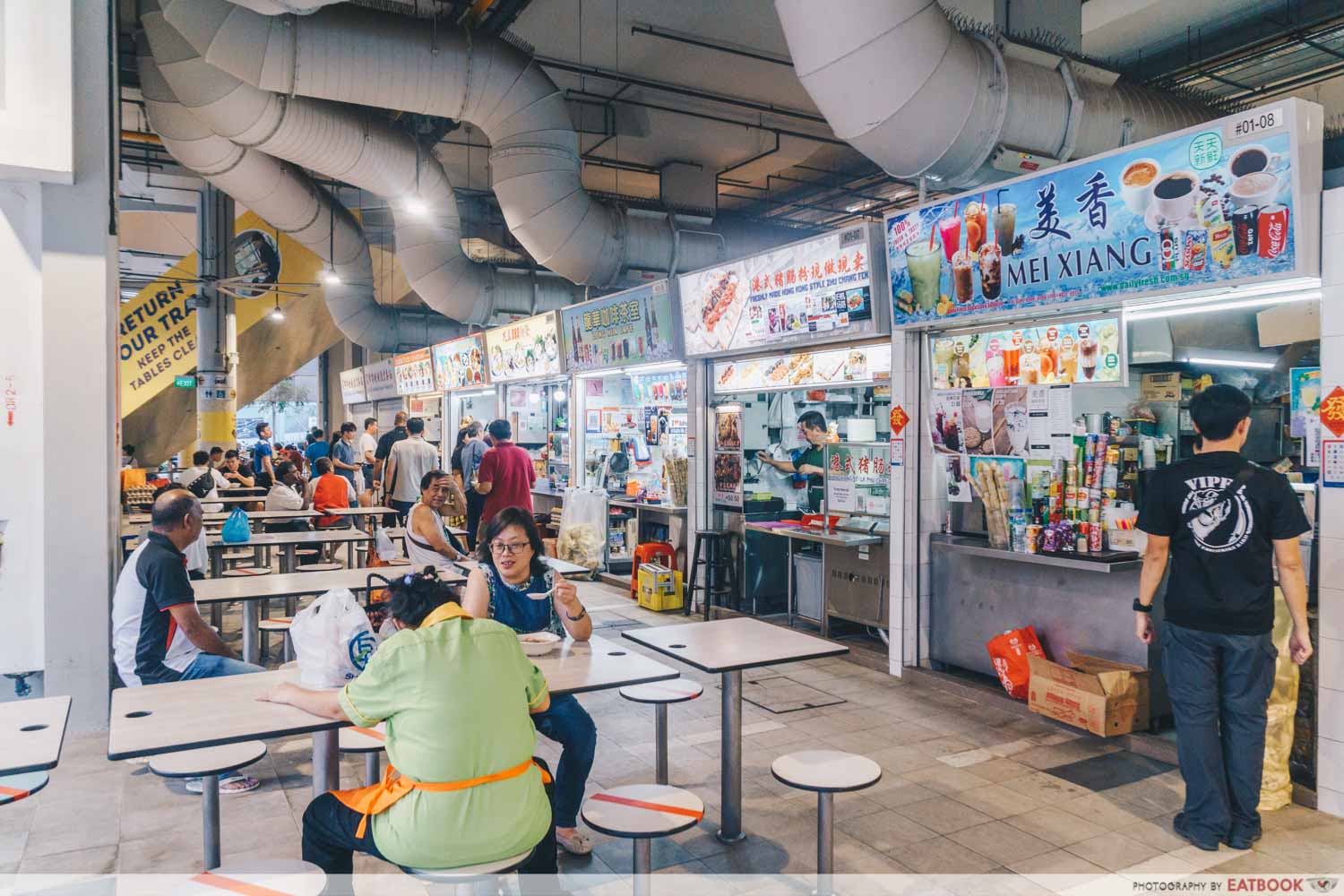 Yan Ji Seafood Soup is located at Marsiling Mall. Basing my expectations off its moniker, I envisioned the mall to be an air-conditioned shopping centre. However, it was just a hawker centre instead. Despite that, I appreciated how well they've maintained the refurbished space. The hawker centre was clean, well-ventilated, and brightly lit. 
My only complaint was that we were constantly pestered by flies and the rogue scavenging mynahs. So while the ambience was quite accommodating, we had to stay on guard the whole time to fend off pesky pests from attacking our food.
The verdict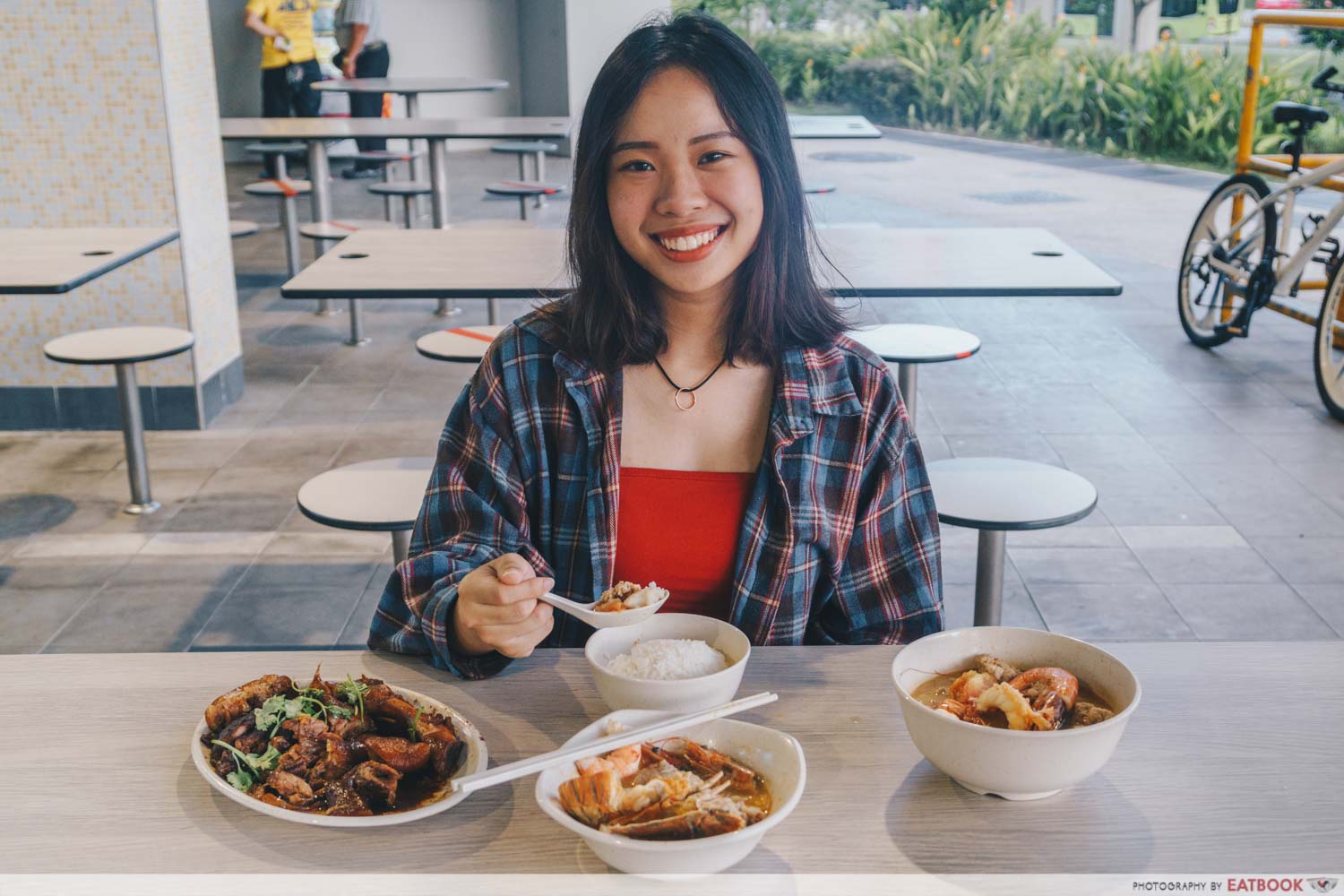 I can't say that I've become a true seafood convert after trying Yan Ji's soup, but I now understand the appeal of this soothing dish. Perhaps the milder flavours of their broth were made to allow the fresh crustaceans to take the spotlight. Should I ever find myself that far in the North again, I definitely wouldn't mind stopping by for another warm bowl.
Our list of Woodlands food will give you more grub options in the area. If you're clamouring for more comforting seafood broth, check out our review of Jia Li Seafood Soup.
Address: 4 Woodlands Street 12, #01-26, Marsiling Mall, Singapore 738623
Opening hours: Tues-Sun 11:30am to 8:30pm
Tel: 9798 5886
Website
Yan Ji Seafood Soup is not a halal-certified eatery.
Photos taken by Chng Jia Yan.
This is an independent review by Eatbook.sg and was written before the Circuit Breaker measures.
10 Woodlands Food Gems Including $1.30 Dim Sum, XLB Buffet, And A Fried Chicken Cafe
Summary
Pros
– Large and juicy seafood
– Delicious and fatty pig trotters
Cons
– Seafood soup was lacking seafood flavour
– Hawker centre had many flies
Recommended dishes: Braised Pig Trotters ($7), Crayfish Seafood Soup ($12)
Opening hours: Tues-Sun 11:30am to 8:30pm
Address: 4 Woodlands Street 12, #01-26, Marsiling Mall, Singapore 731004