---
These Woodlands food joints get our two thumbs up!
---
Most of us think of the East or West as foodie hotspots, and the North rarely gets due credit. Mention Marsiling or Admiralty in a conversation and your friends will usually think of quiet HDB estates, rather than sleek cafes and restaurants. Yet, a kaleidoscope of delicious food is often concealed within these monochrome buildings. Take Woodlands for example; a forest of industrial estates and high-rise flats, this expansive district surprises with its sheer variety of tasty food. Here are 10 Woodlands food joints to check out! 
---
1. Rasa Istimewa Restaurant
---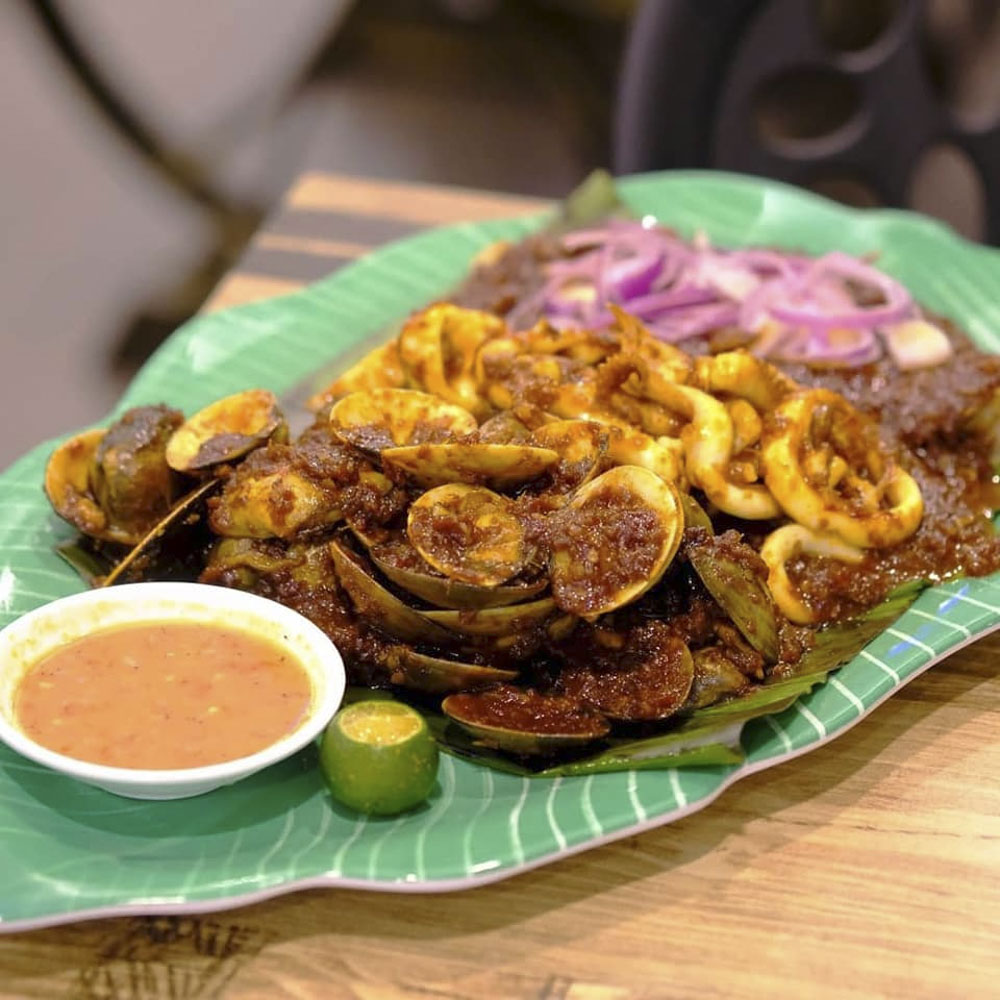 Image credit: Rasa Istimewa Waterfront Restaurant's Facebook page
Not many restaurants in Singapore boast a relaxing sea view like Rasa Istimewa Waterfront Restaurant, so drop by here with your loved ones for a chill dinner. Resting along the coast of Woodlands Waterfront Park, this homely spot churns up both halal zi char favourites and barbecued seafood. 
Fans of the latter must try their signature BBQ Seafood Combo ($28++), which features a trio of sambal-coated stingray, cuttlefish, and clams. The piquant sambal melds everything together, elevating the well-cooked seafood with its umami-laden zing.
Address: 6A Admiralty Road, Woodlands Waterfront Park, Singapore 757445
Opening hours: Daily 12pm to 11:30pm
Tel: 6366 9339
Website | Full list of outlets
Menu
---
2. Yes! Nasi Kukus
---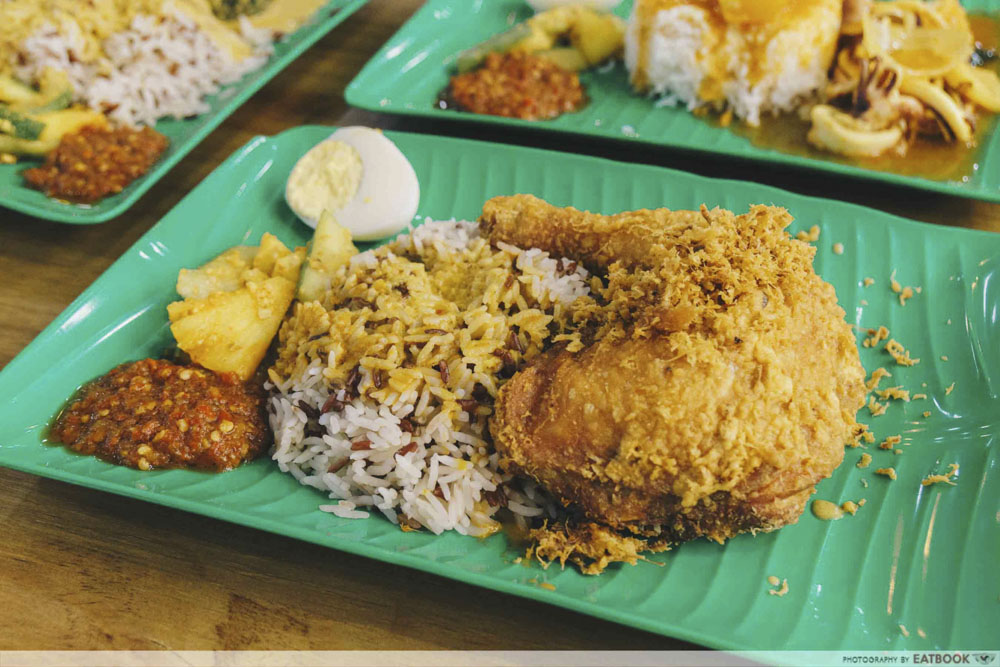 Coconut rice and fried chicken form a sinfully addictive pairing, so it's no surprise that locals throng to Yes! Nasi Kukus for their Nasi Dagang With Fried Chicken ($5.50). Steamed in coconut milk, their lemak-rich nasi dagang marries beautifully with the earthy curry to create a moreish and delectable plate.
While this simple duo proves to be a flavour-packed combination, it's their drool-worthy fried chicken that provides the knockout punch. Bolstered by a potent rub of turmeric, the thicc and succulent meat excites with it luscious and buttery notes.
Yes! Nasi Kukus Review: Fragrant Lemak Rice With Crispy Fried Chicken And Curry Fish At $5.50
Address: 573 Woodlands Drive 16, #01-01, Singapore 730573
Opening hours: Daily 10am to 9pm
Tel: 9101 5711
Website
---
3. 9PM Kkochi
---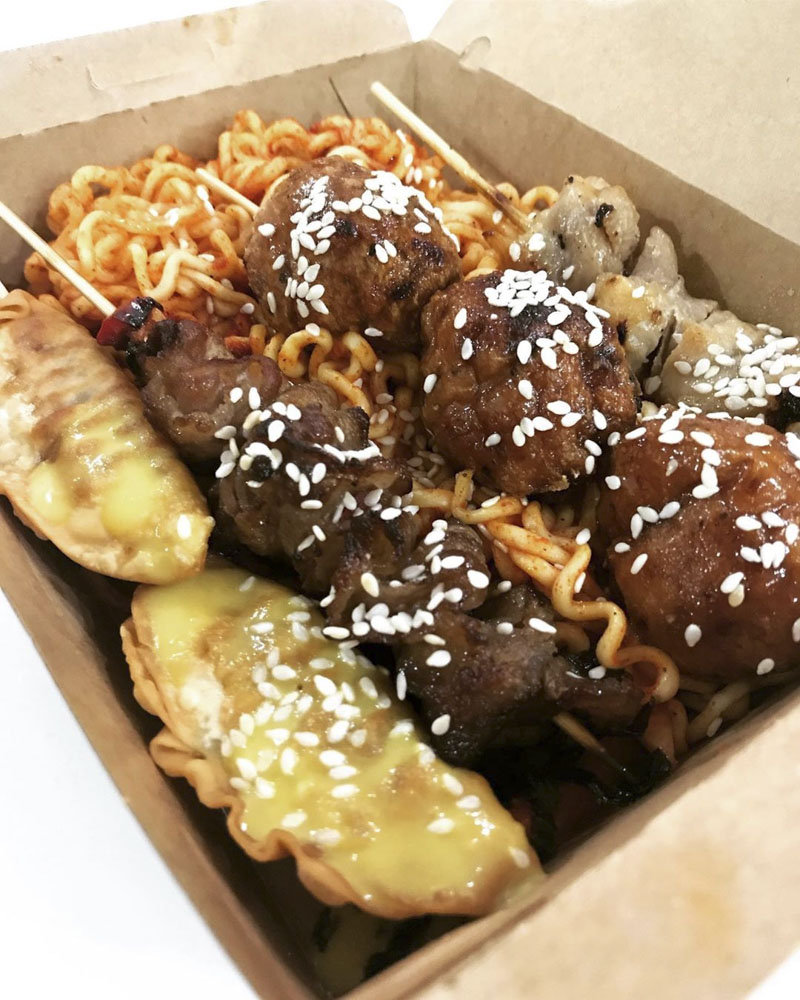 Image credit: @juancheatday
Kkochi (꼬치) translates to 'skewers' in Korean and that's exactly what 9PM Kkochi specialises in. Think of a Tori-Q-like kiosk, with a couple of deft hands churning out multiple marinated Korean skewers.
Make room for favourites such as their Pork Zig Zag ($1.60) and Beef Zig Zag ($1.80). Grilled over charcoal and subsequently flame-torched, these skewers effuse a smoky aroma that pair nicely with their natural savouriness. 
Address: 1 Woodlands Square, #B1-K11, Causeway Point, Singapore 738099
Opening hours: Daily 11am to 9:30pm
Tel: 6219 5884
Website
---
4. Tenderbest Makcik Tuckshop
---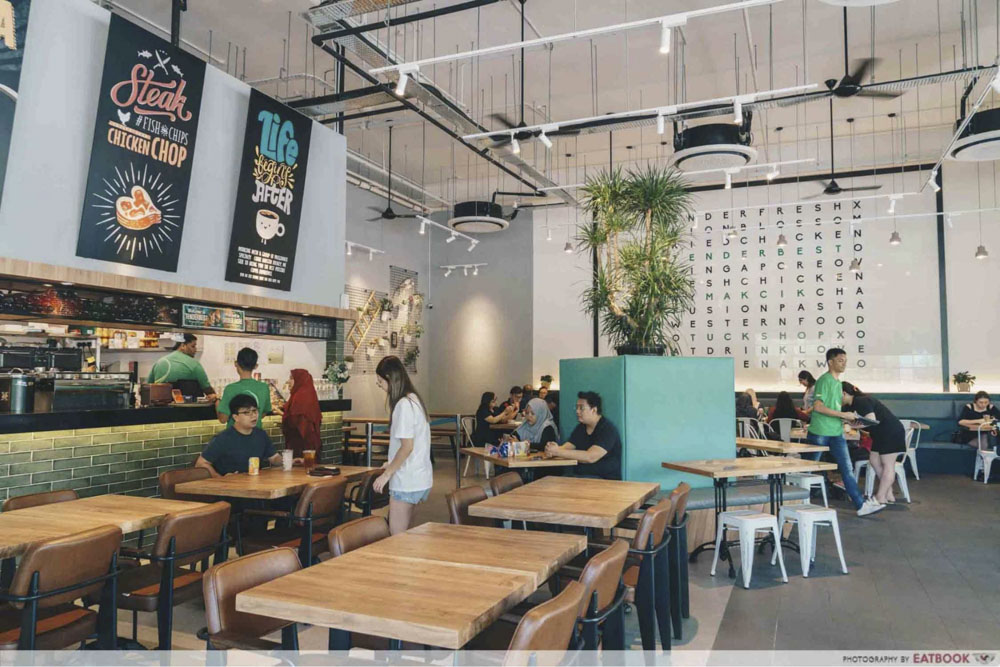 One of Singapore's most popular fried chicken chain, Tenderfresh continues to set the bar high with its latest concept⁠—Tenderbest Makcik Tuckshop. Reminiscent of the school canteens from before, this industrial cafe ought to relax anyone with their minimalist decor and jazzy ambience.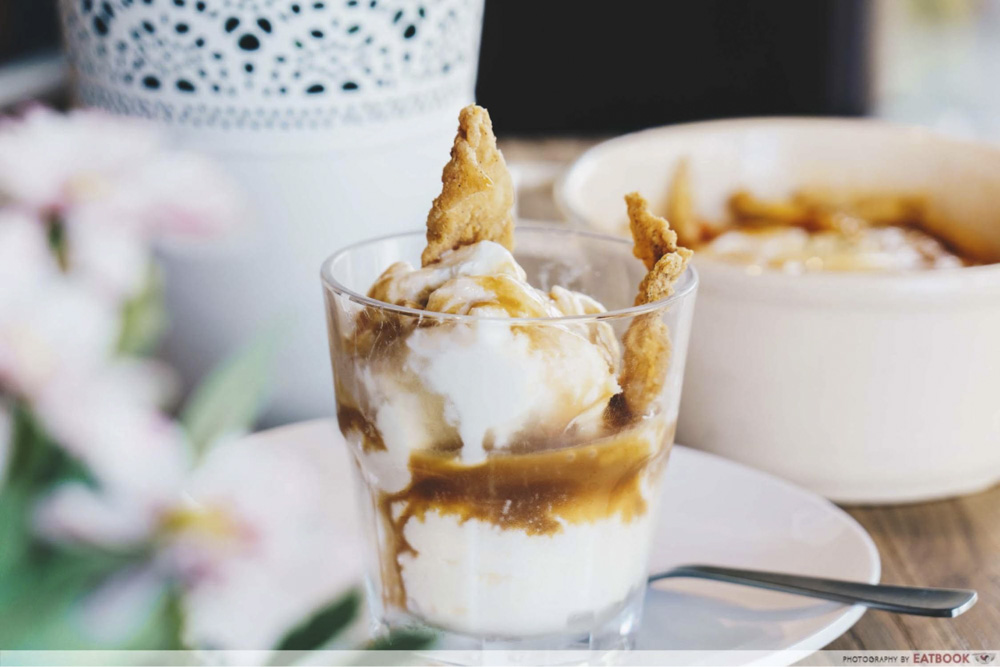 Complete a relaxing afternoon here with their fried chicken dishes, including the funky Fried Chicken Caramel ($5.90). Golden-brown wafers of fried chicken skin are stashed in a dollop of creamy vanilla ice-cream, supplying a much-needed textural contrast with their delicious crunch.
Tenderbest Makcik Tuckshop Review: Tenderfresh's First Ever Cafe Serving Fried Chicken Everything
Address: 39 Woodlands Close, #01-68, MEGA@Woodlands, Singapore 737854
Opening hours: Sun-Thurs 11am to 10pm, Fri-Sat 11am to 11pm
Tel: 8738 6494
Website
---
5. Ivan's Carbina
---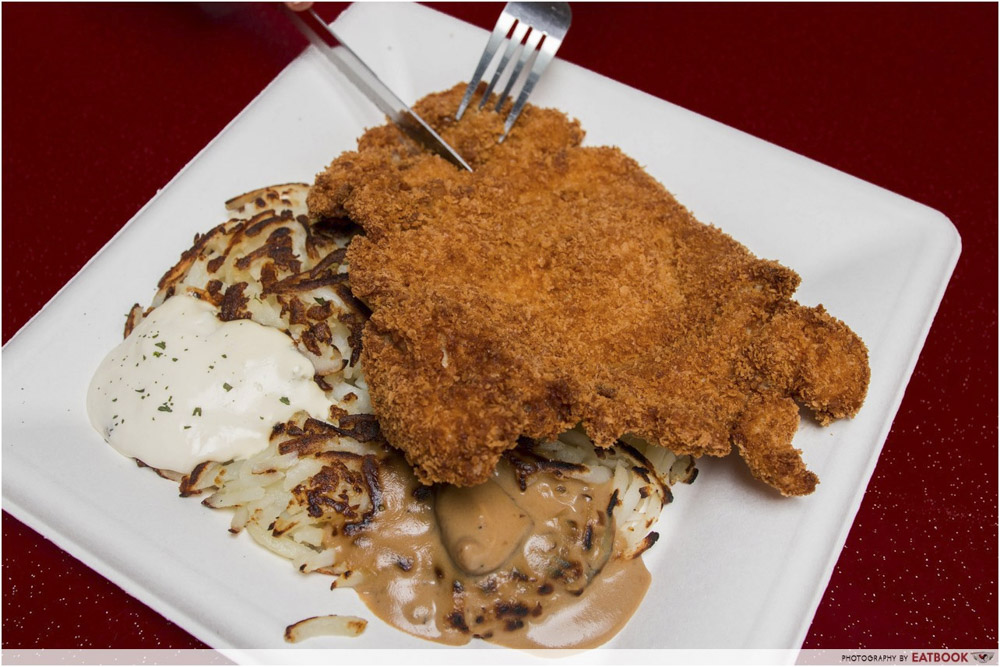 Instead of heading to town for Marche Movenpick's rosti, try out the Chicken Cutlet Roesti ($8.80) from Ivan's Carbina instead! Featuring a substantial patty of grated potato pancake and an equally large slab of fried chicken, this hearty set certainly stretches your dollar. Special mention goes to the crispy cutlet, which impresses with its ASMR-worthy crackle and full-bodied kick.

Ivan's Carbina Review: Get Rosti And Cheap Steaks From This Kopitiam Stall
Address: 354A Woodlands Avenue 5, #01-01, Lucky Star Coffeeshop, Singapore 730354
Opening hours: Tue-Sun 11am to 8:45pm
Tel: 9048 0333
Website
---
6. Coal 3606
---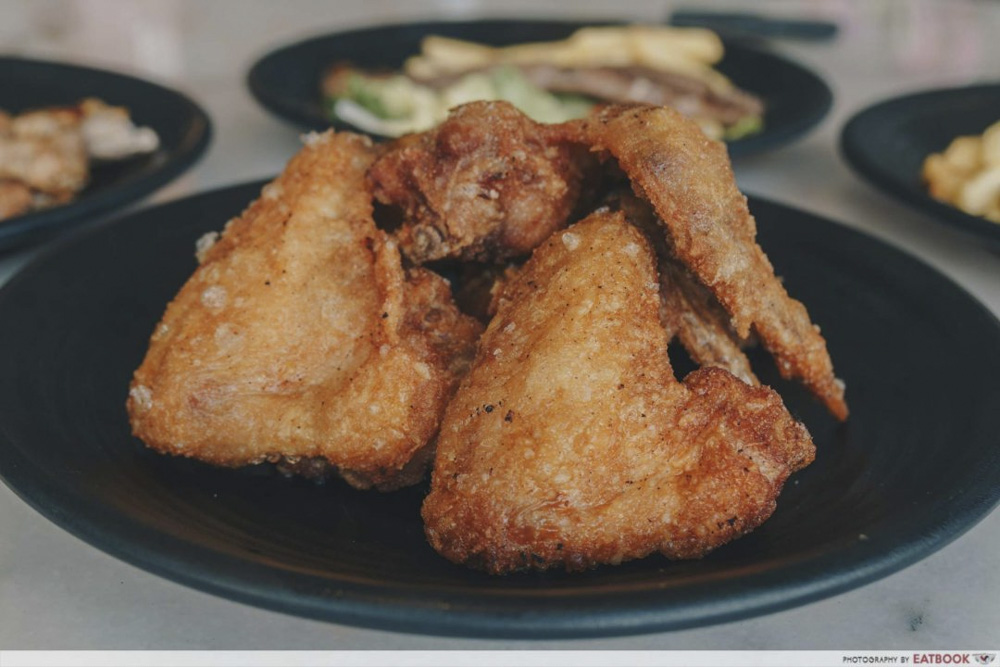 Agree to disagree, but school canteens churn up some of Singapore's best meals. Take for example Coal 3606, which offers a bite of the famous chicken wings (from $1.30 to $1.50) from CHIJ St. Nicholas Girl's School. Adorned with a crackling crust and glistening with chicken juices, these juicy treats tick all the boxes of a textbook-perfect fried chicken. 
Coal 3606 Review: CHIJ St. Nicks Famous Chicken Wing Canteen Vendor Opens A Hawker Stall
Address: Woodlands Avenue 9, Block W4/W6 Level 3, Republic Polytechnic, Singapore 738984
Opening hours: Mon-Fri 10am to 2pm
Tel: 9858 9792
Website
---
7. Kuai San Dian Xin
---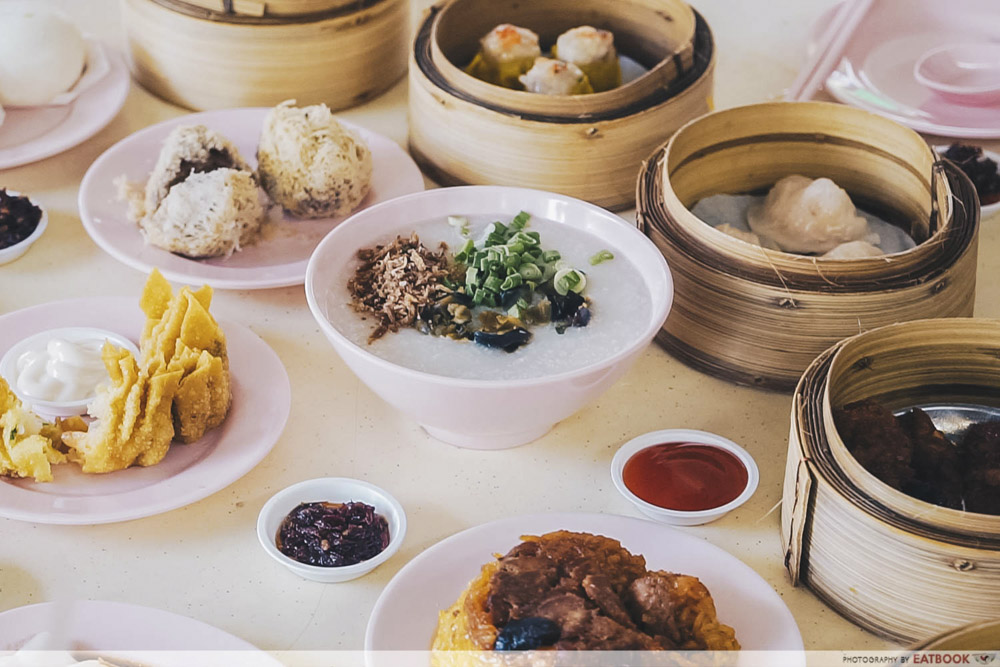 Kuai San Dian Xian proves that you can enjoy a filling yum cha without breaking the bank, as their dim sum are all priced at just $1.30. Jio a friend and pamper yourselves with their house-made dishes, including the signature char siew pau. A trove of fatty pork belly hides within these pillowy buns, waiting to excite the palate with their rich, sweet, and aptly savoury flavours. They also have outlets in Ang Mo Kio and Chinese Gardens, if Woodlands is too far for you.  
Kuai San Dian Xin: $1.30 Dim Sum At Ang Mo Kio That's Open 24 Hours
Address: 21 Woodlands Close, Level 1, Singapore 737854
Opening hours: Daily 24 hours
---
8. Rise & Rice
---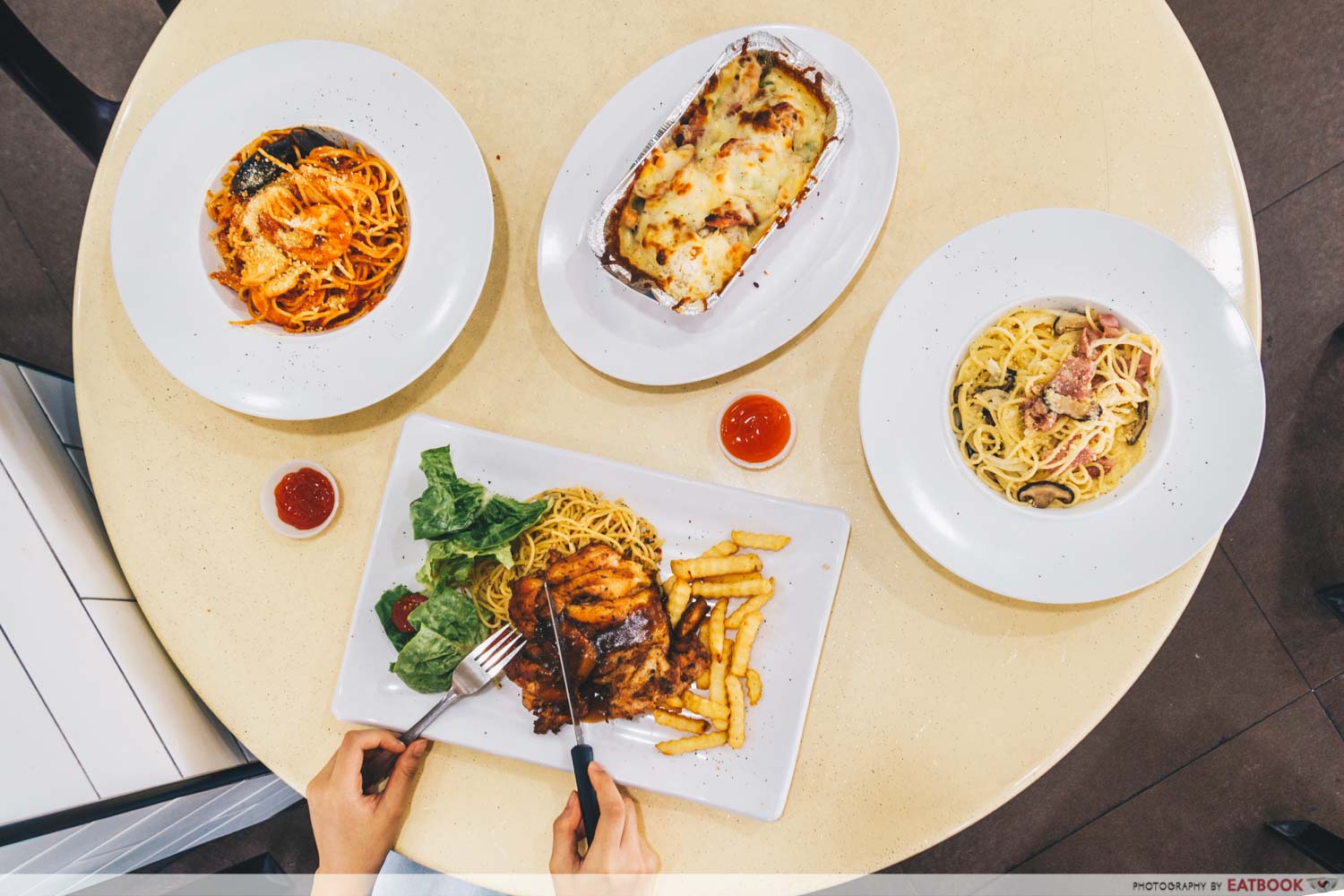 Classic Western food at affordable prices are what Rise & Rice Grill Kitchen offers. Opt for signatures like the Grilled Chicken Chop ($6.50), served with a hunk of chicken, fries, and aglio olio, or their Carbonara ($5.50), loaded with a creamy sauce, and a generous amount of bacon.
Address: 892C Woodlands Drive 50, Singapore 732892
Opening hours: Tue-Sun 11am to 8.30pm
Tel: 8515 7150
Website
Rise & Rice Grill Kitchen Review: Value-For-Money Western Food From $5.50 At Woodlands
---
9. Shi Mei Roasted
---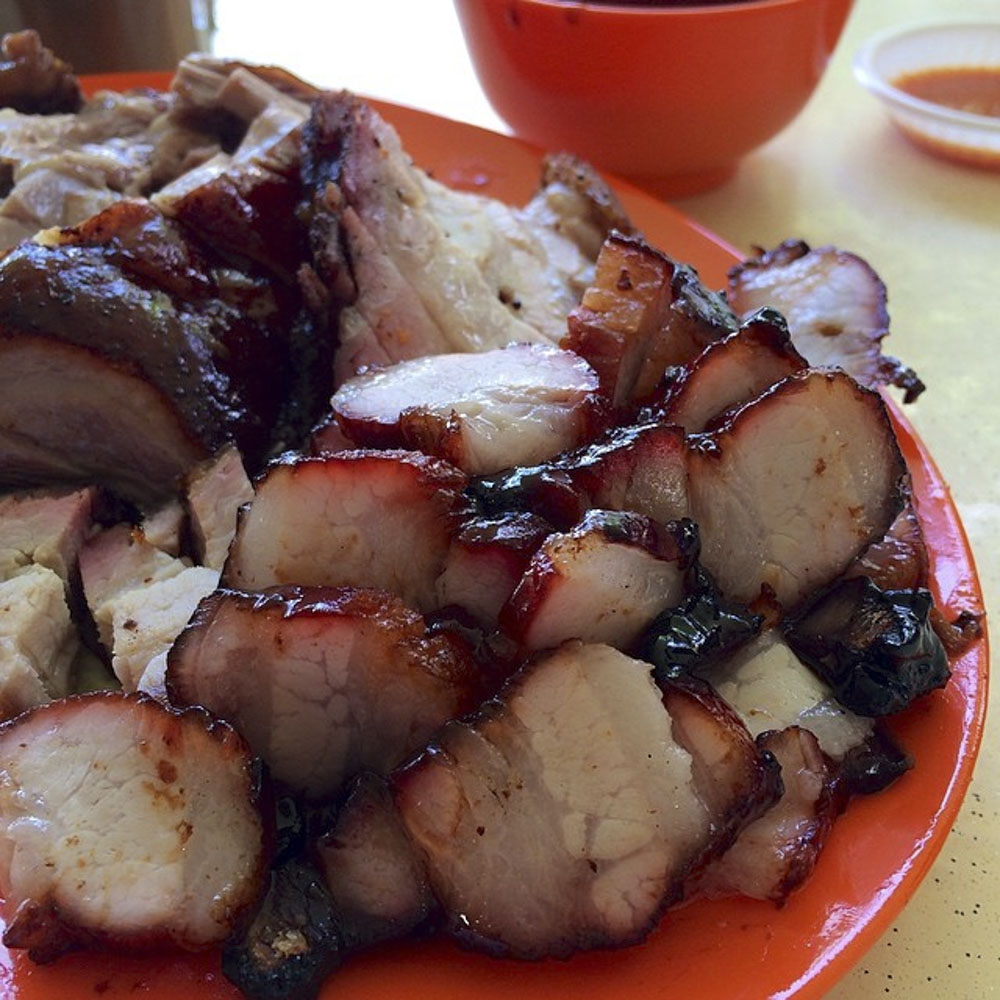 Image credit: @fabianpoon
Not all roast meats are equal. At Shi Mei Roasted, the mouth-watering Char Siew Rice ($4) reigns supreme. Adorned with a generous layer of fat, the juicy and tender slabs of barbecued pork brim with meaty richness. A caramelised glaze rounds off this luxurious protein, giving a combination of both savoury and sweet undertones. 
Address: 211 Marsiling Crescent, Lucky Star Eating House, Singapore 730211
Opening hours: Daily 8am to 3pm
---
10. Master Wang
---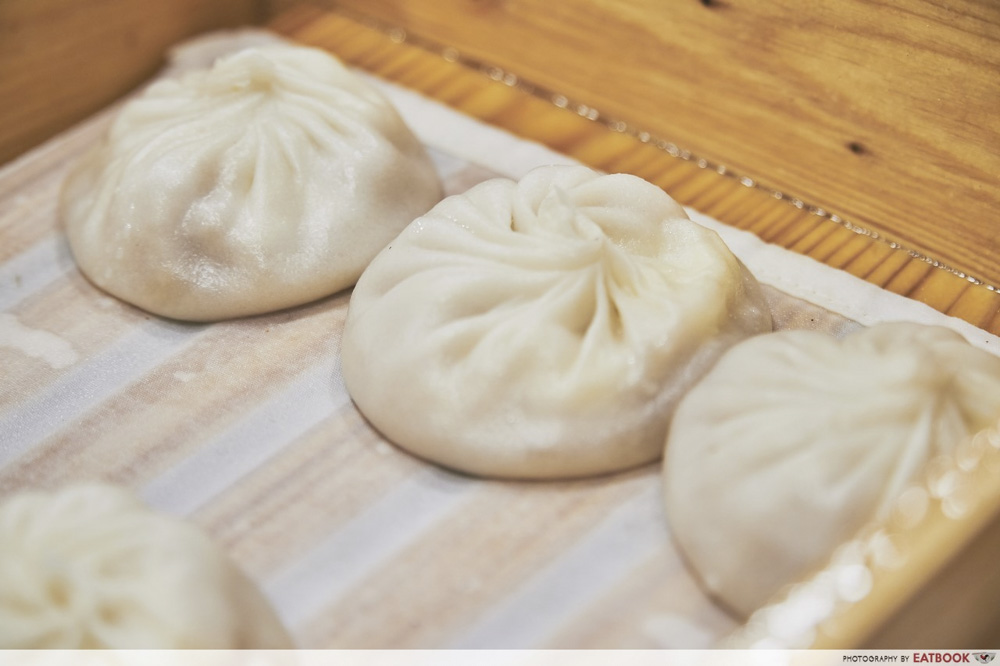 No Woodlands food listicle will be complete without Master Wang's value-for-money Original Steamed Dumpling ($3.20). The stall also offers Lala Steamed Dumpling and Fragrant Pan Fried Dumpling (potstickers)!
We also recommend saving extra tummy space for their Scallop Steamed Dumpling. Laced with umami-rich dried scallops, these XLB offer a harmonious medley of luscious and meaty notes.
Master Wang Review: Scallop, Crab Roe And Cheese Xiao Long Bao At Yishun
Address: 27 Woodlands Link, Chang Cheng HQ, Singapore 738732
Buffet hours: Mon-Sat 10:30am to 8:30pm
Tel: 8733 3171
Website
---
Travel down to these Woodlands food places
---
Besides the rows of restaurant outlets at Causeway Point, a plethora of delicious stalls lies within Woodlands. The next time you're in the area, take a short walk around this exciting neighbourhood and check out these lesser-known stalls instead.
If you're combing the ulu North for more hidden food gems, check out these 10 Yew Tee food places as well. Whether it's celebrity-endorsed chicken rice or Western fusion creations, these exciting eateries prove that Yew Tee is not just the random neighbourhood near Choa Chu Kang.
This article was updated on 12 December 2020.