Famous St. Nicks Chicken Wings At Coal 3606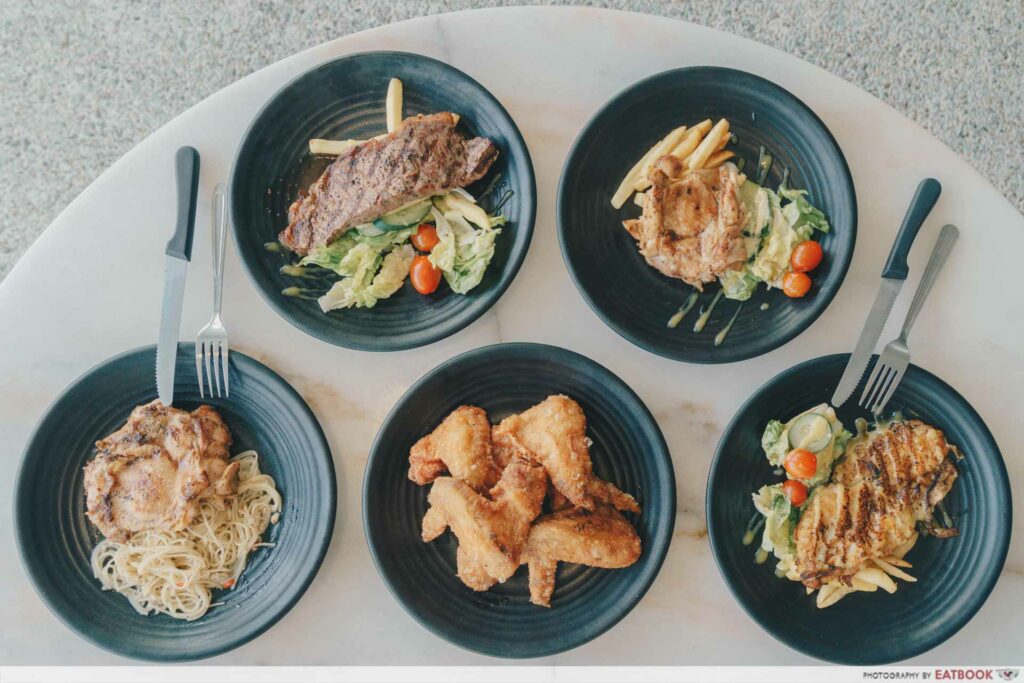 Many ex-students will fondly remember the delicious and crispy chicken wings from CHIJ St. Nicholas Girl's School. And the one responsible behind these famed wings is Madam Lim Meow Lang – more fondly known as Auntie Meow Lang. The family has served the school for more than 40 years, and is the only canteen vendor to have served all five principals since 1972, when the school was located at the Victoria Street.
Sadly, Auntie Meow Lang passed on in 2014 at the age of 82. Her daughter continued running the stall, before closing the shutters shortly after the implementation of the Healthy Meals in School Programme. Selling chicken wings without their skin did not make sense – it was the stall's unique selling point.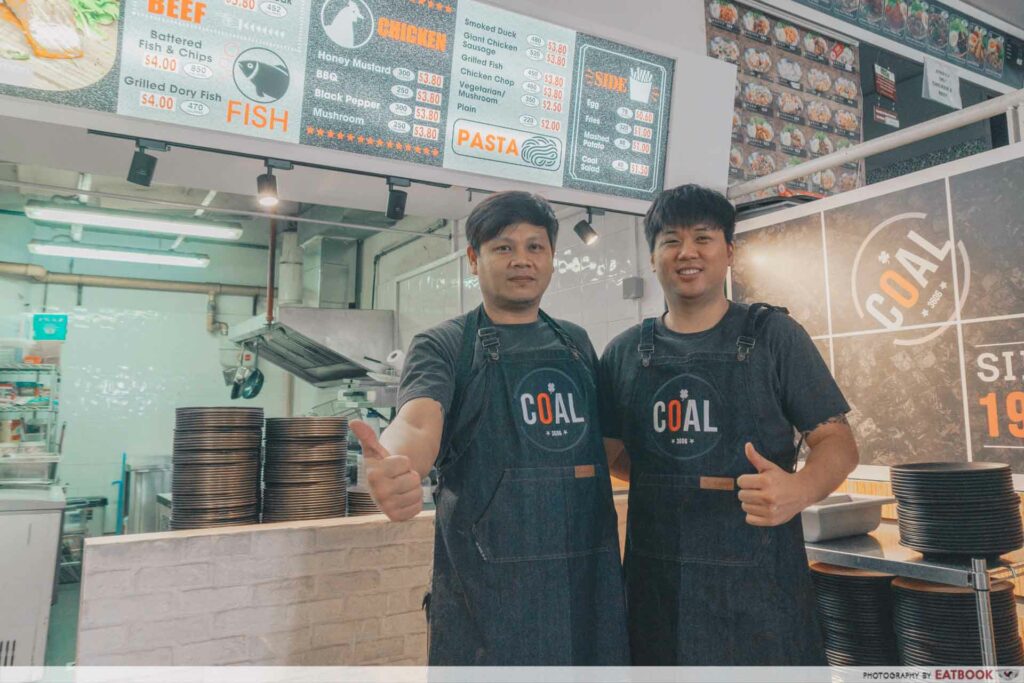 Fast forward to today, Madam Lim's 31-year-old grandson, Mr. James Ngiam, is here to put the family's chicken wings back in business, with his own stall; Coal 3606 at The Lawn Food Court in Republic Polytechnic. From 17 years old, James has been helping his family run the stall and learning the recipe of the chicken wings. Coal 3606 is also run by Ken – the family's chicken wings supplier of 13 years.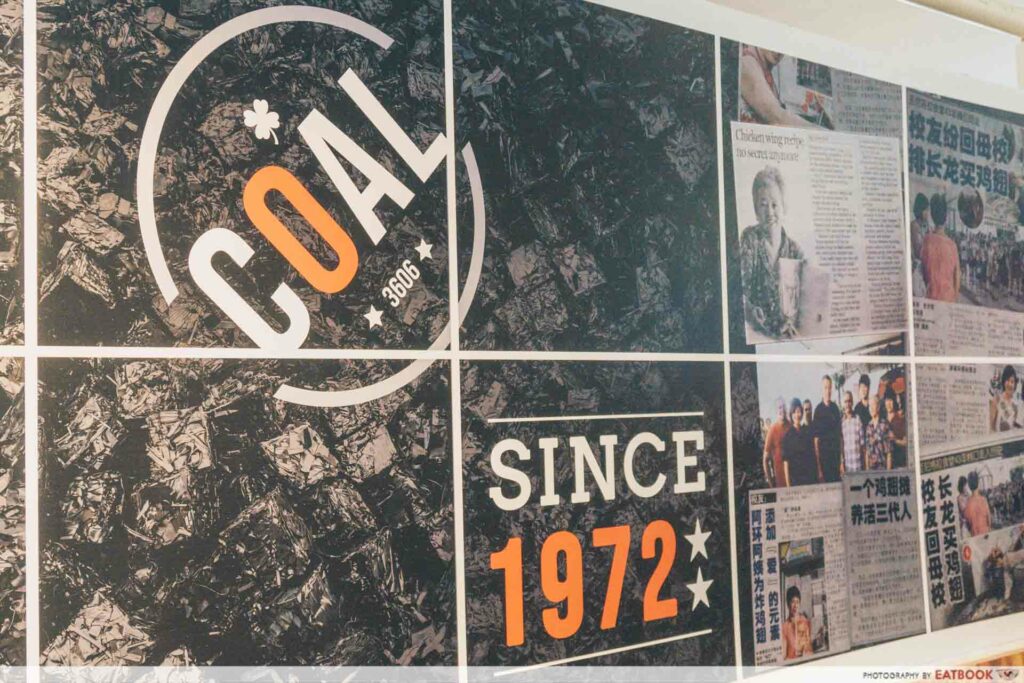 Food at Coal 3606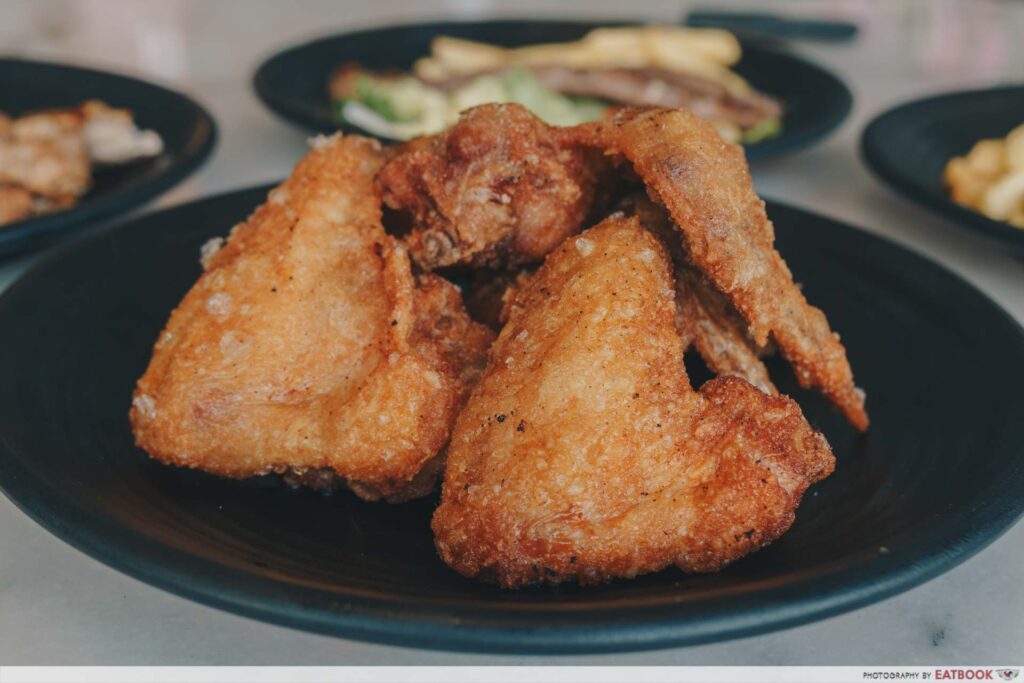 Each piece of Chicken Wing is priced from $1.30 to $1.50 – depending on the size of the wings. When the chicken wings were first served, I could not help but noticed little fried oil blisters on some areas of the wing.
Chicken wings here are only sold in one flavour. This is to honour the original marinade passed down by Auntie Meow Lang.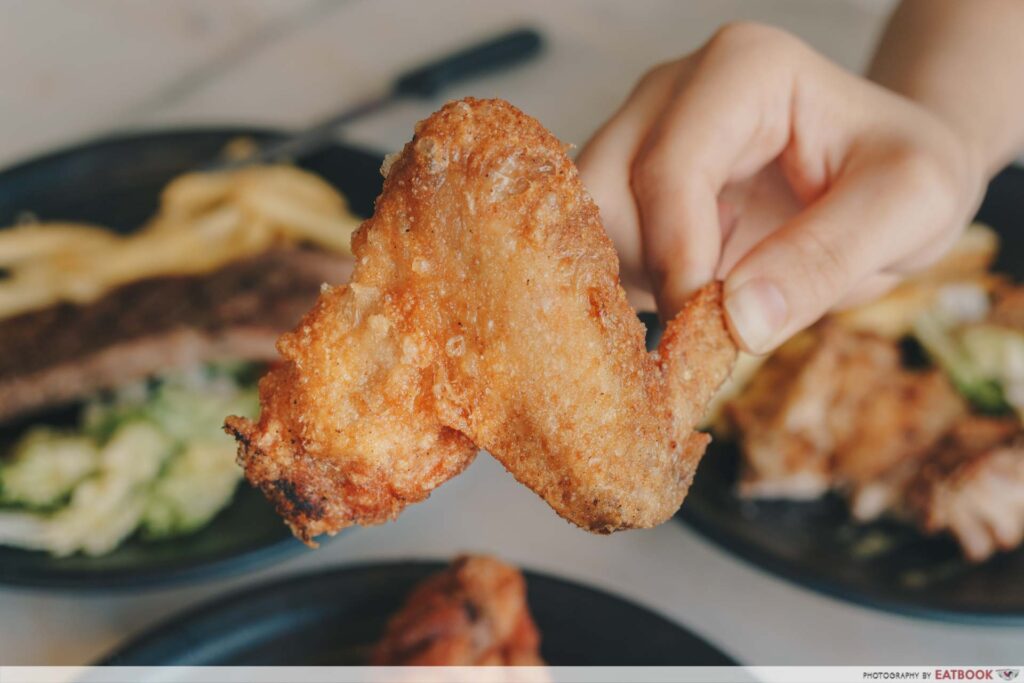 We were impressed by how big and fat the wings were. Each wing was lightly battered and fried to a nice golden brown.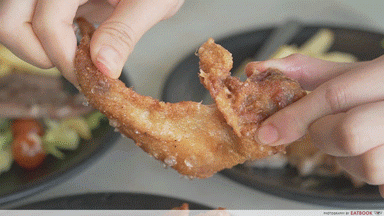 The crispy skin crackled as I tore it apart. Crunchy on the outside but tender and juicy on the inside, these wings are every chicken wing lovers' dream. The well-balanced flavours of these wings left me shook.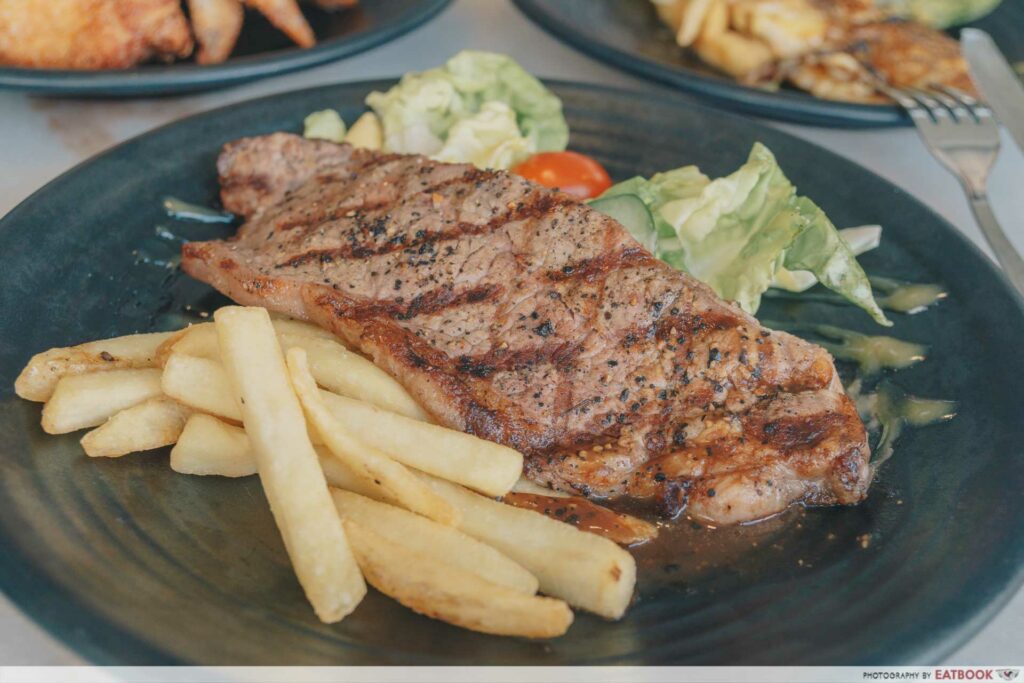 There were two options of beef on the menu: Au Sirloin Steak ($5.80) and Au D Rump Steak ($5.80). We came to find out out that they only offer either the sirloin or the rump on each day. This is to ensure the meat stays as fresh as possible.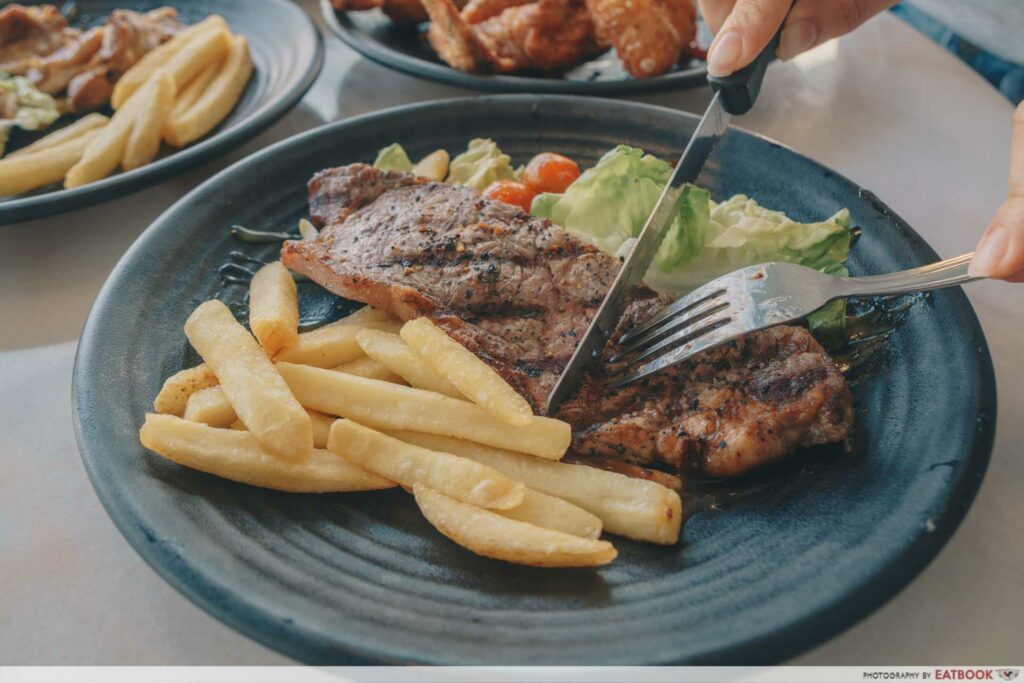 Cutting into it required a little more effort than expected, and some parts were harder to get through than others.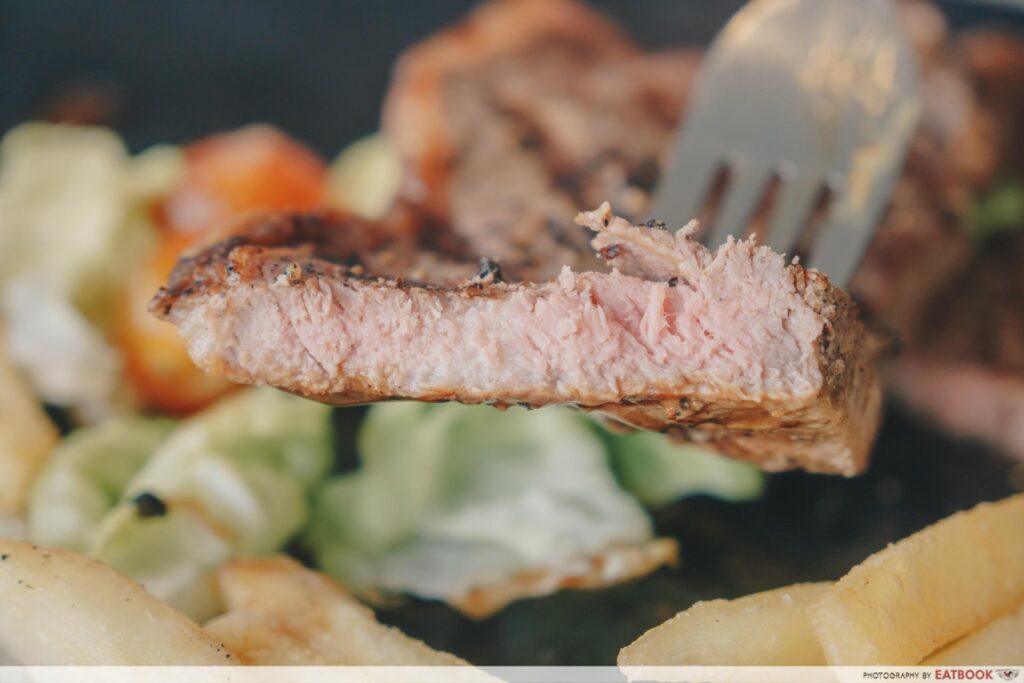 I was expecting the meat to be tough, but was pleasantly surprised at how tender it was. Although not "melt-in-your-mouth" soft, it did not leave my jaw feeling overworked. The flavour of the beef robust and full of umami.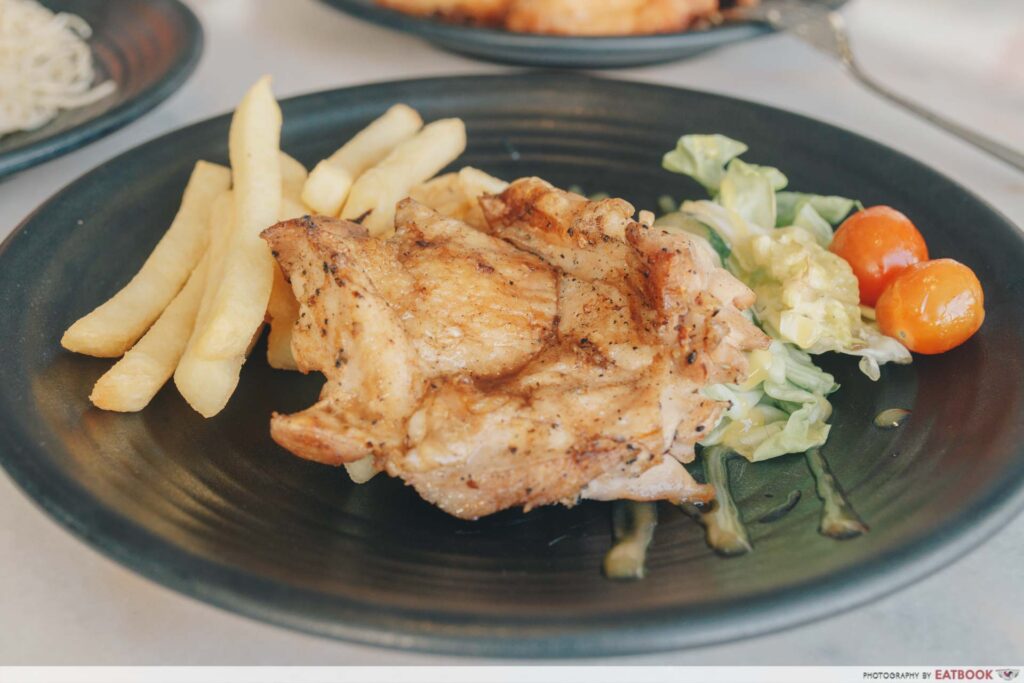 When the Honey Mustard Chicken ($3.80) was served, I was disappointed with the presentation of the dish. The chicken chop was decent, but I would have liked for more sauce.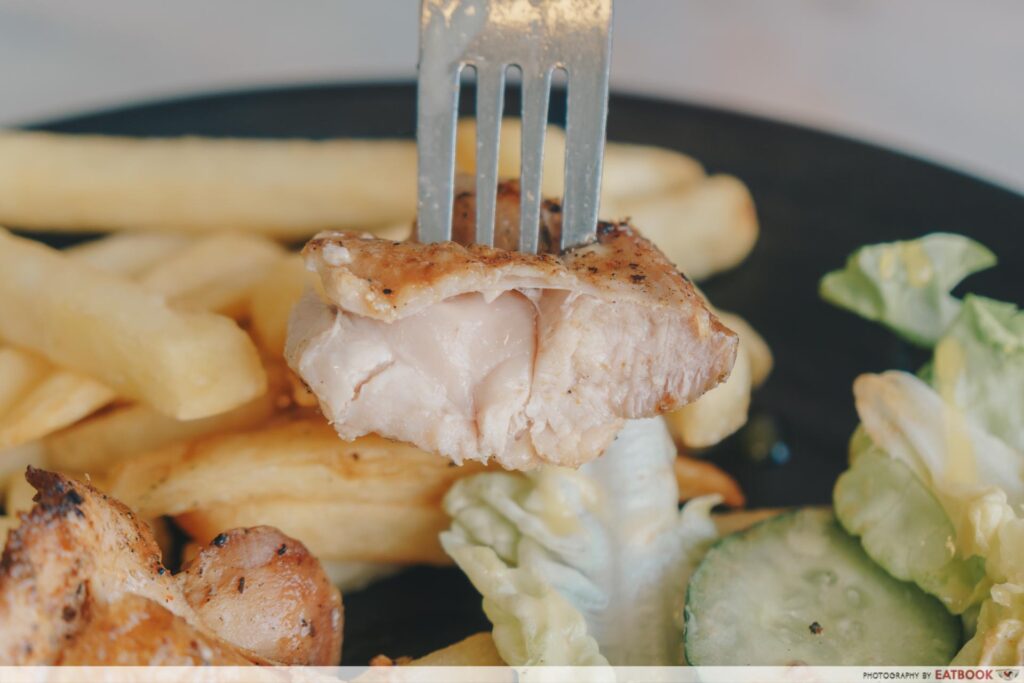 The chicken meat was bland and underwhelming. Except for a light seasoning of salt and pepper on the grilled chicken skin, it lacked flavour. The chicken was not exactly the best, and I would have like for it to be juicier.
If you are not a fan of Honey Mustard, Coal 3606 also offer other sauces like BBQ, Black Pepper and Mushroom.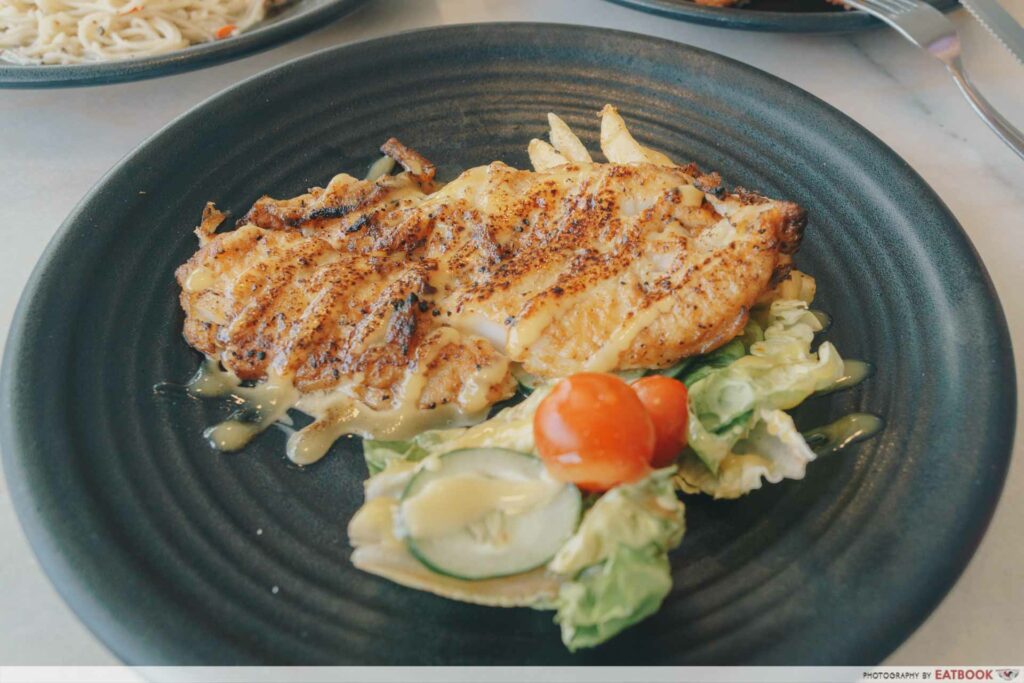 The Grilled Dory Fish ($4) was mediocre too, with nothing to really shout about. Similar to the chicken chop, it came with a light drizzle of honey mustard sauce.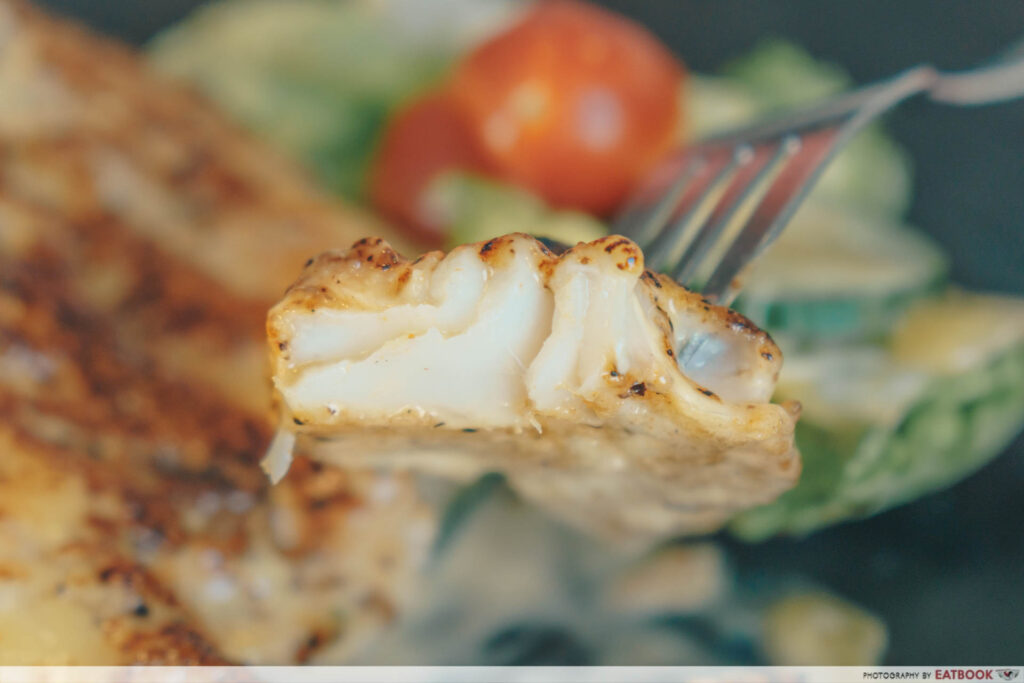 The fish had a good sear on the outside, and the meat within was moist and flaky. Though not the best grilled fish, it was good enough to leave me feeling satisfied.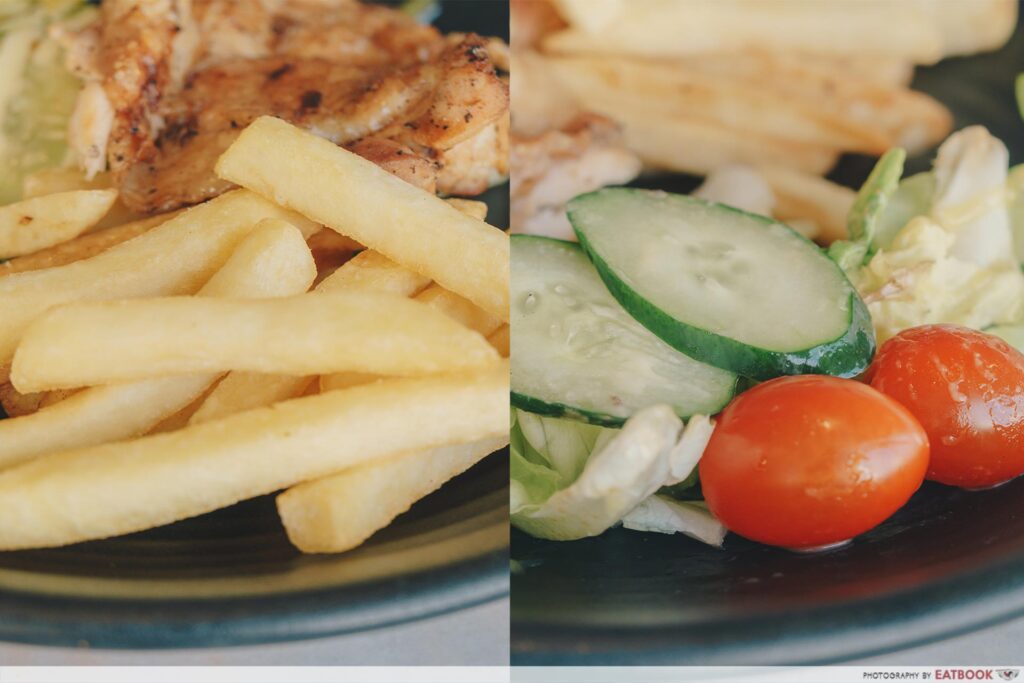 Every order of meat or fish allows you to add-on a selection of sides. As we went down after lunch, only the Fries (+$1) and Coal Salad (+$1.50) were left. They also offer other sides like Egg (+$0.60) and Mashed Potato (+$1).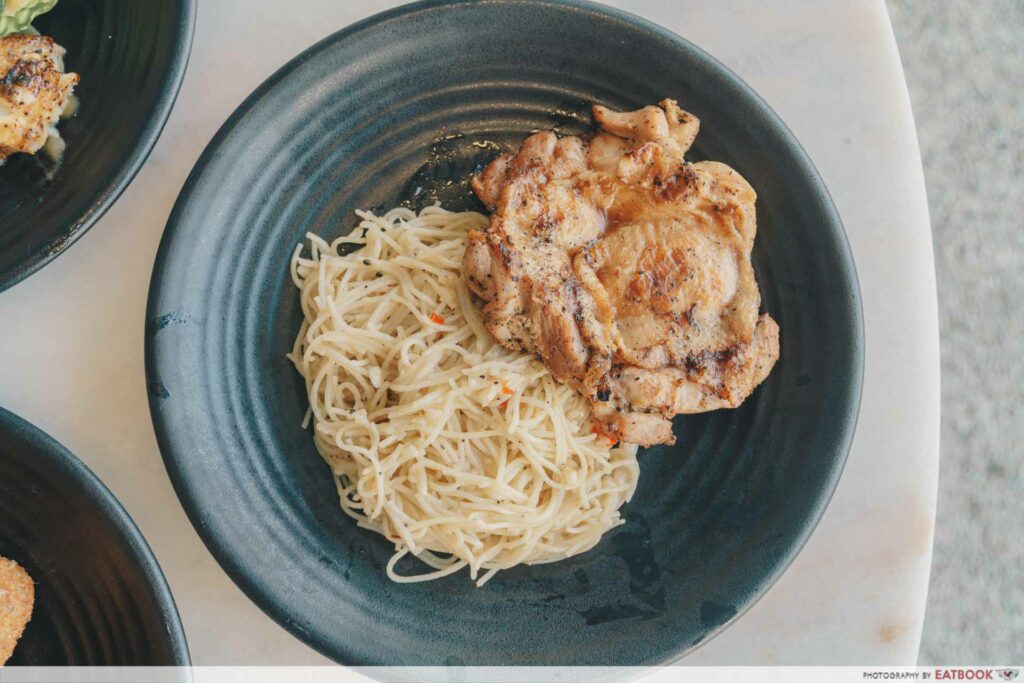 To cater to the large crowd of pasta lovers, Coal 3606 also offers pasta. We got the Chicken Chop Pasta at just $3.80, which was value for its price.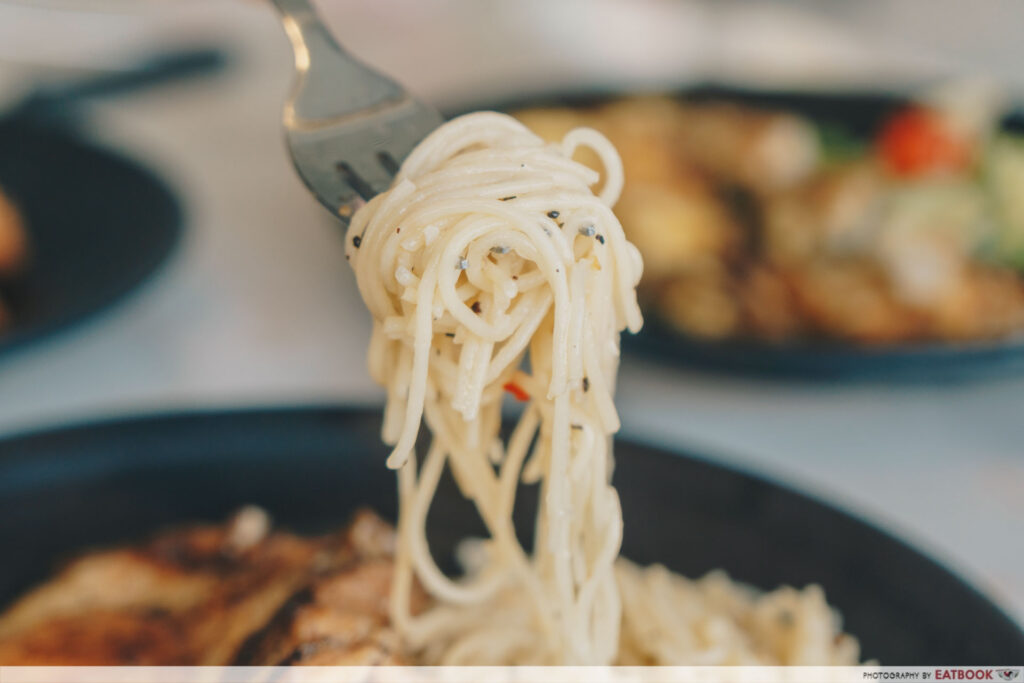 The pasta was cooked in an aglio olio style. The angel hair pasta was a little overcooked, and missed out on the perfect al dente bite I was hoping for. That being said, the pasta was flavourful, and had a good fragrance of garlic and chilli.
If you are looking a non-meat alternative, they also offer Vegetarian/Mushroom Pasta ($2.50).
Ambience at Coal 3606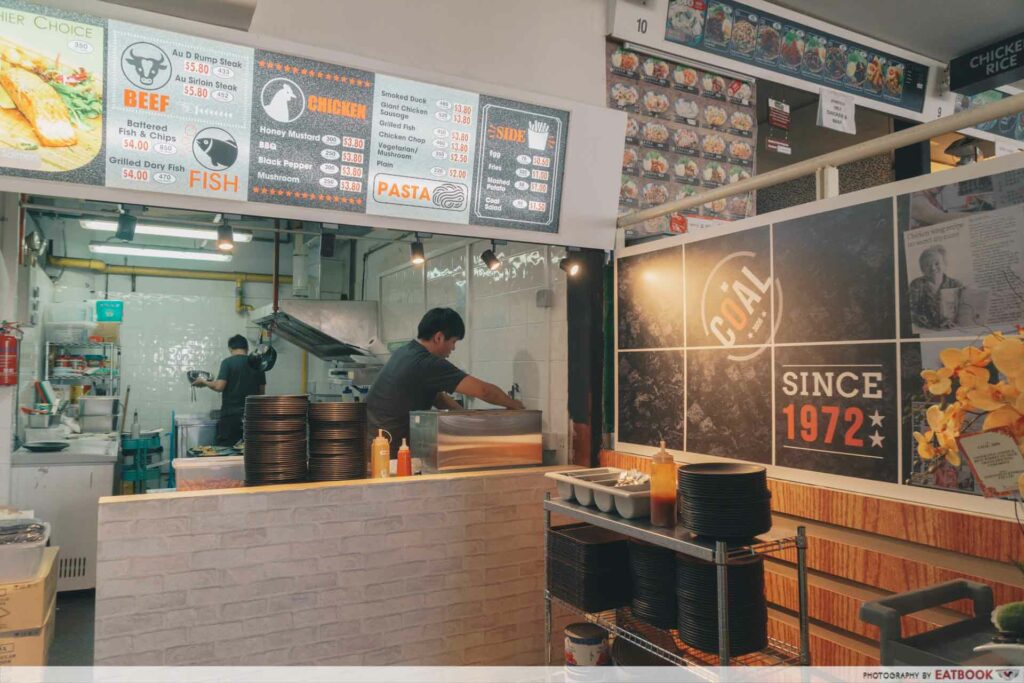 Coal 3606 is located in the Lawn Food Court of Republic Polytechnic on the third floor. It is linked to W4 and W6. Food here is self-service, where cutlery and other condiments are laid out on the sides for use.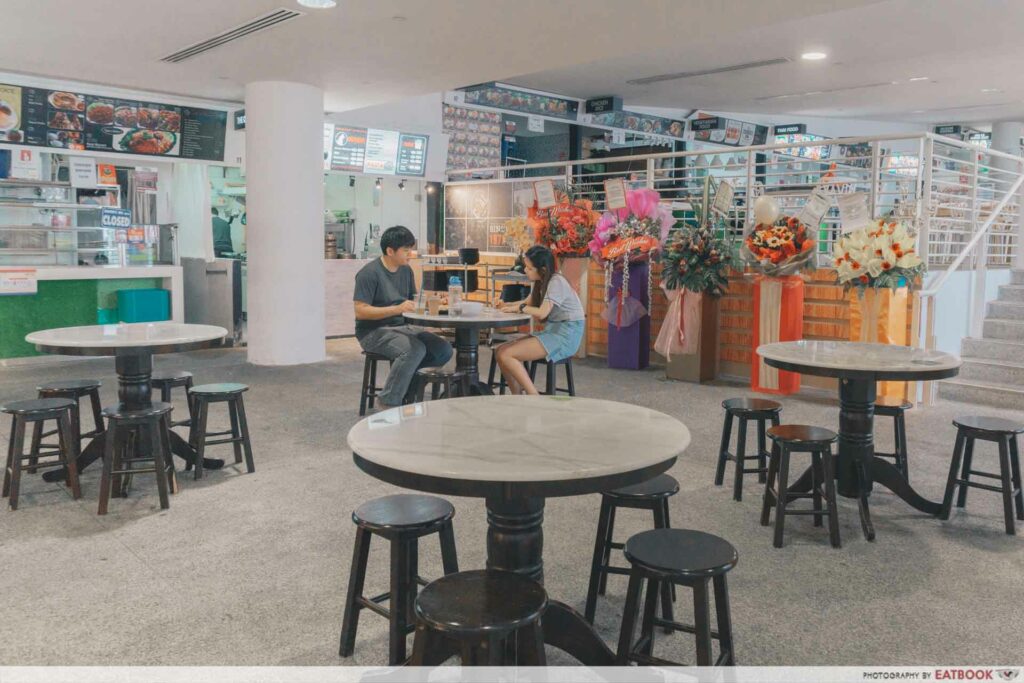 The area is clean, brightly lit, and air-conditioned, so you don't have to worry about breaking a sweat halfway into your meal. If you're not a student here, I recommend coming down after lunch, as it can get quite crowded.
The verdict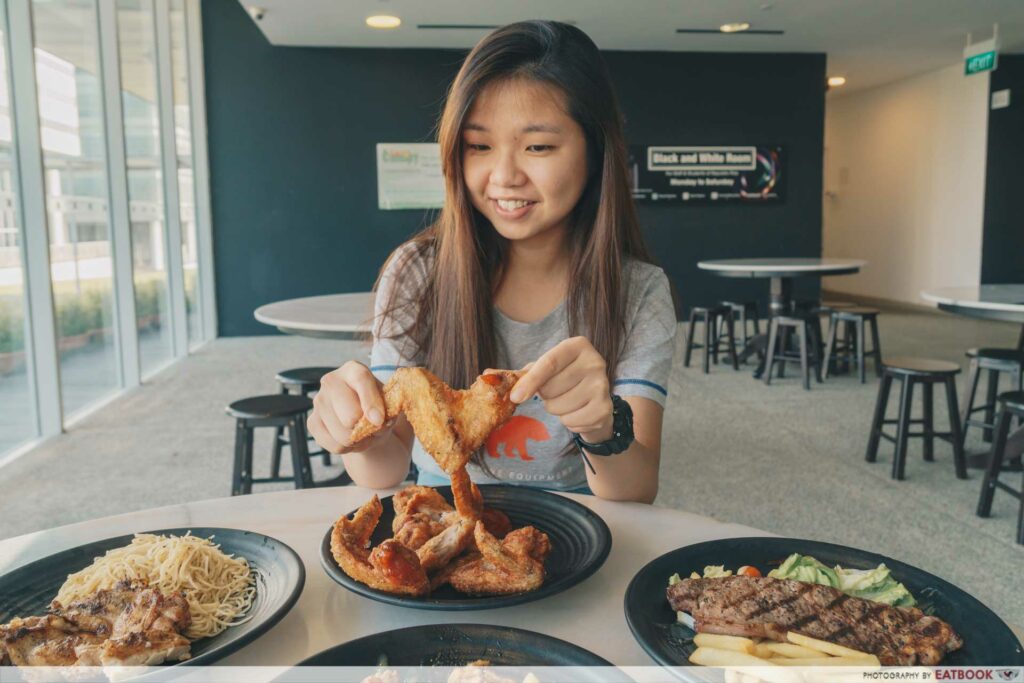 Coal 3606 has got both hits and misses. Meals here are straightforward and not gimmicky – what you order is what you get. Given how well some of the food here were prepared, I truly believe that the stall owners have the potential to elevate their food to another level.
After trying these shiok wings for myself, I truly understand why my friends – former students of CHIJ St. Nicholas Girls' School – were constantly gushing about the wings. I am thrilled that they can now have a taste of nostalgia from their school days. 
If you're a chicken wing junkie, check out our list of unique chicken wing or these affordable Western hawker stalls!
Address: Woodlands Avenue 9, Block W4/W6 Level 3, Republic Polytechnic, Singapore 738984
Opening hours: Mon-Fri 9.30am to 4.30pm
Tel: 9858 9792
Website
Coal 3606 is not halal-certified.
Photos taken by Ho Jing Yi.
This is an independent review by Eatbook.sg.
Summary
Pros
– Crispy and plump chicken wings
– Flavourful meat
– Tender beef steaks
Cons
– Only open for lunch
– Sides were disappointing
Recommended Dishes: Au Sirloin Steak ($5.80), Original Chicken Wings ($1.30 to $1.50 per piece)
Opening Hours:
Mon-Fri 9.30am to 4.30pm
Address: Woodlands Avenue 9, Block W4/W6 Level 3, Republic Polytechnic, Singapore 738984