---
Fried chicken in Singapore
---
Few dishes are as universally loved as juicy crispy fried chicken. There is, thankfully, an army of fried chicken places in Singapore serving up all renditions of this finger-lickin' snack, be it hawkers cooking har cheong gai wings under $2, Korean fried chicken joints, or Texas-style hunks of thigh and breast meat. 
We round up some of the best places to get fried chicken in Singapore, priced to fit all budgets, starting from less than $5.
15 Korean Fried Chicken Delivery Services During This Stay-Home Period
---
<$5 
---
1.Yon Yan 
---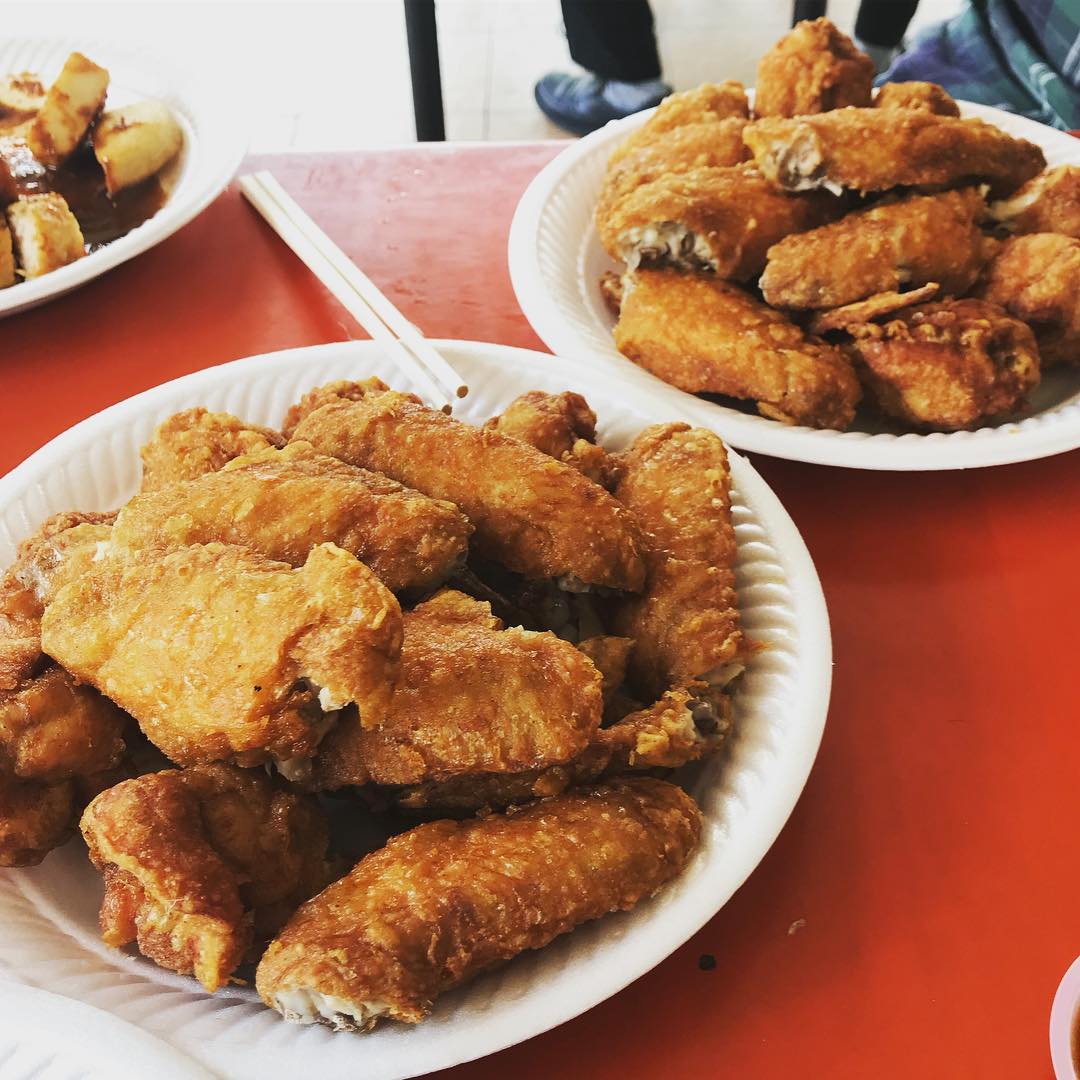 Image credit: @tgzone
Yon Yan, better known to some as Redhill Yan Fried Bee Hoon, serves crispy fried chicken wings so good that Prime Minister Lee Hsien Loong himself queued 30 minutes for them. Priced at just $1.20 a wing, get these crisp morsels to go along with their economic bee hoon, which is just $0.60 per plate. Be sure to head down early, as they sell out by dinnertime.
Address: 85 Redhill Lane, #01-19, Redhill Lane Block 85 Food Centre Singapore 150085
Opening hours: Mon-Fri 11:30am to 8pm, Sat 9am to 6pm
---
2. Golden Rooster 
---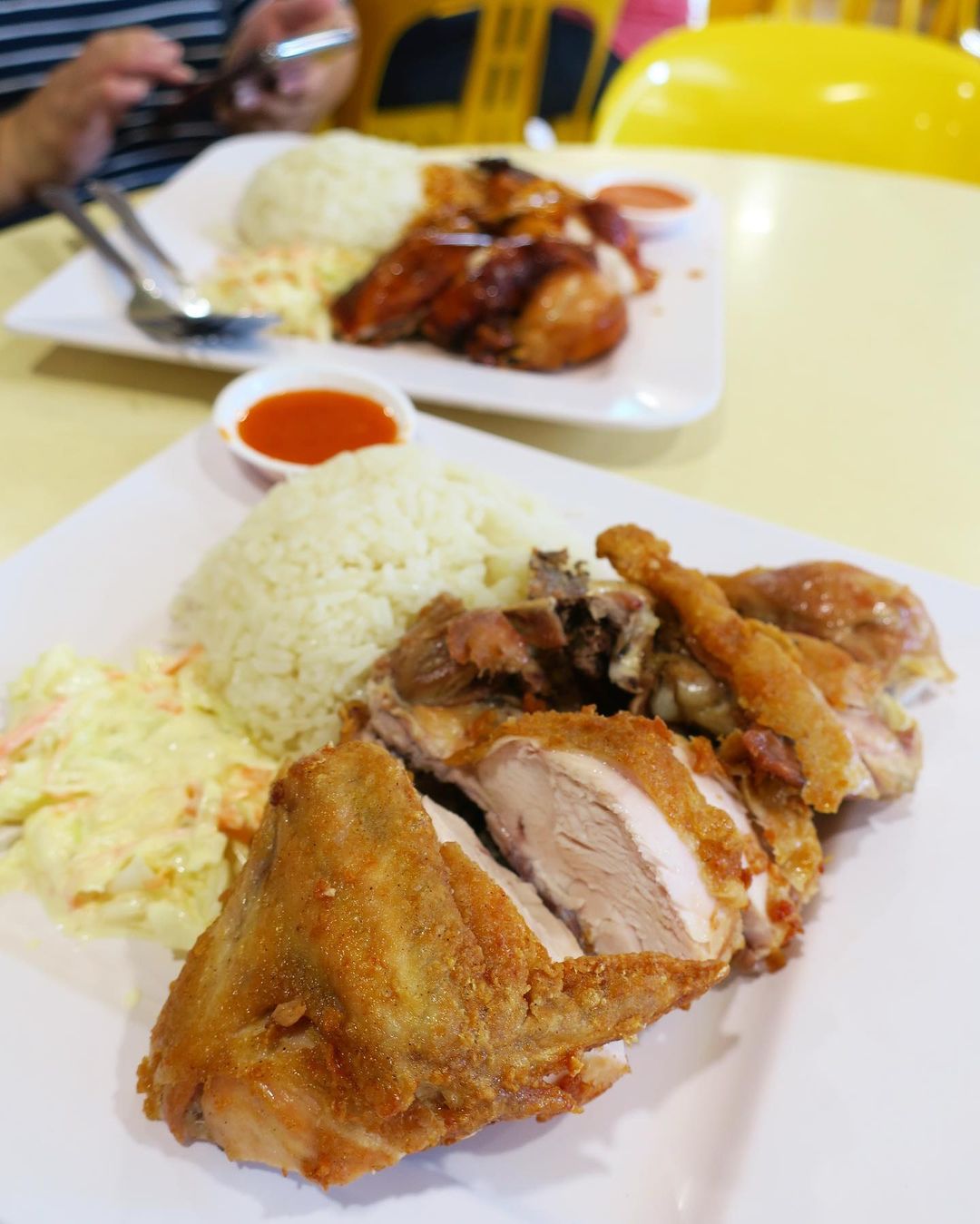 Image credit: @lynneatsfood
West side could very well be the best side thanks to another lowkey fried chicken gem, Golden Rooster. Located at Clementi Avenue 3, the hawker specialises in all types of chicken, from deep-fried to roasted. Many flock to them for the nostalgic Chicken Wing Fried Rice ($2.50), a staple in hawker Western food stalls. Fragrant ginger rice is topped with chicken wings clothed in golden batter, made even better by the affordable price tag. 
Address: 450 Clementi Avenue 3, #01-305, Varinice Eating House, Singapore 120450
Opening hours: Daily 9:30am to 11pm
---
3. Eng Kee 
---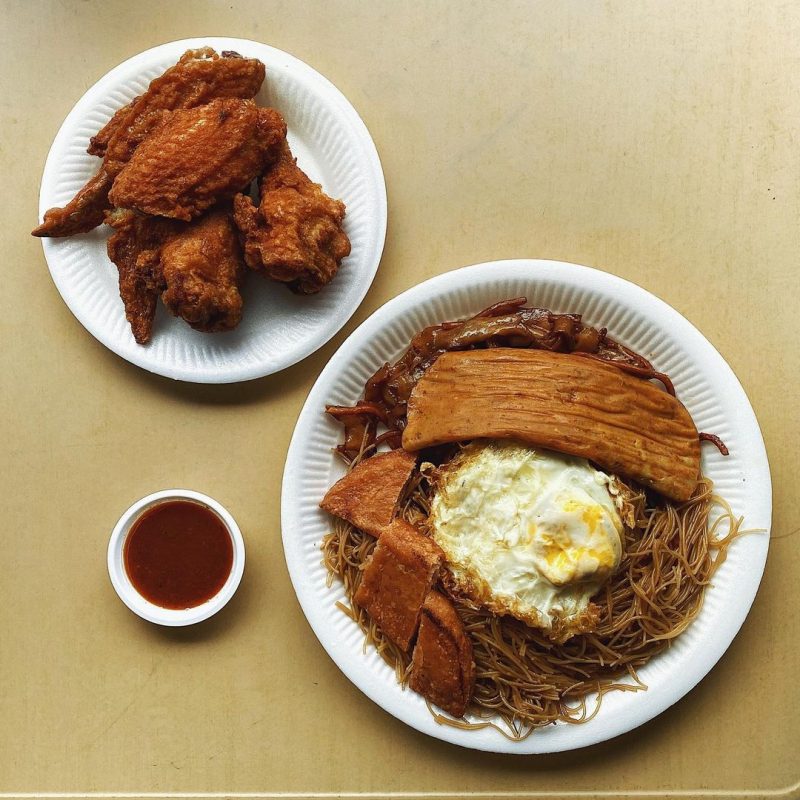 Image credit: @thegabrielgoh
Many people swear by Eng Kee when they talk about cheap fried chicken in Singapore. Located along Commonwealth Drive, the sister stall to Yon Yan sells economic bee hoon, but the chicken wings are really the star. Fat, full-flavoured wings come well-seasoned and priced at just $1.30, which is a total steal. Eng Kee also has another outlet at Blk 505 West Coast Drive, which is open daily.
Website | Full list of outlets
---
4. Ah Tan
---
Image credit: @soklingg
If you are #TeamHarCheongGai, you'll know that Ah Tan is a legend in the game. The stall has been around for 25 years now, and sells out daily. These prawn paste chicken wings are marinated for a minimum of two days, so the chicken wing fully absorbs all the briny umami notes from the marinade. Wings are sold at $1.80 each, or in set meals with rice and an egg from $5.20.
Address: Blk 51 Yishun Avenue 11, #01-40, Yishun Park Hawker Centre, Singapore 768867
Opening hours: Daily 11am to 8pm
Website
---
<$10
---
5. Birdhaus
---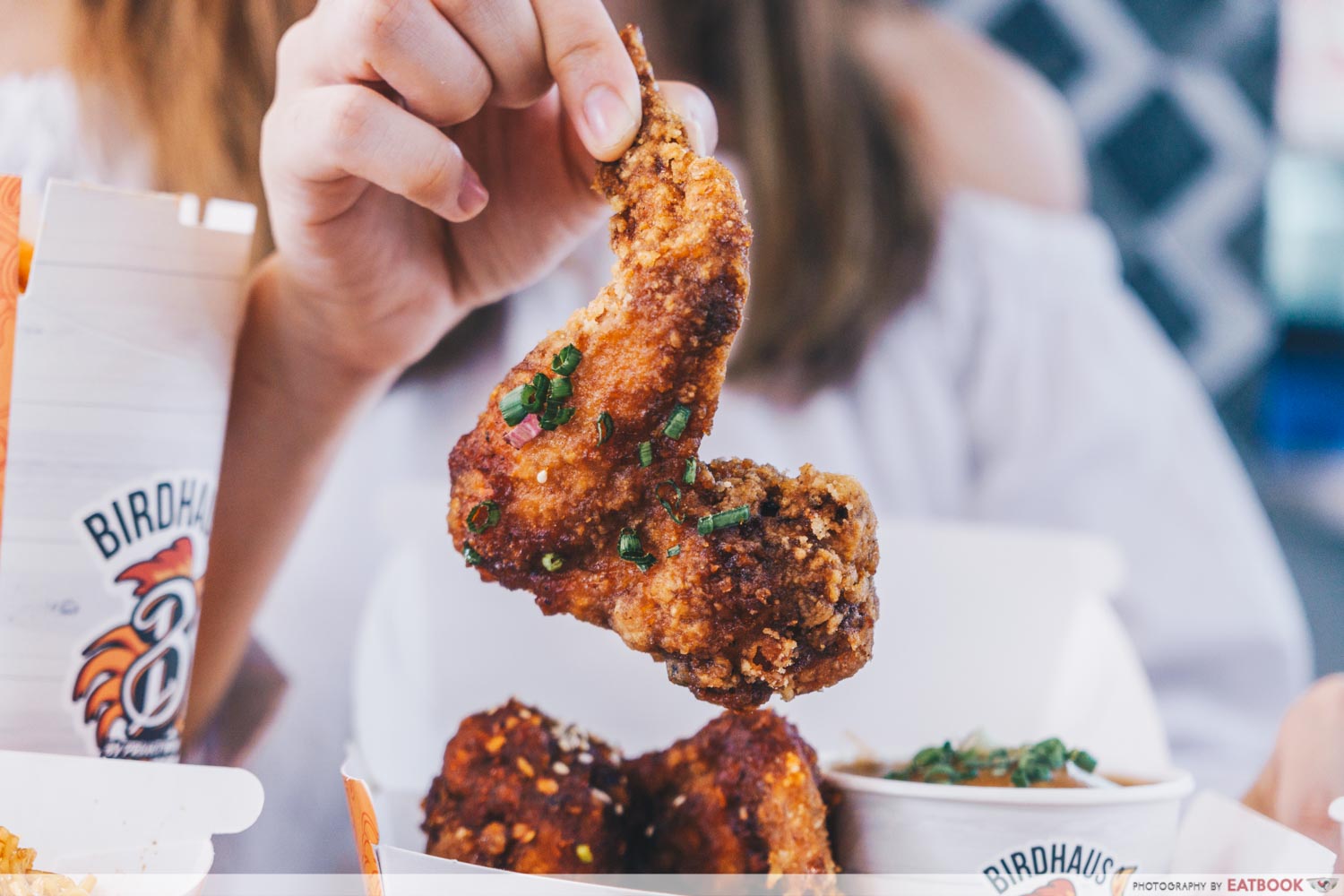 Those familiar with Burgs by Project Warung will be happy to hear that the Muslim-owned hawker group has expanded to bring Indonesian fried chicken to Singaporeans. Their new stall, Birdhaus, at Bukit Merah sells deep-fried, #thicc chicken pieces, glazed in a sauce of your choice. From the tongue-searing Birdhaus Hot sauce to the crowd-friendly Honey Soy, wings are sold in piece meals, with a 2 Piece Chicken Meal going for $7.50 with a side of your choice. You can even mix and match sauces!
Check out our full review of Birdhaus.
Address: 119 Bukit Merah Lane 1, #01-40, Singapore 151119
Opening hours: Daily 11:30am to 9:30pm
Website
Birdhaus By Project Warung Review: Fried Chicken With Sambal And Indomie By Burgs Founders In Bukit Merah
---
6. Arnold's
---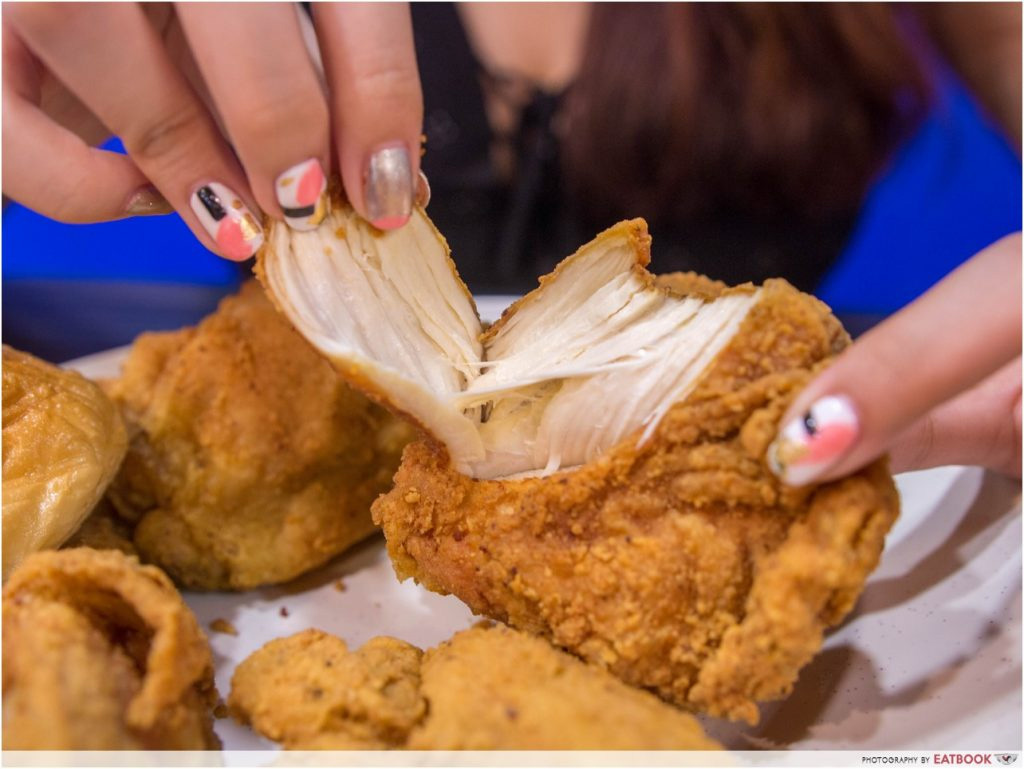 "Are you even eating fried chicken if you're not eating Arnold's?" is a wise question someone once posed on the topic of fried chicken. True enough, the halal-certified Arnold's is one of Singapore's quintessential fried chicken joints, and a go-to for many since their early days in City Plaza. Chicken starts from $3.10 per piece, but make it more satisfying when you get the 2 Piece Meal for $7.30.
Check out our full review of Arnold's.
Website
Full list of locations
---
 <$15
---
7. Pink Candy
---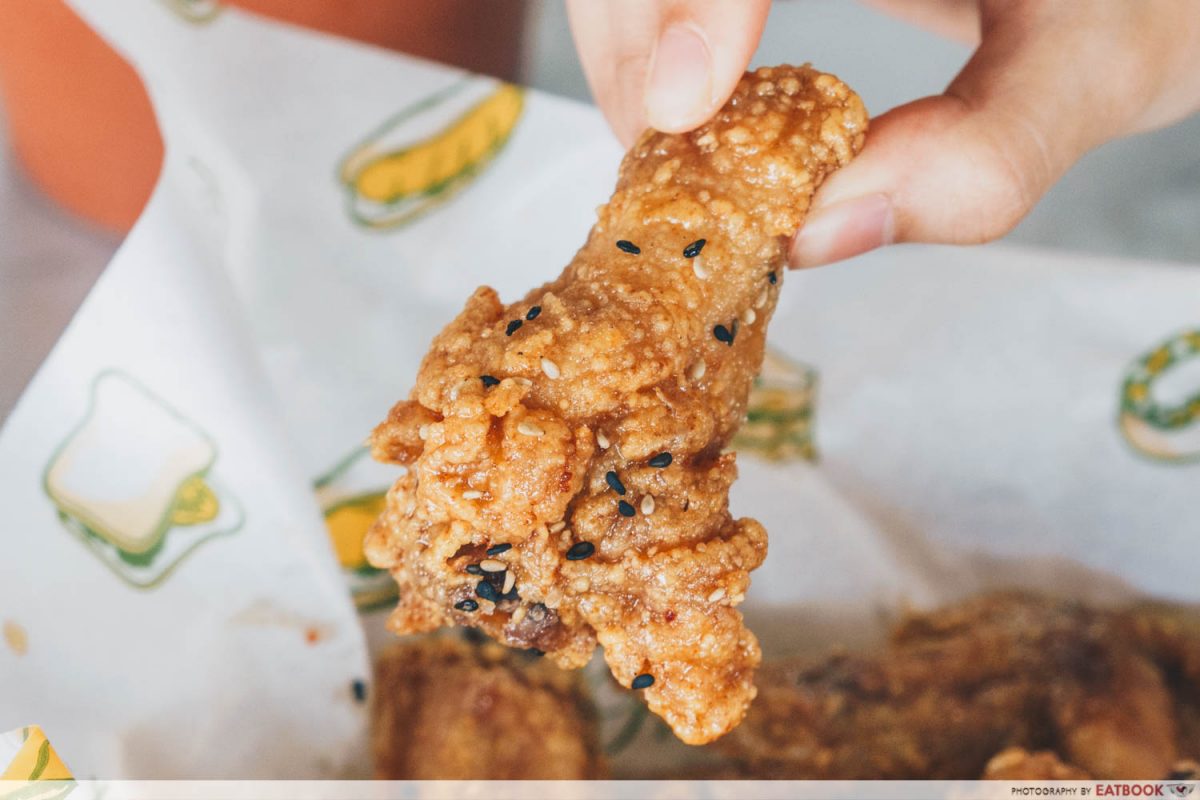 Korean fried chicken tends to come with a hefty price tag in Singapore, but not at Pink Candy. This al fresco Korean eatery at Beauty World sells a delicious array of Korean Fried Chicken, in sauces like Soy Sauce and Spicy, priced at just $13.90 for nine pieces. Our favourite is definitely the moreish Soy Sauce, so good we can eat a basket ourselves, easy.
Check out our full review of Pink Candy.
Address: 144 Upper Bukit Timah Road, #04-60, Beauty World Centre, Singapore 588177
Opening hours: Mon, Wed-Sun 10:30am to 2:30pm, 5 to 9pm
Tel: 9170 2365
Website
---
8. Chix Hot Chicken
---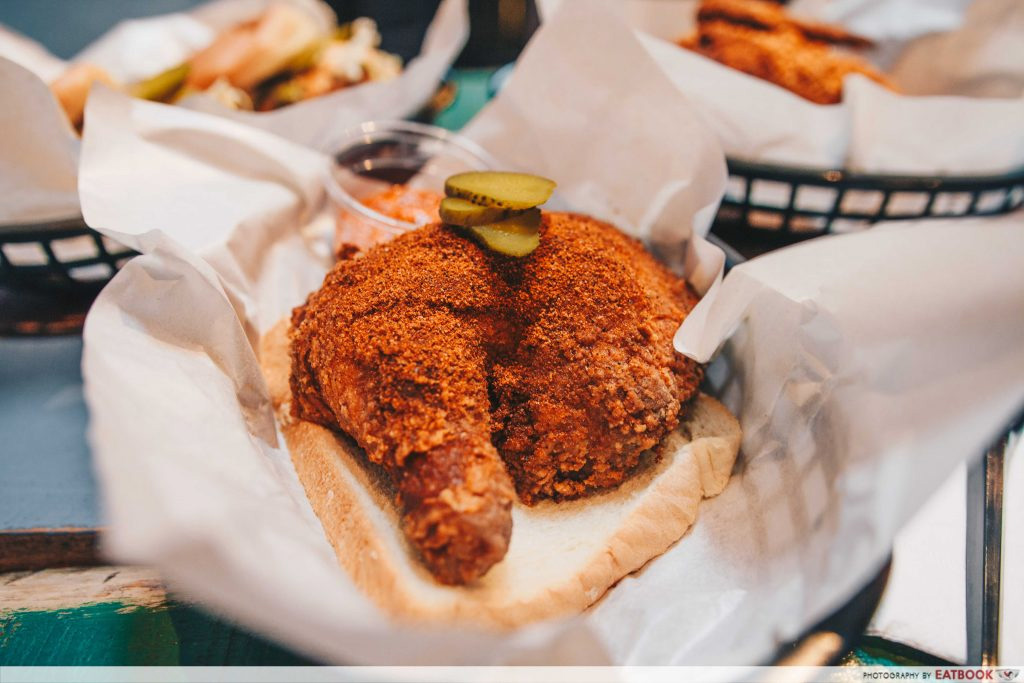 Taufik Batish's Singapore Idol fame may have long dimmed, but he has managed to grab the spotlight in an unlikely avenue: fried chicken. Chix Hot Chicken is his very own fried chicken joint, specialising in Nashville-style spicy birds. A Quarter Chicken is priced at $10.90, and comes in multiple spice levels, from mild to an atomic one, with ghost pepper included in the spice rub. If you prefer a meal, they have the Chix & Waffles ($18.90), or Fried Chicken Sandwiches, starting from $8.90.
Check out our full review of Chix Hot Chicken.
Address: 1 Jalan Pisang, Singapore 199069
Opening hours: Tue-Sat 12pm to 9pm
Website
---
 <$40
---
9. OFC
---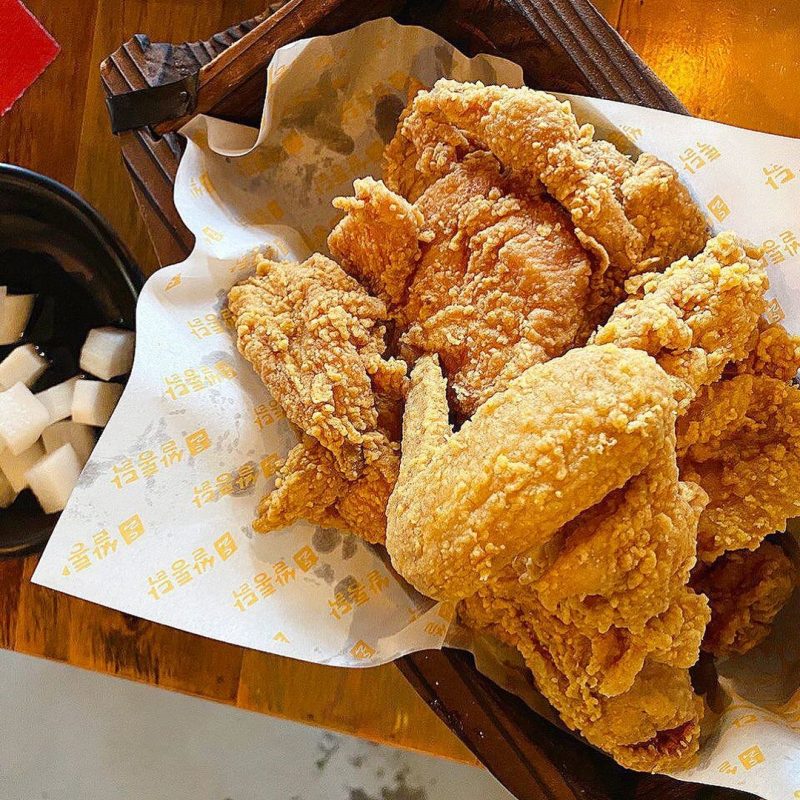 Image credit: @gluttonthoughts
Ask anyone where to find good Korean fried chicken in Singapore, and half of them will tell you, "Of course, it's OFC". Also known as Oven & Fried Chicken, OFC serves Korean-style birds in cooked in a variety of methods: baked, roasted, or fried. The Crunch Chicken, cooked without oil, is a healthier alternative to your usual fried chicken, though no less crispy. Choose from bone-in (from $19) or boneless (from $22) wings in flavours like the Original, or the spicy Yang Nyeom, a piquant Korean favourite. You can dine-in, though they deliver via major platforms like GrabFood too!
Address: 182 Telok Ayer Street, Singapore 068630
Opening hours: Mon-Fri 11:30am to 2:30pm, 5:30pm to 12am, Sat-Sun 4pm to 12pm
Tel: 6222 5959
Website
---
10. Chicken Up
---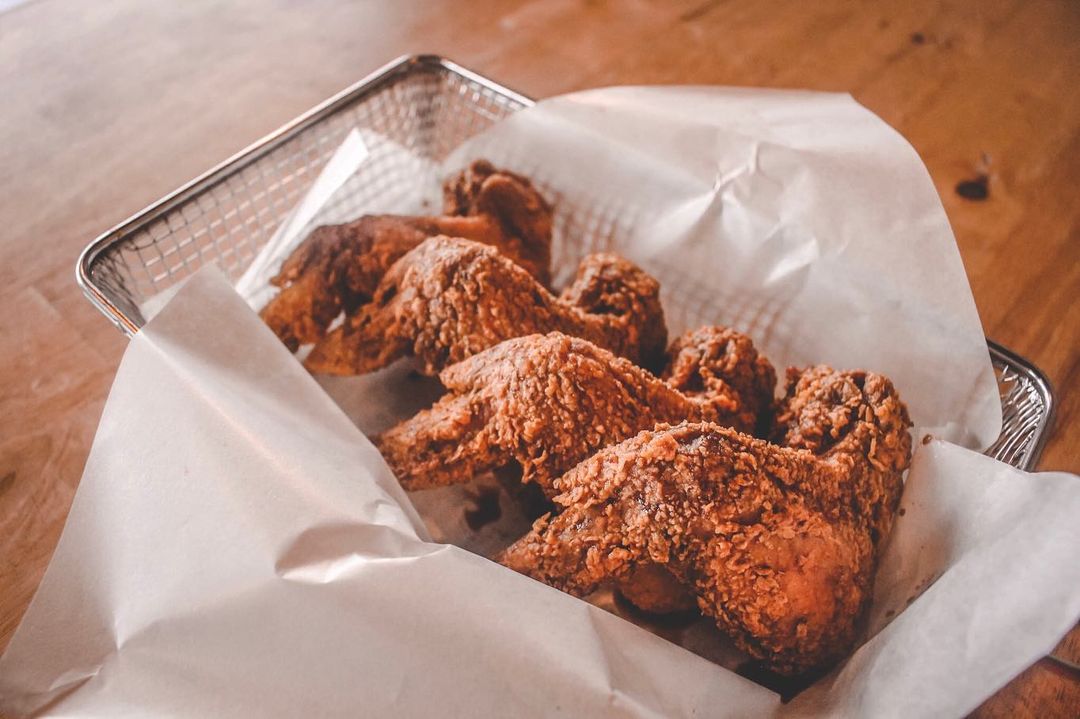 Image credit: @_wanderingprincess
It takes serious cred to call yourself "the best fried chicken in Singapore", but when it's Chicken Up, we can't argue. The fried chicken eatery has been in Singapore since 2010, serving up delicious fried chicken to hungry hordes for over a decade now. Their fried chicken starts at $12 for four wings, and you can choose from three flavours: Ganjang, Yang Nyum, and Spicy Yang Nyum. Their Tanjong Pagar branch has a fried chicken buffet, priced from $20 for ladies, and $25 for gents.
Website | Full list of locations
---
11. Chir Chir 
---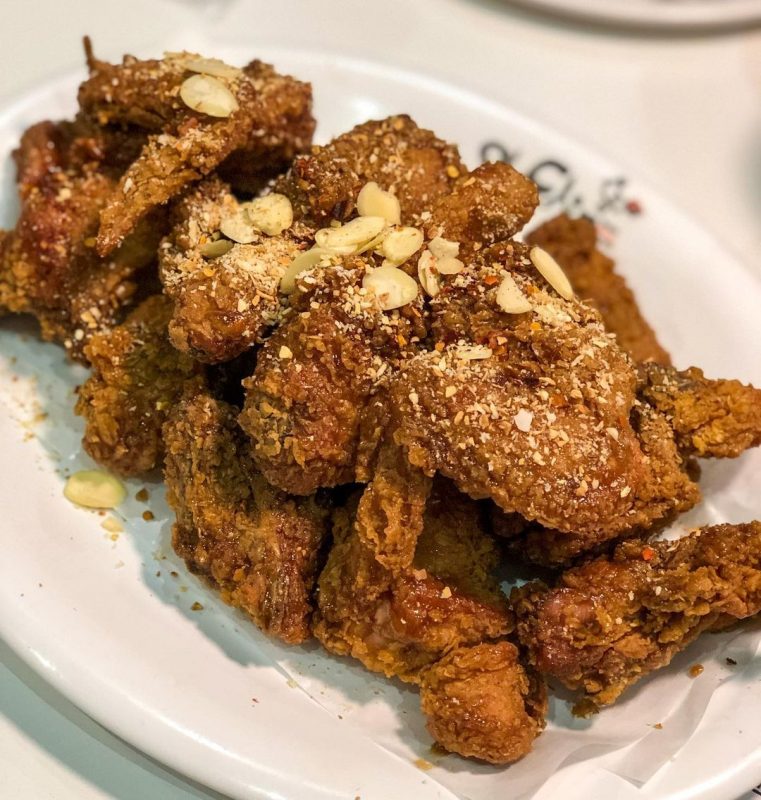 Image credit: @stuffingmycheeks
With over 20 different types of Korean fried chicken on their menu, Chir Chir is another crowd favourite amongst Singaporeans. Their Honey Butter Chicken ($30.30) is a signature, tasting like the popular Korean potato chip flavour, though those who want to go for classics can simple opt for their Crispy Fried Chicken (from $17.90). All the chicken is fried fresh to order at Chir Chir, so expect to wait a little longer when you dine-in. Islandwide delivery is available too!
Address:  313 Orchard Road, #B3-04/05/06, 313@Somerset, Singapore 238895
Opening hours: Sun to Thurs 11:30am to 10:30pm, Fri to Sat 11am to 10pm
Tel: 6509 8364

---
Fried chicken at all price points
---
No one should be denied fried chicken just because of your budget. From affordable to treat yourself-level options, here are some of the best fried chicken joints in Singapore to get your fix.
For more, check out our list of Korean fried chicken deliveries in Singapore.
15 Korean Fried Chicken Delivery Services During This Stay-Home Period