Fried chicken at Birdhaus By Project Warung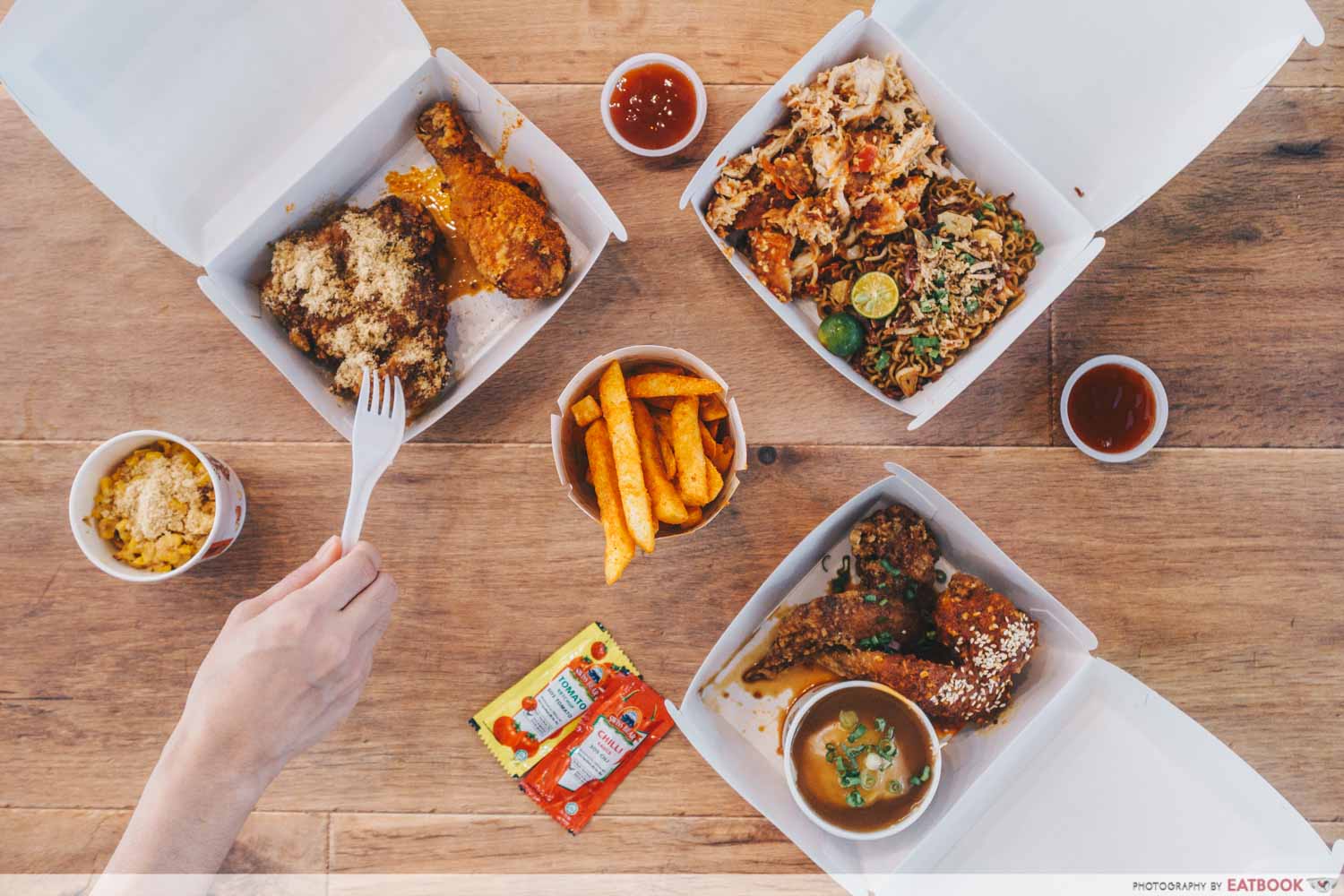 We have passed those days where Colonel Sanders reigned supreme in the world of fried chicken. There is an increasing number of up-and-coming fried chicken joints lately, and these stores have managed to capture the stomachs of many, especially those who love to indulge in this deep-fried guilty pleasure. Birdhaus By Project Warung is one stall that captured mine. 
10 Fried Chicken Dishes From Around The World Including Nashville Hot Chicken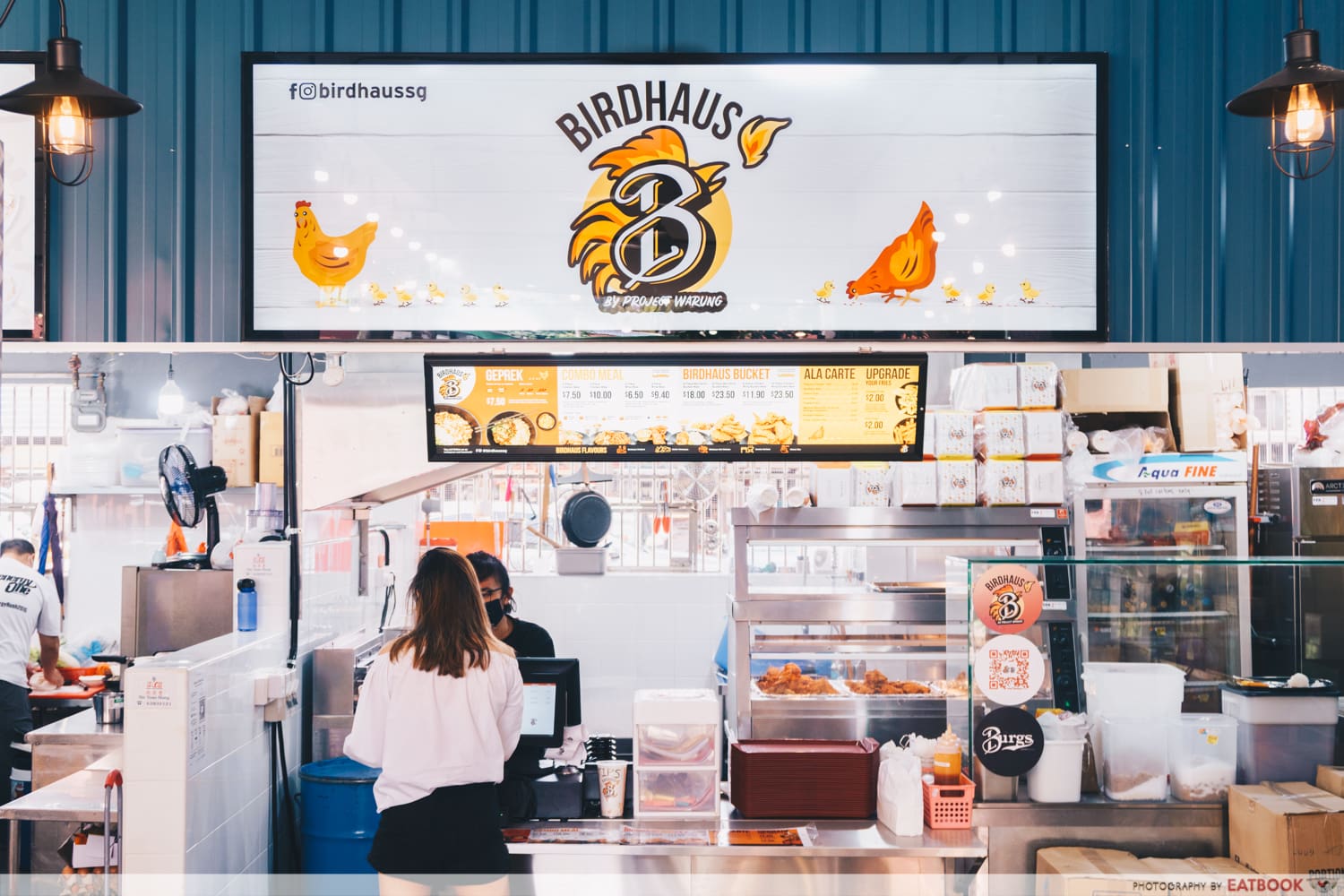 This hawker stall in Bukit Merah serves fast food, specifically fried chicken, that follows the concept of East meets West.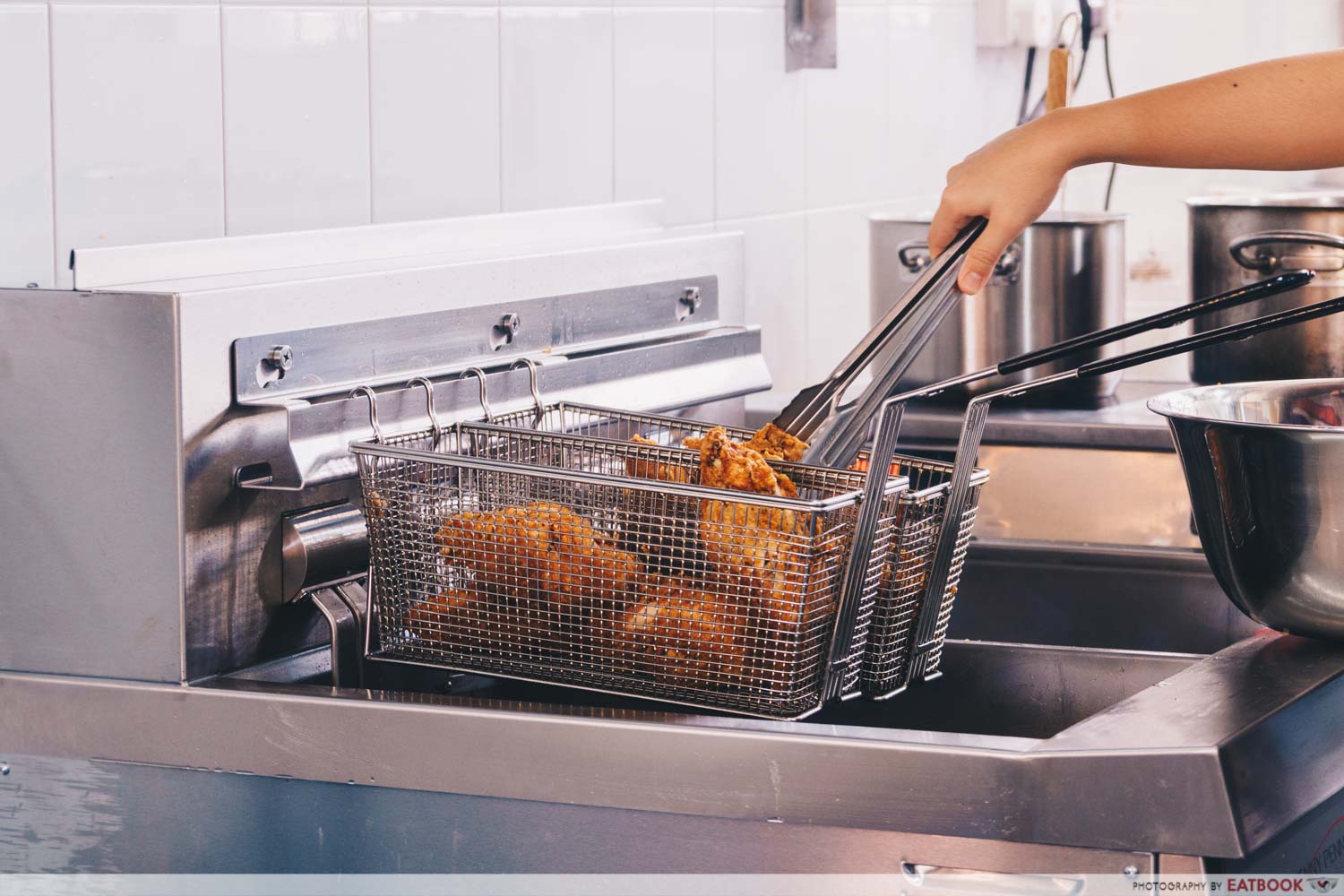 Their dishes borrow flavours from Indonesia, Italy, and even North Africa. At Birdhaus, every piece of chicken is refried and served fresh and hot to you.  
Food at Birdhaus By Project Warung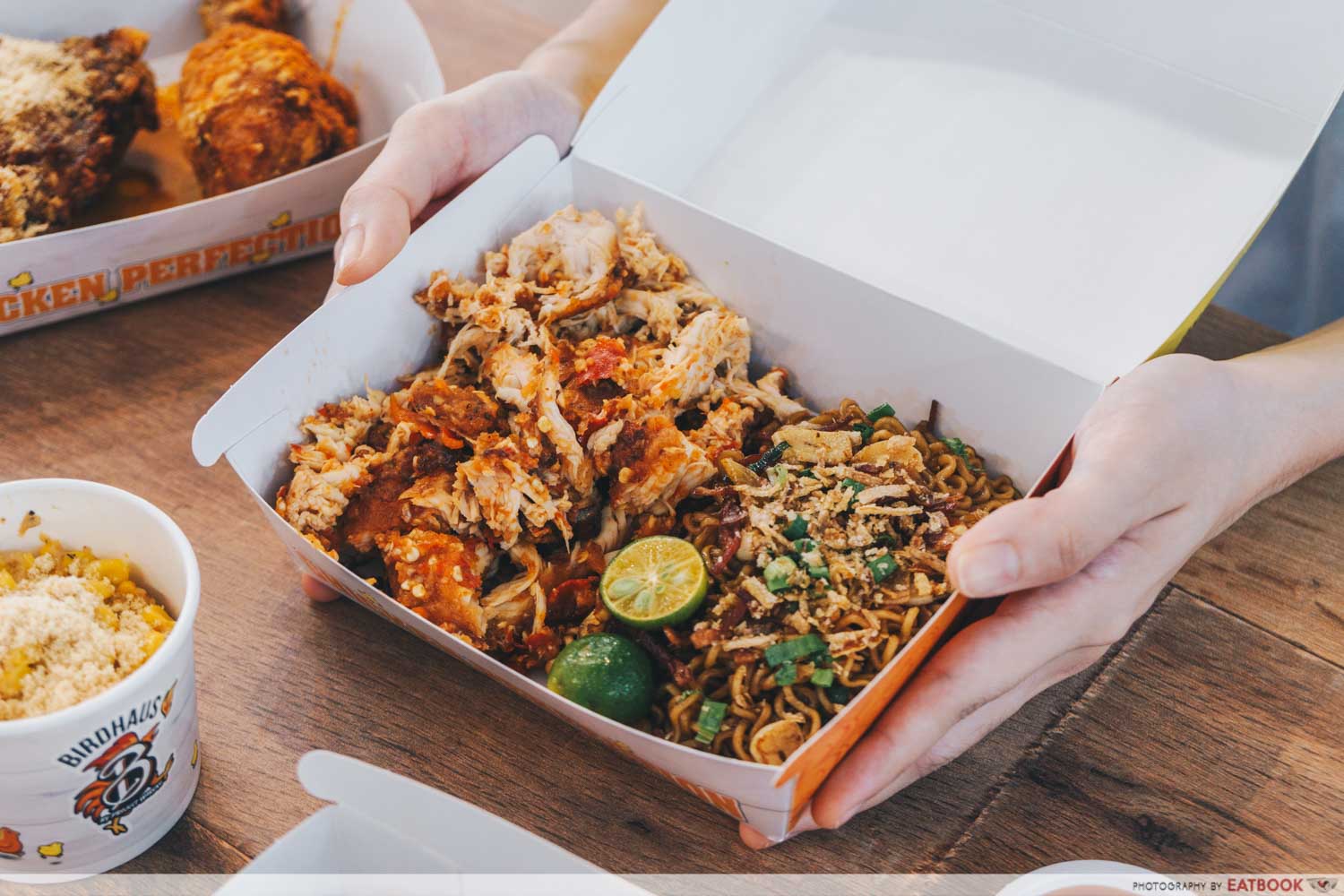 The Geprek With Indomie ($7.50) is bound to become a customer's favourite for anyone who orders it. If you're unfamiliar with geprek, it is an Indonesian dish featuring fried chicken that's been crushed and heavily smothered with sambal. You could choose to pair it with chicken rice, but the Indomie was just calling out to us.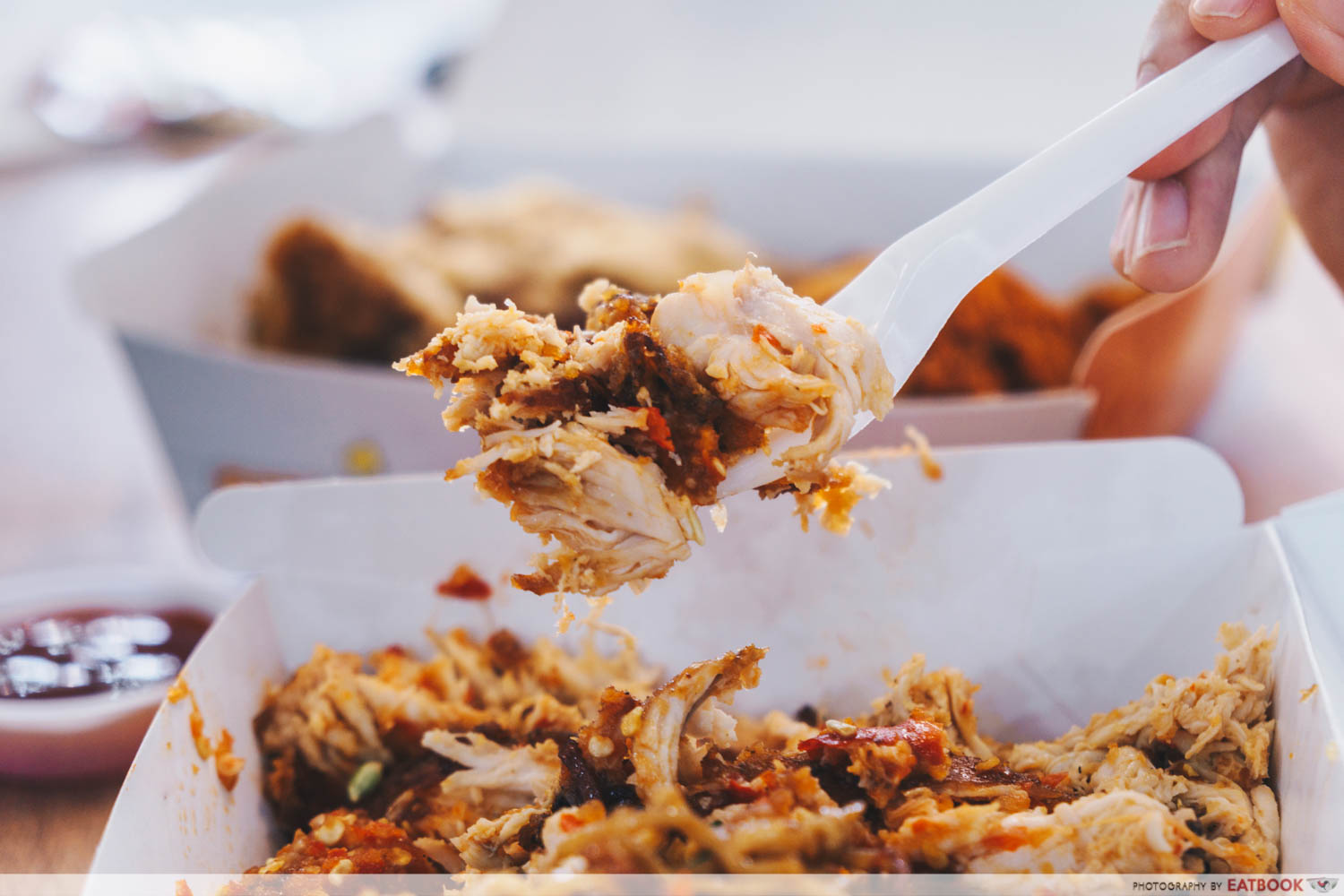 Because the fried chicken was smashed up, it did lose some of its juiciness, though not entirely. Birdhaus makes their own sambal, and they definitely know how to make a banging one. Dressing the chicken pieces with their sambal was definitely a game-changer. It had a surge of flavours, mostly spicy and zingy notes, and it was well-seasoned for sure.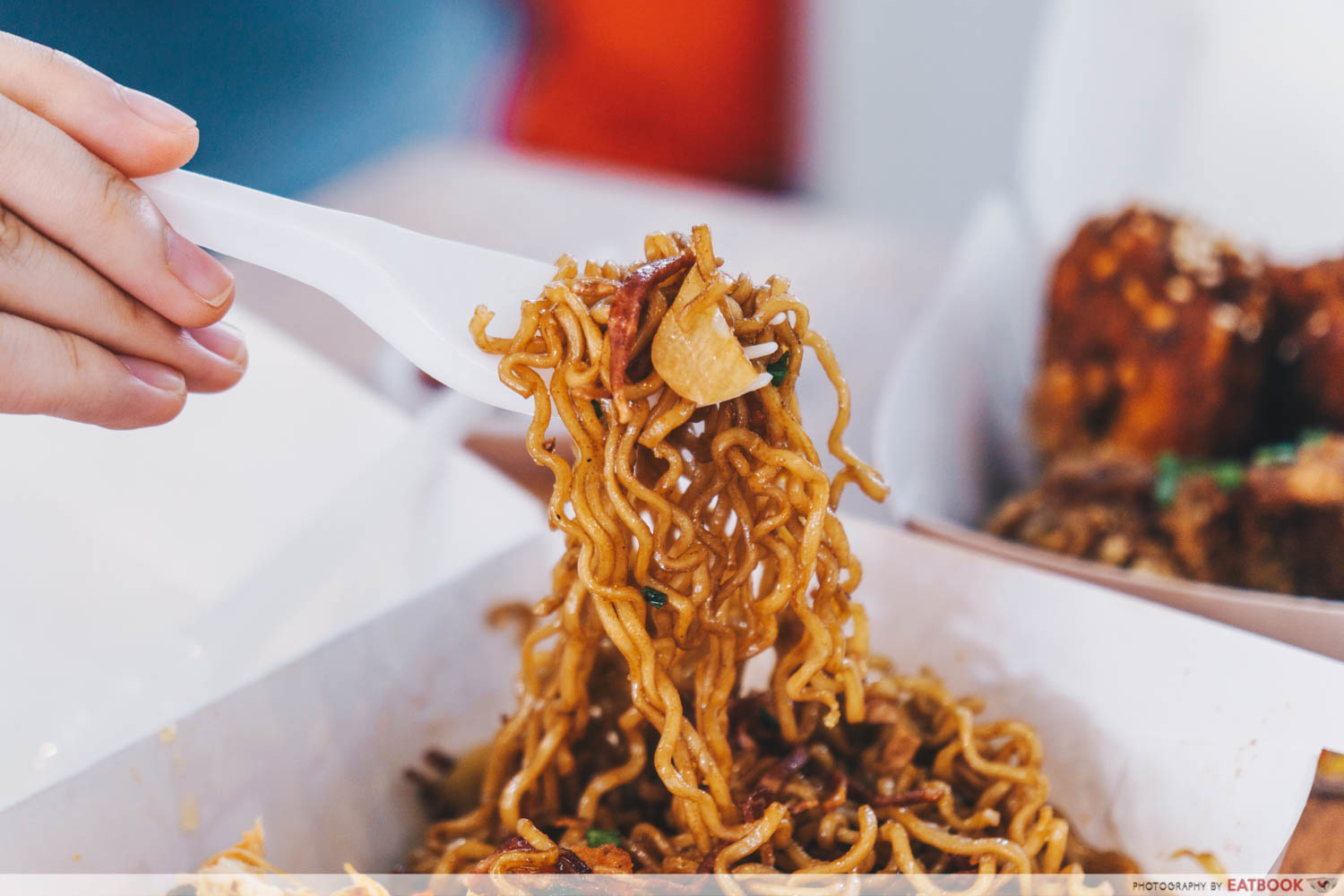 Though Indomie is already good on its own, Birdhaus zhnged up these regular noodles with fried garlic, shallots, and turkey bacon. The sweet and salty noodles had a bite and the fragrance from the garlic and shallots helped enhance the overall flavour. The smoky taste came from the turkey bacon, though I find it a little too strong for my palate. However, the Indomie, paired with the sambal-laden fried chicken, was truly satisfying.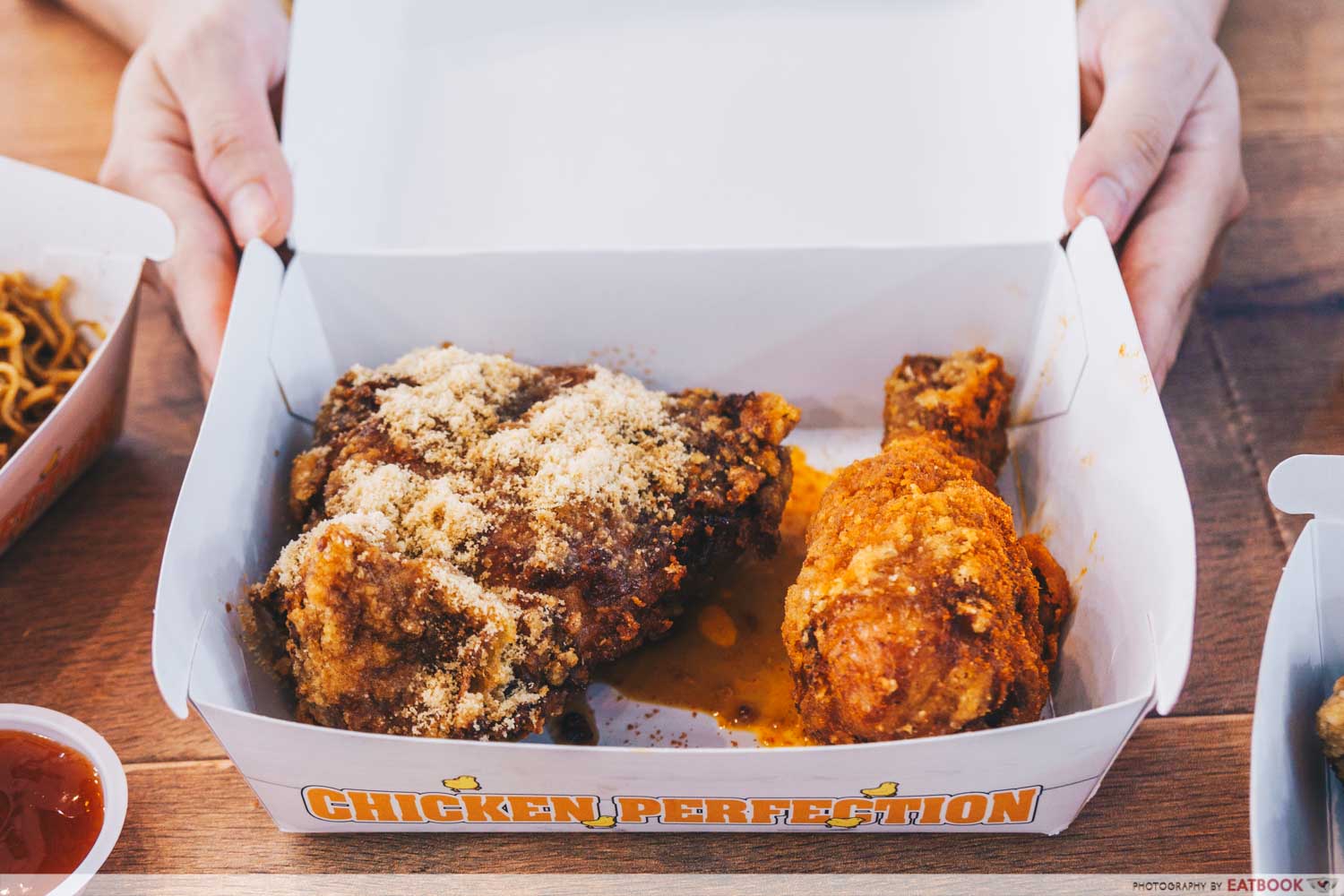 Their combo meals come with your choice of side dish and two sauce flavours, where they will dress their fried chicken according to what you choose. We got the 2 Piece Chicken Meal ($7.50) with Mexican Style Corn In A Cup. For the choice of sauce, we went with Birdhaus Hot and Garlic Parmesan.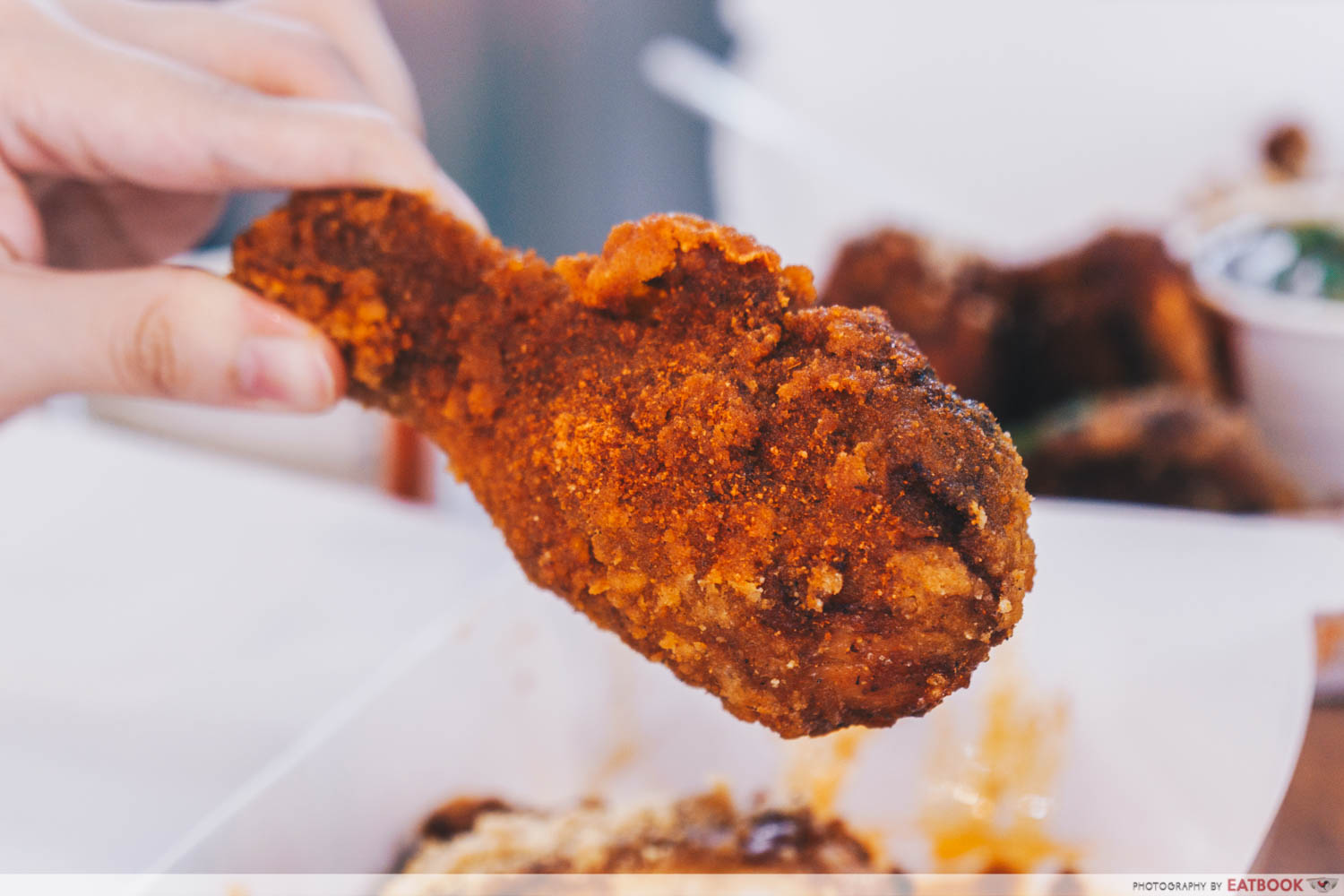 Before I jump into the flavour, I have to talk about the texture of their chicken. Birdhaus brines their chicken for at least one night, which explains why it was juicy and tender. The flavours doesn't just exist on the outside of the chicken; the meat within was just as flavourful.  
As a huge fan of all things spicy, the fried chicken coated in Birdhaus Hot sauce was a great choice to me. The chilli oil that was used to toss the chicken in is another one of Birdhaus' own creations. The meat itself was already tasty, but the chilli dressing made it even more enjoyable.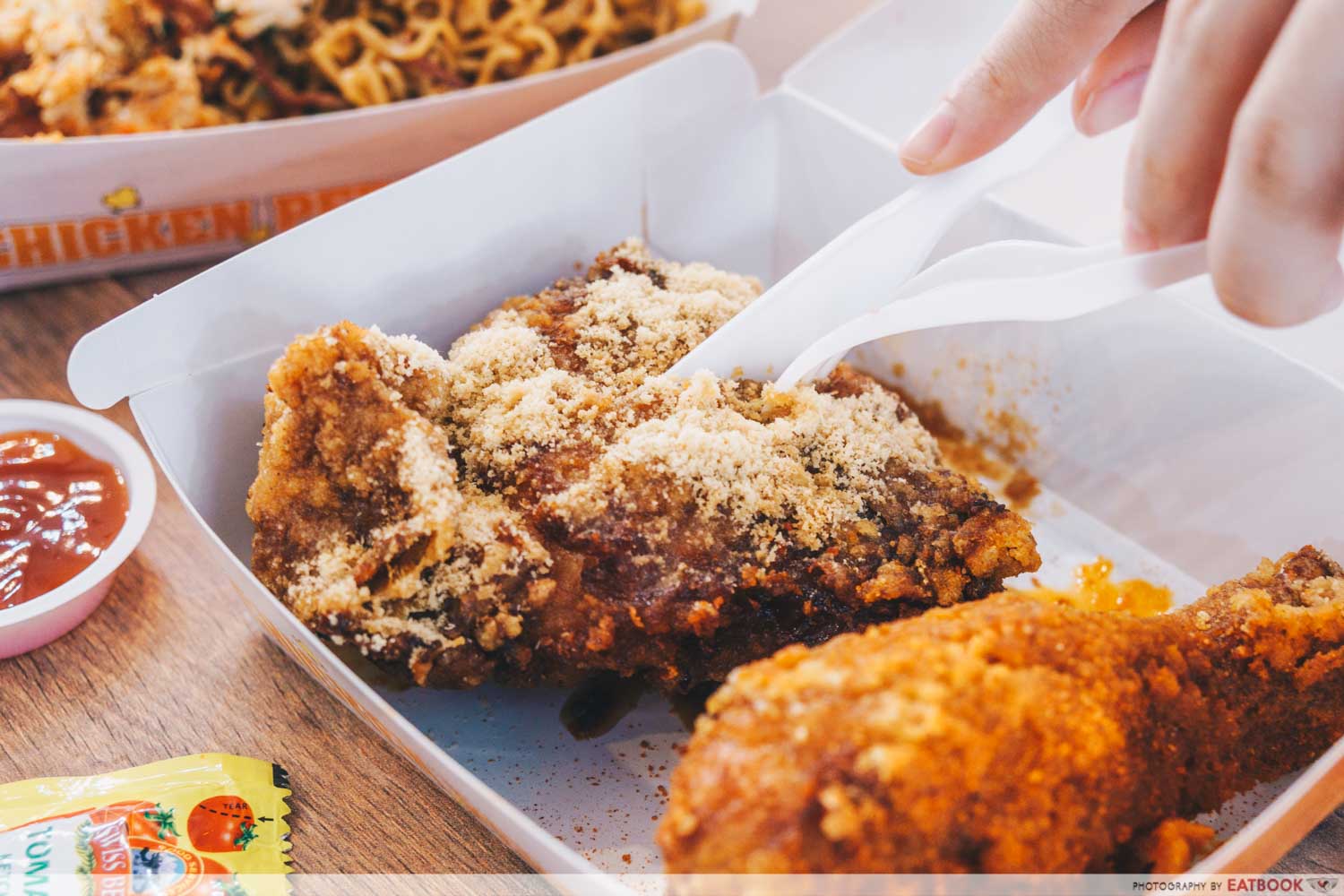 The Garlic Parmesan sprinkling on the chicken gave a salty burst. Perhaps because it was too heavy on the cheese, the taste of garlic was not really distinguishable.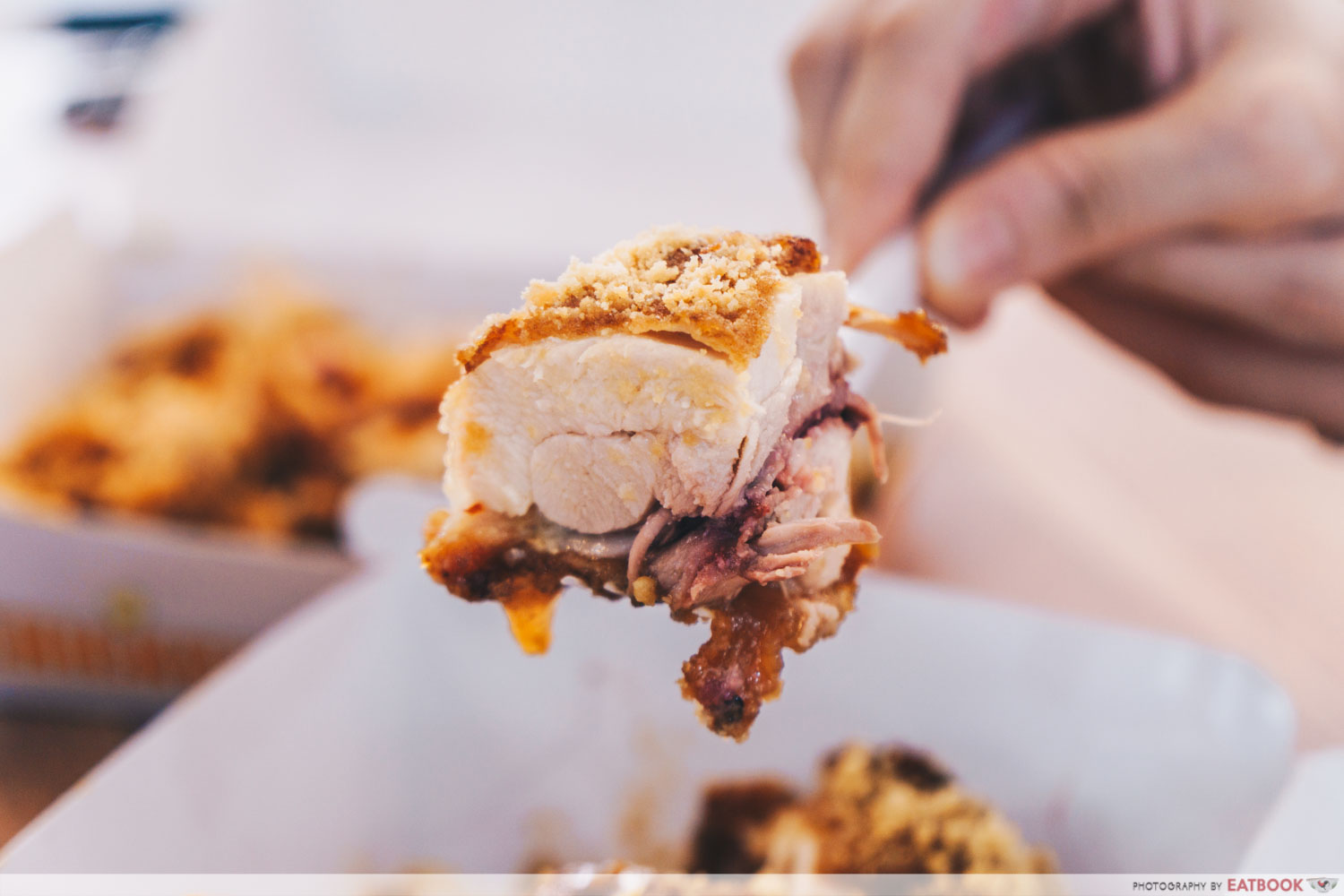 However, I really appreciated how thick and moist the chicken was. Birdhaus definitely gives you your money's worth with their combo meals.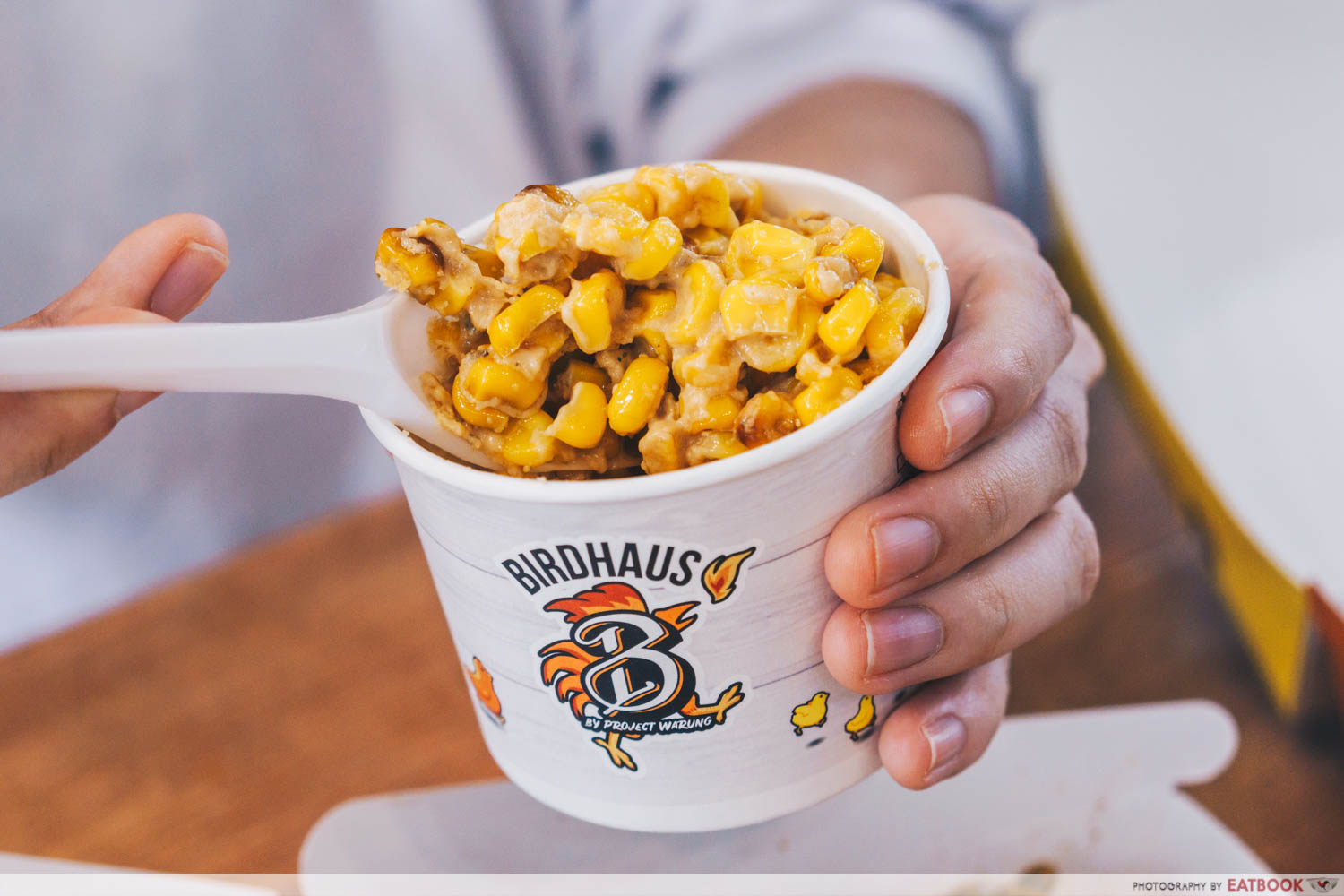 Instead of serving the typical pairing of corn and butter, Birdhaus mixes corn with parmesan, mayonnaise, and sriracha─and it works. The combination of those ingredients gave the corn kernels a savoury richness, which is definitely a must-try if you can't decide which side to accompany your fried chicken.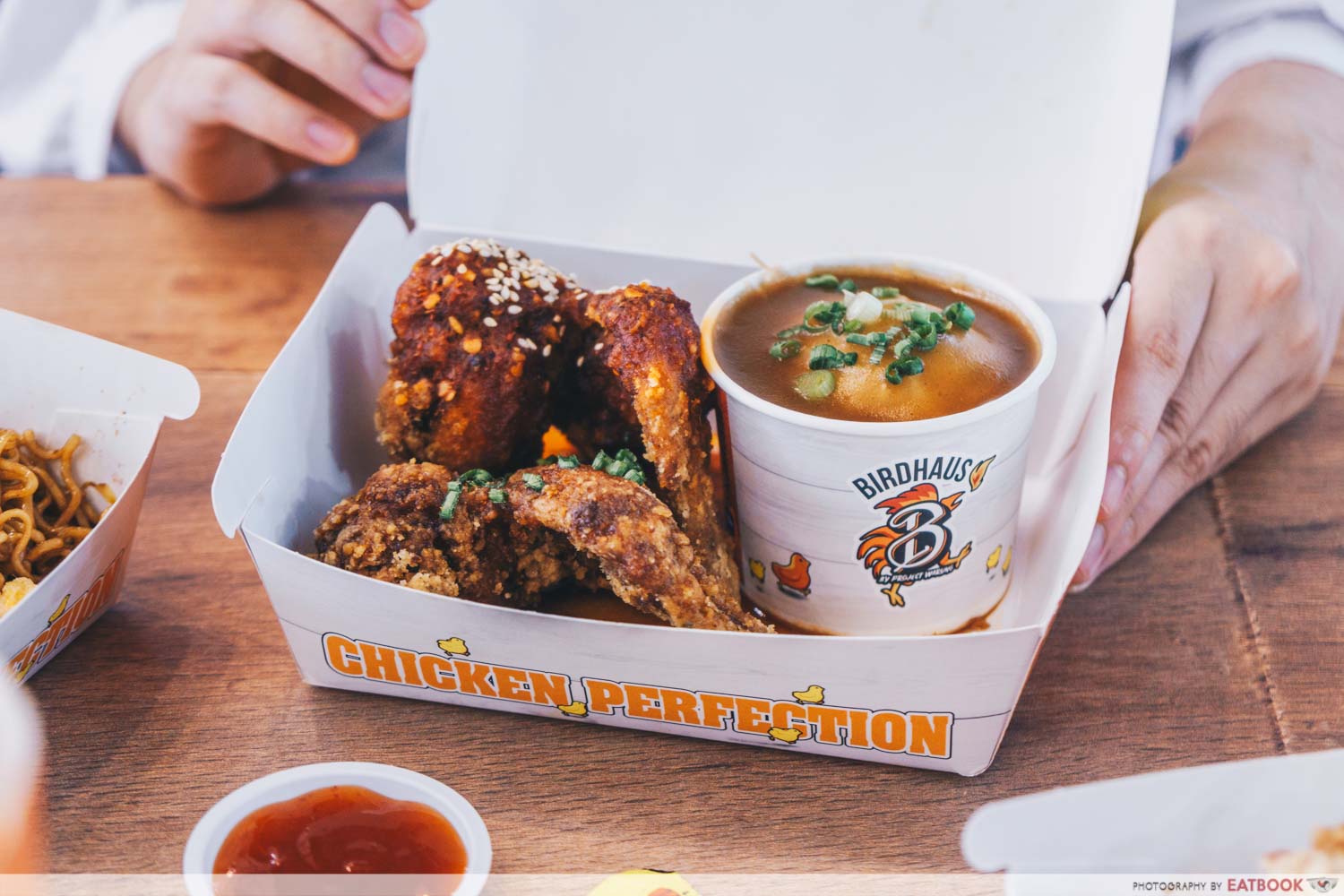 Next, we got the 2 Piece Wings Meal ($6.50) with Smoky Harissa, a rare and interesting option, as well as Honey Soy glazes. We also chose a side of Mash Potato.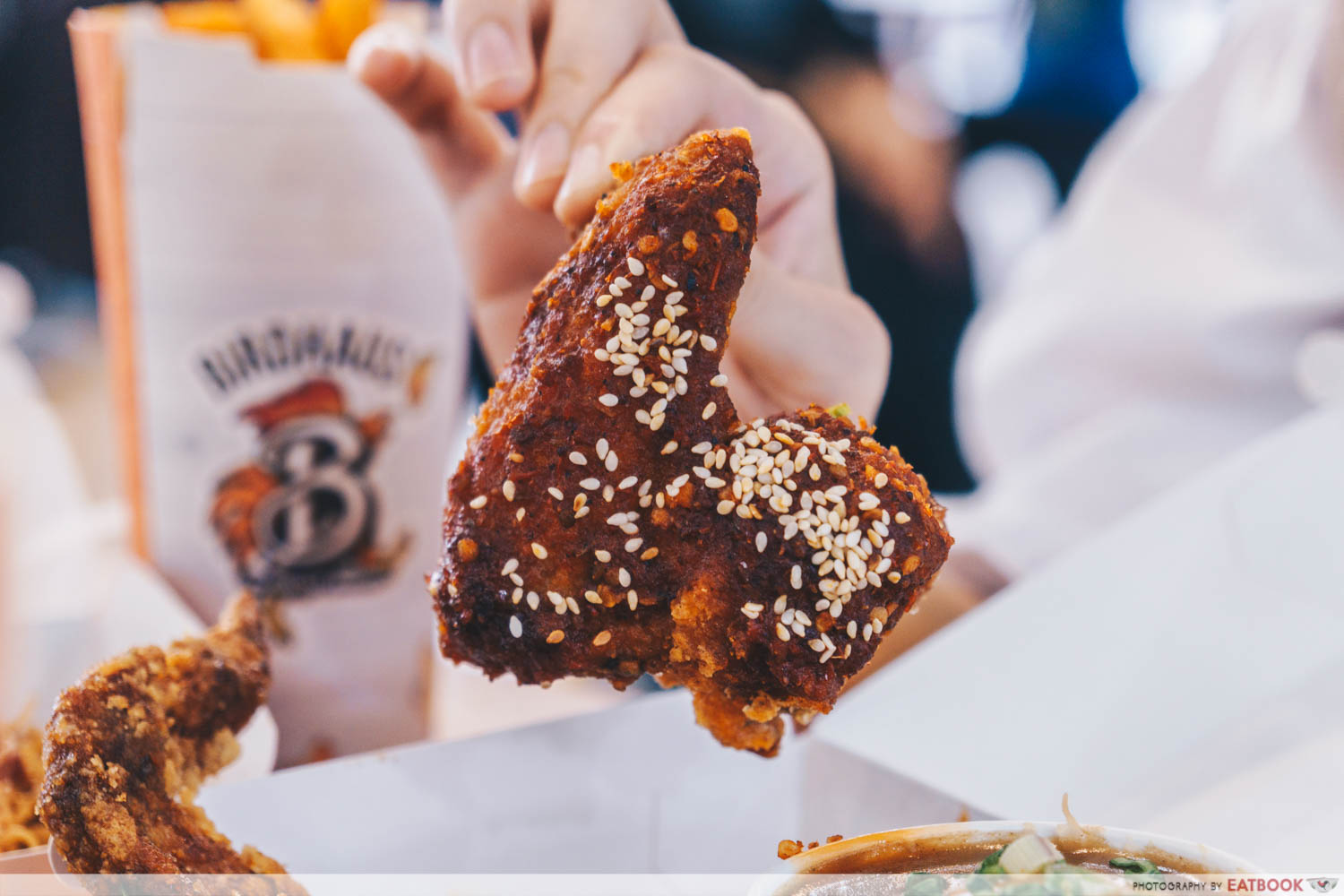 In case you didn't know, Harissa is a hot chilli pepper paste from North Africa so the Smoky Harissa wings were indeed spicy, but still pretty tolerable. Spice aside, it was slightly sweet, and had a light undertone of cumin.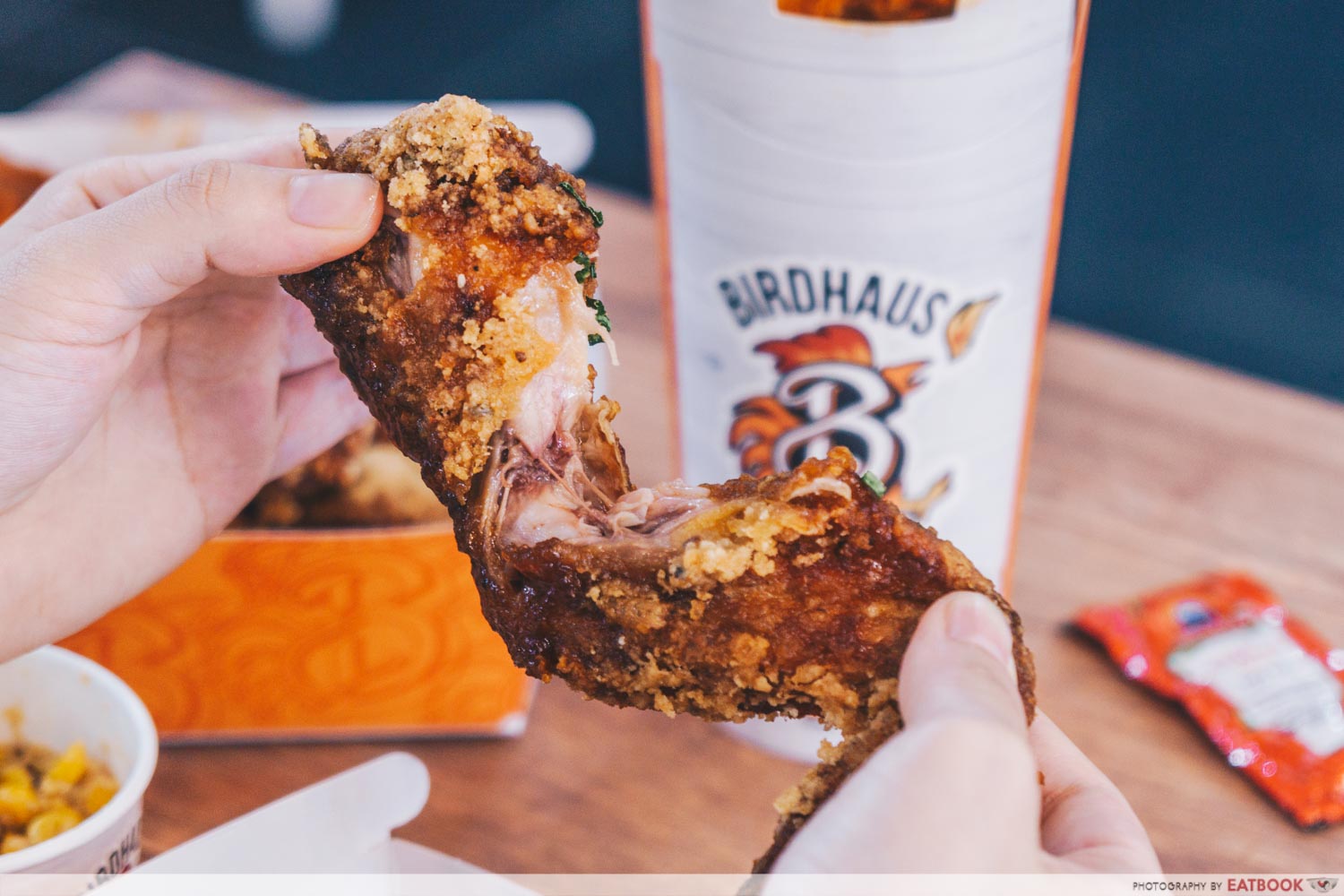 Similar to the thighs and drums, the wings were also moist and tender.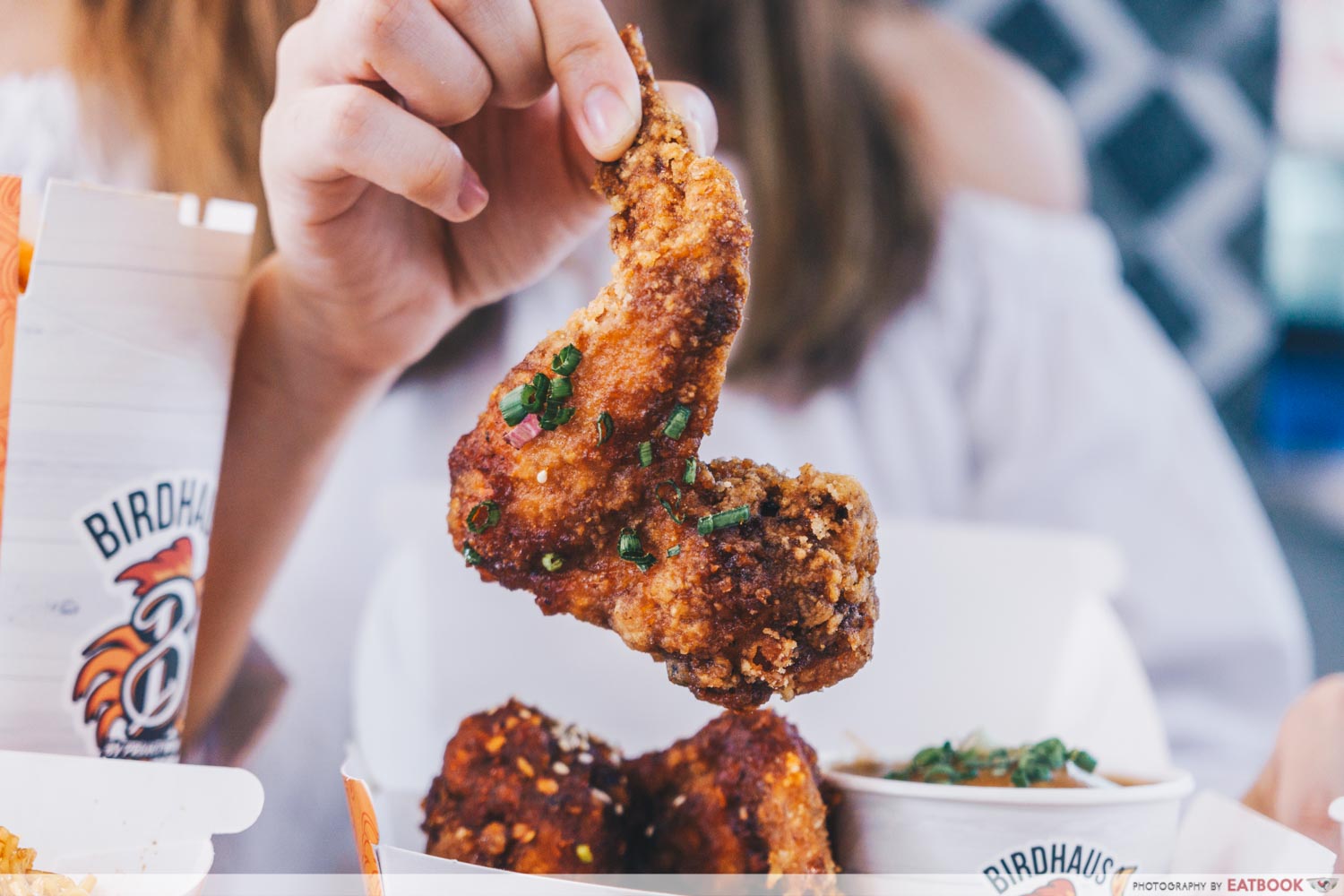 The Honey Soy wing presented a harmonious balance of sweet and savoury. This sauce is my favourite option as it complements the chicken perfectly, and was borderline addictive.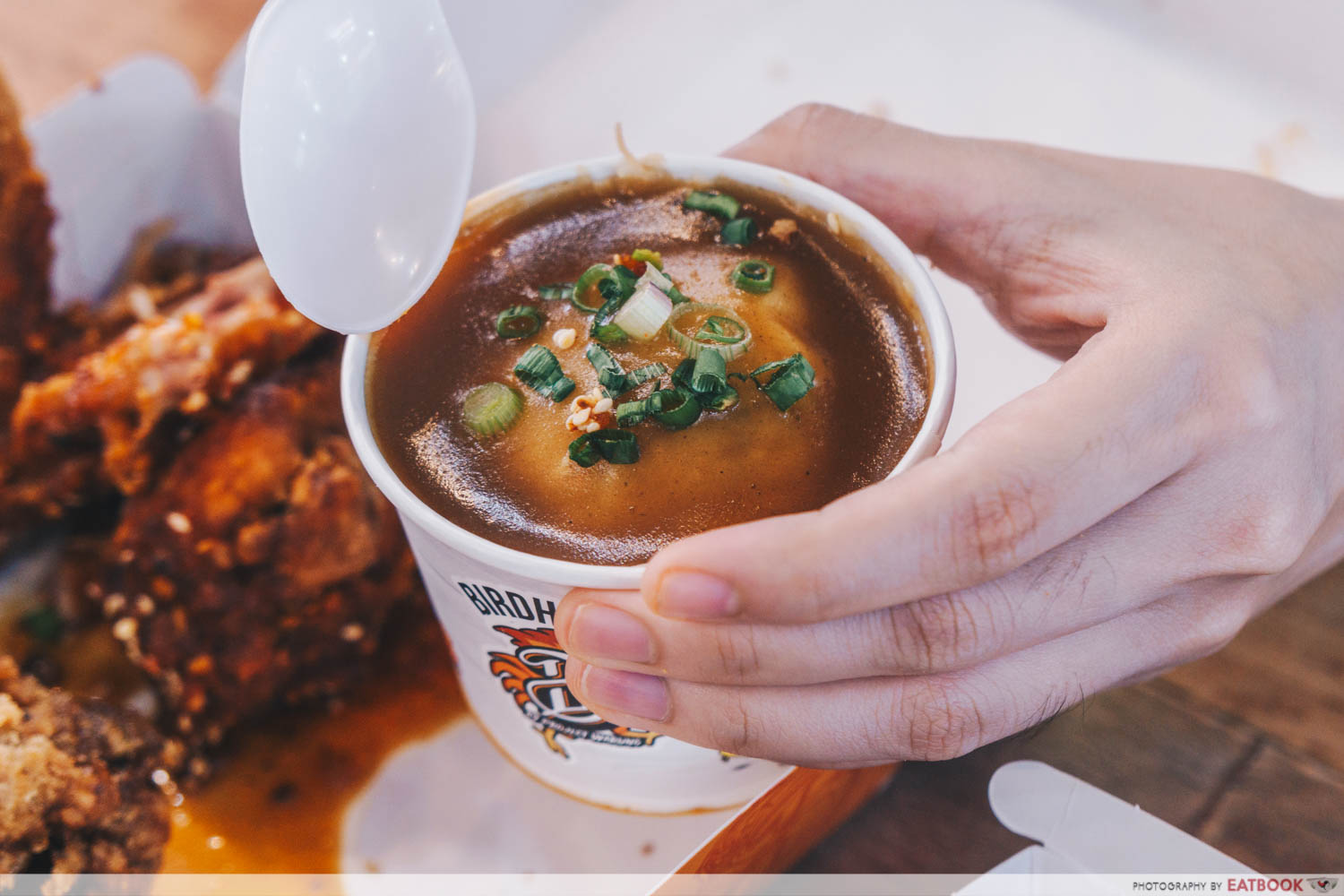 The Mash Potato here is not like other fried chicken joints. It had bits of shredded fried chicken and it was topped with chilli flakes, spring onion, and gravy.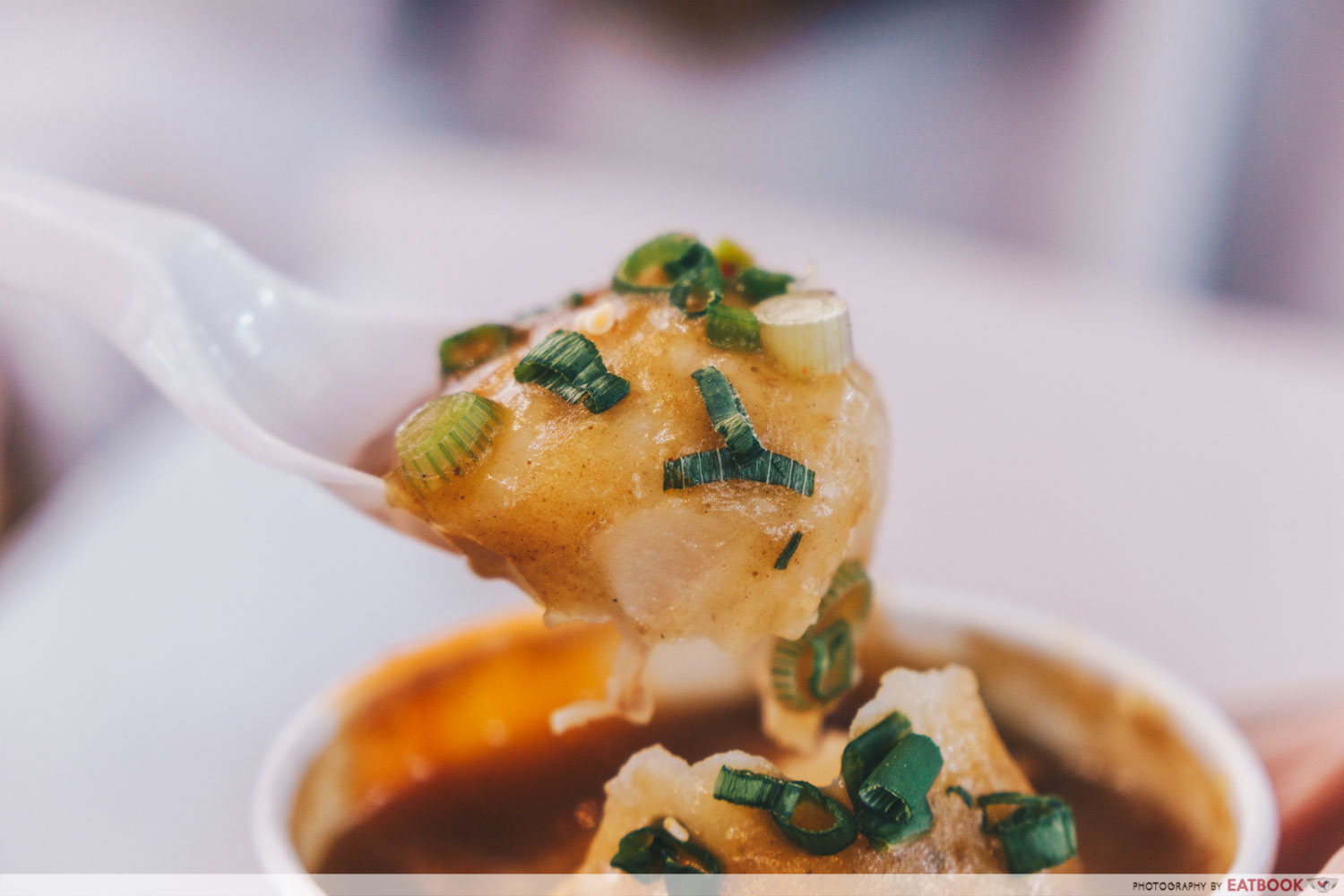 They nailed the creaminess and flavour of the mash. The gravy tasted similar to the mushroom sauce in Western chicken chop dishes, and it had a good depth of flavour.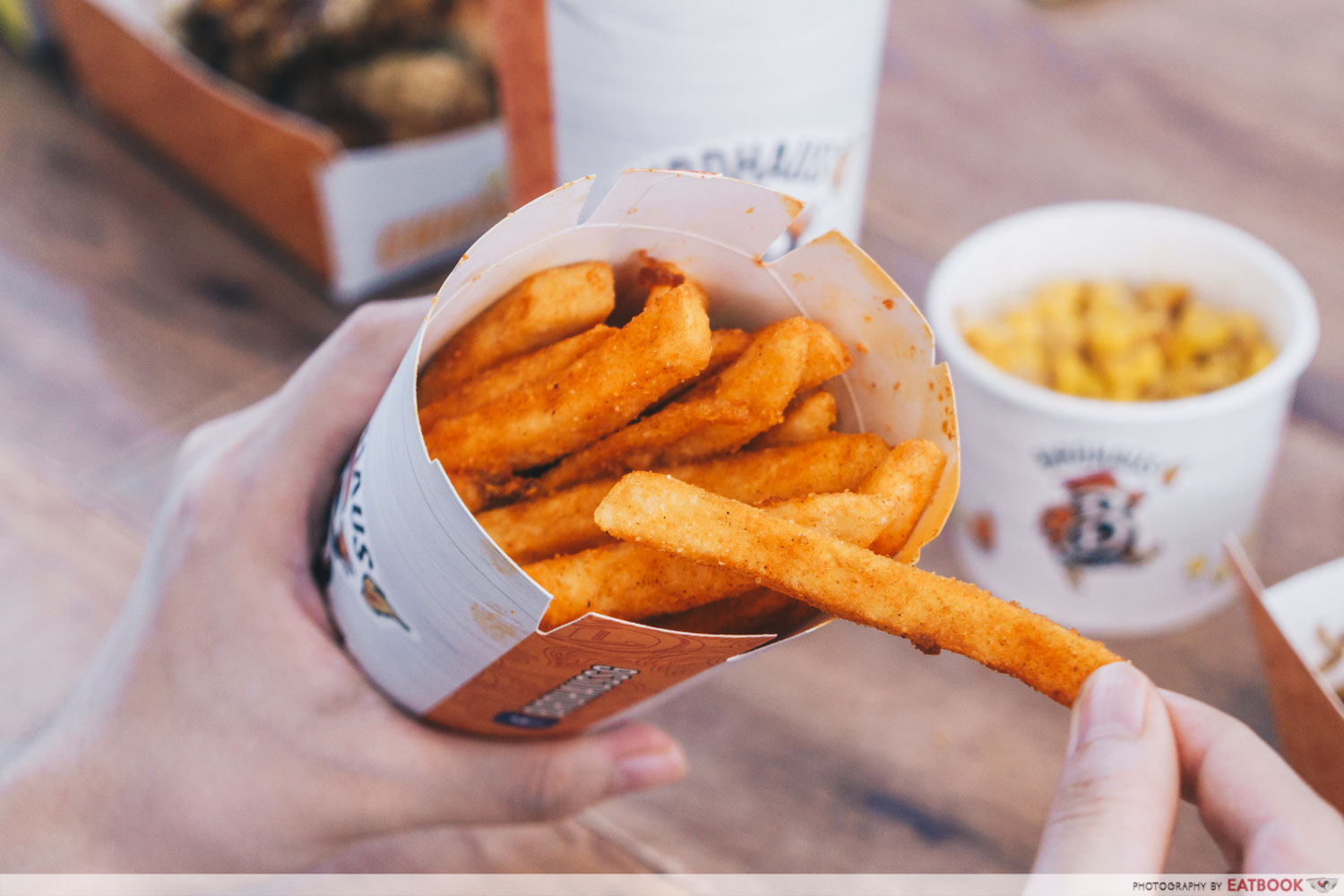 I'm not usually a fan of thick-cut fries, but I'd make an exception for Birdhaus' Fire Fries ($5). They were not over-the-top or anything─just well-seasoned, perfectly crisp fries which had a slight peppery kick.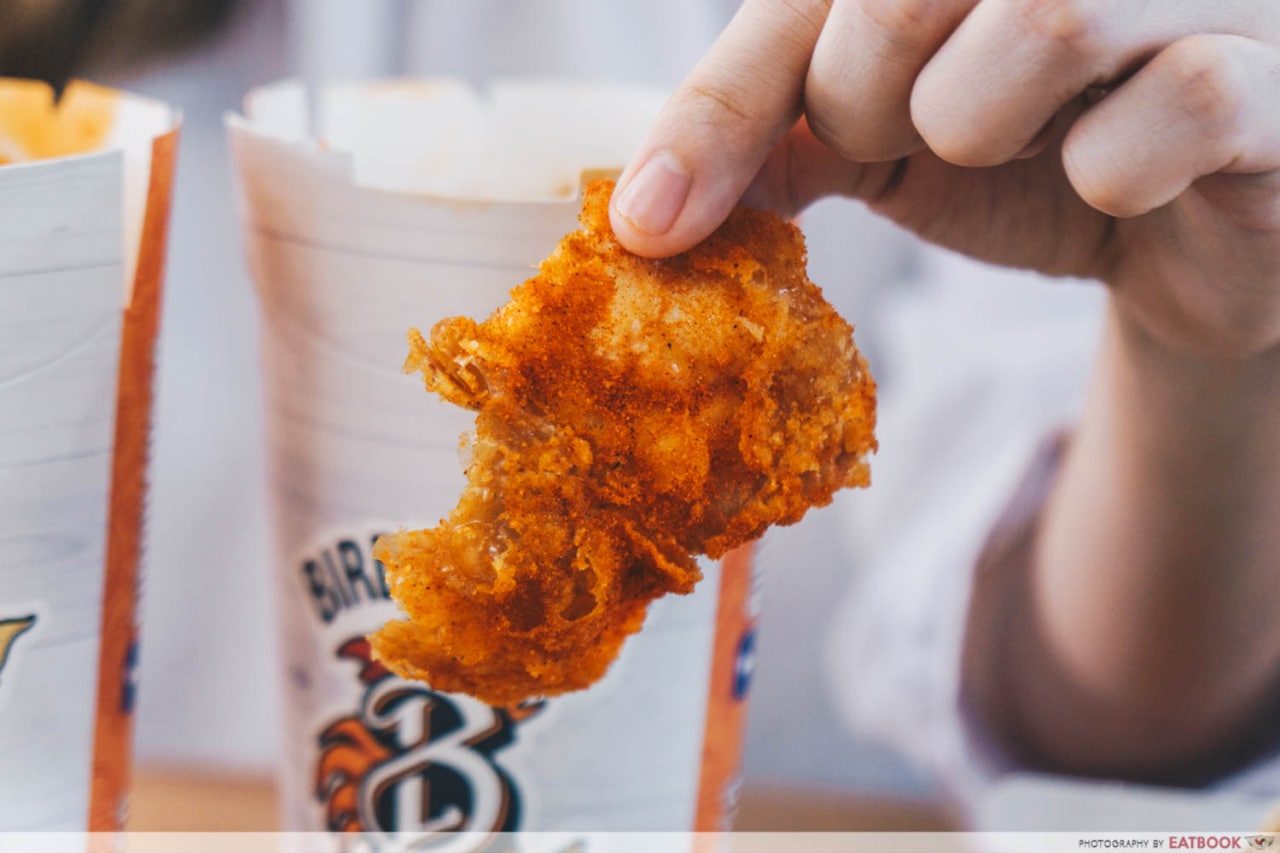 Don't forget to order the Crispy Chicken Skin ($4.50). Because of how thin they were, the chicken skin was optimally crispy. It wasn't just salty, as you could also taste the chicken flavour. We couldn't stop reaching out for more the moment we popped one into our mouths. 
Ambience at Birdhaus By Project Warung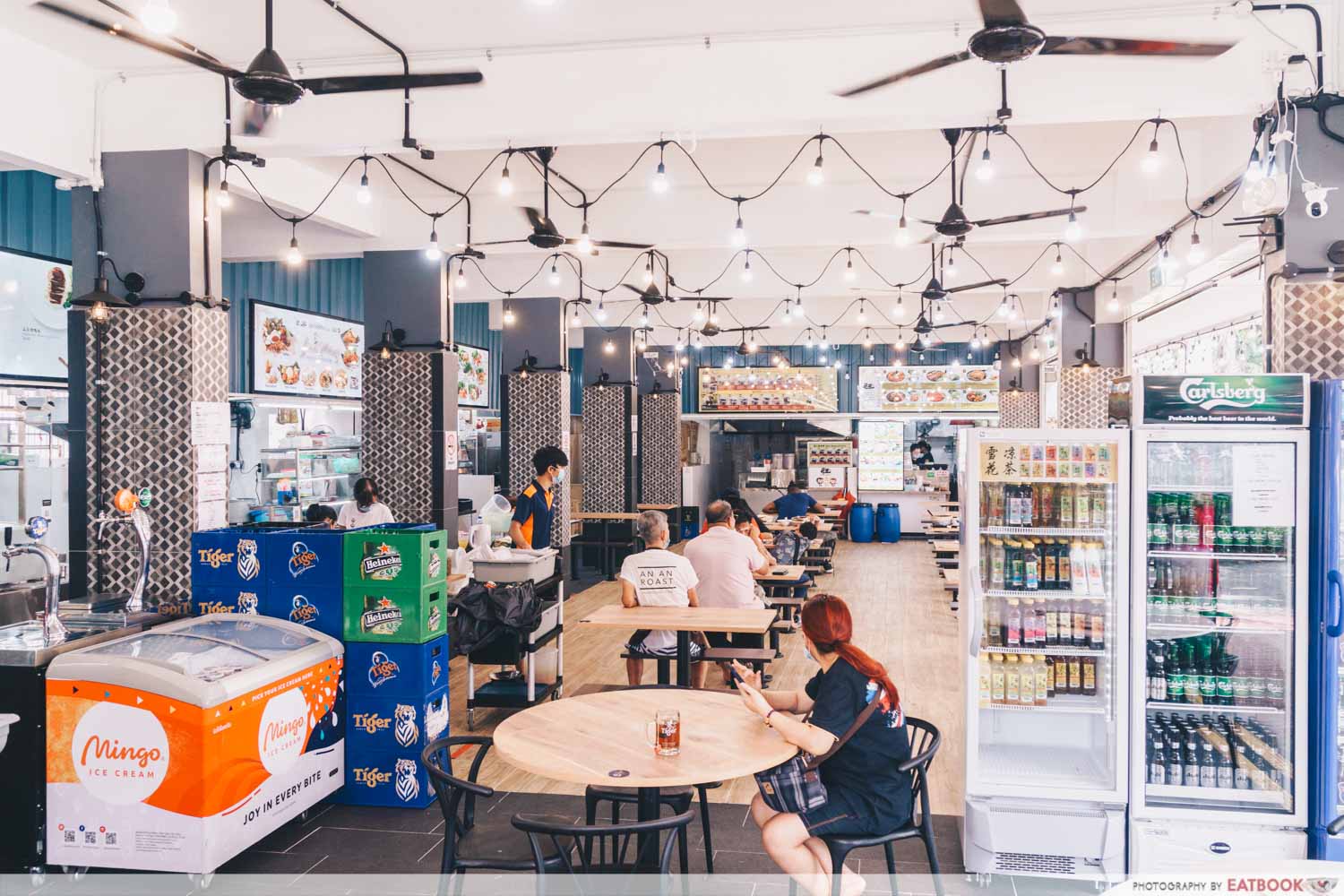 Birdhaus is situated in a relatively new coffee shop that's just behind Alexandra Village Food Centre. The brightly-lit and breezy space makes dining there pretty comfortable. You won't have to worry much about finding seats as even during lunch hour, there are still vacant seats available. 
10 Alexandra Food Village Stalls That Prove This Hawker Centre Deserves More Hype
The verdict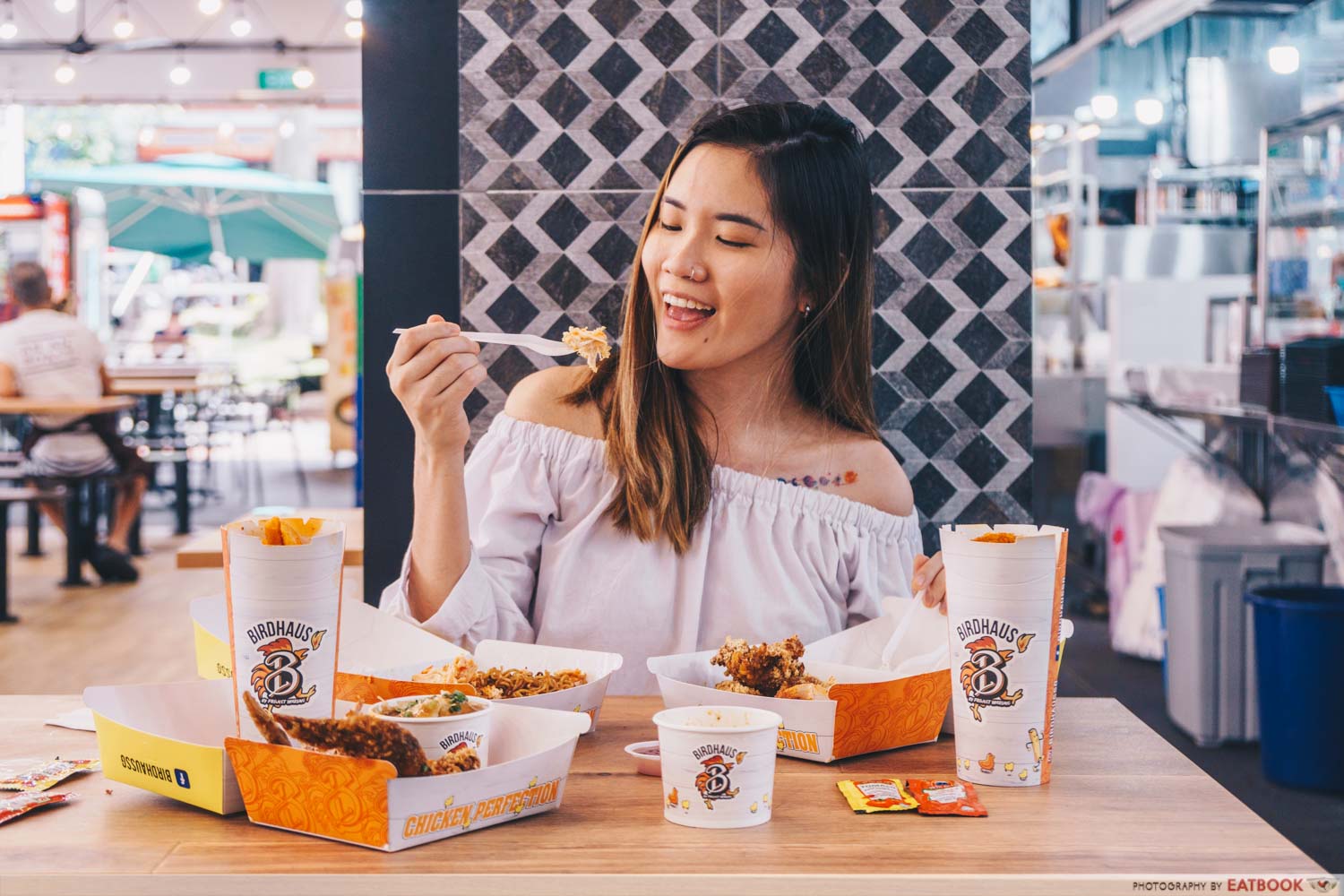 Birdhaus By Project Warung stands out from other stalls of the same kind as they put their own twist on regular fried chicken offerings without going overboard. What makes them even more impressive is that almost everything is housemade, from sauces to sides and even to the breading of the chicken. Although some of their items, such as the garlic parmesan dressing, have room for improvement, most of them were still flavourful. I'd love to come back and try out more of their dishes. 
8 Affordable Burgers Under $10 That Are Not From Fast Food Restaurants
Check out Burg, a popular burger stall by Project Warung that featured on our list of affordable burgers in Singapore. For more fried chicken options we love, check out Chix Hot Chicken, run by Taufik Batisah.
Chix Hot Chicken Review: Taufik Batisah Opens A Fried Chicken Cafe At Bugis
Address: 119 Bukit Merah Lane 1, #01-40, Singapore 151119
Opening hours: Daily 11:30am to 9:30pm
Website
Birdhaus is not a halal-certified eatery, but it is Muslim-owned.
Photos taken by Muhammad Hafiq.
This is an independent review by Eatbook.
Birdhaus By Project Warung Review: Fried Chicken With Sambal And Indomie By Burgs Founders In Bukit Merah
Summary
Pros
– Unique dishes
– Delicious sambal sauce with chicken
– Tasty and crispy chicken skin
– Customisable, as there are different sauces to accompany the chicken
Cons
– Garlic parmesan sprinkling was too cheesy
Recommended Dishes: Geprek With Indomie ($7.50), Crispy Chicken Skin ($4.50)
Opening hours: Daily 11:30am to 9:30pm
Address: 119 Bukit Merah Lane 1, #01-40, Singapore 151119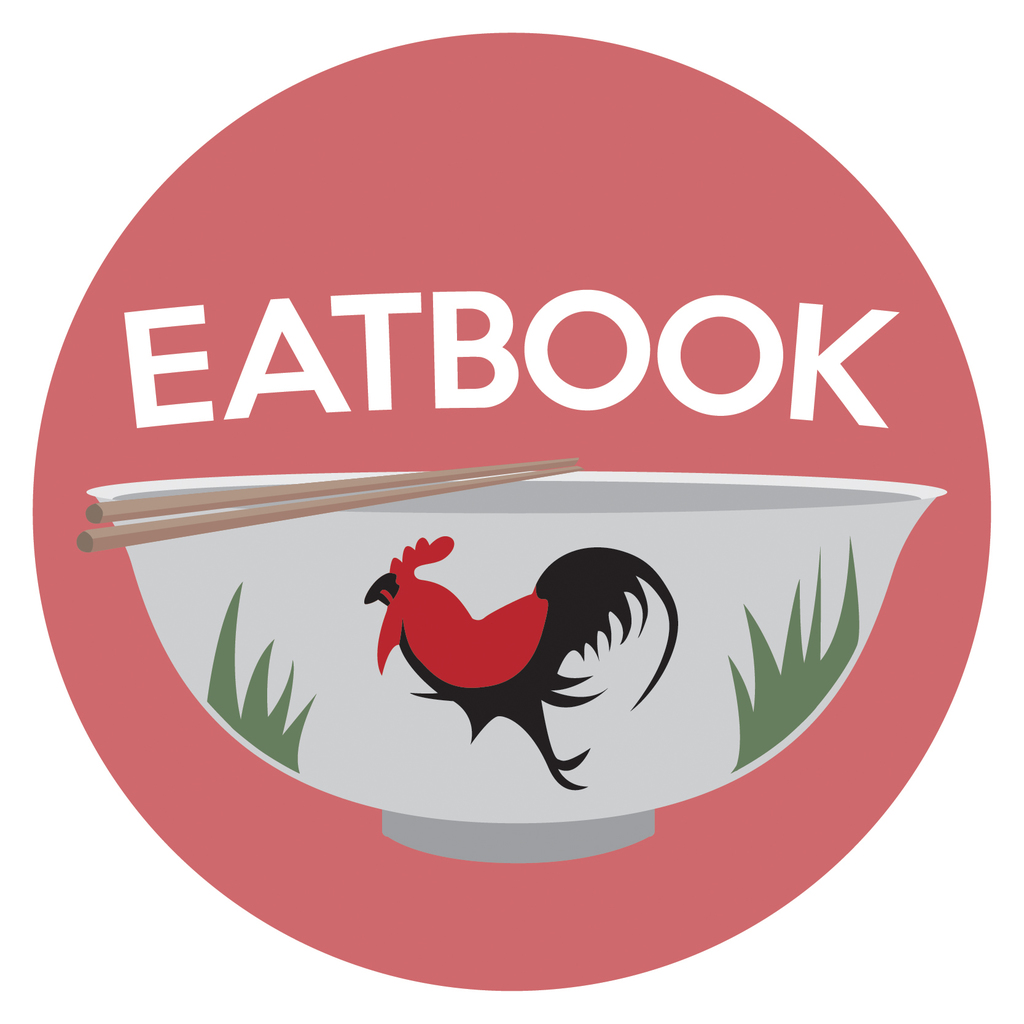 Drop us your email so you won't miss the latest news.