JOFA Meepok in Tampines West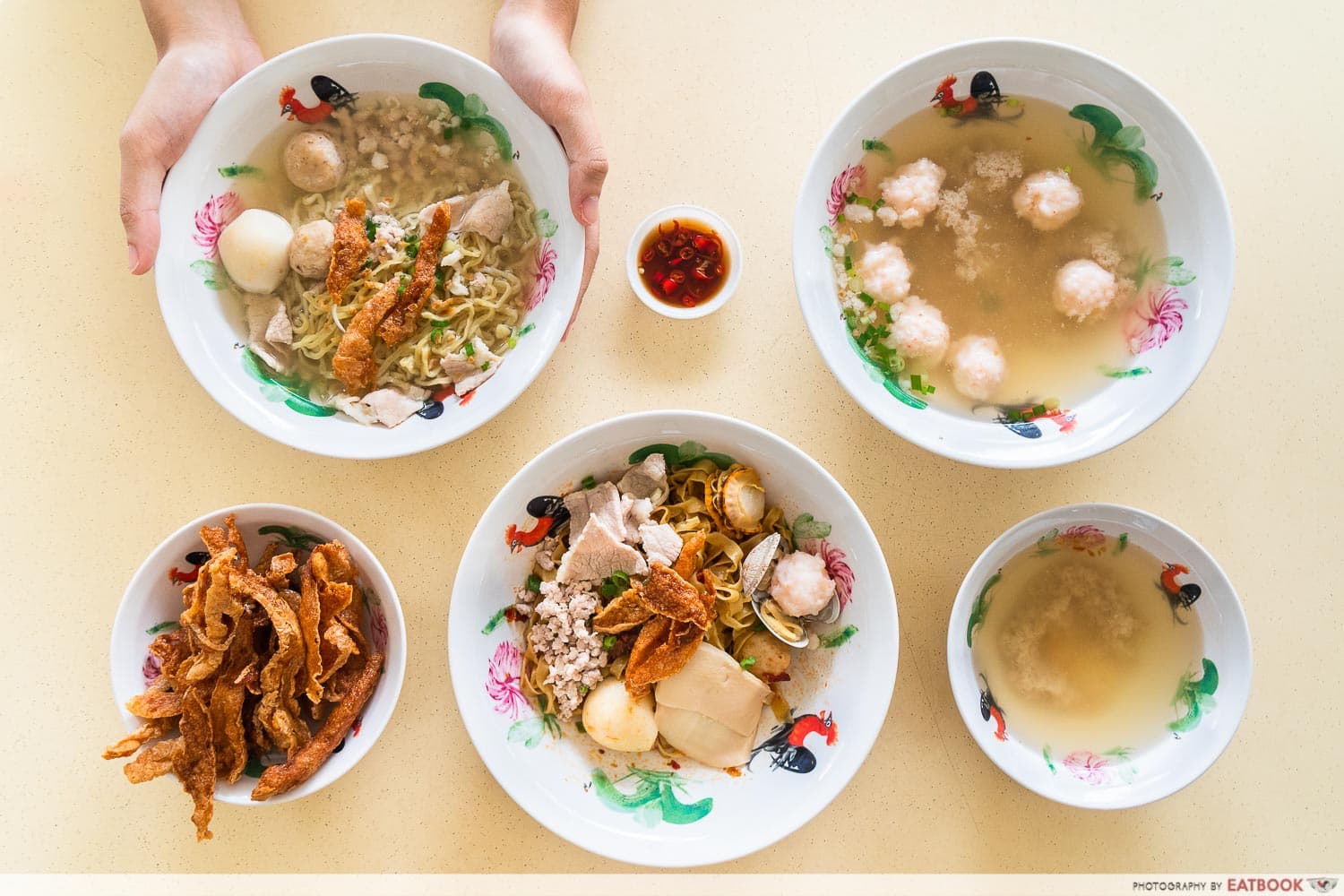 These days, it is no longer a surprise to find young hawkers in the hawker scene, as F&B entrepreneurship becomes more popular amongst millennials and Gen Z. JOFA Meepok is set up by two young individuals who were ex-classmates in their poly days, hoping to succeed in running their own hawker business together.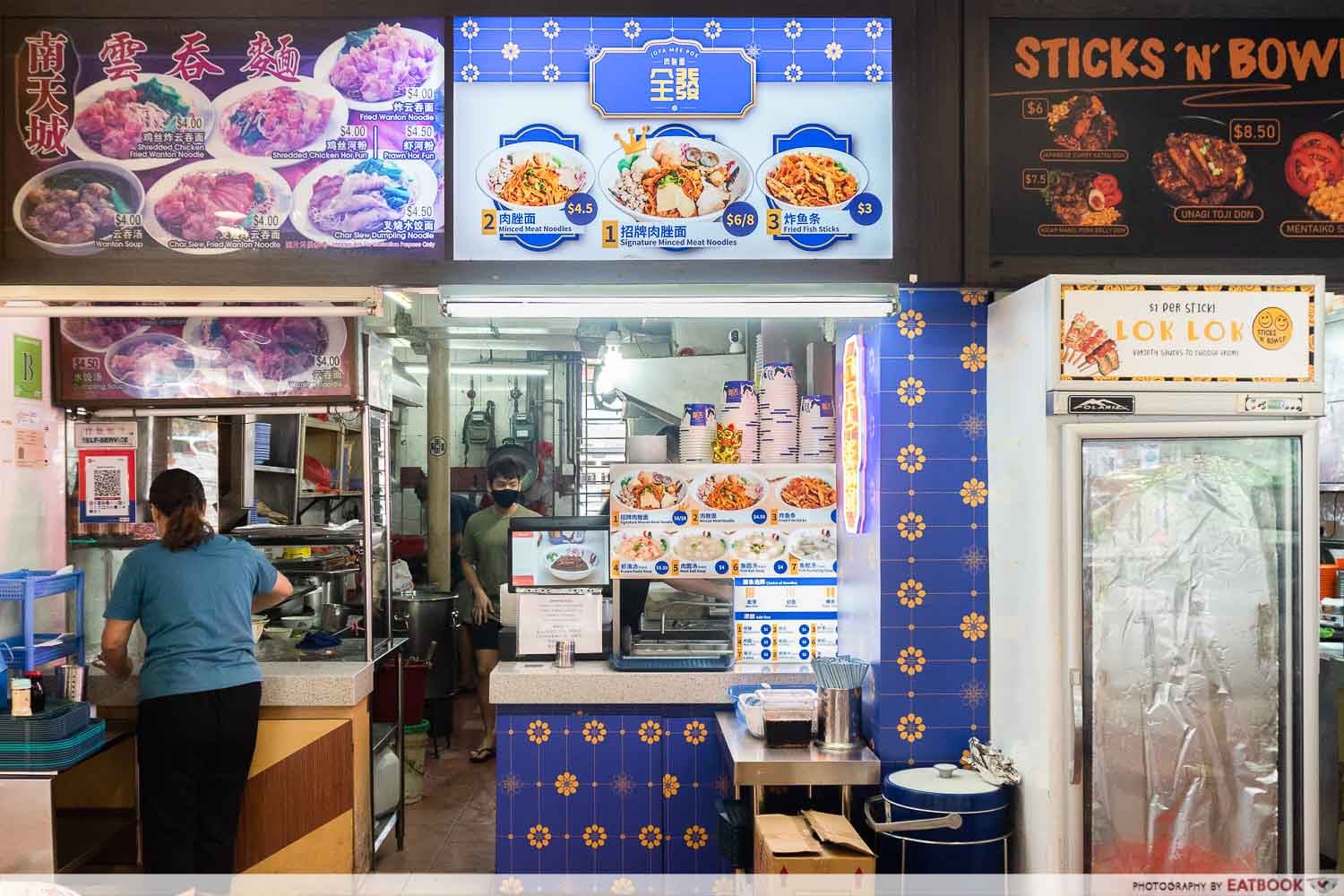 The menu here at JOFA Meepok is fairly simple, with only two noodle mains that you can choose to have in either a dry or soup version. They also give you choice of either mee pok, mee kia, or kway teow. 
Ah Lemak Review: Fusion Nasi Lemak Stall With Unagi, Soft Shell Crab, Spam Fries And More
Food at JOFA Meepok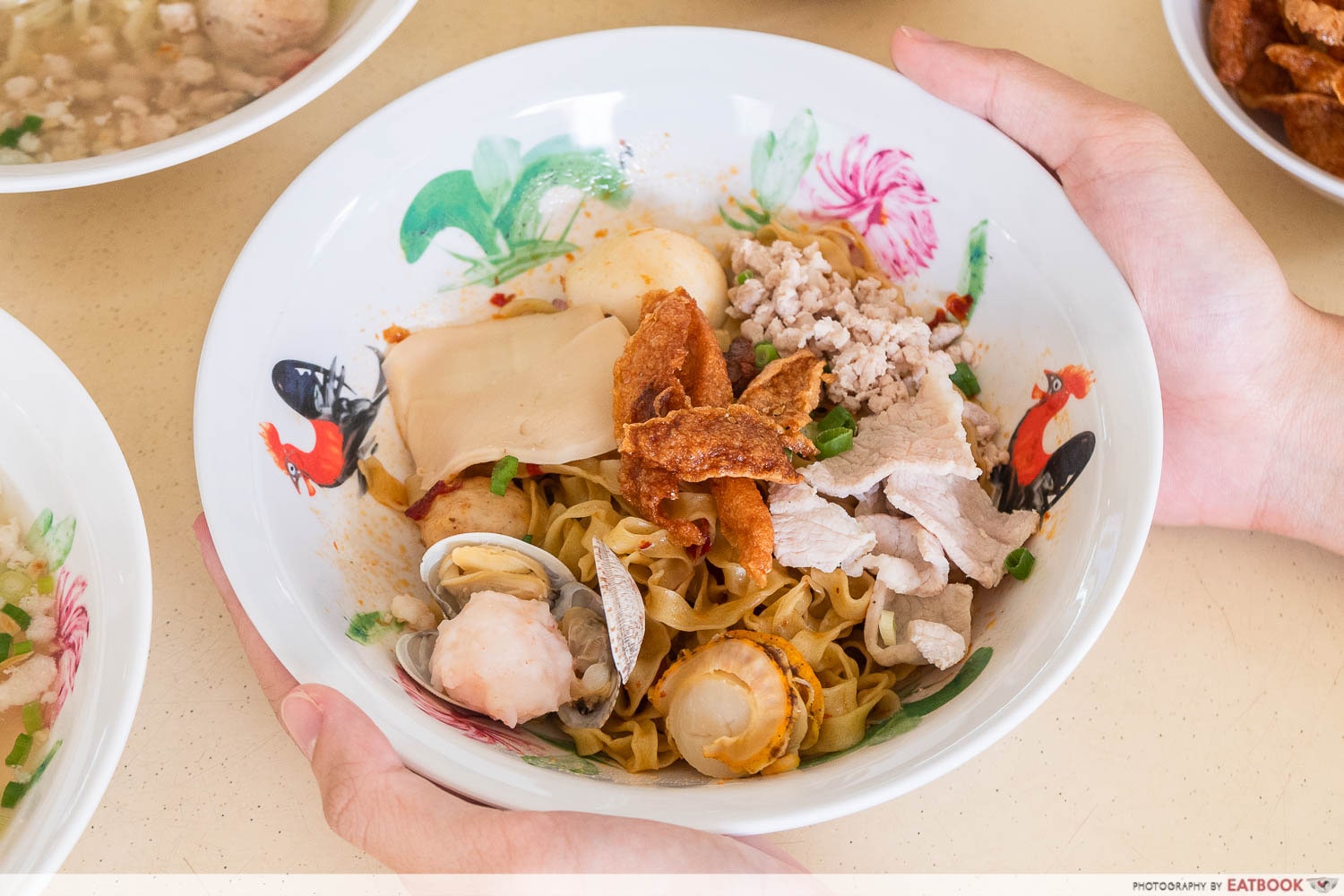 To kickstart my meal, I went straight for their dry Signature Minced Meat Noodles ($6). I must say, I was quite impressed by the plethora of ingredients within this bowl of bak chor mee, as it contained slices of abalone, a plump scallop, two to three clams and more. It also had the usual suspects of minced meat, lean meat pieces, as well as a QQ-looking fishball. 
Every bowl is also topped with a few pieces of their addictively crispy house-made fish sticks.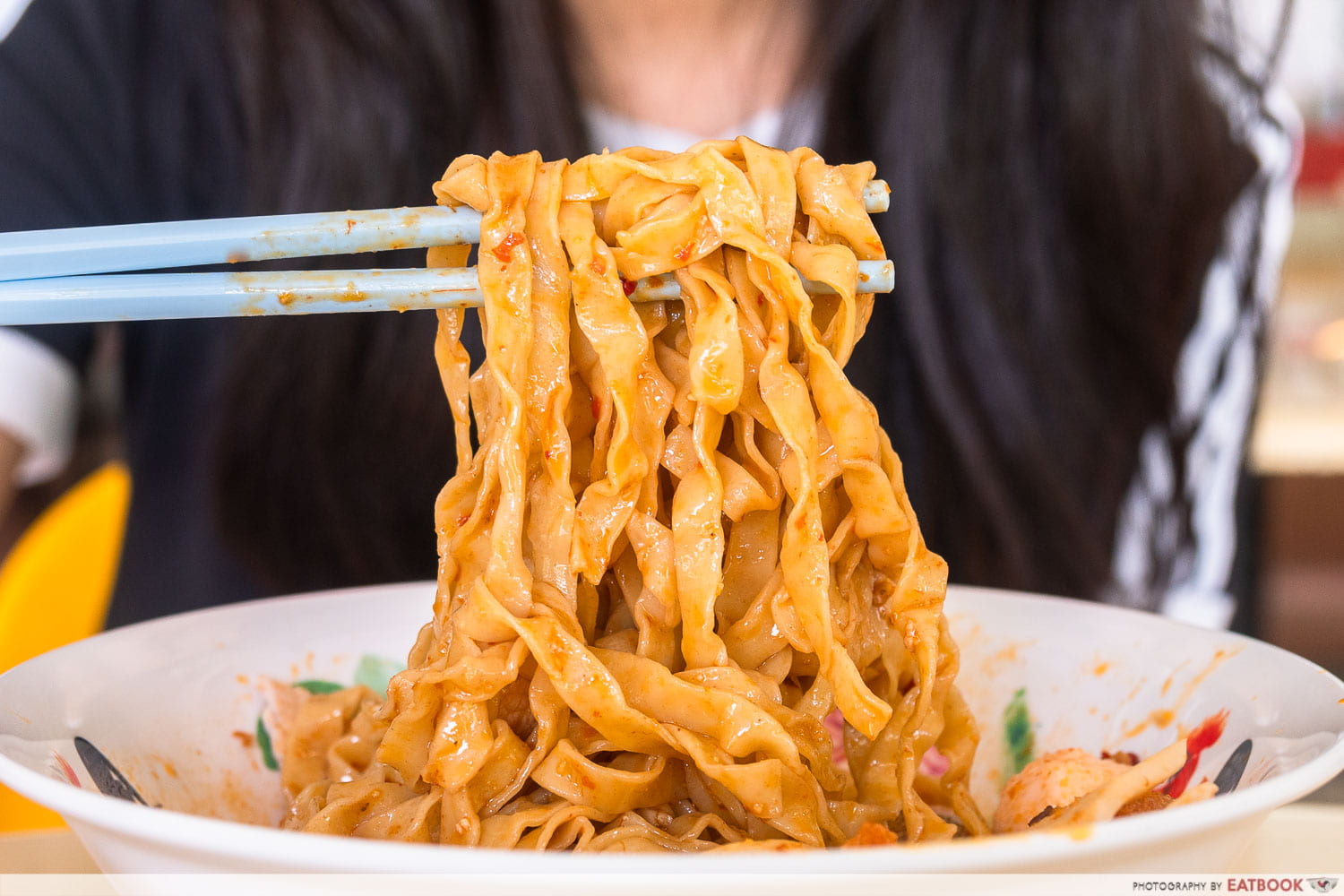 The noodles had a firm bite to them, and had no traces of alkaline flavour at all. The first taste that hit me was a strong sourish hint of vinegar, while the aftertaste saw a savoury and spicy kick from the chilli. As a fan of having my mee pok with vinegar, I found this bowl of noodles extremely appetising.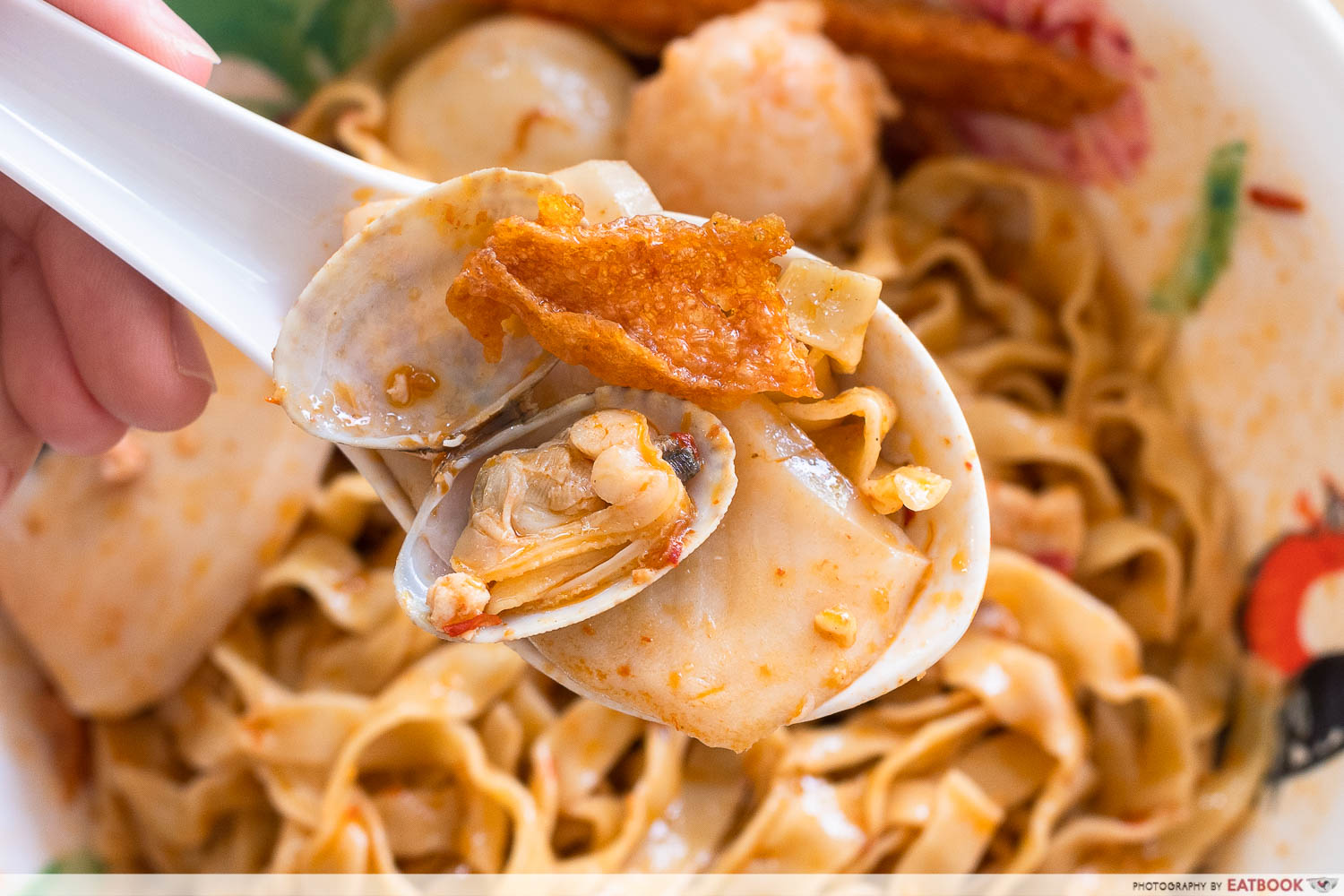 The addition of seafood added a different level of depth to a regular BCM, thanks to the briny clams and the sweet, juicy scallop. The seafood tasted of frozen quality, but they were nonetheless still delicious, and I can't complain considering the affordability.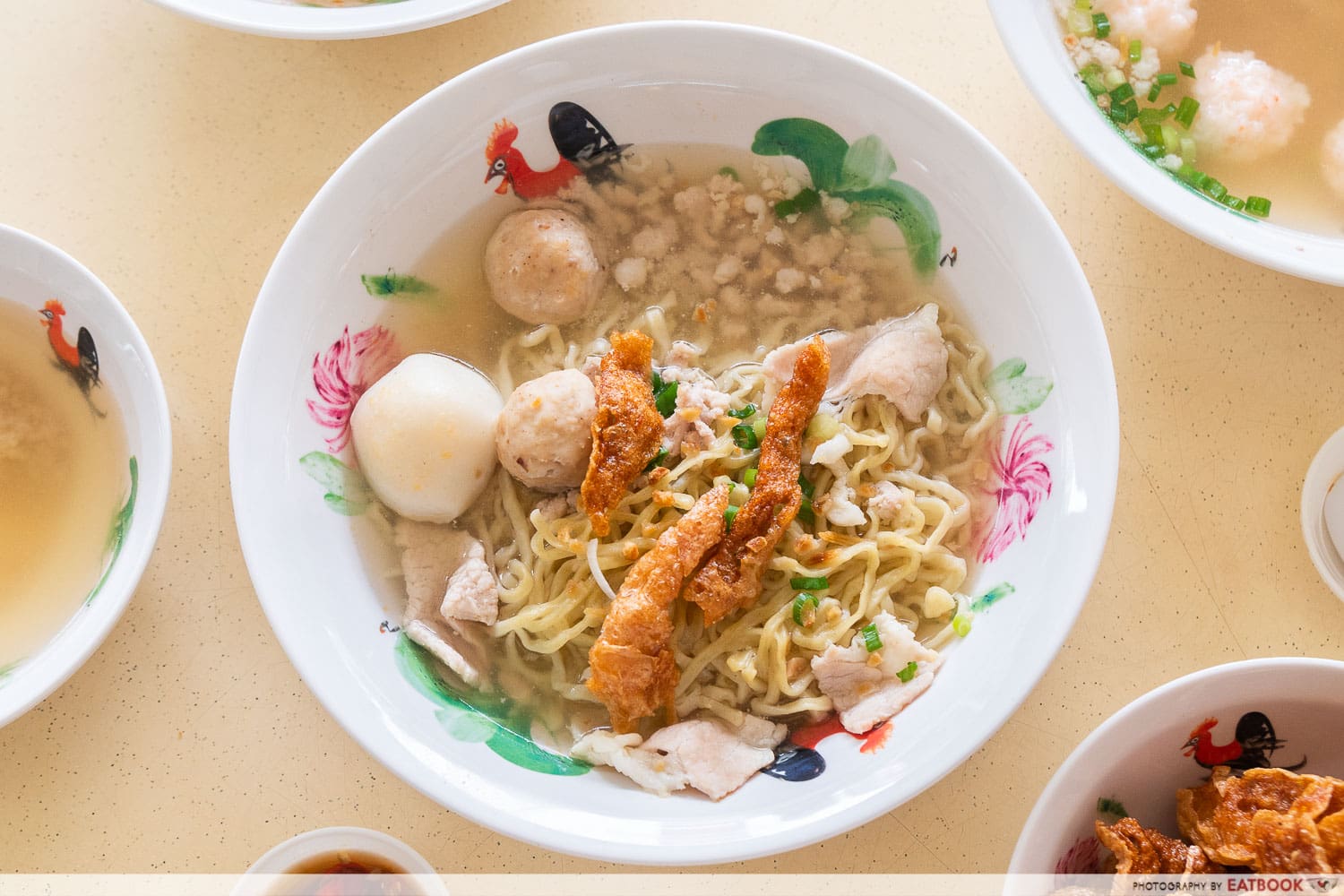 Next, I went for the simple bowl of soup Minced Meat Noodles ($4.50) with mee kia for a change. Differing from the bowl of seafood noodles, this one contained meatballs, minced meat, meat slices, and a fishball. The broth was fairly light in colour, with bits of rendered pork fat peeking through.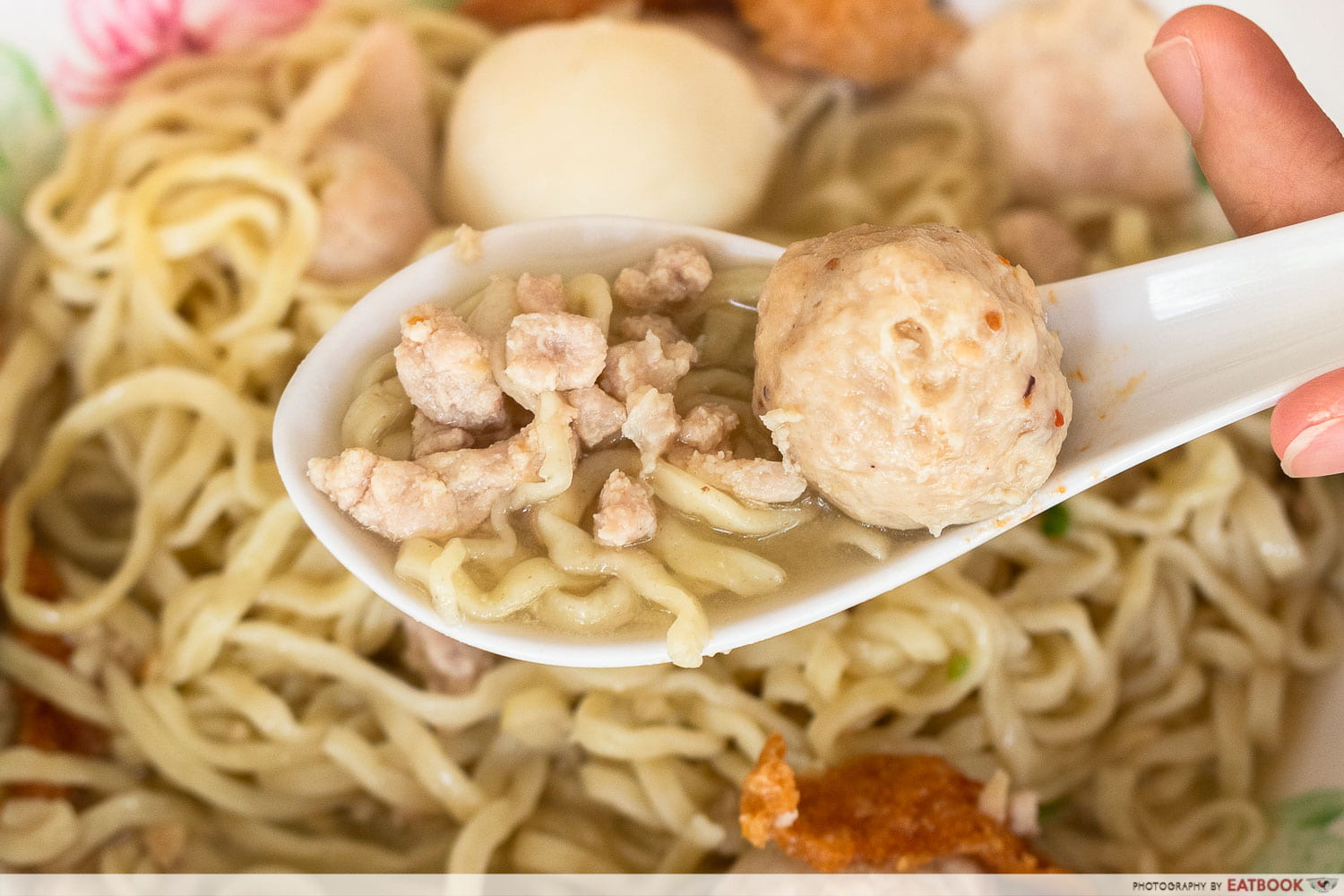 Contrary to the light-looking broth, the soup was packed with umami, as they use pork bones and seafood in the stock. Being way more gao than I expected, the soup was perfumed with sweetness, complementing the savoury ingredients that were present. I particularly enjoyed the minced pork that came with little bits of fat, giving it a pleasant melt-in-your-mouth texture.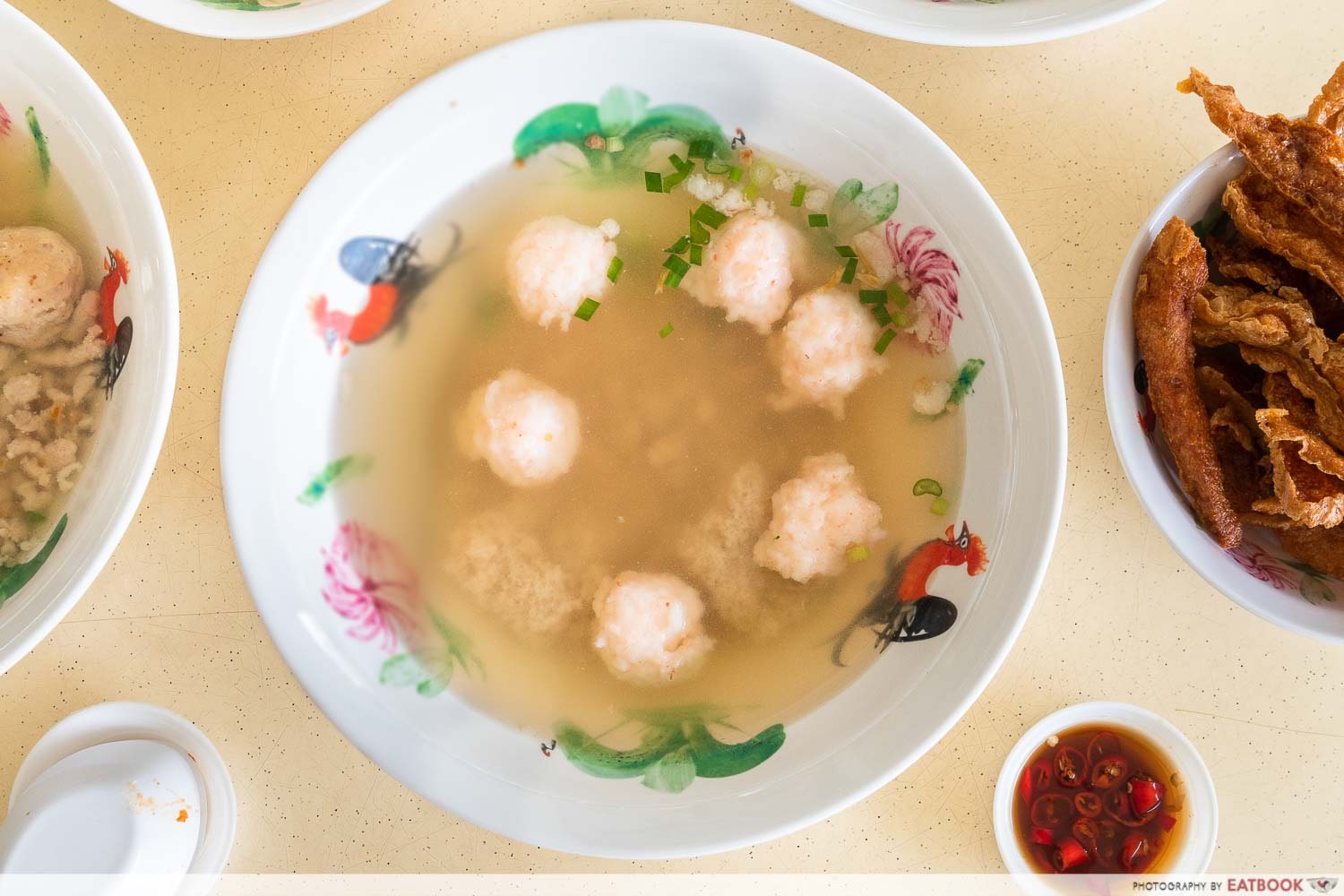 Being a fan of the prawn paste at Haidilao, I was curious to find out how the Prawn Paste Soup ($3.50) here would fare against it. Swimming in the same broth as the dish before, were six plump chunks of prawn paste balls. The prawn balls had a decent bite to them, but were slightly less bouncy than I expected them to be.
Those who are craving something lighter on the palette can opt for this soup, although I personally did not find it particularly worth the price, given that you only get six prawn balls with the bowl, and nothing else.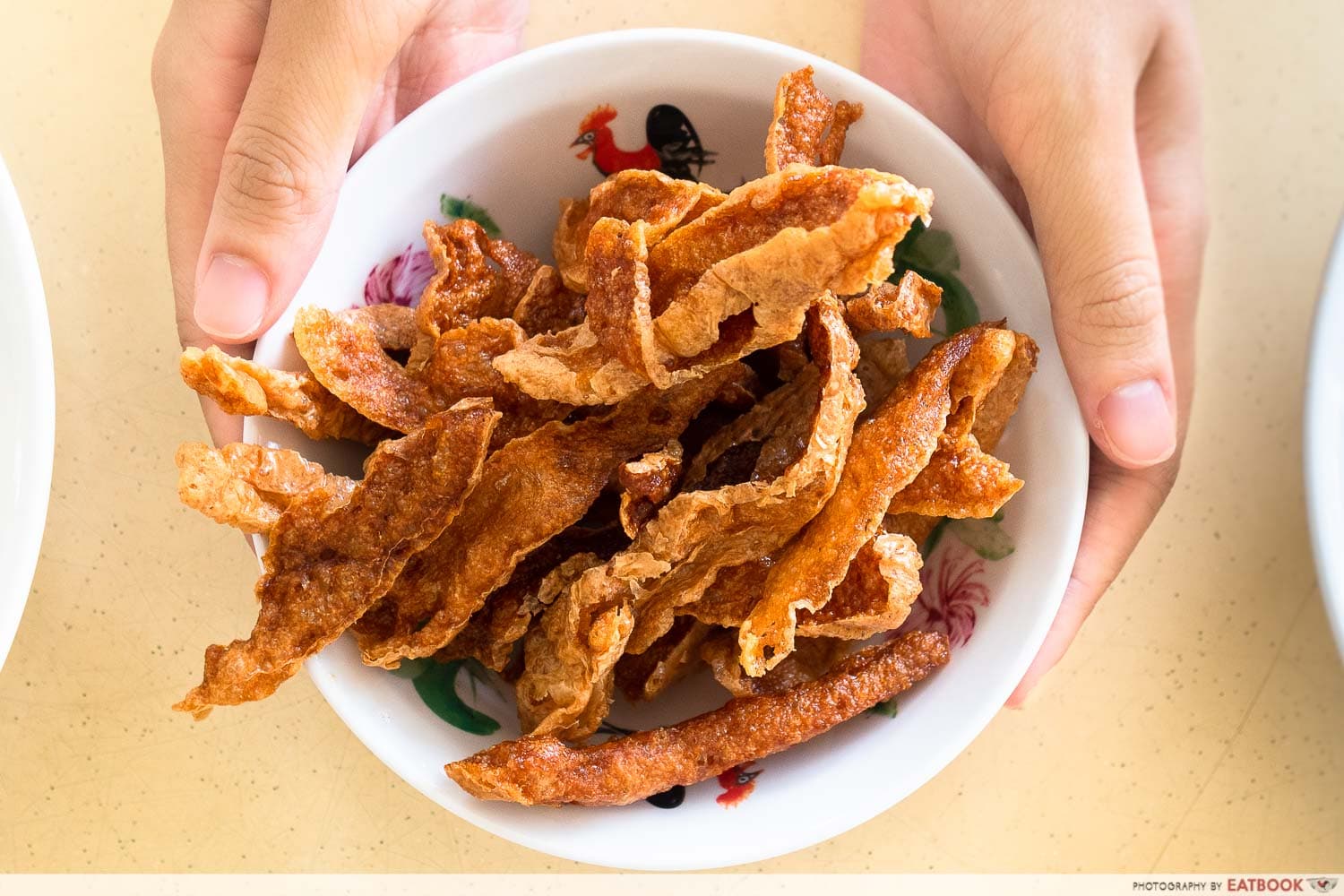 A unique item offered here is their Fried Fish Sticks ($3), which features deep-fried fish paste wrapped in beancurd skin. These addictive snacks not only go well with the noodles, but are also extremely yummy eaten on their own.
Shatteringly crispy on the outside, with a burst of savoury flavour with each bite, I found myself reaching for more throughout the meal with no hesitation. 
Jin Xi Lai Mui Siong Minced Meat Noodle Review: 50-Year-Old BCM Stall With Pork Liver Soup
Ambience at JOFA Meepok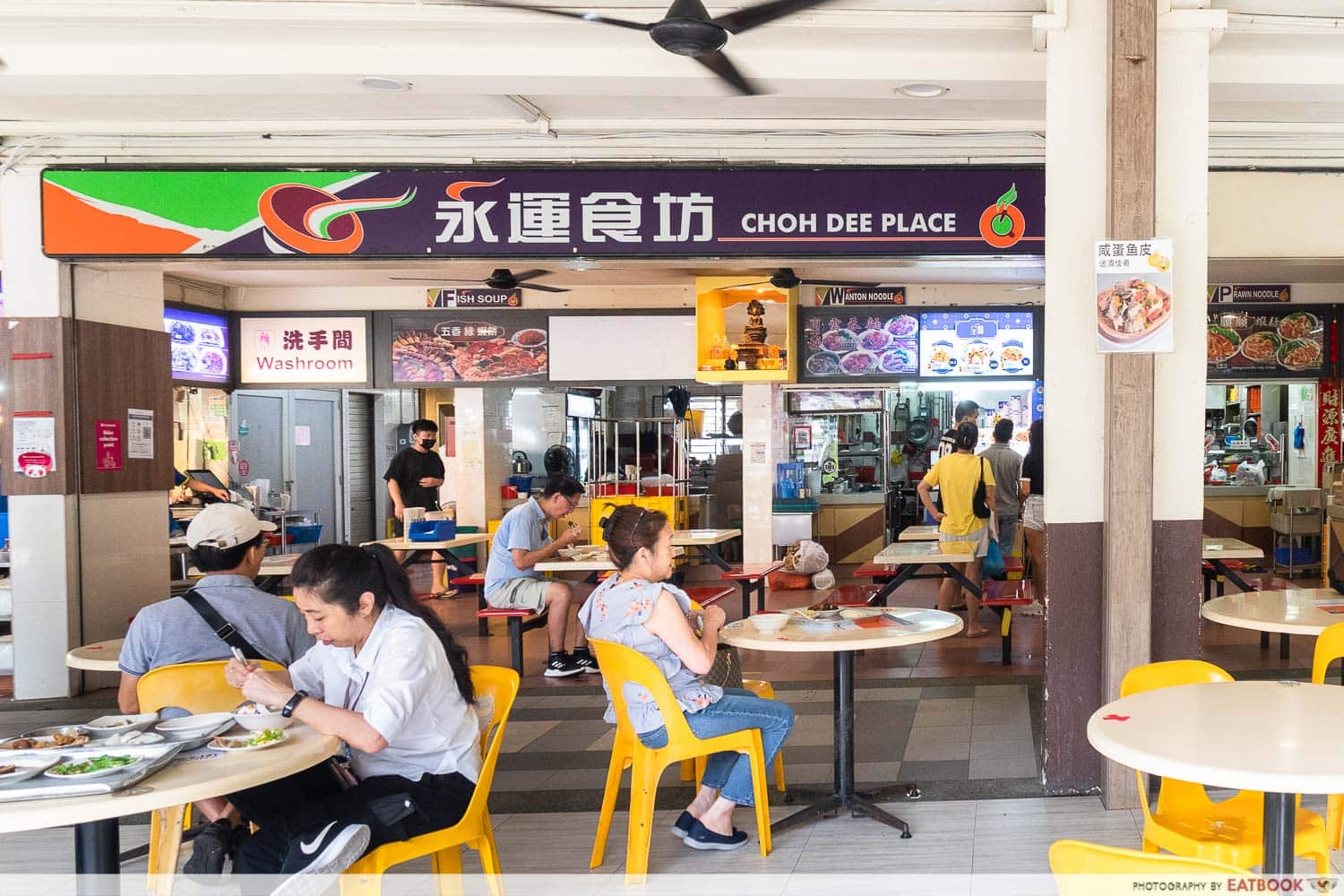 Getting to JOFA Meepok is slightly inconvenient if you do not live around the area, as it is roughly a 15-minute walk away from Tampines West MRT Station. Located within a coffee shop underneath a HDB block, you will find many residents queuing up at this unique mee pok stall. 
Do note that they close between lunch and dinner time, so head down early if you don't want to be stuck amongst the lunch crowd! 
The verdict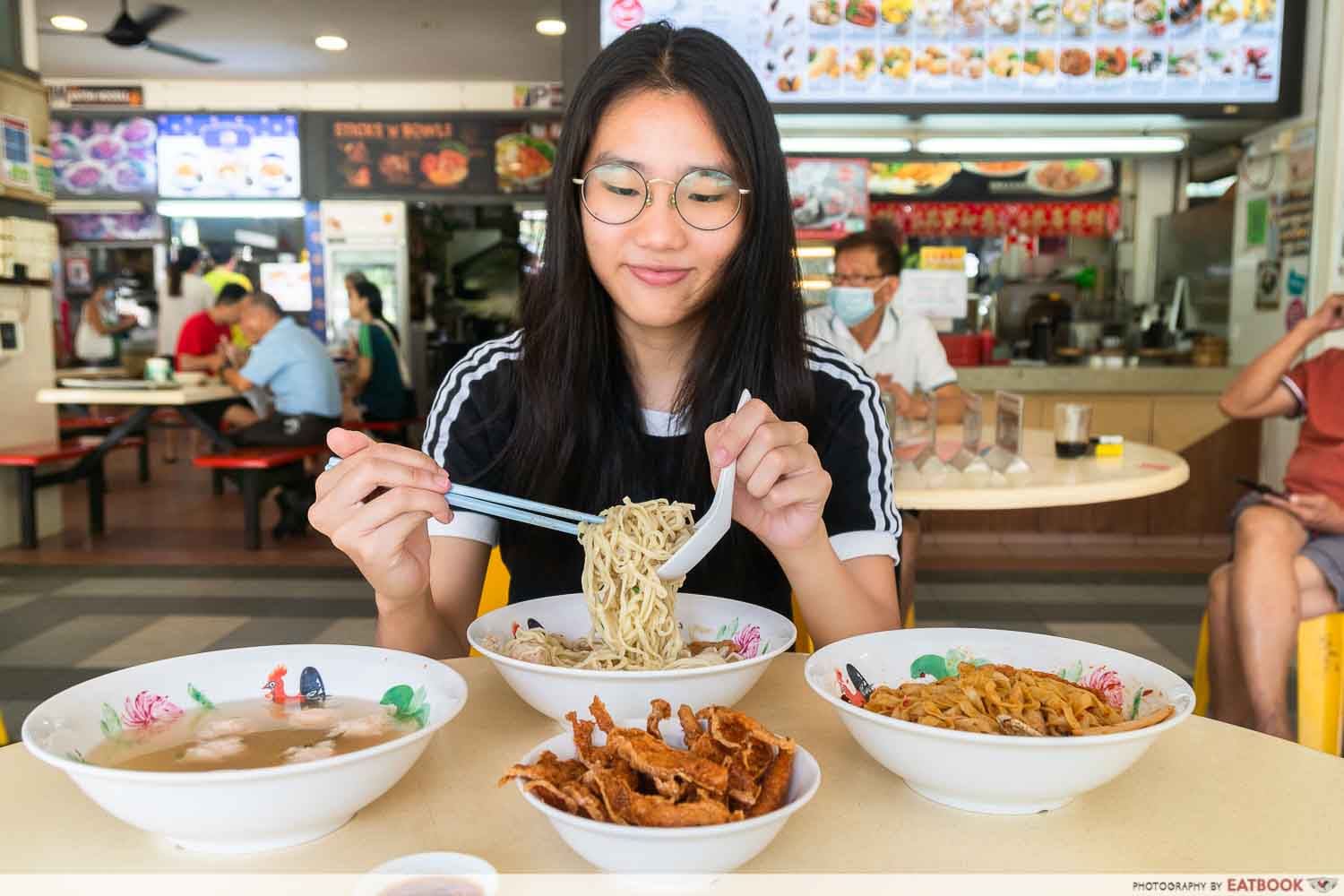 Overall, I thoroughly enjoyed the mee pok here at JOFA Meepok, particularly because I am a huge fan of tangy and spicy flavours. I also find it quite respectable for two young individuals to start their own hawker business, as I can imagine how much courage it must have taken to do so. 
Since I stay around the area, I will definitely be back for more bowls of noodles, and I highly recommend that you guys come down to try a bowl of zhnged-up mee pok for yourself too! 
For more food in the area, check out our Sticks 'N' Bowls review for $1 lok lok, mentaiko salmon bowls and more. If not, there is also our Ah Lemak review, featuring fusion nasi lemak containing unagi, soft shell crab and other atas goodies! 
Address: 824 Tampines Street 81, #01-38, Singapore 520824
Opening hours: Daily 8am to 2:30pm, 5:30pm to 8pm
Tel: 9821 7774
JOFA Meepok is not a halal-certified eatery.
Sticks 'N' Bowls Review: $1 Lok Lok And Mentaiko Salmon Don In Tampines Coffee Shop
Photos taken by Lim Yu Hui. 
This is an independent tasting at JOFA Meepok. 
JOFA Meepok Review: New Hawker Stall Serving Zhnged-Up Mee Pok With Fried Fish Sticks, Scallops And More
JOFA Meepok Review: New Hawker Stall Serving Zhnged-Up Mee Pok With Fried Fish Sticks, Scallops And More -

8/10
Summary
Pros
– Unique menu items
– Prices are affordable
Cons
– The place is not very accessible
Recommended dishes: Signature Minced Meat Noodles ($6), Minced Meat Noodles ($4.50), Crispy Fish ($3)
Opening hours:Daily 8am to 2:30pm, 5:30pm to 8pm
Address: 824 Tampines Street 81, #01-38, Singapore 520824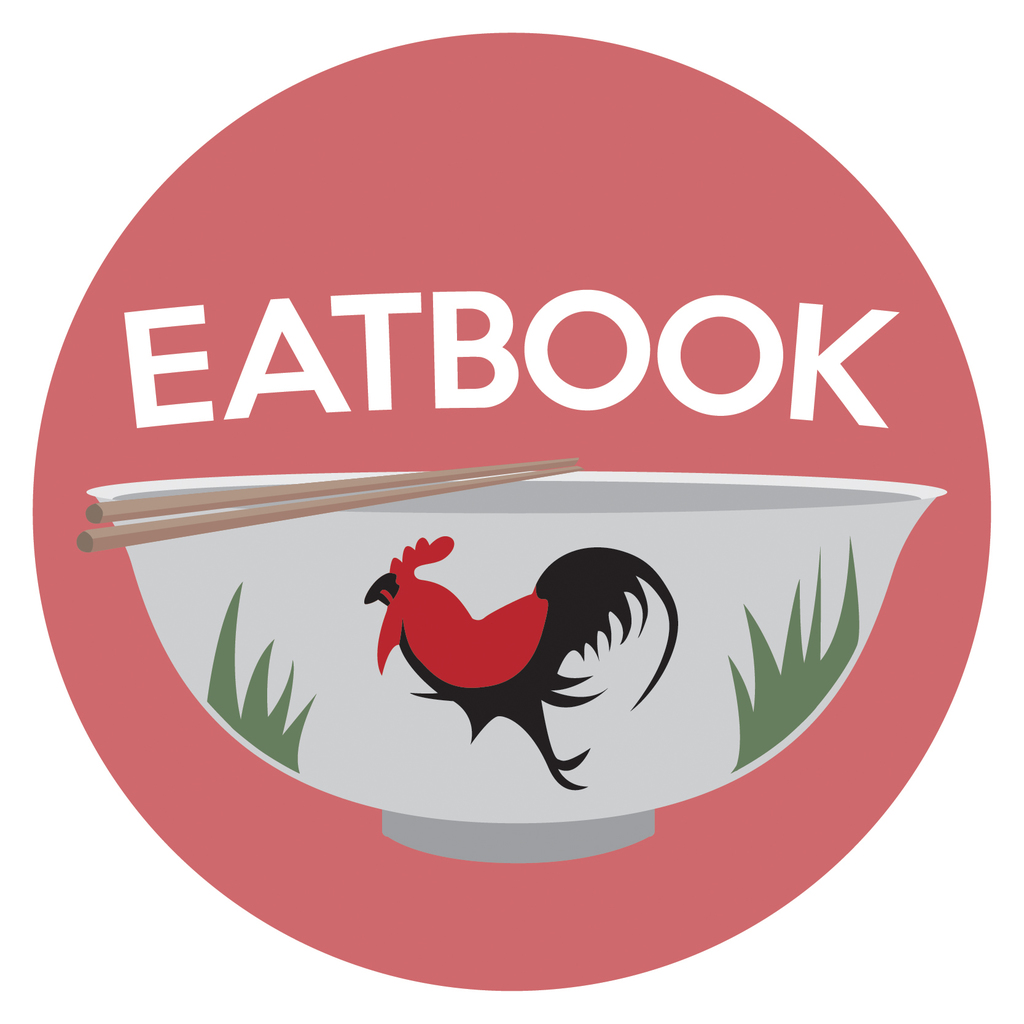 Drop us your email so you won't miss the latest news.