Ah Lemak at Tampines West

Update: Ah Lemak is permanently closed.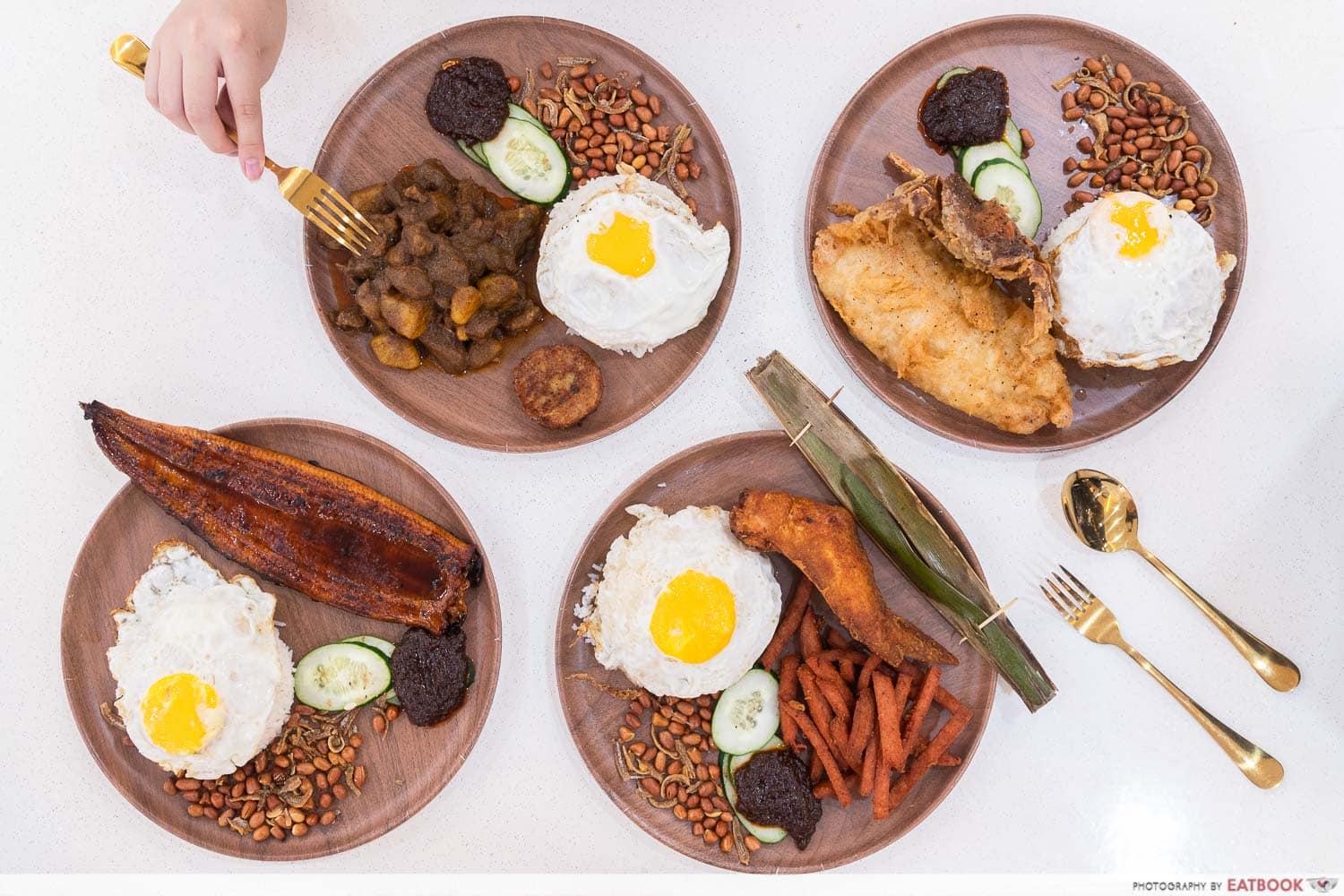 I have to admit, I hardly venture to the far East of Singapore as I always felt that it was an ulu area with little to eat or do, until I heard of Ah Lemak's opening.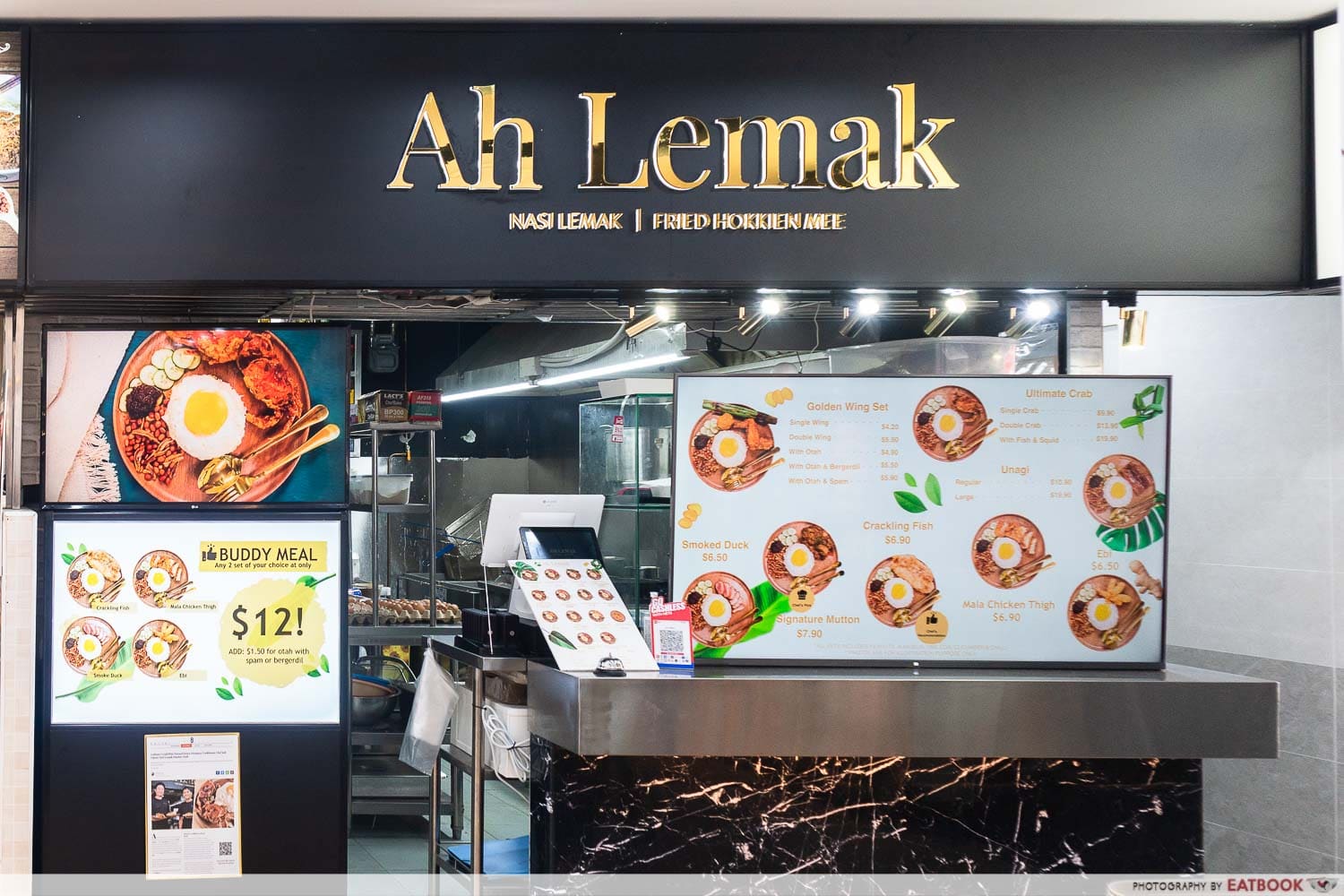 If you can't already decipher from its punny name, Ah Lemak is a hawker stall that sells a slew of nasi lemak dishes, but with a twist. Opened in July 2021, Ah Lemak is helmed by two friends, Jason and Cleavon, who met during their poly years as engineering students. Jason, however, decided to pursue a culinary diploma and has worked in a few, well-known restaurants before starting this business of his own. He decided to specialise in nasi lemak as he regards it as a type of comfort food that Singaporeans can relate to. 
OG Lemak Review: Famous Twice-Steamed Nasi Lemak By Private Dining Chef At Newton
Food at Ah Lemak
All the nasi lemak at Ah Lemak came with the usual suspects: rice, a fried egg, chilli, ikan bilis and peanuts, cucumbers, and paired with either meat or seafood on the side.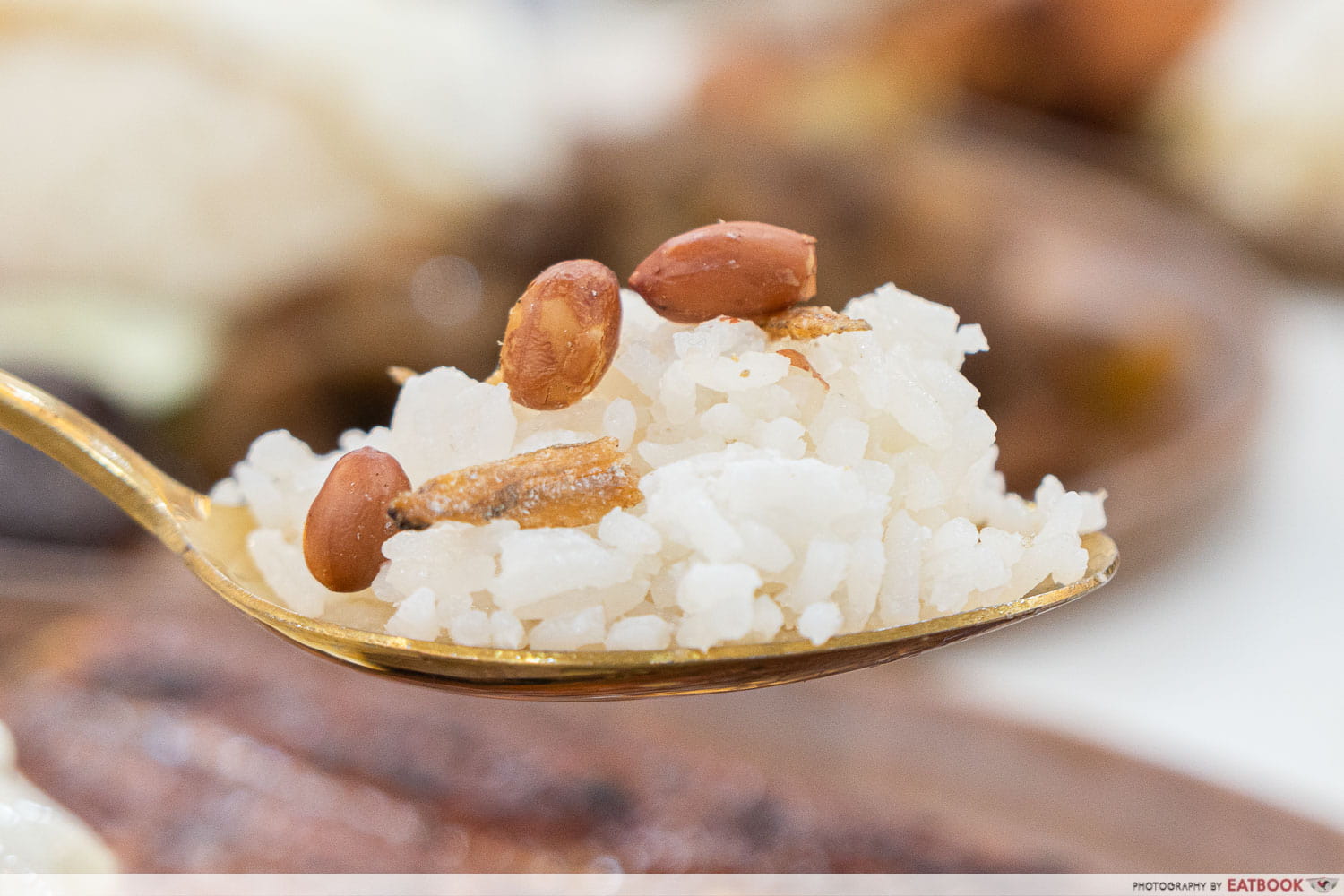 As nasi lemak literally translates to fatty rice or rich rice, I have always used the rice to determine a good from mediocre nasi lemak. After trying Ah Lemak's rice, I am certain that this is one of the best nasi lemak rice I've tried so far! It was so rich in coconut flavour and fragrance, with a texture that was on point—fluffy, with a bite to it.
The chilli is also an important factor when it comes to a good nasi lemak. Unlike a bright-red sambal chilli, Ah Lemak's is an almost-brown paste. It was thick and packed with flavours. We later found out that Jason follows a Malaysian-style chilli, where gula melaka is incorporated in the paste, giving it a sweet and caramelised undertone. This chilli was perfect for non-spicy eaters like me, and I can confidently say that it was one of the highlights of my visit. It was seriously addictive.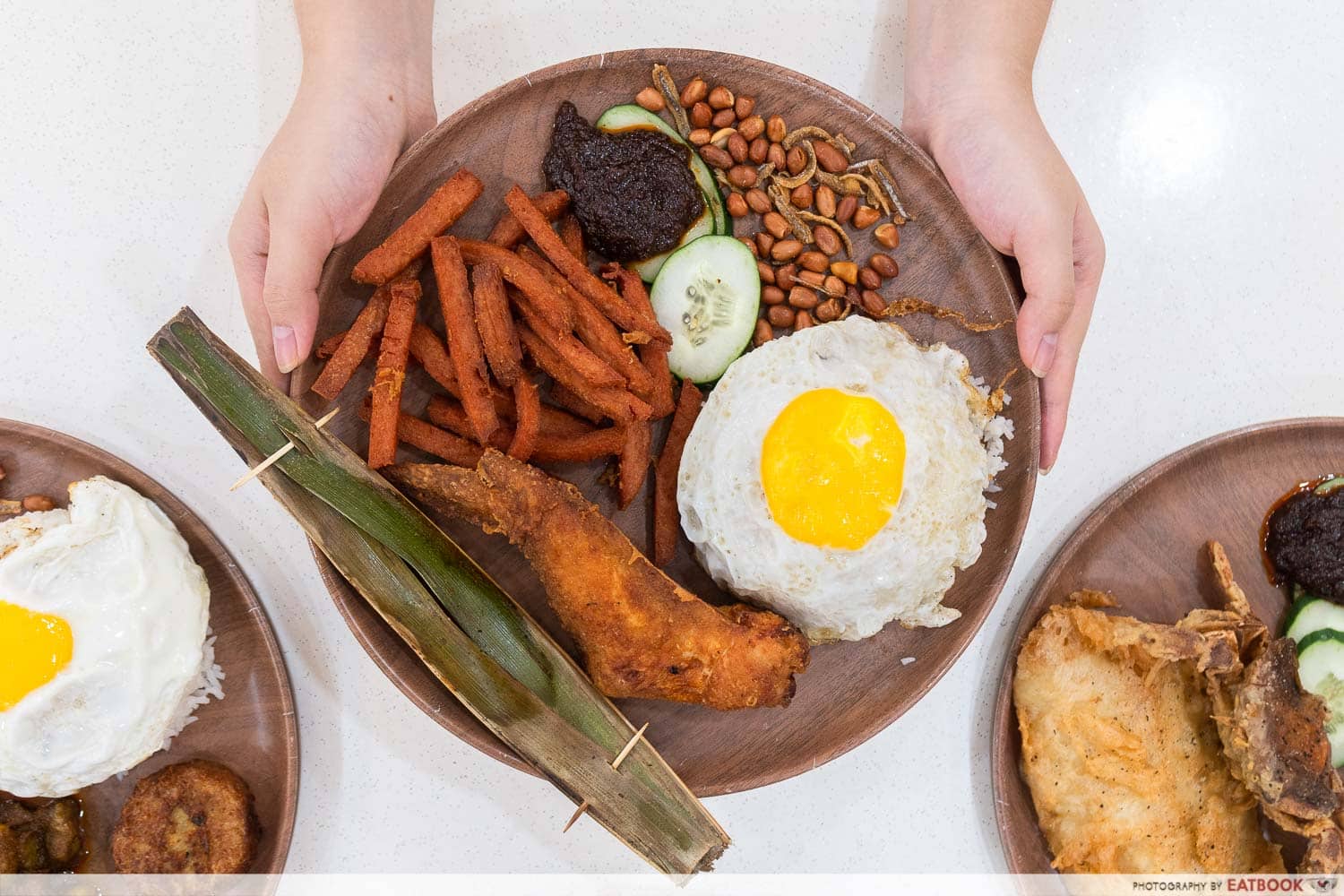 After tasting the two most important components, I went straight for a classic Golden Wing Set With Otah & Spam ($5.90) which included an egg, coconut rice, spam fries, otah, a chicken wing, cucumbers and ikan bilis with peanuts. Everything on this plate was well executed. The spam fries were crispy on the outside, soft on the inside, and the otah was a tad spicy, without an overly fishy taste, which I appreciated.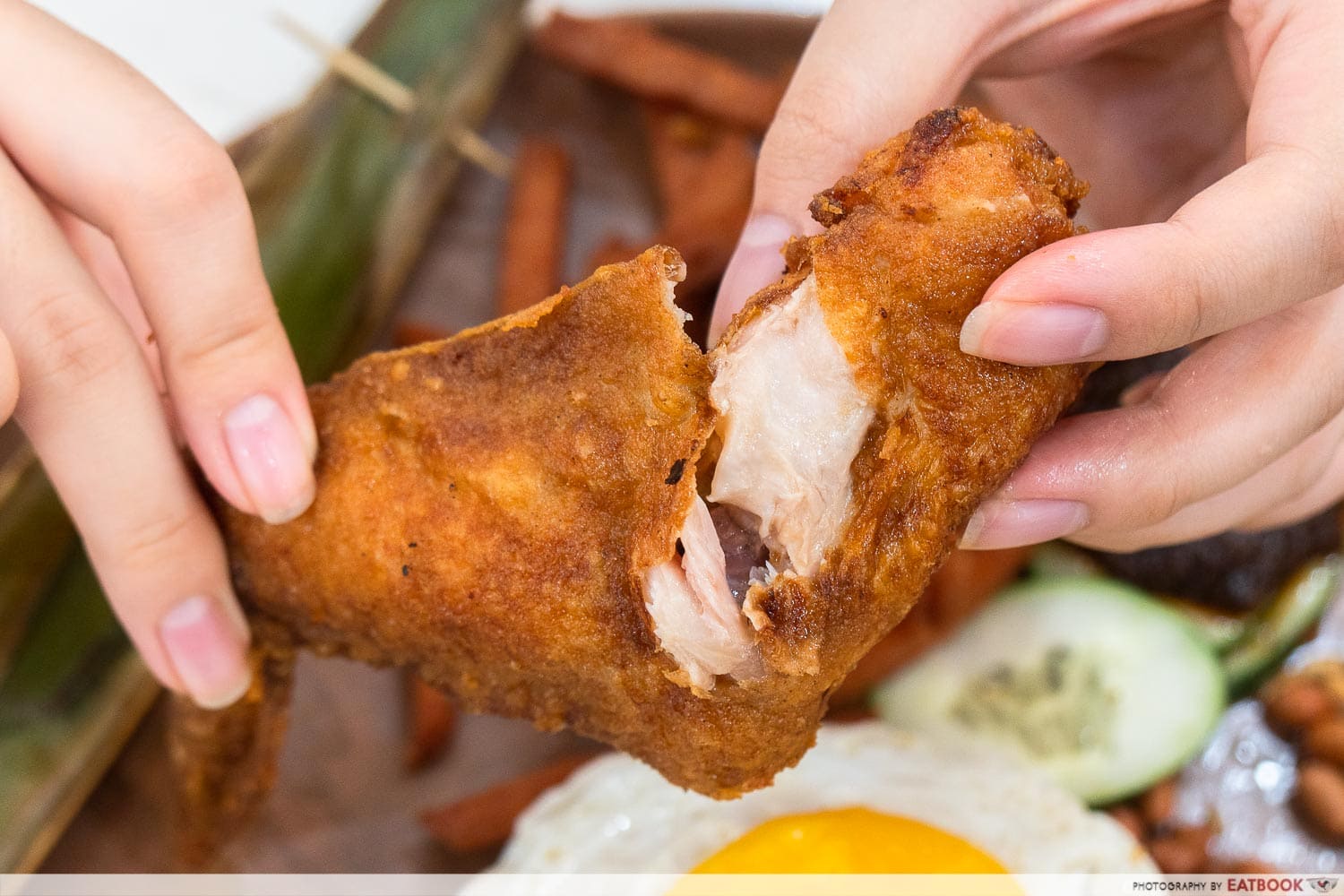 The chicken wing was fried to a lovely golden-brown colour, while retaining its juices within. Biting into this wing was so satisfying as the meat was plump, juicy and tender. However, I do recommend eating it while it's hot to fully enjoy the fragrance and flavour of the chicken.  
If you are just looking for a simple nasi lemak, Ah Lemak also offers a single ($4.20) and double wing set ($5.50).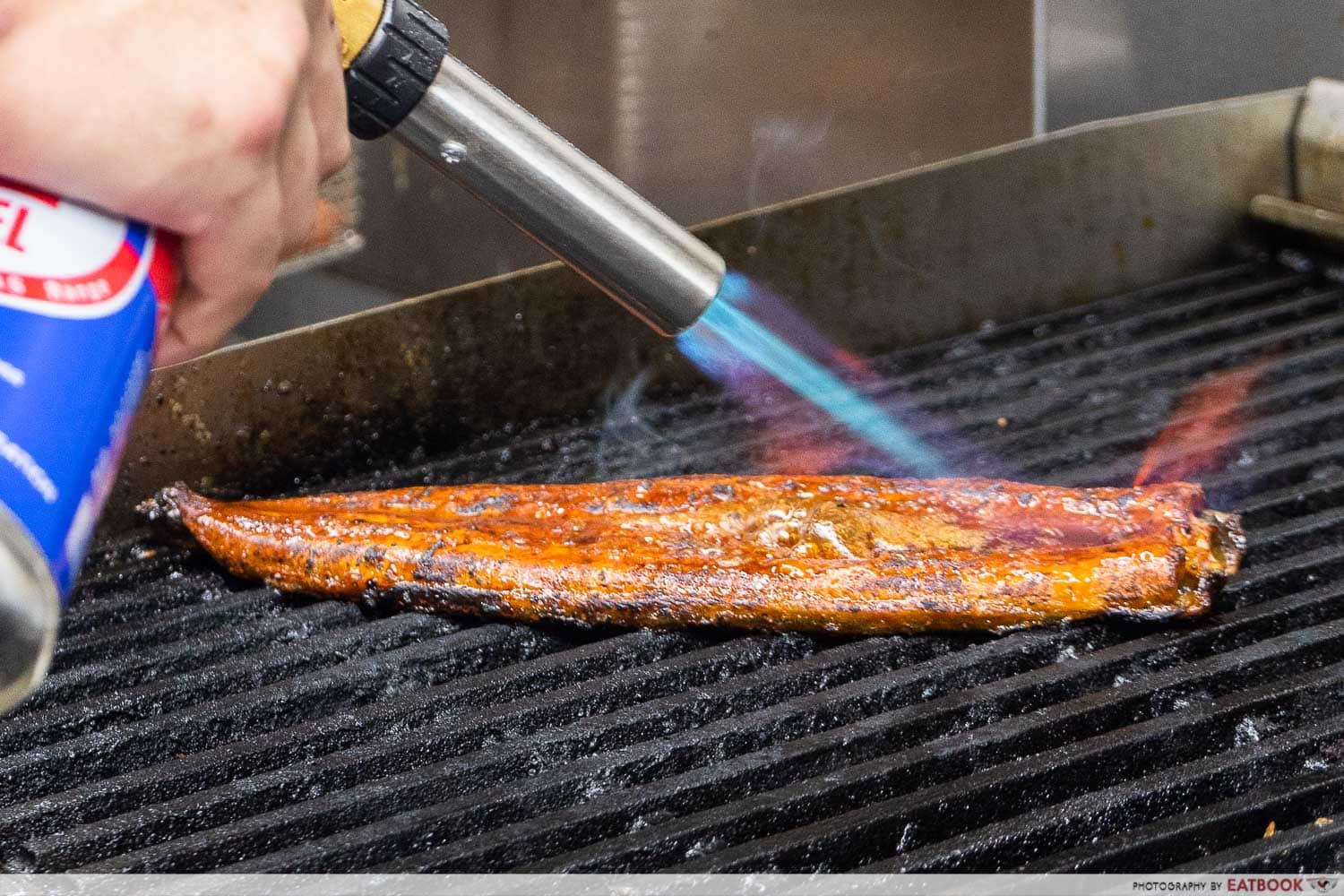 Next, I tried the Large Unagi ($19.90) nasi lemak. It was first grilled, then torched for the final touch. The eel was glistening in a dark sauce, speckled with charred spots.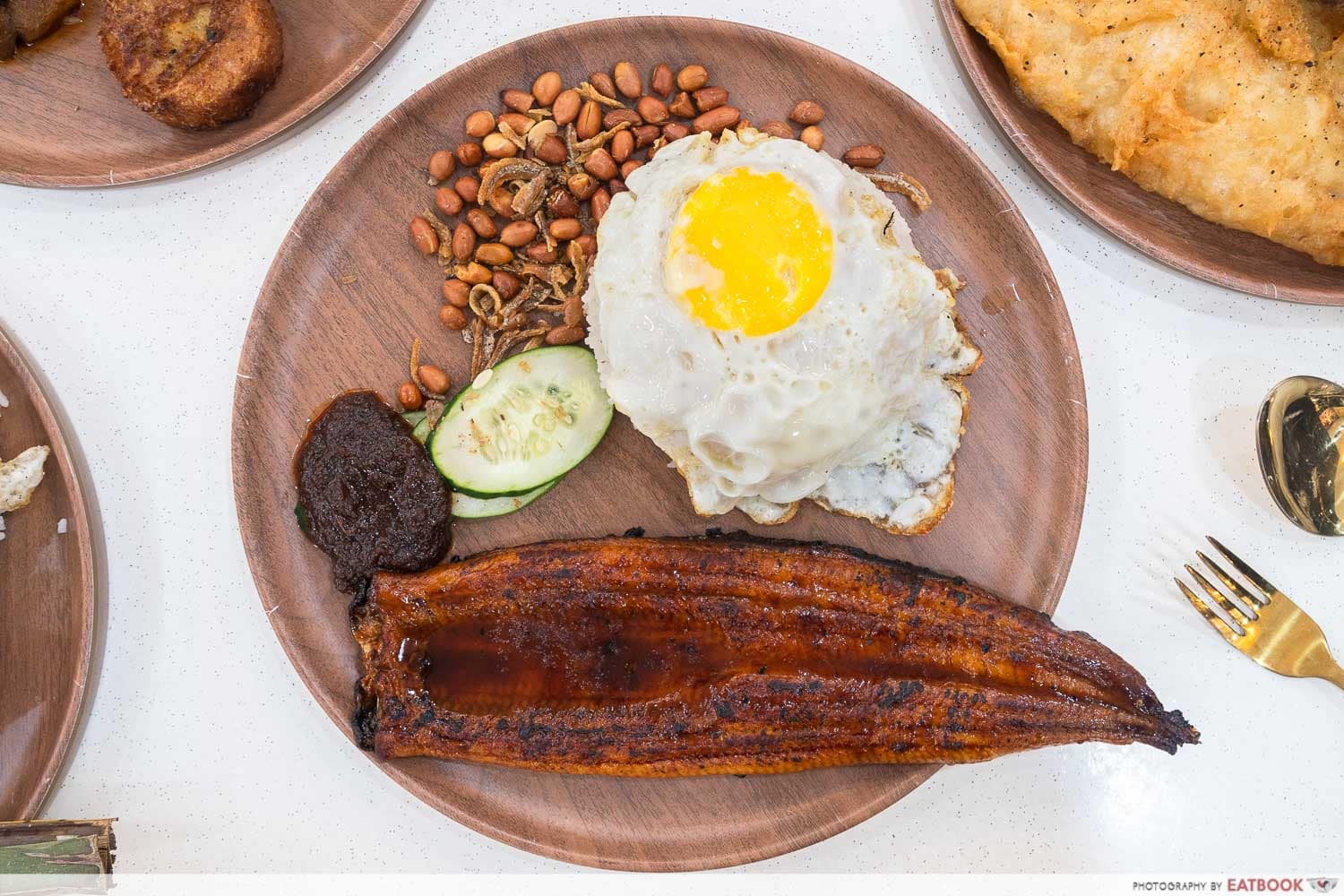 I appreciated how the sauce and marinade did not overpower the natural flavours of the unagi. Although it wasn't as smoky as I expected, it had a charred flavour due to the burnt edges of the fish. Moreover, this specific cut was plump and meaty, which is a rare find in hawker stalls. What's more, this is less than $20, which I think is a real steal.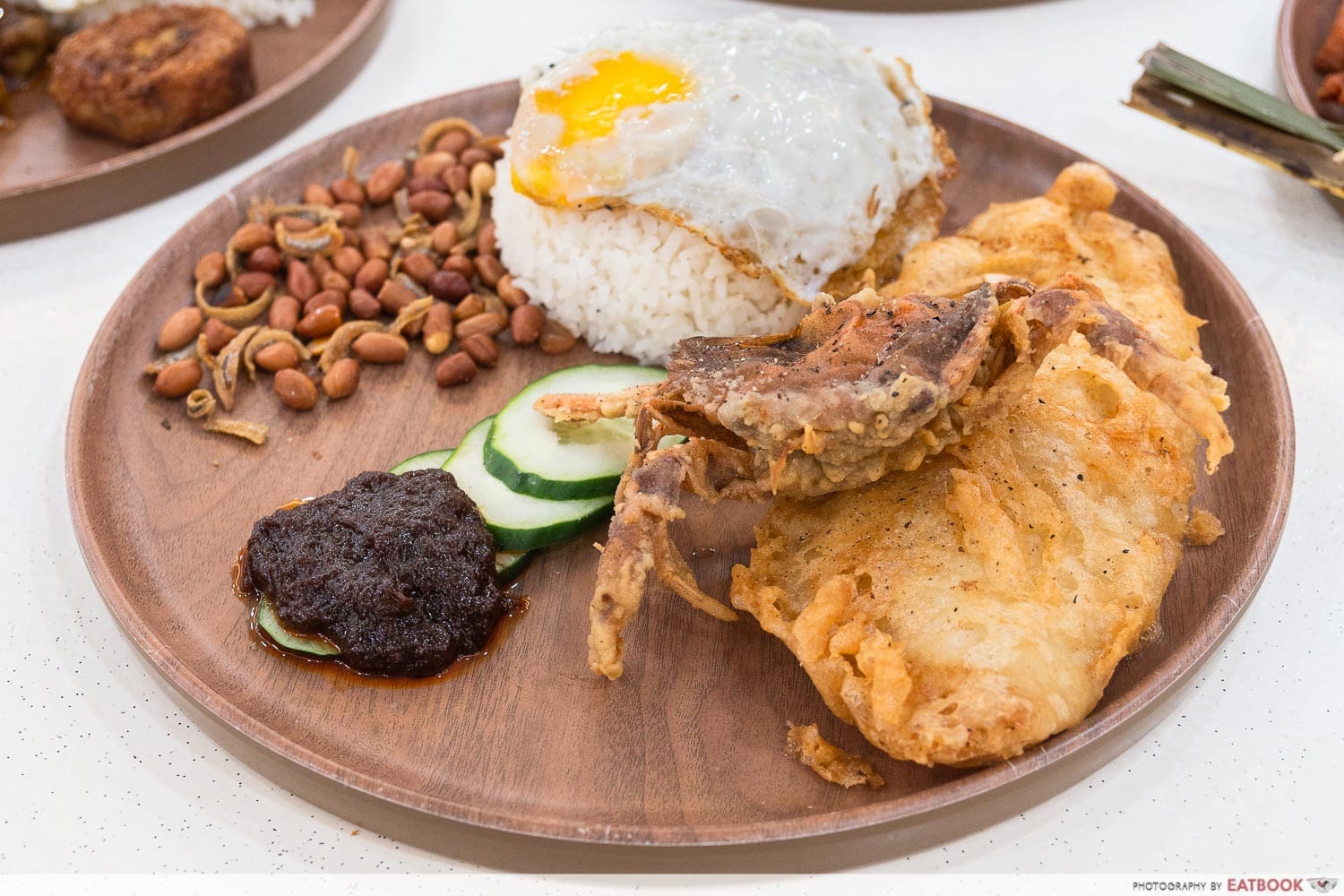 After the unagi, I tried more of their seafood items. I went for the Crackling Fish ($6.90) and added a soft shell crab ($6.90) on the side. Although the soft shell crab was not listed as an a la carte item on the menu, Ah Lemak is rather accommodating when it comes to mixing and combining their main items to your liking.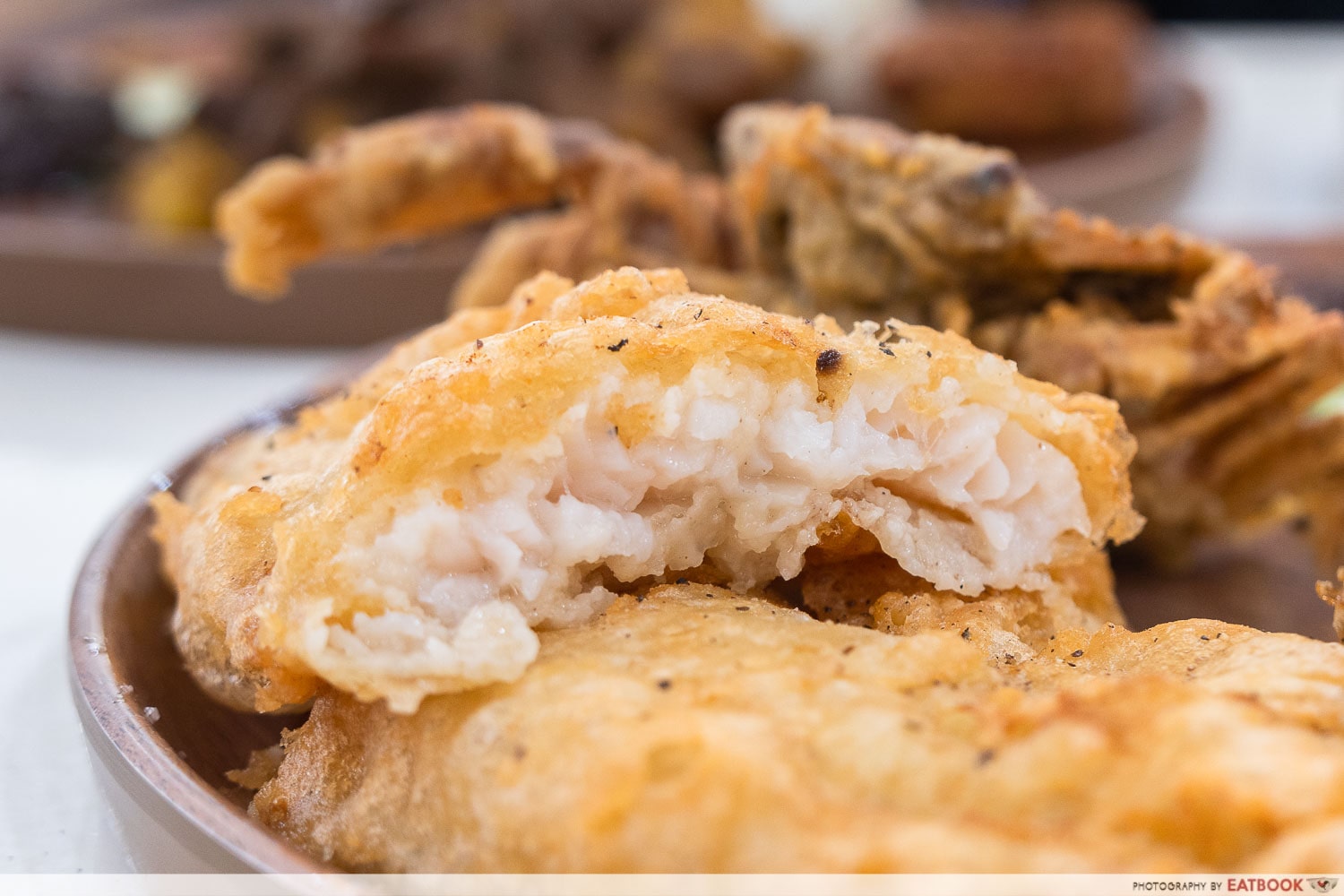 The fish was coated in batter, fried to a light golden hue, and then sprinkled with pepper on top. It reminds me a lot of classic fish and chips, but with rice. Having lived in the UK for more than a year, I had a few encounters with fish and chips. Most of the time, they leave an oily mouthfeel, with the batter being soggy and a mushy fish on the inside. Thankfully, Ah Lemak did not disappoint! The batter was so light and crispy, while the fish was soft with a bite. Despite the extended photoshoot, the batter did not have a soggy bottom which was a huge plus point for me.
Jason shared with us that the batter was rather unique due to its technique. He uses a specific type of soda to incorporate into the batter, which gives it a light and airy texture.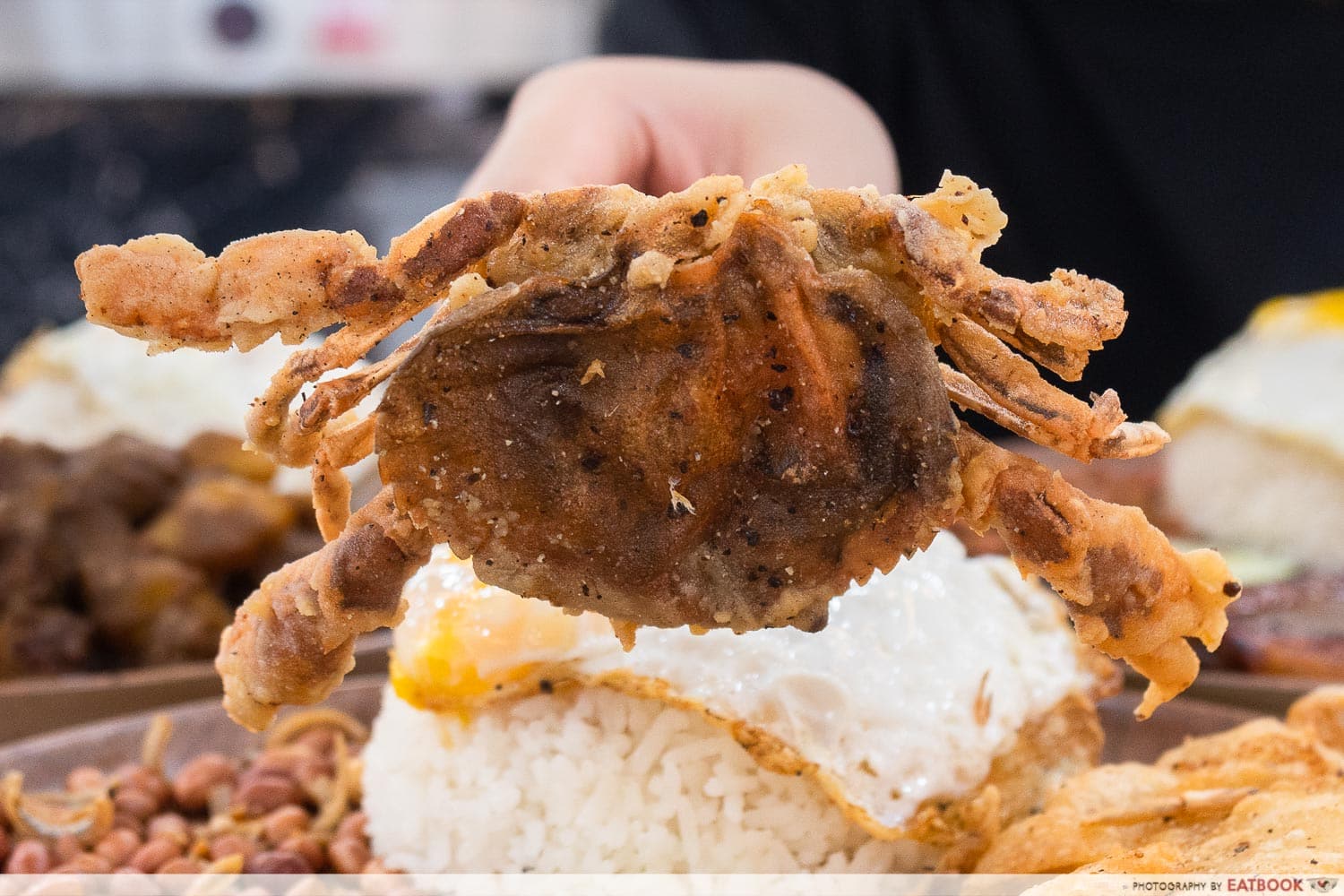 I tend to avoid soft shell crabs as I've never experienced one that has been fried to a satisfyingly, crispy texture, but Ah Lemak has shown me otherwise. The soft shell crabs here were as crisp as chips. The crab shatters once you sink your teeth into it. It was good on its own due to the generous amount of black pepper, but I found it even tastier when paired with the chilli.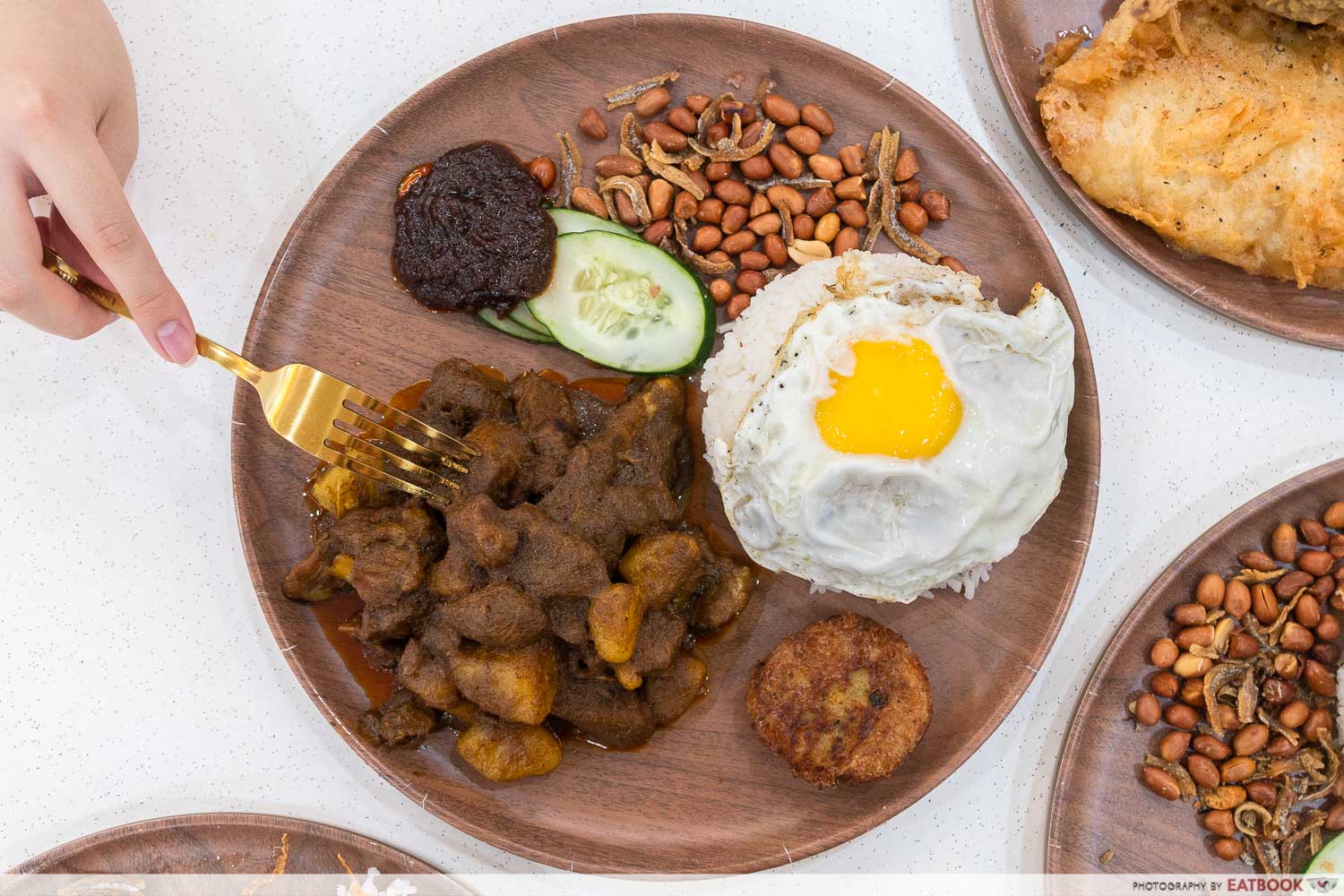 Last but not least, I ended my experience with the chef's recommendation—Signature Mutton ($7.90). It came with a generous portion of mutton and potatoes, cut in bite-size cubes, dressed in an aromatic gravy.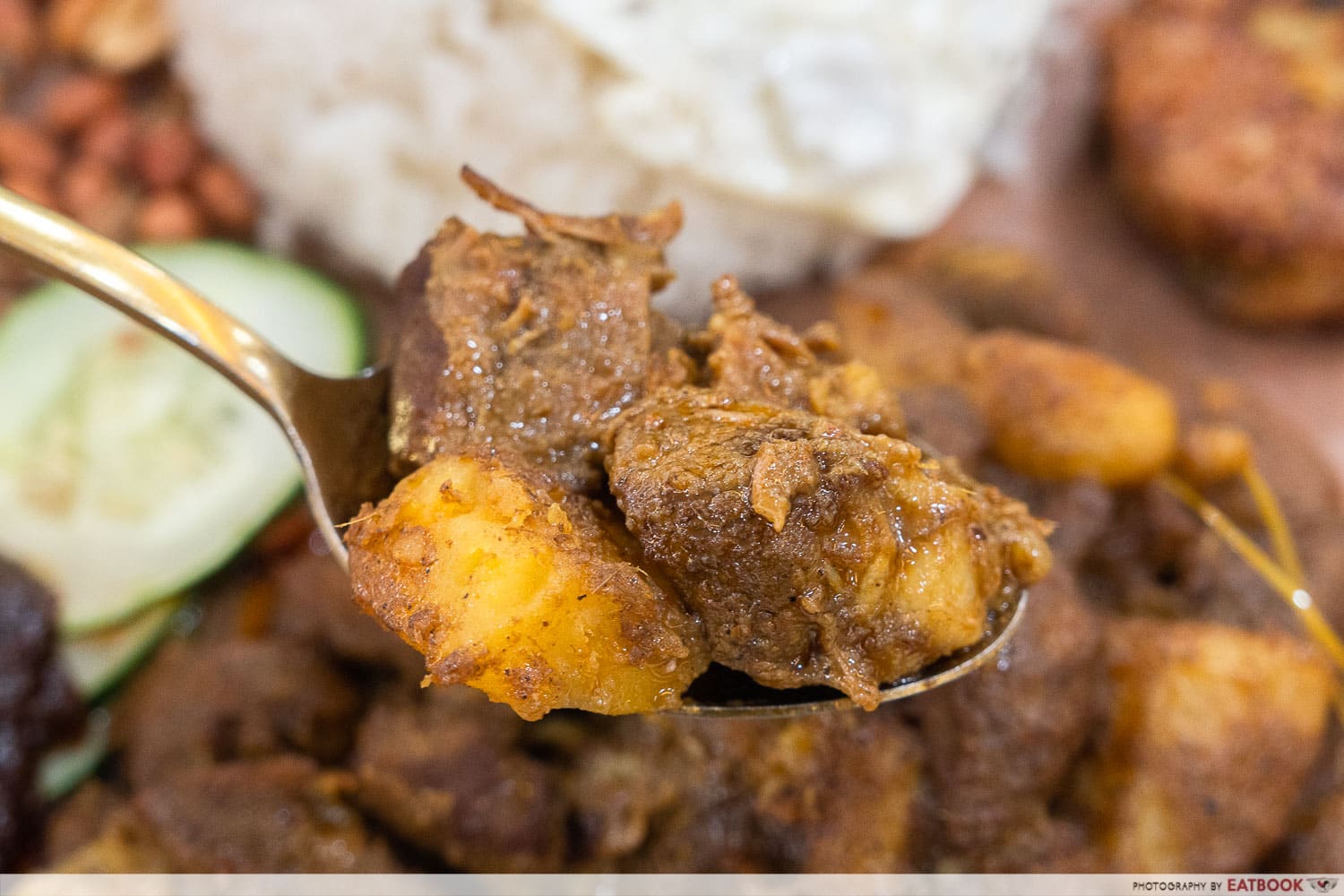 Although the name doesn't mention it, the mutton was prepared in a rendang style, so the flavours were robust, rich and packed a punch. I was also surprised by how mild the gamey flavour was, making it palatable.
Flavours aside, the meat was so soft and tender that it didn't take much effort to chew. It reminded me a lot of pulled pork, where the meat effortlessly comes apart and melts in your mouth.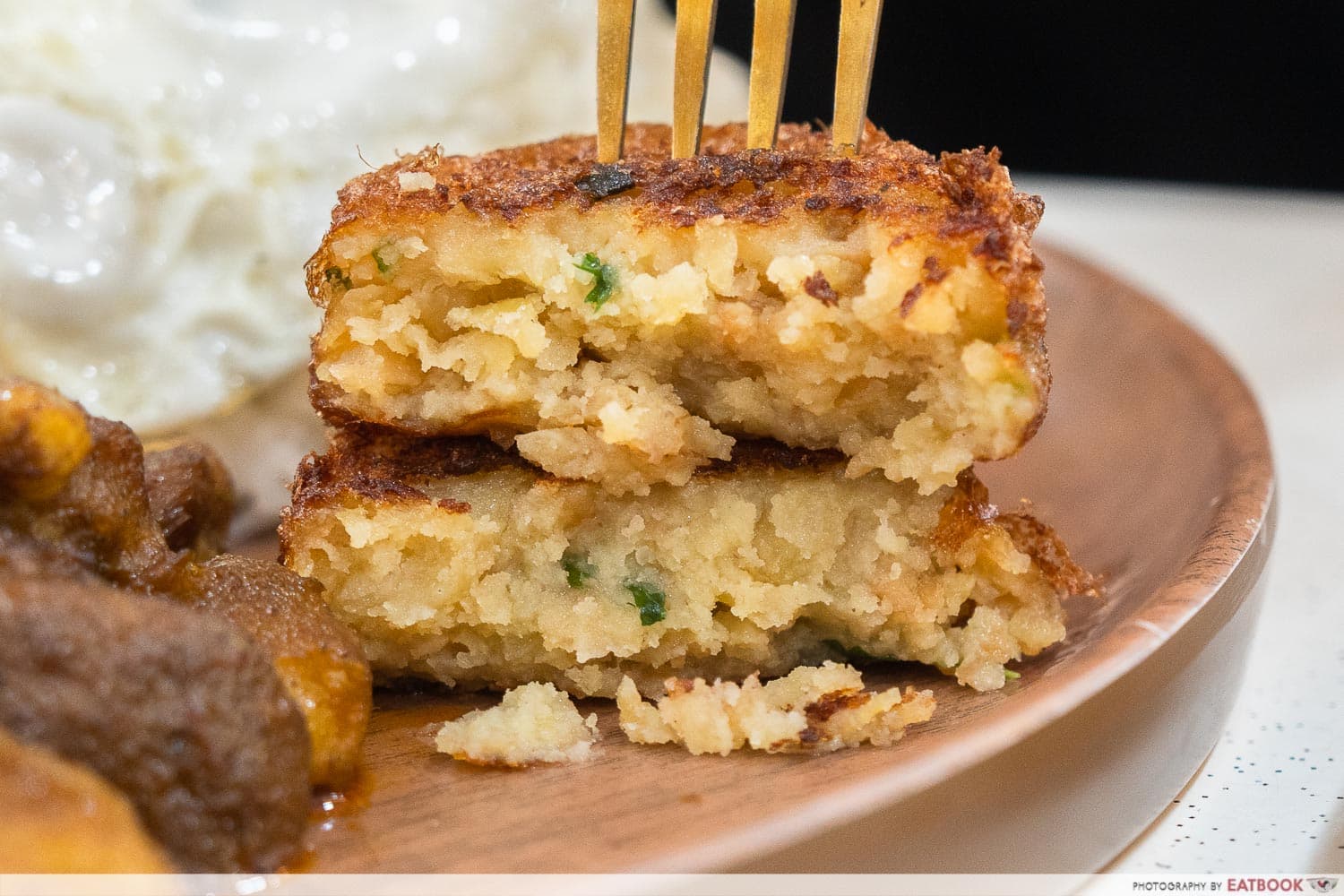 To this dish, I added a Berdigil ($1.20) on the side. It came with a lovely crispy exterior while retaining a soft, mashed interior. However, it was so small that I finished it within seconds. I recommend just sticking with the main items as it is sufficient for a satisfying meal.
OG Lemak Review: Famous Twice-Steamed Nasi Lemak By Private Dining Chef At Newton
Ambience at Ah Lemak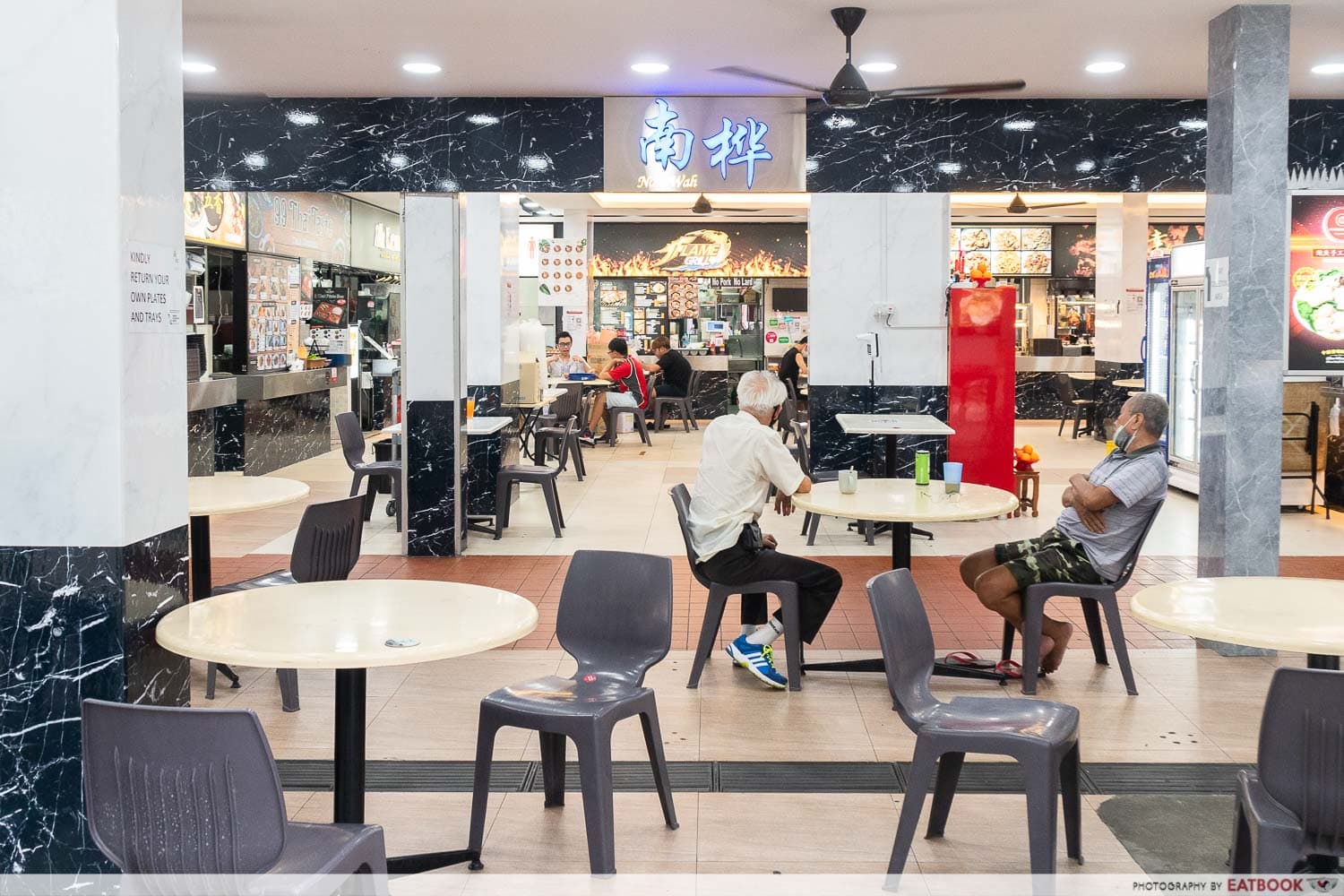 Ah Lemak is situated in a coffeeshop that is a five-minute walk from Tampines West MRT Station. It will be a shorter walk if you know your way around the area. 
At a glance, the coffeeshop looks rather new, sporting a minimalistic and modern design. My colleague even mentioned that the restroom is really clean for a public area. When we arrived during lunch hours, it was quite packed as there weren't a lot of seats available due to social distancing measures. So I would recommend coming slightly before or after lunch hours if you'd like to snag a spot. Otherwise, have it packed to go if you live near the area. 
The verdict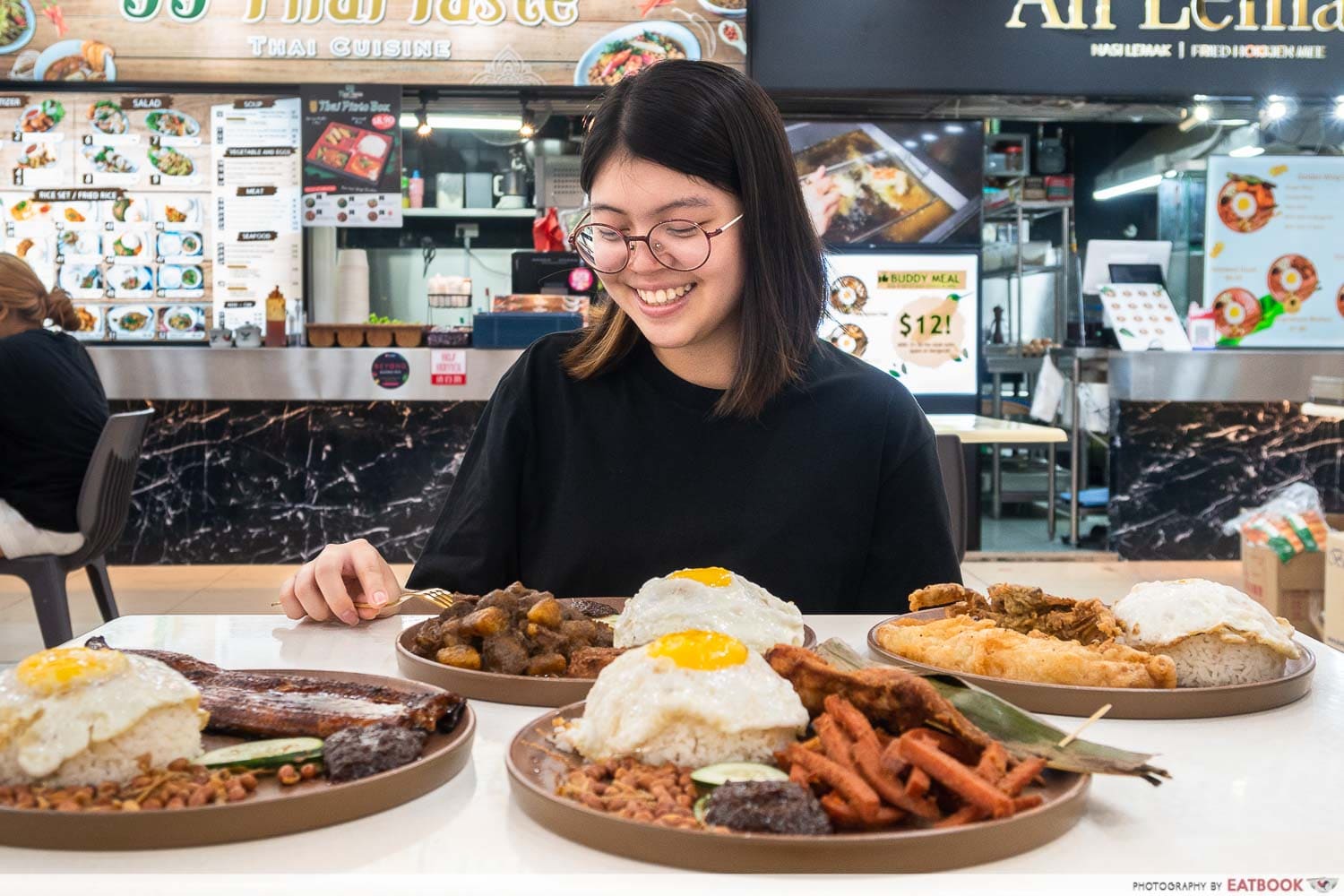 If you are looking for a nasi lemak with quality, quantity, and creativity, Ah Lemak will be the place to go. All the dishes here are well executed making it a memorable experience. Even though it is slightly pricey for a hawker setting, I believe that the portion and quality truly justify its price. My only gripe is that Ah Lemak is situated a little too far from my normal travel route. Although I might not travel all the way down just for a plate of nasi lemak, I will definitely recommend it to anyone who lives in the East. 
For office workers working in the CBD area and looking for a nasi lemak option, check out our OG Lemak review, known for their twice-steamed, 11 ingredients nasi lemak in Newton Food Centre. Otherwise, here's our guide to the best nasi lemak in Singapore.
Address: 929 Tampines Street 91, #01-451, Singapore 520929
Opening hours: Tue-Sun 11am to 9pm
Tel: 9008 2971
Ah Lemak is not a halal-certified eatery. 
21 Nasi Lemak In Singapore With Good Sambal, Crispy Fried Chicken And Coconutty Rice
Photos taken by Lim Yu Hui.
This is an independent tasting at Ah Lemak.
Ah Lemak Review: Fusion Nasi Lemak Stall With Unagi, Soft Shell Crab, Spam Fries And More
Ah Lemak Review: Fusion Nasi Lemak Stall With Unagi, Soft Shell Crab, Spam Fries And More -

7.5/10
Summary
Pros
– Very crispy fish
– Overall well-executed dish
– Amazing coconut rice
Cons
– Slightly inconvenient for non-East siders
Recommended dishes: Signature Mutton ($7.90), Crackling Fish ($6.90)
Opening hours: Tue-Sun 11am to 9pm
Address:  929 Tampines Street 91, #01-451, Singapore 520929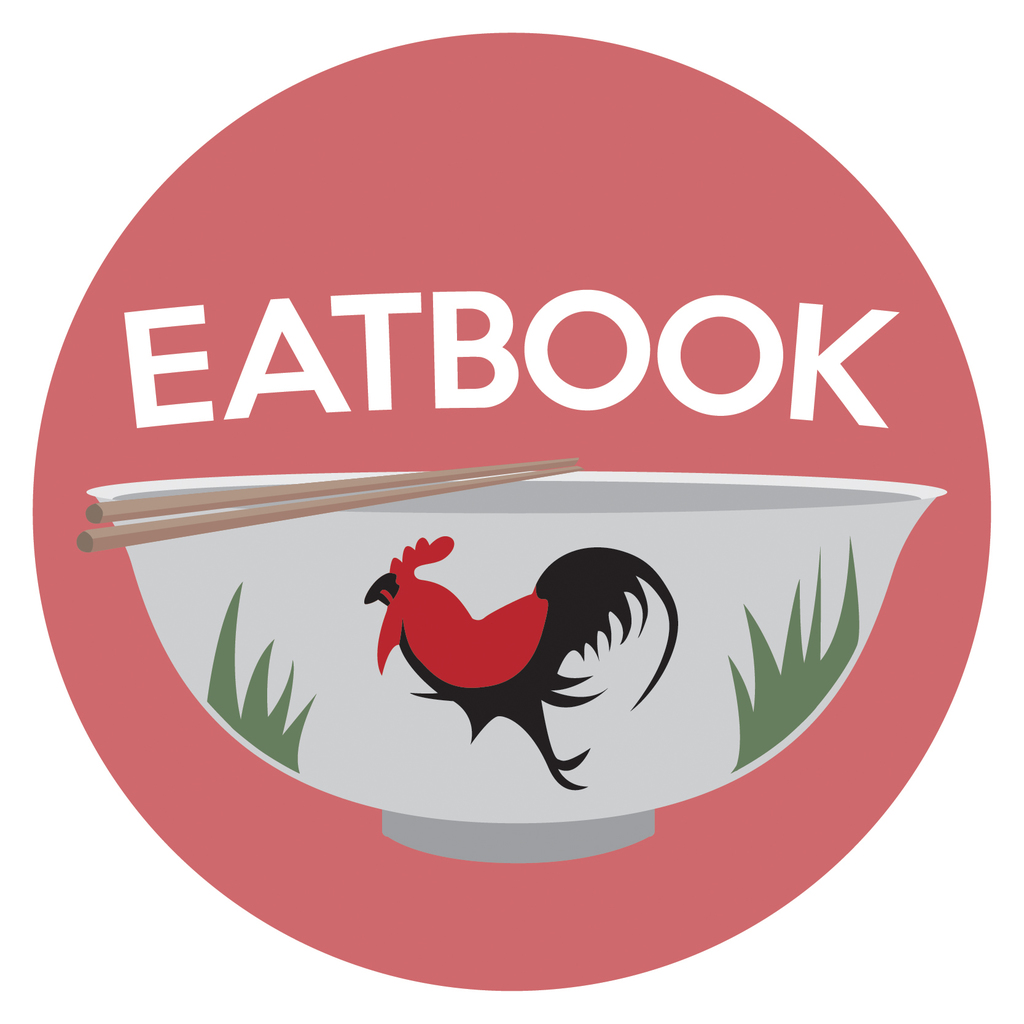 Drop us your email so you won't miss the latest news.