---
Fried chicken is so delicious, it transcends cultures
---
Some foods are universal. Every culture has their interpretation of bread or meat on a stick. Crispy, juicy, and flavourful, it's no coincidence that fried chicken is another member of the global club.
From Austria to America, nations all over the world put their unique spin on fried chicken, from pounded cutlets to fiery drumsticks. Regardless of form or origin, Colonel Sanders' old adage holds true – they're all finger-licking good. Here's our list of 10 fried chicken dishes from around the world for you to expand your poultry horizons and ascend to oily nirvana.
---
1. Har Cheong Gai – Singapore
---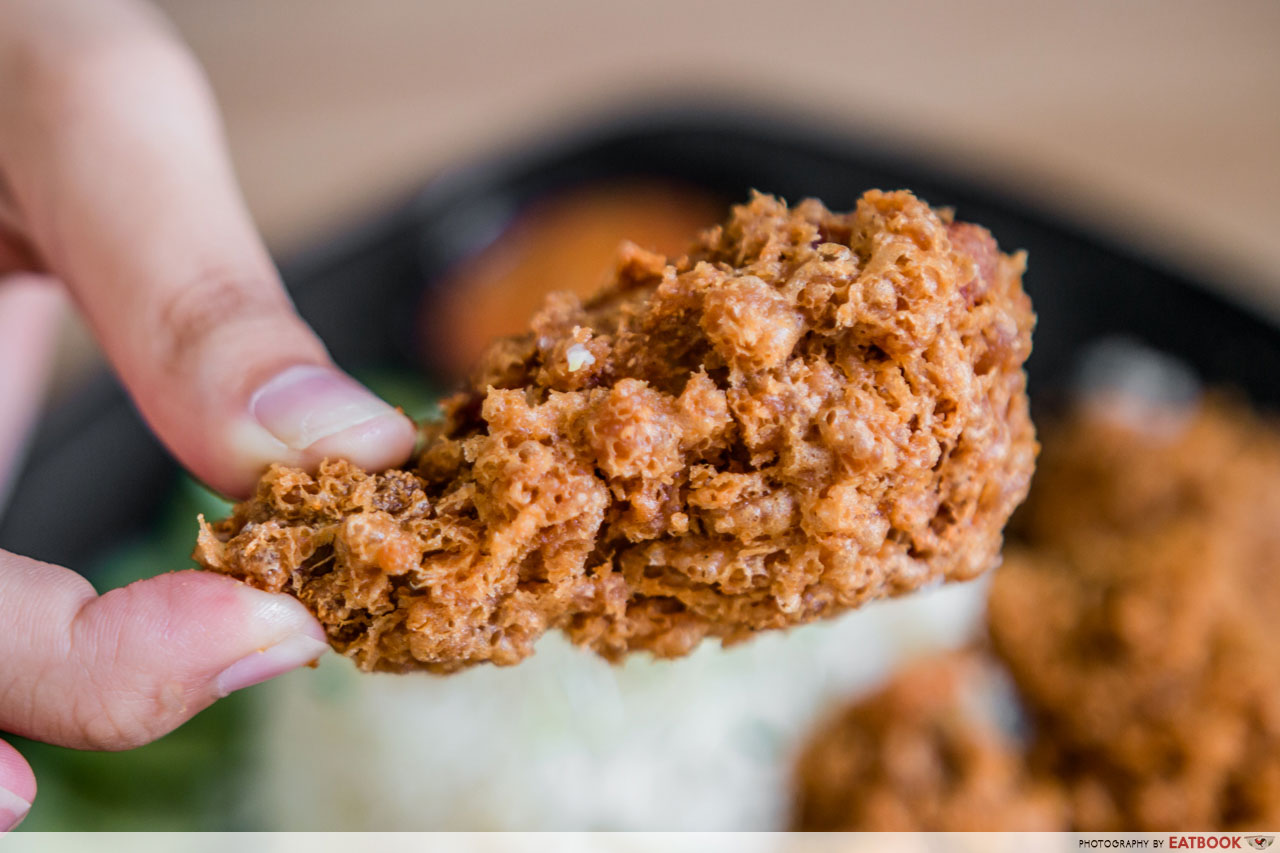 There's no place like home, and for Singaporeans, there's no fried chicken like prawn paste chicken, also known as har cheong gai. It's that headlining prawn paste that sets our local rendition apart from the rest. Like most fermented ingredients, it adds ton of umami punch to these chicken wings, imparting fantastic depth of flavour and a uniquely addictive funk.
Har cheong gai is a dime a dozen on our shores, and asking a group of Singaporeans to pick a favourite is bound to ignite fierce debate. Ah Tan Wings is a stall that stands out, armed with a unique story and wings that are very good in their own right. Opened by 20-somethings with no prior F&B experience, the stall sells wings starting from $1.70 per piece, with a minimum order of two pieces.
Their Atas Wing Meal ($5) represents the best value for money, boasting two wings and drumlets, as well as a mound of rice. Their trademark craggy batter is the result of two trips to the deep-fryer, giving you extra-crunchy wings.
Find out more about Ah Tan Wings' story!
5 New-Generation Hawkers Selling Reinvented Dishes Such As Wagyu Bowls And Har Cheong Cutlets
Address: 51 Yishun Avenue 11, #01-40, Yishun Park Hawker Centre, Singapore 768867
Opening hours: Mon-Fri 11am to 9pm, Sat-Sun 11:30am to 9pm
Website | Full list of outlets
---
2. Chicken And Waffles – Southern USA
---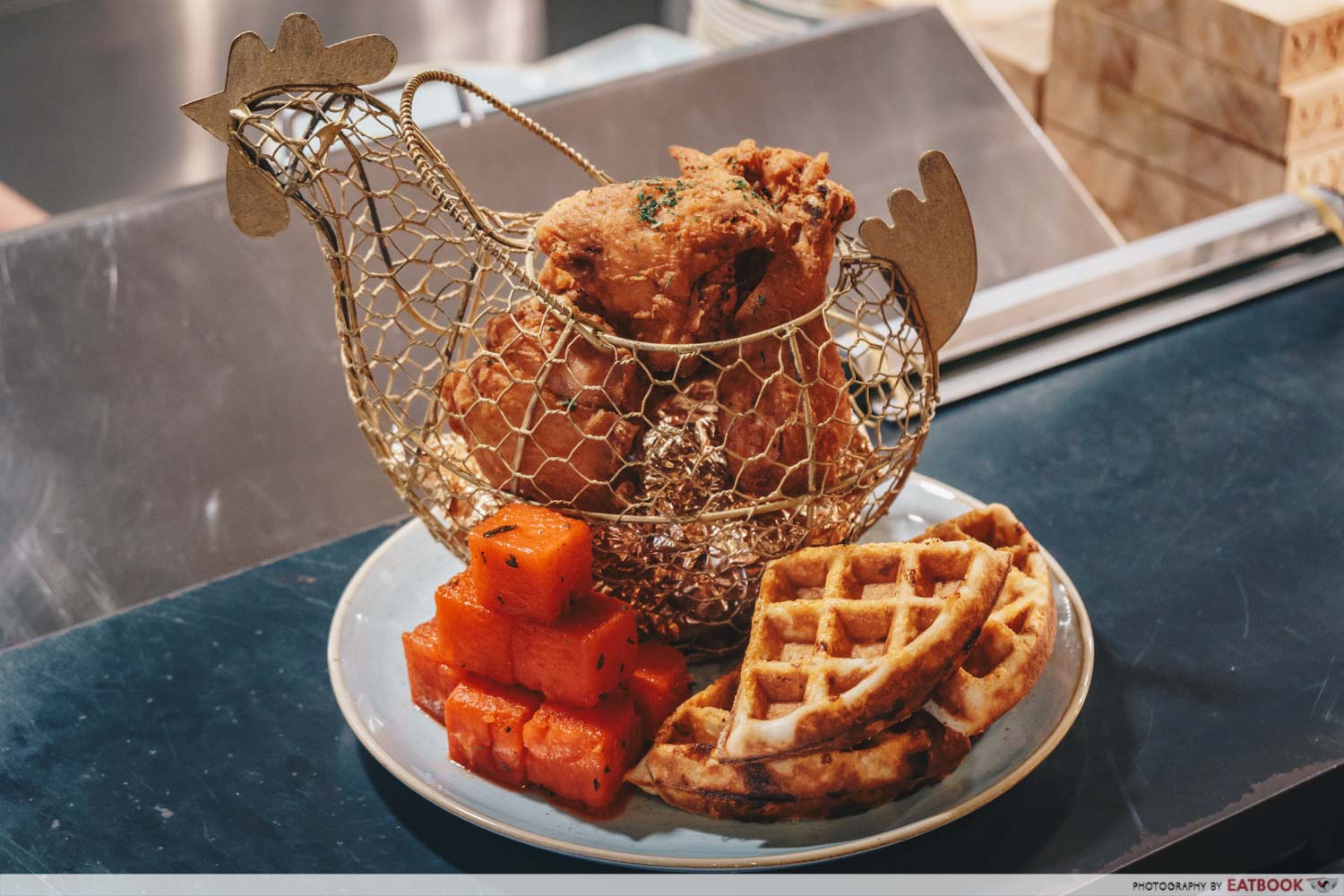 Within the USA, there are a myriad of different fried chicken dishes, but chicken and waffles is arguably the most iconic. It seems almost counterproductive to pair salty and crispy fried chicken with sweet waffles and maple syrup, but the combination works.
Yardbird Southern Table & Bar is a fried chicken institution, with its outposts in Los Angeles, Miami and Las Vegas raking in international recognition and a spate of accolades. Thus, if you want a proper introduction to this Southern classic, look no further than their Chicken N' Watermelon N' Waffles ($40++). Fluffy waffles and sweet syrup are a weirdly wonderful match for their exceptionally juicy chicken, while spiced watermelon acts as a refreshing palate cleanser.
Address: 10 Bayfront Avenue, #B1-07, Galleria Level, The Shoppes at Marina Bay Sands, Singapore 018956
Opening hours: Mon-Fri 11am to 11pm, Sat-Sun 10am to 11pm
Tel: 6688 9959
Website
---
3. Korean Fried Chicken – South Korea
---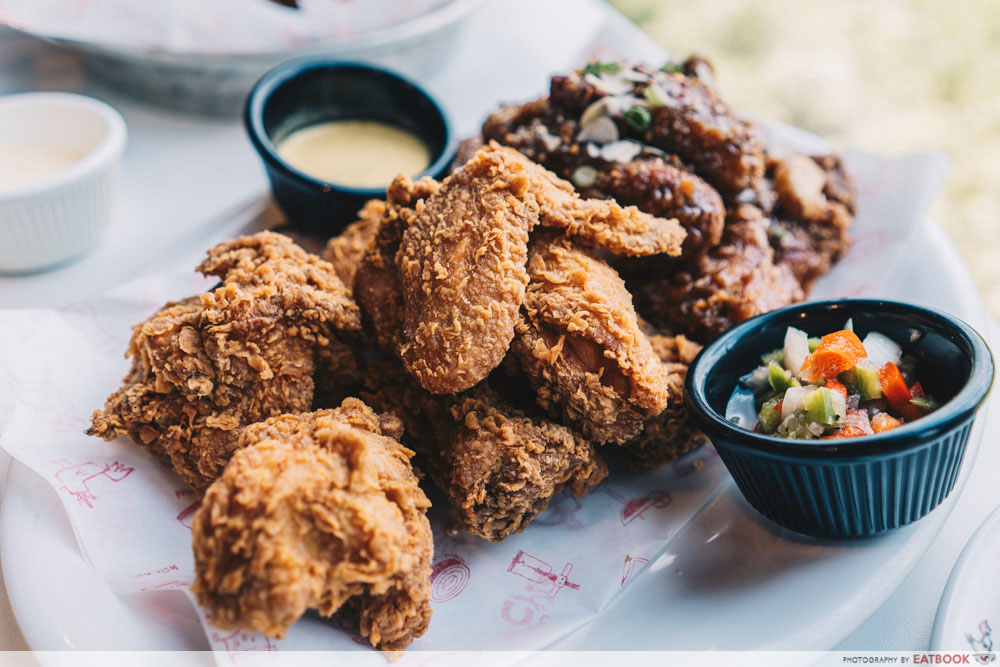 One of the greatest allures of fried chicken is its shatteringly crisp skin. For that reason, global chicken enthusiasts usually avoid coating their crispy wings in sticky sauce – except the Koreans. The secret to keeping Korean fried chicken crispy lies in frying the chicken twice with a paper-thin layer of flour. This technique renders fat to create a more crackly skin and an overall lighter wing that won't get soggy from sauce.
Chir Chir is legit. It's the largest fried chicken chain in South Korea, and quality hasn't waned at their Singaporean outlets; our Korean-Australian colleague tells us it's just as delicious as the ones he had back home. While they do have the more common saucy versions, we prefer their drier variants like the Crispy Fried Chicken ($26.90++) and Garlicky Fried Chicken ($28.90++). Potato chip-crisp skin hides tender meat that you can't stop wolfing down. Just be sure to take a break and wipe the juices running down your chin.
4 Korean Restaurants In Jurong East Serving Army Stew, DIY Rice Balls, And Honey Butter Fried Chicken
Address: 50 Jurong Gateway Road, #04-13/14, Jem, Singapore 608549
Opening hours: Sun-Thur 11am to 10pm, Fri-Sat 11am to 11pm
Tel: 6538 1069
Website | Full list of outlets
---
4. Ji Pa – Taiwan
---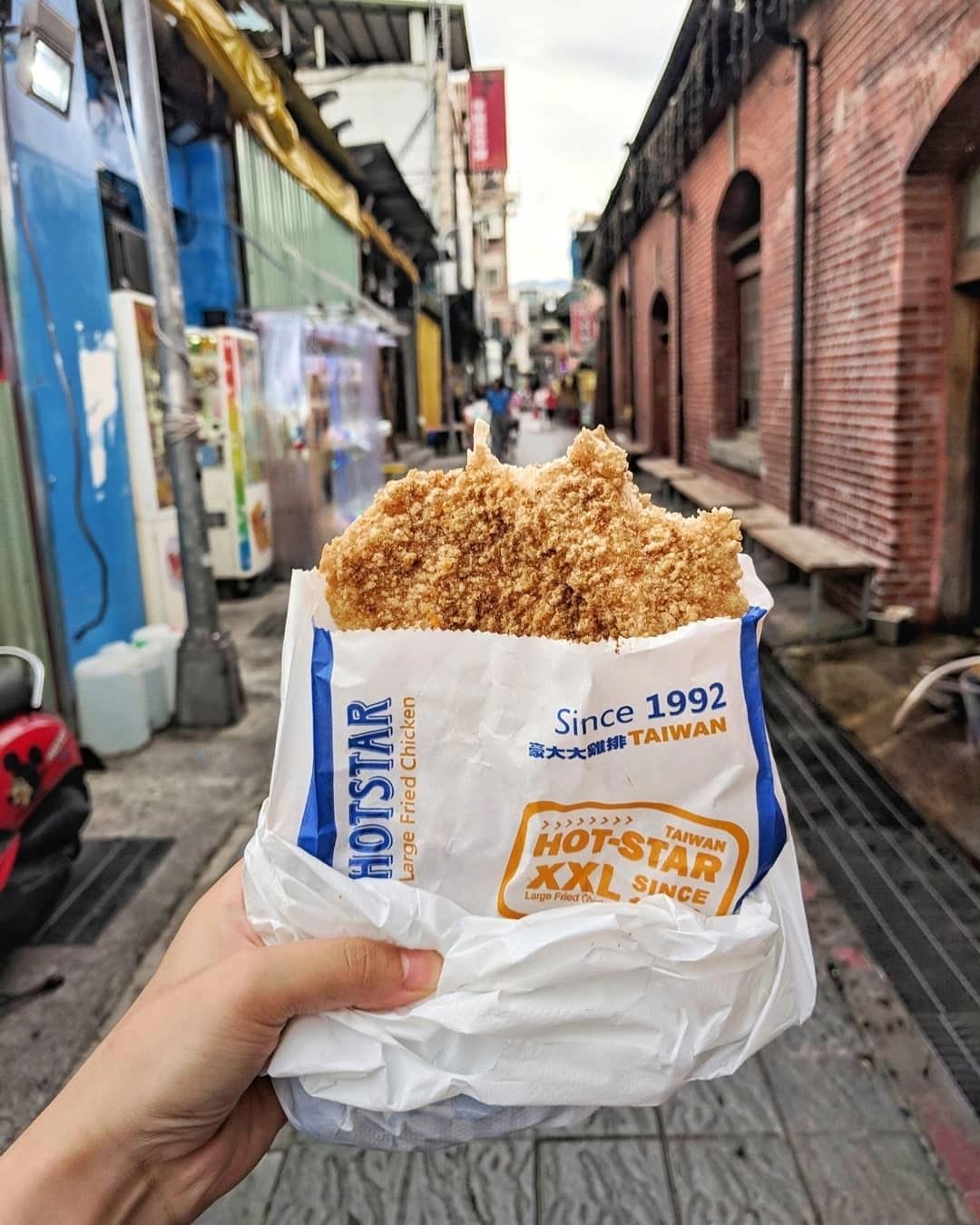 Image credit: @hotstar_canada
Bubble tea aside, ji pa, or Taiwanese chicken cutlet, is probably Taiwan's most popular culinary export. Walking through Taipei's famed night markets with a massive, blisteringly hot slab of fried chicken and a quintessential cup of bubble tea is a scene etched in the memory of nearly any tourist who has visit Taiwan. Intensely flavourful from seasonings like soy sauce, rice wine and five-spice, the portable nature of this fried chicken makes it an ideal street snack.
Hot-Star Chicken has grown from being one of Shilin Night Market's must-have bites to the global ambassador of Taiwanese fried chicken, flaunting outlets in Canada and Australia. "Large" is an understatement when it comes to their signature Large Fried Chicken ($5.20), which is big enough to serve as a light meal. Crispy and generously seasoned, this giant cutlet is the international poster child for ji pa.
Address: 133 New Bridge Road, #B1-52B, Chinatown Point, Singapore 059413
Opening hours: Daily 11am to 9:45pm
Tel: 6250 8205
Website | Full list of outlets
---
5. Ayam Penyet – Indonesia
---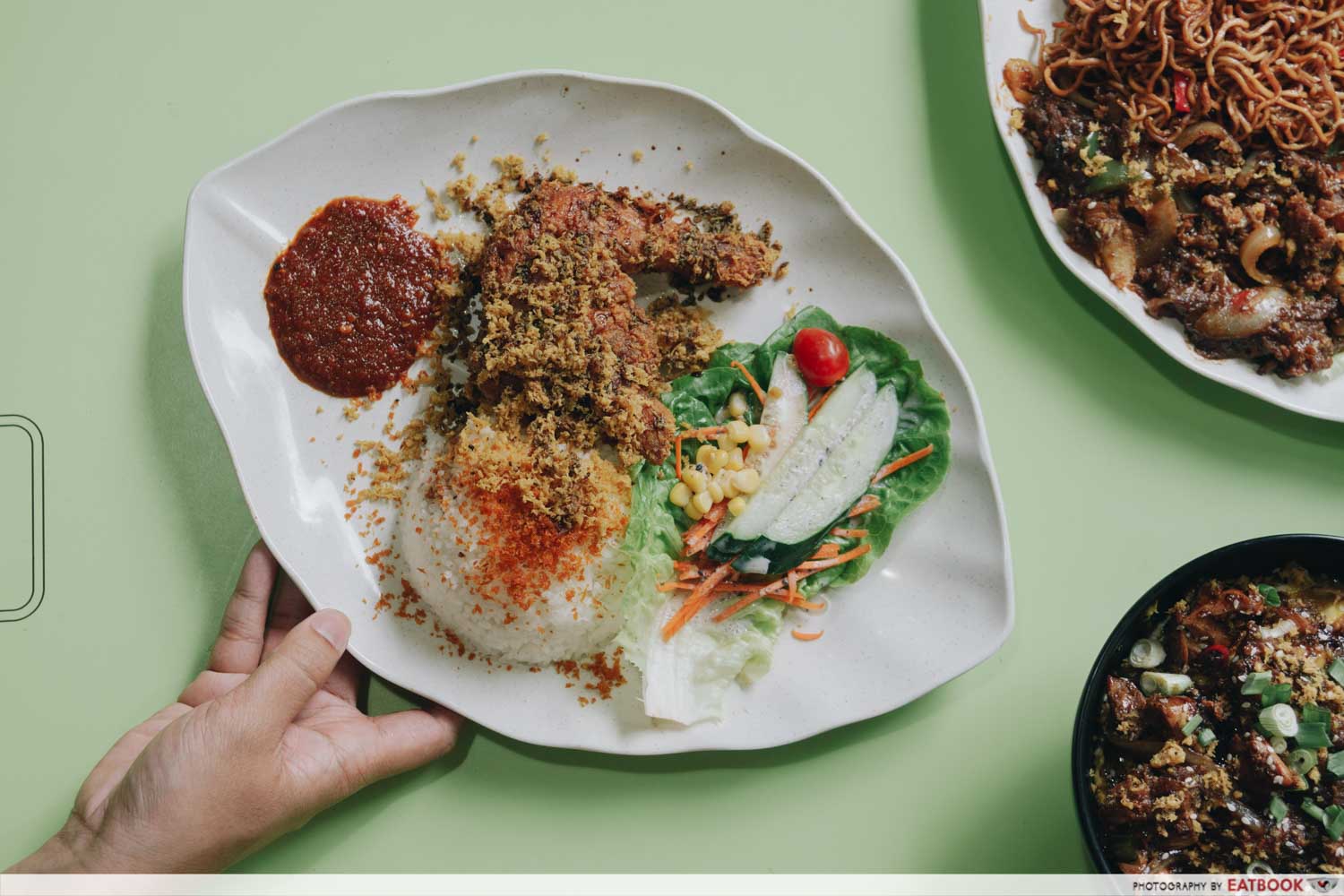 Many Singaporeans know ayam penyet as a hawker classic with Indonesian roots, but not many understand the rationale behind its signature smashing process. The pounding each piece of chicken receives has a twofold purpose; tenderising the meat and separating it from the bone to make it easier to eat. Nearly as important as the chicken itself is a fiery sambal that packs both powerful flavour and heat.
CBD workers can get their smashed chicken fix at Amoy Street Food Centre with Rayyan's Waroeng Upnormal. Their ¼ Cut Fried Chicken Penyet ($5.50) delivers in the flavour department as lengkuas, or shredded galangal, and turmeric provide enchanting fragrance that permeates both meat and skin. A dab of house-made sambal takes the meat up another notch, blessing it with a hit of belacan umami and searing heat.
Check out our full review of Rayyan's Waroeng Upnormal!
Rayyan's Waroeng Upnormal Review: Ayam Penyet and Balinese Donburi at Amoy Street Food Centre
Address: 7 Maxwell Road, #02-86, Amoy Street Food Centre, Singapore 069111
Opening hours: Mon-Fri 11am to 2pm
Tel: 9799 7373
Website
Rayyan's Waroeng Upnormal is a halal-certified eatery.
---
6. Ayam Goreng – Malaysia
---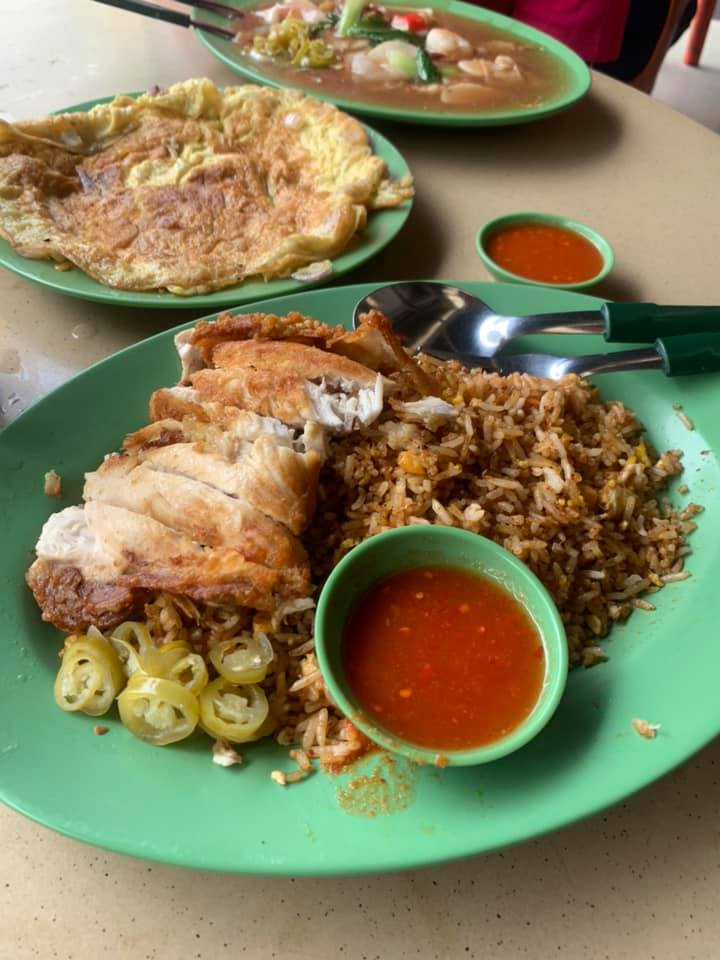 Image credit: Fadzainis Us' Facebook page
Let's be clear – ayam penyet and ayam goreng are two entirely different dishes. While many different variants of ayam goreng exist throughout Malaysia and Indonesia, their distinguishing factor is the lack of a batter. Colour is derived from the spice mixture, often featuring aromatics such as lemongrass and tamarind.
Halal zi char stall Zilan Nasi Ayam serves up a bevy of dishes, but they're best known for their eponymous Nasi Ayam Goreng ($6). The plate of fried rice is generously perfumed with wok hei, while the tender pieces of chicken are flavourful in combination with a hit of their vinegary chilli sauce. It's really the chilli which ties everything together, and the piquant sauce is so popular that an extra serving will set you back $1.
Address: 684 Hougang Avenue 8, #01-1348, Hougang Park Food Station, Singapore 530684
Opening hours: Sat-Thur 10:30am to 9pm
Zilan Nasi Ayam is a halal-certified eatery.
---
7. La Zi Ji – Chongqing, China
---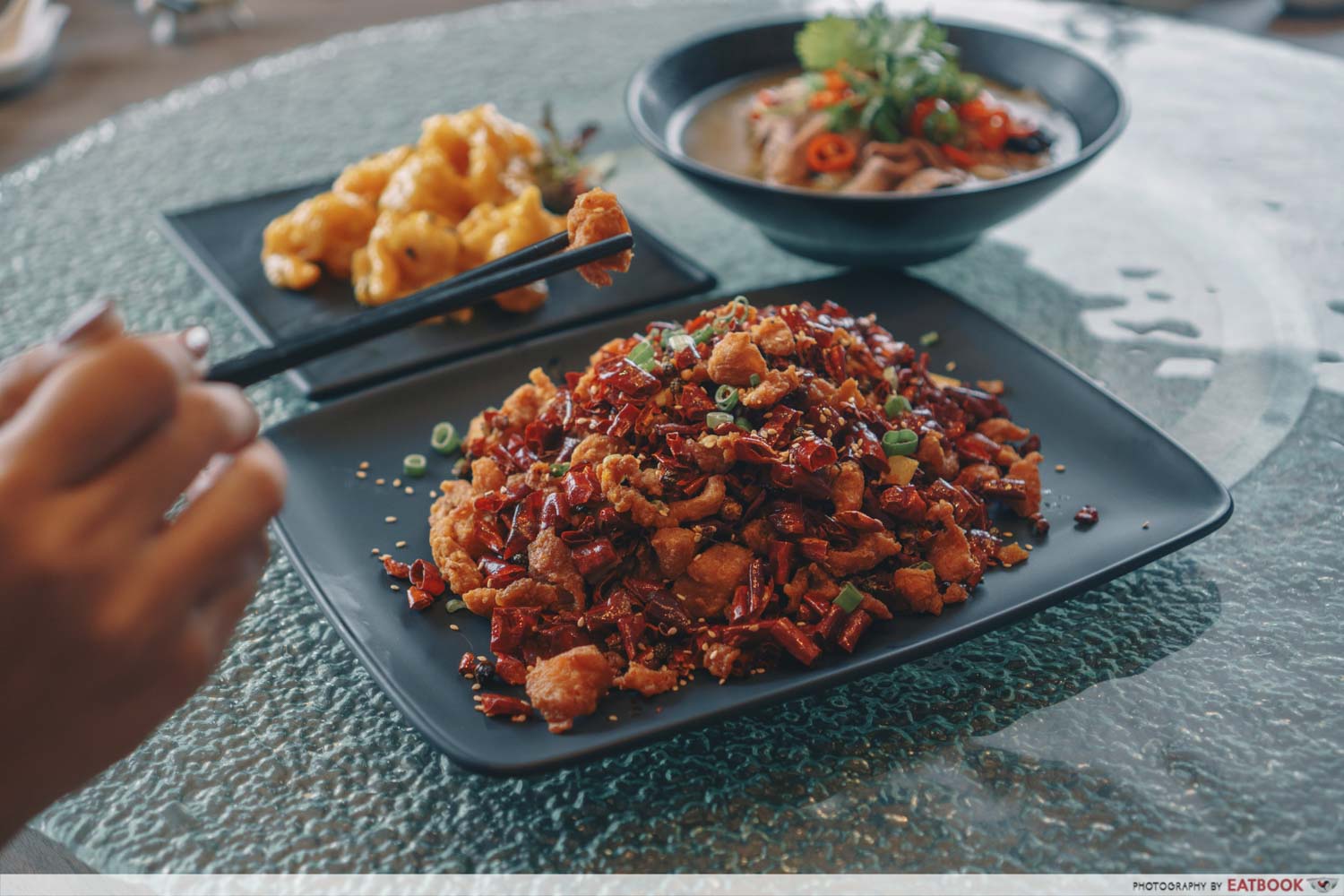 La zi ji is sort of like a love child between popcorn chicken and ma la xiang guo. Hailing from Chongqing in South-west China, this fiery dish features deep-fried chicken chunks stir-fried with spices such as garlic, ginger, Sichuan peppers and a sea of dried chillies. The dish is potently fragrant and spicy in equal measure, with the chicken getting a double shot of flavour from its marinade and stir-frying process.
Si Chuan Dou Hua is one of the few fine dining restaurants in Singapore that specialises in Sichuan cuisine. That means there's no better place to step into the world of la zi ji than with their "Chong Qing" Diced Chicken With Dried Chilli And Peppercorn ($18++ for small, $27++ for medium, $36++ for large). Each bite bombards your taste buds, with salty, juicy chicken flavour and a bouquet of aromatics all hitting your tongue, before giving way to the signature tongue-numbing character of Sichuan peppercorns.
Address: 1 Tampines Walk, #01-99, Festive Mall, Singapore 528523
Opening hours: Daily 11am to 11pm
Tel: 6386 8113
Website | Full list of outlets
---
8. Chicken Schnitzel – Austria/Germany
---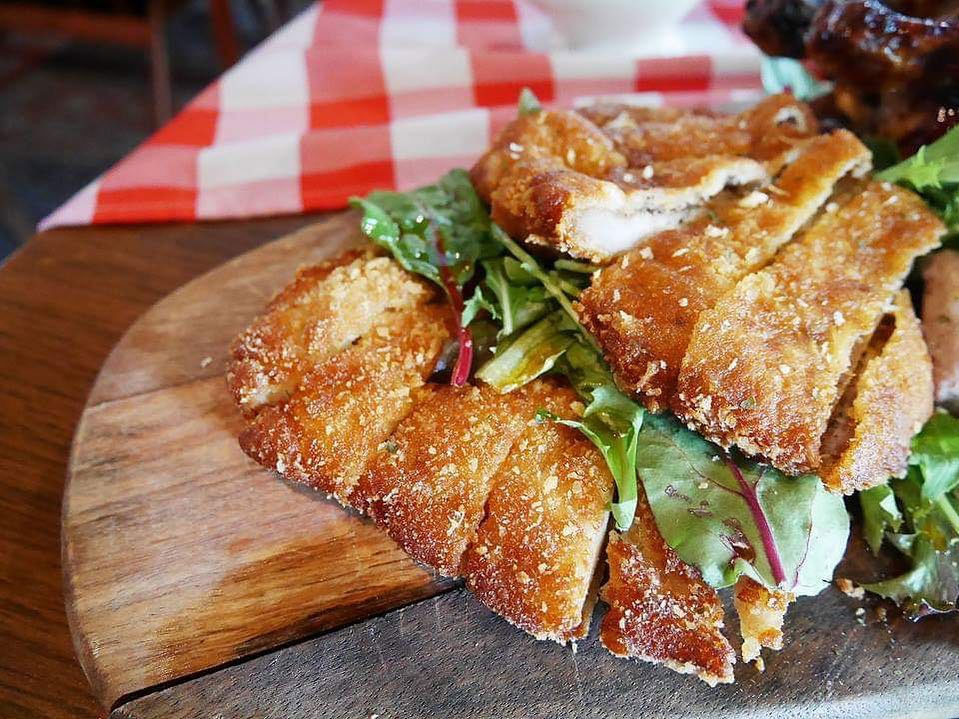 Image credit: @sbbscafe
Schnitzel is the staple fried meat of Austria and Germany, coming in pork, chicken and veal variants. Think tonkatsu, but leaner and thinner. Using lean meat means it's necessary to pound the meat till thin for tenderisation purposes.
Seasoning-wise, this European staple is on the other end of the spectrum from la zi ji, simply relying on salt, pepper and the meat's natural flavour. So as you'd imagine, it's the quality of meat that makes a good schnitzel.
Brotzeit and Paulaner Brauhaus are probably the first two names that come to mind for German food in Singapore. But in their shadow, Stuttgart Blackforest Boutique S-Cafe quietly serves up a formidable range of German classics, chief of which is the Schnitzel ($19.80++). Its breadcrumb crust is satisfying crispy, while a dash of lemon juice cuts through any oiliness.
Address: 9 Bras Basah Road, #01-01, Rendezvous Hotel Gallery, Singapore 189559
Opening hours: Daily 11am to 11pm
Tel: 6336 8675
Website
---
9. Tori Karaage – Japan
---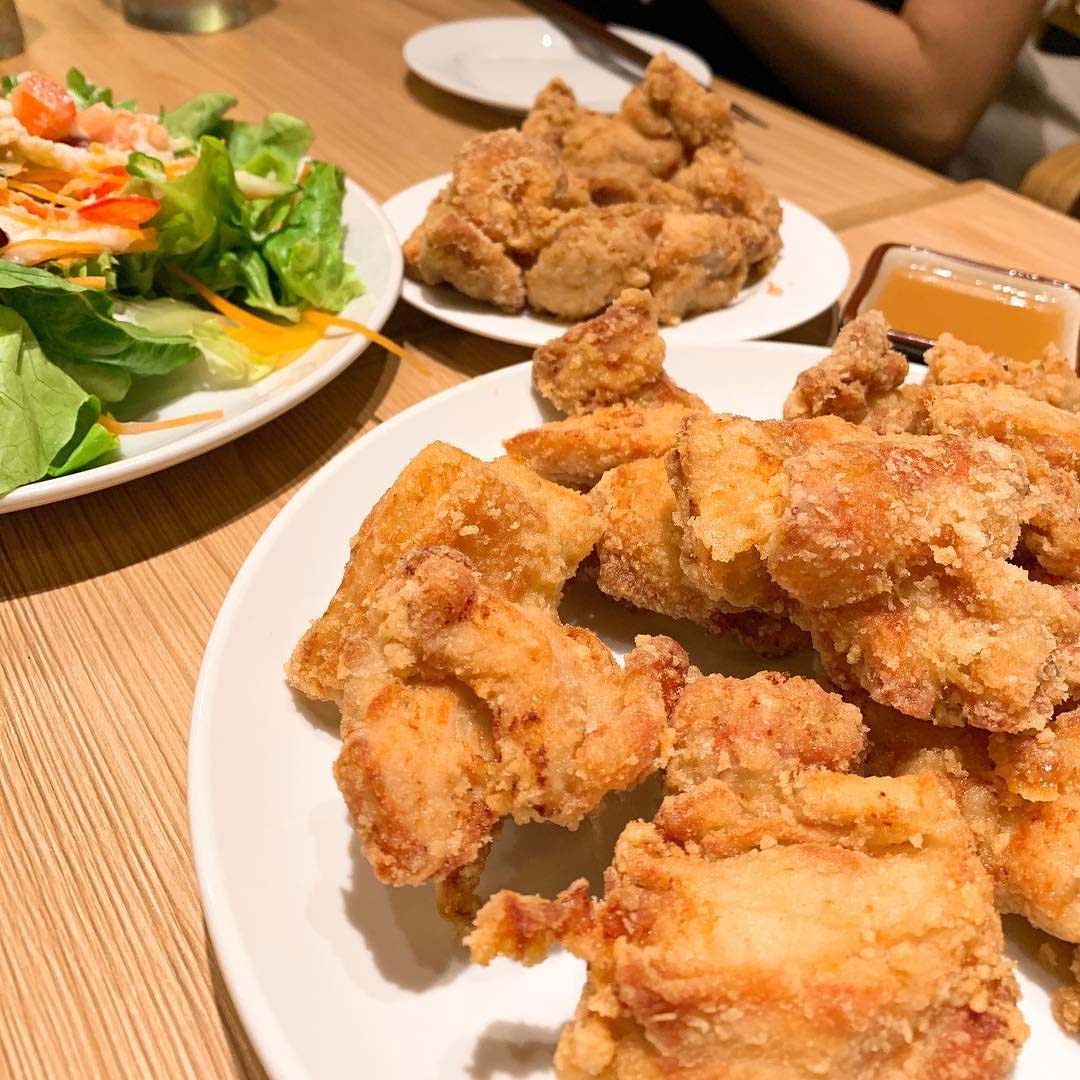 Image credit: @wendy_freddy
It's pretty difficult for fried chicken to be considered light. But among its heavy-hitting counterparts, tori karaage is a significantly less jelak option. That's because these boneless pieces of chicken thigh are fried with a thin coat of potato starch or cornflour, retaining minimal oil. While this Japanese bar favourite is light in oil, it's definitely not light in flavour. The flavour comes from a marinade of ginger, soy and mirin.
You'll find tori karaage in any izakaya, but Rang Mang Shokudo is one of Singapore's only dedicated karaage specialists. They take their Fried Chicken ($6++ for five pieces and one sauce, $12++ for 12 pieces and two sauces, $18++ for 20 pieces and three sauces) seriously, showering each piece with love for six hours in the form of a buttermilk marinade, before frying them twice at low heat for an extra crispy finish.
Their sauces are a little better than ketchup and tartar sauce out of a bottle. Keep it classic with Soy Sauce or get fancier with options like Yuzu Pepper, Korean Red Chilli and Basil + Cheese.
Address: 435 Orchard Road, #04-54, Wisma Atria, Singapore 238877
Opening hours: Mon-Fri 11:30am to 11pm, Sat-Sun 11am to 11pm
Tel: 6262 3504
Website | Full list of outlets
---
10. Nashville Hot Chicken – Nashville, USA
---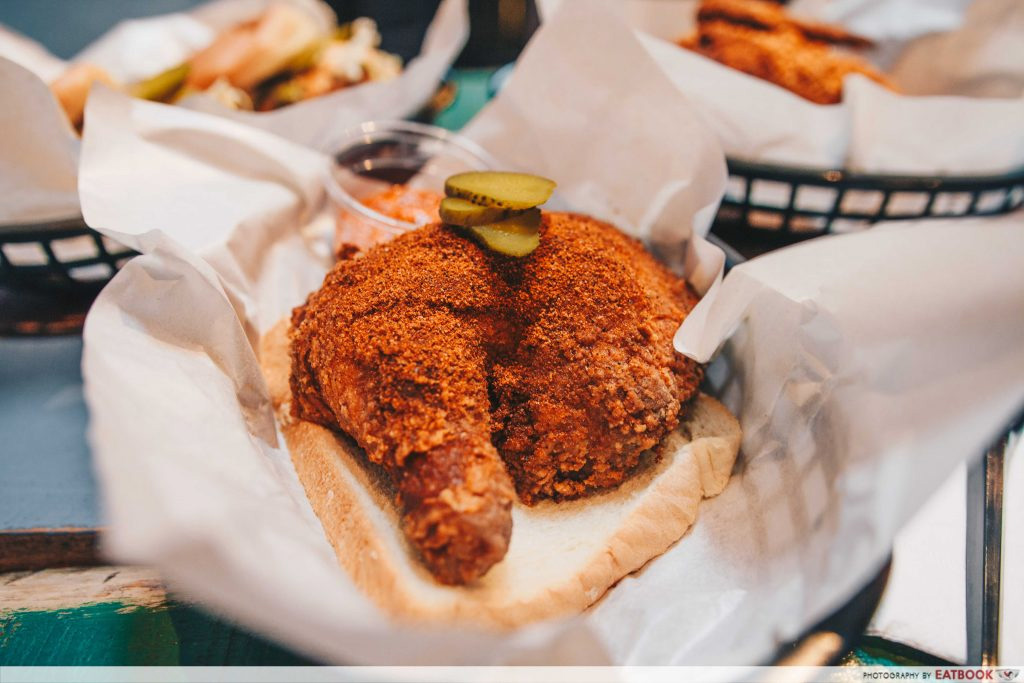 Another famous American fried chicken export is Nashville hot chicken, a pepper-saturated, tongue-destroying monstrosity. It starts off tame, with succulent buttermilk fried chicken. The fireworks are ignited by a spice paste – headlined by cayenne pepper and brown sugar – that's lavishly rubbed on after frying. These drumsticks are so spicy, they're traditionally served with white bread and pickles to help extinguish your burning tongue.
Singapore's premier hot chicken purveyor is Chix Hot Chicken, co-owned by Singapore Idol alum Taufik Batisah. Their take on Nashville Hot Chicken ($9.90 for a quarter chicken) comes with three heat levels: Mild Hotness, Extra Hotness and Insane Hotness. Notoriously spicy ghost peppers lurk in the latter two spice mixes, but if you want a legitimately Hot Chicken experience, you might as well take the plunge. Just make sure you've got a pack of tissues on standby.
Check out our full review of Chix Hot Chicken!
Chix Hot Chicken Review: Taufik Batisah Opens A Fried Chicken Cafe At Bugis
Address: 1 Jalan Pisang, Singapore 199069
Opening hours: Mon-Sat 12pm to 9pm
Tel: 9839 0607
Website
Chix Hot Chicken is a Muslim-owned eatery.
---
Bonus: Ayam Geprek – Indonesia
---
Ayam penyet isn't Indonesia's only fried chicken representative. Over the past few years, ayam geprek has exploded in popularity on their shores, becoming an absolute phenomenon among the youth. Like its illustrious brother, this chicken dish gets pounded until flat, but that's where the similarities end. These fried chicken thighs are served boneless, before being covered by an explosive layer of sambal with adjustable heat levels.
Papa Ayam hopes to ignite an ayam geprek craze in Singapore, with their Ayam Geprek Original ($6.80). There are 15 levels of spice to choose from, but level eight proved too much for me, sending sweat streaming down my face. Regardless, the fried chicken was tasty, and the sambal, homely – bright from a mix of tomato and lime.
Courageous souls can take a stab at their WTF Challenge ($13.70), which turns the spice dial up to level 27. This ayam geprek looks like something out of a horror movie, but polish it off within five minutes and you'll net a free meal as well as a spot on their hall of fame. You know it's hot when it comes with two free cups of lime juice.
Check out our full review of Papa Ayam!
Papa Ayam Review: Finish This Level 27 Sambal Fried Chicken Rice And Get It For Free At Somerset
Address: 313 Orchard Road, #B3-49, 313@Somerset, Singapore 238895
Opening hours: Sun-Thur 11am to 10pm, Fri-Sat 11am to 10:30pm
Tel: 8698 3921
Website
---
Travel the world with fried chicken
---
No matter which type of fried chicken you eat, some things don't change. Those morsels of fried goodness aren't healthy, but boy, are they delicious. So while staying trim is important, sometimes it's alright for calories to go out the window when you're in need of some indulgence. When that time comes, take your pick from this list of international fried chicken dishes and treat yourself to some tantalising wings.
For more oily chicken goodness, check out our reviews of Victor Famous and Tenderbest Makcik Tuckshop. But if you need a lighter meal after so much fried indulgence, take a look at our list of 7 yong tau foo stalls and 10 hawker seafood stalls.
Victor Famous Review: OG Fried Chicken Wing Rice By Founder Of Famed Carona Fried Chicken
Share your favourite spots for fried chicken with us in the comments below!