Victor Famous Fried Chicken Rice at Jalan Besar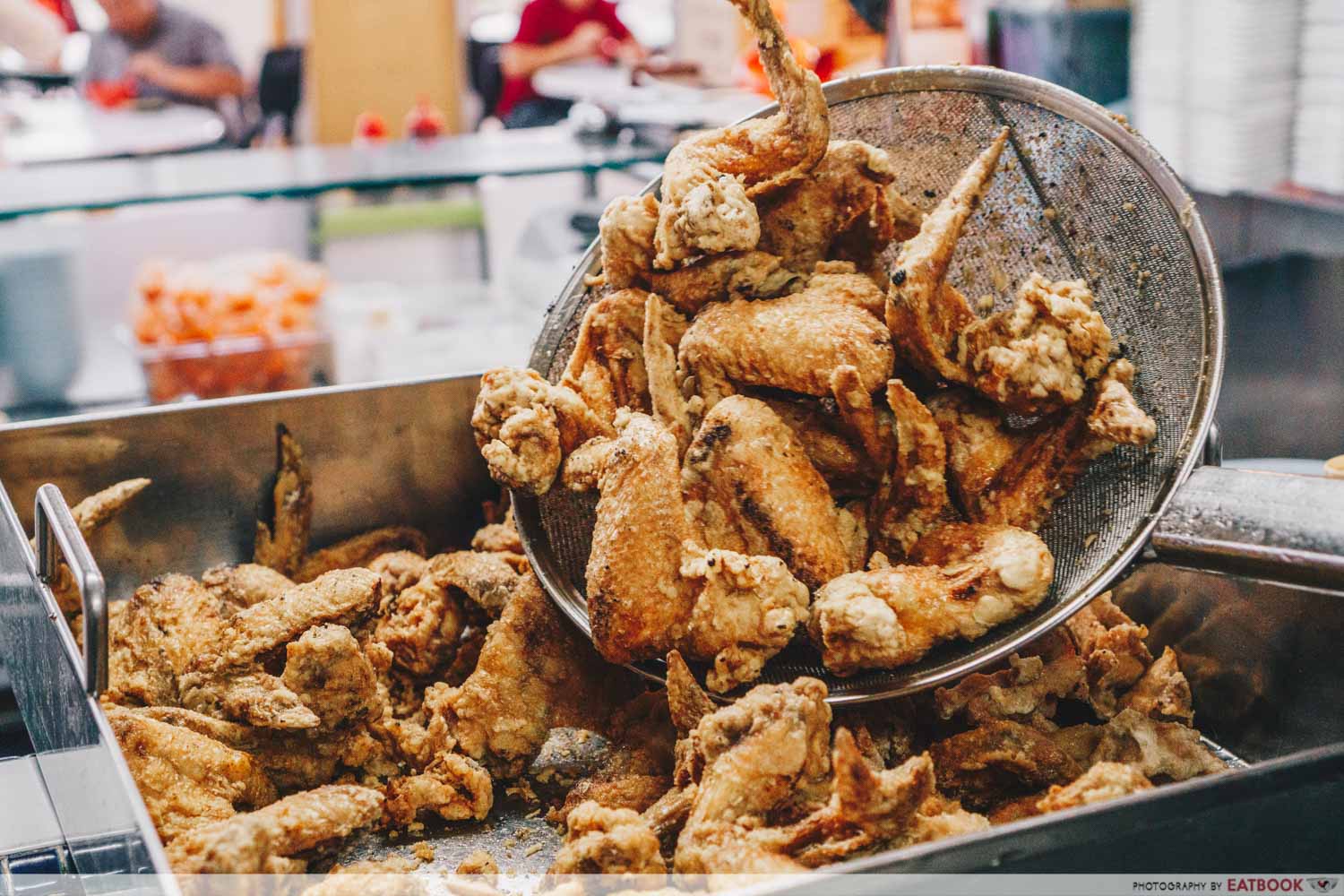 When I was a boy, the very definition of my childhood lunches were the fried chicken wing rice my grandma would buy home. It was such a good respite from all the mindless problem sums I had to solve in school.
Sadly, those stalls have now mostly perished, in favour of more Westernised ones. I was, therefore, thrilled when told that a shop called Victor Famous Fried Chicken Wing Rice existed.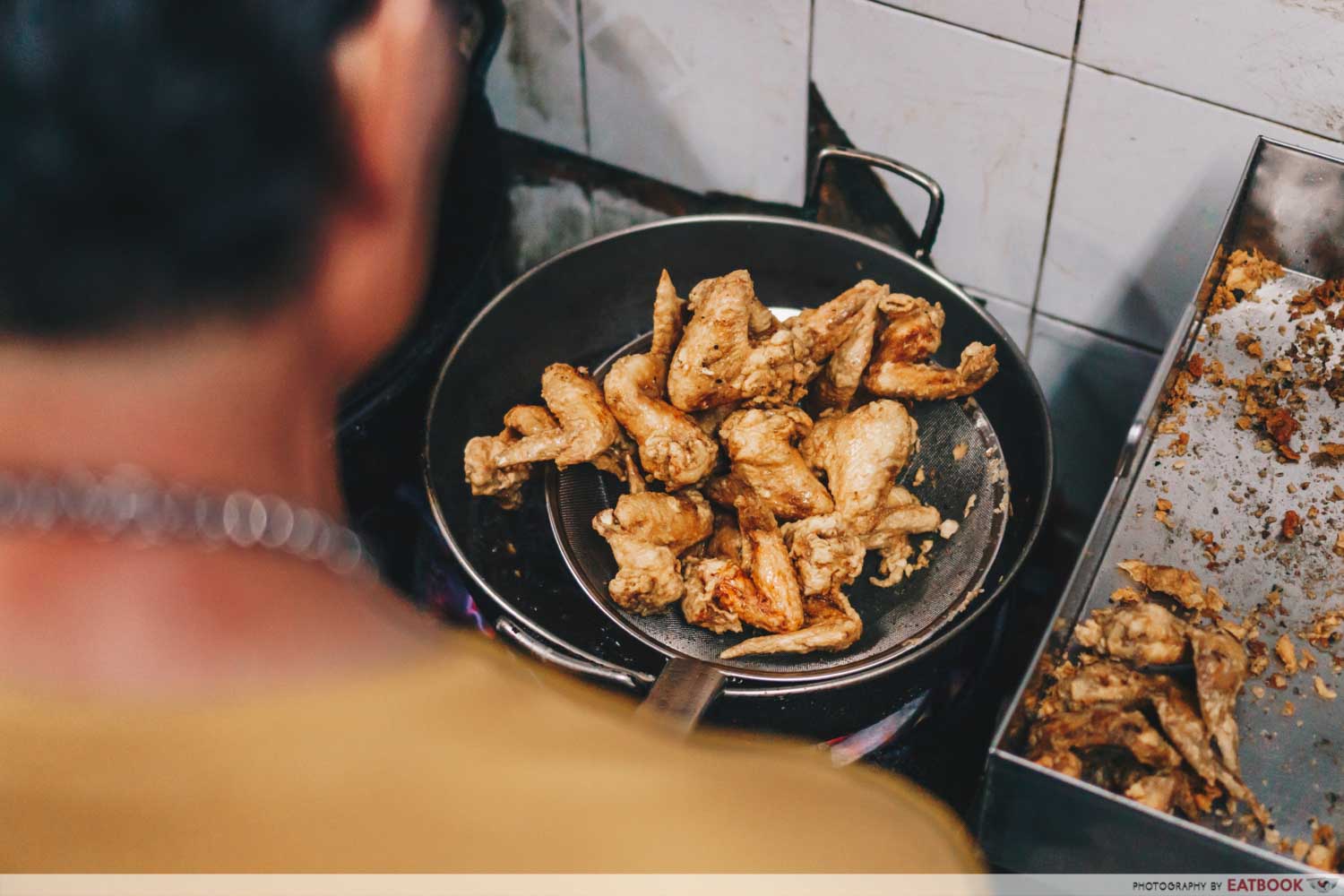 For the old souls out there who remember Carona Fried Chicken back in the 80s, Victor was actually the owner before he sold the franchising rights to his friend. Carona chicken subsequently became a huge success amidst growing Western influences in Singapore, with multiple outlets springing up islandwide.
Sadly, Carona's upsurge also led to their downfall. As its operations expanded, quality dwindled along with portion sizes. They slowly began to lose customers and had to close down their stores. The only trace of Carona now is their defunct website shared with Cavana. Thankfully, the original recipe that brought Carona to its glory has been found at Victor Famous Fried Chicken Wing Rice.
Food at Victor Famous Fried Chicken Wing Rice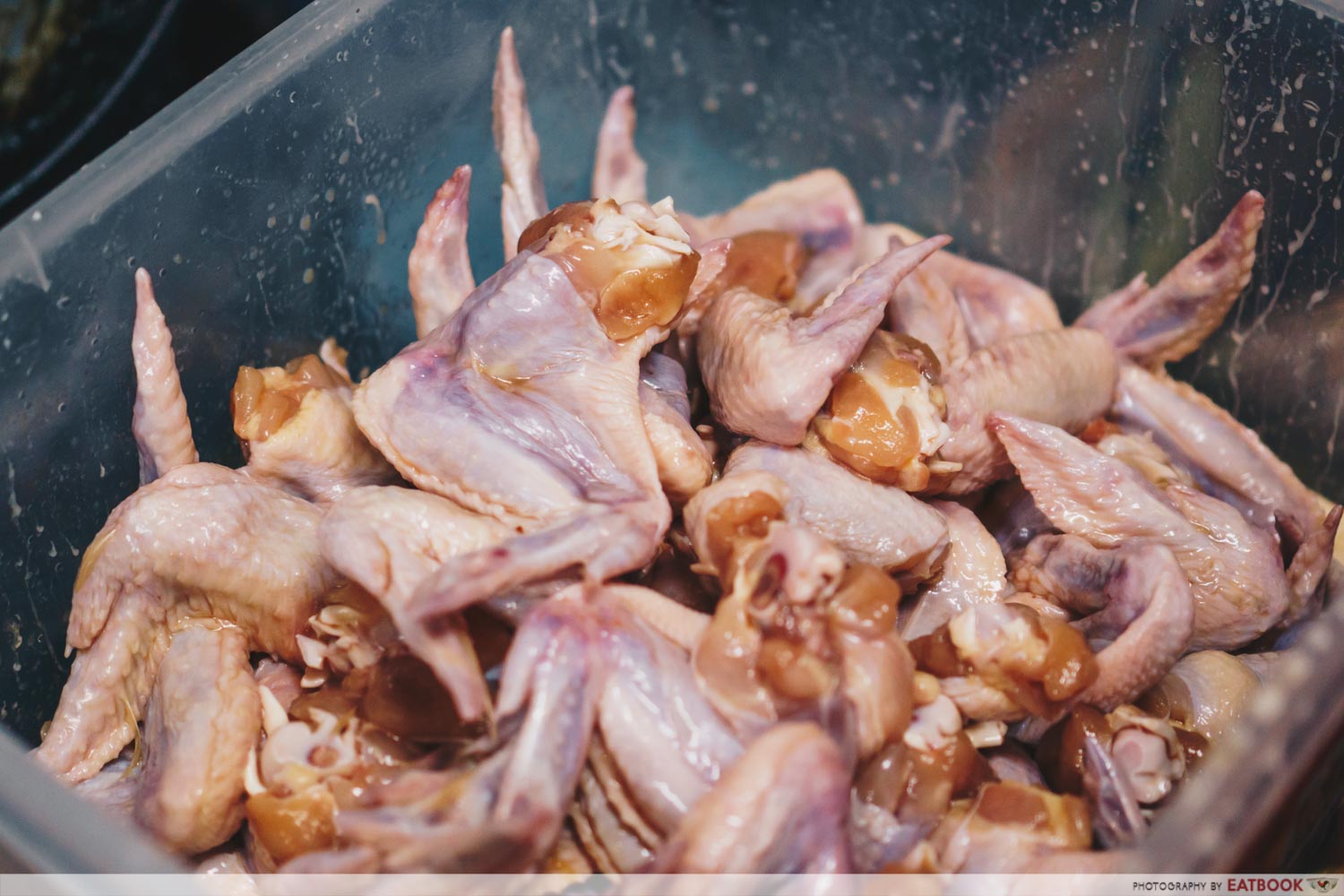 When asking Victor how he seasoned his chicken wings, I was told emphatically, "secret lah, cannot say."
I did, however, spot an undissolved lump of white powder. I would assume it's corn starch or dehydrated garlic.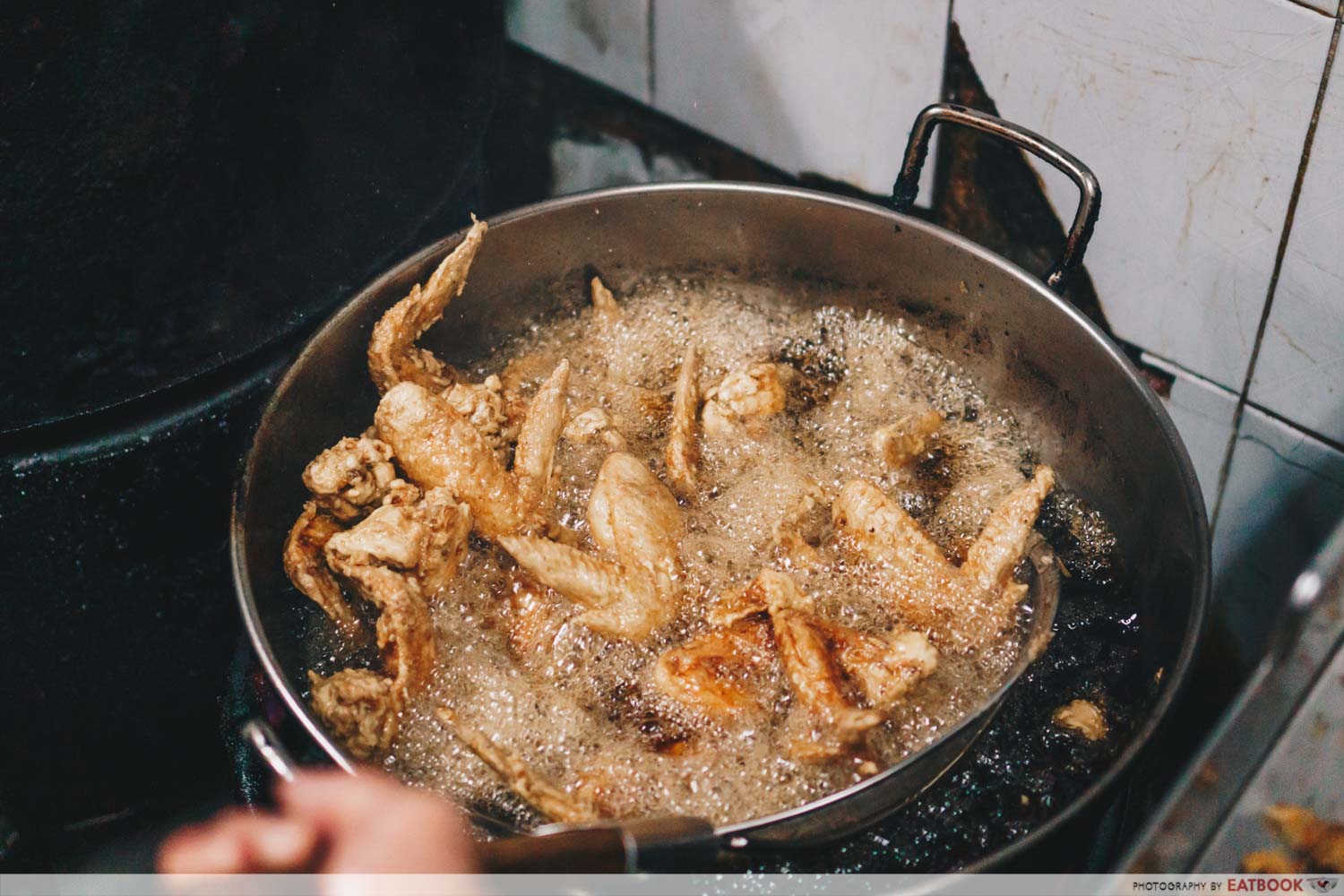 The real action came when he started frying his chicken wings. A large vat of oil was brought to a boil, and chicken wings were then strewn in with a roar.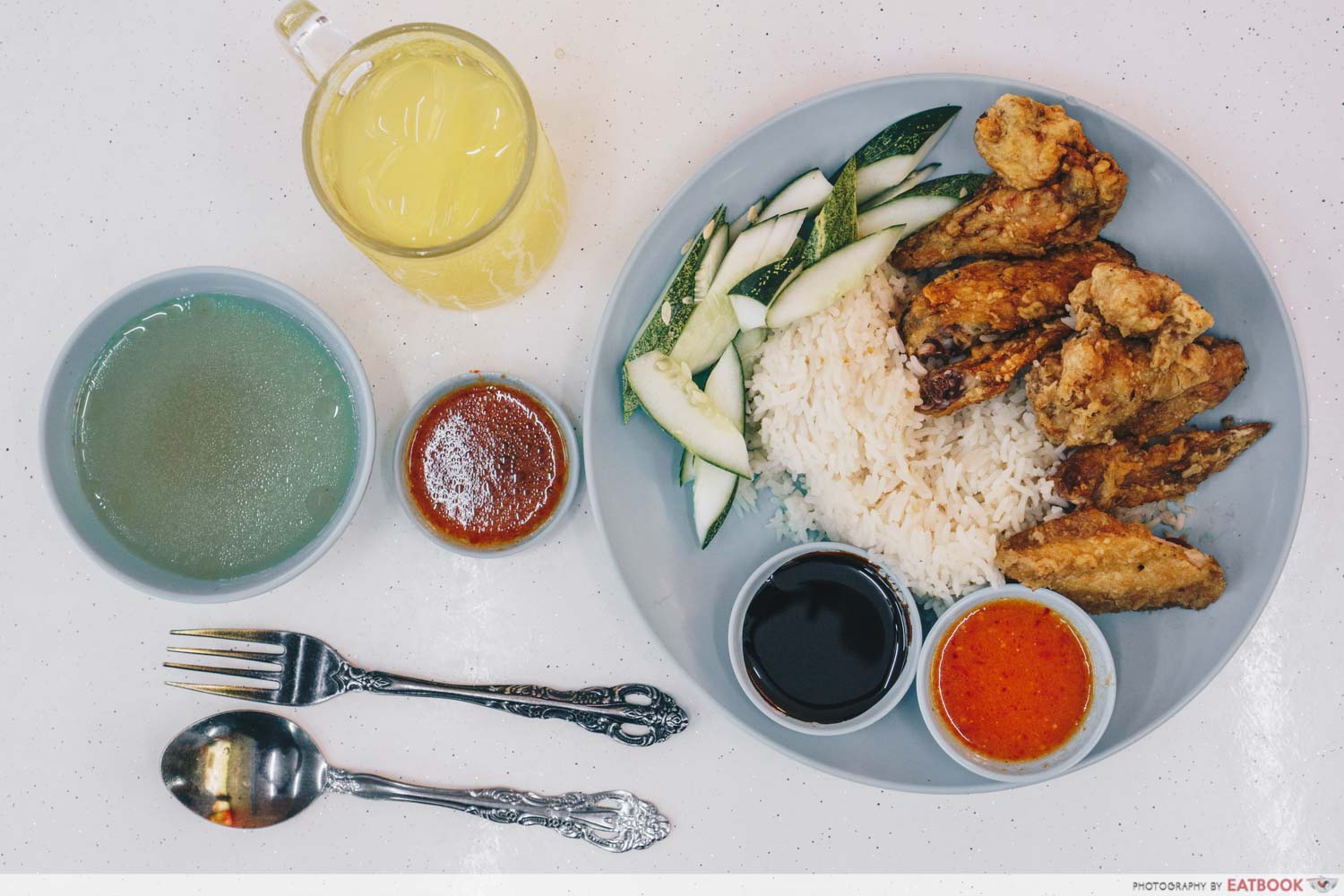 We proceeded to order Victor Fried Chicken Wing Rice ($3).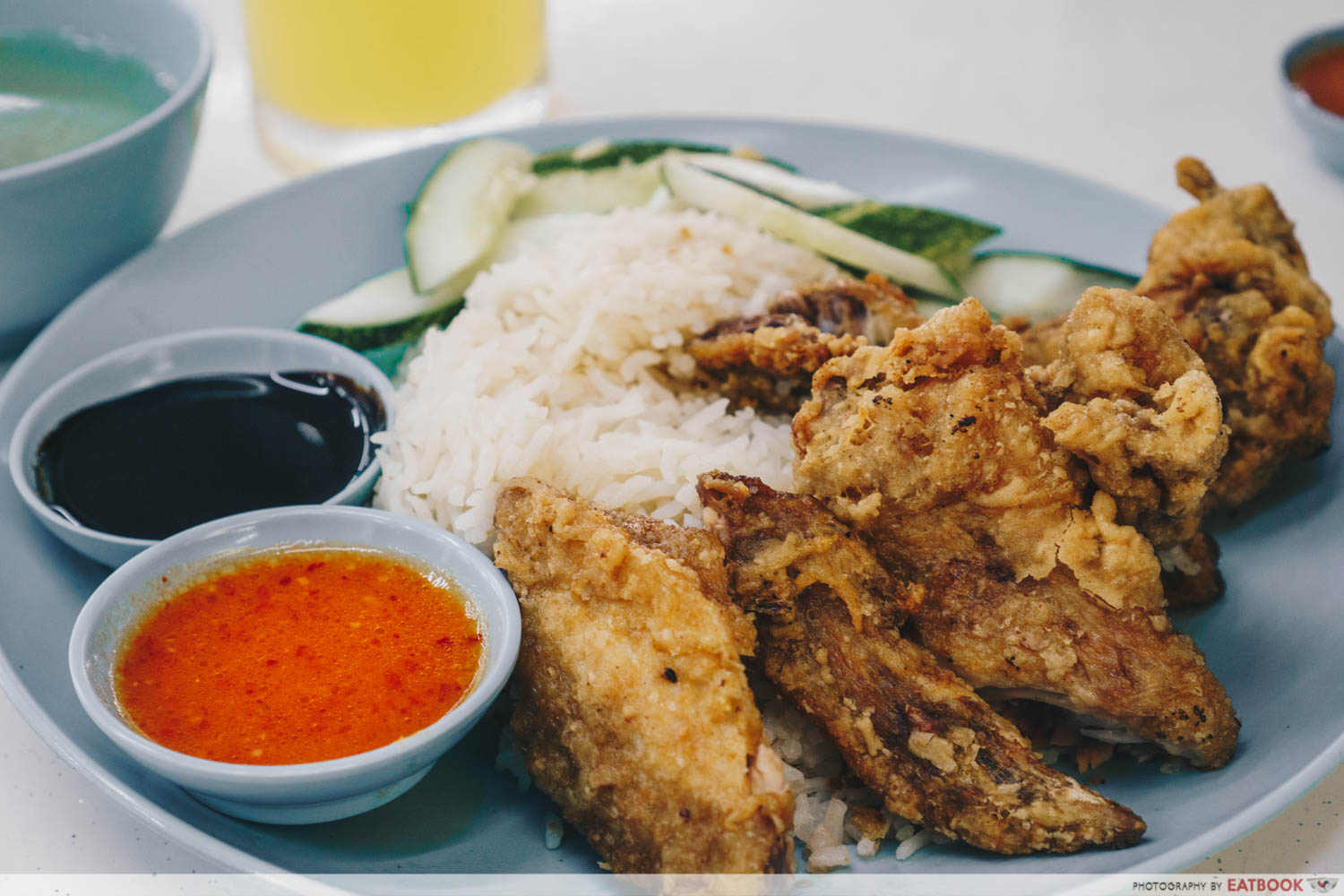 A pair of wings and drumsticks laid beside a heap of fragrant rice. It must have been their gentle curves and golden brown tan that made them look so appetising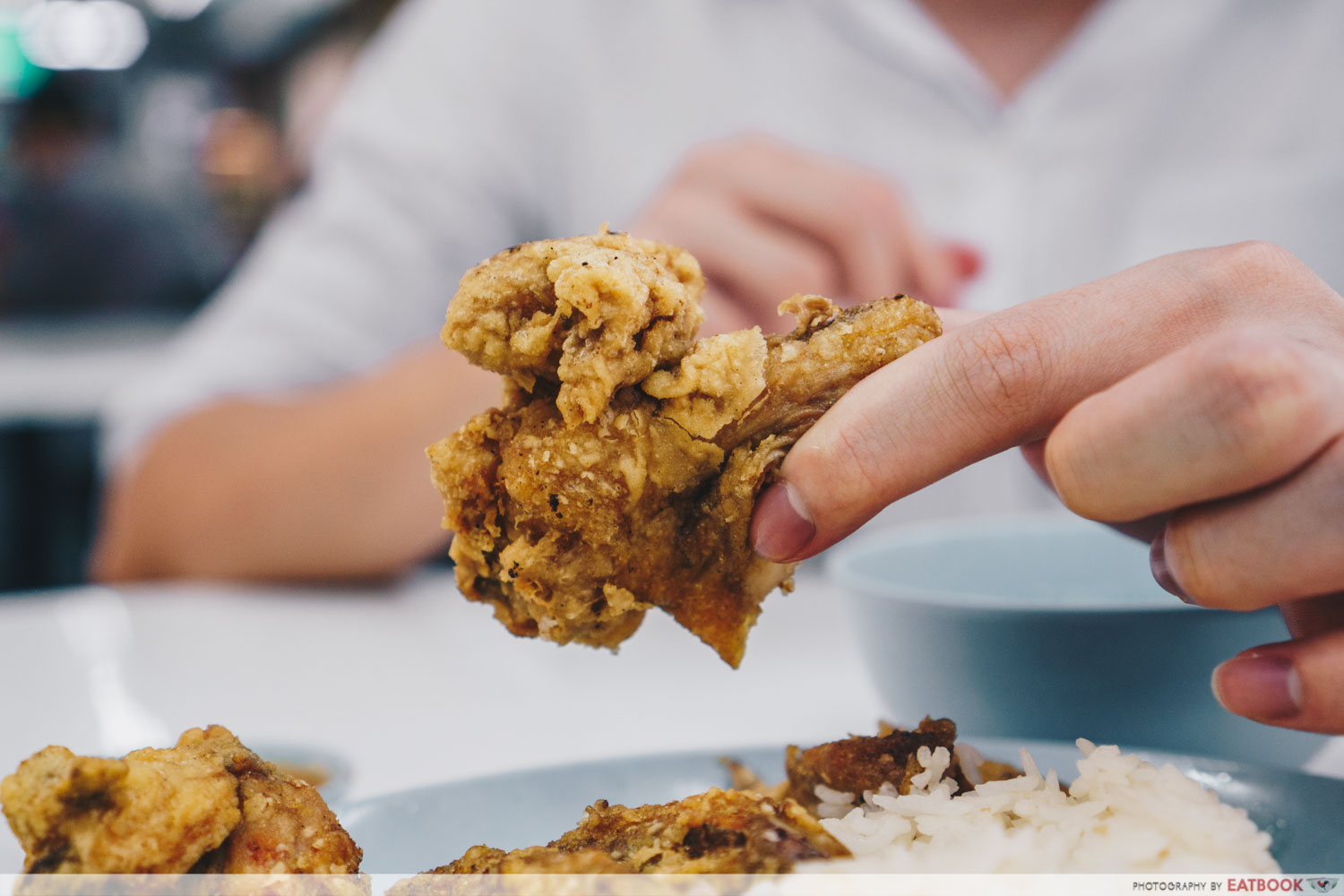 I noticed fogs of steam escaping through tiny cracks of the batter. The scent of its fried, oily goodness wafted into my nose, luring me deeper into an enchanting spell.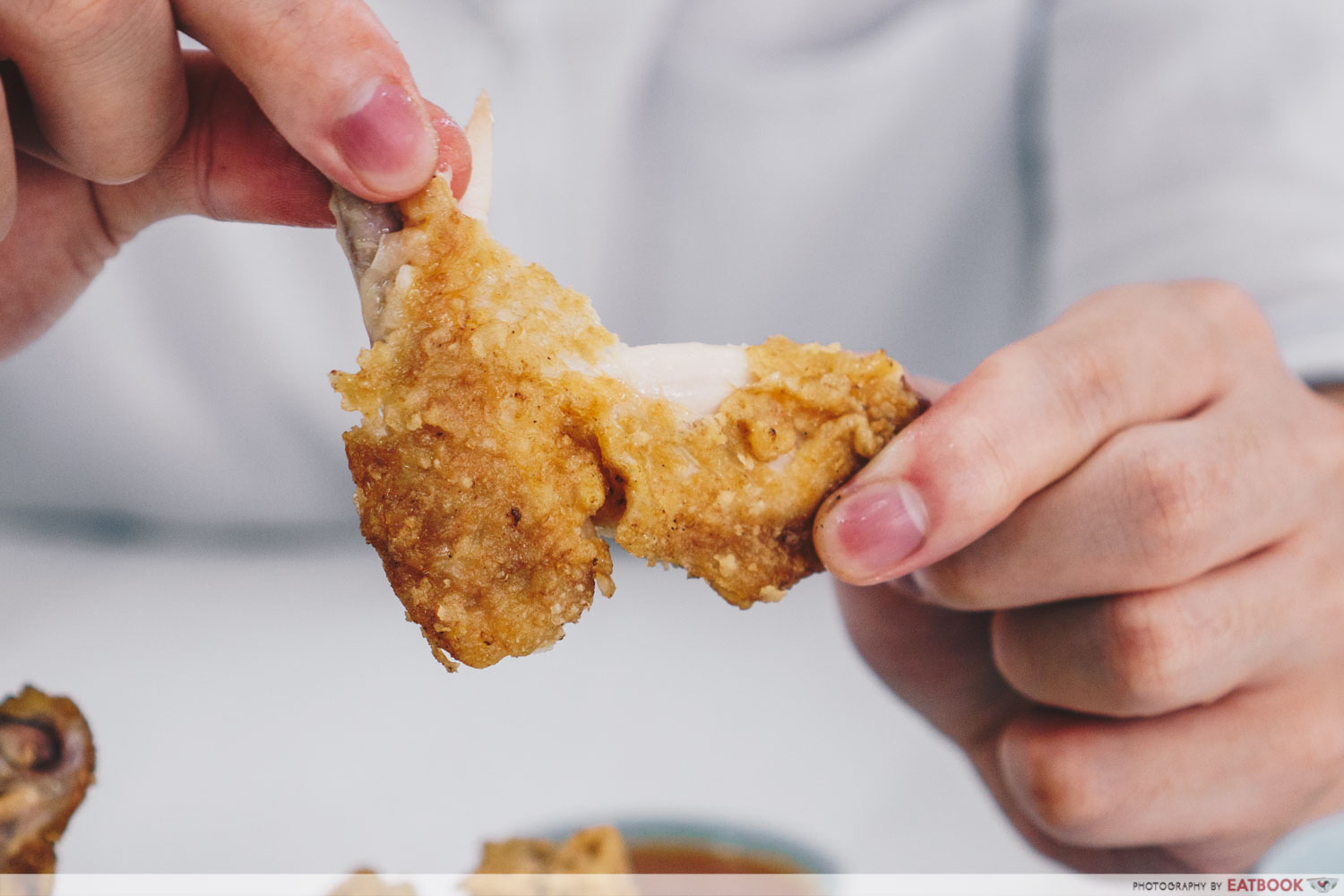 Alas, I caved into the wing's ravenous appeal. I tore into them, revealing strips of flesh that glistened like pearls in the light.
They were supple and moist to the touch, yet firm and meaty.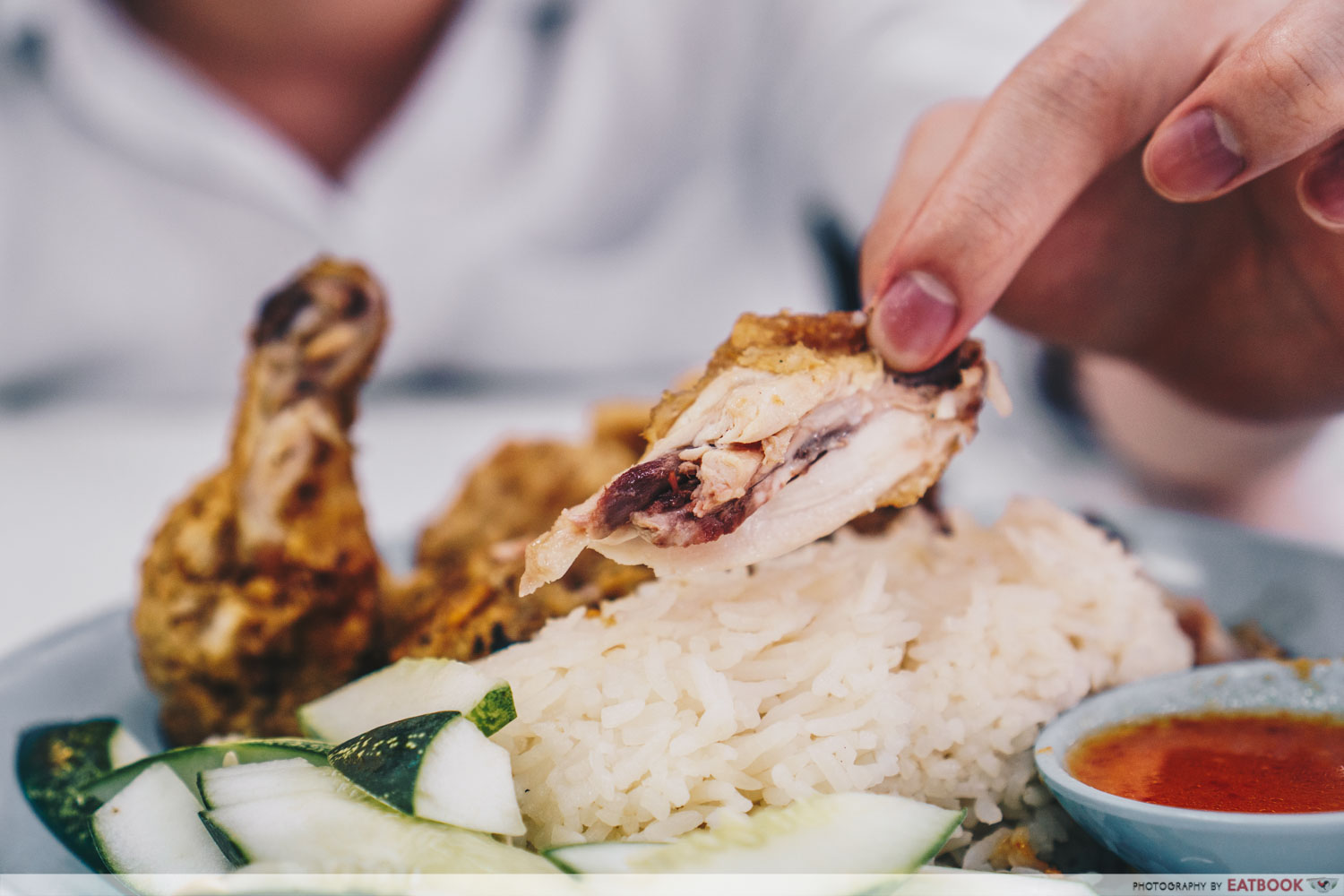 As I took a bite, sacs of oil burst into my mouth, coating my tongue in a silky layer of intense chicken juices. I was surprised how succulent the wings were.
Then came the crunch from the crust. It was lightly battered, allowing the natural chicken flavours to shine through.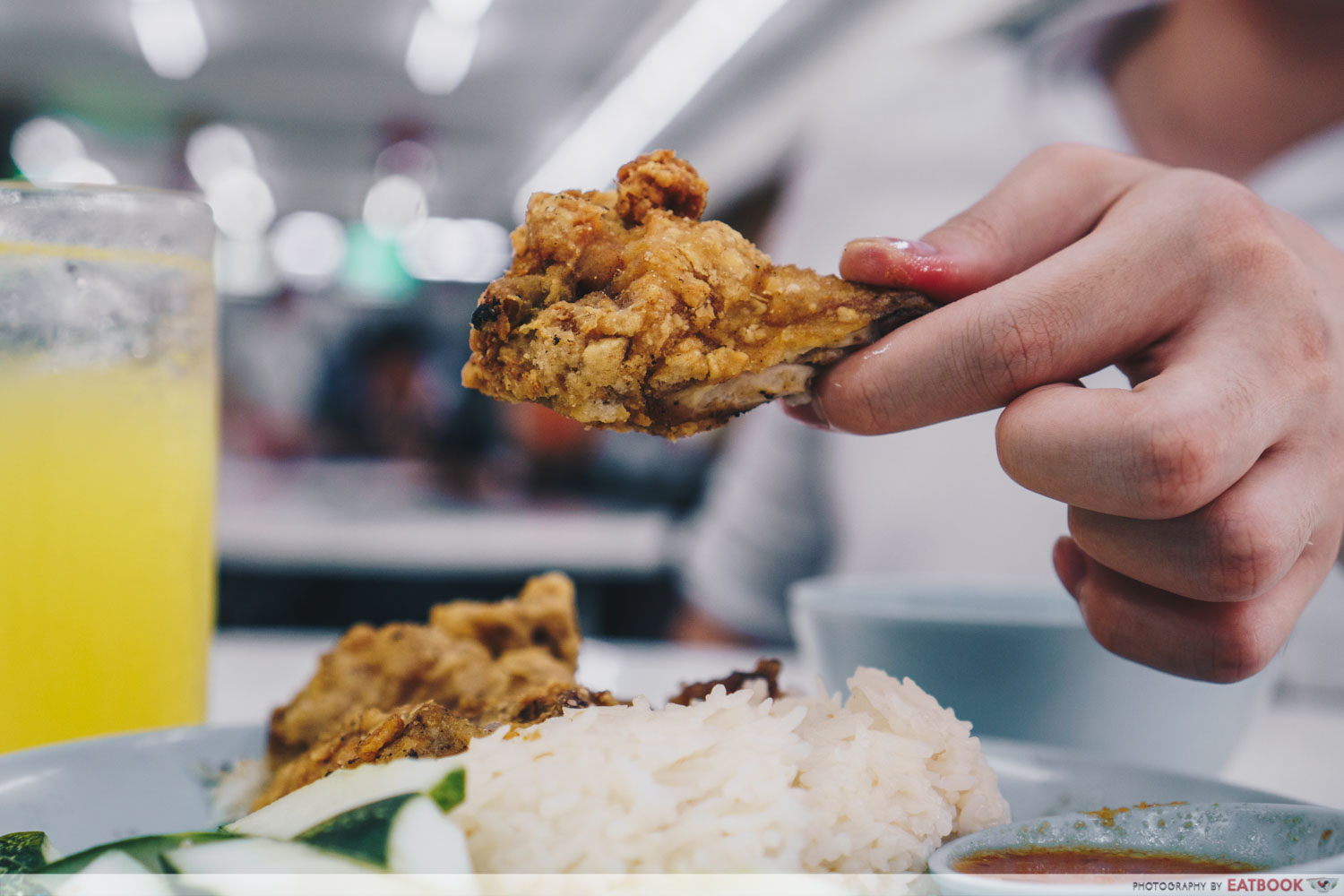 I took some time to comprehend the flavours as it lingered in my mouth. Unlike har cheong gai or the typical Southern fried chicken, the taste of Victor Famous' chicken wings were not something I was familiar with.
Subtle notes of sesame oil shone through the skin, and there was a splash of milkiness from the flesh that added an oomph of meatiness. What followed were hints of Chinese spices that perfumed my mouth in a complex combination of flavours.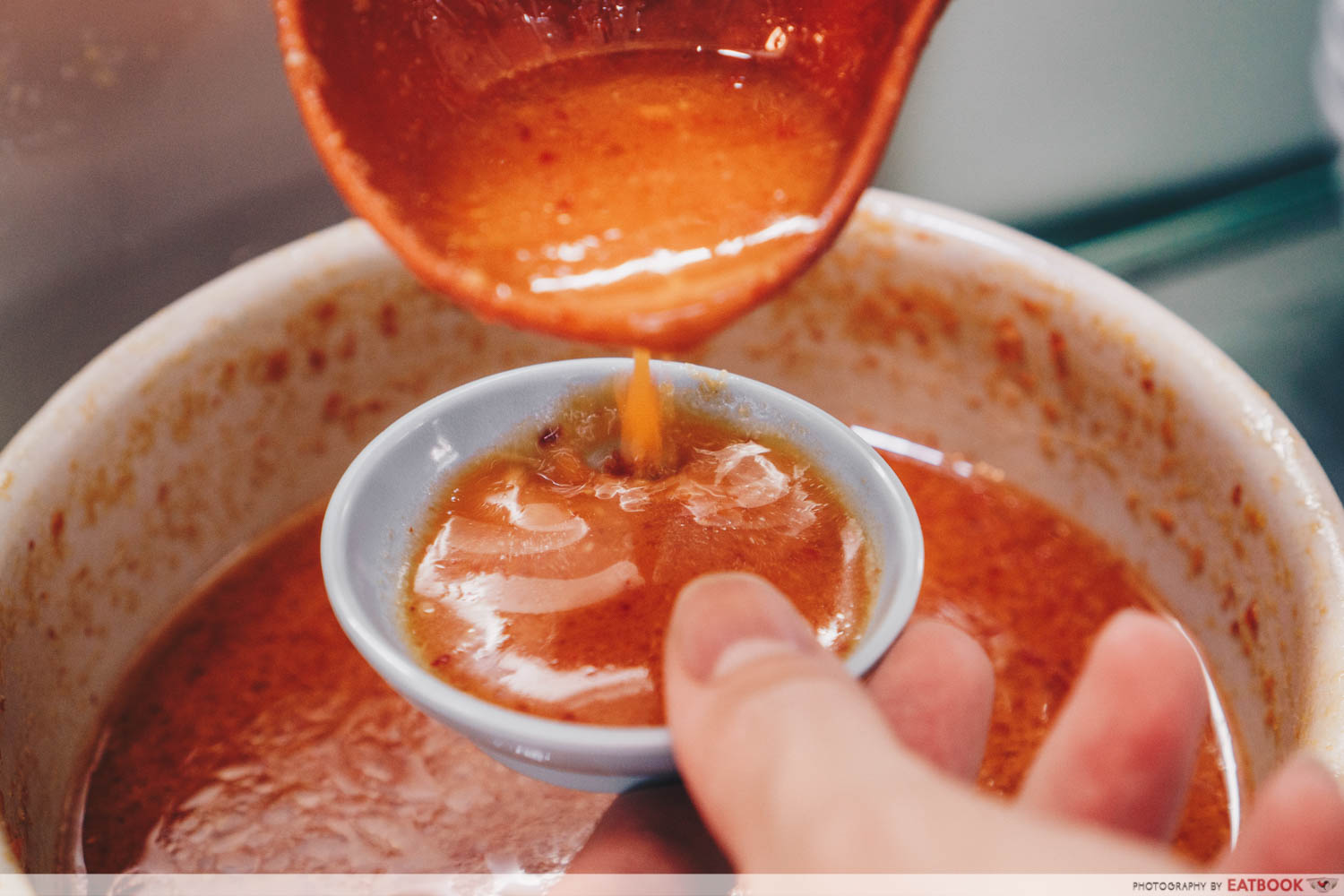 Spooning the chilli into my saucer, I was taken aback by its consistency. It looked too runny for my preference.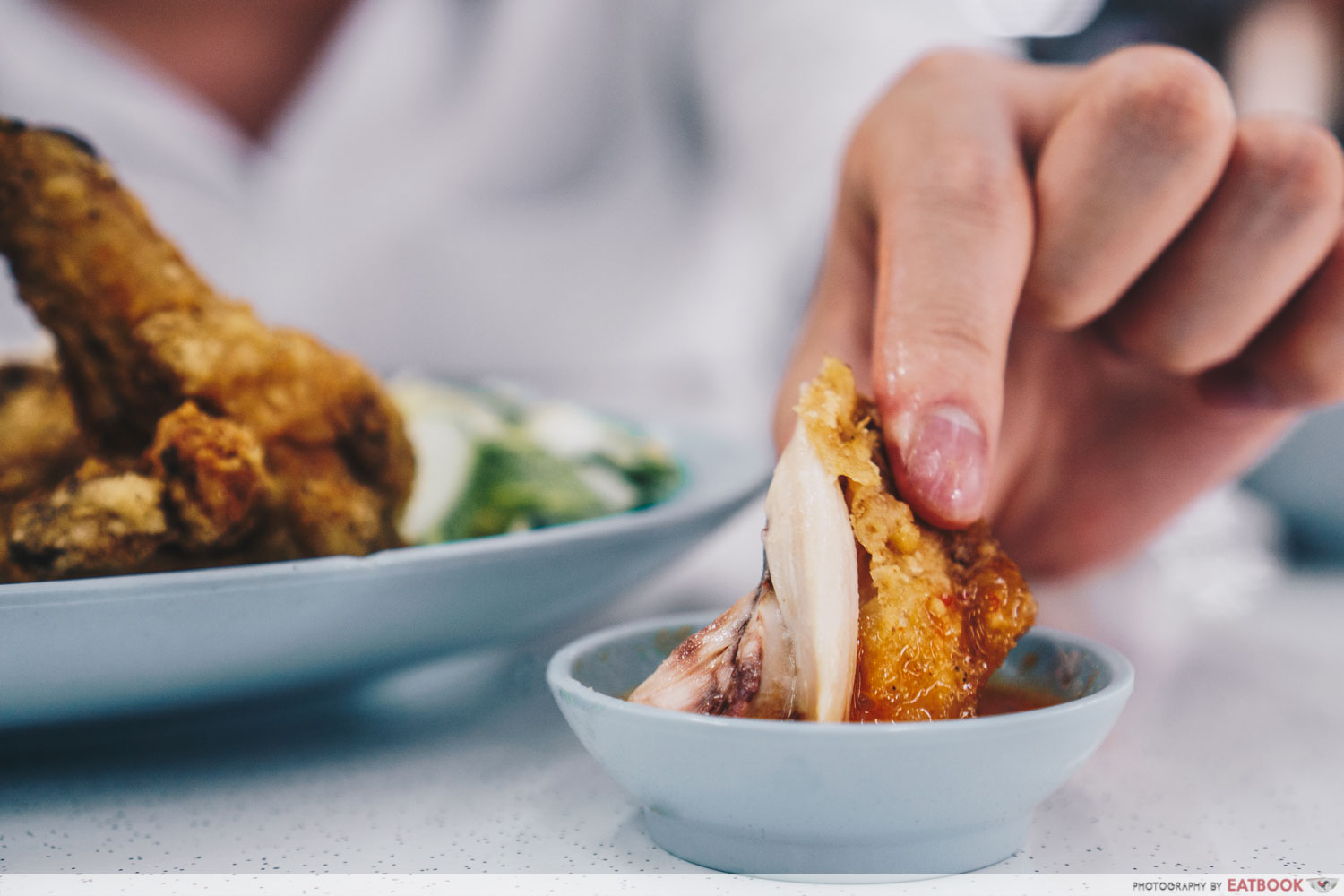 Thankfully, my worries were soon allayed when I tried the sauce with a piece of fried chicken. The piquant chilli scorched my tongue, before slowly mellowing into a tart, garlicky finish.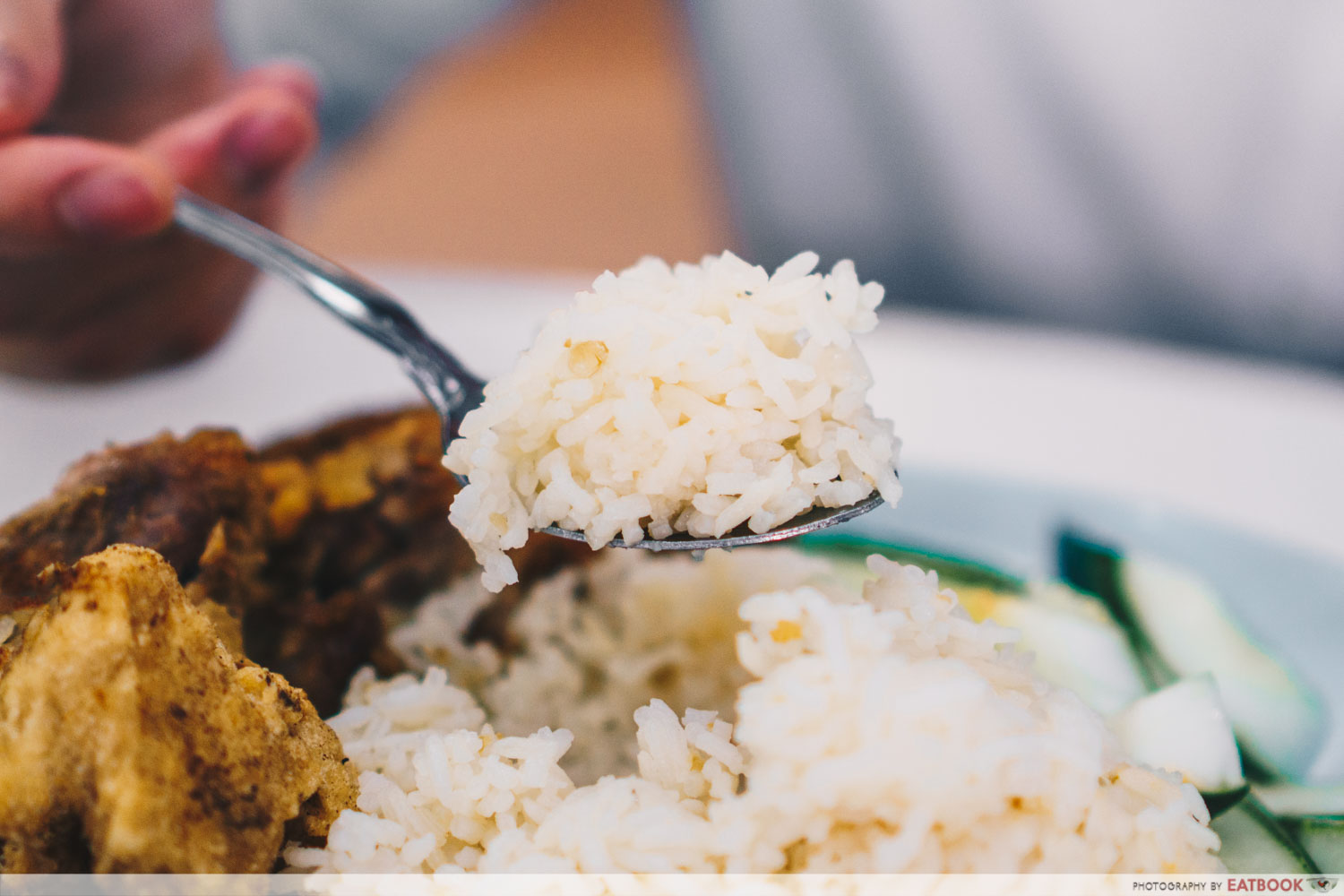 Less appealing was the rice. The grains were lumpy and lacked the gingery fragrance I expected from you fan. It tasted similar to the lacklustre "butter rice" served at Western hawker stalls.
Victor insisted that we try the soup he prepares daily. Ladling it into my bowl, I noticed chunks of ginseng, chopped vegetables, and chicken simmering away in the pot.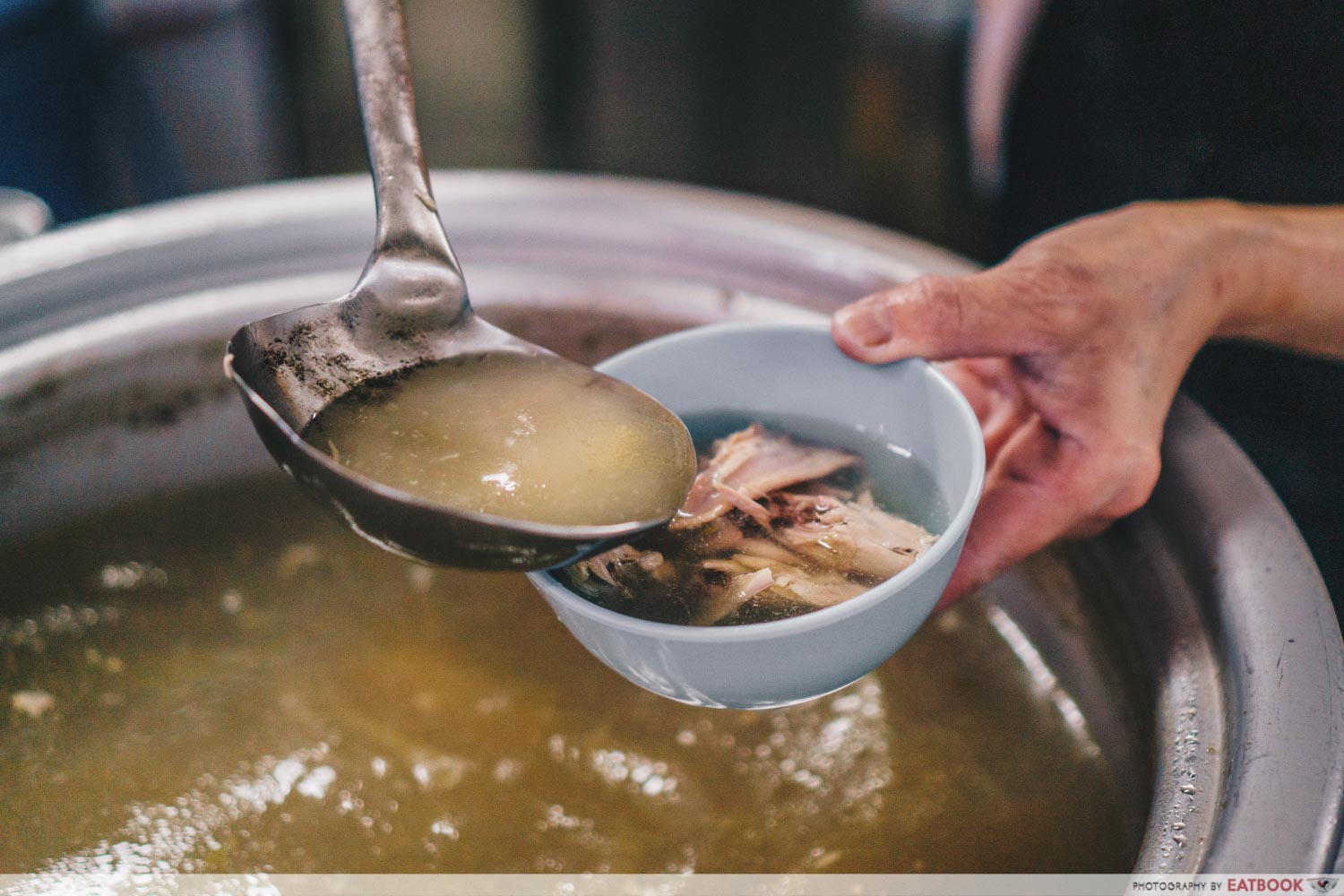 It felt so homely and nourishing – much like something my grandma will prepare when I'm down with a cold. The ginseng imparted a herbal essence, complemented by a subtle sweetness of vegetables and a faint meatiness from the chicken.
Ambience at Victor Famous Fried Chicken Wing Rice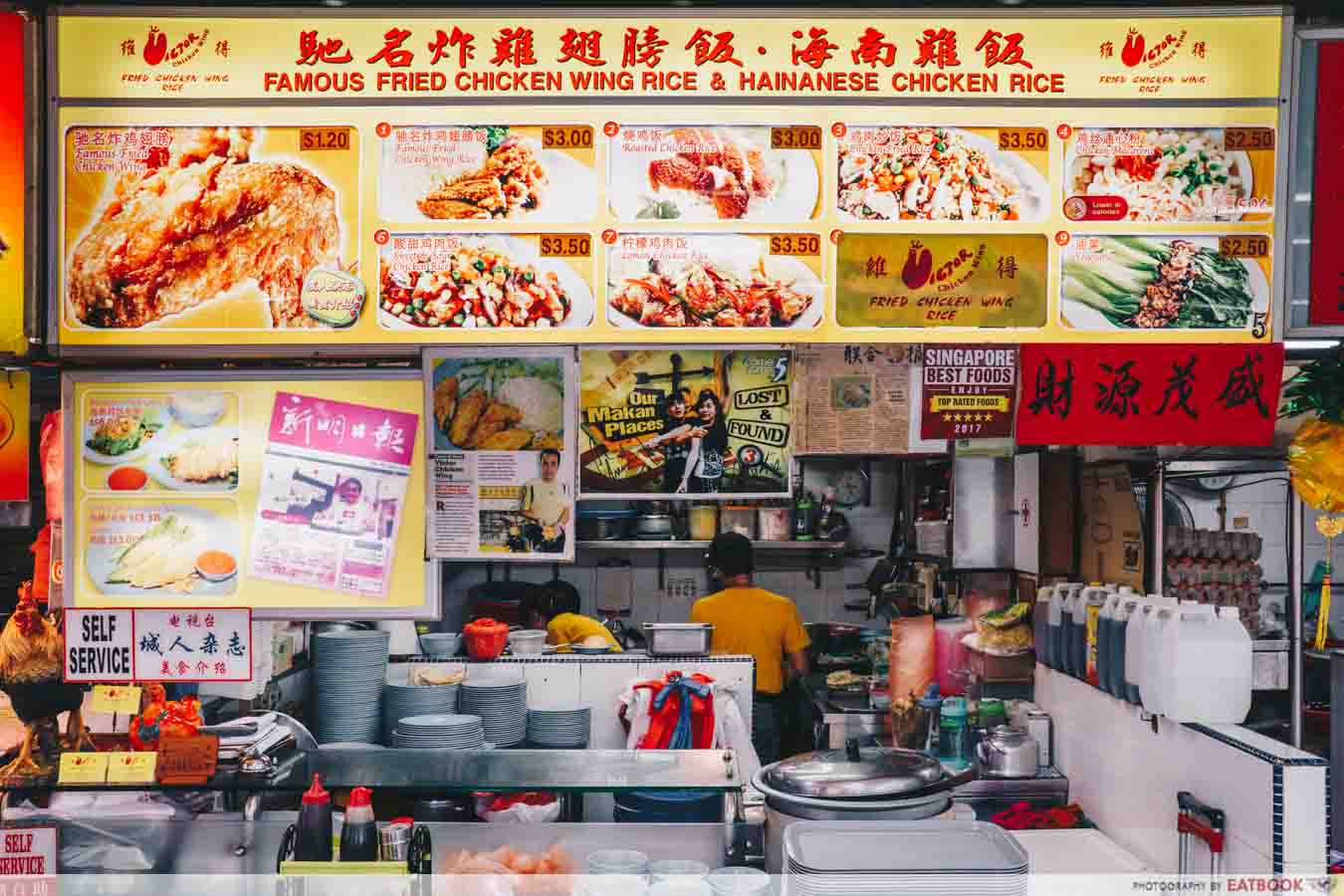 Walking up to the stall, their bright yellow signboard pulled my eyes towards their menu. I noticed newspaper cut-outs plastered across their shop front. They felt established, making me embarrassed that I had not heard of this gem earlier.
The verdict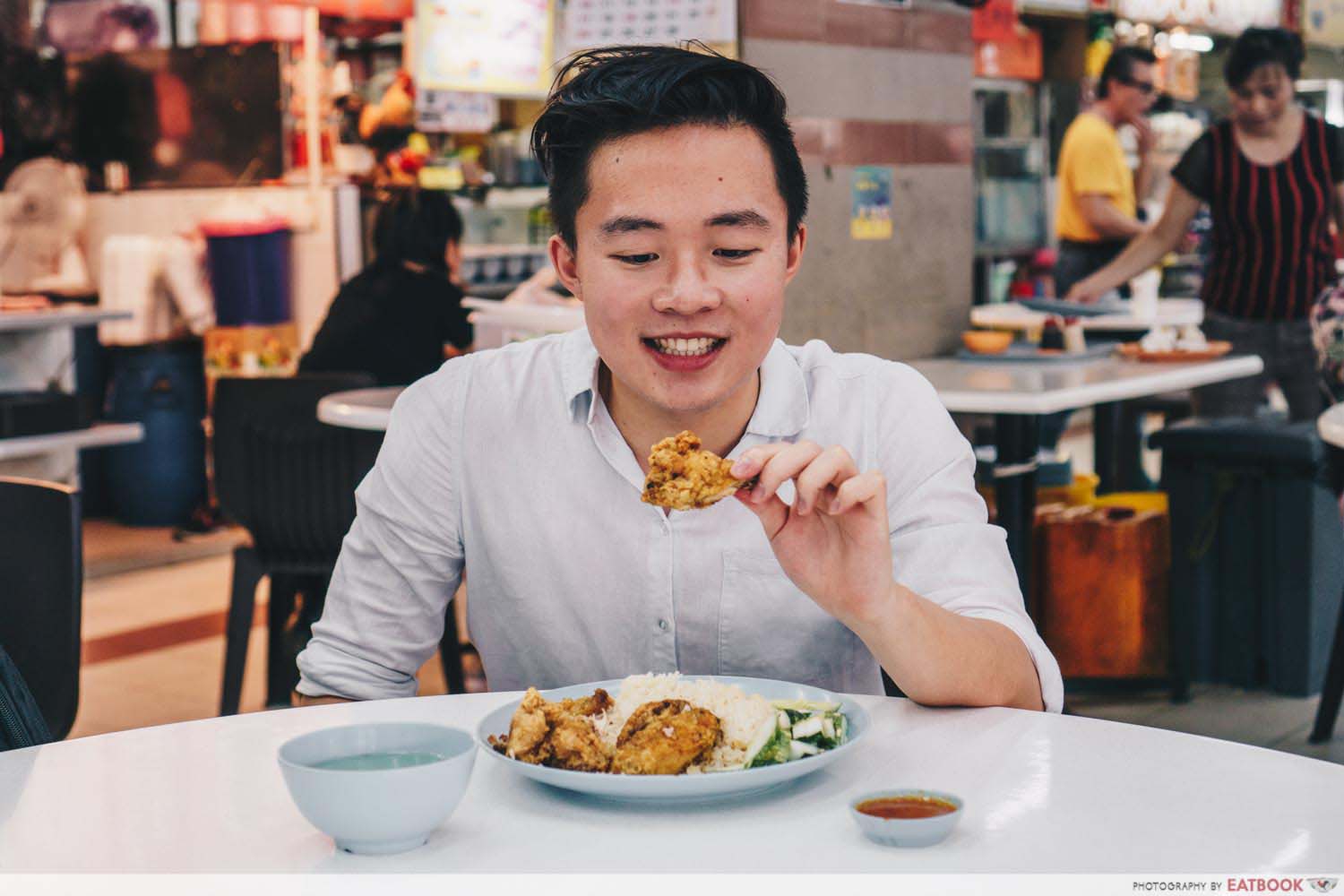 Savouring the last piece, I realised something so unassuming, yet humbling about these wings. They look small and underwhelming, yet pack a huge punch of flavour.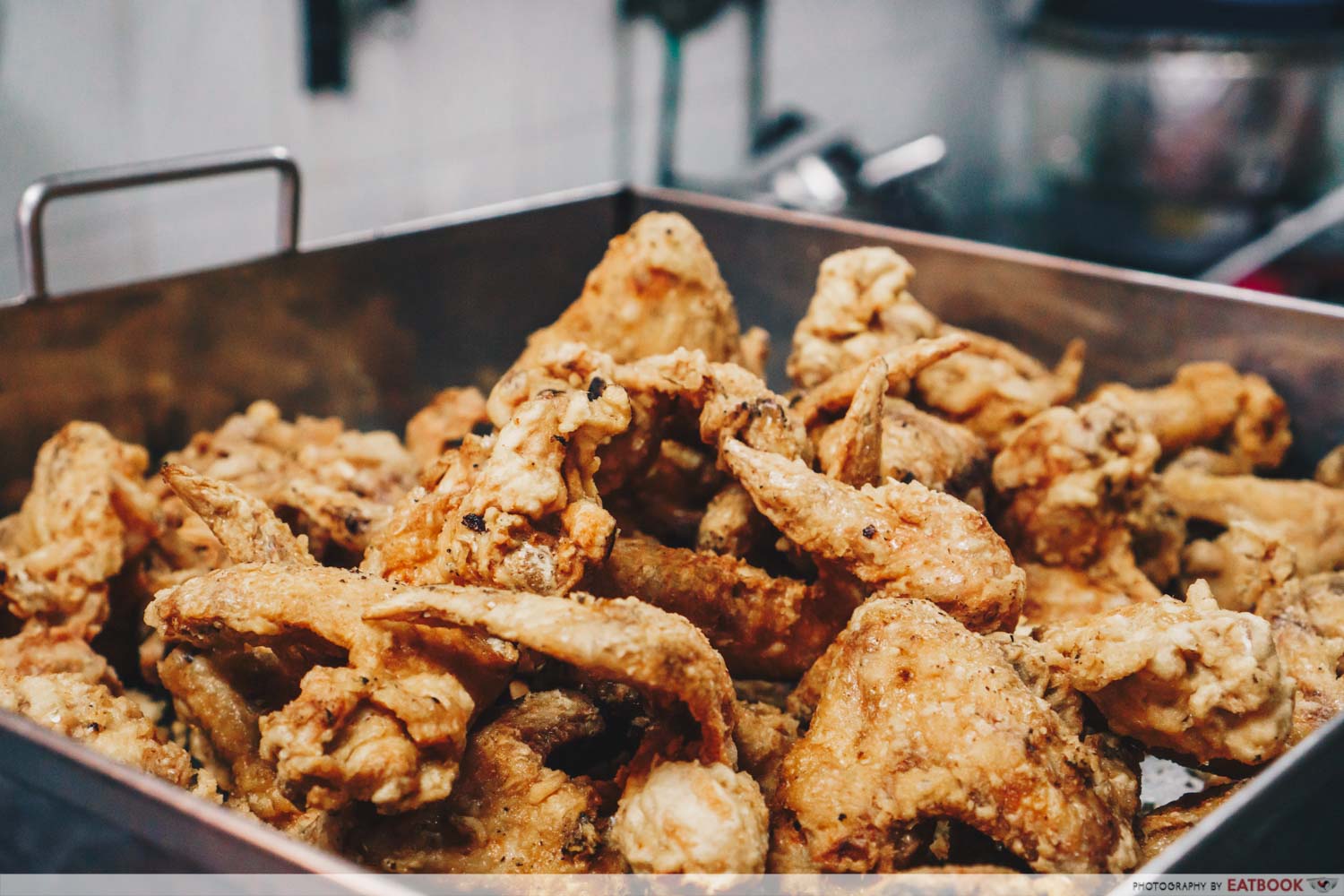 The grandeur of a large franchise may not be present anymore, but that just means its delicious essences has been saturated so much more.
Address: 638 Veerasamy Road, #01-101, Yi He Eating House, Singapore 200638
Opening hours: Daily 11:30am to 8pm
Tel: 6336 6083
Photos taken by Heng Wei Shin.
This is an independent review by Eatbook.sg.
Summary
Pros
– Affordable prices
– Flavourful chicken
– Crispy skin
Cons
– Inconvenient location
– Rice was lacklustre
Recommended dishes:  Fried Chicken Wing Rice ($3)
Opening hours: Daily 11:30am to 8pm
Address: 638 Veerasamy Road, #01-101, Yi He Eating House, Singapore 200638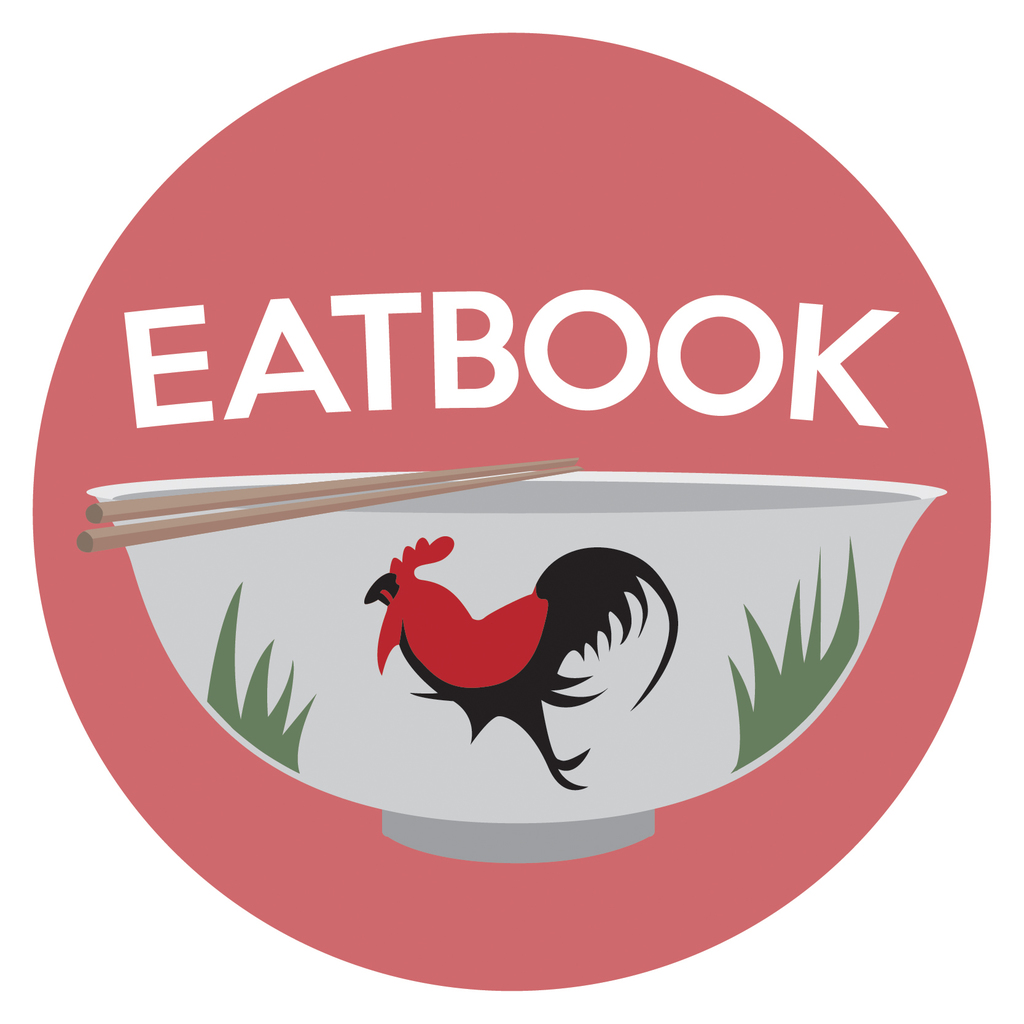 Drop us your email so you won't miss the latest news.