---
Say
mashisoyo
to these Korean restaurants in Jurong East
---
Jurong East constantly surprises me with how fast and how much it has changed. It's hard to believe that just ten years ago, both JEM and Westgate were empty plots of land. Mirroring this dynamic transformation is the growing variety of food choices, with more and more international brands found in the area.
With notable Korean names setting up shop in Jurong East, you can now easily find legit tteokbokki, army stew, and other Korean classics in Jurong East. Bookmark this guide and check out these four Jurong East Korean restaurants the next time you're in the West!
---
1. Nipong Naepong
---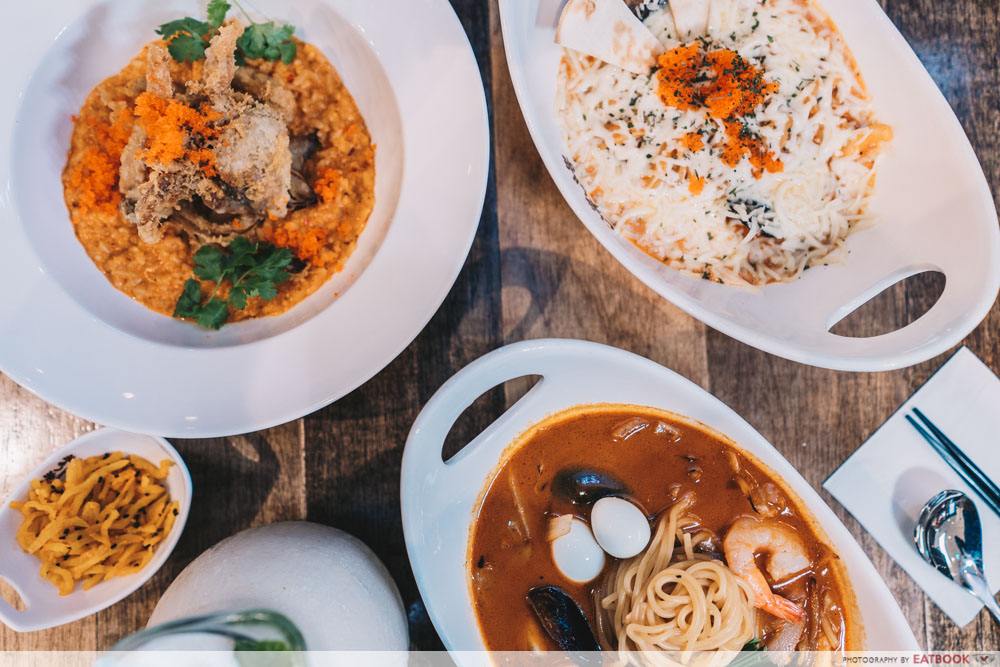 Take a crash course on jjamppong with Nipong Naepong – the only place in Singapore to specialise in Korean spicy seafood noodles. Available in two levels of spiciness, their fiery Cha Ppong ($15.80++) will leave beads of sweat dripping down your forehead. If it's too hot for you to handle, wash the heat away with their Lychee Yoghurt Ade ($7.90++/$12.90++).
With stir-fried vegetables forming the base of their broth, a distinct wok hei perfumes their Cha Ppong as well. Wrapping up this multifaceted stew are their juicy mussels, which add a depth of flavour with their seafood-y sweetness.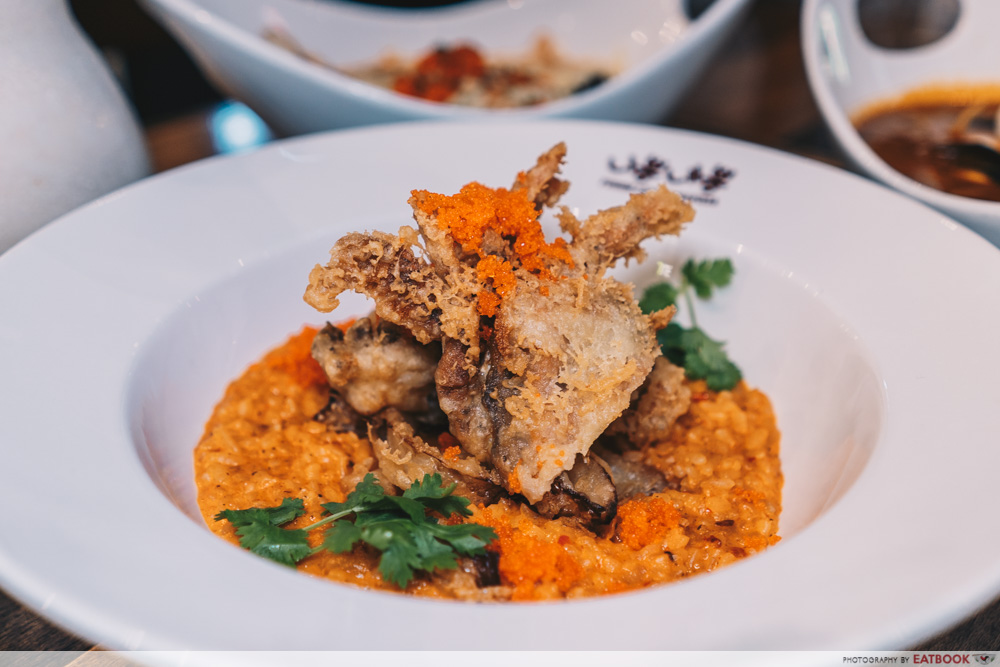 Other than the classic jjamppong, the restaurant also impresses with fusion creations, such as their Vongole Ppong ($16.80++) and She's Risotto ($14.80++). Compared to most risottos, their rendition is less creamy, which highlights the sweet and tangy tomato base. The crowning glory is their fried soft shell crab, which is crunchy, savoury, and well-drained of oil.
Check out our full review of Nipong Naepong here!
Address: 50 Jurong Gateway Road, #01-16, Jem, Singapore 608549
Opening hours: Sun-Thur 11am to 10pm, Fri-Sat 11am to 11pm
Tel: 6816 8061
Website
---
2. Chir Chir
---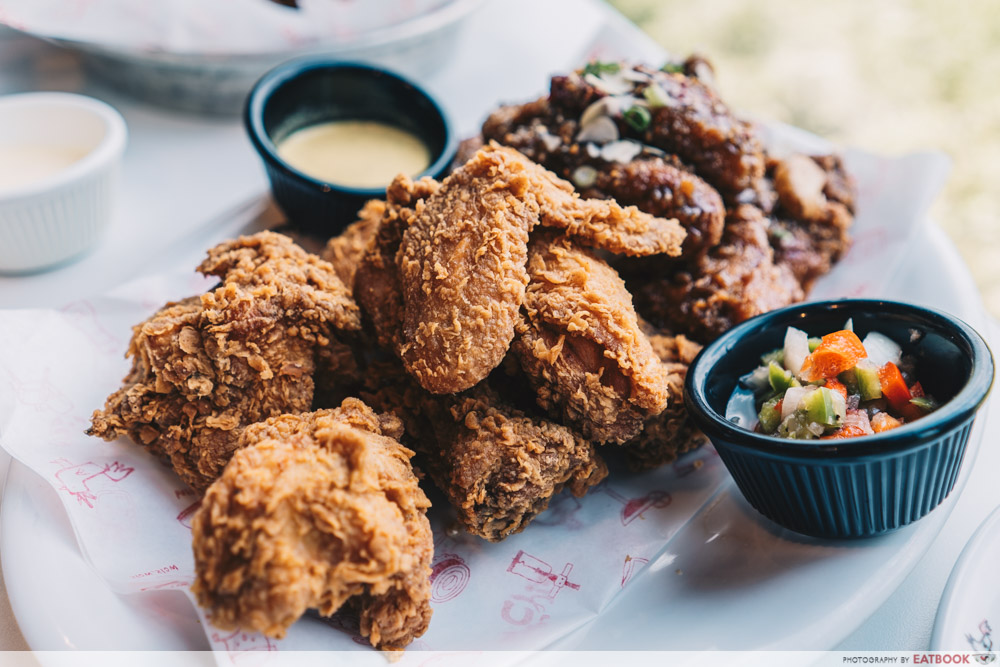 Rally your friends for a round of chimaek – also known as fried chicken and beer – at Chir Chir after an exhausting day! Their OG Crispy Fried Chicken ($26.90++) truly lives up to its name, as every bite unfurls with an emphatic crunch. The honey mustard dip completes the dish, cleansing my palate of the rich flavours of the meat.
To get a good bang for your buck, top up $2++ and change half of your serving to either Garlicky Chicken ($28.90++) or Spicy Chicken ($28.90++)!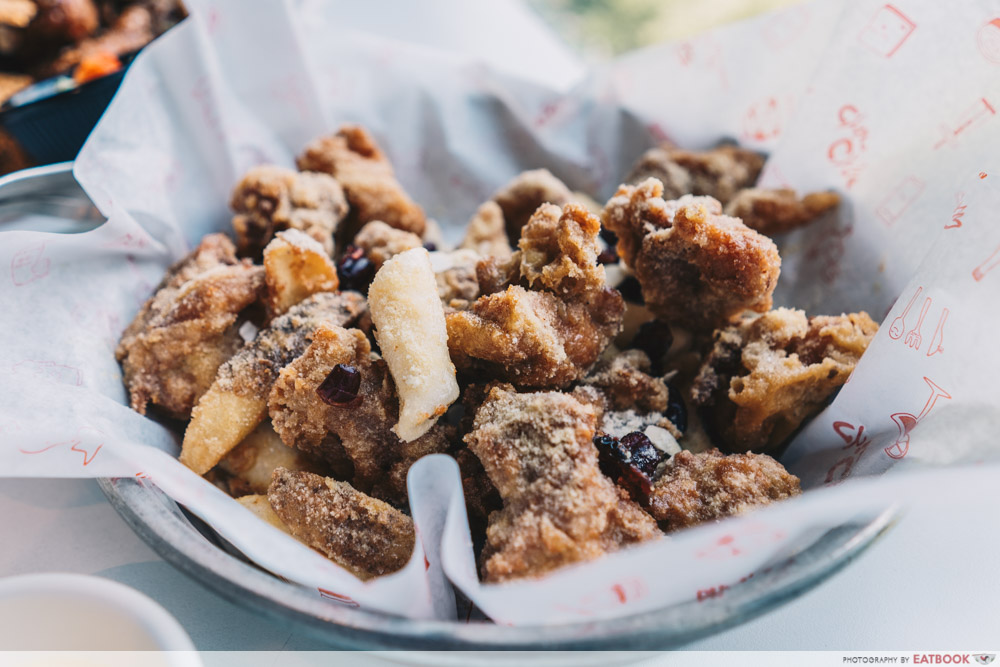 Worth checking out as well is their Honey Butter Chicken ($28.90++). The sauce elevates the savoury meat with its caramelised accents while the cranberries lend fruity tones to the meat. I also love that tteokbokki are tossed into this mix, as they complement the juicy chicken with their chewiness.
Address: 50 Jurong Gateway Road, #04-13/14, Singapore 608549
Opening hours: Sun-Thur 11am to 10pm, Fri-Sat 11am to 11pm
Tel: 6538 1069
Website
---
3. NY Night Market
---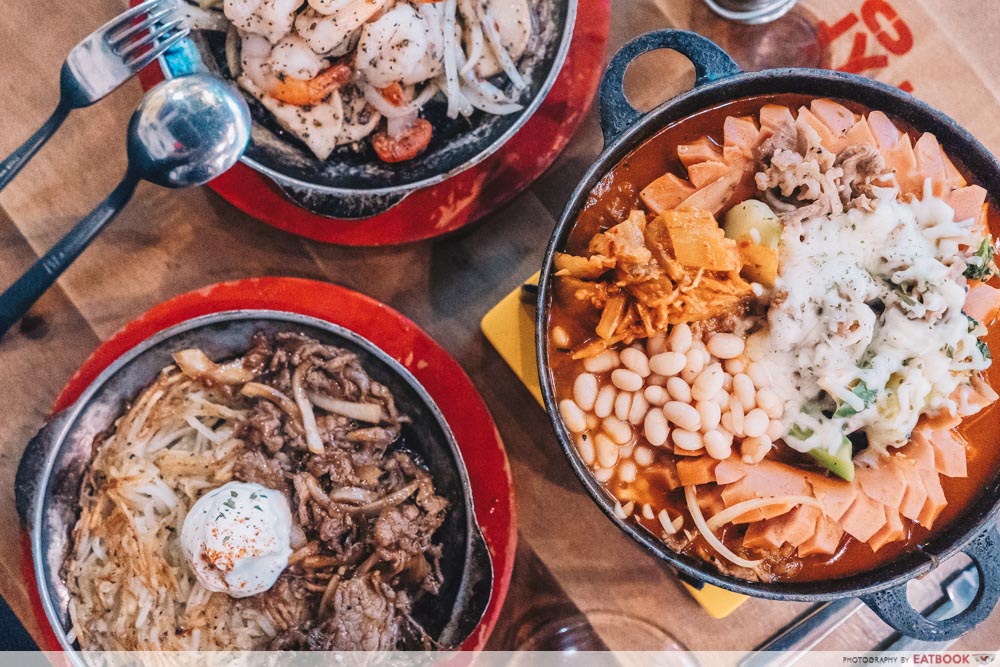 The selection at NY Night Market is ideal for groups, making this cosy bistro a great place to relax with your friends. And with dishes ranging from Korean fusion to Tex-Mex, there's sure to be something for everyone.
A treat worthy of both the 'gram and belly, their Waterfall Shrimp ($13.90++) features stir-fried shrimps lathered in a gorgeous cheese fondue. Prepared from a blend of mozzarella and emmental cheese, their sauce supplies a gentle creaminess that pairs nicely with the peppery shrimps.
You can't talk about Korean food without mentioning Budaejjigae ($17.90++), and what sets their army stew apart is the addition of jumbo pork sausage. Plump and succulent, it gives the stew a tinge of savouriness. Building upon this foundation is their bulgogi beef, which bolsters the robust broth with its rich flavour. The soup also carries a comfortable sourness, as kimchi is balanced by this savoury medley.
Address: 3 Gateway Drive, #01-08, Westgate, Singapore 608532
Opening hours: Mon-Fri 11am to 10pm, Sat-Sun 11am to 11pm
Tel: 6816 1018
Website
---
4. Masizzim
---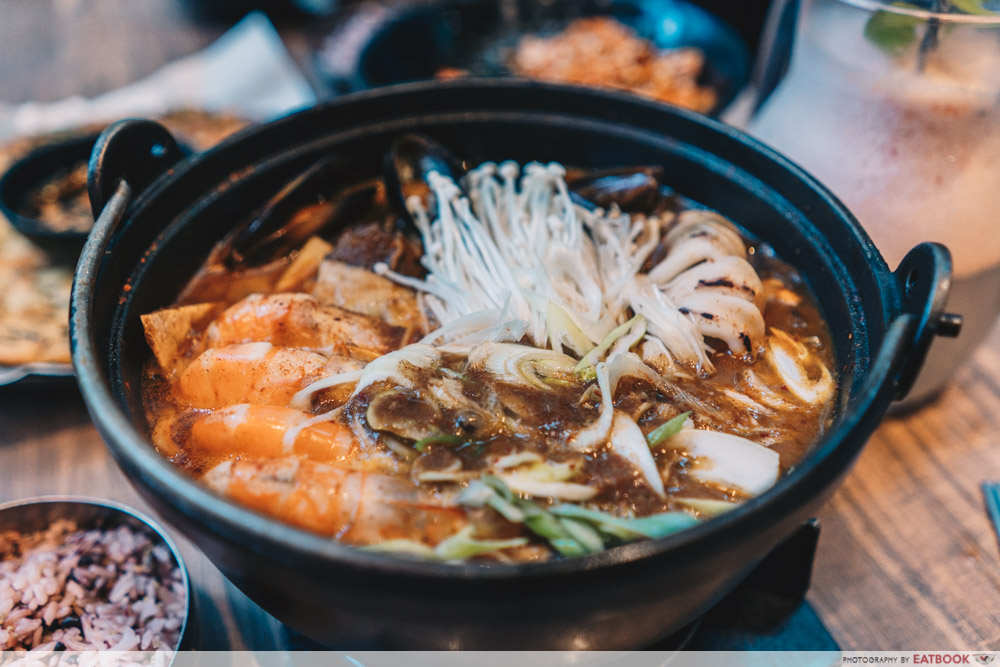 Masizzim roughly translates to "delicious stews" and that's exactly what the restaurant offers with their Spicy Seafood Beef Stew ($38.80++). The broth is slow-cooked for more than six hours to ensure the luscious tenderness of their beef ribs. This also teases out the essence of the ribs, which then melds with the sweet tang of seafood and piquant accents of gochujang, creating a flavoursome stew.
With a free topping of either udon or glass noodles, there's plenty of carbs to go around as well. We recommend choosing the latter for their unique chewy and bouncy texture.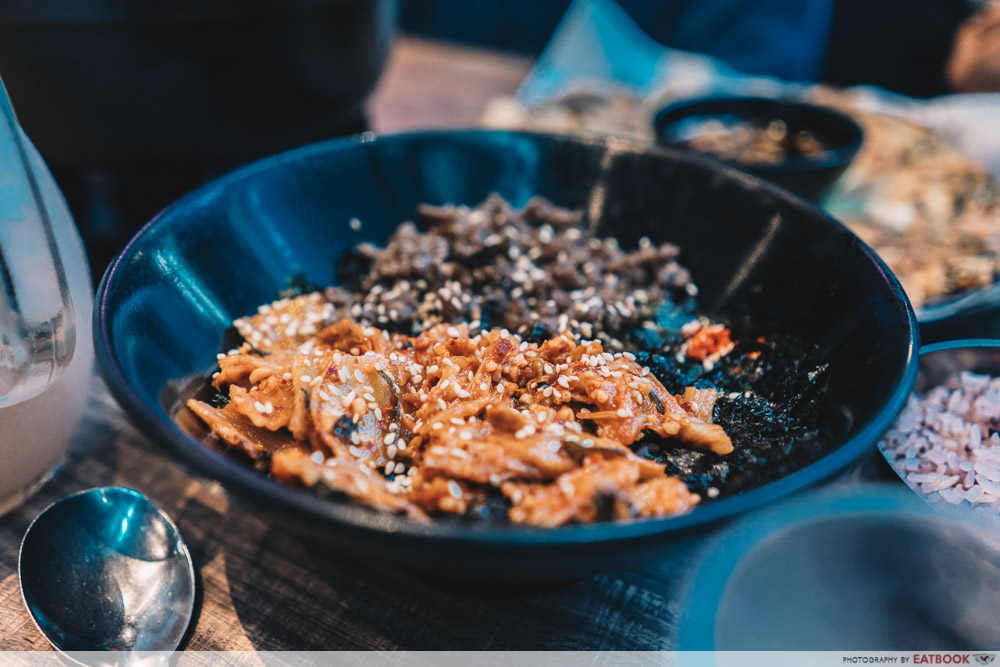 As they are preparing the stew, feel free to pass time by making your own Rice Ball. Spoiler alert – it's a pretty messy affair; brace yourself for rice grains popping onto your shirt. That being said, this DIY experience is inexplicably satisfying and makes their rice balls a whole lot tastier.
You can choose from four toppings, all of which are equally impressive. We especially love their Bulgogi Pork($9++), which adds depth to the mixture with its honeyed and savoury tang.
Address: 3 Gateway Drive, #01-07, Westgate, Singapore 608532
Opening hours: Sun-Thur 11am to 10pm, Fri-Sat 11am to 11pm
Tel: 6509 5808
Website
---
Bonus: Gangnam Kitchen
---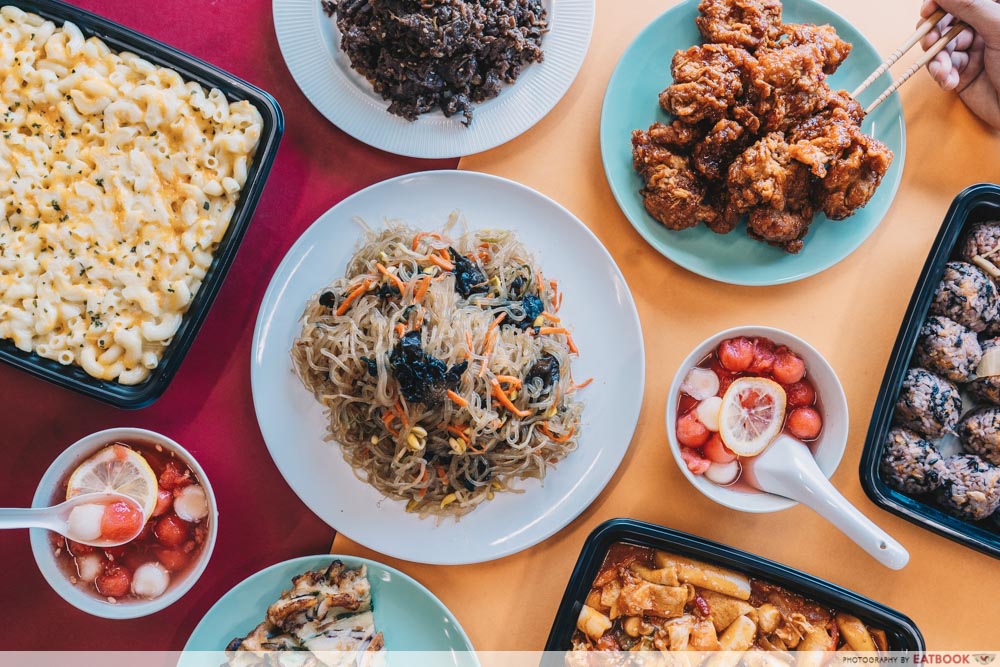 If Jurong East is simply too far for you, satisfy your Korean cravings with the takeaway buffet from Gangnam Kitchen instead! Factoring in the delivery charge, their buffet for 10 hungry diners is still reasonably priced at $10.25 per person. Each set entitles you to eight dishes, including two rice or noodle dishes, two meat, two specialities, one vegetable, a dessert, and a drink.
What I love most about Gangnam Kitchen is their generous portions, with mains such as Mixed Vegetables Chap Chae and Mac & Cheese easily feeding thirteen to fifteen people!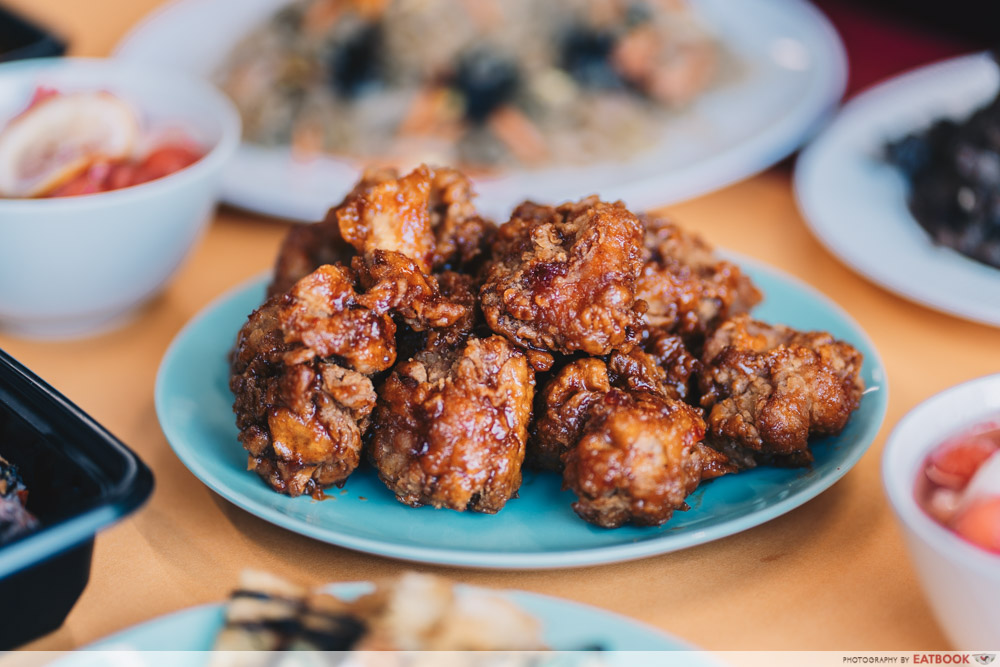 Now onto the star of the show: their Spicy Honey Chicken Tenders. Laced with a sweet and mildly spicy zing, their fried chicken tastes just like those found along the streets of Myeongdong and Dongdaemun. Their tenders offer a pleasant duality of textures, as the crackling crust that complements the juicy meat. Furthermore, the batter isn't too thick or greasy, so you can wolf it all down without feeling bloated.
Delivery hours: Daily 10am to 6:30pm
Tel: 8786 8988
Website
Menu
---
Jurong East is a mini K-town now
---
Other than Tanjong Pagar and Bukit Timah, Jurong East is a superb place to consider the next time you're hankering for delicious Korean nosh. And as Jem and Westgate are both conveniently located beside Jurong East MRT station, they are pretty accessible, even if you don't live in the West.
This post is brought to you by K Food Holdings.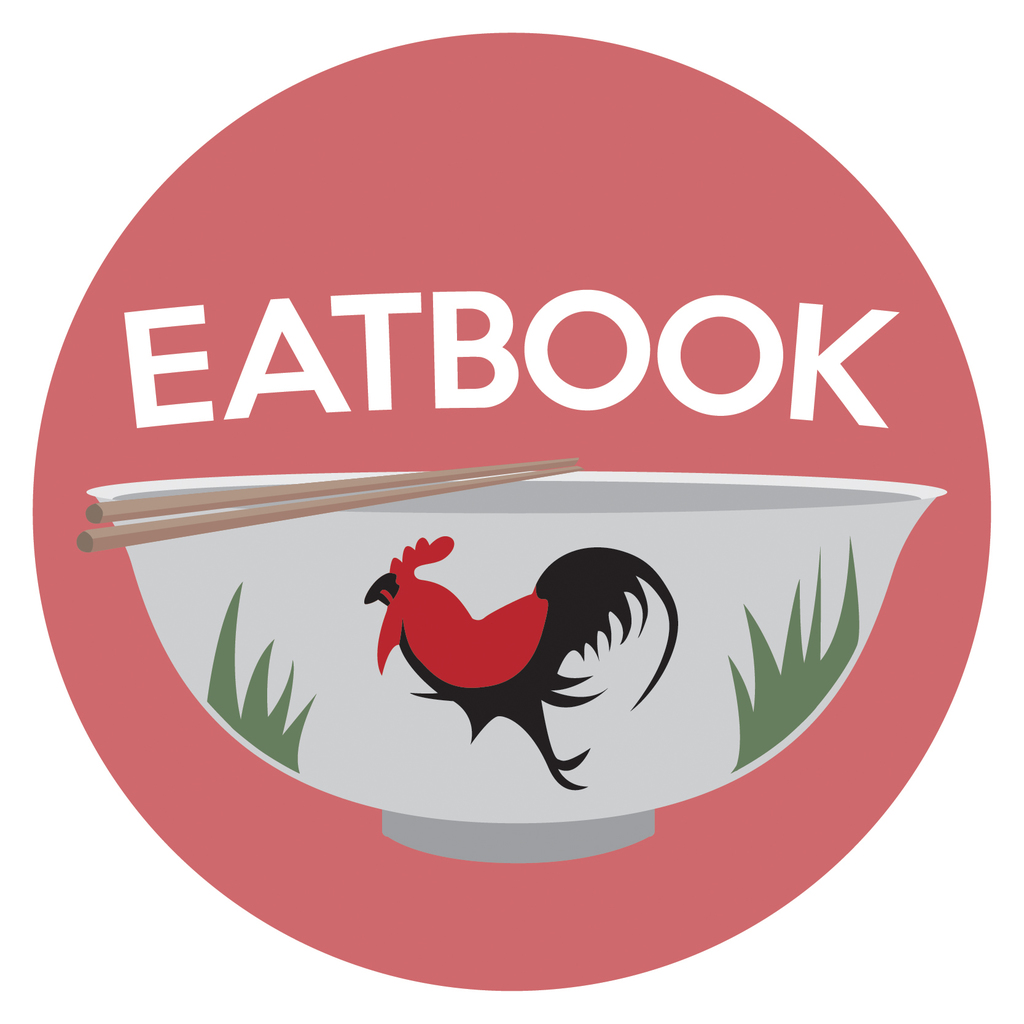 Drop us your email so you won't miss the latest news.