Nipong Naepong is here at JEM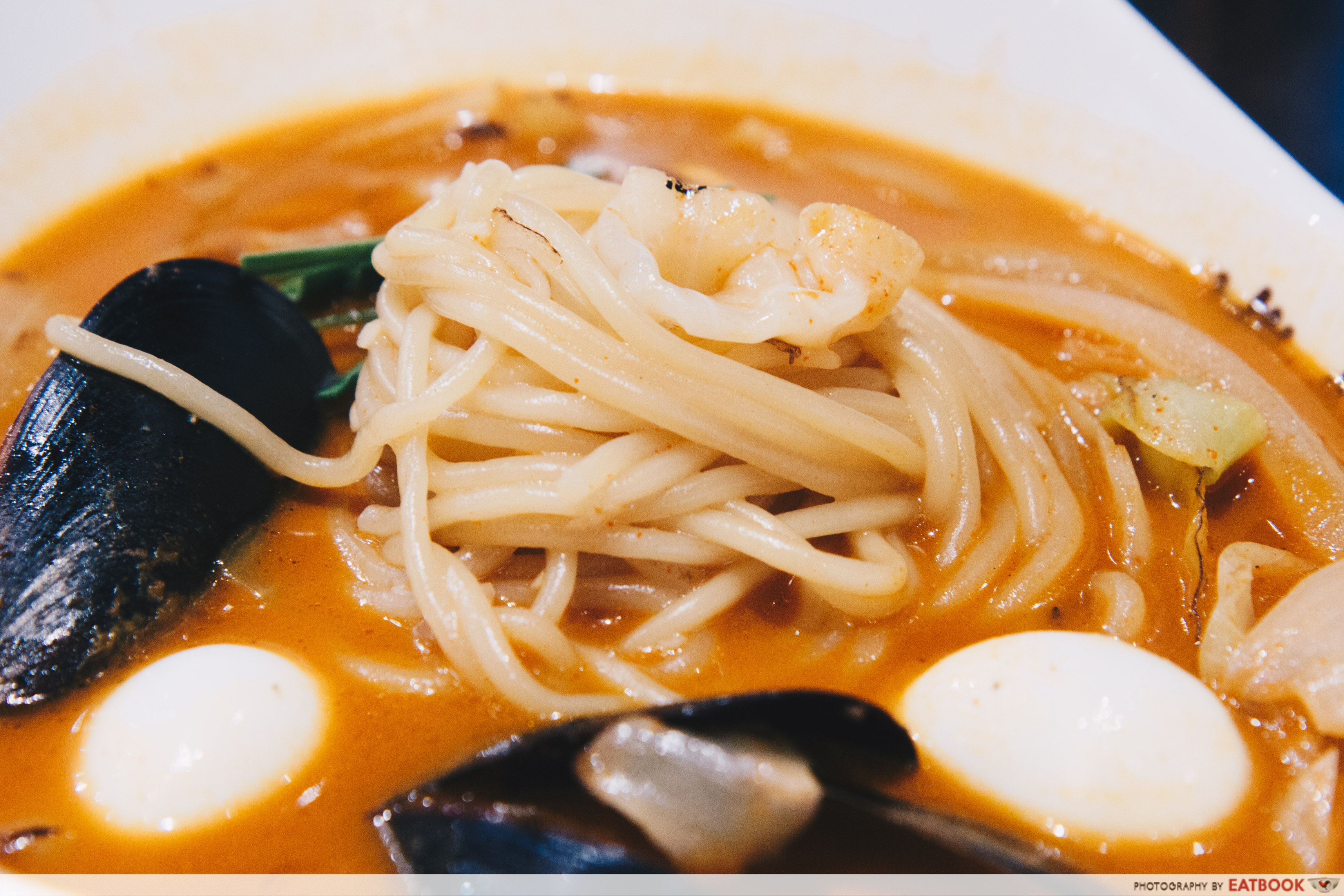 Before Nipong Naepong, I'd never heard of jjamppong. I sheepishly kept mum during an enthusiastic discussion among my excited colleagues about the restaurant's opening, for fear of sounding like a noob. For those of you as clueless as I was, jjamppong is a beloved Chinese-Korean seafood noodle dish that's commonly served spicy. At Nipong Naepong, the specially manufactured noodles come in nine unique fusion flavours and styles, from stir-fry to soup and cream-based dishes. They also serve other Korean-inspired creations.
Food at Nipong Naepong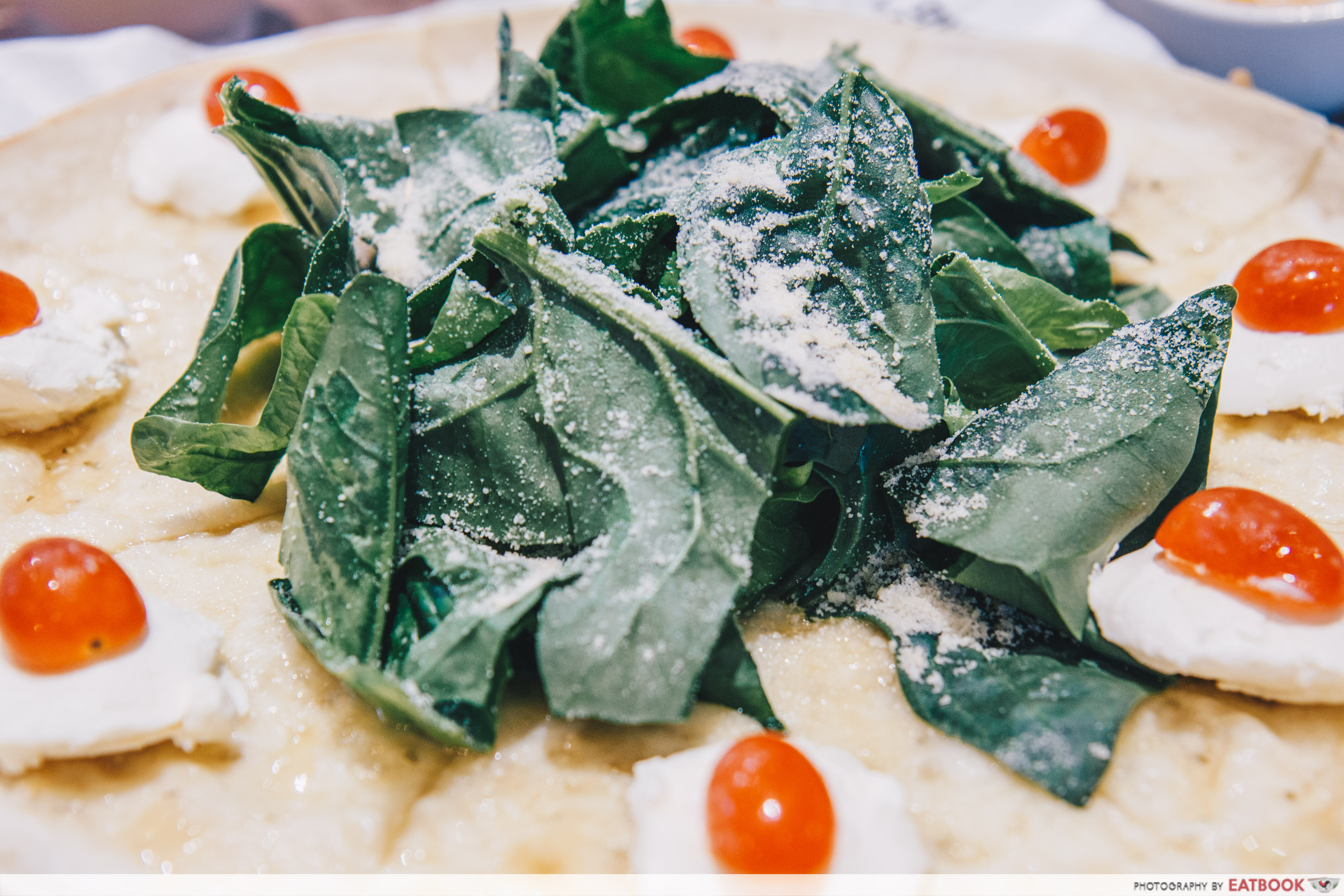 The first dish that arrived to our table was the Ninae Pizza-Spinach ($18.80++). The pizzas at Nipong Naepong are a little different from regular Italian pizzas, as none of them come slathered in tomato sauce. Instead, raw spinach leaves piled high in the centre, atop a baked tortilla wrap that's blanketed in mozzarella and drizzled with honey. Grated parmesan cheese was sprinkled over the greens for a salty flavour, and spoonfuls of cream cheese dotted with cherry tomatoes decorated the edges.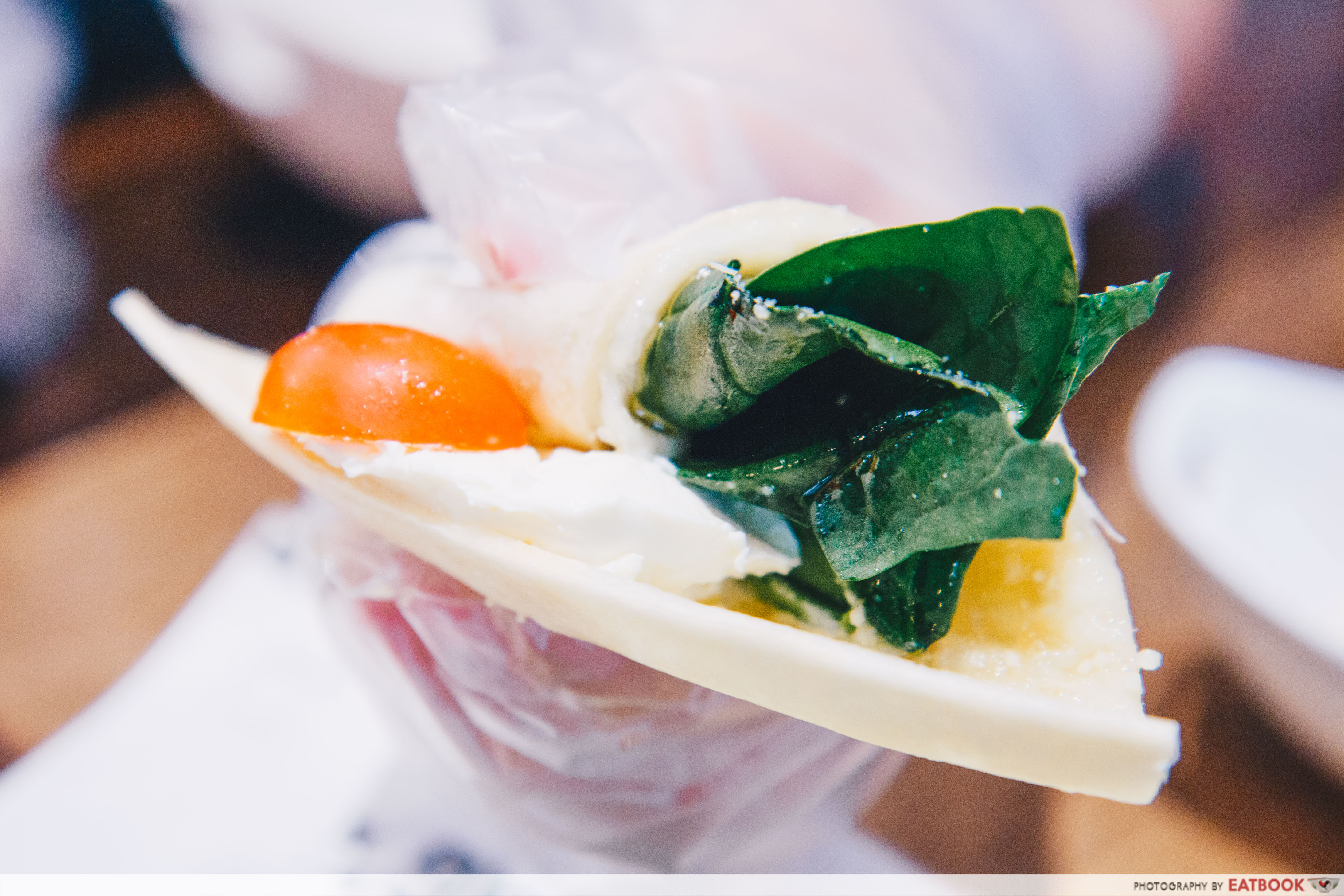 As eating the pizza would get our hands dirty, we were given plastic gloves to wear. We were also taught the best way to savour the pizza: take a slice and roll it up, before dunking it into a cup of house-made whipped cream.
There was a really good blend of flavours in each bite, from the mildly bitter leaves to the syrupy sweet honey. The cream cheese was quite jelak, but as the cherry tomatoes burst with juice in my mouth, it cut through the richness as well as lent some much-needed moisture to the roll.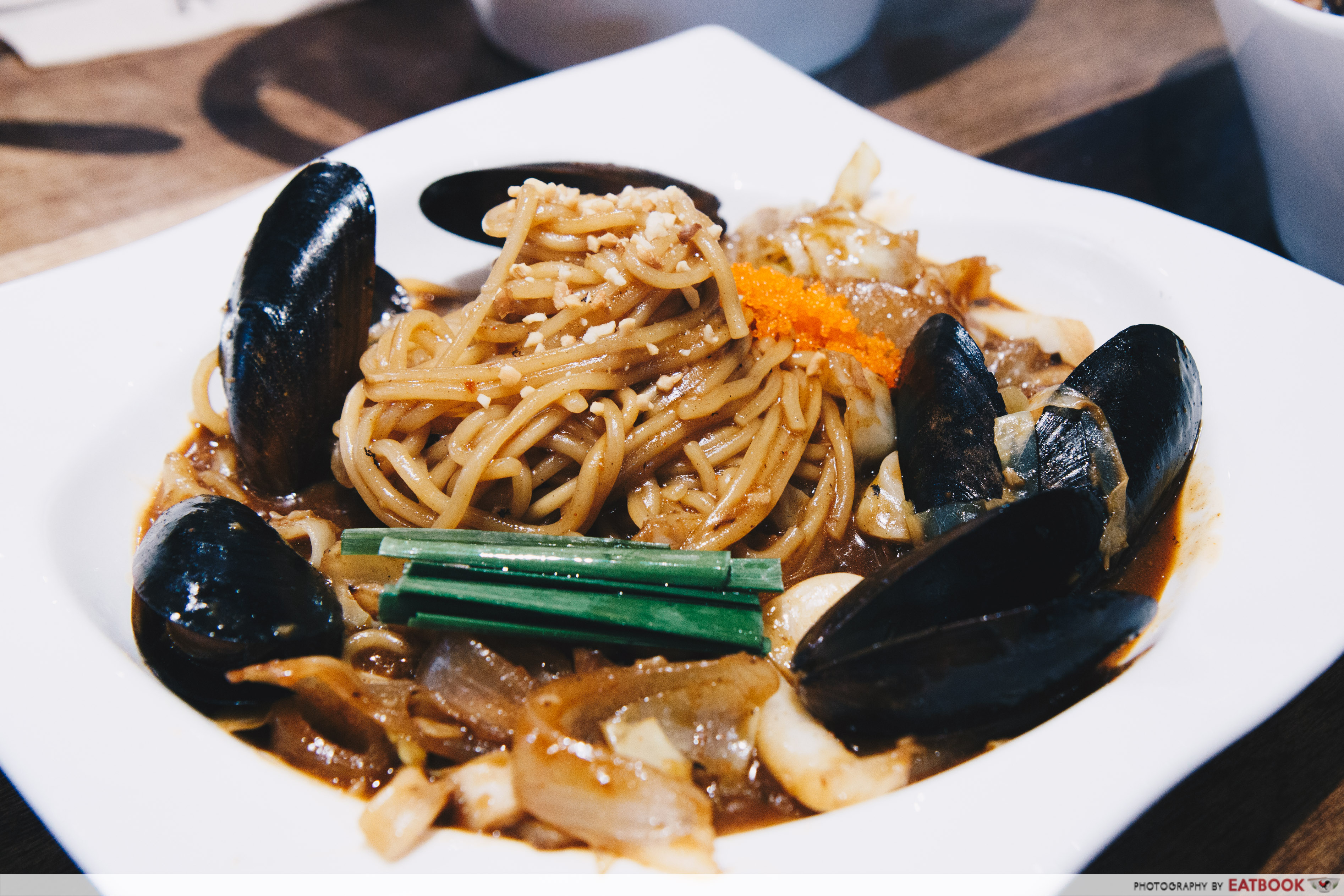 We were subsequently bombarded with three different jjamppong dishes at one go. We dug into the Tae Ppong ($15.80++) first, as it was not soup-based and was likely to dry out the fastest. The swirl of noodles came garnished with tobiko and sesame seeds. Onions, cabbage, and seafood such as mussels and squid were also thrown into the mix.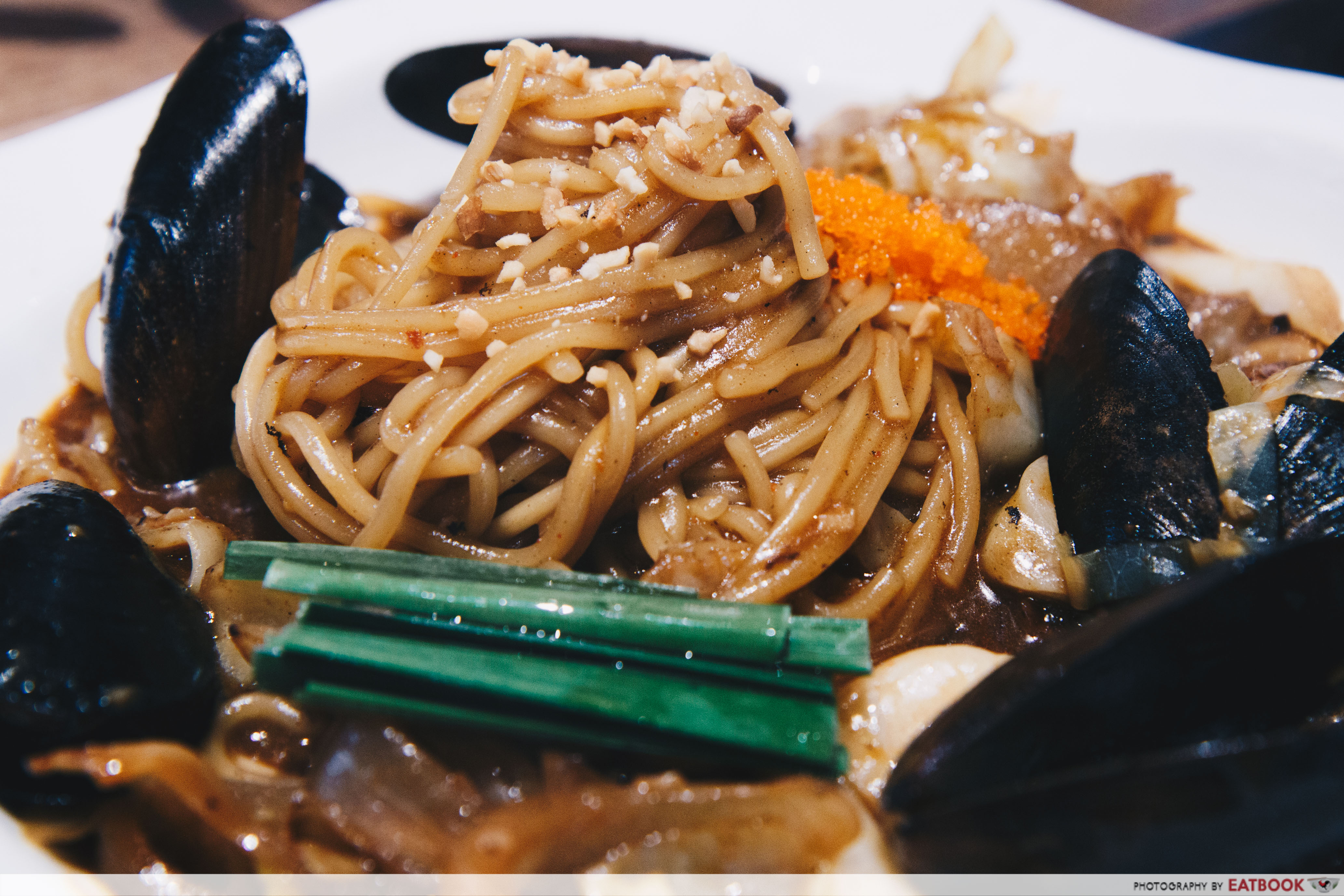 The stir-fry noodles were inspired by phad thai, although they tasted more like chao mian (Chinese stir-fried noodles) to me, with a strong wok hei fragrance. The sauce was thick and spicy, and balanced out with a slight sweetness. I found the mussels soft and succulent but didn't quite feel the same for the squid, which was hard and rubbery.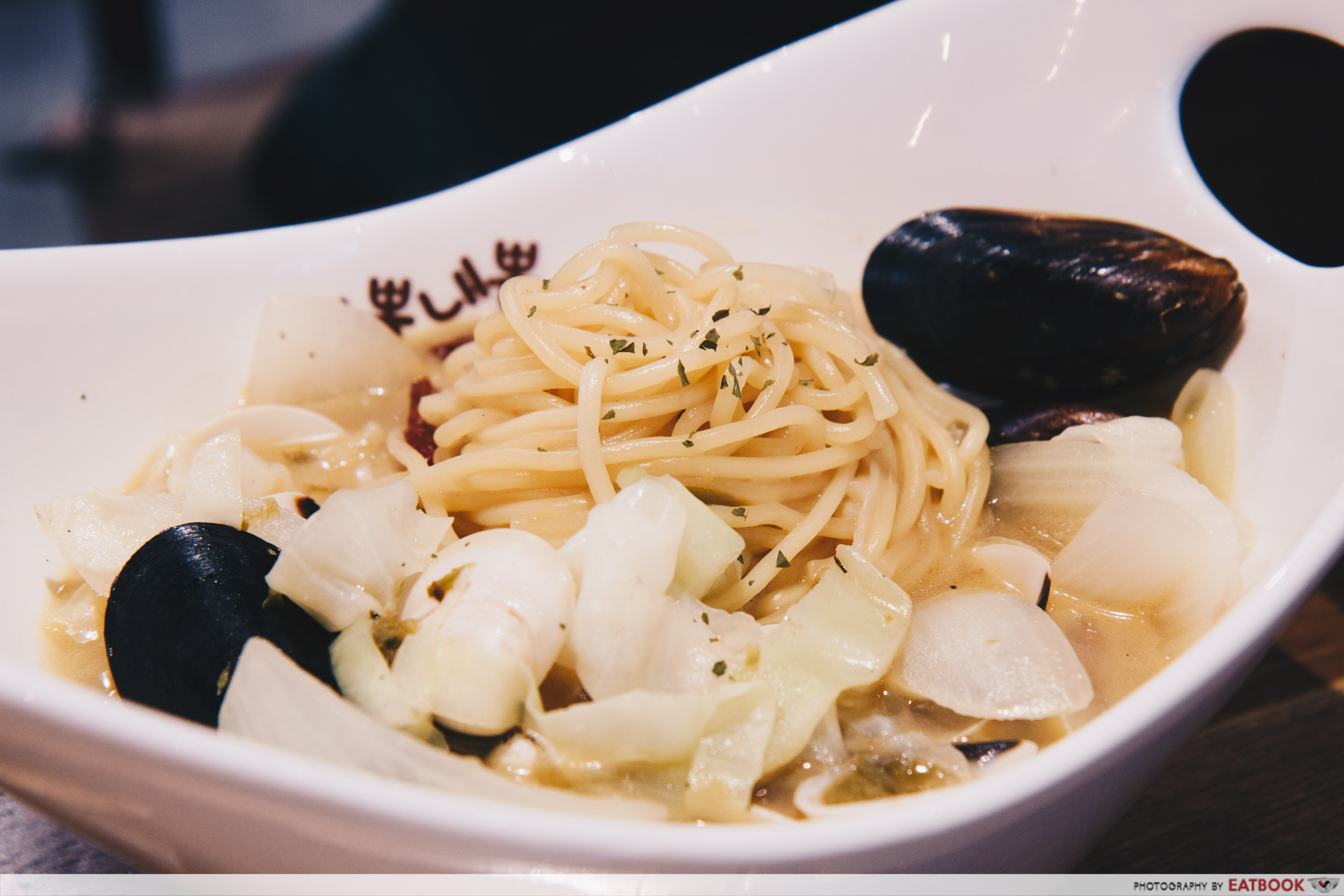 I gotta say, I was most excited to try the Vongole Ppong ($16.80++). The addition of white wine, prawns, mussels and clams to this Italian fusion dish was a sure promise to bring out as much flavour as possible in the meal.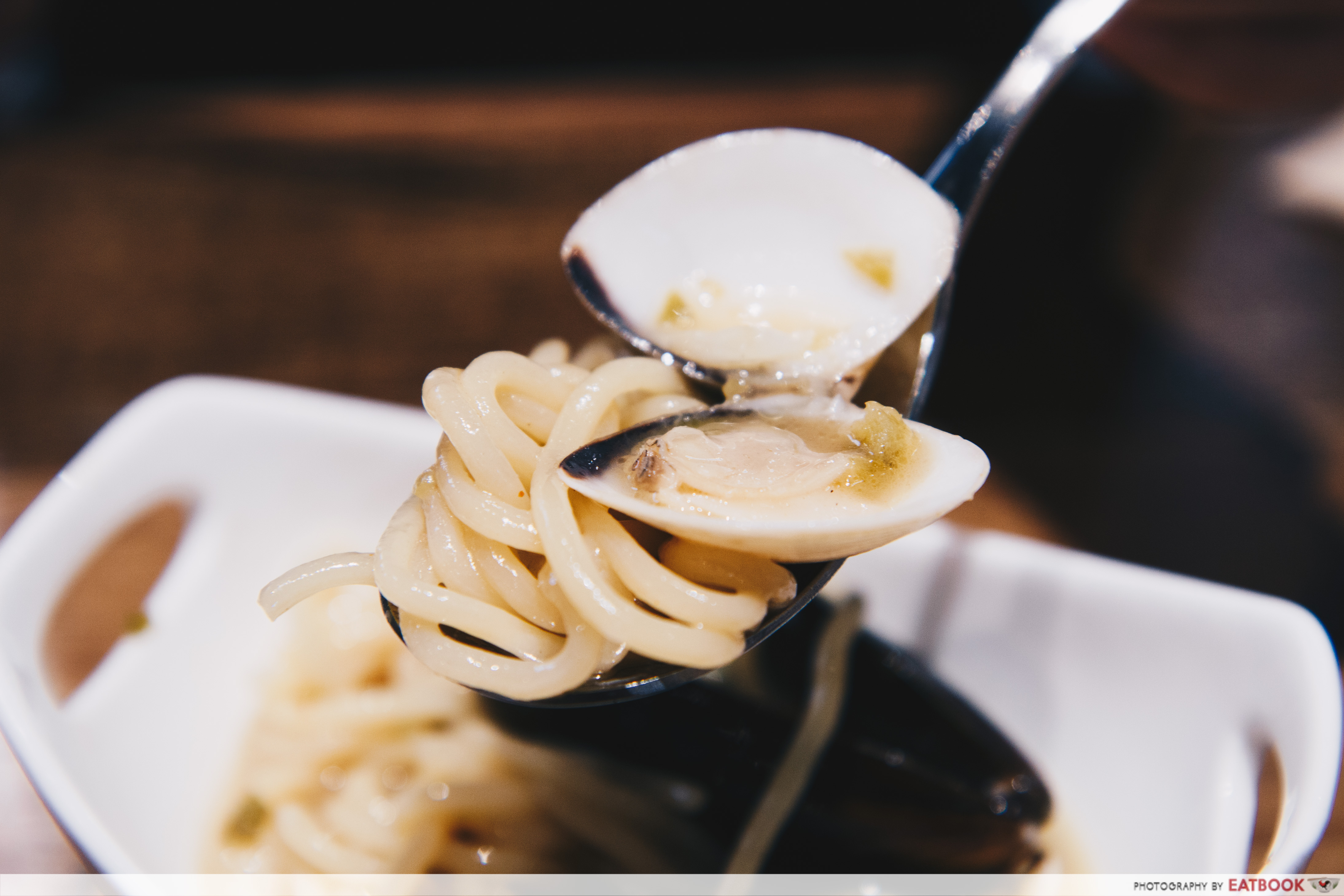 And my hunch was right. This was easily my favourite jjamppong of the lot. The clams and wine played a big part in enhancing the dish's aroma. I also enjoyed how chewy the clams were and the smoky aftertaste the white wine delivered to the broth. I can foresee myself ordering this dish over and over again.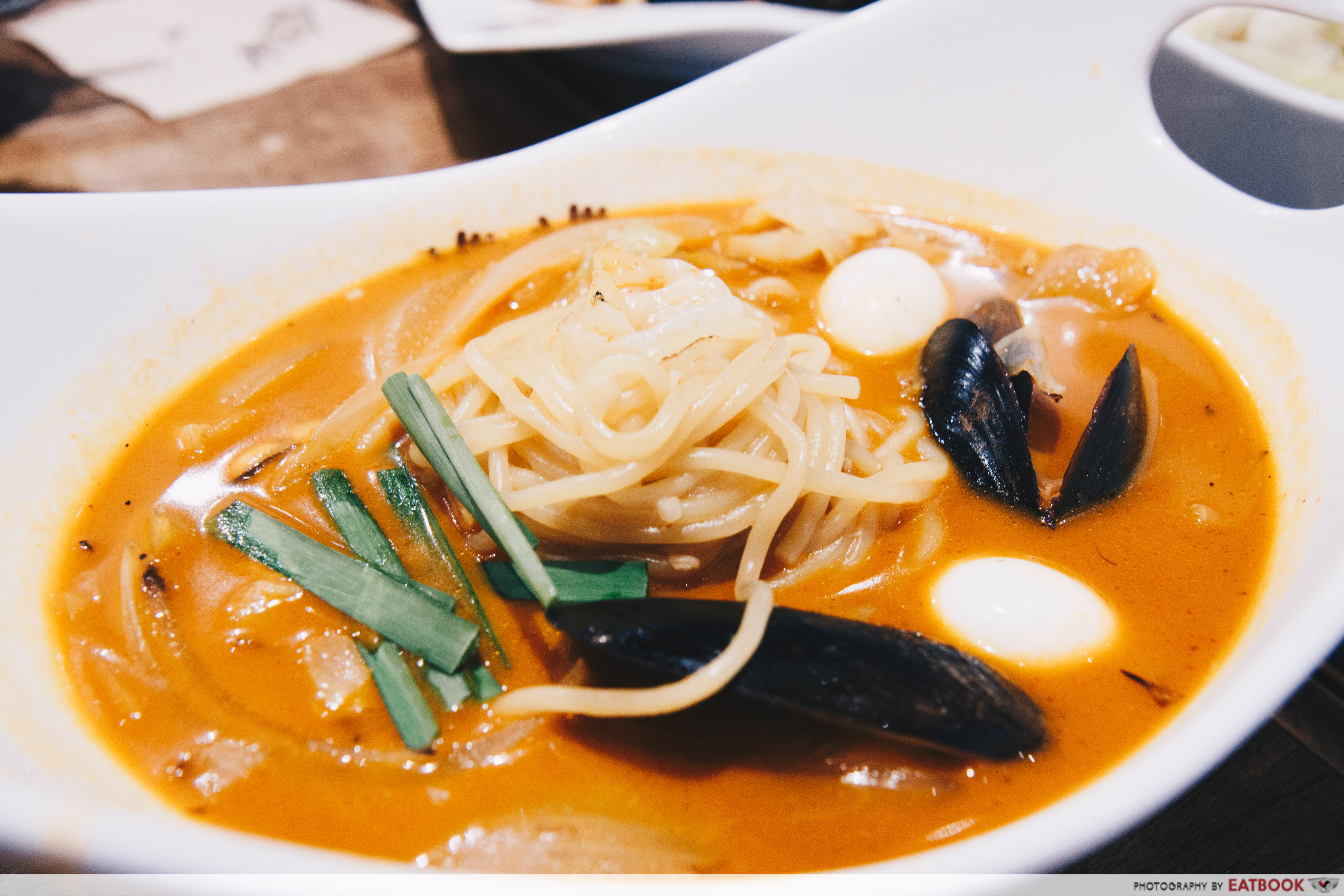 Alas, before the next set of jjamppong dishes were brought in, we tried the Cha Ppong ($15.80++). It is a plate of Korean-Chinese seafood noodles and also one of the cheapest items on the menu. The soup base was thicker and much more spicy. You can actually select your spice level out of two, and we decided to begin cautiously with level one. I like to pride myself for my decent spice tolerance, but my taste buds slowly began to fail me, and I was forced to suck in little breaths of cool air mid-meal.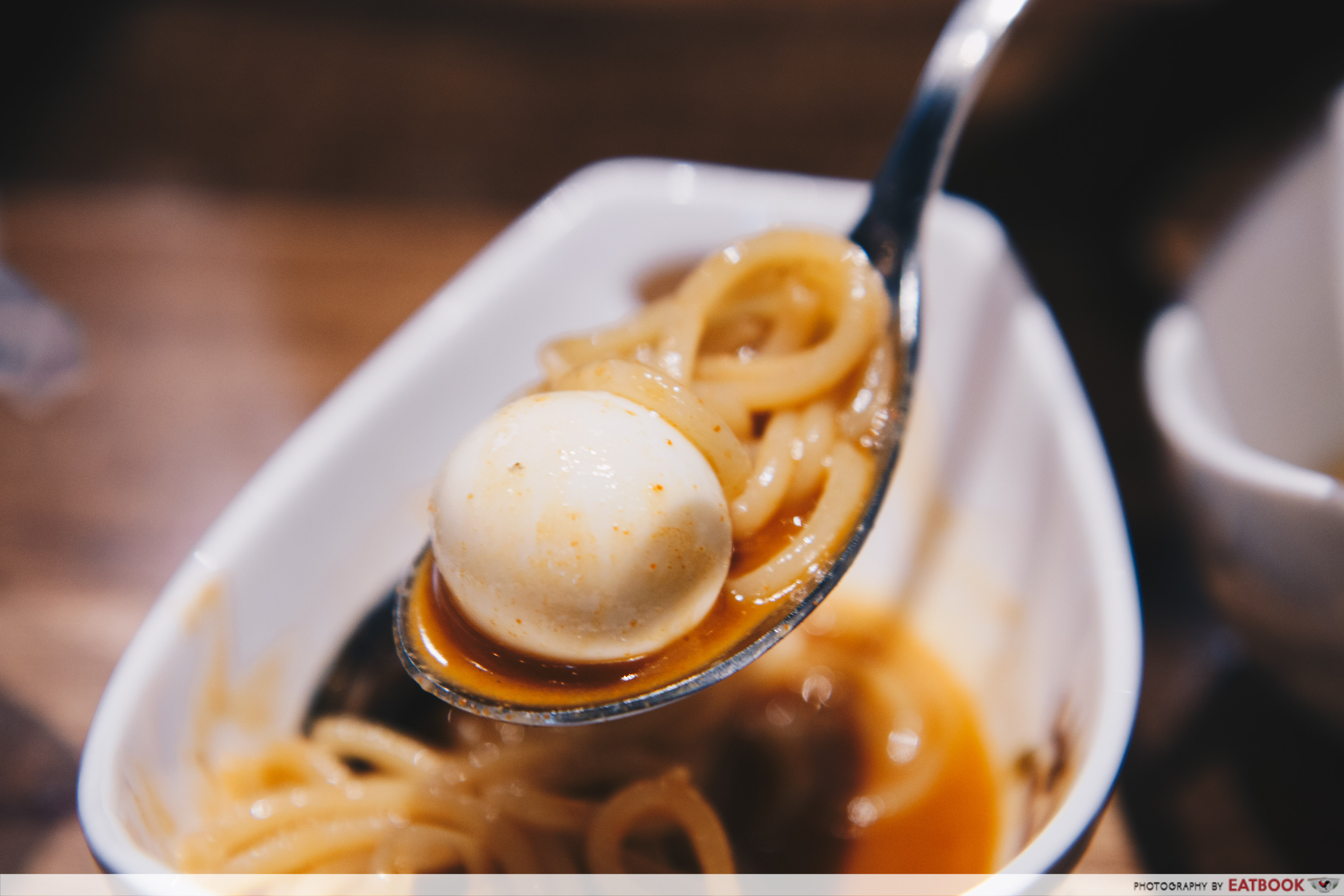 Apart from mussels, cabbage, squid and prawns, quail eggs were also included. I loved how soft and well-boiled the eggs were. They weren't overcooked and hard like I'd feared.The yolk was even a little moist. Anyway, this fiery bowl was almost as tasty as the Vongole Ppong, but lacked a strong seafood essence.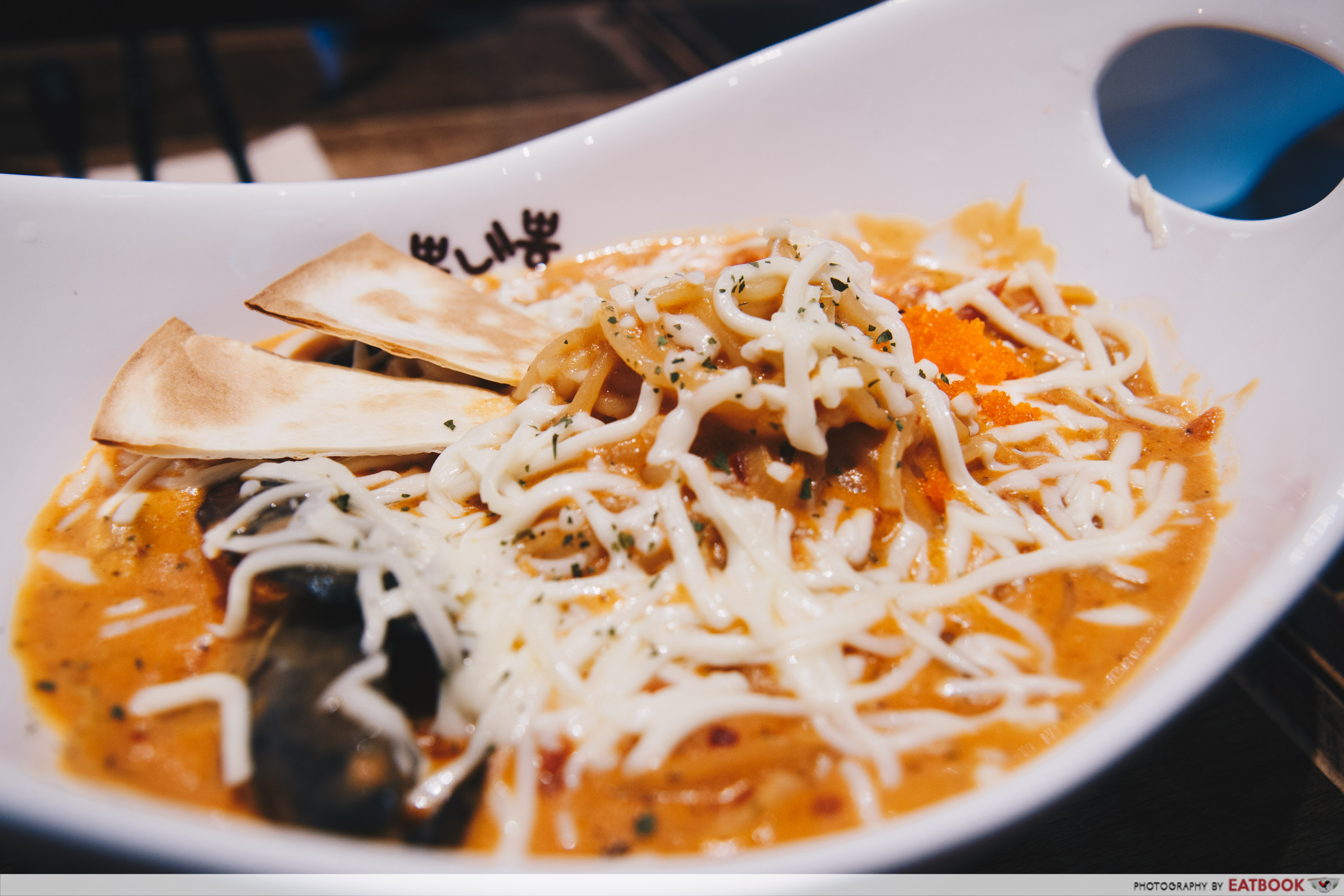 By the time the cream-based noodles were served, we were all patting our round bellies and basking in the dull buzz commonly associated with food coma. I felt like a frail old lady, my fingers weak from the overdose of good food, as I raised a spoonful of Ro Ppong-Roje ($17.80++) to my mouth. I was getting too full, but it would simply be a pity to miss out on that criss-cross of cheesy goodness! The presentation was complete with the insertion of two triangular slices of tortilla into the noodles.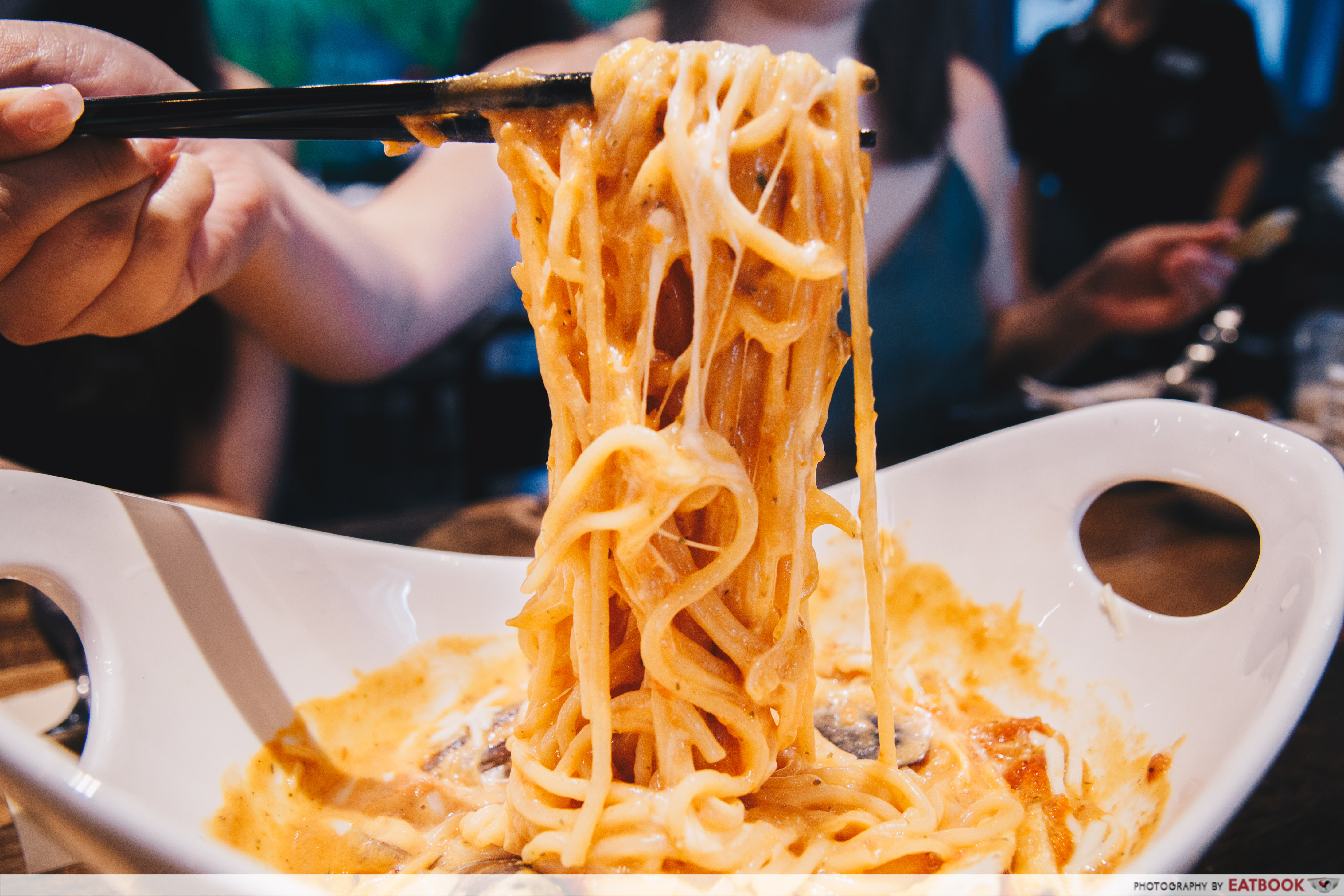 The rich tomato-based cream sauce complemented the melted mozzarella like a pizza.  Well, a seafood pizza, to be more precise. Get this if you're a cheesy pasta lover. Fair warning though, this dish will fill you up really fast.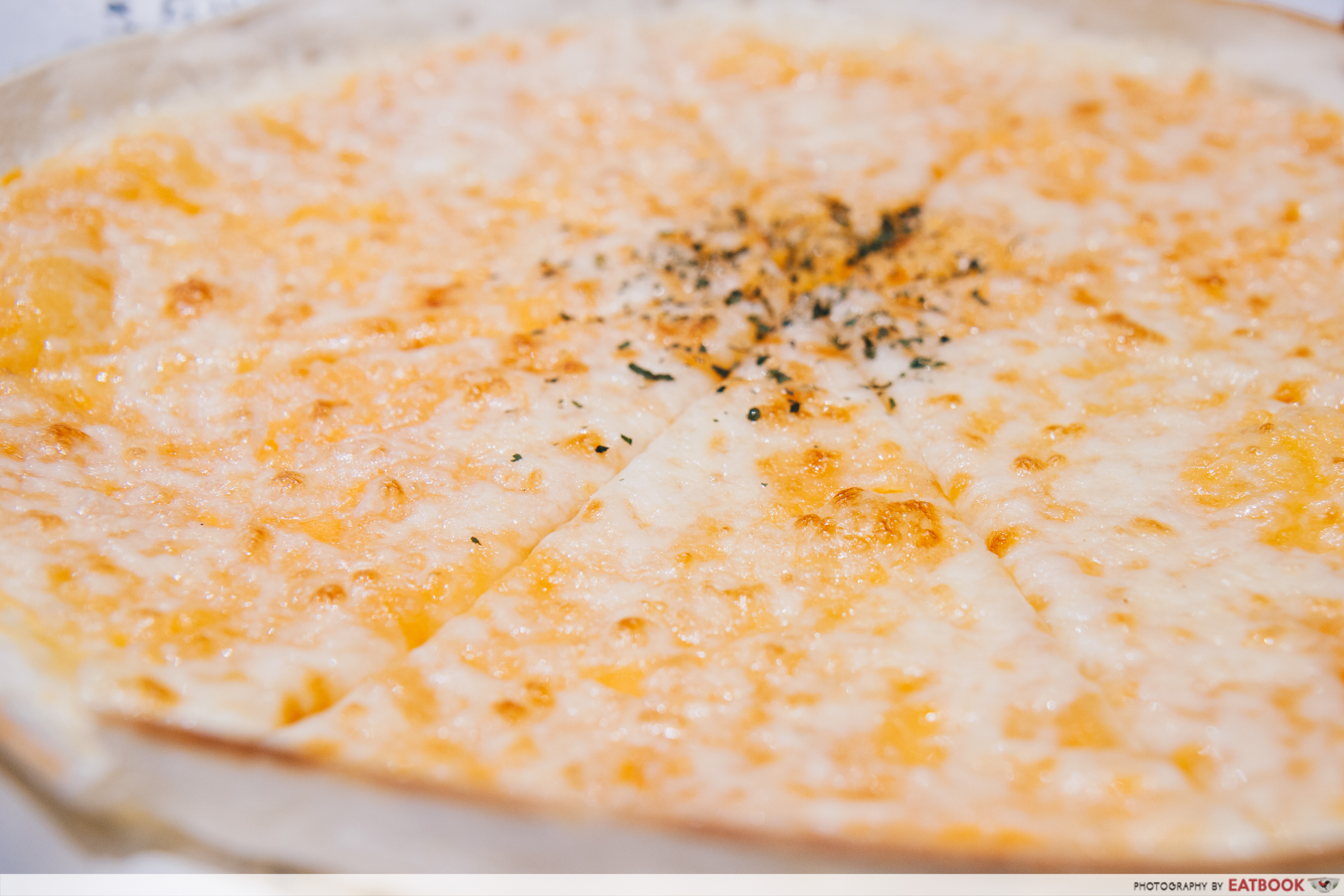 Finally, dessert came in the form of the Ni Pizza-Sweet Potato ($16.80++). This pizza is said to be a popular choice among customers. The thin pizza crust came topped with sweet potato puree and hot gooey cheese.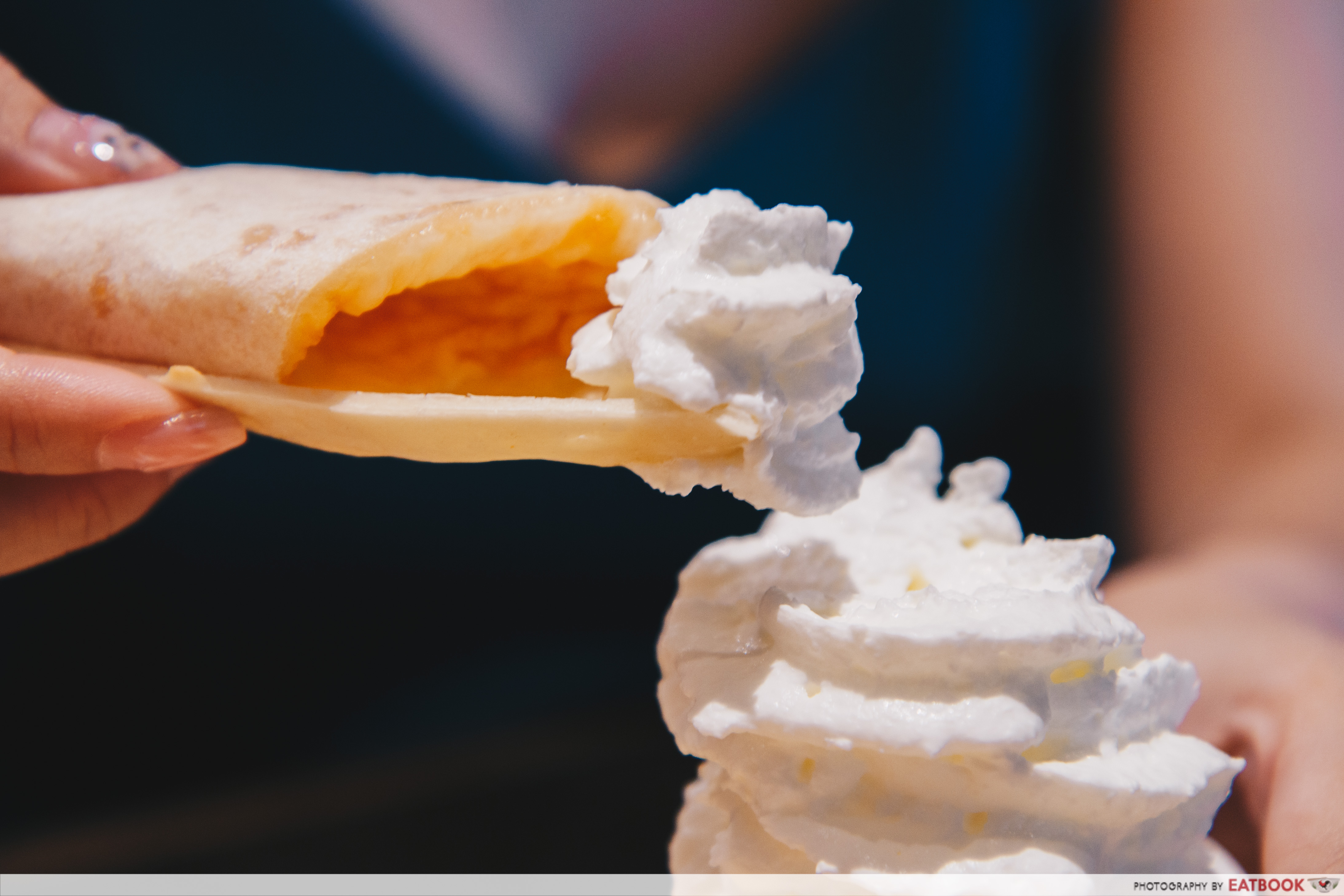 Here's a picture of us scooping up a dollop of whipped cream with our pizza roll. Despite the sweetness from the whipped cream, I still found the pizza lacking in flavour. Or perhaps, it was just my taste buds losing their senses from trying too many things at one go. Either way, my colleague loved it, so I guess you have to try it for yourself to decide if this is a hit or miss.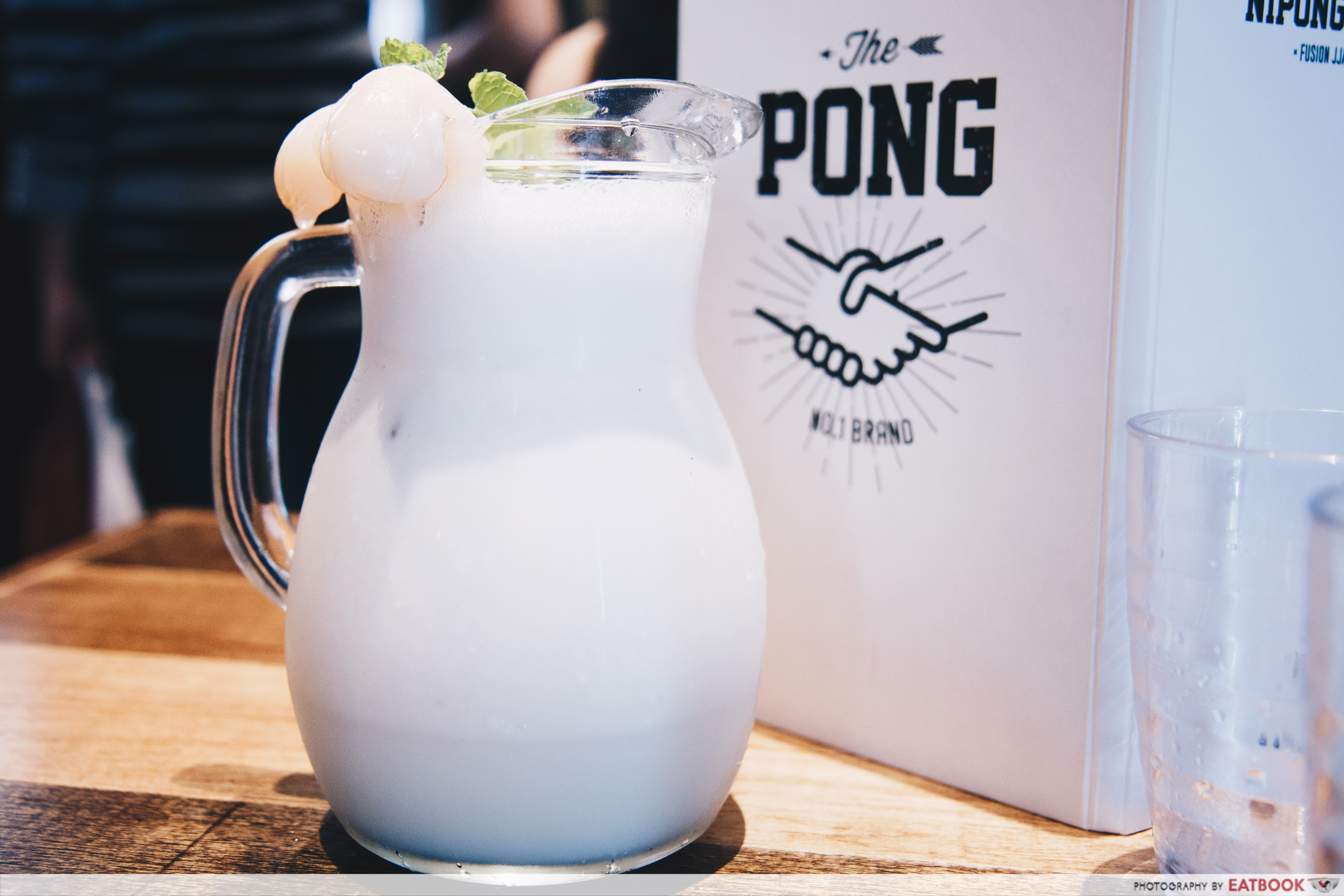 As for the drinks, we had a one-litre jug of Lychee Yoghurt ($12.90++). This was really refreshing and helped douse the flames from the Cha Ppong. However, I found the drink a little watered down and would've liked it to be a bit more gao. Do also remember to stir the yoghurt in, as it can get really foamy at the top.
Ambience at Nipong Naepong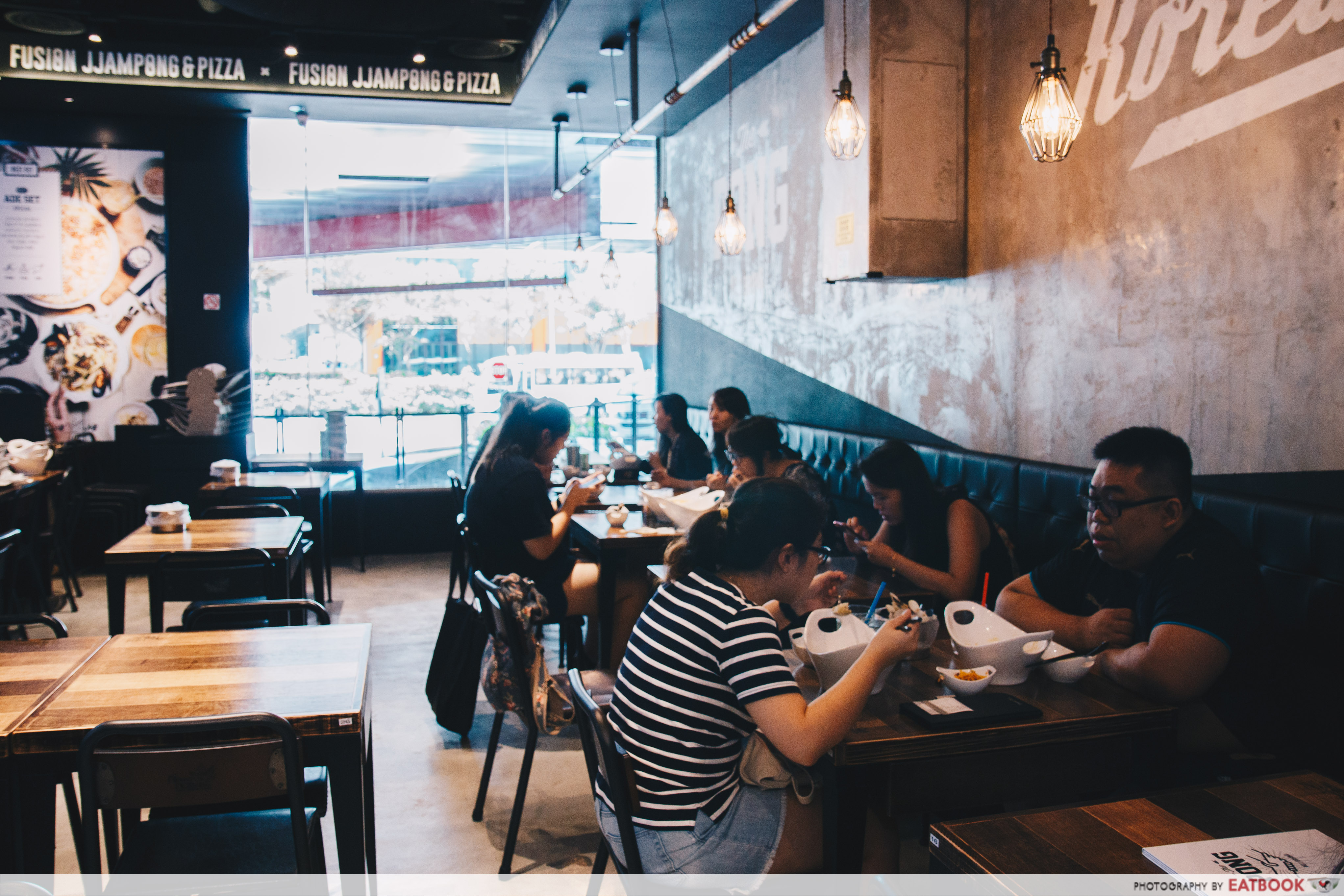 We ate in a comfortable setting, with grey walls, dim lighting and Korean pop music playing in the background. The whole place gave off a very modern, hip vibe, so I was surprised to see diners both young and old enjoying their meal. I guess the food served truly caters to all ages. The restaurant can get pretty packed during peak hours, so I'd advise you to either come earlier or be prepared to wait in line.
The verdict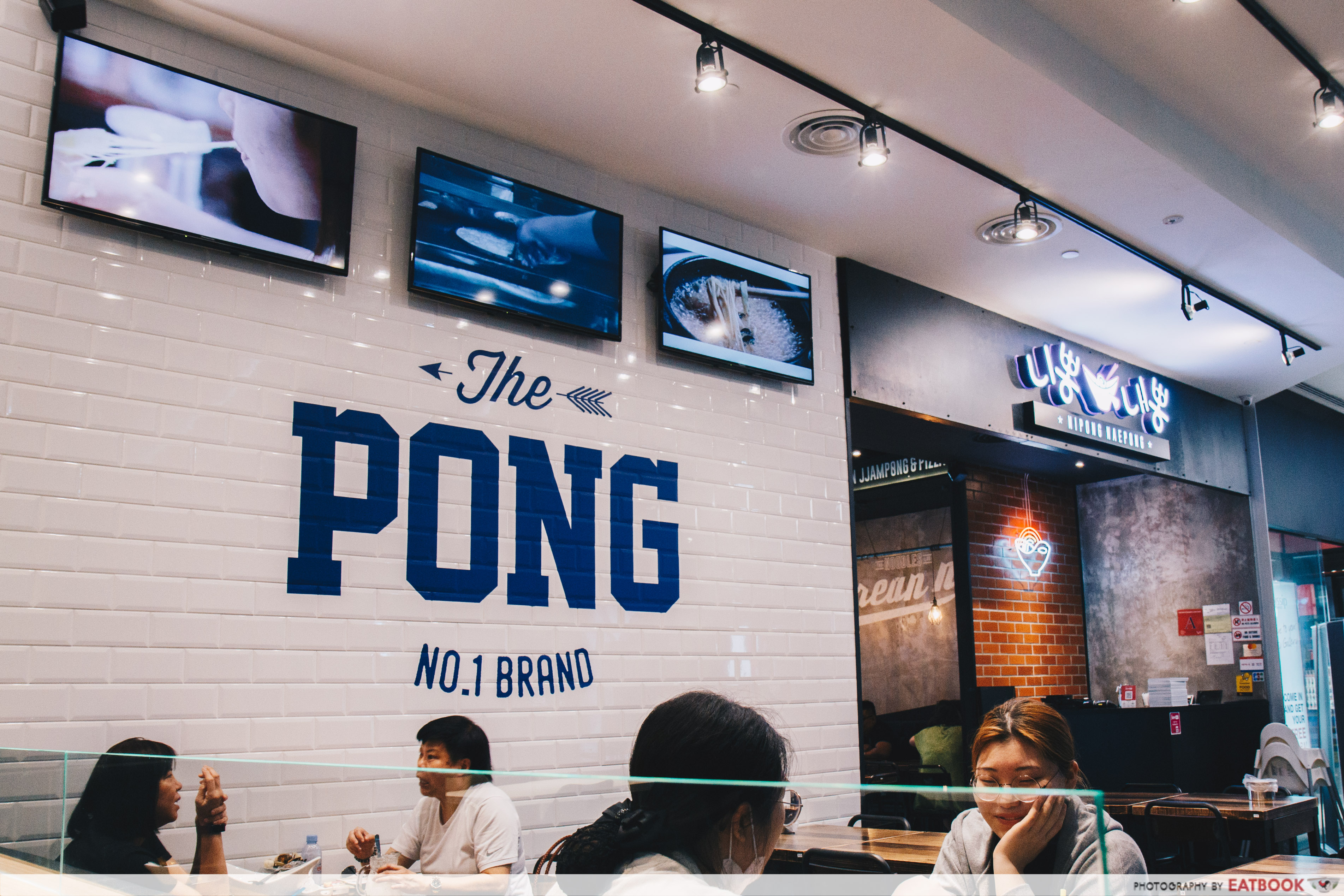 Nipong Naepong did not disappoint! I enjoyed everything, from the jjamppong to the pizzas. The prices can get a little high but the portion size is huge, so if you're dining with a friend, I'd suggest buying one item to share. Trust me, it's still bound to fill you two up.
For more Korean food, check out these affordable Korean food places at $15++ or less or this list of places to get bingsu at $10 or less!
Address: 50 Jurong Gateway Road, #01-16, JEM, Singapore 608549
Opening hours: Mon-Fri 11am to 10pm, Sat-Sun 11am to 11pm
Tel: 6262 4078
Website
This was a media tasting at Nipong Naepong.
Summary
Pros
– Large and tasty portions
– Only eatery specialising in jjamppong in Singapore
Cons
– Some dishes are expensive
Recommended dishes: Vongole Ppong ($16.80++), Cha Ppong ($15.80++), Keu Ppong-Cream ($17.80++), Tae Ppong ($15.80++), Ninae Pizza-Spinach ($16.80++)
Operating hours: Mon-Fri 11am to 10pm, Sat-Sun 11am to 11pm
Address: 50 Jurong Gateway Road, #01-16, JEM, Singapore 608549