---
Affordable Korean food for K-addicts on a budget
---
Binge watching K-dramas till the wee hours is something I do all the time, but I'm always left with a rumbling stomach thanks to the mouthwatering food featured on-screen. Still, it doesn't stop me from kicking this habit since I know where I can easily satisfy my famished stomach the next day. If you're like me, here are 10 affordable places to hit up when the cravings for Korean food strike!
---
1. Seoul Roll 
---
Whenever gimbap appears in an episode, I wish I could reach out and grab it from the screen. Seoul Roll offers 18 different types of gimbap that are way larger than the traditional ones. If you don't know where to start, get the classic Seoul Roll ($5.50) that is slathered with sesame oil and loaded with carrot, pickled radish, cucumber, kimchi, eggs and luncheon meat. For something less conventional, opt for Mushroom and Truffle Oil Roll ($5.50).

If you can't get enough of such rolls, check out these maki rolls too.
Address: 252 North Bridge Road, #B1-58, Raffles City Shopping Centre, Singapore 179103
Opening hours: Daily 9am to 9pm
Tel: 8718 6086
Website
Menu
Full list of outlets
---
2. Dosirak
---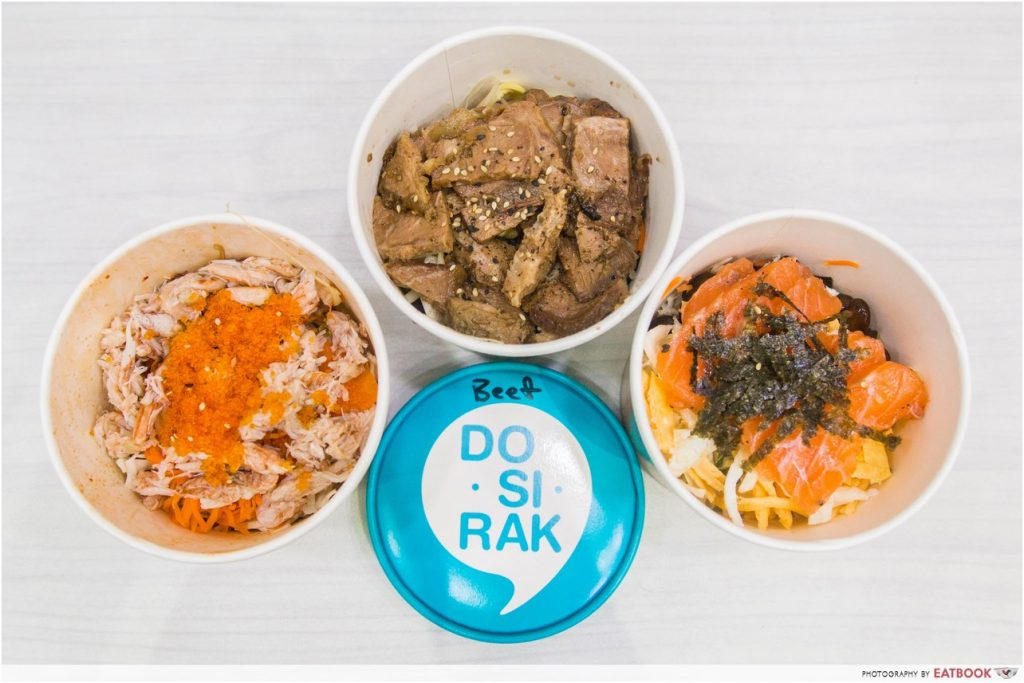 At Dosirak, you'll have to shake your meal before eating. Popular combinations on their menu include Cold Crab and Fish Roe ($13.90) and Beef Bulgogi ($8.90). Alternatively, you can personalise your own rice bowl by picking a protein, base, and five different sides. Remember to drizzle on their house-made special sauce that tastes similar to a combination of Korean gochujang and apple cider vinegar, and shake everything up before eating!
Check out our full review of Dosirak and, if you like shaking your food, Doodles and Shake Mee carry the same concept!
Address: 18 Cross Street, #01-02, China Square Central, Singapore 048423
Opening hours: Mon- Fri 10:30 to 6pm, Sat 11:30 to 3:30pm
Tel: 6536 6034
Website
Menu
---
3. Baro Baro Korean Street Food 
---
Tteokbokki appears at least once in every K-drama, and you can find affordable versions of these chewy rice cakes at Baro Baro Korean Street Food. Tok Kim Set ($9.90) comes with rice cakes and udon coated in a generous amount of gochujang on a hot plate and a side of gimbap of your choice. If you're not a fan of gimbap, opt for Tok Twee Set ($9.80) that offers offers fried seaweed rolls, dumplings, and prawns instead.
Address: 120 Maxwell Road, #B1-29/49, Tanjong Pagar Xchange, Singapore 069119
Opening hours: Mon-Fri 11am to 9.30pm
Tel: 8228 3690
Website
---
4. Kim Dae Mun
---
Tucked away at Concorde Hotel, Kim Dae Mun serves affordable Korean dishes such as Hot Plate Bulgogi ($10) and Pork Kimchi Soup ($7.50). Hot plate items are apparently cooked with water instead of oil, so you get a healthier alternative and meat that is tender and succulent. The restaurant is opened and manned by Koreans, so expect to see a bubbly ahjumma at the cashier!
Address: 100 Orchard Road, #01-03, Concorde Hotel, Singapore 238840
Opening hours: Tue-Sun 11am to 8:30pm
Tel: 9112 5910
Website
---
5. Kimchi Restaurant

---
If you spot a beeline of customers in Suntec City, there's a high chance it might be for Kimchi Restaurant. You'll be spoilt for choice thanks to their wide menu, and a must-order is their Japchae ($8.90++), which is great as a side dish or light lunch. Chewy noodles are tossed in fragrant sesame oil and mixed with a generous amount of vegetables and bulgogi, making this aromatic dish highly addictive!
Address: 3 Temasek Boulevard, #02-387, Suntec City, Singapore 038987
Opening hours:  Daily 11am to 10pm
Tel: 6337 7811
Website
Menu
---
6. Ssäm Korean Mexican Kitchen
---
If Korean and Mexican cuisines had a child, Ssäm Korean Mexican Kitchen would be it. They serve healthy fusion DIY rice bowls, salad bowls and burritos, and you'll get to pick a protein and a side of vegetables for each. Go for their Portobello Mushroom ($8.55) or Beef Short Ribs ($10.15) for a bowl packed with a medley of flavours.
Tip: You can request for a half-rice, half-salad bowl, and be sure to get a gooey ramen egg at $0.80!
Address: 8 Marina Boulevard, #B2-45, Marina Bay Financial Centre Tower 1, Singapore 018984
Opening hours: Mon-Fri 8am to 6pm
Tel: 6634 4629
Website
Menu
---
7. Tae Woo Korean Restaurant

---
Watch enough K-dramas and you'll be familiar with scenes of jajangmyeon being slurped loudly. Tae Woo Korean Restaurant does their signature dish, Jajangmyeon ($12++), with house-made noodles tossed in a flavourful black bean sauce that has caramelised onions and tender cubes of ground beef and pork. To accompany the starchy black bean noodles, order a side of Fried Dumplings ($8++)!
Address: 6 Eu Tong Sen Street, #03-84, Clarke Quay Central, Singapore 059817
Opening hours: Daily 11:30am to 3pm, 5:30pm to 10pm
Tel: 6224 8284
Website
Menu
---
8. Churro 101

---
Churro 101 fries their churros upon order, so you'll get a hot, crispy one every time. Cinnamon Coated Churros ($3.70) is a classic that might even convince you of their cheeky tagline, "Better than a boyfriend." To take that up a notch, opt for their Ice Cream And Churro Set ($6.20) for the ultimate hot-and-cold combo that'll help beat the heat.
Address: 201 Victoria Street, #04-01, Bugis+, Singapore 188067
Opening hours: Daily 10am to 10pm
Website
Menu
Full list of outlets
---
9. I'm Kim Korean BBQ
---
I'm guilty of stuffing myself at buffets to make my money's worth. If you're like me, I'm Kim Korean BBQ lunch buffet ($14.90++) is the one for look out for on weekdays. From 11:30am to 3:30pm, dig into meats such as marinated pork belly, and sides that include Korean rice cakes, kimchi pancakes and japchae. There's also an extensive selection of condiments to amp up your Korean BBQ experience!
Address: 1 Zubir Said Drive, #01-04/05/06/07, School Of The Arts, Singapore 227968
Opening hours: Daily 11:30am to 3:30pm, 5:30pm to 10:30pm
Tel: 6238 7218
Website
---
10. Nene Chicken 
---
In direct translation, Nene Chicken means "Yes yes chicken". "Nene" is an enthusiastic expression Koreans commonly use to portray agreement. The 2pcs Classic Meal ($9.40) comes with crisp, fried chicken doused in soy sauce, a refreshing drink, crispy fries and tangy radish. If that's not to your fancy, choose from their wide selection of sauces that include Swicy (sweet and spicy), Freaking Hot, Honey Mustard, Green Onion, and Cheese (+$1). For a more filling meal, top up $2 for an extra piece of chicken.
Address: 23 Serangoon Central, #04-15/16, Nex, Singapore 556083
Opening hours: Daily 11am to 9:15pm
Tel: 6634 1494
Website
Menu
Full list of outlets
---
Now you never have to watch a K-drama feeling hungry
---
Here's to many more hours of losing sleep for our favourite Korean dramas. Let us know of your favourite places when the kravings hit in the comments below.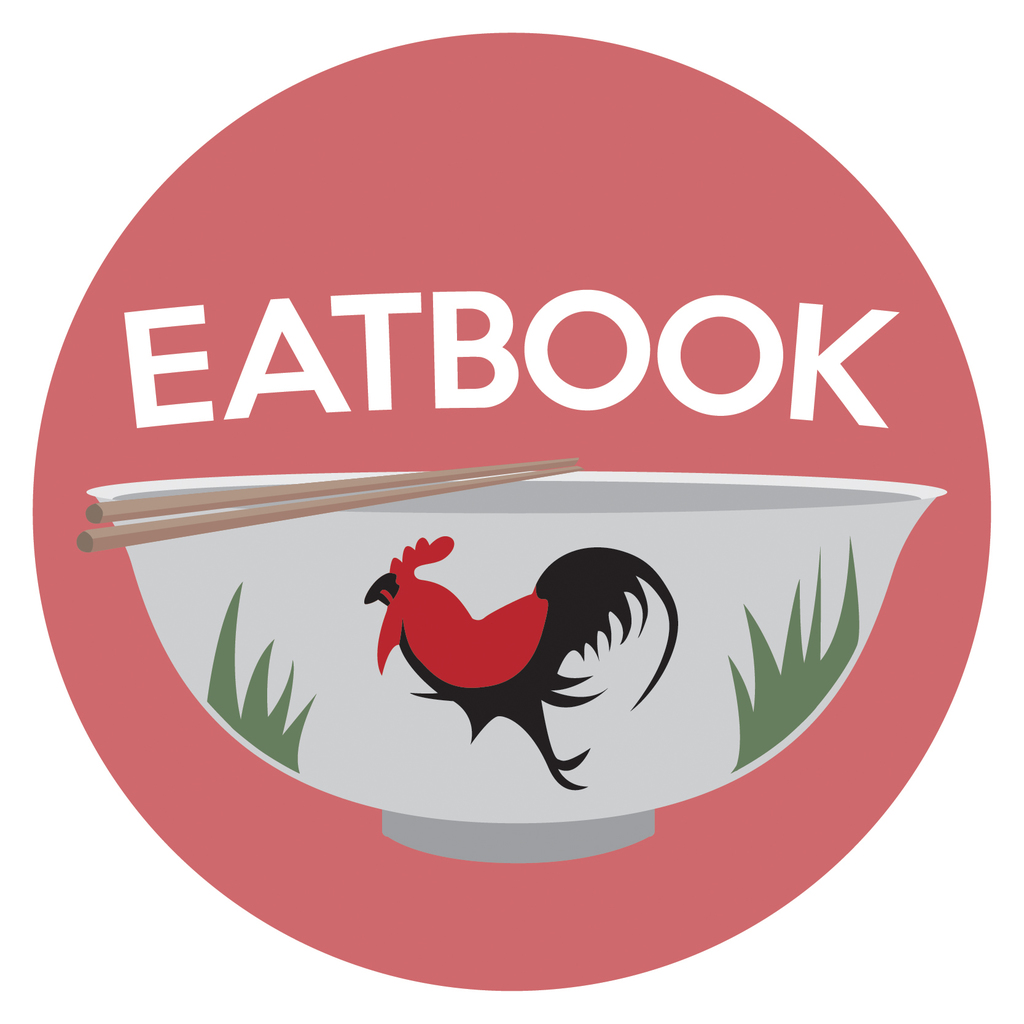 Drop us your email so you won't miss the latest news.