Shake before you eat at Dosirak
Update (18 Jan 2018): The article has been edited to reflect Dosirak's new location at Downtown Gallery.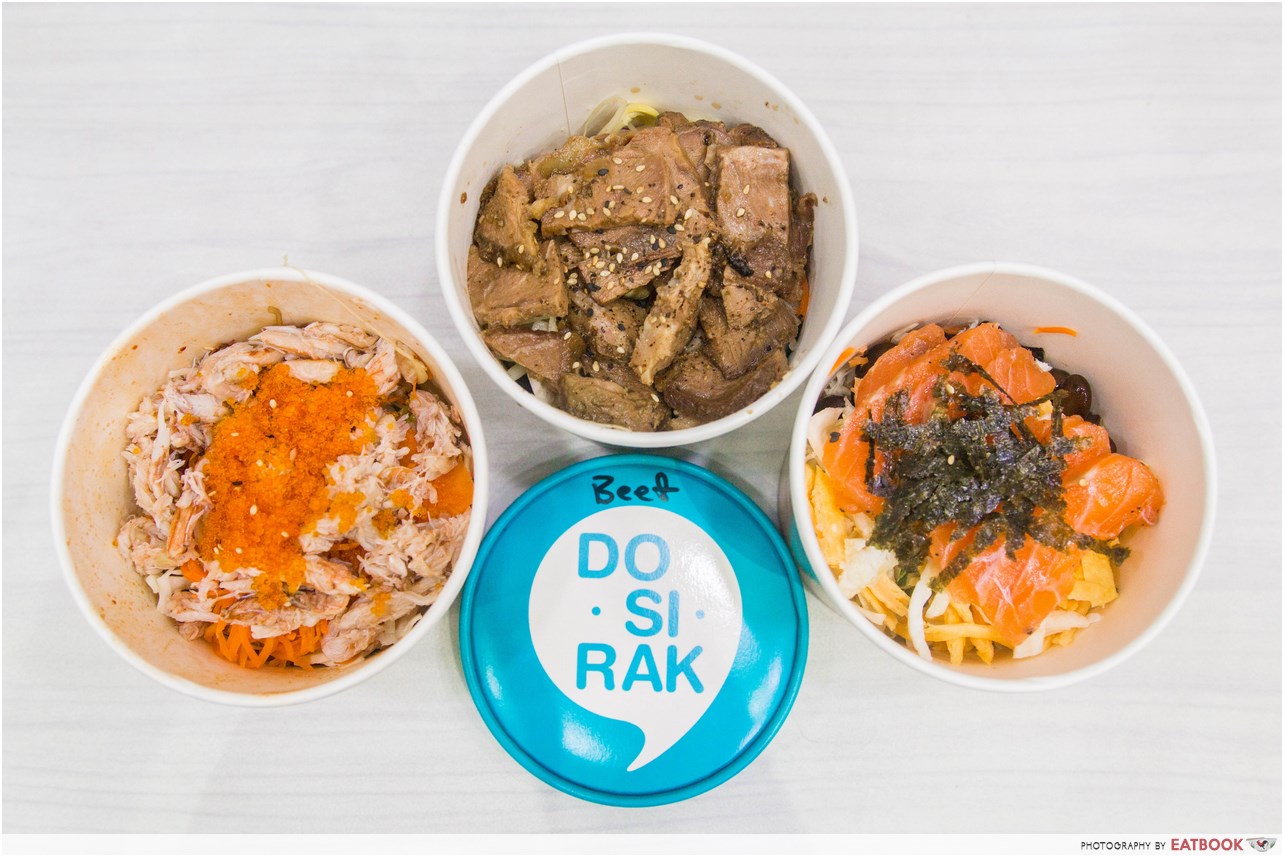 I'm a clumsy person, or so I've been told. Whenever I have to mix stuff in a bowl or stir through soup, some bits and drops inadvertently end up on the table, and I'll have to sheepishly clean them up. That's one thing I won't have to worry about at Dosirak, which serves Korean rice bowls meant to be shaken before eating.
Just like Doodles, which requires you to shake your noodles before eating, Dosirak lets you DIY your meal. Ordering at Dosirak works like this: pick a protein, a base, and choose five sides from the spread behind the counter. Alternatively, you could also go with one of their combis presented on the menu.
Once you've got your food, pour Dosirak's special sauce into it, put the lid back on and start shaking!
Food at Dosirak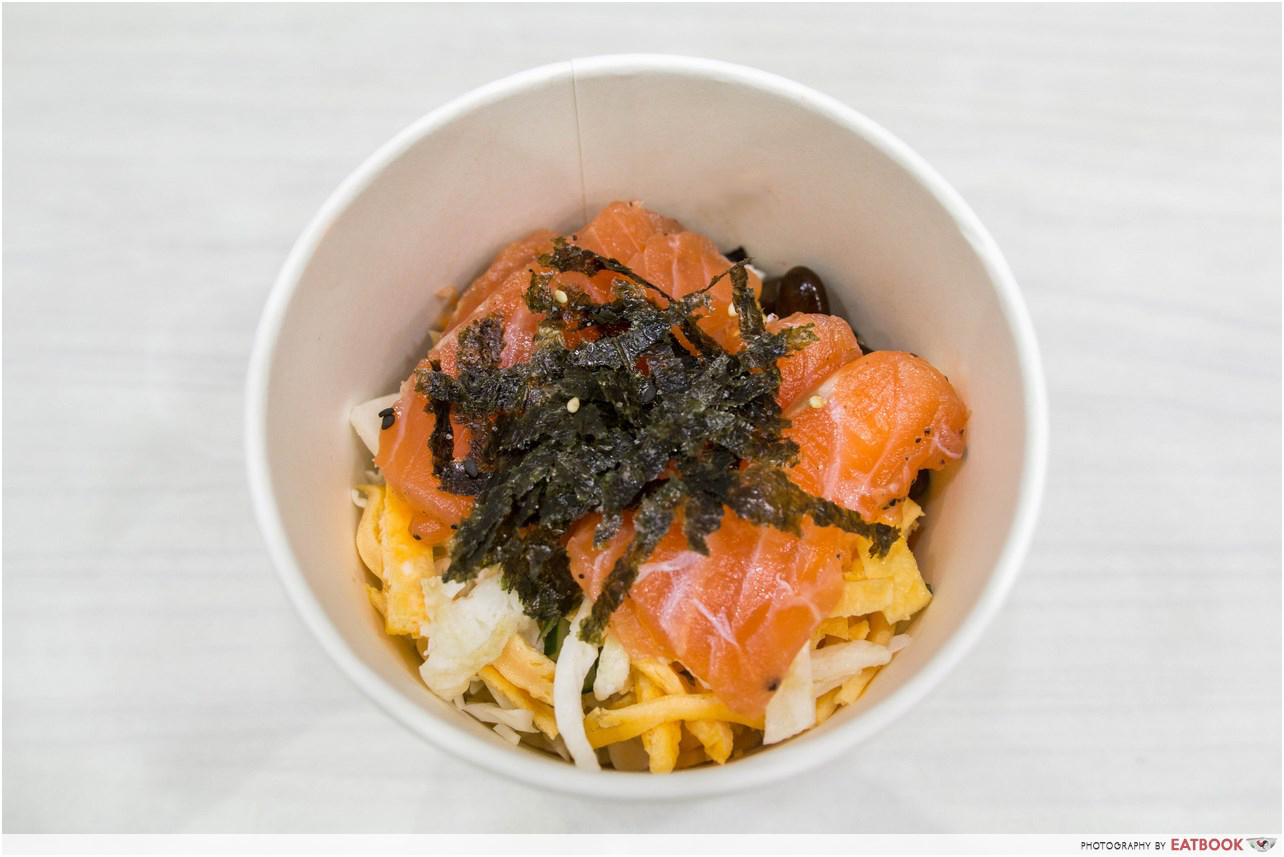 First up, a bowl of Salmon ($9.90) rice bowl. Thick slices of fish laid on top of a bed of sliced omelette and a medley of vegetables.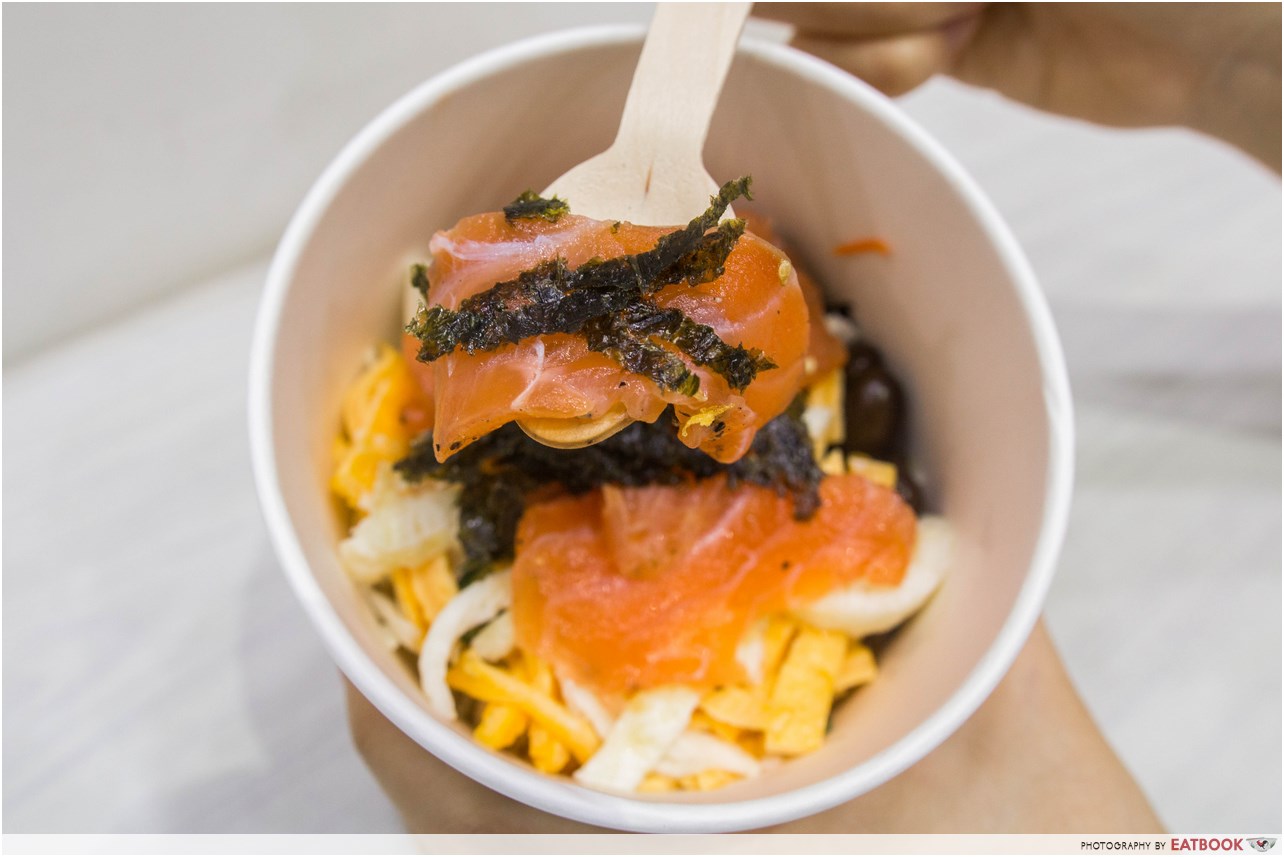 The salmon was fresh, firm, and broke apart smoothly with every bite. Each bowl on the menu comes with short grain white rice by default, which was what we had with the salmon. For $1 more, you can have it on brown rice or buckwheat noodles. An additional $2 can get you a base of tofu or cabbage, and cauliflower rice costs an extra $3.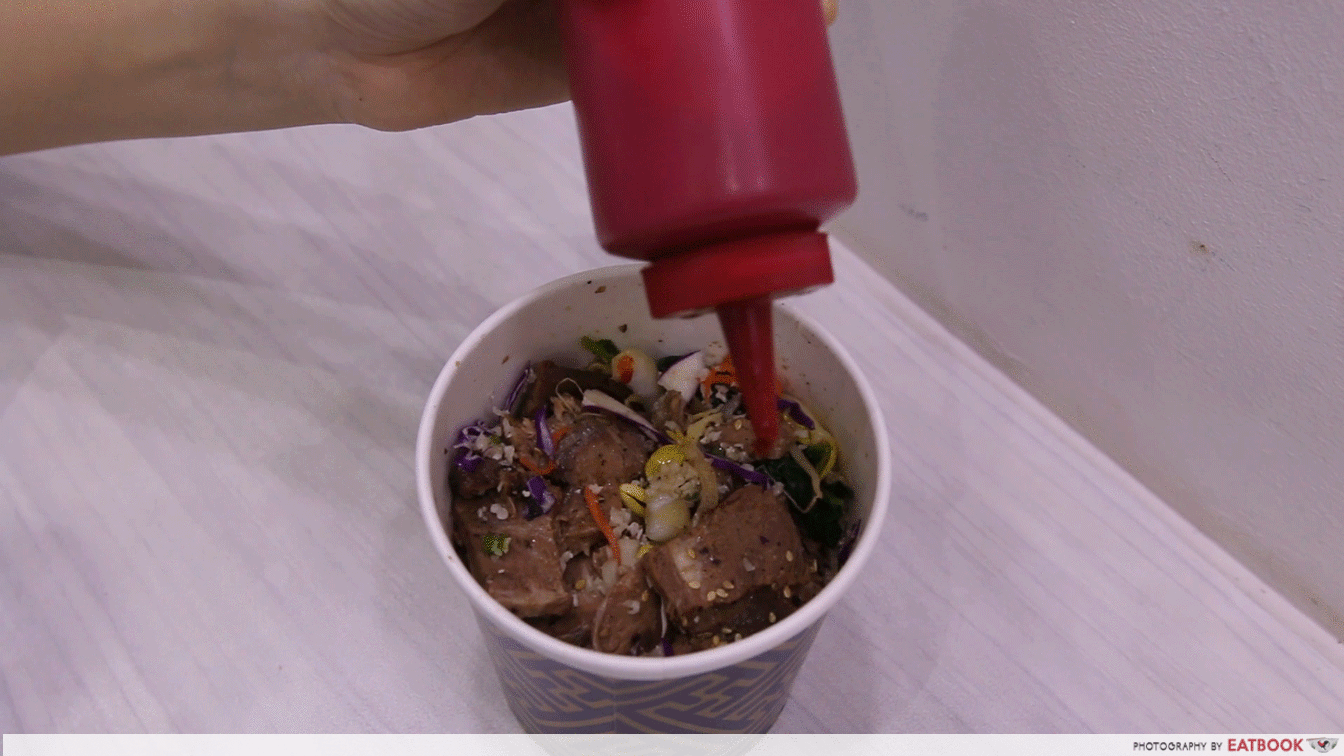 We drizzled some of Dosirak's special sauce, which is a blend of gochujang (Korean chilli paste) and apple cider vinegar, into our bowl and – over the protests of our rumbling tummies – put the lid back on the container.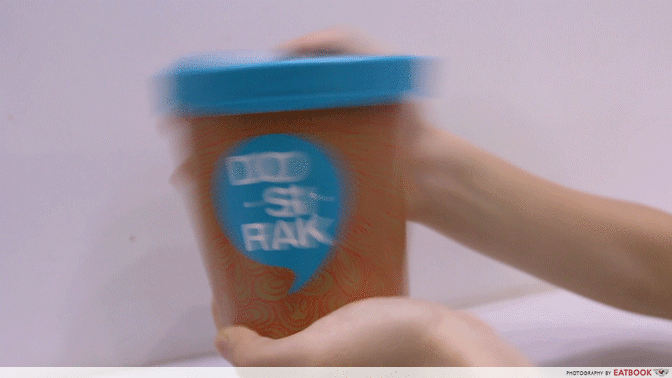 In Korean cuisine, dosirak refers to food packed in a metal lunchbox, usually rice and side dishes such as meat and kimchi. The box is shaken to mix everything into a gloopy, but very tasty mess. Just like how old-school Korean lunchboxes are enjoyed, you gotta shake your Dosirak tub to mix all the ingredients together.
Dosirak's sauce is all at once spicy, sweet and sour, making it a flavourful accompaniment to all the other ingredients. For those who aren't fans of spicy food, you get the option of gravy from their soy chicken.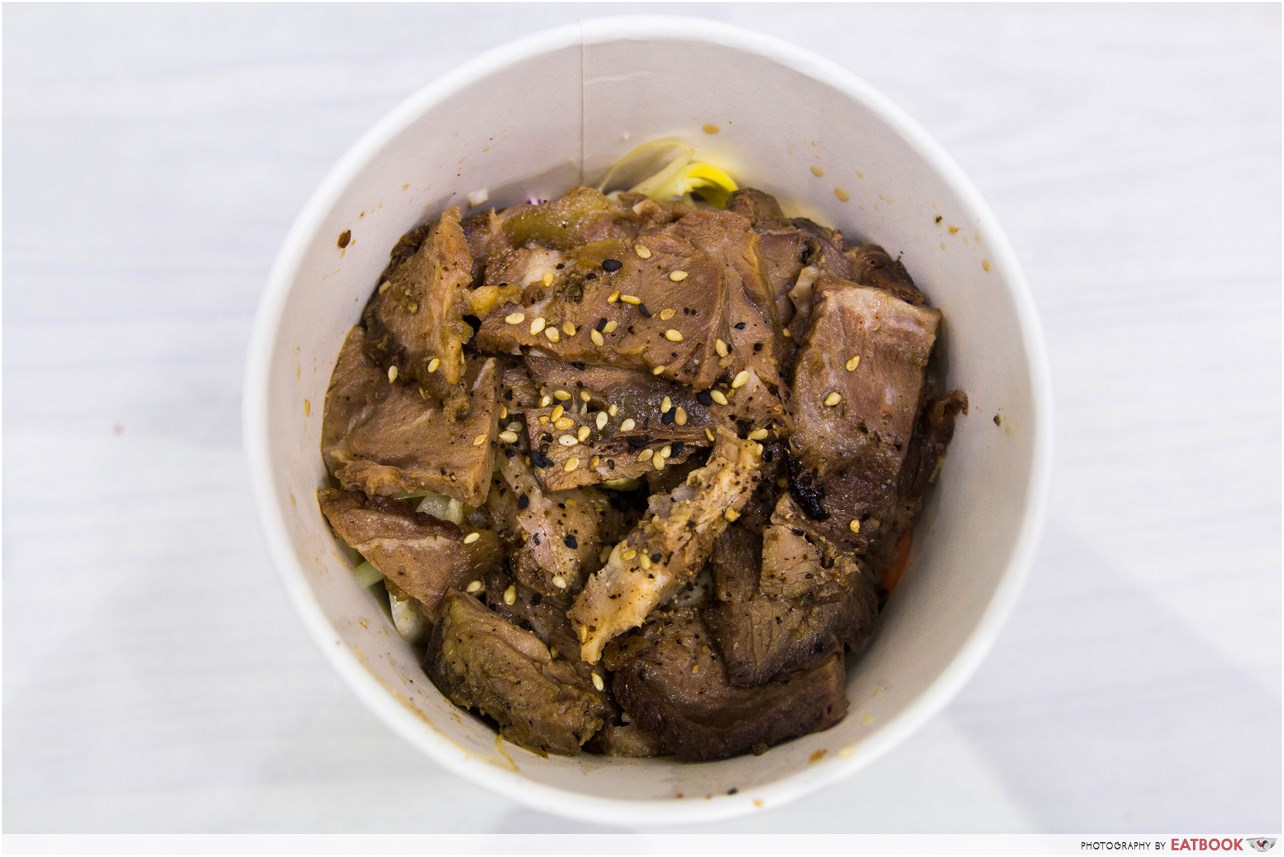 The bowl of Beef Bulgogi ($8.90) was too tempting to resist any longer. For the price, you get a large serving of marinated beef, which comes in thick chunks rather than strips. Even though a less fatty cut of beef is used here, the meat isn't tough because it's been cooked sous-vide at 63 degrees Celsius for three days.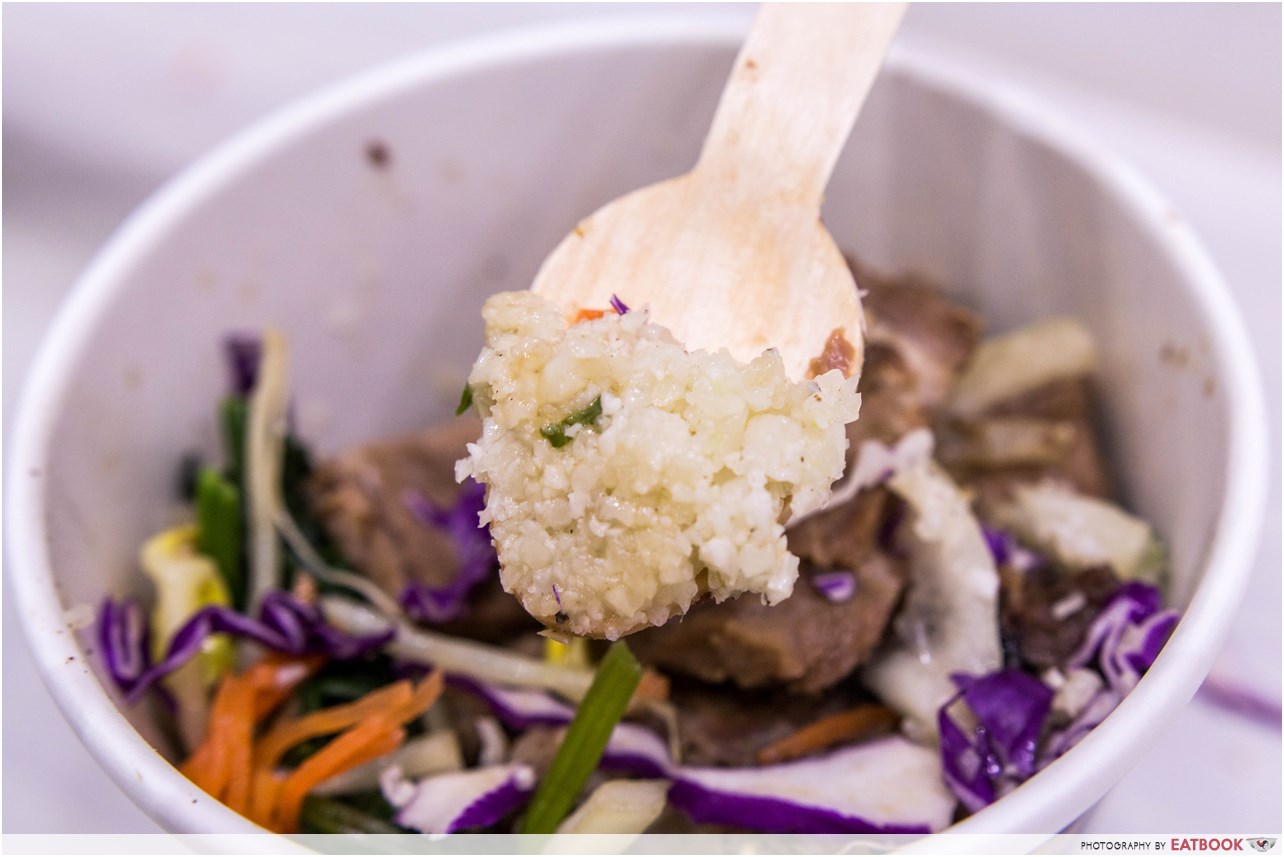 We chose to have cauliflower rice (+$3) as the base in this bowl. The "rice" had the texture of minced garlic and just the slightest flavour of cauliflower. It was interesting to try, but we missed the chewiness and fluffiness of rice to go with our meat. This option is definitely geared towards the health-conscious rather than the average diner.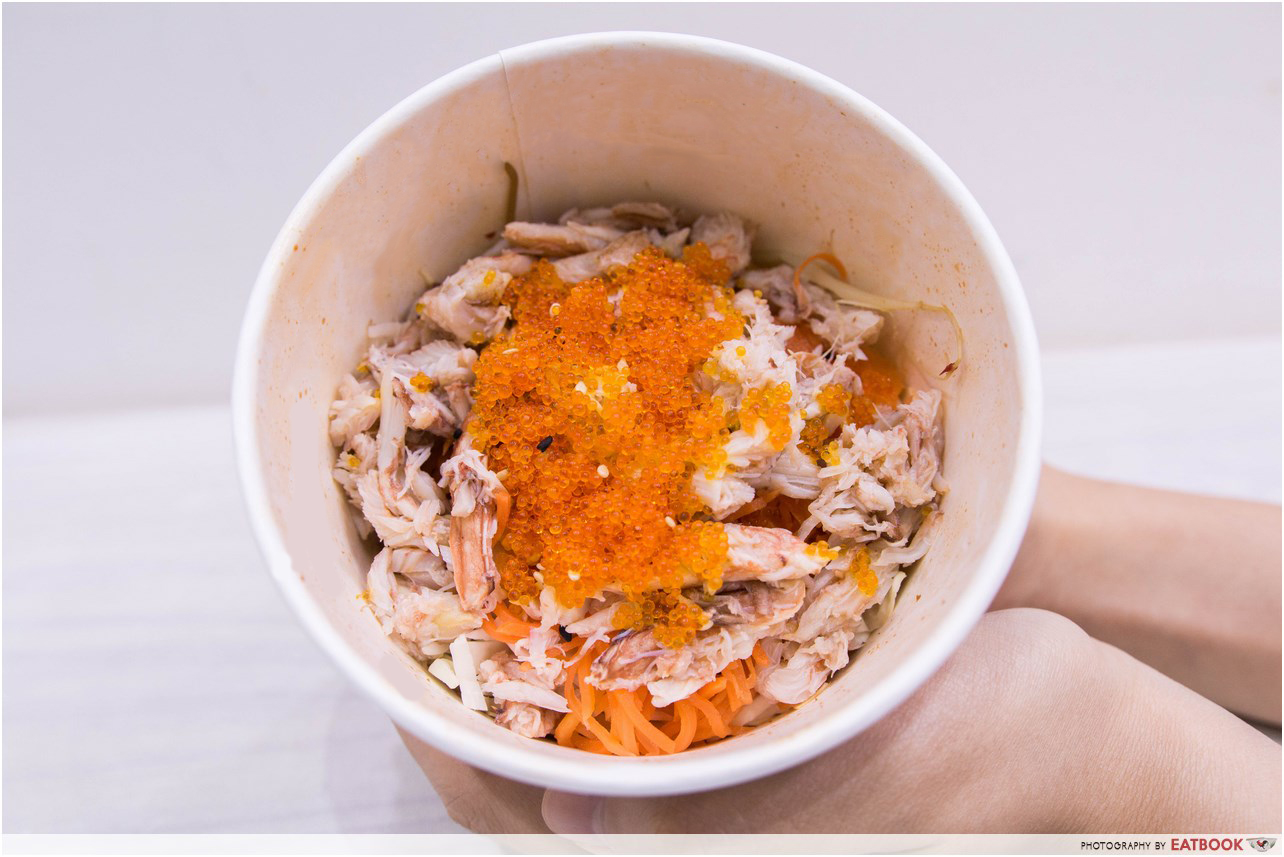 Finally, we set our sights on the Cold Crab and Fish Roe ($13.90) rice bowl. Dosirak was really generous with their ingredients; there was a heap of crab meat and spoonfuls of roe in our bowl.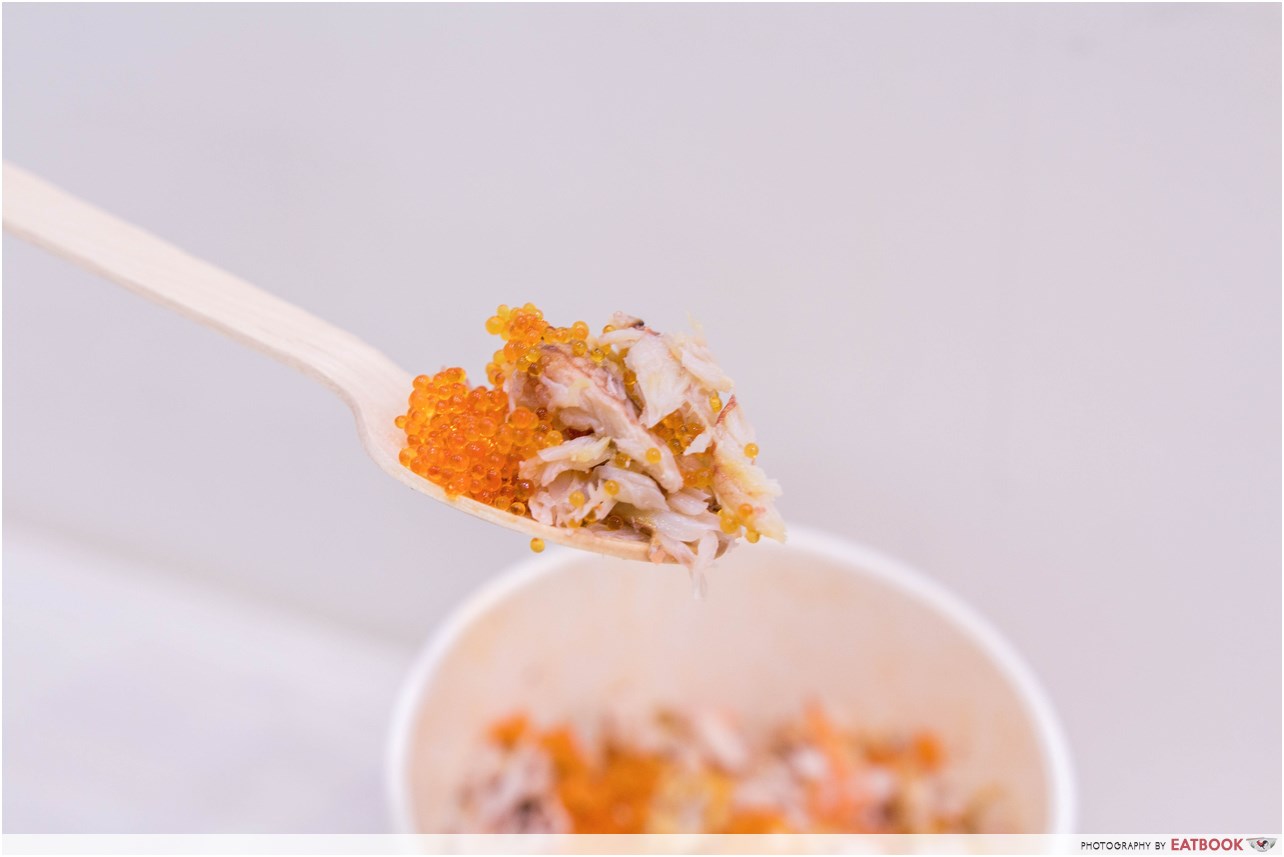 We liked how the flavours came together: sweet crab meat, sour pickled radish and the savouriness of fish roe.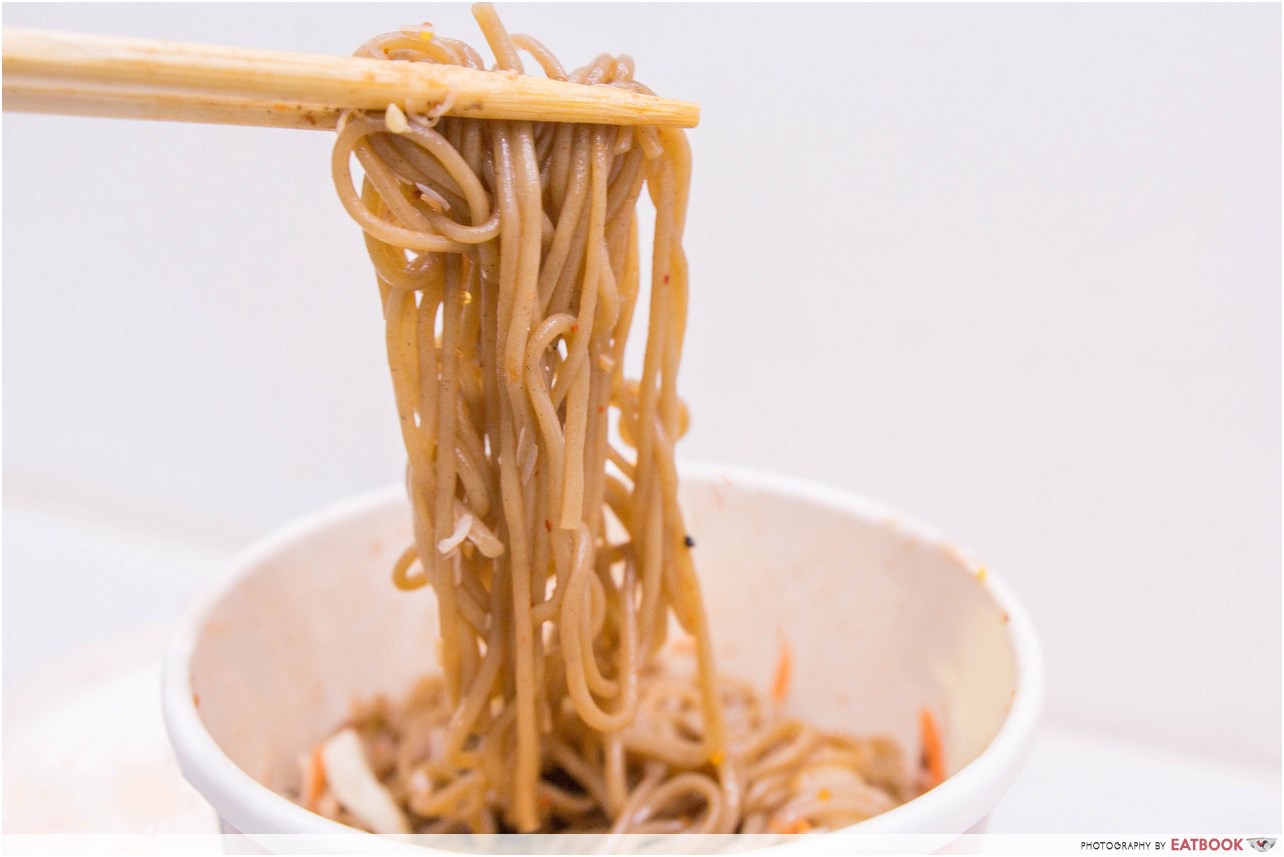 We chose buckwheat noodles (+$1) as the base in this bowl and it was our favourite. It was thinner than the usual soba noodles and incredibly chewy. The well-flavoured noodles won us over with a savoury depth that contributed to the overall flavours of the bowl.
Ambience at Dosirak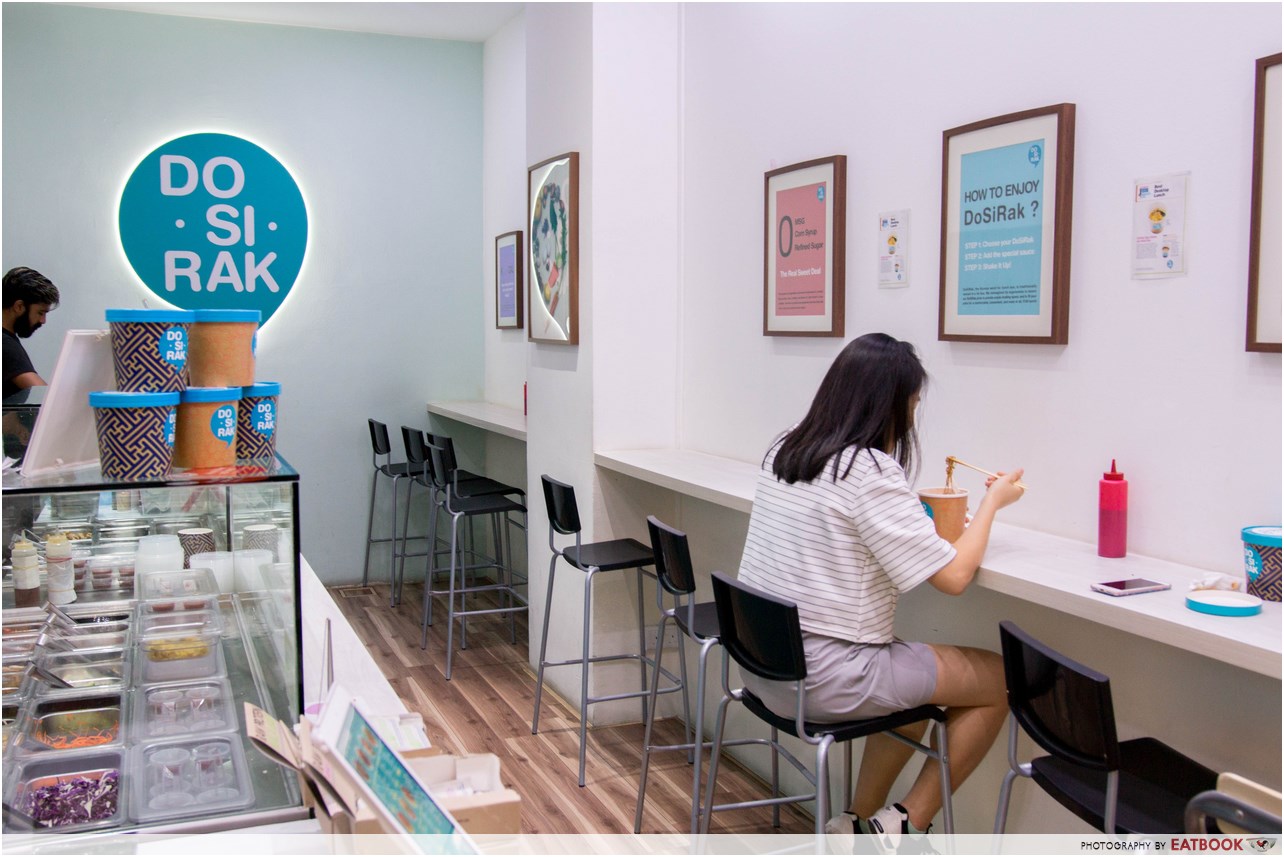 Dosirak occupies a cosy space on the first floor of China Square Central. Food is served in disposable containers, which makes your order handy for taking away. Alternatively, grab a seat along the wall counter. The service staff are friendly and helpful, so don't hesitate to ask if you're curious about how Dosirak prepares their food!
The verdict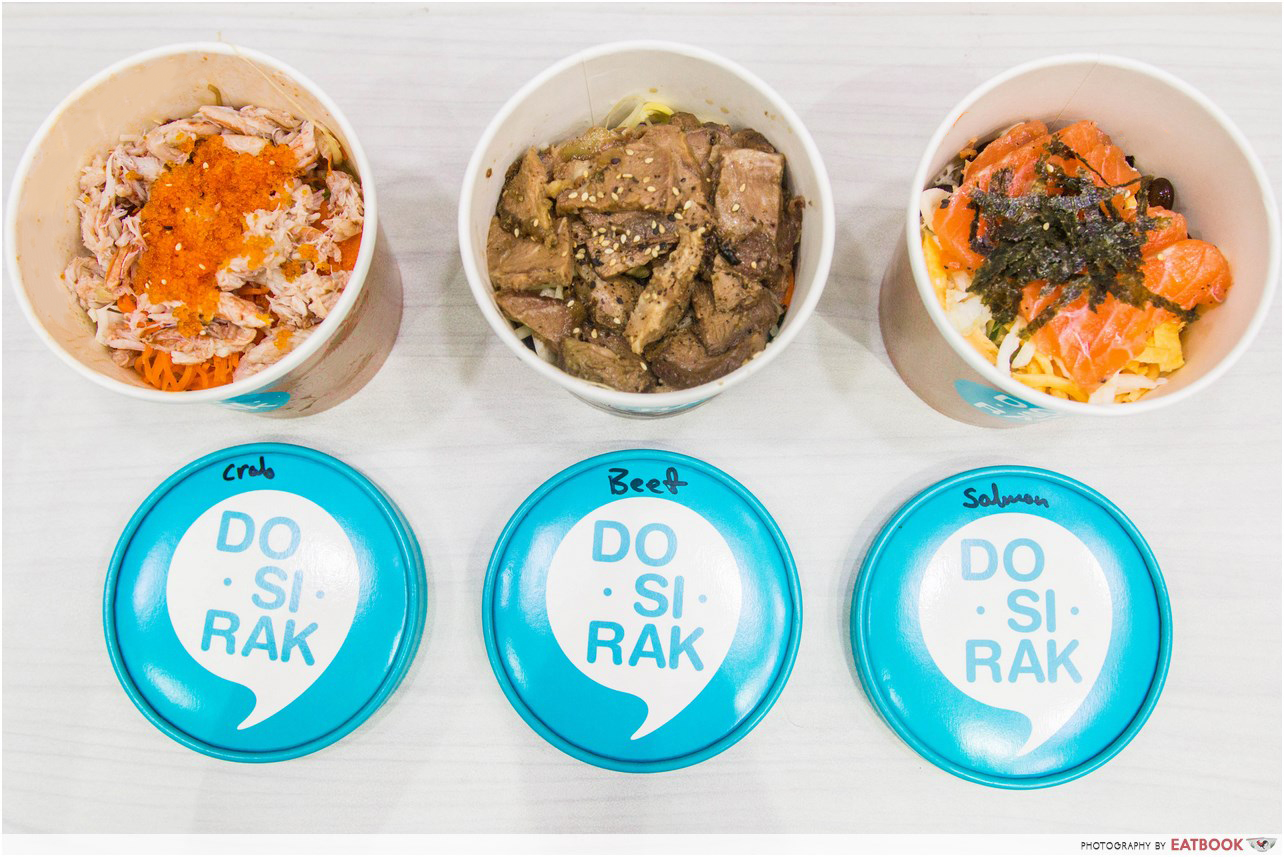 Dosirak's rice bowls are wholesome, light, yet flavourful. They avoiding frying or grilling, so you'll get a feel-good meal here!
This is an independent review by Eatbook.sg.
Summary
Pros
– Convenient location
– A healthy option
– Generous servings
– Friendly service
– No GST or service charge
Cons
– Small seating area
Recommended Dishes: Salmon ($9.90), Beef Bulgogi ($8.90), Buckwheat Noodles as base (+$1)
Operating Hours:
Monday – Friday: 11:30am to 6pm
Saturday: 11:30am to 3:30pm
Tel:
6536 6034
Address: 6A Shenton Way, #01-44, Downtown Gallery, Singapore 068815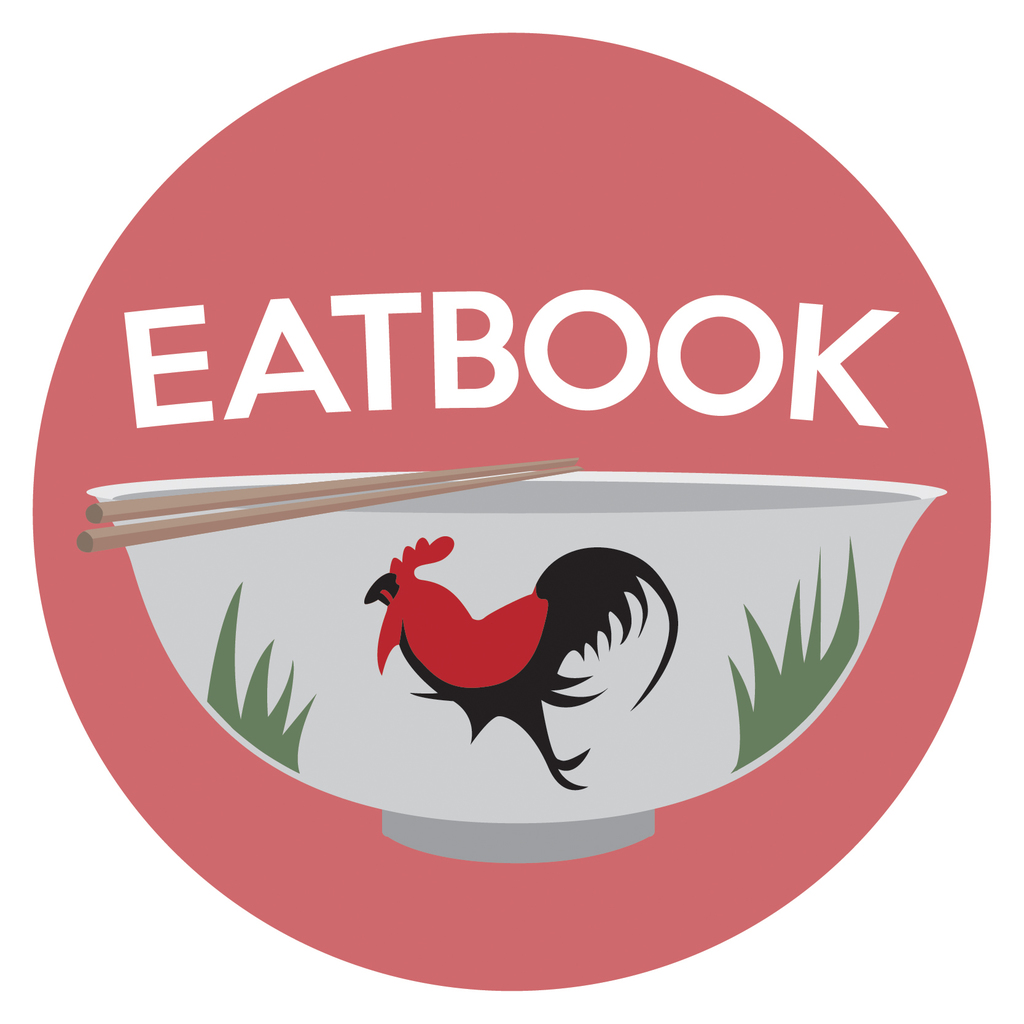 Drop us your email so you won't miss the latest news.