Shake 'em like shaker fries
Update (4th April 2019): Doodles has permanently closed.
Good news for those who spend ages queuing up for cold noodles at Hong Kong's Argyle Centre 'cause Singapore has our very own cold noodles bar now!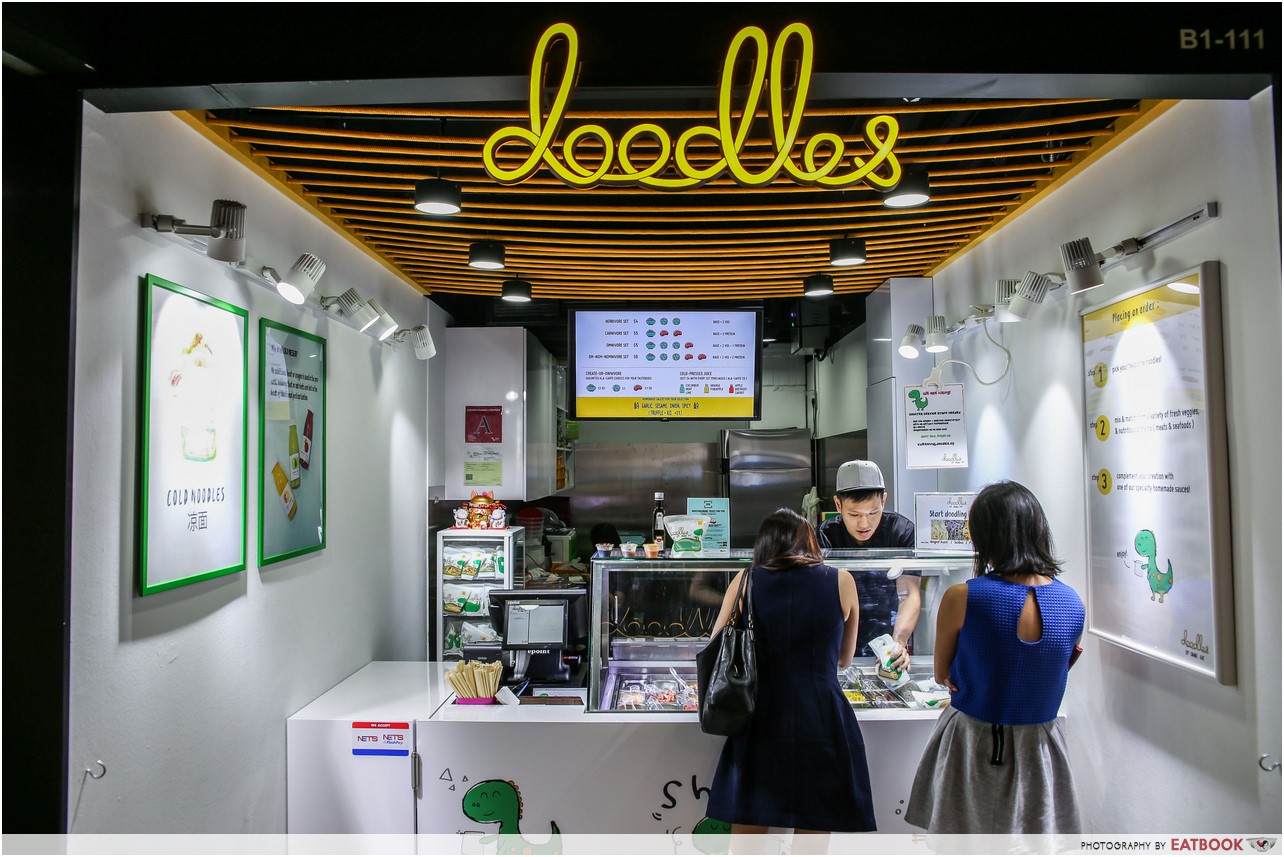 Located in Tiong Bahru Plaza, Doodles' bright and bubbly store was really easy to find. When I arrived at their storefront, I was blown away by a vast array of ingredients displayed before me.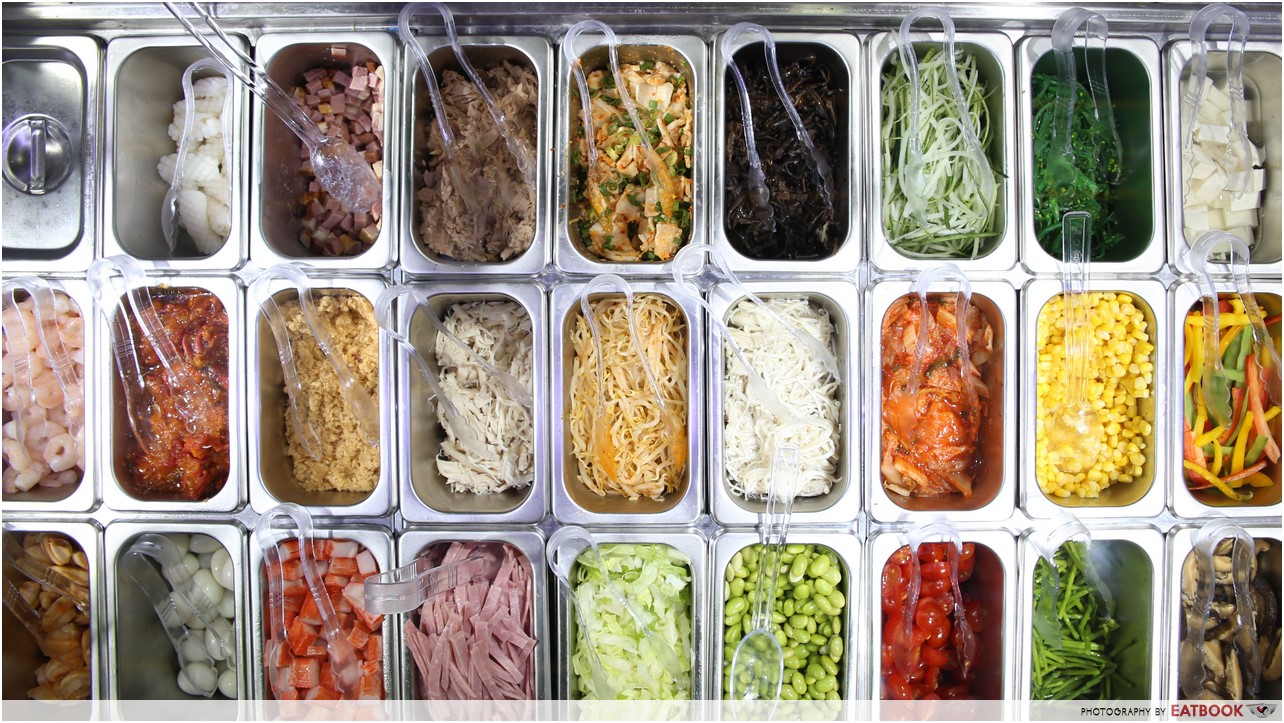 Just like cold noodle bars in Hong Kong, they've got over 20 vegetables and meats for customers to D-I-Y with – perfect for fussy eaters.
Ordering at Doodles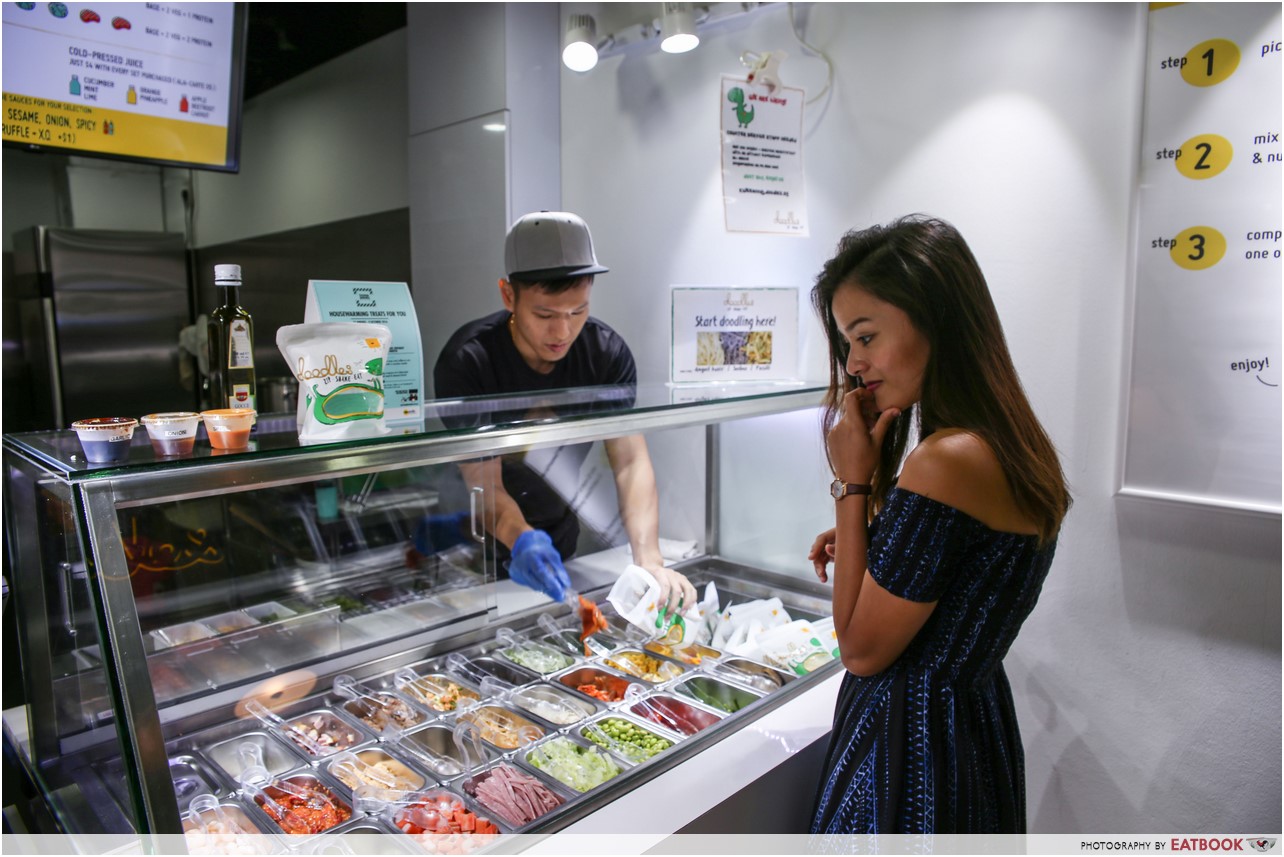 With the help of step-by-step instructions at the kiosk and their helpful staff, ordering was a breeze.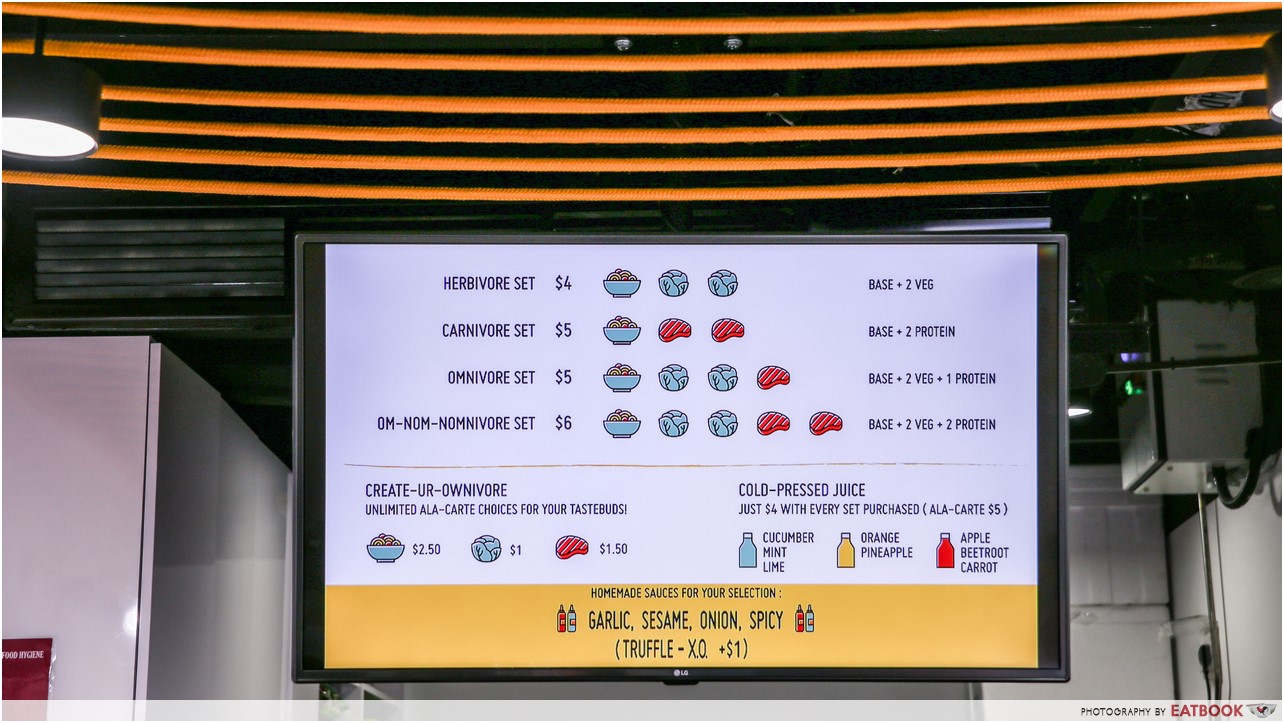 There are 4 sets available, and starving souls can top up each set with more ingredients a la carte. Only 3 steps are needed to create your own noodle packet:
Step 1: Pick a type of noodles – angel hair, soba or fusilli
Step 2: Mix and match from a variety of vegetables and/or proteins
Step 3: Choose a sauce: garlic, sesame, onion, spicy or truffle-X.O (+$1)
After which, just zip, shake and eat!
Cold noodles at Doodles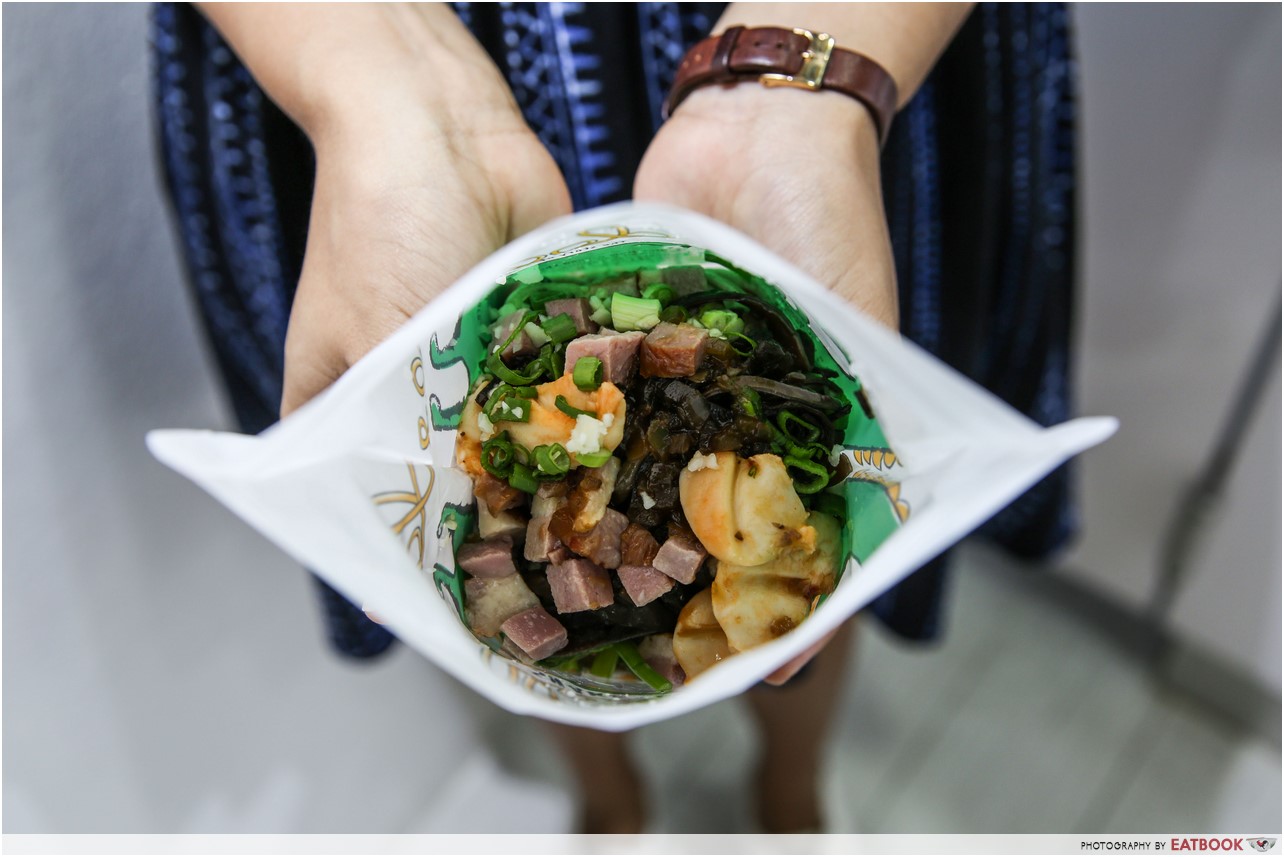 I opted for the biggest Om-nom-nomnivore set ($6) and picked soba, asparagus, black fungus, smoked duck and pacific clams, drizzled with onion sauce.

The tender and juicy pacific clams marinated in sweet and spicy Thai sauce was the star of this combo. Besides that, the springy soba, along with crunchy asparagus and firm black fungus added texture I'd thumbs up for. The onion sauce had a tint of vinegar and bits of caramelised onions, which seasoned the soba perfectly.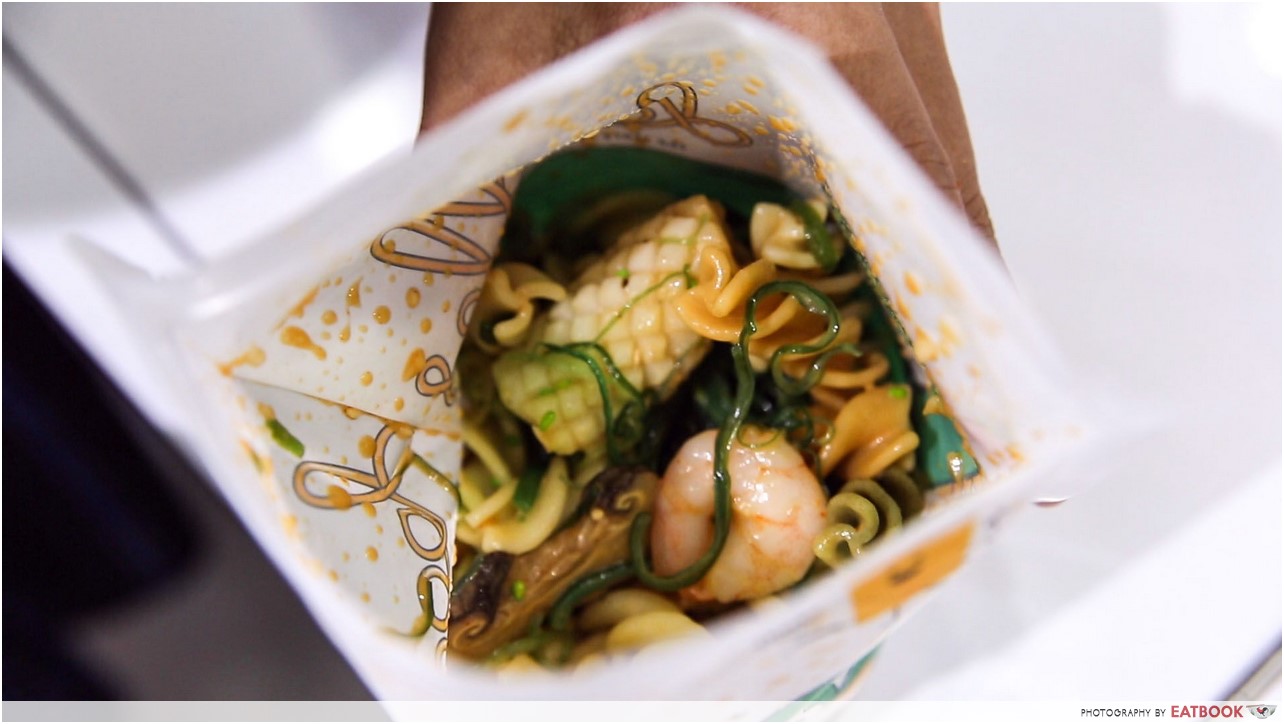 Having tried the duck, we chose seafood for our second set. We went ahead with fusilli, shiitake mushrooms, seaweed, glass prawns and squid with spicy sauce. The glass shrimps and squid were bland as compared to the seaweed and mushrooms. The only saving grace was the spicy sauce that managed to bring my tastebuds back to life.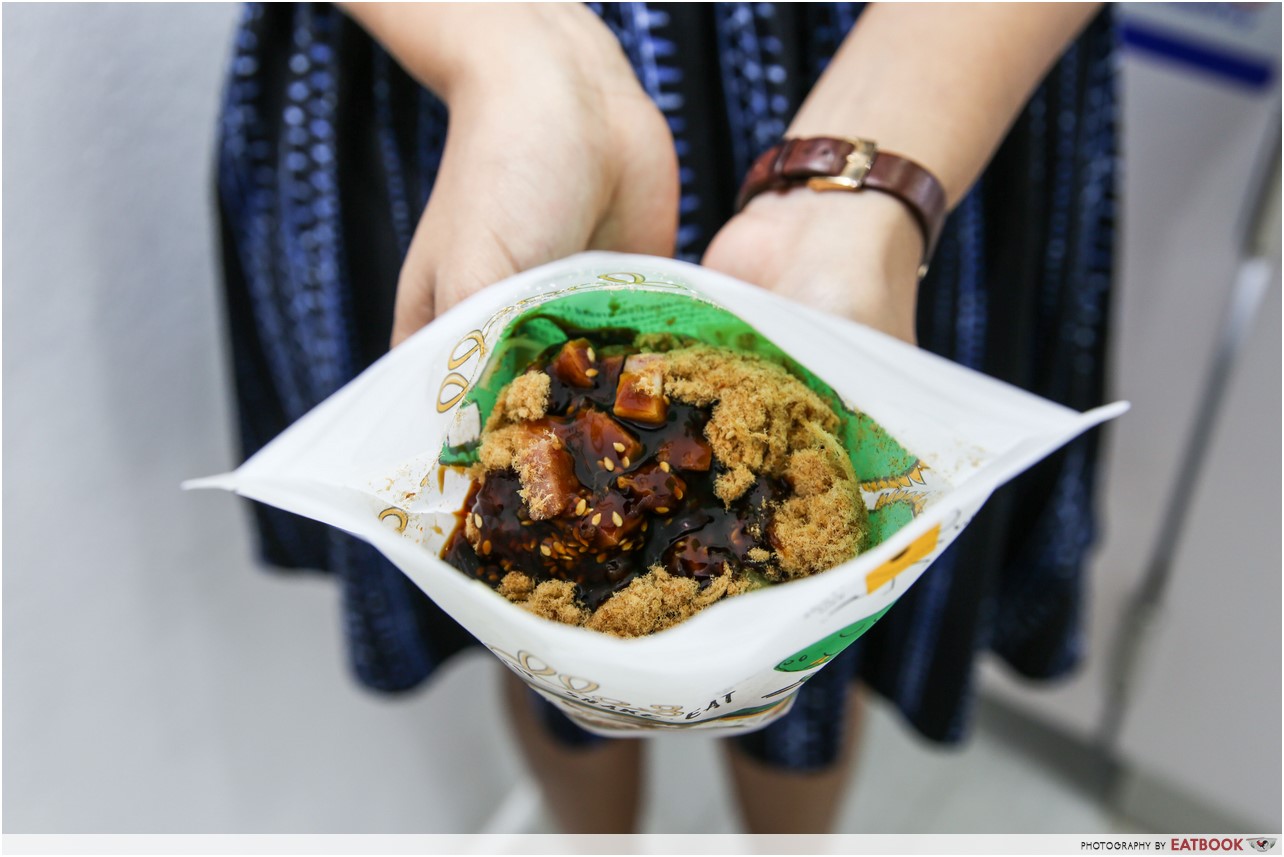 We had better luck with our last set, which was made up of angel hair noodles, kimchi, lettuce, smoked duck, chicken floss and garlic sauce. This is a combo that screams #YOLO because we chose our ingredients mindlessly, without considering how it would taste like.


But it turned out to be the best. The garlic sauce was sweet and the kimchi added a little unexpected but pleasant spice. We were skeptical of the chicken floss at first, but it turned out great as its fragrance complemented the rest of the ingredients. If you're in for a flavorful combo, be sure to pick chicken floss as one of your proteins!
The Verdict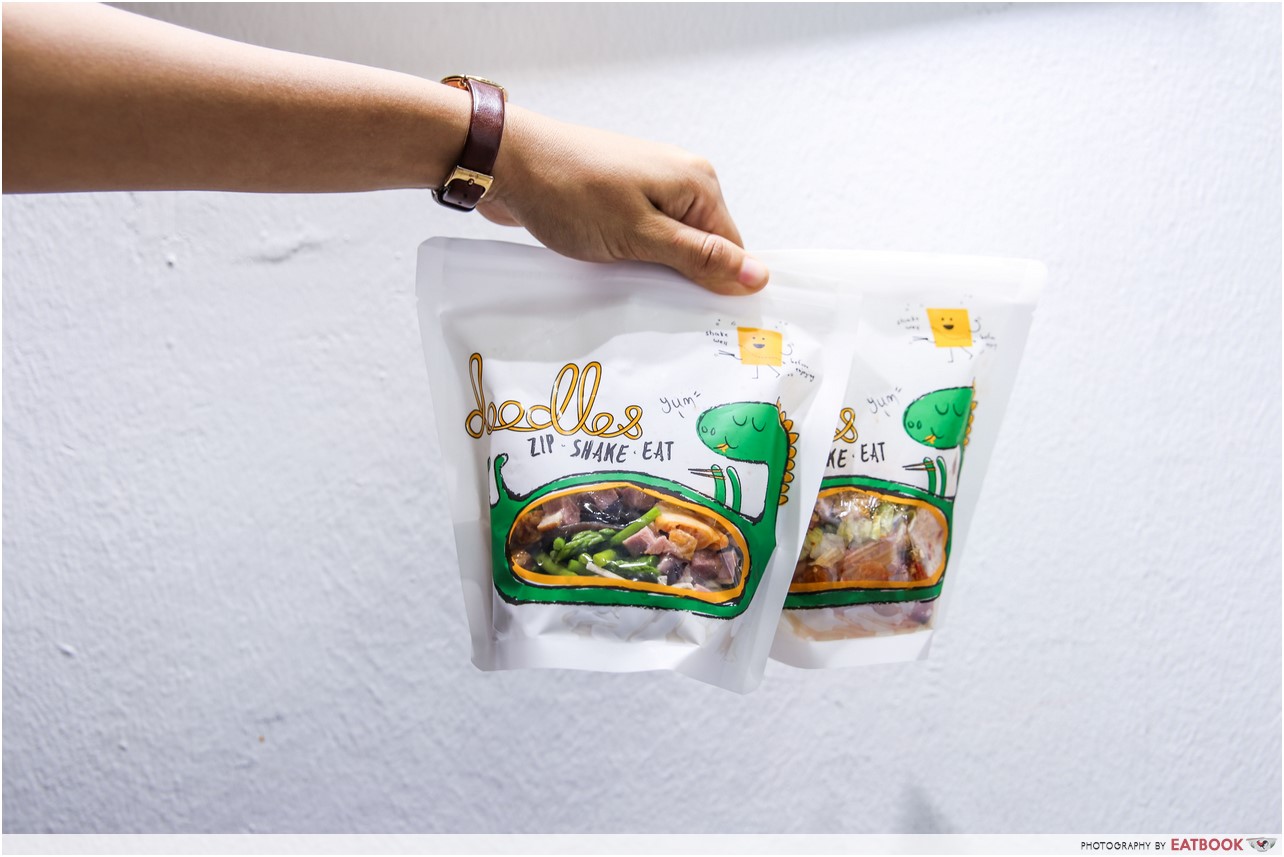 Cold noodles is perfect for a sweltering day and let's be real, that's practically every day in Singapore. The portion size of an Om-nom-nomnivore set was too little for a meal, but we heard an upsized version is coming soon! What I like most about Doodles is you'll never be sian here because the possibilities are endless.
For an ultimate combo, the staff recommended a mix consisting of angel hair noodles, seaweed, mushroom, smoked salmon, smoked duck and their popular sesame sauce. Unfortunately, they ran out of smoked salmon and sesame sauce that day so do try it if you pop by and let us know if it's as good as they make it out to be!
This is an independent review with all expenses borne by Eatbook.sg.
Summary
Pros
– Affordable
– Large variety of ingredients
– Convenient takeaway meal
Cons
– Small portions
– No seating area
Recommended Dishes: Angel hair noodles with kimchi, lettuce, smoked duck, chicken floss and garlic sauce ($6)
Operating Hours:
Monday – Sunday 10am to 9:30pm
Address: 302 Tiong Bahru Road, #B1-111, Tiong Bahru Plaza, Singapore 168732