---
New-generation hawkers starting trends
---
Gone are the days where the hashtag #foodporn links you to photos of food from cafes or atas restaurants. From bento-style duck rice to pink umeboshi rice, it seems like the competition of coming up with crazy food inventions has spread to hawker centres as well.  
Instead of serving the usual plate of Hokkien mee or chicken rice, many new hawkers are giving their competitors a run for their money as they enter the scene with reinvented dishes.
In a bid to support these ambitious hawkers, the Tiger Street Food Support Fund 2017 has chosen them as recipients of a $10,000 grant each. While trying their creative dishes, we spoke to the hawkers and learnt more about the stories behind their inventions, as well as the way the grant from Tiger Beer has helped them in their businesses.
---
1. Tasty Street
---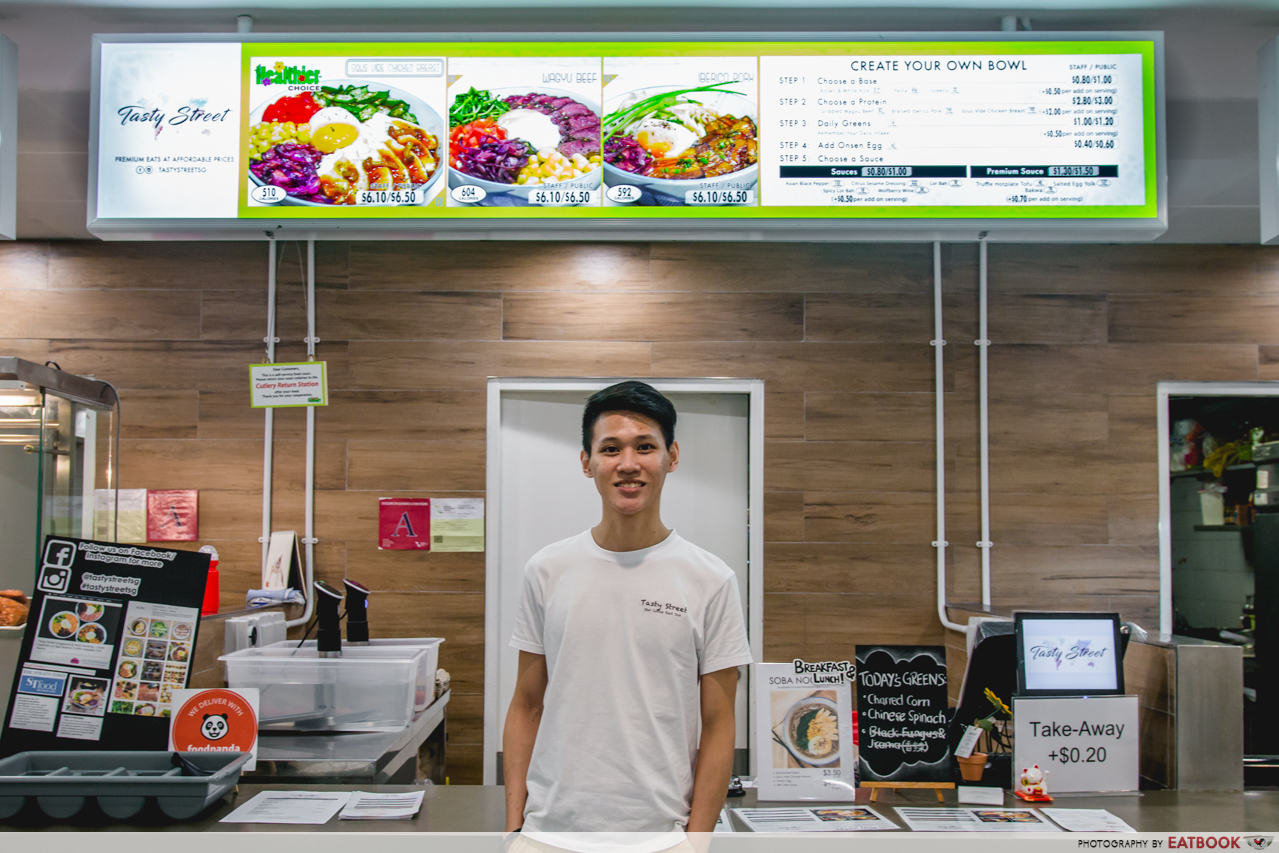 "It is a dream for most people in our line to be able to create and serve our own version of comfort food", said Edward Too, 25, owner of Tasty Street. A graduate from Temasek Polytechnic's culinary course, Edward and his schoolmates are pursuing their dreams at the MOE Cafeteria, serving rice bowls with both Asian and Western tastes. His comfort food, Iberico Lor Bah Bowl ($6.50), is one of the three bowls on their menu, and also one which he claims he can "eat every day".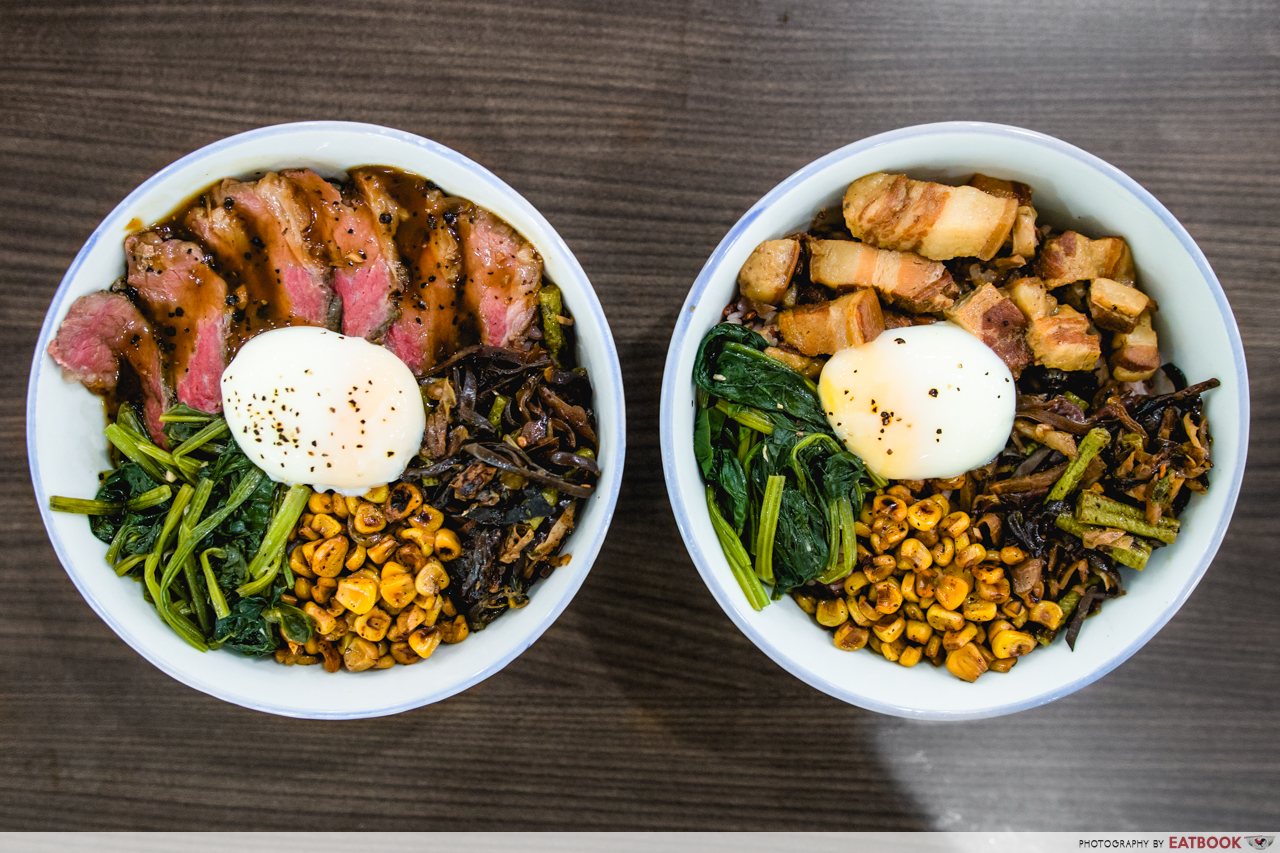 Priced affordably at $6.50 each, the other two bowls that they serve are Truffle Hotplate Tofu Sous Vide Chicken Breast Bowl and Asian Black Pepper Wagyu Beef Bowl. Each bowl comes with meat, mixed grains, onsen egg, three different types of vegetables, and is generously drizzled with house-made sauces. Compared to most rice bowls sold at other places, the ones at Tasty Street are probably one of the most affordable ones. But even with the low price, he ensures that the portion and taste of the rice bowls are not compromised.
"I very picky one, and I will only serve the food that I like. And I can eat these bowls every day, for breakfast, lunch, and dinner. " Edward said.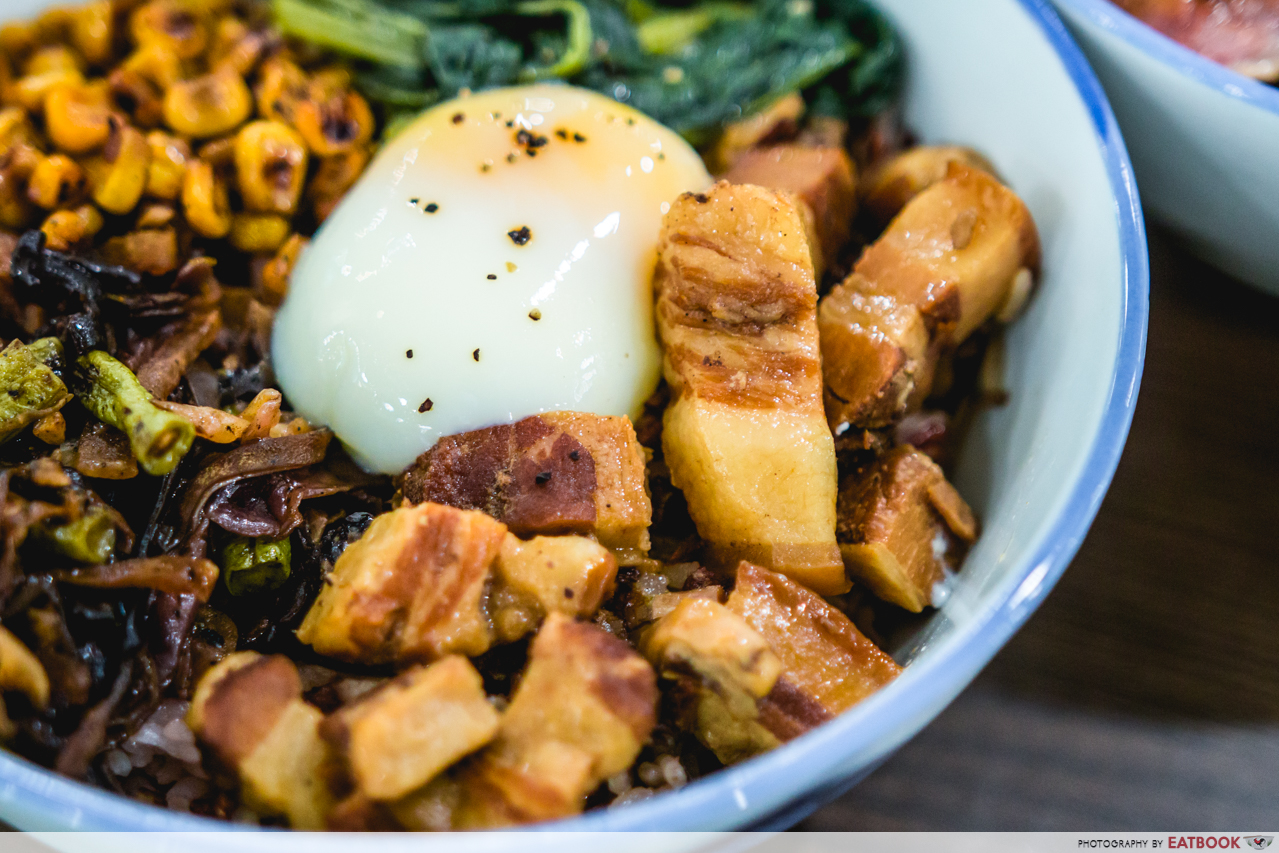 Although their business has been running for a few months, the journey has never been easy. Planning and saving up to set up the stall alone took more than two years and was only fulfilled with the financial support from the Tiger Street Food Support Fund. Due to the location of Tasty Street, business can be inconsistent and their next step is to venture into more accessible places.
Address: 1 Buona Vista Drive, Level 2, Ministry of Education Building, Singapore 138675
Opening hours: Mon-Fri 10:30am to 4pm
Tel: 8333 5170
Website
---
2. Ah Tan Wings
---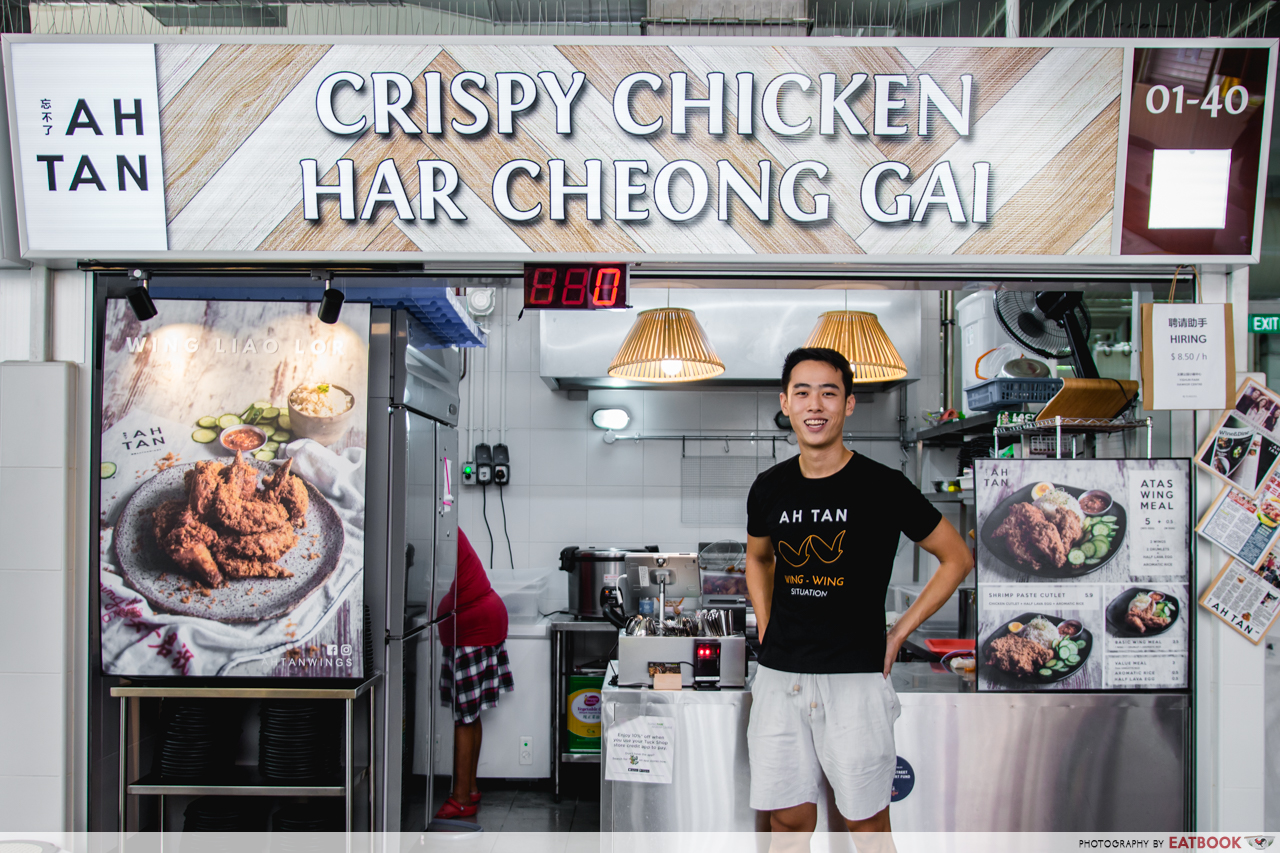 Helmed by a brother-and-sister duo – Tan Wee Yang, 25, and Tan Yu Yan, 28 – Ah Tan Wings has been a familiar name at pop-up events. Affirmed by popular responses for their crispy har cheong gai, the siblings left their jobs in accounting and sales departments to set up their first stall at Yishun Park Hawker Centre.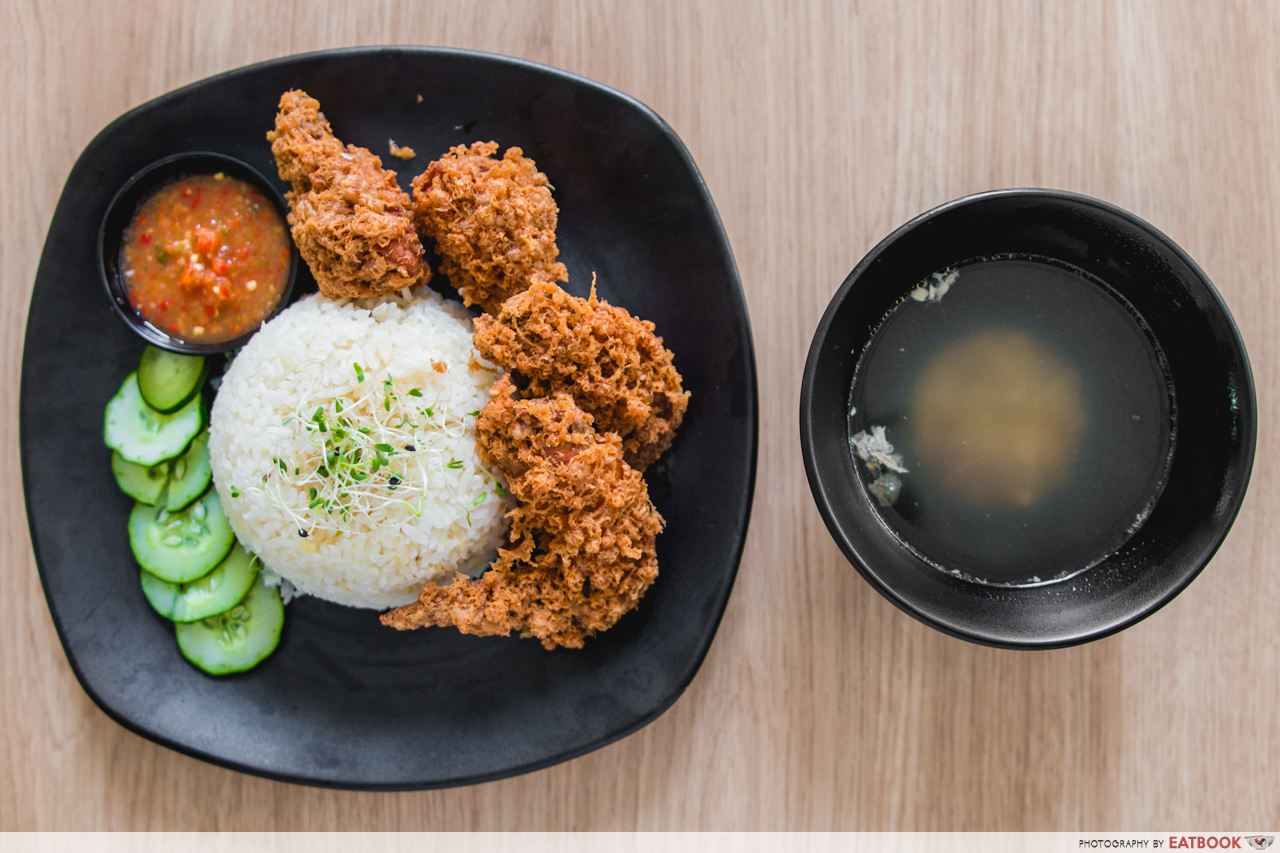 At the stall, their menu is simple, with only three main choices – Atas Wing Meal ($5), Shrimp Paste Cutlet ($5.90), and Basic Wing Meal ($3.50). The Atas Wing Meal comes with two chicken drumlets, two chicken wings, and aromatic rice cooked with chicken broth. As a fan of zi char food since young, har cheong gai has always been Wee Yang's favourite and a passion to serve high quality and crispy fried chicken was what drove him to set up a stall focusing on this particular dish.
When asked why he chose to venture into the food industry as a hawker, he said, "I really like to eat street food when I go overseas and in Singapore, hawker centres are our version of street foods."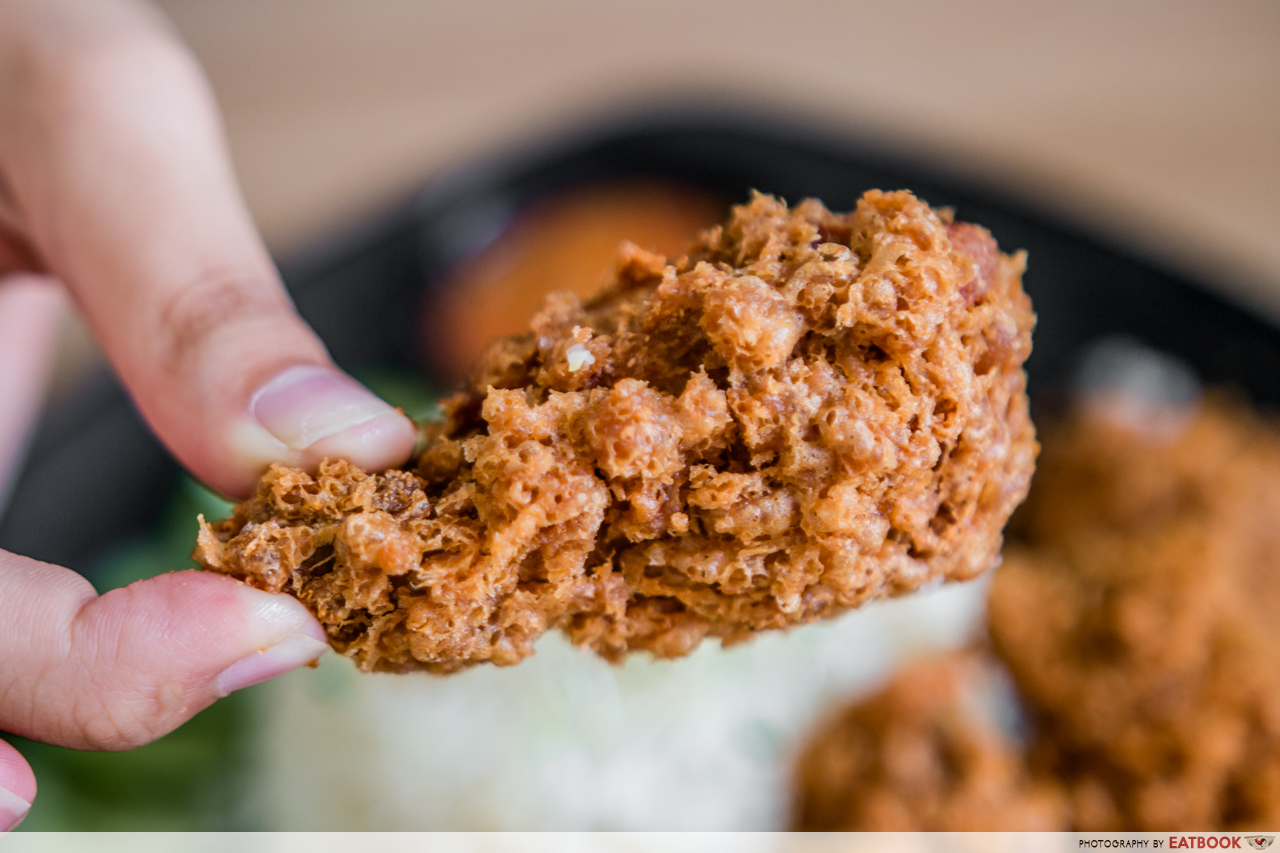 Although Wee Yang has no regrets going into the hawker line and business has been off to a good start, he does not deny that the journey "has been tough". Having no prior experience in the trade, the siblings had to "rely a lot on hawker neighbours and friends", even when it comes to simple chores like cleaning up effectively after a day's work.
As a newcomer serving non-conventional hawker food, the siblings devoted most of the money they received from the Tiger Street Food Support Fund into publicity.
Address: 51 Yishun Avenue 11, #01-40, Yishun Park Hawker Centre, Singapore 768867
Opening hours: Tue-Thur 11am to 9pm
Website
---
3. Mr Prawnie
---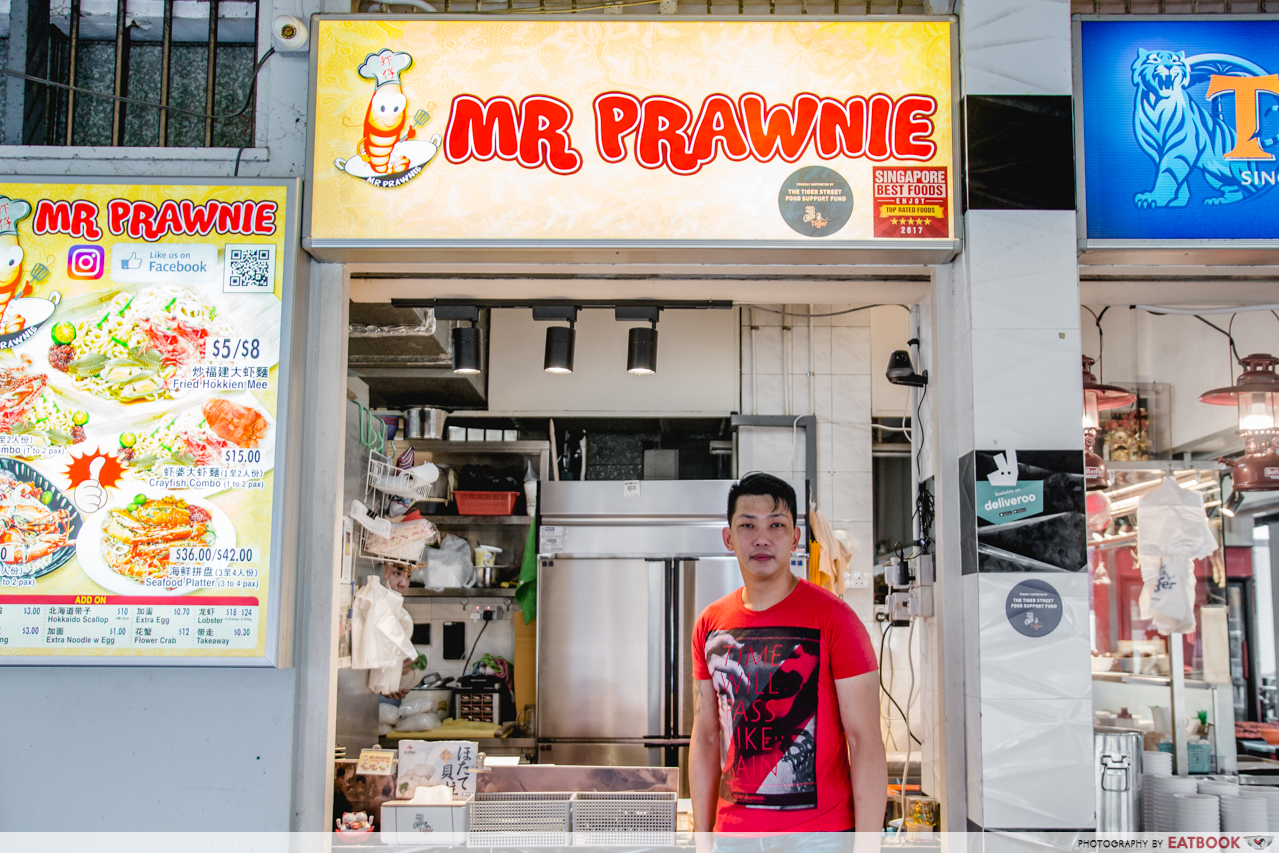 Started as a dishwasher at the age of 14, Mr Pang Biau Juan, now 39, worked his way up to become a chef and opened his first chicken rice stall when he was 22. Several year later, he had 11 stalls under his name but soon ran into debts, and troubles with the law set him back to ground zero. These setbacks did not deter him from coming back to the F&B industry though, as he returned to the scene with Mr Prawnie.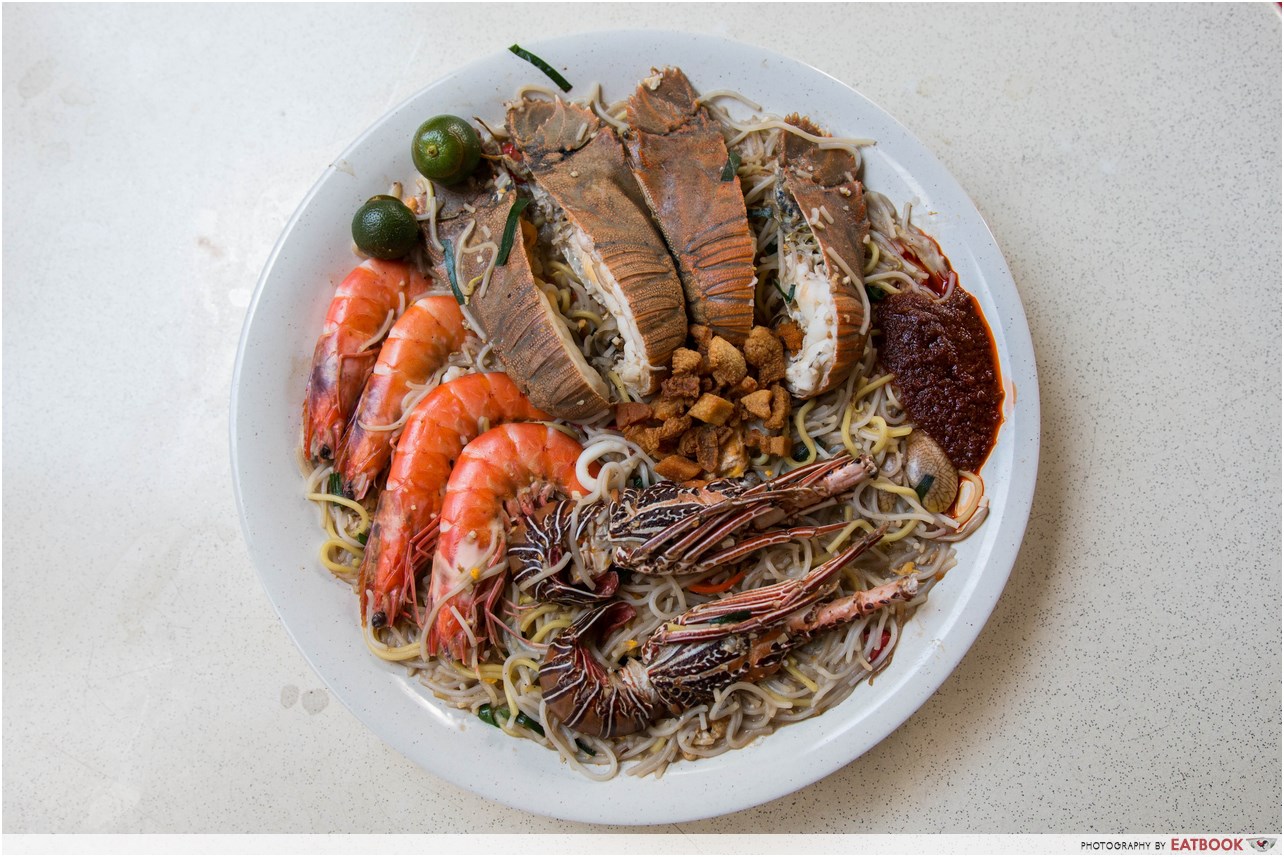 Instead of serving the usual hawker fare, Mr Pang wanted to make his food "more atas". That was how the idea of a Seafood Platter & Lobster ($42) came about. With traditional Hokkien mee as the base, the dish comes with prawns, crayfish, lobster, and lala. This gigantic platter is meant to be shared between three to four people but if you do not have the numbers, you can still enjoy other Hokkien mee variations including Lobster Set ($24.90) and Flower Crab Hokkien Mee ($20).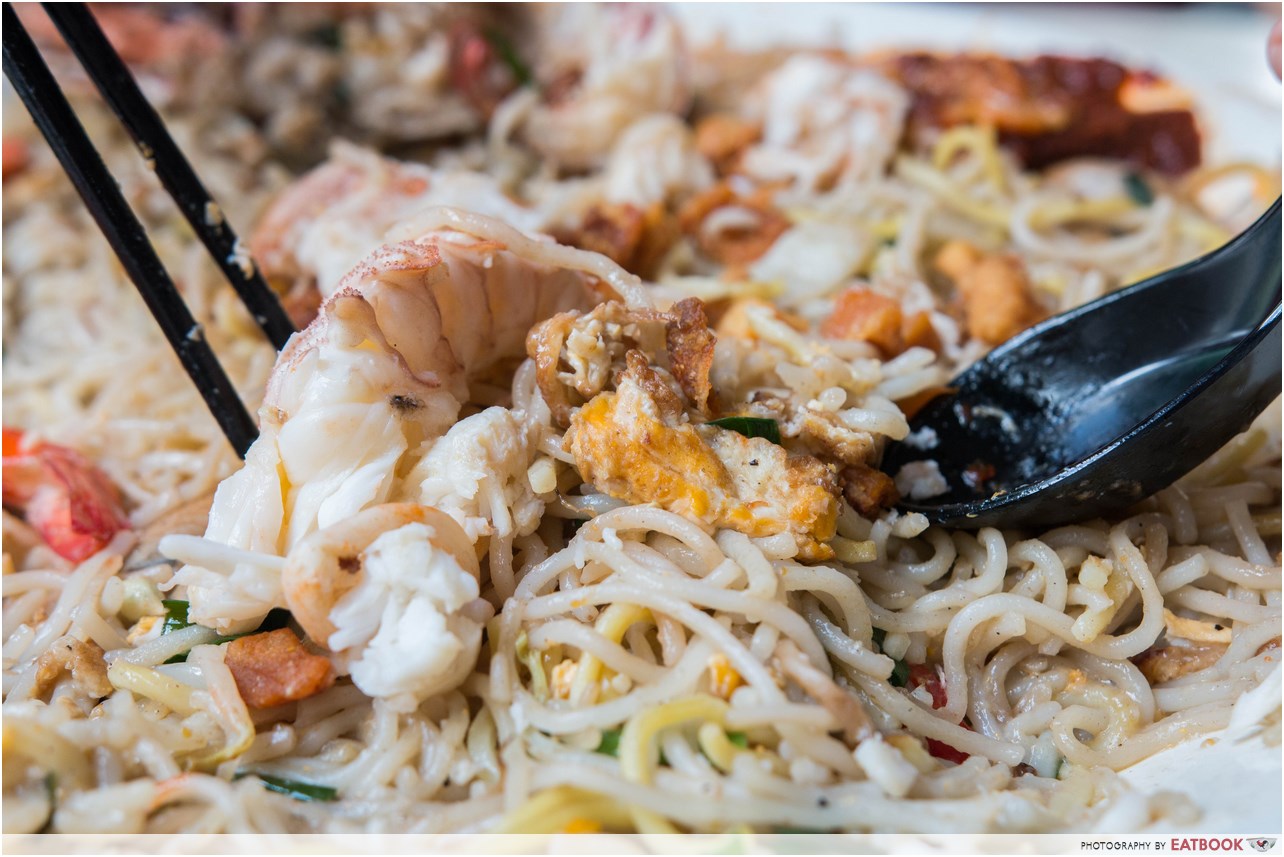 When asked about the difficulties he faced in starting his business from scratch after years away from the industry, he said some of the greatest obstacles included adapting to the change in the way the industry worked as well as financial concerns. "I was literally struggling to survive", said Mr Pang. With funds from Tiger, however, he was able to purchase new equipment and fulfill his ambition of venturing into selling other hawker dishes, with stalls like Mr Chicky and Mr Ramen now under his name.
Address: 304 Ubi Avenue 1, L32 CoffeeShop, Singapore 400304
Opening hours: Daily 10am to 10pm
Tel: 8700 3168
Website
---
4. Snuggrubs
---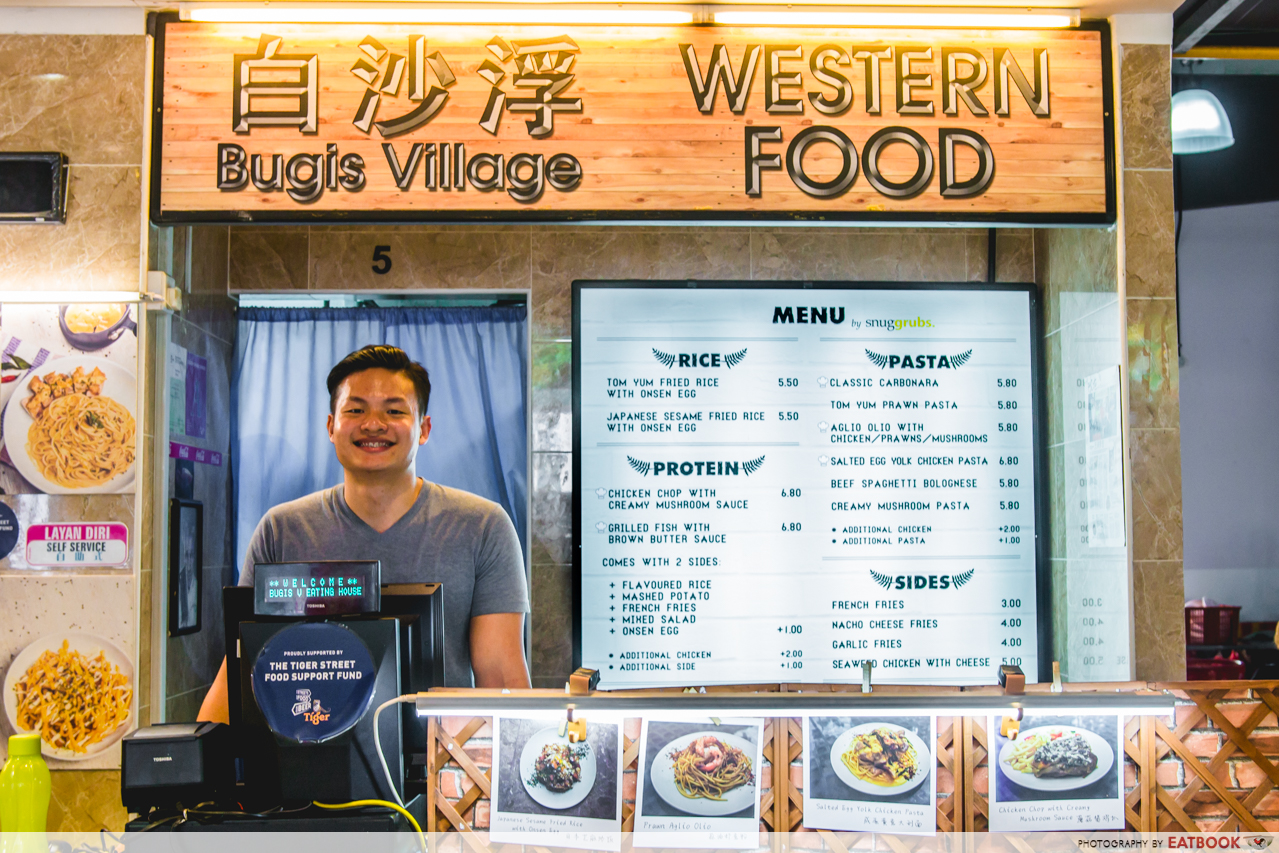 When it comes to schooling, I'm sure we can all agree how taxing and stressful studying can be. Imagine juggling schoolwork and being the owner of a hawker stall at the same time. Driven by his passion for food, that is exactly the challenge Raymond Tan, 24, is taking on.
Previously found in one of the canteens in NUS, Raymond recently shifted Snuggrubs to CT Hub 2. The stall serves Western food with several locally inspired twists, and some of the more interesting dishes on his menu include Tom Yum Prawn Pasta ($5.80) and Salted Egg Yolk Chicken Pasta ($6.80).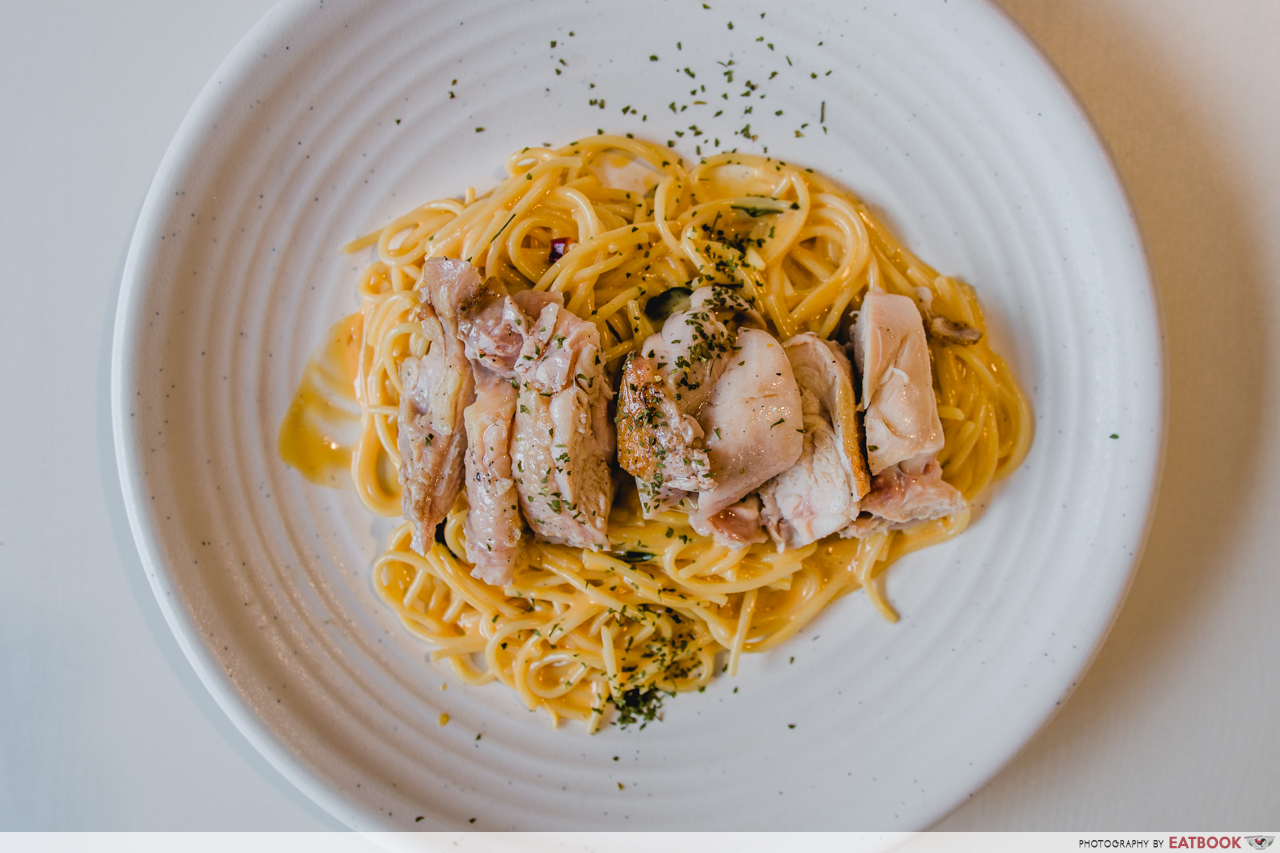 Drenched in a creamy salted egg yolk sauce, the pasta comes with a huge chunk of tender chicken thigh that is prepared sous-vide style. As a recipient of the Tiger Street Food Support Fund, he purchased sous-vide machines and vacuum packaging machines so that he could prepare his meat chops using the "concept that a restaurant uses", instead of pan-frying or grilling them like most hawkers. With the funds, he was also able to upgrade his stall by buying point of sale machines for customers who prefer cashless payment methods.
When asked why he bothered going through the hassle and investing so much on such cooking methods, Raymond said, "I just want to provide value-for-money experiences to people so that they don't have to go to 'exclusive places' where they pay 'exclusive prices' for similar food."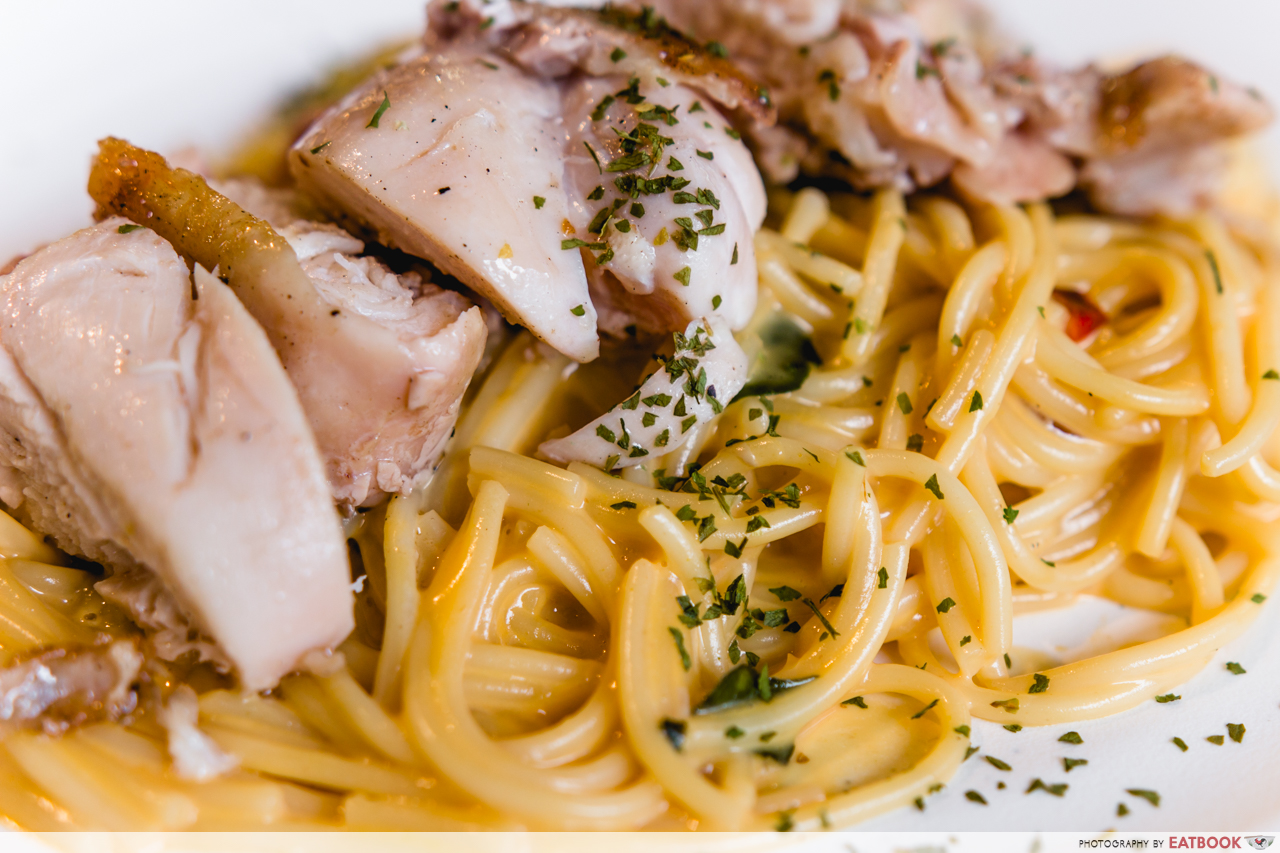 While juggling work and studies is definitely challenging for the young hawker, Raymond finds pride and satisfaction in forming bonds with recurring customers who enjoy his food. A desire to lead by example and inspire his peers to pursue their passions is what drives him to persevere on despite the many challenges.
Address: 114 Lavender Street, Level 1, Bugis Village Eating House Stall 5, CT Hub 2, Singapore 338729
Opening hours: Mon-Fri 11am to 7pm
Website
---
5. Jia Xiang Nasi Lemak
---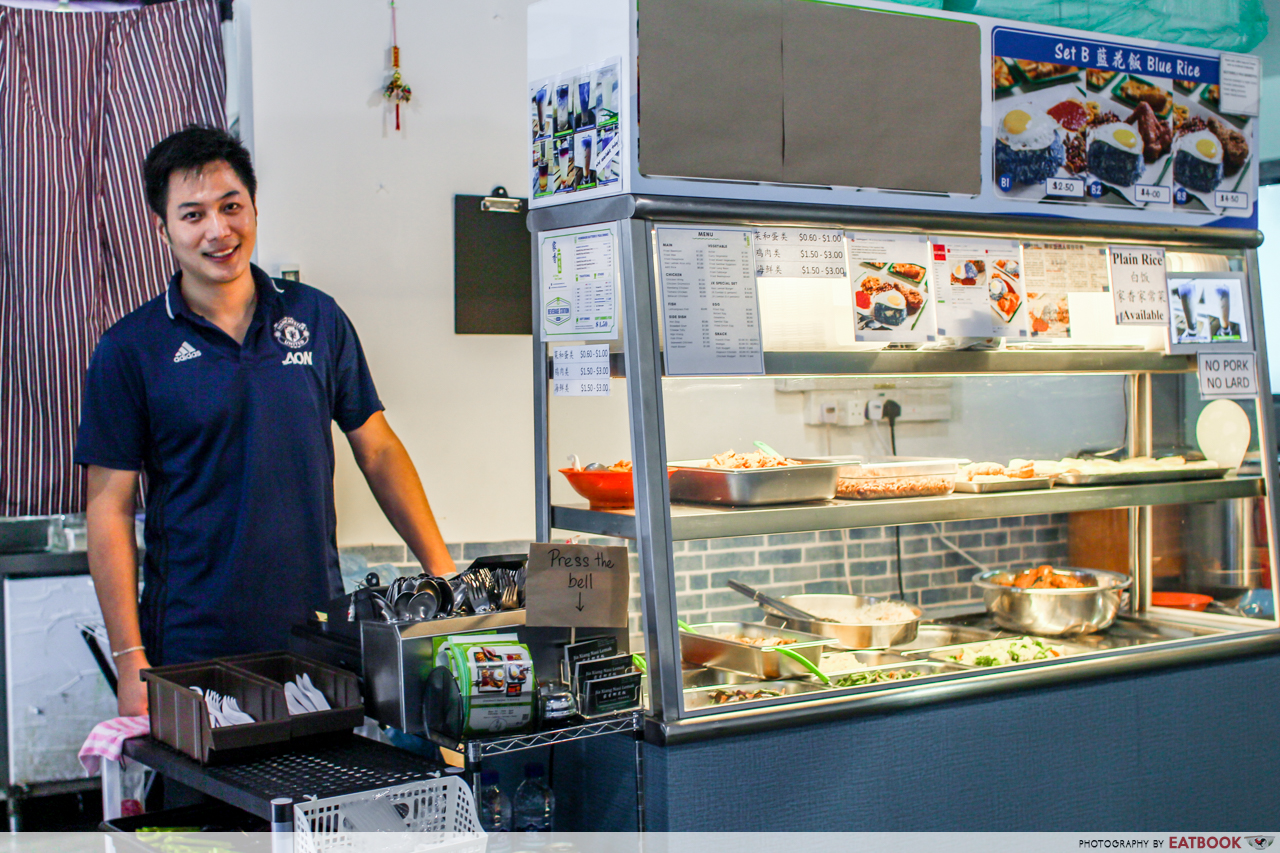 The last thing I expected myself to find at CT Hub 2 was a stall selling not just good nasi lemak, but also one that is Insta-worthy. Kick-started in April by Kenneth Lim, 31, and his brother Shawn, the pair sells nasi lemak with features of nasi kerabu. The idea of having blue-coloured rice in their nasi lemak was inspired by their grandmother who "used to prepare the rice with blue butterfly pea".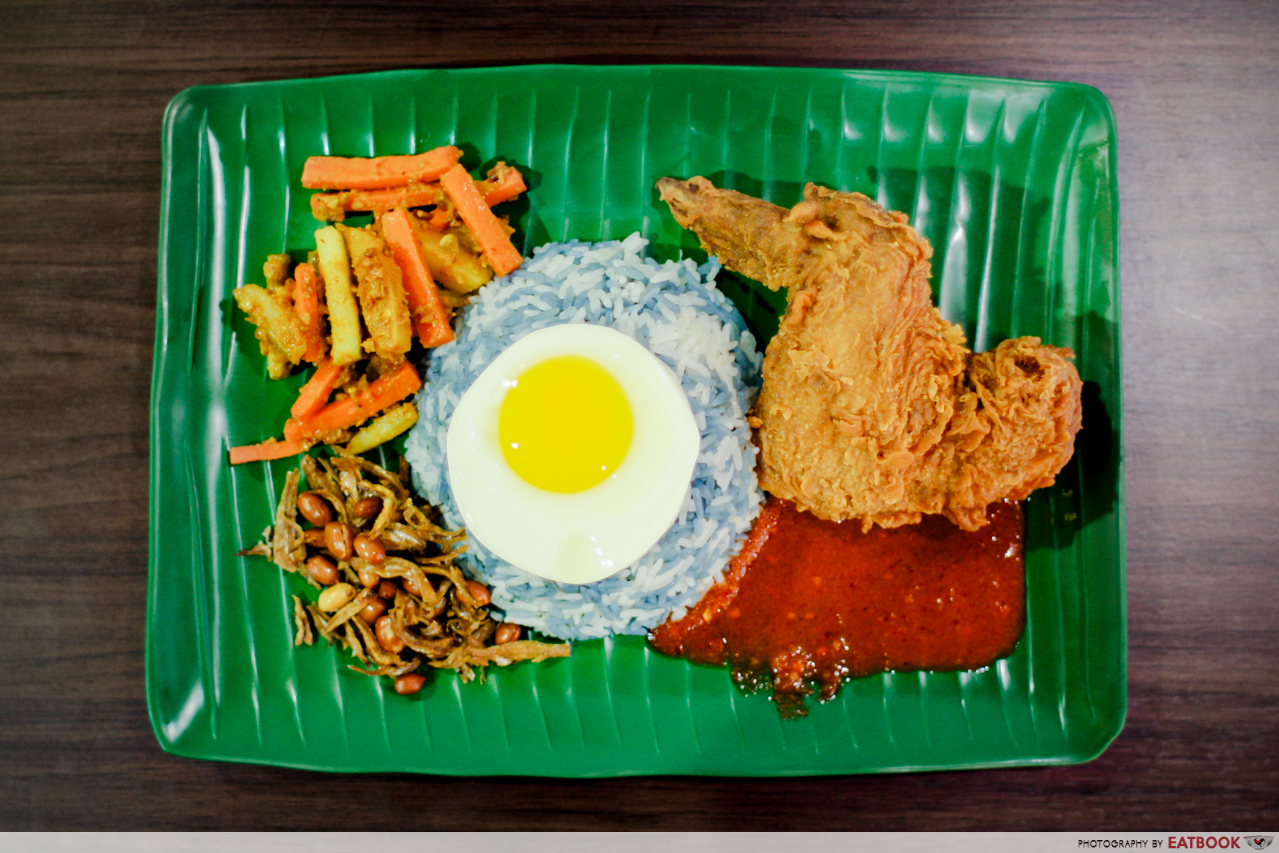 For $3, the set comes with a heap of fragrant blue and white rice, chicken wing, sunny side up, sambal sauce, peanuts and anchovies, and a serving of Nyonya acar. Available only on Tuesdays and Saturdays is their Rendang Chicken ($3), which is a must-have if you are visiting the stall on those days. Besides their signature dish, their drinks are also coloured aesthetically in blue and purple hues. Some of the drinks they offer include Butterfly Pea with Honey Lime ($2) and Butterfly Pea Teh C ($2).
While many of his customers were attracted to his stall after seeing pictures of the uniquely coloured nasi, Kenneth mentioned that some were also turned off as they thought the colour came from artificial colourings.
"So we brought the butterfly pea flowers to show them that the colours are 100% natural and I even harvest the flowers by myself", said Kenneth.
Although Shawn was previously a chef, the brothers had no prior experience in starting a business and had to learn many skills on the job. "When we started, we looked at the whole empty stall and didn't know what to do", said Kenneth. With the $10,000 grant from Tiger, they managed to buy most of the equipment needed to run the stall.
Even though the learning curve is steep, the brothers find joy seeing their nasi lemak appear on people's social media feed and the positive comments left by customers. "My grandmother is also very happy that her grandsons are bringing her food to Singapore", Kenneth added.
Address: 114 Lavender Street, #01-08/09, CT Hub 2, Singapore 338729
Opening hours: Mon-Fri 9am to 3pm, Sat 11am to 4pm
Tel: 9889 3466
Website
---
Spicing up the hawker scene
---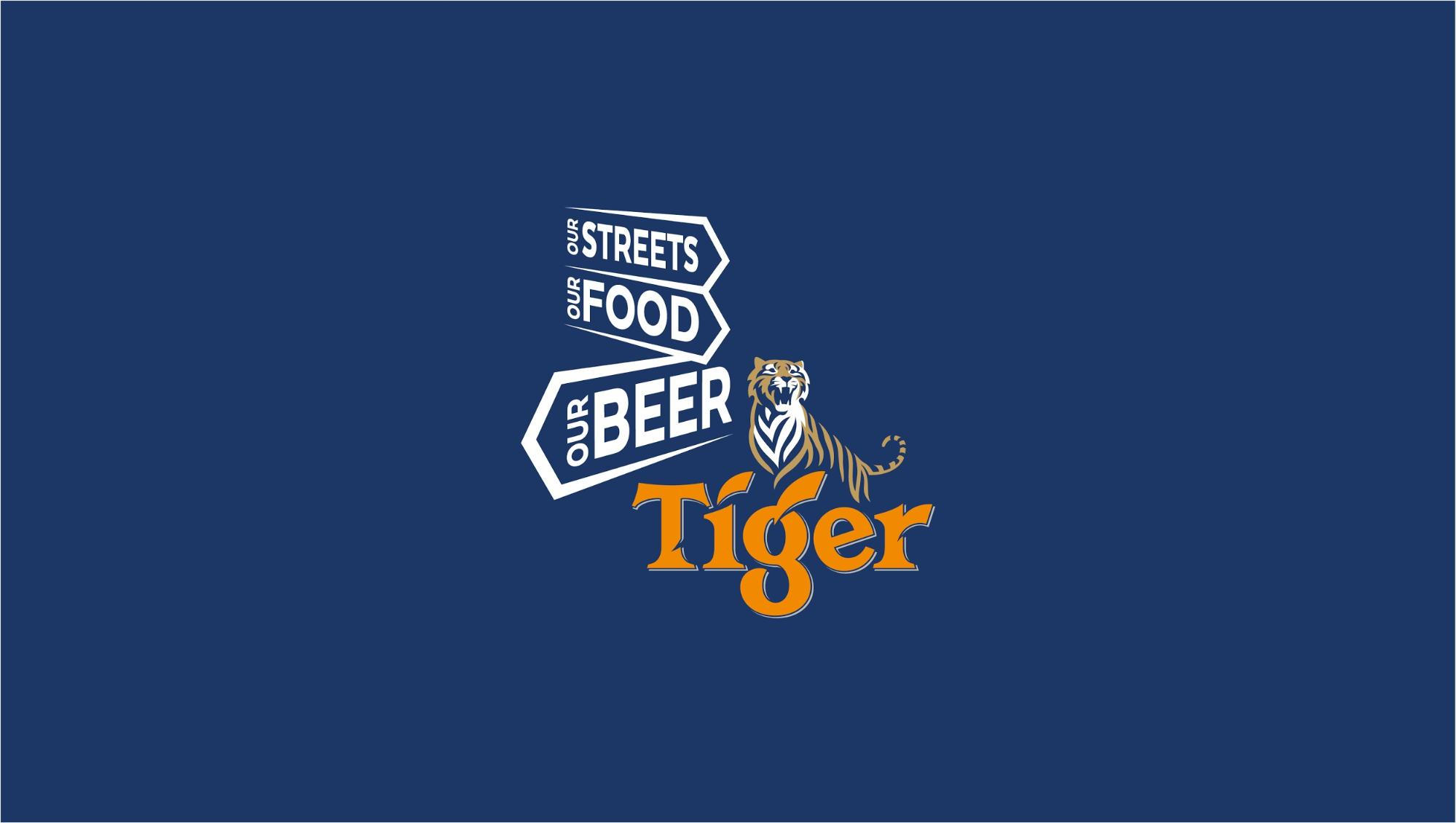 Some blame the lack of willing parties to take on the job of a hawker, while others point fingers at the uninteresting food choices available as the cause of our fading hawker culture. However, with these new-generation and young hawkers coming in and serving har cheong gai rice and salted egg yolk pasta, we should be appreciative and supportive of what could be a booming future for our hawker scene.
The Tiger Street Food Support Fund is started by Tiger Beer in a bid to promote and support the continuation of the hawker trade. Among 135 applicants this year, 25 hawkers were chosen and they each received a $10,000 grant to either improve on their current stalls or expand their business. So check them out the next time you're craving for hawker food to show your support for our hawker trade!
Find out more about the chosen hawkers of the Tiger Street Food Support Fund 2017!
This post is brought to you by Tiger Beer Singapore.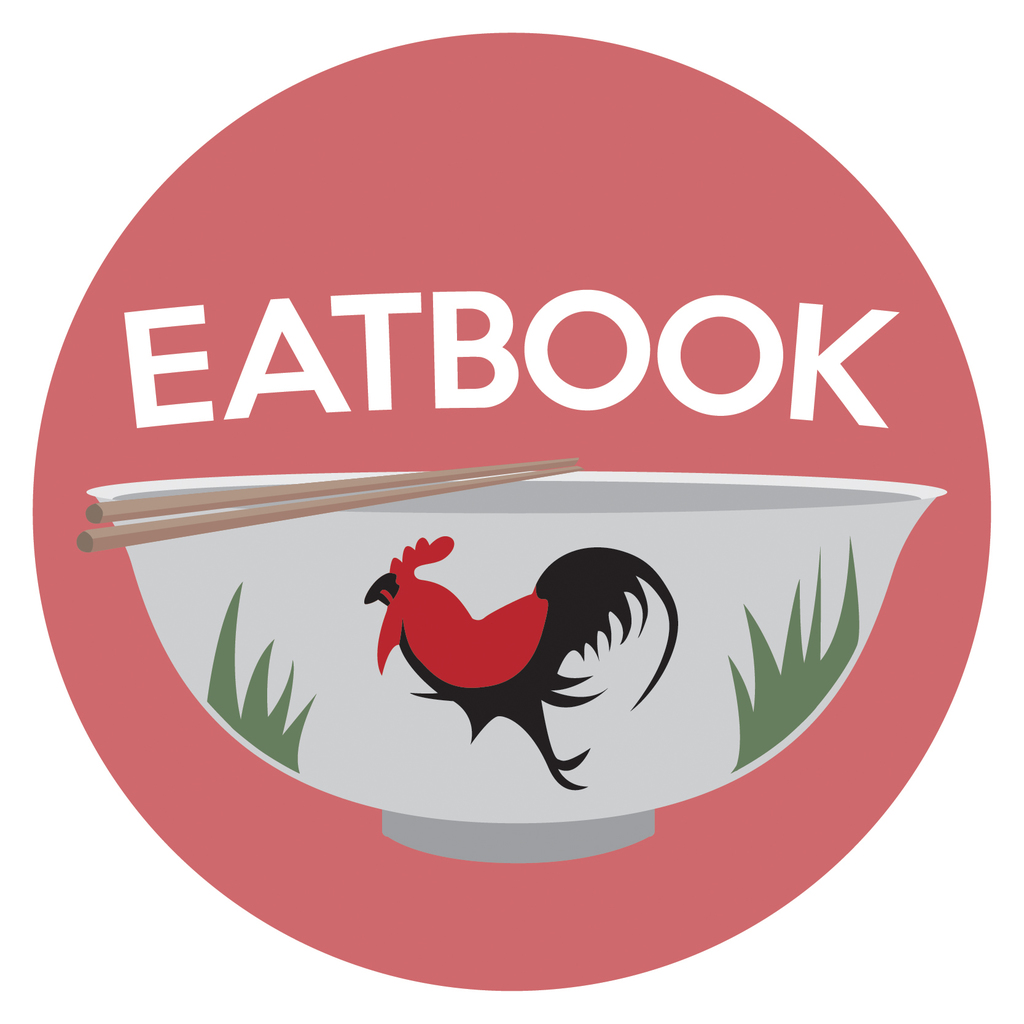 Drop us your email so you won't miss the latest news.