Update: 24 May 2019, Plum & Rice has rebranded to Prawn & Mee.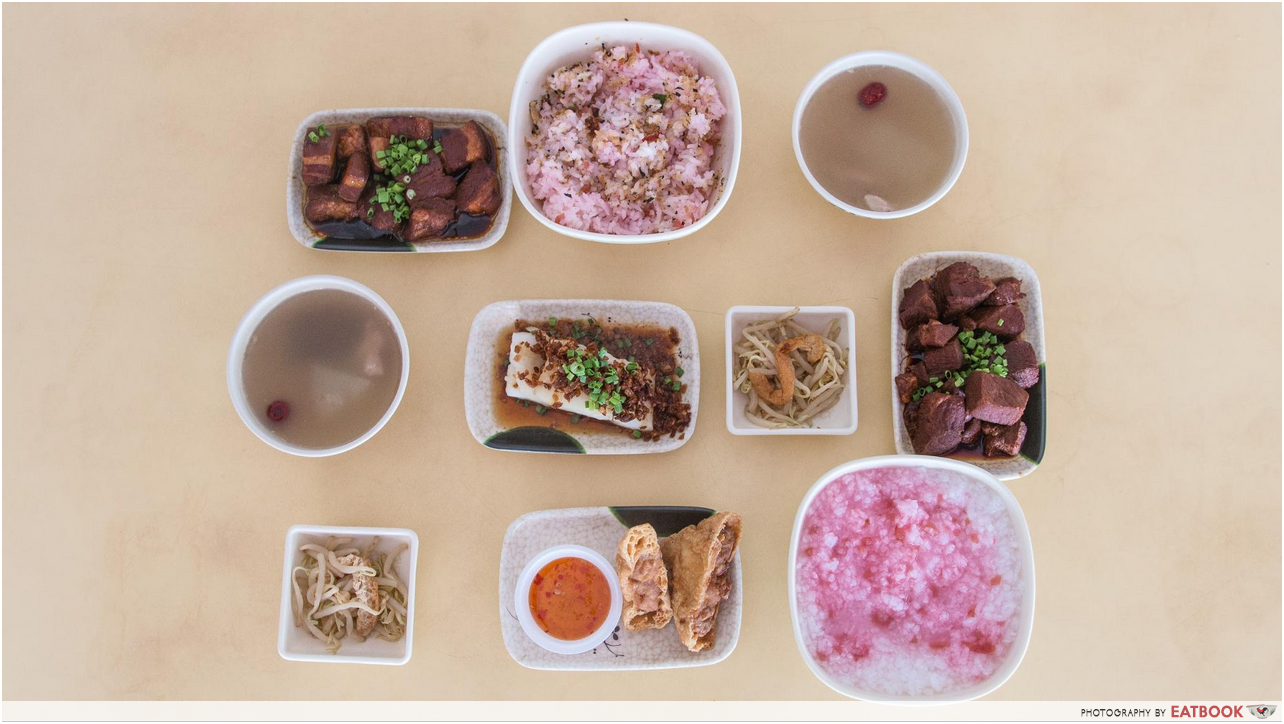 Even though it is tucked away in a hawker centre at Bedok, Plum and Rice is hard to miss. This humble stall's quaint, Japanese-inspired storefront stands out among rows of showy, brightly-lit signs. But more importantly, the food they serve is a unique find.
The young trio behind Plum and Rice combine their passion to keep the hawker scene alive with their arsenal of culinary skills to bring Chinese and Japanese flavours together. With simple yet satisfying umeboshi rice and porridge sets at $4 to $6, this stall might just be your new hawker go-to.
Food at Plum and Rice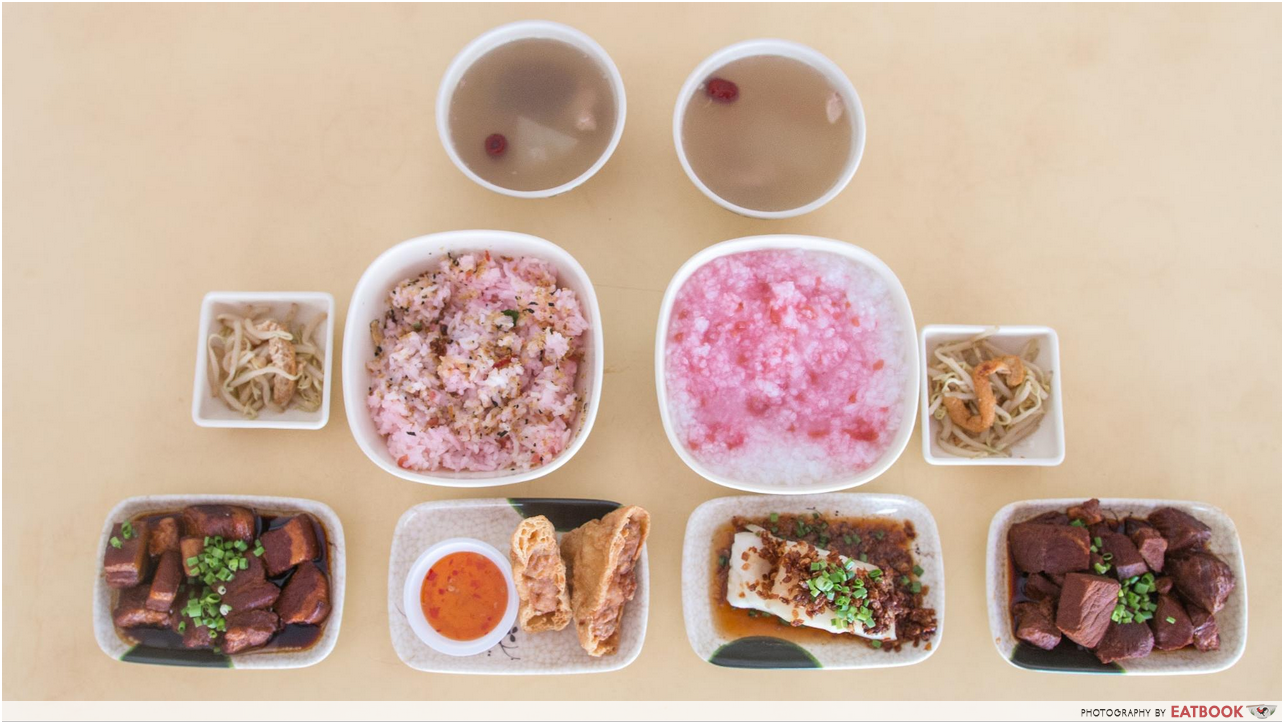 Each of their set meals comes with umeboshi rice, a side dish, a soup of the day and a meat dish. The rice is mixed with their special sauce, which is made from umeboshi AKA Japanese pickled plums. The stall imports these potent plums directly from Japan. Some of the plums' impressive health benefits are said to include aiding in digestion and even curing hangovers.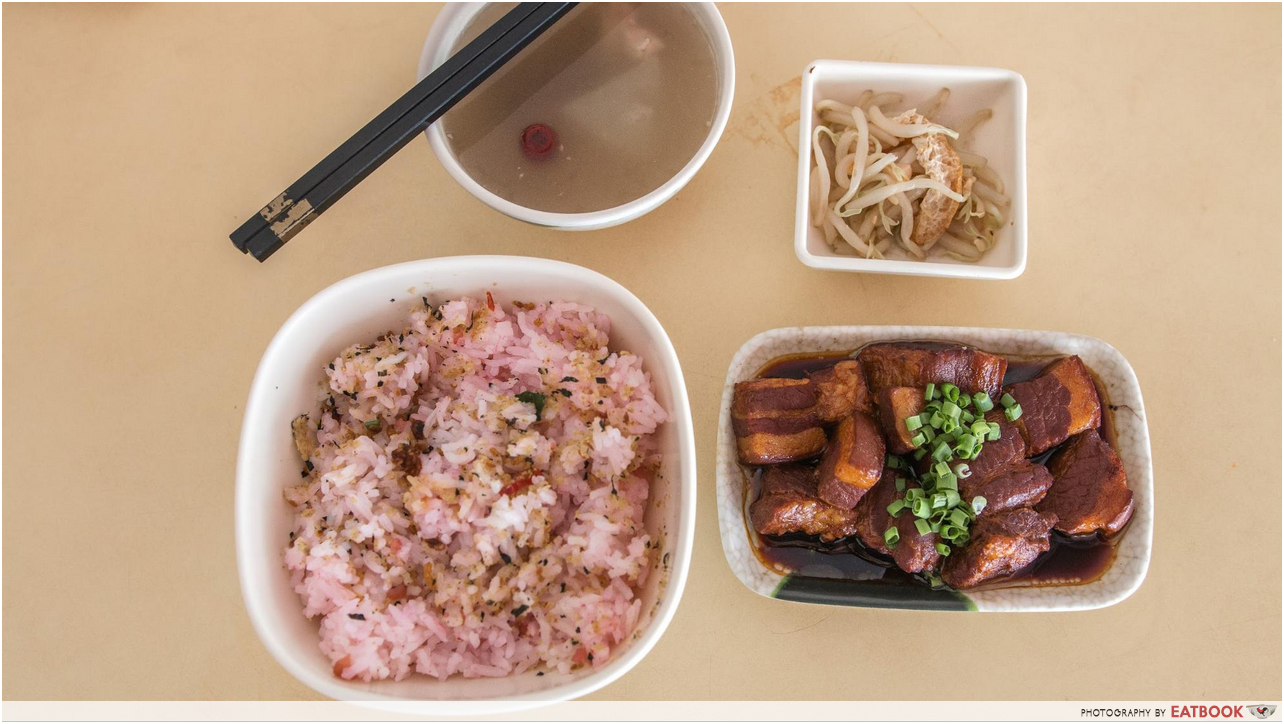 Set A ($4) came with umeboshi rice, braised pork belly, stir-fried bean sprouts and a dainty bowl of winter melon soup.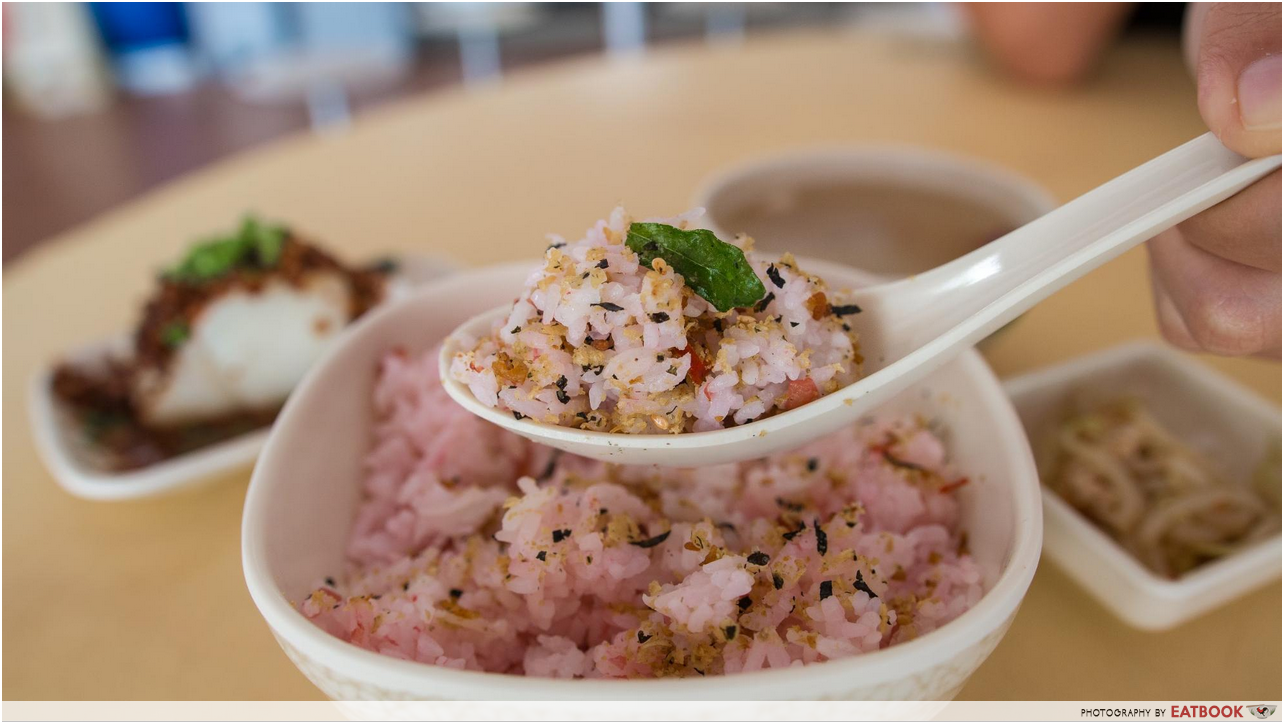 The nutritious umeboshi sauce is where the Jasmine rice gets its slightly pink hue from. Though it didn't make a huge difference in flavour, it gave the rice a slightly tart taste. For more texture and savouriness, furikake is thrown to the mix along with some curry leaves for a little bit of heat. Just like the plums, their furikake seasoning is made in-house and gave the rice a nice crunch.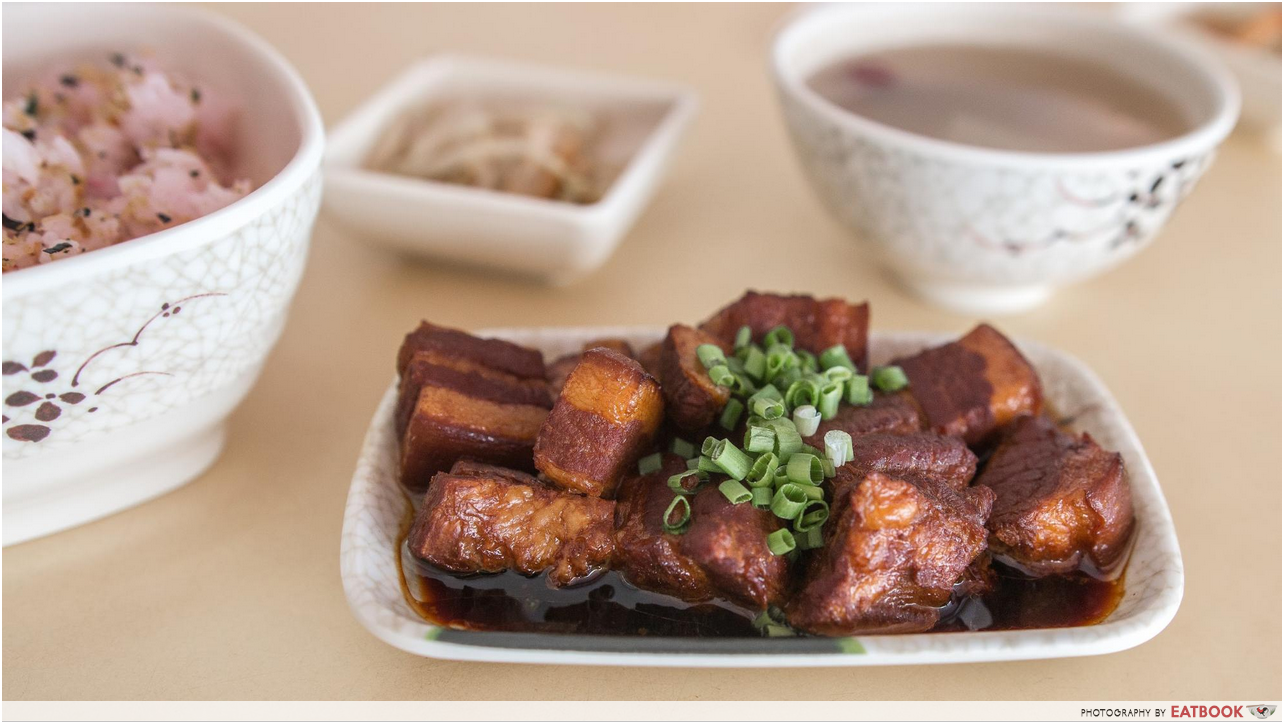 The highlight of this set was the braised pork belly. Each piece had a substantial layer of fat and was drenched in a dark, flavourful sauce. Familiar and comforting, this dish was basically a well executed tau yew bak, but slightly less salty.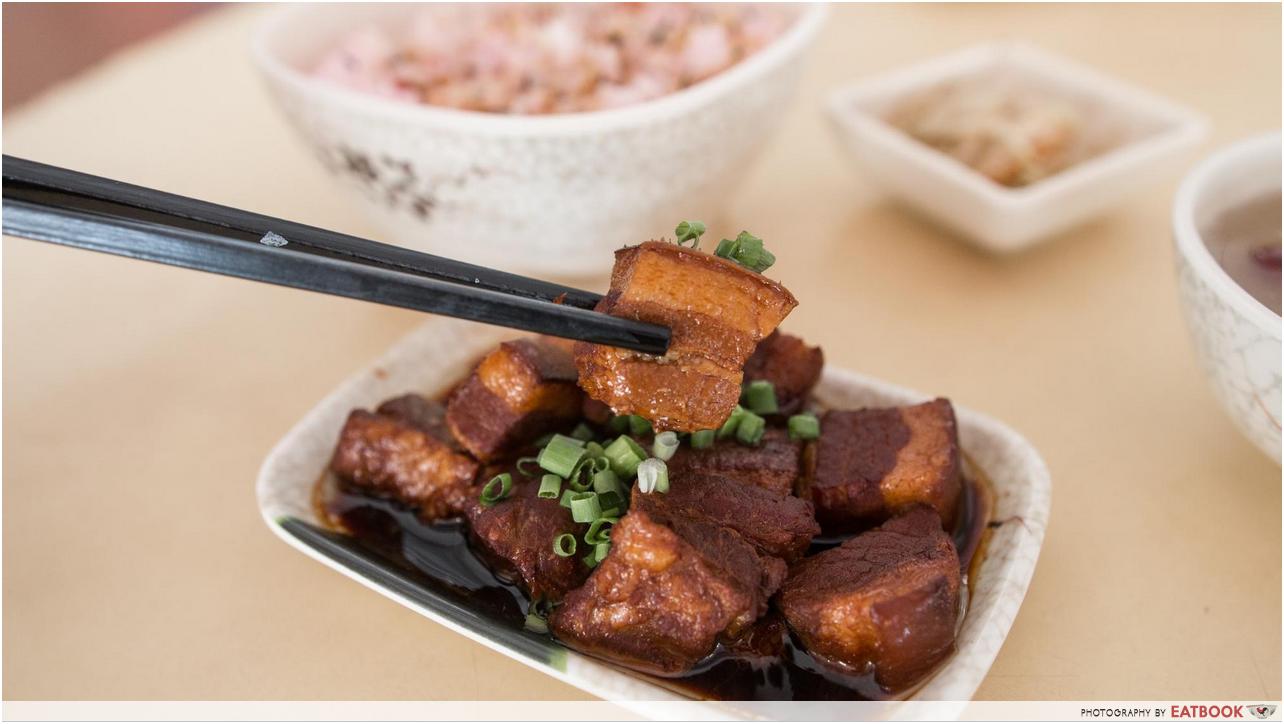 The juicy layers of fat added richness without being overly jelak when eaten together with rice.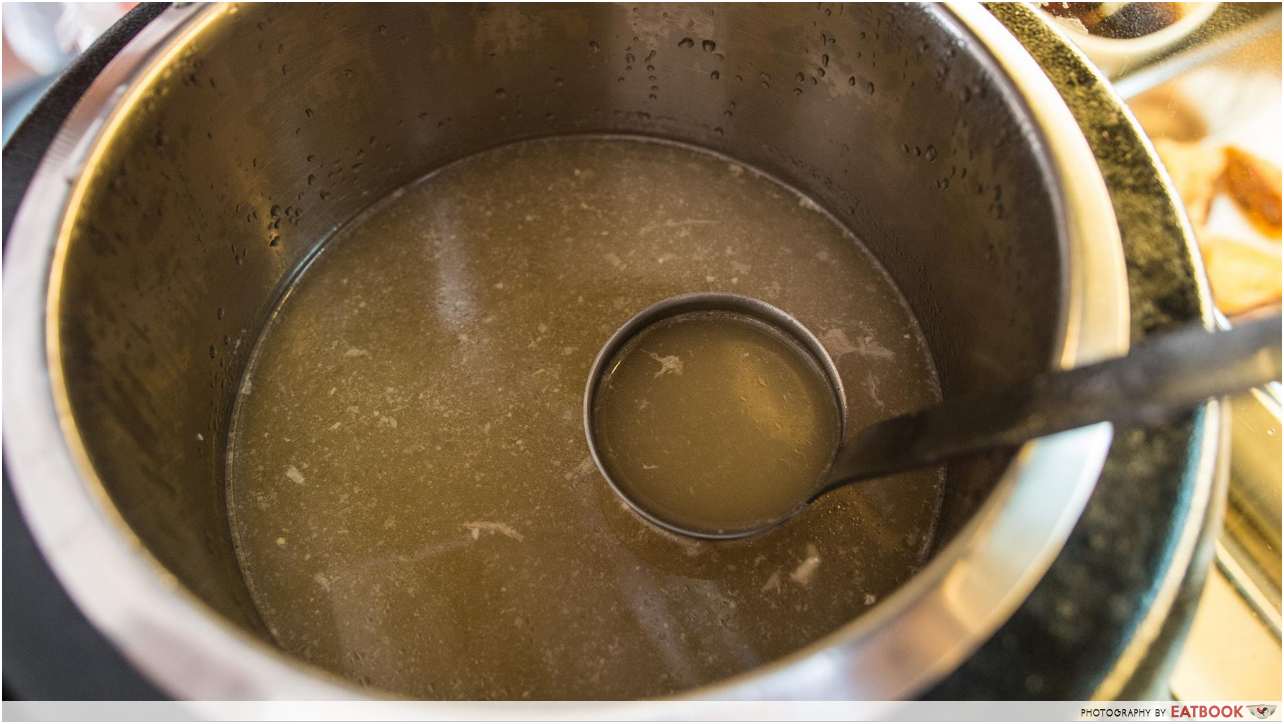 Ranging from black bean to lotus root, the soups at Plum and Rice switches up every few days. We had their winter melon soup that was made from a base of boiled soybeans. This made for a lighter broth. I could taste the natural sweetness from the winter melon and wolfberries, as well as the robust, meaty flavour from pork ribs.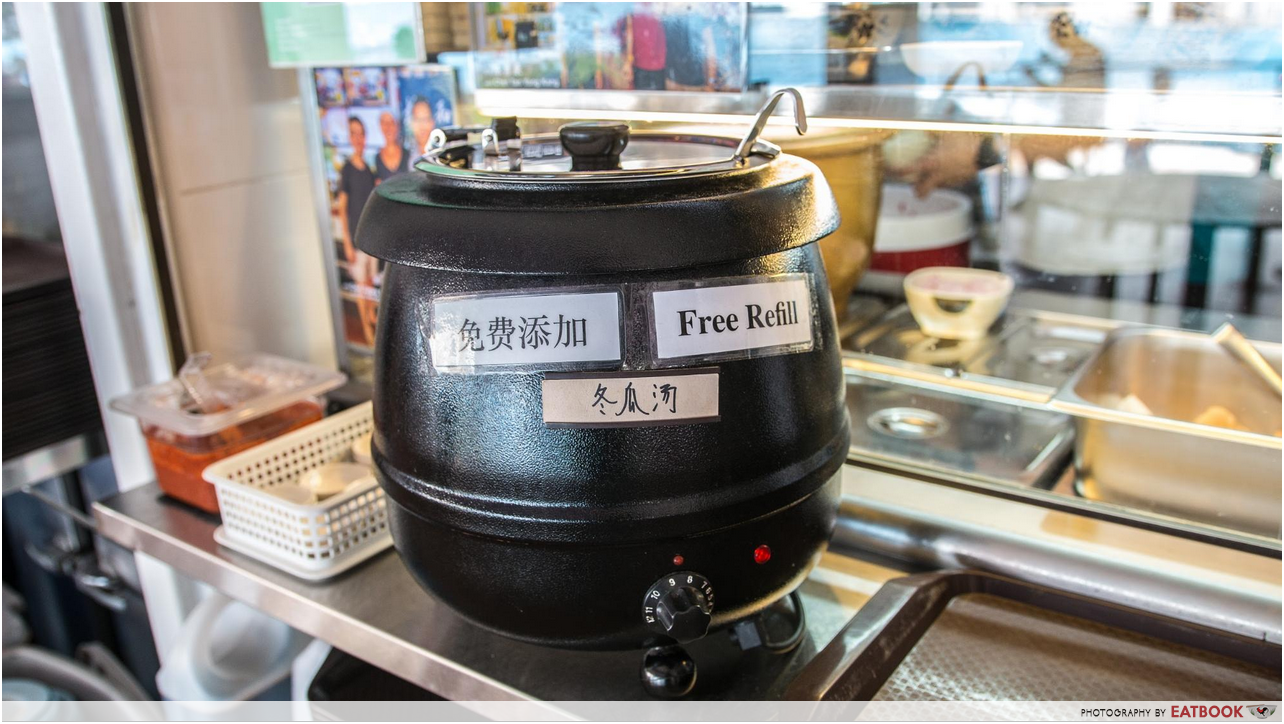 The best part is that you can refill your soup bowl as many times as you want!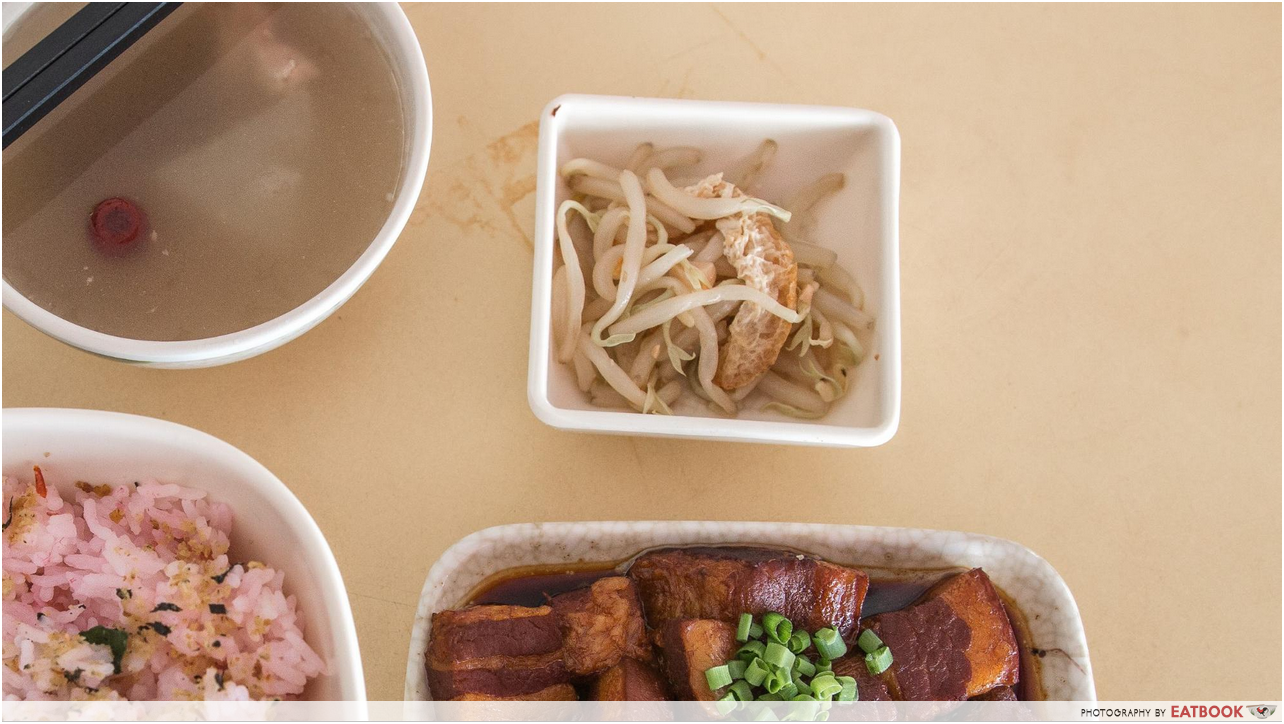 Crunchy and refreshing, the stir-fried bean sprouts complemented the rice and meat well. There were even slices of taupok that took on the flavour of the bean sprouts and added a slightly chewy texture.
Just like their soups, the sides change periodically and include dishes such as cucumber with bonito flakes, as well as cucumber with black fungus and plum sauce.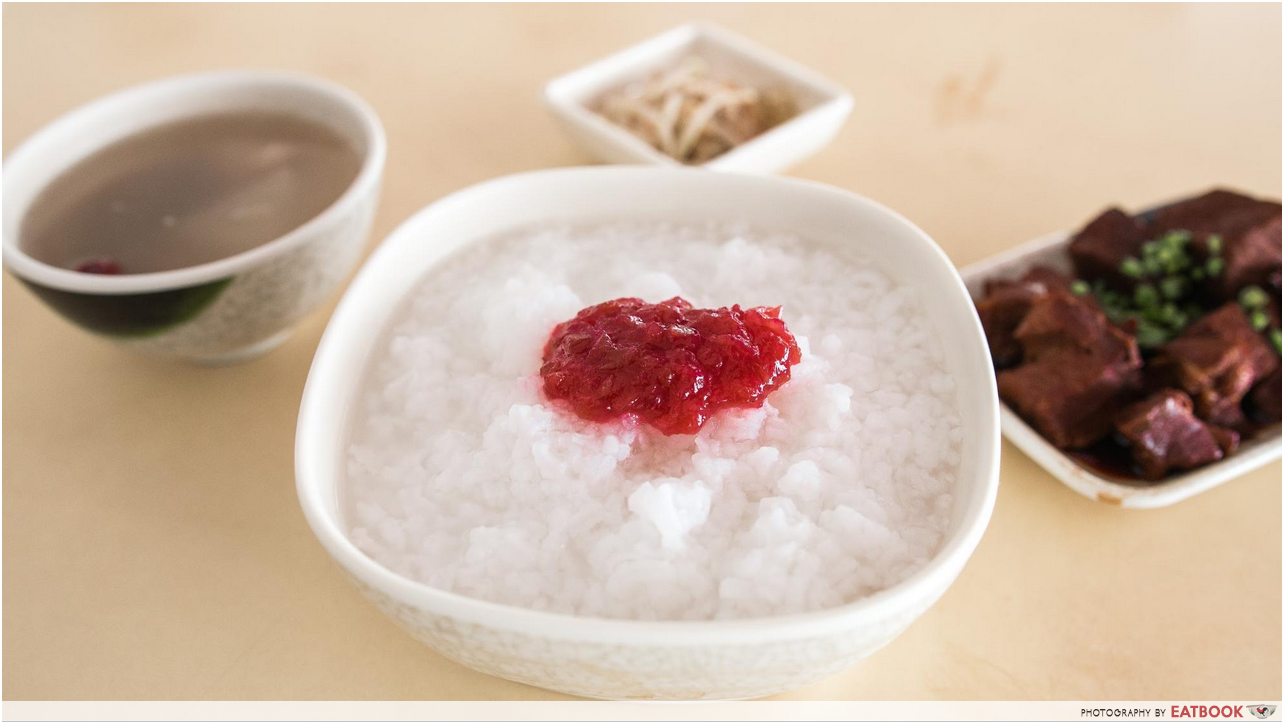 With so many rainy days coming our way, Set B ($4) is one to tuck into. This set consists of umeboshi porridge, braised lean meat, a side dish and soup.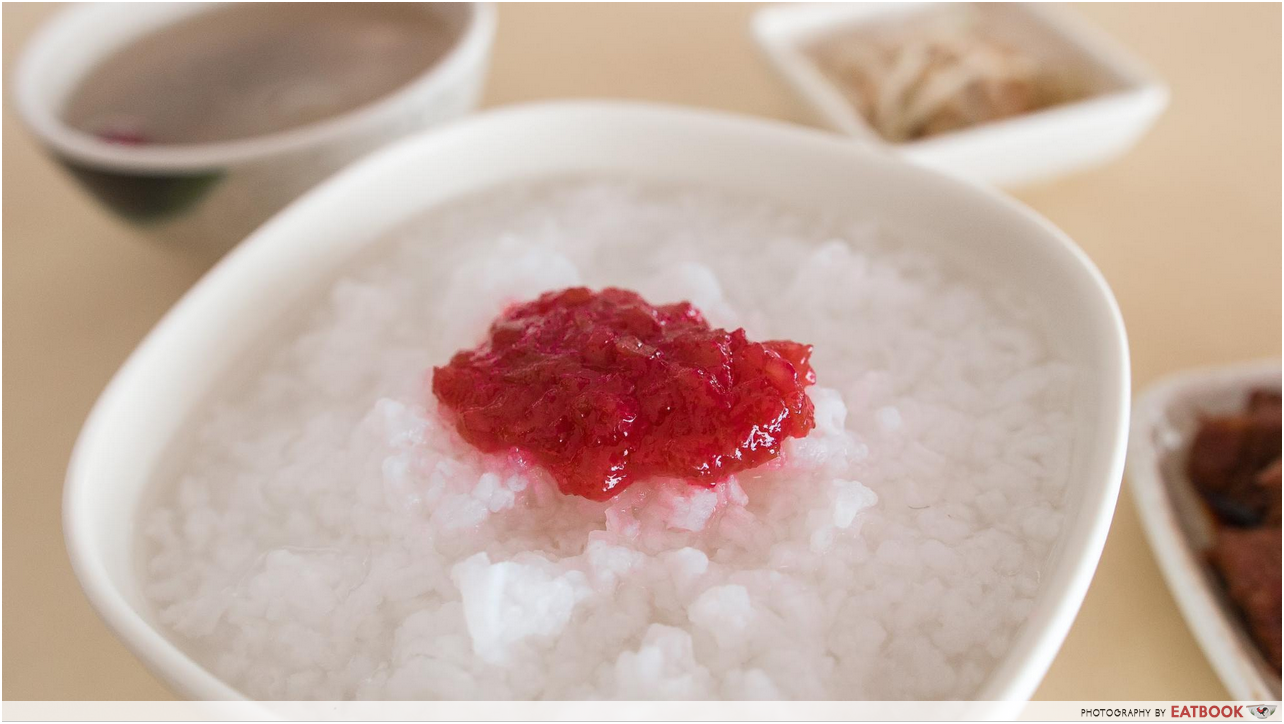 A vibrant pink dollop of umeboshi sauce was placed on top of plain porridge. We were reminded to mix the sauce in properly to incorporate the flavours evenly. This gave the porridge a mild acidity and a slightly floral, fruity taste. It may take some getting used to, especially because most Asian rice dishes are savoury. But it's nothing stirring in some tasty braised meat sauce can't fix.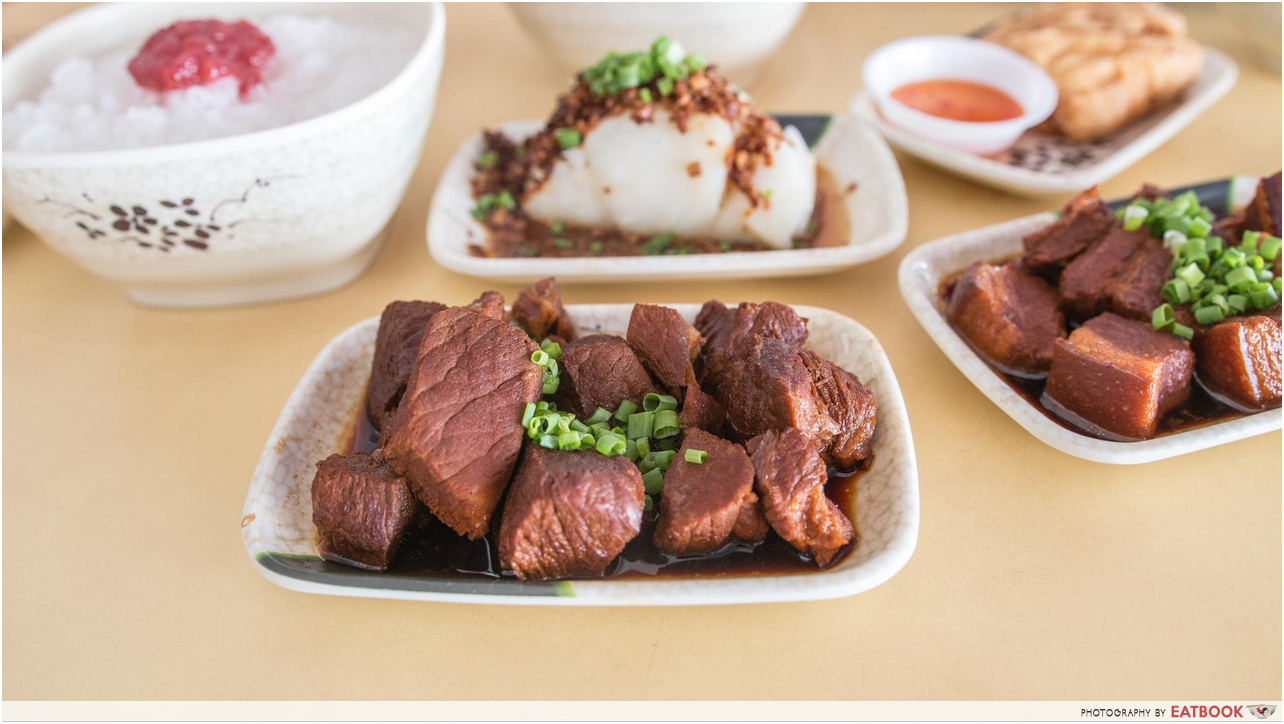 The braised pork shoulder was completely stripped of fat and was saturated with dark sauce. This ensured that every bit of the lean meat remained flavourful. Compared to the fatty pork belly, this was slightly tougher, but this texture worked well with the soft porridge.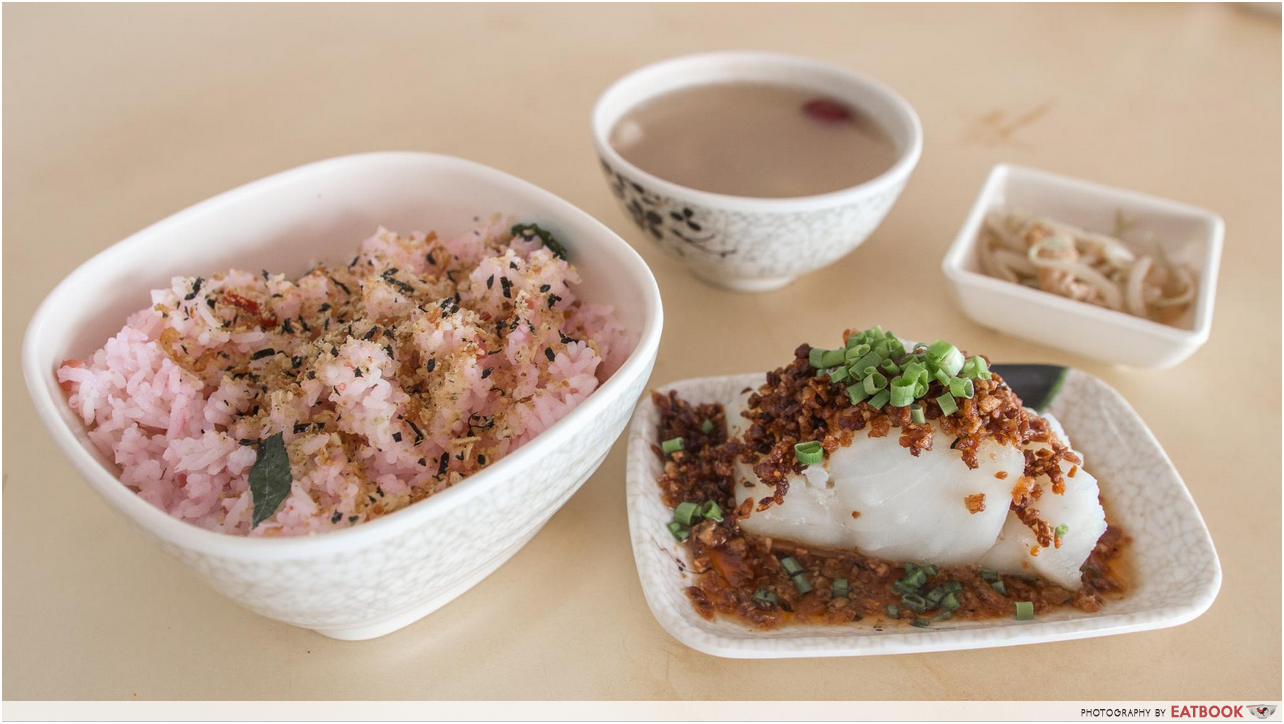 If pork isn't up your alley, opt for Set C ($6). This set comes with umeboshi rice, a side dish, a bowl of soup and fish.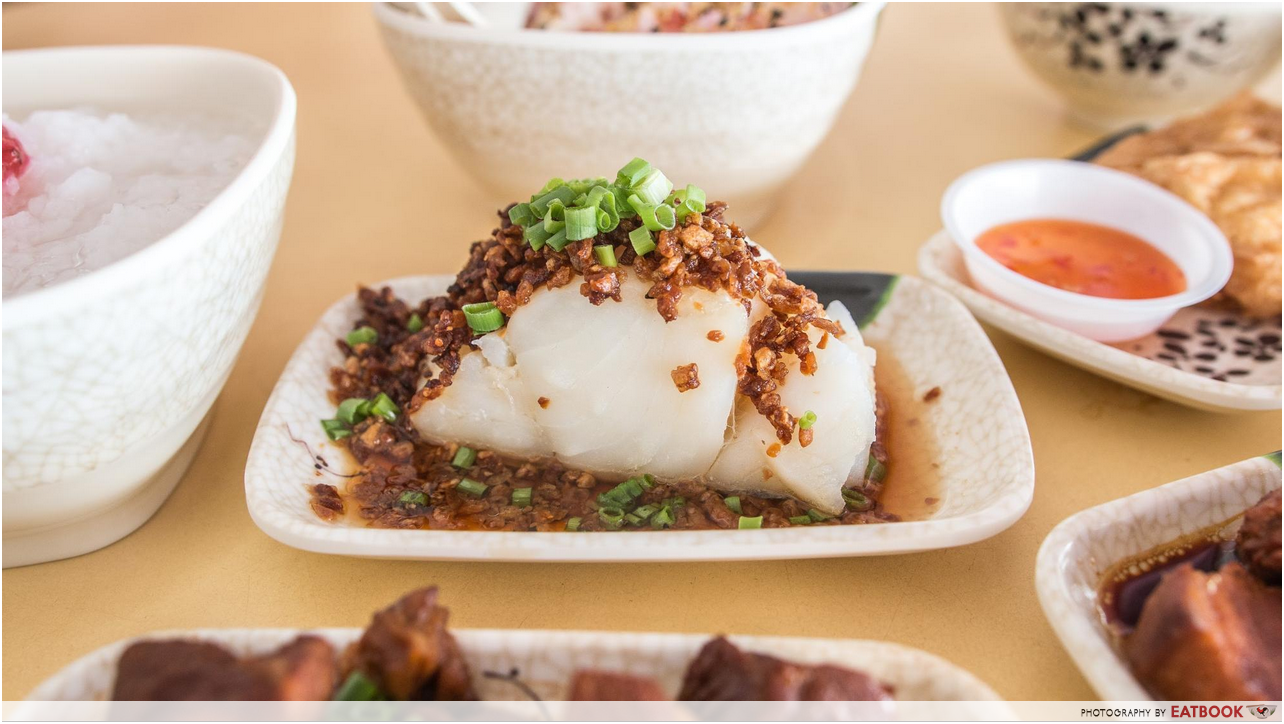 Though I love pork, the fish was my favourite out of the three meat dishes offered. The cod fish itself is a staple on the menu, but the topping changes every few days. We had our fish with chye poh AKA Chinese dried radish. On other days, they prepare their fish with either garlic or black bean sauce.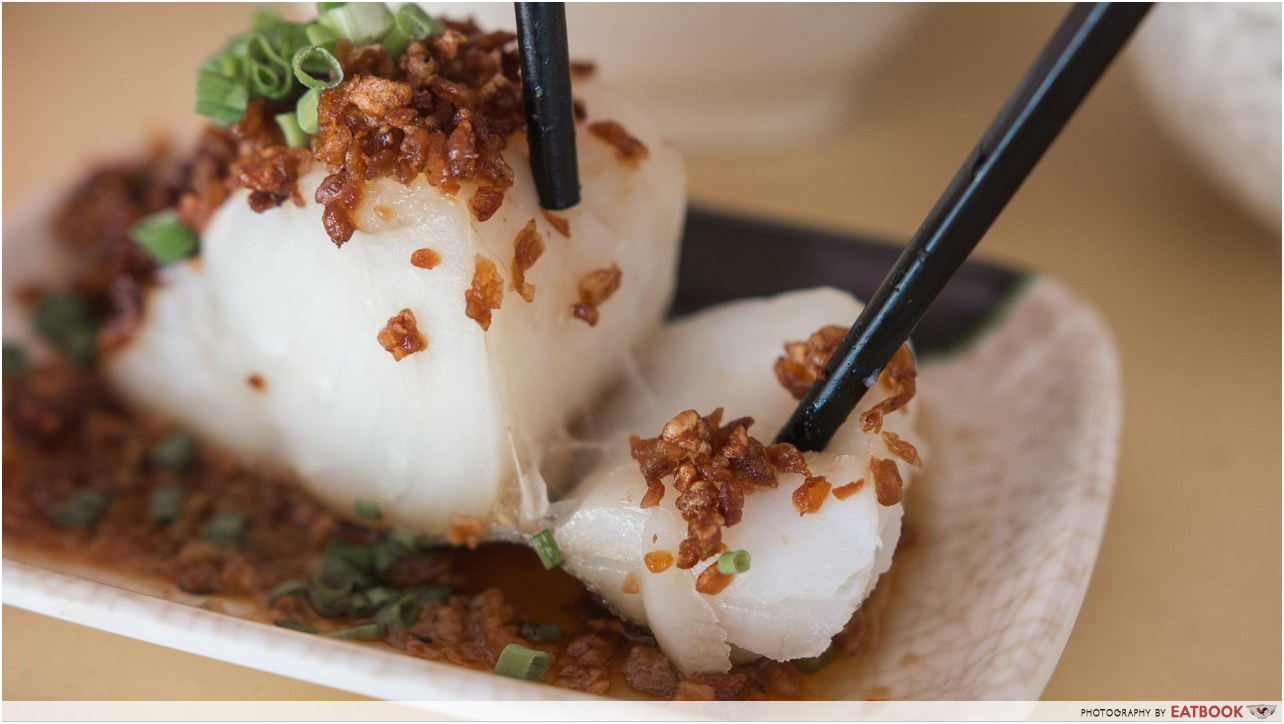 Since the cod fish was cooked sous vide, it was succulent and tender. The flesh could be pulled apart easily. Though it may sound like an odd combo, the chye poh added a pleasant saltiness to the lightly flavoured fish.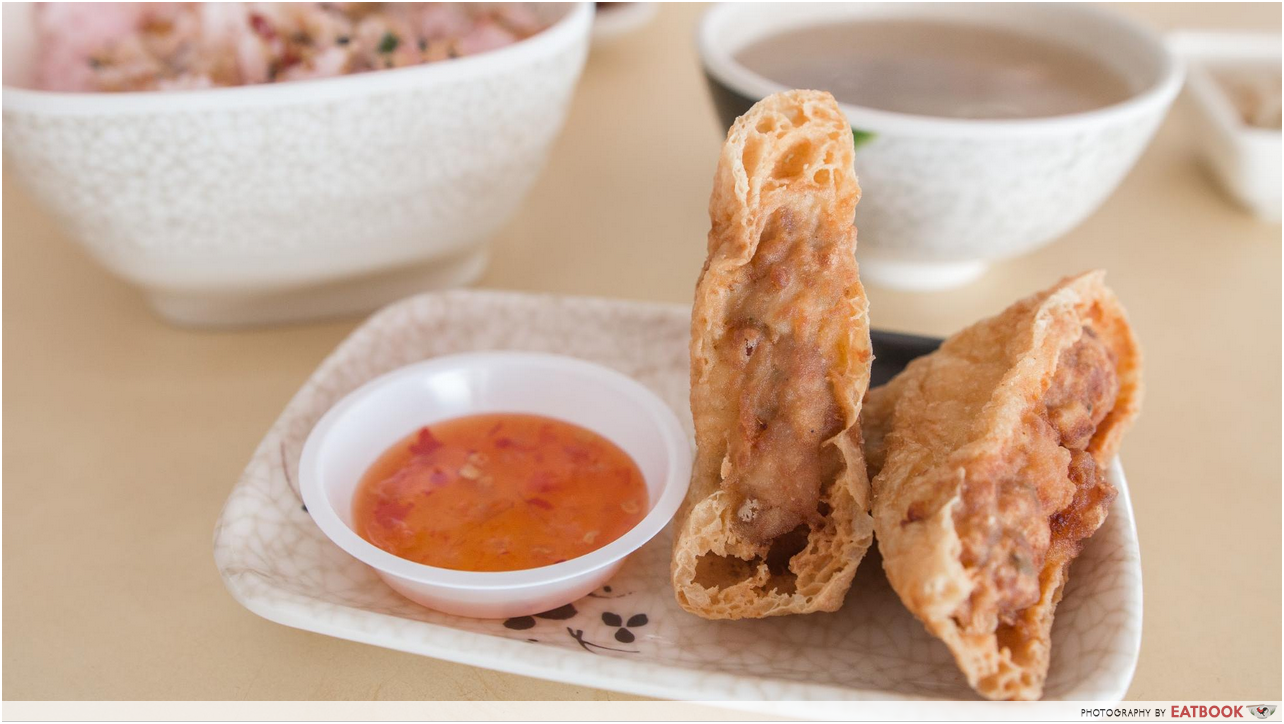 A new addition to their menu was Stuffed Tau Pok ($1.50). The tau pok itself was airy while its crispy skin was satisfying to bite into. Stuffed with minced pork, prawn and bits of water chestnut, each piece was loaded with various textures.
Ambience at Plum and Rice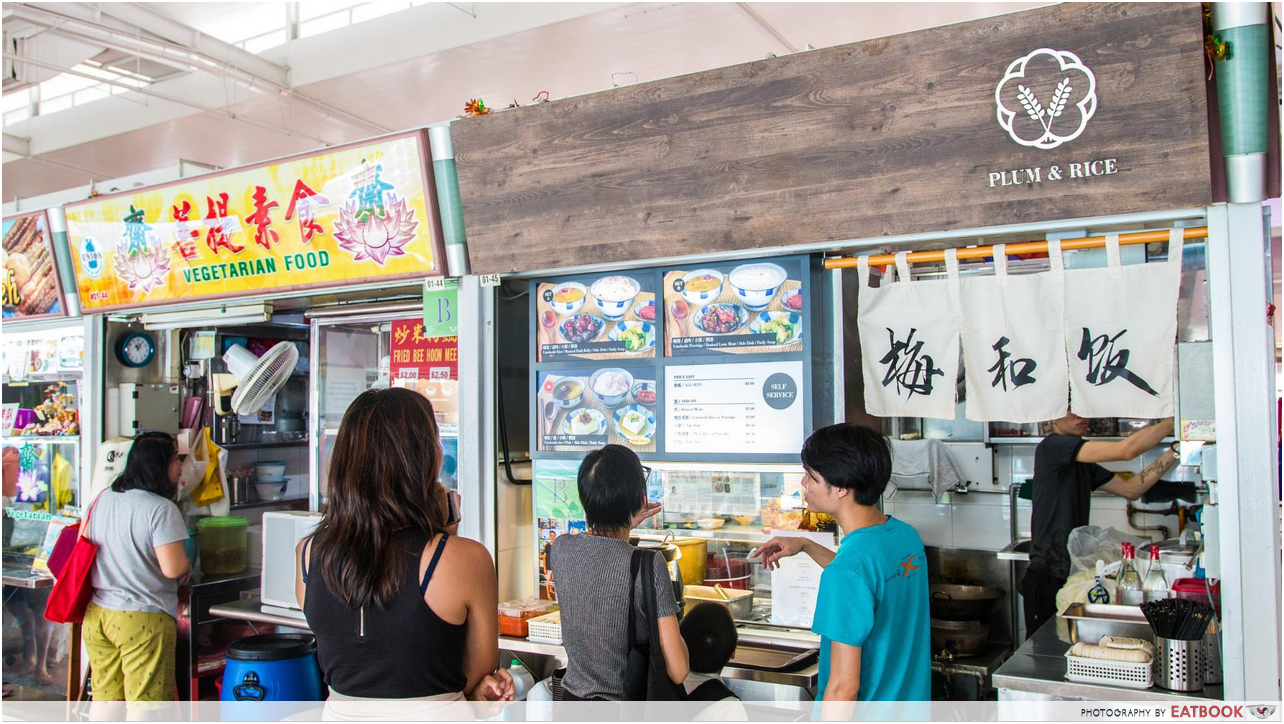 This stall is located in a hawker centre just five minutes away from Bedok MRT Station by foot. The hawker centre is well ventilated so we didn't have to worry about eating in humid conditions. Just be wary of lunch hour when the crowds start rolling in. But don't worry too much, you won't have to wait long as they dish out their set meals quite quickly.
The verdict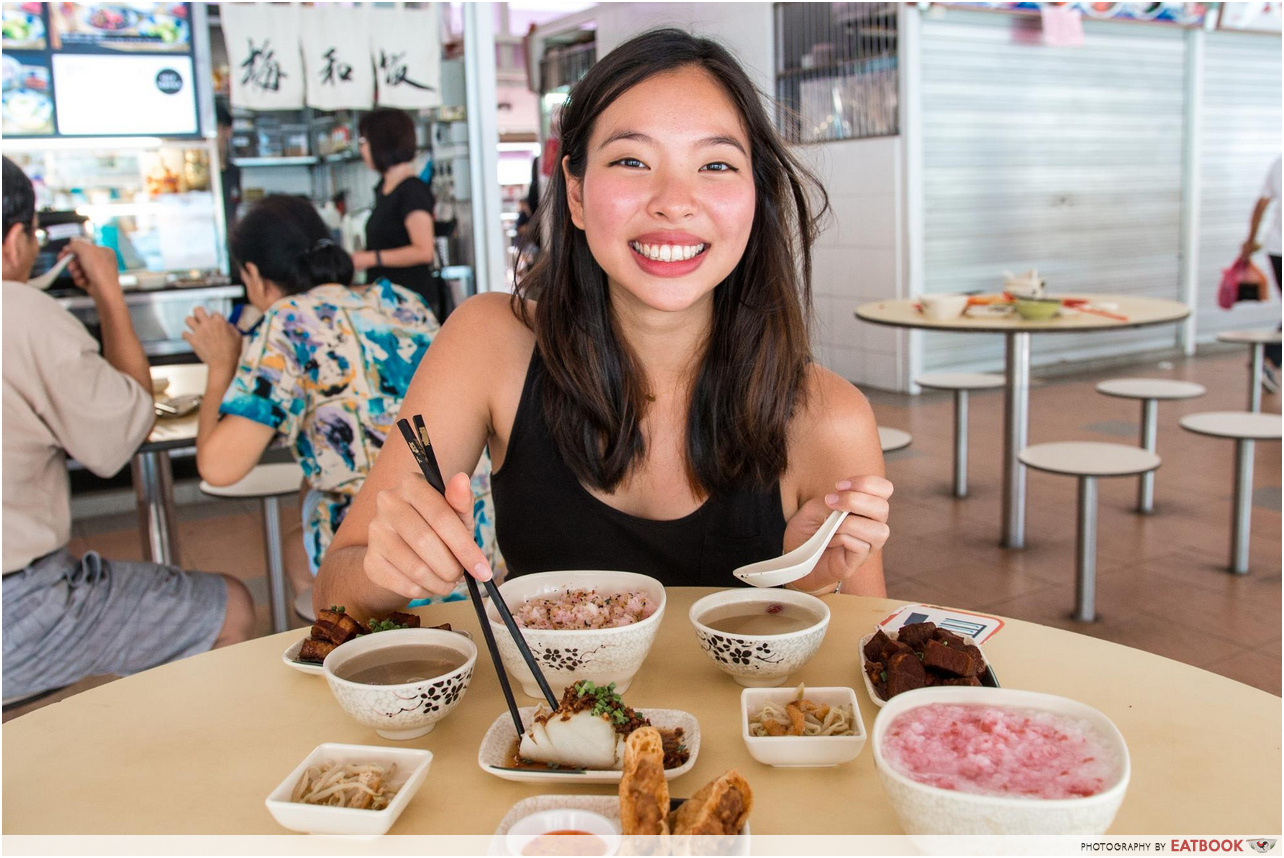 Though the dishes Plum and Rice offer seem simple, their set meals manage to be both satisfying and comforting. Considering the affordability of these Japanese fusion sets, I'd come back again if I'm ever in the area.
Address: 216 Bedok North Street 1, #01-45, Blk 216 Bedok North Street 1 Market & Food Centre, Singapore 460216
Opening hours: Tue-Sun 8am to 2pm
Website
Plum and Rice is not a halal eatery.

This is an independent review by Eatbook.sg.
Summary
Pros
– Affordable
– Unique hawker food
– Close to Bedok MRT Station
Cons
– Menu changes periodically so they may not have the dishes you want
– Only open from morning to early afternoon
Recommended Dishes: Set A / Braised Pork Belly and Umeboshi Rice ($4), Set C / Fish and Umeboshi Rice ($6)
Operating Hours:
Tuesday – Sunday 8am to 2pm
Tel:
6287 8010
Address:216 Bedok North Street 1, #01-45, Blk 216 Bedok North Street 1 Market & Food Centre, Singapore 460216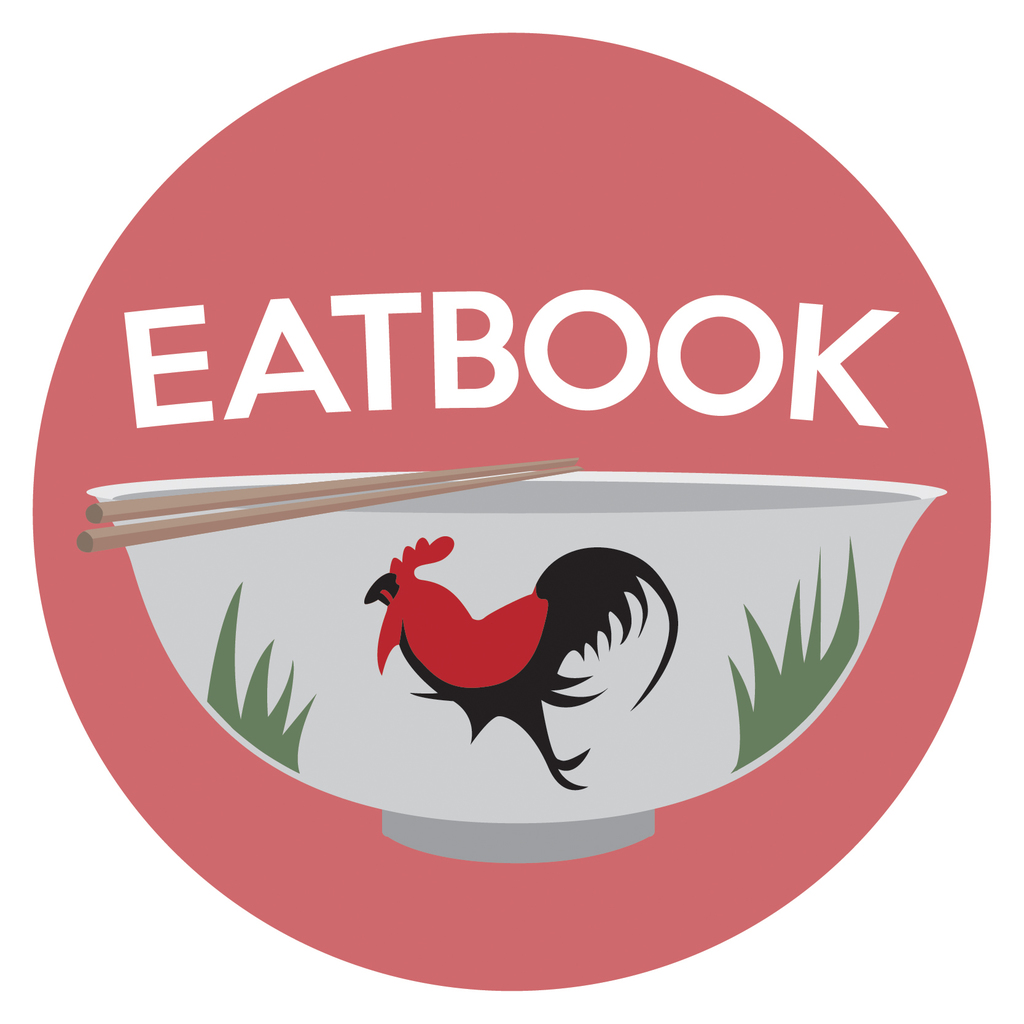 Drop us your email so you won't miss the latest news.