Rayyan's Waroeng Upnormal at Amoy Street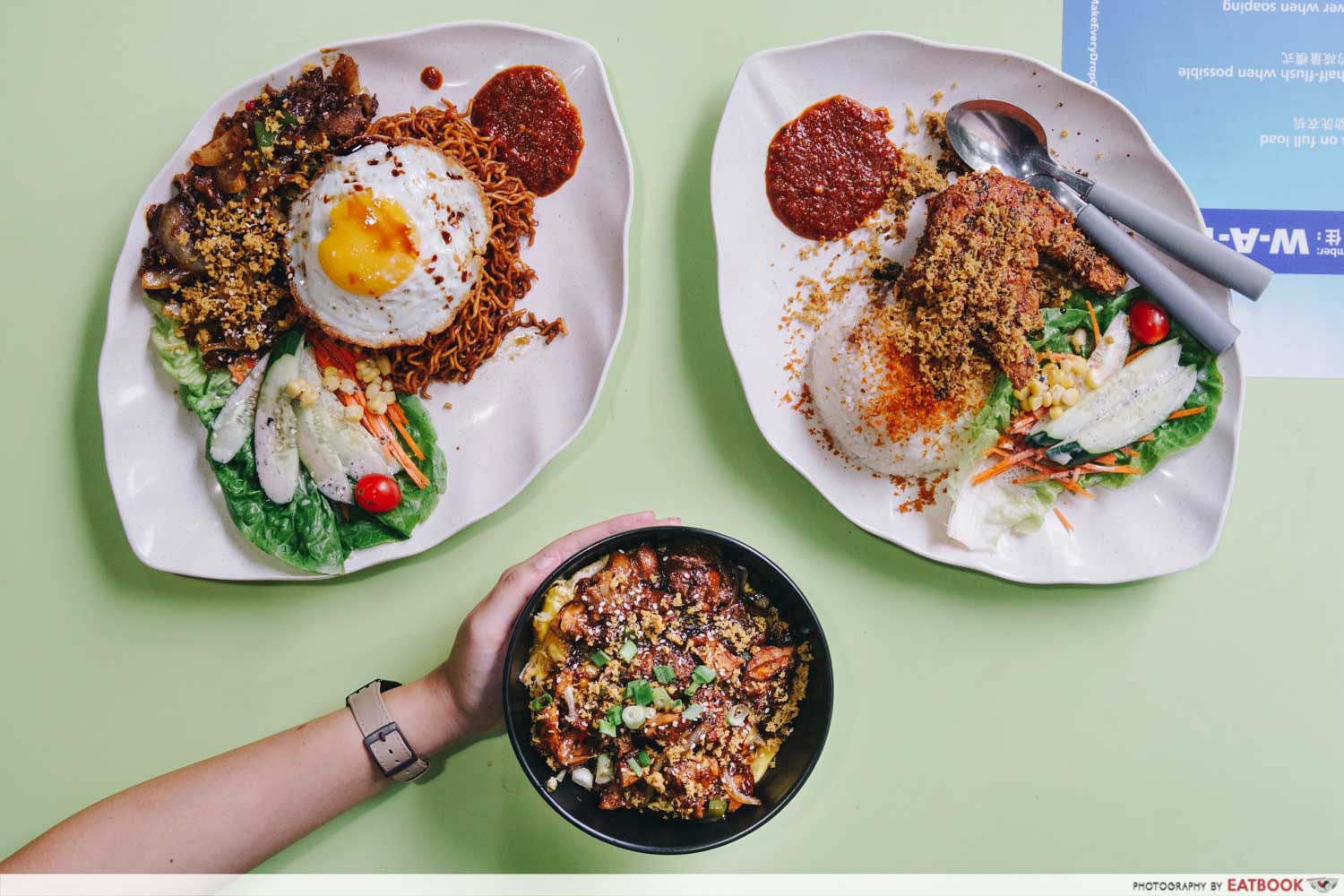 Rice bowls and the CBD lunch crowd; name a more iconic duo – I'll wait. Rayyan's Waroeng Upnormal has joined the legions of stalls fighting to fill hungry bellies with carbs at Amoy Street Food Centre, alongside peers like Chop Chop Biryani & Meats and Kinobe.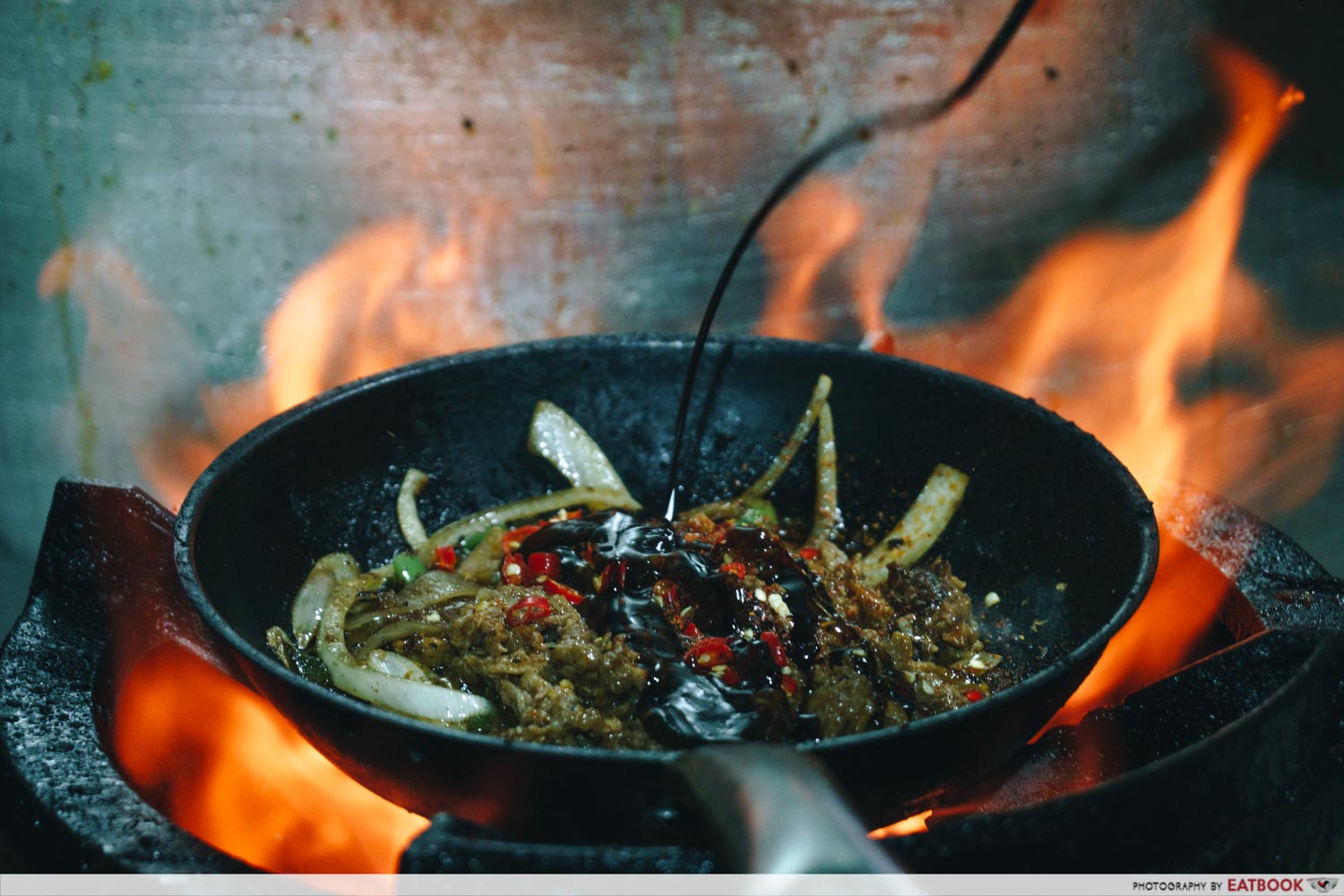 While fusion food has become increasingly common, infusing Japanese elements into Indonesian dishes isn't a prevalent combination. The friendly owners told us that they noticed the popularity of Japanese food and rice bowls in Singapore, and thus wanted to incorporate those concepts in their dishes.
That said, their Indonesian roots are clear to see, with ayam penyet and maggi goreng ranking among their most popular orders.
Food at Rayyan's Waroeng Upnormal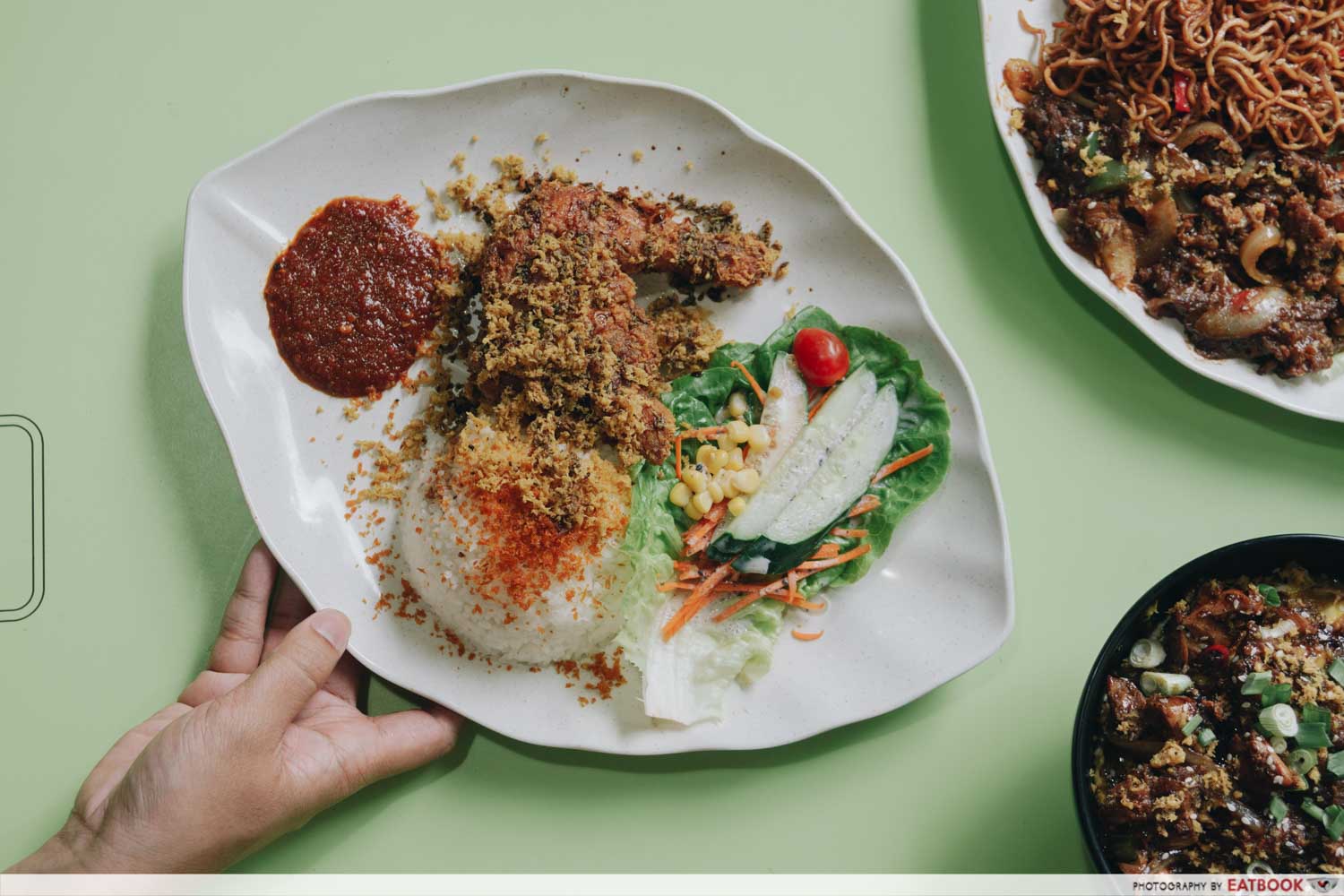 We started off with their ¼ Cut Fried Chicken Penyet ($5.50). Ayam penyet is usually rather plain, with golden fried chicken, tempeh and tofu punctuated only by white rice and crimson sambal.
This was a more technicolour take, with orange serunding bits, abstract drizzles of kecap manis, and a garden salad adding splashes of colour. We hoped that it would be just as vibrant on our tongues.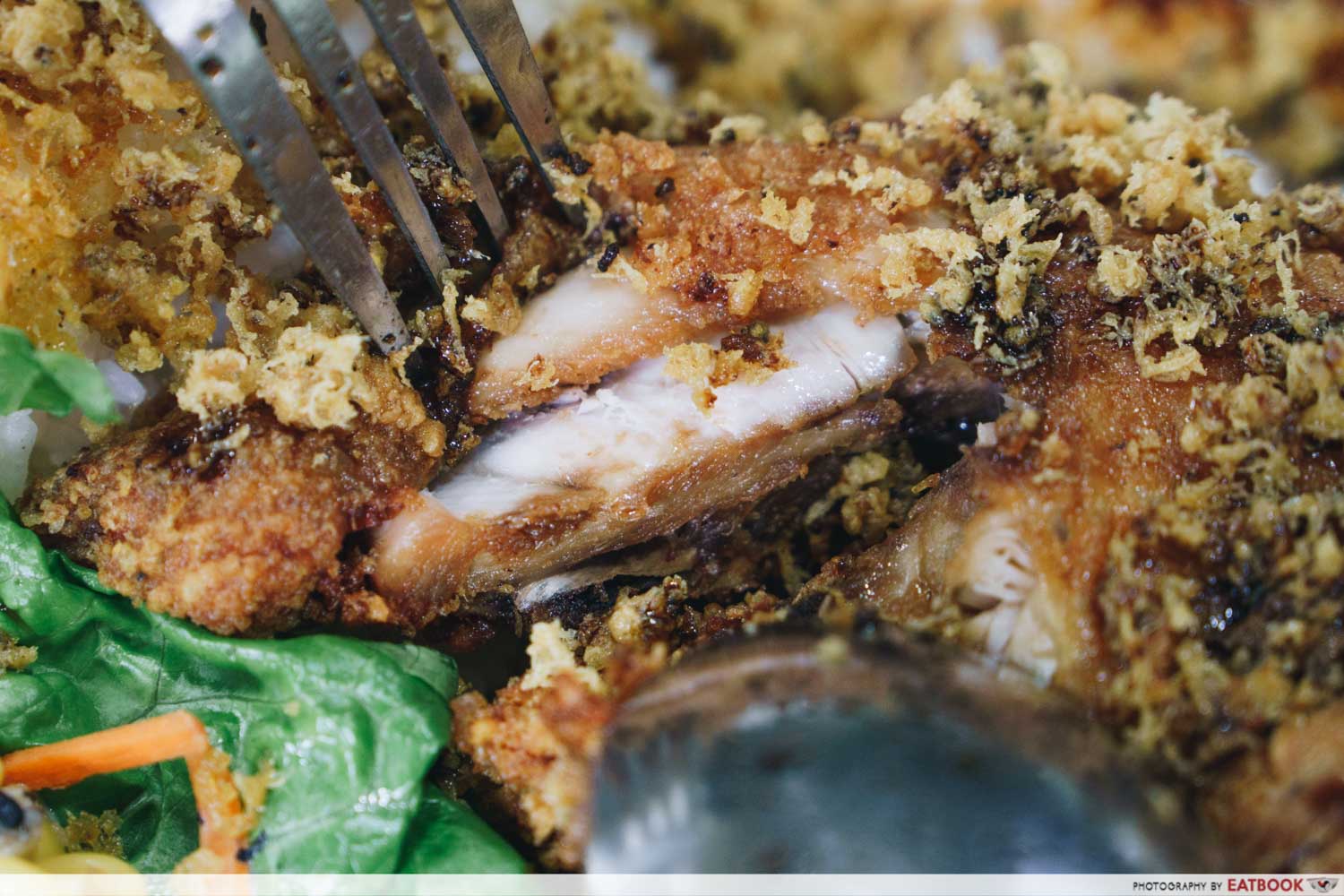 Hearing a soft crackle as we ripped our chicken thigh apart, we were excited for crispy skin and tender meat. However, while the skin did have some crunch, it didn't have that cracker-like, shatteringly crisp texture we wished for.
It certainly delivered in the flavour department though, with musky turmeric flavour permeating both meat and skin. While unassuming, the spindly clumps of battered lengkuas, or shredded galangal, were a dynamo of fragrance. Generously showered over our penyet-ed thigh, they bolstered its crunch factor while also granting lemongrass-esque spiciness.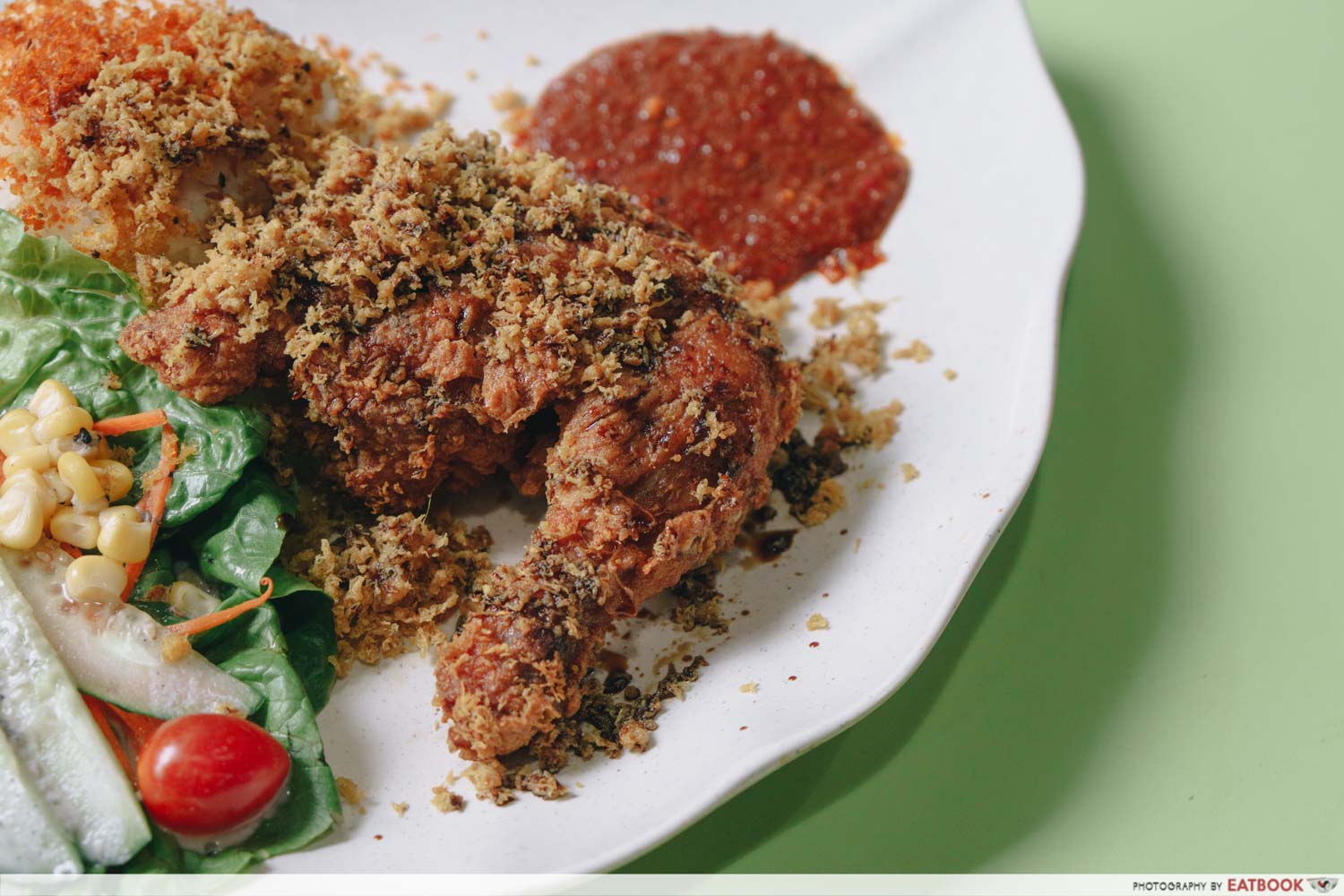 Any ayam penyet with tough meat is an automatic failure for me, as it invalidates the point of flattening the bird in the first place. Thankfully, our protagonist was tender and pulled apart easily.
Flavourful batter with bland meat is a pitfall that all too many hawker stalls serving up fried food succumb too. That wasn't the case here, as flavourful spiced flesh complemented fragrant skin. They are then given a sweet edge by dashes of kecap manis.
The chicken hit new heights when eaten with their sambal. This oft-unappreciated condiment had a surprisingly similar appearance to stock-standard nasi lemak chilli, but its flavour profile was completely different. While it did have a layer of sweetness, umami from belacan and sweat-inducing heat were more prominent, adding a new dimension to the chicken's flavour profile.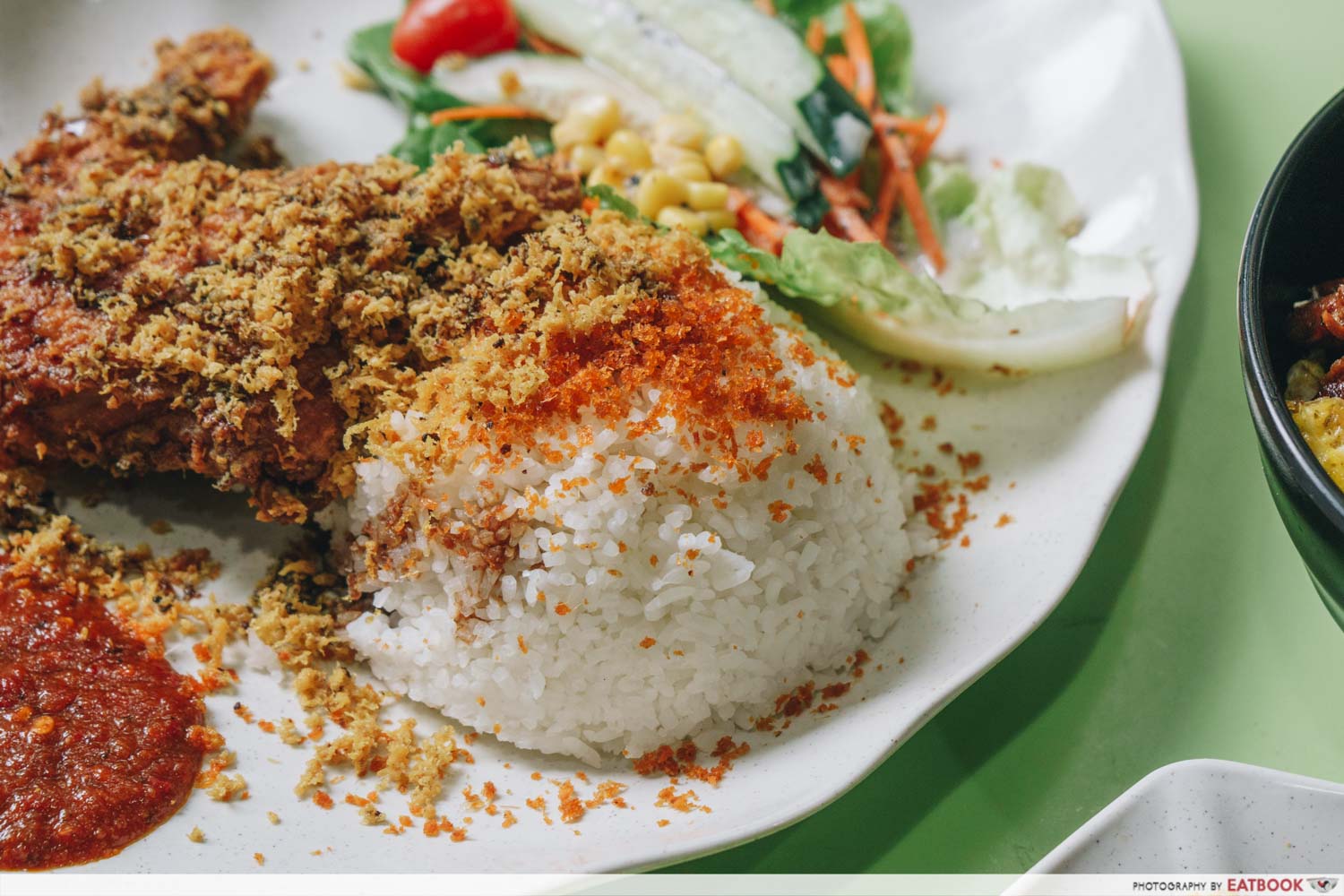 Rice is usually seen as a sideshow or vehicle for the ayam, but these grains were enjoyable in their own right. The use of jasmine rice resulted in an appetising floral aroma and a slightly stickier texture. That fragrance was amplified by a coat of serunding, or fried coconut flakes, which lent toasty sweetness.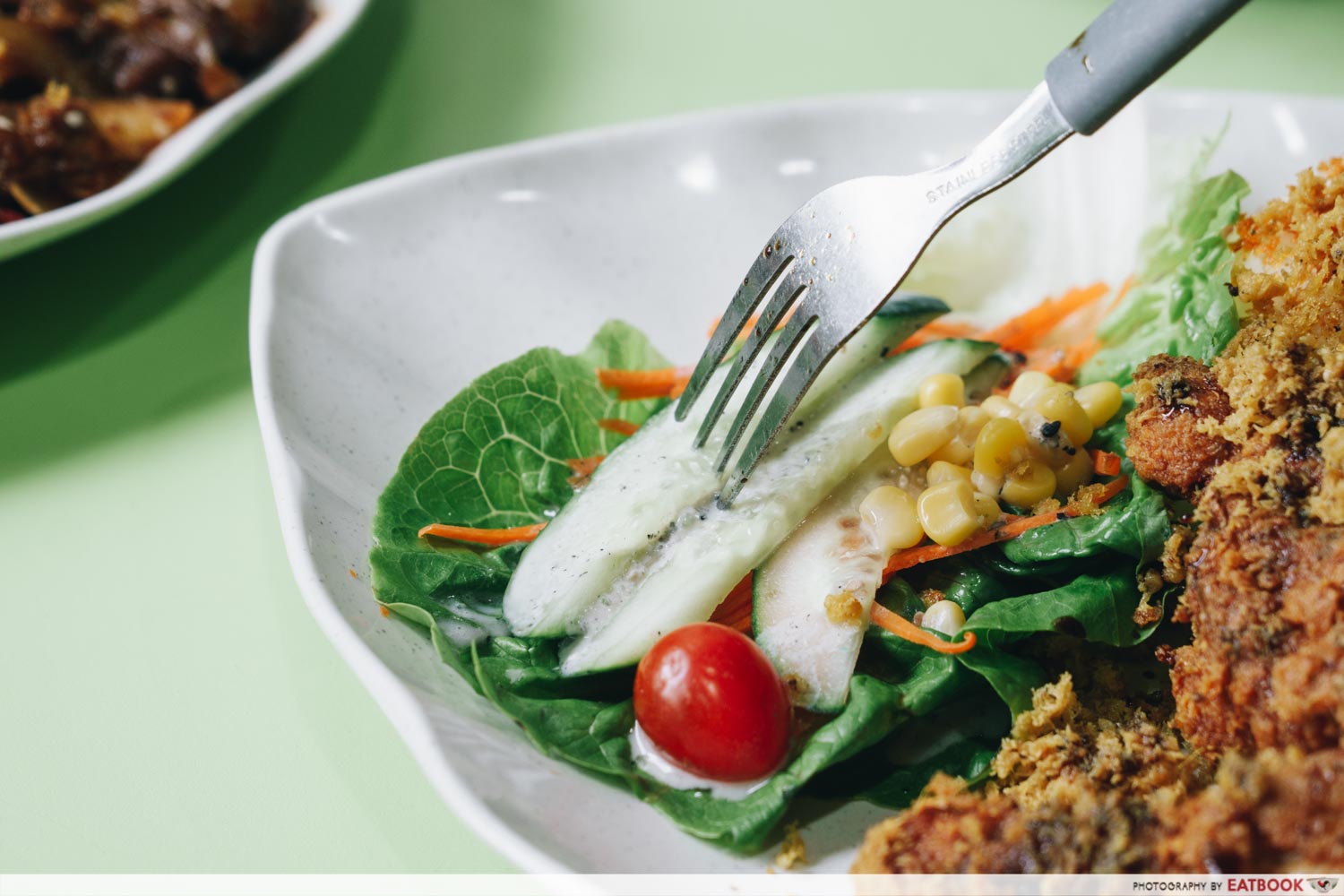 Their trademark fusion element came through in the side salad, which was dressed with a house-made concoction of sesame, honey, and mayo. Replacing the usual supporting cast of fried tempeh and tau kwa, it was a refreshing palate cleanser that also eased the dish's calorie count.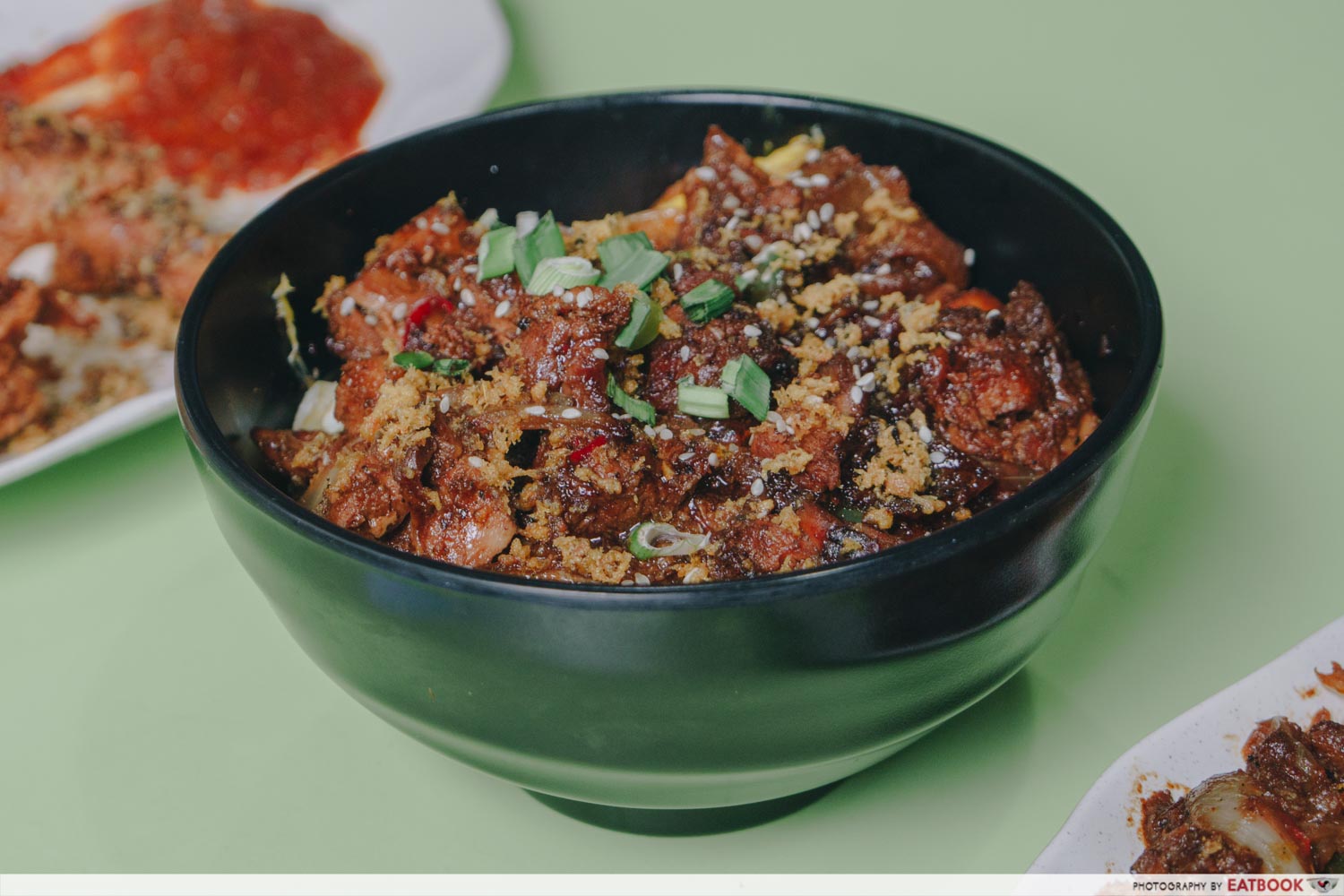 Marked by a Balinese-Japanese bloodline, we were intrigued to see how the flavours in our Balinese Egg Bowl With Honey Glazed Char Grilled Boneless Chicken Thigh ($7) meshed.
Containing a lot more moving parts than a regular oyakodon or katsudon, we were wary of a jumble of potentially clashing ingredients. However, it still had our stomachs rumbling, with caramelised chicken chunks and a cascade of toppings promising explosive flavour.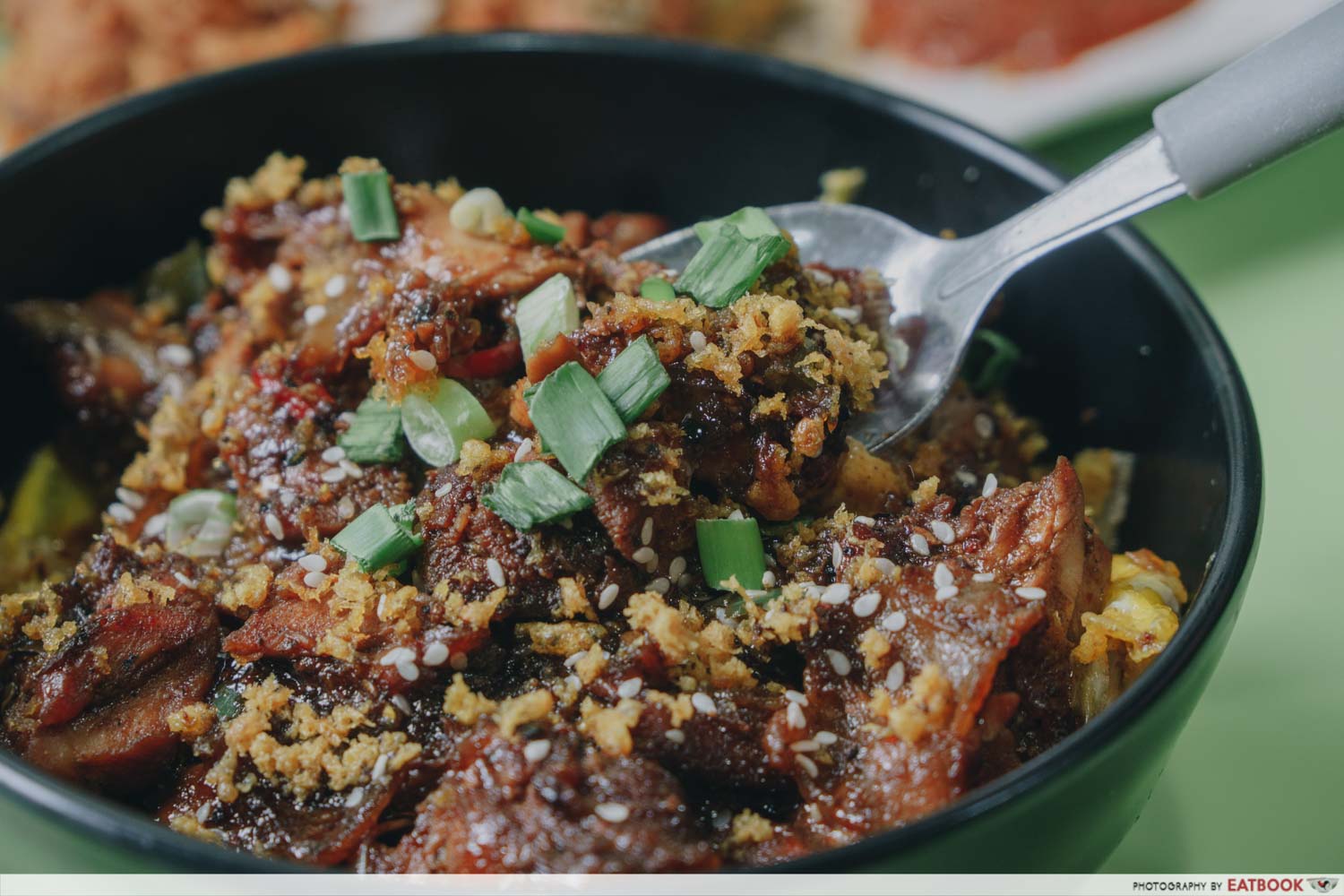 Each bite had us travelling from Bali to Tokyo and back again. Rather than conflicting, the flavours of each cuisine seemingly took turns to grace our taste buds. It was like swapping between two dishes in one bowl.
This dish's Indonesian side came from a blanket of spice mix keeping the rice cosy, as well as sneaky landmines of fiery chilli padi. Cumin was most prominent in the blend, and its punchy flavour gave a distinctly South-East Asian accent to our bowl. Lengkuas also made a cameo appearance, once again imparting its terrific fragrance.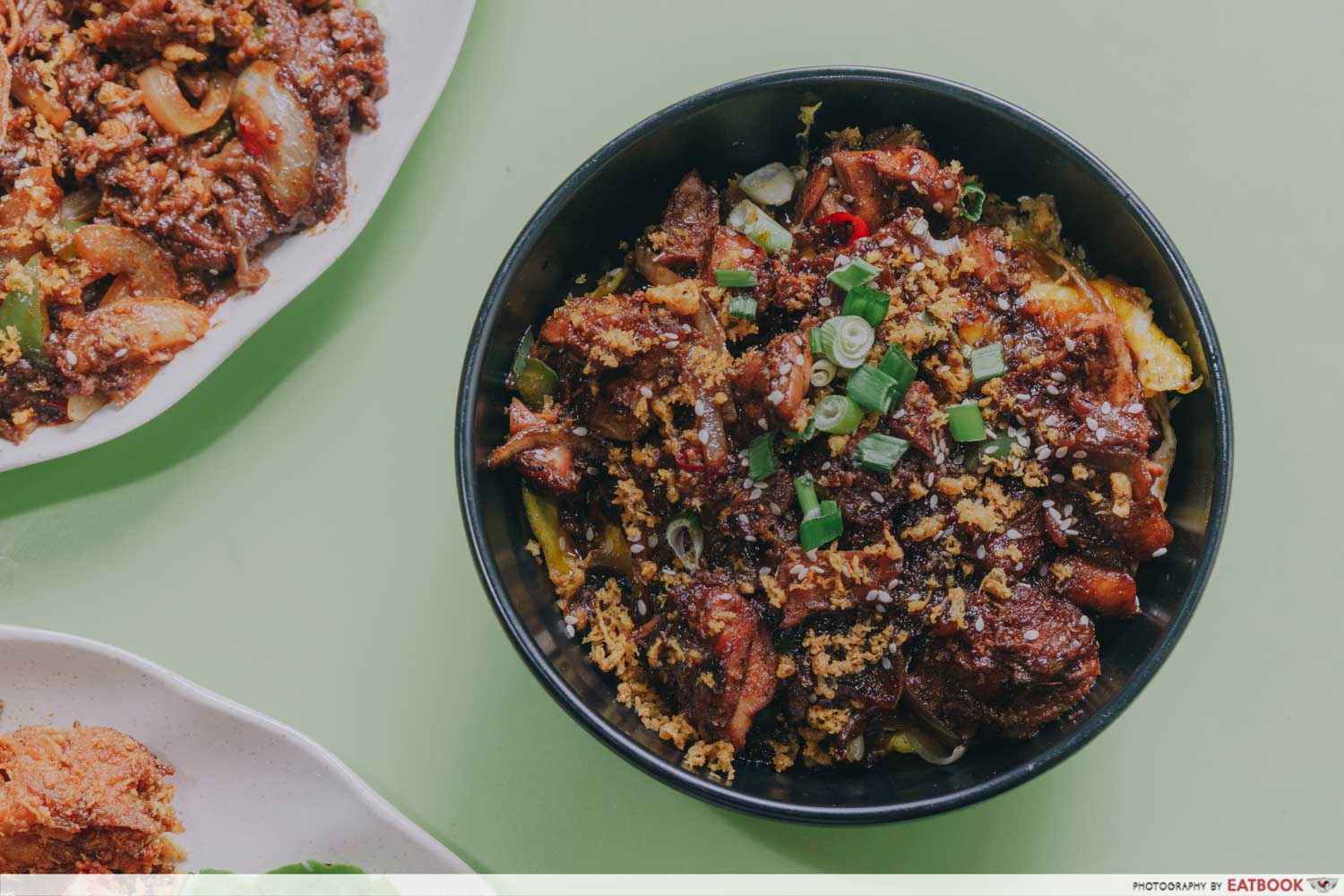 If the bowl's explosive Indonesian side was Mr. Hyde, it became Dr. Jekyll in showing its Japanese sensibilities. Japanese rice, sesame seeds, mild soy flavour from stewed slivered onions, and creamy omelette reminded me of the donburi I'd eaten just a few steps away at Kinobe.
Kinobe Review: Legit Gyudon and Butadon At $6 Or Less In Amoy Street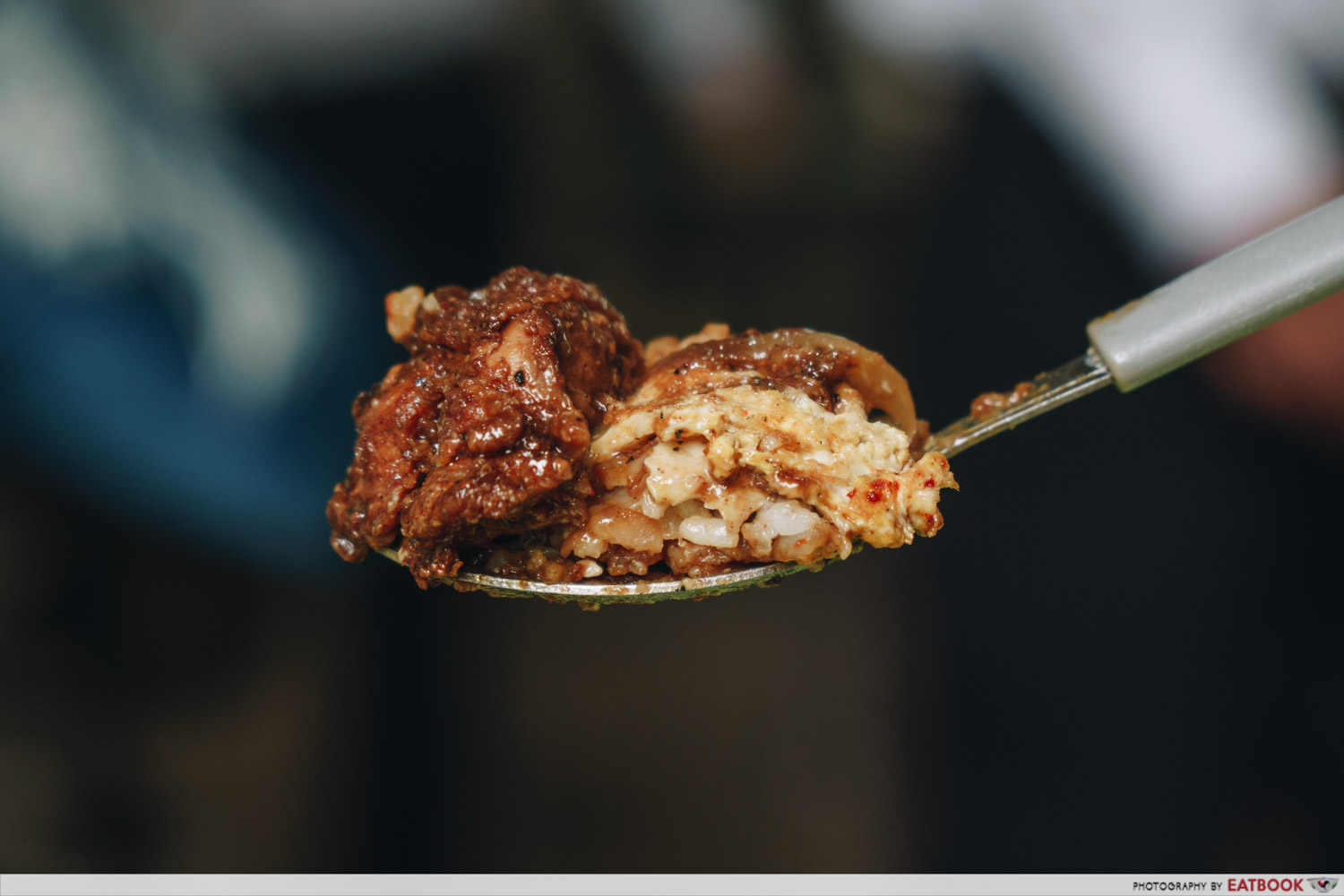 While the bowl's Japanese flair often took a backseat to the more assertive Indonesian ingredients, those effects were always playing in the background, like a drummer setting the rhythm in a rock band. The gooey omelette did its familiar dance with Japanese rice, creating a satisfyingly moist and sticky foundation for the more dynamic Balinese star to take centre stage.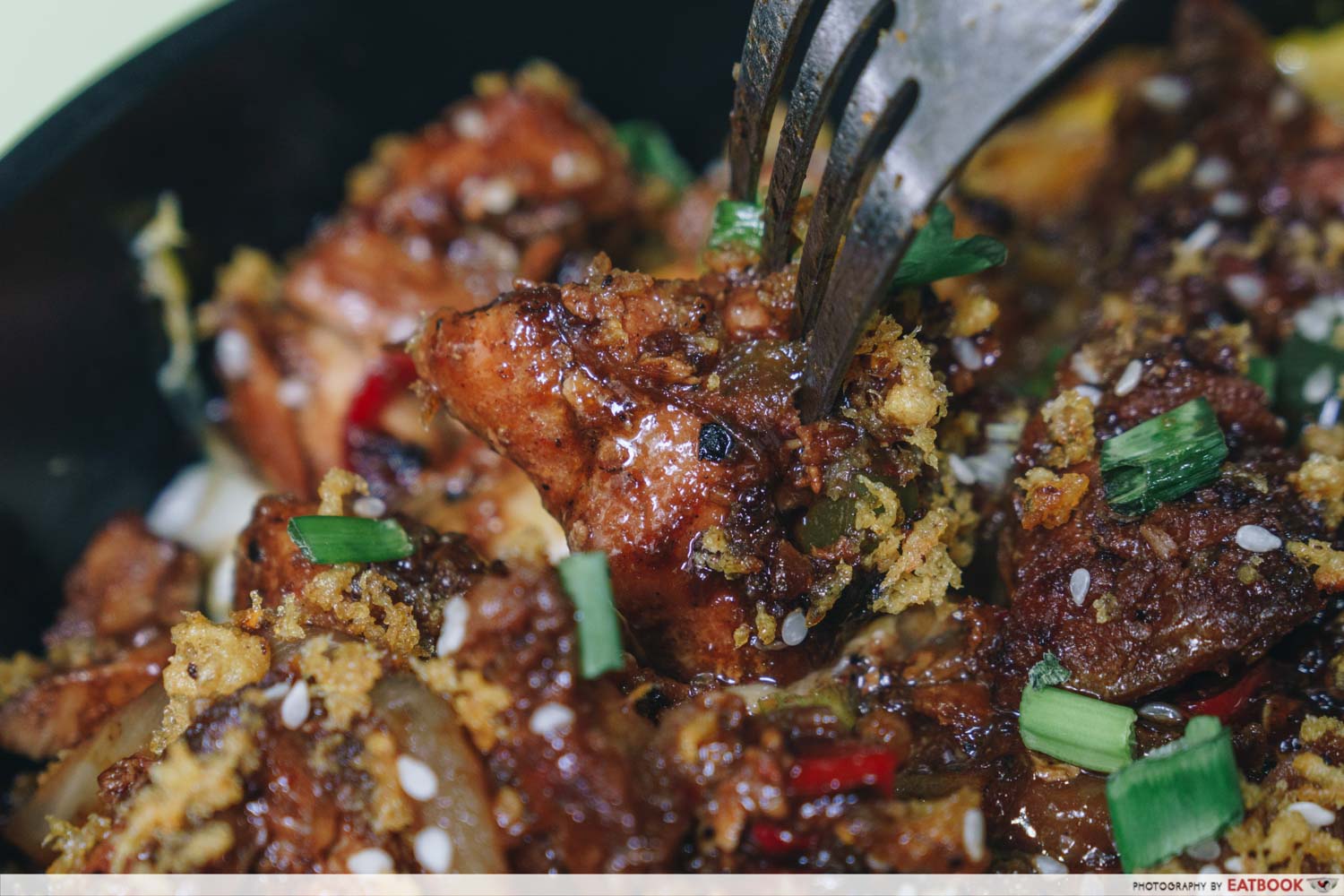 Boneless chicken thigh was the unifying aspect here, bridging both cuisines. The honey glazing process imbued our meat with mellow sweetness, doing its best oyakodon impression, while serving as a good foil for the spicy Indonesian flavours.
However, we expected more pronounced charred flavour from the grill. Greater smokiness would have added another element to the flavour fiesta that was already raging in this bowl.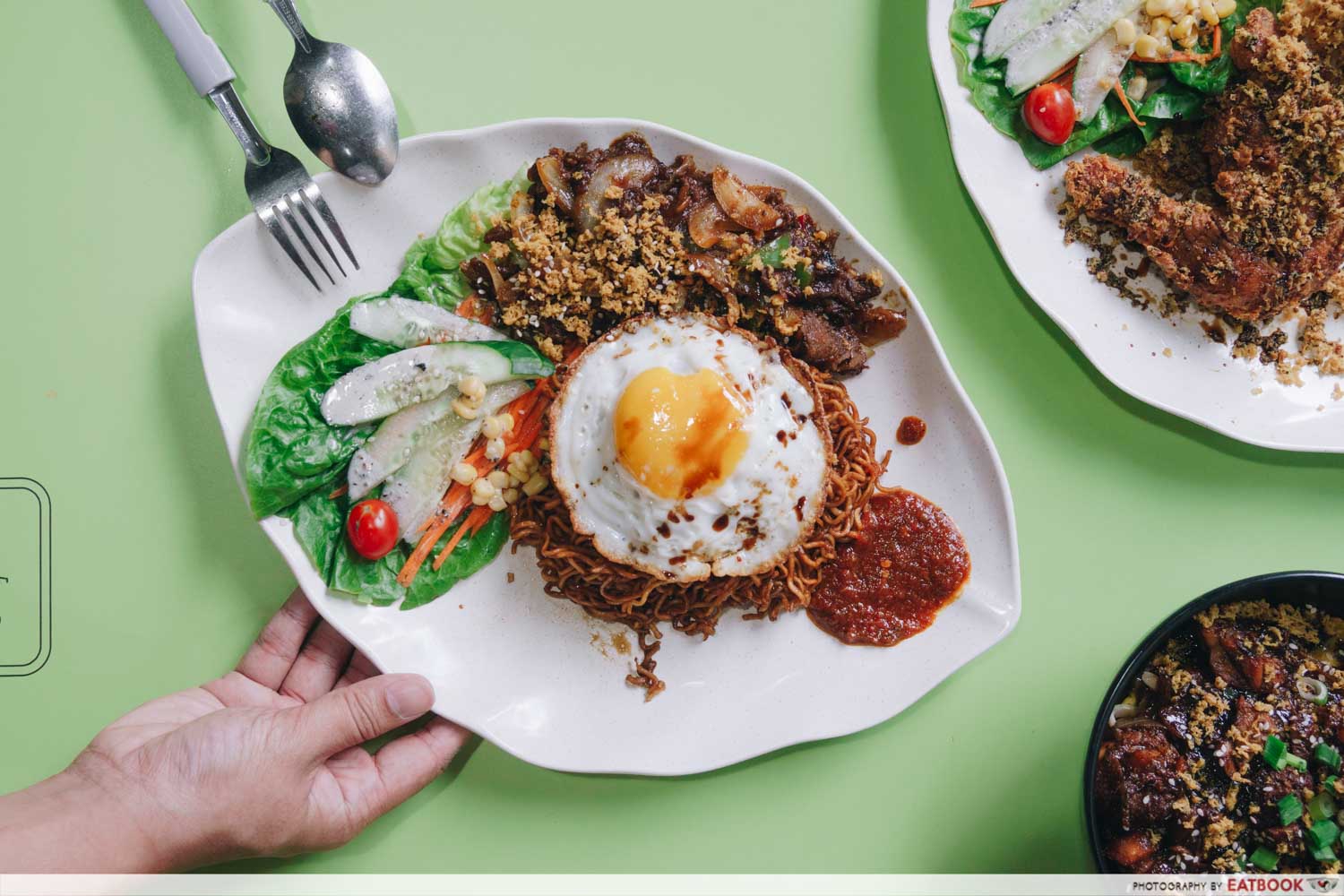 Maggi goreng is a dish that carries fond memories for me. Whether from my school or army canteen, it's an indulgent, heart-clogging symbol of temporary stress relief. With that in mind, I expected a similar, gratifyingly unhealthy experience in our Bami Goereng With Cajun Spice Black Pepper Beef ($6).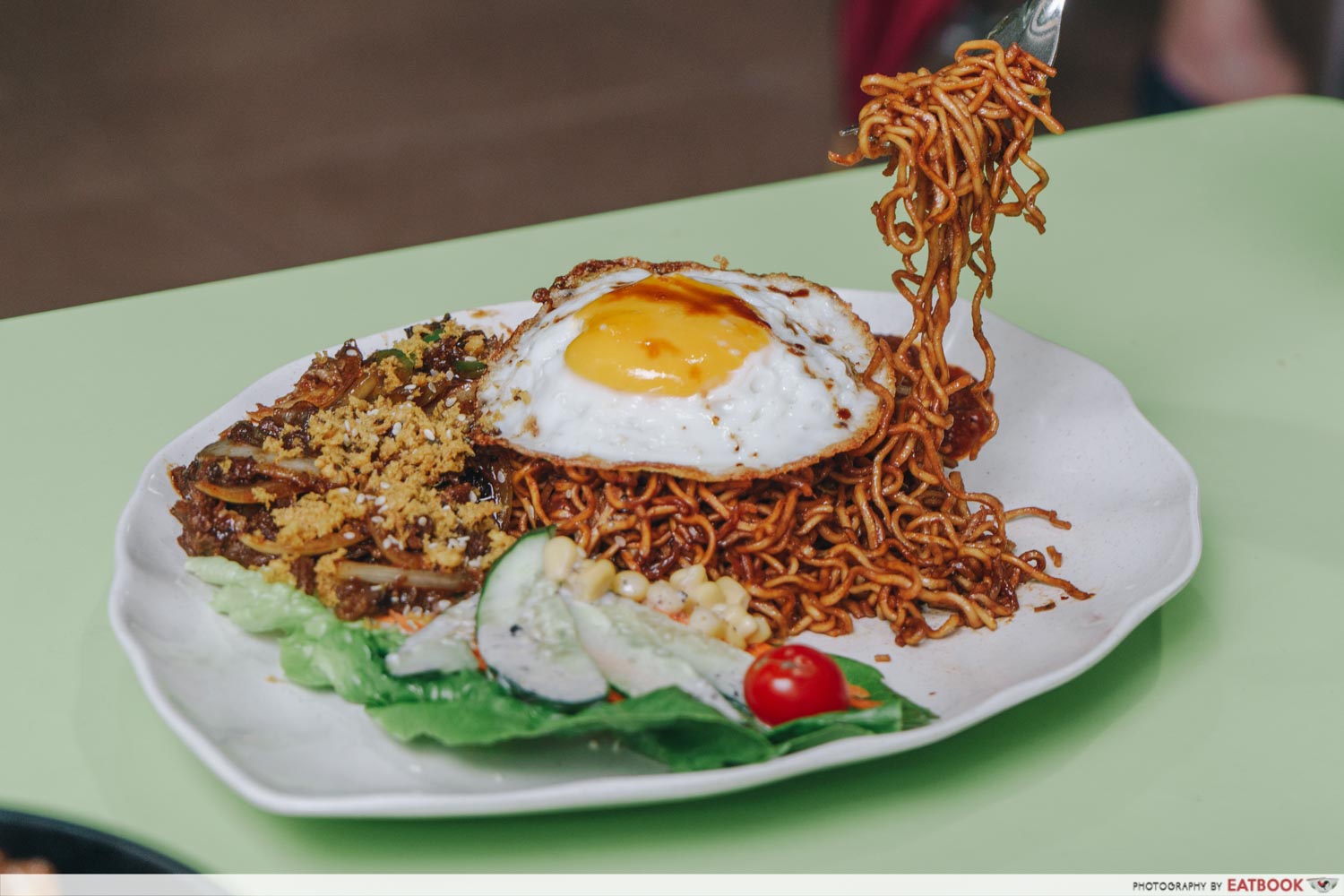 These fried noodles were decidedly less calorie-laden. They were adequately sauced, but had a gentle, sweet flavour in place of the heavy and oily calling card of maggi goreng. It's a much better option for office workers who want their Maggi fix without having to deal with heartburn at work for the next few hours, but we can't deny that we were hoping for an unadulteratedly sinful plate.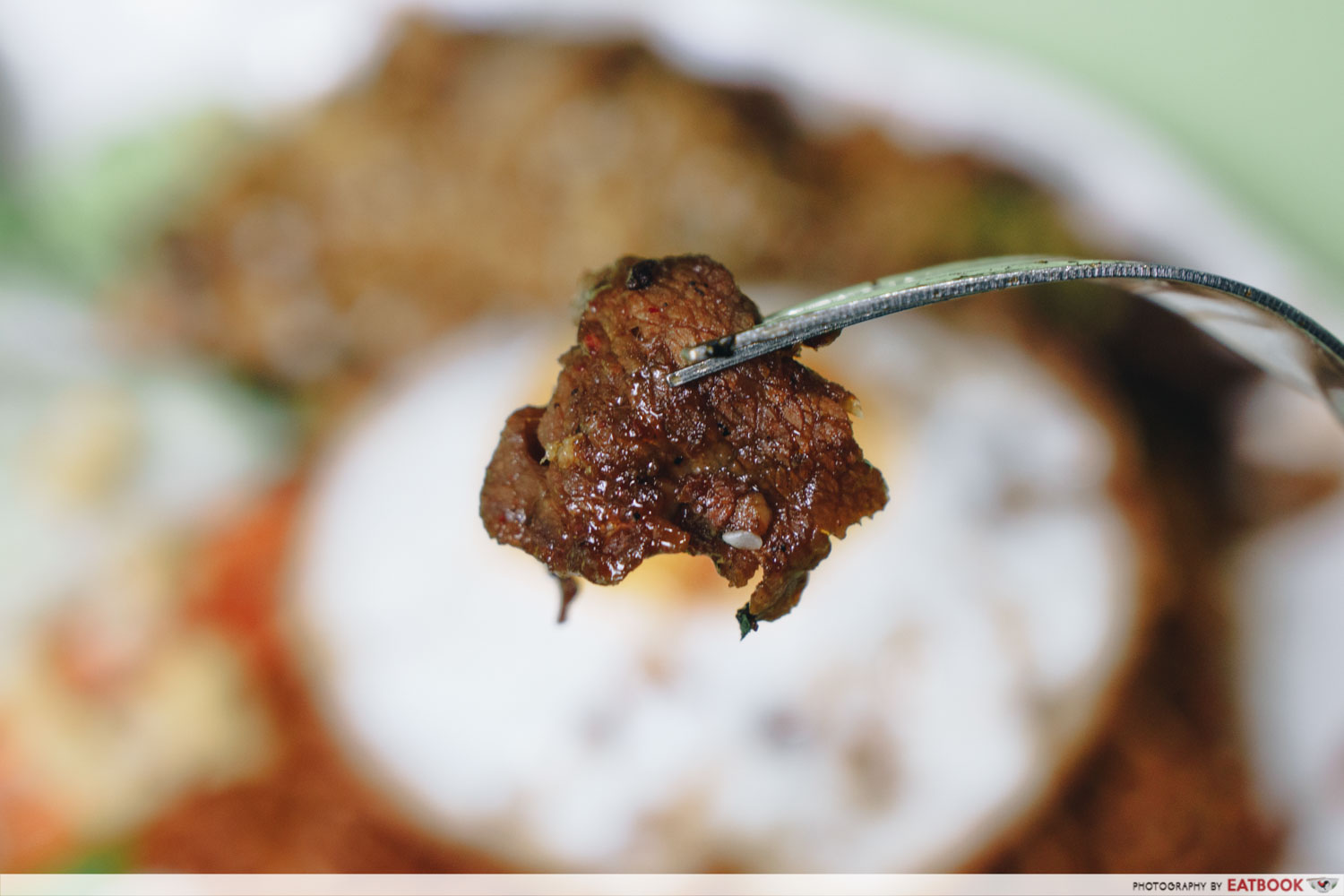 In spite of its New Orleans-based moniker, we weren't able to detect any of that smoky Cajun spice rub on our beef. Instead, kecap manis was the major player, with an anonymous choir of spices backing it up. In a blind taste test, I would have guessed it had a similar Balinese lineage to our previous dish.
Instead of thicker slabs of meat we're more familiar with in our zi char black pepper beef dishes, this rendition employed thin, sukiyaki-style strips. This delicate cut has less beefiness, stepping aside to allow the marinade to hog the spotlight.
I'm not sure whether it's the cut of beef or the psychological effects of our previous dish, but I felt a Japanese touch in this too. Its generally sweet flavour and the return of lengkuas for gingery notes created flavours reminiscent of gyudon, albeit with a completely non-Japanese cast of ingredients.
Ambience at Rayyan's Waroeng Upnormal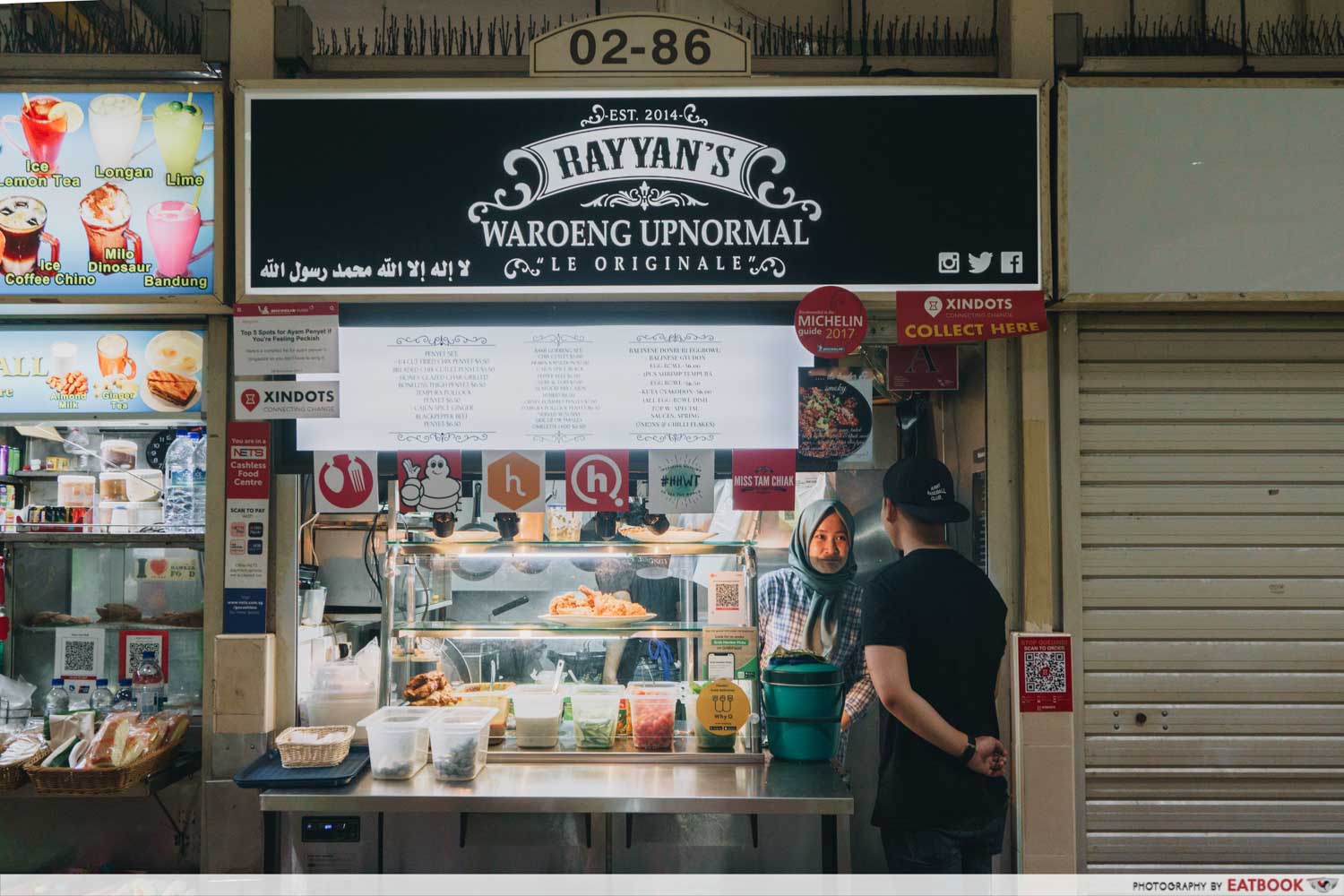 Right smack in the middle of the CBD, Amoy Street Food Centre is a favourite lunchtime destination for office workers in the area. With a mix of traditional hawker food and newer generations bending traditional rules, there's a massive selection of stalls in this popular hawker centre.
This fusion joint is situated on the second storey, recognisable with a bold black-and-white signboard.
The verdict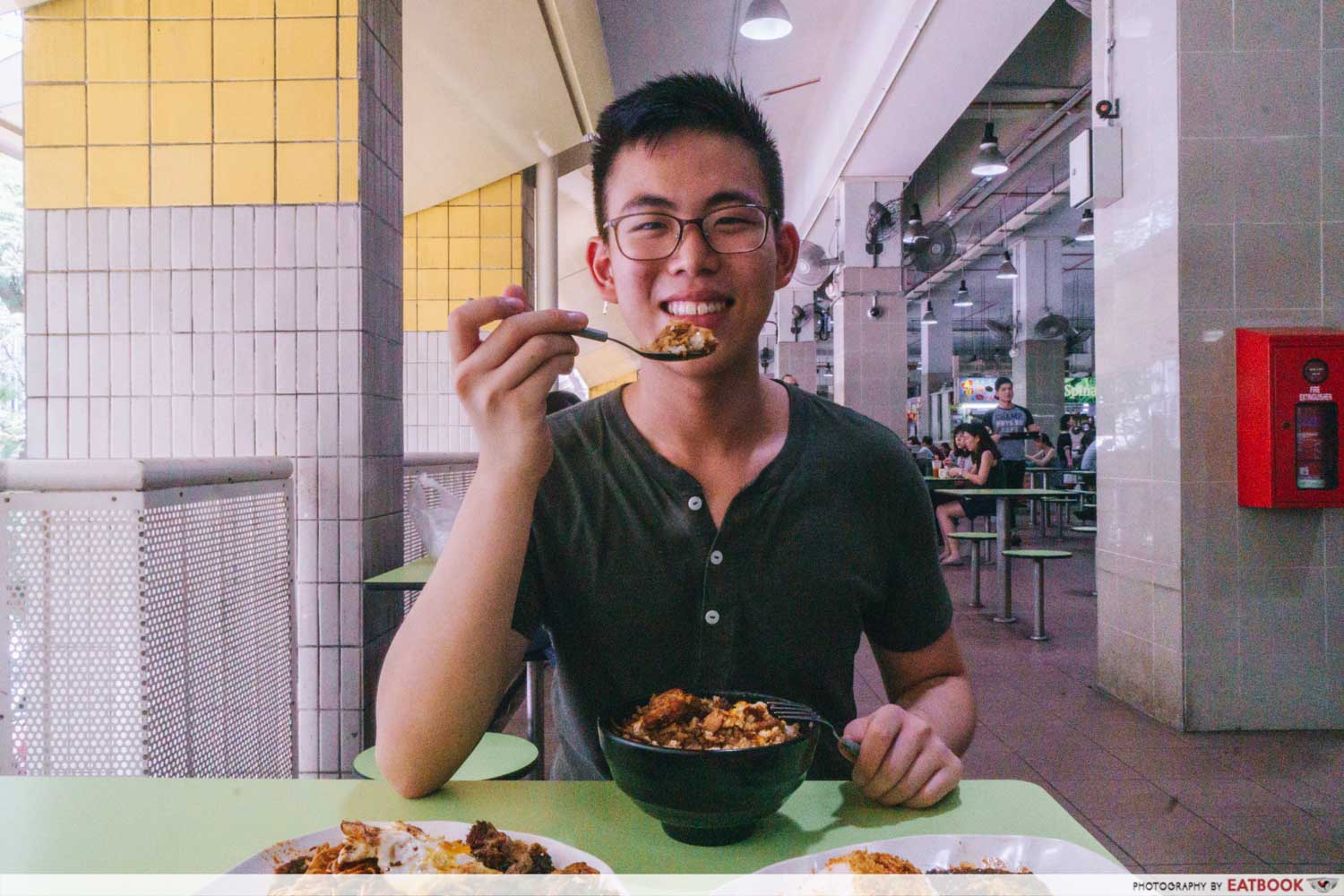 Fusion food is no longer a novel idea in hawker centres. Many stalls botch the execution though, with a weak understanding of the cuisines they try to blend. Rayyan's Waroeng Upnormal avoids those perils, building on their strong knowledge of Indonesian cuisine and enhancing it with Japanese touches.
Their dishes are original and well-prepared for the most part, with flavour combinations that work. That's a recipe for a successful eatery anywhere, and to us, this CBD hawker is poised for success.
Amoy Street Food Centre and its surrounding area has a massive array of food options. For more great eats in Telok Ayer, check out our review of Daily Noodles as well as our guides to Amoy Street Food Centre and Telok Ayer Cafes.
Daily Noodles Review: First Japanese Hawker Stall Serving Maze Soba At Amoy Street Food Centre
Let us know your favourite Amoy Street Food Centre stalls in the comments below!
Address: 7 Maxwell Road, #02-86, Amoy Street Food Centre, Singapore 069111
Opening hours: Mon-Fri 11am to 2pm
Tel: 9799 7373
Website
Rayyan's Waroeng Penyet is a halal-certified eatery.
Photos taken by Sharlene Lau.
This is an independent review by Eatbook.
Summary
Pros
– Creative flavour combinations
– Wide variety
– Well-thought out and balanced dishes
Cons
– Bami goereng lacked oomph
Recommended dishes: ¼ Cut Fried Chicken Penyet ($5.50), Balinese Egg Bowl With Honey Glazed Char Grilled Boneless Chicken Thigh ($7)
Opening hours: Mon-Fri 11am to 2pm
Address: 7 Maxwell Road, #02-86, Amoy Street Food Centre, Singapore 069111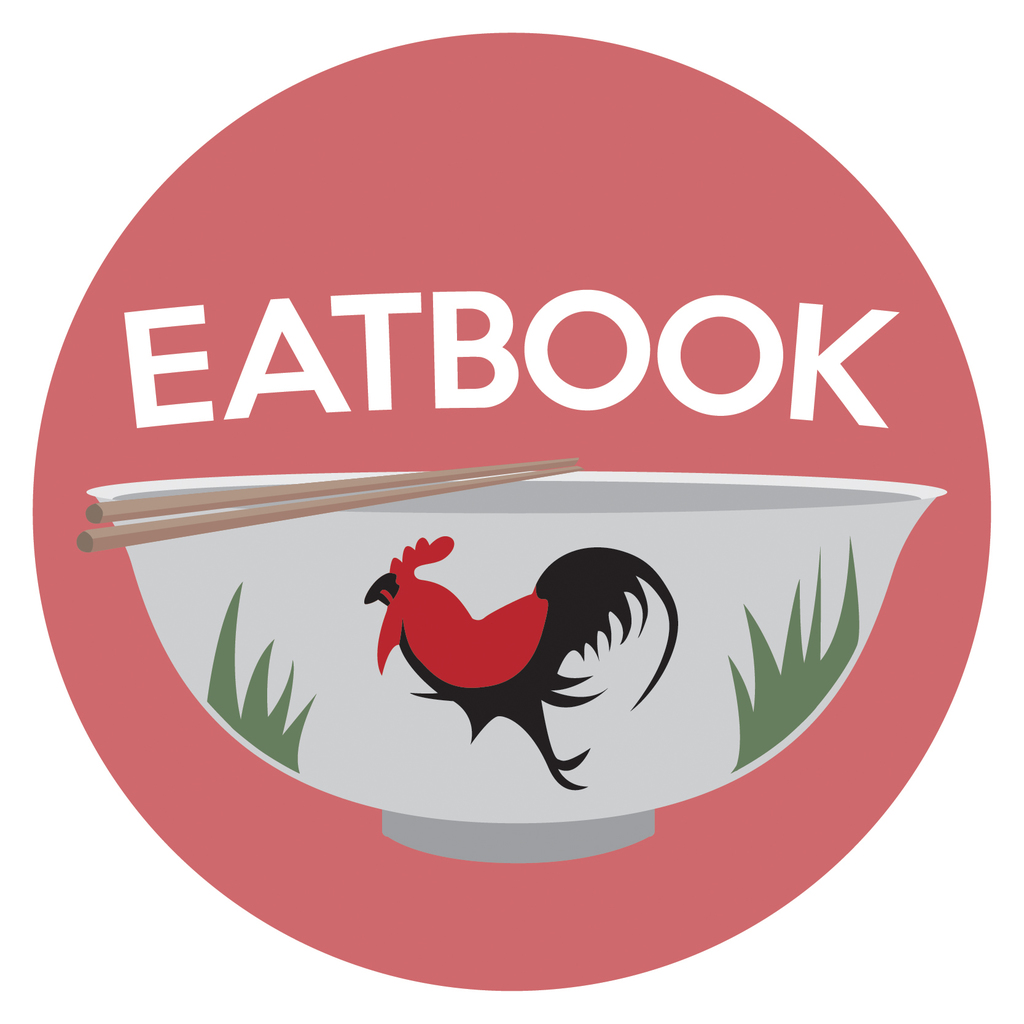 Drop us your email so you won't miss the latest news.