---
Amoy Street Food Centre caters to all palates
---
Ever since my first review at Big Bowls Project, I've realised how much of a gem Amoy Street Food Centre really is. From wholesome fish soup to curry puffs and noodles awarded with the Michelin Bib Gourmand, here's a list of 10 must-tries when you're at this food paradise of a hawker centre.
---
1. Big Bowls Project
---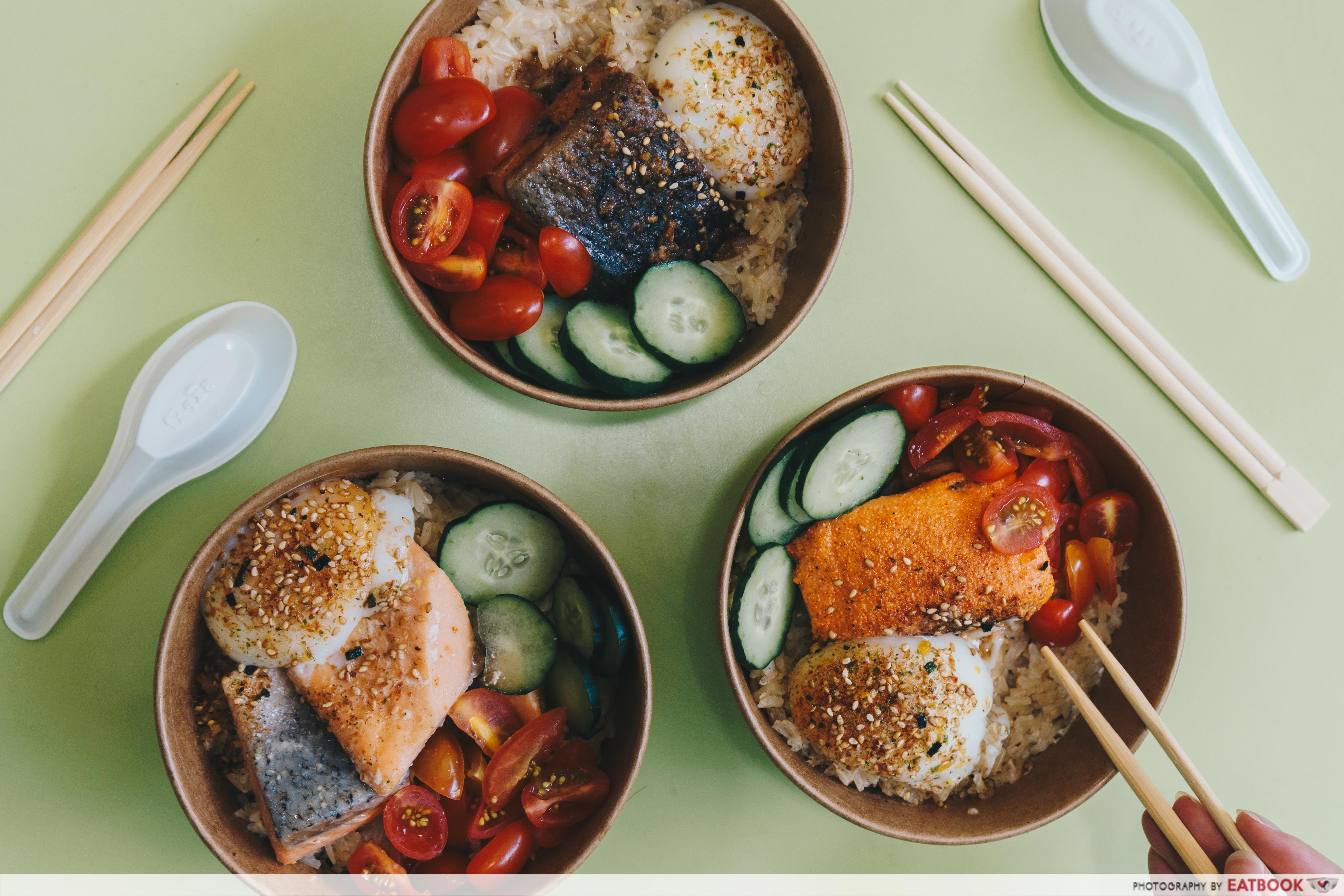 We visited Big Bowls Project to try out their salmon rice bowls, and were definitely impressed by what we saw. Every bowl comes with a side of refreshing cucumbers, sliced cherry tomatoes and a jiggly onsen egg. We recommend their Szechuan Black Bean Salmon ($8), and Mentaiko Salmon ($9.50) bowls. Get the Szechuan Black Bean Salmon if you like your fish salty. The Mentaiko Salmon is nice and smoky. You can also opt to have salad greens instead of rice in your bowl.
Check out our full review of Big Bowls Project!
Unit number: #02-90
Opening hours: Mon-Fri 11:30am to 2:30pm
Tel: 8183 0250
Website
---
2. Pepper Bowl
---

The amazing thing about Pepper Bowl is that no dish costs more than $6! The dishes here all have a wok hei fragrance that'll make your mouth water. I highly suggest you top up $0.60 for an onsen egg, to give your meal a little more variety! Get their Spring Onion Pork Rice ($5), which comprises stir-fried pork tossed with spring onions. The pork is coated in a syrupy sweet sauce, while the meat is tender and juicy. If you're a lover of all things spicy, you should definitely give their Black Pepper Beef Rice ($5.50) a try.
Find out more in our full review of Pepper Bowl.
Unit number: #02-102
Opening hours: Mon-Fri 11am to 2:30pm
---
3. Lagoon In A Bowl
---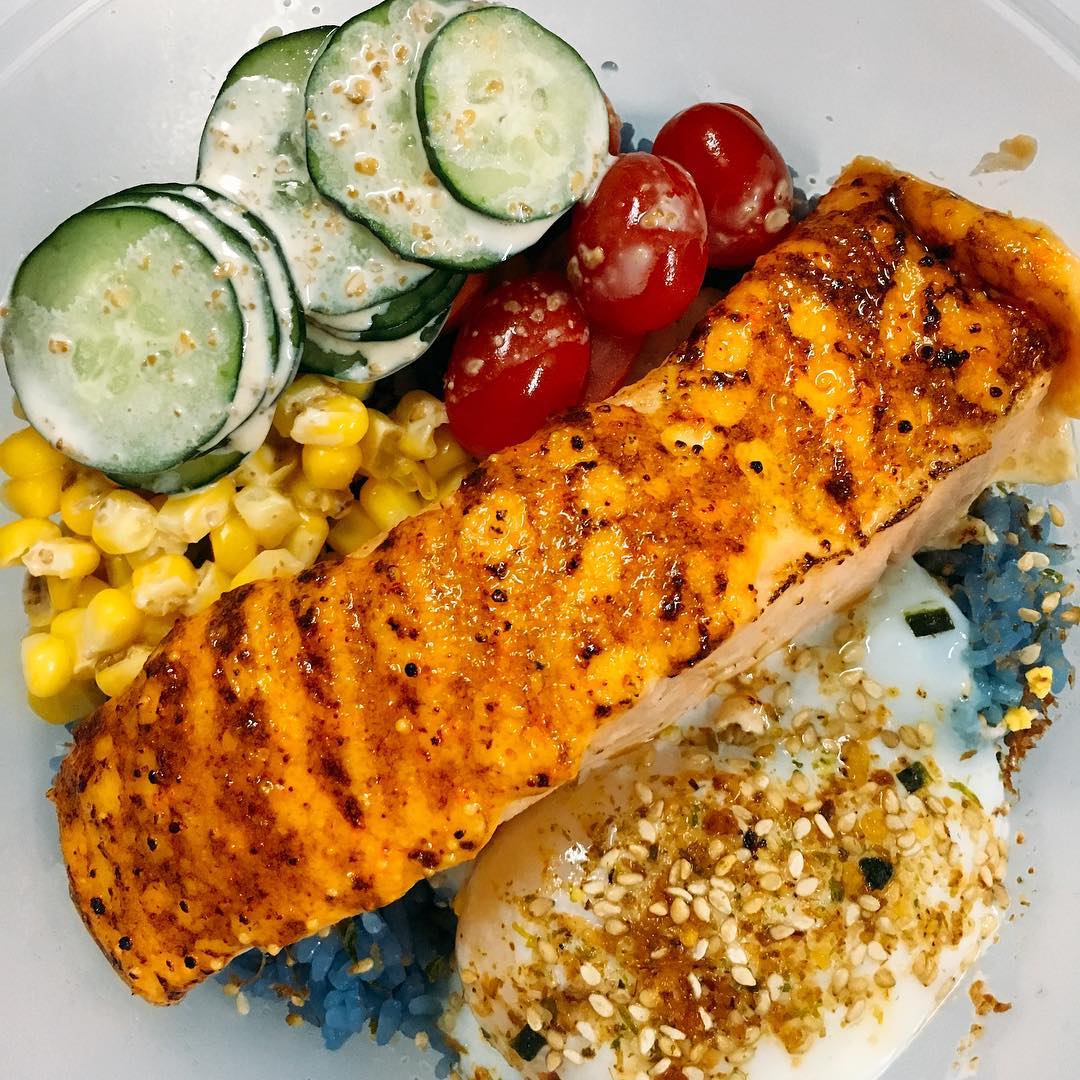 Image credit: @one_plain_breath
Lagoon In A Bowl is known for their healthy grain bowls. Their signature is the Mentaiko Salmon Bowl ($10). Albeit a little pricey for hawker fare, you may find this unique salmon bowl rather value for money! Created by the owner of Don, a hawker stall dishing out huge donburi bowls, all the bowls sold here contains butterfly pea rice meant to imitate a blue lagoon. Meanwhile, the slab of torched mentaiko salmon represents a fish in the 'water'. This delectable analogy tastes as good as it looks, too. 
Unit number:  #01-48
Opening hours: Mon-Sat 11am to 3pm
Tel: 9119 2619
Website
---
4. Han Kee Fish Soup
---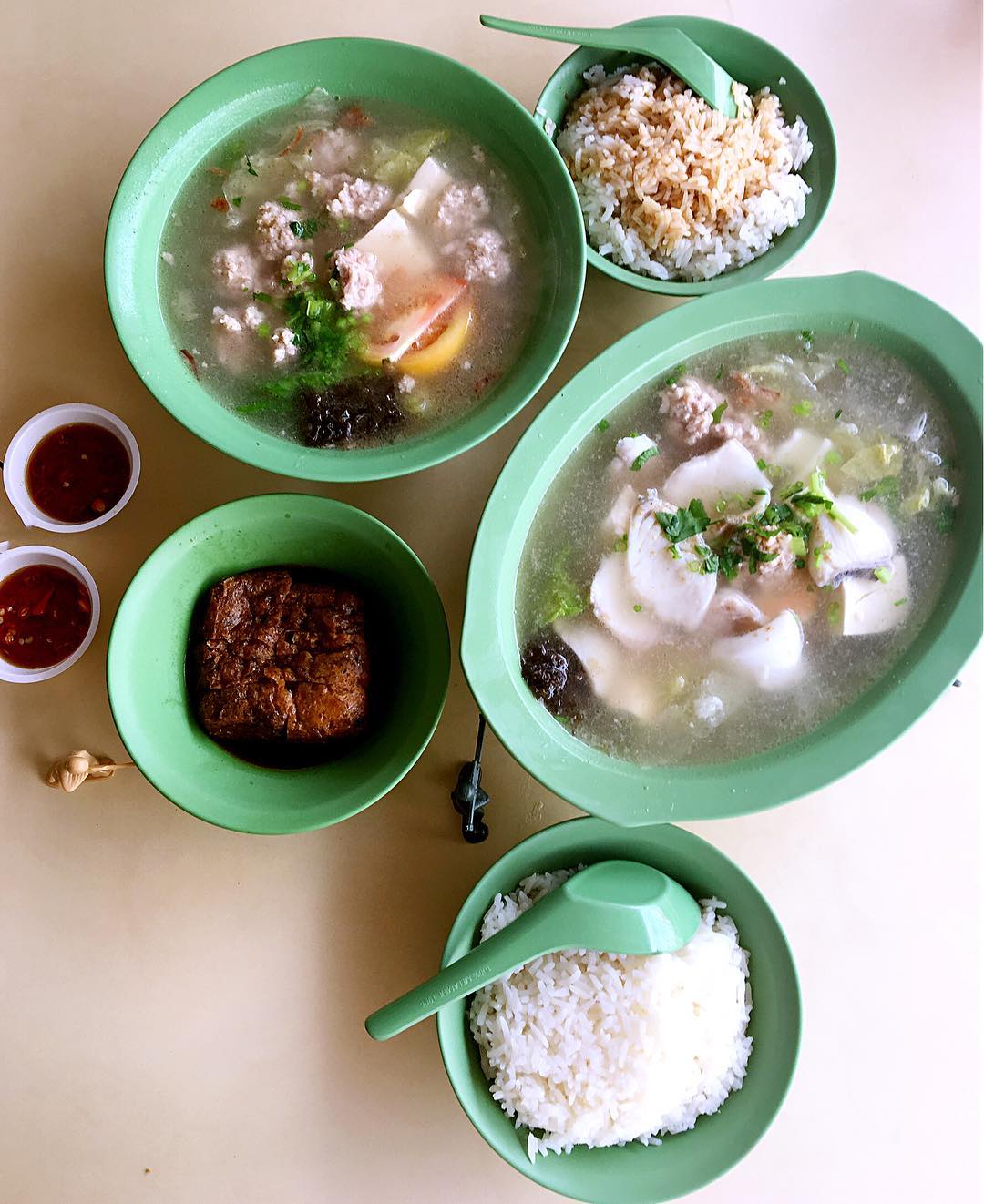 Image credit: @thehungry_soldiers
If you're prepared to brave the storm of office workers lining up outside Han Kee Fish Soup and wait for your turn, you'll be rewarded with a hearty bowl of wholesome fish soup for lunch! Order their Fish Soup Bee Hoon ($5), it's one of the cheapest dishes on the menu, and worth every penny. The broth is simple and light, yet brimming with umami. The slices of fish soaking inside taste so clean and fresh, they have a slight springiness as you chew.
Unit number:  #02-129
Opening hours: Mon-Fri 11am to 3pm  
---
5. A Noodle Story
---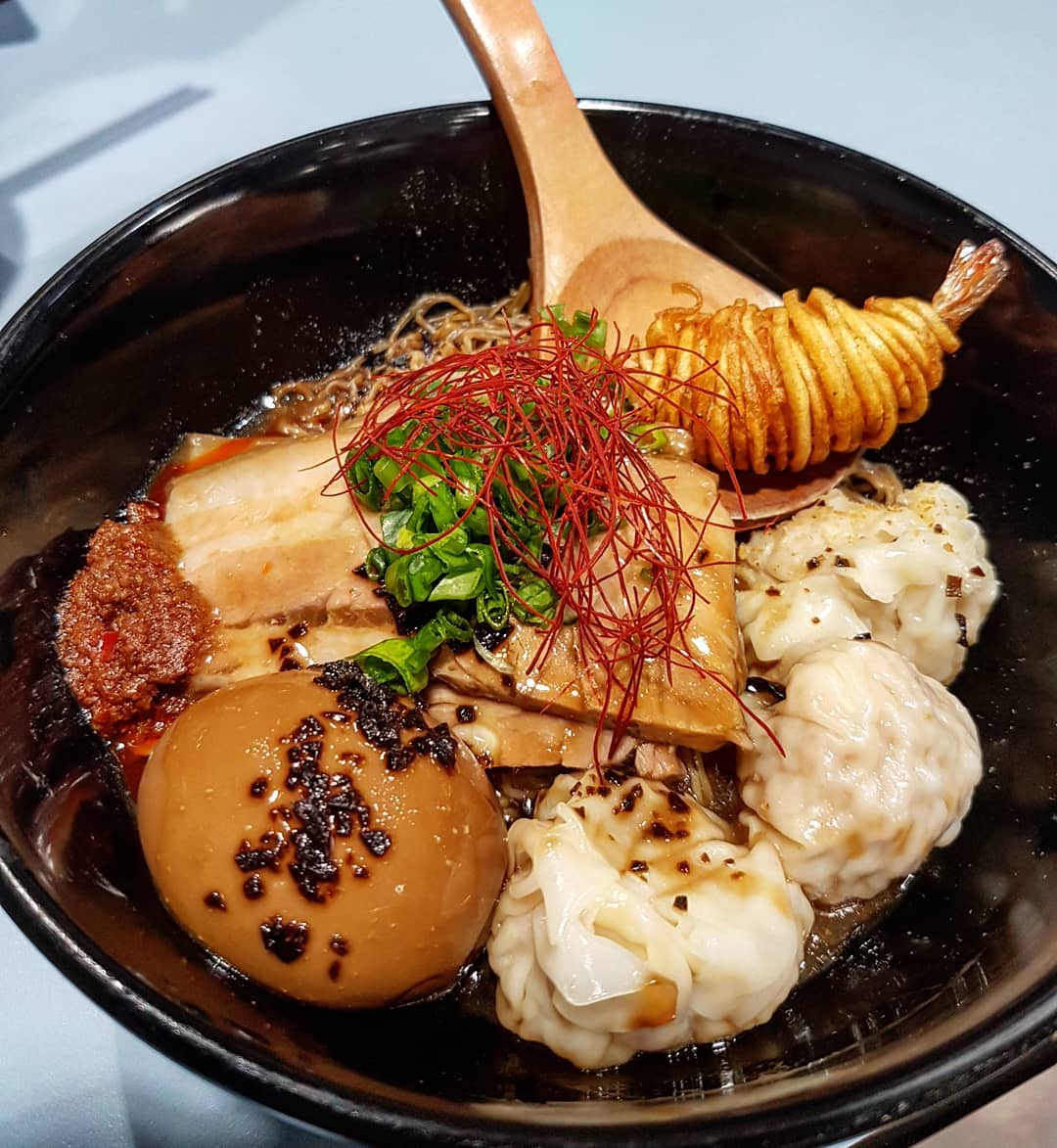 Image credit: @jasyapxl
And the Michelin Bib Gourmand goes to…A Noodle Story! This award-winning noodle stall sells ramen with a unique local twist. A bowl of their Singapore-Style Ramen ($9/$12/$16) comes with tender chashu pork belly, a snazzy potato-wrapped prawn, juicy wontons and a lava egg with a gooey core. These ingredients are stylishly arranged atop springy noodles tossed in XO sauce. The noodles are also accompanied by a small, savoury bowl of soup.  
Unit number: #01-39
Opening hours: Mon-Fri 11:15am to 1:30pm, 5:30pm to 7pm, Sat 11am to 1:15pm
Tel: 9027 6289
Website
---
6. Piao Ji Fish Porridge
---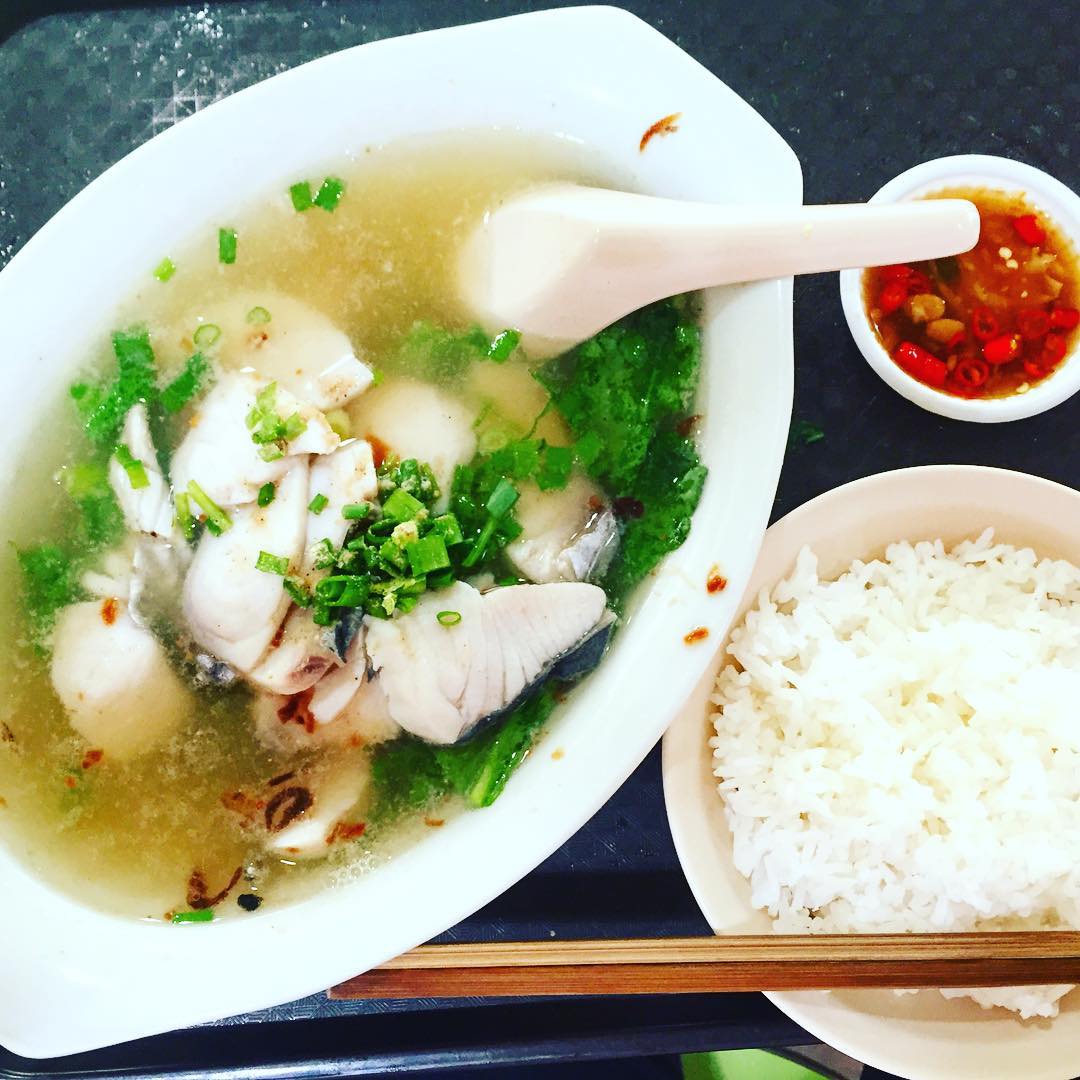 Image credit: @unsophisticatedpalatesg
Piao Ji Fish Porridge is another fish soup stall in Amoy Street Food Centre with the ability to give Han Kee Fish Soup a run for their money. Freshly sliced fish simmer in a tasty, hearty broth. A classic bowl of Fish Soup costs $7, but you can add in prawns at the price of $10, for a stronger seafood taste. Throw in a bowl of rice to complement your soup at an extra $0.50. The queue at this stall is equally as intense as the one over at Han Kee Fish Soup, so do come to the food centre mentally prepped to wait in line.
Unit number:  #02-100/103
Opening hours: Tue-Wed, Fri-Sun 11am to 3:30pm
---
7. Yuan Chun Famous Lor Mee
---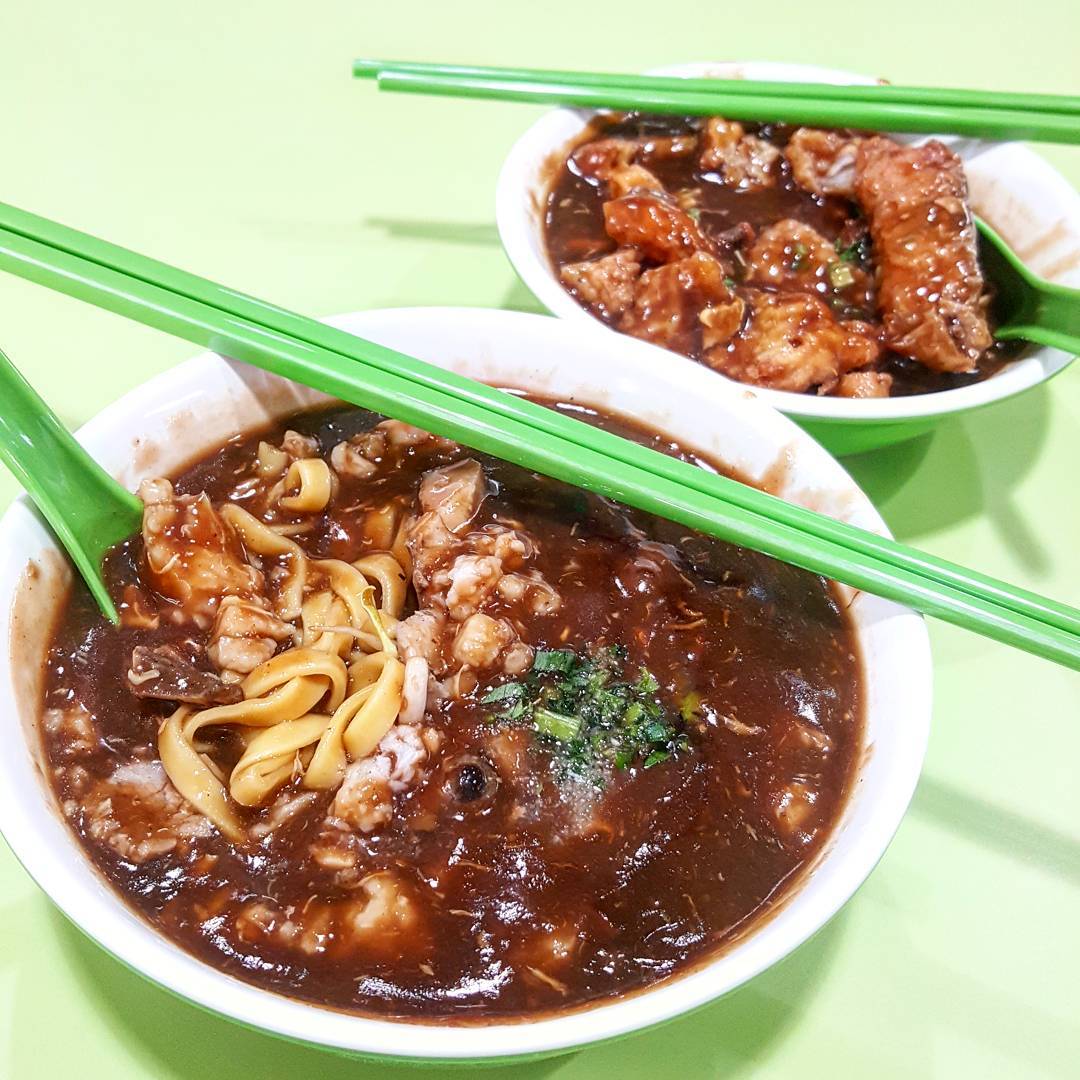 Image credit: @reggum
You seldom see lor mee as appetising as the one at Yuan Chun Famous Lor Mee! Prices for a bowl of Lor Mee start at $4,but you are advised to get larger portions, for a more filling serving. Succulent bits of meat are scattered among the noodles, and the sour flavour from the vinegar pierces through the salty, thick gravy with a satisfying oomph. The standard at this stall dropped a while ago, but when the cravings strike, I say the lor mee here is still worth a try.
Unit number:  #02-79/80
Opening hours: Wed-Sun 7:30am to 2:30pm
Tel: 6291 1439
---
8. Hong Kee Beef Noodles
---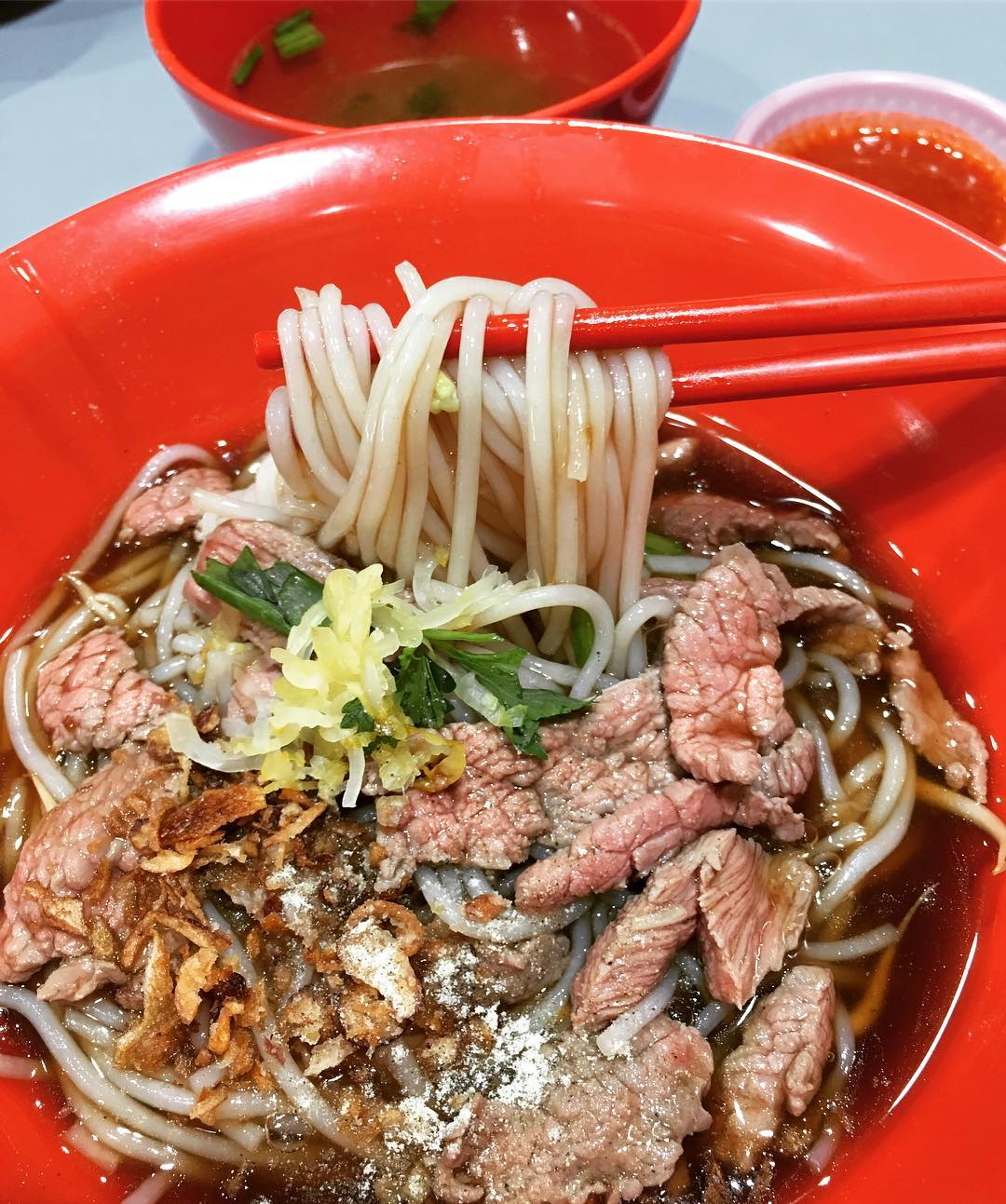 Image credit: @jenteo27
Tuck into a comforting bowl of beef noodles at Hong Kee Beef Noodles! Yet another awardee of the Michelin Bib Gourmand, this place has been in operation for over 50 years now, and offers beef noodles in both soup and dry forms. It's possible even your grandparents have sampled the food here, in their younger days. Get the Beef Noodles with Soup ($4/5/6)! The soup is said to have been simmered for 24 hours before it is ready to be served, so you can imagine just how flavourful it must be. Not to mention, the lean slices of beef are cooked to medium-rare perfection – you can tell from the redness in the centre!
Unit number: #01-42
Opening hours: Mon-Fri 11am to 7:30pm, Sat-Sun 9am to 2:30pm
---
9. J2 Famous Crispy Curry Puff
---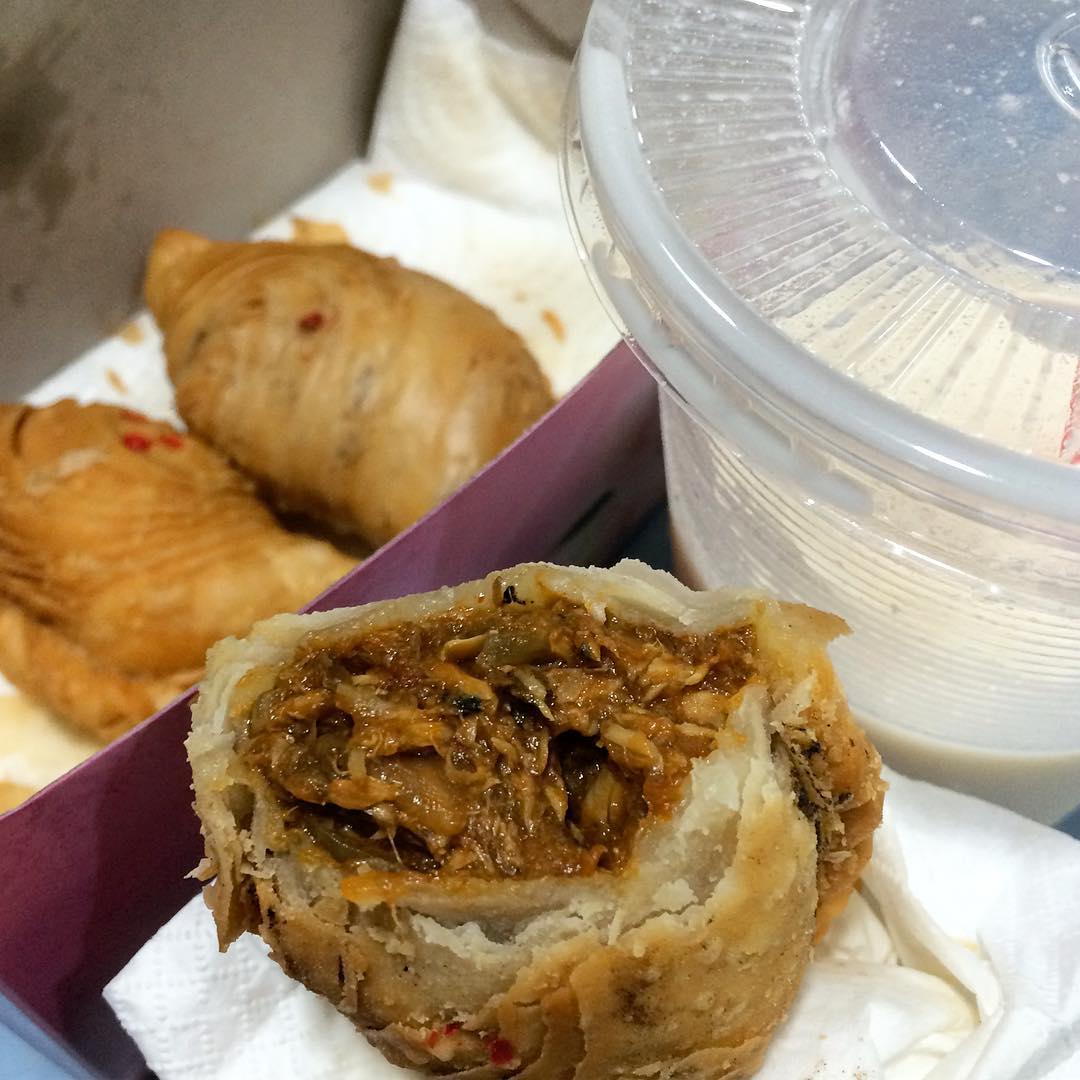 Image credit: @chutoro
The last recipient of the Michelin Bib Gourmand at Amoy Street Food Centre goes to J2 Famous Crispy Curry Puff. You can find the popular pastry pretty much anywhere, but once you've tried the ones sold here, it'll be hard to want to get your curry puffs elsewhere. The crust of their Curry Puff ($1.40) is flaky and thin, and you can get it stuffed with a variety of moist fillings, from classics such as sardine and curry potato to more unique choices including yam and black pepper chicken.
Unit number: #01-21
Opening hours: Tue, Thurs-Fri 8am to 4pm, Sat 8am to 12pm
---
10. Coffee Break
---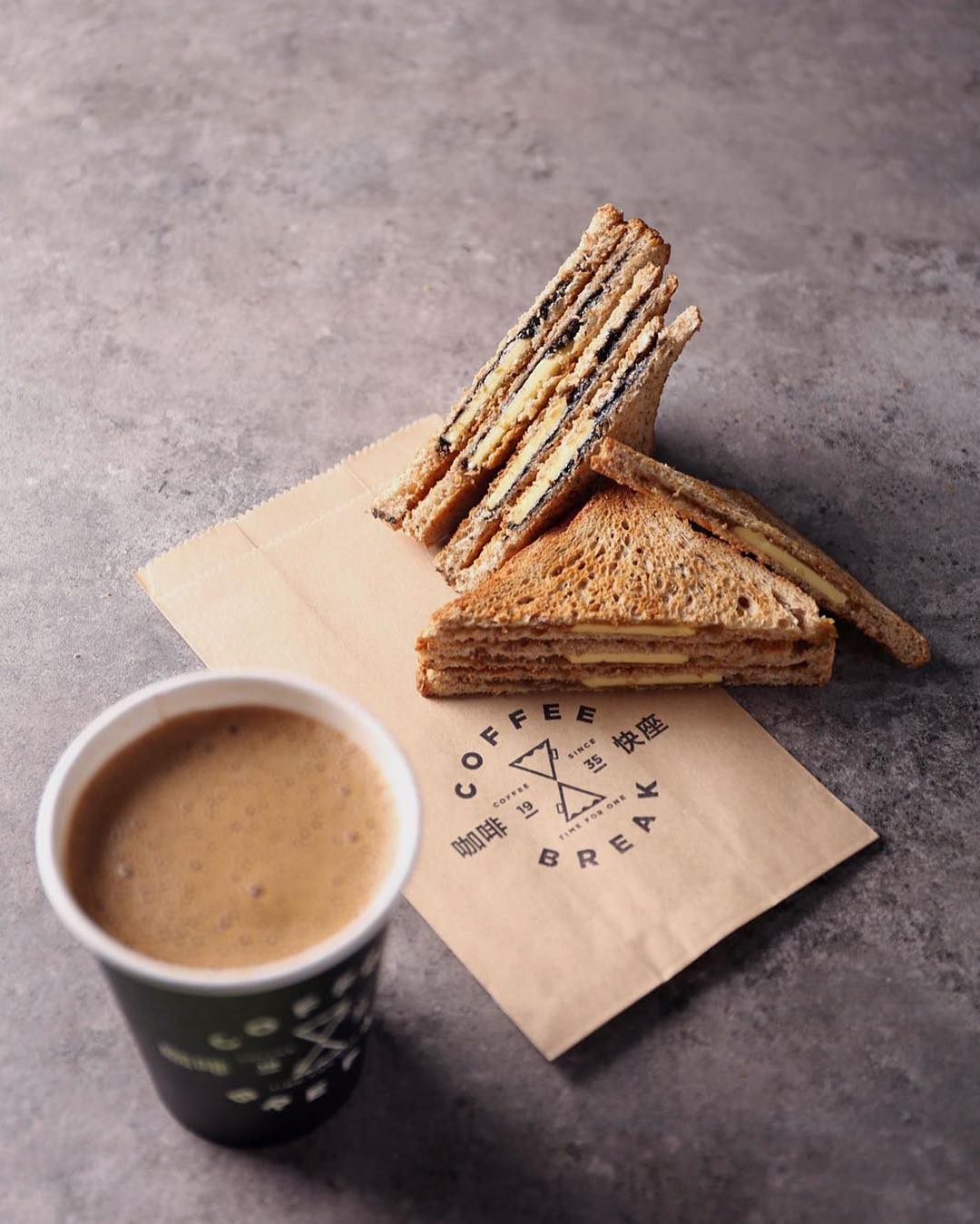 Image credit: @coffeebreak_sg
If you're just looking for something light to sip or snack on, take your cravings to Coffee Break. As its name suggests, this place sells regular Kopi (from $1.60) and Teh ($1.30 for hot, $1.80 for cold), but also does more contemporary beverages such as Pumpkin Spice Latte ($4) and Hazelnut Mocha ($4). They also put a spin on traditional toast, slathering them with interesting spreads such as Earl Grey Creme ($3.50) and Black Sesame ($3.50). These artisanal sandwiches and drinks have earned the stall much media attention and become a crowd-favourite amongst the working population in the CBD.
Unit number: #02-78
Opening hours: Wed-Fri 7:30am to 2:30pm, Sat 9:30am to 2:30pm
Tel: 8100 6218
---
Amoy Street Food Centre has it all
---
I hope you're now convinced about how heavenly the spread is over at Amoy Street Food Centre. It's rare to come across a hawker centre with so much good food sold at decent prices. Beat the CBD crowd at their own game and head on over to these must-try stalls as early as you can, next time the hunger pangs strike.
For more great eats found under the same roof, check out these Chinatown Complex food stalls with dishes starting from just $1, or Tekka Centre, which is found right outside Little India MRT Station!
Address: 7 Maxwell Road, Singapore 069111
Nearest MRT Station: Tanjong Pagar (EW15)