---
Lau Pa Sat food stalls to visit
---
When my parents first brought me to Lau Pa Sat, I had imagined it to be a run-down hawker centre that is combined with a wet market. This place, however, turned out to be one of the more modern hawker centres I've been to – there's nothing lau (old) about Lau Pa Sat! Besides the impressive design and famous satay, Lau Pa Sat has much more to offer. Whether you're one looking for a place to bring your tourist friends to, a newbie in the CBD looking for cheap and good grub for lunch, or simply a hungry soul, here are 10 stalls in Lau Pa Sat to check out!
---
1. Thunder Tea Rice
---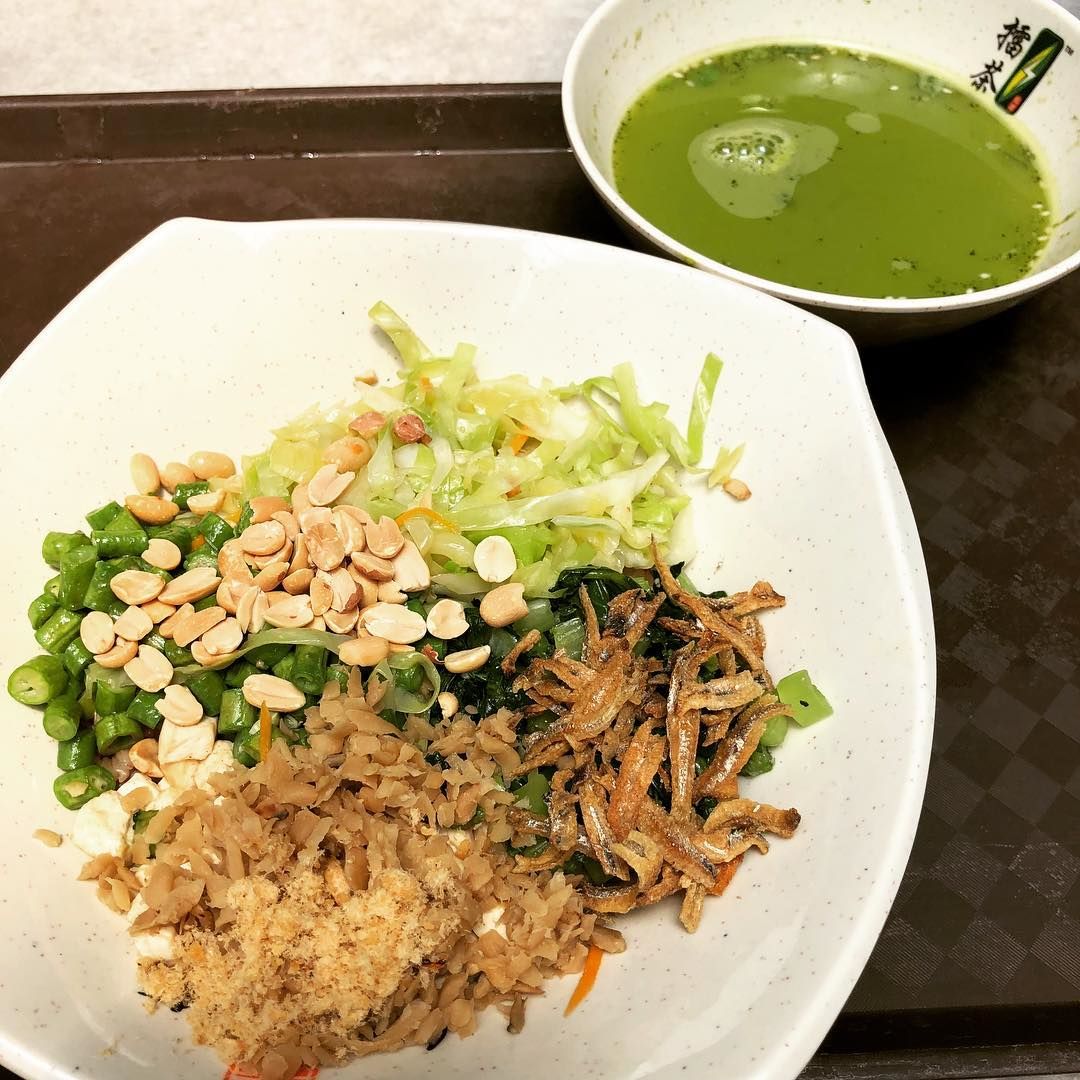 Image credit: @dortzz
If you have never tried this Hakka dish before, Thunder Tea Rice from Lau Pa Sat may be a good place to have your first try! Other than the chopped greens, their Thunder Tea Rice ($5.50) also comes with peanuts and fried anchovies that give an additional crunch. If you want to up that health factor even more, you can also ask for brown rice instead of white rice. Those who cannot go a meal without meat, try their Thunder Tea Special ($8.50), which is the usual thunder tea rice set with a choice of fish fillet, chicken patty, or chicken and prawn meat roll.
Stall number: 31
Opening hours: Daily 9am to 9:30pm  
---
2. Mamacitas
---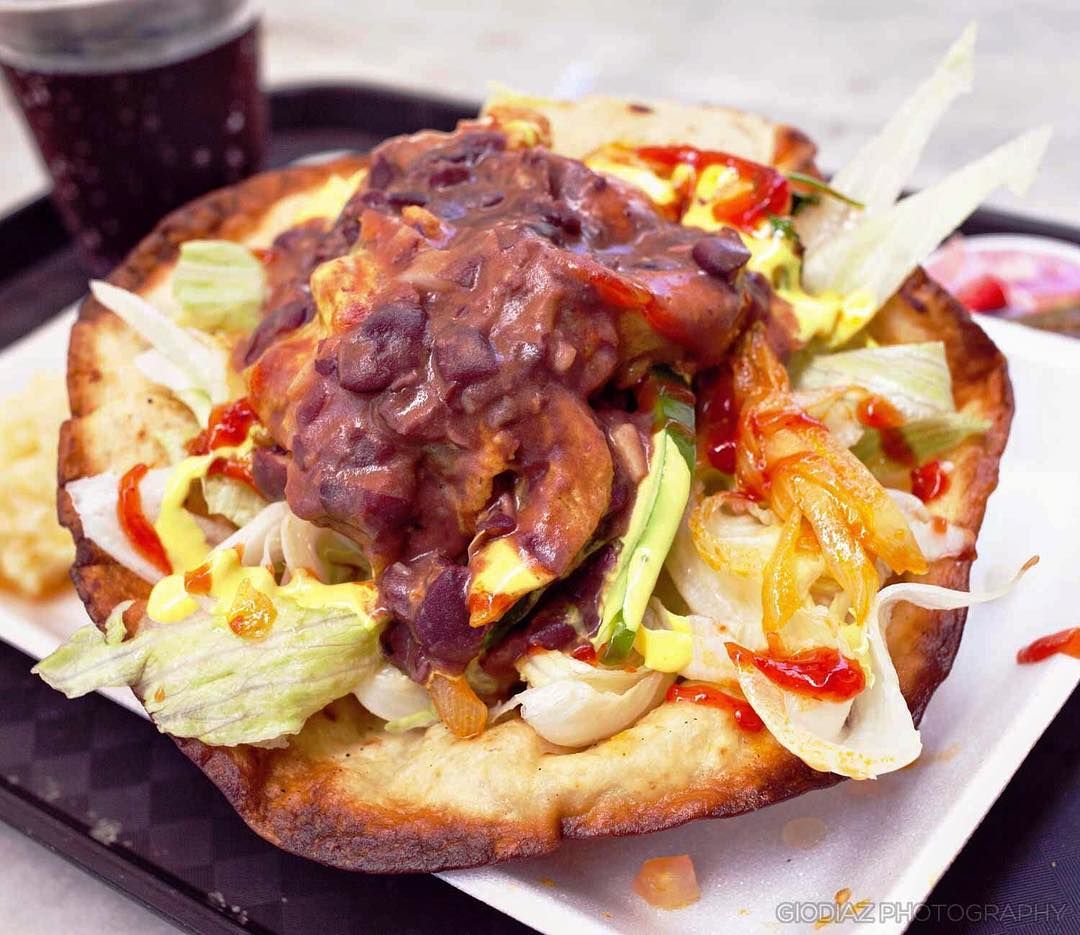 Image credit: @godzaid
Fans of burritos will be thrilled to find this stall in Lau Pa Sat. Mamacitas serves Costa Rican food such as Burrito ($7.90) and Krispy Tavcos ($6.90). Those looking for a heavier meal can also look out for their Arroz Con Mariscos ($6.90), which is a plate of seafood fried rice that will remind you of Spanish paella.
Stall number: 6
Opening hours: Daily 11:30am to 9pm
---
3. Seng Kee Local Delights
---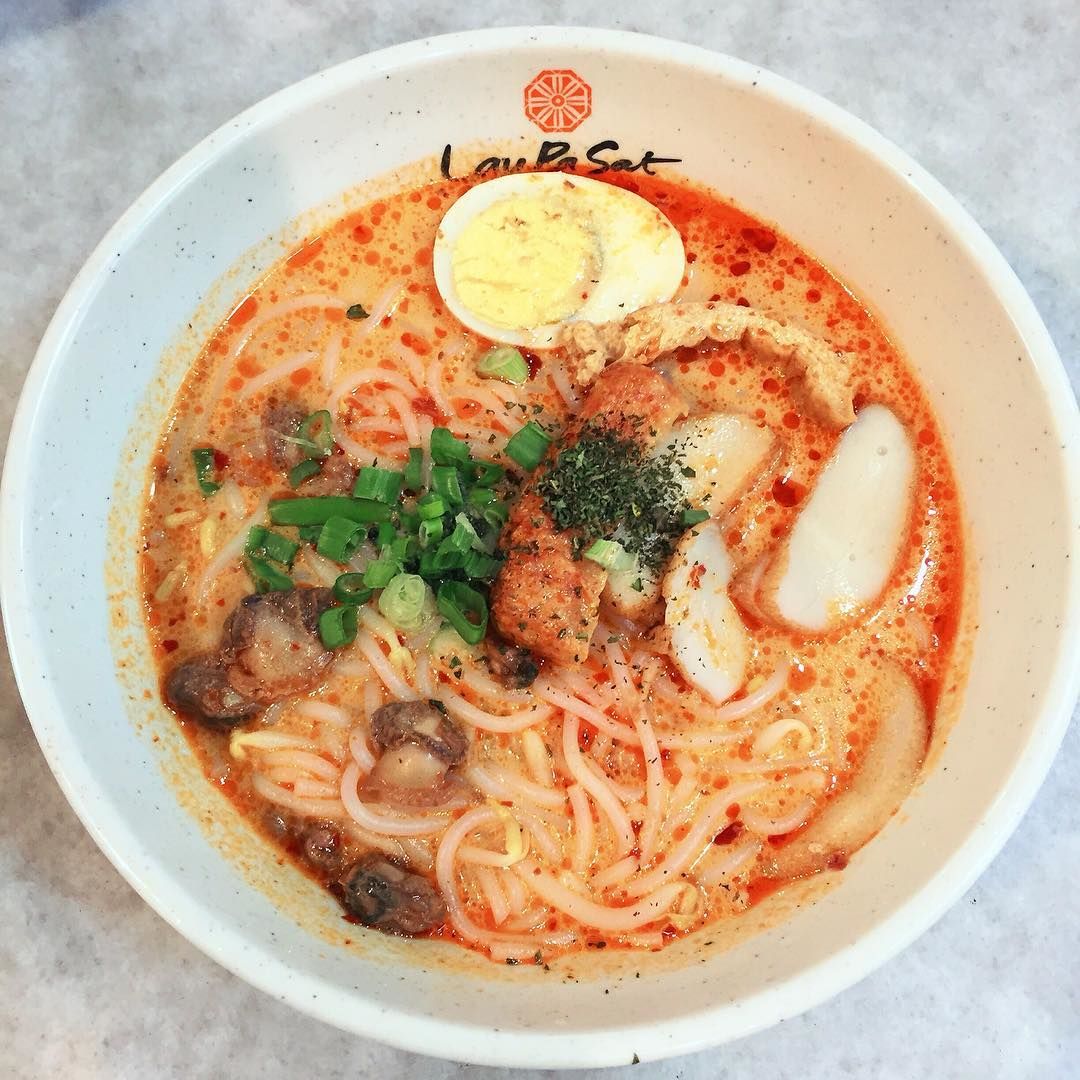 Image credit: @kayedreyes
A one-stop to satisfy all your cravings with Fried Kway Teow ($4), Laksa ($4), and Hokkien Mee ($5) would be Seng Kee Local Delights. One of their best-sellers is the laksa, which gives a good kick with its spicy seafood and coconut broth. Having been in Lau Pa Sat for many years, the stall sees a steady stream of loyal customers every day, so be prepared to wait in line if you are planning to pay a visit!
Stall number: 10
Opening hours: Daily 11am to 1am
---
4. Ramen Ginza
---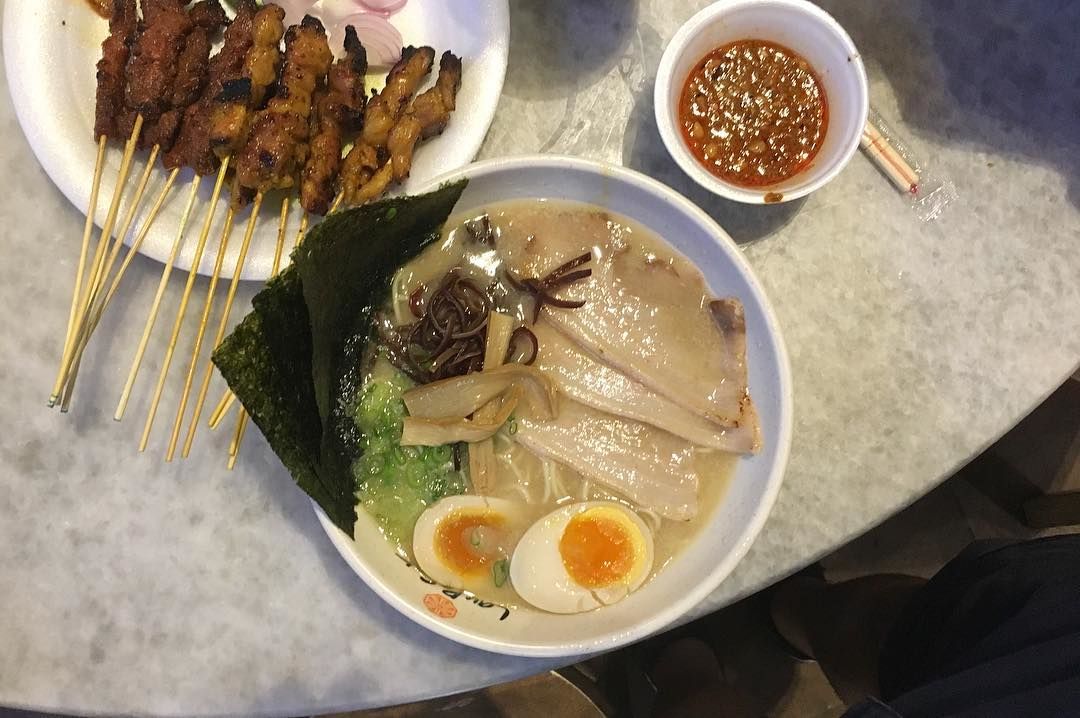 Image credit: @mattzard
While Japanese cuisine is not a rare find in hawker centres, coming across a stall that serves legit ramen is not common. At Ramen Ginza, you can treat yourself to their Tonkatsu Ramen ($6.90) that comes with chashu and ramen soaked in a thick broth. Top up $1.50 if you'd like your ramen to come with a Flavoured Egg. If you are looking for something less conventional, they also have some interesting dishes such as Fish Tonkatsu Ramen ($7.90) and Cold Ramen ($6.90).
Stall number: 64
Opening hours: Daily 8am to 10pm
Website
---
5. Noodle Evolution
---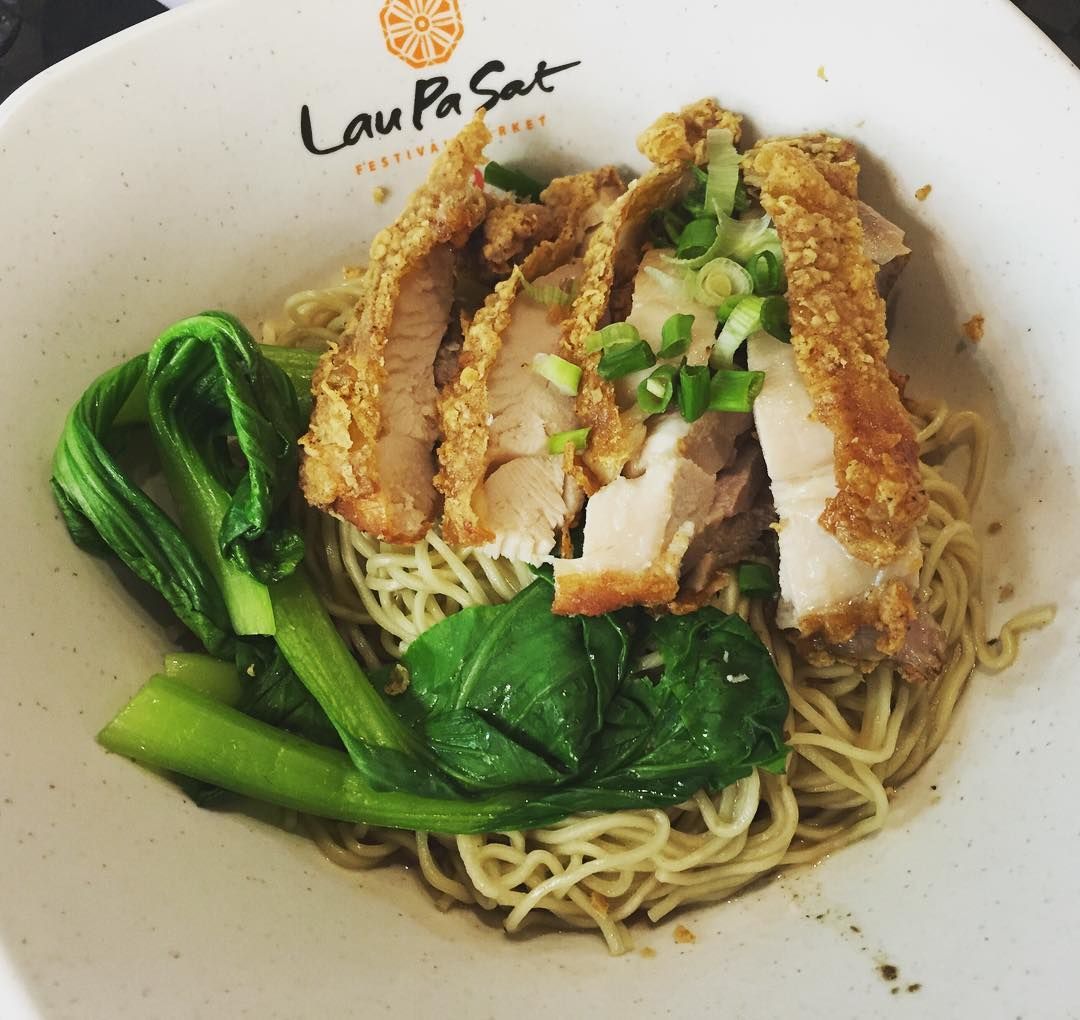 Image credit: @chris_poskitt
If you have tried and liked the noodles from RedRing Treasures, you would want to try those from Noodle Evolution as well. While their Chicken Cutlet Noodle ($4) is a best-seller, their signature dish is the Premium Noodle 29 ($3.80), which comes with dumplings, pork pieces, and char siew. To go with the noodles, you can also get their Mojo Crunch ($1.40) – a deep-fried tau pok filled with long beans, shredded carrots, and cabbage.
Stall number: 29
Opening hours: Mon-Fri 11am to 9pm, Sat 12pm to 9pm
---
6. Fishball Story
---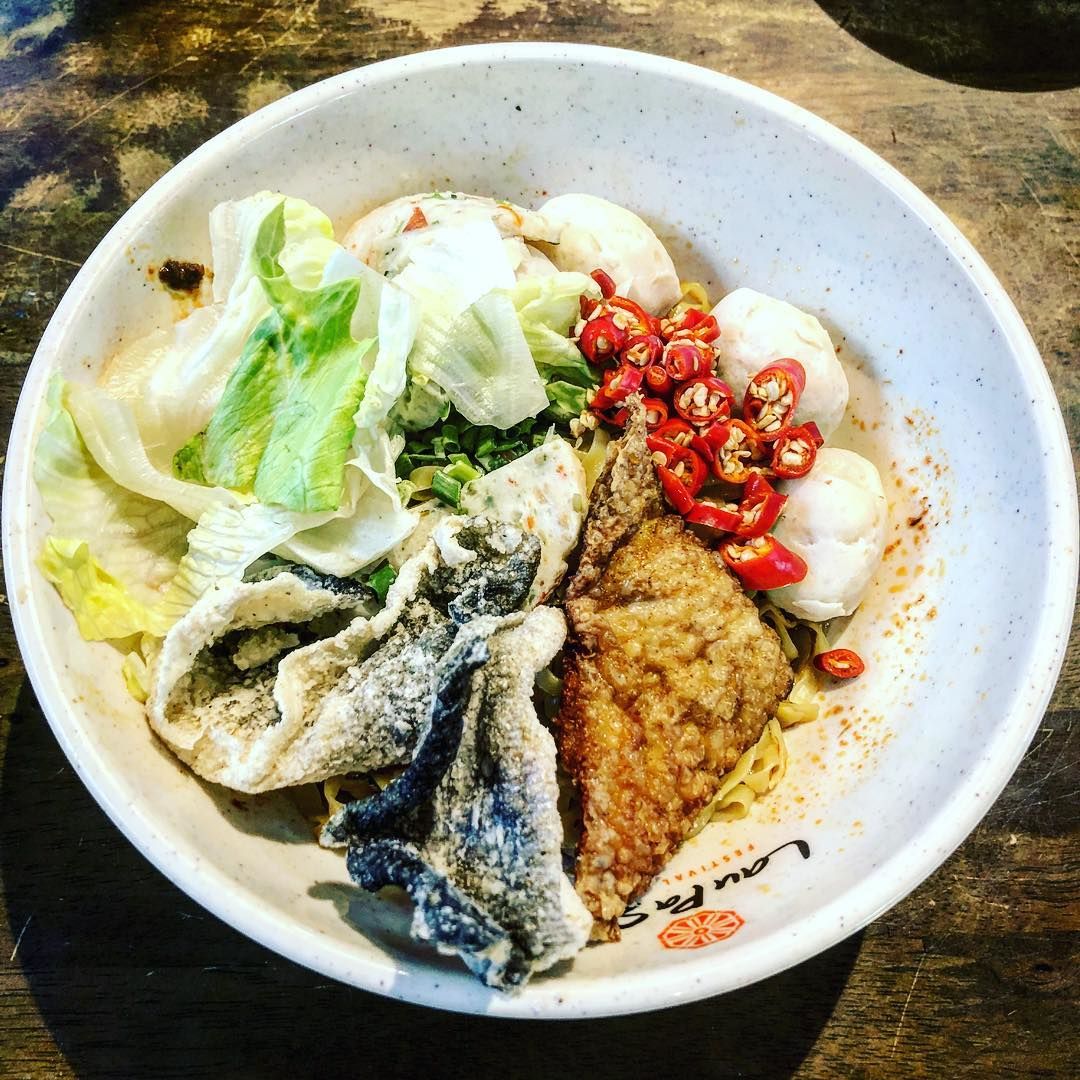 Image credit: @rvassinen
Listed in the Michelin Bib Gourmand in 2016, The Fishball Story is already a well-known name among foodies. At $6.50, try their Premium Fishball Noodle which comes with noodles, fishballs, fishcakes, tau pok, and fried fish skin. For those looking for a good ol' bowl of fishball mee, get their Original Fishball Noodle ($5), which comprises fishballs, fishcakes, and plenty of noodles.
Stall number: 47
Opening hours: Daily 7am to 11pm
Website
---
7. Indian Curry House
---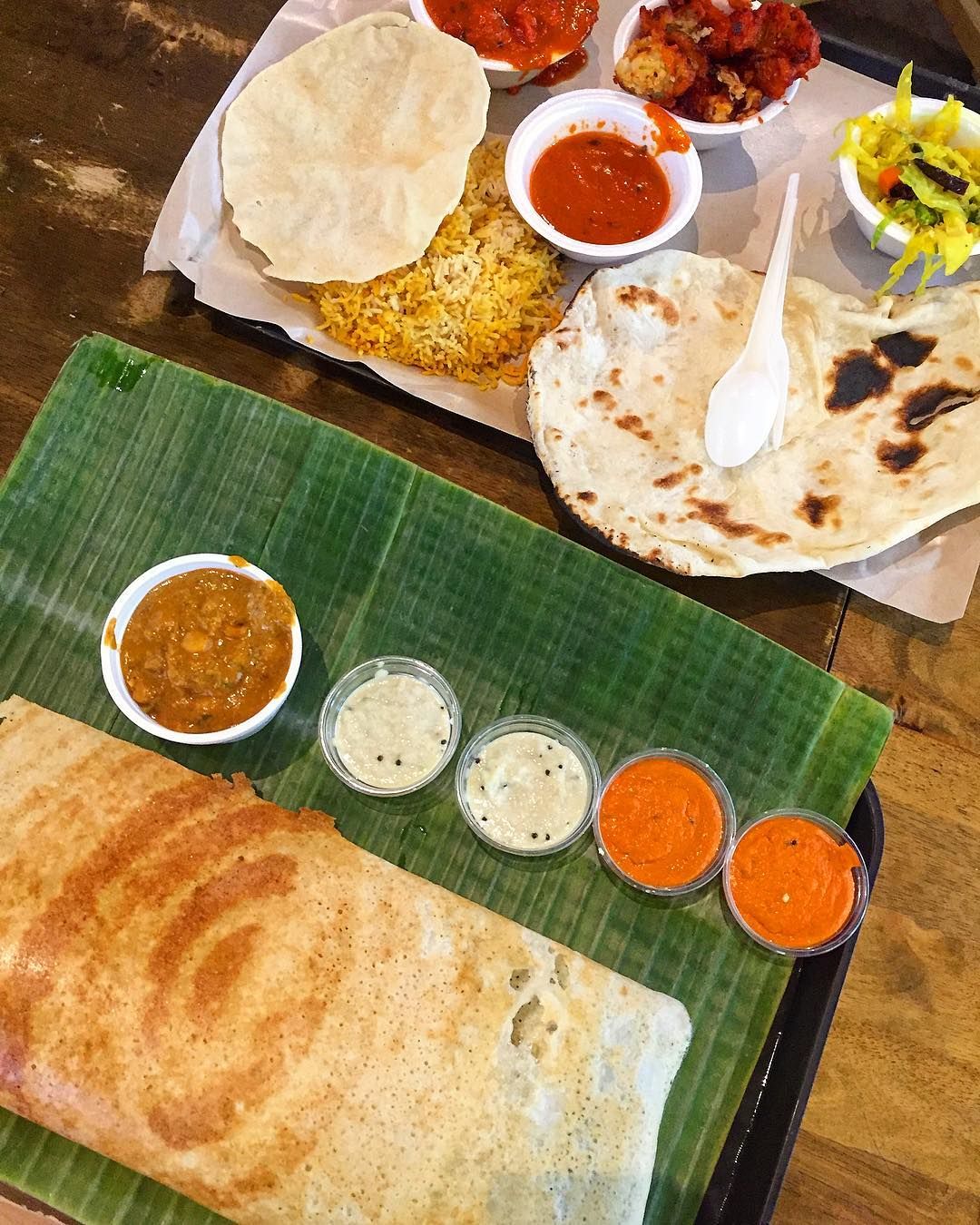 Image credit: @anastasia_lovinglife
Most popular for their Chicken Dum Briyani ($6.50) and Mutton Briyani ($7), Indian Curry House is one of the few stalls in Lau Pa Sat that offer Indian food. Like most Indian stalls, Indian Curry House has an extensive menu serving both Northern Indian and Southern Indian cuisines. This stall opens till 11pm every day so you can still have a prata supper after OT-ing!
Stall number: 30
Opening hours: Daily 9am to 11pm
---
8. Qiu Lian Ban Mian
---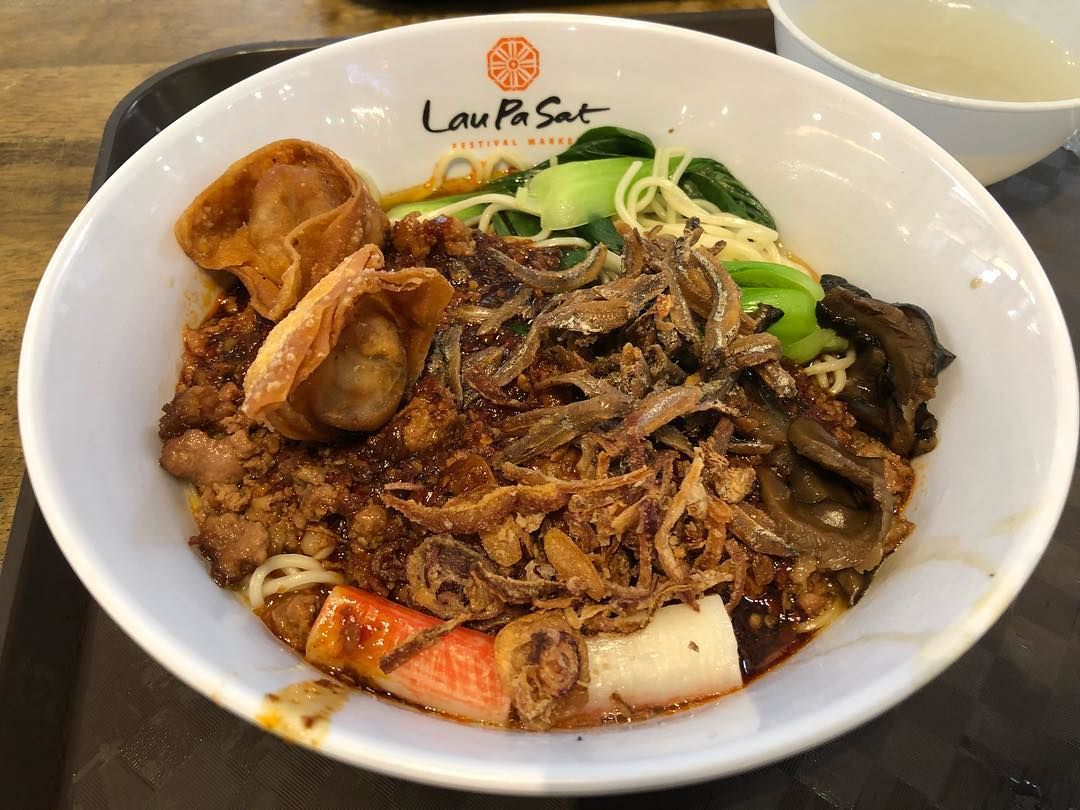 Image credit: @takehito0206
This messy bowl of goodness can be found at Qiu Lian Ban Mian, a popular stall that has several outlets throughout the island. This Minced Meat Noodle ($5.20) is a dry version of their signature ban mian but if you prefer the original one, you can get their Qiu Lian Ban Mee at $4.20. For the type of noodles, you can choose from their wide variety including you mian, mee hoon kuey, and yi mee. Some other variations that you can also find at the stall are their Tom Yum Mee Hoon Kuey ($4.80) and Clam Noodle Soup ($4.80)!
Stall number: 16
Opening hours: Daily 10am to 10pm
Website | Full list of outlets
---
9. The Beef House
---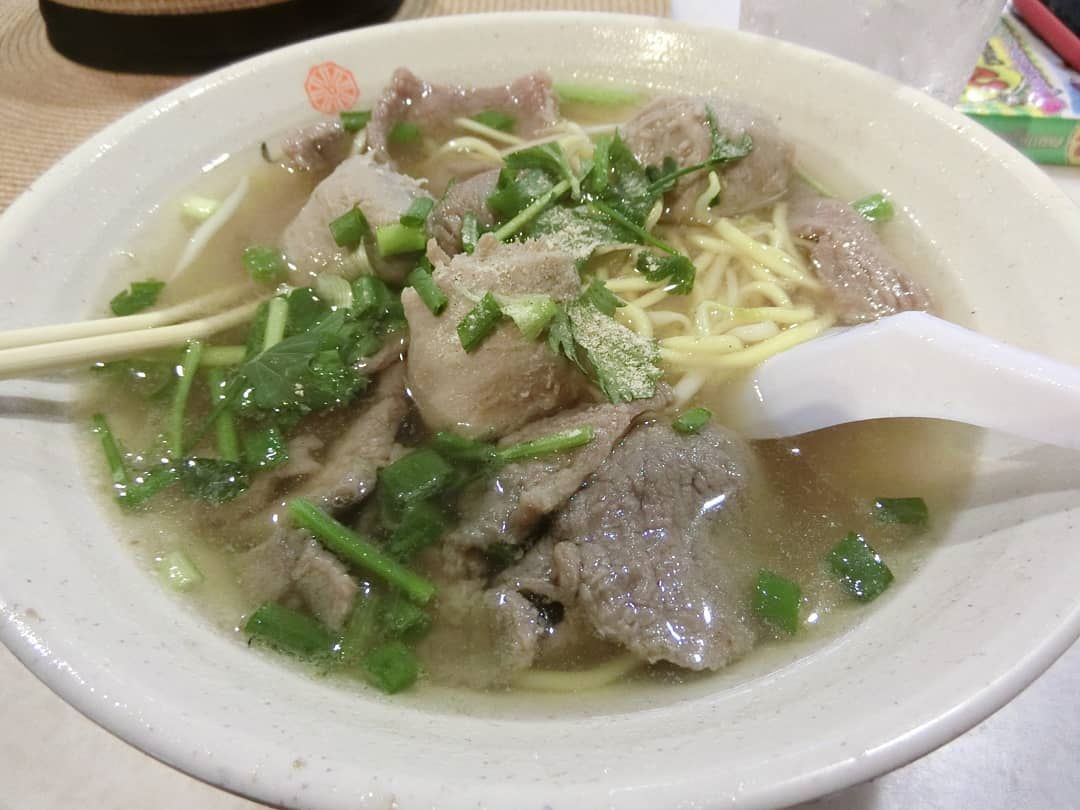 Image credit: @aujang_roirang
The Beef House is one of the few eateries that still serve handmade beef balls. Prepared Hakka-style, The Beef House's signature dish is their Beef Ball Bee Hoon Soup ($5) which comes with clear soup. Compared to most beef balls from other eateries, you can expect the ones here to be much bouncier and if you can't get enough of them, you can get a bowl of just the beef balls in Soup ($6) or in their Special Sauce ($6).
Stall number: 17
Opening hours: Daily 9am to 9:30pm
Website
---
10. Delicius Pasticceria
---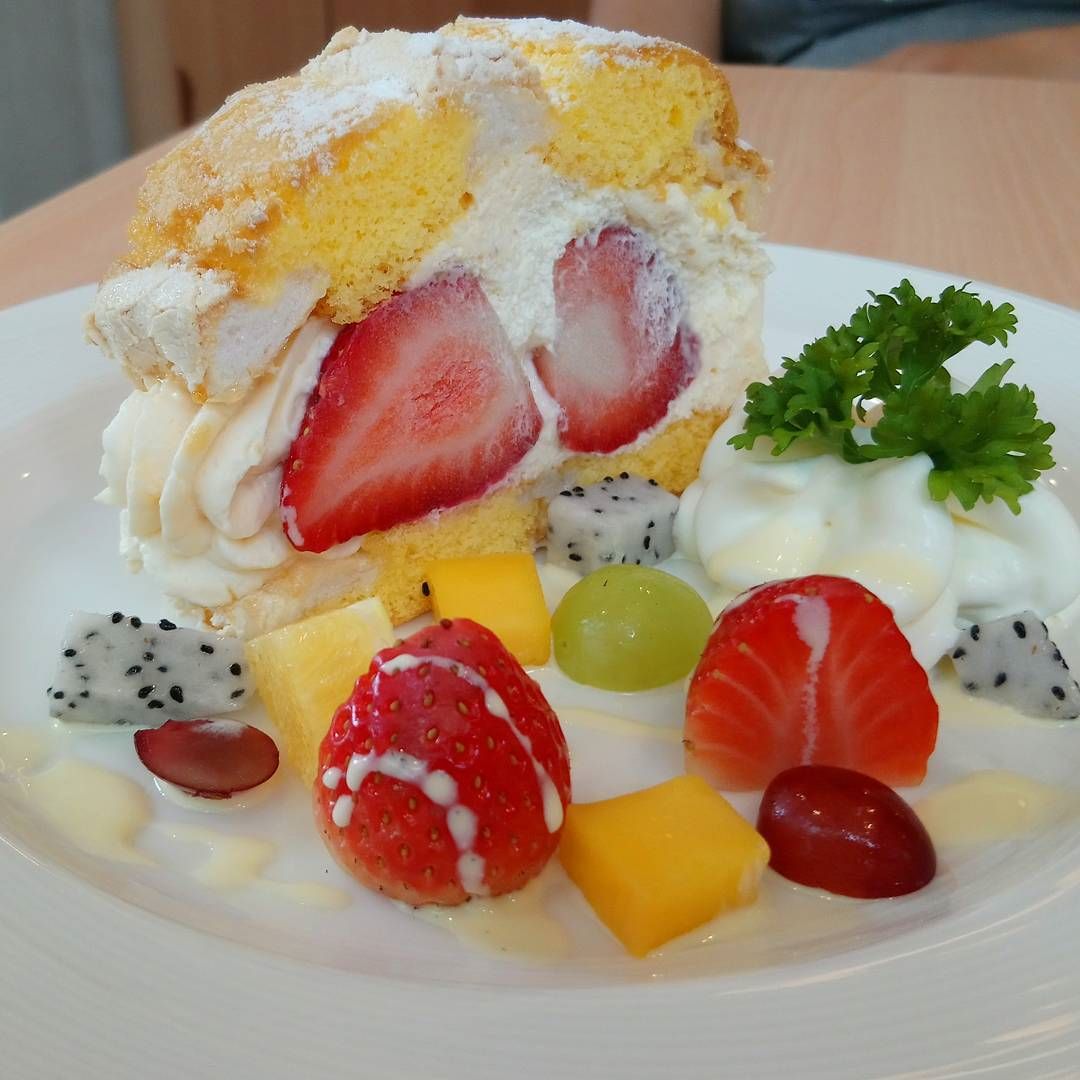 Image credit: @kimloon
Delicius Pasticceria is a place you'd expect to find at hipster area Tiong Bahru, but this Japanese pastry shop is located at Lau Pa Sat instead. Though slightly pricier than the min jiang kueh or tau huey you'd usually get from hawker centres, you can expect to get your money's worth with their atas and Instagrammable cakes. A must-have would be their Apple Cheese Pomme Fromage Cheesecake ($6). Other desserts you can look out for include Chestnut Tart ($6), Raspberry Chocolate ($5.80), and Creme Brulee ($4)!
Stall number: 88/95
Opening hours: Daily 8am to 11pm
Website
---
Something for everyone at Lau Pa Sat
---
From good ol' fishball mee to Costa Rican cuisine and even atas cakes, Lau Pa Sat is where you can find something that will satisfy every picky eater of your clique. If you have tourist friends visiting Singapore, we also came up with a list of must-have hawker food that will surely impress!