---
Best acai bowls in Singapore
---
On a sweltering day, an acai bowl is my go-to meal when I'm not in the mood for something heavy. This refreshing treat comprises two components: an icy cold acai base and a variety of toppings including granola and fresh fruits. With so many options on the island, we set out to find the best acai shops in Singapore so you don't have to.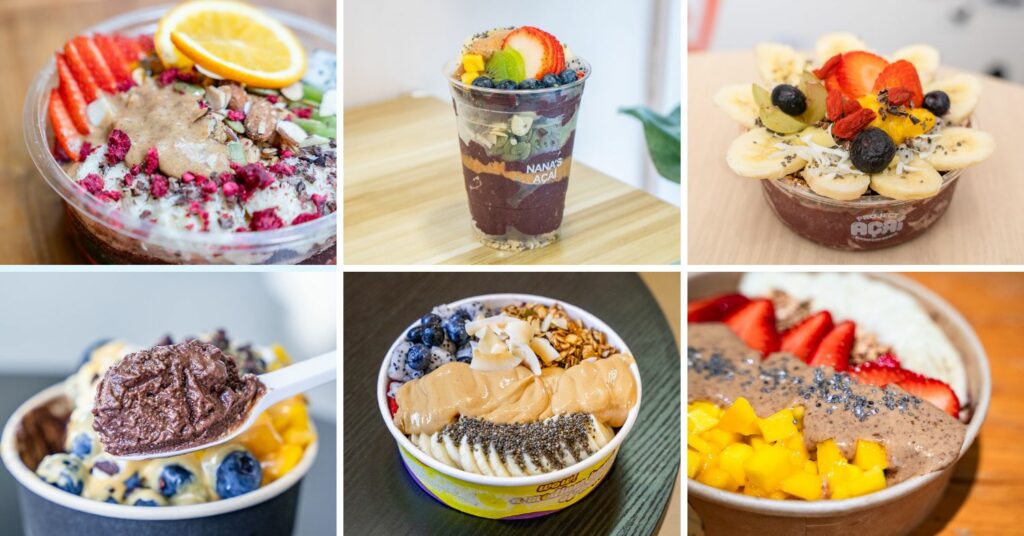 Acai bowls have an interesting history. For many years, acai berries were a staple ingredient used by the folks living around the Amazon River. These small berries, which are hard and not sweet by nature, were often used in savoury dishes. In the late 1980s, the acai smoothie bowl was said to be invented by The Gracie Family, who were renowned in the Brazilian jiujitsu scene. They added various ingredients including fruits such as banana to the acai berries to form a smooth, sorbet-like consistency. It soon shot to popularity—people loved enjoying the antioxidant-rich superfruit in the form of a pretty dessert.
---
The criteria
---
To help in my grading process, I came up with four main categories. As with most food, taste and preferences can be rather subjective, so do take this list with a pinch of salt—what I like might not be your cup of tea and vice versa.
Firstly, the acai base should be smooth and creamy, not watery or frozen. Some granular bits are fine but the acai should not be overly gritty or chunky. Flavour-wise, we're looking for something slightly tart, not too sweet, and a tad earthy, preferably with a hint of cocoa. 
Next up, the toppings. Whether it be fruits, granola, nut butter, or superfoods, the toppings need to be fresh and compatible with the taste of the acai. Bonus points are given to stores that offer a wide range of toppings, too.
The third component is all about aesthetics. Personally, ordering an acai bowl comes with an expectation that it'll look pretty since it's going up on my 'gram. 
Lastly, the value of each bowl. I'll compare the portion I get in relation to the price I'm paying. For each store, we ordered a medium bowl for consistency's sake. For shops with only two sizes, we got the larger one. 
Each category is given a maximum of 5 points, for a total of 20, which is then converted to a percentage score.
---
10. Acai Beach Club
---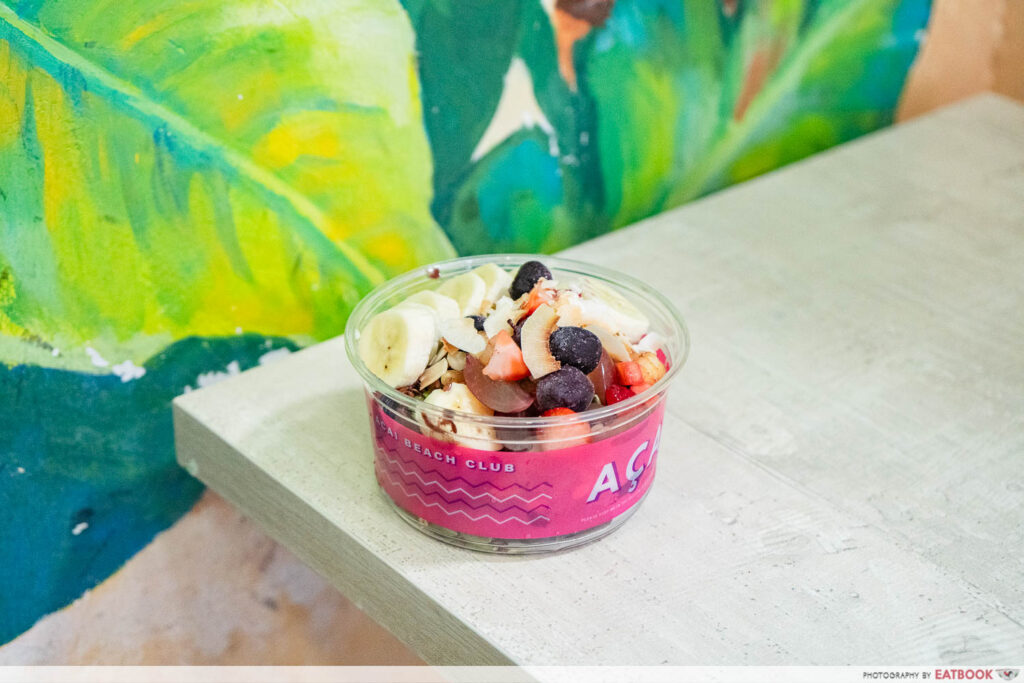 Acai Beach Club looked promising based on their recent Google reviews at the time of research, but they missed the mark during our visit. 
When we received our medium Hawaiian Acai Bowl ($11.90), we were unimpressed with the arrangement of toppings. You do get a nice variety of fruits, including banana, strawberry, and passionfruit, on top of almond flakes and pumpkin seeds for textural contrast, but the aesthetics fell short as it seemed like the toppings were piled on top without much effort. I was also shocked to find that the blueberries were frozen solid.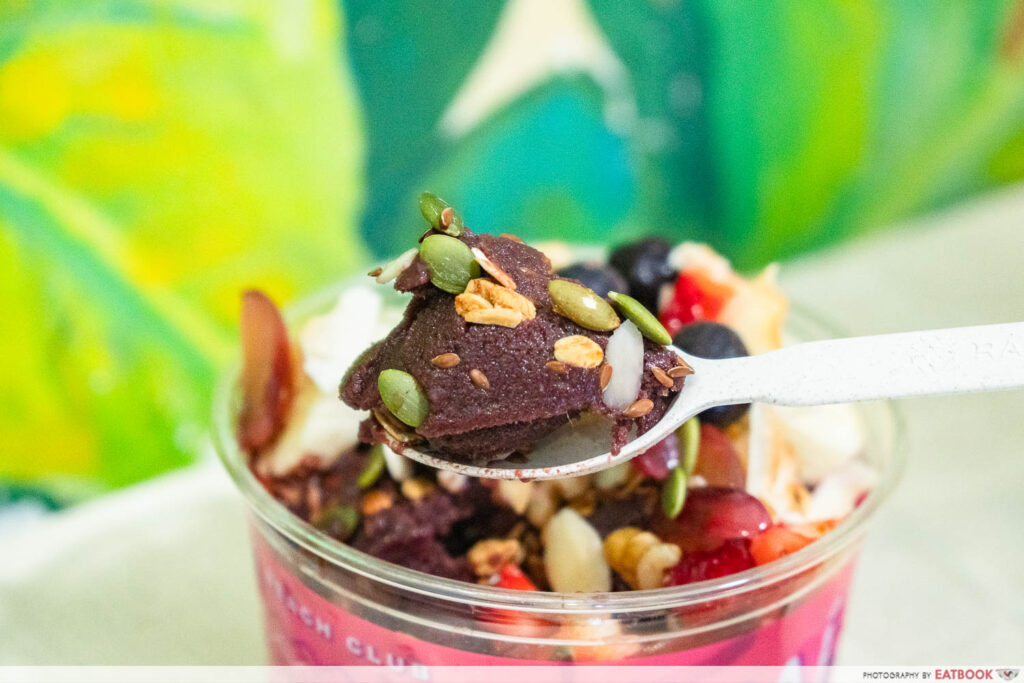 Upon digging into the icy acai base, multiple air pockets were revealed—the acai wasn't packed to the brim. The only saving grace was that the taste of the acai was decent with a pleasant tang, and thankfully, not too sweet. I'm told that the cafe is run by the same folks behind Randy Indulgence Acai Bar in Tanjong Pagar, so perhaps I'll consider trying them out instead.
Acai base: 2.5/5
Toppings: 2.5/5
Aesthetic: 2/5
Value: 2.5/5
Total: 45%
Address: 68 Orchard Road, #03-21A, Plaza Singapura, Singapore 238839
Opening hours: Daily 10:30am to 9:30pm
Tel: 8776 0168
Website
Acai Beach Club is not a halal-certified eatery.
---
9. Coocaça
---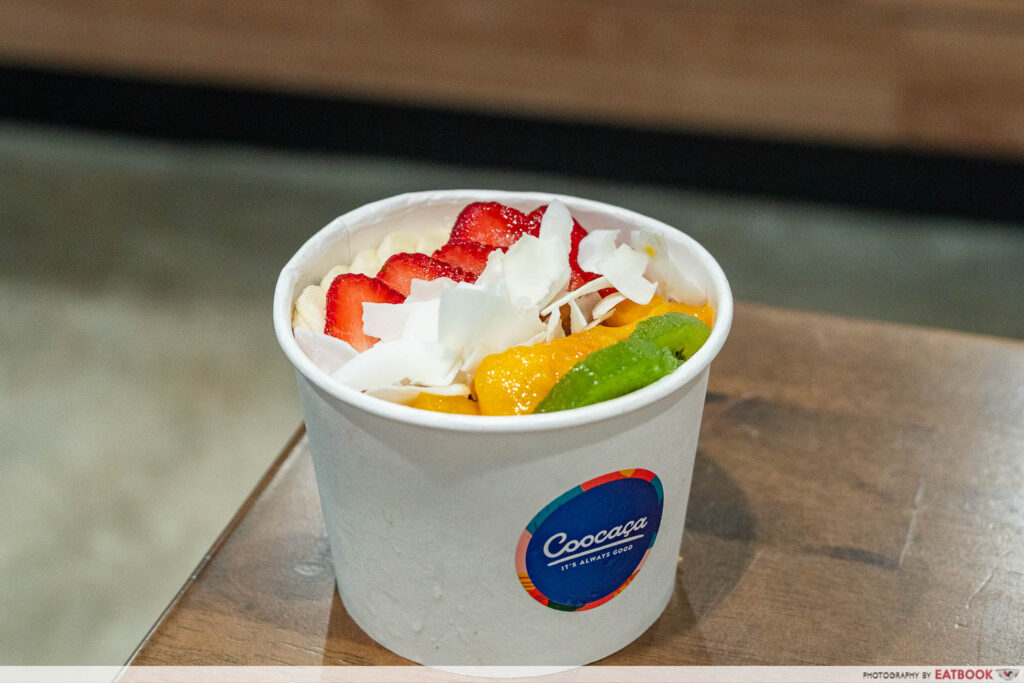 If you frequent Orchard, you may have come across Coocaça, tucked right under a flight of stairs leading to Liat Towers, next to Shake Shack. I had high hopes for this acai place because it looked rather fancy and was on the pricey end.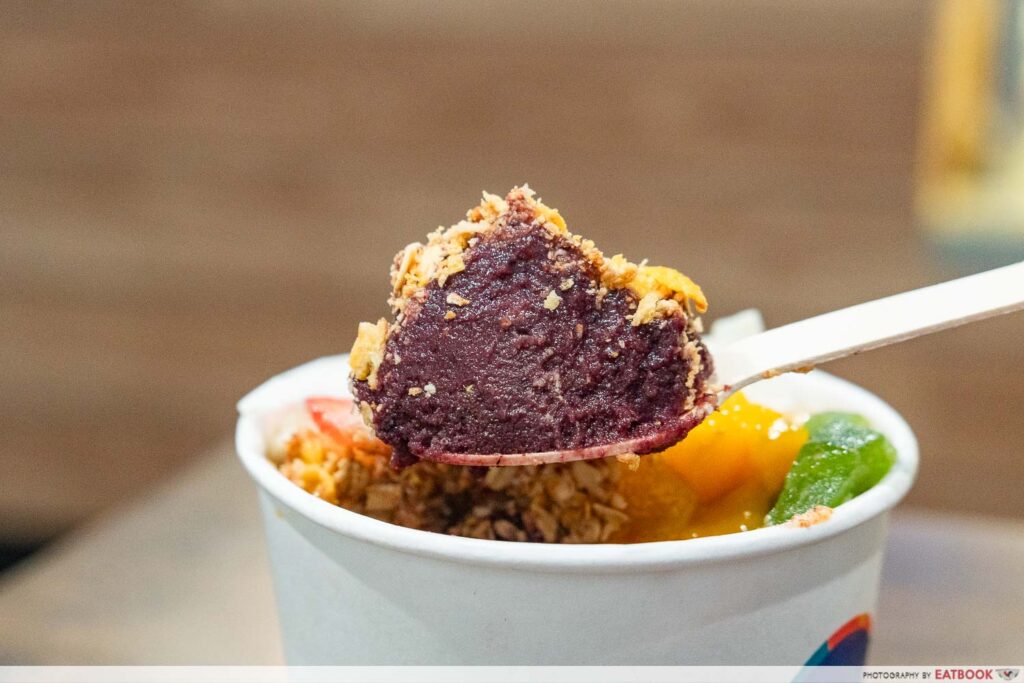 While the presentation was decent, the acai base was downright frozen and icy. It was grainy and didn't come with much flavour. We also topped up $1.20 for a drizzle of house-made almond butter, which was yummy, but brought the total cost of our Pura Vida ($14.50) bowl to a grand total of $15.70—oof. 
On to the toppings: the cubed mango and strawberries were fine, but the kiwi was overripe. Also, the coconut flakes were not toasted, so they were lacking in flavour. 
Acai base: 2/5
Toppings: 2.5/5
Aesthetic: 2.5/5
Value: 2/5
Total: 45%
Address: 541 Orchard Road, #01-01B, Liat Towers, Singapore 238881
Opening hours: Daily 11am to 9:30pm
Tel: 8102 2071
Website
Coocaça is not a halal-certified eatery.
---
8. MOAM
---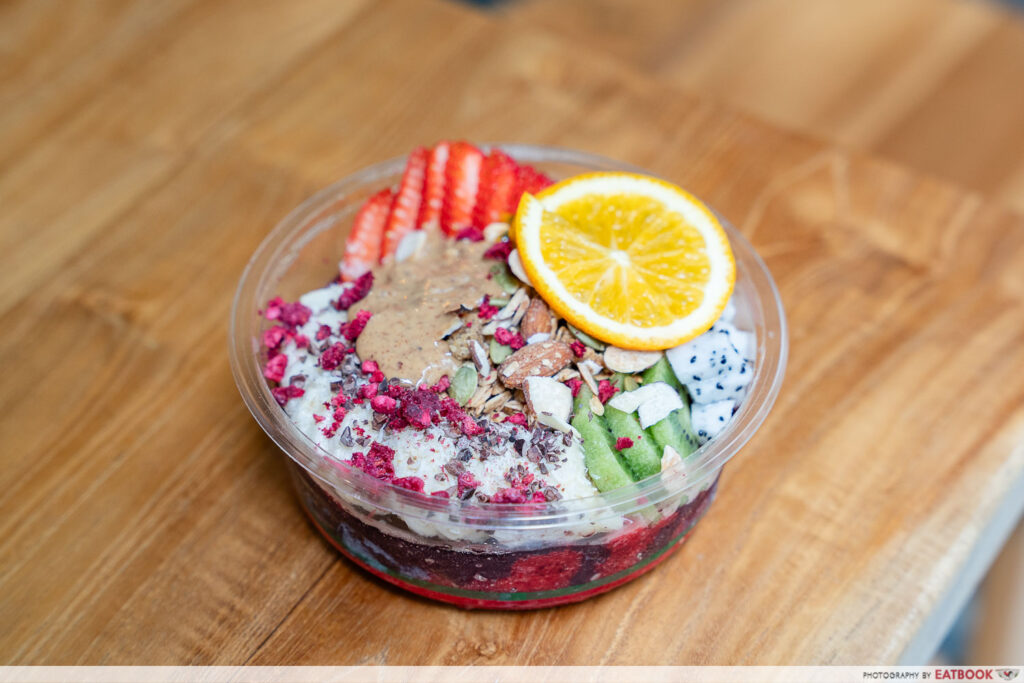 Our large Rio Acai Bowl ($14.90) from CBD spot MOAM scored big on the aesthetics front. This good-looking dessert came with acai, raspberry sorbet, strawberries, banana, dragonfruit, kiwi, granola, and freeze-dried raspberries. We opted for almond butter for this bowl.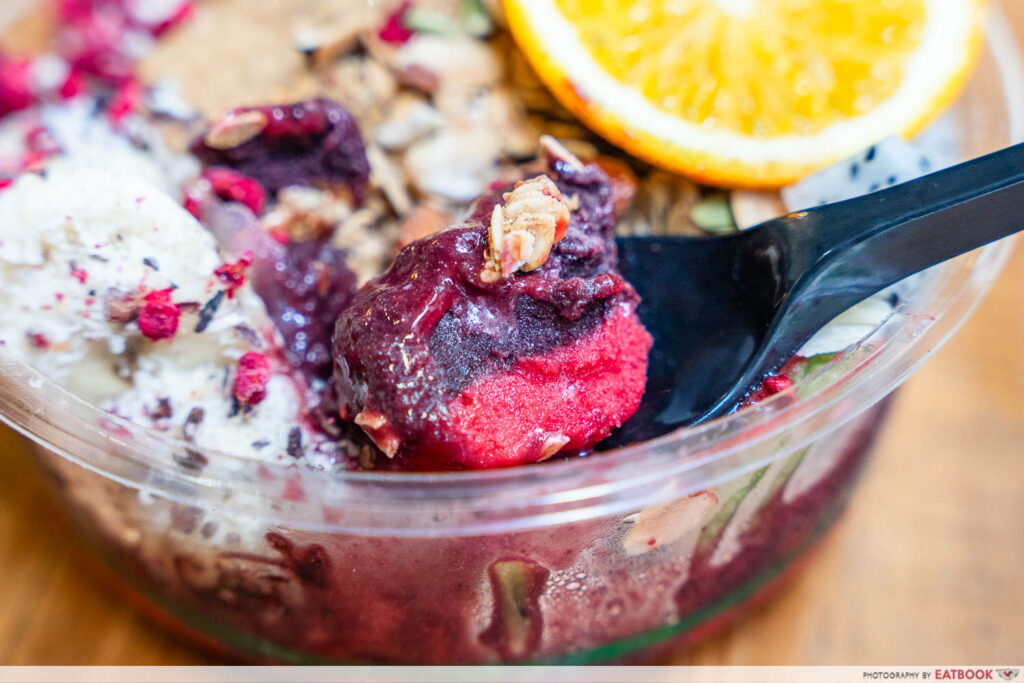 Unfortunately, we were let down by the frozen texture of the acai base—this was probably the iciest acai we had. While the flavours of everything were pleasant together—we particularly enjoyed the tangy raspberry sorbet—we couldn't get past the icy texture of the acai itself. 
Do note that if you're visiting for your acai fix, it's only available from 1:30pm to 3pm, after the weekday lunch crowd madness. 
Acai base: 1/5
Toppings: 3/5
Aesthetics: 3.5/5
Value: 2.5/5
Total: 50%
Address: 138 Robinson Road, #01-01 Oxley Tower, Singapore 068906
Opening hours: Mon-Fri 11:30am to 3pm
Website
MOAM is not a halal-certified eatery.
---
7. Project Acai
---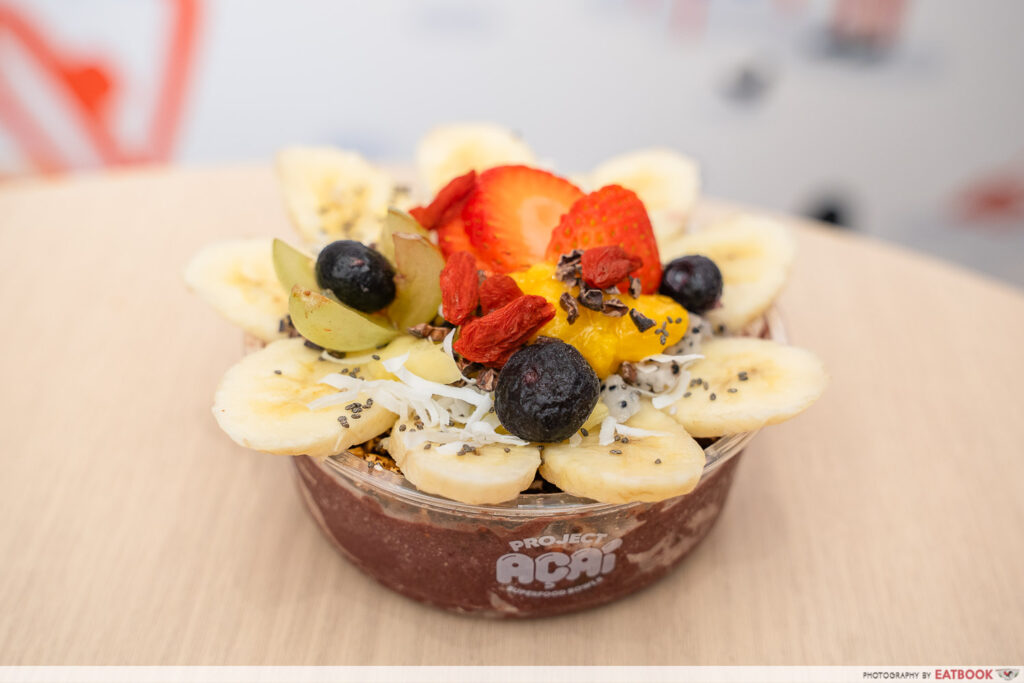 Having been around since 2015, this acai powerhouse has multiple outlets across the island, including one at Lau Pa Sat, which was where we visited.
Project Acai's acai base had a distinctly earthy flavour that I enjoyed, but sadly, the texture was off. This acai was undeniably icy and grainy, lacking that smooth consistency I was looking for. Their medium Original Flower Bowl ($9.90) features sliced bananas fanned out at the sides of the bowl, with an assortment of toppings in the middle. It was pretty but I felt that made it difficult to consume without the toppings toppling out onto the table. Also, their bowl was on the smaller side, so you don't get a lot of acai for the price you're paying.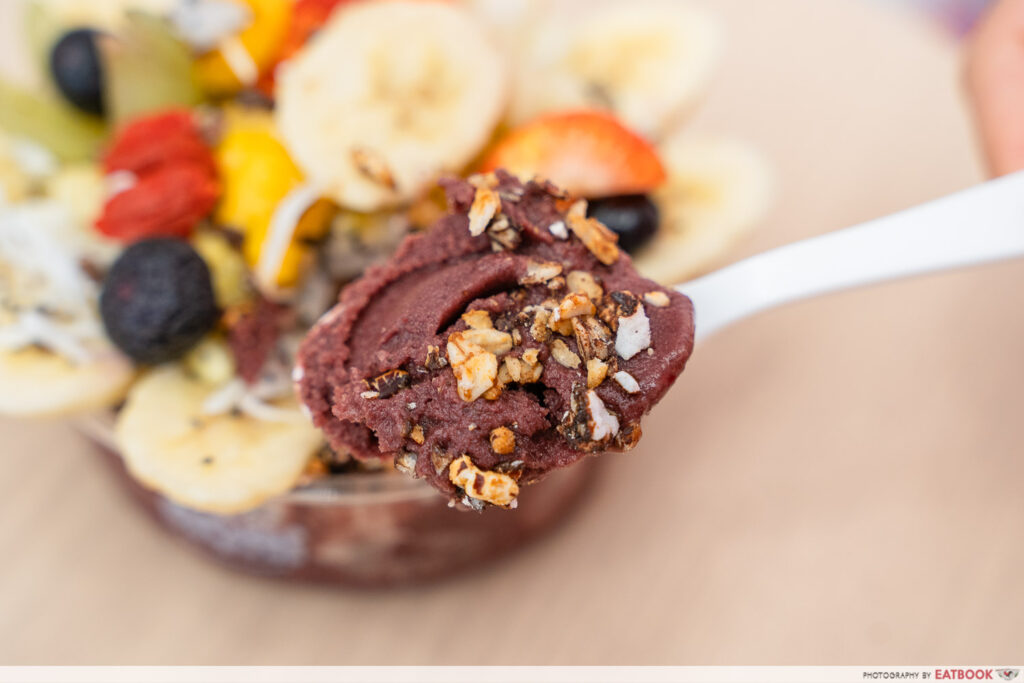 Nonetheless, the Cacao Crunch granola was delicious, adding texture and richness to the otherwise lacklustre acai bowl. Maybe we'll have better luck next time at a different branch.
Acai base: 2/5
Toppings: 2.5/5
Aesthetics: 3/5
Value: 2.5/5
Total: 50%
Address: 18 Raffles Quay, Food Folks @ Lau Pa Sat, Singapore 048582
Opening hours: Mon-Fri 11:30am to 8pm, Sat 11:30am to 6pm
Website
Project Acai is not a halal-certified eatery.
---
6. An Acai Affair
---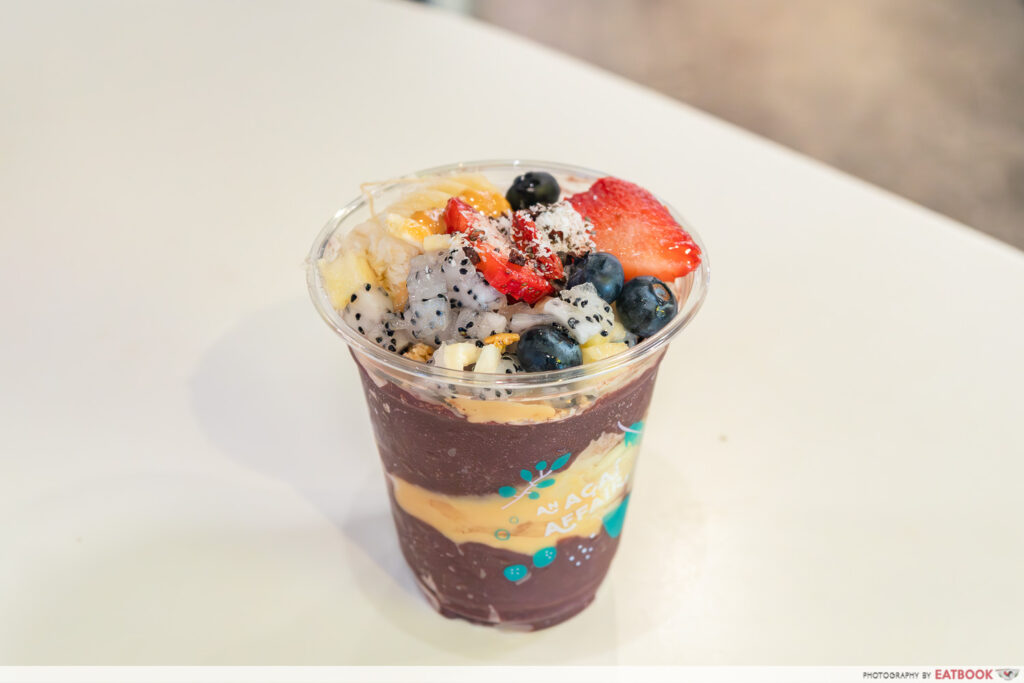 An Acai Affair is probably the biggest acai chain on the market, with a whopping total of 15 outlets islandwide. We visited their Somerset branch and got their medium Triple A ($9.90), which comes with your choice of drizzle. While I liked how the different layers look in the transparent cup, this meant the acai wasn't as packed as I expected. Portion-wise, the cup was quite tiny for its price.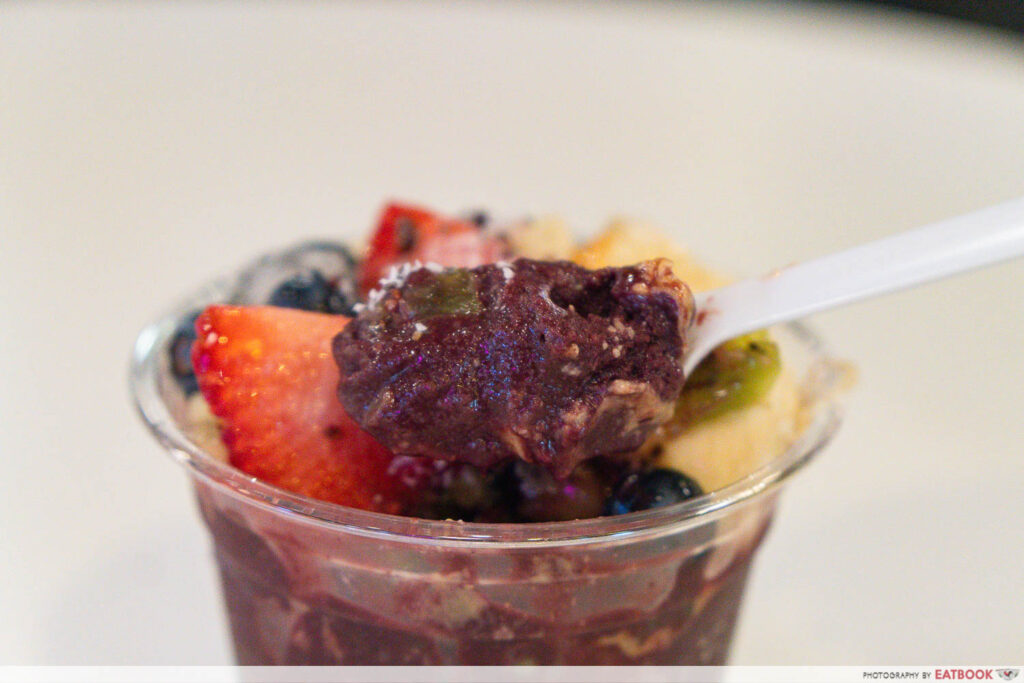 The acai base itself leaned icy and lacked that smooth and rich texture I was hoping for. After a mere few minutes of shooting, it became rather diluted and watery.  Thankfully, the acai had a pleasant flavour with a hint of cocoa, albeit on the sweeter side.
We chose peanut butter for our sauce but there wasn't a lot of it either. However, if you like fruits, you might be pleased with the amount you're getting here. Sadly, banana slices here were a tad overripe and mushy, though the bittersweet cocoa nibs helped add some crunch to offset that.
Acai base: 2.5/5
Toppings: 3/5
Aesthetic: 2.5/5
Value: 2.5/5
Total: 52.5%
Address: 313 Orchard Road, #B3-48, 313@Somerset, Singapore 238895
Opening hours: Sun-Thurs 11am to 9:30pm
Website
An Acai Affair is not a halal-certified eatery.
---
5. Haakon
---

Haakon was recommended by a friend who swore by their generous acai bowls, so we popped by their Raffles Place store. There were only two sizes: Regular ($8.90) and Large ($13.90)—we went for the large Classic Acai Bowl. You do get a hefty bowl that's packed with acai, piled with a nice variety of fresh cubed fruits that were aesthetically arranged.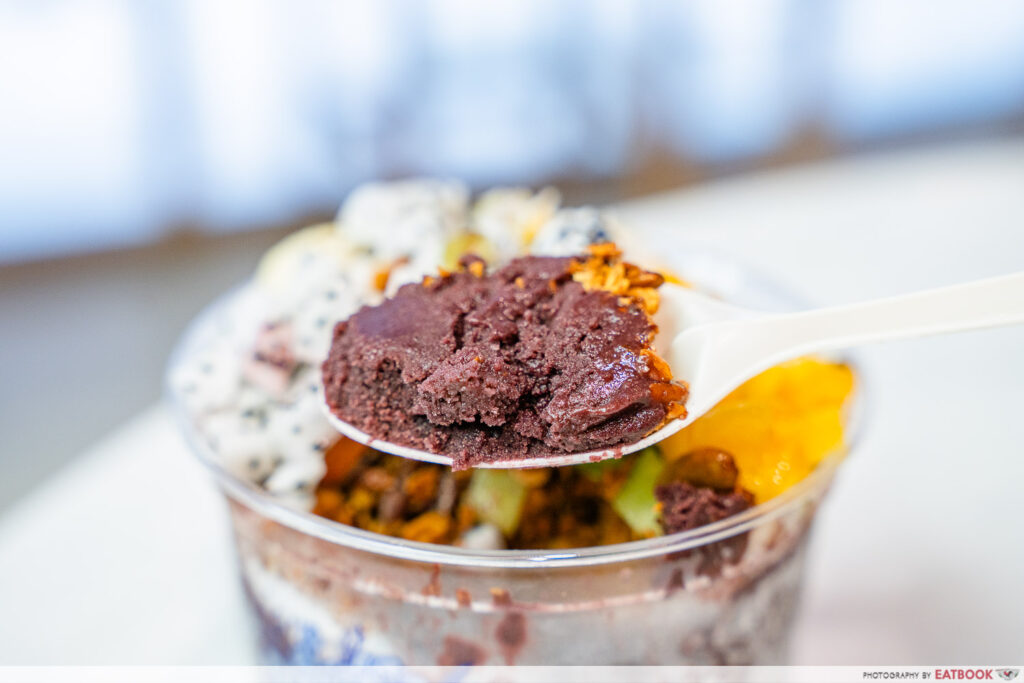 While the acai base came frozen, texturally, it wasn't as icy as I'd expected. The acai boasted sweet berry notes without much cocoa flavour, leaving a slightly earthy aftertaste on the palate that was rather pleasant. I enjoyed the mix of textures, from the crunchy honeyed granola to the creamy chia seed pudding. This rendition fared pretty evenly across all categories; overall we thought it was a decent acai bowl.
Acai base: 3/5
Toppings: 3/5
Aesthetics: 3/5
Value: 3/5
Total: 60%
Address: 1 Raffles Place, #01-11/12, Singapore 048616
Opening hours: Mon-Fri 9am to 7:30pm, Sat 11am to 3:15pm
Website
Haakon is not a halal-certified eatery.
---
4. The Summer Acai 
---

Full disclaimer: The Summer Acai was what got me first into acai bowls. I used to frequent their Joo Chiat branch at least once a week when I was living in the area a few months ago.
We decided to check out their Kovan outlet this time. My go-to is the Basic Bitch ($9.50) in medium, so that's what we ordered. First off, you get a huge heaping of drizzle; we went with cashew butter, which almost overflowed to the sides of the bowl. This was consistent with all my past experiences at The Summer Acai.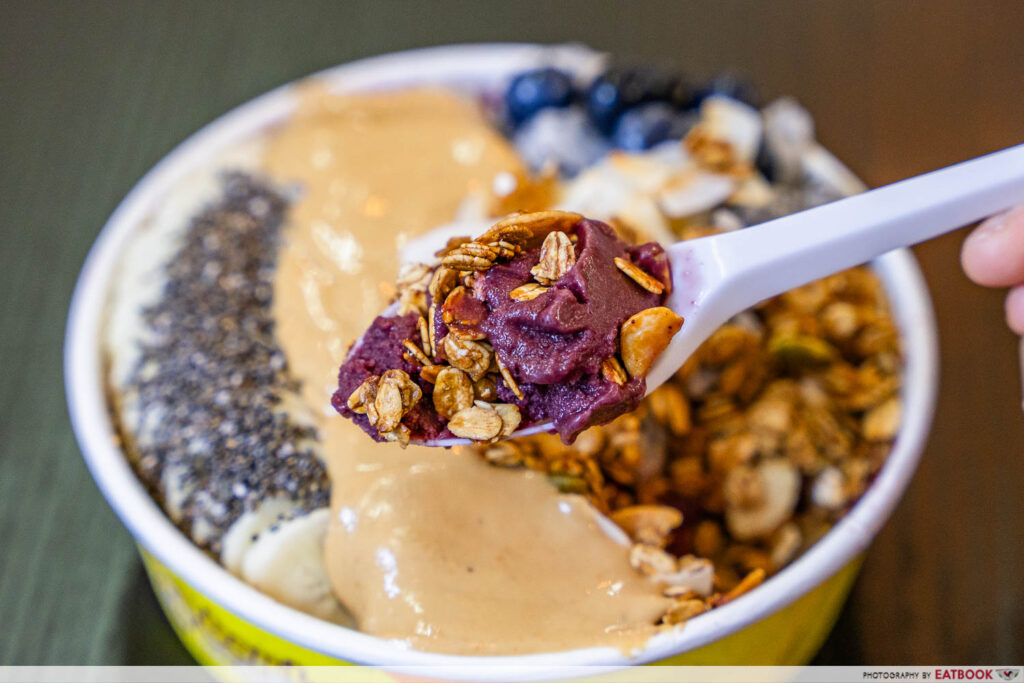 After trying 10 different acai shops, we found this acai base to be the palest in colour, and also the lightest in flavour. This acai came a tad frozen when we got it, but after just five minutes of shooting, it softened a fair bit and melted pretty fast. I'd prefer if the acai was less sweet and had more taste, but I think the highlight here is the amount of toppings you get. For a bowl that's under $10, there's really not much to complain about.
Acai base: 2.5/5
Toppings: 3/5
Aesthetics: 3.5/5
Value: 4/5
Total: 65%
Address: 9 Yio Chu Kang Road, #01-50, Space @ Kovan, Singapore 545523
Opening hours: Daily 11am to 9:30pm
Website
The Summer Acai is not a halal-certified eatery.
---
3. Ola Acai
---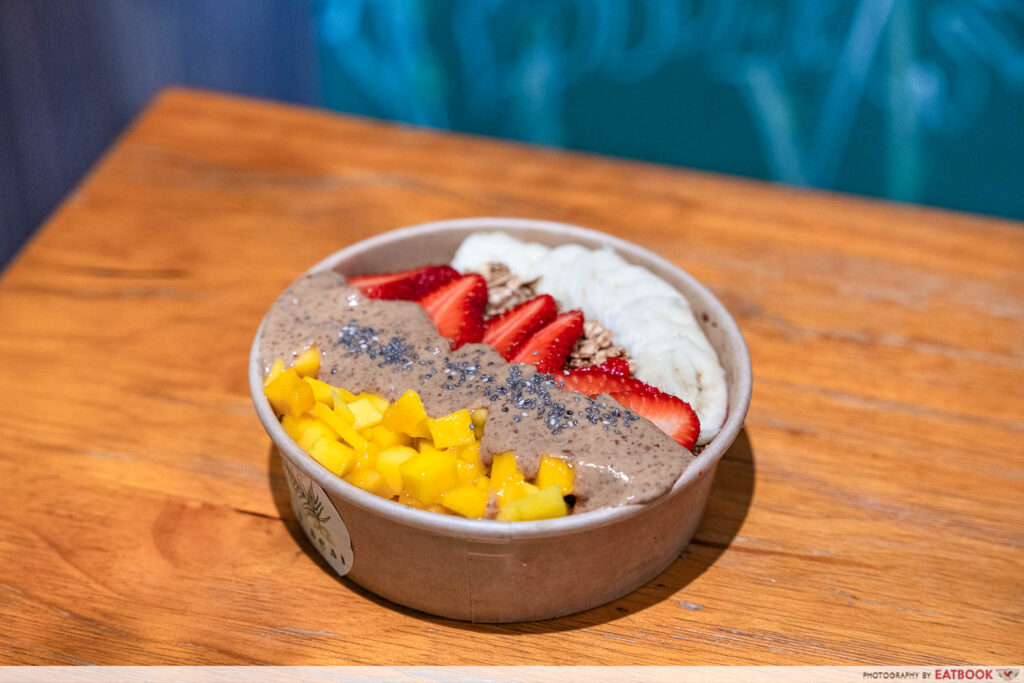 When I first wrote about new kid on the Kovan block Ola Acai, I was surprised by how affordable their bowls are. You can get one from as low as $5.90—a steal in this economy! This cosy neighbourhood gem has four signature bowls to choose from; otherwise, you can DIY your own bowl with unique sorbet flavours such as yuzu and Thai coconut.
We chose the bestselling Ola's Acai Island Gal ($9.90) in medium, a standard bowl of acai with mango, strawberry, banana, and your choice of drizzle—we got almond butter.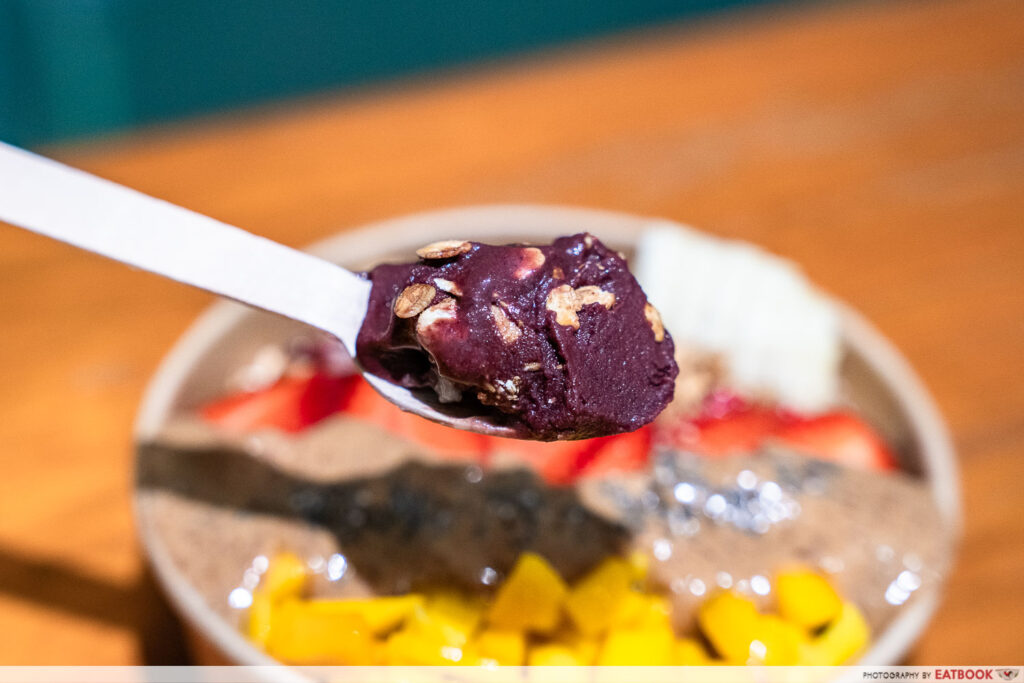 The acai base, which was packed to the brim, was smooth and not too grainy, with a pleasant earthy flavour that wasn't too sweet. Similar to The Summer Acai, this came with a good portion of drizzle to complement the other toppings. It was not bad at all—I just wished the granola had more crunch.
Acai base: 3.5/5
Toppings: 3/5
Aesthetics: 3.5/5
Value: 3.5/5
Total: 67.5%
Address: 210 Hougang Street 21, #01-273, Singapore 530210
Opening hours: Daily 11am to 10pm
Website
Ola Acai is not a halal-certified eatery.
Ola Acai: New Kovan Cafe With Cheap Acai Bowls And Gelato With Waffles
---
2. Nana's Acai
---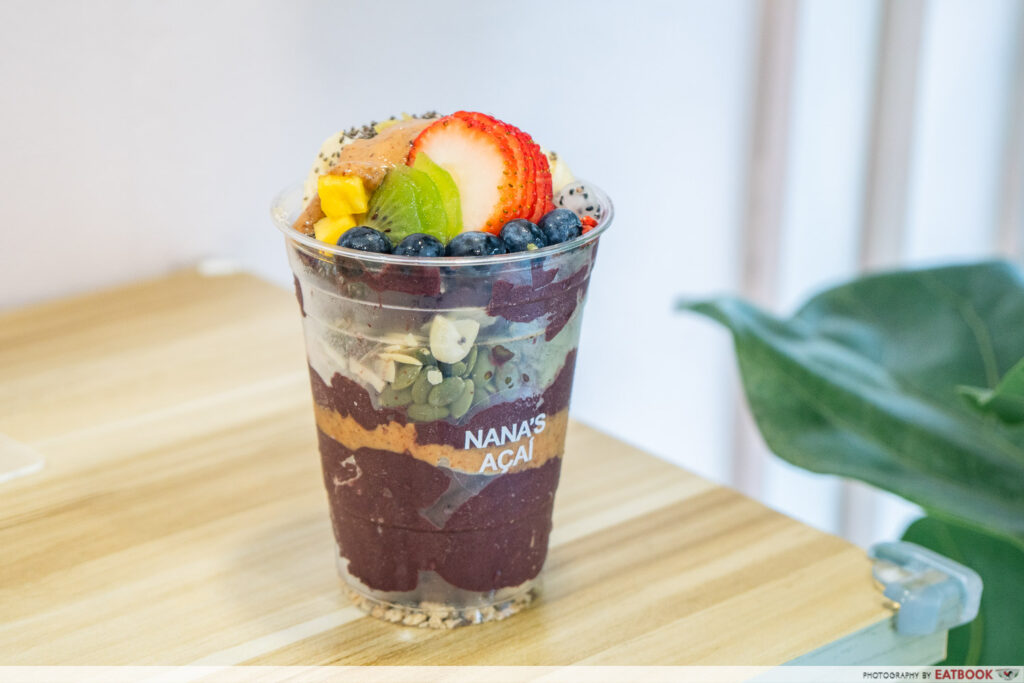 A colleague tried and loved Nana's Acai for the first time, and then raved about it to the team. This underrated Toa Payoh gem turned out to be a solid recommendation. There are only two sizes—regular ($9.60) and large ($13.60)—across seven different flavours. We got the large Classic Acai Bowl with almond butter as our choice of drizzle and was immediately surprised by how big the cup was.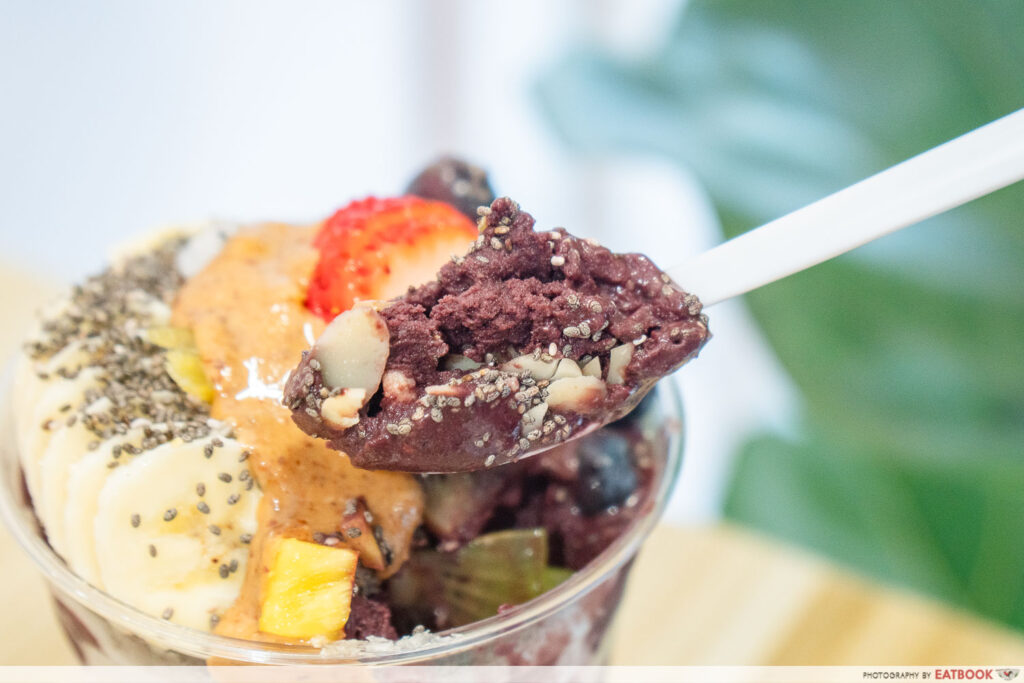 This acai base tasted similar to Ola's Acai, except that it was creamier and tastier. It had a rich berry flavour with a hint of cocoa and wasn't overwhelmingly sweet.
You also get an excellent spread of toppings, including perfectly ripe banana slices, strawberry, blueberry, kiwi chunks, pineapple, and dragon fruit. Goji berries and chia seeds added a nice textural contrast to this dessert. There was a decent portion of almond butter layered in the middle, not only for visual effect but also to ensure you get some in each scoop.
Acai base: 4/5
Toppings: 4/5
Aesthetics: 3/5
Value: 4/5
Total: 75%
Address: 116 Lorong 2 Toa Payoh, #01-150, Singapore 310116
Opening hours: Sun-Thurs 10am to 10pm, Fri-Sat 10am to 11pm
Tel: 8783 2293
Website
Nana's Acai is not a halal-certified eatery. 
---
1. Acai Brothers 
---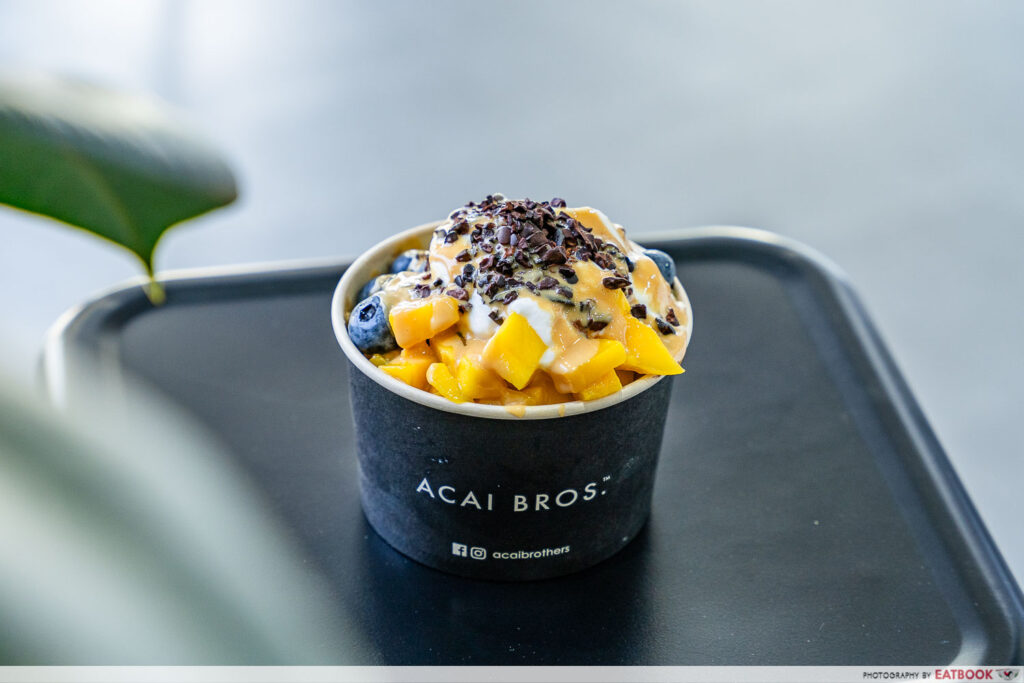 After 10 acai bowls, we've narrowed down our unanimous favourite: Acai Brothers. The Australian chain debuted in the humble Kovan neighbourhood last year with some of the most atas-looking bowls I've seen. Prices are on the steeper end, with each specialty bowl starting at $11 for regular, followed by $15.50 for large, and $25 for a sharing-sized portion.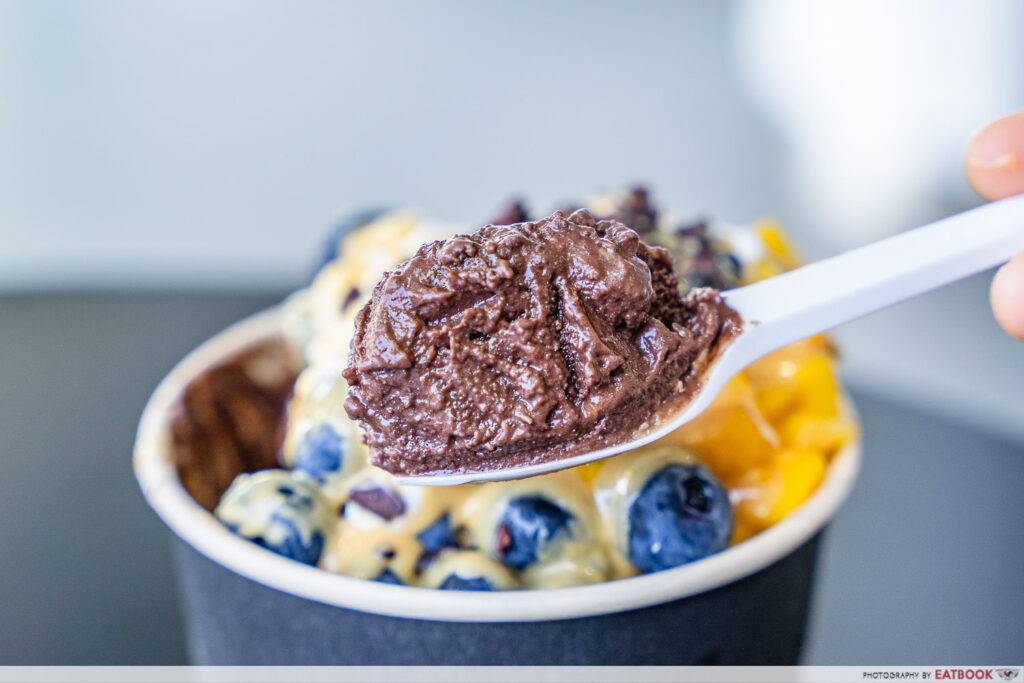 We were recommended the large Ain't Nuttin' Butter, which comprises a base made of acai, bananas, cacao, and peanut butter. This was hands down my favourite acai base of all time—it was indulgent with an incredibly smooth consistency that's almost like ice cream, and boasted a complex flavour that kept me going back for more. Despite the prominent chocolatey notes, the berry flavours were not lost here; instead, everything meshed really well to create a rich and addictive base that was well worth its price.
I couldn't get enough of their signature Chocolate Bukini, AKA chocolate granola, which added a lovely crunch and dark chocolate sweetness. You also get a hidden surprise underneath: a tangy coconut yoghurt that brought more creaminess to the dessert. Oh, and all the fruits—you get to choose three—were fresh and sweet.
We left utterly impressed. To this day, even after consuming 10 bowls of acai for the story, I crave this particular one sometimes. Now, if only their location wasn't so ulu.
Acai base: 4.5/5
Toppings: 4/5
Aesthetics: 4/5
Value: 3/5
Total: 77.5%
Address: 1019 Upper Serangoon Road, Singapore 534757
Opening hours: Sun-Thurs 11am to 10:30pm, Fri-Sat 10am to 11:30pm
Website
Acai Brothers is not a halal-certified eatery.
Acai Brothers: Famous Acai Cafe From Australia Opens In Singapore
---
Where to buy the best acai in Singapore
---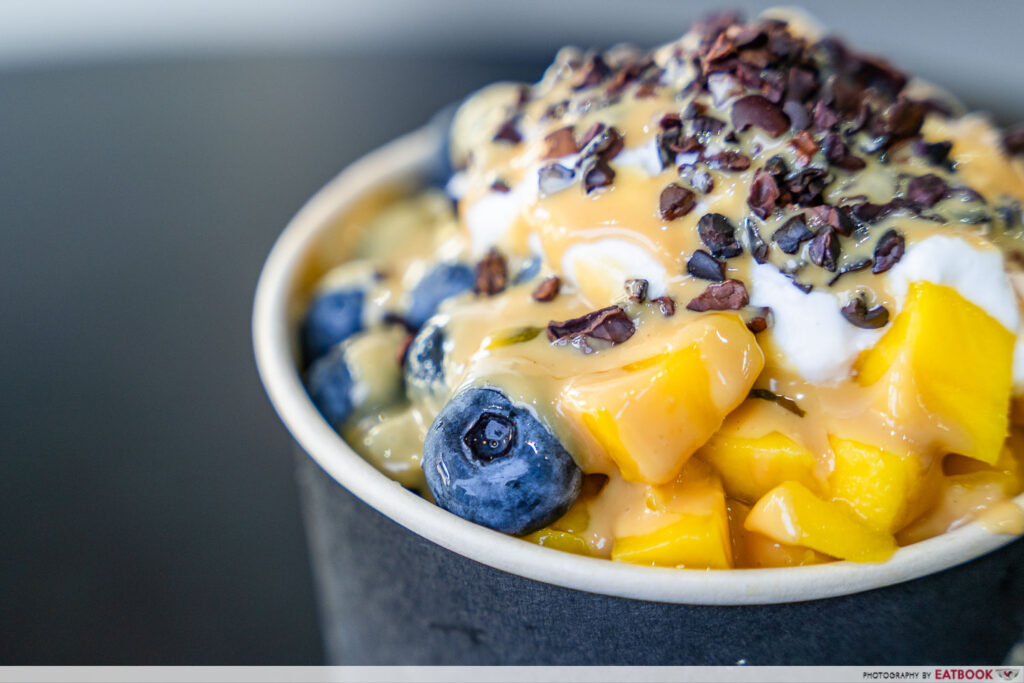 Now that you know the best acai shops in Singapore, save this list for the next time you're craving a refreshing acai bowl to cool down from the heat!
Then, fill up on some solid hawker fare; read our best hokkien mee guide, where we tried and ranked 13 popular hokkien mee stalls, Otherwise, check out our best old-school pandan waffles guide if you're in the mood for something sweet!
10 Best Old-School Waffles Ranked, Filled With Biscoff Spread, Sea Salt Caramel And More
Photos taken by John Lery Villanueva.
This was an independent review by Eatbook.sg.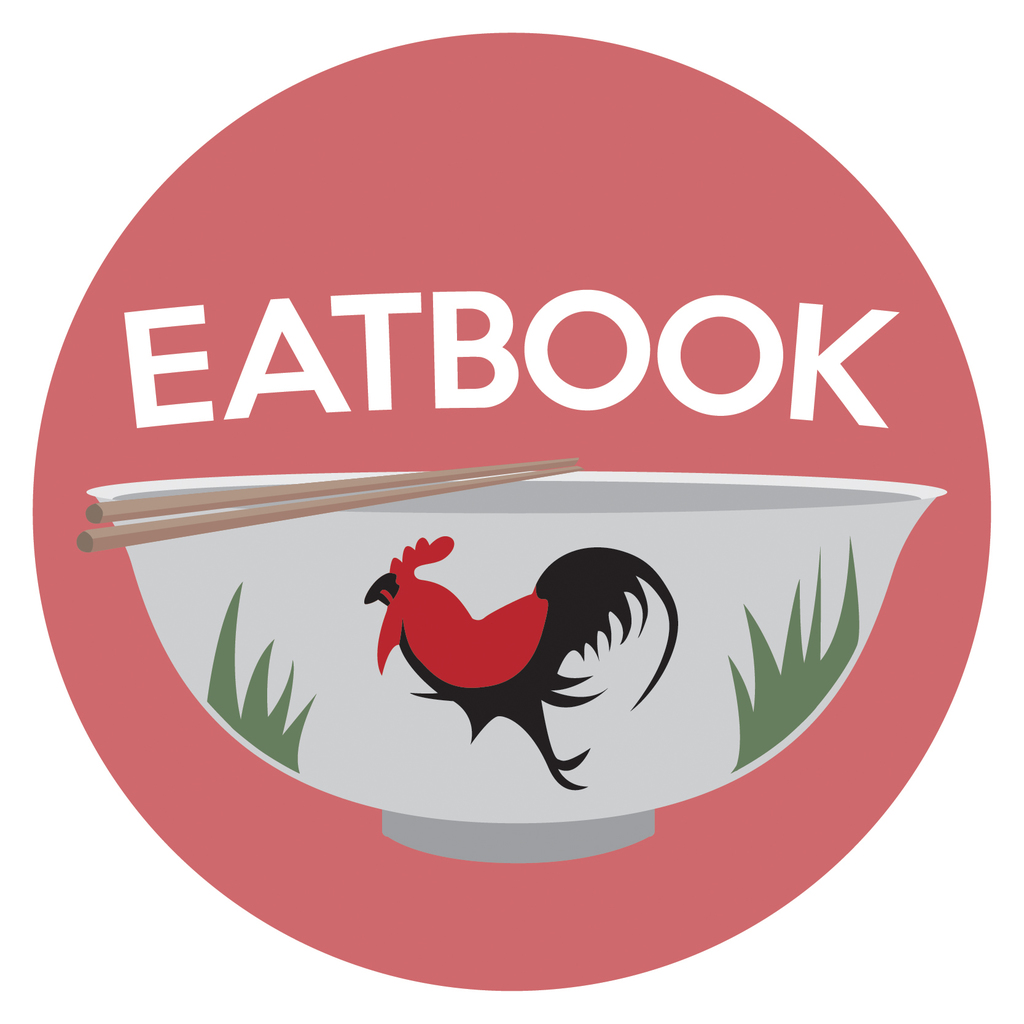 Drop us your email so you won't miss the latest news.