---
Best old-school waffles in Singapore
---
They're cheap, they're fresh, and they're delicious—if you know where to find the right ones. Old-school pandan waffles rank top on the list of my favourite snacks for any time of the day. Well-loved by many of us who grew up eating them, these neighbourhood bakery waffles come plain or filled with classic spreads such as peanut butter and kaya.
We've shortlisted some of the best old-school waffles in Singapore, including those filled with trendy fillings of sea salt caramel and speculoos. Bookmark this list for whenever the waffle cravings hit!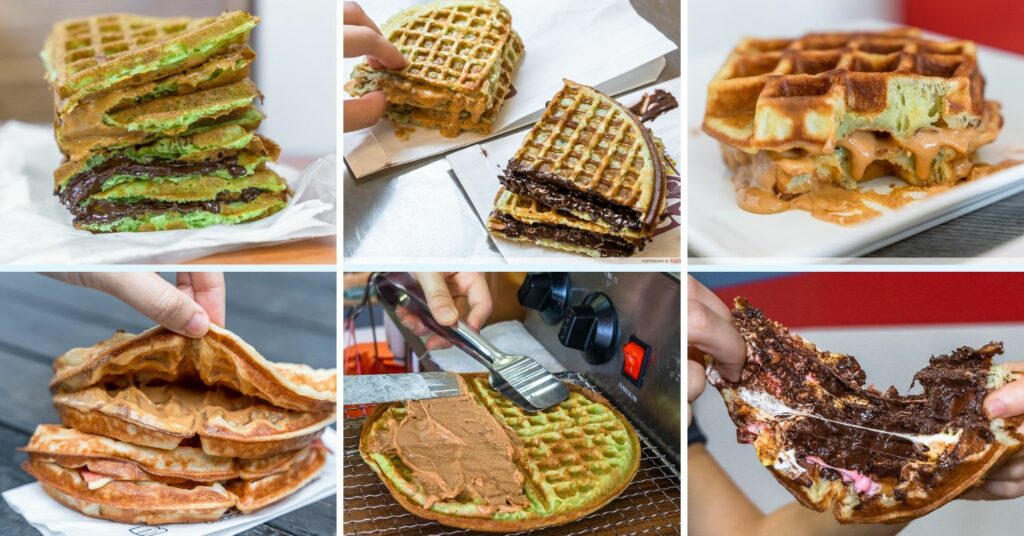 ---
The criteria
---
As I set out to rank the best old-school waffles in Singapore, I knew this wasn't going to be an easy feat. The components of a delicious waffle, like most popular Singaporean snacks, are largely subjective. You may like yours thin and crispy, but some may prefer theirs chunky and chewy. There's even a camp for soft and floppy waffles.
Nonetheless, we narrowed it down to a few factors: taste, texture, filling, and value. Firstly, a good waffle should have a pleasant flavour—pandan or not. Texture-wise, we're looking for lightly crisped edges with a soft interior and a slight chew in the middle.
The amount of filling matters; we like our waffle stuffed generously for an ooze appeal. The flavour and sweetness level of the spread are important factors too, as they can make or break the snack. Bonus points are also awarded to stalls offering a wide variety of fillings, or those with unique options.
Finally, the value-for-money aspect comes to play. There's something so satisfying about scoring a tasty eat that's also easy on the wallet.
For each stall, we ordered two waffles: one peanut butter waffle, and one specialty waffle.
---
10. Tian Xia Bakery 
---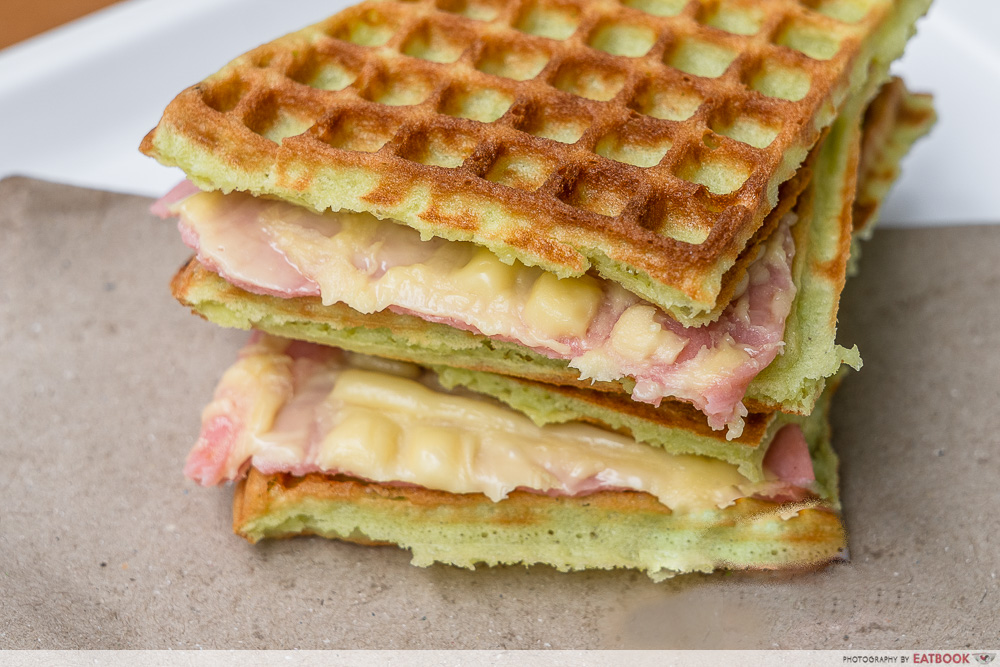 During my research, I chanced upon pandan waffle enthusiast @pandanpig on Instagram. A nondescript, under-HDB bakery came highly recommended on their page: Tian Xia Bakery, specifically the one at Ang Mo Kio Street 22.
Unfortunately, we were let down by Tian Xia's rendition. The waffles, though tinged a promising green, were absent of any pandan scent or aroma of that matter. They were too thin and leaned cakey, tasting slightly stale for some reason even though they were made to order.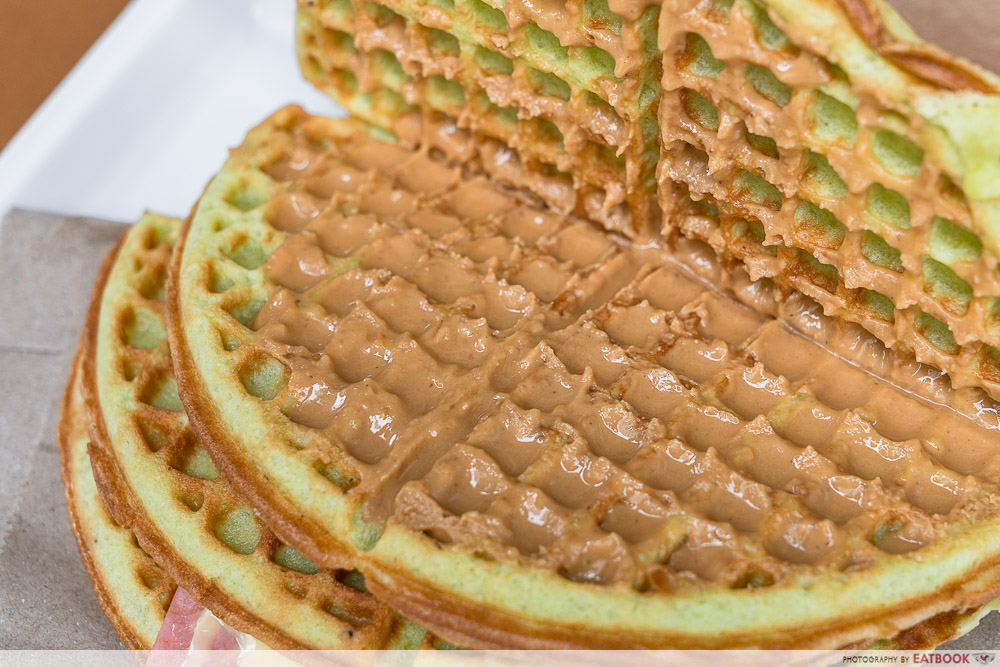 For the Peanut Butter Waffle ($2), while there was a decent amount of filling within, the peanut spread was too sandy for our liking. I preferred the Ham and Cheese Waffle ($2.40) as the savoury combination helped to elevate the otherwise sub-par waffle.
Perhaps we just caught the bakery on an off day.
Taste: 2.5/5
Texture: 2/5
Filling: 2.5/5
Value: 3/5
Total: 50%
Address: 226A Ang Mo Kio Street 22, #01-626, Singapore 561226
Opening hours: TBC
Tian Xia Bakery is not a halal-certified eatery.
---
9. Ann Chin Popiah

---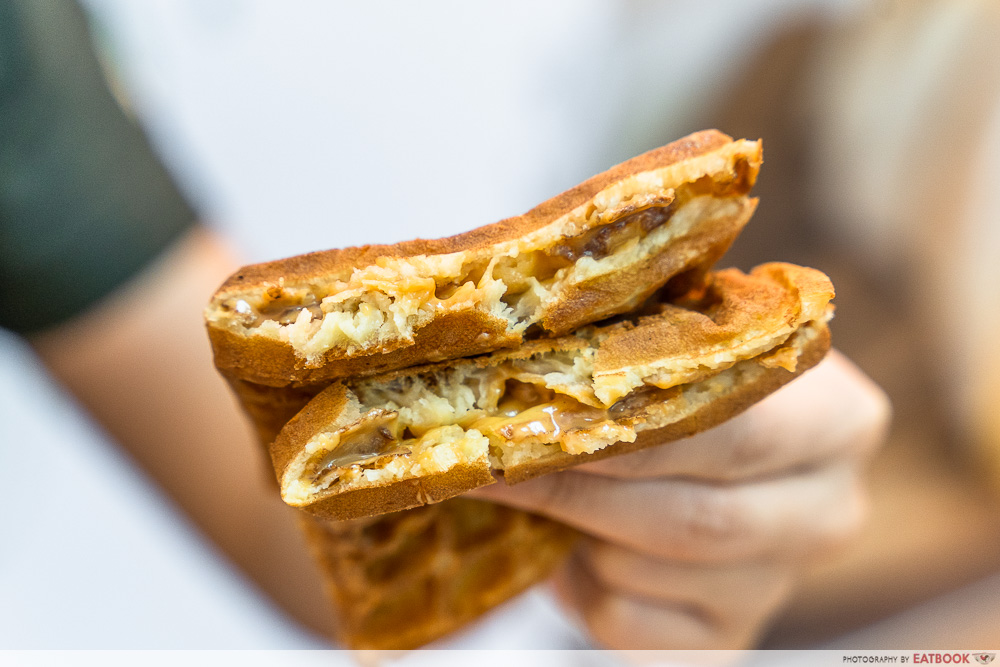 In my journey of seeking out the best neighbourhood waffles in Singapore, I chanced upon Ann Chin Popiah. They have multiple outlets across the island, though most of them don't seem to offer waffles—except for their Coronation Plaza location.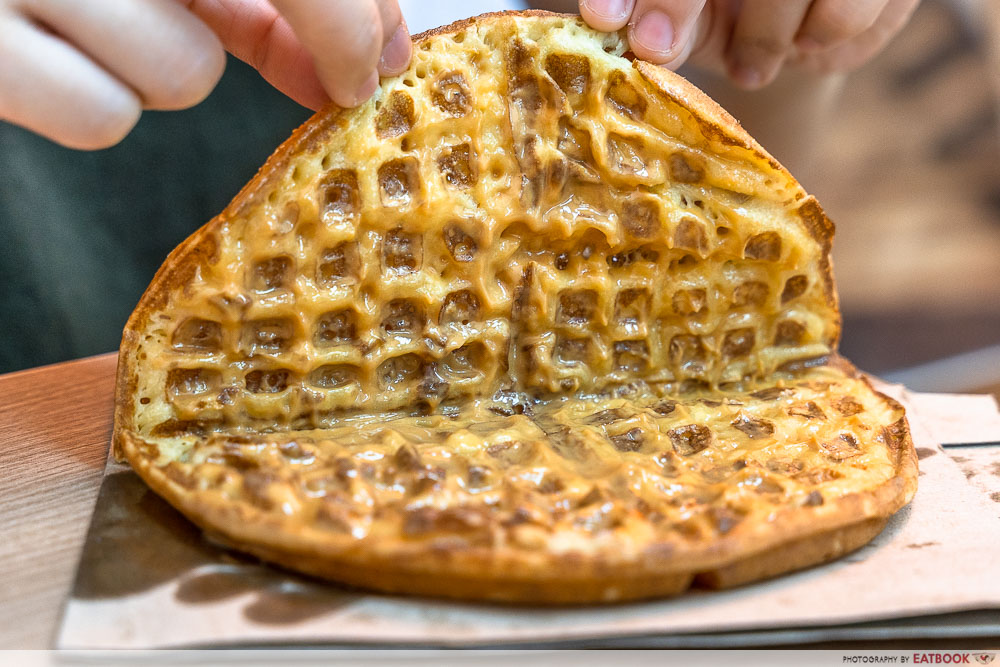 If you enjoy light and thin waffles, you won't be mad with the ones offered at Ann Chin. While there wasn't any discernible pandan or vanilla flavour, these waffles were largely inoffensive. They're slightly crispy on the outside, which is always a win, and there was a mild buttery fragrance that went well with the Biscoff ($2.80) spread. The Peanut Butter Waffle ($2.50) was rather unmemorable.
The waffle itself was soft with a decent chew in the middle, but we found them rather pricey for their thin size and unsubstantial filling. The quality of the waffles deteriorated rather quickly too, so you have to enjoy them fast.
Taste: 3/5
Texture: 2.5/5
Filling: 3/5
Value: 2.5/5
Total: 55%
Address: 587 Bukit Timah Road, #02-10, Coronation Shopping Plaza, Singapore 269707
Opening hours: Tue-Wed, Fri-Sun 11am to 7pm
Website
Ann Chin Popiah is not a halal-certified eatery.
---
8. The Bread Boutiq 
---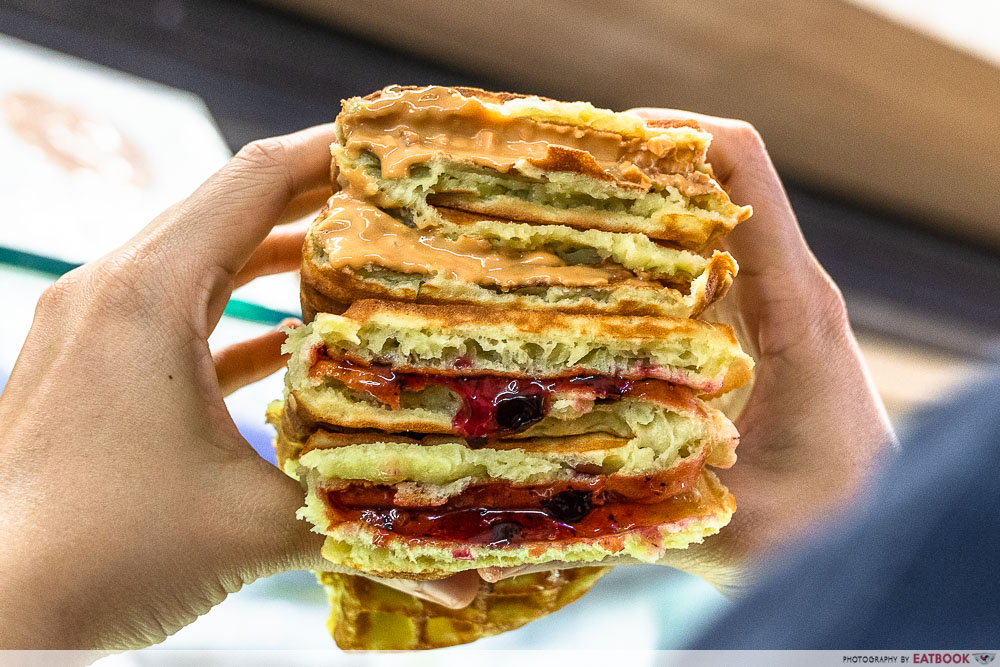 The Bread Boutiq is a homely neighbourhood bakery tucked in the heartlands of Bishan Street 22. The humble bakery has affordable buns, old-school cakes, as well as freshly baked pandan waffles from just $1.40. We ordered the Peanut Butter ($1.90) and Blueberry ($1.90) flavours.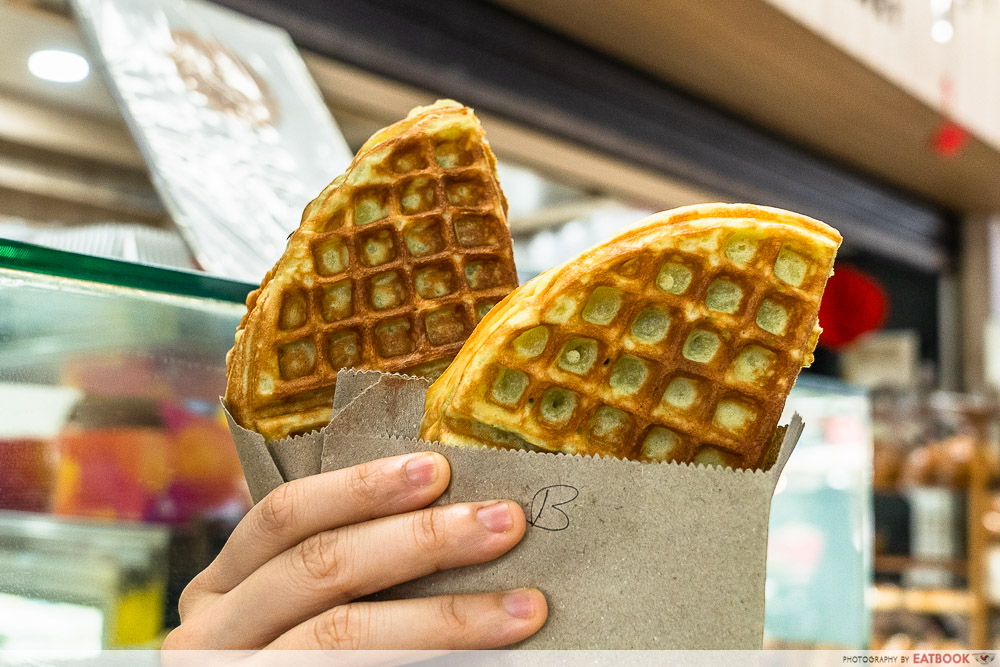 The pandan-scented waffles were proper thick and chunky with a chewy centre. While I was pleased with the crispy crust and kueh-like texture, it was too dense for my palate, so I found it a challenge to finish the whole thing.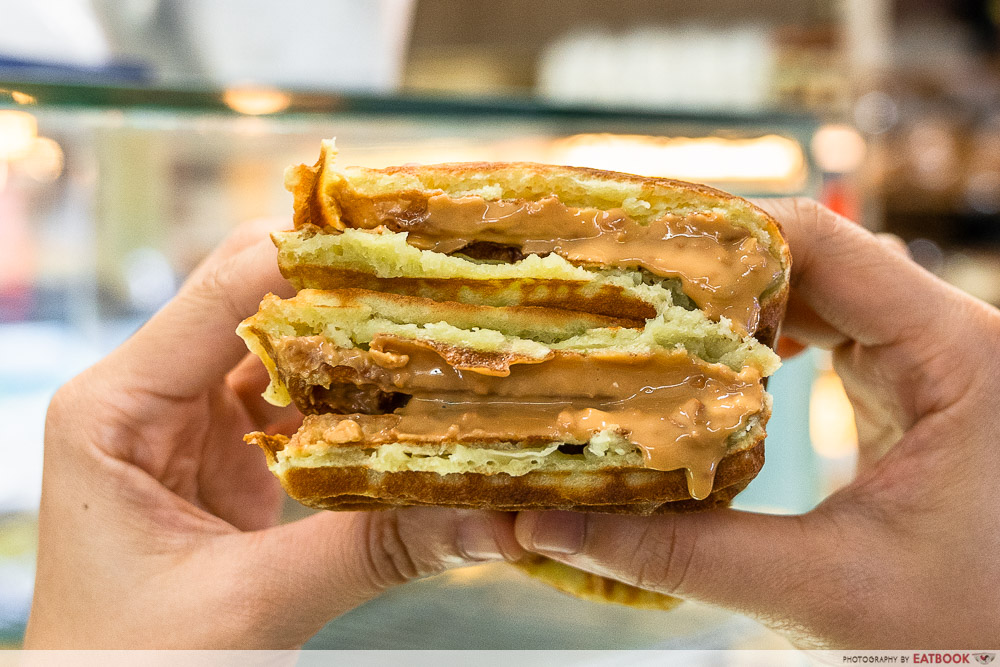 I wasn't a fan of the blueberry jam as it tasted cheap and artificial, but was impressed with the peanut butter filling. The nutty spread had a lovely tinge of saltiness and came with crunchy peanut bits, which added textural contrast to the heavy waffle dough.
Overall, The Bread Boutiq serves a decent waffle at a good price—maybe just share one with a pal so you don't feel jelak.
Taste: 3/5
Texture: 2.75/5
Filling: 3/5
Value: 3/5
Total: 58.75%
Address: 282 Bishan Street 22, Singapore 570282
Opening hours: Daily 10am to 10pm
The Bread Boutiq is not a halal-certified eatery.
This Bishan Bakery Has $0.60 Buns With Nestum Cereal, Japanese Red Bean And More
---
7. Garden Pastry & Cake 
---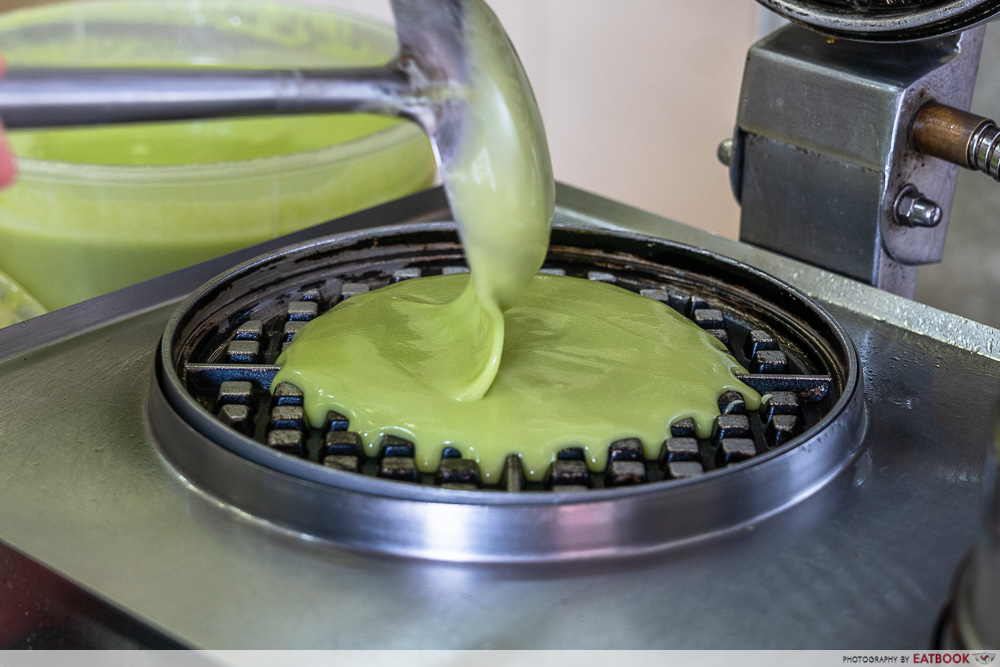 Another under-HDB bakery that made it to this best waffle list is Garden Pastry & Cake, an old-timer that's been around for over 40 years. Regulars swear by their made-to-order pandan waffles, which have an old-school flavour and texture. In fact, they're so popular that a waiting time is almost always guaranteed, no matter the time of your order.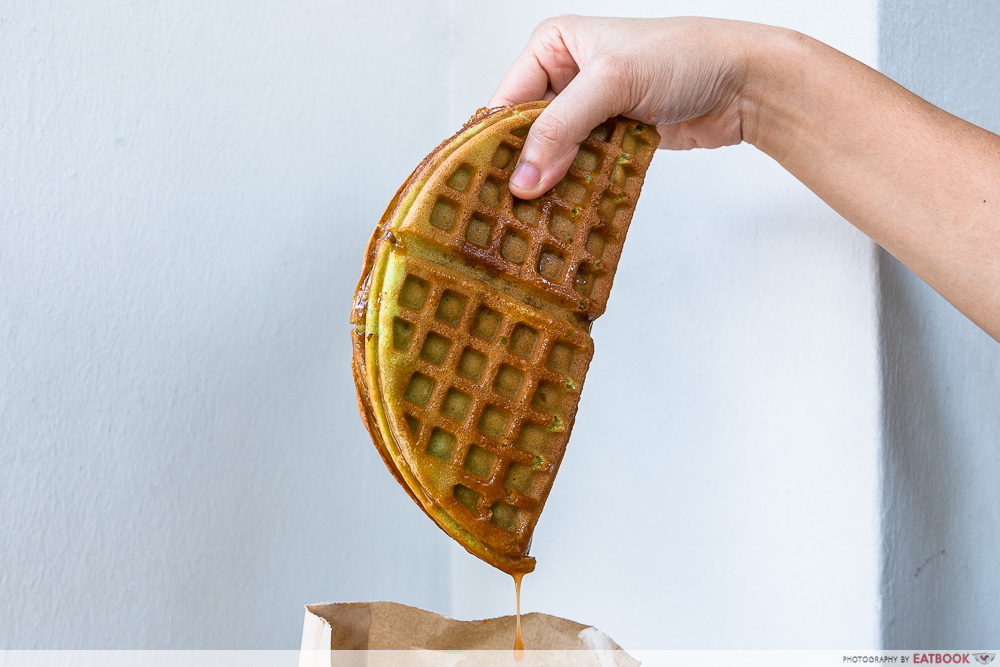 You get to choose how crispy you want your waffles to be, which is a plus. These came in a bright green hue in the middle, contrasted by a nicely browned exterior. They were crispy on the outside and soft on the inside, but they weren't particularly chewy.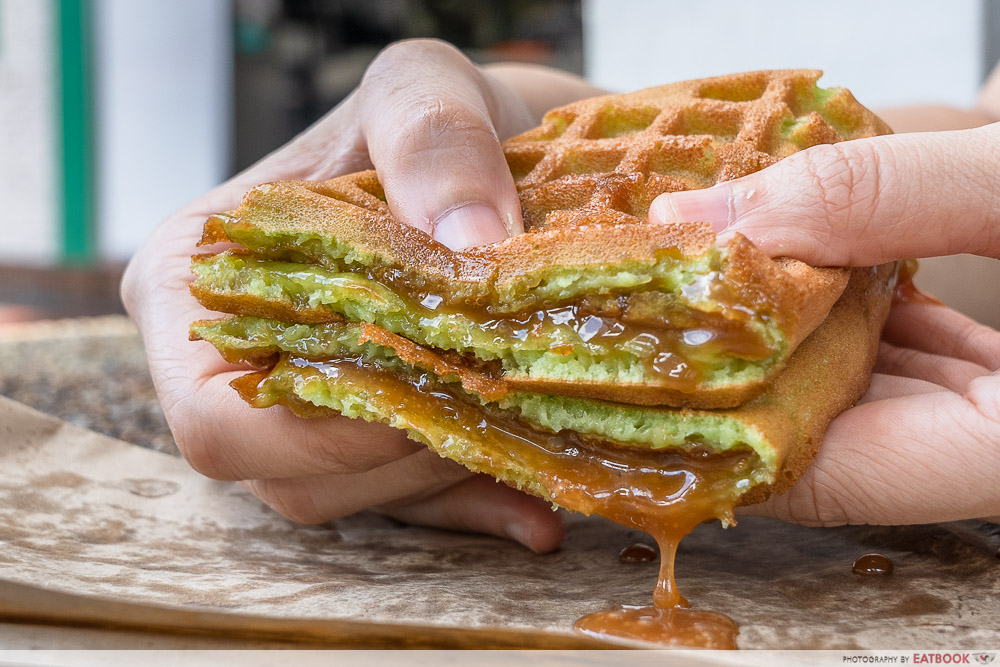 A highlight for us was the Sea Salt Caramel ($2.60) waffle, which oozed with an ooey-gooey, salt-spiked caramel. This filling paired perfectly with the pandan waffle, adding a rich depth of sweetness balanced by a discernible saltiness.
The Peanut ($2), on the other hand, wasn't much to write home about. Maybe we were too busy stuffing our faces with the aforementioned flavour, which had completely outshone its counterpart.
Taste: 3.25/5
Texture: 3/5
Filling: 3.25/5
Value: 3/5
Total: 62.5%
Address: Blk 95 Aljunied Crescent, #01-505/507, Singapore 380095
Opening hours: Daily 7:30am to 9pm
Tel: 6745 5706
Website
Garden Pastry & Cake is not a halal-certified eatery, but does not use pork or alcohol. 
This 40-Year-Old Bakery Sells Gao Orh Nee And Sweet Potato Swiss Rolls In Aljunied
---
6. Small Bites 
---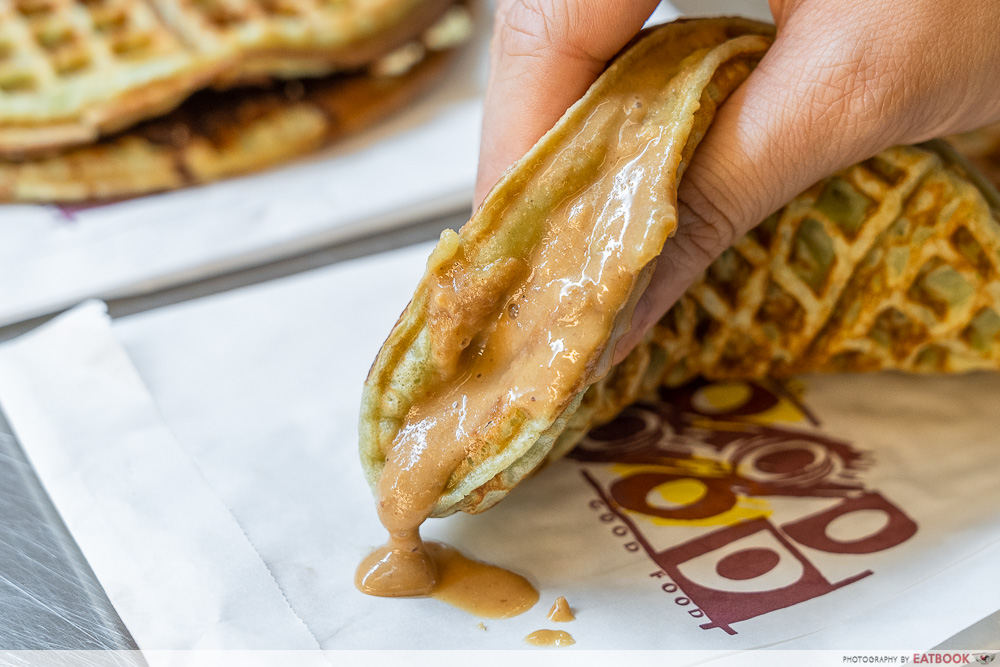 Small Bites is an under-the-radar kiosk that's hidden in a discreet corridor along the quiet estate of Kreta Ayer Heights. The fairly new stall sells freshly baked pandan waffles from just $1.30—the cheapest we've found in our hunt.
Despite its $1.60 price tag, the Peanut Butter waffle came with a generous amount of filling that had the right balance between sweet and savoury. I only wished for the spread to be more smooth and molten, but that's a small gripe considering its value.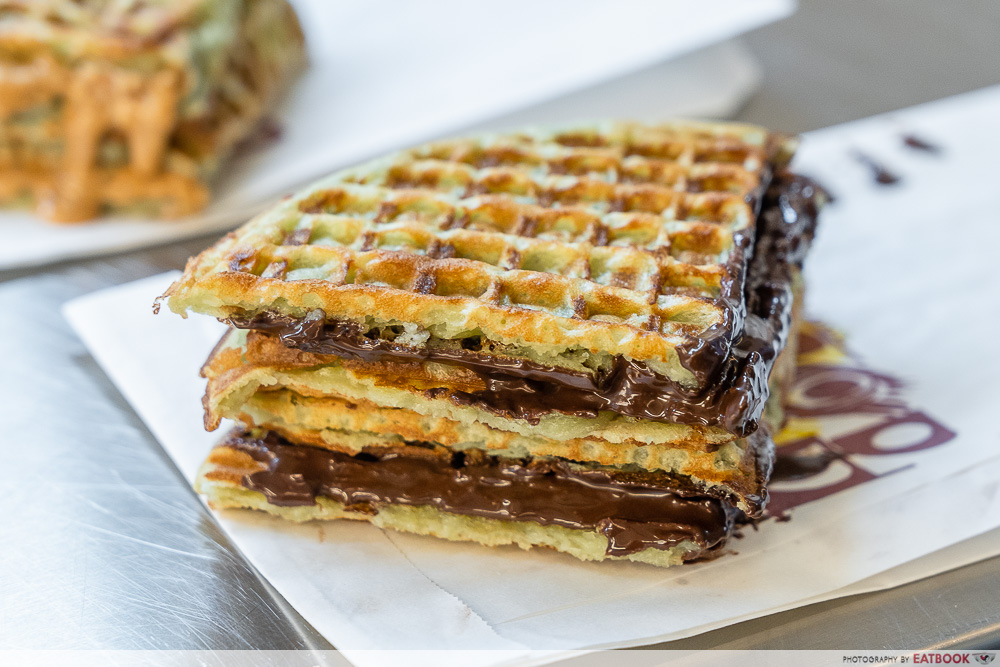 Chocolate isn't my go-to waffle filling, so I was surprised by how much I enjoyed Small Bite's Chocolate ($1.60) waffle. The creamy sauce was sinfully smooth with a nutty aftertaste that's similar to Nutella, complementing the faint pandan fragrance of the house-made waffle batter.
The waffles here lean thin with a slight chew in the middle, but I'd recommend you request for them to be made crispier, as it was heaps better than the 'soft' version.
Taste: 3/5
Texture: 3.25/5
Filling: 2.75/5
Value: 4.5/5
Total: 67.5%
Address: 333 Kreta Ayer Road, #01-29, Kreta Ayer Heights, Singapore 080333
Opening hours: Daily 12pm to 7pm (or until sold out)
Small Bites is not a halal-certified eatery.
This Under-HDB Kiosk Sells Pandan Waffles From $1.30 With Roasted Sesame And More
---
5. Gambateh Cafe
---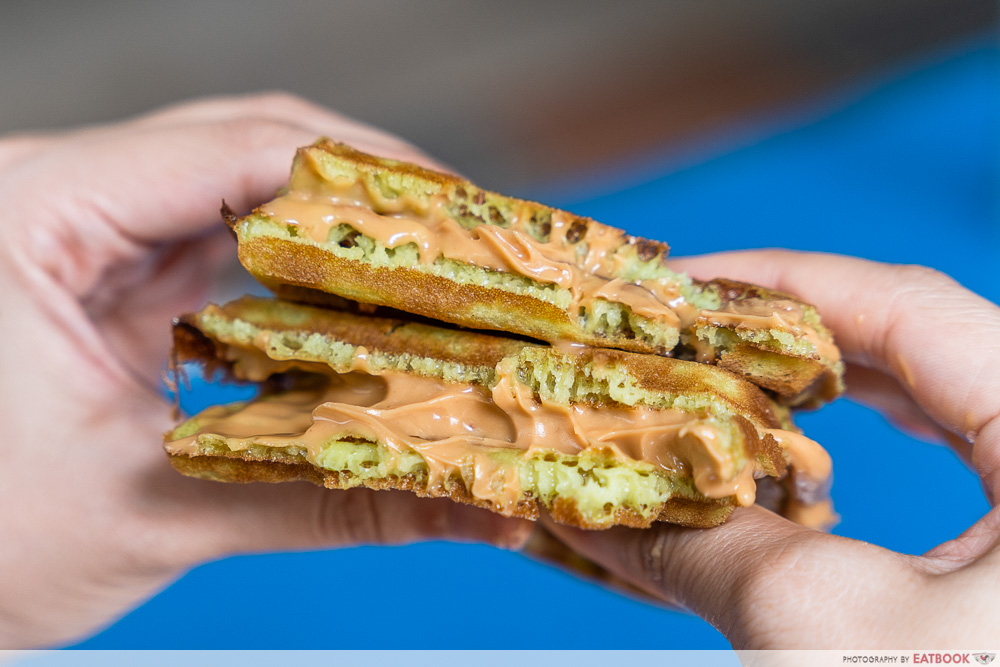 Another affordable waffle stop to bookmark is Gambateh Cafe, located within the heartlands of Bukit Merah.
Despite its wallet-friendly price, the Peanut Butter ($1.70) version was stuffed to the brim with filling. I noticed the aunty adding a generous layer of peanut butter across the entire waffle, instead of just half of it—bonus points in my books. Unfortunately, the peanut butter was a tad sweeter than I'd liked, and the waffle itself was a little too charred.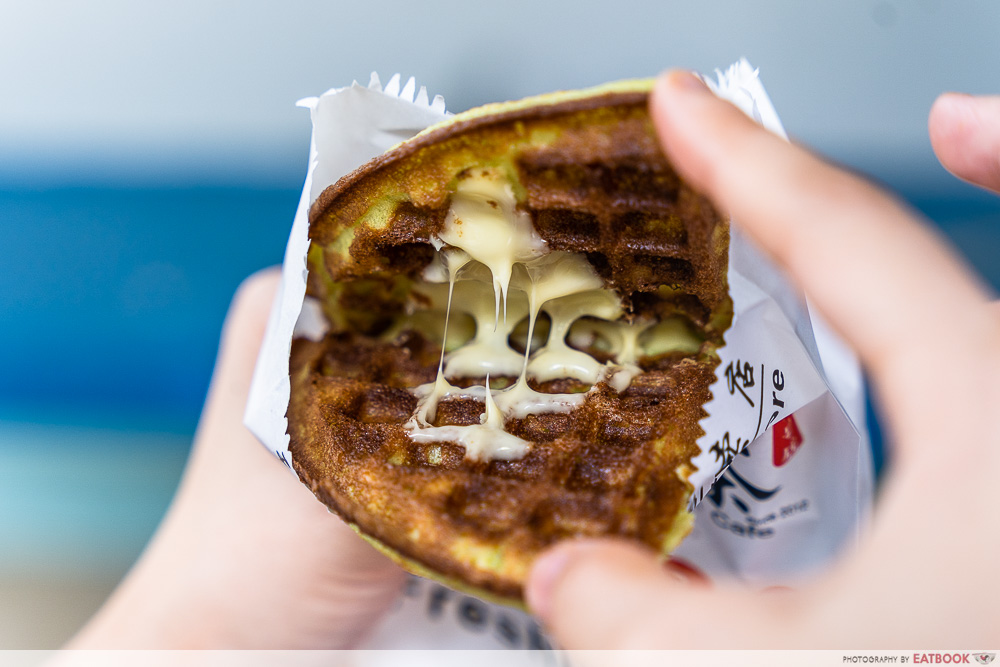 We preferred the waffle for the Cheese ($2) version, which still retained some lovely softness. These waffles ticked the right boxes; they boasted a crispy exterior, accompanied by a softer texture within. Taste-wise, there was a lovely natural pandan fragrance that we enjoyed, pairing well with the savouriness of the sliced cheddar.
Taste: 3.5/5
Texture: 3.25/5
Filling: 3/5
Value: 4.25/5
Total: 70%
Address: 1 Jalan Bukit Merah, Singapore 150001
Opening hours: Mon-Sat 11am to 7pm
Website
Gambateh Cafe is not a halal-certified eatery.
---
4. Levure Naturelle
---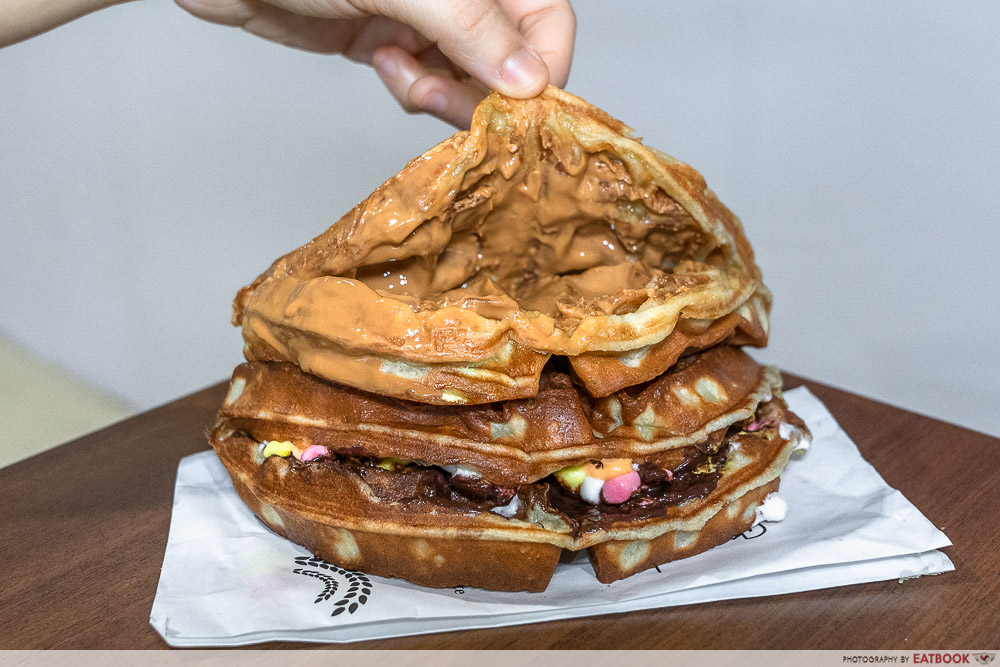 When I first sought out waffle recommendations from my friends, Levure Naturelle surfaced multiple times. This underrated bakery is a not-so-secret favourite of those who reside in the area who swear by their fat and chunky waffles.
Unlike traditional, pandan-spiked waffles found in most neighbourhood bakeries, Levure Naturelle sells the kind that's unapologetically thick, with large square grooves that contain your filling of choice.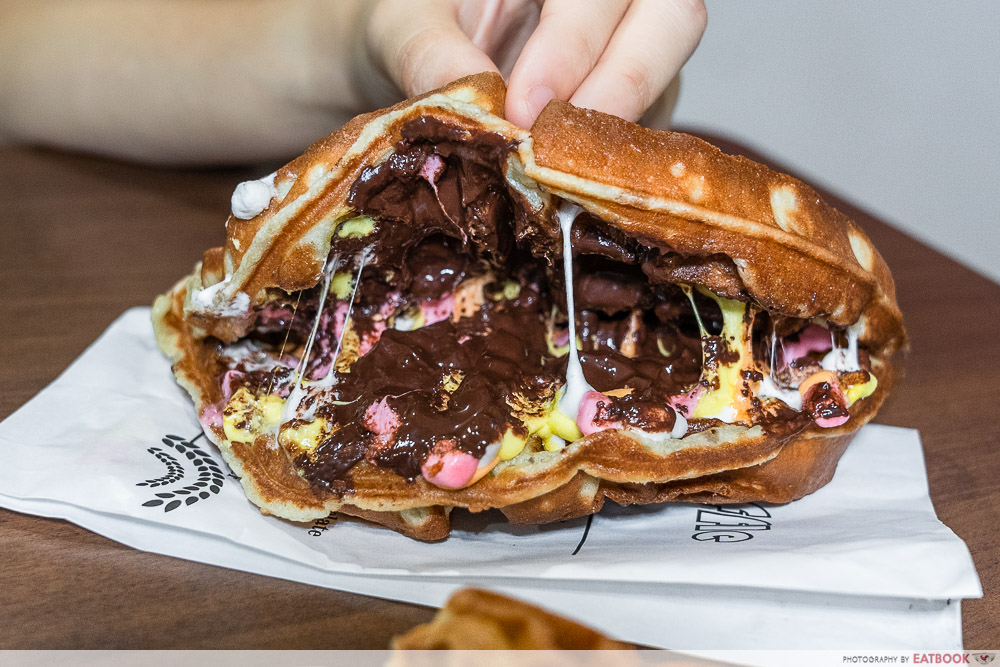 Although the ooey-gooey marshmallow pull made for a 'gram-worthy shot, I wouldn't recommend the Chocolate Marshmallow ($2.70) filling as it was too sugary. Taste-wise, the waffles were already slightly sweet with a faint vanilla essence flavour.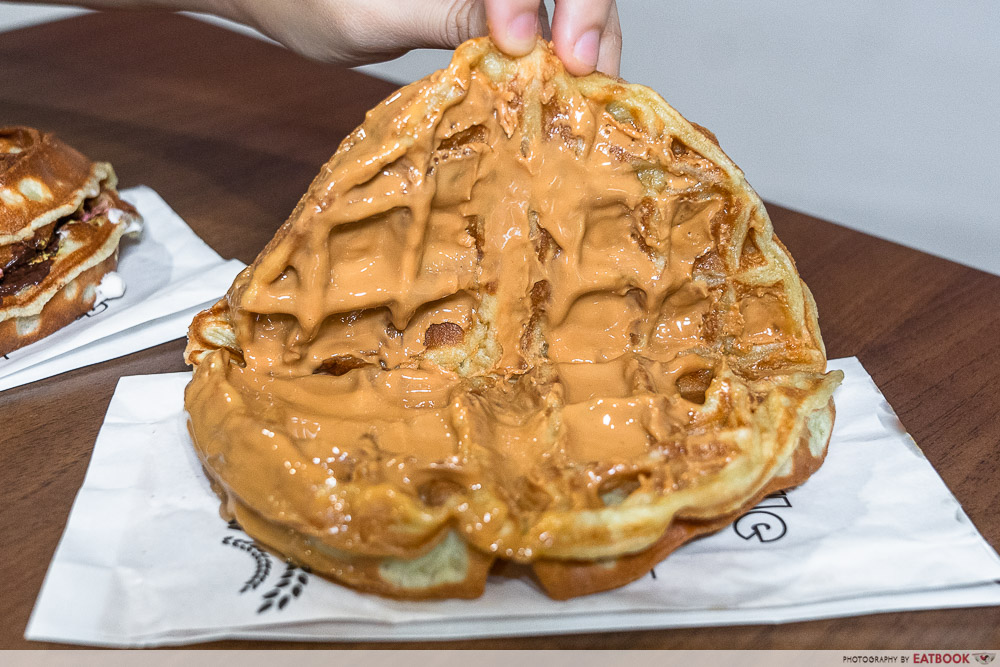 The Peanut Butter ($2.20) waffle, however, was the perfect mix of sweet and salty. They were pretty generous with the spread too, so you get a decent amount of nutty goodness in each bite.
My main gripe with these waffles was that they deflated faster than expected. When that happened, the texture became squishy almost immediately, so I found myself yearning for some crispiness for textural interest. Nonetheless, I think these will suit those who love soft waffles.
I still can't get the pronunciation of the bakery right, but I will definitely return for more of these messy squares of joy.
Taste: 3.5/5
Texture: 3.5/5
Filling: 3.75/5
Value: 3.5/5
Total: 71.25%
Address: 1 Stadium Place, #01-30, Kallang Wave Mall, Singapore 397628
Opening hours: Daily 10am to 9pm (waffle-making ends at 8:25pm)
Levure Naturelle is not a halal-certified eatery.
---
3. Queensway Lau Tan Tutu Kueh

---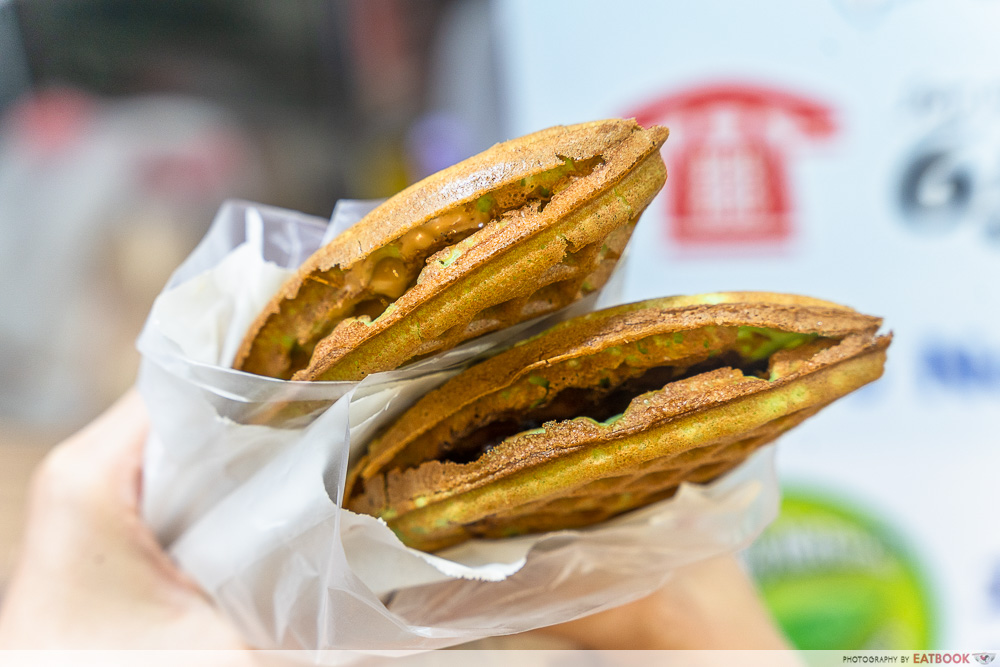 Sometimes, you can tell a waffle is good just by how it looks. That's the case with Queensway Lau Tan Tutu Kueh, a household name that has its roots in the 1940s. This Queensway Shopping Centre kiosk may be most known for their tutu kueh (hence the name), but we found their pandan waffles to be equally impressive too.
These waffles were the most buttery of the lot. That highly coveted, crispy texture was retained even after the waffles were left out for a while. In fact, the exterior was so crispy and buttery, it was almost flaky. Perhaps that's a result of the sizzling hot waffle maker and quick cooking time.
Upon sinking my teeth into the waffle, I was glad to discover a soft, almost kueh-like middle—though I did wish the waffle was a little thicker.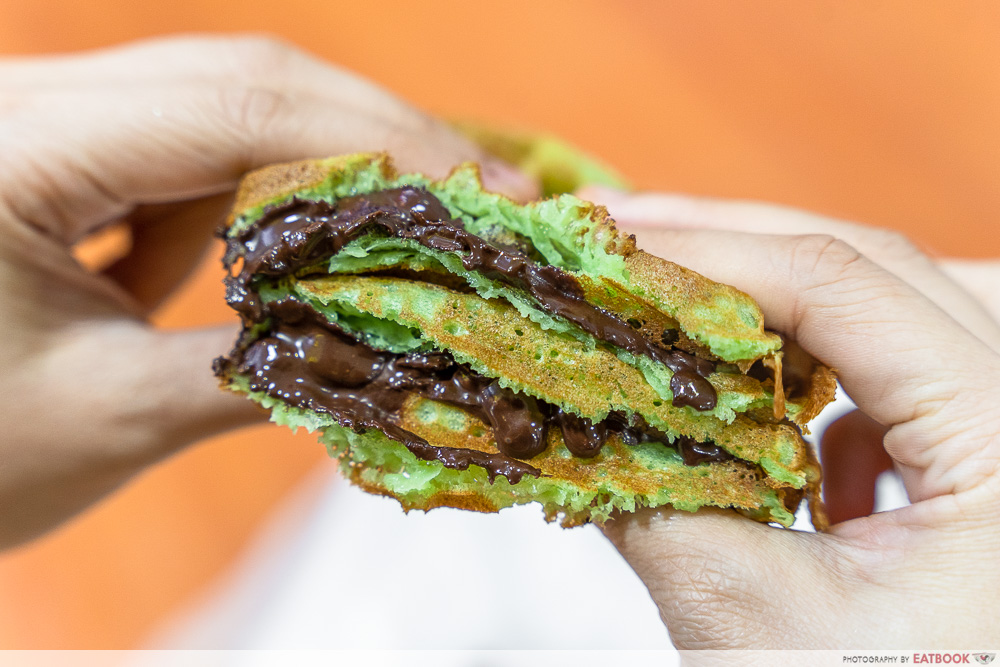 The Peanut Butter ($2.50) rendition was good enough, as the filling was smooth and creamy with a salty edge, but what really stole the limelight was the Chocolate ($3) flavour. The latter waffle came loaded with a rich and chocolatey filling that resembled Nutella, but better. The pandan fragrance was overshadowed by the strong chocolate notes, but no one was complaining.
The next time I return, I'm going to try the coconut and red bean fillings.
Taste: 3.75/5
Texture: 4/5
Filling: 4/5
Value: 3.5/5
Total: 76.25%
Address: 1 Queensway, #02-47, Queensway Shopping Centre, Singapore 149053
Opening hours: 11am to 8:30pm
Website
Queensway Lau Tan Tutu Kueh is not a halal-certified eatery.
---
2.  Bakery Cuisine 
---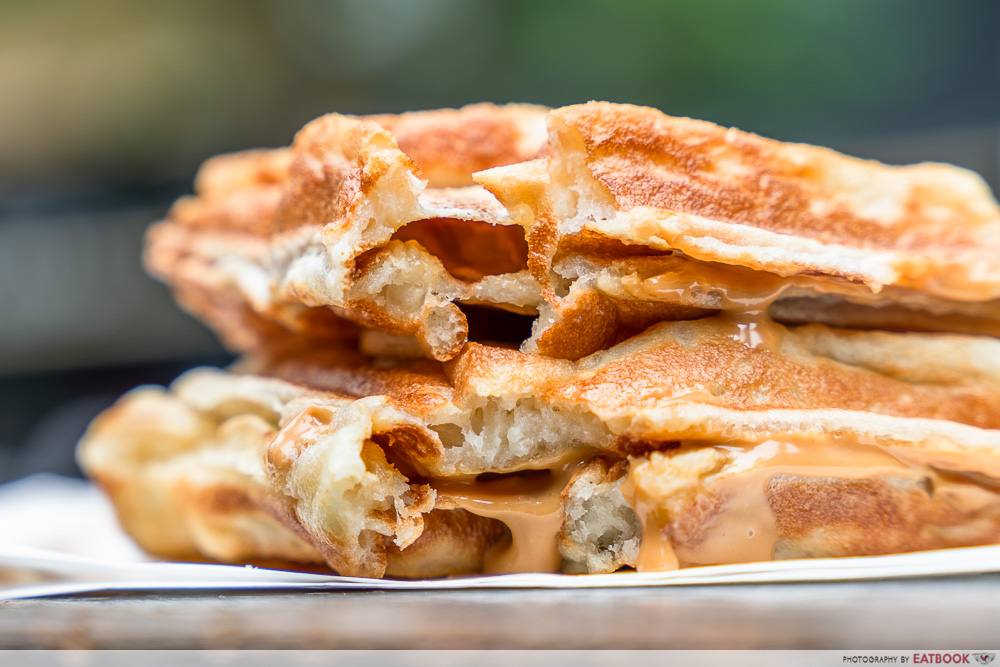 Alas, the waffle place everyone's talking about—Bakery Cuisine, and more specifically, the Raffles Place branch. This highly raved about contender is frequented by CBD employees who revel in the guilty pleasure of indulging in a thicc waffle during their lunch break.
Bakery Cuisine's waffles answered my prayers, as these were perfectly soft and chunky, yet with a delightfully caramelised crust that wasn't overly crispy.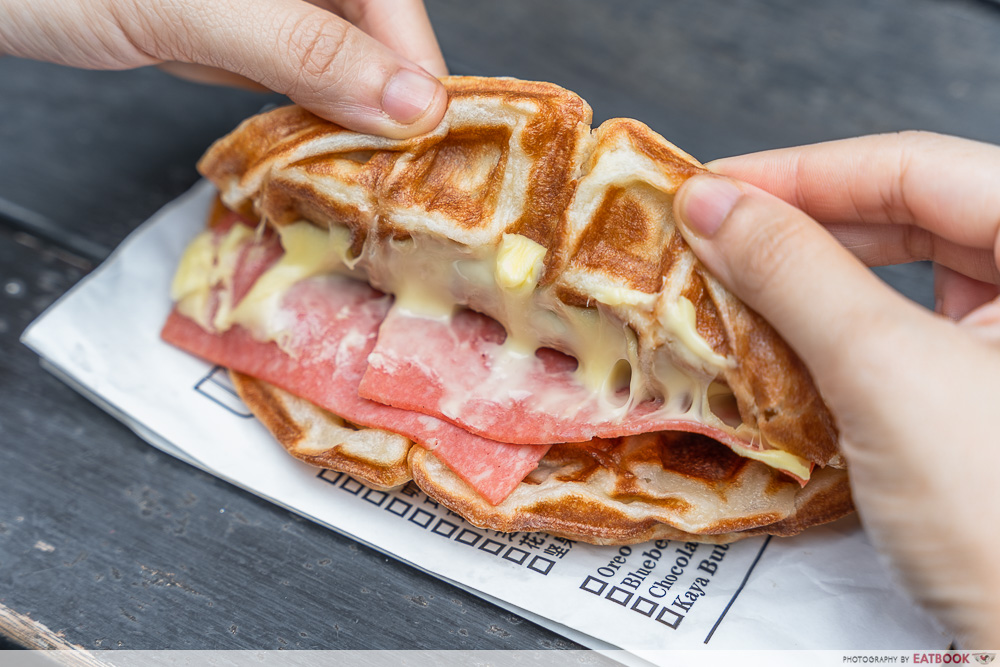 They tasted largely similar to Levure Naturelle's version, but were a notch up as they held up their shape well even after our shoot. They were also less airy than the former, boasting a slightly spongey middle that I truly enjoyed. Rumour has it that Levure Naturelle is under the same parent company as Bakery Cuisine under the same company as, but there's no confirmation on that for now.
Although Peanut Butter ($2.40) is my usual order, I quite liked the savoury-sweet flavours in the Ham & Cheese ($3) waffle. Prices were steeper here, but the portion was sizeable and the amount of filling decent.
Taste: 3.5/5
Texture: 4.25/5
Filling: 4/5
Value: 3.5/5
Total: 76.25%
Address: 5 Raffles Place, #B1-23, Raffles Place MRT Station, Singapore 048618
Opening hours: Mon-Fri 7am to 7:30pm
Bakery Cuisine is not a halal-certified eatery.
---
1. Yi Jia Bakery House Cafe
---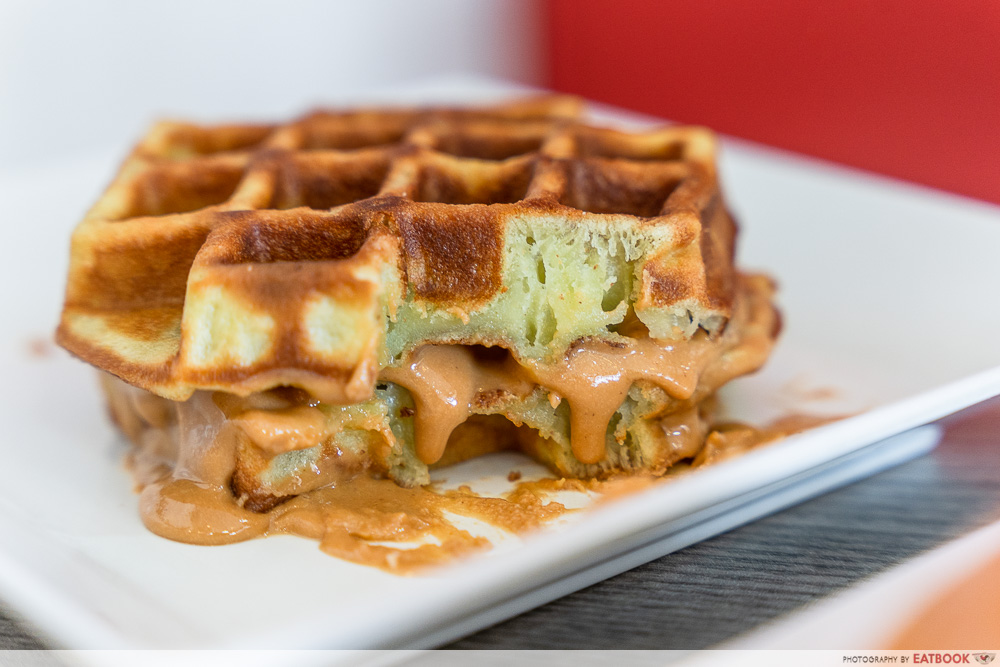 Coming in at first place is Yi Jia Bakery House, an old-school bakery and cafe that most Thomson residents would have heard of. This homely cafe offers old-school kopi and teh, along with a spread of fresh buns, at affordable prices. I used to frequent Yi Jia when I was still staying in Bishan, but have never known them to serve excellent waffles—until now.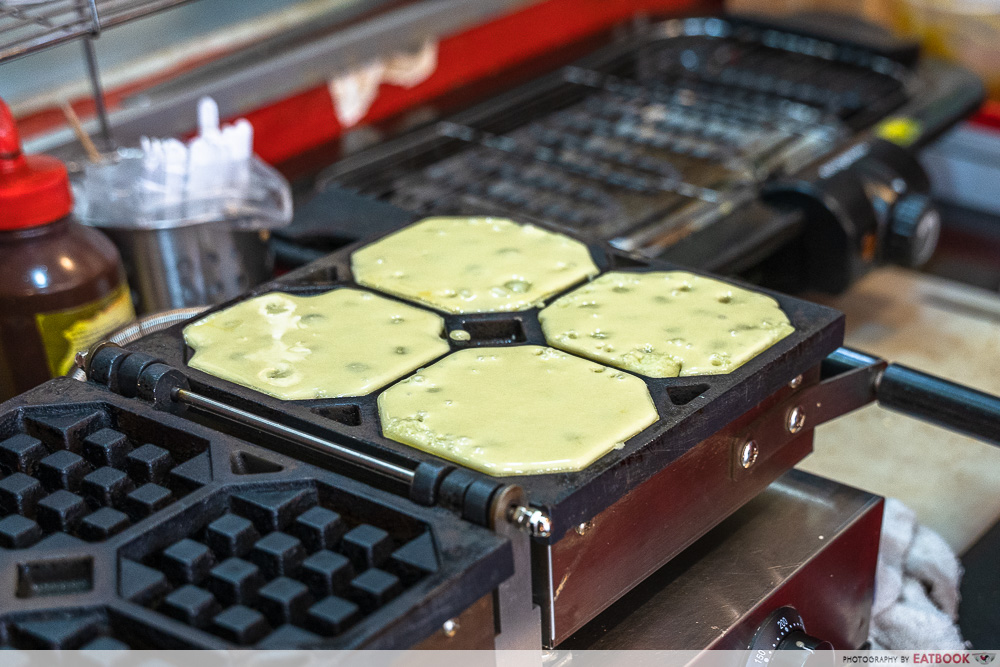 Unlike most neighbourhood bakeries, the green-hued pandan waffles here are smaller and chunkier, with a honeycomb-like shape. Prices aren't exactly the cheapest—our Kaya waffle was $2.60 and Peanut was $2.80—but trust me when I say the waffles were on-point.
These thick squares boasted a pleasant pandan flavour with a golden brown crust, which had a slight crisp and caramelised sweetness. Upon biting, we were treated to a soft and chewy middle that resembled that of kueh ambon. This waffle was dense with a rich and tasty crumb that, when paired with the bakery's house-made pandan kaya, was a match made in heaven.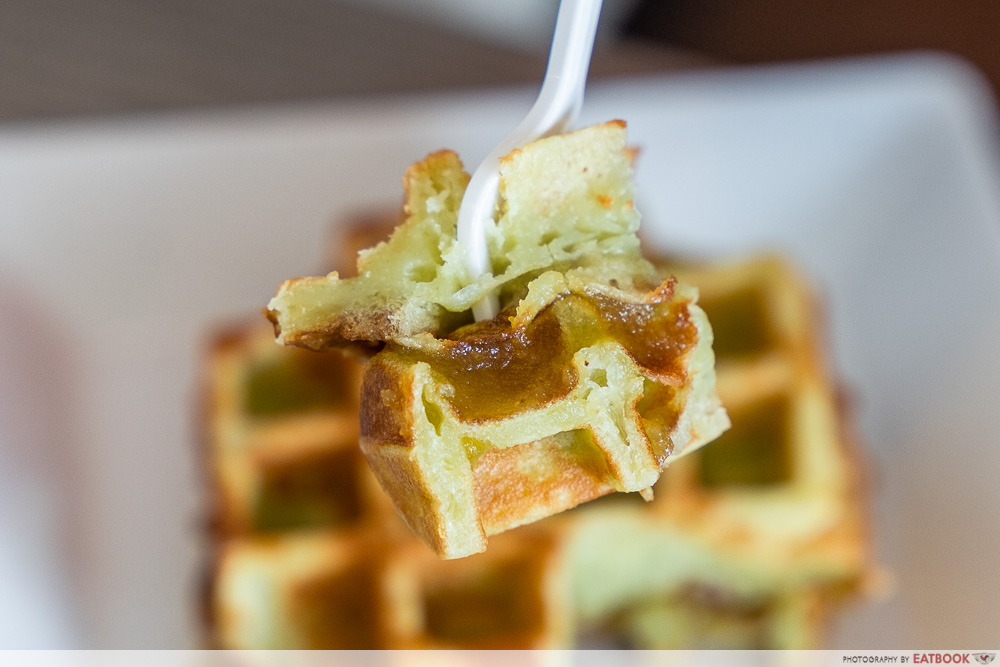 The peanut waffle was equally delicious, though the peanut butter seemed to harden a little upon sitting out for a while, so I'd say stick to the kaya filling if you only have room for one.
Even if you're not a fan of denser, doughy-type waffles, I beckon you to give Yi Jia a go as we were blown away by the flavour and complex textures of their pandan waffles.
Taste: 4.25/5
Texture: 4.5/5
Filling: 4.25/5
Value: 3.5/5
Total: 82.5%
Address: 229 Upper Thomson Road, Singapore 574361
Opening hours: Daily 7am to 8pm
Tel: 6456 1677
Website
Yi Jia Bakery House Cafe is not a halal-certified eatery.
---
Where to get the best pandan waffles
---
Ultimately, what makes a good waffle is subjective to one's personal preferences. Some may gravitate towards ultra-crispy waffles, while others like 'em soft and floppy. Whichever camp you belong to, we hope this guide to the best old-school waffles in Singapore can help you find a new gem or rediscover an old favourite.
If you're in need of a pick-me-up to wash down all that sugar, find out which stalls made it to our list of best kopi in Singapore! We also have our best bak chor mee guide if you want something more substantial and filling.
10 Best Kopi Stalls in Singapore Ranked, Including One With 58 Years Of History
Photos taken by Chew Yi En.
This is an independent article by Eatbook.sg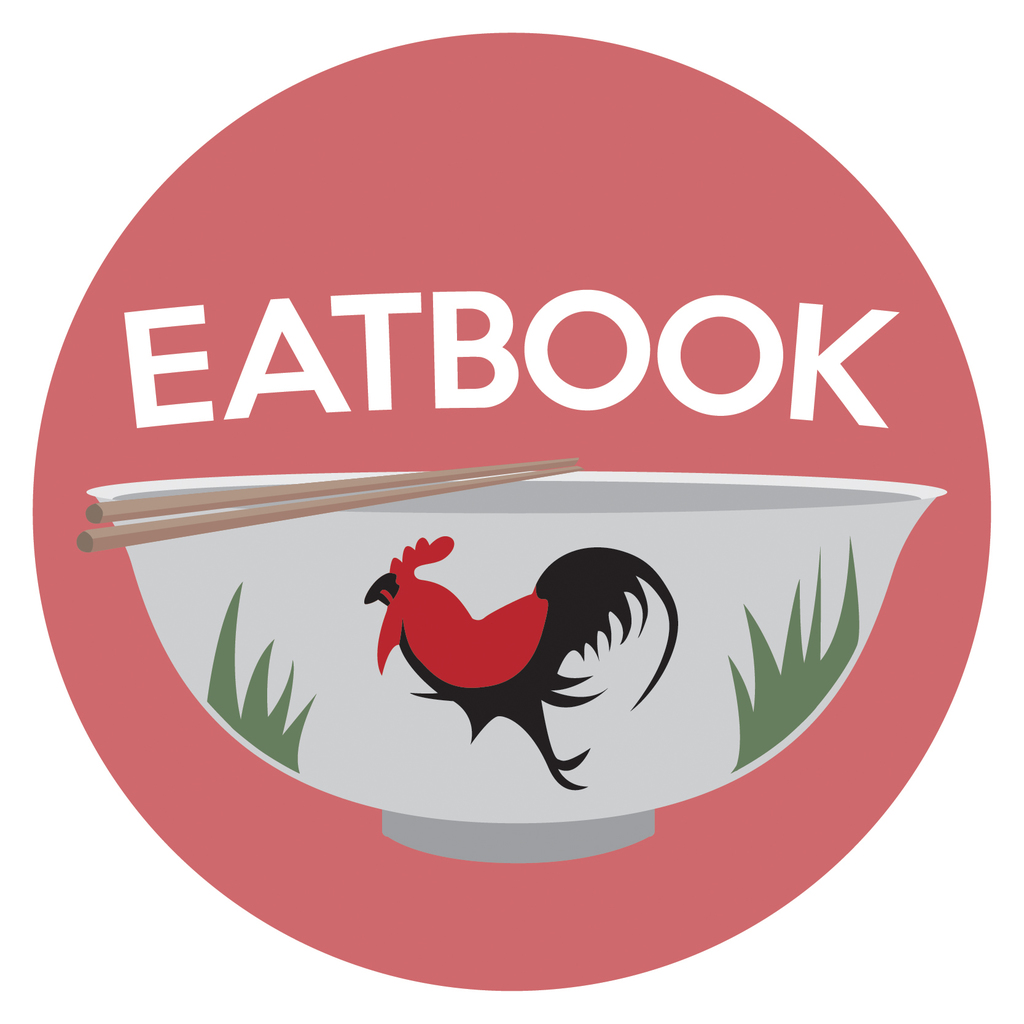 Drop us your email so you won't miss the latest news.