Chun Feng Man Mian has truffle wonton mee in Telok Ayer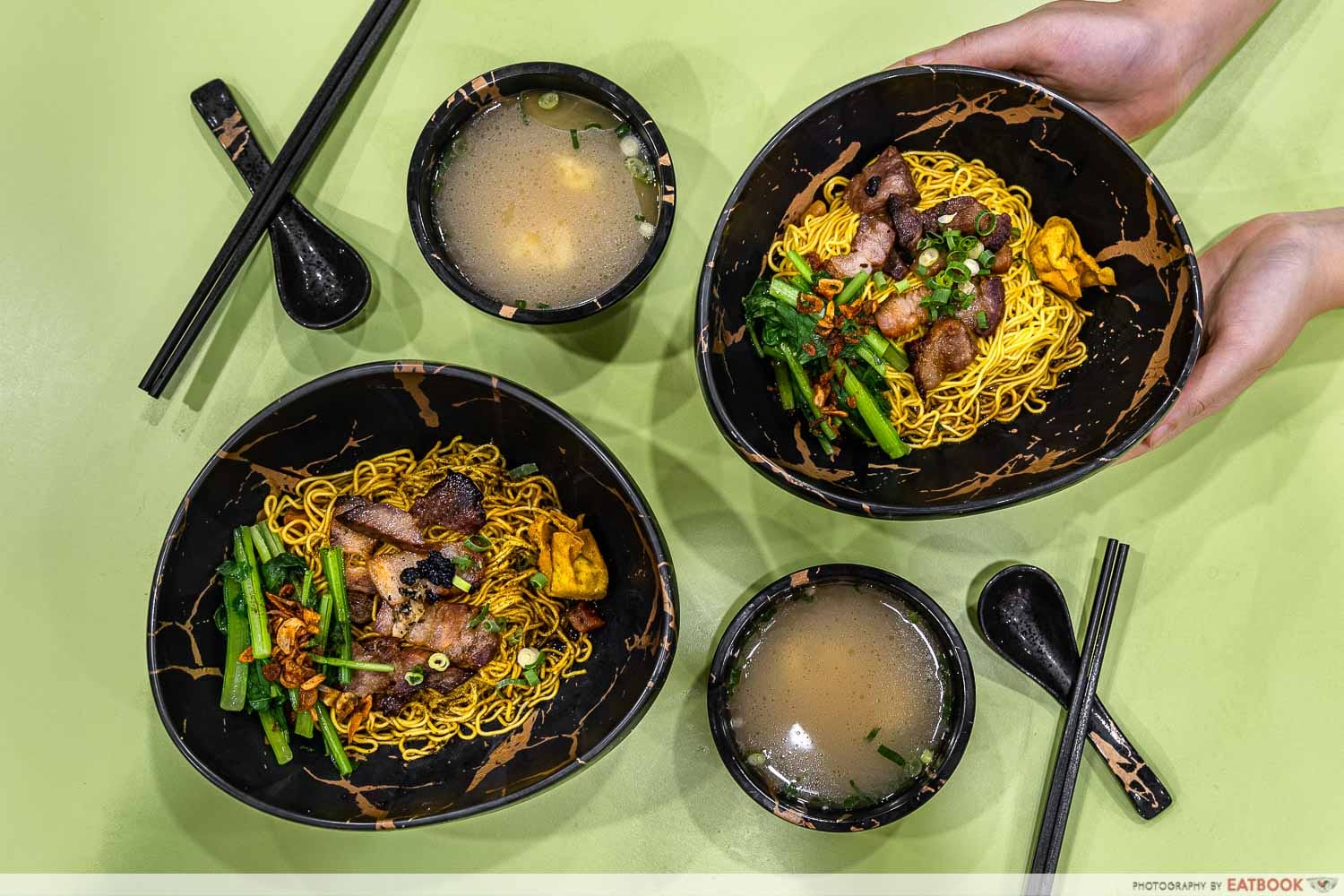 Recently, we brought our new team member out for lunch, braving the 50-man-strong Han Kee Fish Soup queue at Amoy Street Food Centre for some quality fish soup. Half an hour later, we learnt that though he told us he would eat anything but durians, he was not a fan of mackerel heads, either. Which is fine, more fish for me! Meanwhile, the others wandered over to this new wonton mee stall called Chun Feng Man Mian, with a menu display that looked like it belonged in an upscale Chinese restaurant.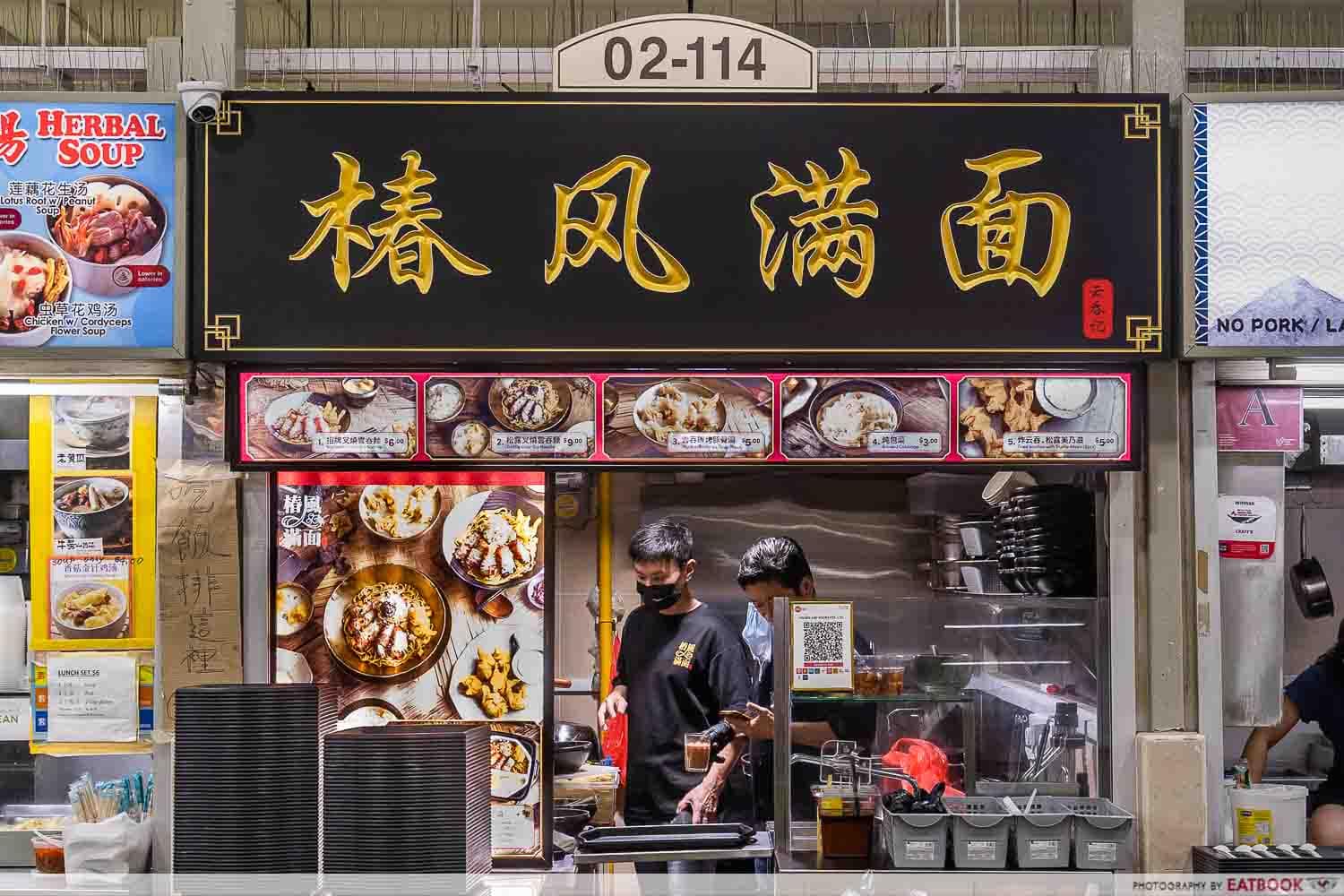 It wasn't an exaggeration, by the way. Whoever photographed the stall's menu definitely knew what they were doing, as evidenced by how it caught the eye of my photographer colleagues. As it turns out, the display pictures were all taken by stall co-founder Tan Chun Rong, who also co-founded Sourbombe Bakery and is a professional food photographer. The other co-founder, Andrien Chng, was a brand manager at Paradise Group, which explains the atas, restaurant-esque wonton mee concept they have going for them. 
Food at Chun Feng Man Mian
There's only five items on the menu currently, and one glance at the menu would make anyone wonder why prices here are way higher than any regular wonton mee stall. Catering to the classy folks over in the Central Business District (CBD), the hawkers manning the stall were kind enough to explain and show off the expensive, fine ingredients that elevated both their dishes, and prices.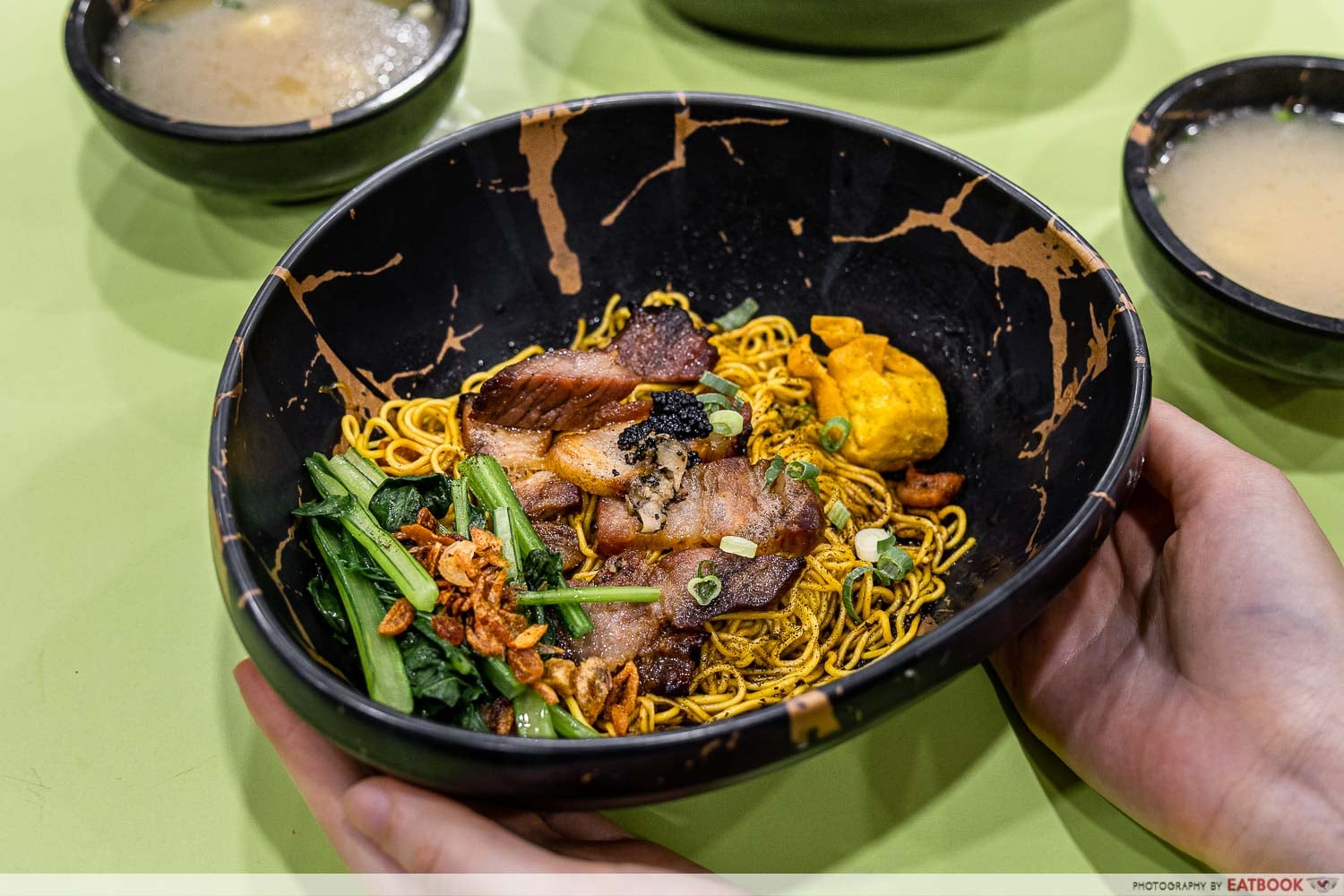 The Truffle Char Siu Noodle went for an eyebrow-raising $9. A heap of yellow noodles, char siew, one fried wonton, and your typical wonton mee greens instead of the cabbage on the menu picture greeted us. Oh, and a smidge of black roe and the strong aroma of truffle oil, too. 
All of their dishes came in black bowls with gold accents meant to mimic Japanese kintsugi, which not only played into my weakness for gorgeous kitchenware but also amused me due to how large the bowl seemed for the normal-sized portion we got.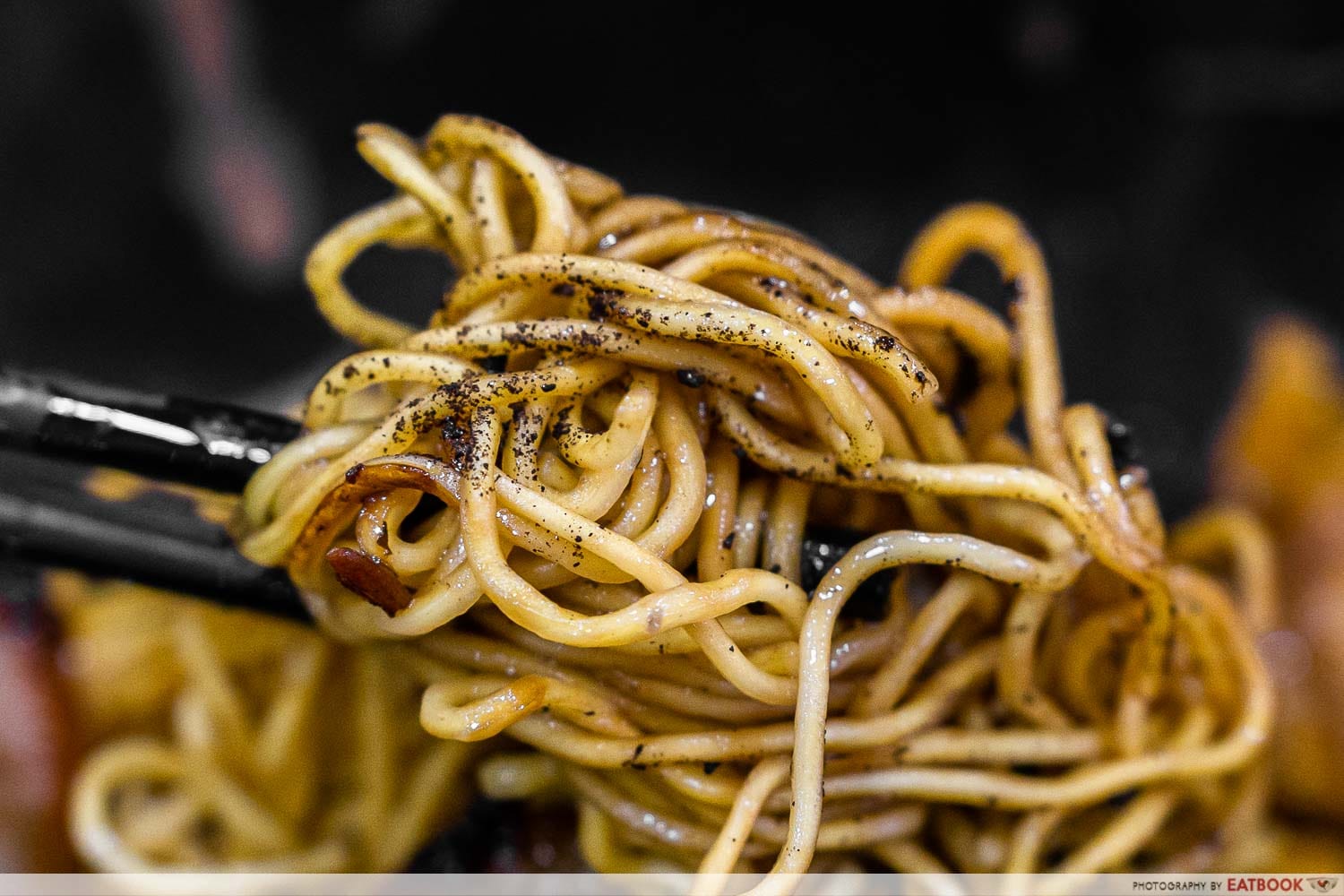 Looking closer, the noodles in this dish had sprinklings of what appeared to be black dust on them, which according to the hawker was truffle powder. They were also glistening from truffle oil, and mixing up the bowl revealed slightly larger black bits of actual truffle too. Thankfully, the amount of truffle infused into the dish did not overpower the other flavours in it. 
The mee kia here is handmade locally using a special recipe and was our favourite thing about the dish. While I did catch a slight alkaline taste, the stall really nailed it with their perfectly al dente and springy noodles. It also wasn't dry, with a good amount of their secret house-made sauce and truffle oil allowing the noodles to be easily slurped up.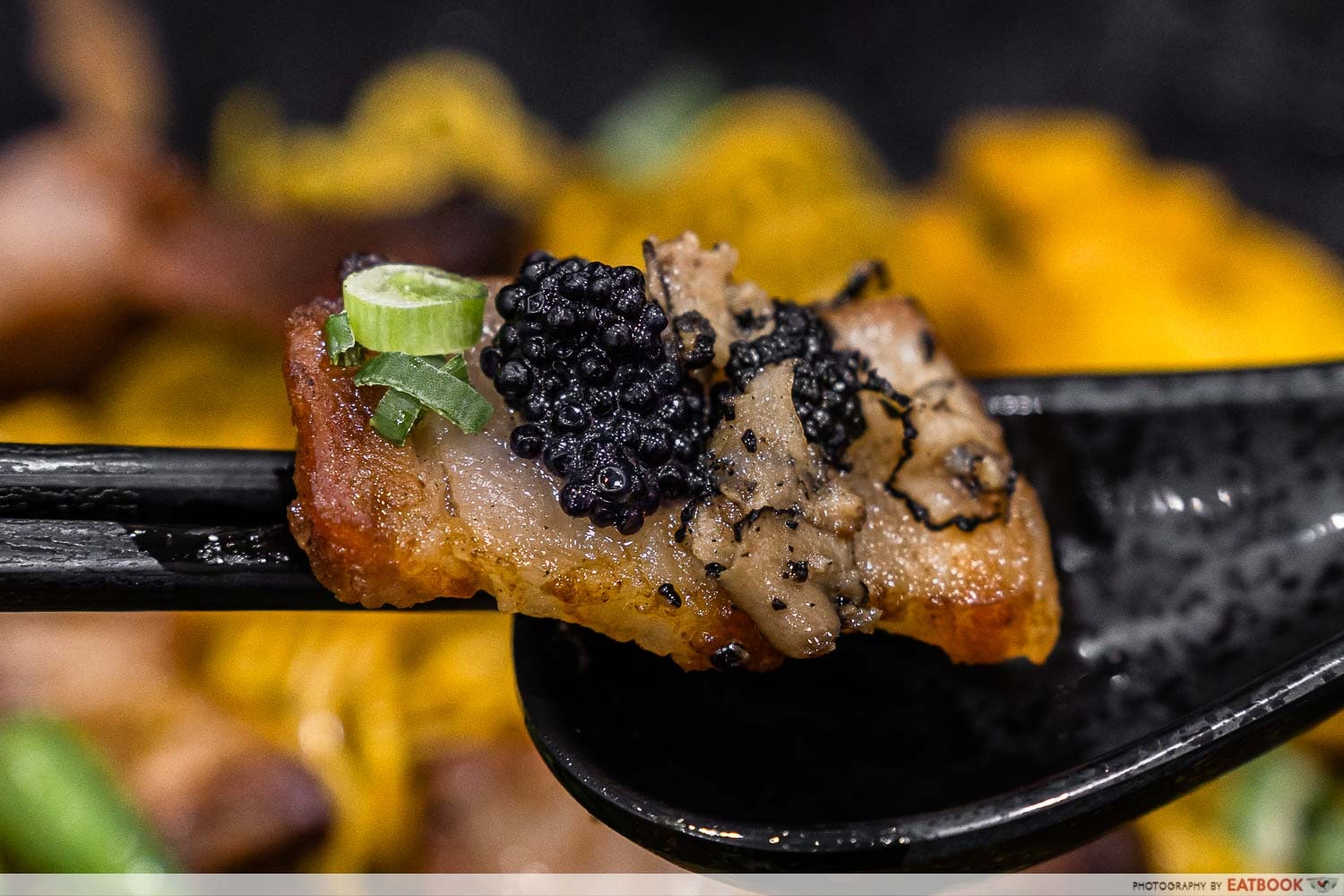 There was a tiny amount of lumpfish roe crowning the dish. On its own, it had the umami taste that fish roe tends to have, but the tiny amount had no significant impact on the overall taste of the dish once you mixed it all up, and we easily forgot it was there. 
We were more excited about the char siew the roe sat on, which we were told was made from Iberico pork belly and roasted overnight on-site with a marinade that includes oolong tea leaves. It was a little unevenly cut with some slices thicker than others, but had a nice aroma peeking out from underneath all that truffle. 
20 Best Wonton Mee In Singapore, Including XXL, Thai And Truffle Wanton Mee
I think they burnt the first chunk I had━and it was a chunk; I'd gone for a meaty piece that couldn't be considered a slice. There was a charred taste on top that clashed horribly with the sticky sweetness of the char siew marinade. Thankfully, the other pieces I tried were more or less fine, the pork belly slightly fattier than typical char siew and rather flavourful. 
We felt the quality was inconsistent though, as all of us experienced eating perfectly tender char siew in one bite and a slightly tougher piece the next.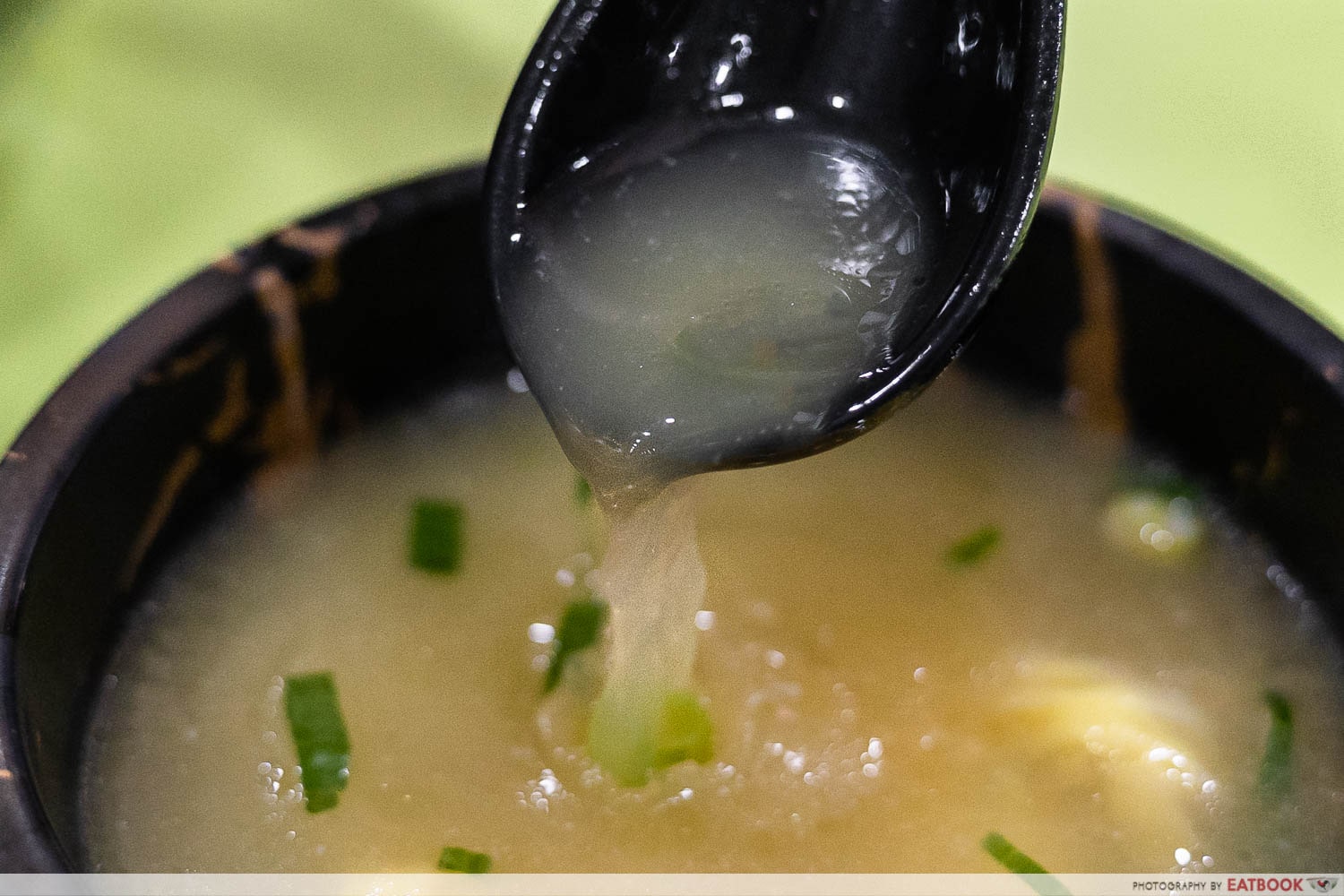 When we collected our food, the nice auntie manning the stall was very clear in pointing out just which bowl of soup was for which wonton mee dish. We could tell which soup was for the truffle wonton mee because the truffle aroma from this bowl was particularly strong, though we appreciated the clarification nonetheless.
The wonton soup here is said to be a tonkotsu-style soup instead of normal wonton mee soup. It was definitely richer and porkier, with the truffle oil making it smooth and a little greasier than we were used to.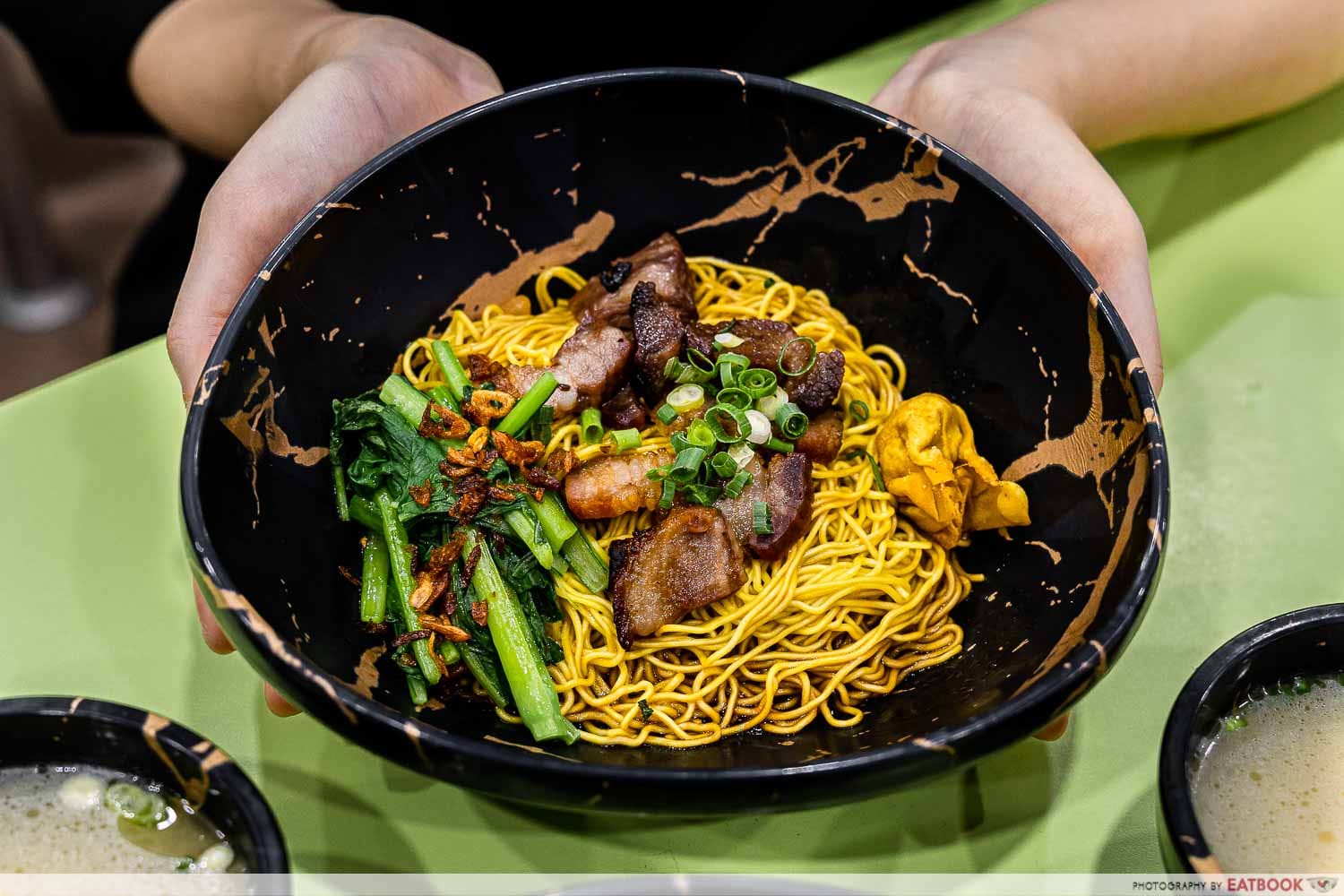 Our second bowl was the Signature Char Siu Noodle ($6), which had the same components as the truffle bowl, minus the truffle and lungfish roe. While the menu pictures didn't have it either, pictures online had set me up to expect ikura here, but there was none to be seen. We also weren't shown ikura in the range of ingredients shown when we talked to the hawkers, so perhaps they either removed it or ran out by the time we turned up for lunch.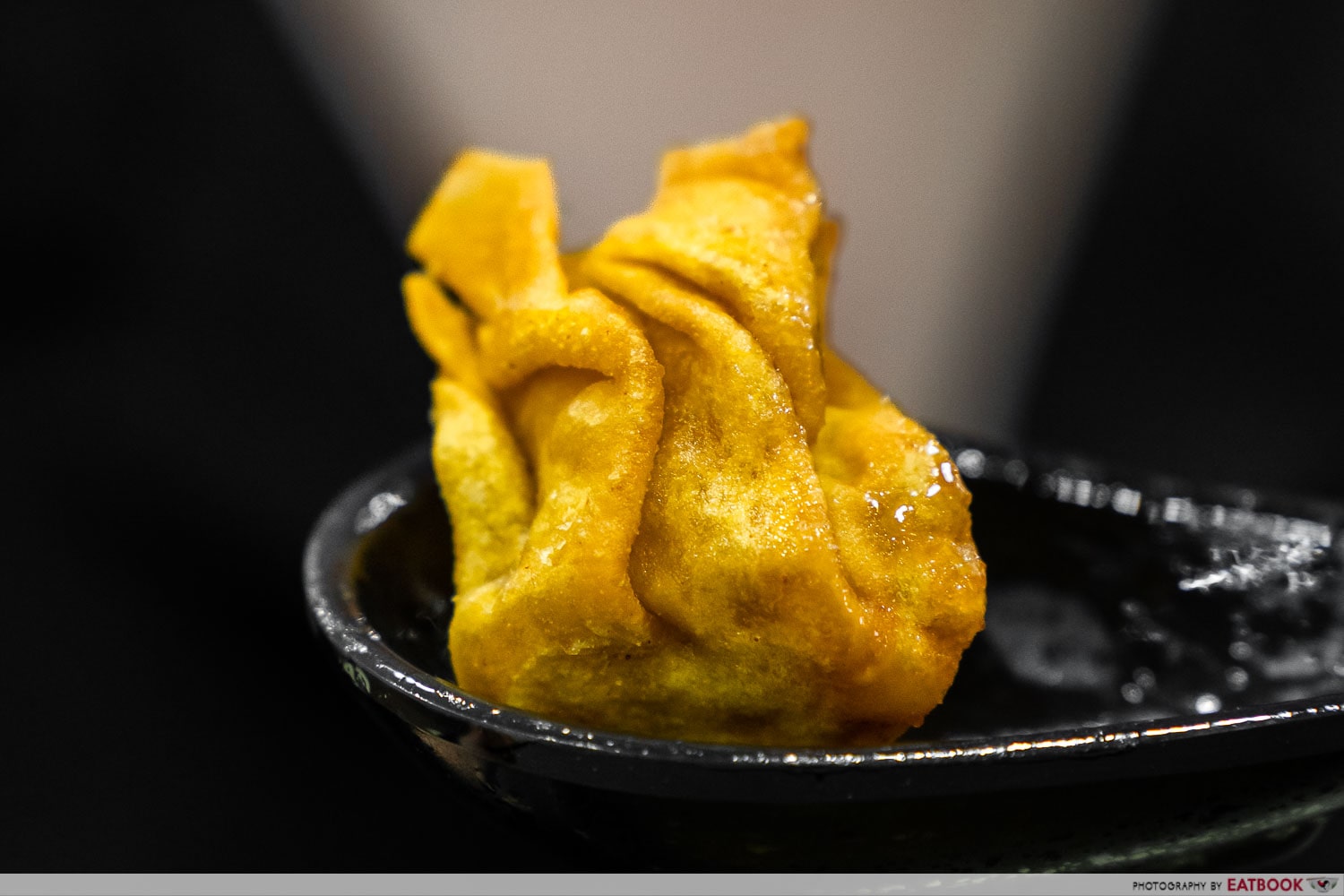 The wonton mee here is actually labelled as char siew noodles, probably because there was more Iberico char siew than the sole fried wonton you get in each bowl. I preferred this wonton to the ones included in the soup however, as the crunchiness of the deep-fried wonton provided a different texture to the rest of the bowl.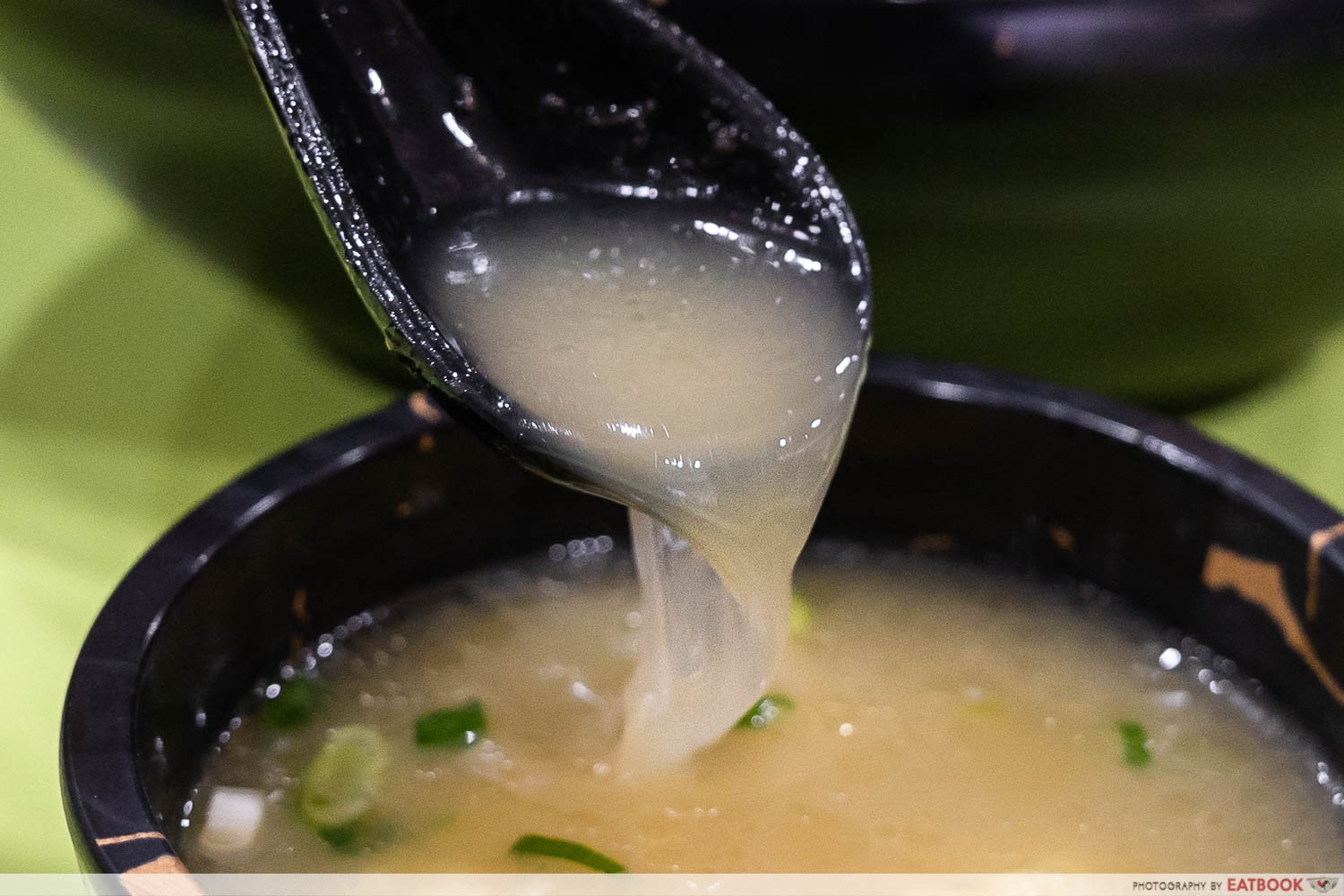 The soup for this dish had the same tonkotsu base as the truffle wonton mee. This made it a cleaner soup where the savoury richness of the tonkotsu broth could truly shine, and I enjoyed its comforting warmth with every sip.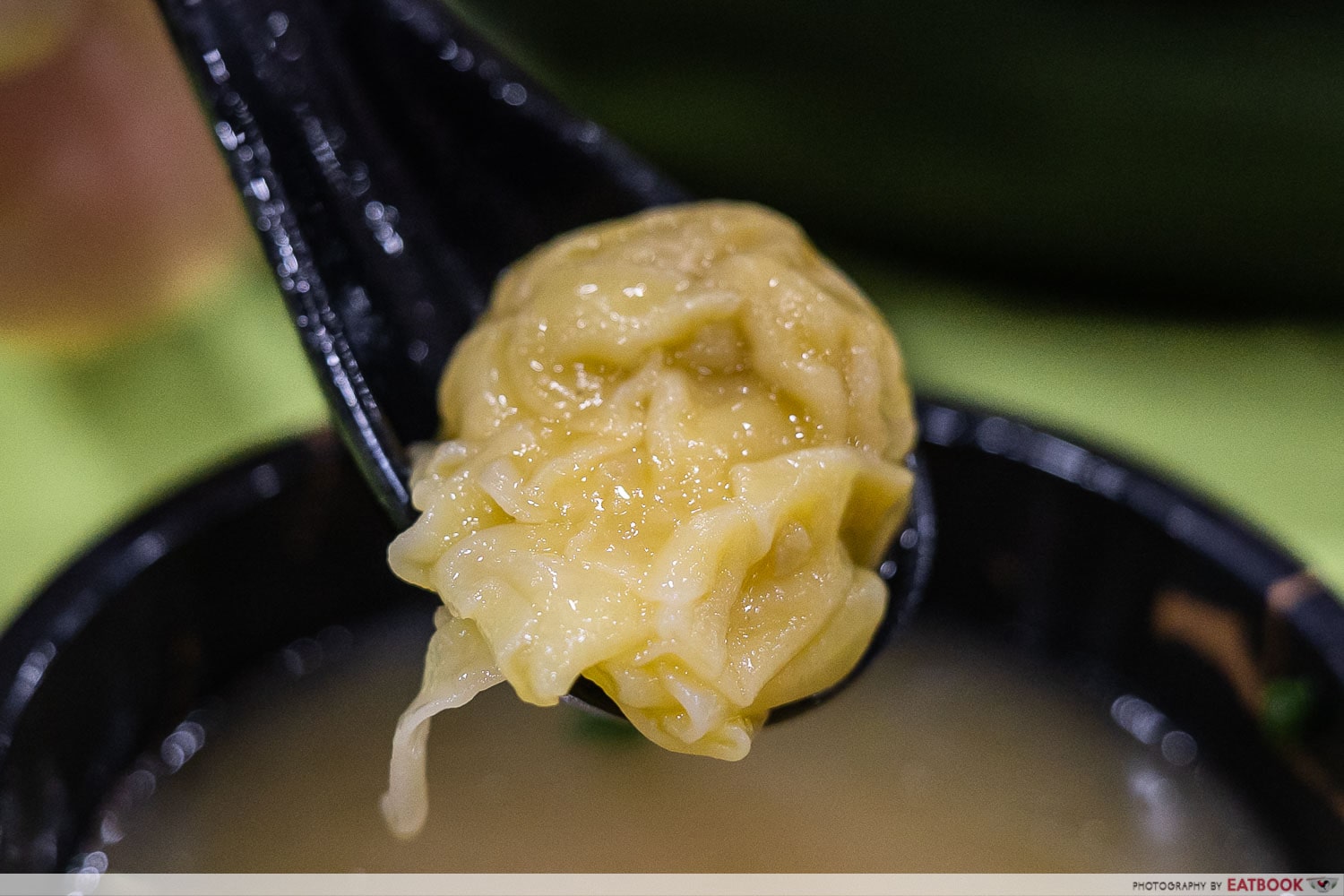 You also get two boiled wontons with each bowl of soup, with minced pork and crunchy water chestnut bits I didn't realise were there until my colleague commented on it. There's also premium dried sole fish in it too, but really, the wonton is kind of small so you don't really taste it.
We did like the skin, though some of us preferred the fried wonton for its crunchier texture. 
Overall, we had an okay meal. Everyone loved the noodles, was impressed by how the char siew and wontons were house-made, and the overall taste and presentation wasn't bad. We just expected something more memorable to be the result of the premium ingredients that I was told would elevate the classic wonton mee to a higher level. 
Ambience at Chun Feng Man Mian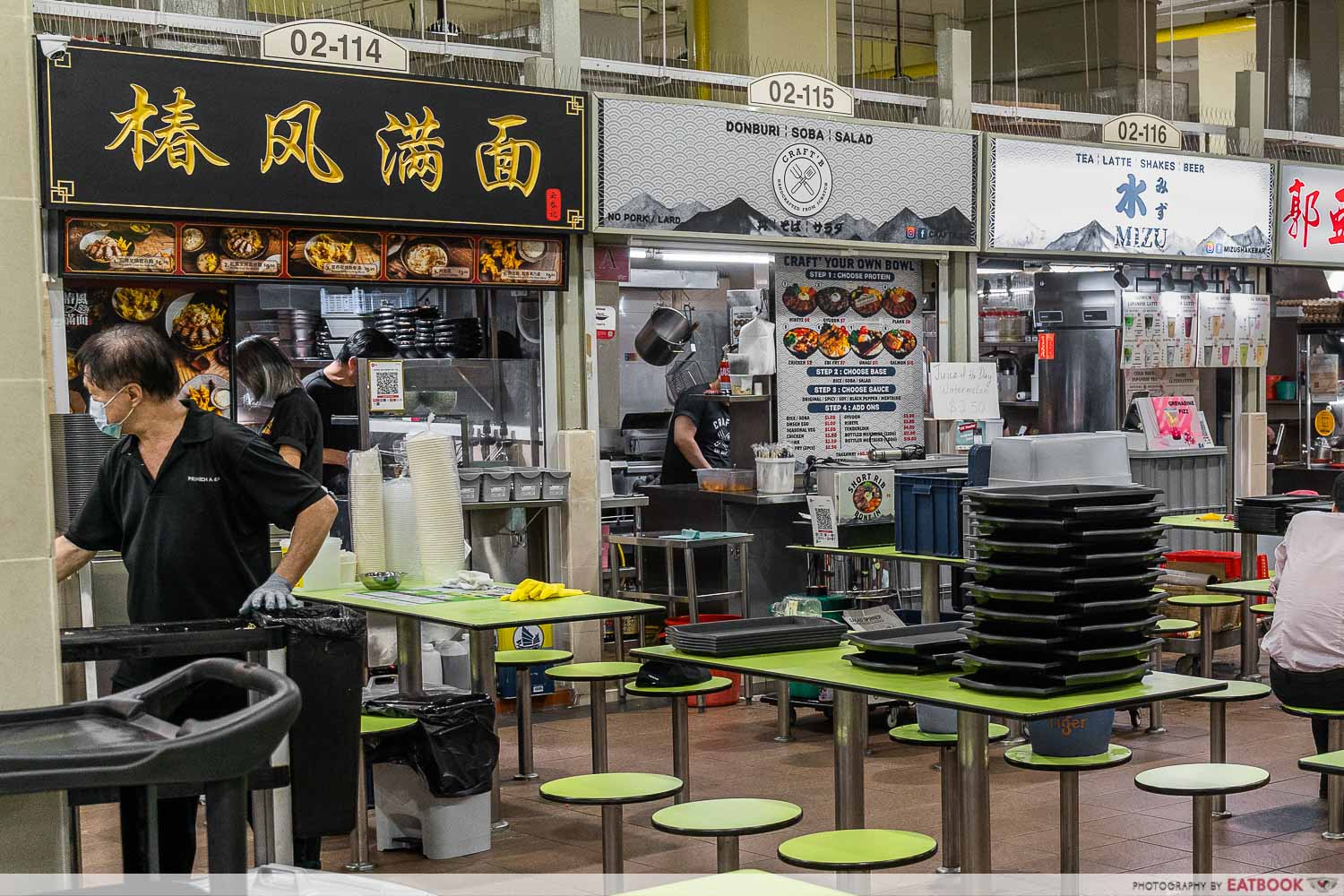 Chun Feng Man Mian is located at Amoy Street Food Centre, AKA, the hawker centre with the most Michelin-recommended stalls in Singapore. It is also located in the CBD and a four-minute walk from Telok Ayer MRT Station. This means that while newcomer Chun Fang Man Mian doesn't have the ridiculous queues you'll find at established stalls such as Han Kee Fish Soup just yet, it's a bit of a wait during peak lunch hours. 
They're open before and after noontime, so we recommend avoiding the lunch rush if you want your atas wonton mee fix and any hope of finding a seat. One good thing though, is that once you do get your food and place at a table, the second floor of the hawker centre has anti-bird netting to ensure you can enjoy your meal in peace.
The verdict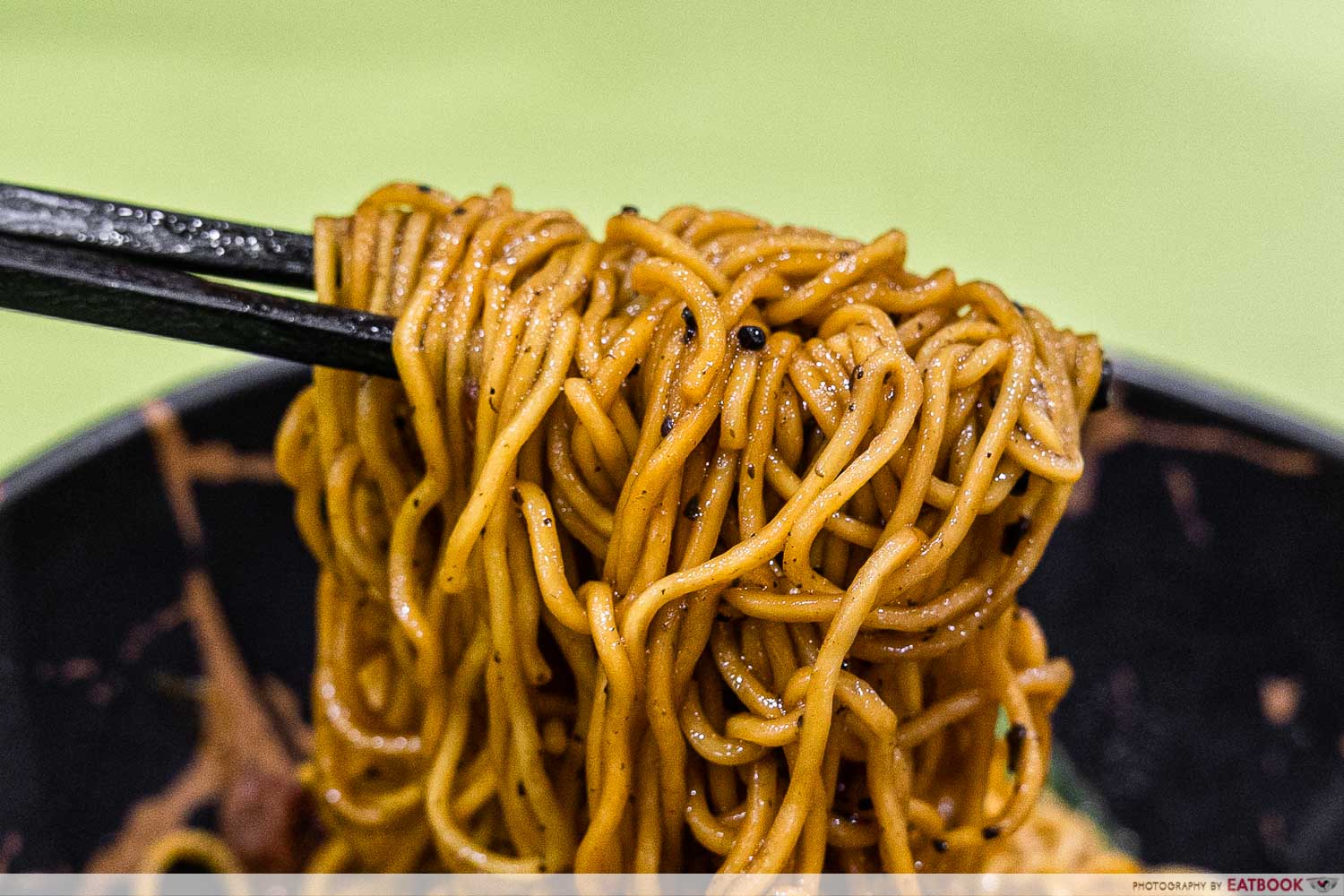 I'm a firm believer that while quality ingredients are important, it's not necessarily the key to a good dish the way a chef's skill in using what they have on hand is. Don't get me wrong, the noodles here are excellent and the dishes are by no means bad. I just felt that despite the spiel I was given about Iberico pork and truffle and premium wonton fillings, it's a shame that those words didn't translate into a dish where I felt these important components were utilised to their fullest potential.  
Nevertheless, if you work in the CBD, crave truffle, and love noodles, do consider swinging by. Chun Feng Man Mian is still a new stall with a worthy vision and dreams of expansion, so it's worth sticking around to see how they'll work out the initial kinks and keep growing in the future. 
Read our wonton mee guide for more places to slurp up this classic dish around. Otherwise, check out Joo Heng Noodle in Toa Payoh, which has unique green wonton mee made with spinach!
Address: 7 Maxwell Road, #02-114, Amoy Street Food Centre, Singapore 069111
Opening hours: Mon-Fri 8:30am to 2:30pm
Website
Chun Feng Man Mian is not a halal-certified eatery.
This Popular Toa Payoh Stall Serves Wonton Mee With Green Spinach Noodles And Juicy Wonton
Photos taken by Ke-ian J Leong.
This was an independent review by Eatbook.sg
Chun Feng Man Mian Review: Truffle Wonton Mee And Iberico Pork Char Siew In Telok Ayer
Chun Feng Man Mian Review: Truffle Wonton Mee And Iberico Pork Char Siew In Telok Ayer -

7/10
Summary
Pros
– Very good noodles
– Quality ingredients
– Friendly and helpful hawkers
– Truffle is not overpowering
Cons
– Expect to wait during the lunch hour
– Dishes served didn't do justice to the ingredients used
Recommended dishes: Truffle Char Siew Noodle ($9)
Opening hours: Mon-Fri 8:30am to 2:30pm
Address: 7 Maxwell Road, #02-114, Amoy Street Food Centre, Singapore 069111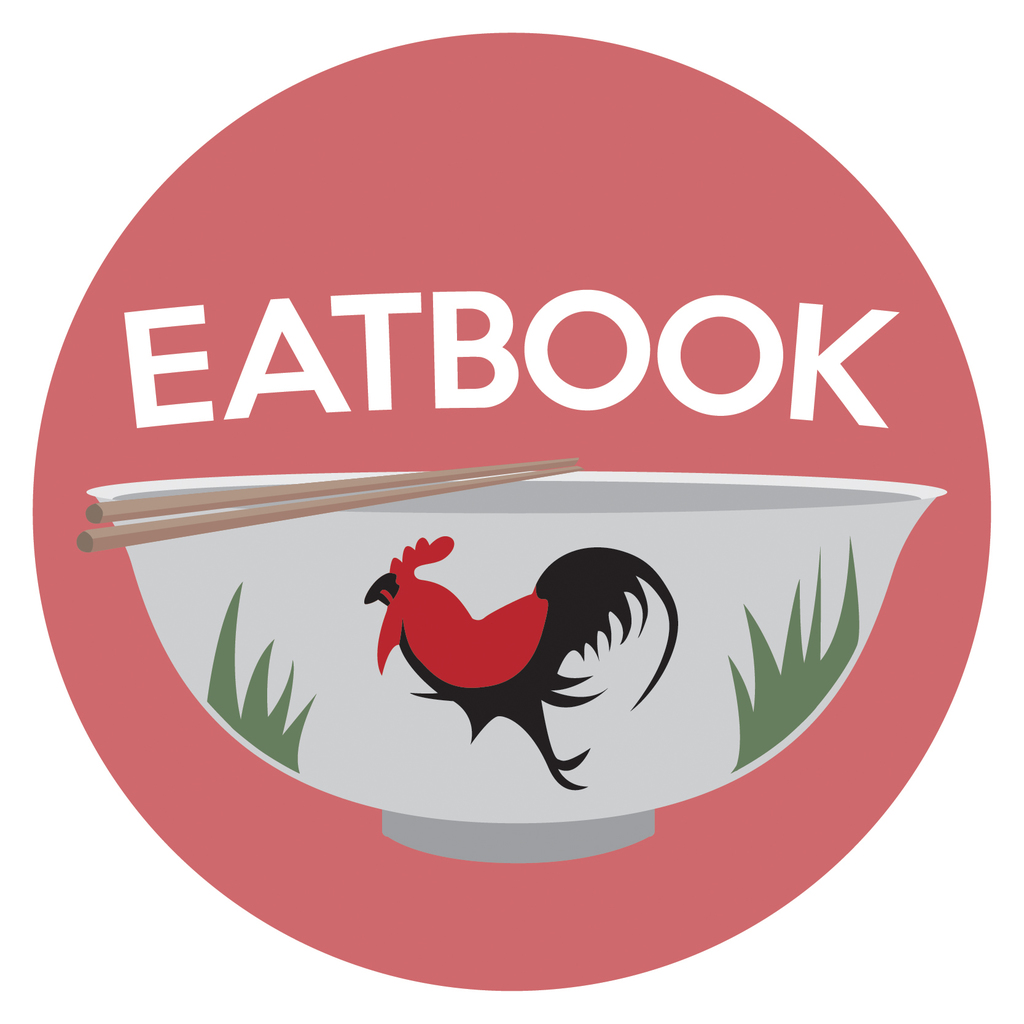 Drop us your email so you won't miss the latest news.