Pepper Bowl serves peppery rice bowls at $5 or less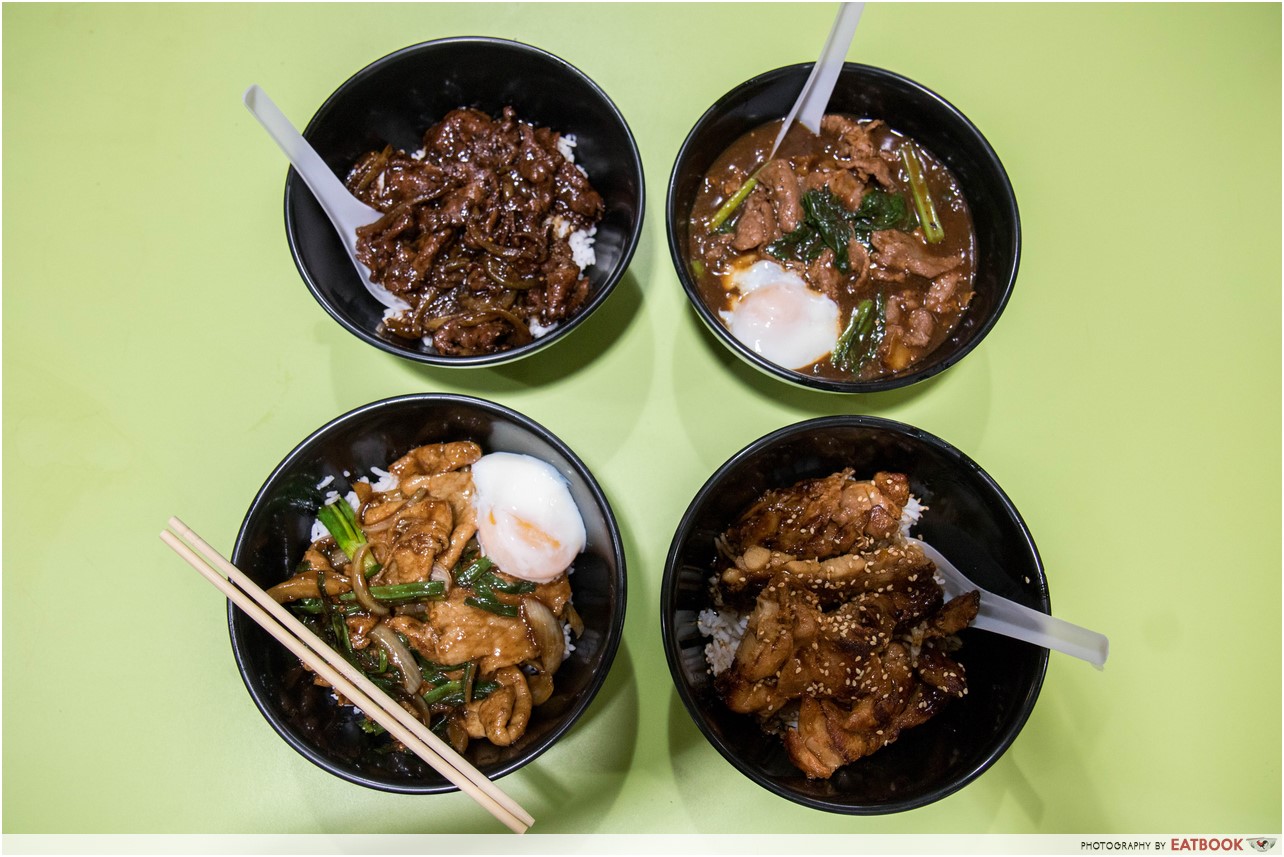 Growing up with the ultimate Asian parents not only meant insane academic expectations and grueling piano lessons, but also tons of rice during dinner. I'm not complaining though, 'cause I'm a carb lover and while other girls call their Beauty Blender a #holygrail, mine has gotta be starchy white rice.
Even though many queue up for fish soup whenever they're at Amoy Street Food Centre, it was Pepper Bowl that caught my attention. A bed of rice topped with stir-fried meat in gravy and onsen egg is not something I can easily resist. Plus, there's nothing more than $5 here!
Food at Pepper Bowl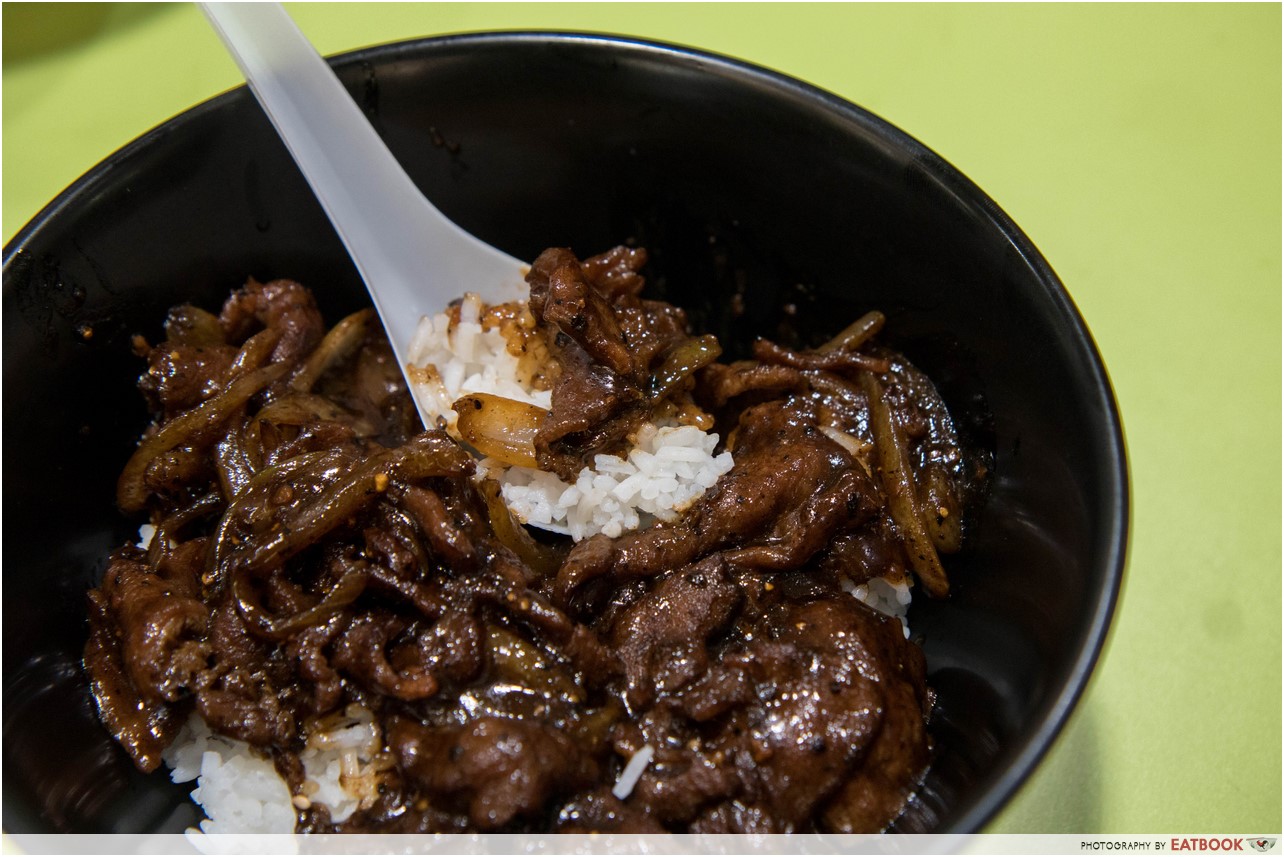 Black Pepper Beef Rice ($5) might not be the most visually appealing dish, but carrying this back to the table already got me salivating from its sheer fragrance, and I couldn't wait to dig in. It's made up of white rice covered in beef and onions, and dotted with flecks of black pepper.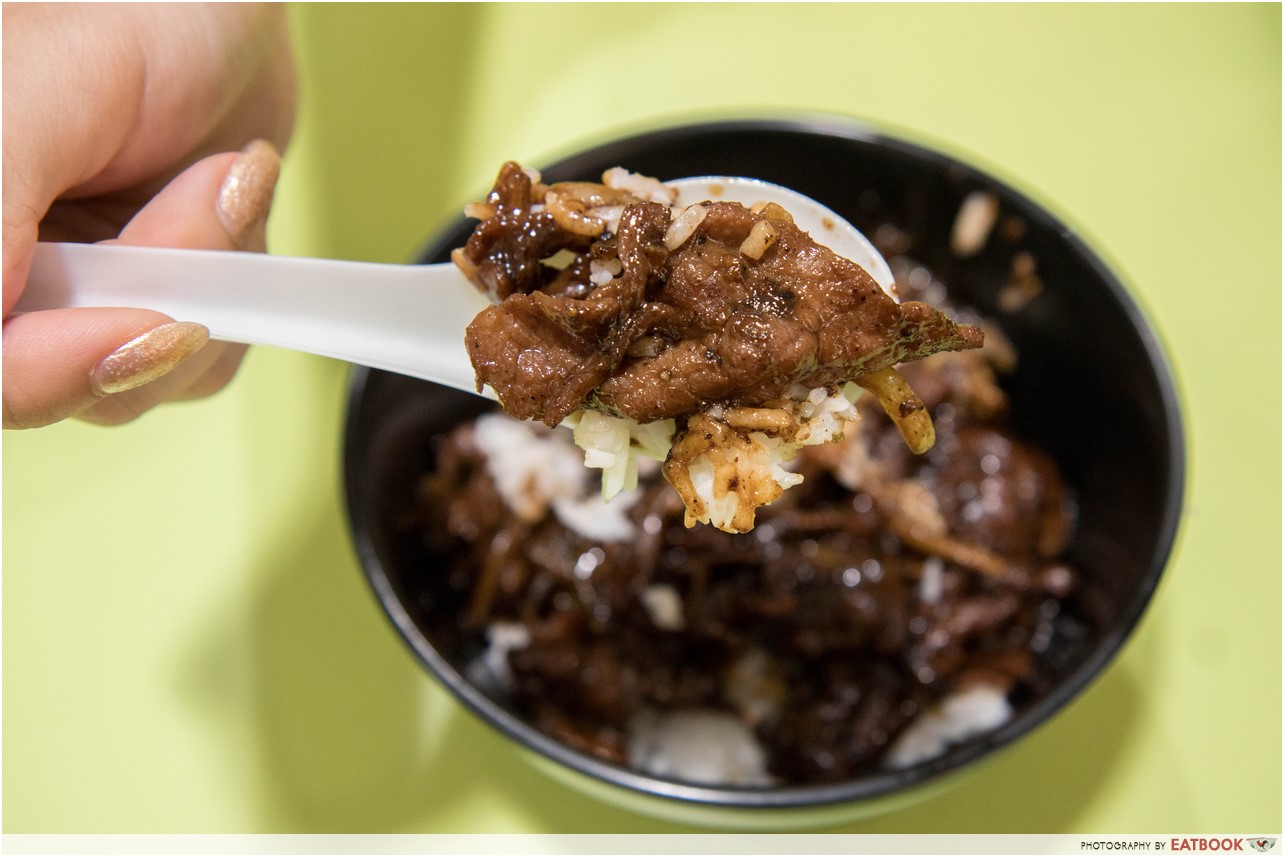 The juicy and caramelised onions gave this dish a mild sweetness that balanced out the slight heat from the black pepper. The beef itself was chewy, and had a good fat-to-meat ratio. I enjoyed how the smokey, wok hei fragrance was not overpowering, and managed to let the sweetness from the onions and the thin savoury sauce come through.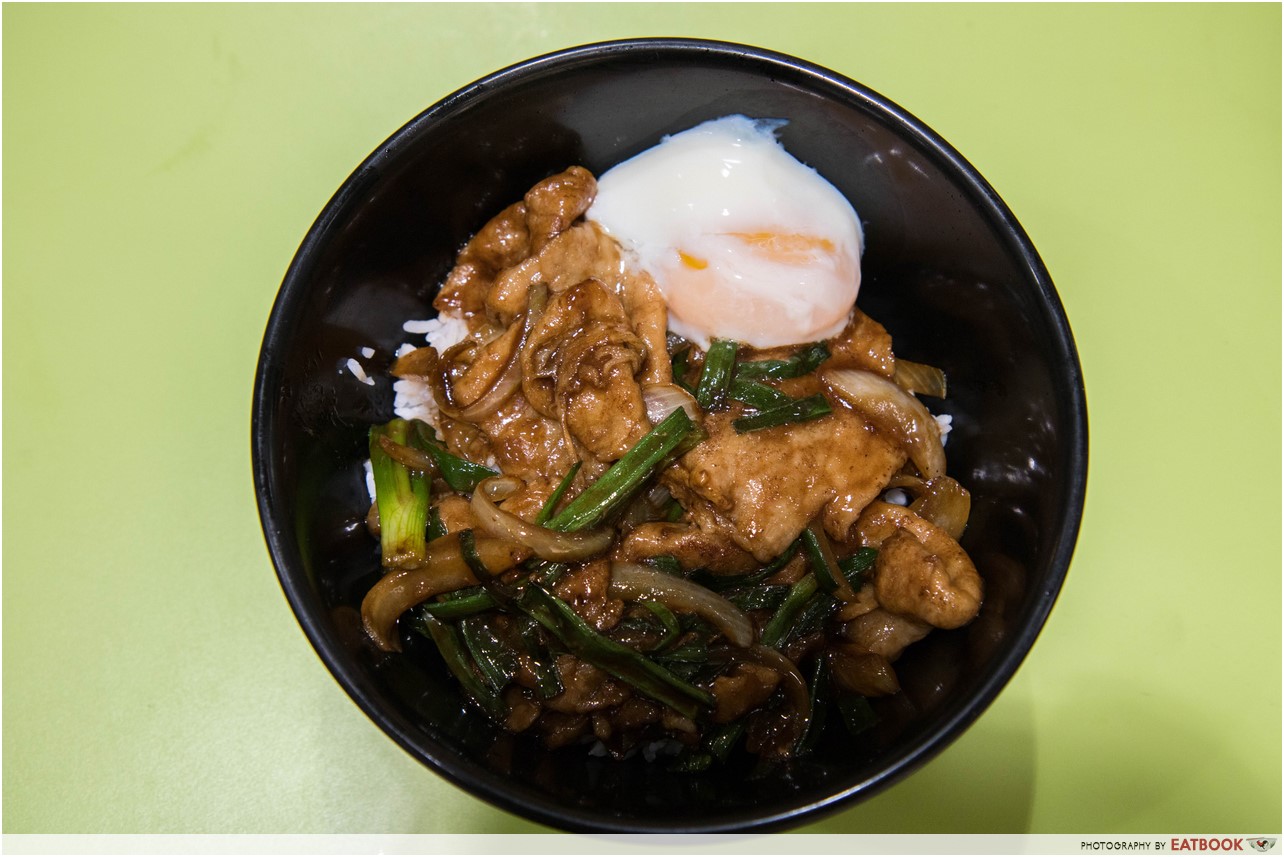 We moved on to Spring Onion Pork Rice ($4.50) and added an Onsen Egg ($0.60). This dish is as straightforward as it sounds; it's basically rice topped with stir-fried pork and spring onions.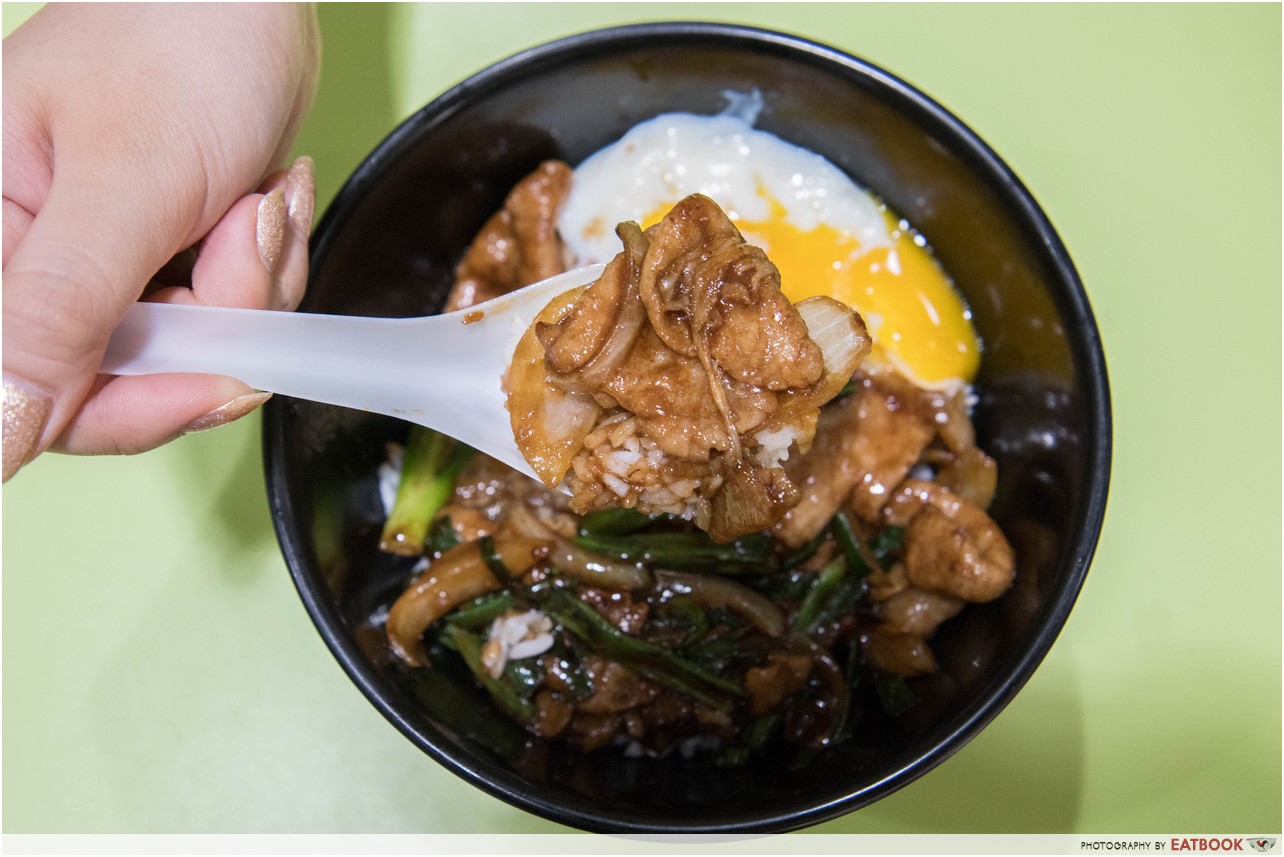 Unlike the beef rice bowl, this had no hint of black pepper, and was more sweet than savoury or spicy. The spring onions along with the larger slices of onions added crunch and a touch of freshness to each bite, while the molten yolk acted like a sauce and binding agent that brought all the components of the dish together.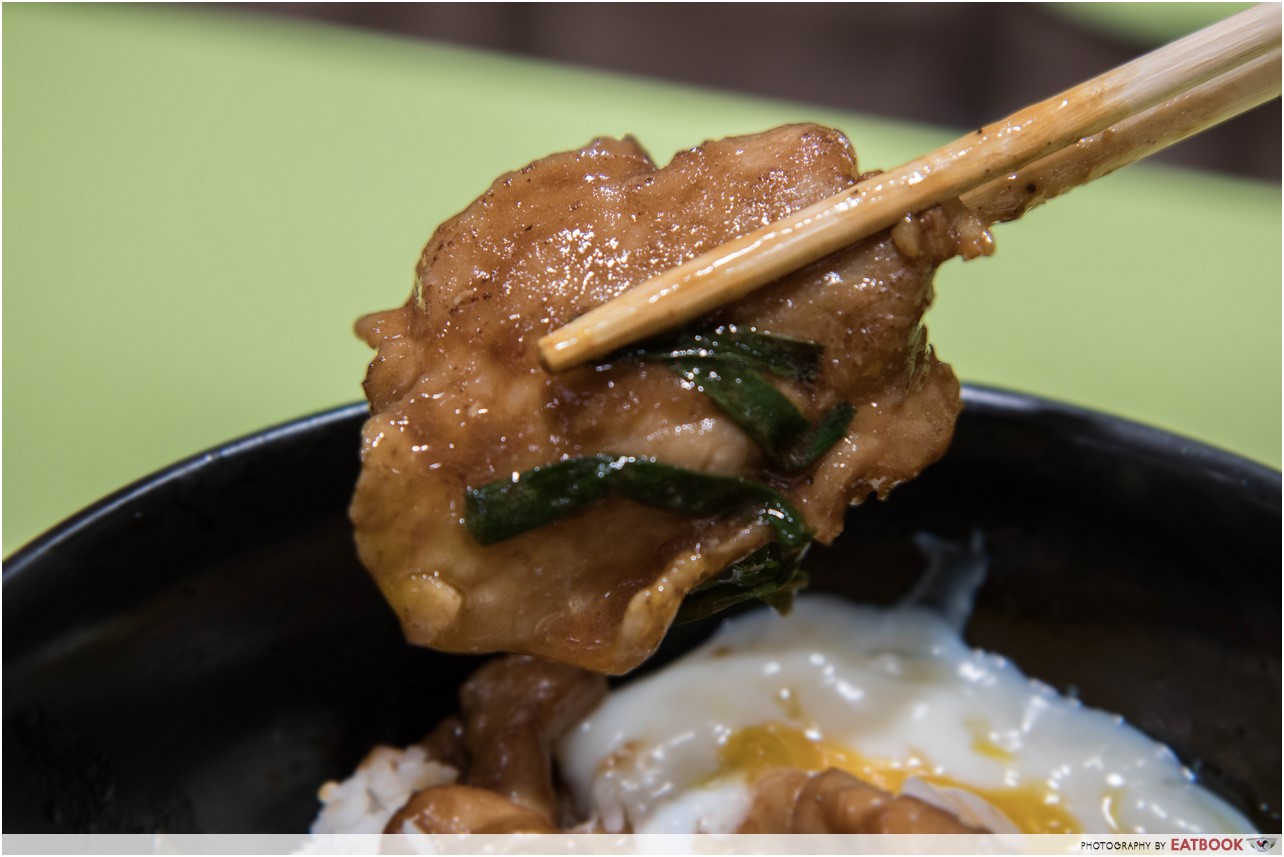 The pork was glazed in a sweet, sticky sauce and was unbelievably lean. That being said, it was still extra tender and succulent.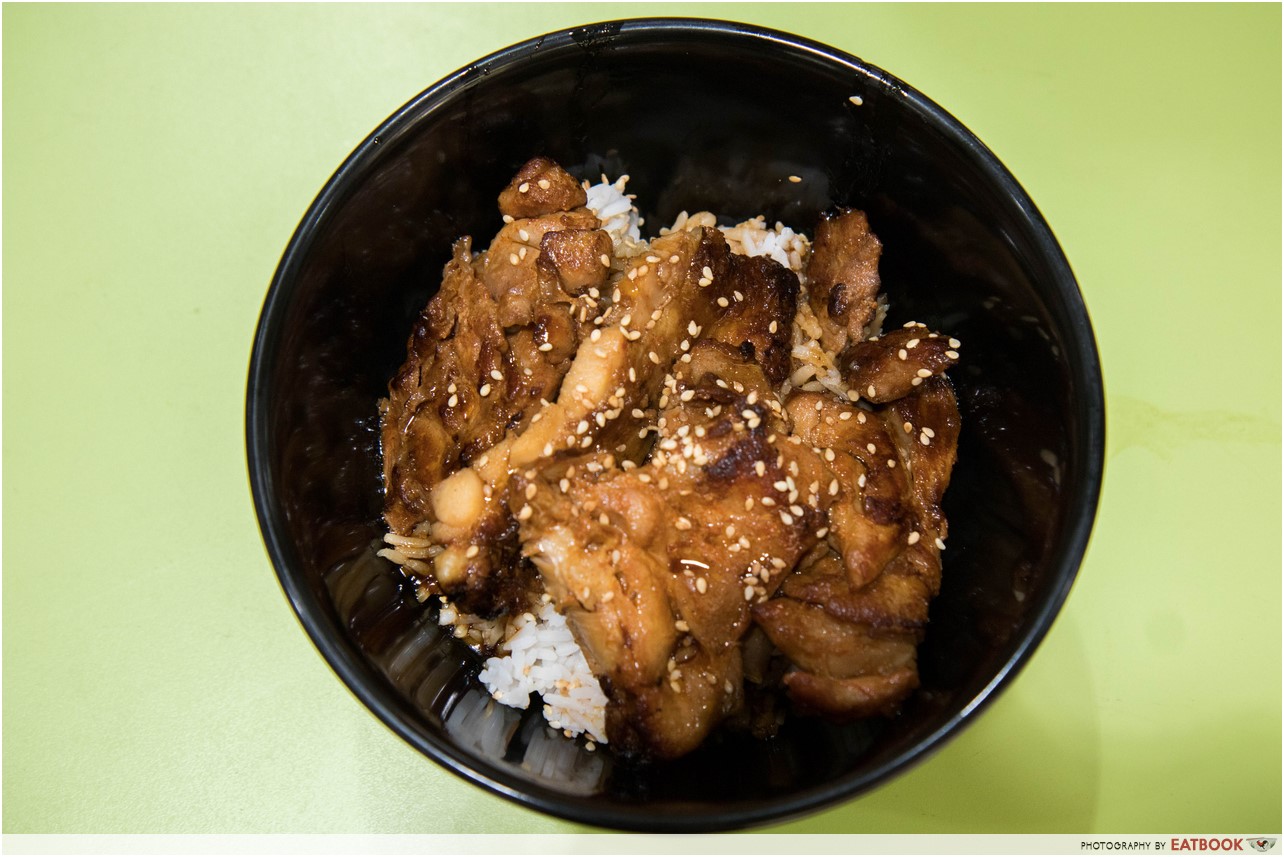 Chicken Chop Rice ($4) took on a slightly different flavour profile from the rest of the dishes and didn't come with gravy. Unlike the previous bowls that were cooked a la minute, the chicken was fished out from a metal container.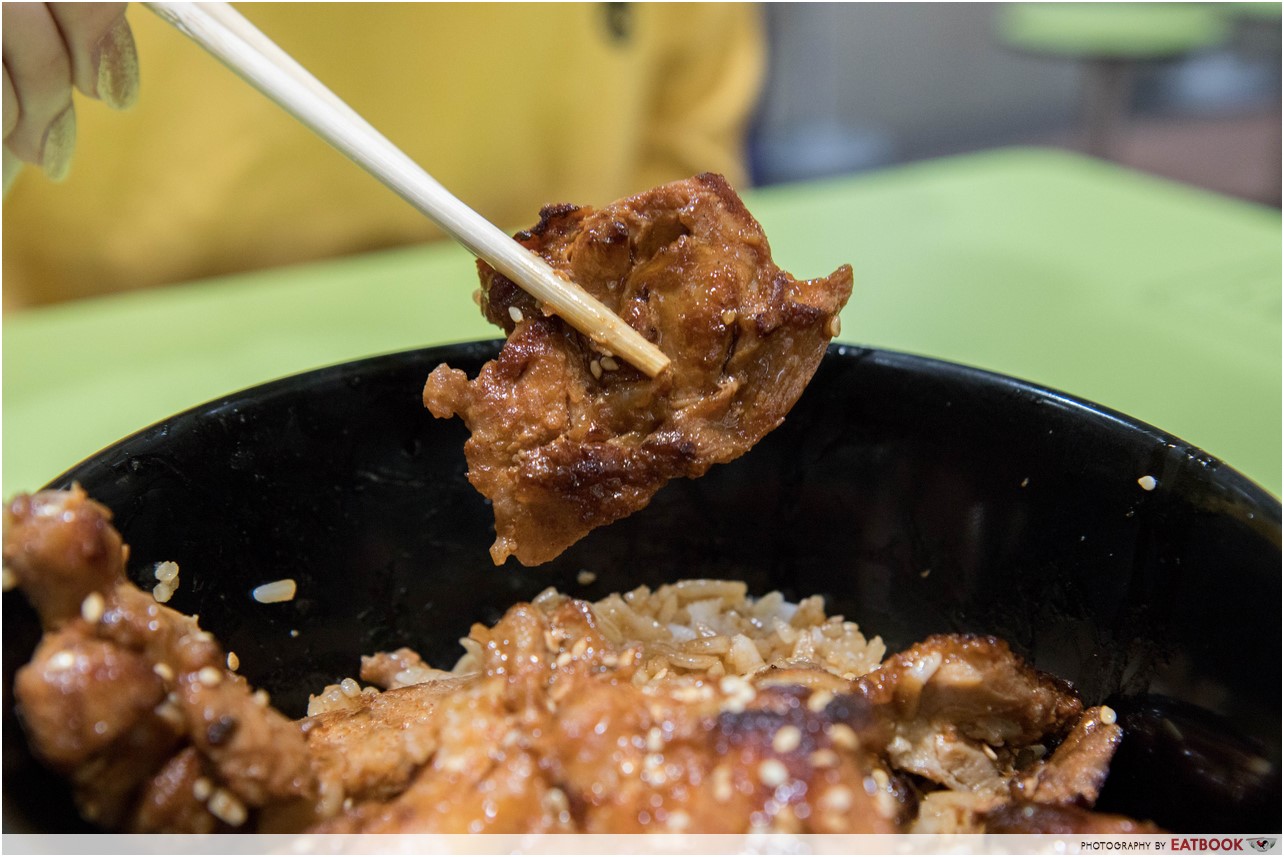 Covered in a light drizzle of watered-down teriyaki sauce, the rice proved to be too dry after I finished the top layer. The grilled chicken thigh, however, had a strong garlic flavour, and a subtle sweetness from the teriyaki sauce, along with nuttiness from white sesame seeds. The meat itself was a tad too tough for my liking, and that surprised me given that chicken thigh was used. Nonetheless, the generous portion of chicken given deserves a mention.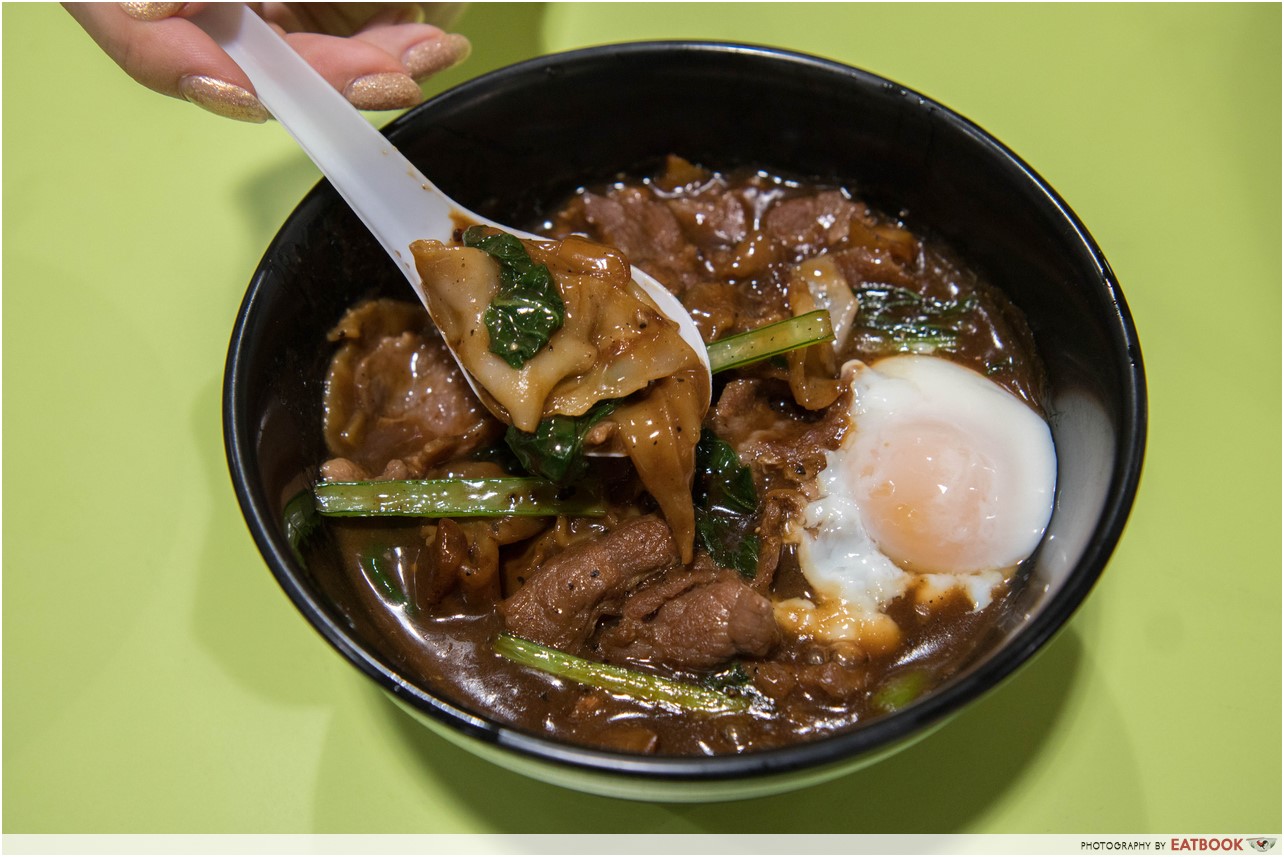 Though rice is my ultimate love, hor fun is one zi char classic I can never decline. Plus, I wanted to know how Black Pepper Beef Hor Fun ($5) would taste like with the addition of an Onsen Egg ($0.60).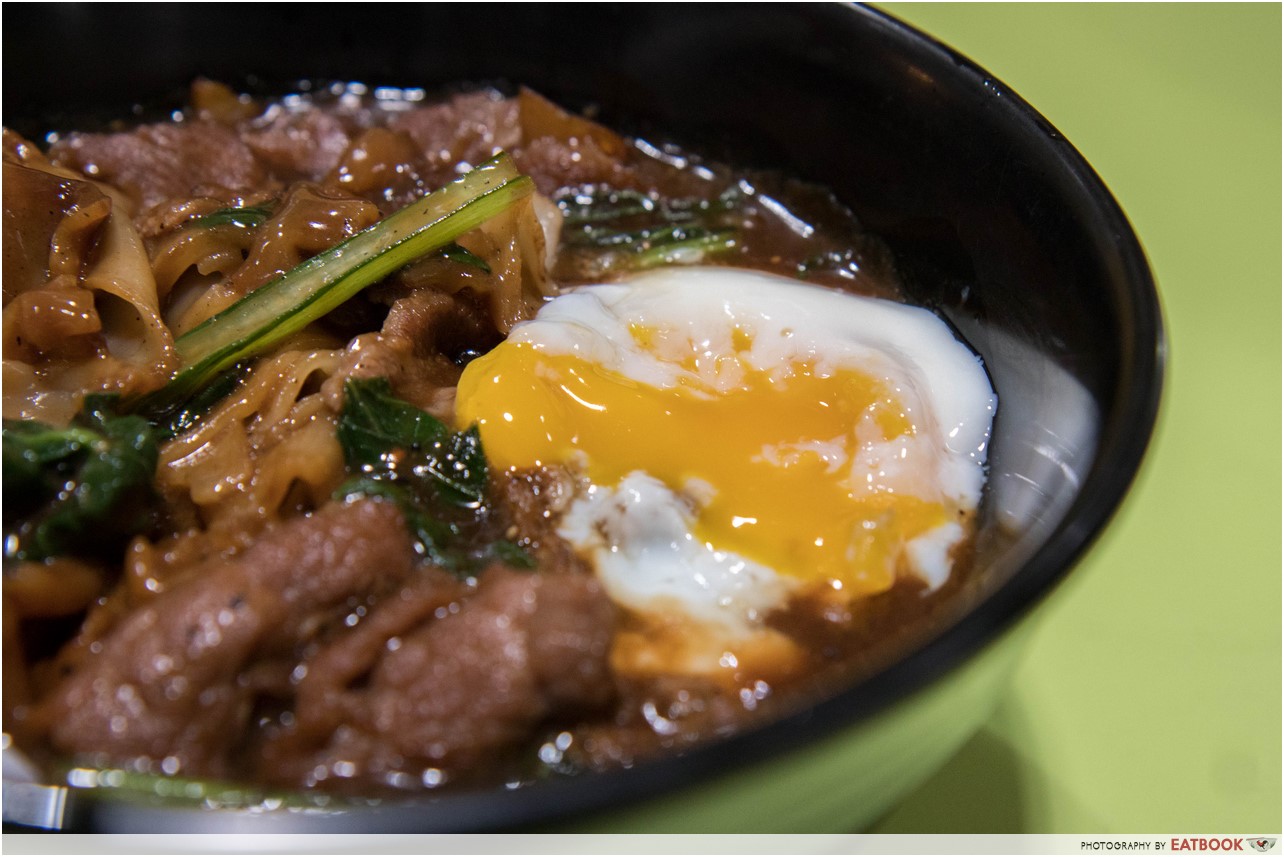 The flat rice noodles were cut into short strips, making it easier for a lazy eater like me to slurp them down. The thick hor fun gravy was thickened with cornstarch, and clung to each strand of noodle. Crunchy pieces of vegetables offered some textural contrast to the silky smooth hor fun and gravy.
I expected the beef to taste the same as the one in the beef rice bowl, but surprisingly, this had thicker cuts of beef with a higher fat-to-meat ratio. The intensity of the black pepper was extremely strong for this dish, so take caution if you're not into spicy food. Other than helping to thicken the gravy, the onsen egg failed to deliver flavour of other sorts – or perhaps it was simply masked by the assault of black pepper.
Ambience at Pepper Bowl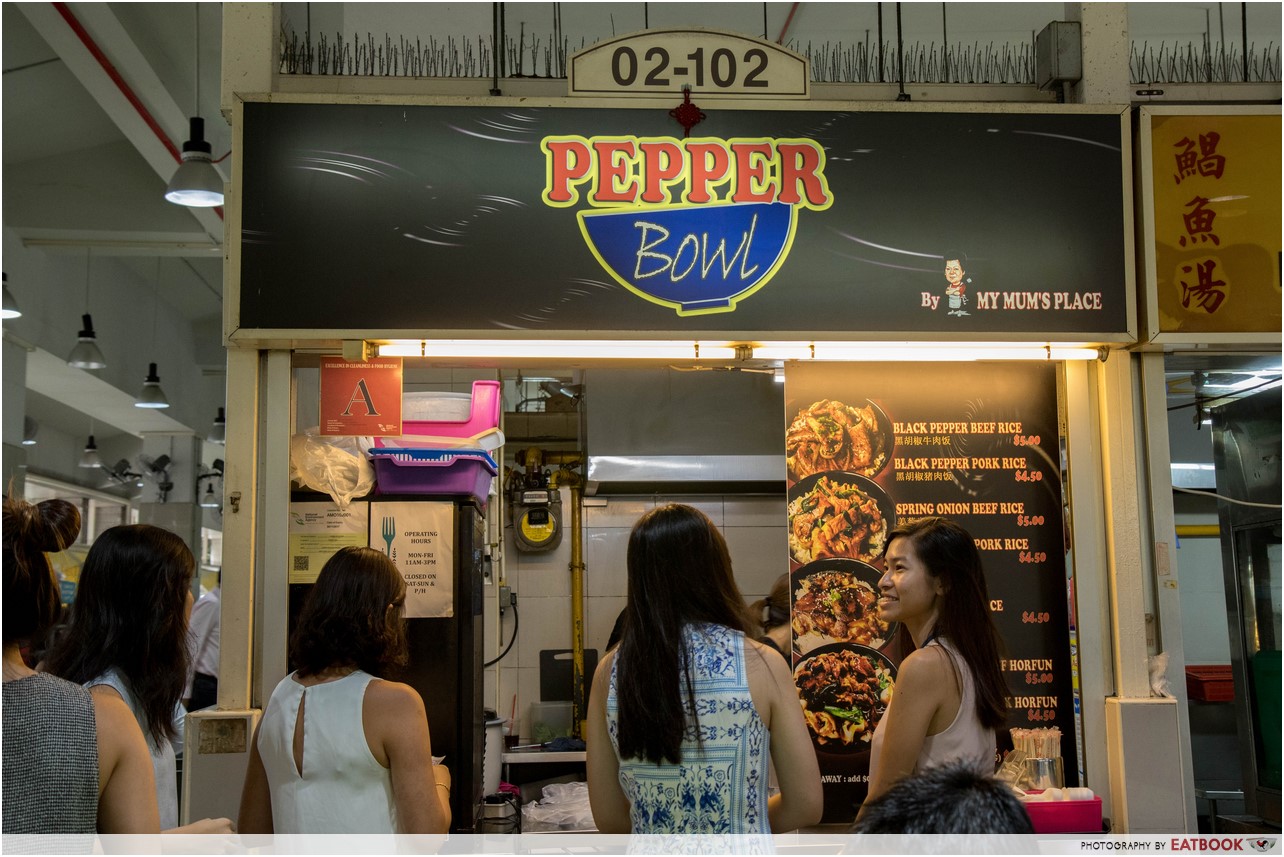 Located on the second floor of the bustling Amoy Street Food Centre, Pepper Bowl often has a snaking queue during lunch hours. Thankfully, the chef can dish out bowl after bowl quite quickly.
The verdict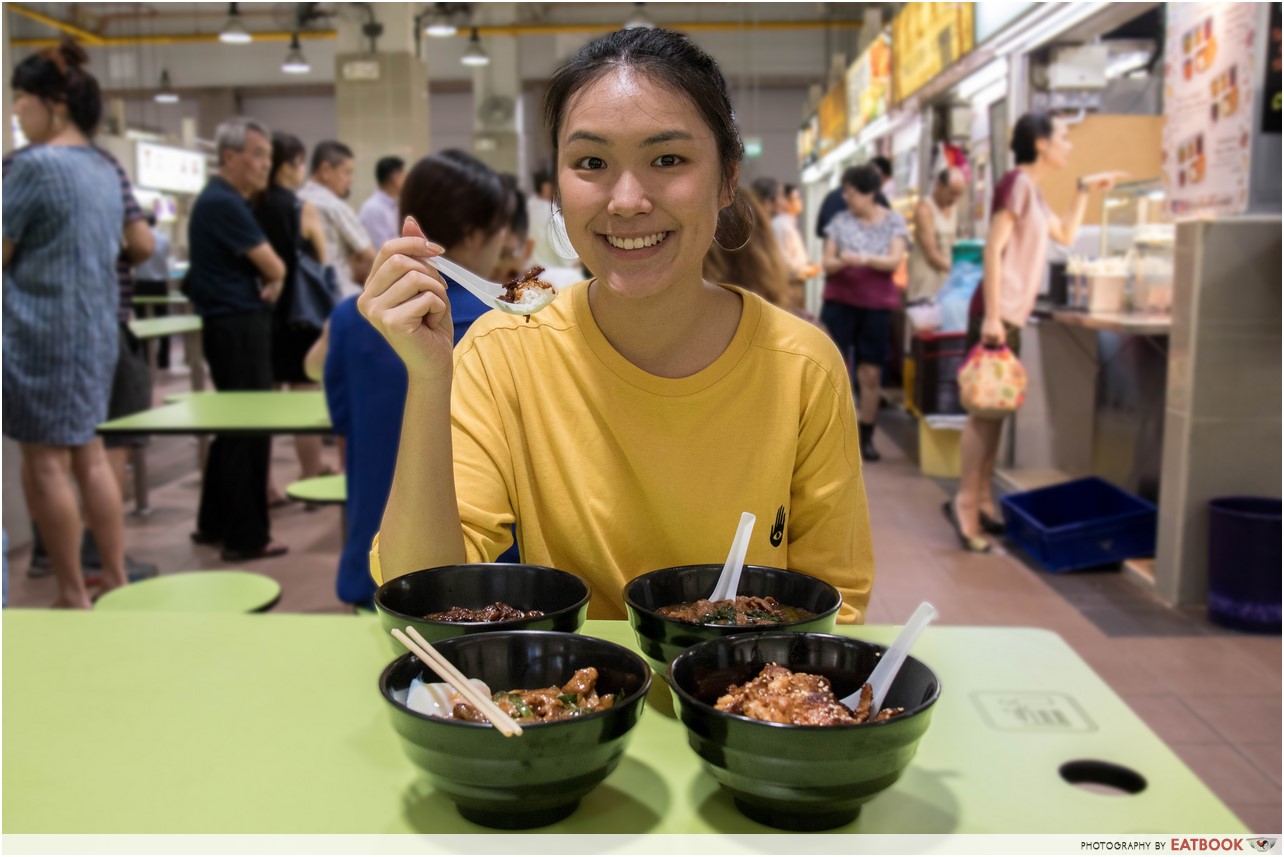 I'm not one who believes in waiting for food, 'cause ain't nobody's rumbling belly got time for that. But with Pepper Bowl's tasty bowls of carbs and meat, you might just spot me in the lunch queue someday, with one hand holding my grumbling tummy and the other impatiently scrolling through Instagram. For those who are craving for Western fare, check out Taste Affair, which is also at Amoy Street Food Centre.
Address: 7 Maxwell Road, #02-102, Amoy Street Food Centre, Singapore 069111
Opening hours: Mon-Fri 11am to 3pm
Pepper Bowl is not a halal eatery.
This is an independent review by Eatbook.sg. 
Summary
Pros
– Affordable
– Fast service
– Tasty food
Cons
– Long queue during lunch hours
Recommended Dishes: Black Pepper Beef Hor Fun ($5), Spring Onion Pork Rice with Onsen Egg ($5.10), Black Pepper Beef Rice ($5)
Operating Hours:
Monday – Friday 11am to 3pm
Address: 7 Maxwell Road, #02-102, Amoy Street Food Centre, Singapore 069111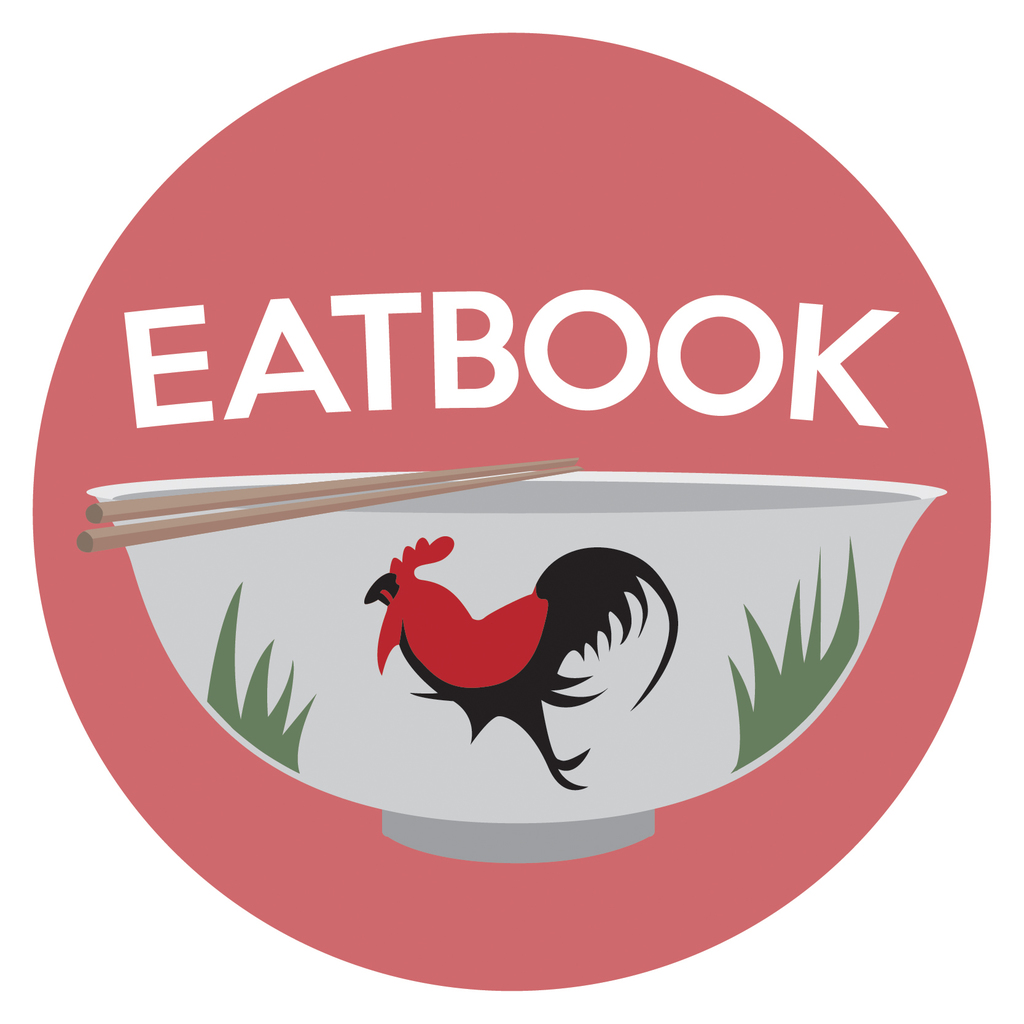 Drop us your email so you won't miss the latest news.