Nothing more than $8 at Taste Affair

Update: Taste Affair is now permanently closed.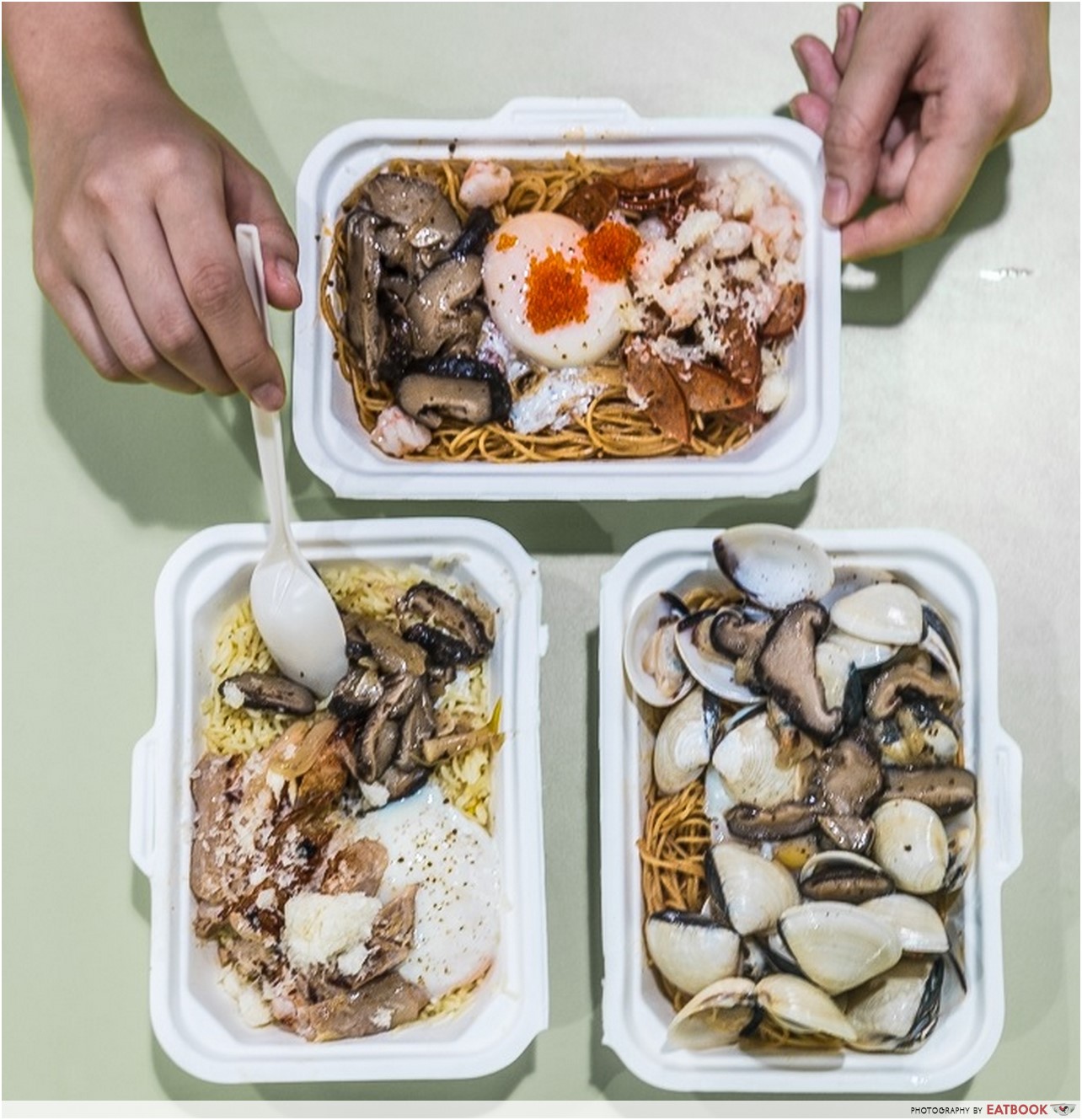 If the scene of Alfredo communicating with Remy hidden in his chef's hat in the movie 'Ratatouille' looks complicated, try conversing with a waiter blabbering French food terms at a legit French restaurant. As much as I love moi a good plate of pasta, French cuisine gives me the jitters at times because I link it to engaging in tongue-twisting conversations and, even more so, exorbitant prices.
Thankfully, Chef Joshua Khoo, who co-founded Saveur in 2011, continues to whet our appetite with affordable pasta at his new stall in Amoy Street Food Centre. With a menu that doesn't include complicated names or insanely high prices, Taste Affair is worth a try if you're up for some frills-free Western food.
Food at Taste Affair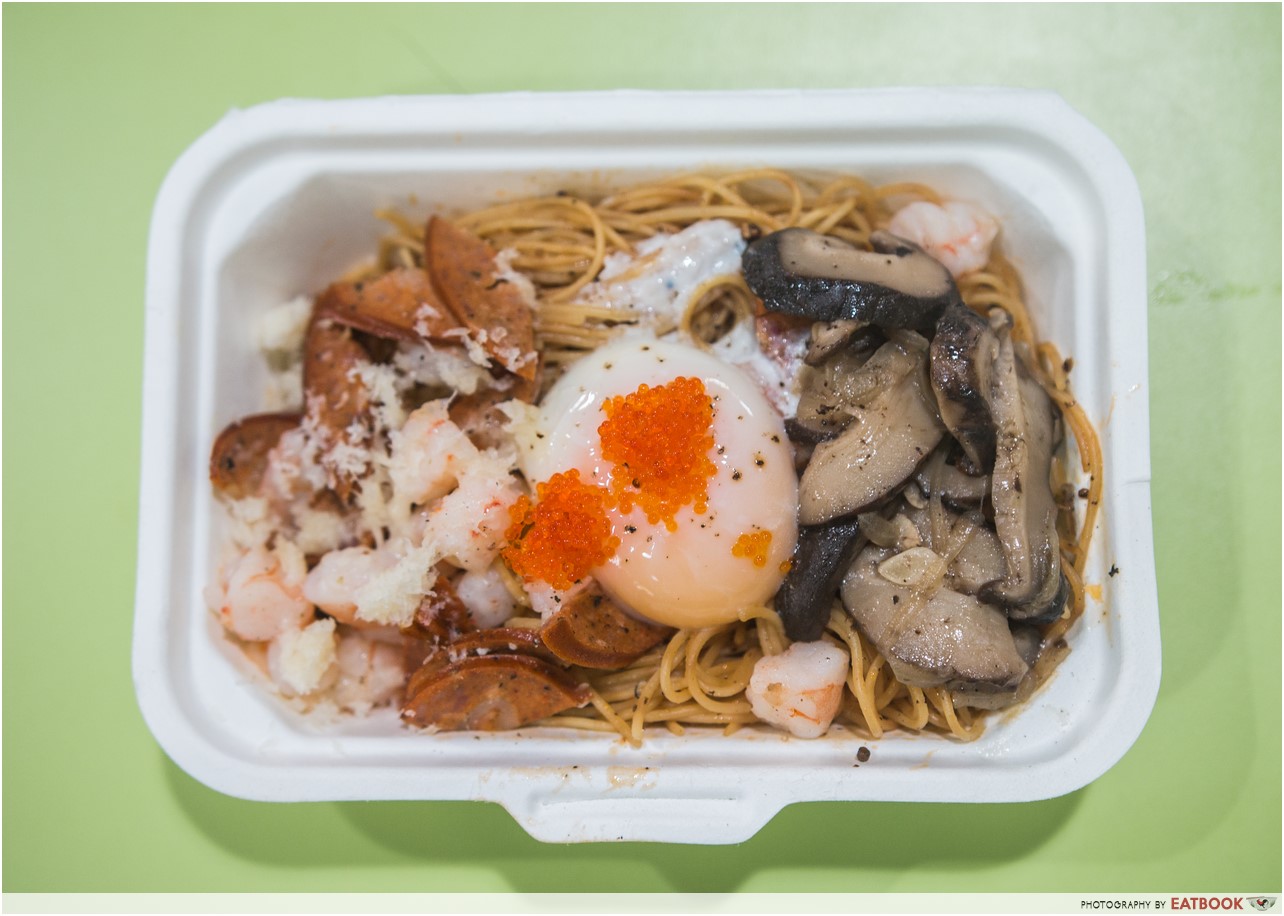 If fusion pasta is your thing, try Diced Prawn & Chorizo Sausage with Angel Hair Pasta ($7). This features angel hair pasta cooked in the style of aglio olio, along with a generous amount of sauteed mushrooms, diced prawns, chorizo and a wobbly onsen egg topped with tobiko.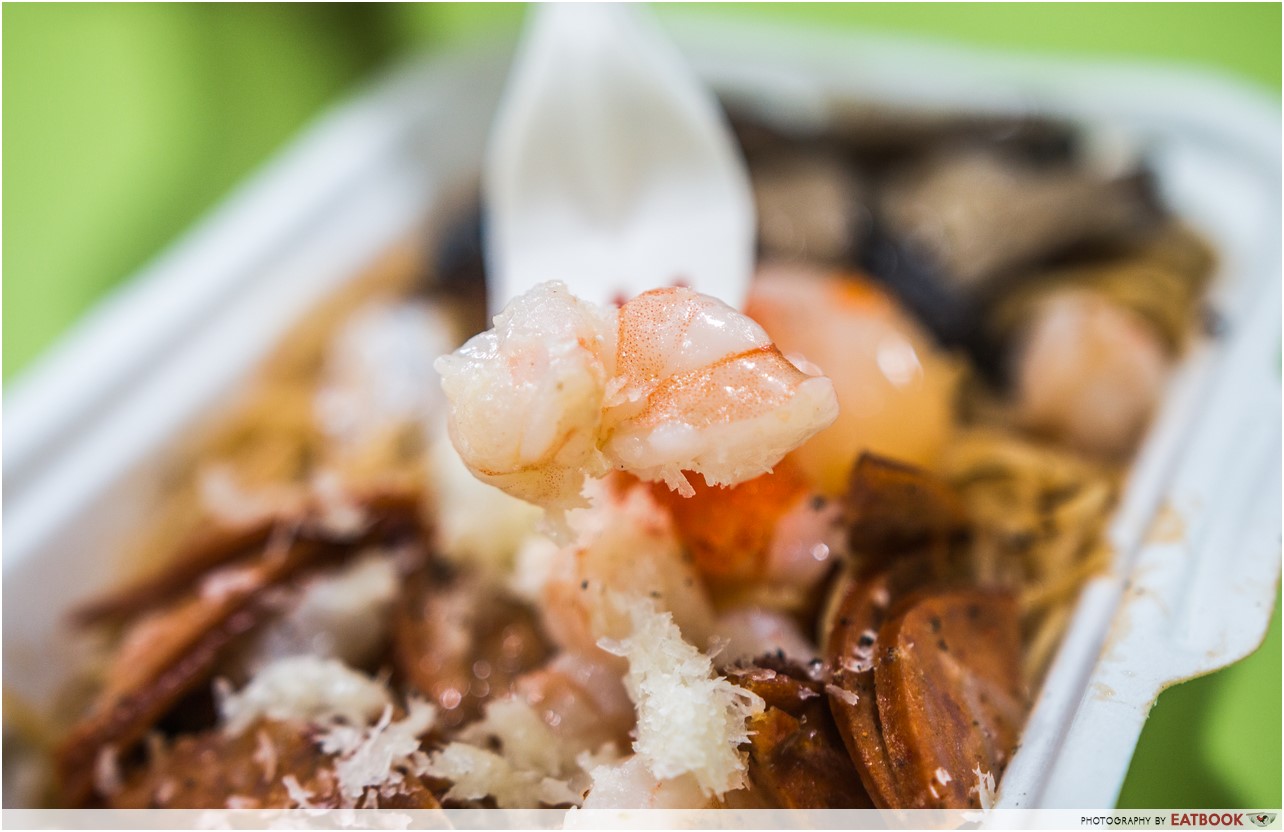 I generally don't enjoy crustaceans, so I surprised myself by almost wiping the diced prawns in this dish clean. Fresh, crunchy and slightly sweet, it provided a good textural contrast to the angel hair pasta.
On the flip side, some components of this dish was slightly too dry for my liking. The pasta oddly reminded me of mee goreng and the chorizo, while imparting a salty and spicy kick to the dish, felt like cardboard on my tongue. Thank heavens for the ooey-gooey onsen egg which made for a great sauce, and the well-seasoned sauteed mushrooms that burst with juices.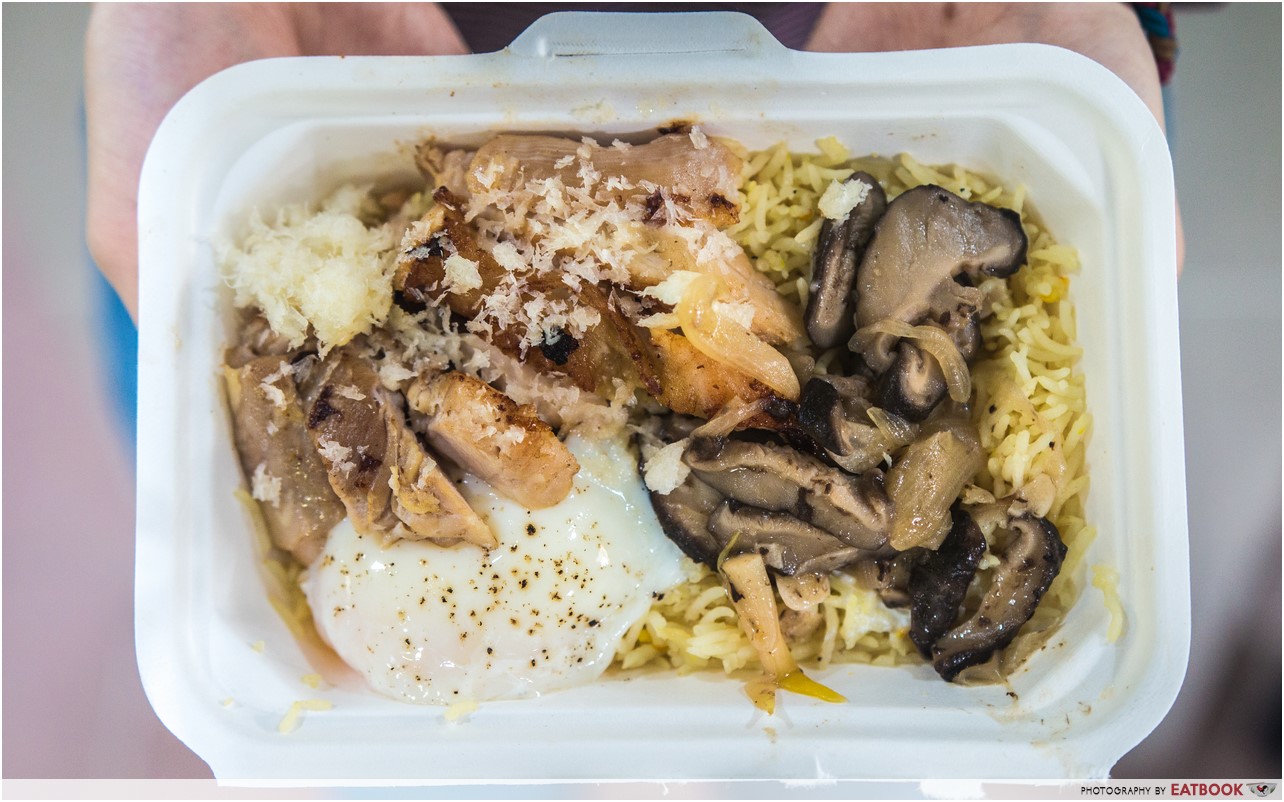 This is the dish I would revisit Taste Affair for – Poach Chicken Leg with Flavoured Rice ($5). Fluffy and aromatic, each grain of herby and flavourful rice lost no time in winning me over.
The pièce de résistance of this dish is definitely the poached chicken thigh. Despite having a small amount of fat, the chicken managed to retain moisture and was extremely tender and succulent. Bring the taste up a notch by pairing it with the grated parmesan cheese in the dish.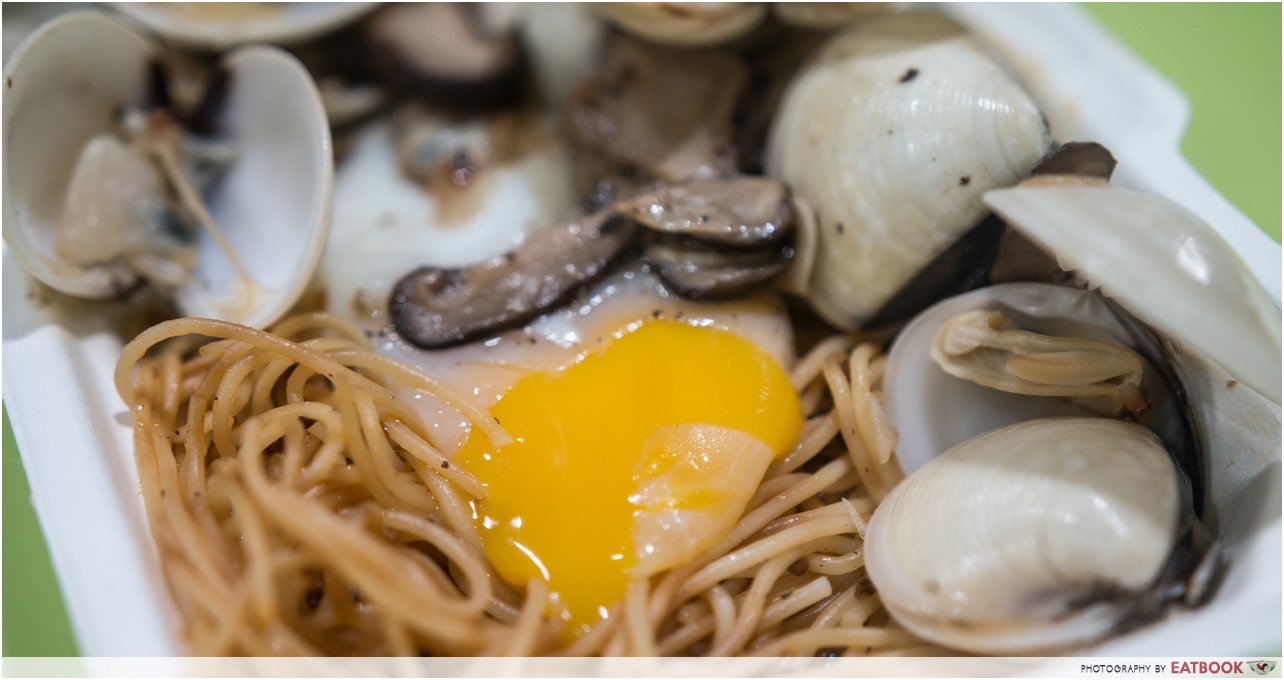 While queueing up, I overheard a lady in front of me mention that Sake Butter Clam with Angel Hair Pasta ($6) is one of their bestsellers. Hearing a positive comment about a dish I was intending to order hyped me up quite a bit, and made queueing less painful because it got me expecting a good plate of alcohol-infused clam pasta as my reward.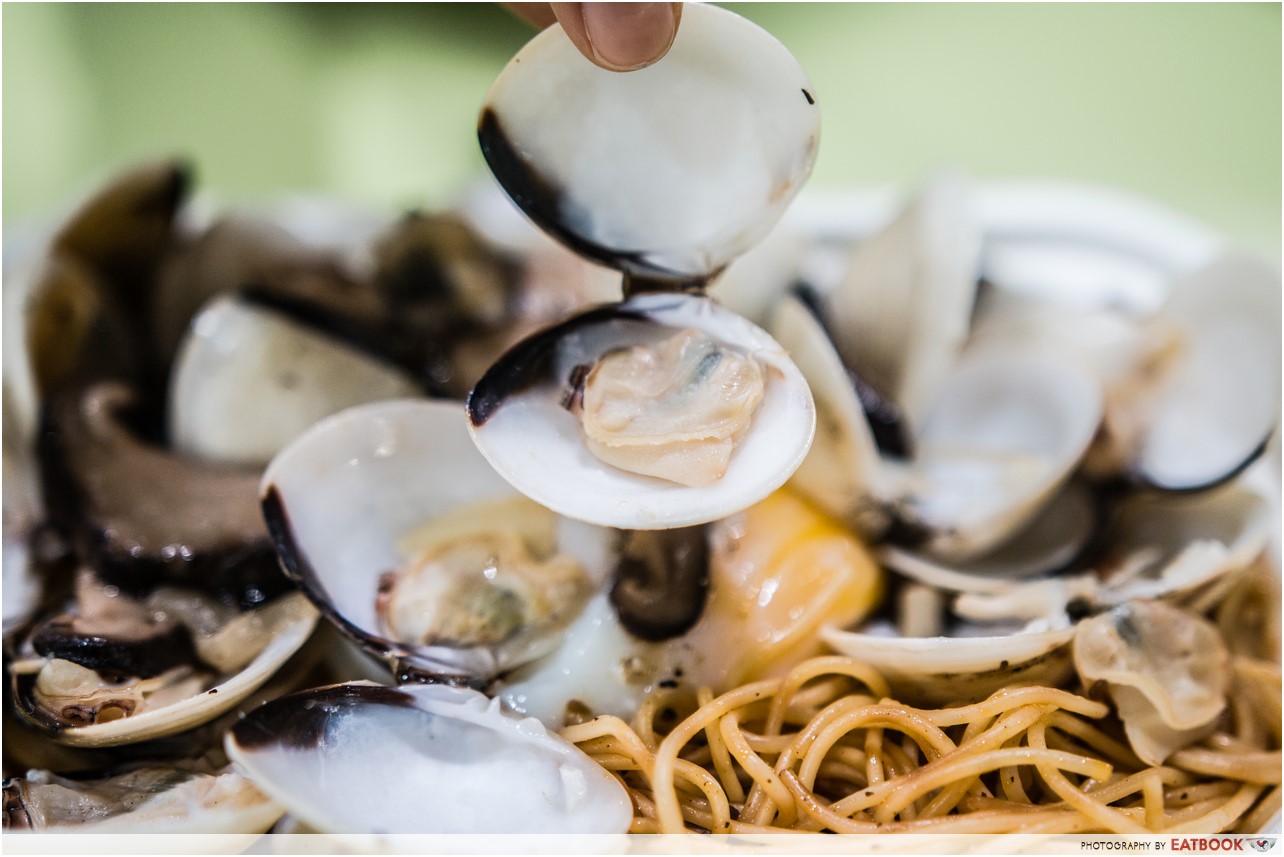 I appreciated the generous portion, but this dish still fell short of my expectations. The clams were tough and rubbery, and exuded a fishy smell that overwhelmed other components. More disappointingly, there was absolutely no hint of sake in the dish, though sake is explicitly mentioned in its name.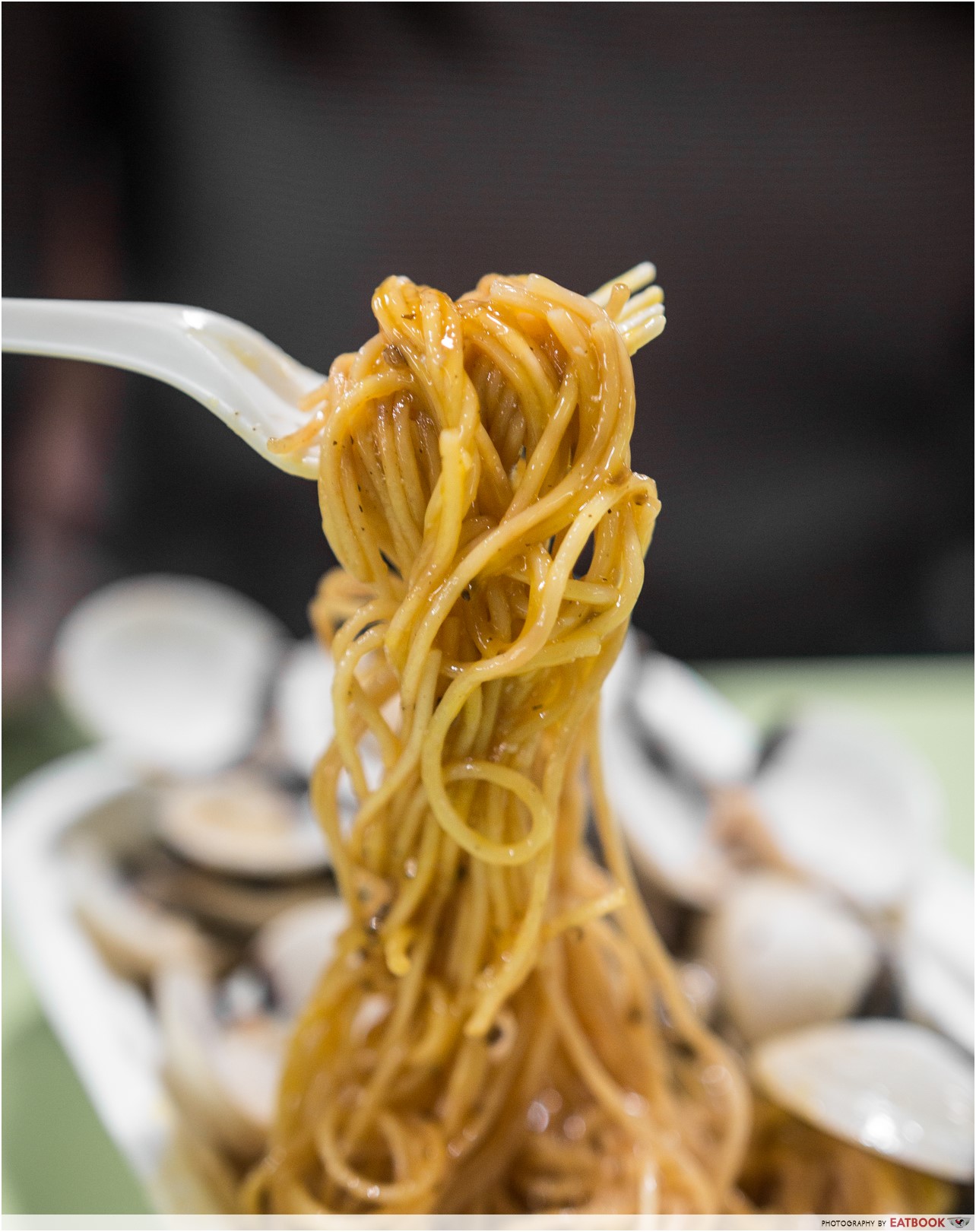 The pasta is, however, worth a mention. I expected the angel hair pasta in both pasta dishes to taste the same, but that was not the case. Each strand of pasta here was coated in a thin film of sauce, and reminded me of an ang moh rendition of Cantonese braised ee-fu mee.
Ambience at Taste Affair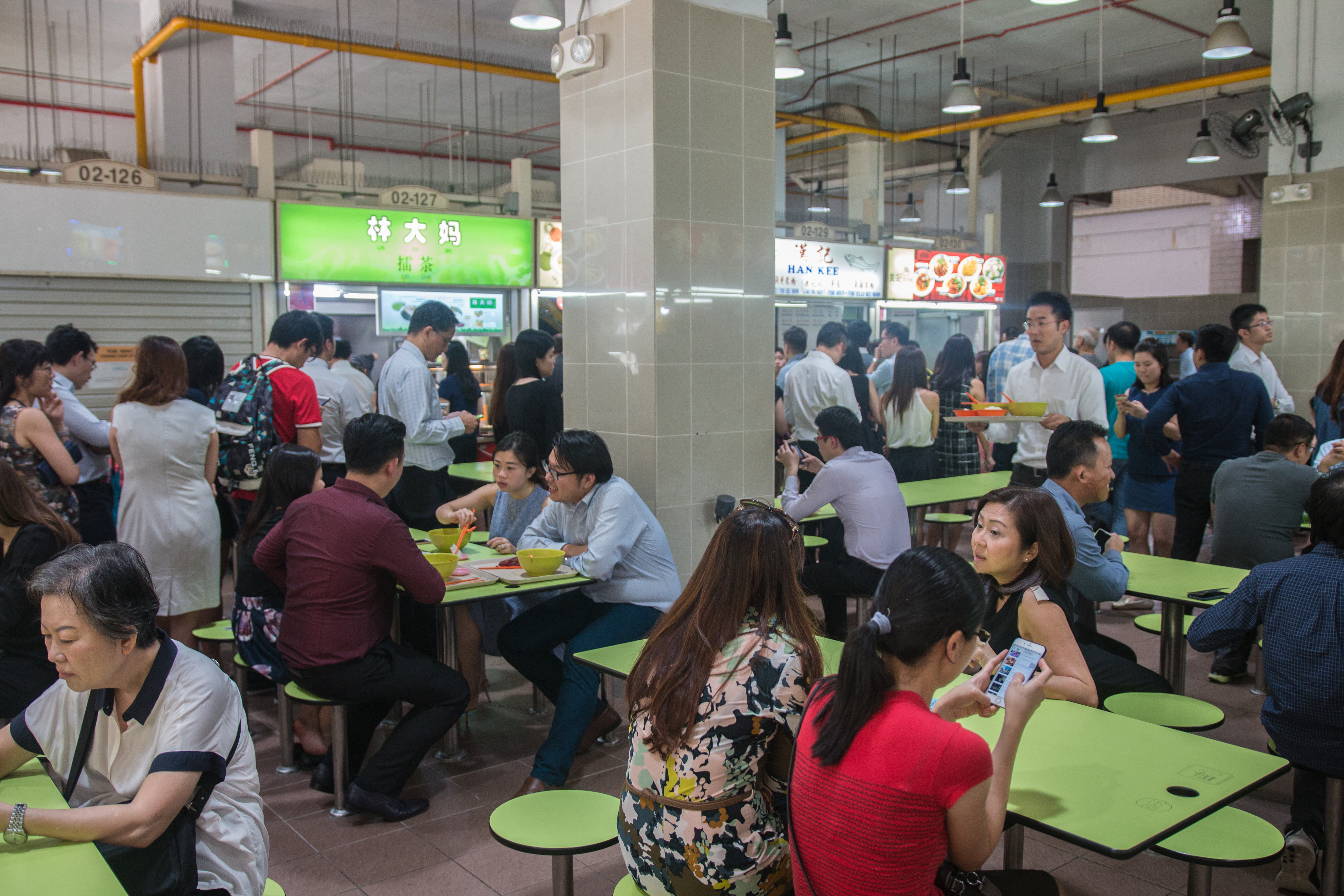 I thought we could siam the crowd by making a trip down before lunch hour, but we still had to squeeze with people from the long queue that was forming at the stall beside: Han Kee Fish Soup. Also, Taste Affair is currently a two-man show, so be prepared to wait quite a bit while they whip up your order on the spot.
The verdict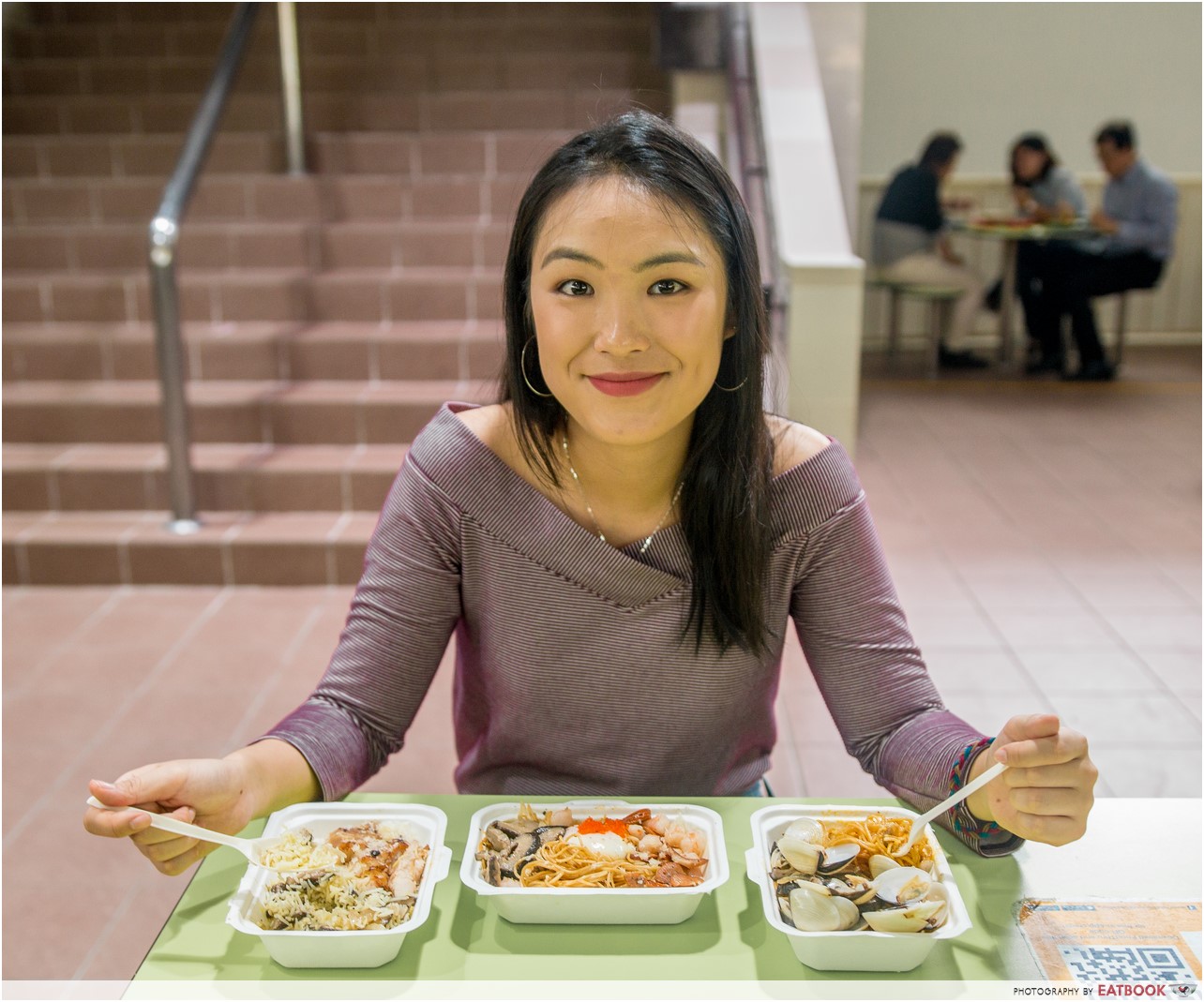 Though thoroughly impressed by their affordable prices, I would not specially head down to Taste Affair unless I happen to be in the vicinity and have some time to spare.
Address: 7 Maxwell Road, #02-128, Amoy Street Food Centre, Singapore 069111
Opening hours: Daily 10:30am to 3pm
Tel: 9139 5870
This is an independent review by Eatbook.sg.
Summary
Pros
– Affordable
– Convenient location
– Food is cooked upon ordering
Cons
– Long waiting time
– Crowded during lunch hours
– Stuffy surroundings
Recommended Dishes: Poach Chicken Leg with Flavoured Rice ($5)
Operating Hours:
Daily 10:30am to 3pm
Tel:
9139 5870
Address: 7 Maxwell Road, #02-128, Amoy Street Food Centre, Singapore 069111