Fasta dishes out fun, fast pasta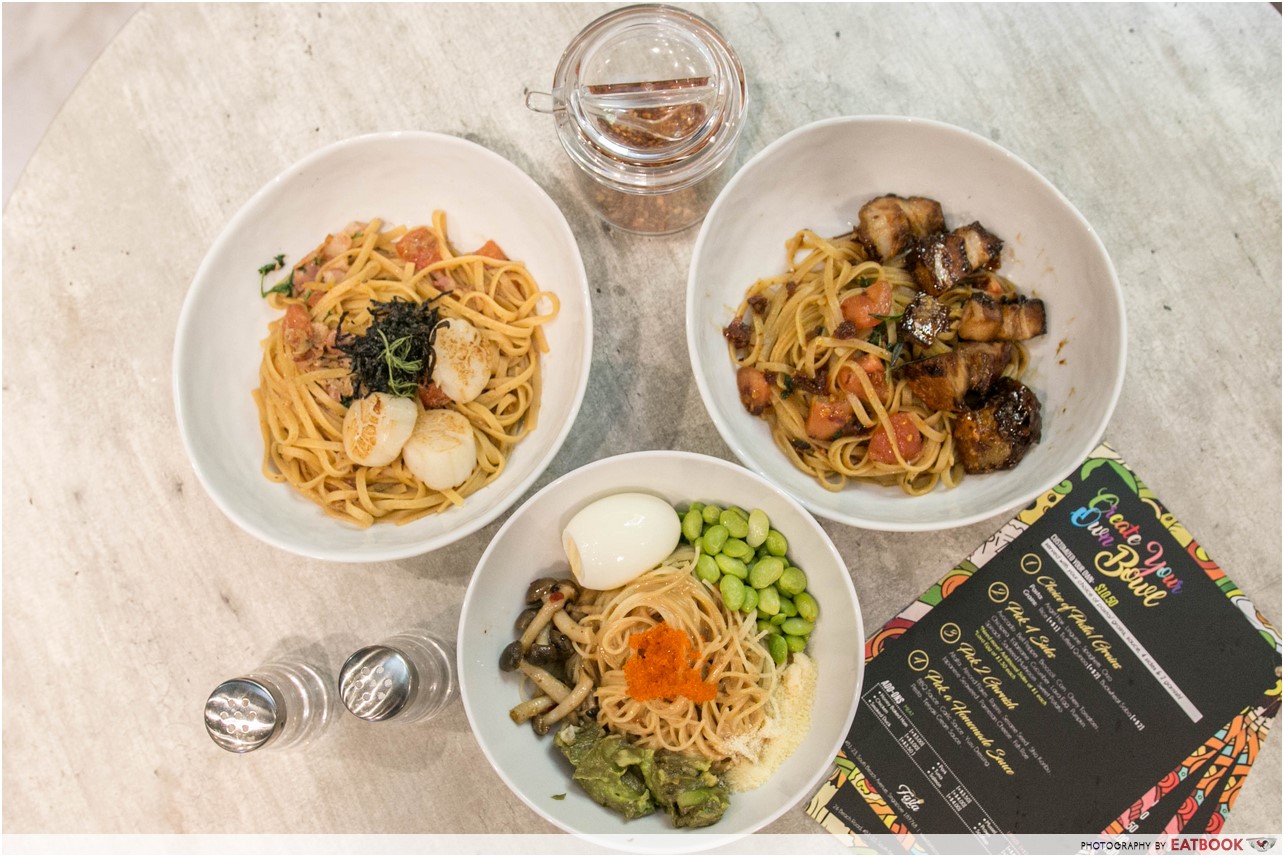 Pasta has always held a special place in my heart, probably because I am always craving carbs. Most of the time, I'm perfectly satisfied with a comforting plate of carbonara or simple aglio olio, but when you need a quick pasta fix with a twist, Fasta has got you covered. With many unique flavour combinations to choose from and an option to customise your pasta, you may just find your new favourite pasta dish here!    
Food at Fasta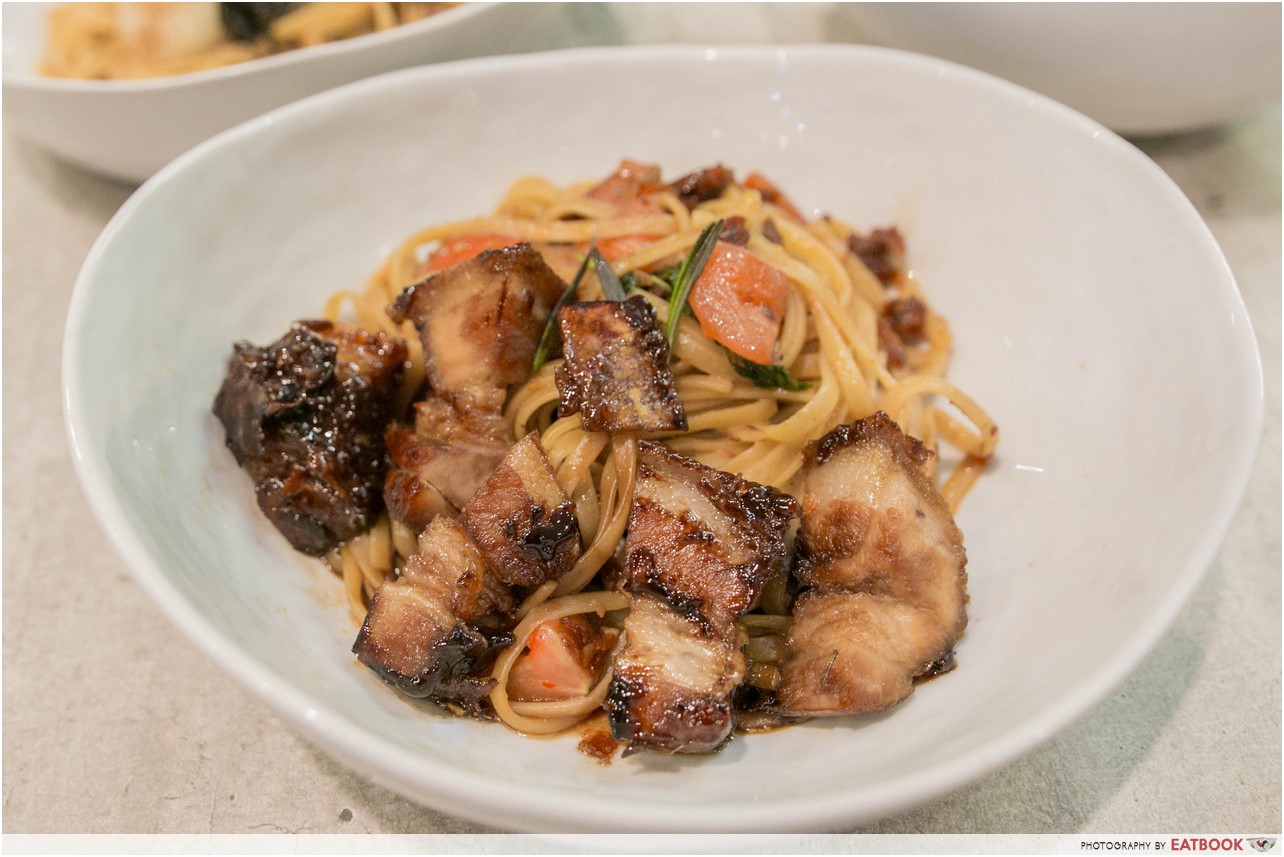 Sio Bah Mee ($13) is an "East meets West" dish, incorporating Chinese-style glazed pork belly with sun-dried tomatoes and pasta.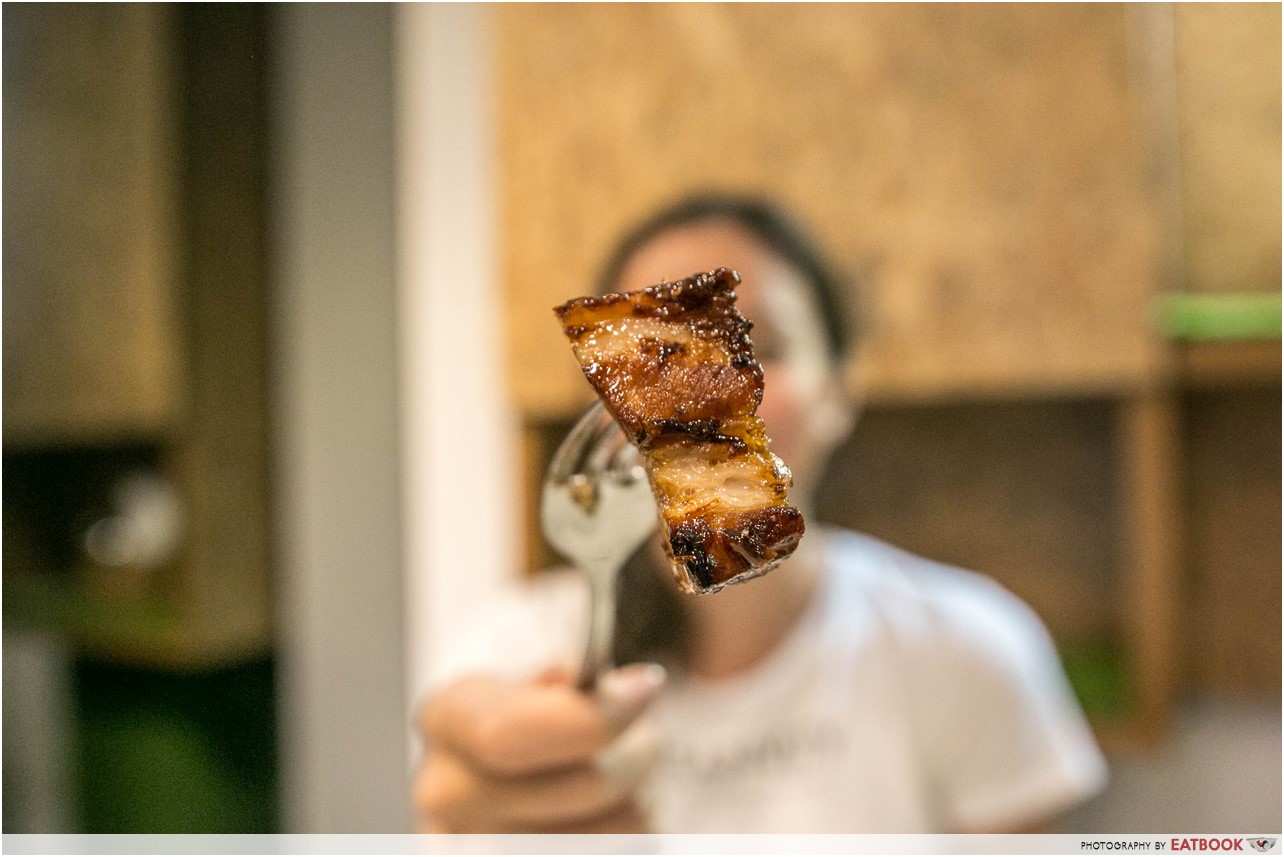 The large, juicy pieces of glazed pork belly had a smoky, roasted, char siew-like flavour. This complemented the tangy and sweet sun-dried tomatoes that added some freshness to the otherwise heavy dish. There were also small slices of chilli throughout the noodles that added a hint of spiciness. If you enjoy strong or more robust flavours, this is a must-try.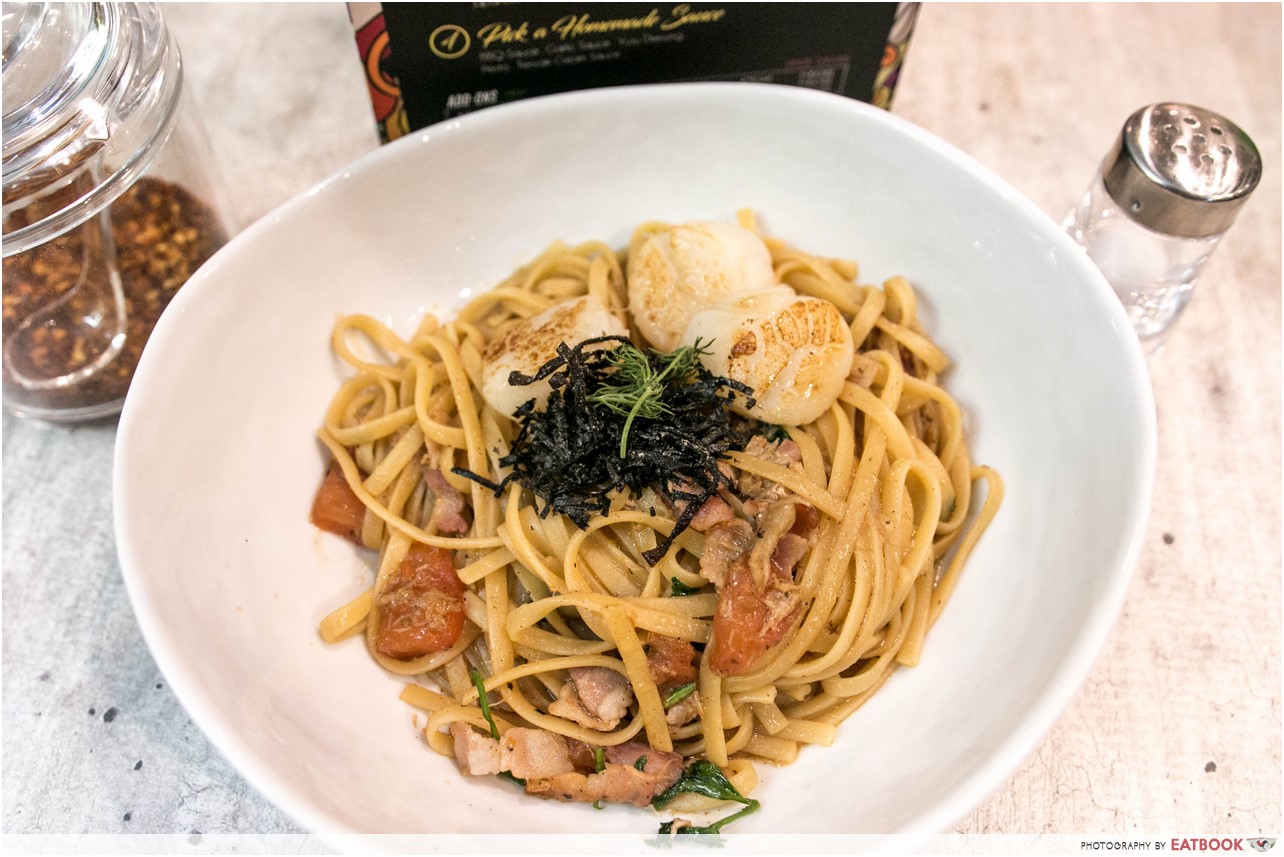 If you prefer something simpler, Scallop Wallop ($16) is another equally delicious option. This pasta dish consists of pan-seared scallops, crab meat, diced tomatoes and bacon bits.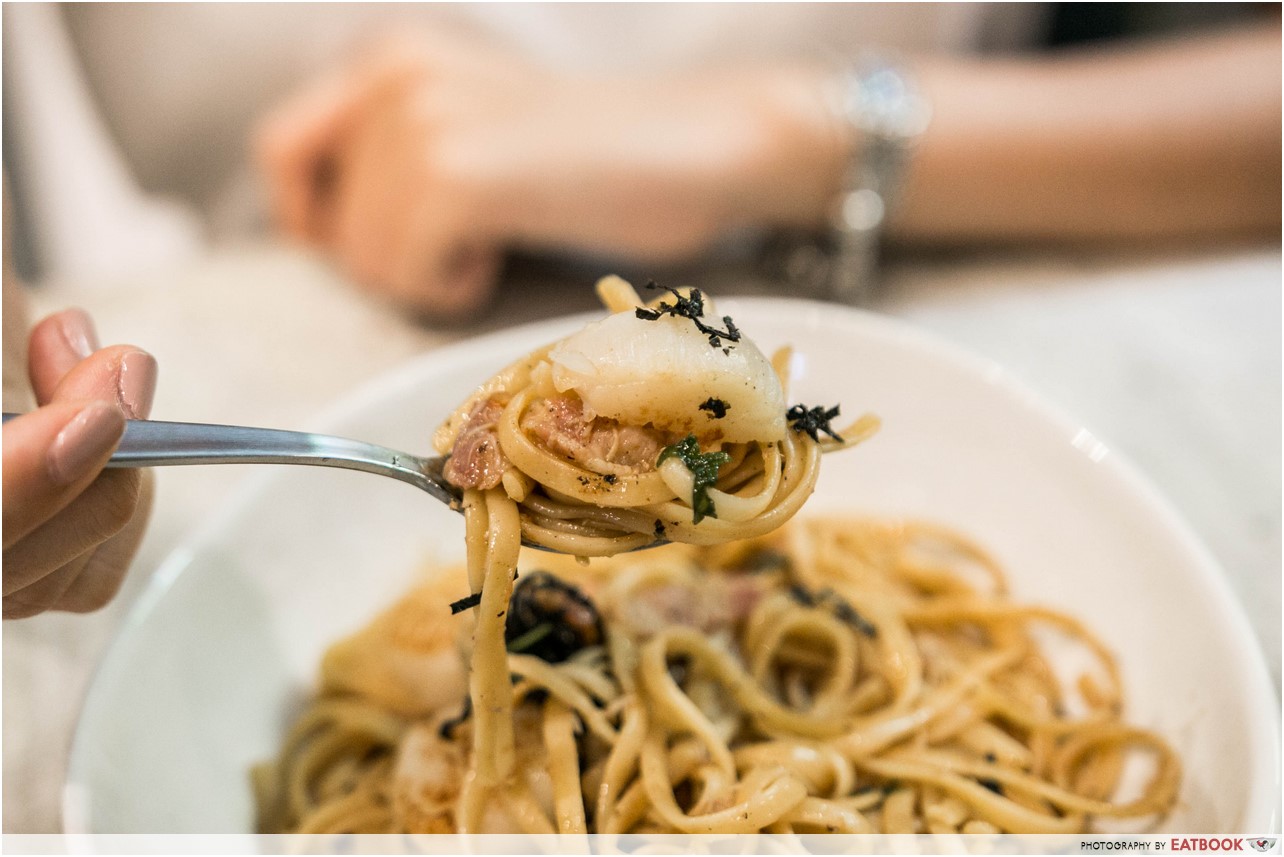 The scallops were done just right and were soft and easy to bite into. Cutting one in half was like slicing through butter with a warm knife. These scallops also tasted fresh and still retained their natural sweetness. Roasted seaweed strips gave the pasta more umami flavour, reminding me of Japanese dishes. The salty bacon bits provided a meatier, saltier flavour without clashing with the other components.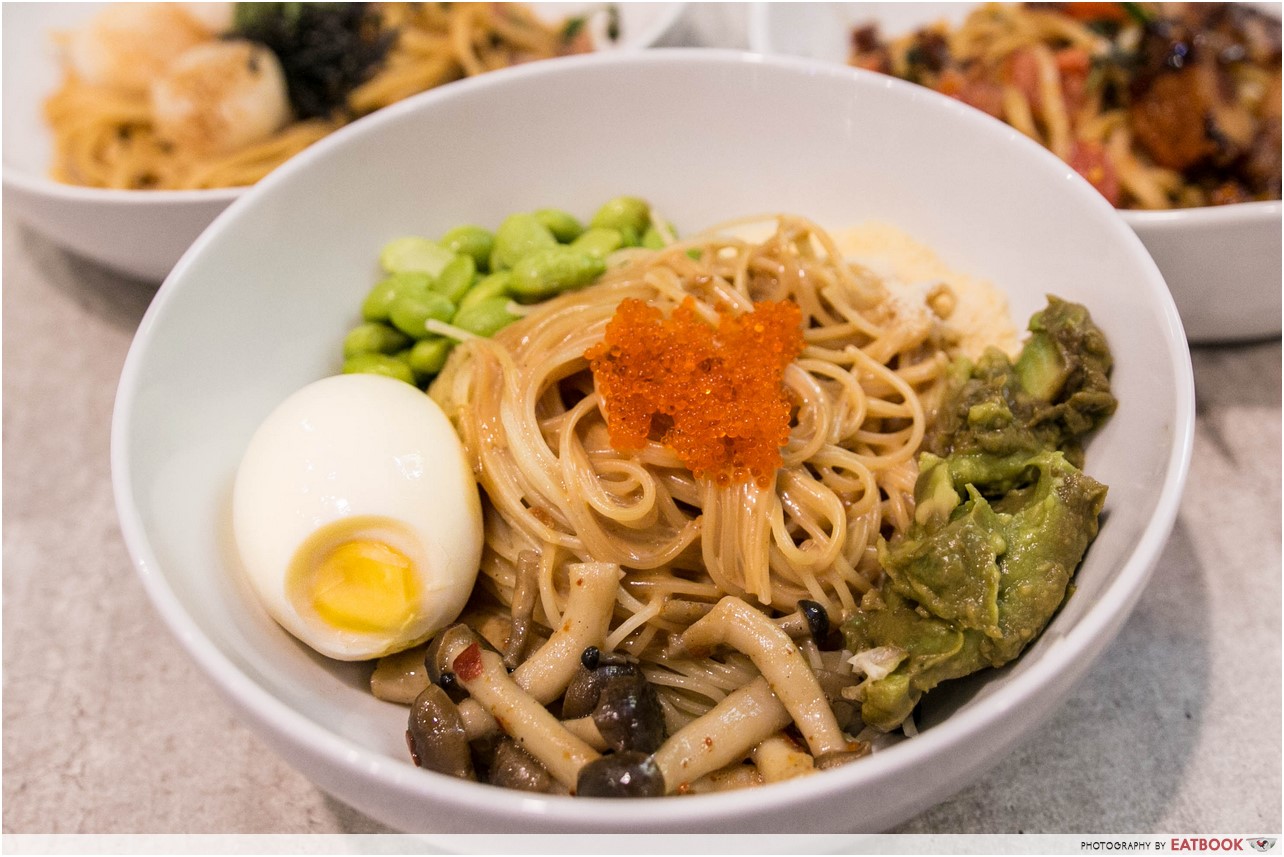 If you're still not impressed, you can always opt for a Create Your Own ($10.50) pasta that allows you to choose a base, four sides, two garnishes and a special sauce. You can add premium meats and extra toppings at a few dollars if you still aren't satisfied.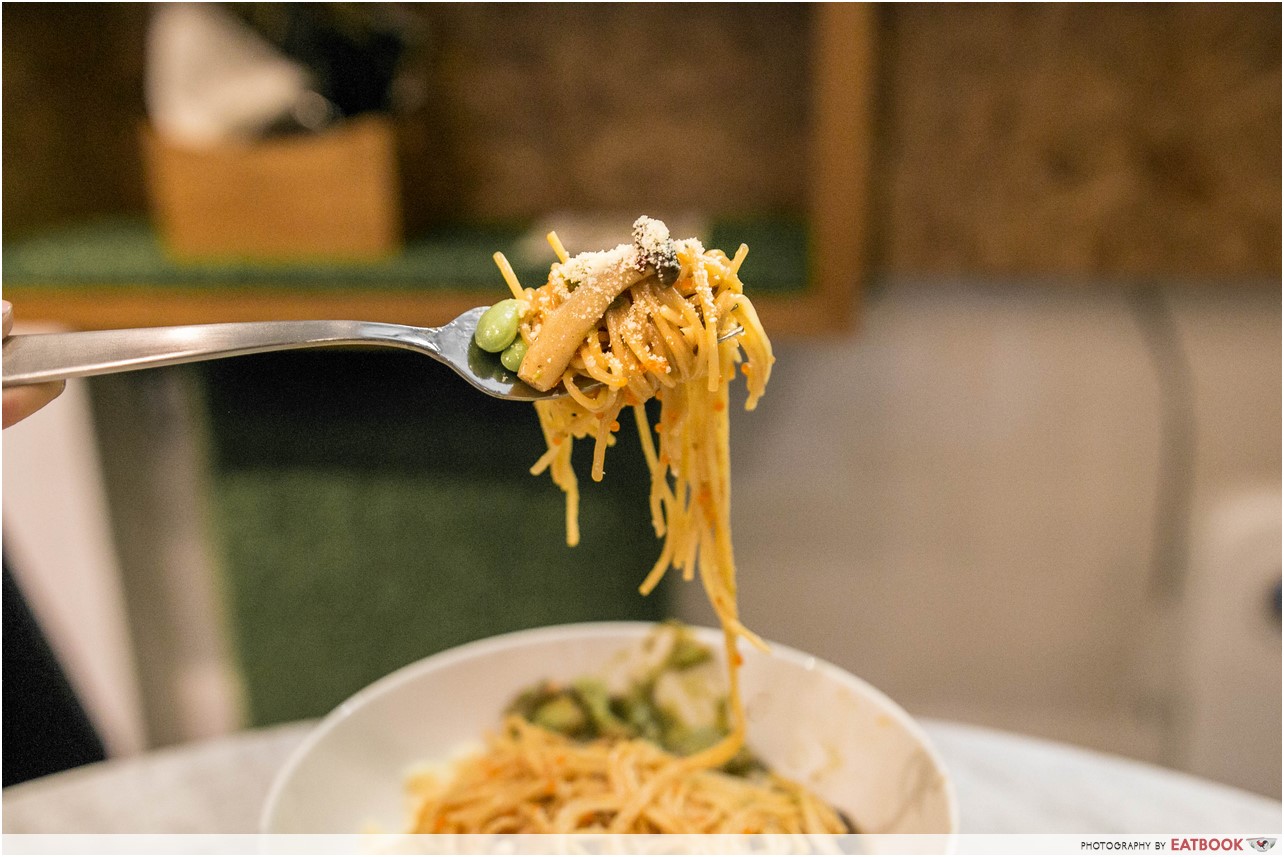 We opted for angel hair pasta as our base. I liked how the pasta sauce coated each strand of noodles easily and made each bite especially flavourful. If you find pasta too filling and heavy, they also have other options available such as Truffled Quinoa (+$2) and Buckwheat Soba (+$2).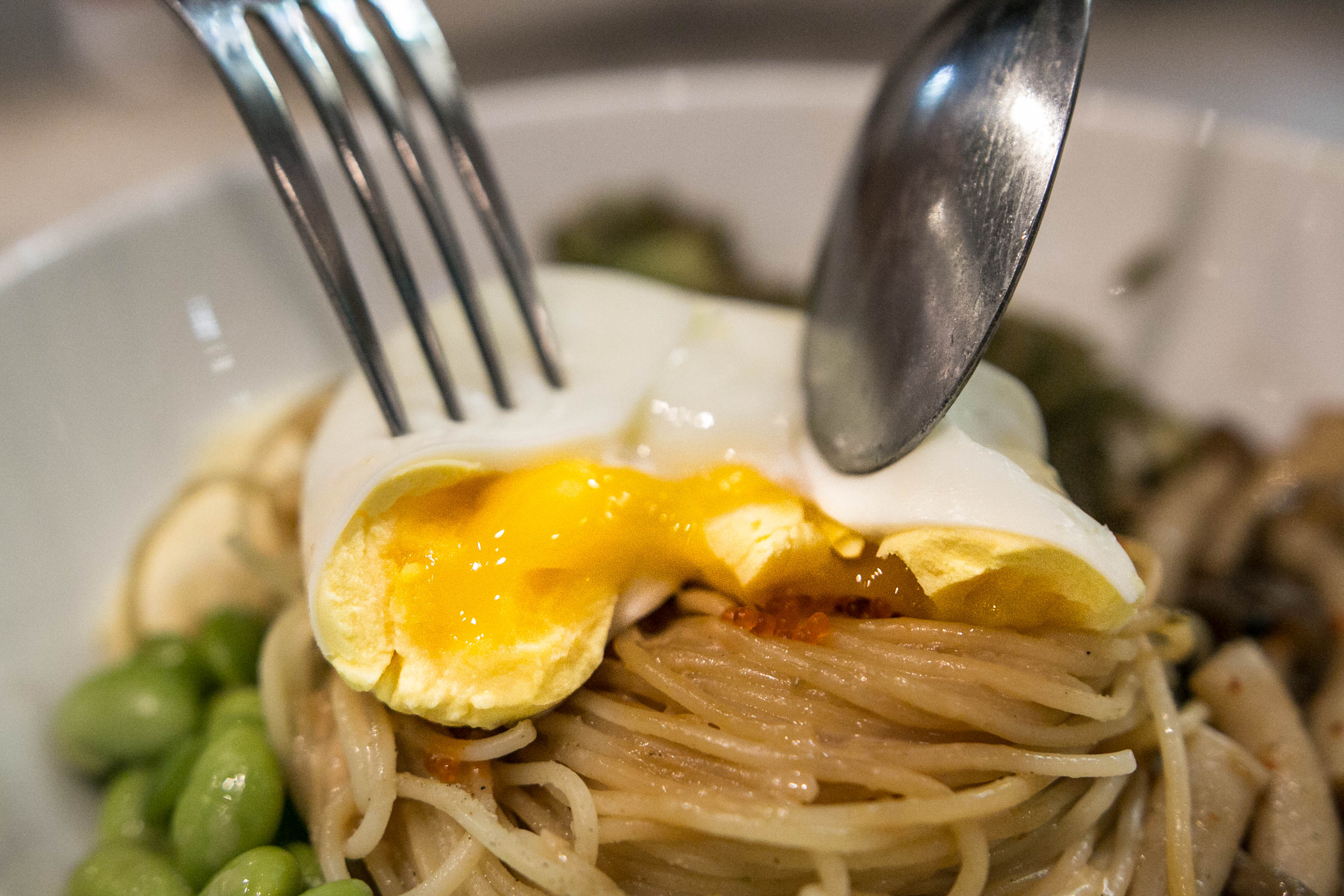 For sides, we chose avocado, sauteed mushrooms, edamame and a lava egg. Other options include pumpkin, chickpeas and sweet potato. The egg was cooked just right. The egg white was firm enough to hold everything together and the yolk was soft and runny in the middle.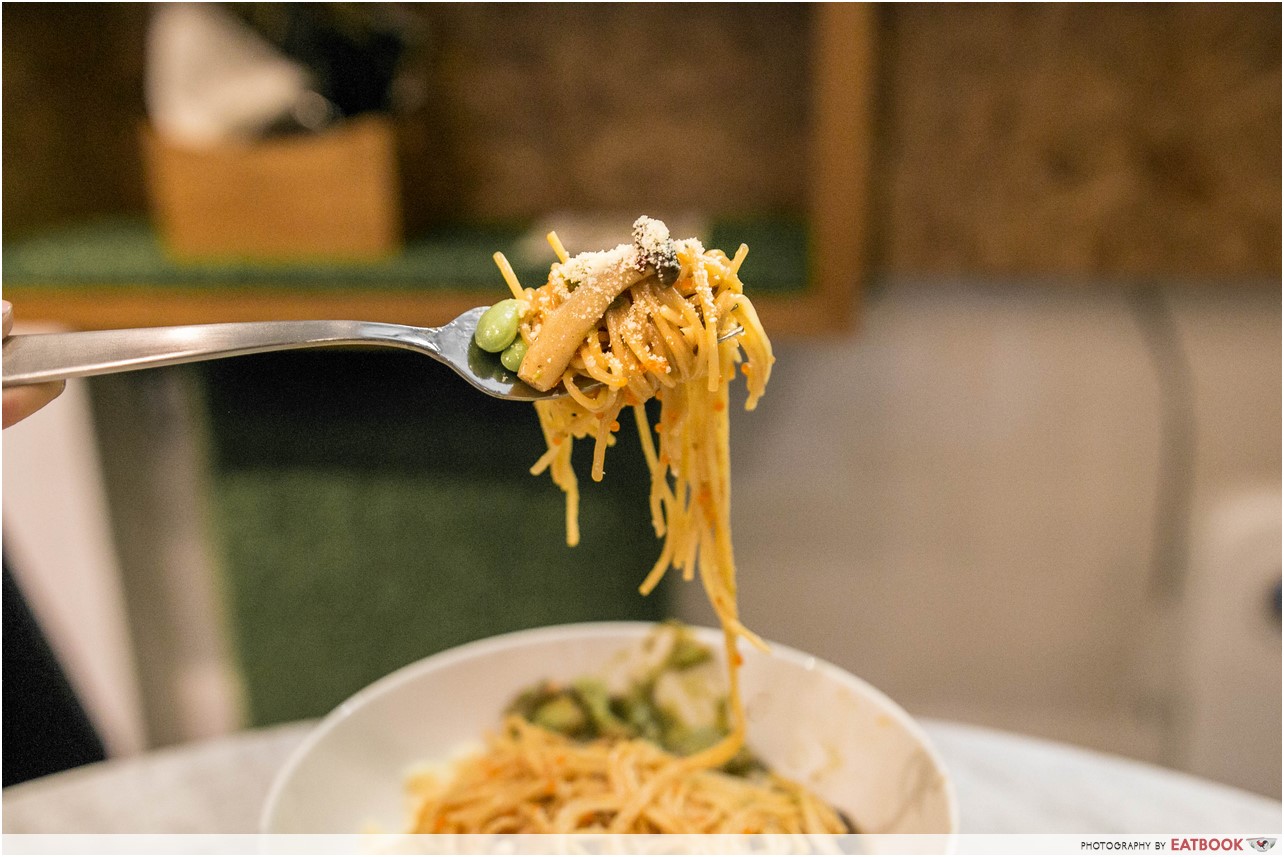 To add an extra dose of flavour, we chose parmesan cheese and fish roe, which were the more luxurious toppings that didn't require additional charges. If you're more health conscious, they do have alternatives such as Japanese seaweed and alfalfa sprouts.
We picked their house-made Teriyaki Cream Sauce. It had a pleasant balance between sweet and savoury flavours and was not overly creamy or cloying. It was this sauce that brought the entire dish together, especially since it went well with the richness of the avocado and the lava egg. More familiar flavours, such as pesto and BBQ sauce are available as well.
If you're one of those people who feel like a meal is incomplete without meat, you can order premium add-ons such as seaweed duck (+$3.50) or scallops (+$4.50). You can even up-size your entire meal for $2 if you're feeling extra hungry.
Ambience at Fasta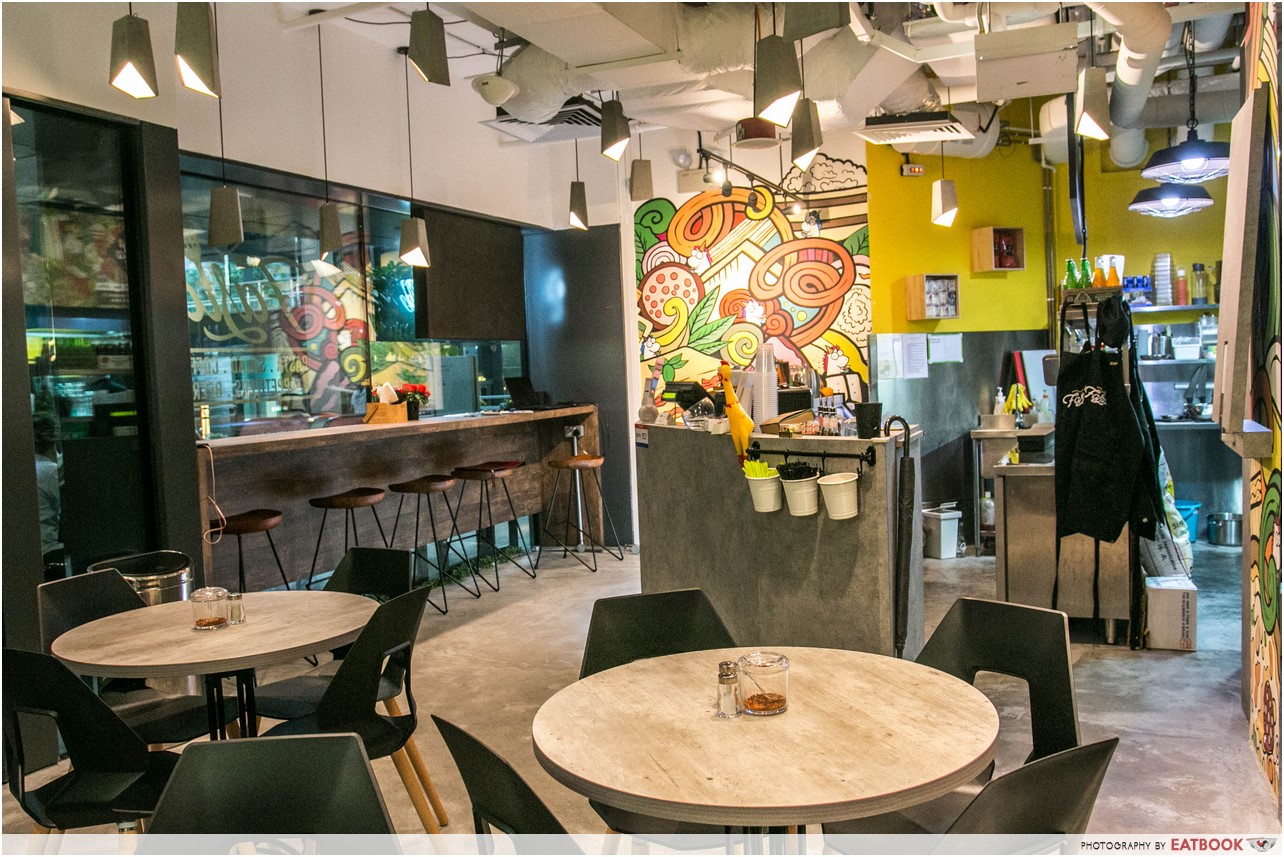 Though the restaurant is quite small and has limited seating, it has a cosy and quirky interior. The brightly-coloured wall mural brings the entire look of the restaurant together, perfect for an impromptu photo during a casual gathering.
The verdict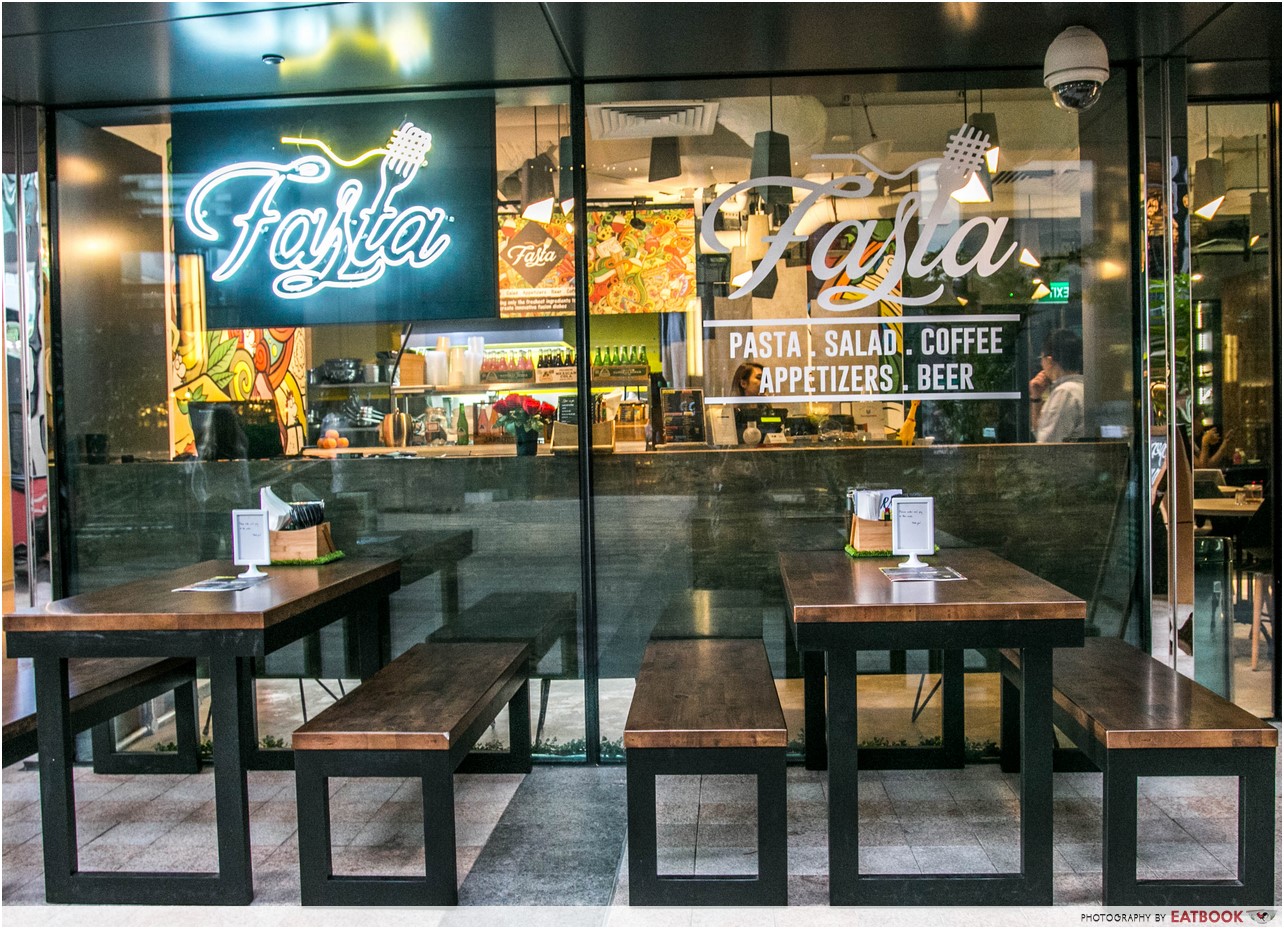 Overall, Fasta has delicious yet unconventional takes on pasta at reasonable prices. If you happen to be in the CBD area and are looking for pasta without the long wait, Fasta is the place to be.
This is an independent review by Eatbook.sg.
Summary
Summary
Pros
– Unique pasta flavours
– Customisable option
– No GST or service charge
Cons
– Limited seating
Recommended Dishes: Scallop Wallop ($16), Sio Bah Mee ($13)
Operating Hours:
Monday – Saturday 11am to 8pm
Tel: 9111 1245
Address: 26 Beach Road, #B1-23, South Beach Avenue, Singapore 189768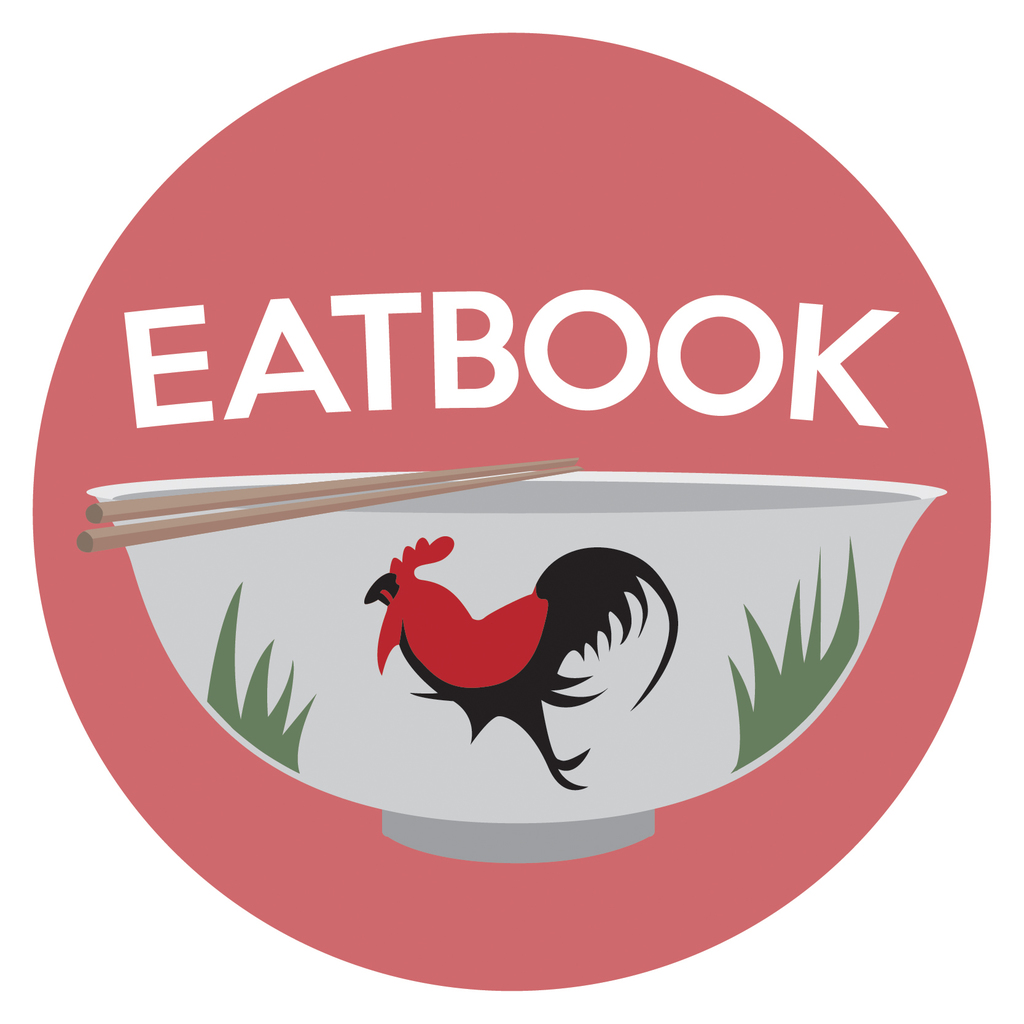 Drop us your email so you won't miss the latest news.