---
Famous fish soup stalls worth queuing up for
---
Fish soup has always been my go-to hawker dish because it's one of the healthier options that still manages to keep me feeling full and satisfied at a kopitiam. Furthermore, having a piping hot bowl of fish soup on a cold, rainy day is kinda like getting a warm hug from the inside out. We've compiled a list of 11 famous fish soups in Singapore that are worth a try if you consider yourself a hawker food lover. Almost every stall featured has at least a 30-minute waiting time during mealtimes but you know what they say, good things come to those who wait.
---
1. Piao Ji Fish Porridge
---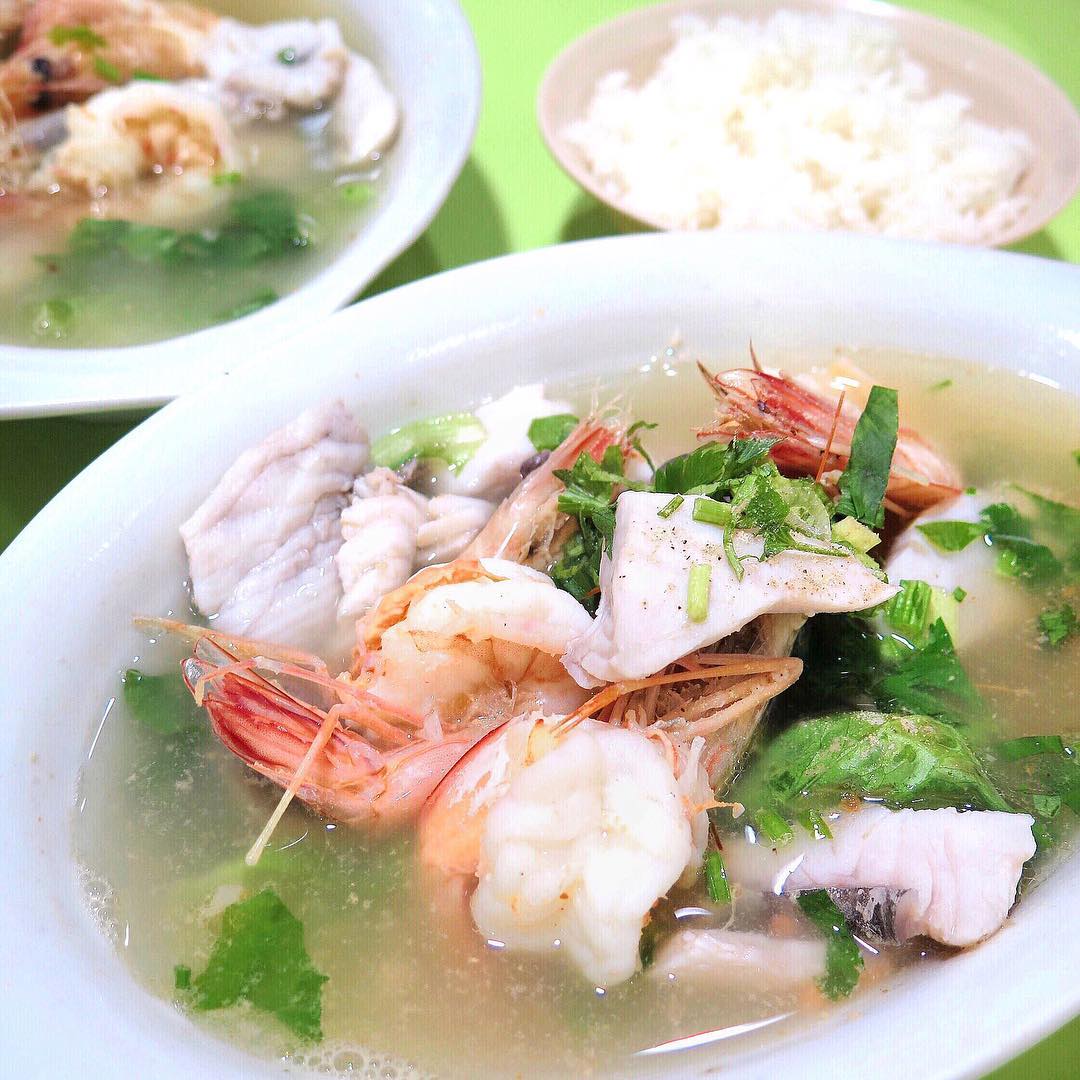 Image credit: @cweizhi
The competition is real at Amoy Street. Located along the next aisle from Han Kee is Piao Ji Fish Porridge, with a queue that's just as long. Topped with deep-fried pork lard, fried garlic, and shallots, the soup here is full-bodied and very savoury. If you prefer stronger flavours, you'll like this more than Han Kee, but those who are used to lighter fish soups may find this a little on the greasy side. A bowl here will set you back $7 to $15 – which is pretty pricey for hawker fare – but they use pomfret fish so that's a considerably reasonable sum for this hearty dish.
Address: 7 Maxwell Road, #02-100/103, Amoy Street Food Centre, Singapore 069111
Opening hours: Tues-Wed, Fri-Sun 11am to 3:30pm
Website
---
2. Blanco Court Fried Fish Noodles

---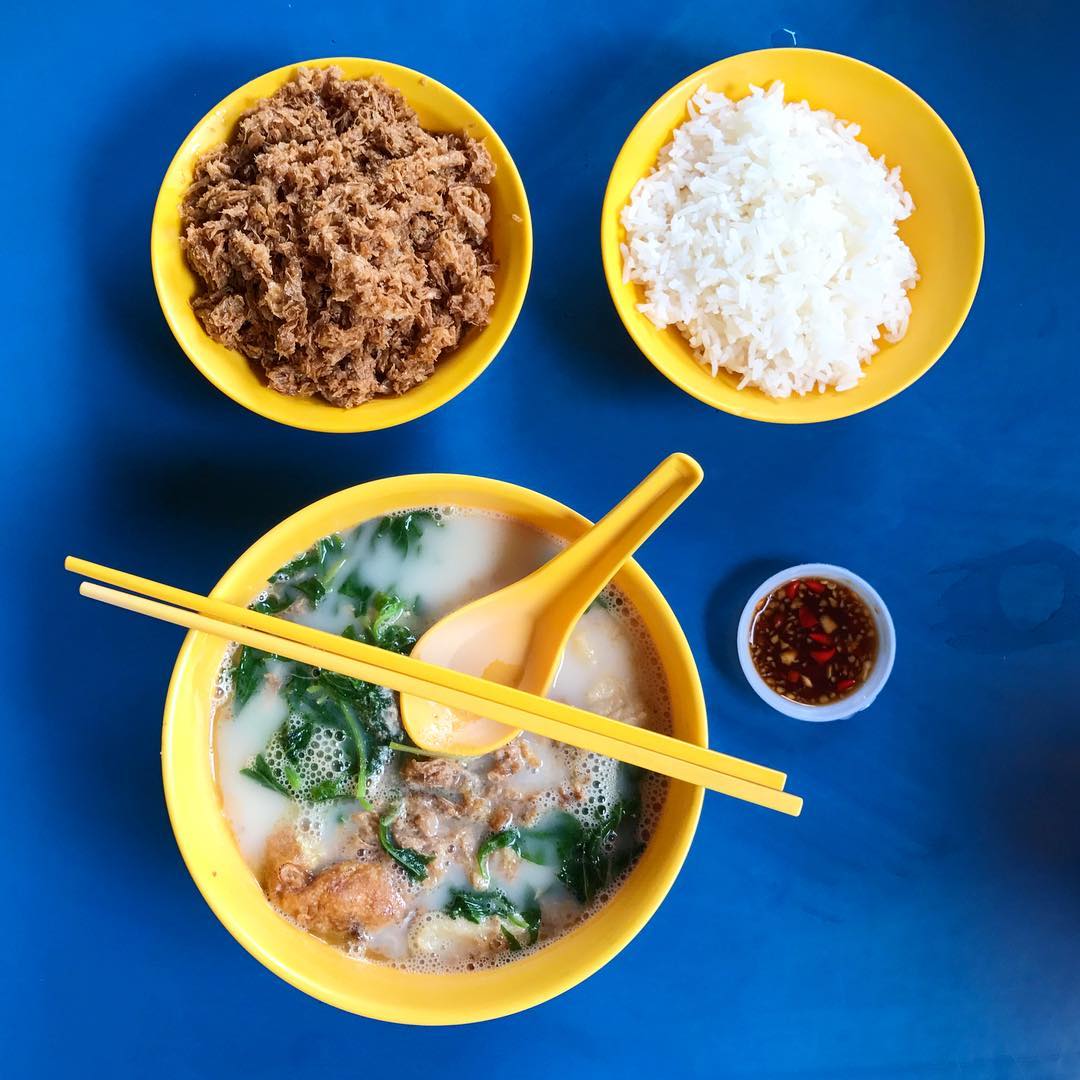 Image credit: @mapazzion
Blanco Court Fried Fish Noodles is all about the fried stuff, so this is definitely not a go-to for a light meal. Their signature Fried Fish Bee Hoon Soup ($6/$10) features chunky pieces of fish fried with a thin coat of batter, giving each piece a firm exterior instead of the usual spongy coating. The soup is rich and milky, but the best part about this stall is the deep-fried egg floss that they add to give the soup an extra oomph.
Address: 339 Beach Road, Luk Lu Eating House, Singapore 199567
Opening hours: Mon-Sat 9:30am to 8pm
Website
---
3. Wang Yuan Fish Soup

---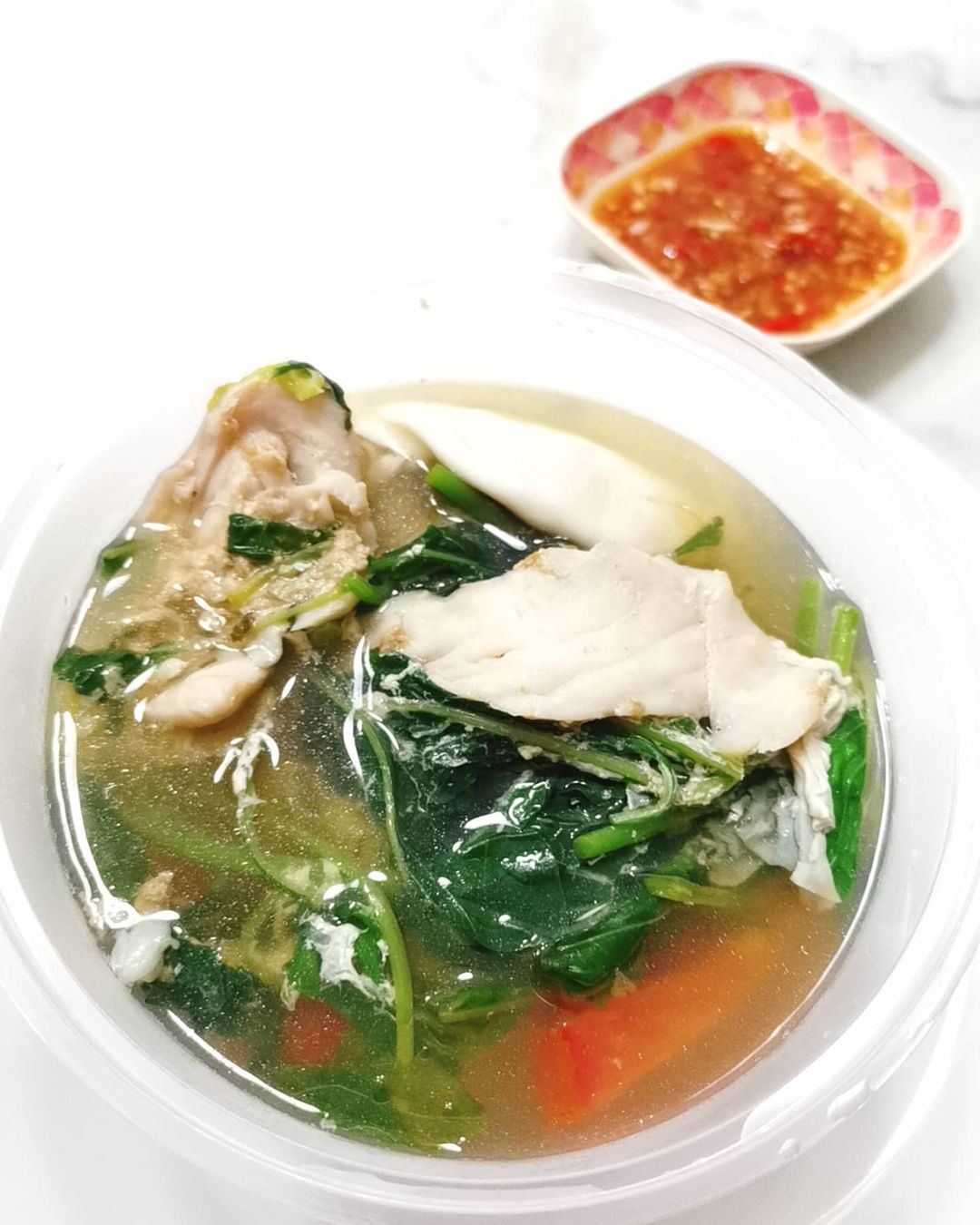 Image credit: @wangyuanfishsoup
Trust young hawkers to make something as simple as fish soup fancy. Wang Yuan Fish Soup offers a comforting bowl of piping hot fish soup! A standard bowl of Fish Soup ($6) comes with the choice of picking two vegetables while the Fish & Seafood Soup ($12) gives you the option to pick three vegetables and one seafood of your choice. Add-on another $0.50 to pair your fish soup with their Mixed Brown Rice. 
Check out other hidden hawker gems at Tampines!
Address: 519A Tampines Central 8, Foodpark Coffeeshop, Singapore 523519
Opening hours: Mon 11:30am to 2pm, Tues-Sun 11:30am to 8:30pm
Tel: 8112 4033
Website
---
4. Xin Yuan Ji

---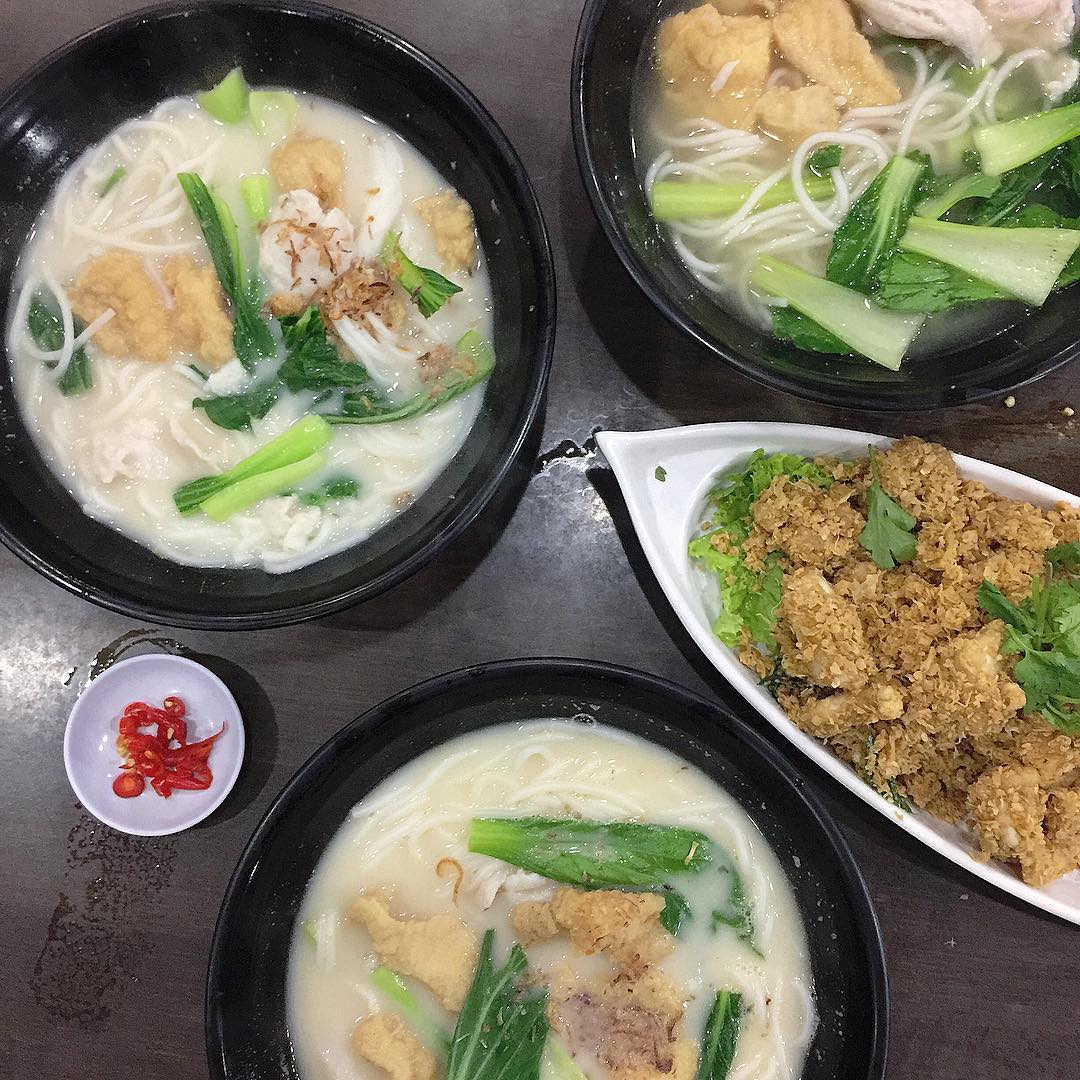 Image credit: @arishunnn
Gather your friends and go for Xin Yuan Ji's signature Charcoal Fish Meat Steamboat. Prices range from $30 to $80 depending on the portion and the type of fish you picked. There are two types of fish to choose from: red snapper and red garoupa. The soup is cooked over charcoal fire, which adds a pleasant smokiness to its rich and sweet flavour, and the best part is that it's free-flow! If you're not one to share and want a whole bowl to yourself, go for Fresh/Fried Fish Mee Hoon Soup ($5.80+) or Mixed Fish Mee Hoon Soup ($8.80+).
Address: 31 Tan Quee Lan Street, #01-01, Singapore 188117
Opening hours: Daily 11:30am to 10:30pm
Tel: 6334 4086
Website
---
5. First Street Teochew Fish Soup

---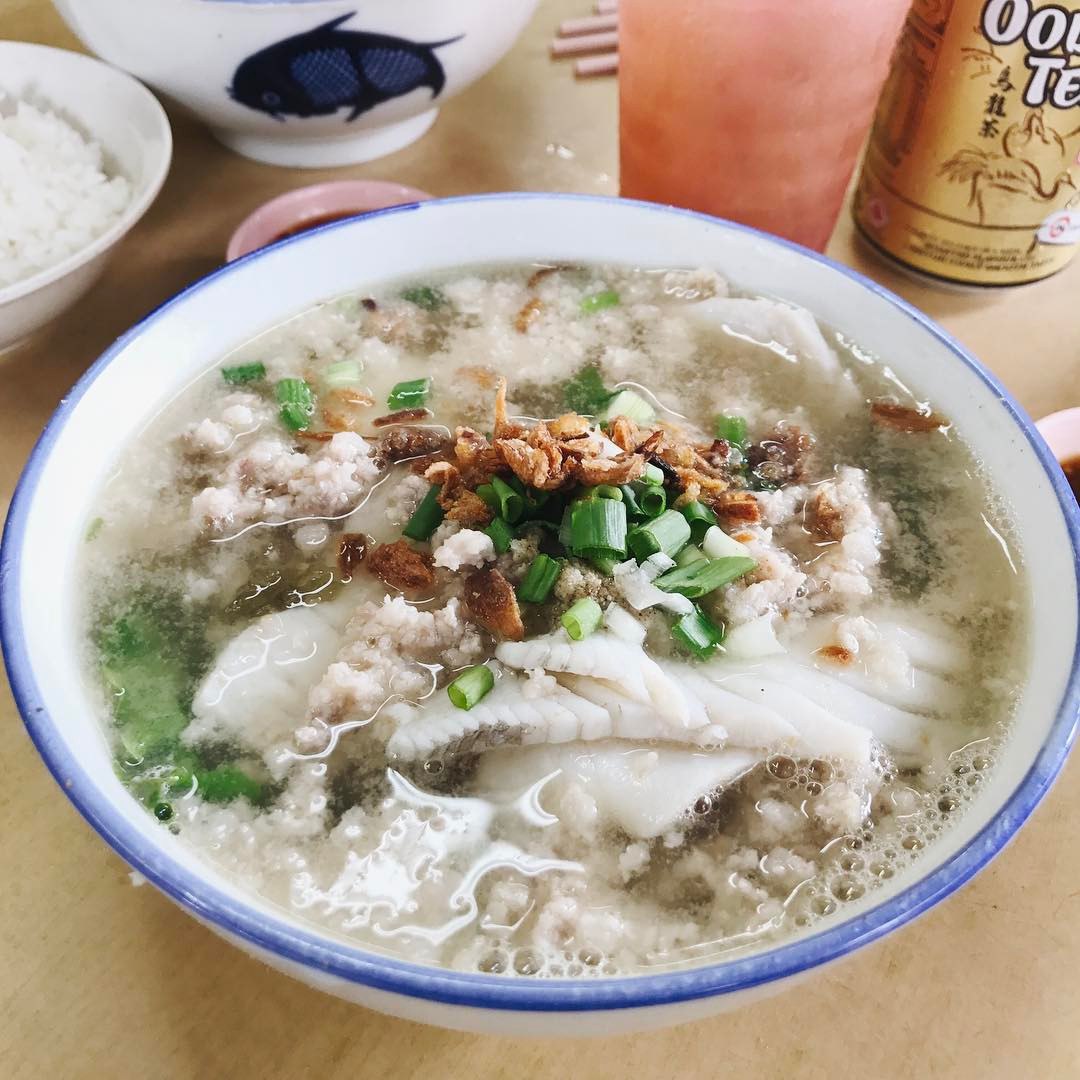 Image credit: @yammytan
First Street Teochew Fish Soup offers a broth that is flavourful yet light on the palate. Go for the simple Batang Sliced Fish Soup ($6/$8/$10) or the premium Red Garoupa Sliced Fish Soup ($9/$11) for more tender fish slices. Add rice, porridge or mee sua to your meal at an additional $0.50. Also, make sure to ask for minced meat in your soup! It's mixed with dried sole fish and will add an extra depth of flavour and texture to your dish.
Tai Seng
Address: 30 Tai Seng Street, BreadTalk IHQ, Singapore 534013
Opening hours: Daily 10am to 8pm
Kovan
Address: 1014 Upper Serangoon Road, Double One Kopitiam, Singapore 534752
Opening hours: Tue-Sun 8.15am to 3pm
Website
---
6. Mei Xiang Black & White Fish Soup

---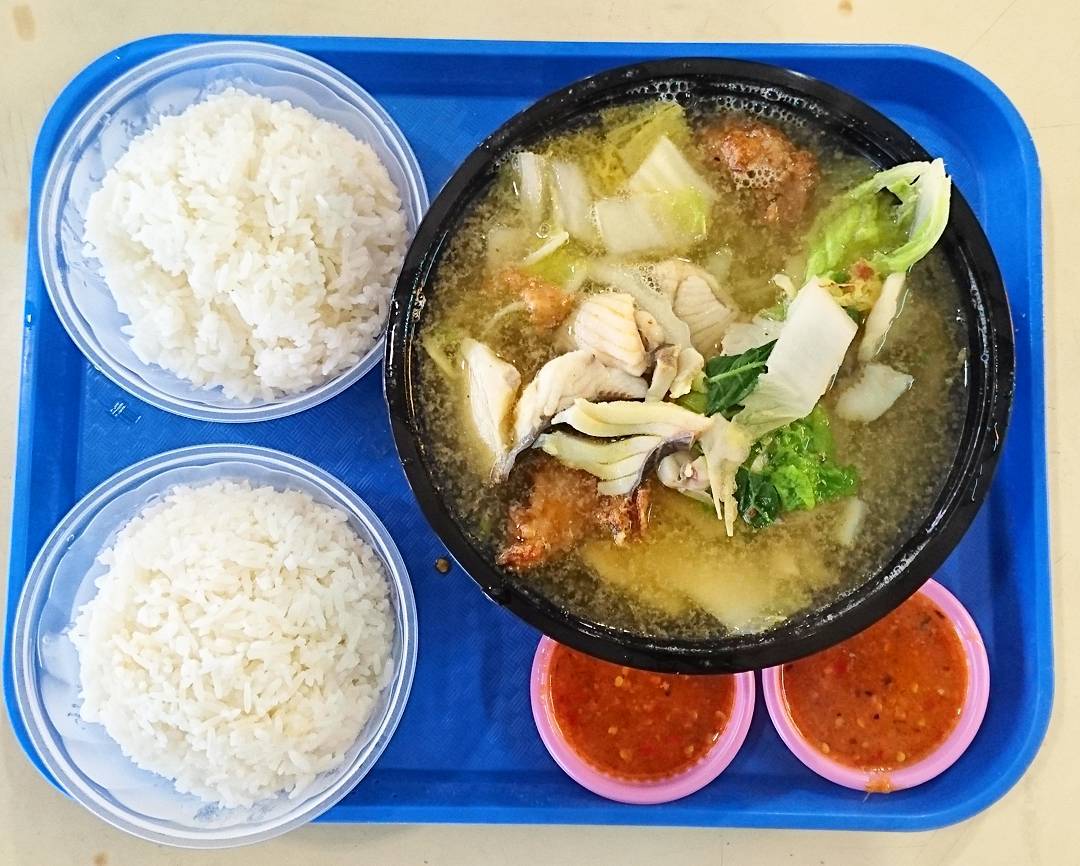 Image credit: @onekueh_at_atime
Mei Xiang Black & White Fish Soup is run by an old couple, and they only have one item on their menu – Black & White Fish Soup ($6). Black stands for the slices of fried fish in the soup, and white represents the fresh fish slices; any special requests will be promptly rejected by the uncle. They only serve rice when it comes to carbs, so don't head down with hopes of having beehoon with your fish soup. All these peculiarities aside, their cloudy soup is robust and has quite a strong taste of ginger. Their house-made chilli sauce is thick, zesty, and spicy – great for dunking those chunky fish slices in!
Address: 166 Jalan Besar, #02-44, Berseh Food Centre, Singapore 208877
Opening hours: Mon-Fri 11:30am to 3pm
---
7. Jin Hua Fish Head Bee Hoon

---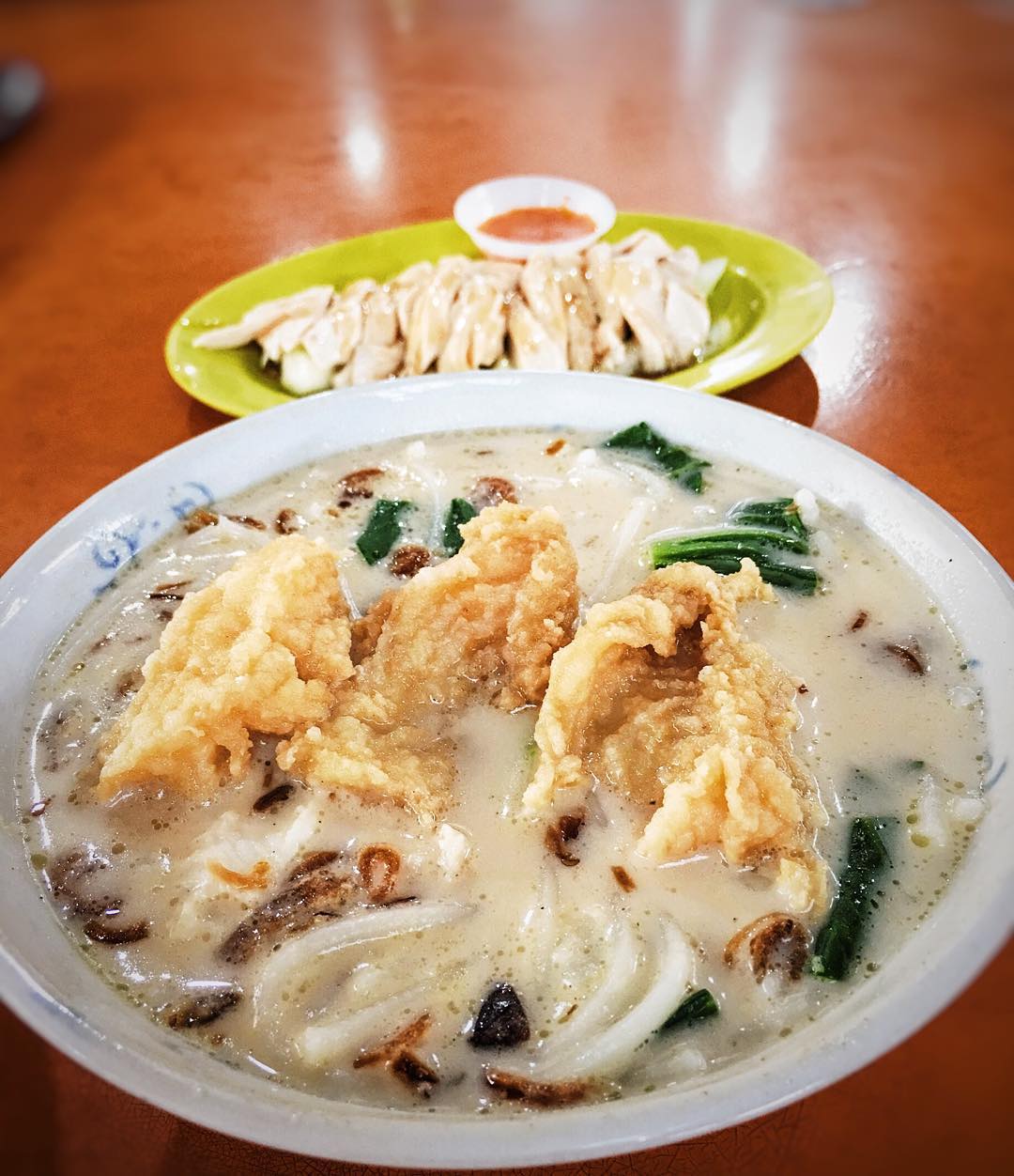 Image credit: @aaudreyylee
Check out Jin Hua Fish Head Bee Hoon the next time you're at Maxwell Food Centre. All variations of fish soup here, be it sliced or fried fish, with or without noodles, cost between $4.50 to $6.50 per bowl. There's also an option to get Fish Head Bee Hoon ($8/$10/$12), which comes in a reasonable sized portion. If you can't decide, go for their fried fish soup because each piece of fish soaks up their full-bodied, almost creamy, broth wonderfully without turning too soggy.
Address: 1 Kadayanallur Street, #01-77, Maxwell Food Centre, Singapore 069184
Opening hours: Fri-Wed 11:30am to 8.30pm
---
8. Mr Fish
---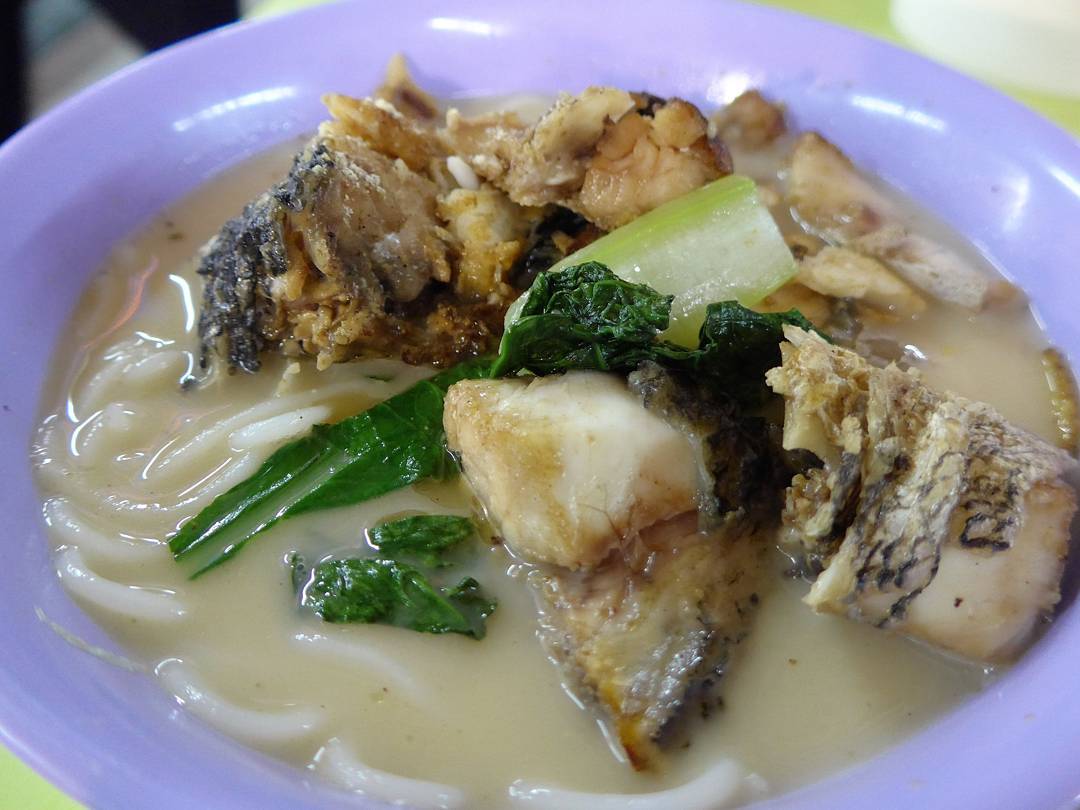 Image credit: @fravelmag
The owners of Mr Fish say they don't add milk into their broth, and it's easy to see why some doubt their claim. The secret to their Fish Head Bee Hoon ($5.50) lies in the traditional Cantonese method of frying fish and pork bones before boiling them for hours to get that fragrant and milky broth. The pieces of deep-fried fish head offered here are chunky and crisp, but if you prefer not to fuss with bones, they have Sliced Fish Bee Hoon ($5) with fresh fish slices as well.
Address: 335 Smith Street, #02-73, Chinatown Complex Market & Food Centre, Singapore 050335
Opening hours: Mon-Sat 11am to 4pm
Tel: 9029 7508
Website
---
9. Arcade Fish Soup
---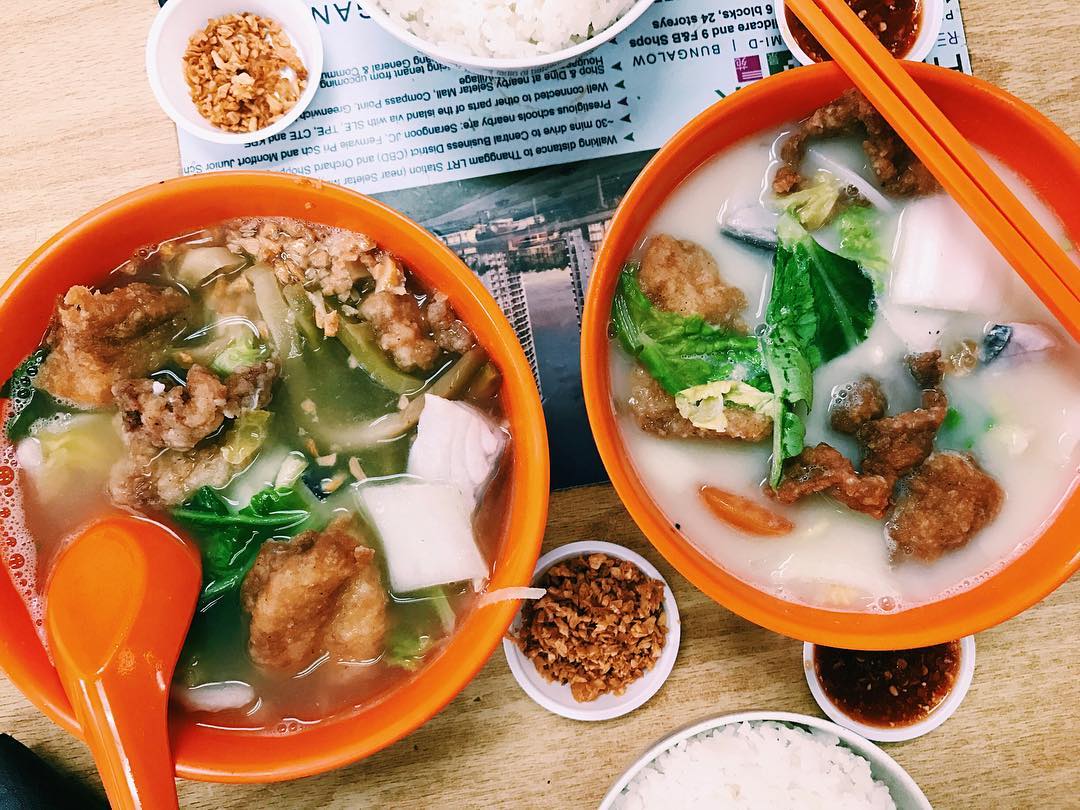 Image credit: @siewlin711
Arcade Fish Soup is one of the most popular fish soup stalls in the CBD. When lunch hour strikes, the queue for this fish soup snakes out of the eatery and goes around to the back entrance of The Arcade. Sliced, fried, and mixed fish bee hoon go at $7 per bowl for the regular size, and $9 for the large size. Each portion comes with thick slices of batang fish. What sets this stall apart from other fish soup places is the slices of preserved mustard greens that enhance the savoury broth. Load up on their house-made fried garlic and tangy chilli sauce to round off this hearty meal. 
Marina One
Address: 5A Straits View, #B2-40, Marina One The Heart, Singapore 018935
Opening hours: Mon-Thu 11am to 7:30pm, Fri 11am to 3pm
Marina Bay Link Mall
Address: 8A Marina Boulevard, #B2-69, Marina Bay Link Mall, Singapore 018984
Opening hours: Mon-Thu 11am to 7:30pm, Fri 11am to 3pm
Frasers Tower
Address: 182 Cecil Street, #02-15, Frasers Tower, Singapore 069547
Opening hours: Mon-Thu 11am to 7:30pm, Fri 11am to 3pm
Tel: 8566 9077
Website
---
10. Teochew Fish Soup
---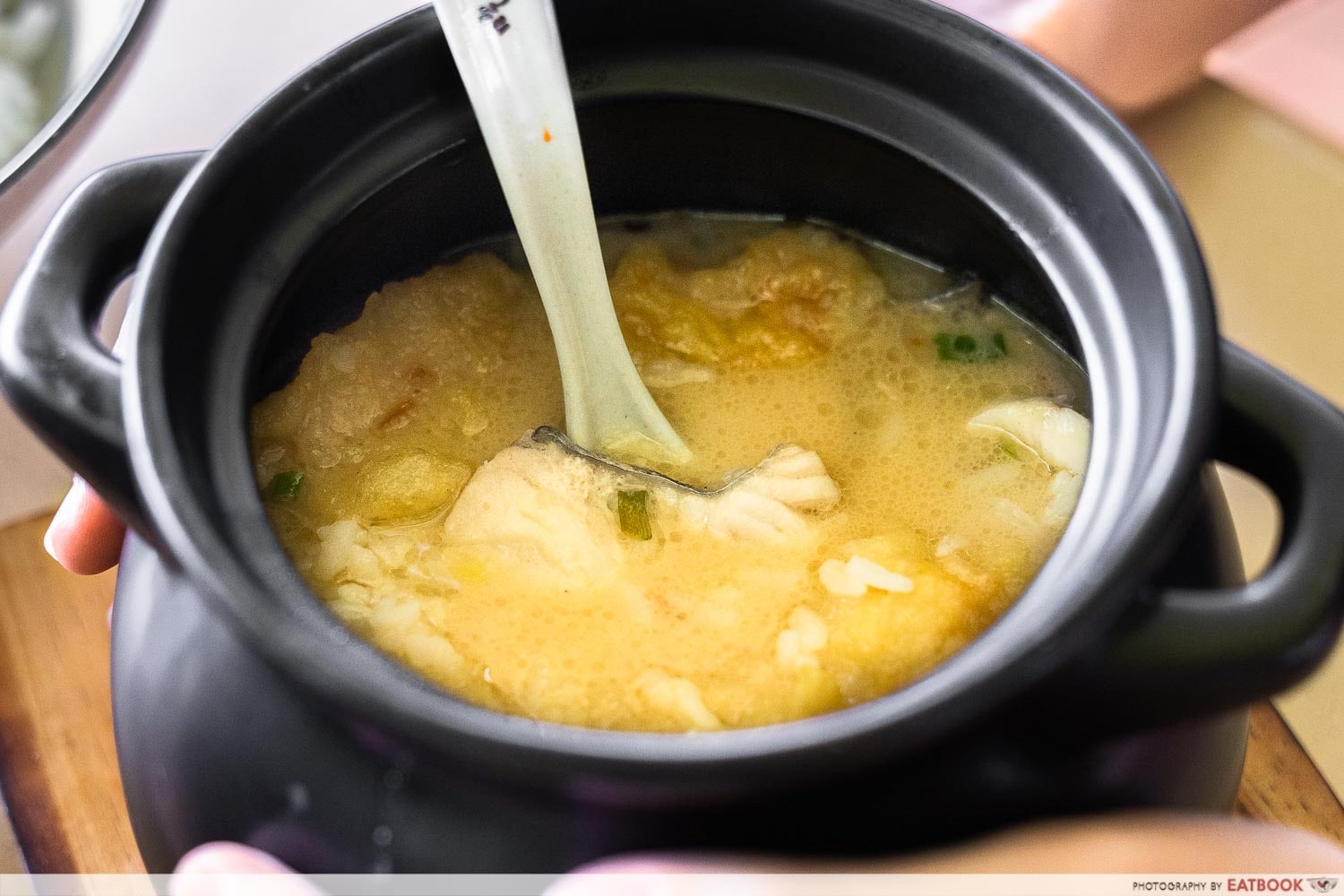 Opened by an ex-trainee of a Michelin-starred restaurant, Teochew Fish Soup offers a creamy and flavourful broth that is boiled with fish head, bones, pork ribs, and a whole chicken. Get the Double Fish ($6.90), which contains fried fish and batang fish, and comes with your choice of rice or noodles for a filling meal.  For something more unique, there's also a lesser-seen Pumpkin Fish ($6.90) flavour, which sees a bright yellow hue with the addition of pumpkin puree.
Check out our Teochew Fish Soup review!
Address: 332 Ang Mo Kio Avenue 1, Singapore 560332
Opening hours: Daily 11am to 8pm
---
11. Qing Feng Yuan
---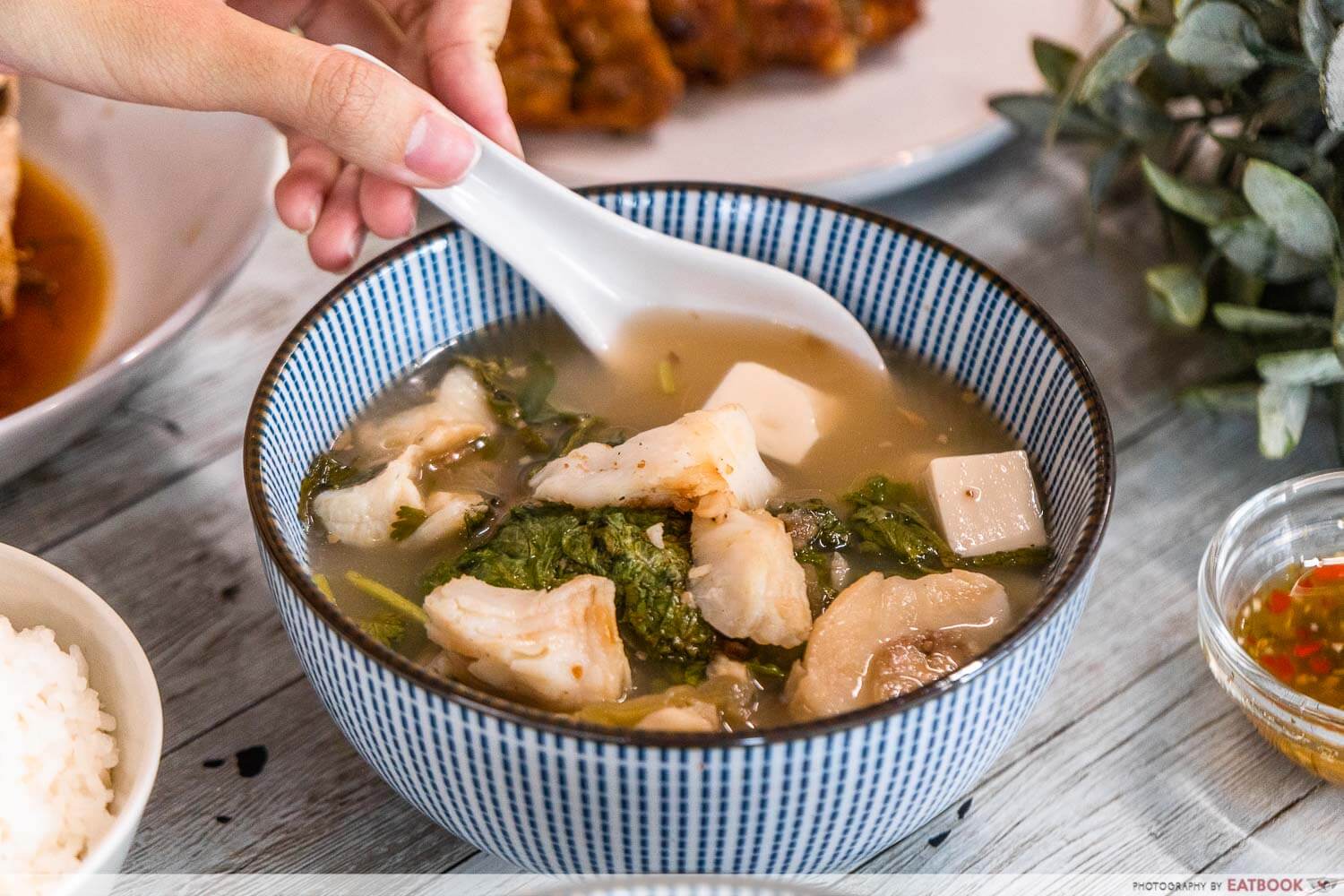 Consider going to Qing Feng Yuan if you're craving something hearty and soupy, as they offer premium ingredients including New Zealand cod fish, fresh pomfret and more at affordable prices. Their New Zealand Blue Cod Fish Soup ($12) is packed with heaps of ingredients including tofu and leafy green vegetables, and features a rich, umami-packed soup.
Check out our Qing Feng Yuan review!
Address: 30 Seng Poh Road, Singapore 168898
Opening hours: Tue to Sun, 9am-5pm
---
Feast on fish soup
---
The effort that goes into boiling fish bones for hours on end to produce a satisfying bowl of soup makes these worth queuing for. For more hawker-related content, check out our list of best nasi lemak in Singapore, or read about our top hokkien mee stalls to try. 
12 Hokkien Mee Stalls In Singapore Every Local Foodie Must Try
Featured image adapted from @xxben_linxx's post and @castor_gmh's post.
This article was originally published on 21 June 2017.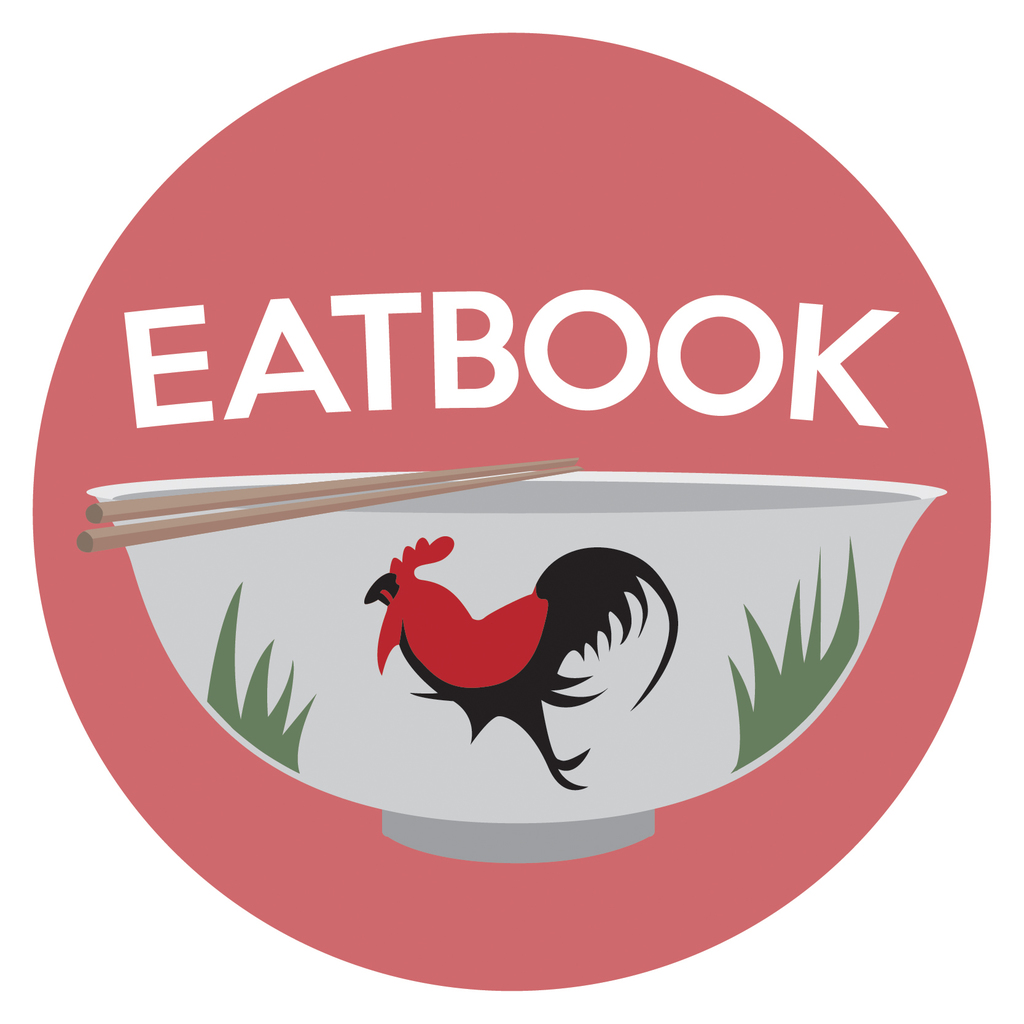 Drop us your email so you won't miss the latest news.