---
Proof you never need to leave Tampines
---
We've long heard of the debate on which side of Singapore has the best food, and to add fuel to this very entertaining fire, we've found 10 hidden hawker gems in Tampines to help East-siders prove their point. Whether or not East side is really the best side, we'll definitely be willing to travel across the island for these cheap hawker food. 
---
1. Fu Yuan Teochew Bak Chor Mee
---
Fu Yuan Teochew Bak Chor Mee will do the trick whenever you need a satisfying bowl of bak chor mee. This stall occupies a small section of a kopitiam, and serves Teochew-style BCM with mee pok and handmade dumplings. Teochew Bak Chor Mee ($3) includes sliced pork, pig's liver, minced meat, meatballs and a full-flavoured soup. Plus, the dish is dressed in an addictive and fiery chilli sauce that has a hint of sweetness to it.
Address: Blk 201C Tampines Street 21, Singapore 520201
Opening hours: Mon-Sun 6am to 2:30pm, 5pm to 8pm
---
2. Yummy Sarawak Kolo Mee
---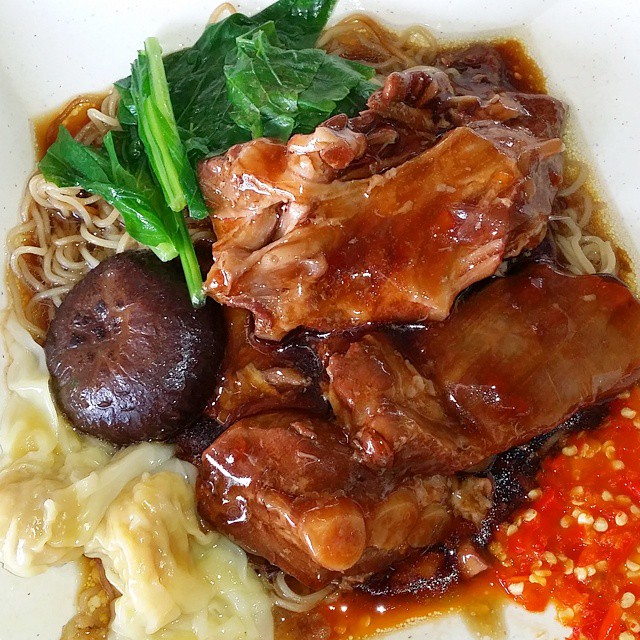 Source
Located at Tampines Round Market and Food Centre, Yummy Sarawak Kolo Mee serves some of the finest Sarawak hawker cuisine. They're known for their signature Sarawak kolo mee, and they also offer wanton mee, spare ribs noodles and chicken feet noodles. It was pretty busy when I visited the stall during lunchtime on Saturday and I waited for about 7 to 10 minutes for my food.
Signature Sarawak Kolo Mee Set ($5), the set meal is topped with generous amounts of 3 fried and 3 boiled wanton, char siew and thick pieces of braised pork. What you'll immediately notice is curly kolo noodles that'll remind you of typical cup noodles. But taste wise, the noodles is far from maggie mee because of its springy texture and packed flavour. The braised pork was equally good. Despite being a little tough, it paired well with the rest of the dish.
Address: Tampines Round Market and Food Centre, Blk 137 Tampines Street 11, #01-45, Singapore 521137
Opening hours: Mon-Sun 5am to 3pm
Tel: 9885 5513
---
3. Song Han Carrot Cake
---
Song Han Carrot Cake serves traditional hand-made carrot cake that includes curry powder, churning out a special blend of fried goodness. The curry taste is not overpowering or spicy, and adds extra texture and flavour. Curry Powder Carrot Cake ($2/3/4) is available both in black and white versions. We tried the white version and it had a very light and soft texture. Each bite was a fragrance-filled experience, and came with a generous serving of small prawns. Do come early because it usually gets sold out pretty early!
Address: 137 Tampines Street 11 #01-07, Tampines Round Market and Food Centre, Singapore 521137
Opening hours: Mon 6:30am to 10am, Tues–Sun 6:30am to 1pm
---
4. Al Mahboob Indian Rojak
---
Located just a 5-minute walk from S-11 Food Court at Tampines MRT Station, Al Mahboob Indian Rojak has a variety of choices lined up at the front of its counter, freshly prepared for your choosing. You'll find common ingredients made from scratch like dough balls and prawn fritters, although the stall does buy some other items like ngoh hiang, cuttlefish, tauhu, sayur carrot, potatoes and fishcakes from suppliers. The prawn fritters and dough balls are fried to perfection, then garnished with onions and cucumbers. And let's not forget their highly addictive Indian rojak sauce that has a nice balance of sweet, spicy and savoury flavours. Prices here range from $3.50 to $10, and you can definitely pick enough ingredients to make you full.
Address: 506 Tampines Avenue 4, #01-361, Singapore 520506
Opening hours: Mon-Sun 12:30pm to 9pm
---
5. 137 Lor Mee Prawn Mee
---
Located just 2 stalls away from the above mentioned curry powder carrot cake, 137 Lor Mee Prawn Mee is popular for, needless to say, their lor mee and prawn noodles. We ordered Signature Lor Mee ($4) and received a bowl of thick yellow noodles and gravy, topped with a generous portion of fried fish, fish fillet and egg. The sauce was thick and fragrant with lots of garlic, but not overpowering. You'll be given a huge portion and at such an affordable price, it's really value for money.
Address: Blk 137 Tampines Street 11, #01-09, Tampines Round Market and Food Centre, Singapore 521137
Opening hours: Mon-Sun 10am to 9pm
---
6. Mui Kee Hainanese Chicken Rice
---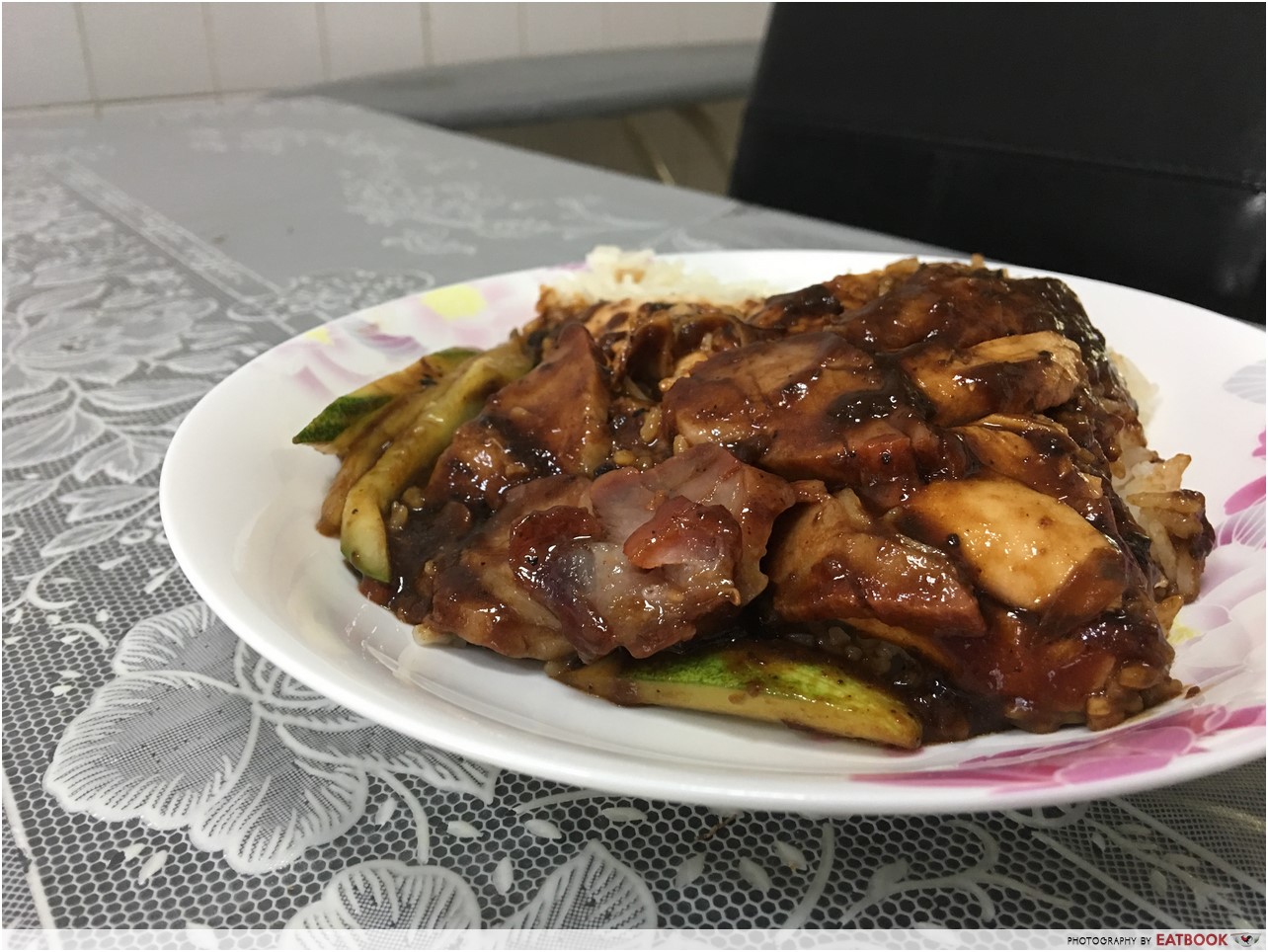 Those living near Tampines Street 21 will be familiar with Mui Kee Hainanese Chicken Rice that always has long snaking queues on weekends. They've been here for close to 7 years, and the quality has not changed one bit. The name may be quite misleading because aside from serving a mean plate of Chicken Rice ($3), this stall also specialises in char siew and roast pork rice.
For those craving roast pork, imagine three layers of pure intensity: crunchy crispy skin, a marbled layer of fat and tender pork. As for their char siew, there's a slightly smoky and sweet finish. What makes this place stand out is their sweet and fragrant char siew sauce that they drizzle over your plate. You can order the dishes separately at $3 each, or mix and match the meats for a steal at only $3.50. 
Address: 264 Tampines Street 21, Singapore 520264
Opening hours: Mon-Sun 9am to 3pm
---
7. Soi Thai Kitchen
---
Soi Thai Kitchen has a rather similar concept to Nakhon Kitchen, and they serve authentic Thai dishes that are hard to come by in the East. Soi Thai has dishes other Thai eateries in Singapore rarely have, such as Beef Paneang ($11) with stewed beef that melts in your mouth. Also go for Thai Yellow Ginger Chicken ($9): succulent pieces of chicken stir-fried in mild, flavourful sauce with hints of lime and ginger. A meal for 2 here can cost less than $25 with 3 dishes, so pop by if you're up for some cheap Thai food!
Address: Blk 824, Tampines Street 81, #01-28 Singapore 520824
Opening hours: 11am – 2.30pm, 6pm – 10pm (daily)
Tel: 6784 2421
---
8. Tokyo Western Food
---
Tokyo Western Food serves up a feisty selection of western cuisine, with the usual fare of chicken chop ($5.50), pork chop ($5.50), cutlets and T-bone steaks. One thing you can be sure of is the quality of meats which are well marinated and are served with generous portions of fries, baked beans and toast. It's hidden in a kopitiam at Tampines Street 81, so keep an eye out of it if you're in the area.
Address: 823A Tampines Street 81, Singapore 521823
Opening hours: 8am to 8pm daily
---
9. Jin Hock Seafood
---
Most East-siders would be familiar with Jin Hock Seafood, especially for their much raved White Bee Hoon ($9 for medium). Expect a generous portion of seafood like sliced cuttlefish and prawns, topped with a moist bundle of white beehoon beneath a flavourful broth of eggs and vegetables. Aside from their White Bee Hoon, you can also order other common zi char dishes like Homemade Toufu with Fried Enoki Mushrooms ($18 for medium) and Steamed Fish Head with Chai Poh ($18 for medium).
Address: Blk 844 Tampines Street 82, #01-131, Singapore 520844
Opening hours: Mon-Sun 5pm to 12am (daily)
Tel: 6787 4255
---
10. Shun Shun Prawn Noodles
---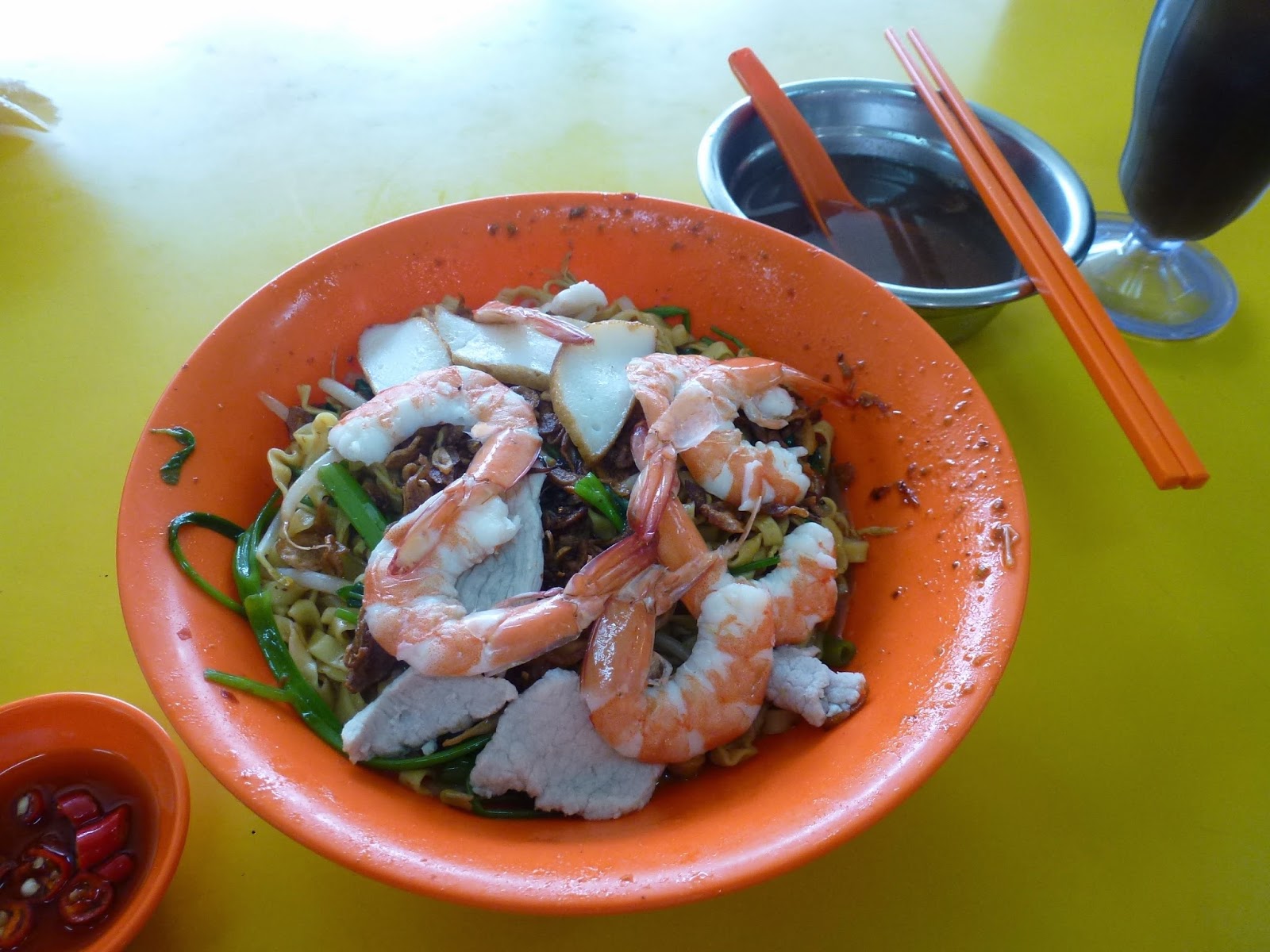 Source
Aside from a generous serving of prawns and fishcake per bowl, Shun Shun's Prawn Noodles' ($3.50) rich and strong prawn broth is stands out from typical prawn mees. A large portion of fried shallots also adds fragrance to the dish. Definitely add $0.50 for the dry version if you prefer it to be a little spicier. 
Address: Blk 829 Tampines Street 81, #01-296 Singapore 520829
Opening hours: Mon-Sun 7am to 2pm 
---
All hail the food town
---
With so many good food in Tampines, we can understand why the area is perpetually crowded. Westies, now might be the time to pay a visit to the East for these hawker gems before the rest of Singapore finds out! Let us know in the comments if you know of any other awesome hawker food at Tampines.