JIN Kimchi Express has affordable Korean food at Fernvale Hawker Centre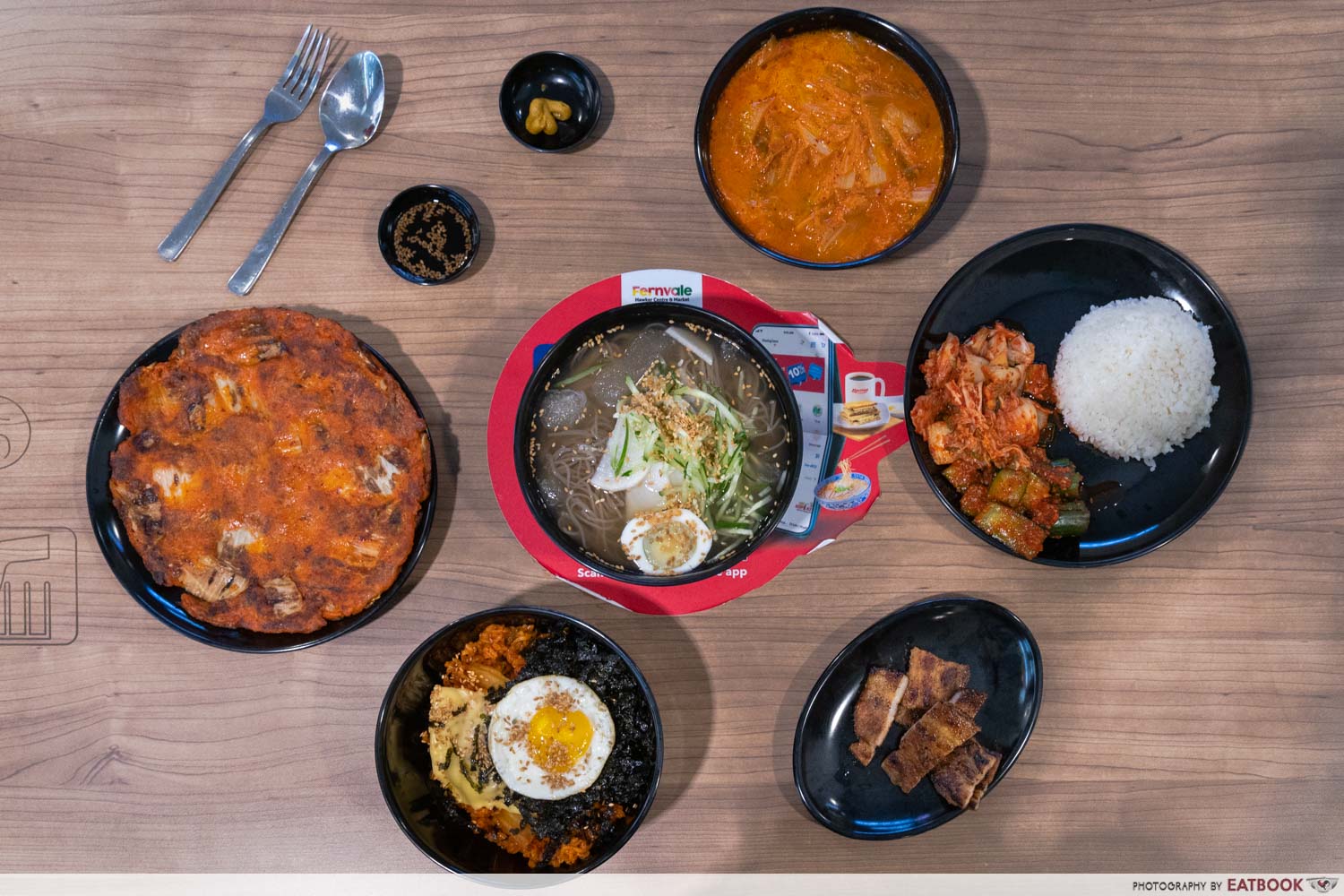 With the craze over recent K-food openings such as Market Blue and Emart24, it's clear that Singaporeans still love Korean food. I'm one such person, so when I heard about JIN Kimchi Express, a Korean-run stall that's got two outlets across the island, I knew I had to check them out.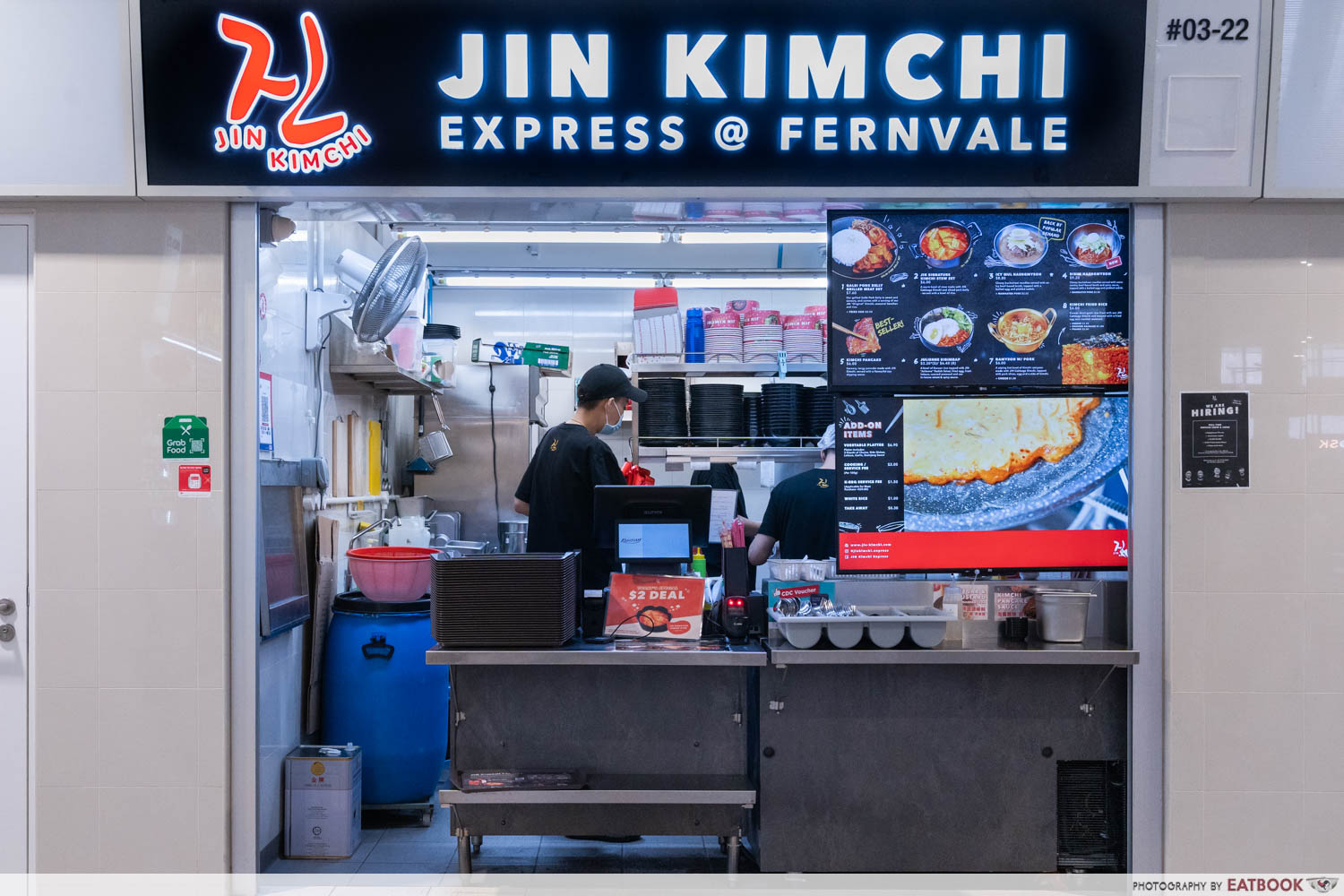 JIN Kimchi Express first started out as an online business during the Circuit Breaker to great success. Then, in 2022, they opened their flagship outlet in Fernvale, with a mart, butcher, and a cooked food stall offering a concise menu of Korean favourites, including bibimbap, naengmyeon, and even K-BBQ. For a small fee of $2 per 100g of meat, you can get the staff to BBQ the meat for you. Otherwise, you can grill it yourself by renting a grill and stove for $1.50, or bring the marinated meats home.
Today, you can still get their house-made banchan, kimchi and more on their website, including stir-fried anchovies and even fermented squid! They offer either delivery or self-pick-up at the flagship outlet. 
Food at JIN Kimchi Express
We started with their crowd-favourite Jin Signature Kimchi Stew Set ($6), which is made with their house-made cabbage kimchi and sliced pork belly. It's served with rice and two types of kimchi—cabbage and cucumber. I found the stew to have a generous serving of kimchi, and I counted seven slices of pork belly—quite worth it for $6, I thought!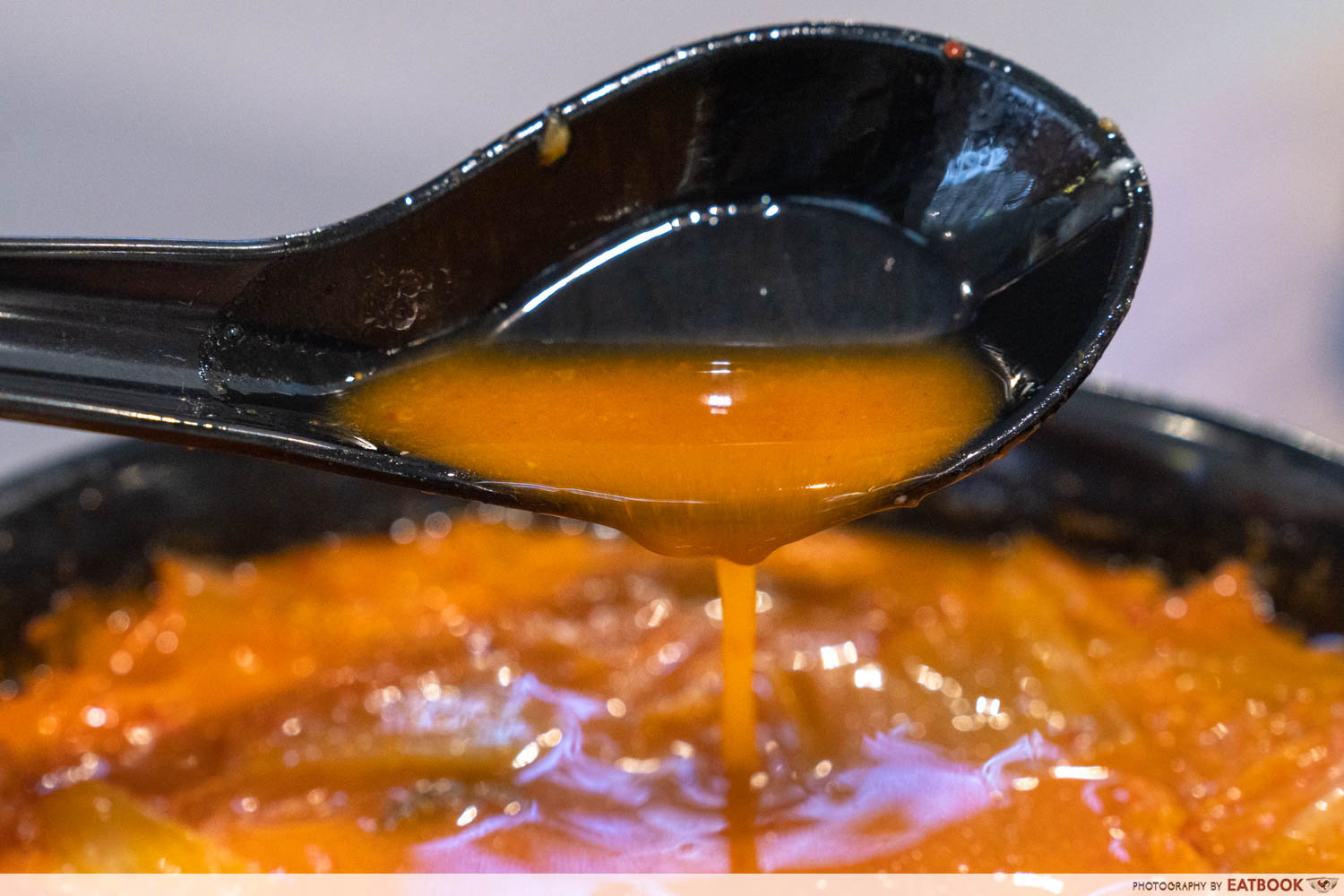 To my surprise, the stew had a distinct sweetness, with a mild spiciness. As someone who doesn't do well with spice, the spice level was tolerable. I enjoyed this with the accompanying rice, and how neither the cabbage nor the stew was overly sour.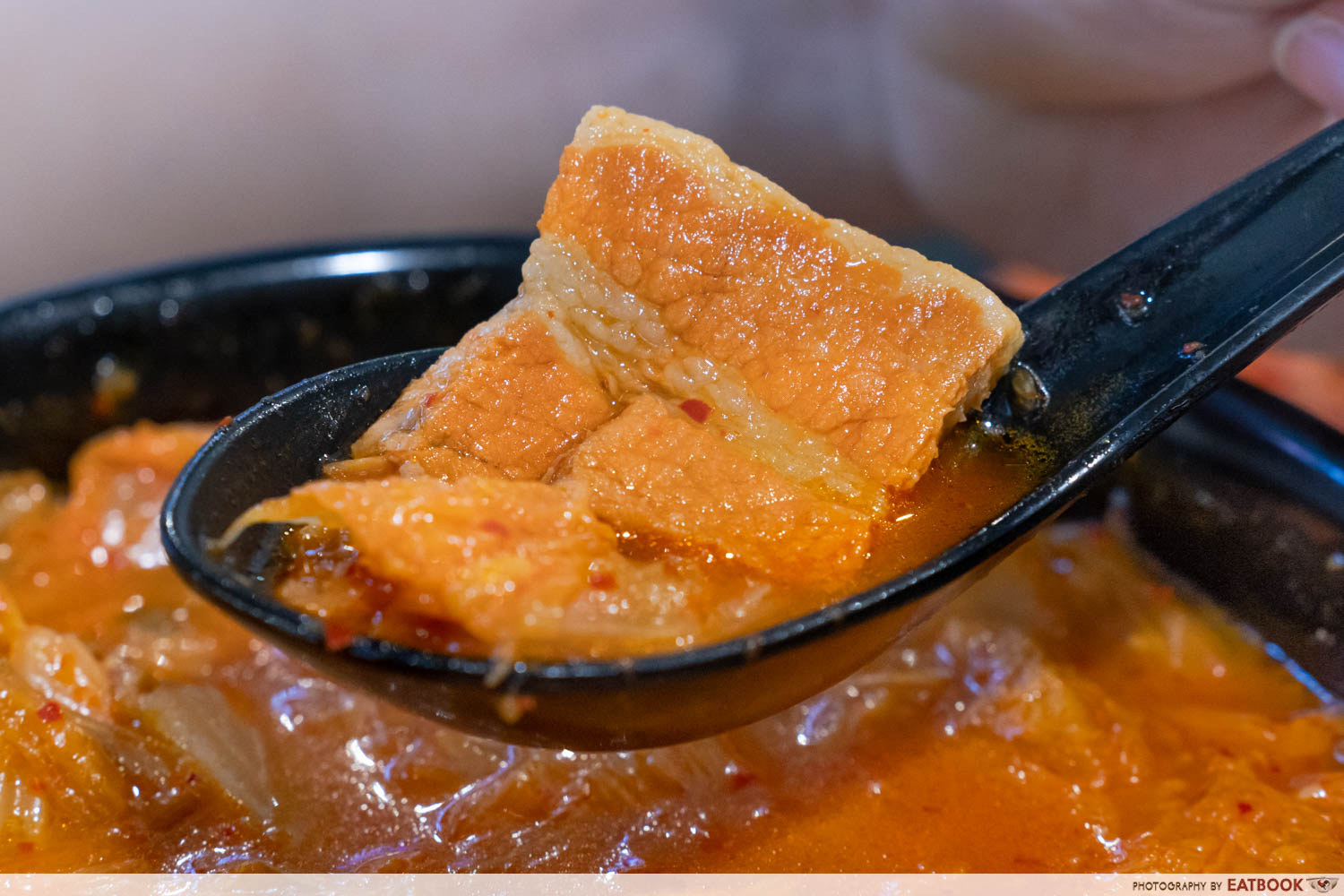 Even the pork belly was tender and came in a thicker-than-average slice. If you're not a big fan of overly sour and spicy kimchi dishes, this one's for you.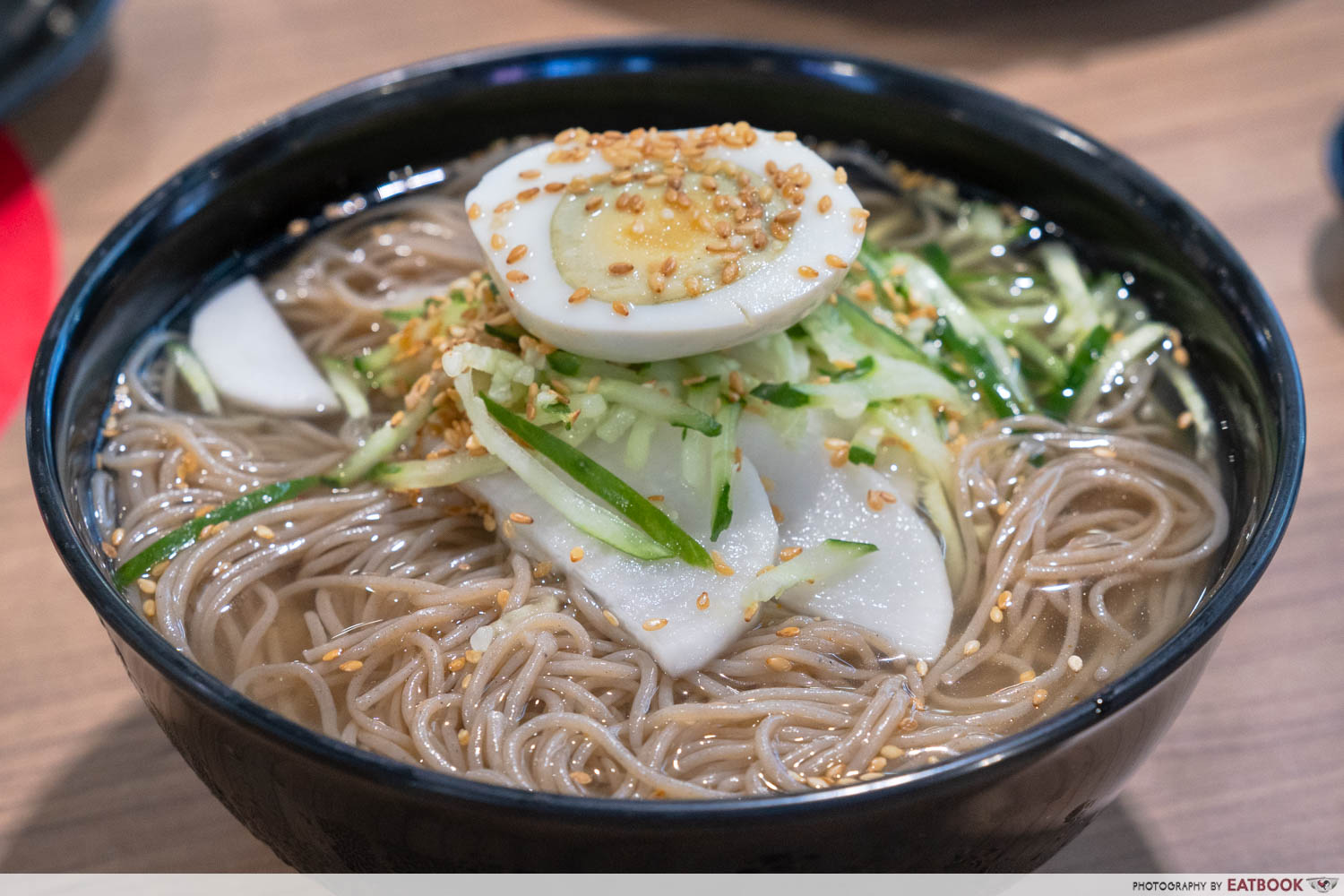 We tried another popular dish, Icy Mul Naengmyeon ($8.80), which stars buckwheat noodles, a halved boiled egg, shredded cucumber, and pickled white radish. The beef-based broth was light and savoury, making it quite addictive to slurp up!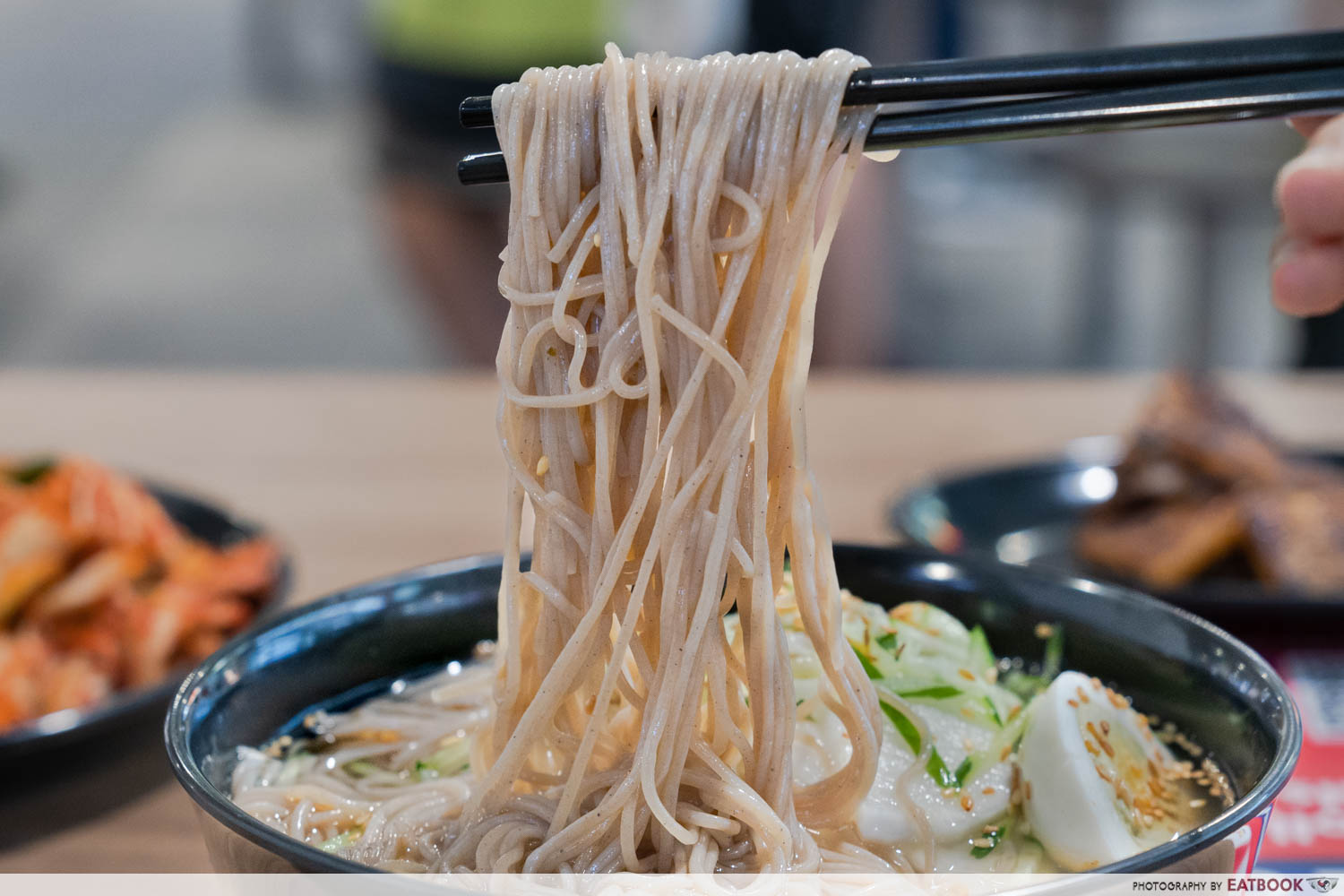 This bowl also comes with a generous portion of noodles, which is great for sharing too. The buckwheat noodles were springy but a tad too soft, probably because they had sat out for a while. However, it was still delicious and refreshing. 
What's special about this dish is the ice cubes in the broth that keep it chilled. You can also request vinegar and mustard, which are traditionally added to the soup for taste. I gave it a shot but found the mustard too pungent for my liking.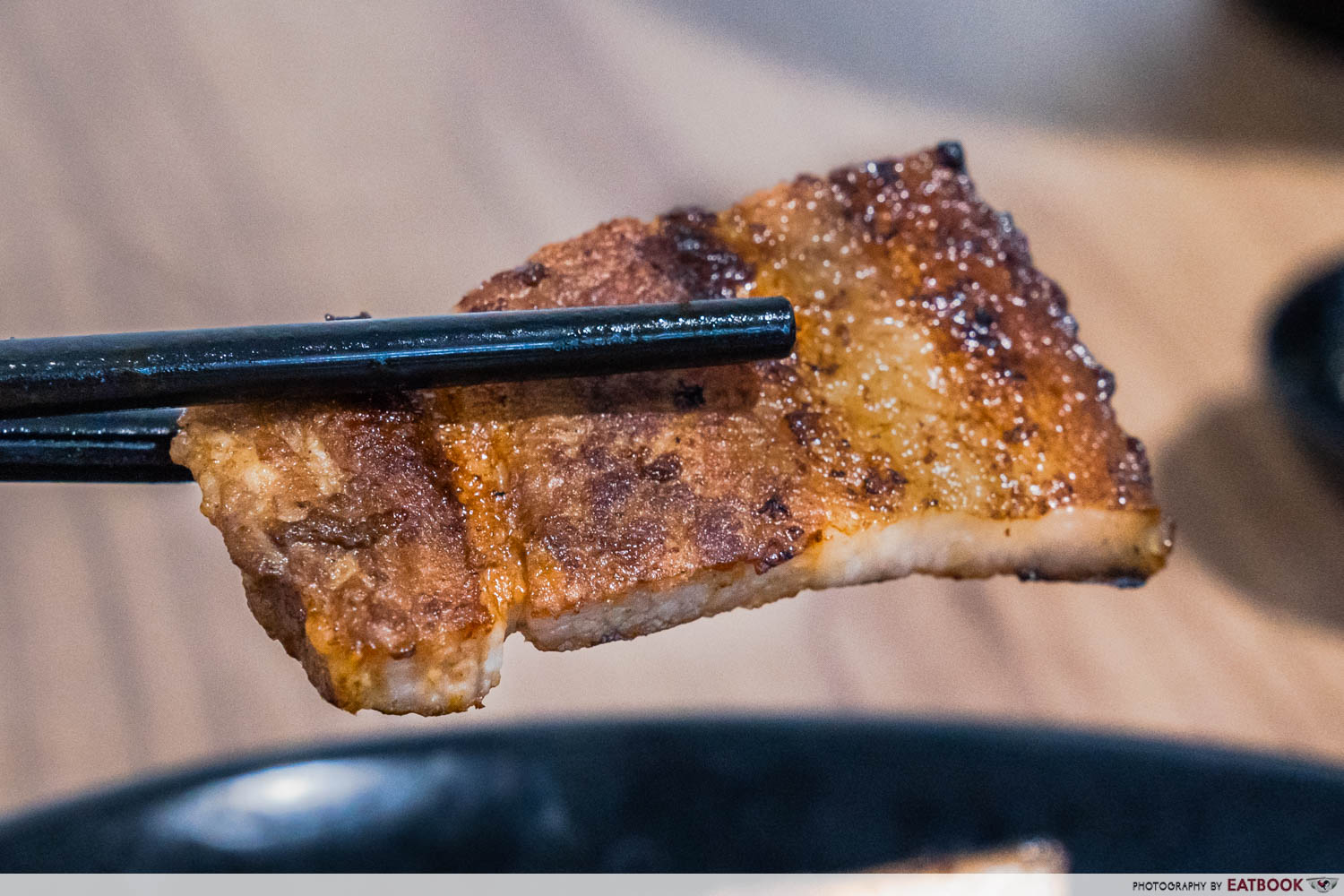 We also ordered a side of Marinated Pork ($2.50) which came with seven slices of their famous pork belly. These were deliciously charred, flavourful, and boasted melt-in-your-mouth fat.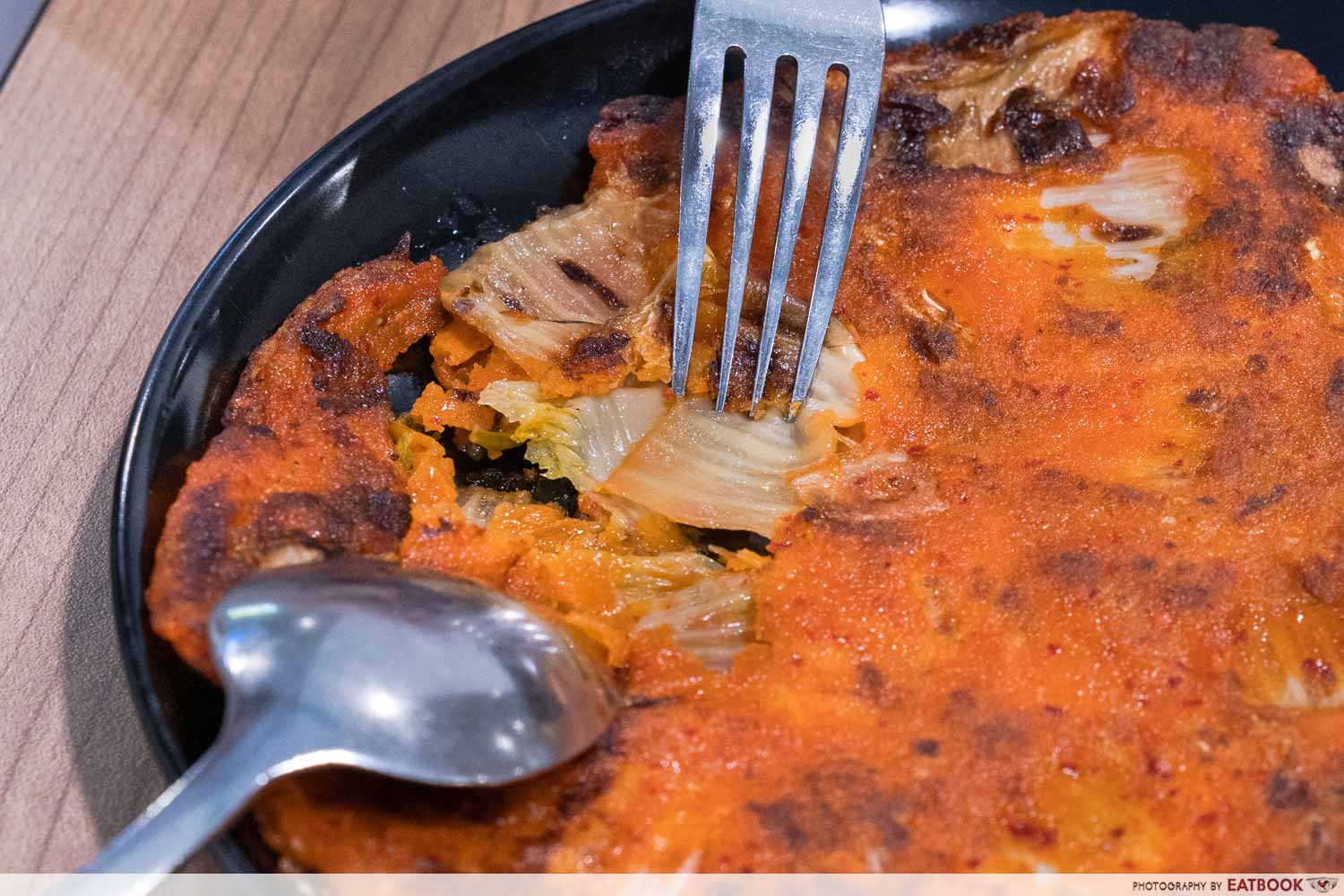 A staple at most Korean eateries, their Kimchi Pancake ($6) could not be missed. My colleague and I enjoyed the charred taste of the savoury pancake, made even more flavourful by dipping it into the provided dip. I found the pancake slightly soggy, but this could perhaps be because it was sitting out for a while—I would have preferred it to be crispier.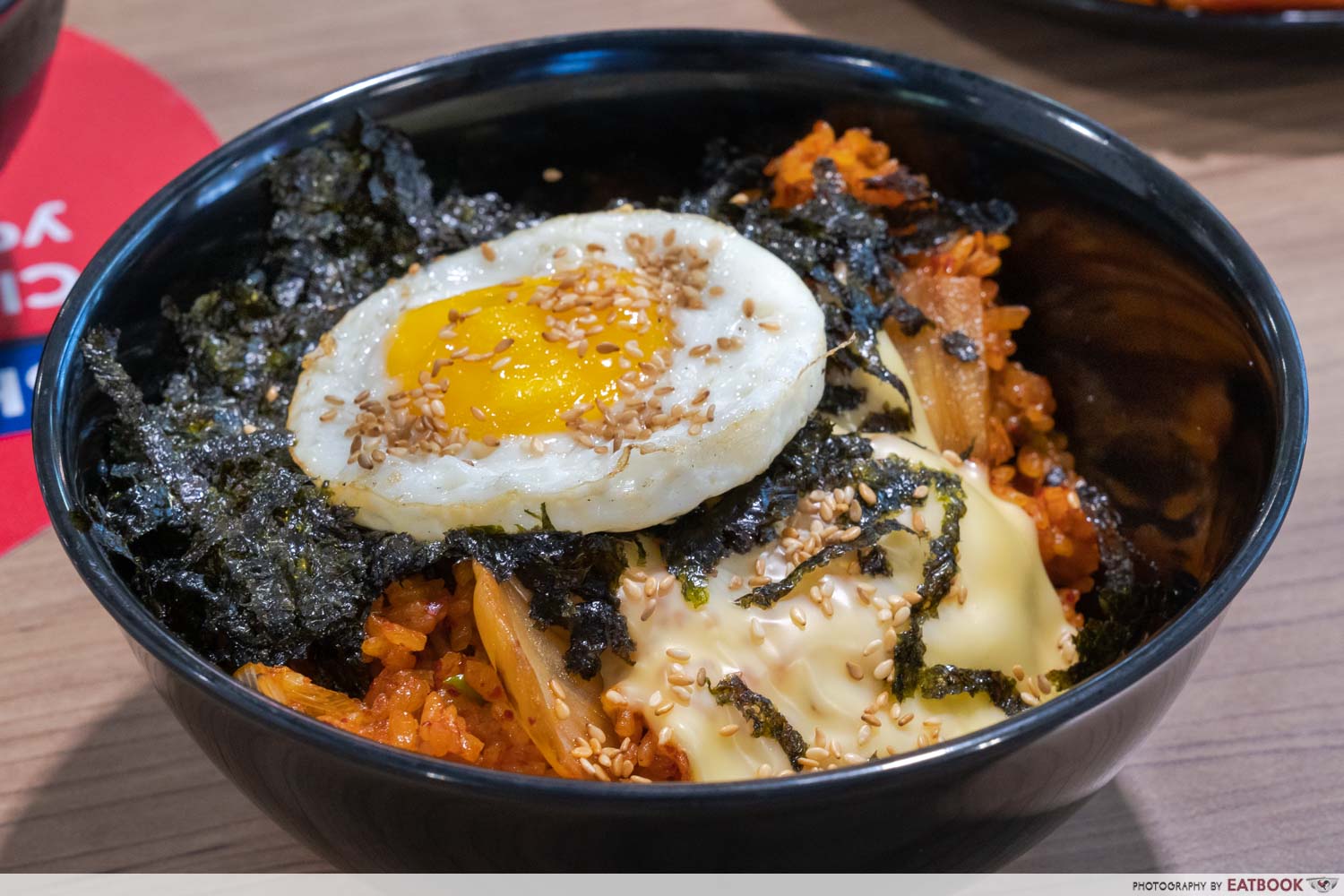 We concluded our dining experience with Kimchi Fried Rice ($6), which came in a bowl, rather than nicely plated as shown on their menu. We topped up an additional $1 to get a slice of cheese on ours. Alternatively, you can get other toppings: chicken sausages ($1.50) and prawns ($2).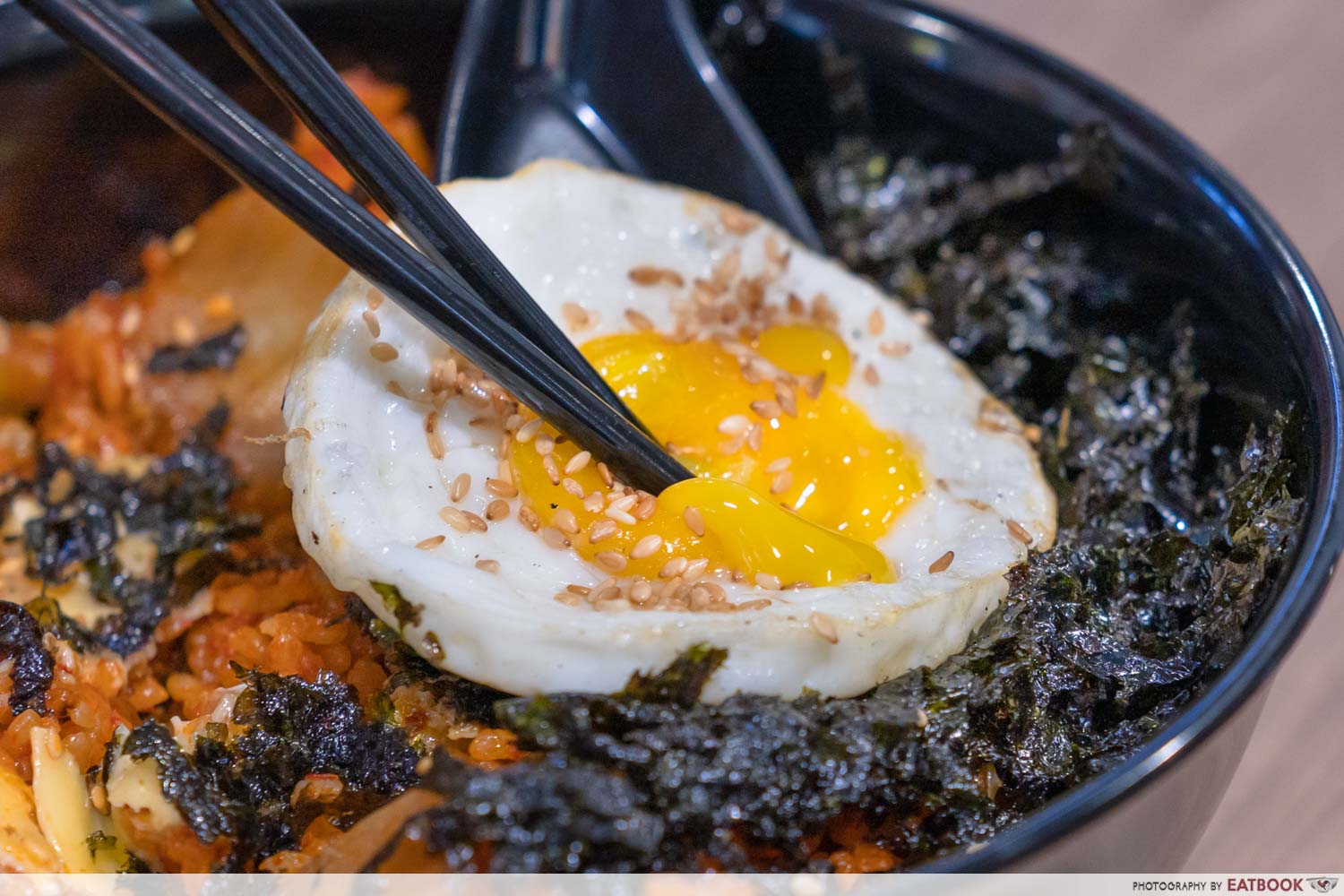 This was delicious. The taste of kimchi was strong, containing sweet and sour notes, with a spicy kick. The rice was chewy and sufficiently moist, with occasional bites of crunchy kimchi found in the dish. The cheese, which I recommend getting, also added creaminess to the rice. Pairing the fried egg with the rice also helped to offset the strong flavours of the entire dish. In addition, the shredded seaweed gave the right amount of savoury flavour to the dish. 
15 Best Korean Restaurants In Singapore For K-BBQ, Tteokbokki Buffets And More
Ambience at JIN Kimchi Express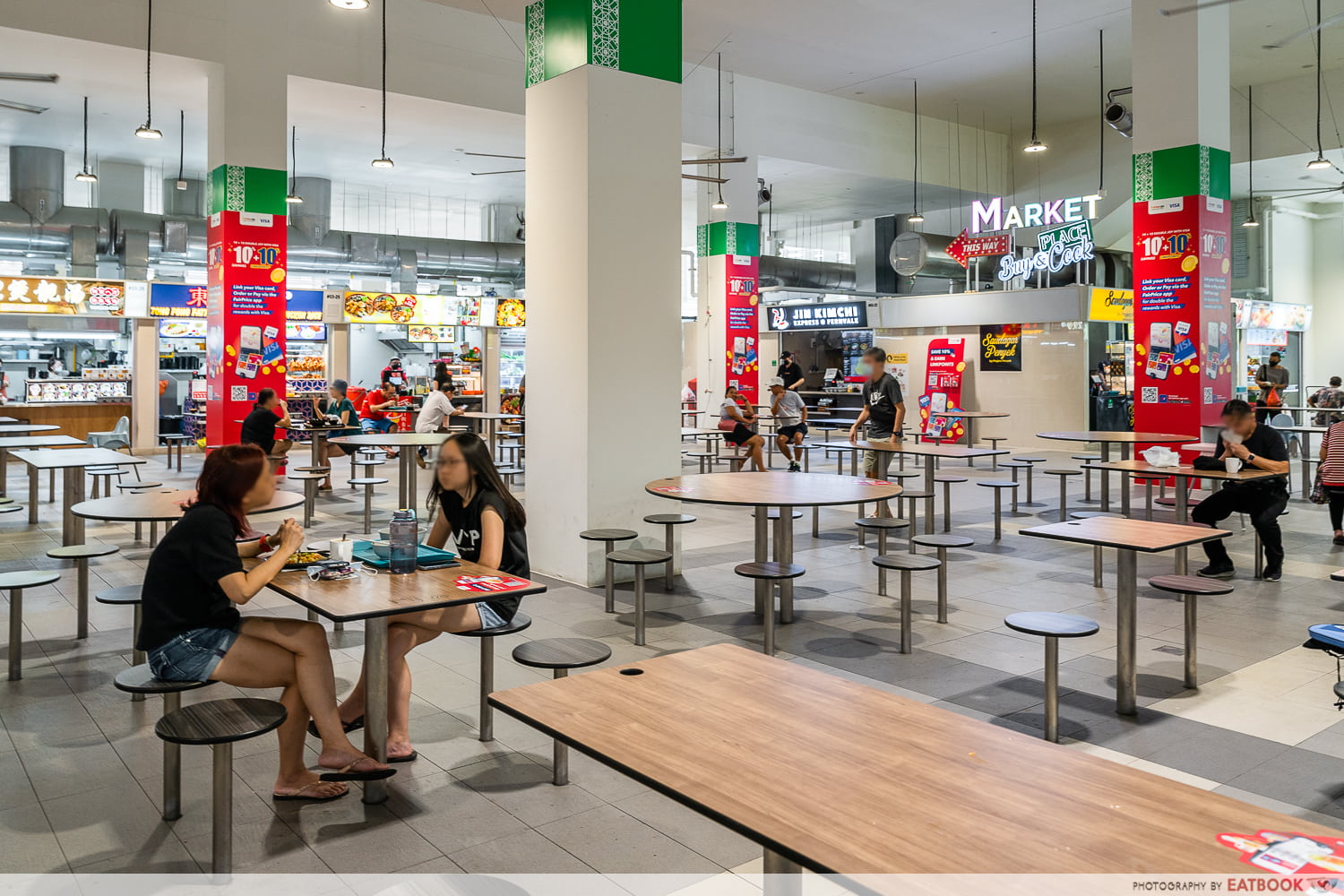 JIN Kimchi Express is located at the newly opened Fernvale Hawker Centre, which is eight minutes away from Sengkang MRT Station, and a stone's throw away from Fernvale LRT Station. The hawker centre is relatively new, so it's clean and pleasant, with tables that accommodate big groups, and lower tables for kids! The hawker centre is also wheelchair-friendly. 
We were there at 11am, just when the stall opened, so we didn't encounter a queue. We were told that they're mostly busy on Sundays and at dinner, so give yourself an allowance for that. 
The verdict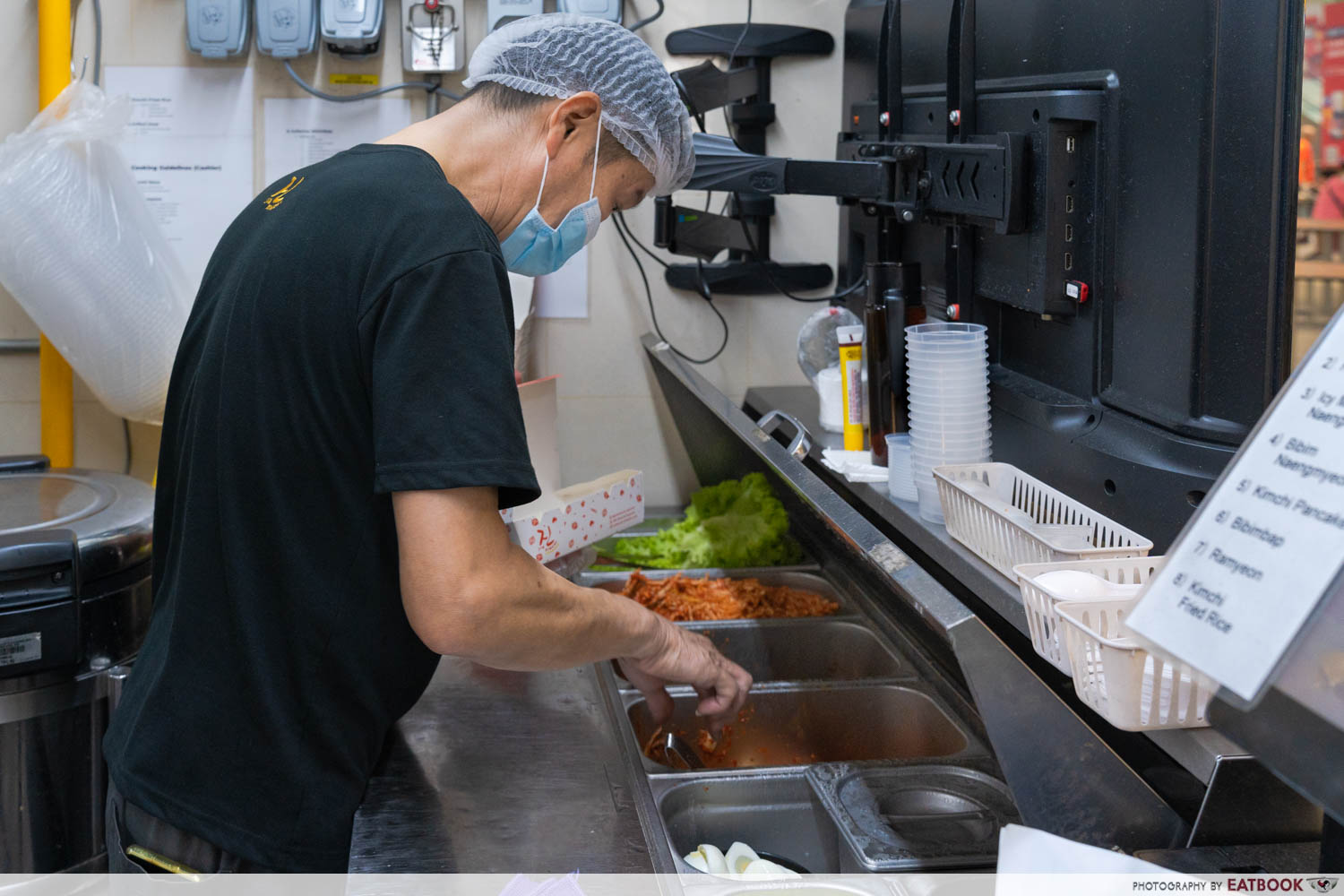 I was really surprised by the moreish Kimchi Stew and tasty Kimchi Fried Rice that I had at JIN Kimchi Express—both of which I definitely recommend. The affordability of their food is also a big plus point for me since many of the legit Korean restaurants around are pretty pricey. I'm quite sure that I'll be back often, especially since they're quite close by for me. They've also recently opened their second outlet in Punggol, so do check them out if you're nearby. 
If you want more Korean eateries, we've compiled a list of the best Korean restaurants in Singapore! Alternatively, for more food in the hood, read our guide to the best Sengkang food finds, including ice cream waffles and char kway teow. 
Address: 21 Sengkang West Avenue, #03-22/35/36/37/38, Fernvale Community Centre, Singapore 797650
Opening hours: Daily 11am to 2:30pm, 5pm to 8:30pm
Tel: 8438 5076
Website | Full list of outlets
JIN Kimchi Express is not a halal-certified eatery.
14 Best Sengkang Food Places For Korean BBQ, Ice Cream Waffles And More
Photos taken by Tan Jia Hui.
This was an independent review by Eatbook.sg
JIN Kimchi Express Review: Legit Korean Food Below $10 And Premium Banchan In Sengkang
JIN Kimchi Express Review: Legit Korean Food Below $10 And Premium Banchan In Sengkang -

7.5/10
Summary
Pros
– Good portions, reasonable prices
– Marinated pork was tasty
– Kimchi items were tasty
Cons
– Kimchi pancake was not crispy enough
– Inconvenient location
Recommended dishes: Jin Signature Kimchi Stew Set ($6), Marinated Pork (+$2.50), Kimchi Fried Rice ($6), Icy Mul Naengmyeon ($8.80)
Opening hours: Daily 11am to 2:30pm, 5pm to 8:30pm
Address: 21 Sengkang West Avenue, #03-22/35/36/37/38, Fernvale Community Centre, Singapore 797650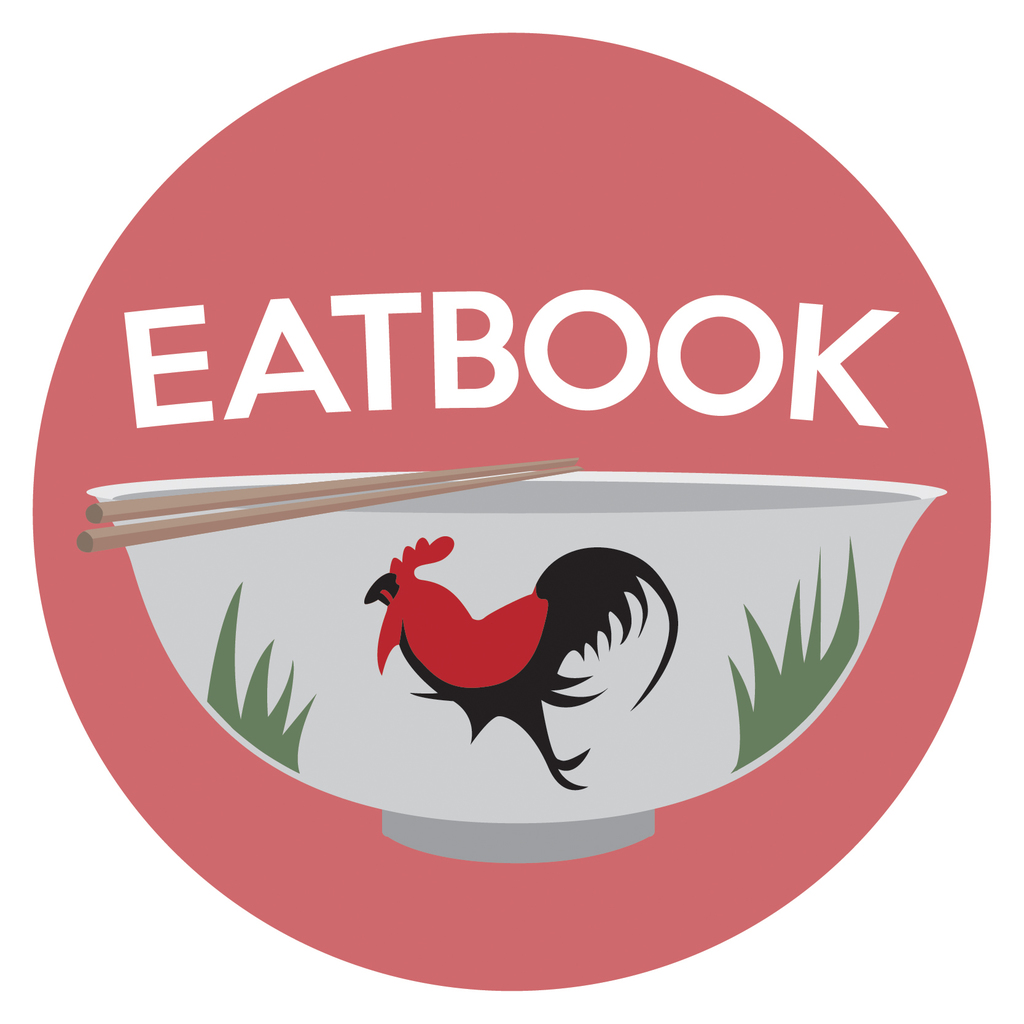 Drop us your email so you won't miss the latest news.