---
Best Korean restaurants in Singapore
---
Korean food spots are dime a dozen in Singapore, especially when you're paying a visit to Tanjong Pagar and the CBD. While the former neighbourhood may be Singapore's Little Korea, trust us when we say our city has plenty more Korean food offerings worth your time, both within, and outside of that iconic central stretch. 
From tteokbokki buffets to K-BBQ joints serving up premium meats, to Busan pork stews and jjajangmyeon, here's our guide to the best Korean restaurants in Singapore
---
1. Guiga Korean BBQ Restaurant
---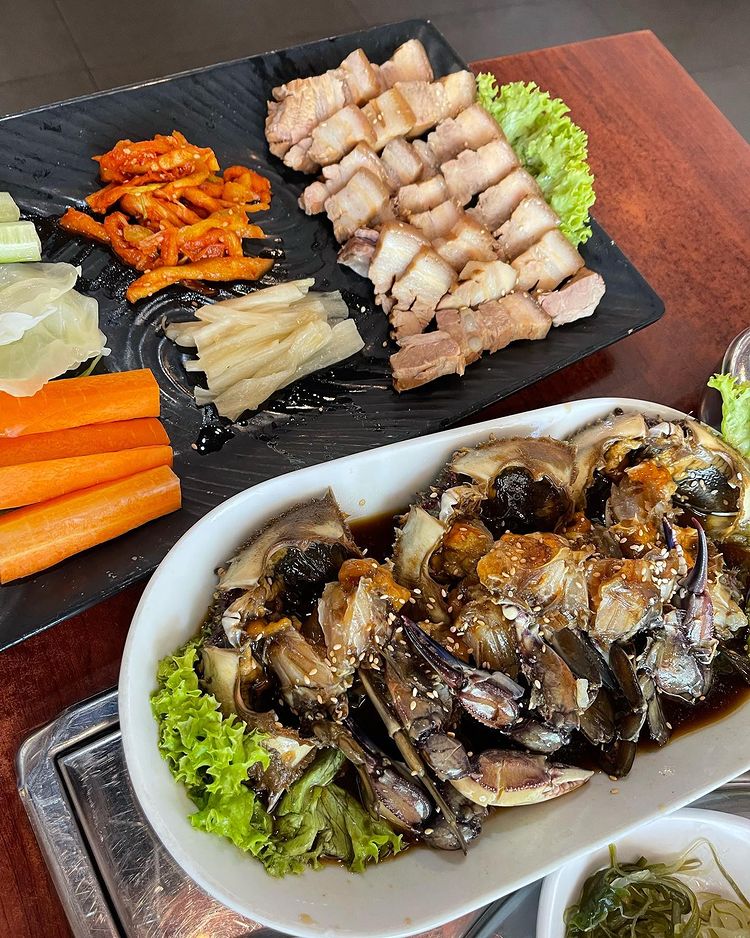 Image credit: @daelifood
Guiga is one of Tanjong Pagar's best-known Korean restaurants, especially because of their Korean barbecue offerings. The casual diner offers cosy booth seats that can accommodate large groups with some privacy—and you'll definitely want to dine with at least two to three others given the substantial portions here. If you're opting for K-BBQ, order their sets, which start from $55++, and come with a mix of pork and beef. You can request for their staff to barbecue for you if you don't feel like DIY. Else, feast on their wide selection of classic Korean dishes, from soups to stews, pancakes to fried rice. Come by at lunch and enjoy Korean marinated raw crab sets for just $20++! The value for money here is truly hard to beat.
Address: 134 Tanjong Pagar Road, Singapore 088538
Opening hours: Mon-Fri 11am to 3pm, 5pm to 11pm
Tel: 6221 3001
Website
Guiga Korean Restaurant is not a halal-certified eatery.
---
2. Kim Dae Mun Korean Food
---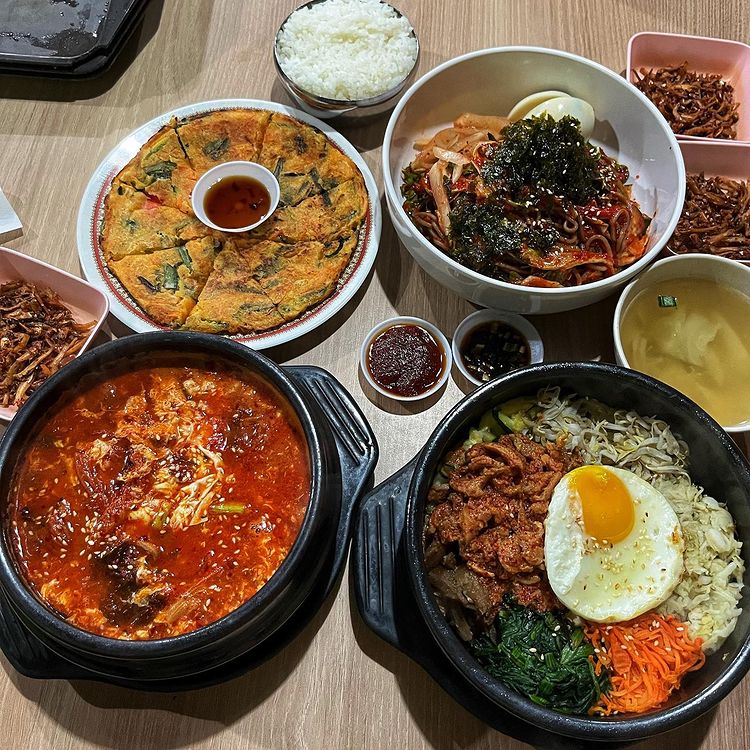 Image credit: @deer_eats
Kim Dae Mun is another extremely popular Korean restaurant, located right in the heart of Orchard Road. The casual, family-friendly eatery is run by a Korean cook, and draws crowds for its restaurant-level fare at food court prices. Many fans praise the home-cooked vibe of the dishes on their menu, which range from hotplate grilled meats to hearty stews. If it's your first time, you can't go wrong with their Kimchi Soup ($9) set, which comes with a side of kimchi, or their Fried Saba Fish ($9.50), seared till the skin is crispy. 
Address: 100 Orchard Road, #01-03D, Concorde Shopping Mall, Singapore 238840
Opening hours: Tue-Sun 11am to 8pm
Website
Kim Dae Mun is not a halal-certified eatery.
---
3. Seorae Korean Charcoal BBQ 
---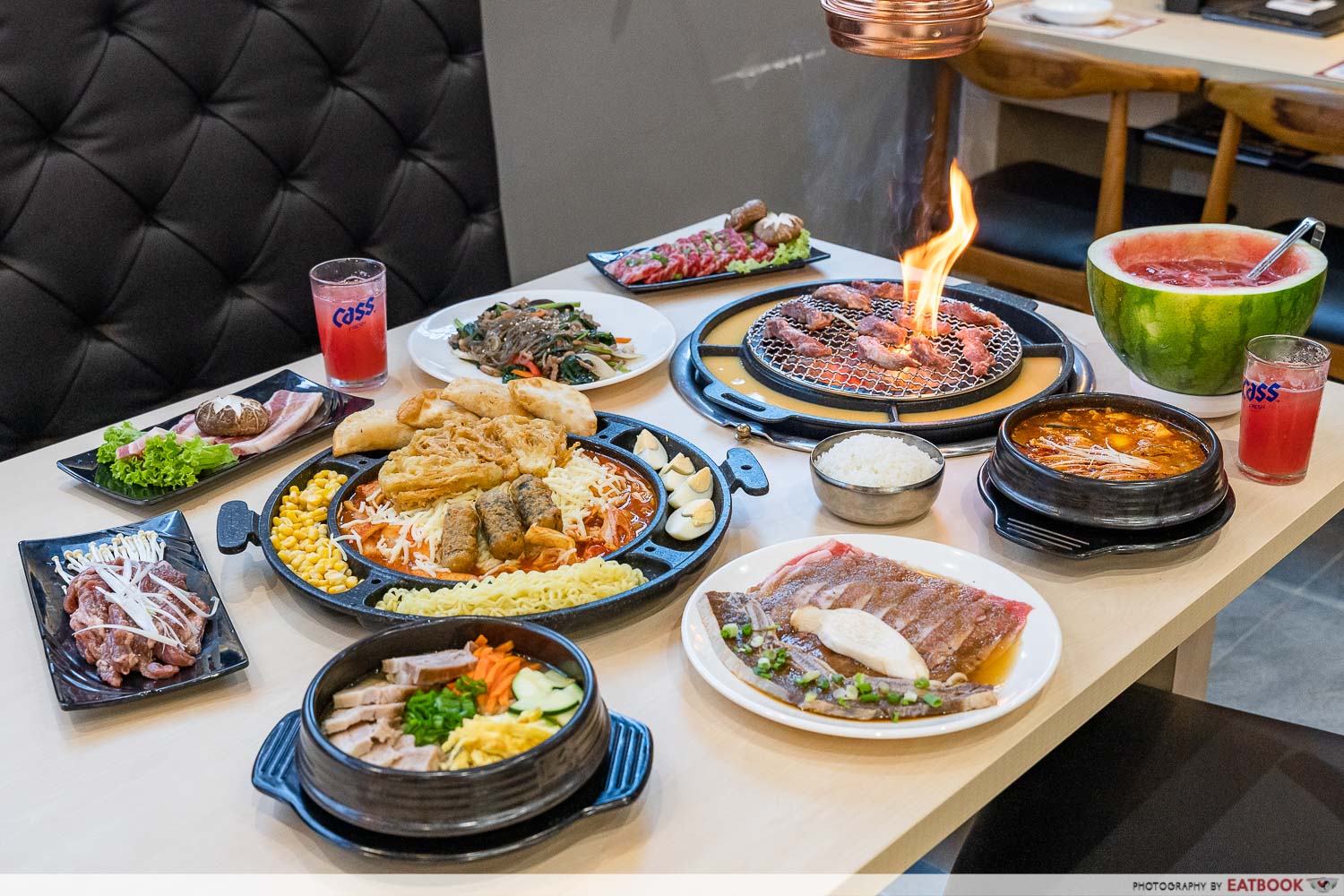 Seorae isn't your average Korean barbecue restaurant—they're known for being one of the first in Singapore to have galmaegisal, AKA pork skirt meat, on their menu. Galmaegisal used to be the domain of the Korean royals, but it became wildly popular on K-BBQ menus in the 2010s. Seorae offers diners tender slices of the cut to feast on, alongside a wide spread of other meats. Their barbecue set-up also includes three trays circling the main grill, where you can grill cheese, kimchi, and egg to enjoy as hot sides. The sets here start from $88++ and feed two to three, but you can always choose to dine ala carte if you prefer. With five outlets islandwide, they're also incredibly convenient when looking for a quality Korean restaurant near you.
Read our Seorae Korean Charcoal BBQ review.
Website | Full list of outlets
Seorae is not a halal-certified eatery.
Seorae Review: K-BBQ Restaurant In Sengkang With Pork Skirt, Cheesy Tteokbokki, And Free Salad Bar
---
4. Hanjip Korean Grill House
---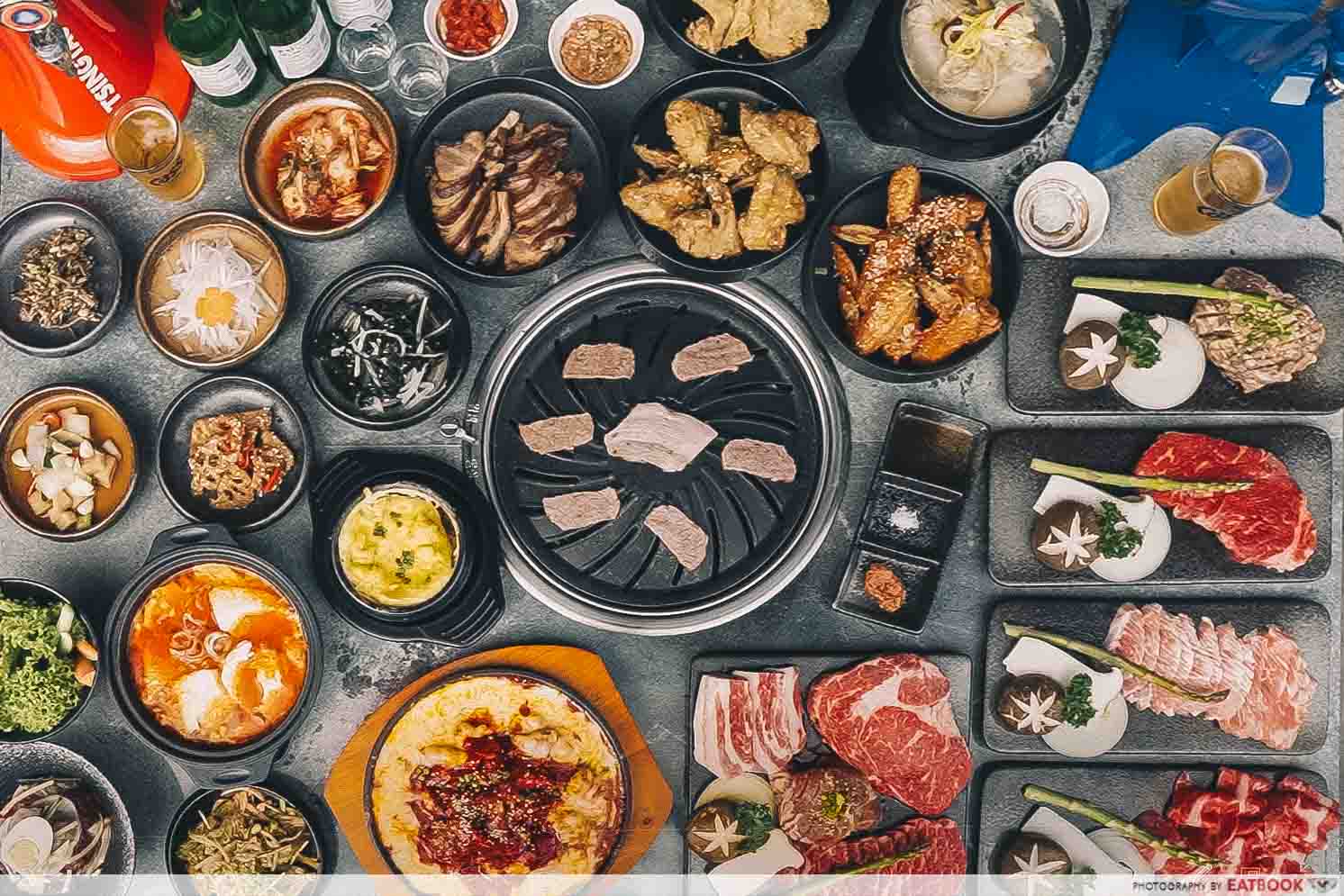 Hanjip Korean Grill House first opened in 2020 as one of the biggest Korean restaurants in Singapore. The sprawling Clarke Quay eatery encompasses private dining rooms and a plush seating area, replete with black and gold furnishings. While its decor looks highbrow, Hanjip's vibe remains down-to-earth, offering diners extremely authentic Korean fare, including a wide variety of banchan made in-house, and their own soju brand. They do have a broad selection of premium meats on the menu, including USDA Prime beef, aged Wagyu, and Kurobuta Berkshire pork, so be prepared to splurge a little when you dine here. If K-BBQ isn't what you feel like having, then swing by Hanjip for lunch, as they have an extensive line-up of classic Korean dishes, available as set menus, all under $20++.
Read our Hanjip review.
Address: 3C River Valley Road, #01-11, Blk C, The Cannery, Clarke Quay, Singapore 179022
Opening hours: Daily 12pm to 2:30pm, 5pm to 12am
Tel: 8882 9011
Website
Hanjip Korean Grill House is not a halal-certified eatery.
Hanjip Korean Grill House Review: Korean BBQ With USDA Prime Ribeye And Wagyu Platters In Clarke Quay
---
5. Wang Dae Bak
---

Wang Dae Bak has three different concepts, but all its outlets offer Korean dishes as set lunches and K-BBQ for dinner. At their latest Holland Village outlet, for example, diners can swing by at lunchtime from Monday to Friday and enjoy sets under $20++, as well as comforting Korean dishes ranging from their Budae Jjigae ($39++), which generously feeds two to three, or their pancakes (from $23++), topped with seafood or spiced kimchi. Come dinnertime, pick from sets that feed between two to six, alongside house specialty roast meat dishes and fried chicken. Their Mixed Pork Knuckle and Steamed Pork Belly Set ($58++), AKA bossam, comes highly recommended. No matter what you fancy, you'll be able to enjoy legit Korean fare at decent prices. 
Read our Wang Dae Bak Holland Village review.
Website | Full list of outlets
Wang Dae Bak is not a halal-certified eatery.
Wang Dae Bak Korean BBQ Opens In Holland Village, With Angus Ribeye And Pork Belly Sets
---
6. HoHo Korean Restaurant
---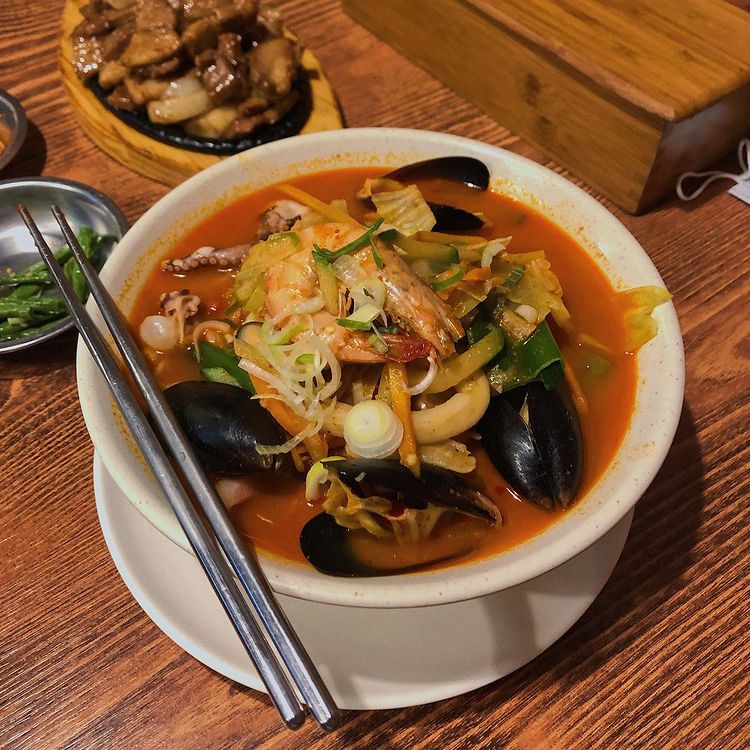 Image credit: @whatfood.s
Nestled in the HDB heartlands of Clementi is this super legit Korean eatery, HoHo. The menu here is chock full of authentic Korean ala carte dishes, served in substantial portions. Some of their bestsellers include their Jjampong ($18++), which fans rave about because it comes packed to the brim with different kinds of seafood, including squid and mussels. Another popular pick is their Cheolpan Dakgogi ($13++), a spicy, marinated hotplate chicken dish that delivers quite the fiery kick. Other must-tries include their fried chicken, and Mul-Naengmyeon ($15++), a cold sesame noodle dish that's perfect on a sweltering day.
Address: 106 Clementi Street 12, #01-58/60, Singapore 120106
Opening hours: Wed-Mon 11:30am to 2:30pm, 5:30pm to 9pm
Tel: 6250 3908
Website
HoHo Korean Restaurant is not a halal-certified eatery. 
---
7. PUJIM BBQ
---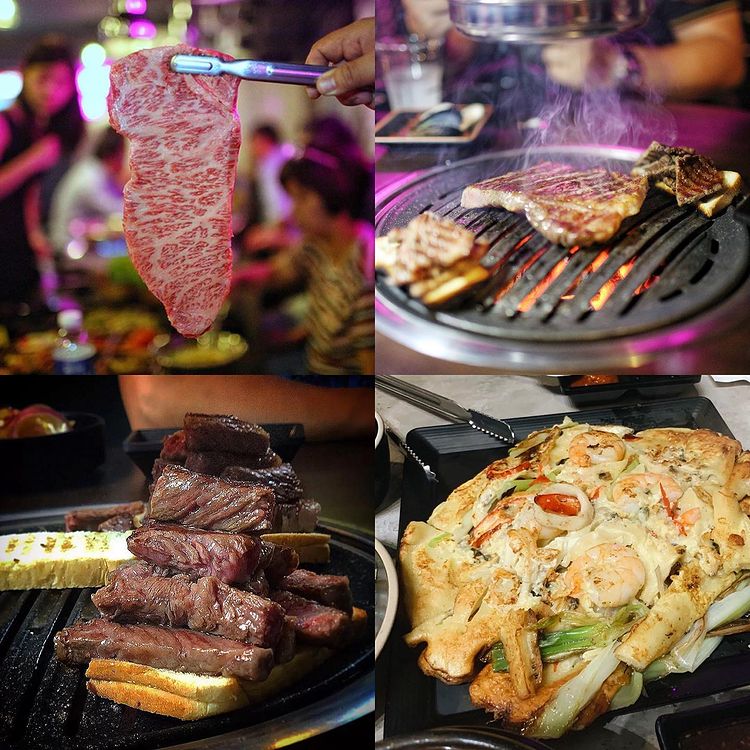 Image credit: @sgtravelfun
Dinner-only K-BBQ joint PUJIM is popular amongst locals and Koreans for its veritable library of premium meat cuts, ranging from Iberico and Duroc pork to A4 Wagyu steaks. Aside from their meats, PUJIM is also known for their legit house-made banchan, Busan-style ala carte dishes, and an equally impressive line-up of Korean alcoholic beverages beyond your usual soju. The Amoy Street eatery also boasts top-of-the-line exhaust nozzles, so you won't leave smelling too intensely of grilled meat. Expect to spend around $50 to $80++ per person.
Address: 82 Amoy Street, #01-00, Singapore 069901
Opening hours: Daily 4:30pm to 11pm
Website
PUJIM Korean BBQ is not a halal-certified eatery.
---
8. Charim Korean BBQ
---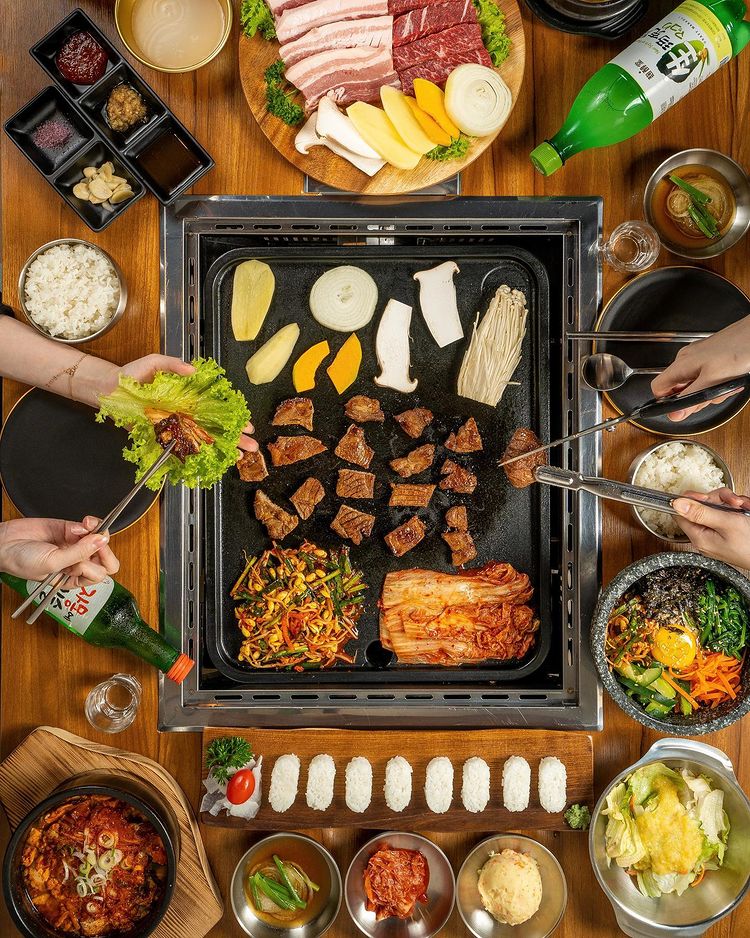 Image credit: @charimsg
You may recall Charim Korean BBQ as the restaurant that set TikTok abuzz. Run by a Korean native and her mother, Charim has garnered rave reviews since its opening for their value-for-money barbecue sets and welcoming service. We recommend ordering their Set A ($65++), which feeds two with a trio of pork cuts, including their Salted Pork Neck, reminiscent of bacon. Each set also comes with your choice of jjigae and a wobbly steamed egg. Another unique offering is their DIY Sushi Rice ($5++), a platter of pre-moulded sushi rice rounds that you can top with your freshly grilled meat, wasabi, Korean leek, and a house specialty sauce, to create an all-new type of gunkan. There's the option to have the staff here grill for you too, if you prefer,
Address: 65 Tanjong Pagar Road, Singapore 088486
Opening hours: Daily 11:30am to 1am
Website
Charim Korean BBQ is not a halal-certified eatery.
---
9. Don Dae Bak
---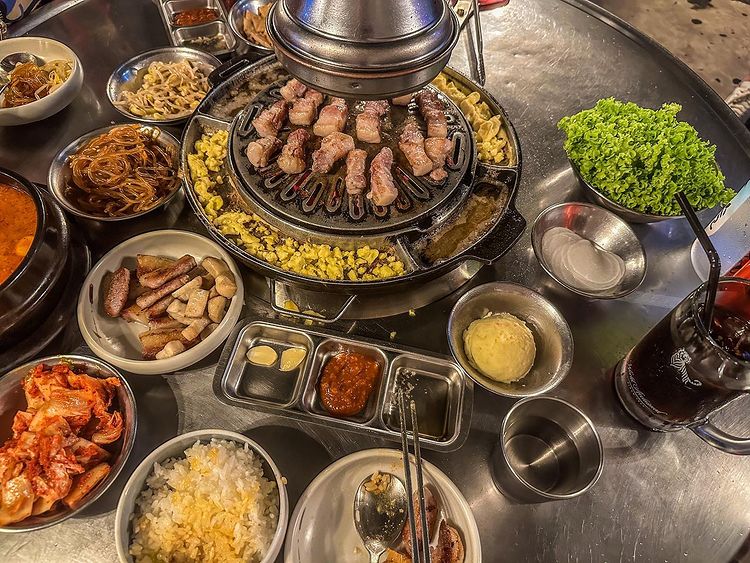 Image credit: @biw___ty.ig
For charcoal-grilled Korean BBQ, look no further than Don Dae Bak. The highly raved Korean restaurant offers diners a slew of BBQ sets, which you can enjoy with a selection of ala carte dishes, including four different types of tteokbokki. The latter includes the trendy Rose Tteokbokki ($34++), a mildly spicy option laced with tomato space, or their house signature Don Dae Bak Tteokbokki ($30++), served with a fiery sauce that the menu labels, "so spicy I might die". The Chinatown restaurant also has a 90-minute BBQ buffet from $34.90++, where each diner gets free-flow pork, chicken, and a limited serving of beef for the duration. Veggies and sides aren't included with the buffet fee.
Address: 35 Kreta Ayer Road, Singapore 089000
Opening hours: Daily 11:30am to 5am
Tel: 6226 1727
Website
Don Dae Bak is not a halal-certified eatery.
---
10. I'm Kim 
---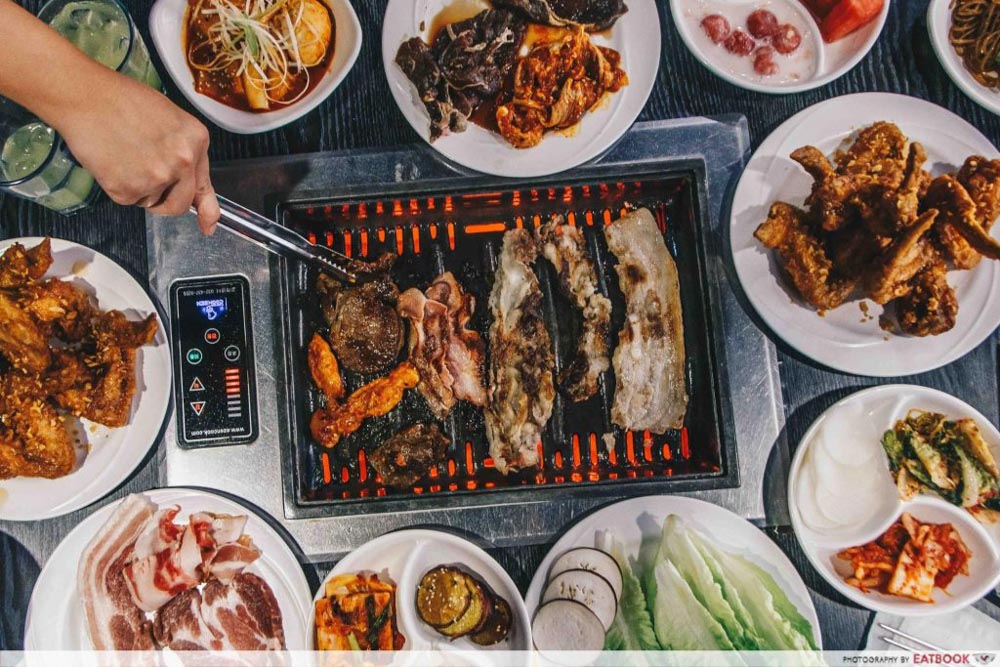 Another wallet-friendly spot for a K-BBQ buffet is I'm Kim, located in the SOTA compound at Dhoby Ghaut. Their weekday buffet lunch is priced at $16.90++ per adult, and comes with a seriously impressive selection of meats, greens, sides, soups, and desserts. Don't skip on ordering their Volcano Chicken, marinated in a smoky and spicy sauce reminiscent of Samyang, or their moreish Korean Honey Pork. The cuts here aren't of the most premium quality, but you're getting plenty of bang for your buck.
Address: 1 Zubir Said Drive, #01-04, School of The Arts, Singapore 227968
Opening hours: Mon-Fri 11:30am to 4pm, 5:30pm to 10pm, Sat-Sun 11:30am to 4pm, 4pm to 10:30pm
Tel: 6238 7218
Website
I'm Kim is not a halal-certified eatery.
---
11. Dookki
---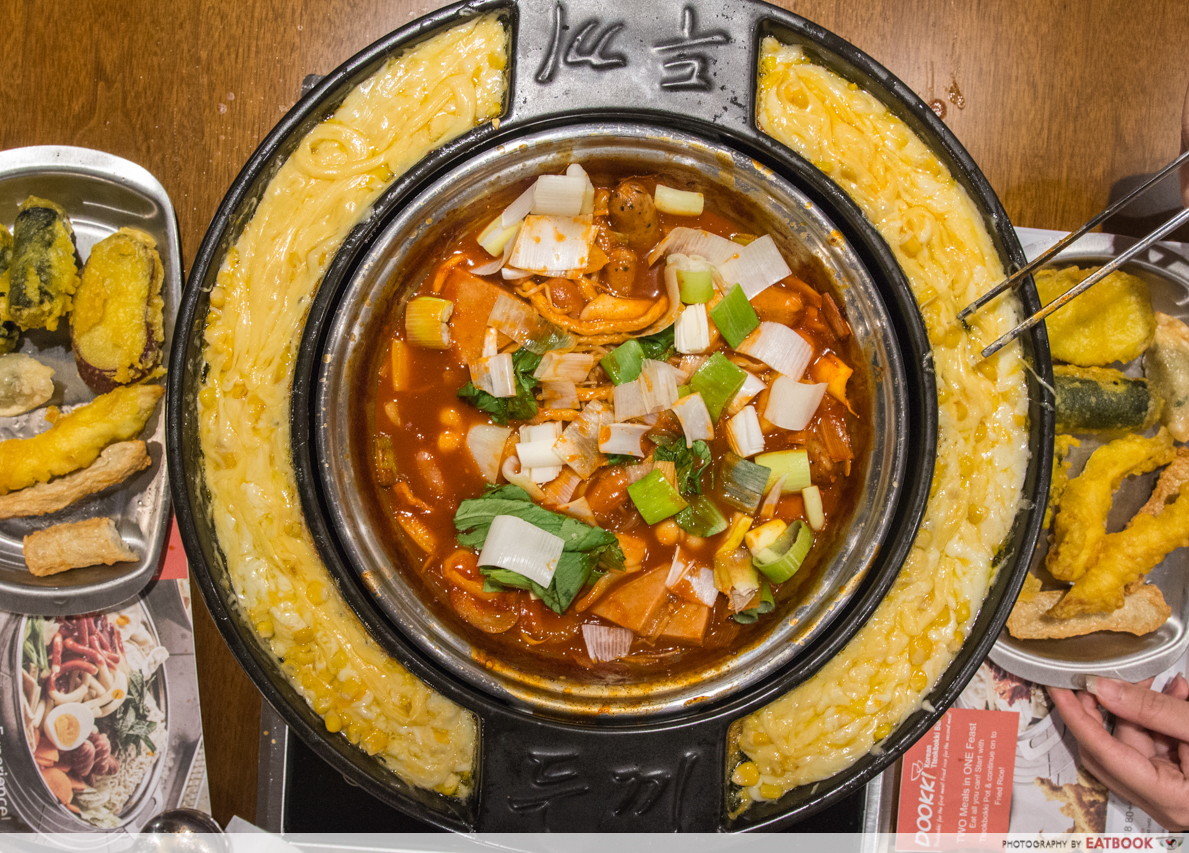 If you love tteokbokki, hotpot, and buffets, swing by Dookki, the first restaurant in Singapore to specialise in all three. They have two outlets, one in JCube, and another in Suntec City. Either way, dig into their Buffet Menu, priced from $20.80++ per adult. Each table gets a hotpot that's filled with spicy tteokbokki sauce, and an accompanying cheese moat. From there, choose your preferred rice cakes, and pack your hotpot full of their free-flow toppings, from hotdogs to cheese tofu. The side dishes here are also fantastic value for money, as you get unlimited fried chicken, mandu, Korean fishcakes and more.
Read our Dookki review.
Website | Full list of outlets
Dookki is not a halal-certified eatery but serves no pork or lard.
Dookki Singapore Review: Korean Tteokbokki Buffet With Kimchi Fried Rice At $20.80++
---
12. Fav.grillbar
---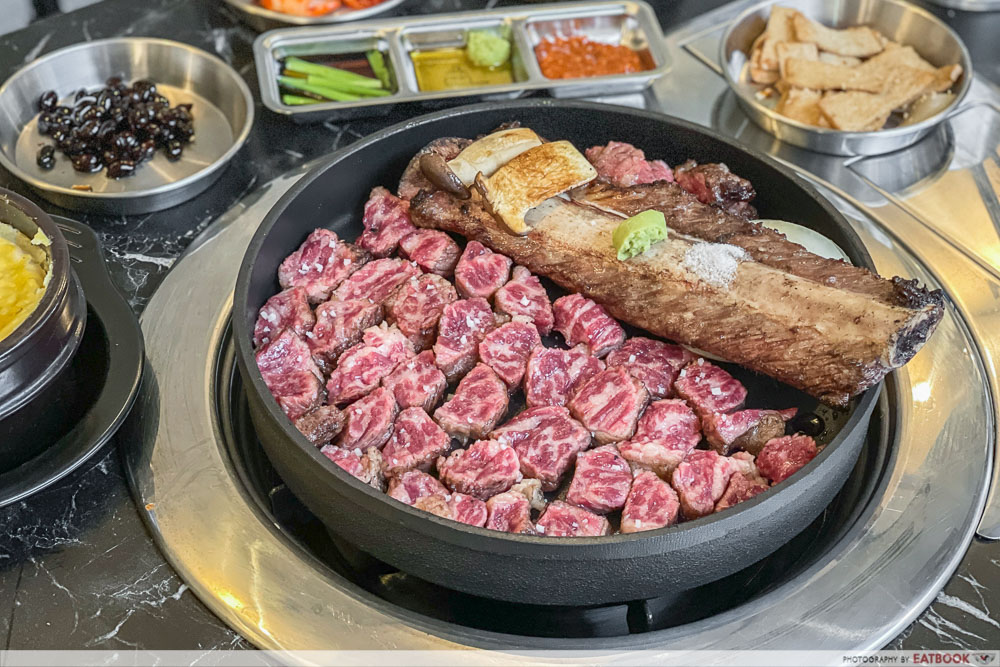 New kid on the block Fav.grillbar recently wowed us for their selection of dry-aged meats and unique banchan. The Korean BBQ restaurant along Neil Road kicks off your meal with a range of lesser-seen starters, such as pickled perilla leaves and salted black beans, before moving on to any of their main BBQ sets. Their namesake Fav Set ($98+) is our top pick because it comes with a whole, giant beef short rib that's cut to tender pieces, and finished at the table's grill. Apart from their barbecue fare, diners can look forward to traditional Korean dishes such as their Mak Guksu Noodle ($18+), Army Stew ($25+), and Seafood Pancake ($32+). 
Read our Fav.grillbar review.
Address: 63 Neil Road, Singapore 088896
Opening hours: Mon-Sat 5pm to 12am
Tel: 8922 8513
Website
Fav.grillbar is not a halal-certified eatery.
Fav.grillbar Review: New KBBQ Bar Opens Till 11PM, Serves Tender Beef Short Ribs And Free Steam Egg
---
13. Daejim
---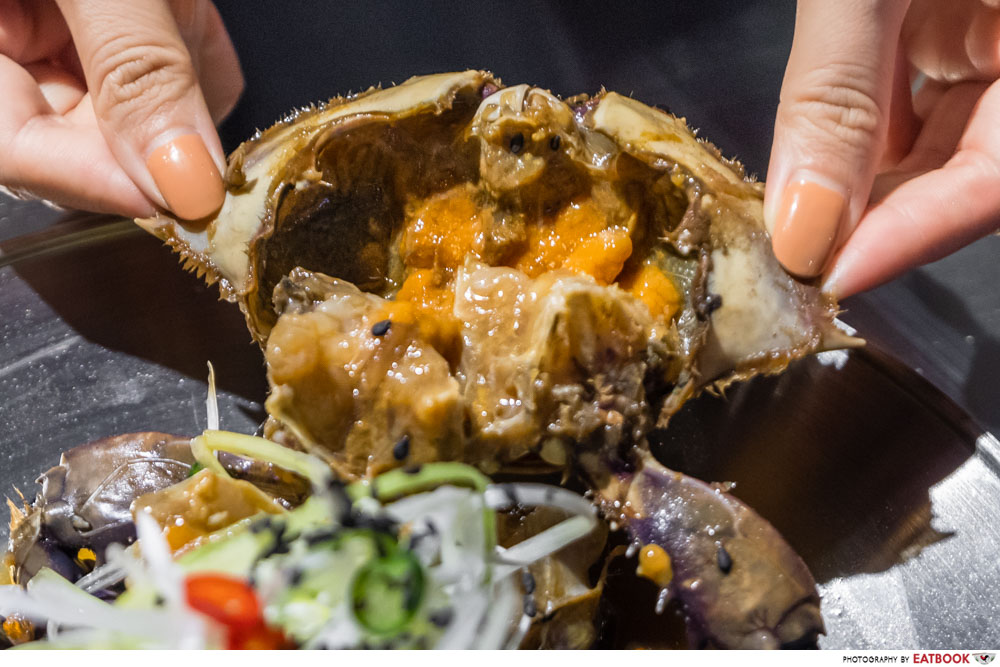 Daejim is a great K-BBQ eatery, but we recommend swinging by for their seafood offerings. While most barbecue joints focus on meats, Daejim actually has a substantial Seafood Set ($118++), which comes with a mouthwatering spread of shellfish sourced from Korea, all for you to enjoy on the grill. Each set includes huge scallops, which you can top with mozzarella before putting it over heat, as well as fresh oysters and abalone. Also, don't miss the Ganjang Gejang ($40++) AKA Korean marinated raw crabs. This dish has come into the limelight of late in Singapore, and at Daejim, they're marinated for three to four days so the crabmeat is chock-full of umami. 
Read our Daejim review.
Address: 4 Craig Road, Singapore 089664
Opening hours: Daily 12pm to 3pm, 5pm to 2am
Website
Daejim is not a halal-certified eatery.
Daejim Review: Korean BBQ With Soy-Marinated Raw Crabs And Mozzarella Scallops In Tanjong Pagar
---
14. Um Yong Baek
---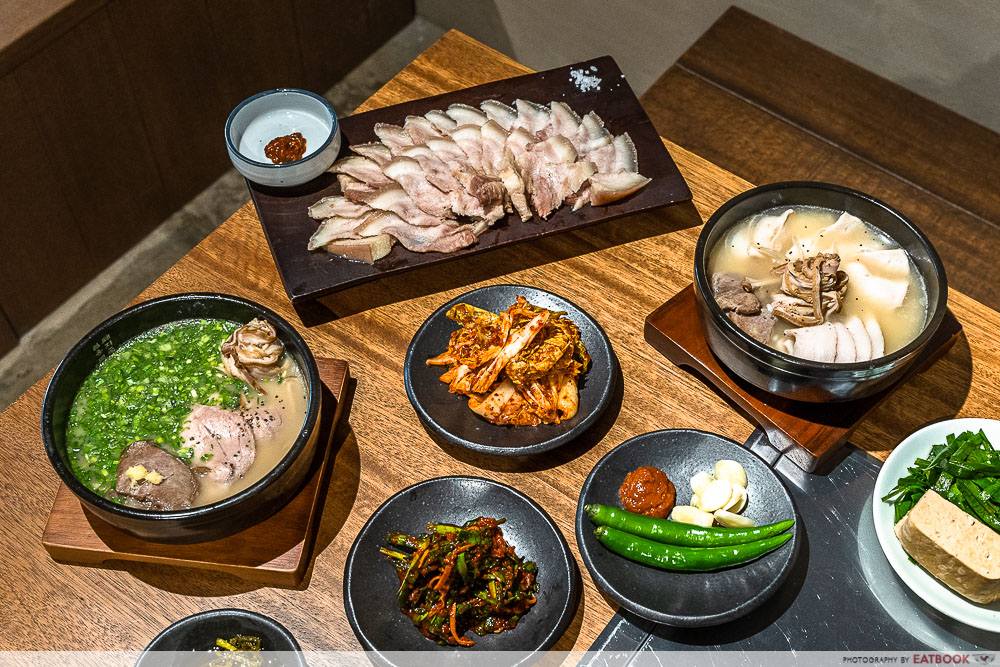 Um Yong Baek was arguably one of the hottest Korean eateries in Singapore last year, with long queues and a waiting list for reservations. The hype train is well-deserved, in our opinion, as Um Yong Baek truly brings something different to the Korean restaurant scene. The cosy diner specialises in Busan pork and serves it up two ways. Exclusive to lunchtime is their Dwaeji Gukbap ($21+), which comes with a collagen-rich broth, short grain rice, and a mix of pork cuts as well as offal for a cosy, flavourful dish. Come dinnertime, the restaurant offers pork-focused K-BBQ, where premium cuts of pork are served with a range of unique, Busanese accompaniments. Do note that each diner has to order one pork item for their dinner barbecue.
Read our Um Yong Baek review.
Address: 27 Boon Tat Street, Singapore 069623
Opening hours: Mon-Sat 11am to 3pm, 5:30pm to 10pm
Tel: 8843 5968
Website
Um Yong Baek is not a halal-certified eatery.
Um Yong Baek Review: Famous Korean Restaurant With Traditional Busan Pork And Rice Soup, Limited Servings Daily
---
15. Itaewon Jjajang
---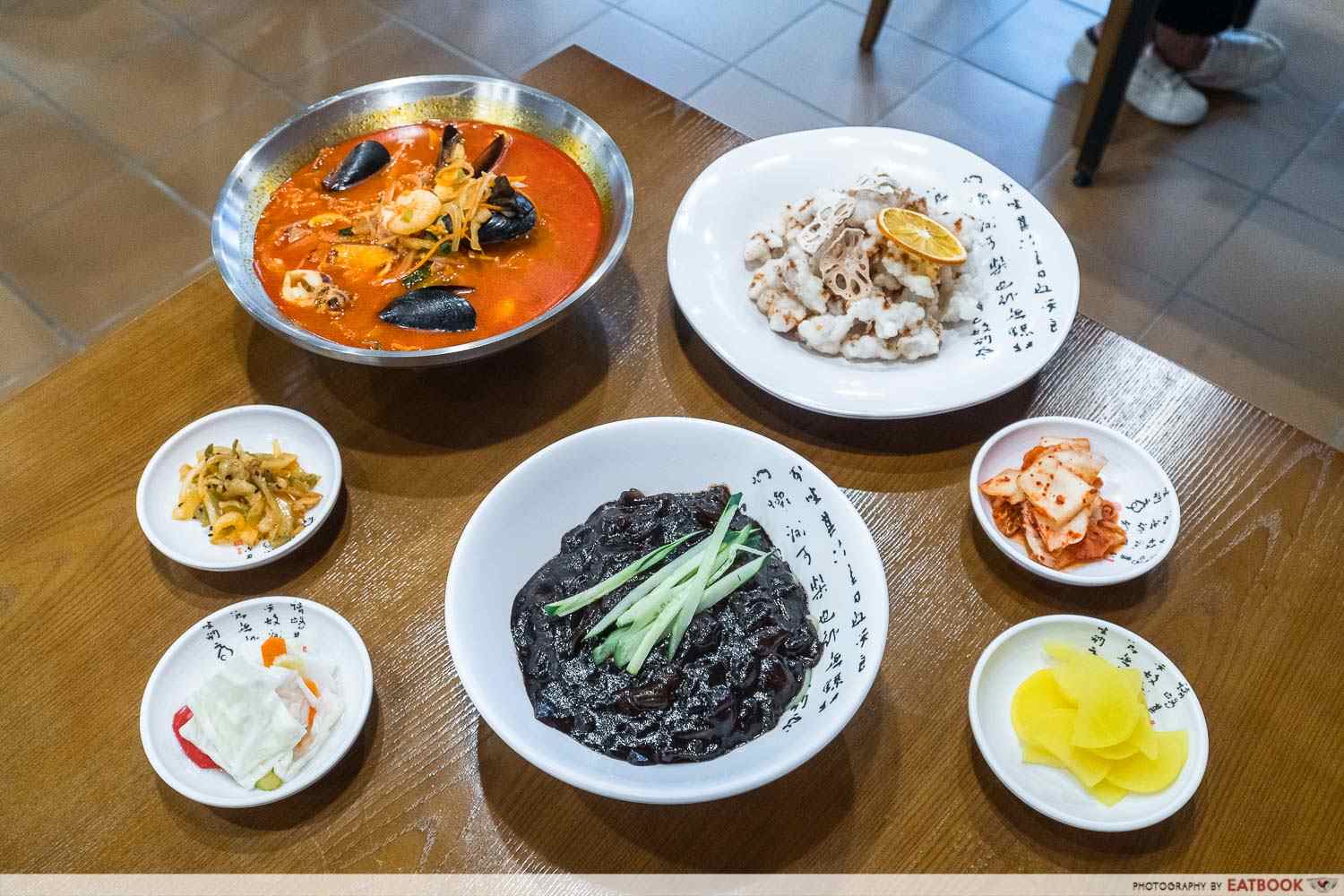 Korean-Chinese fare is a significant subset of Korean cuisine, and it's thanks to the fusion between both worlds that we have dishes such as jjajangmyeon and tangsuyuk. If you love your Korean-Chinese dishes, we recommend you visit Itaewon Jjajang, a Tangjong Pagar eatery that serves up lunch sets featuring the aforementioned dishes and more. Try their Set A ($49++), which feeds two to three with jjajangmyeon, jjamppong, and tangsuyuk. On its own, each dish is priced close to $20++ or more, so you're getting quite the steal when you order them as a trio. The jjajangmyeon here is our favourite, thanks to its ultra-savoury black bean sauce, refreshed with slices of cucumber and onions.
Read our Itaewon Jjajang review.
Address: 64 Peck Seah Street, Singapore 079325
Opening hours: Tue-Sun 11:30am to 3pm, 5pm to 10pm
Website
Itaewon Jjajang is not a halal-certified eatery.
Itaewon Jjajang Review: Korean-Chinese Restaurant with Legit Jjajangmyeon In Tanjong Pagar
---
Where to eat Korean food in Singapore
---
For more Korean eateries, check out our Meokja by JUNGGA review for Muslim-friendly Korean food and our Phat Fingers review for a Korean fried chicken fast food joint.