Um Yong Baek for Korean pork and rice soup

Mention Korean food in Singapore, and most would think of mainstream hits such as bibimbap, kimchi pancake, and jjajangmyeon. These popular dishes have found a way into our dining scene, and are readily available at the turn of any corner—be it at any random food court or a Korean BBQ joint in the hip Tanjong Pagar locale.
One that has joined the Telok Ayer stretch is Um Yong Baek, a famous Korean restaurant that specialises in something more niche: Korean pork and soup rice.
Um Yong Baek may not be a familiar name to many Singaporeans, but it has been featured in multiple publications and TV shows in Korea.
Food at Um Yong Baek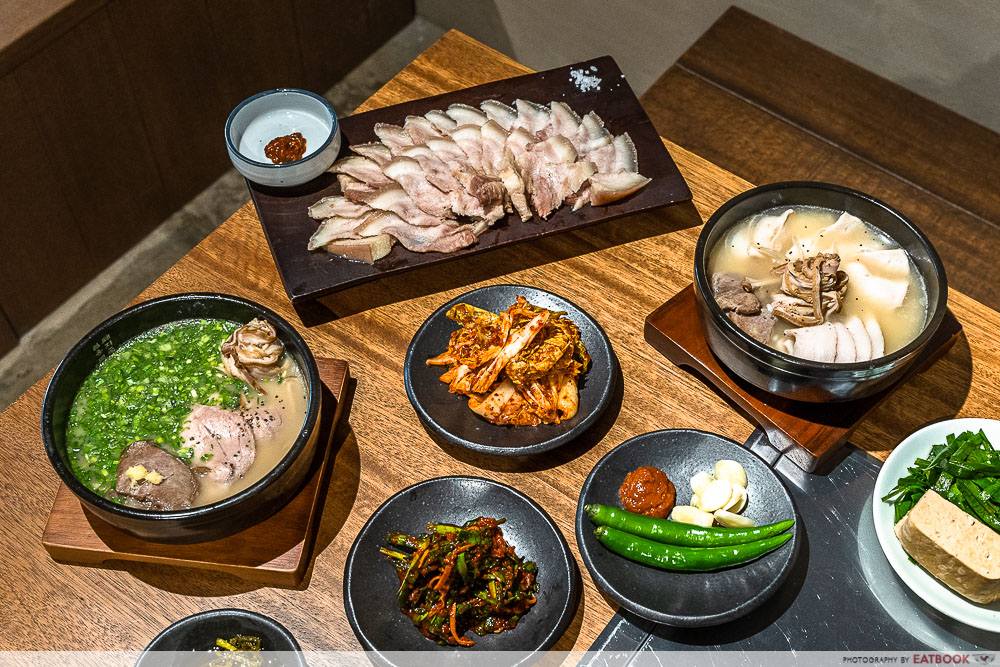 Korean pork and rice soup, also known as Dwaeji Gukbap, originated in the Korean War. Back then, food was scarce so there was a need to maximise whatever was available. By boiling pork bones for an extended period of time, the refugees could extract as much flavour and nutrients as possible. Since then, it has become a popular local dish, especially in Busan.
Do note that the dishes mentioned in this review are only available for lunch, and the dinner menu is entirely different. For the pork and rice soup, there's a cap of 80 bowls served daily.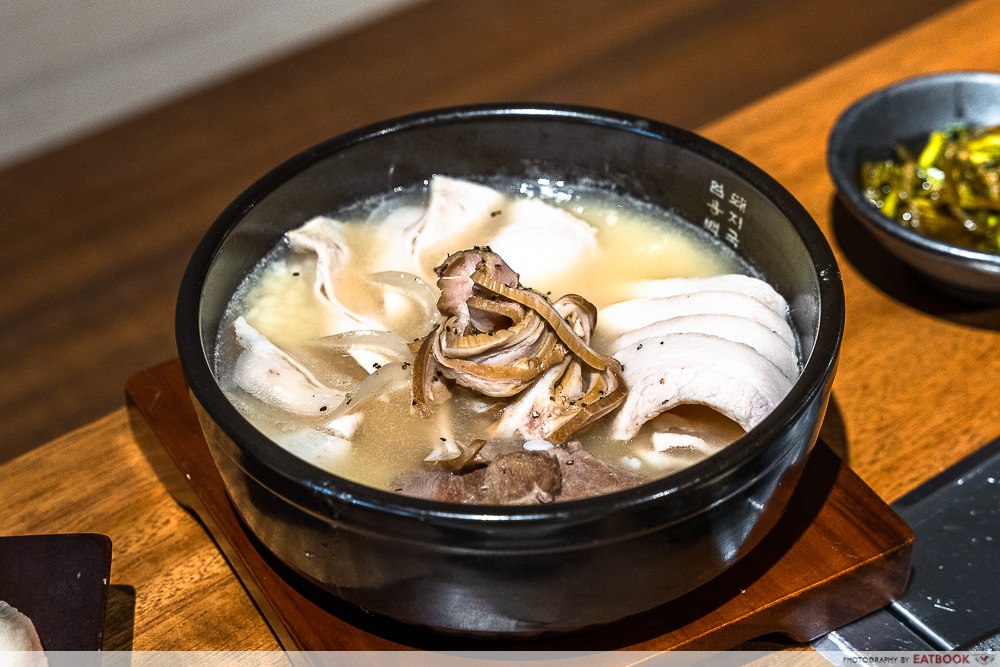 We started with the Busan-style Pork and Rice Soup ($21+), which features a clear broth with a treasure trove of ingredients hidden within. You get a generous mix of pork collar, tender pork cheek, and pork stomach, neatly assembled atop a bed of short-grain rice. The crème de la crème is the uber flavourful soup, boiled for at least eight hours to fully extract the rich essence of the pork.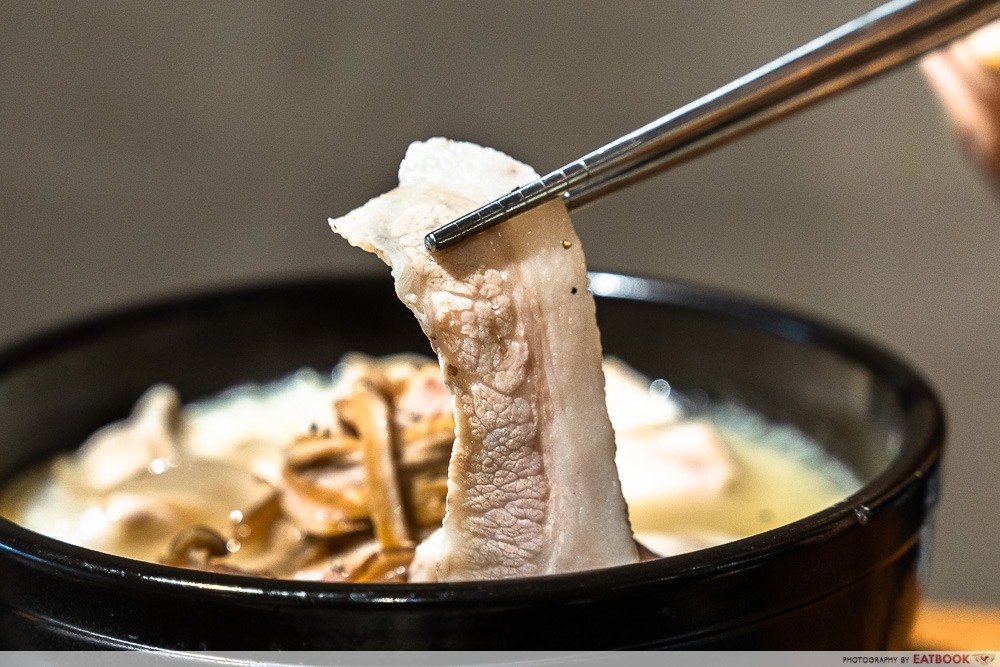 According to restaurant manager June, the pork used at the restaurant is flown in mainly from Spain and America, as importing from Korea isn't allowed. The different cuts of meat added fresh layers of texture and flavour to the dish, making each mouthful an interesting experience.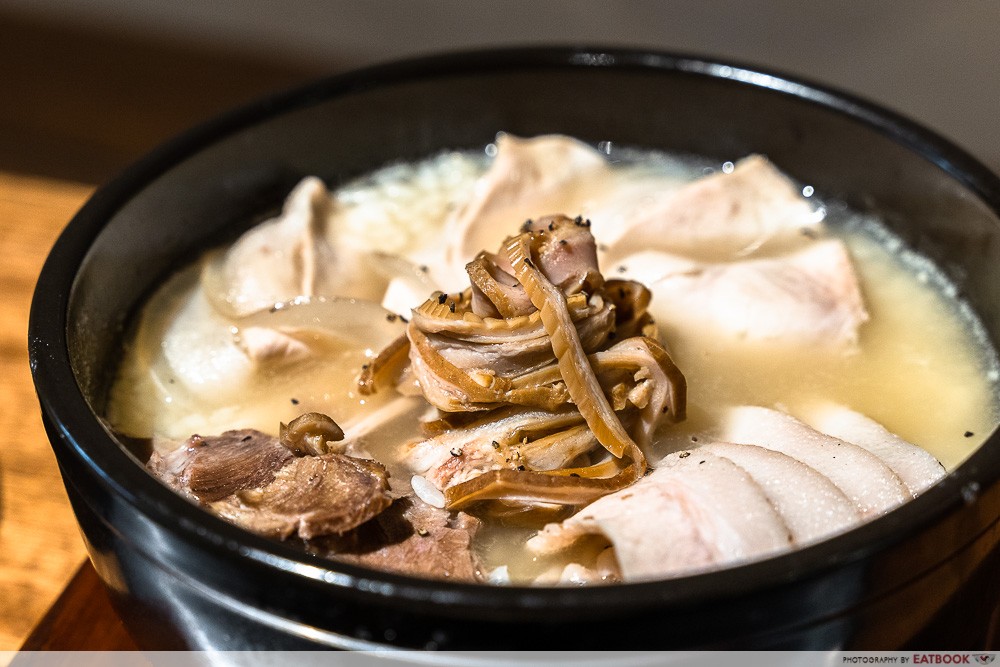 I was pleasantly surprised by how much I enjoyed the stomach cut, considering how I'm not usually a fan of innards. These thin shreds of stomach meat were well-cooked, without the funky flavour commonly associated with the cut.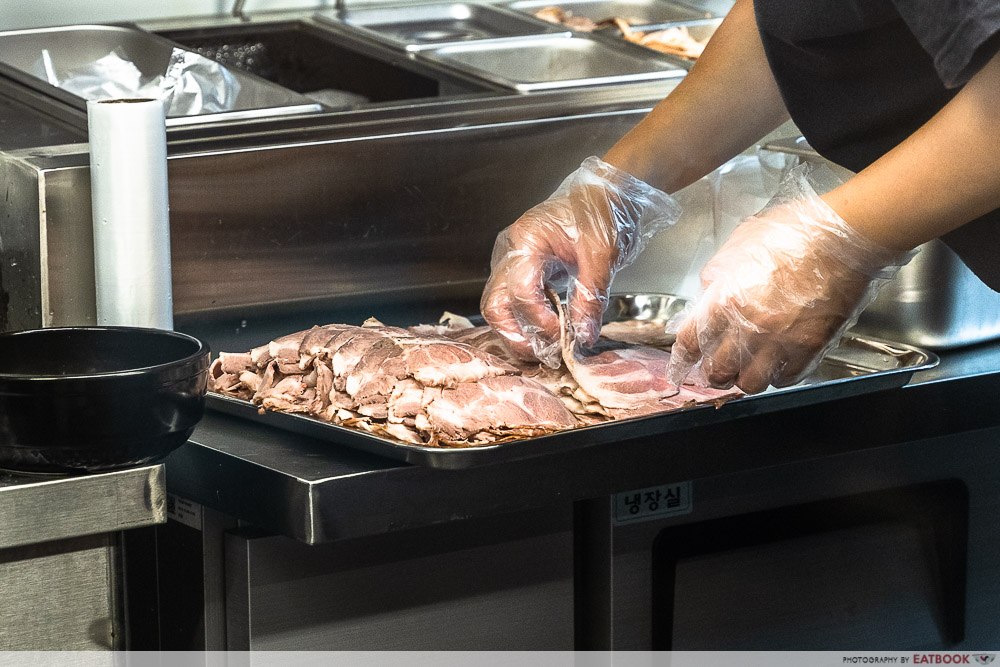 I also appreciated how each meat component was clean-tasting and not overly porky. June mentioned that the different parts are boiled separately, according to how they're best prepared, resulting in an impeccably tender texture and delicious flavour. In addition to this attention to detail, the meat you're presented with is different from what's used in the broth—there's no reusing involved.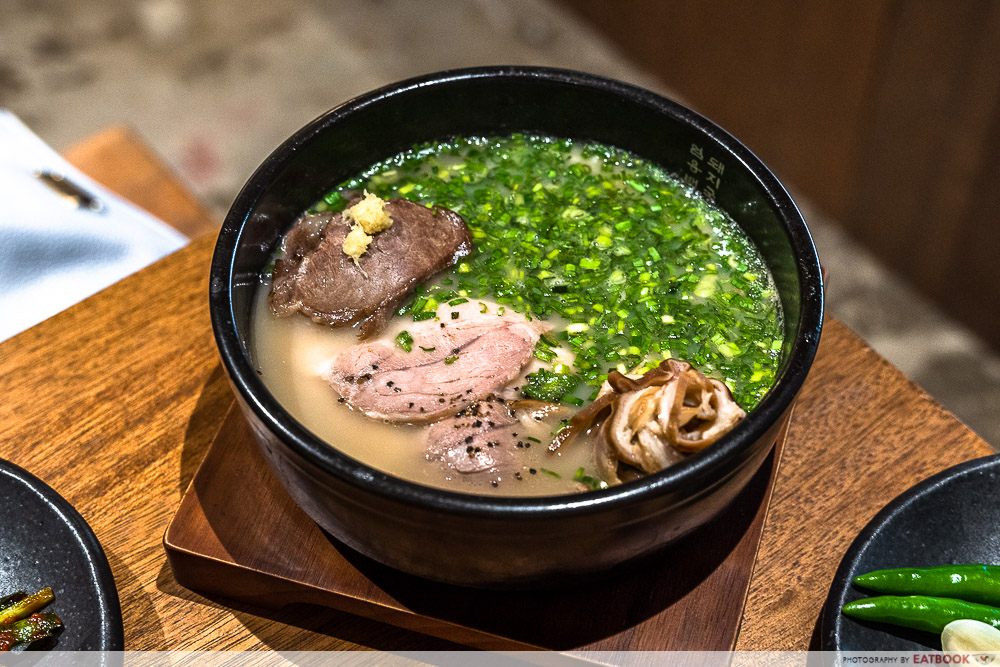 If you love Japanese tonkotsu, you'll enjoy the Milyang-style Pork and Rice Soup (U.P. $21+), starring a thick broth prepared with pork bone. This version came with pork leg, cheek, chin, and stomach, garnished with lots of chopped chives to cut through the richness of the soup.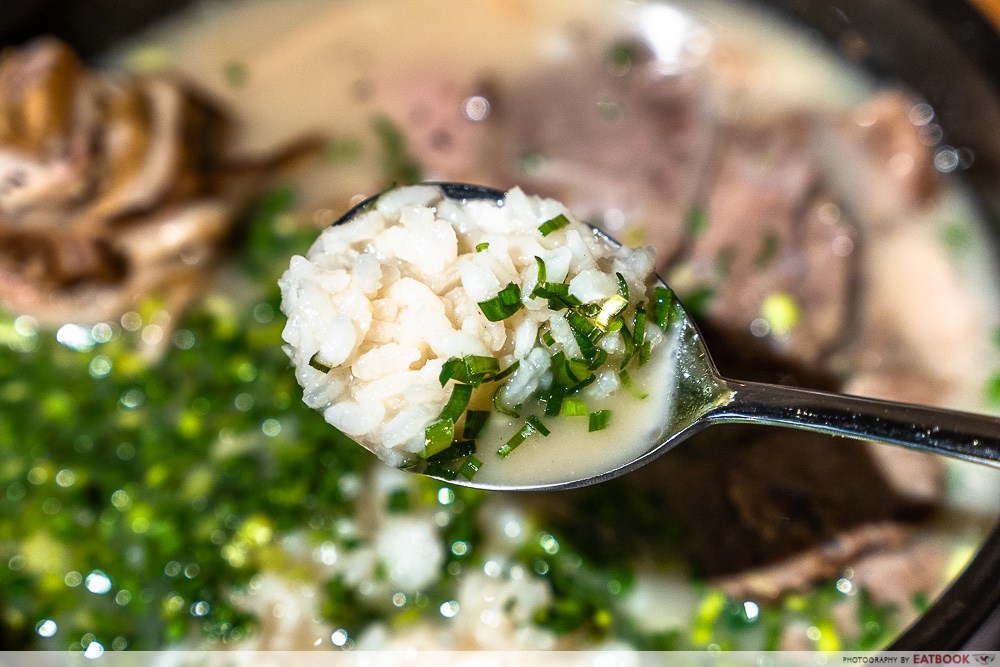 The rice was perfectly cooked and surprisingly, not mushy despite sitting in the soup for a while. Each carby spoonful paired well with the creamy, full-bodied broth.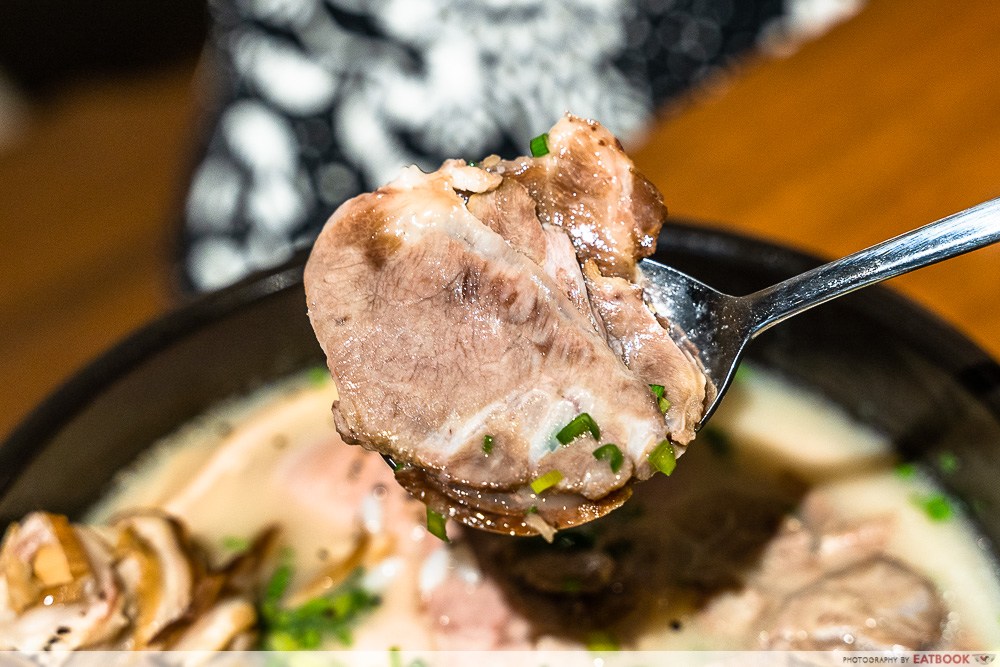 Personally, I preferred the Busan-style clear soup as I thought it had more flavour, but the tender meat featured in this thick broth was more to my liking.
It's also worth noting that both soups are prepared without additives, so you're getting only the purest flavours here. They were far less salty than most soups I've had, though you can zhng it up by adding some of their delicious house-made kimchi, so you get to taste the full essence of the ingredients.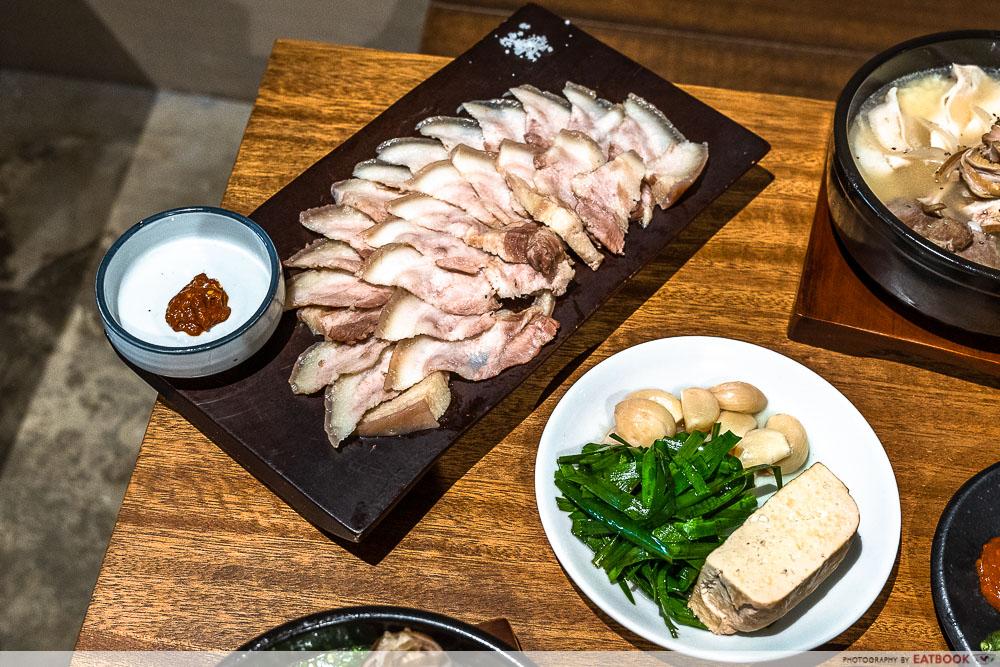 If all this still isn't enough meat for you, consider ordering the restaurant's signature Boiled Pork Belly with Skin ($45+) AKA suyuk to share. Apparently, most restaurants pre-cook and freeze the pork beforehand to save time. I'm told that that's not the case here; instead, the meat is pressure-cooked for 15 minutes when an order is received.
While this extra step meant more waiting time, it resulted in a meltingly tender texture that's unrivalled—each strip was rich and succulent with a generous chunk of fat that melted in the mouth, without much effort. When paired with the condiments—chives, garlic, tofu, and salted fish sauce—every bite was extremely flavourful, yet not too greasy.
Ambience at Um Yong Baek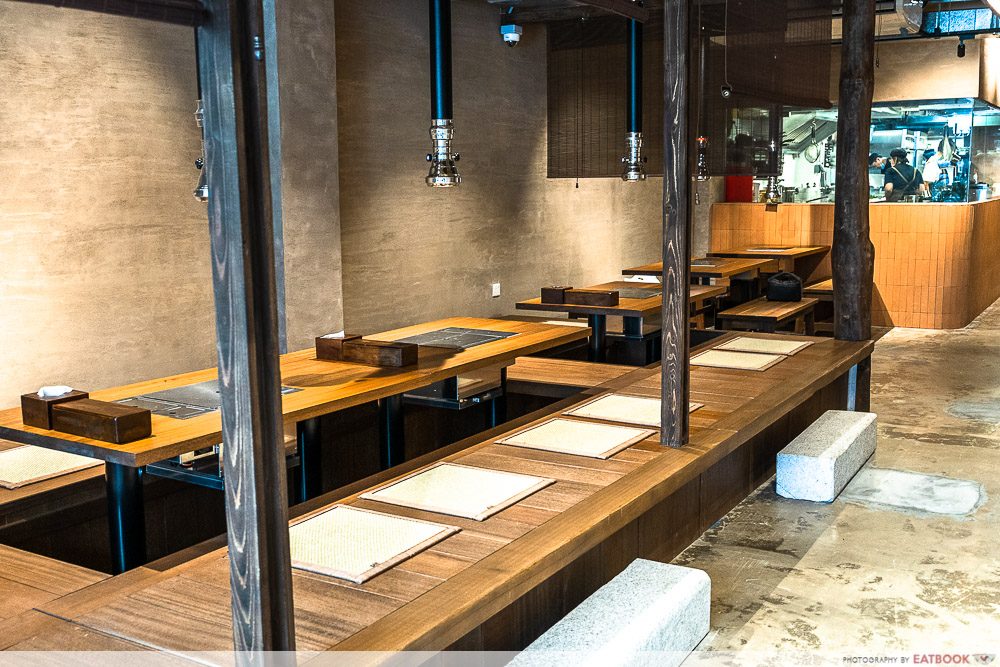 Um Yong Baek is conveniently located in the CBD. It's a mere two-minute walk from Telok Ayer MRT Station, which makes finding the restaurant a breeze. If you're visiting for their Korean BBQ menu that's exclusively available for dinner, you can pick the low seats for a more authentic experience. Otherwise, there are regular tables and benches if you prefer.
June mentioned that the bulk of their customers is Koreans—an unofficial mark of the place's authenticity, in my opinion. Based on our lunch experience, this appeared true as we were the only locals dining there.
Currently, the restaurant is only open for reservations. You can reserve online, but we heard that they're fully booked for a month or so. Try your luck when they open the slots for each week on Fridays at 5pm!
O.Bba Jjajang Express At Woodlands Has Signature Jajangmyeon And More
 The verdict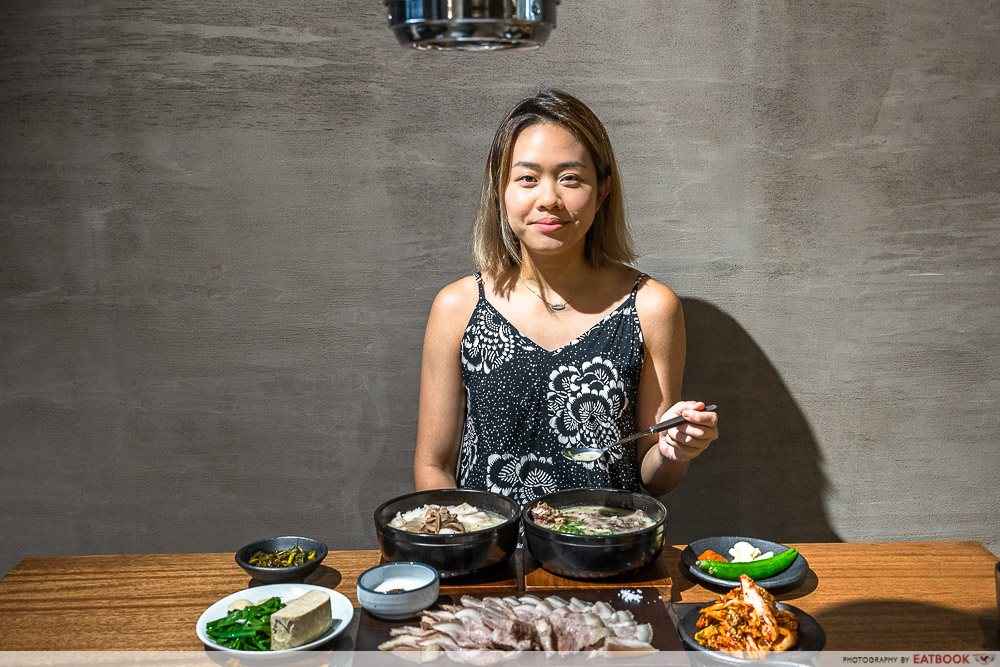 This was my first time trying authentic Korean pork and rice soup dish, and boy, it didn't disappoint. Prepared with utmost care and precision, every dish we tried was utterly unique and delicious. They were truly the epitome of "soul food", as highlighted by June.
As the restaurant is still in its soft launch phase, do bear with them if you encounter any teething issues. Their official opening is set to take place in July 2022, but more details will follow on their Instagram page. For now, I can only hope to secure a second visit to sample their dinner menu!
For something more affordable, head to O.Bba Jjajang Express at Woodlands, which serves Korean-style noodles and dumplings. Otherwise, read our Itaewon Jjajang review and try their jajangmyeon, jjamppong, and tangsuyuk (sweet and sour pork).
Address: 27 Boon Tat Street, Singapore 069623
Opening hours: Mon-Sat 11am to 3pm, 5:30pm to 10pm
Tel: 8843 5968
Website
Itaewon Jjajang Review: Korean-Chinese Restaurant with Legit Jjajangmyeon In Tanjong Pagar
Photos taken by Chew Yi En
This was a media tasting at Um Yong Baek.
Um Yong Baek Review: Famous Korean Restaurant With Traditional Pork And Rice Soup, Limited Servings Daily
Um Yong Baek Review: Famous Korean Restaurant With Traditional Pork And Rice Soup, Limited Servings Daily -

8.5/10
Summary
Pros
– Both clear and thick soups were delicious
– Clean-tasting pork
– Convenient location
Cons
– Hard to get a booking
Recommended dishes: Busan-style Pork and Rice Soup ($21+), Milyang-style Pork and Rice Soup ($21+)
Opening hours: Mon-Sat 11am to 3pm, 5:30pm to 10pm
Address: 27 Boon Tat Street, Singapore 069623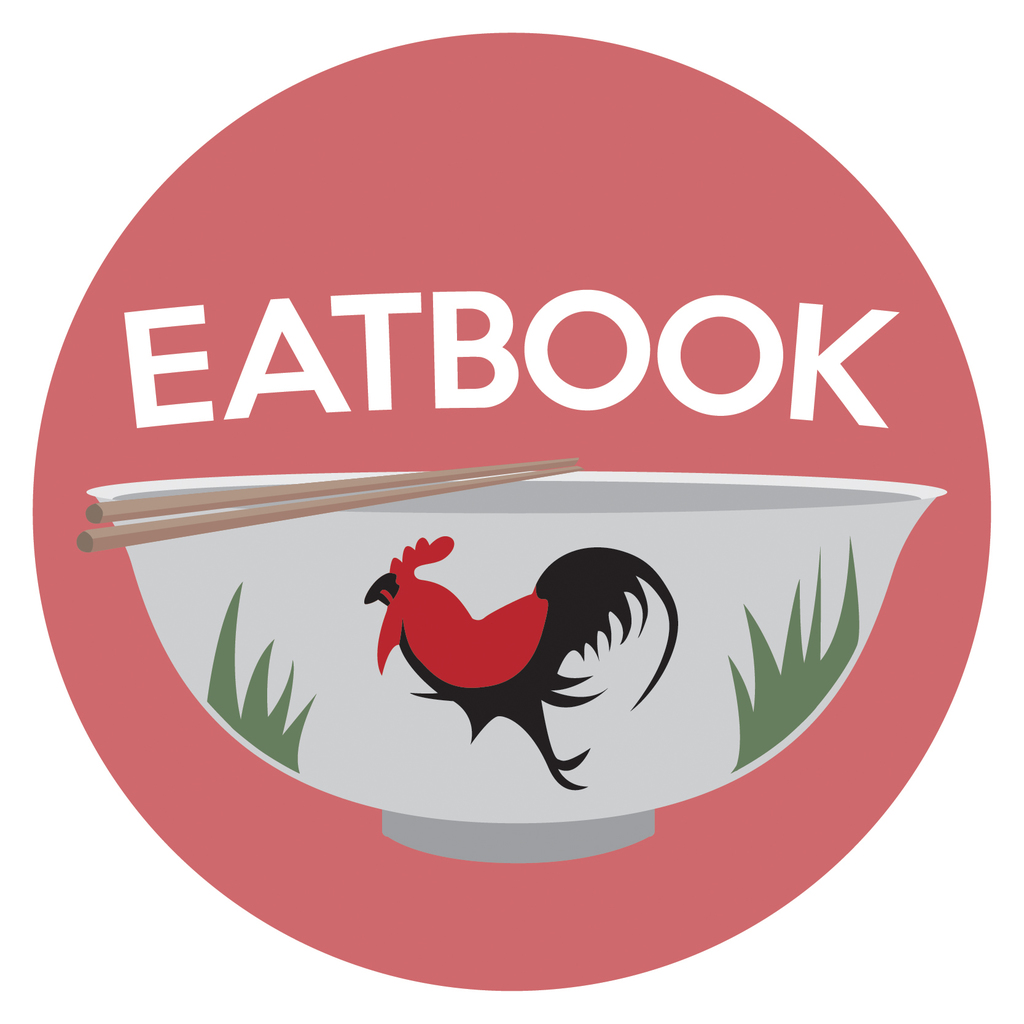 Drop us your email so you won't miss the latest news.