Itaewon Jjajang in Tanjong Pagar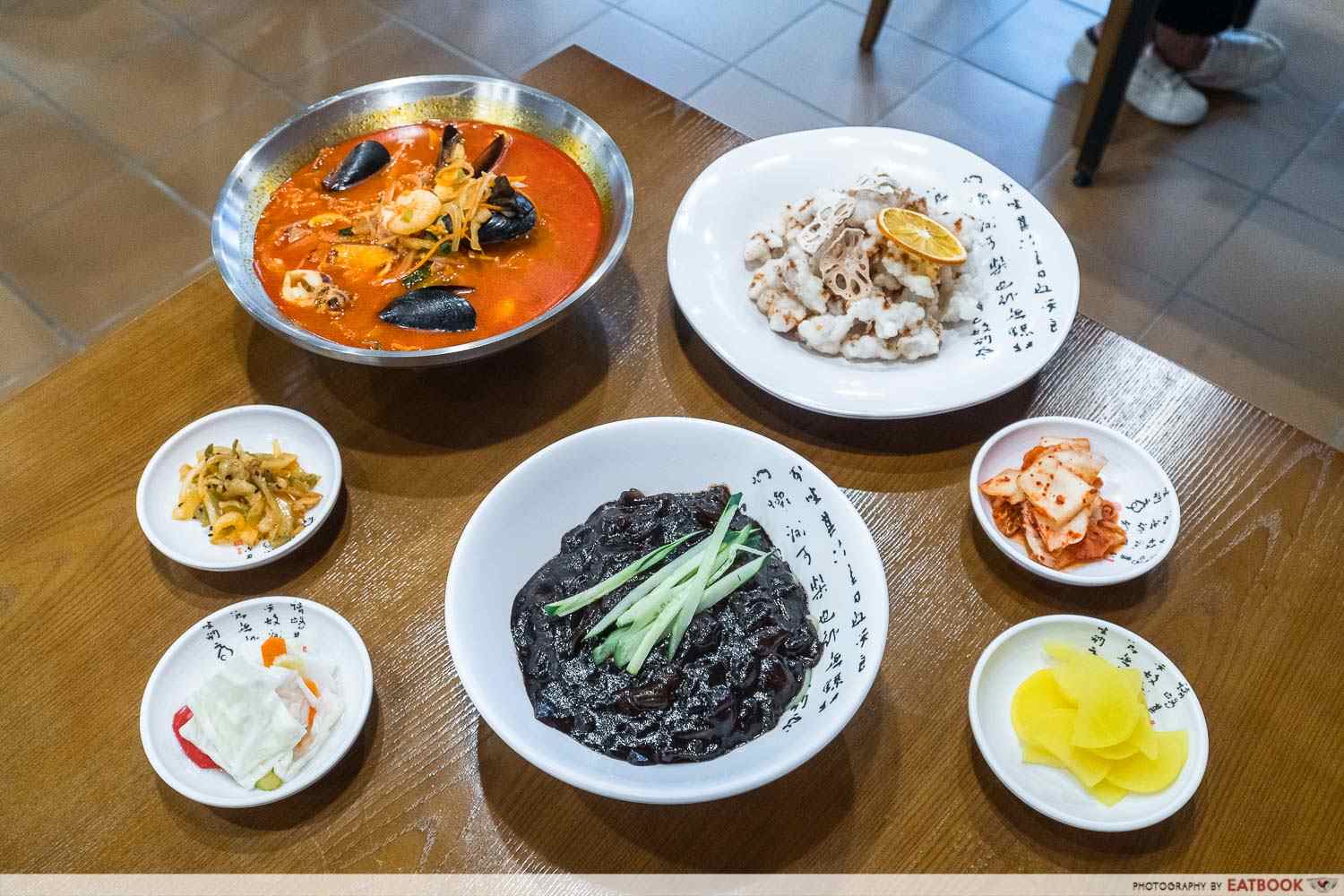 Korean-Chinese food is one of the more fascinating subsets of Korean cuisine. Though the ingredients and flavours are distinctly Korean, there is always a strong Chinese essence present, creating a curious duality that makes for compelling food.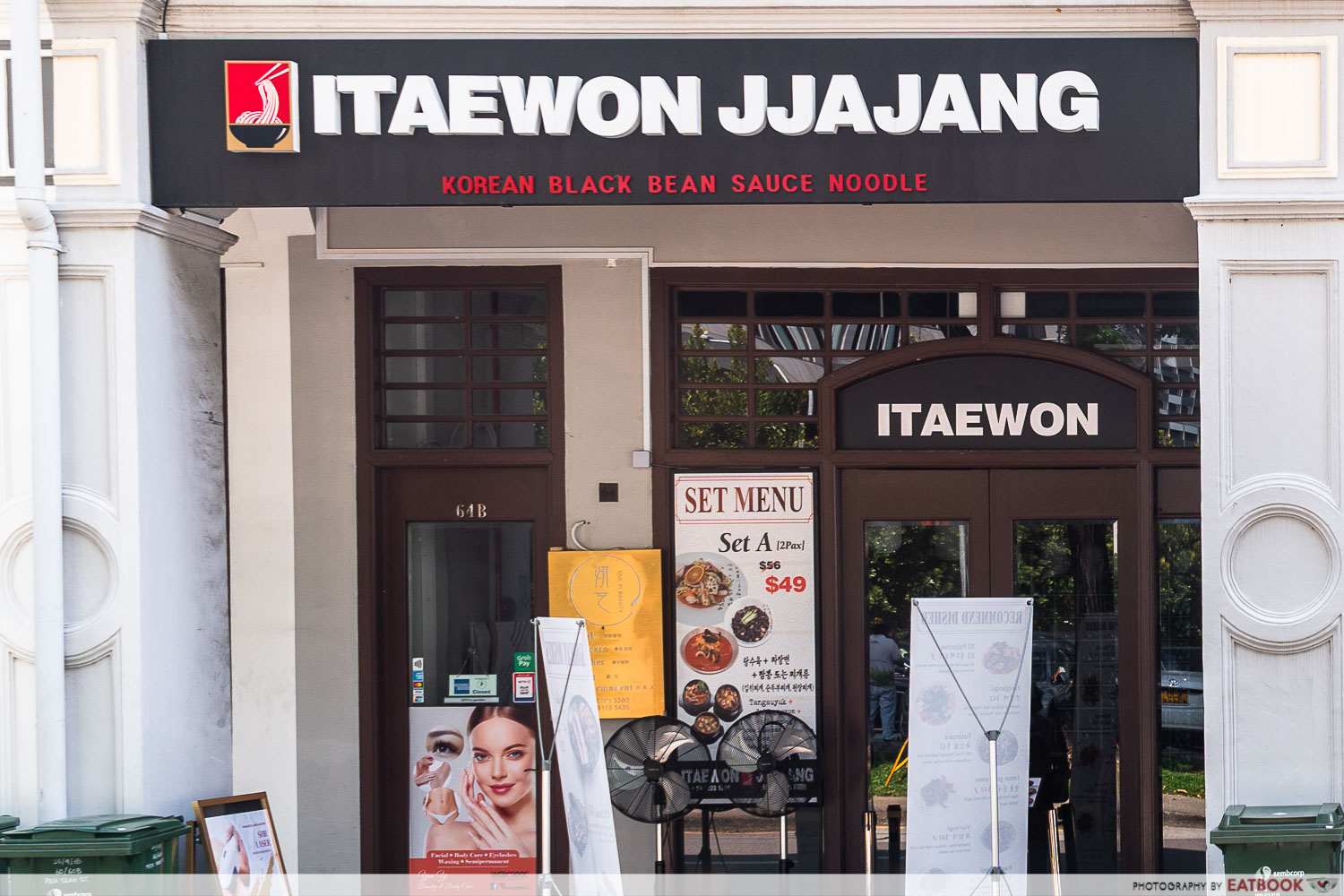 A great place to have Korean-Chinese fare in Singapore is Itaewon Jjajang, a restaurant in Tanjong Pagar. For a reasonable $49++, their Set A gets you three quintessential dishes: jjajangmyeon (black soybean sauce noodle), jjamppong (Chinese-style noodles with vegetables and seafood), and tangsuyuk (sweet and sour pork).
Buk Chang Dong Soon Tofu Review: Soondubu Jjigae Sets From Only $6 In Ang Mo Kio
Food at Itaewon Jjajang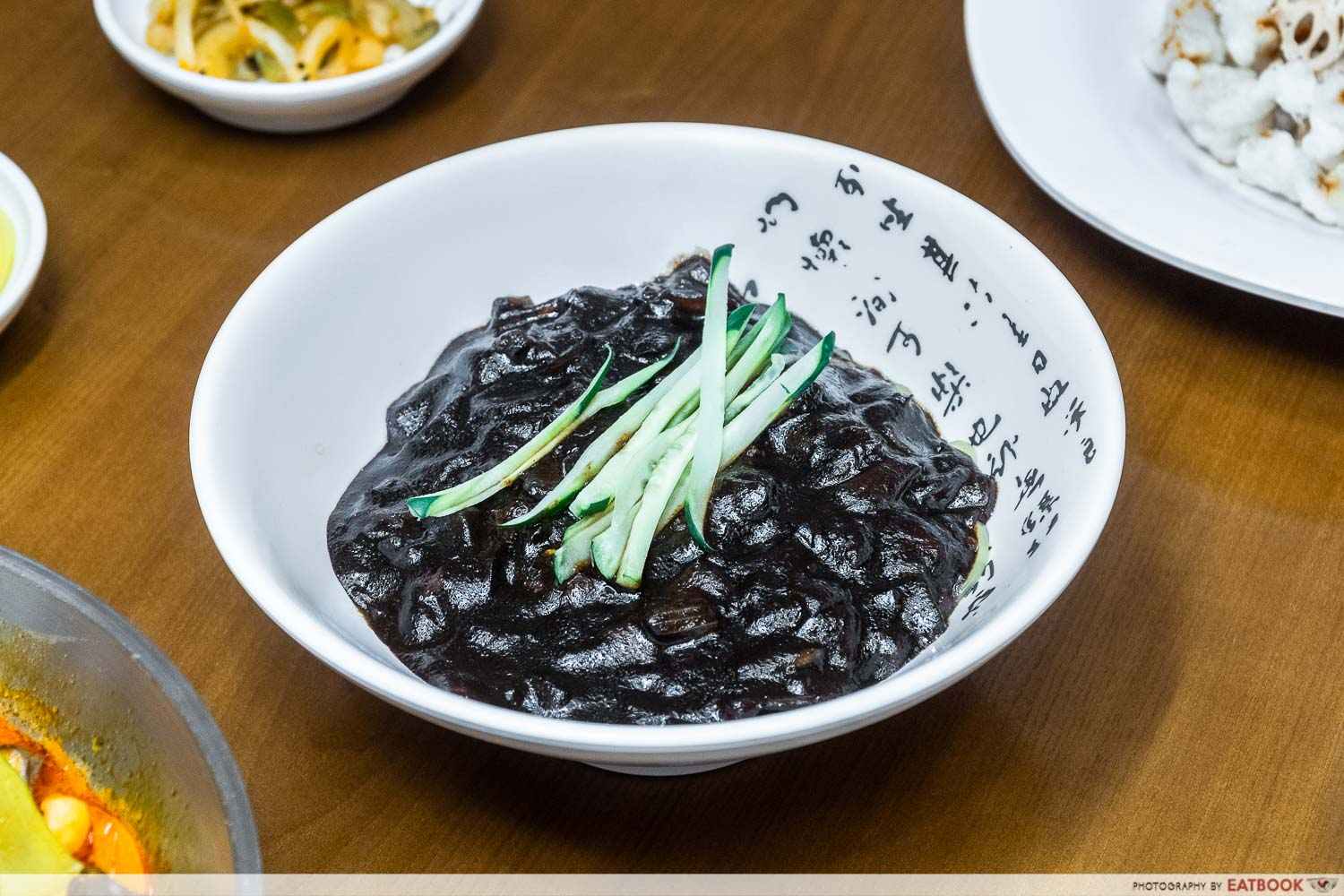 We started with the most iconic Korean-Chinese dish, the Jjajangmyeon, which is also available at $14++ if you're getting it a la carte. It arrived slathered in its recognisable black soybean sauce, with customary shreds of cucumber and noodles underneath.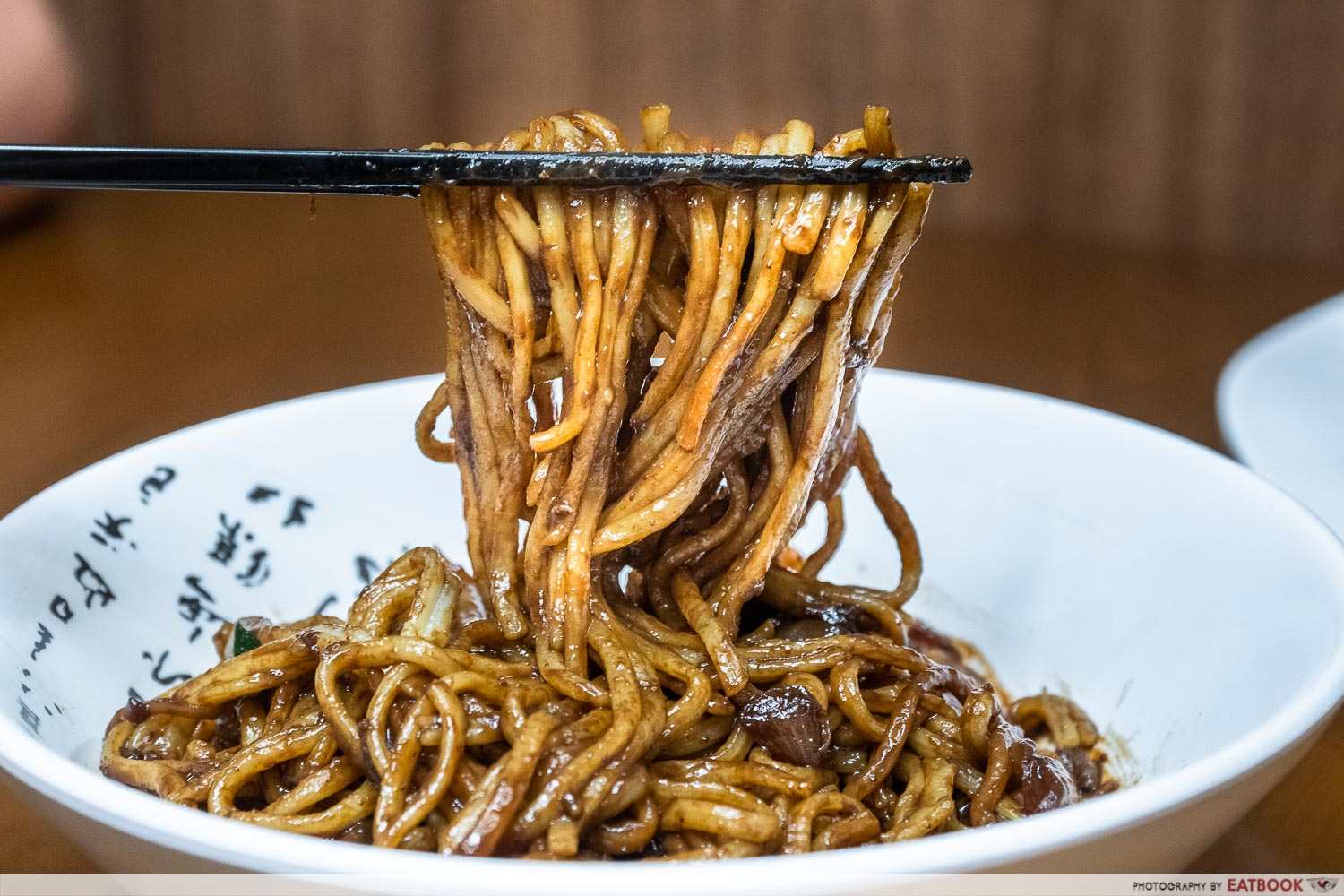 The sauce was very—and I mean very—rich and savoury, with the slight sweetness of the onions adding another layer of depth to its taste. The thick and delightfully springy noodles fused with the sauce's viscous texture, making each bite of this slopping black mix a medley of chewy, sticky, and gooey. The refreshing cucumber shreds added a light and pleasant crunch to the dish.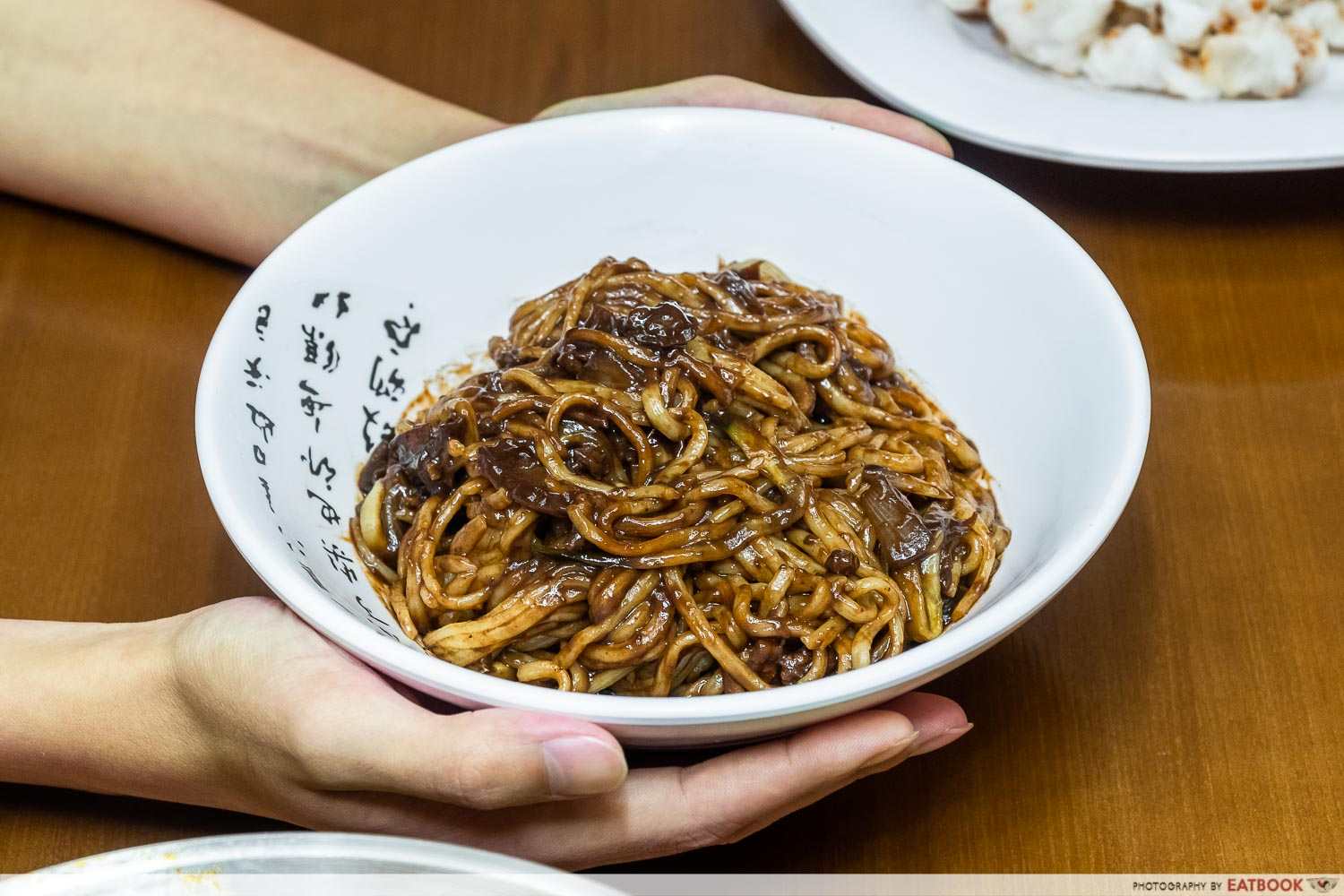 This was jjajangmyeon at its best: simple, yet incredibly addictive.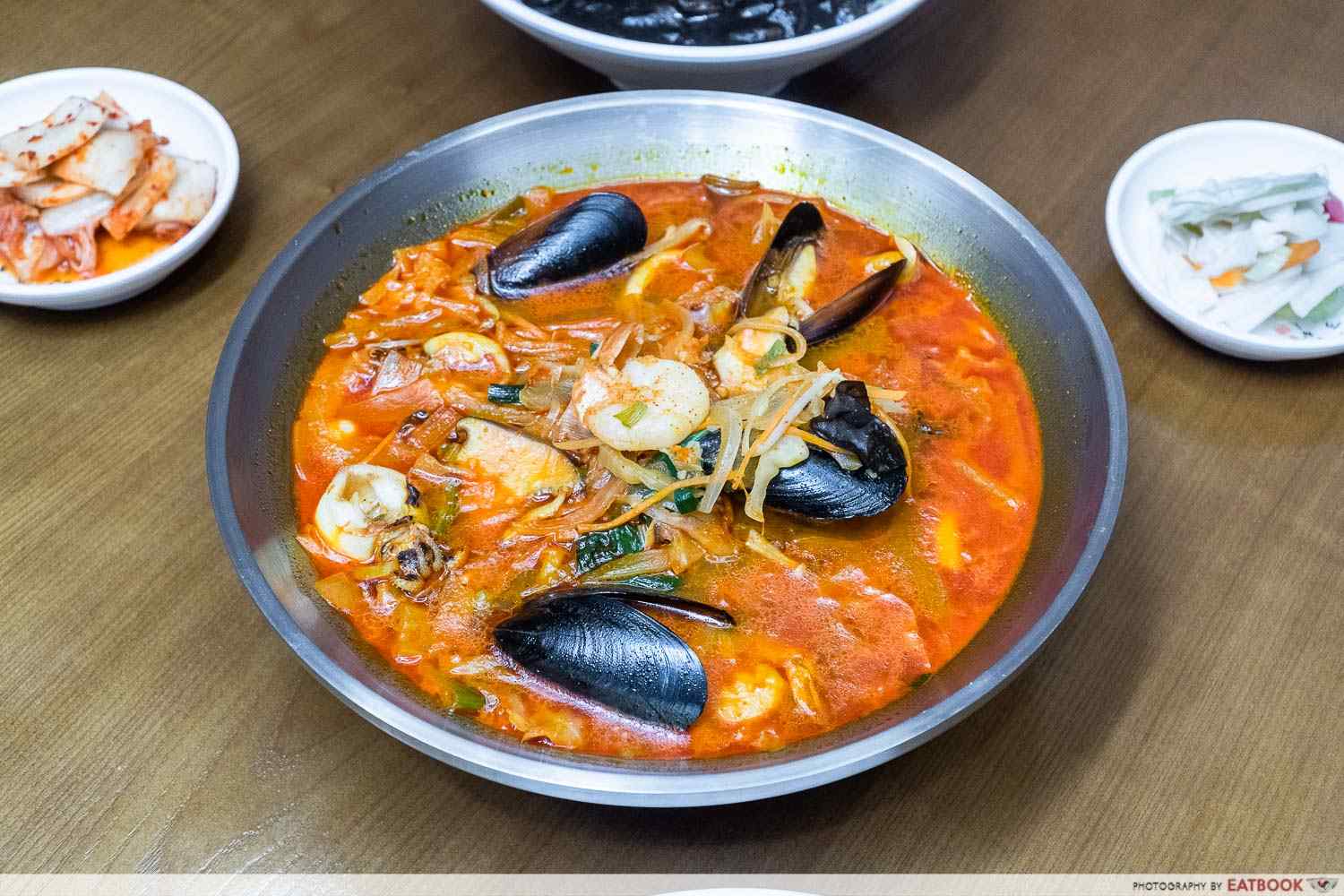 Up next was the Jjamppong, priced at $16++ a la carte, where noodles, seafood and vegetables sat in a spicy seafood-based soup. Since I was far from a spice fiend, I went for the mid-level spiciness in fear that the orangey-red broth would be too hot to handle.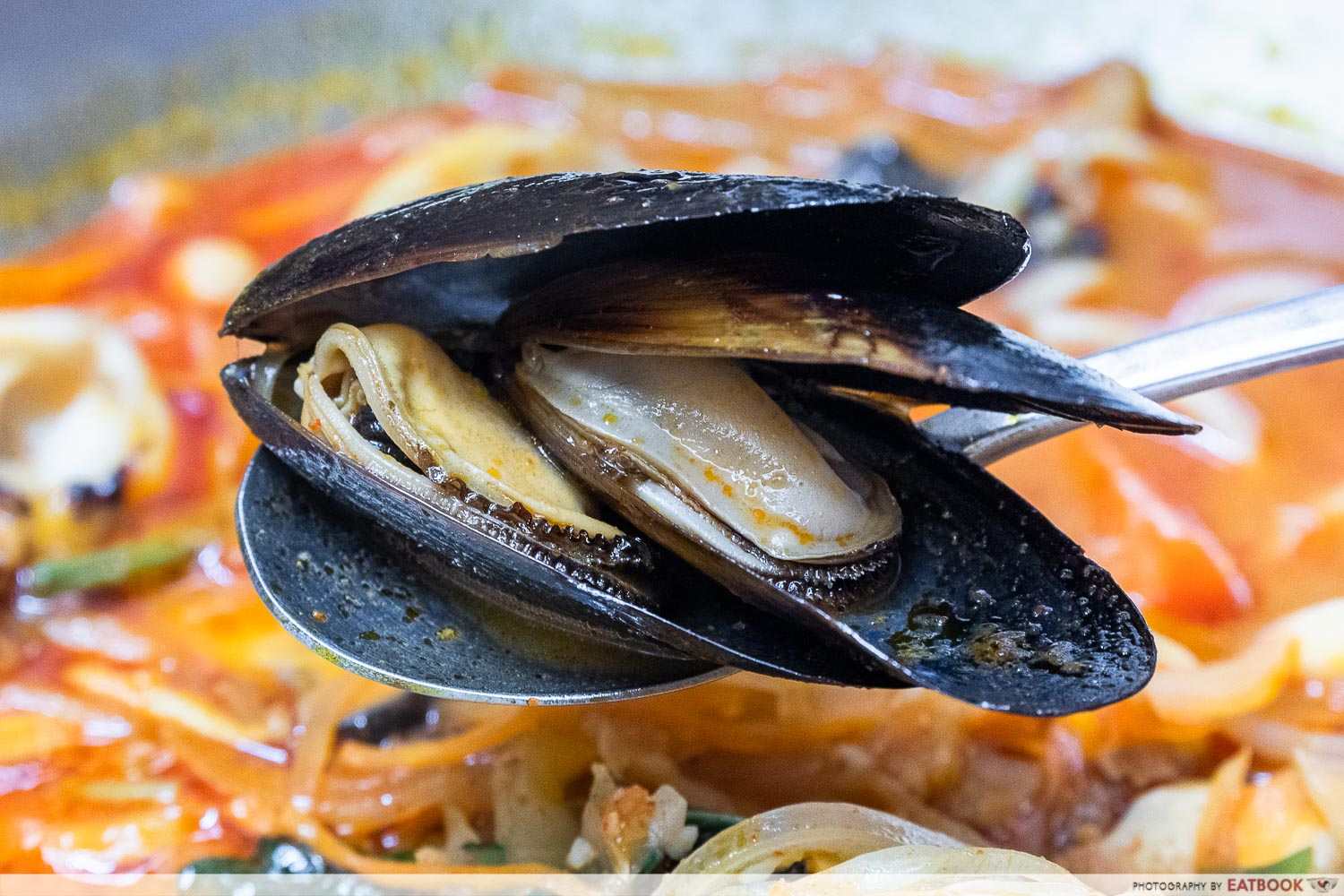 Thankfully, the soup's spicy notes were not too overpowering and lent just enough zing to its notable seafood flavour. While the broth could have been tastier, I appreciated how fresh the seafood—such as the mussels, prawns, and squid—was.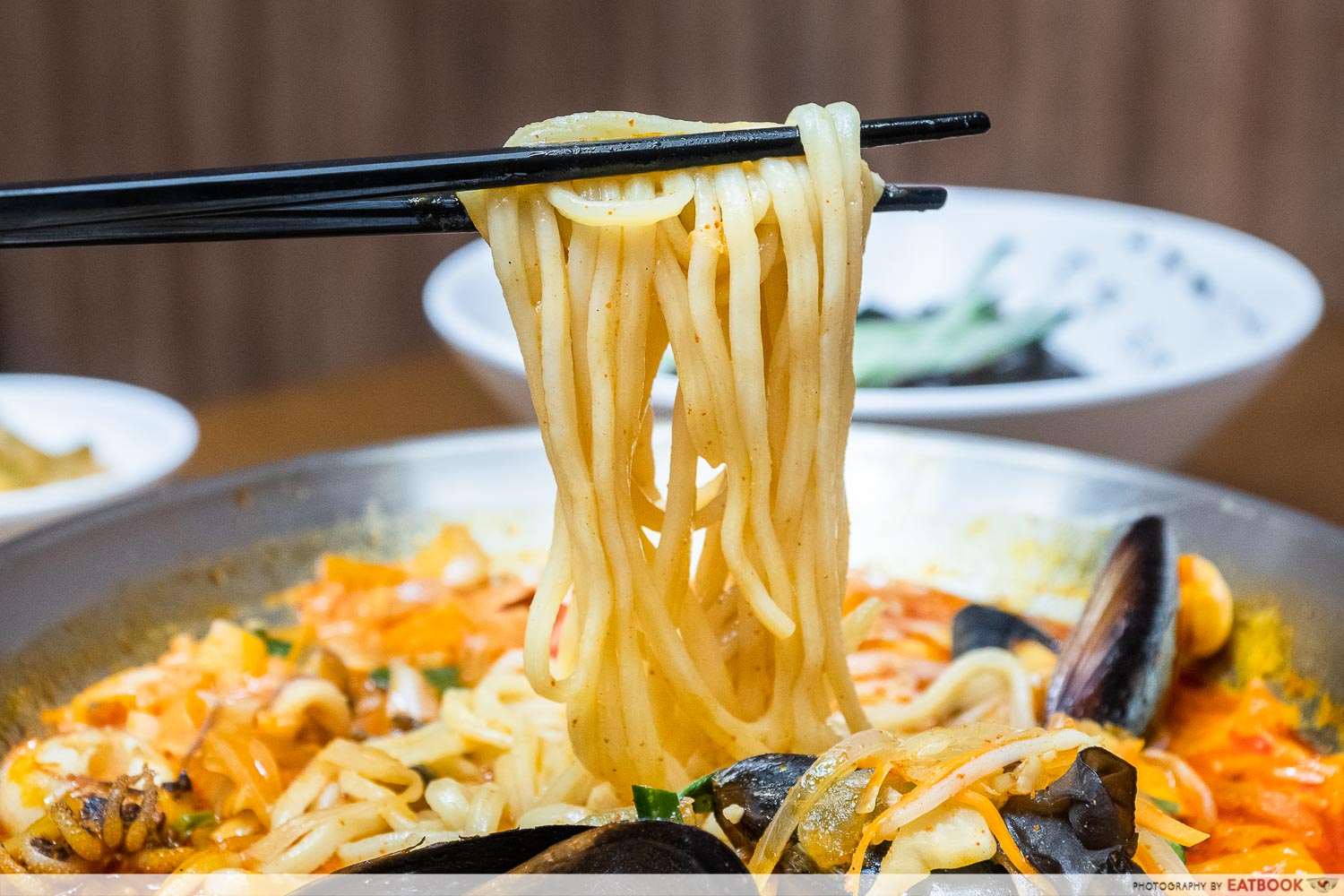 Mushrooms, onions and carrots feature along with the chewy noodles. As a whole, the dish had a greater complexity when compared to the jjajangmyeon. Still, I felt that the broth could've used more umami, which would have significantly improved the dish.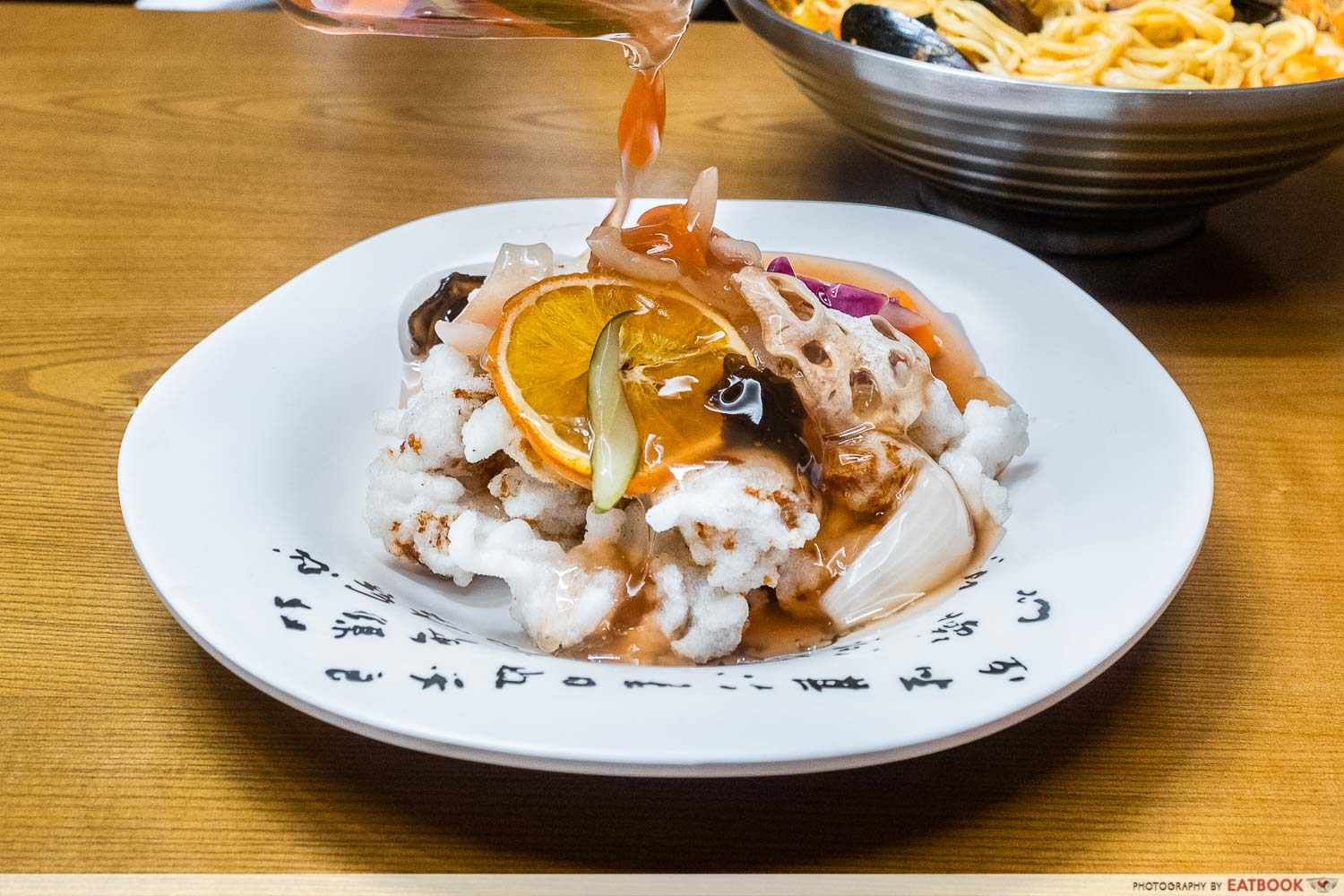 Last but not least was the Tangsuyuk, priced at $27++ if you're getting it a la carte. While this dish will remind you of the Chinese sweet and sour pork, it's certainly prettier, especially with its snow-white skin.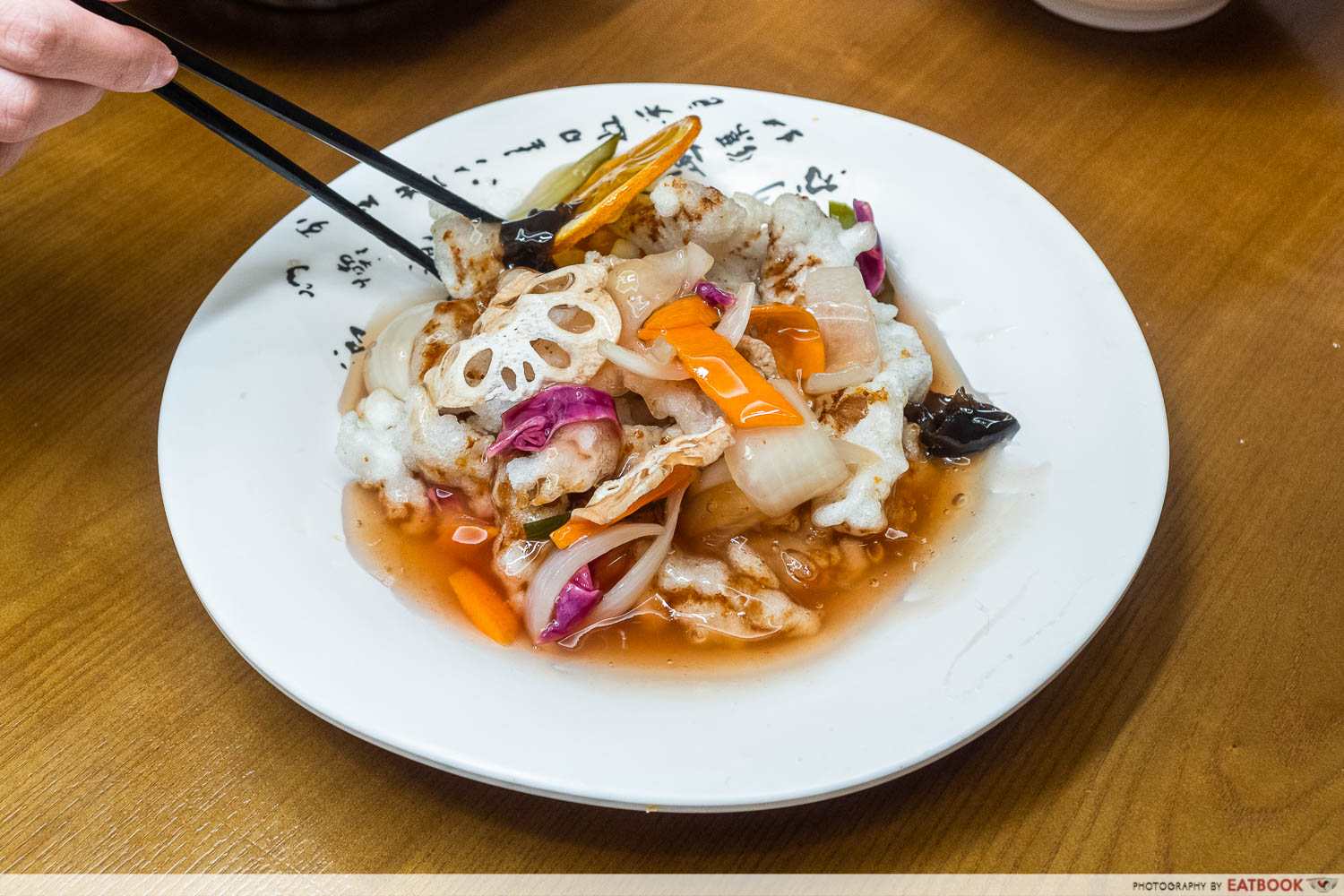 The jelly-like sauce came separately from the meat, so we poured it all over the pile of pork, dried lotus roots and tangerines, and onions.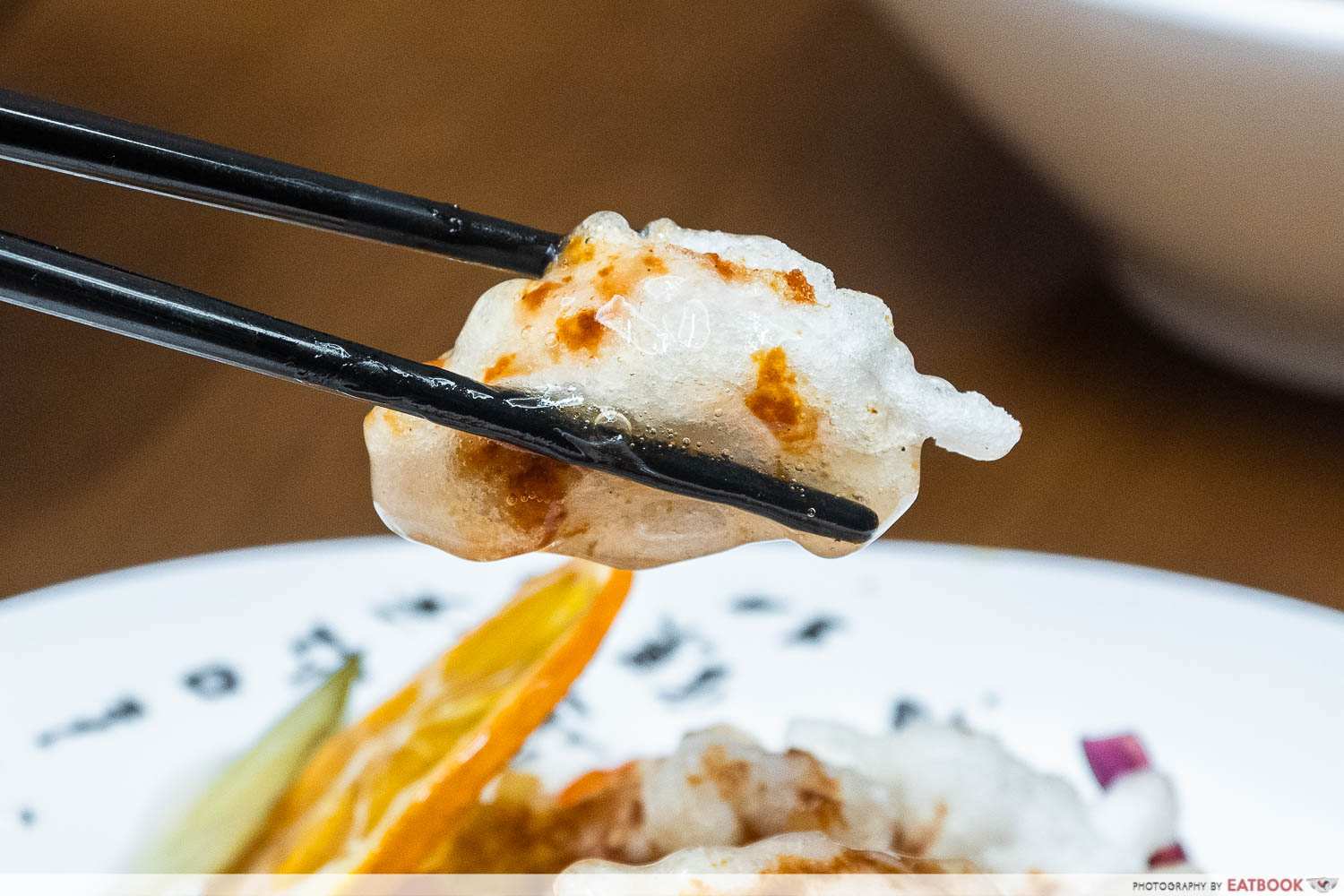 The beloved sweet and sour combination was present in this Korean rendition as well, but it leaned more towards the sour side of things, courtesy of the citrus. With a fluffy yet crispy exterior, the double-fried pork was savoury and not too oily, allowing the dish to work alongside the jajangmyeon and tangsuyuk without making things too jelak.
Ambience at Itaewon Jjajang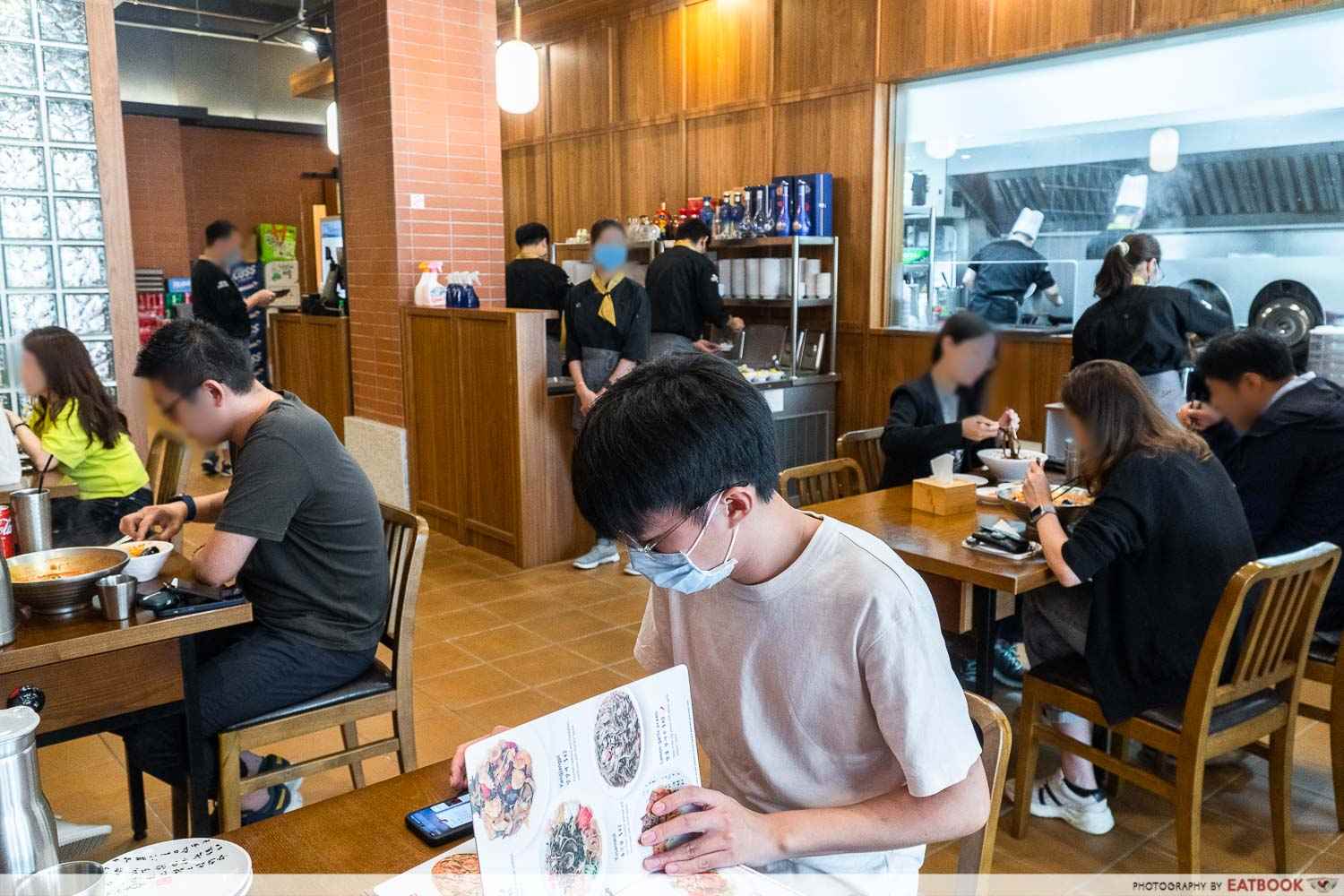 A two-minute walk from Tanjong Pagar MRT Station, Itaewon Jjajang gives off a homely, unpretentious vibe with its simple wooden furnishing and red brick walls. While the main dining area is good enough, there are also four private dining rooms if you are looking for an even cosier environment.
The popularity of this restaurant means that it can get quite full even during the weekdays, so I'd advise you to go earlier to secure a table.
The verdict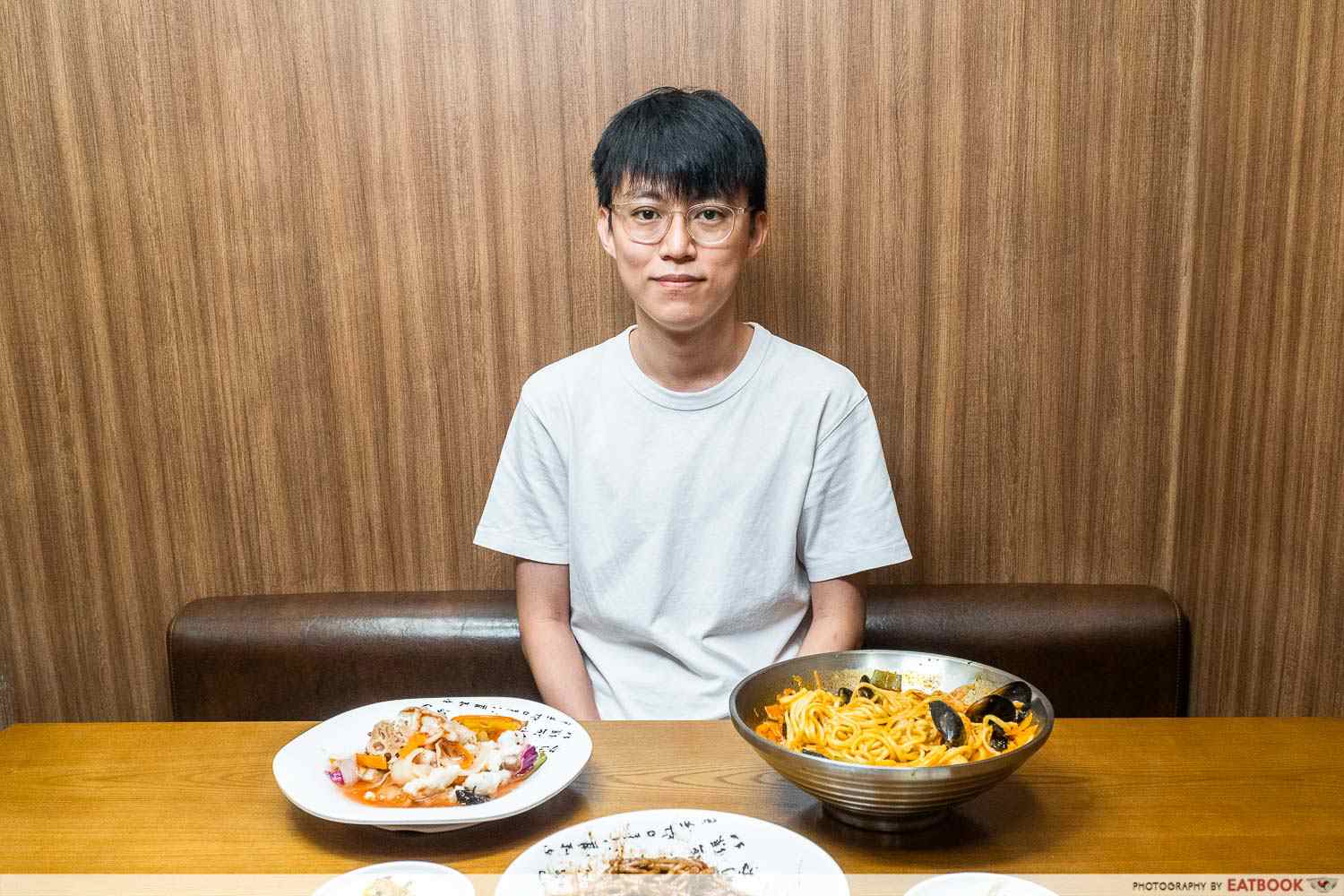 The fare at Itaewon Jjajang was authentic, no-frills, and most importantly, tasty. I absolutely loved the jjajangmyeon, and the other two dishes included in the set were decent as well. If you only have the stomach for one, go for the black soybean noodles—they won't disappoint.
If you're looking for more delicious noodles, check out our best jjajangmyeon list. For Korean-style toast, read our Eggciting review.
Address: 64 Peck Seah Street, Singapore 079325
Opening hours: Tue-Sun 11:30am to 3pm, 5 to 10pm
Website
Itaewon Jjajang is not a halal-certified eatery.
12 Jjajangmyeon In Singapore To Try, Including Hawker Options From $7
Photos taken by Zu Yi Kong.
This was an independent review by Eatbook.sg.
Itaewon Jjajang Review: Korean-Chinese Restaurant with Legit Jjajangmyeon In Tanjong Pagar
Itaewon Jjajang Review: Korean-Chinese Restaurant with Legit Jjajangmyeon In Tanjong Pagar -

8/10
Summary
Pros
– Jjajangmyeon was excellent
– Tangsuyuk was solid sweet and sour pork
– Set A was value-for-money
Cons
– Jjamppong could have been more flavourful
Recommended dishes: Set A (49++), Jjajangmyeon ($13++ a la carte)
Opening hours: Tue-Sun 11:30am to 3pm, 5pm to 10pm
Address: 64 Peck Seah Street, Singapore 079325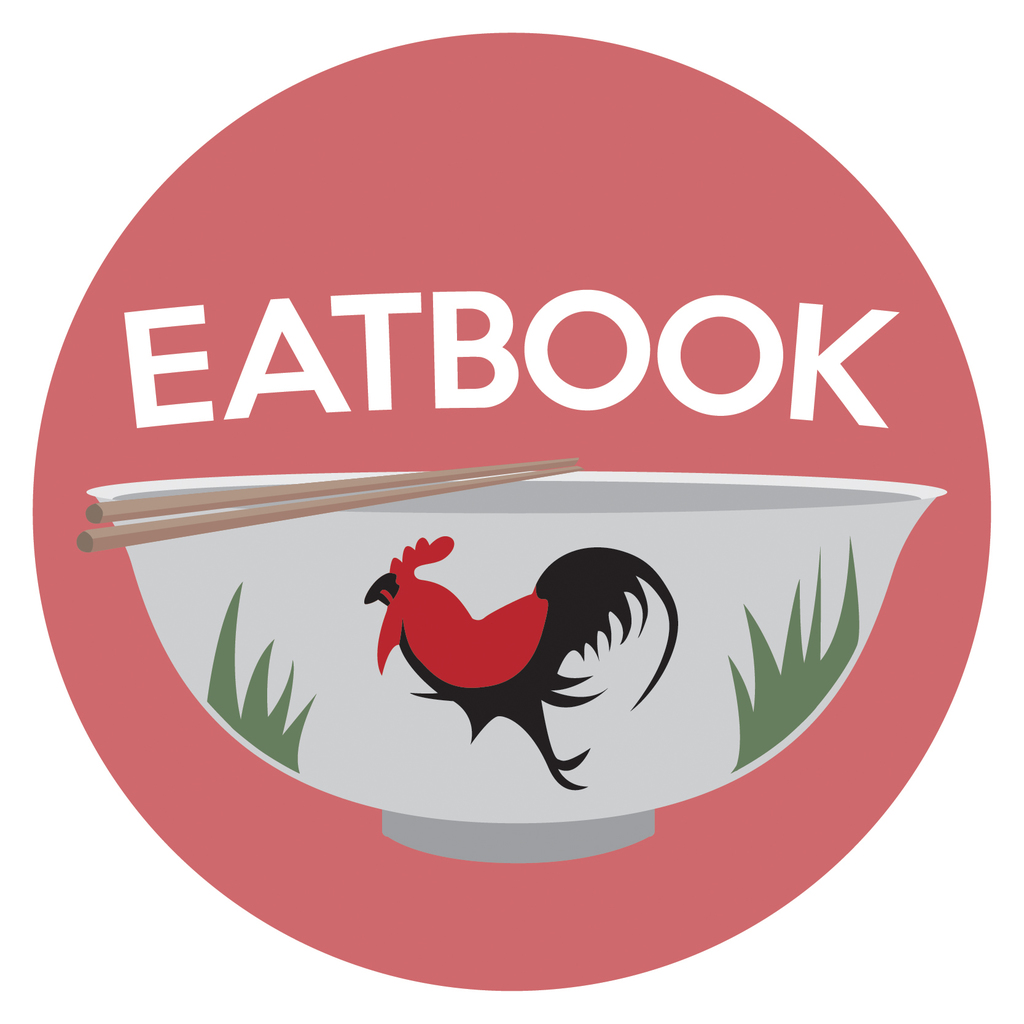 Drop us your email so you won't miss the latest news.