Buk Chang Dong Soon Tofu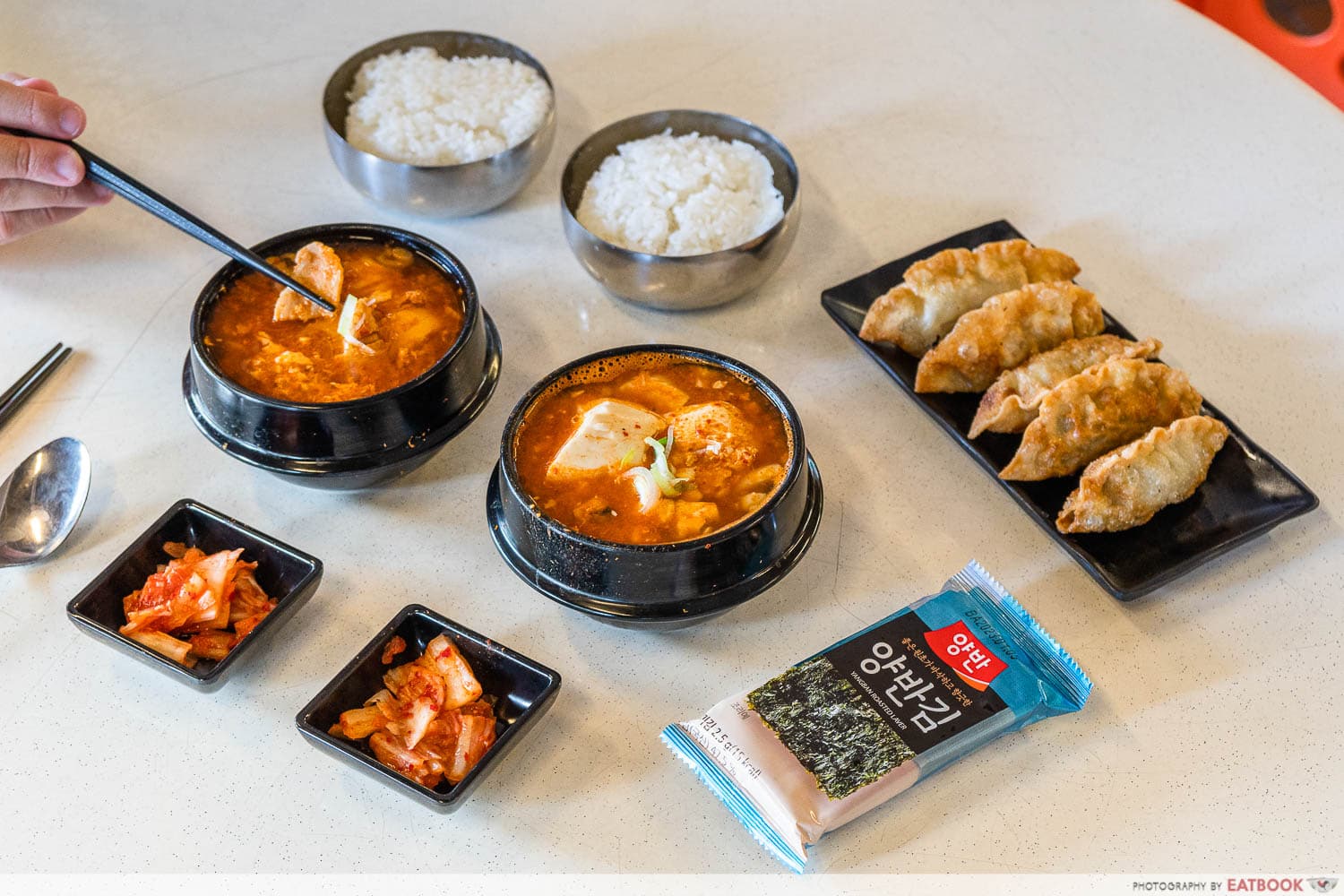 If you like eating Korean food, chances are that you've heard of SBCD, or Singapore Buk Chang Dong, Korean Tofu House and their soondubu jjigae, which hail from the Bukchang Dong administrative division in Seoul. I've always felt that the $20 price tag on their soft tofu stews was a little too expensive for me, so I had never tried them before. Hence, when the opportunity came for me to taste their hawker offshoot Buk Chang Dong Soon Tofu in Ang Mo Kio, AKA BCD Soon Tofu, I jumped at the chance.
Food at BCD Soon Tofu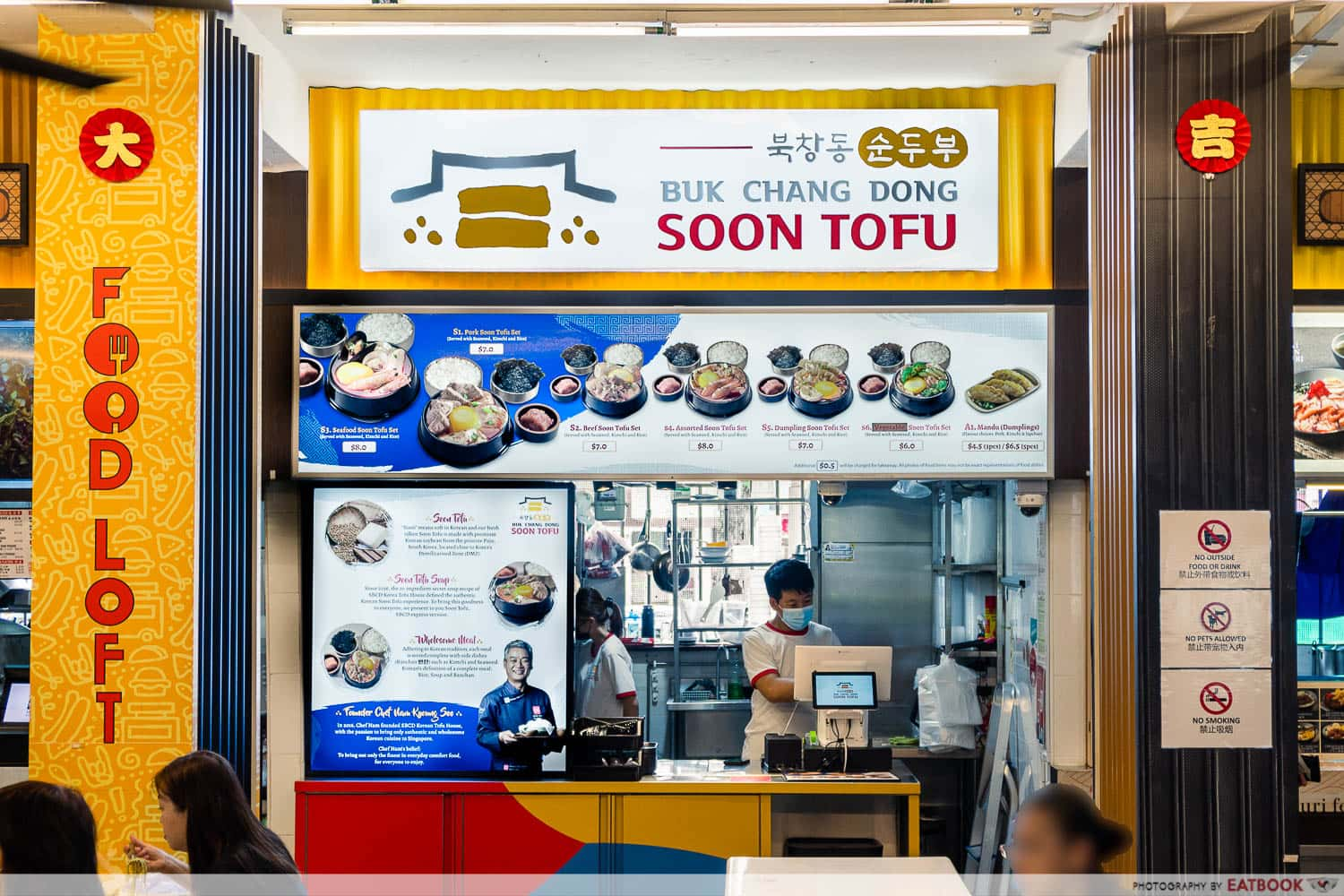 Buk Chang Dong Soon Tofu's menu is quite concise, but you still get six out of the original 11 soondubu jjigae from SBCD. We decided to try the Pork Soon Tofu Set ($7) and Seafood Soon Tofu Set ($8), along with a side of Mandu ($6.50 for 5 pieces).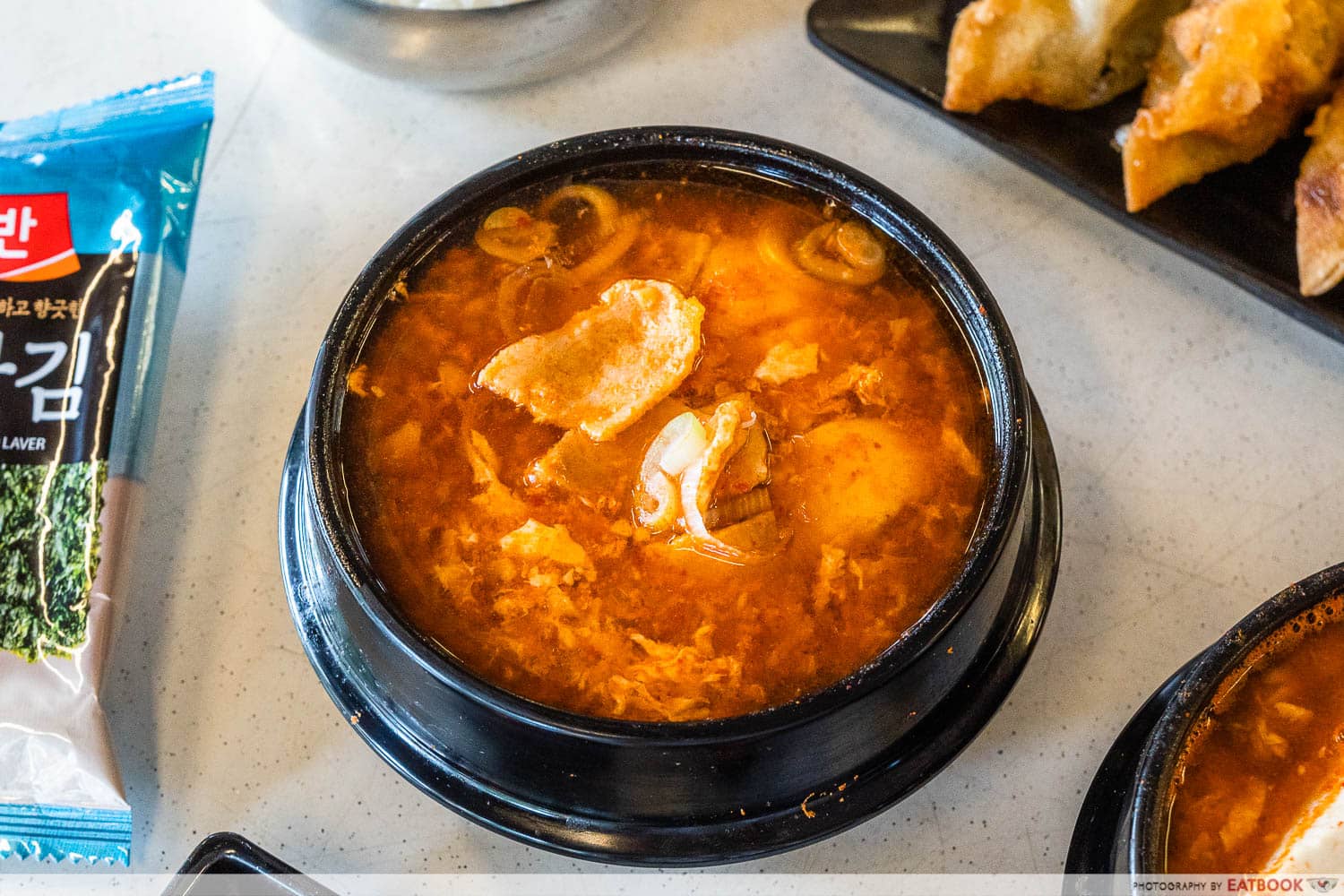 I started with the Pork Soon Tofu Set, which came with thin slices of lean pork. Based on the photo on the menu, I was expecting the meat to be in bigger chunks instead of the slices that it came in. Although I found the meat to be a little tough, I would have liked if the stew came with more slices of pork.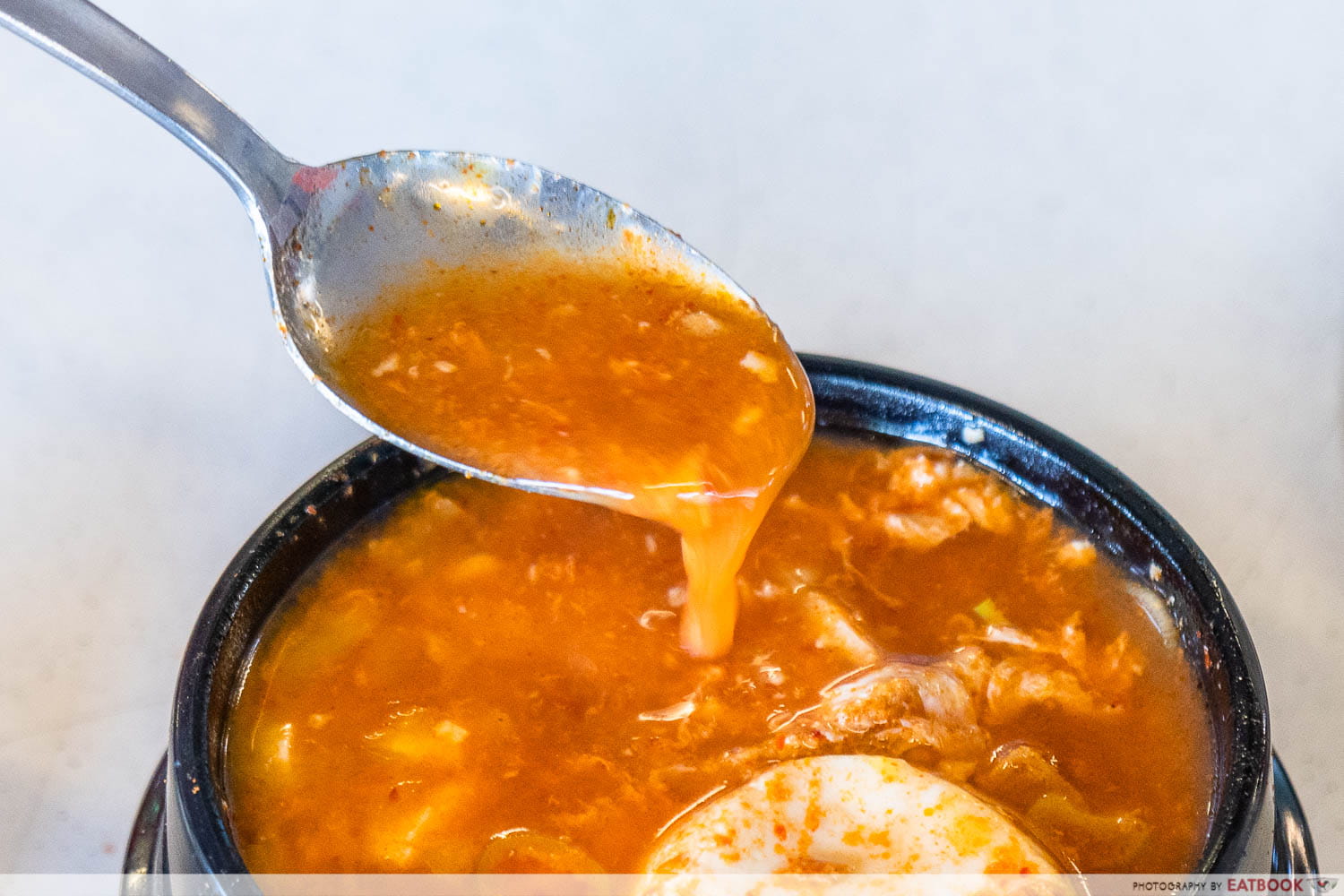 The broth itself was not at all spicy, but I wished that it could have been a little saltier. I would also have liked for it to be spicier, but this could have been a conscious choice to cater to more people.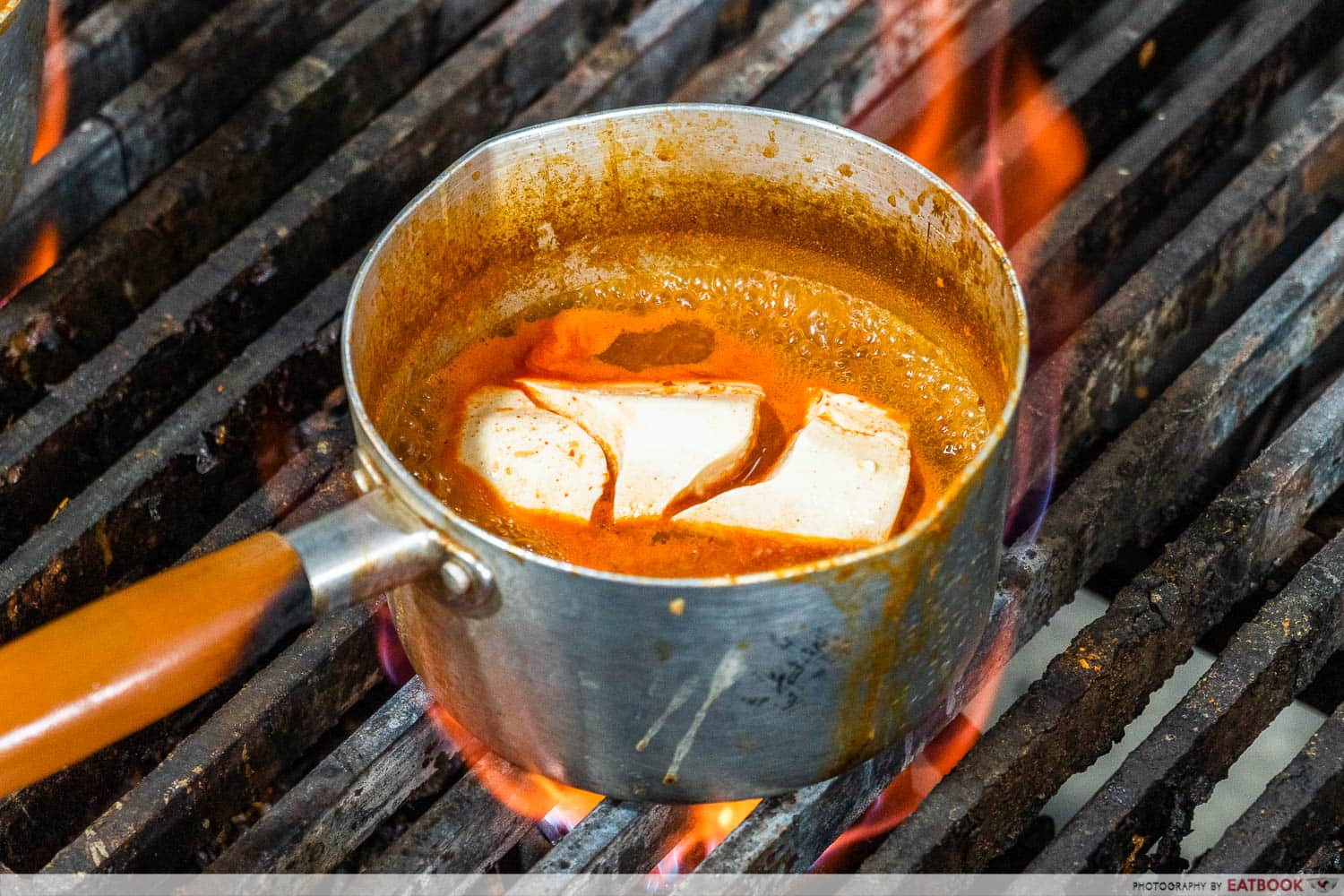 Moving on to the highlight of the dish, the soondubu itself, I was delighted to find that it was extremely silky and soft. Slurping the tofu together with the cracked egg within the stew made each mouthful of stew even richer and creamier. According to BCD, the soon tofu used here is made from soybeans from the Paju region in South Korea.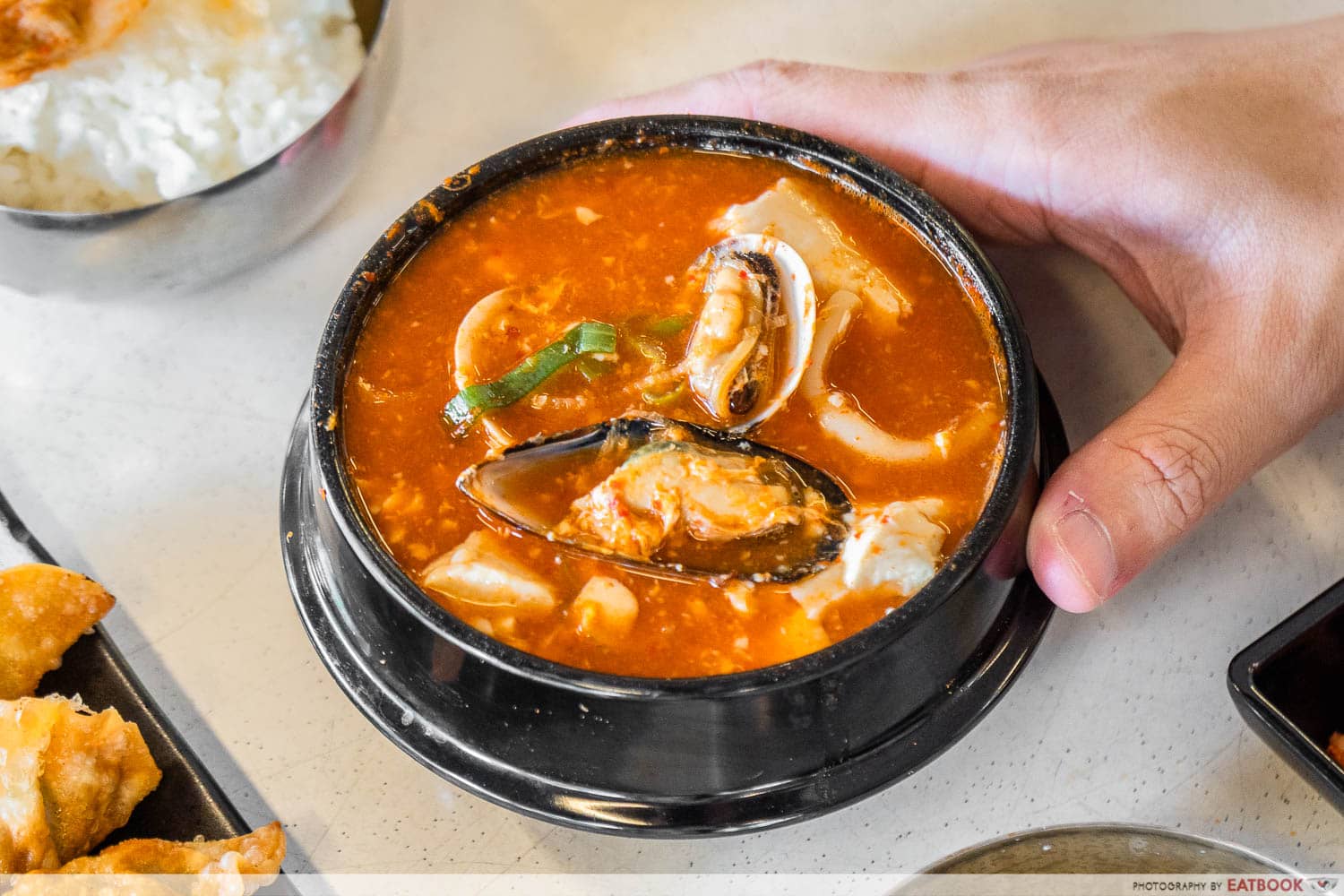 My colleague and I preferred the Seafood Soon Tofu Set to the Pork Soon Tofu Set. Chock full of clams, squid, mussels, and prawns, there was a sweetness to the soup from  the seafood. This gave the stew an element of umami that was not present in the pork version of the soft tofu stew.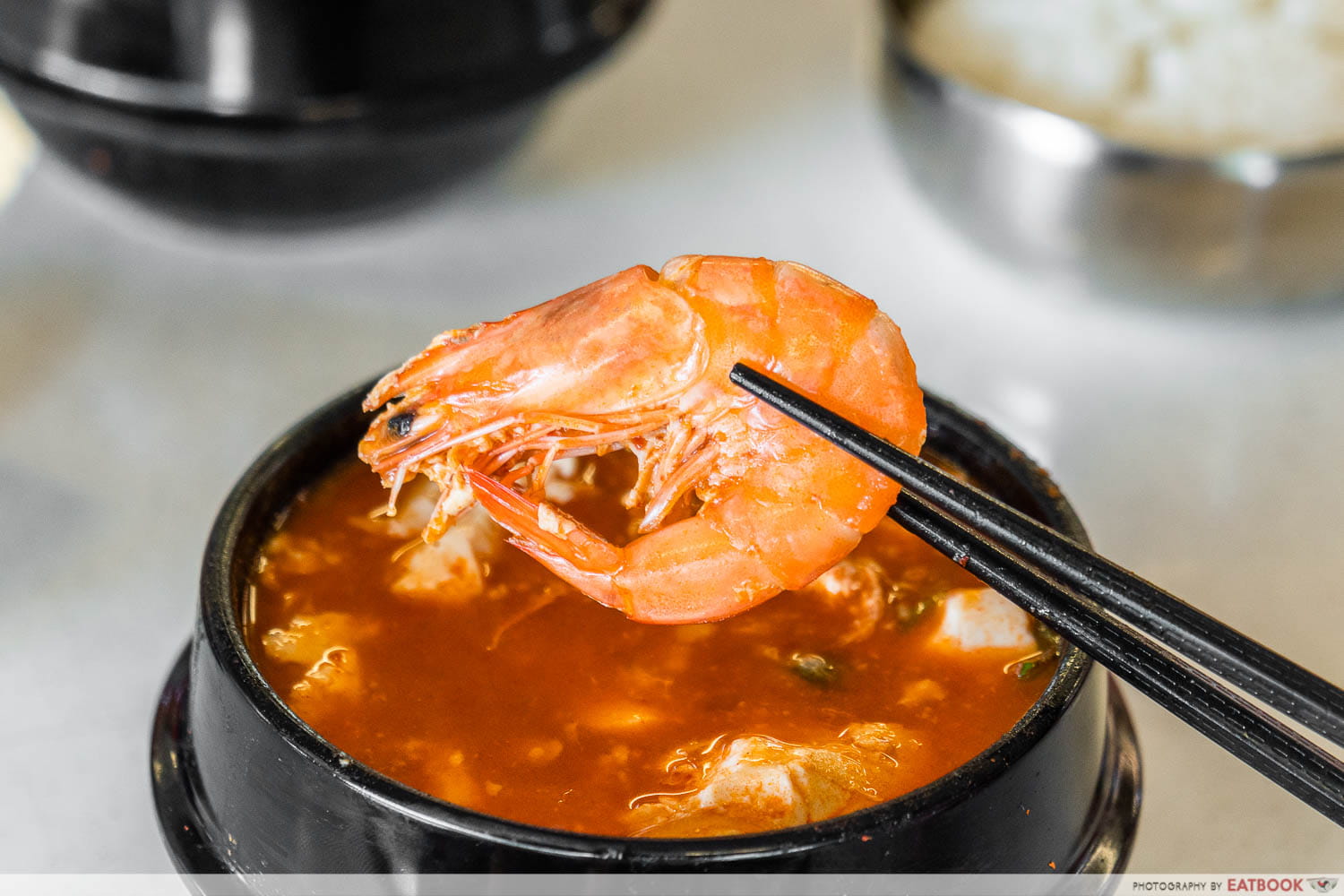 I particularly liked the prawns, as they were firm and fresh. They came with the shells on, which kept the prawn from shrivelling.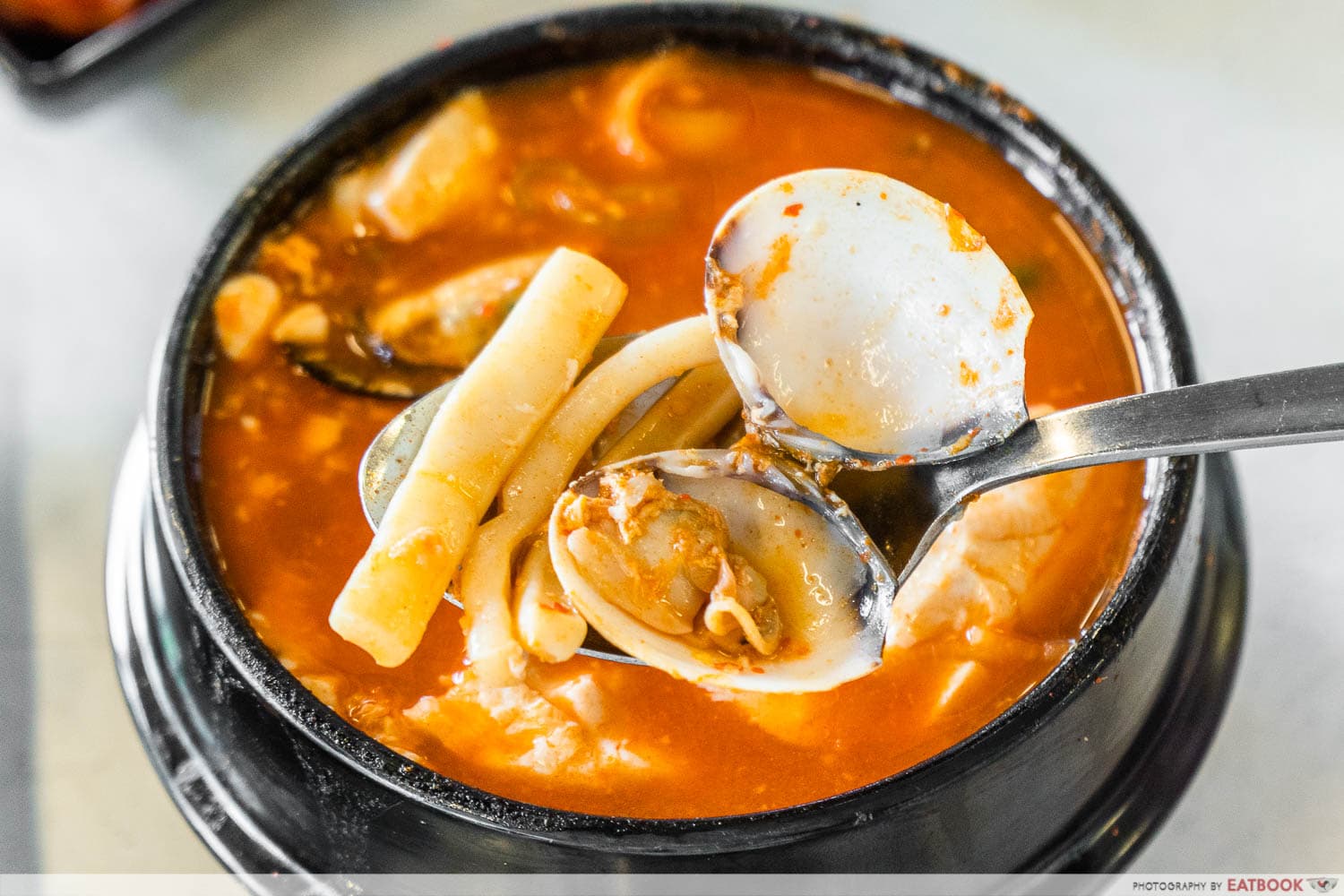 The clams were not at all gritty, and the squid pieces had just a little bite to them.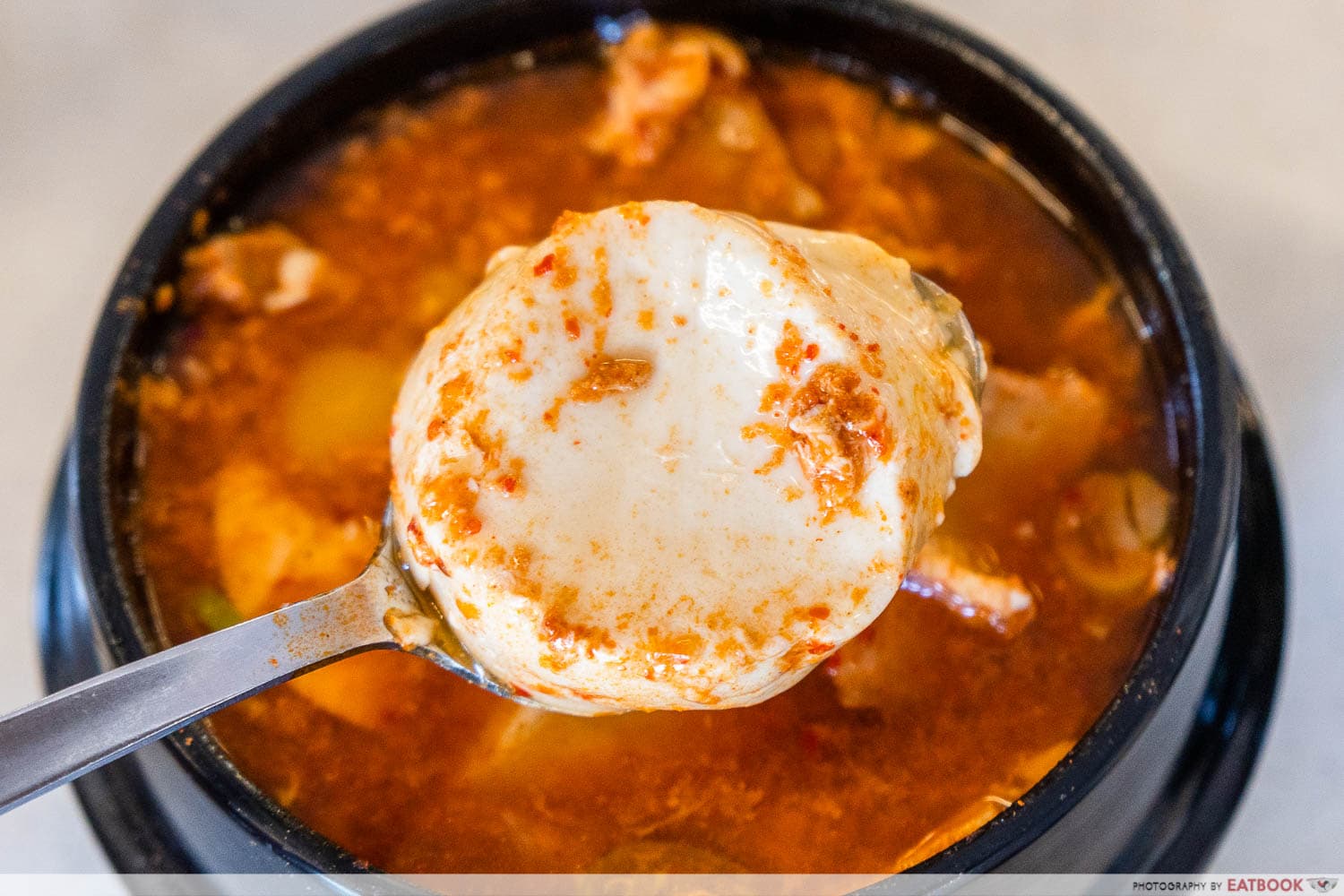 The same tofu and egg featured in the hot stone bowl, which managed to keep both of our soondubu jjigae orders warm for quite a while.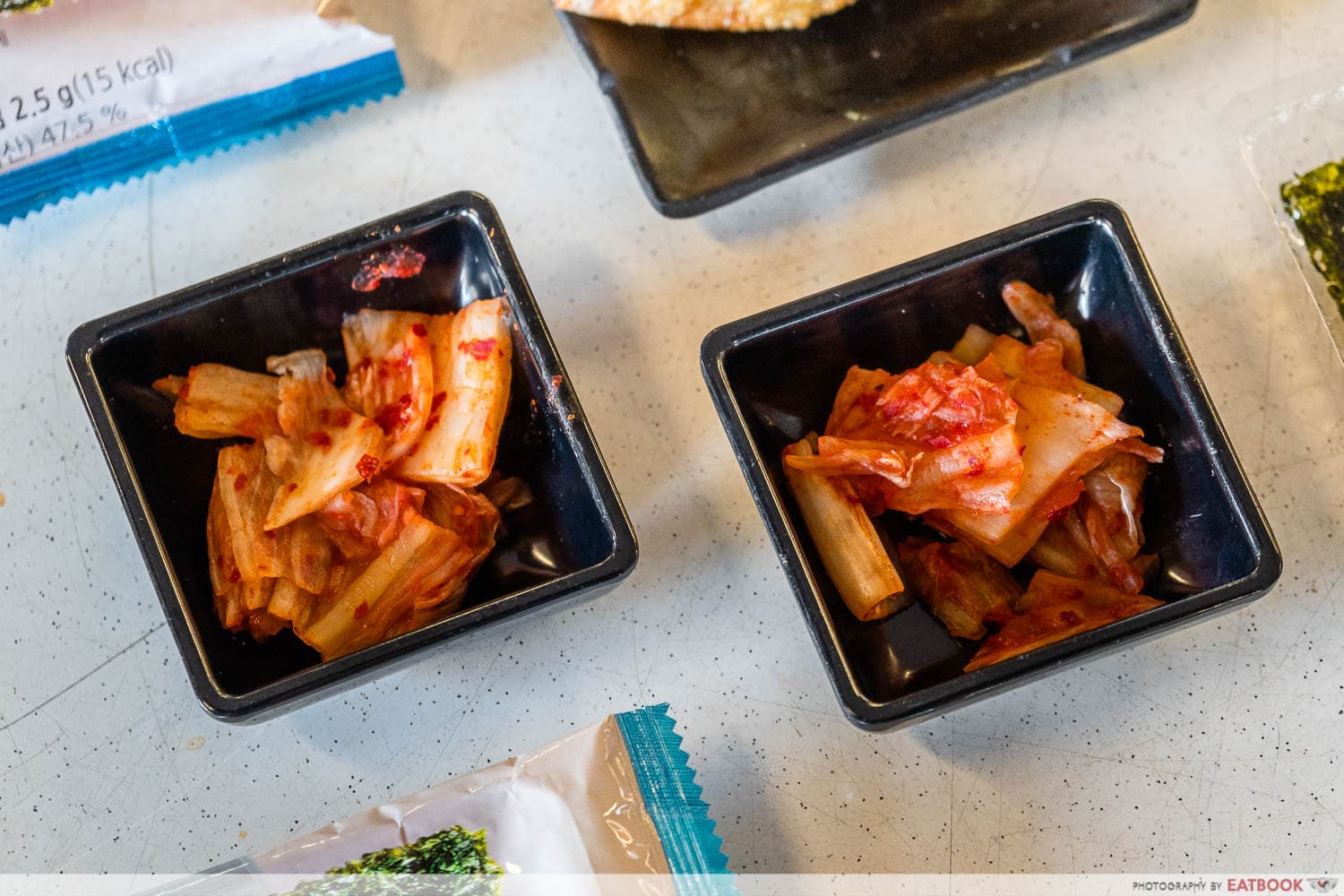 Banchan options here are quite limited as you only get a packet of seaweed and a side of kimchi. However, given its price point, I think there's nothing much to gripe about the variety. There was a nice crunch to the kimchi, but I thought that it could be spicier. I didn't mind how sour the kimchi was, though I can see how others might find it too acidic.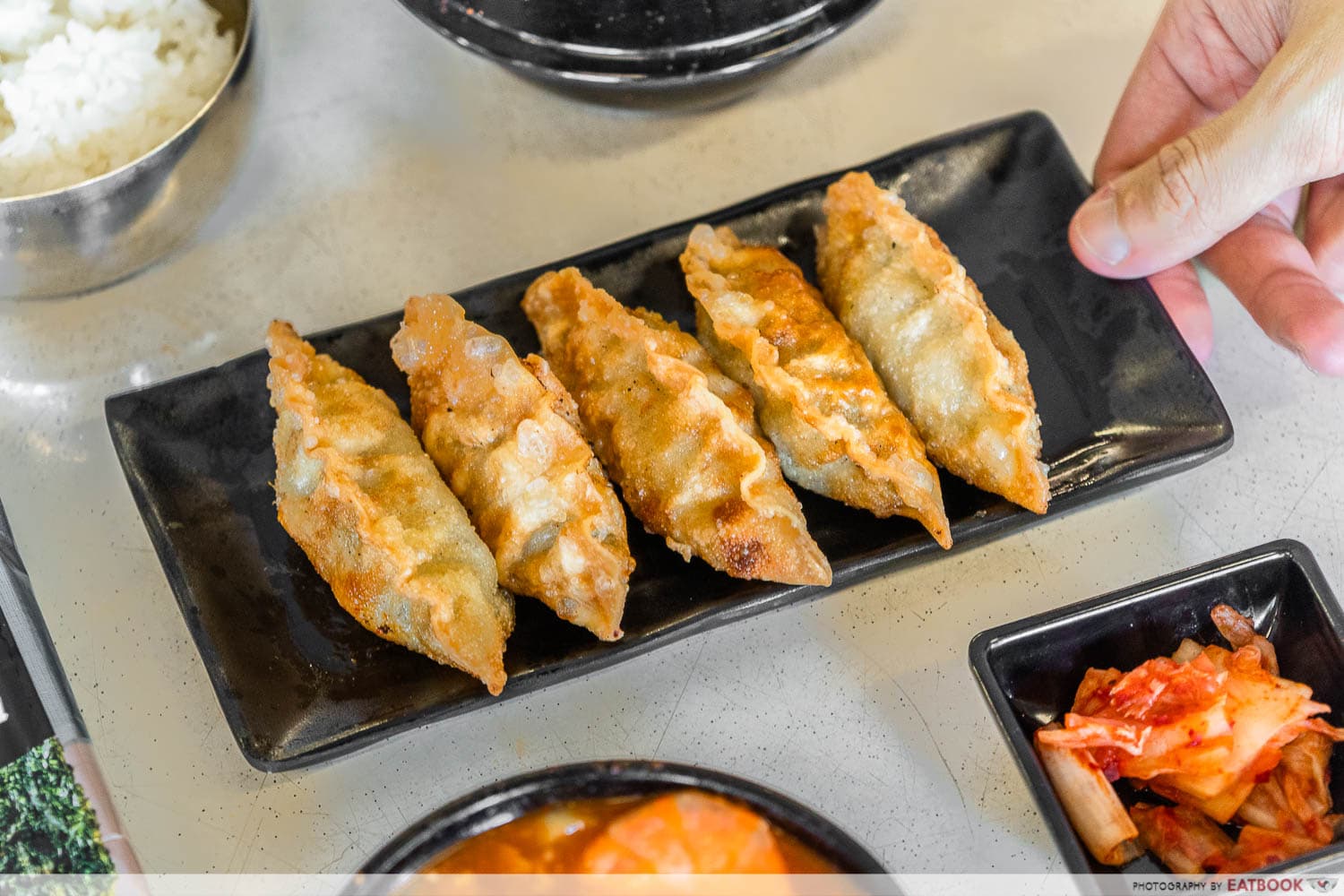 Other than the soondubu jjigae, diners can add on a plate of Mandu to complete their meal. These deep-fried Korean dumplings are available in a plate of three for $4.50 or five for $6.50, with a choice of three flavours—Pork, Kimchi, or Japchae. We opted for five pieces of the Pork Mandu.
Filled with a generous amount of chives, glass noodles, and minced pork, these dumplings were deep-fried to a crisp, while still retaining a soft interior. The glass noodles added a sweetness to the dumplings and also provided a contrasting and pleasant texture. 
Of the three items that I tried at BCD Soon Tofu, this was by far my favourite as it was the most fragrant.
Ambience at BCD Soon Tofu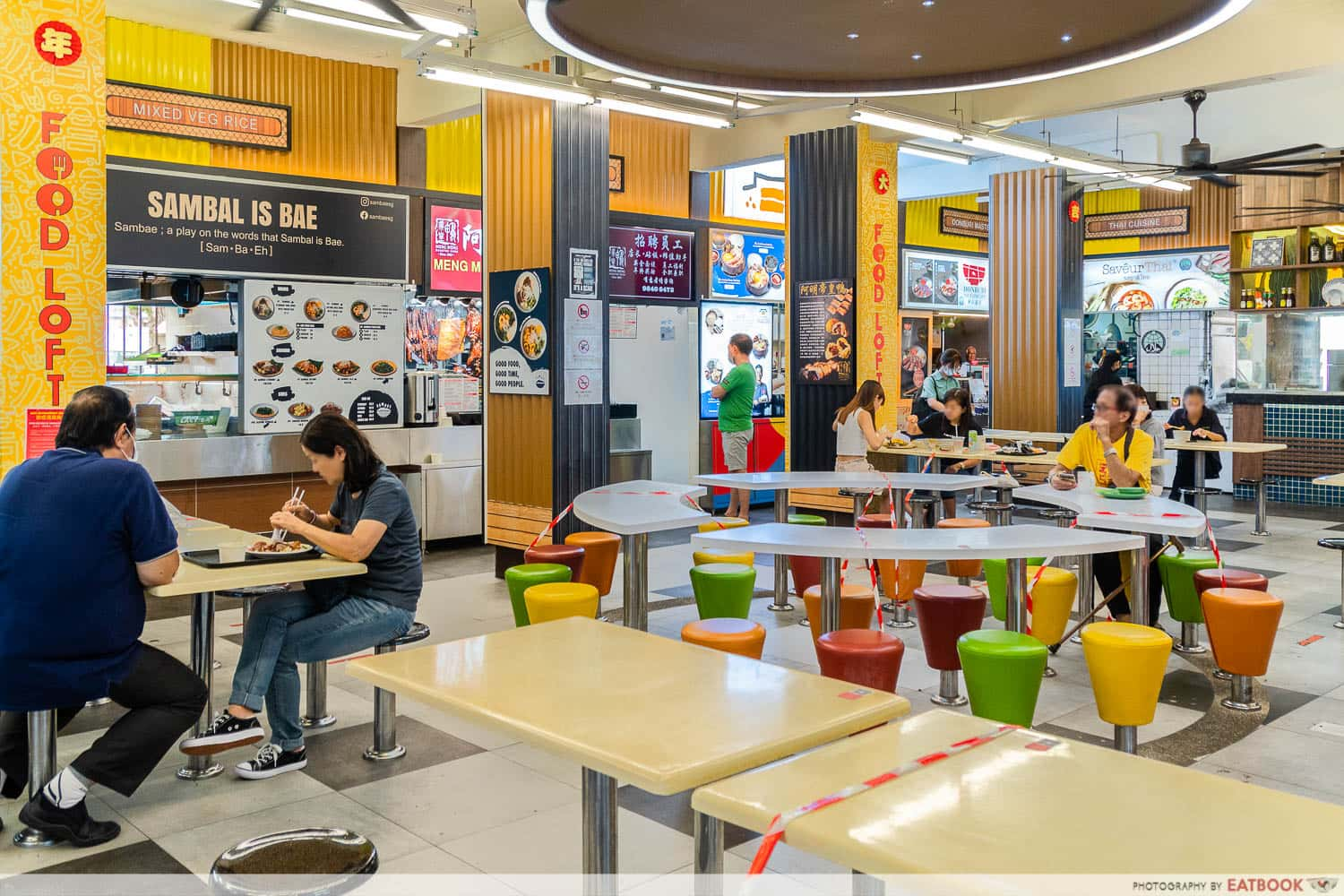 Buk Chang Dong Soon Tofu is located at Food Loft coffeeshop, approximately four minutes away on foot from Ang Mo Kio MRT Station. There is no lack of space even during lunchtime but the mynahs here can be quite bold though—they're unafraid to come near your table at the sight of food. 
The verdict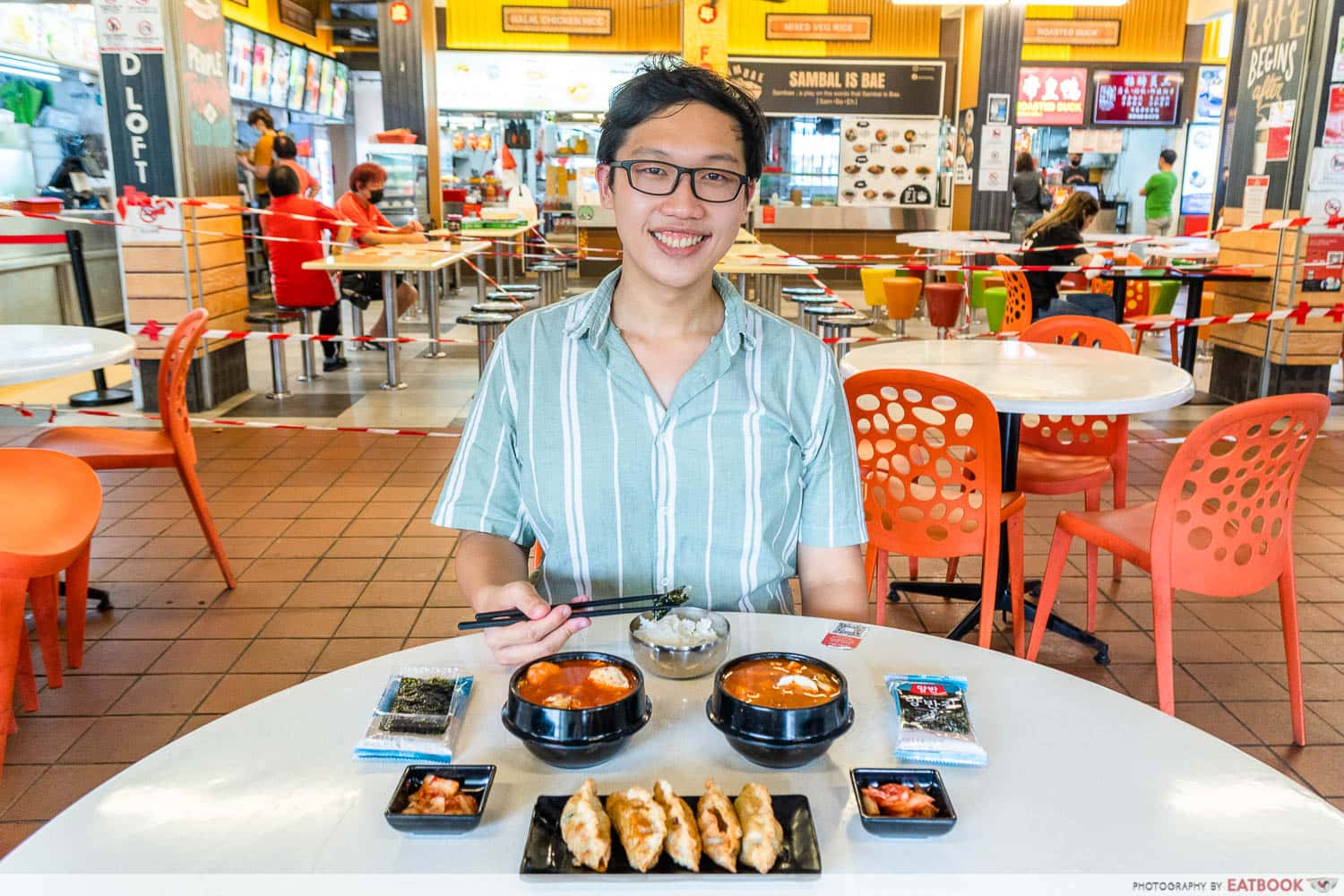 For less than half the original price, Buk Chang Dong Soon Tofu is a cheaper alternative to SBCD if you crave soondubu jjigae. Personally though, I felt that the flavours of both the stews could have been stronger. I did like the mandu, but I thought that it was still too expensive. 
Even though it was a really hot day, most of the patrons at the coffeeshop actually bought from BCD Soon Tofu. Perhaps it might just be my personal preference, but I don't think I would return to try the other soft tofu stews as I still find them a tad too pricey. Given its prime location in the heartlands though, it's definitely worth a visit if you don't want to travel to the CBD. They also have another outlet in Punggol if you live in the North-East!
While you're there at Food Loft, try out Meng Meng Roasted Duck's Signature Dang Gui Roasted Duck too!
Address: 721 Ang Mo Kio Avenue 8, #01-2823, Food Loft, Singapore 560721
Opening hours: Daily 11am to 9pm
Buk Chang Dong Soon Tofu is not a halal-certified eatery.
Meng Meng Roasted Duck Review: Famous JB Roast Meat Stall Opens In Ang Mo Kio
Photos taken by Tan Zi Hui.
This was a media tasting at Buk Chang Dong Soon Tofu.
Buk Chang Dong Soon Tofu Review: Soondubu Jjigae From Only $6 In Ang Mo Kio
Buk Chang Dong Soon Tofu Review: Soondubu Jjigae From Only $6 In Ang Mo Kio -

6.5/10
Summary
Pros
– Seafood stew was sweet
– Tofu was silky smooth
Cons
– Pork soon tofu set was quite bland
Recommended dishes: Seafood Soon Tofu Set ($8), Mandu ($6.50 for 5 pieces)
Opening hours: Daily 11am to 9pm
Address: 721 Ang Mo Kio Avenue 8, #01-2823, Food Loft, Singapore 560721