Meng Meng Roasted Duck in Ang Mo Kio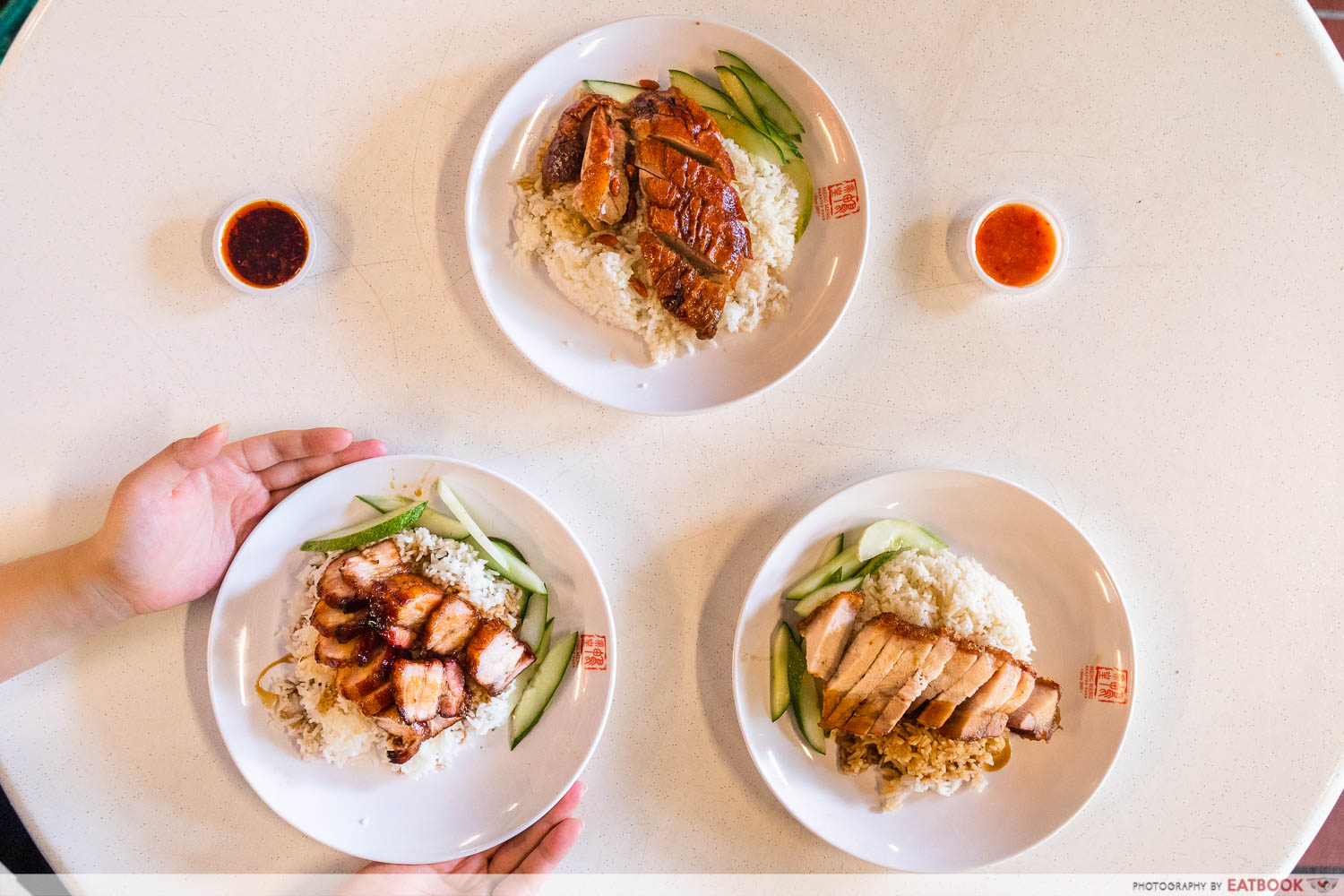 I've been exploring new food openings around Singapore ever since travelling out of the island was restricted. It is always exciting to find new eateries from other countries, including The Ice Cream Bar from Malaysia and Ganko Sushi from Japan, as I get to enjoy a taste of international fare without leaving the country. So when I heard of Meng Meng Roasted Duck's opening, I immediately headed down with my colleague to check them out.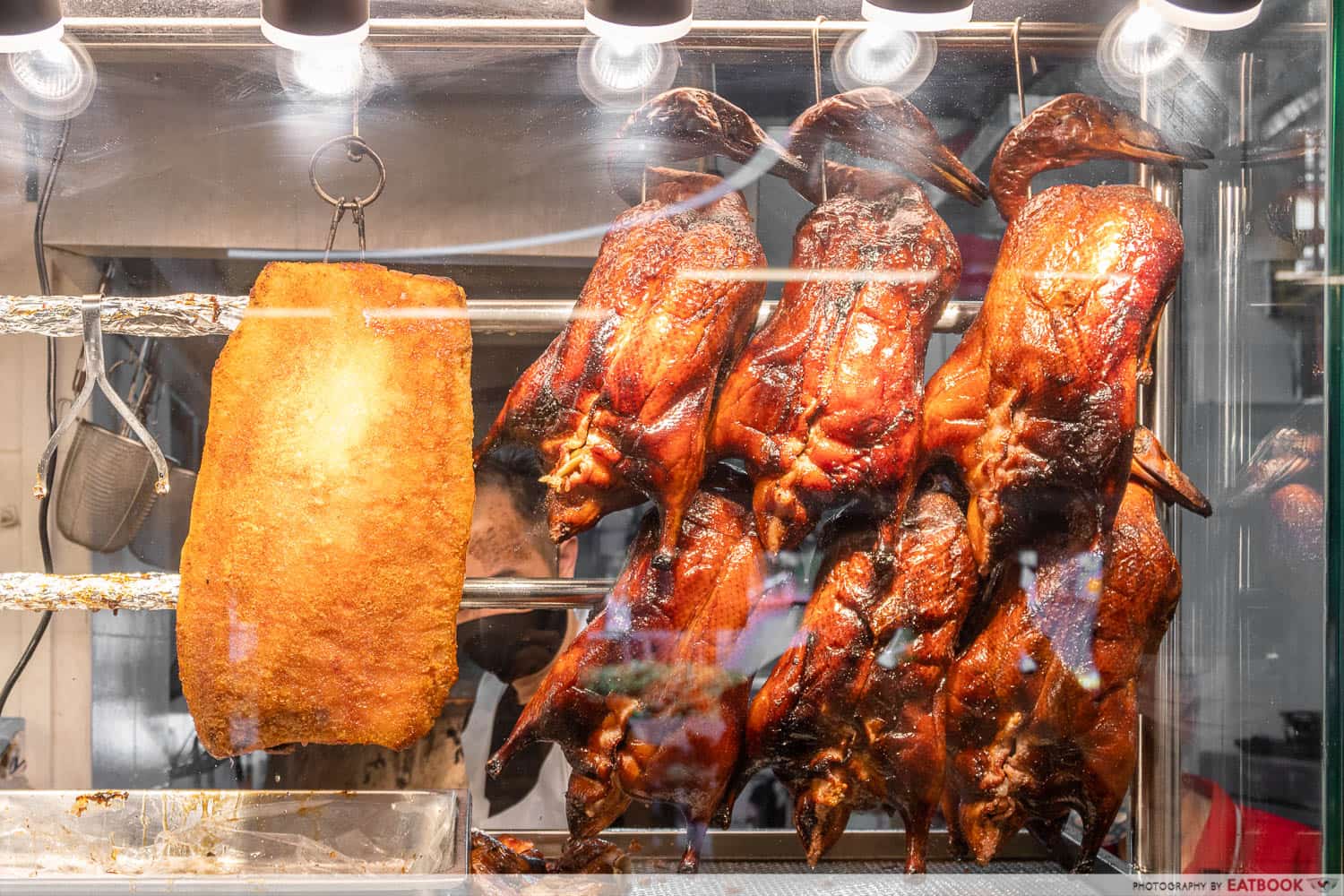 If you haven't heard of Meng Meng Roasted Duck before, they're one of JB's most famous roasted meat stalls. As their name suggests, they are known for their roasted duck that's marinated in dang gui, AKA angelica root, a herb used in traditional Chinese medicine.
17 Roast Meat Stalls In Singapore For Char Siew Shao Rou Fan
Food at Meng Meng Roasted Duck
Although the menu at Meng Meng Roasted Duck might seem extensive, half of the items were unavailable when we visited. Thankfully, all three roast meat items—roasted duck, char siew, and siew yoke—were available.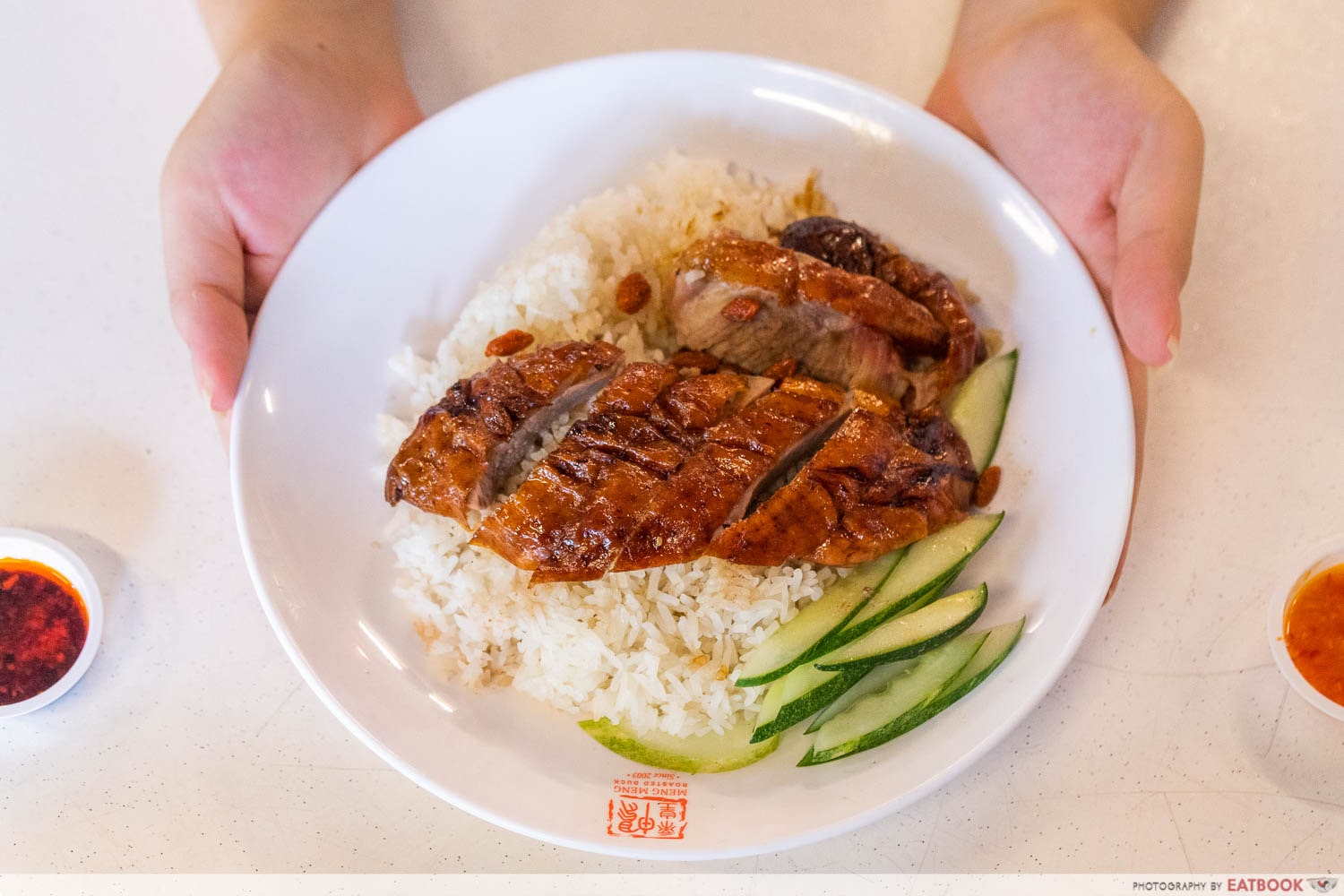 We started off our experience with Meng Meng's most popular dish—Dang Gui Roasted Duck Rice ($4.50). You can either opt for the upper half of the duck or the bottom. However, do note that both choices are subject to availability. 
Unfortunately, by the time it reached our turn to order, they were down to their last portion of duck. The next batch of duck was only available after a wait of 45 minutes to an hour. So for this visit, we only got the chance to try the breast meat.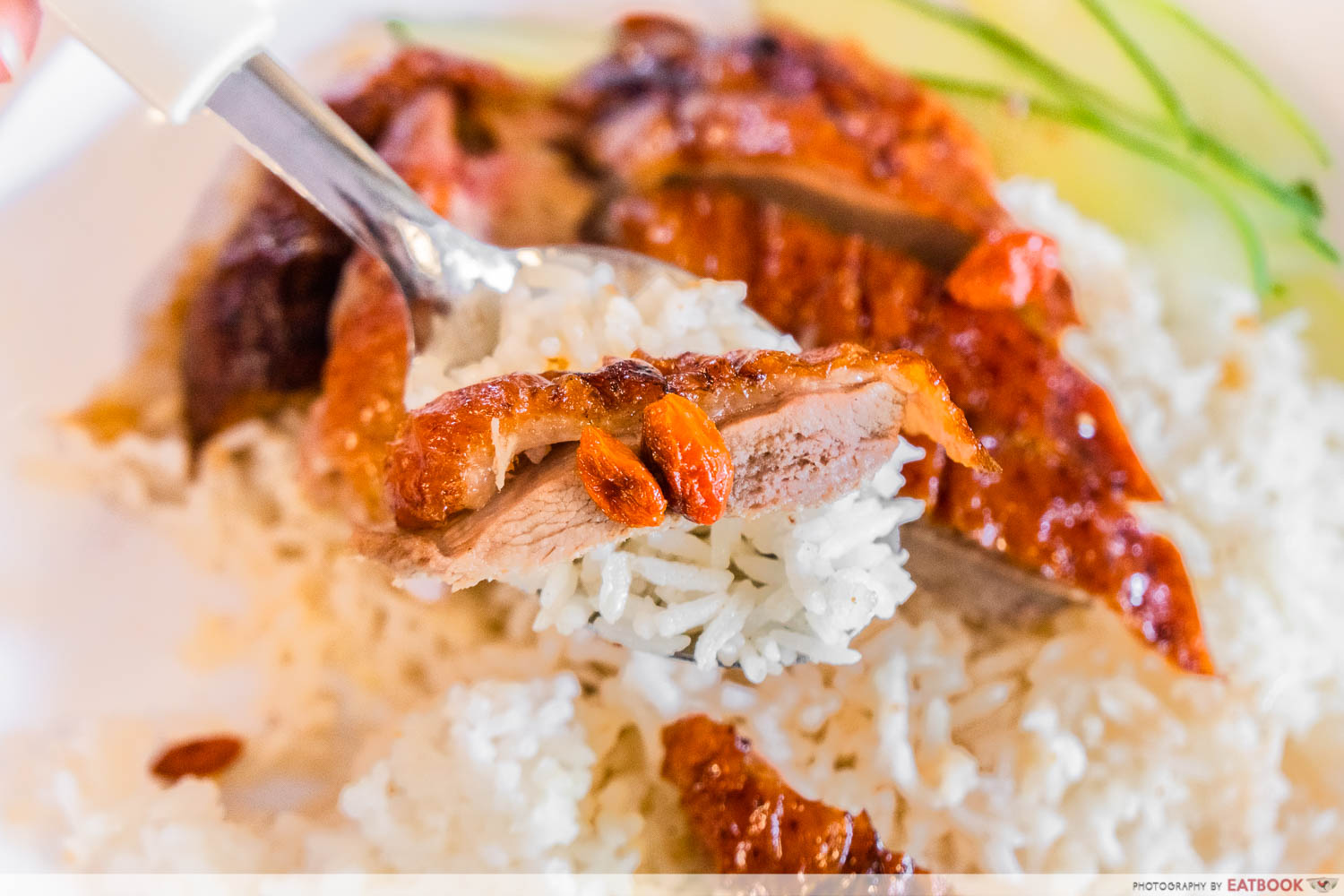 I tend to avoid breast meat as it's usually dry and tough. However, Meng Meng has proven me wrong. The meat was tender and succulent. What impressed me the most was the flavour. Perhaps due to the herbal marinade or the roasting method, the duck did not have a strong gamey flavour, which I appreciated. 
While the duck itself did not have a prominent herbal flavour, it was the rice that boasted slightly bitter and herbaceous notes. It may be an acquired taste to others but it was rather palatable for me. Moreover, the addition of wolfberries lent a sweetness to the dish.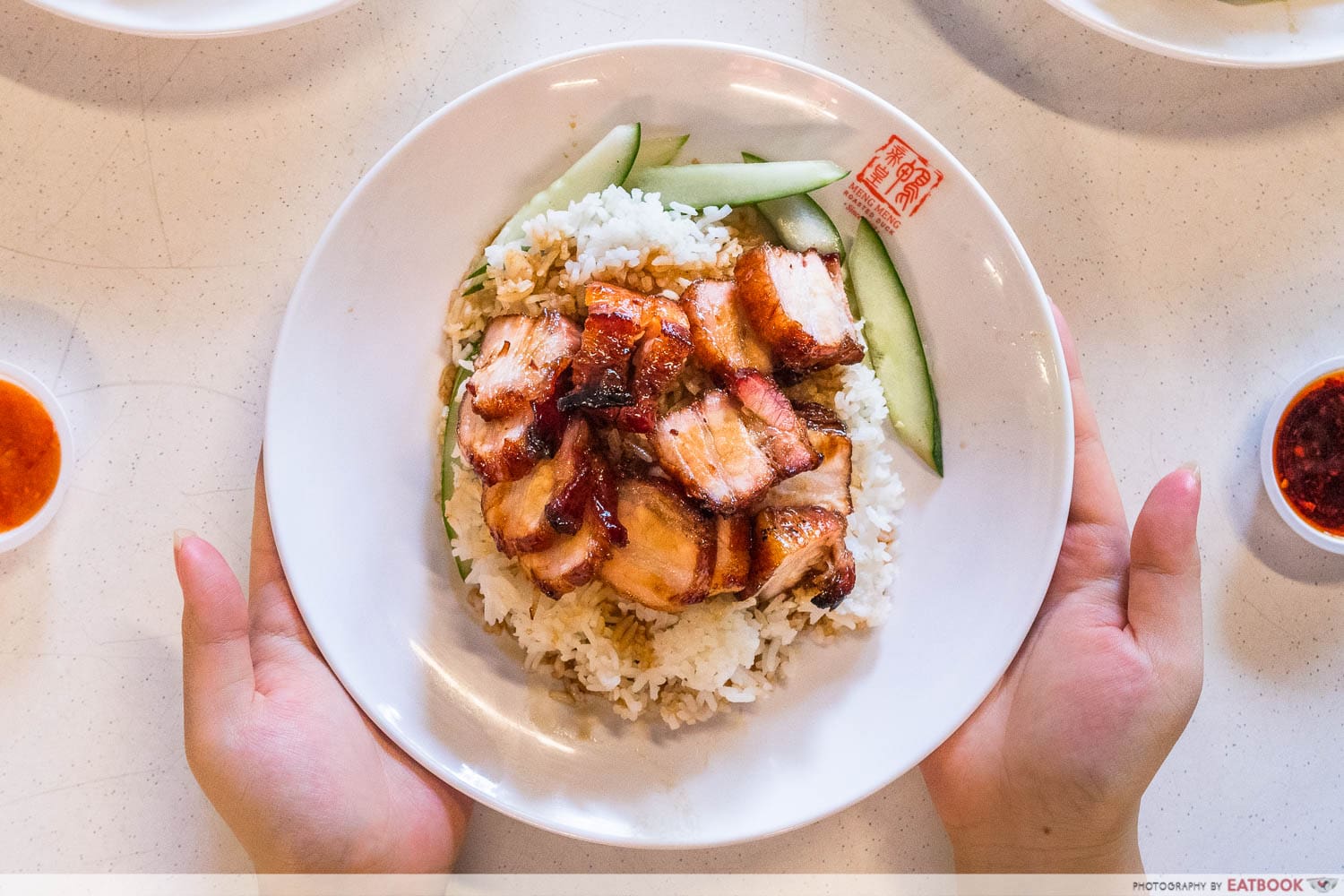 Next, I tried the Signature Char Siew Rice ($4.50). It came with the usual suspects: rice, char siew, and cucumbers on the side. At first glance, the char siew had a glossy exterior and a meaty interior.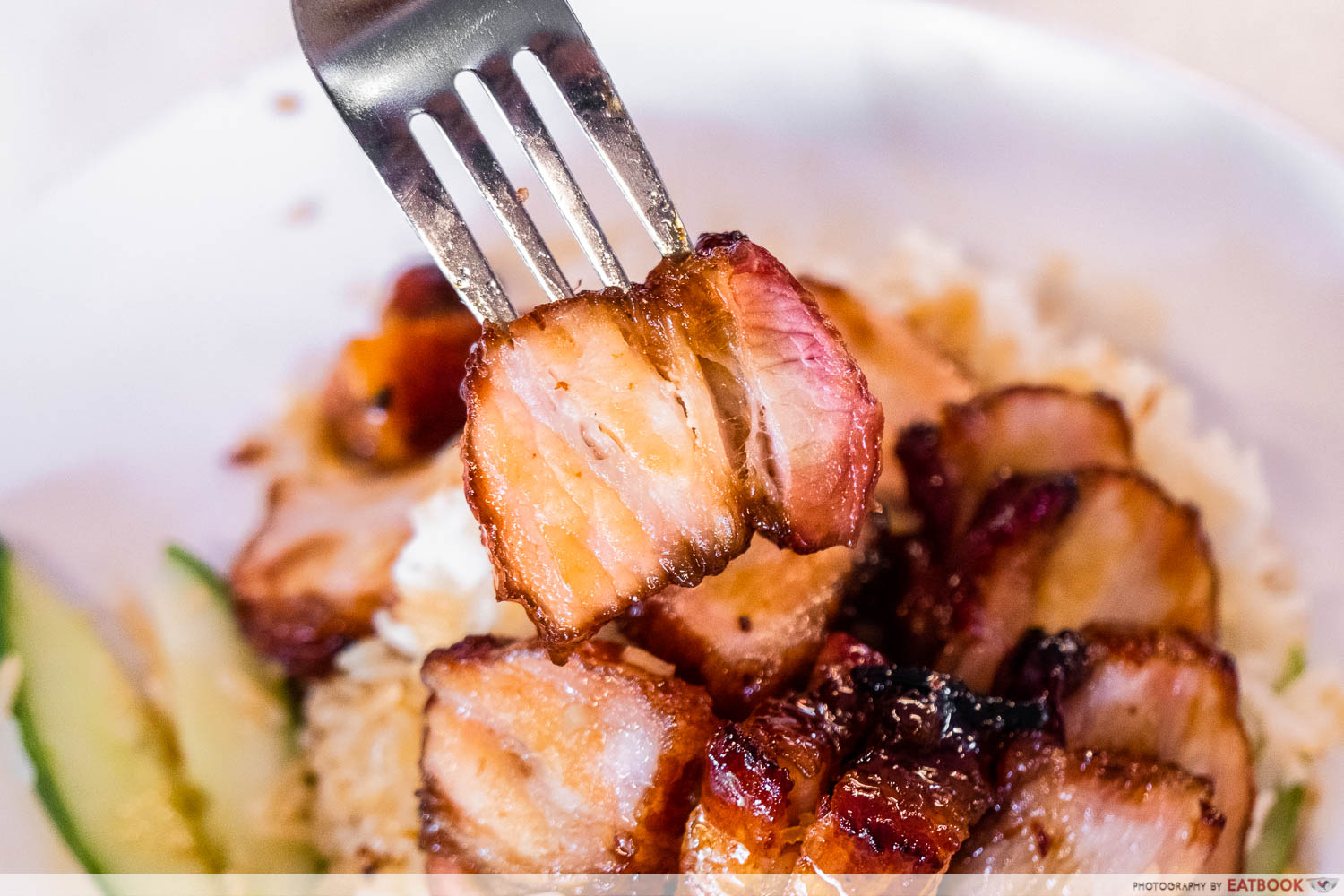 Meng Meng's char siew ticked all the boxes for me—an incredible sweet glaze, a hint of char, and juicy meat. My colleague, on the other hand, thought the char siew was a little too heavy on the honey, so perhaps it's a matter of personal preference.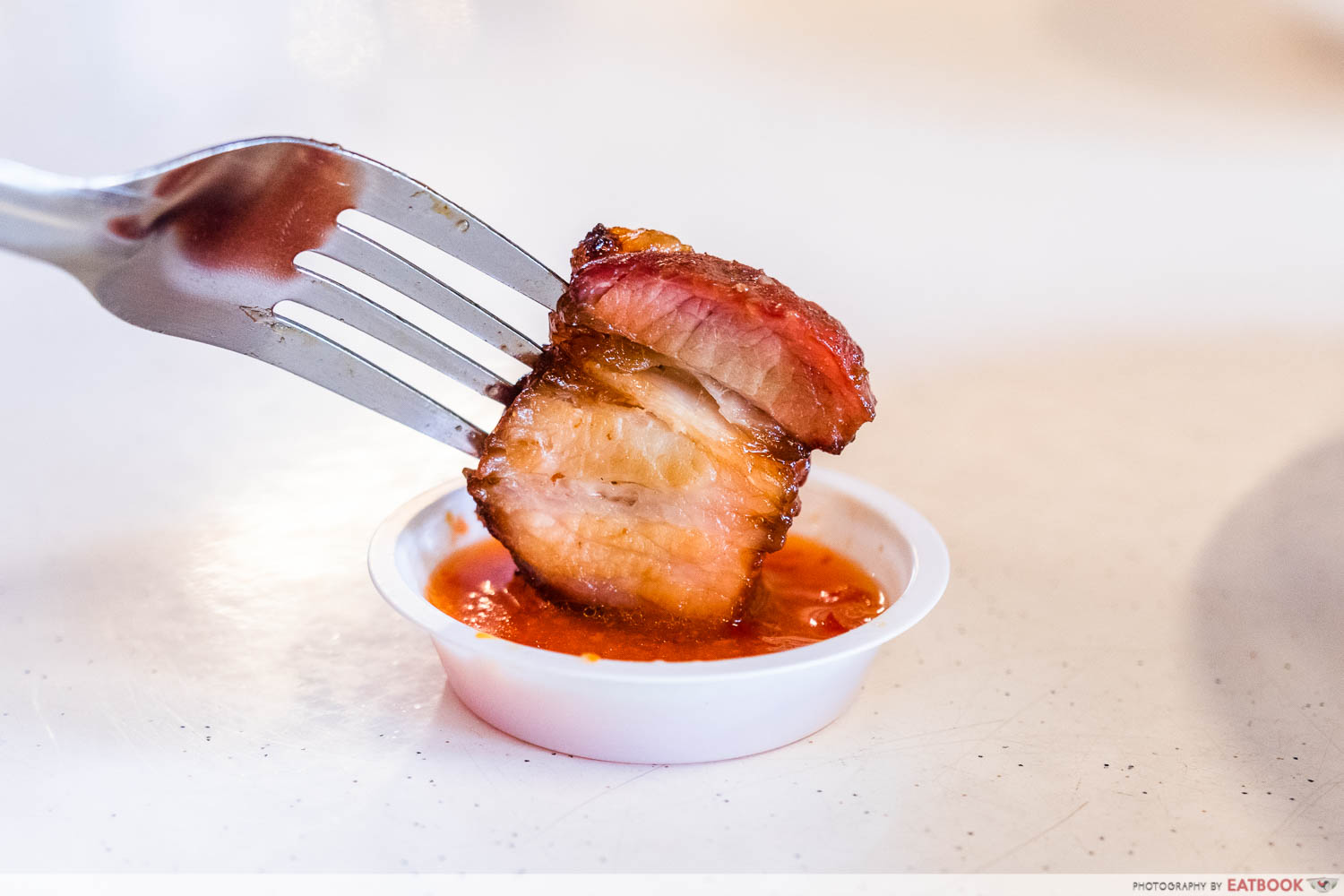 What truly wowed me was the combination of the char siew and the chilli sauce on the side. There are two chilli options: a robust dry chilli oil, or a bright chilli sauce. In my opinion, the char siew went well with the latter. I really enjoyed the marriage between the citrusy note in the chilli and the honeyed char siew. It was sweet, sour, and spicy, all in one bite.
My only complaint was the cut of the meat. There were some pieces that had the perfect ratio of fat to meat, while there were also some that were too fatty or too lean.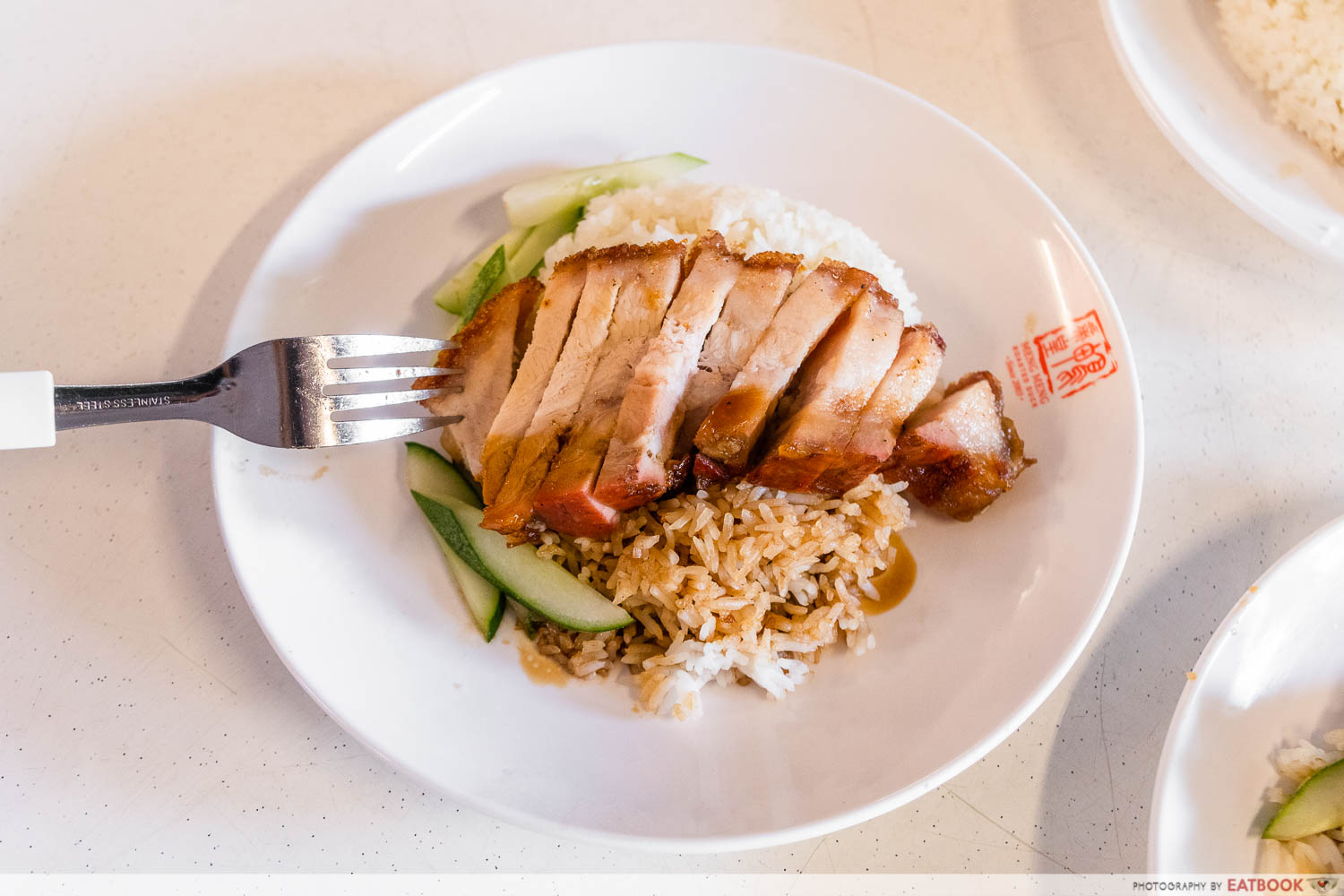 A trip to any roasted meat stall wouldn't be complete without Roasted Pork Belly Rice ($4), which was what we tried last.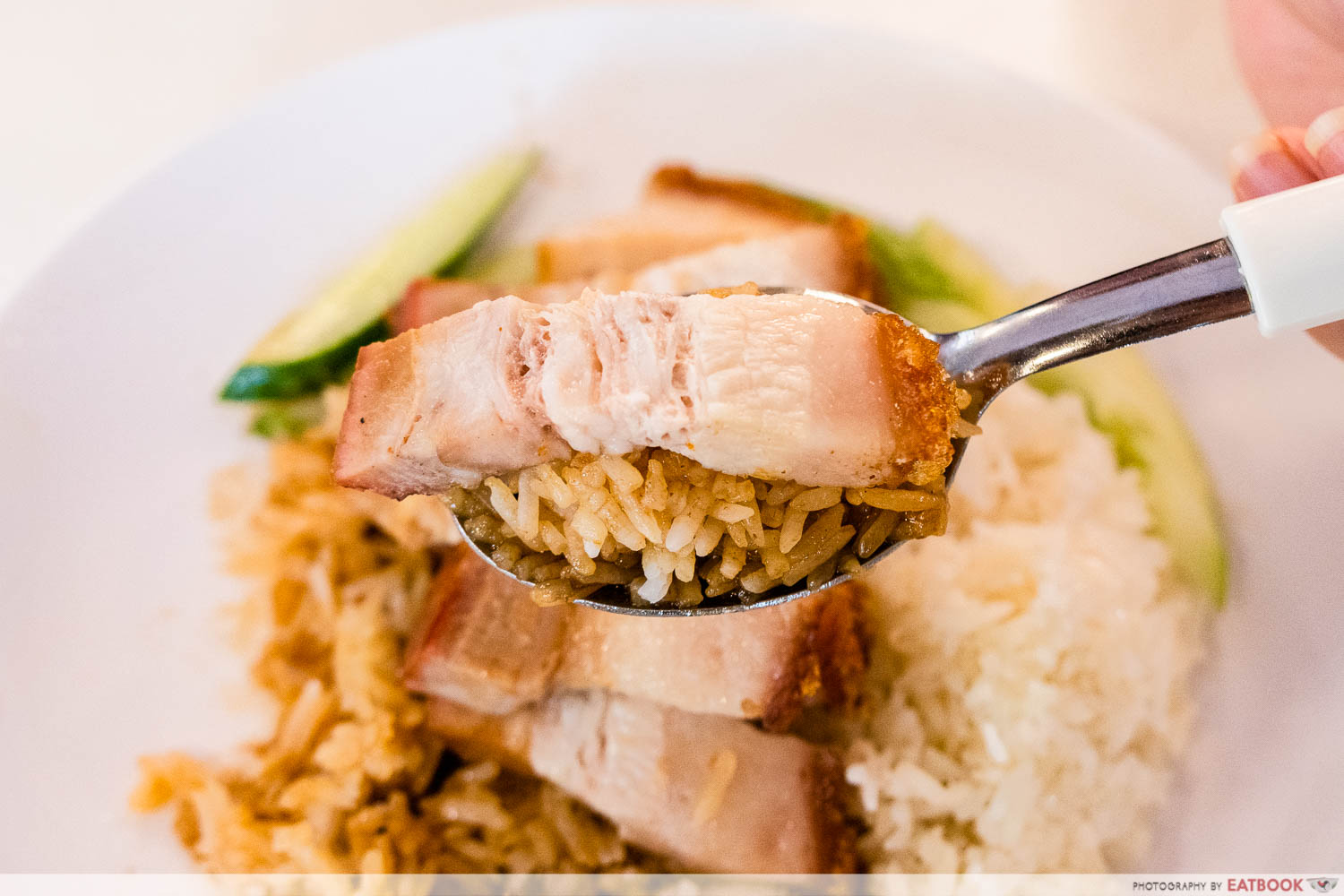 After two stellar dishes, we were slightly disappointed with the siew yoke. The meat had an unbalanced fat to meat ratio, and was sliced too thinly. It was a real pity as I couldn't enjoy the airy and crispy crackling skin due to the thickness of the cut.
Nonetheless, the siew yoke was pillowy and juicy, all thanks to the fat. Surprisingly, the fatty layers didn't leave an overly oily mouthfeel, which I appreciated. 
For the siew yoke, I would recommend pairing it with the dark chilli oil. It was much spicier and had a musky undertone, which complemented the savoury meat. We found out later that the chilli, along with the roast duck, are all imported from Malaysia! This is as authentic as it can get.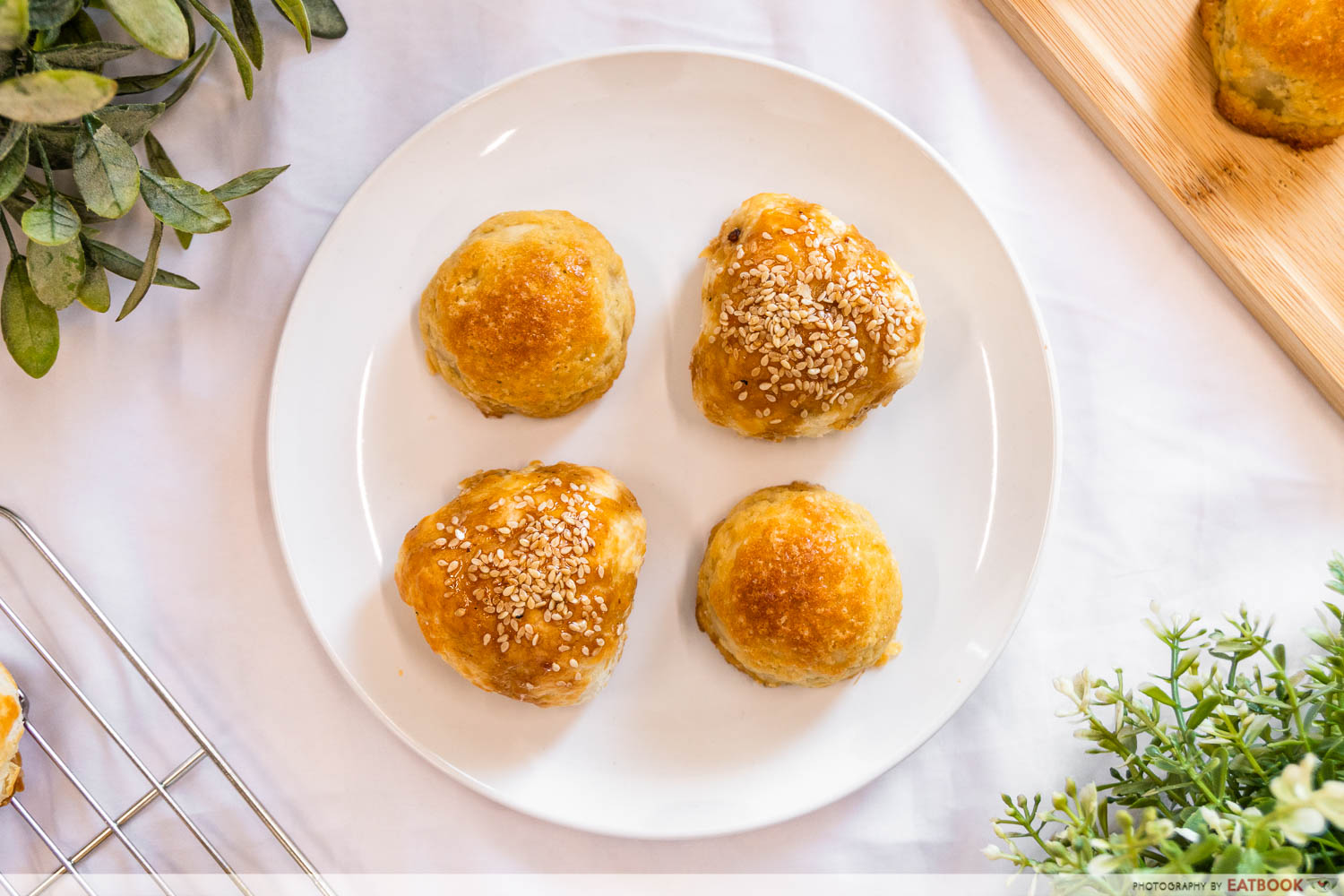 Besides the mains, Meng Meng Roasted Duck also has two types of char siew pastries on their menu. To get your hands on these, you'll need to pre-order two weeks in advance by contacting them at 8908 7000.
Fortunately, we were able to snag a box of six ($10.80), which was the minimum order. In a box, we had three char siew sou and three char siew bolo, all of which are priced at $1.80 each.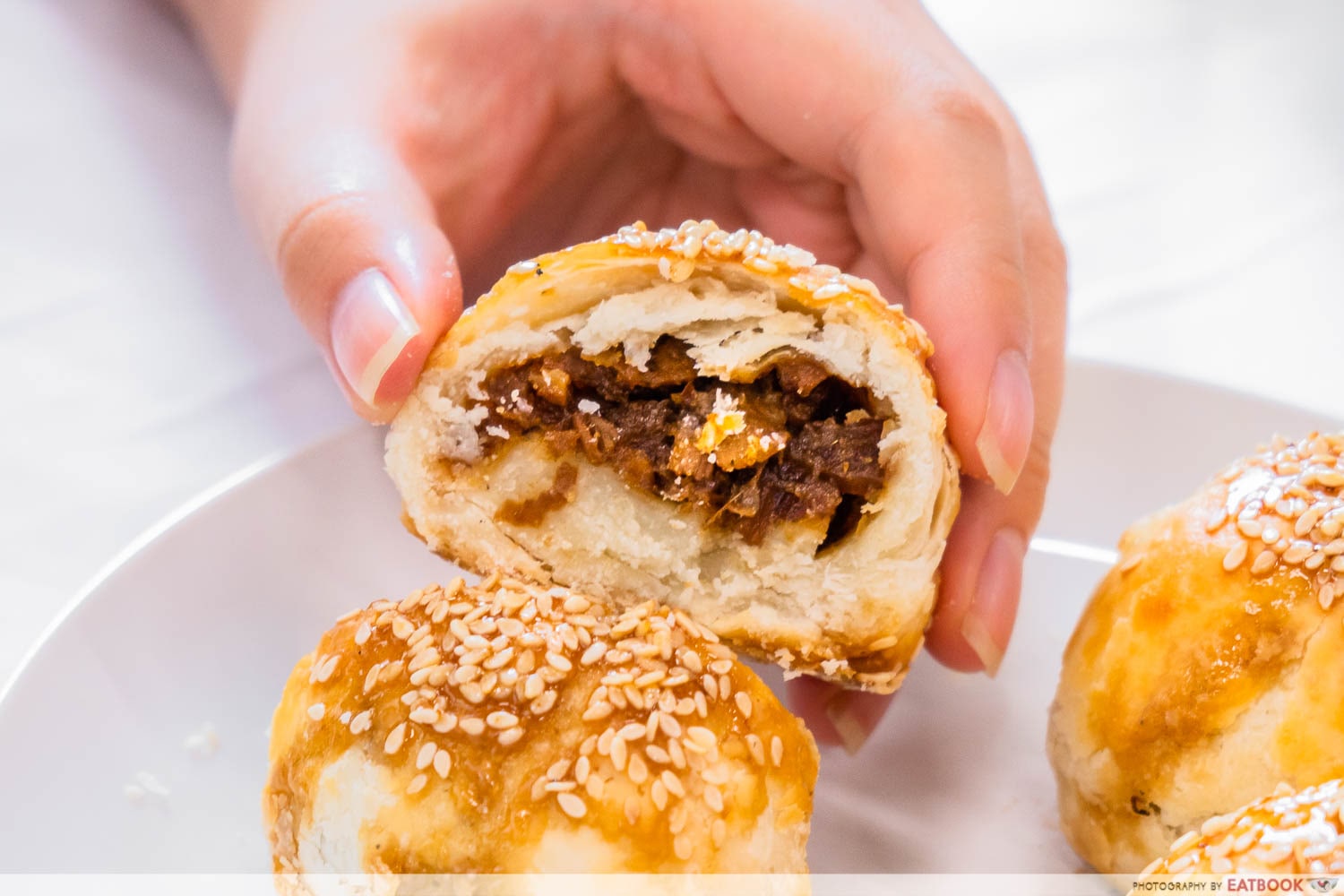 The Charsiew Sou came in the size of a tennis ball, and was baked to a lovely golden-brown colour. The pastry was flaky on the outside, but soft on the inside. However, it wasn't as buttery or flaky as the HK-style char siew sou that I'm familiar with. I did, though, find that the overall texture was a little mushy for my liking, maybe due to the condensation formed when it was packaged. 
Flavour wise, the char siew was sweet and robust, which complemented the earthy sesame seeds and fragrant pastry.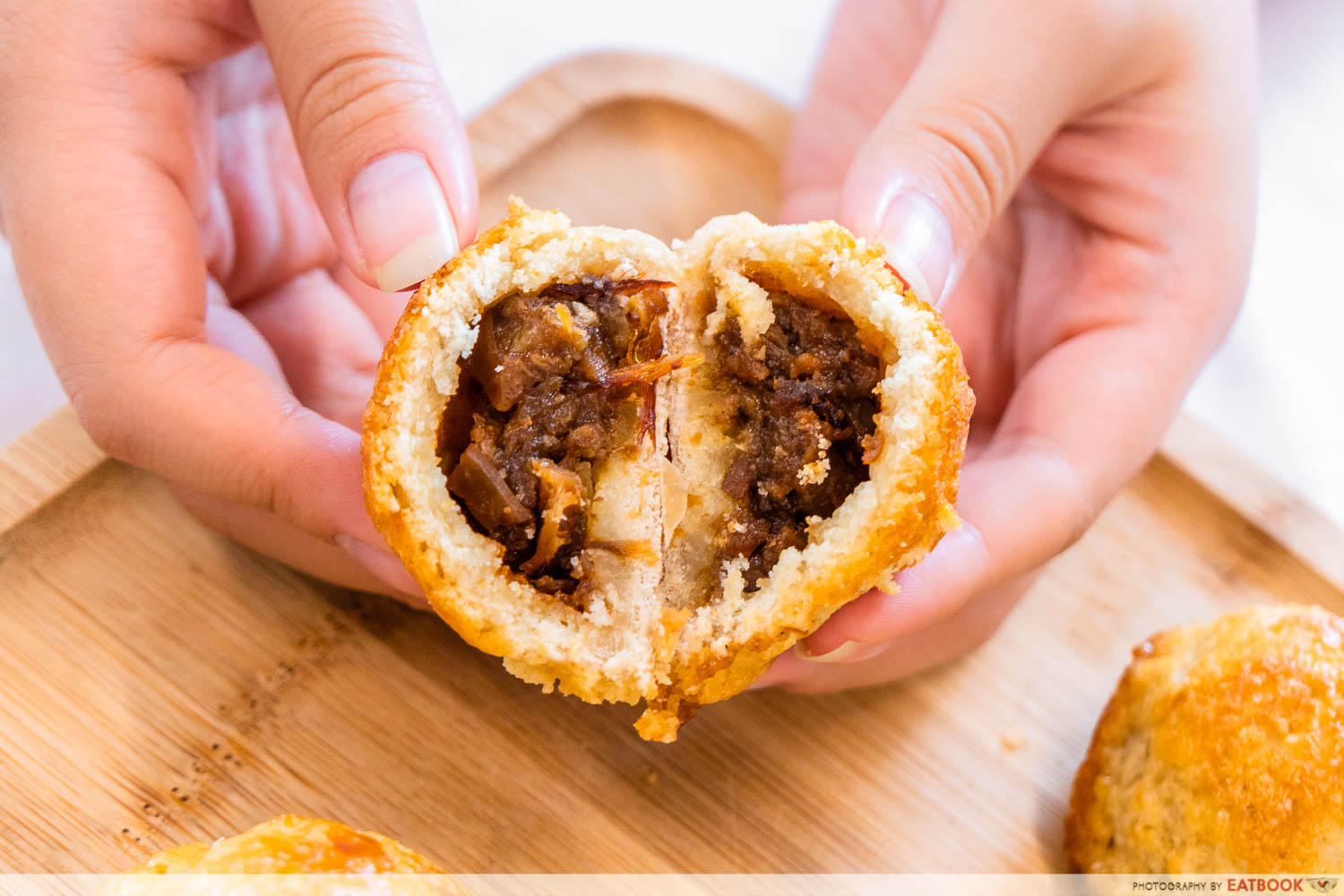 The Charsiew Bo Luo Bun, on the other hand, was a slight letdown. Not only was it a little pricey for its size, the bread had a doughy and chewy texture. It felt like it was underbaked. I was also a little disappointed with the crumbly crust as it didn't have the same crunchy, cookie-like texture that I was hoping to savour. The flavours, however, were quite similar to the char siew sou—honeyed and robust. 
Ambience at Meng Meng Roasted Duck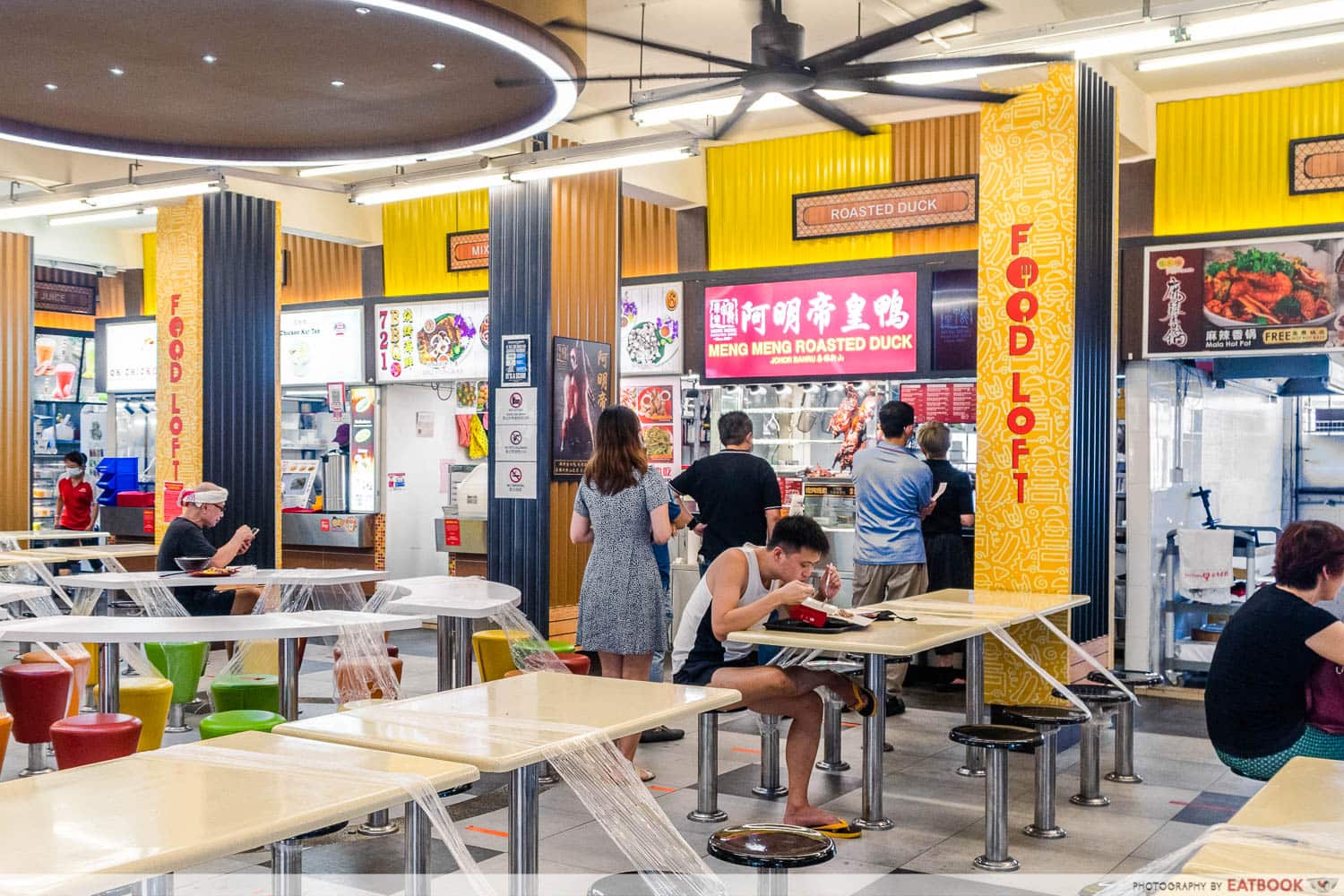 Meng Meng Roasted Duck is situated in Food Loft—a coffeeshop that is approximately a 10-minutes walk from Ang Mo Kio MRT Station. It is hard to miss as the coffeeshop is brightly lit, and you'll automatically be drawn towards its long queue. 
The coffeeshop is rather small. It felt even more crowded and crammed due to Meng Meng's snaking line. As there weren't enough seats to begin with, the current dining restrictions have made it even harder to dine in. So head down early if you would like to nab a spot, and avoid waiting in line for more than an hour. 
The verdict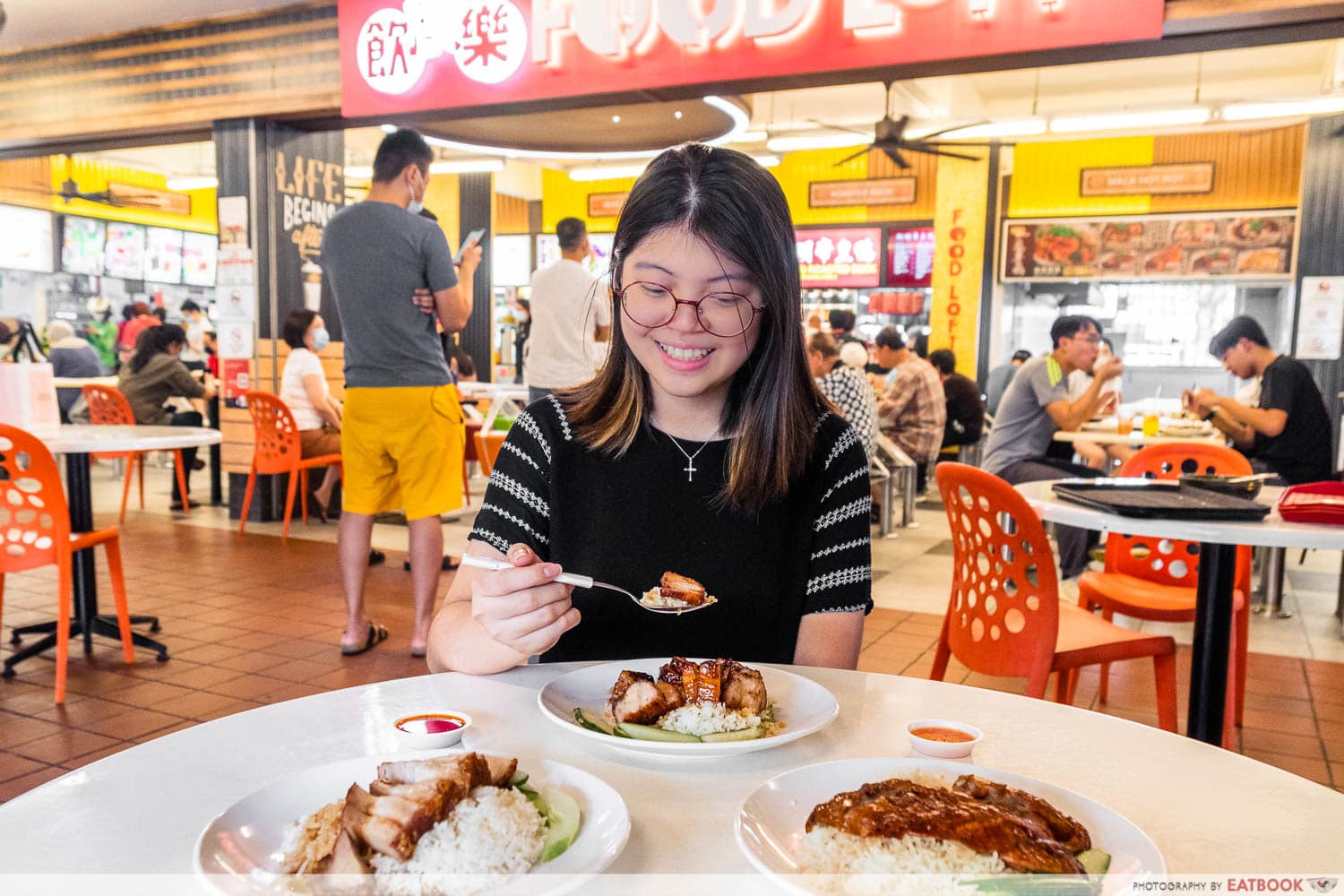 Meng Meng Roasted Duck is definitely one of the better roast meat stalls that I've tried in Singapore so far. As they are known for their roasted duck, I recommend giving them a try if you are ever in the area, and if you are willing to wait for more than 45 minutes. I will definitely return for their char siew when their full menu is available, so I can try it with the noodles and dumpling soup. 
If you are looking for more roast meat options, check out our list of roast meat stalls in Singapore, which includes HK- and Malaysian-style char siew, roasted spare ribs and more. Alternatively, check out a new ayam penyet stall—Smash Ayam Penyet—at Ang Mo Kio Hub, offering items such as seafood combos and soto ayam.
Smash Is A New Ayam Penyet Kiosk In AMK Hub, Has A Signature Sambal And Seafood Combos Too
Address: 721 Ang Mo Kio Avenue 8, #01-2823, Food Loft, Singapore 560721
Opening hours: Thurs-Tue 11:30am to 8pm
Tel: 8908 7000
Website
Meng Meng Roasted Duck is not a halal-certified eatery. 
Photos taken by Zi Hui.
This is an independent tasting at Meng Meng Roasted Duck.
Meng Meng Roasted Duck Review: Famous JB Roast Meat Stall Opens In Ang Mo Kio
Meng Meng Roasted Duck Review: Famous JB Roast Meat Stall Opens In Ang Mo Kio -

7/10
Summary
Pros
– Succulent roasted duck
– Reasonable prices for their roasted items
Cons
– Some meats were too lean
– Long waiting time
– Bolo bun tasted undercooked
Recommended dishes: Signature Char Siew Rice ($4.50), Dang Gui Roasted Duck Rice ($4.50), Char Siew Sou ($1.80)
Opening hours: Thurs-Tue 11:30am to 8pm
Address: 721 Ang Mo Kio Avenue 8, #01-2823, Singapore 560721