Eggciting in Sembawang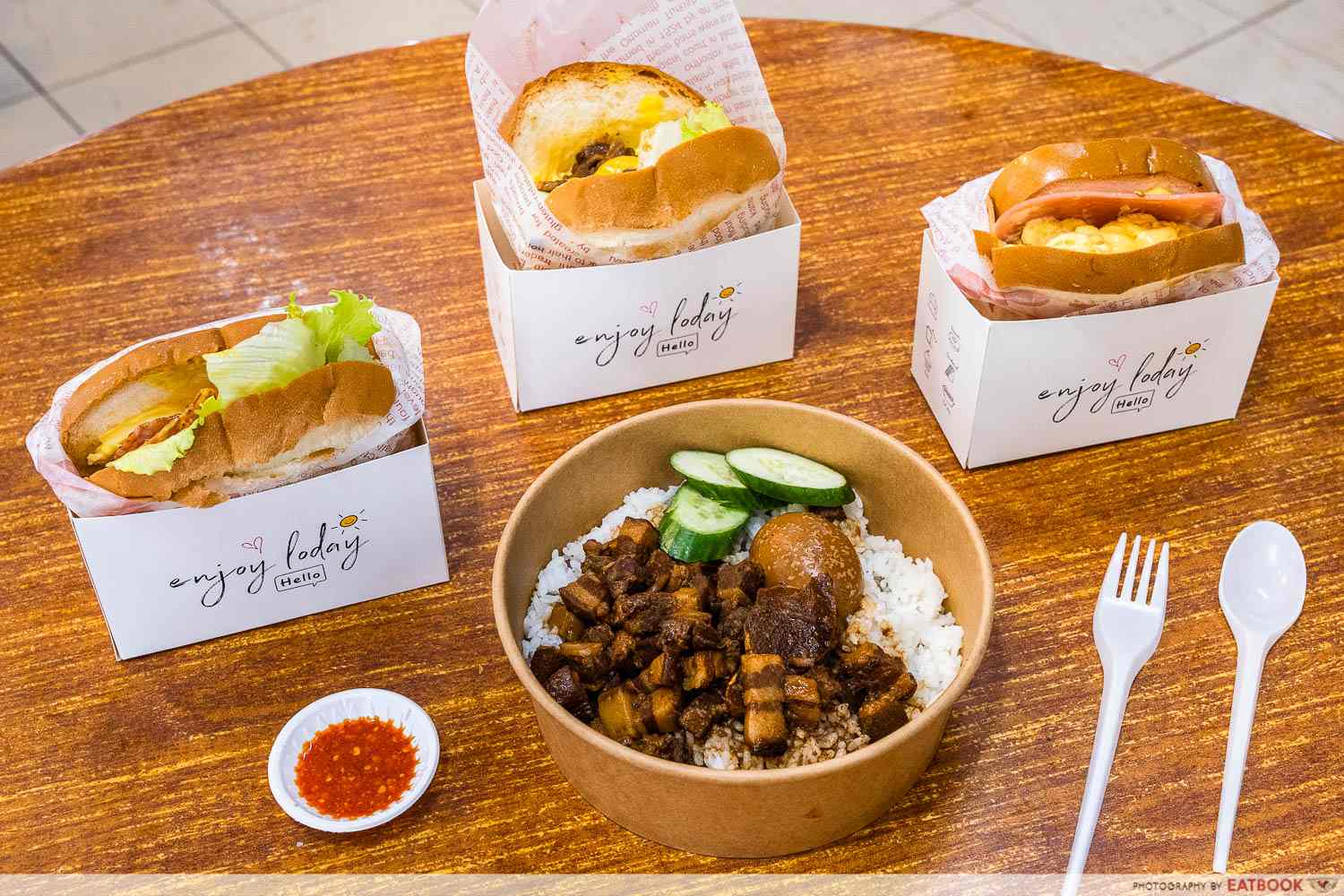 My first experience with Korean-style sandwiches was at Egg Stop, and I remember being very surprised by how packed my toast was. When I heard that Eggciting, which is near my home, also sells loaded Korean sandwiches, I was excited to try them out with my colleague.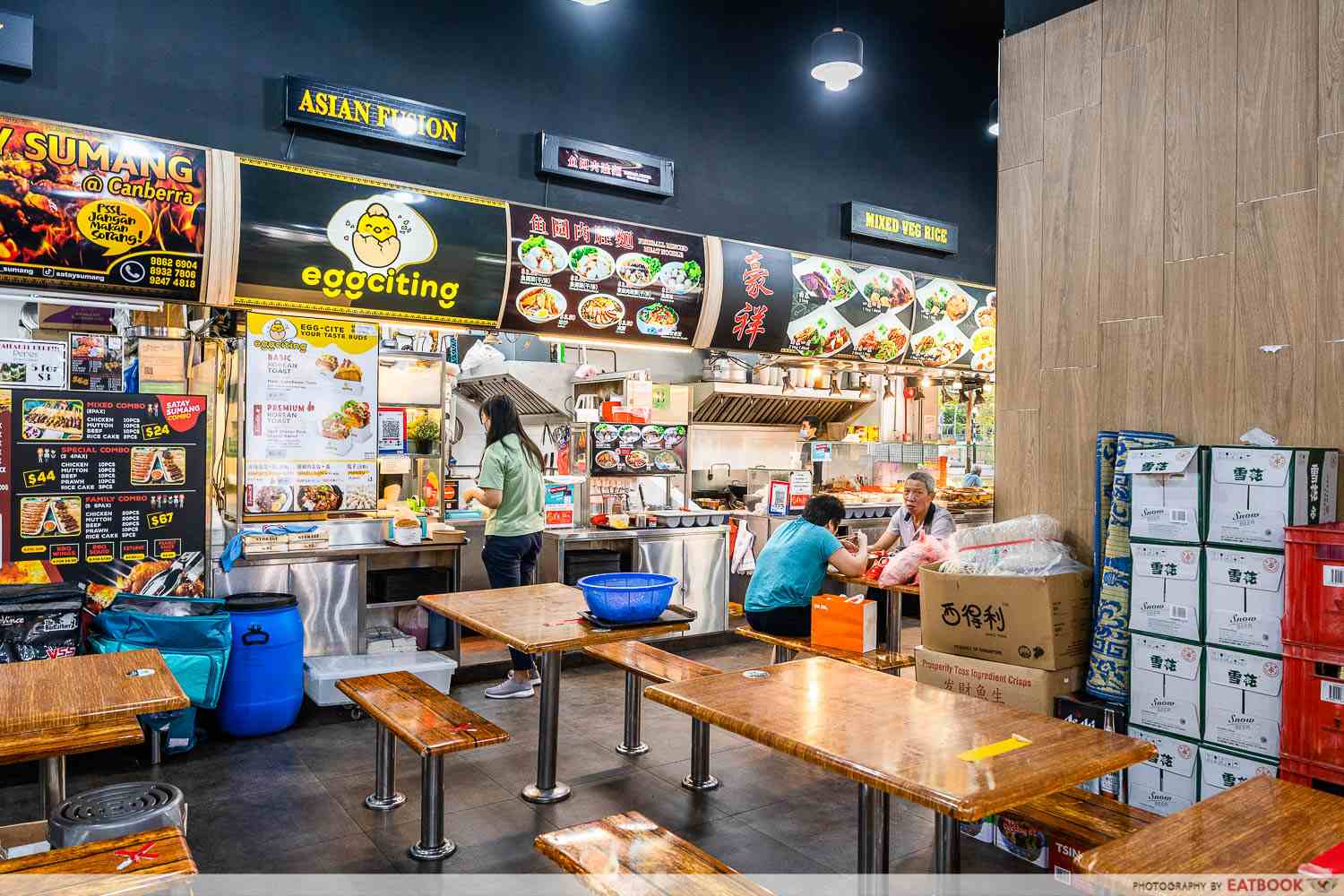 Eggciting, located within the residential area of Canberra, offers wallet-friendly Korean-style toasts and rice bowls. We were greeted by the owner, Lynna, who was friendly and sweet. As we struck up a conversation with her, she expressed how her love for cooking and food led her to open the small stall, which has been operating for over three months now.
Food at Eggciting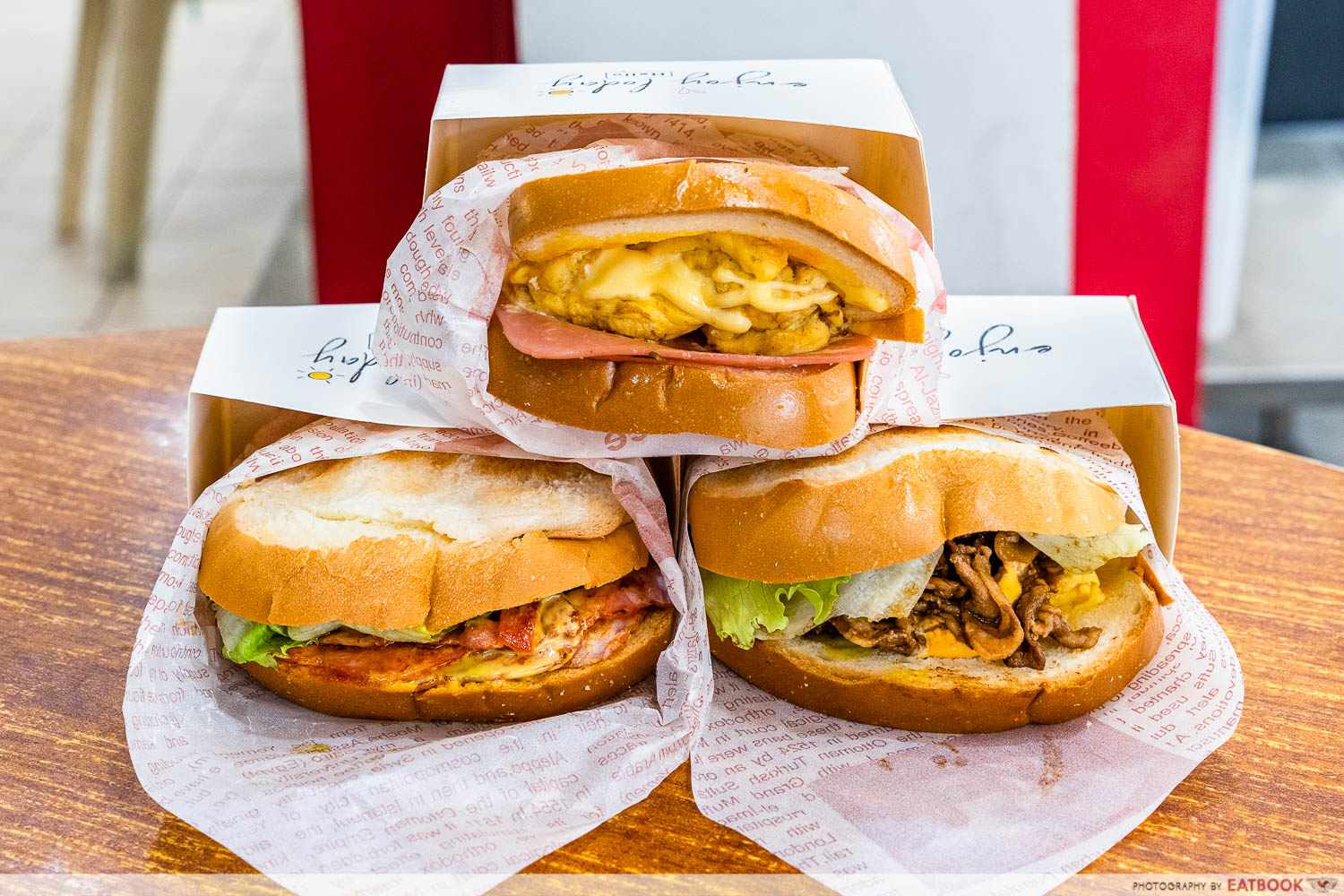 There are two types of toast available on the menu: Basic Korean Toast and Premium Korean Toast. For the former, there are three options to choose from—Ham, Luncheon, and Tuna. The premium flavours are Beef Shabu, Pork Shabu, and Bacon. When ordering, you can choose up to two out of the six sauces available, including Japanese mayo, nacho cheese, and sweet Thai sauce.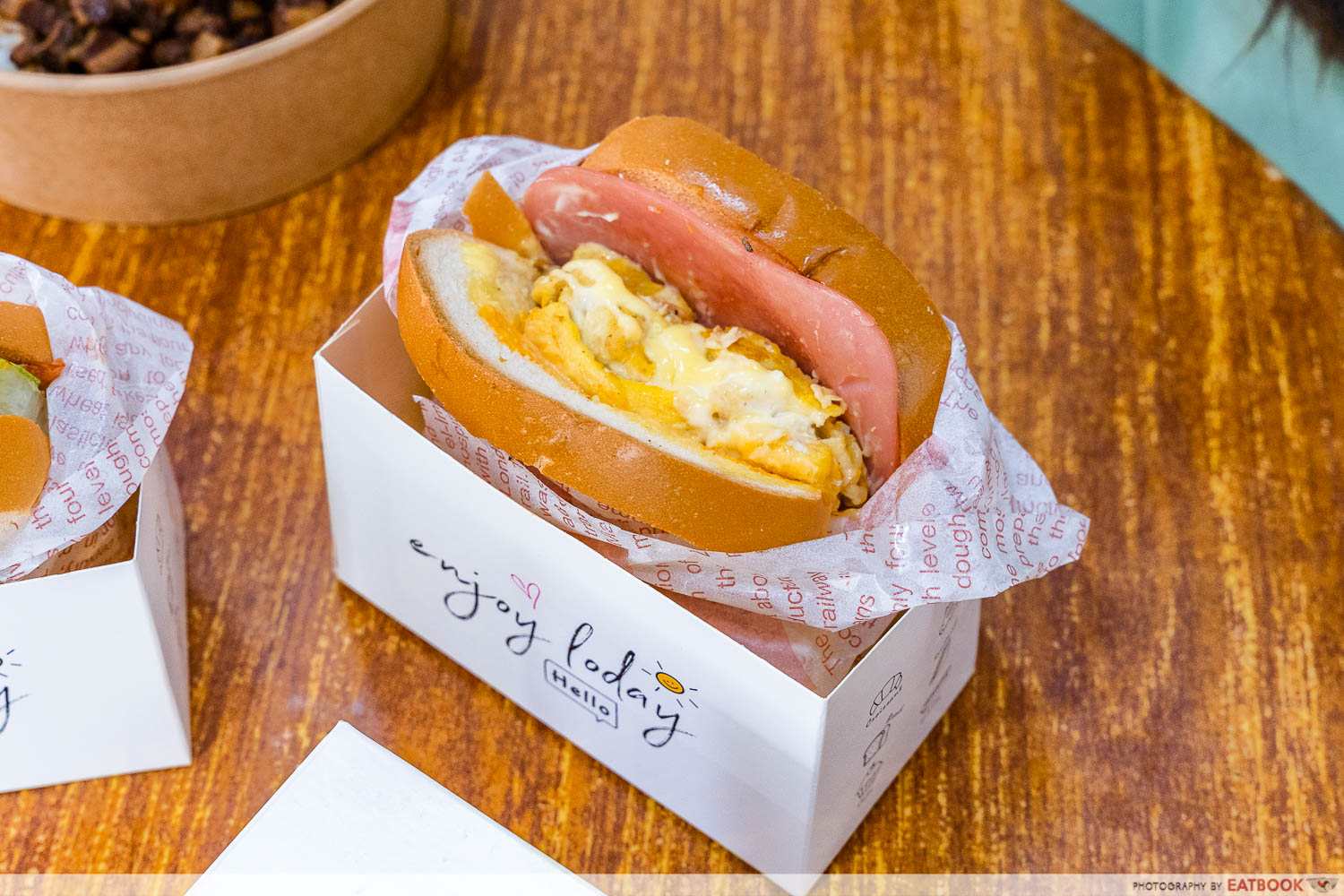 We decided to buy a mix of both toasts. Our first choice was the Ham ($4) with nacho cheese and honey mustard sauce. Within the sandwich were melted cheese and scrambled eggs, plus a slice of ham. 
According to Lynna, the bread and sauces are sourced from an external supplier. We also learned that the scrambled eggs are made without milk to cater to those who are lactose intolerant.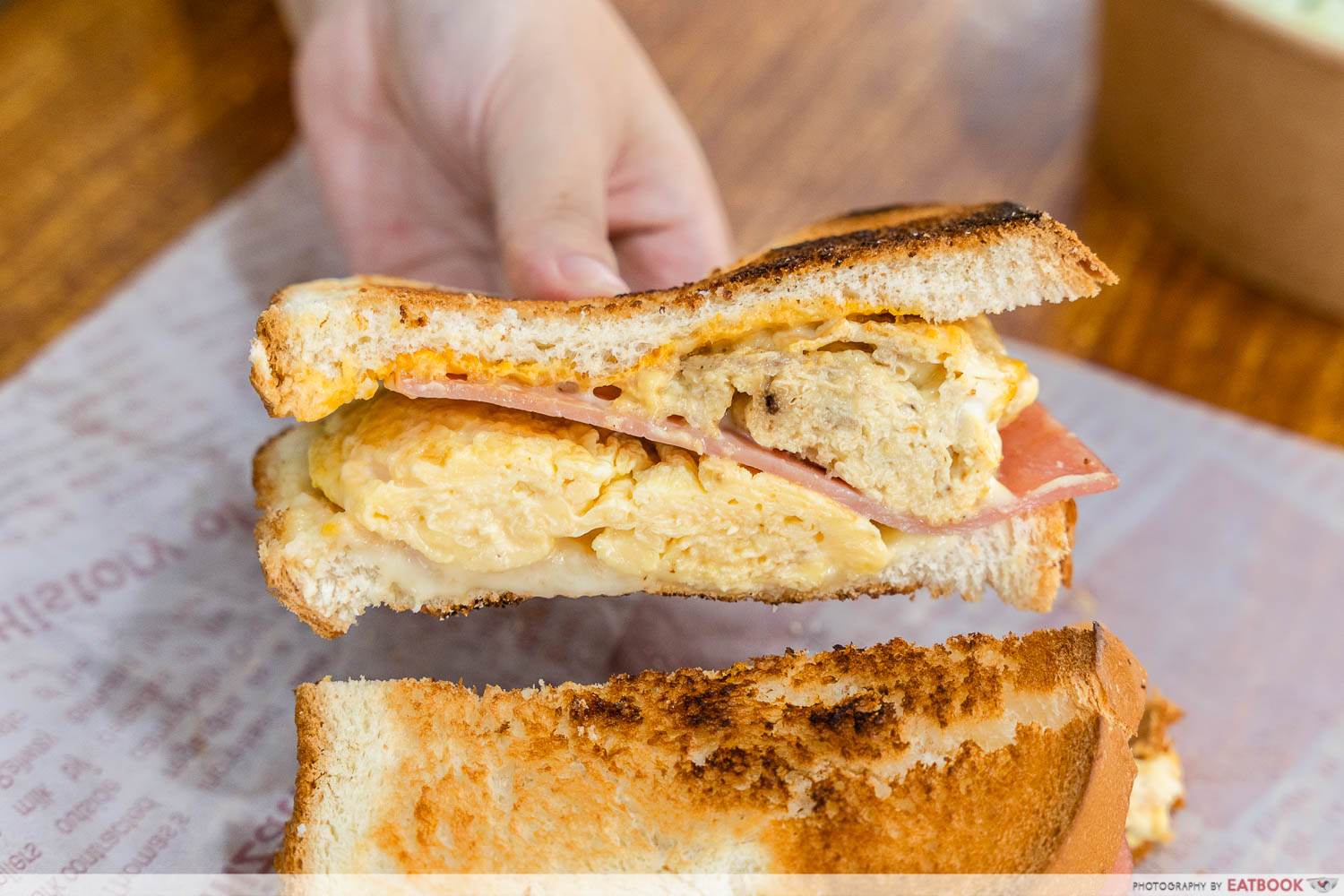 The nacho cheese and honey mustard sauces created a good combination of sweet and savoury flavours that went well with the ham and egg. I was impressed by the portion of the scrambled eggs, which made the toast look packed and loaded—similar to the ones you'd find in Korea. However, my colleague and I agreed that the egg was not as creamy as we would like it to be, possibly due to the absence of milk in the cooking process. 
Nonetheless, this is one popular option for those seeking a simple breakfast or snack. Another thing to note is that the bread was a little dry, but the sauce helped to counteract it.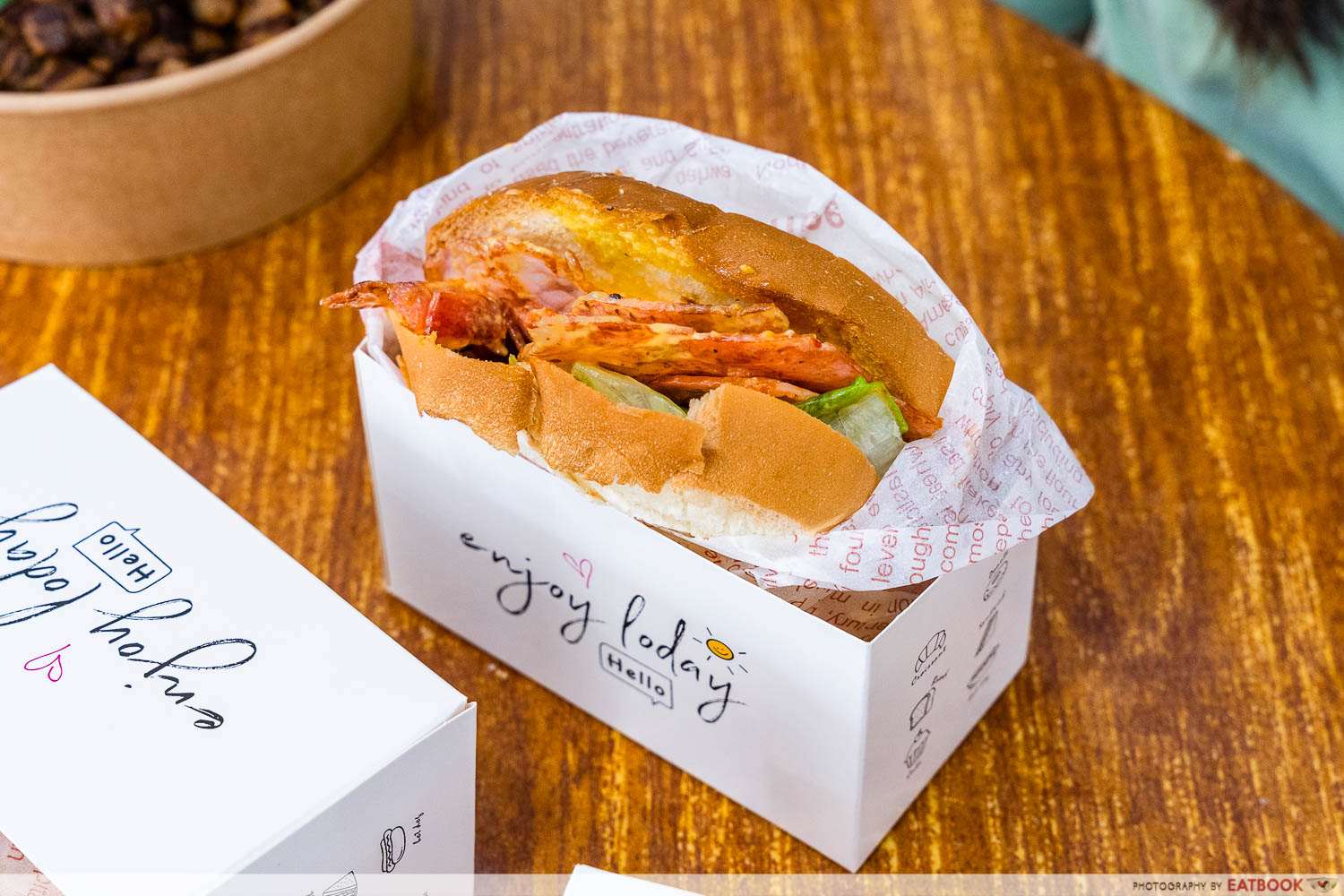 Next, we got two premium toasts. The first was the Bacon ($6), which had significantly more ingredients as compared to the Ham toast we had. This sandwich was packed with melted cheese, scrambled eggs, lettuce, and tomatoes.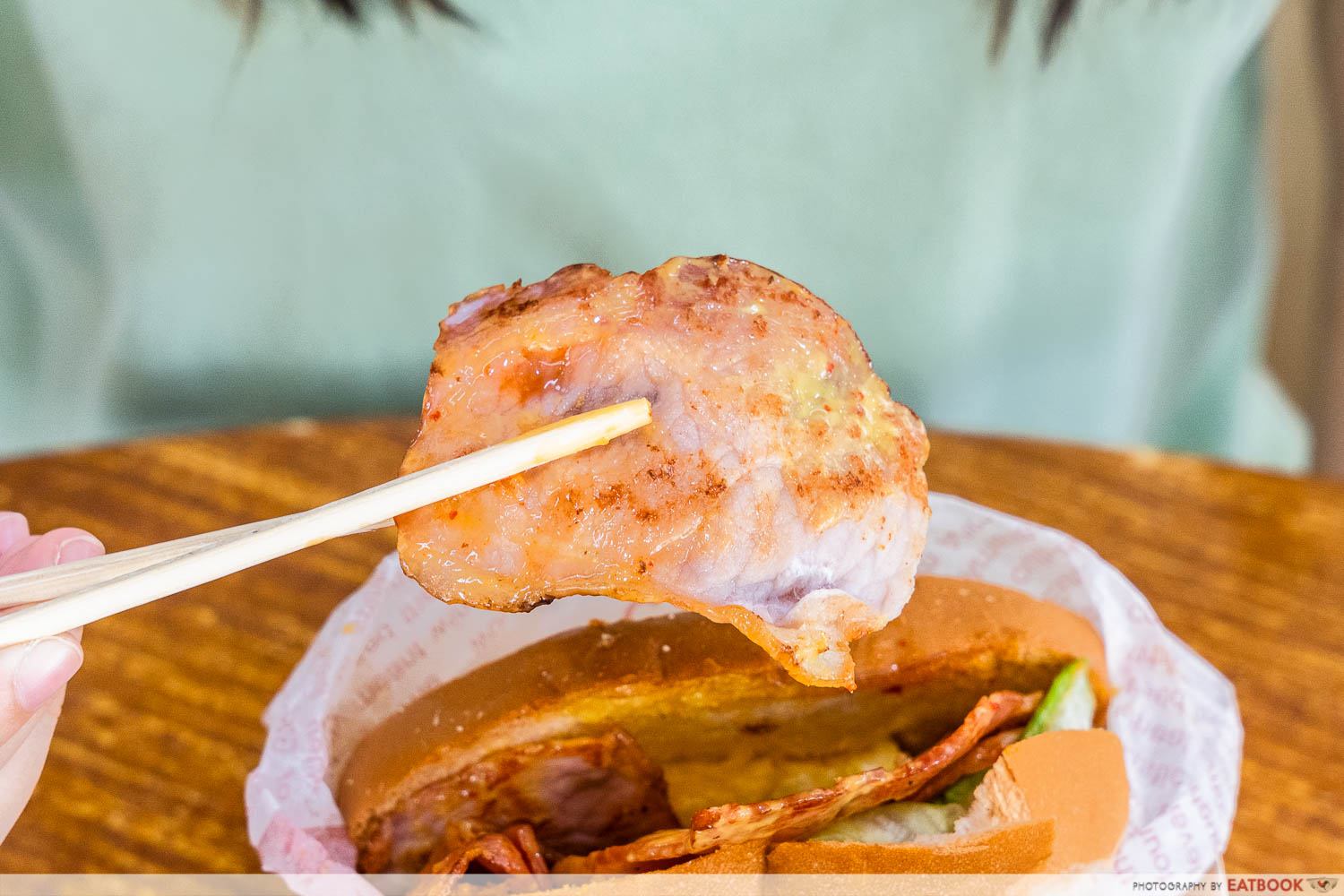 For this toast, we opted for honey mustard and sweet Thai sauce. The bacon slices here are different from the ones you find elsewhere, as they come in chunky slices. The sweet Thai sauce was a great choice as it contrasted the salty bacon. I also liked that the bacon was cooked until tender and not overly greasy.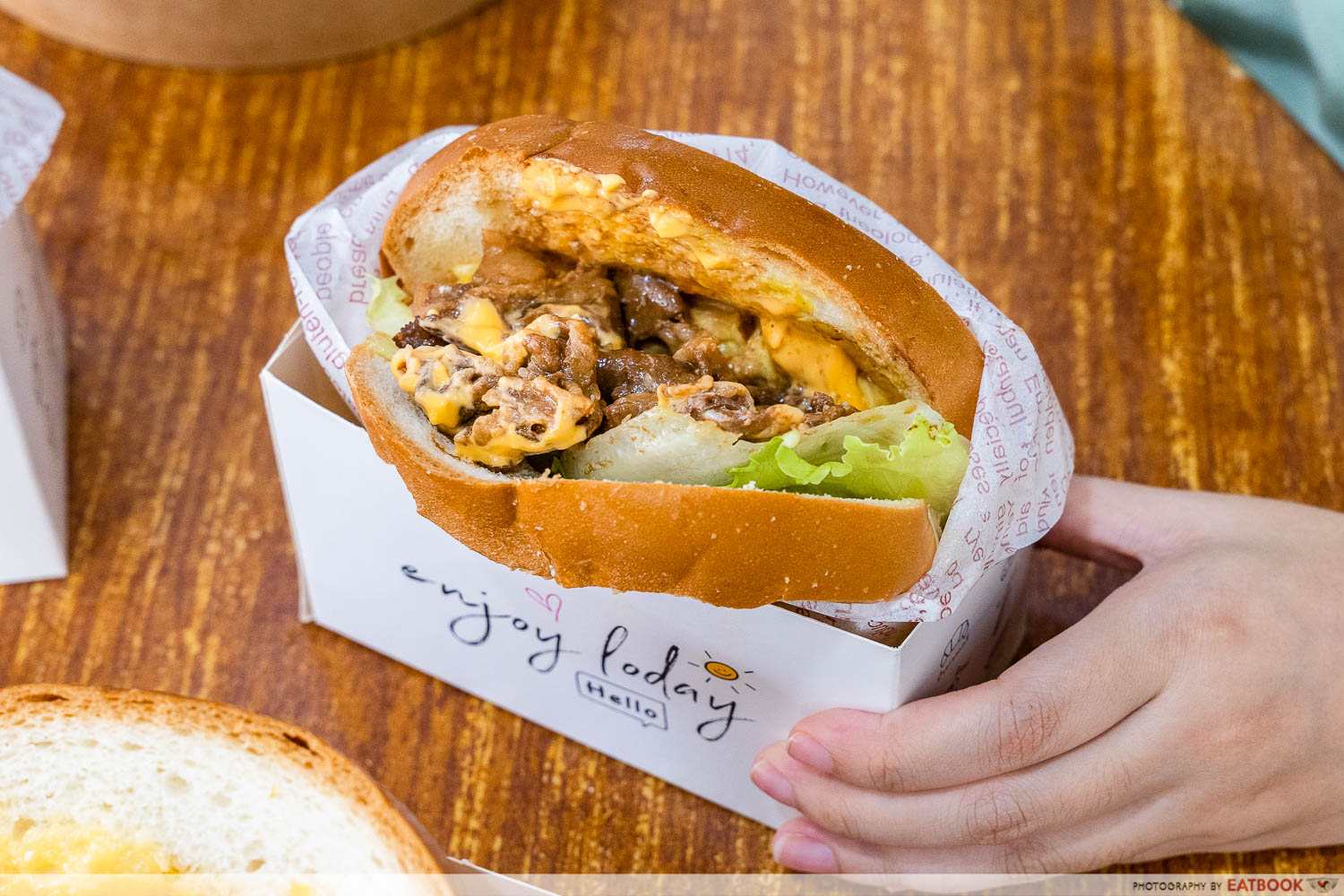 Next up was the Pork Shabu ($6). For this toast, we opted for nacho cheese and Japanese mayo. The pork shabu featured here is similar to bulgogi—slightly sweet and salty. Lynna is very generous with the amount of pork shabu, as the sandwich was packed to the brim.
46 Mittsu Review: Thick Japanese-Inspired Sandwiches That Can Rival Sando, Korio And Two Men Bagel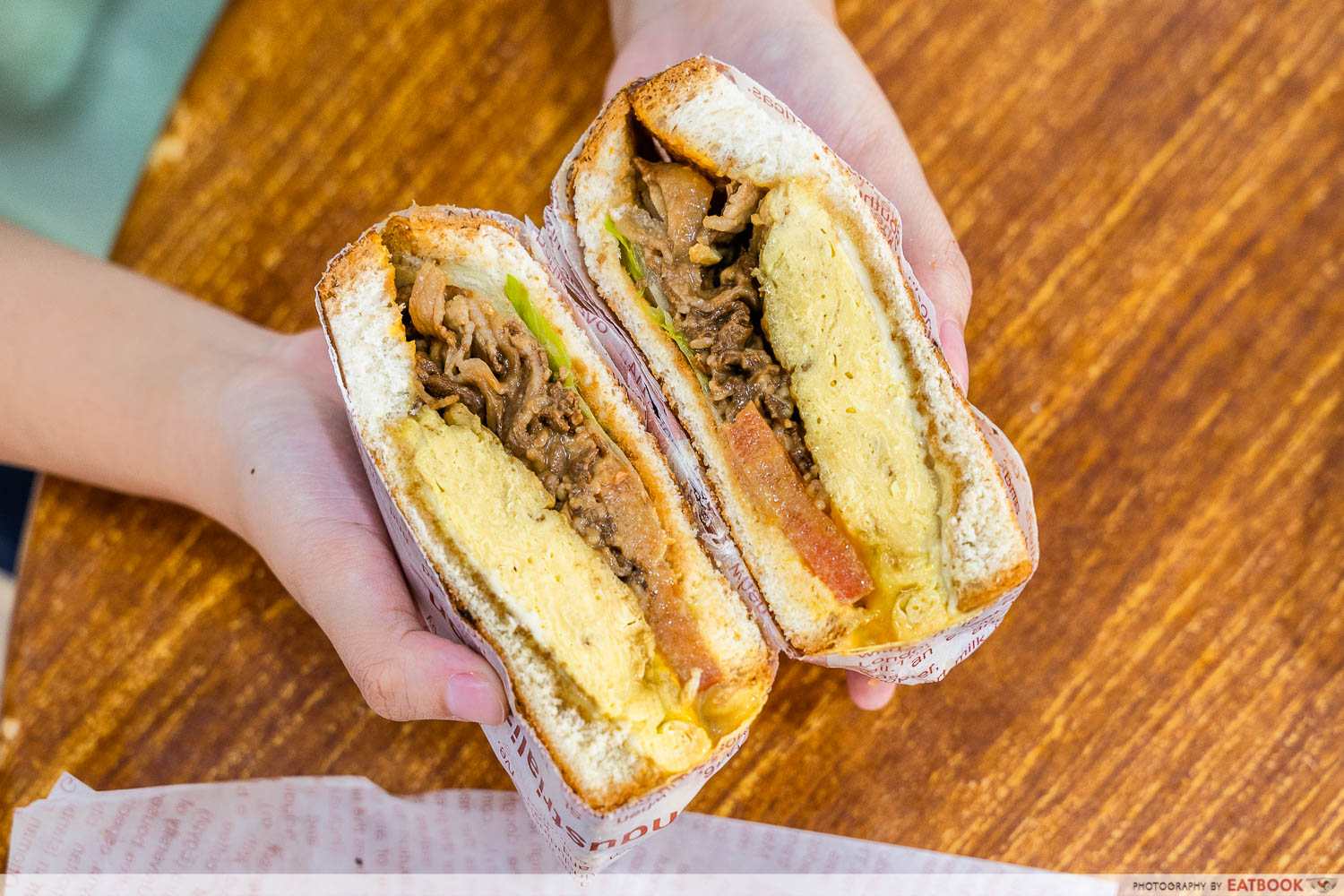 One thing I appreciated about all the toasts I tried was the even distribution of the sauces, which meant I could still taste the flavours of each component. 
While I did enjoy having the Japanese mayo on this toast, I wasn't too sure about the nacho cheese. Although the creamy cheese sauce added savouriness to the sweet pork shabu, I felt that a better option would have been the chilli sauce or Thousand Island dressing for extra flavour.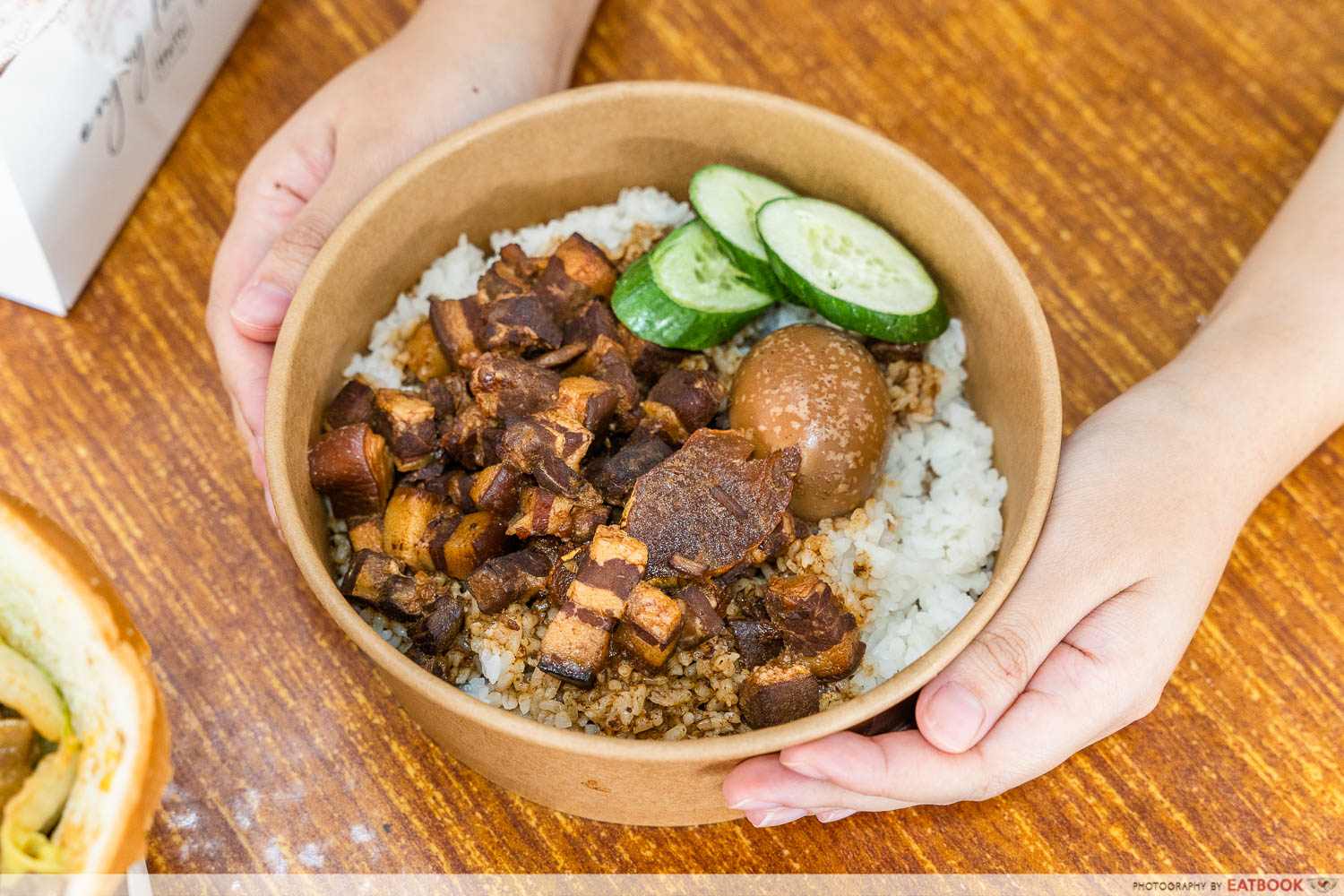 We also decided to get one of their rice bowls. We chose the signature Braised Pork Don ($5), which comes with a braised egg and a generous serving of braised pork.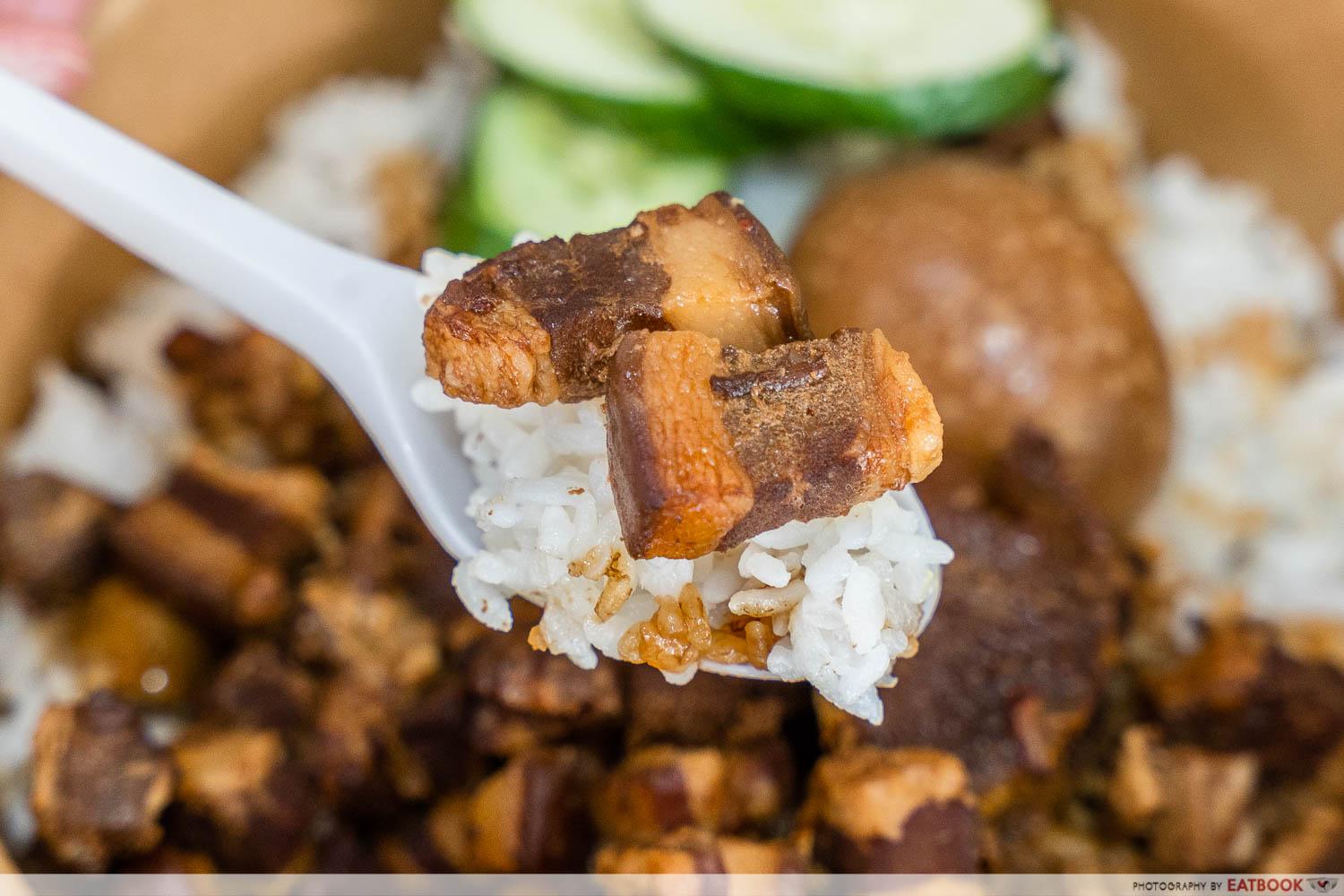 I'm guessing that a lot of time was spent cooking the braised pork, as it was melt-in-the-mouth tender. I shared this with my colleague, and she too felt the same. The rice, however, was a little bland even though the sauce was drizzled all over it.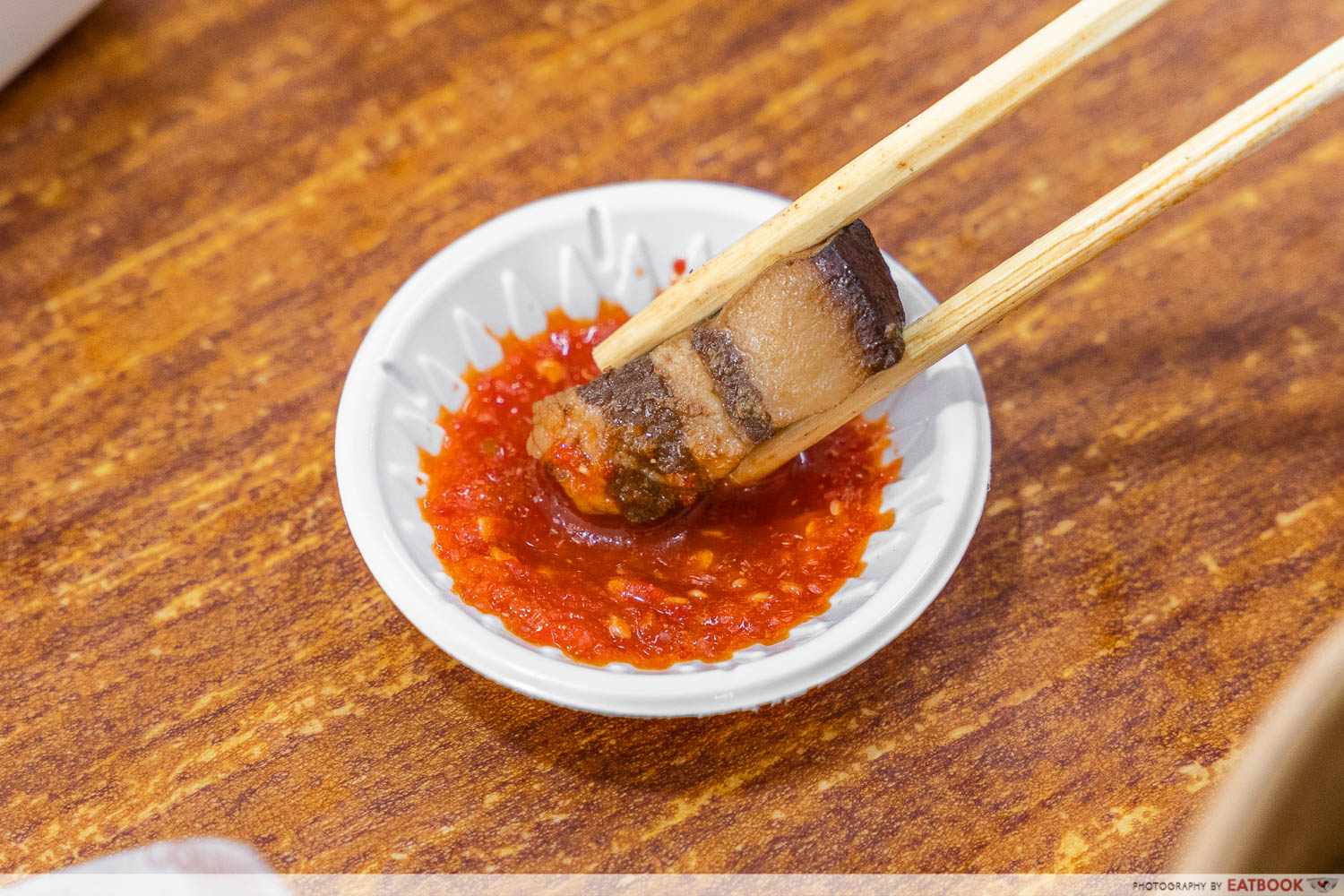 Dip the pork in the house-made chilli, which is a secret blend of spicy chilli padi and tangy lime. This is a must-have, especially if you're ordering the rice bowls.
Ambience at Eggciting
Eggciting is located among the newer BTO buildings in Canberra, so the coffeeshop is still fairly new. It takes about five minutes to walk here from Canberra MRT Station, making it very convenient for those who live in the area. The coffeeshop is also quite spacious, with multiple ceiling fans to keep you cool in Singapore's sunny weather.
The verdict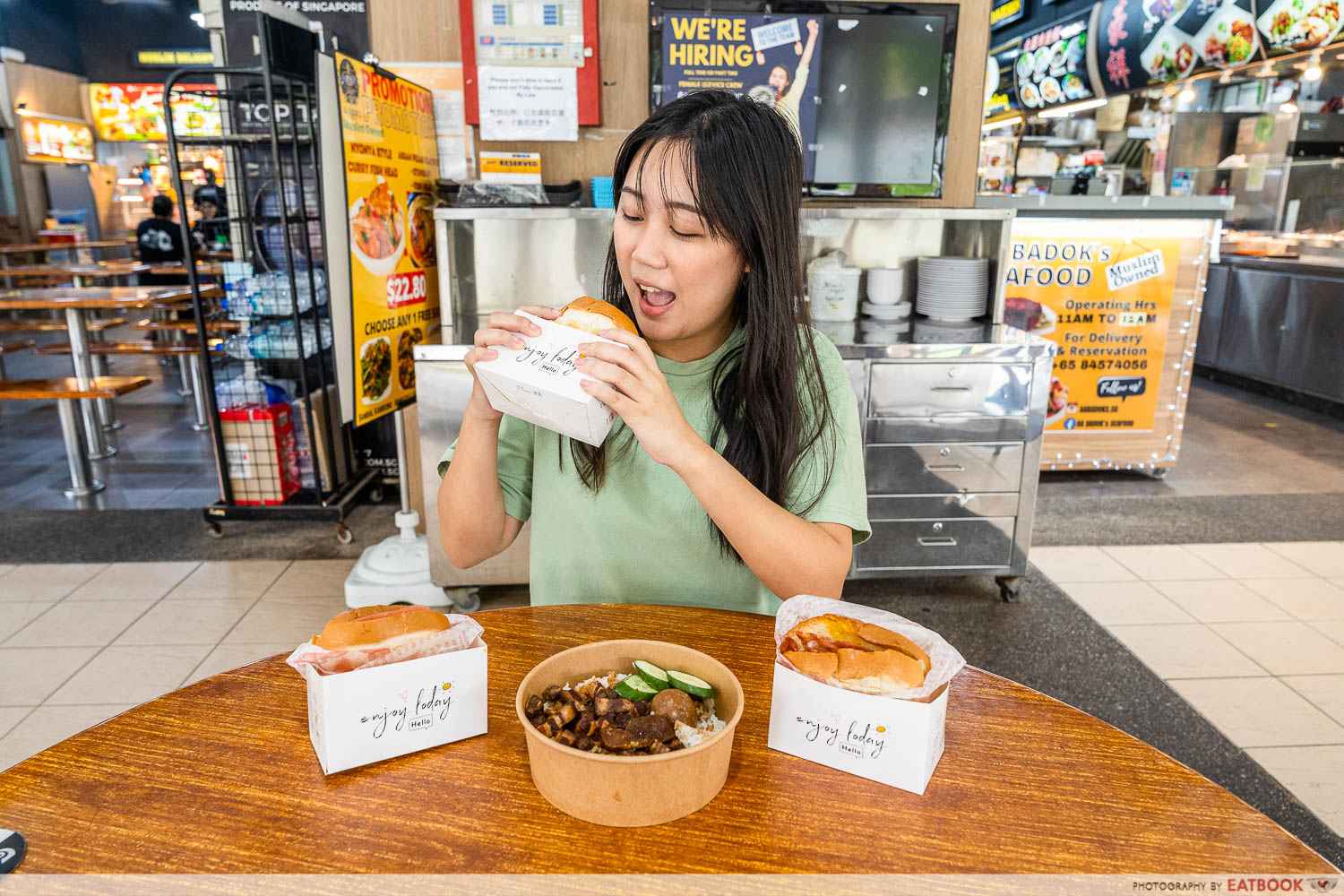 Overall, I was quite pleased with what we ordered. Trendy toast shops such as Eggciting are mostly found in shopping malls, so it was definitely unusual to see one in a coffeeshop setting. 
Although the toasts captured the aesthetic of IG-worthy sandwiches from the streets of Korea, they tasted more like breakfast sandwiches that you would make at home. Perhaps a few tweaks can be made before they can be branded as legit Korean-style toasts. Nevertheless, the accessible location and affordable price point are a plus for me, and I would return here again.
For more food recommendations, check out our 46 Mittsu review for thick Japanese-inspired sandos located at Kim Yam Road. Alternatively, our #ricesando Tokyo review showcases thick onigirazu with unagi and hamburg fillings at Plaza Singapura.
Address: 115 Canberra Walk, #01-03, Singapore 750115
Opening hours: Mon-Fri 8:30am to 1:30pm, Sat-Sun 8:30am to 3:30pm
Tel: 9229 0888
Website
Eggciting is not a halal-certified eatery.
#ricesando Tokyo Review: Thick Onigirazu With Fillings Such As Unagi And Hamburg At Plaza Singapura
Photos taken by Zi Hui Tan.
This was an independent review by Eatbook.sg
Eggciting Review: Affordable Korean-Style Toast With Pork Shabu And Lu Rou Fan In Sembawang
Eggciting Review: Affordable Korean-Style Toast With Pork Shabu And Lu Rou Fan In Sembawang -

7.5/10
Summary
Pros
– Affordable
– Accessible location
Cons
– Bread is a little dry
Recommended dishes: Bacon Premium Korean Toast ($6), Pork Shabu Premium Korean Toast ($6)
Opening hours: Mon-Fri 8:30am to 1:30pm, Sat-Sun 8:30am to 3:30pm
Address: 115 Canberra Walk, #01-03, Singapore 750115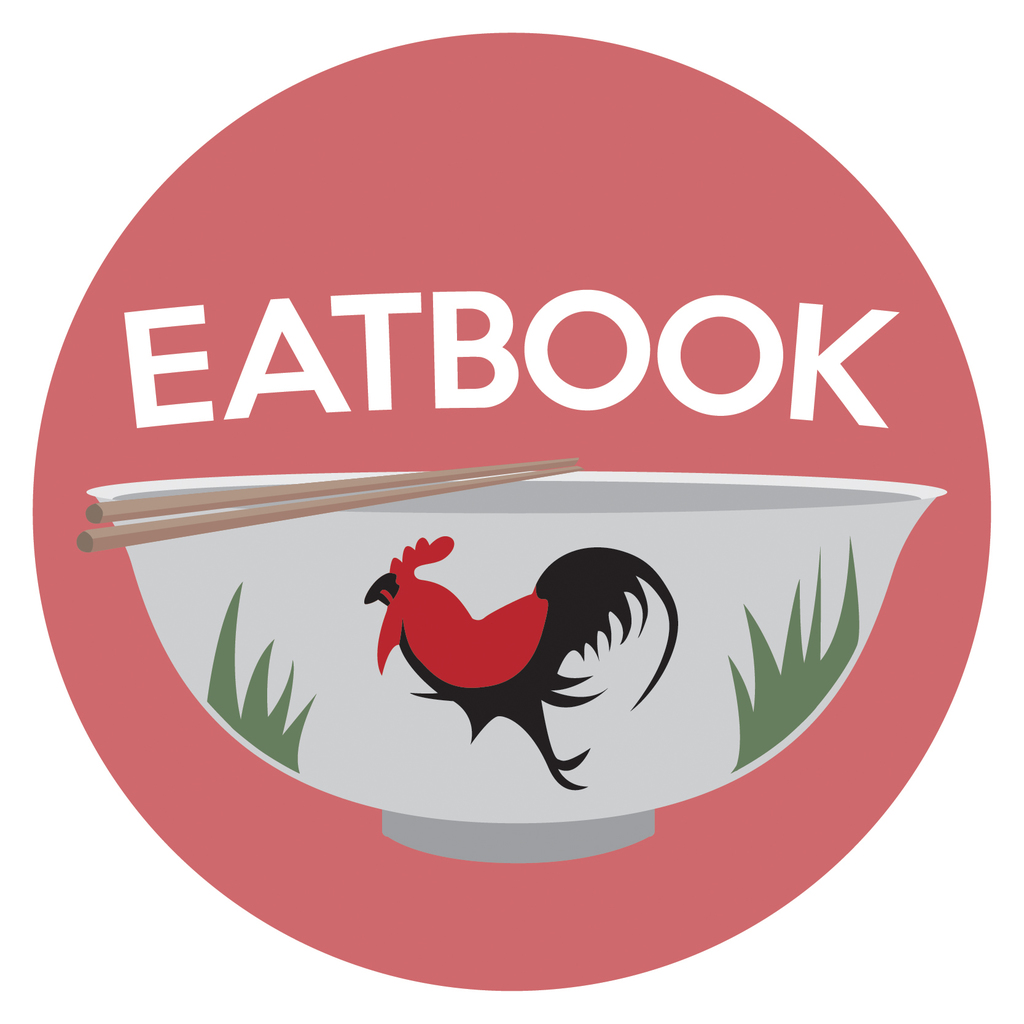 Drop us your email so you won't miss the latest news.