46 Mittsu at Kim Yam Road
Update: This cafe is no longer at Kim Yan Road. Read all about 46 Mittsu at Everton Park here!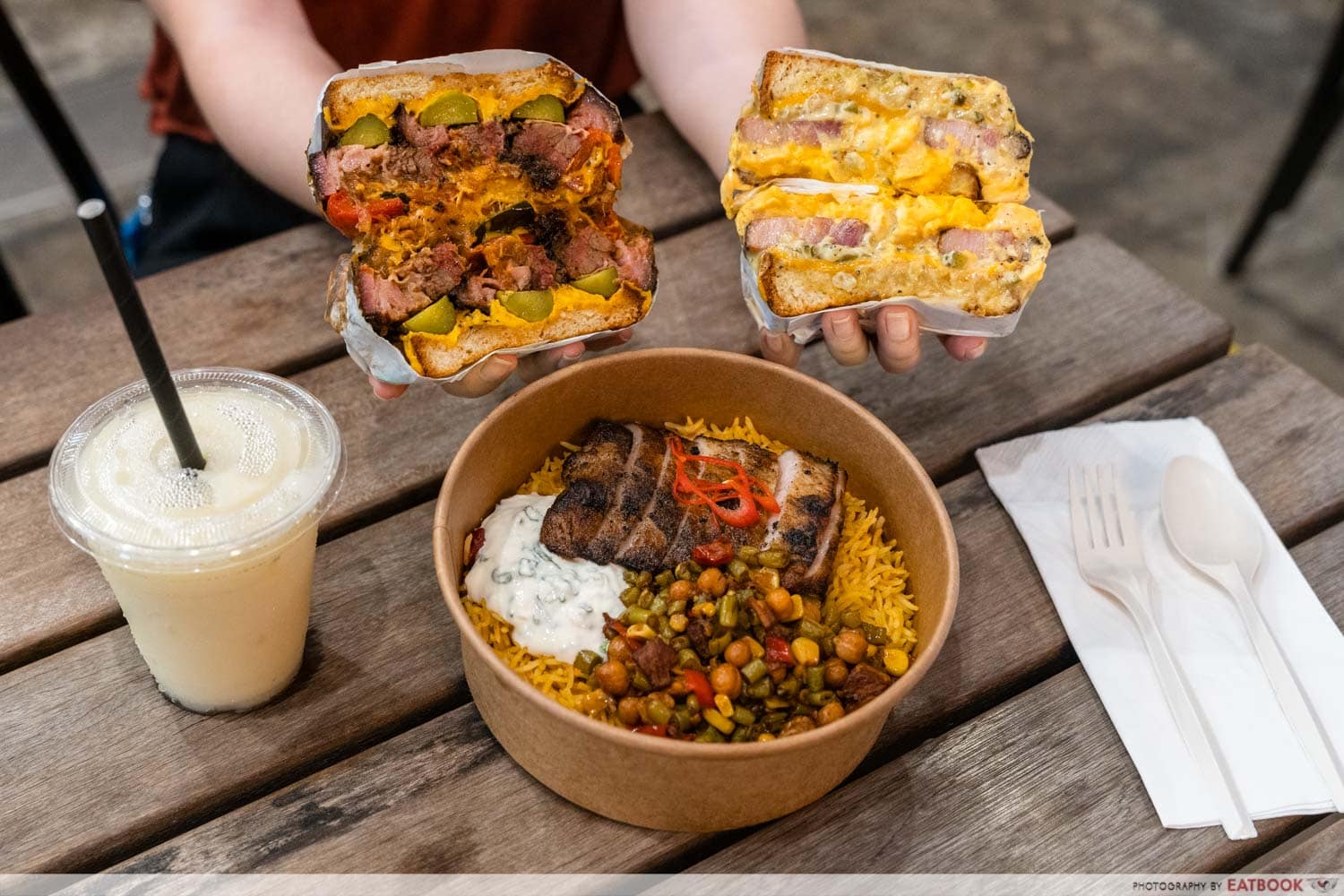 I've always been a fan of thick, ingredient-packed sandwiches, ever since my time abroad in the UK. When I returned to Singapore, famous sandwich joints such as Sando, Korio, and Two Men Bagel kept popping up on my social media page. However, one that truly caught my attention was 46 Mittsu. Just looking at their sandwich pictures had me salivating. So, I made my way down with a colleague to try out their offerings.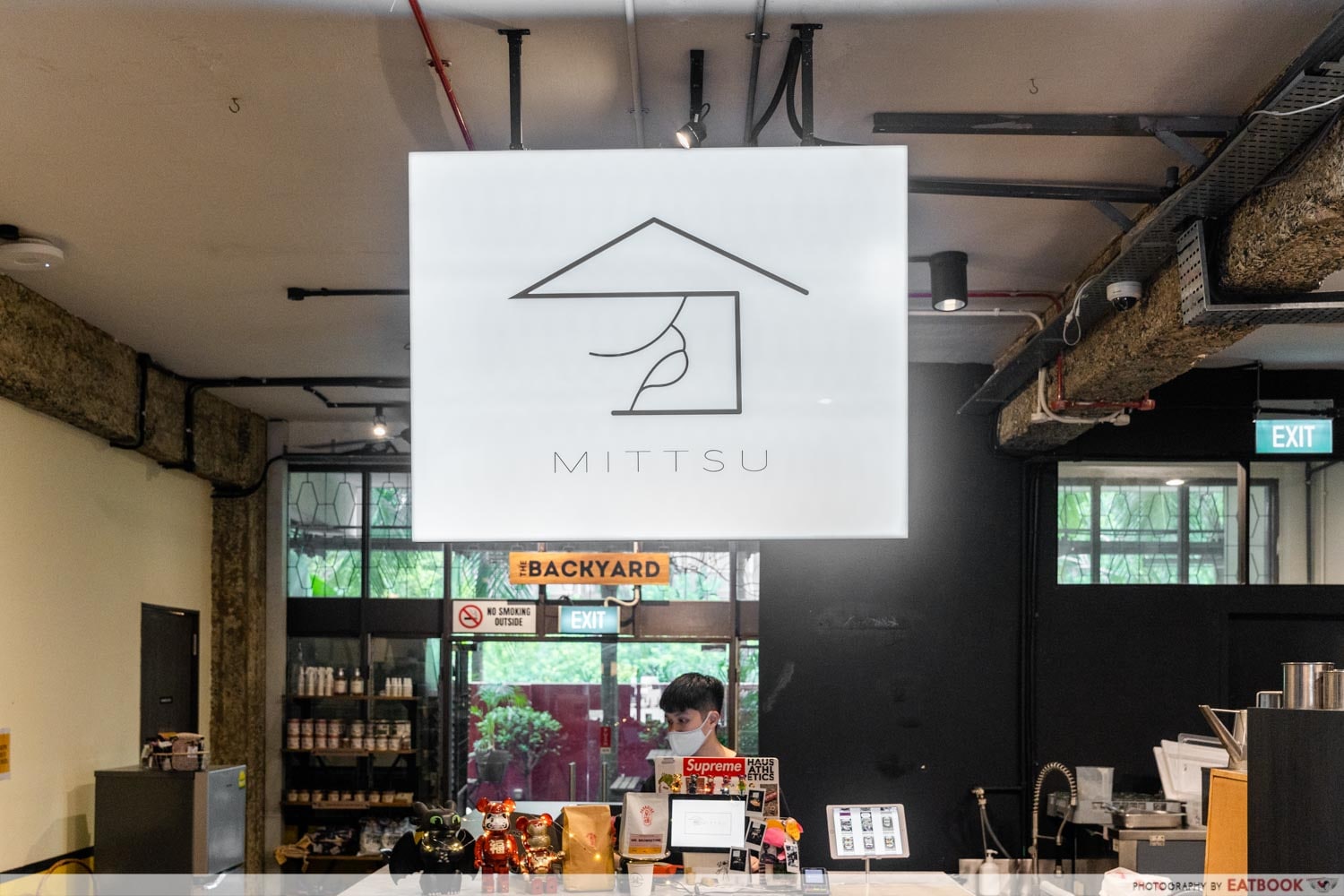 46 Mittsu is run by four friends, Marcus, Junior, Sam, and Jay. They started 46 Mittsu at the beginning of April 2021, with a menu that offered only rice bowls. Later, they started curating a selection of sandwiches, which ended up getting more hype, before they finally settled on serving seven of these.
10 Sandwich Joints To Visit During Busy Lunch Breaks For A Quick But Hearty Meal
Food at 46 Mittsu
At 46 Mittsu, there are two sandwich categories: the All Day Brekkie and Hot Messes. The former features sandwiches that remind you of a typical breakfast, with fillings such as bacon with eggs, or PB&J toasts, but with a twist. On the other hand, the latter includes meaty sandwiches with thick slabs of beef, chicken katsu, pork ribs and more.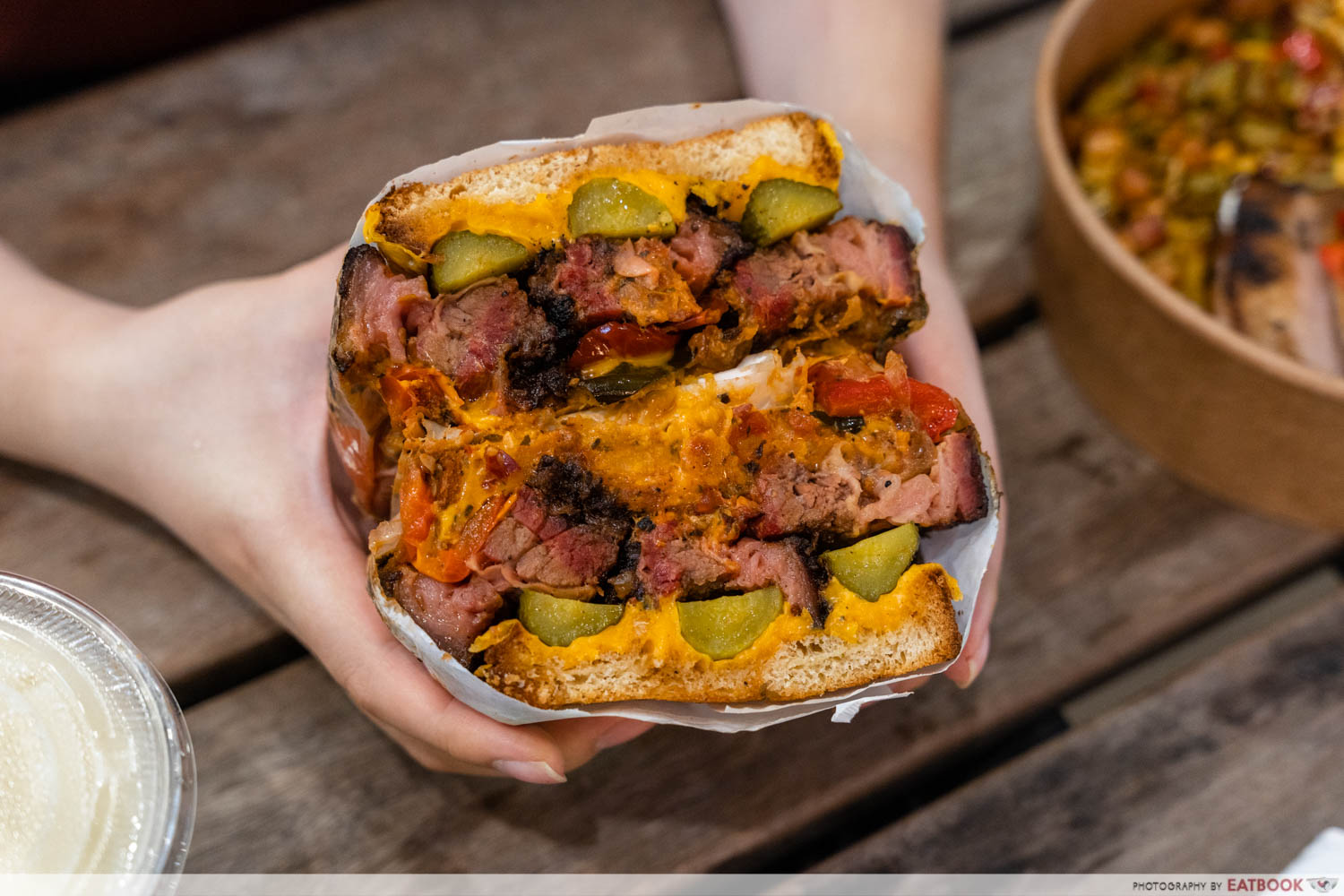 I started off with one of their crowd favourites—the Beef Sando ($14). It came with house-smoked beef brisket, melted American cheddar, roasted ratatouille, and pickled jumbo pickles, sandwiched between toasted brioche. 
It was such a flavour-packed sandwich. There were sweet notes from the roasted ratatouille, sharp-sour accents from the jumbo pickles, savouriness from the cheddar, and a smoky finish from the beef brisket, all in one bite.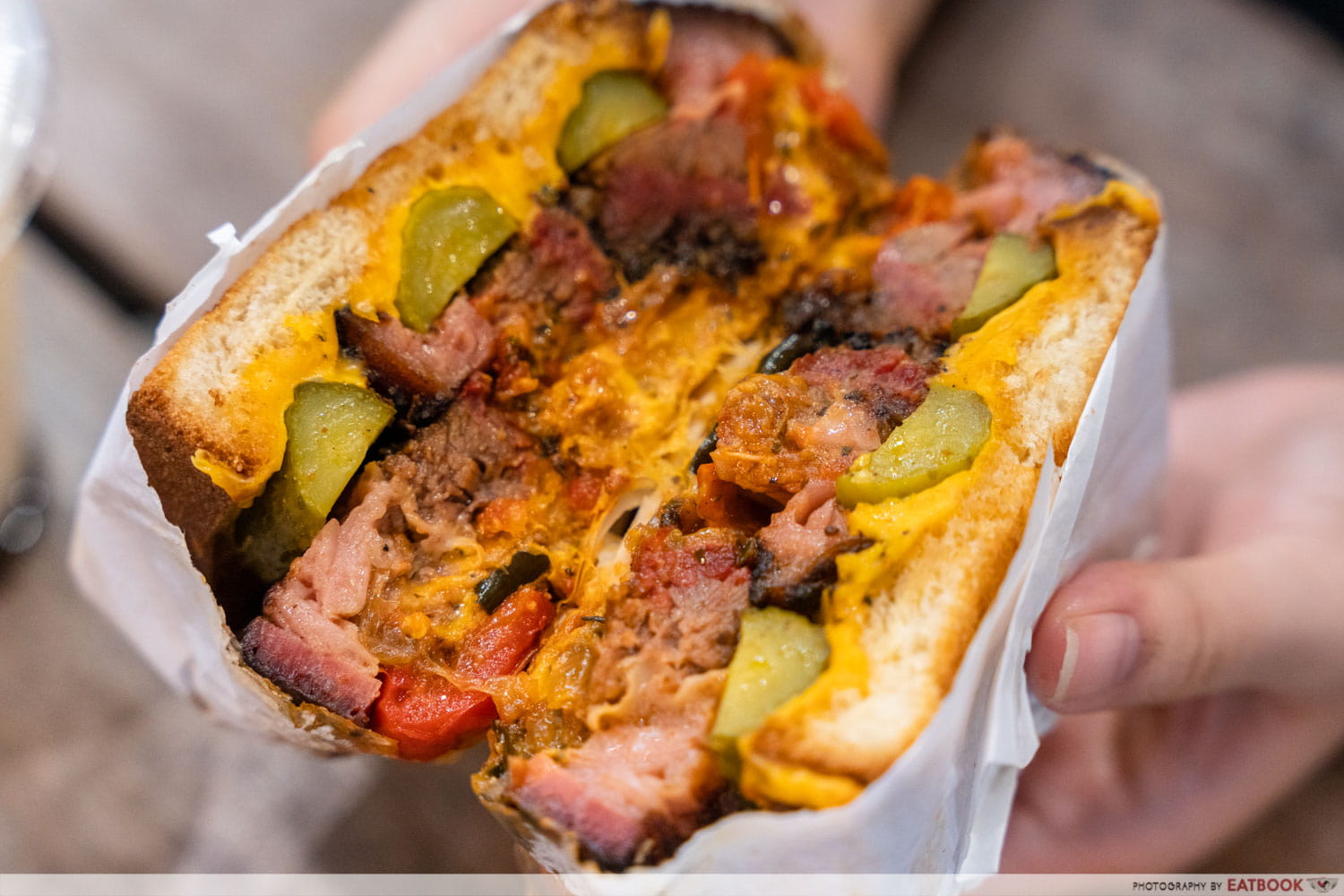 Each component was beautifully done, but the star for me was the smoked beef brisket. We were told that it takes two days of preparation before the brisket can be served. One whole day goes into marinating the briskets, and the second day goes to smoking the briskets, before the final step of grilling the briskets over charcoal before serving. 
Although it's a long and tedious process, it's definitely worth it. The brisket was soft, juicy, and packed with flavour. It reminded me somewhat of siew yoke, without the crackling skin━salty, fatty, and smoky. Even though it was a meaty and heavy sandwich, the acidic jumbo pickles cut through the fattiness, rendering it less jelak.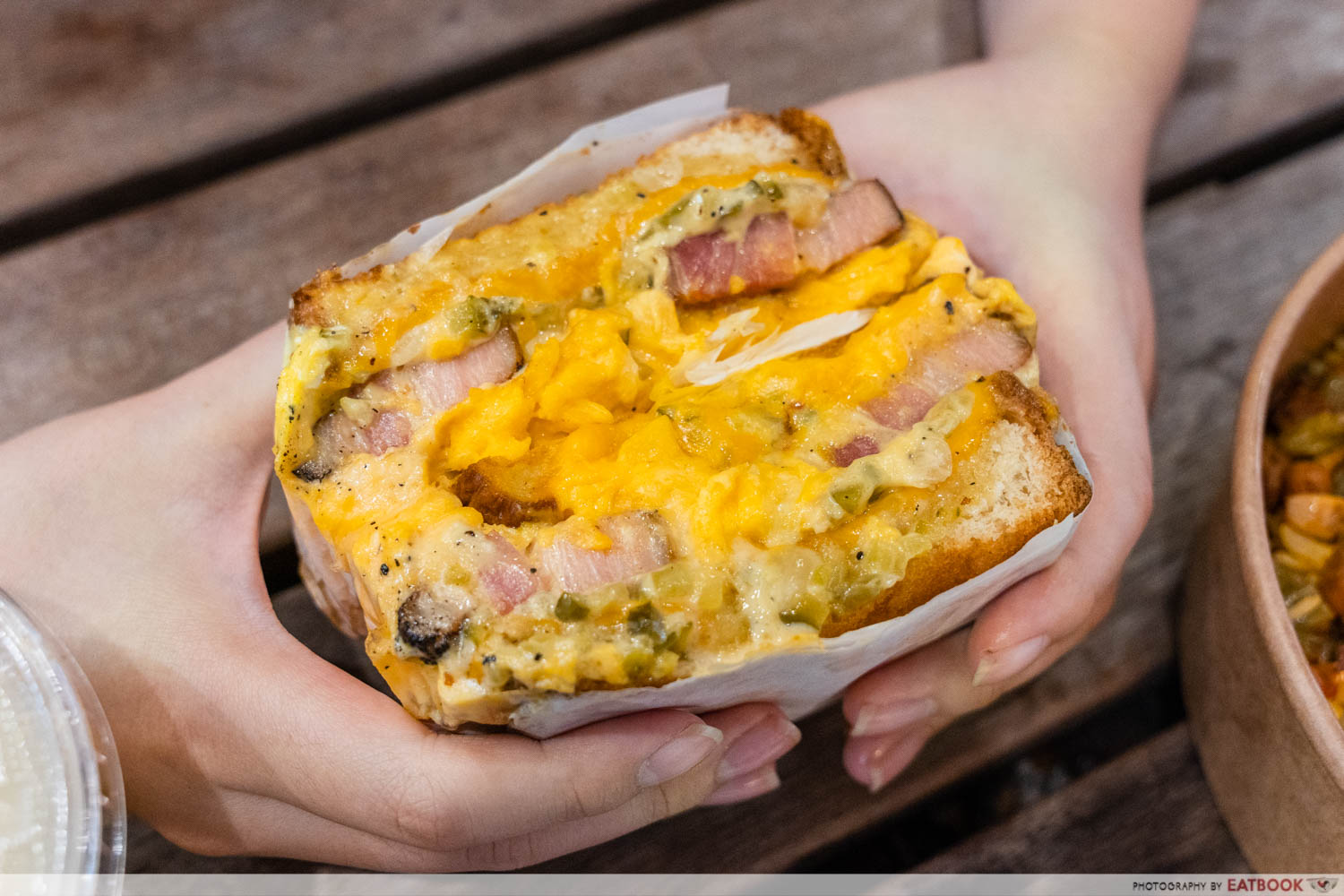 Next, I tried the B.E.C ($12), which is said to be 46 Mittsu's most popular sandwich from their All Day Brekkie series. This sandwich includes bacon, scrambled eggs, American cheddar, and habanero gribiche dressing, served with brioche.
This was another stellar sandwich. The house-made bacon was thick, meaty, and layered with fat, totally different from the typical thin, and crispy bacon that we usually see. It was also much less salty than your average rasher. 
We were told that the meat is first cooked in a water bath, AKA sous vide, for six to seven hours, before grilling with charcoal. Although it might seem like another painstakingly long process, this ensures that the bacon is juicy, tender, and flavourful.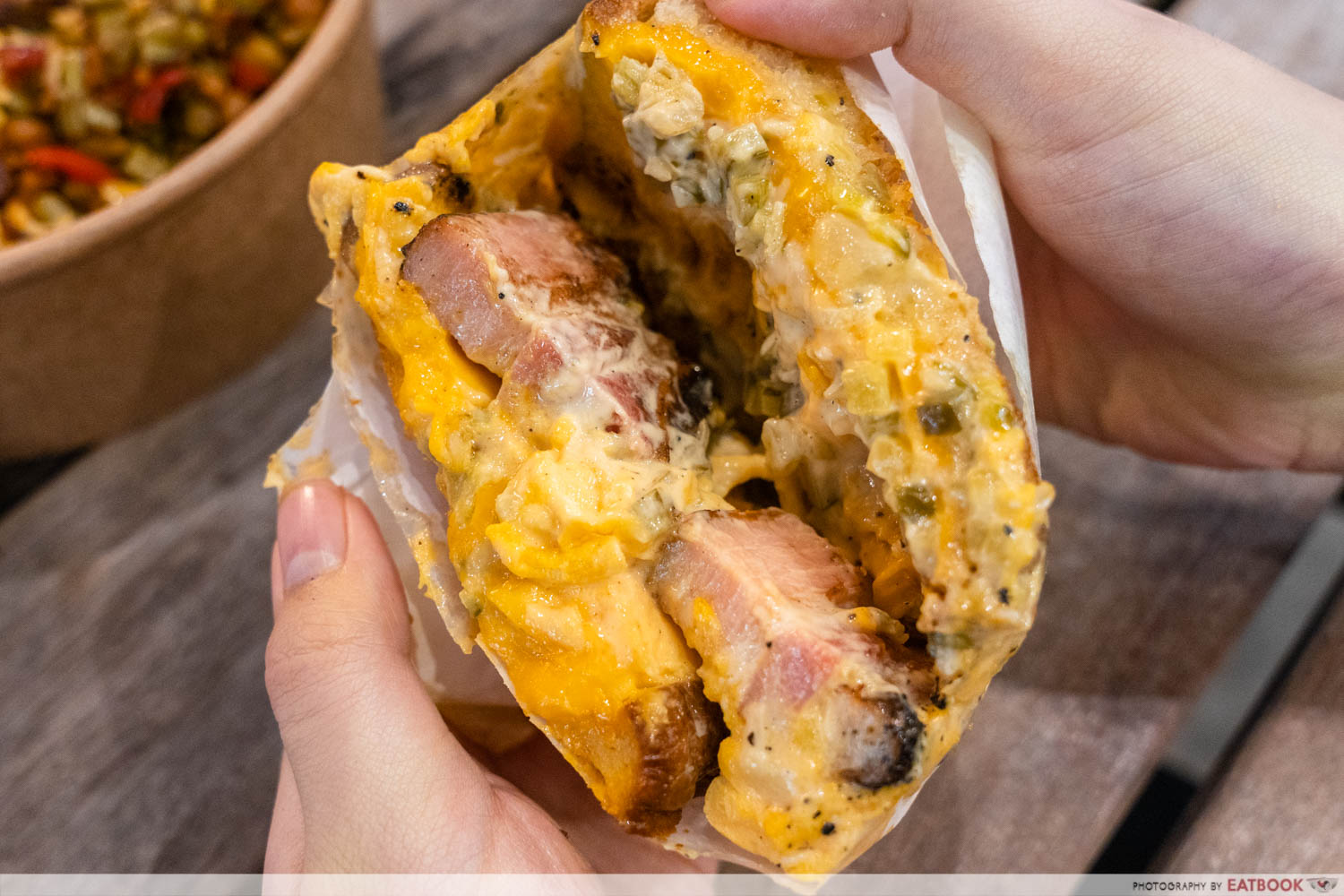 Other components such as the habanero gribiche and scrambled eggs helped elevate the flavours and texture of the sandwich. The former is a spicy and tangy dressing, which complemented and balanced the savoury bacon very well. I particularly enjoyed the creamy and fluffy scrambled eggs. Some customers have even compared 46 Mittu's scrambled eggs to Eggslut! Although the serving of eggs isn't as thick as that seen in the Eggslut 'wich, it definitely did not lose out on texture and flavour.
Special mention goes to the brioche bread. As the B.E.C was milder in flavour, the buttery, sweet notes from the brioche were able to shine through, complementing the savoury fillings. Moreover, it had a lovely toasted exterior, while maintaining a fluffy and airy centre, making each bite simply divine.
Sando Review: Legit Tonkatsu Sandwiches Found At Alexandra Technopark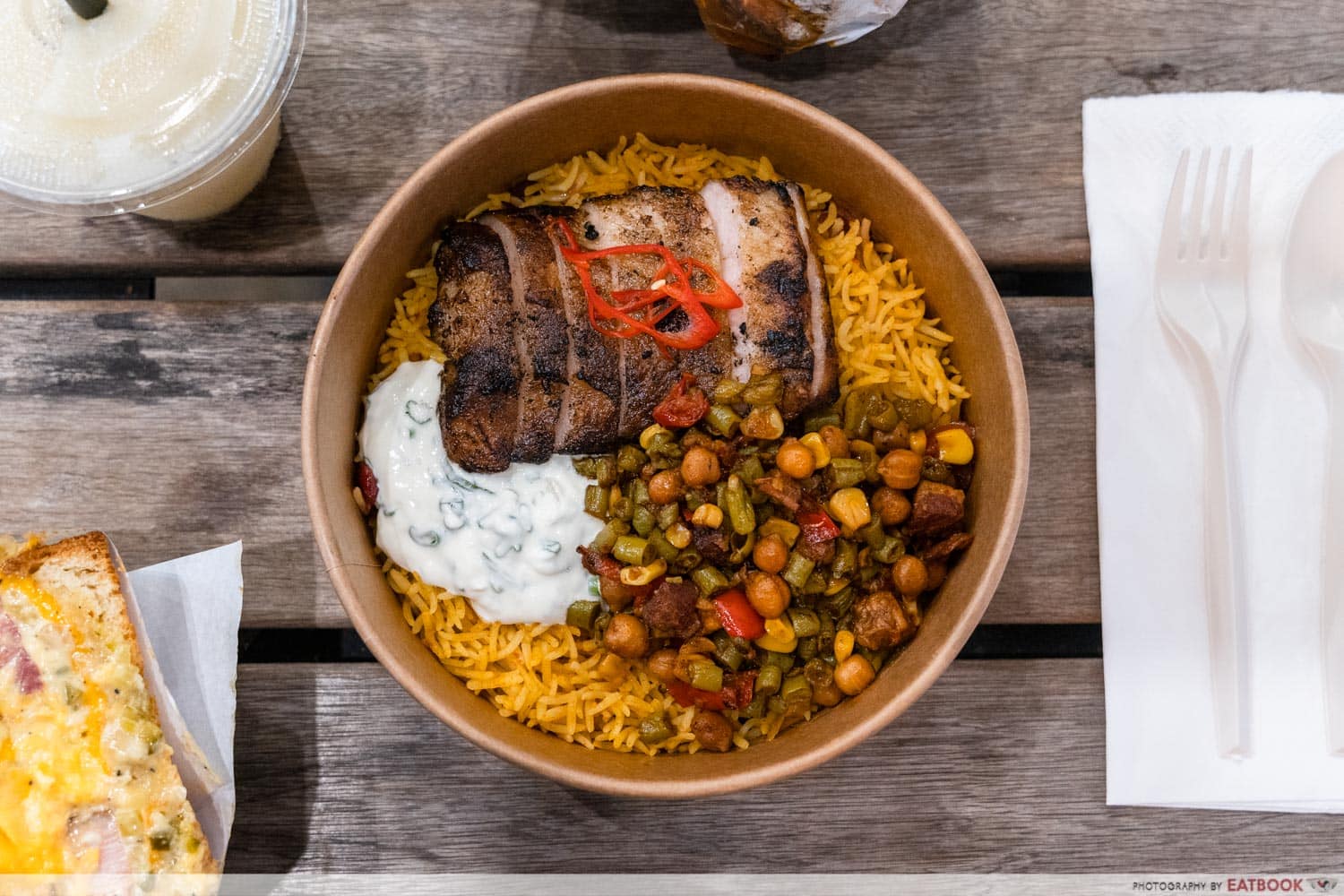 Lastly, we ended our experience with the Sa-Te Moto ($16), a rice bowl of basmati rice, Balinese pork satay, chipotle succotash, and scallion yoghurt.  
The basmati rice was fragrant and had a firm bite. Its drier consistency made it the perfect vehicle for pairing with the scallion yoghurt dressing on the side. The yoghurt brought a slight tang with a little raw, peppery note from the scallions, which enhanced the aroma of the flavoured rice.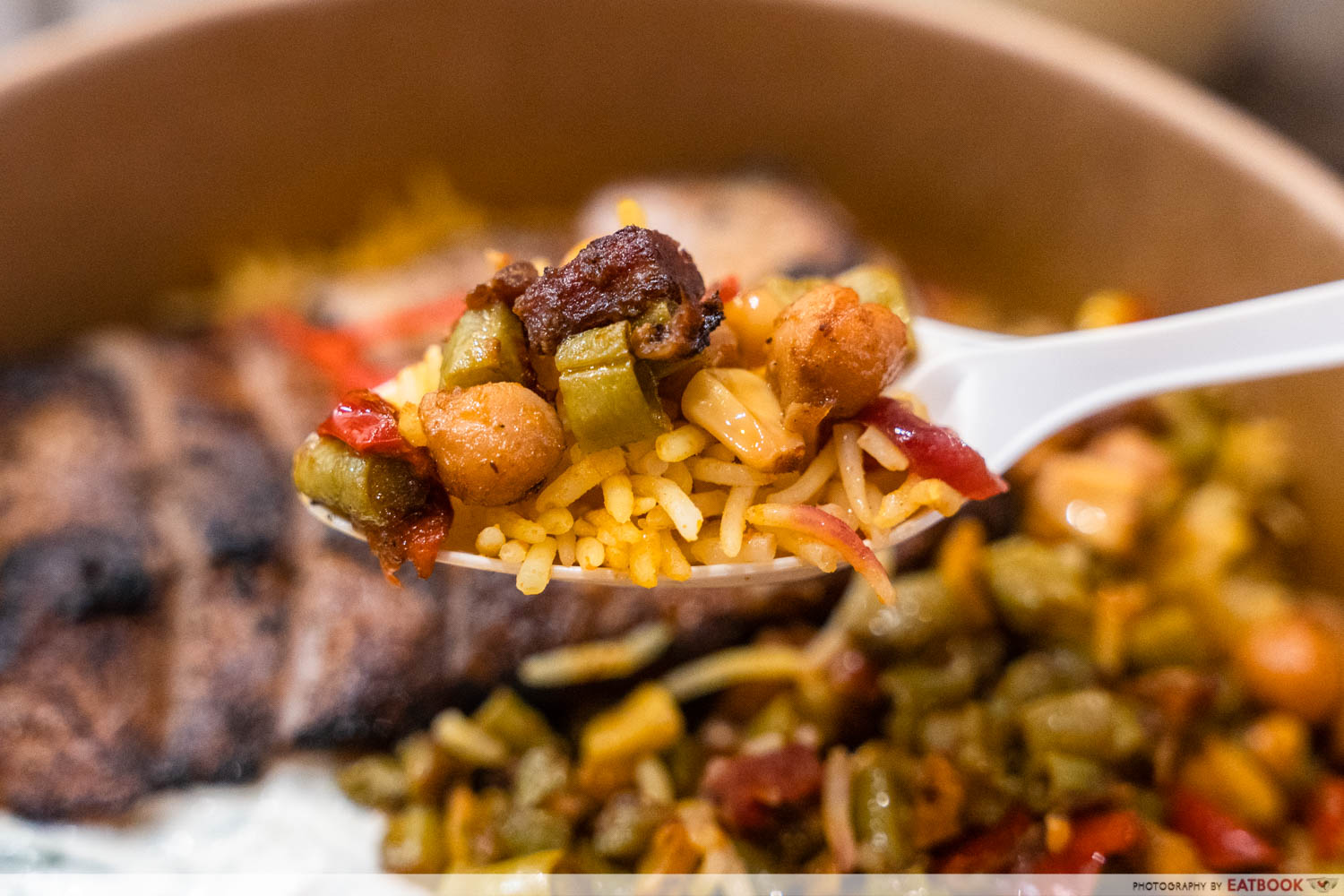 The chipotle succotash also added depth to the basmati rice. If you didn't know what a chipotle succotash is, it's a vegetable dish that mainly consists of various beans and sweet corn. In 46 Mittsu's version, it also came with bits of cranberries, and small cubes of salted meat. All in all, the vegetable medley was sweet, savoury, and aromatic.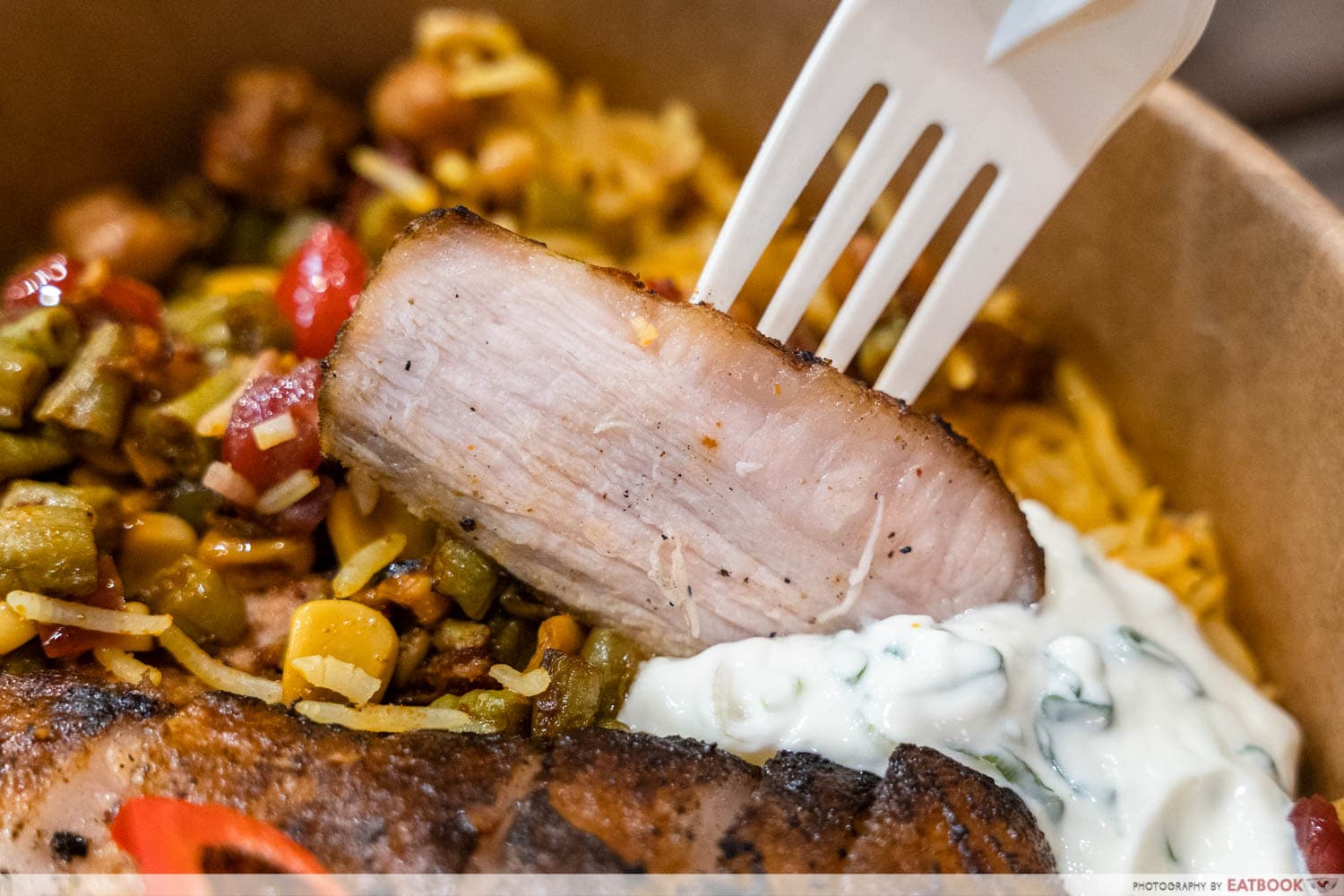 What stood out to me the most was the pork satay. It had a great fat to meat ratio, thus making the meat really juicy and tender. Moreover, I was truly impressed by how prominent the flavours of the marinade were. The pork also had a slightly caramelised and charred exterior, which definitely made the meat more satay-like, and added another layer in flavour. My colleague and I couldn't help but exclaim at every bite. 
During our meal, we also had a Sourbomb ($5) on the side. I highly recommend pairing this tart and refreshing drink with their hearty sandwiches as it helped to cleanse the palate and cut through the greasiness from all the fatty meat. 
Ambience at 46 Mittsu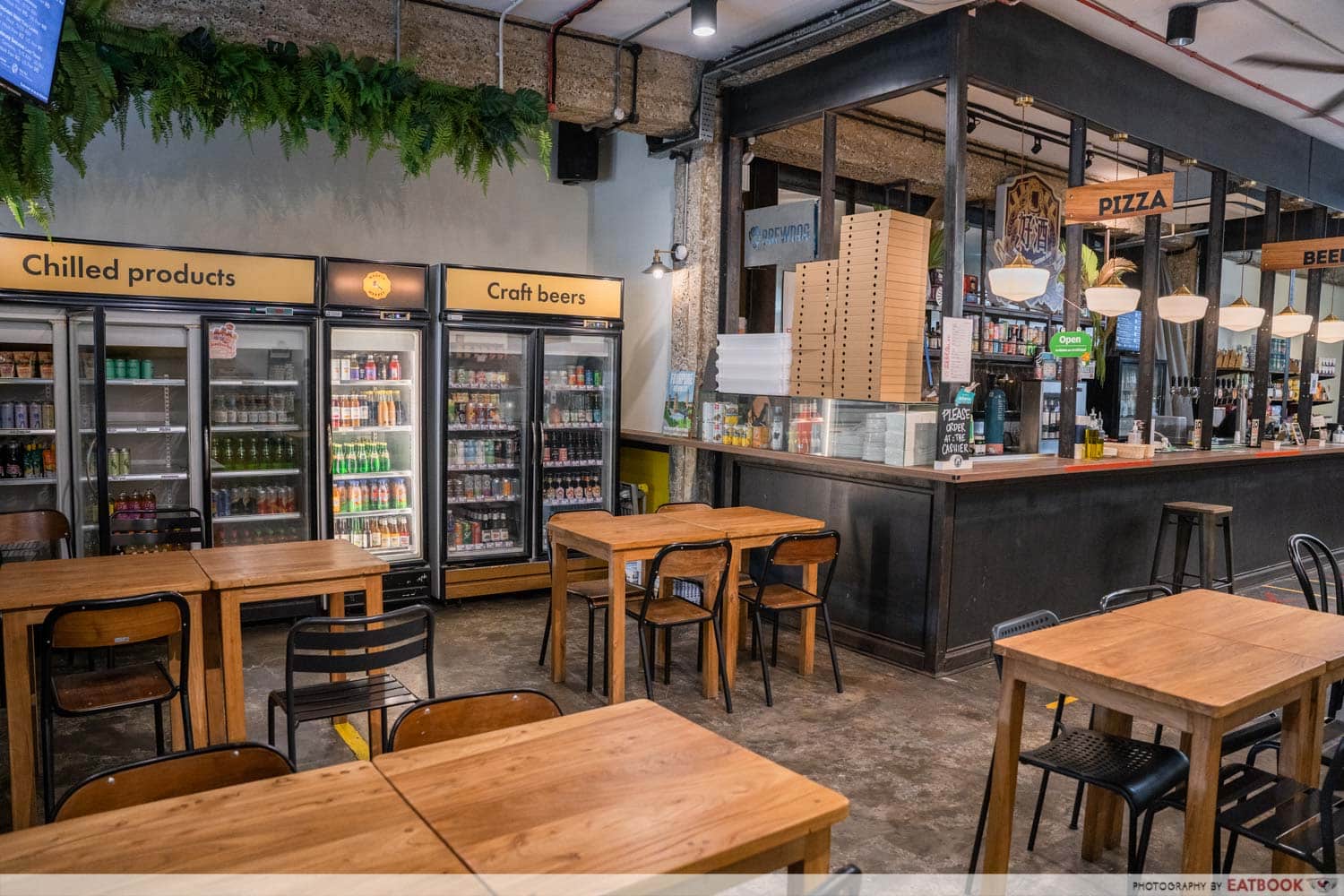 46 Mittsu is situated at The Herencia, a quaint office complex that holds eateries such as Crane, Kura, and Pizza Republic. It is approximately a 12-minute walk from Fort Canning MRT Station. It might take some time to locate this hidden gem, but simply look out for Crane, or any signage for AMPED Trampoline Park, and you'll be able to find 46 Mittsu.  
The dining area is rather small and cosy, but it also radiates rustic and chill vibes. It is a great place for a date, catch-up session, or even to have a family meal.  
The verdict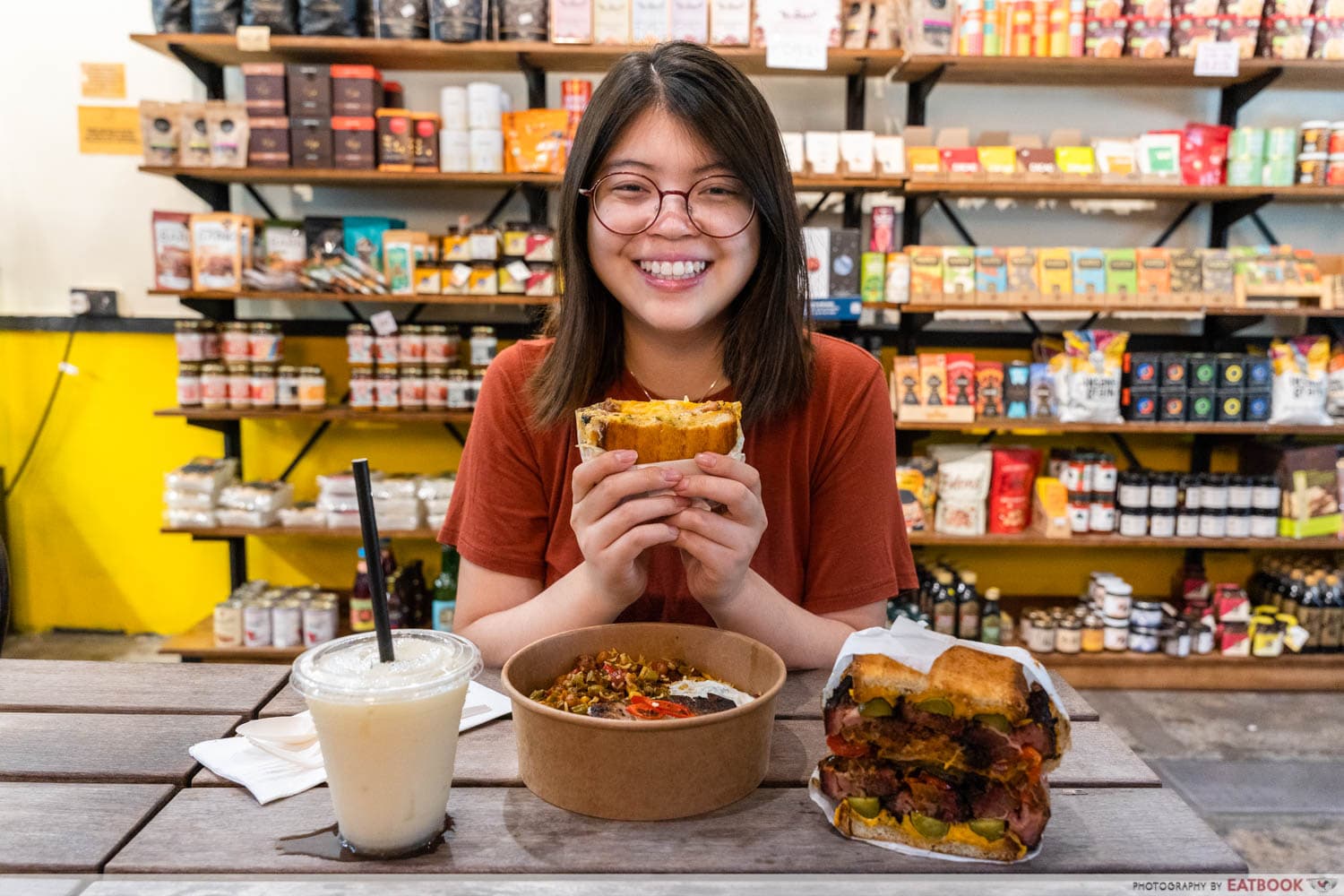 If you are a fan of thick, flavoursome sandwiches like the ones at Two Men Bagel, Korio, and Sando, you should definitely head down to 46 Mittsu and check them out. For the portion sizes, quality of ingredients, and time that goes into making these sandwiches, I believe you are really getting your money's worth. 
Everything about their sandwiches, from the flavours, down to the textures and even the visuals, truly left an impression on me. I can't wait to visit them again, maybe ASAP, before it becomes not-so-hidden anymore. They do sell out early, especially for their beef and pork sandos, so I would recommend either visiting them before the lunch crowd, or pre-ordering beforehand to avoid any disappointment.
For more sandwich options, read our sandwich food guide which includes grilled cheese, bagels and more. Otherwise, check out Shiba Roti for a Mexican-Asian fusion meal. It features items such as prata tacos, tandoori and others. 
Shiba Roti Review: Large Prata Tacos From $4.50 With Tandoori And Greek Flavours
Address: 46 Kim Yam Road, #01-07, The Herencia, Singapore 239351
Opening hours: Daily 11am to 5pm (until sold out)
Website
46 Mittsu is not a halal-certified eatery. 
Photos taken by Emily Teu.
This is an independent tasting at 46 Mittsu.
46 Mittsu Review: Thick Japanese-Inspired Sandwiches That Can Rival Sando, Korio And Two Men Bagel
46 Mittsu Review: Thick Japanese-Inspired Sandwiches That Can Rival Sando, Korio And Two Men Bagel -

8.5/10
Summary
Pros
–Well-executed sandwiches and rice bowls
-Very thick sandos with quality ingredients
-Value-for-money
Cons
-Location rather ulu
Recommended dishes: Beef Sando ($14), B.E.C ($12), Sa-Te Moto ($16), Sourbomb ($5)
Opening hours: Daily 11am to 5pm
Address: 46 Kim Yam Road, #01-07, The Herencia, Singapore 239351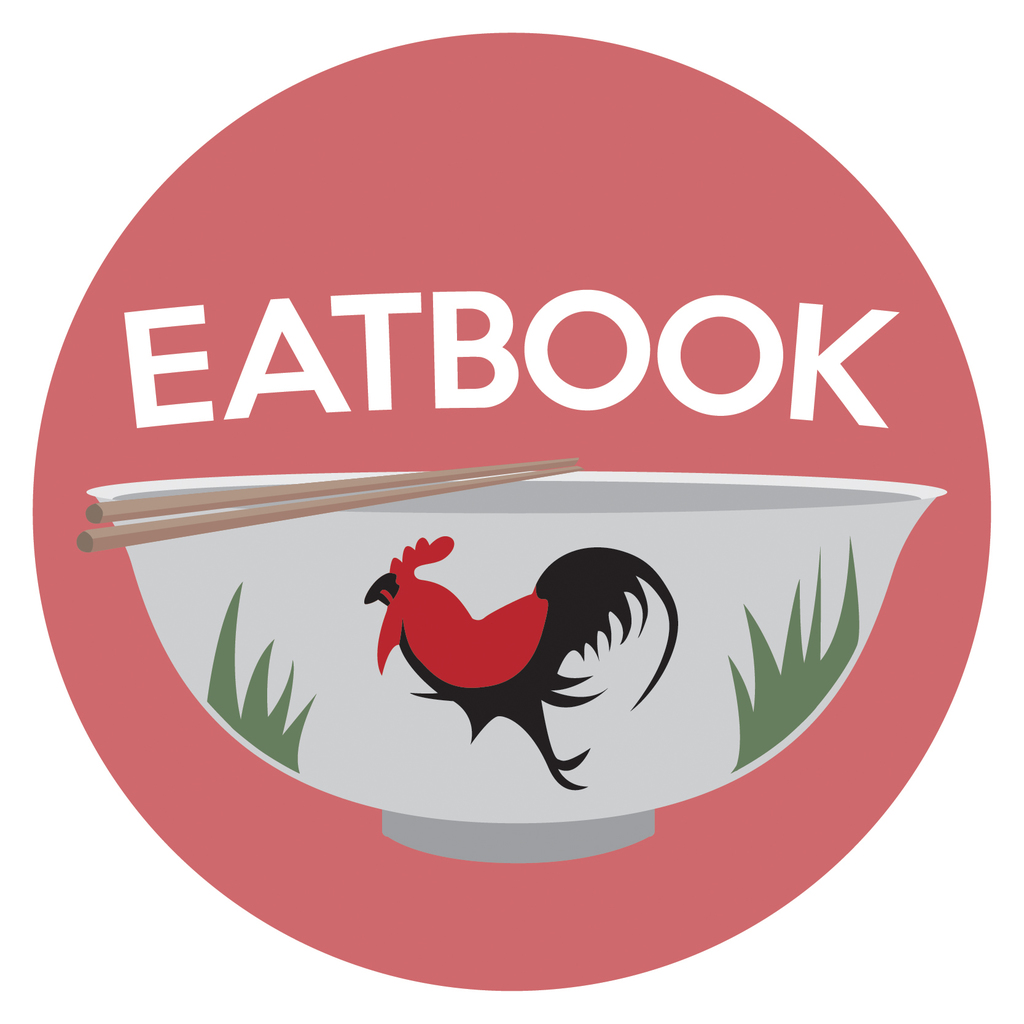 Drop us your email so you won't miss the latest news.